Plenty of watch brands have a theme, or common aesthetic, across their watches that identifies them at a glance. Avi-8 have taken their theme (no prizes for guessing what it is) and really run with it. They produce a wide range of models, all of which take inspiration from various eras of the Royal Air Force.
The model I've got to review is the Flyboy Centenary 1960's, which as you might have figured is a tribute to 100 years of the Royal Airforce (1918-2018). It's also influenced by the RAF aircraft of the 1960's, when iconic jets such as the Hawker Hunter, and Vulcan bomber were frontline planes.
THE CASE
The case is naturally made from stainless steel, and is shaped very much in the simple flieger style you would expect of an aviation-themed watch. The finish is completely brushed, except for a small polished chamfer on each lug. It's a no-frills layout that fits in well with the functional heritage of aviation pieces – these are after all, not dress watches. At 43mm the watch is on the bigger side, and it certainly wears quite large given its thin bezel.
The case also features a display case back, which shows off Avi-8's custom rotor and the Miyota movement beneath it. (More on that later.) Around the edge is the usual info on the watch: "All Stainless Steel – Sapphire Crystal – Water Resistant 50m." The watch is water resistant to 50m. It's enough for day to day wear, but don't take in frolicking on the Blackpool beach, let alone diving in the Bahamas.
All in all, despite not being particularly intricate, it's a solid case that offers good presence on the wrist, and which suits the functionality at the heart of the watch.
THE CRYSTAL
The crystal is made from sapphire, and has a slight dome to it. It's nice to find a sapphire crystal on a watch at this price point, as usually companies opt for mineral crystal, which as we all know is less scratch resistant. Despite there being no mention of AR coating, the crystal is not terribly reflective, and I've no problem reading the time in the sun. There's no mention as to the glass used on the display case back, but I'd image it's also sapphire. It's nice to see that Avi-8 didn't just opt for the cheapest crystal they could, and it gives you confidence that they mean to deliver value for money.
THE DIAL
Now to be honest, if there's one thing I think really lets the Flyboy Centenary down it's the dial. The base is a transparent blue that allows you to see the movement beneath. It is a neat idea, but there isn't much to see, and it ends up making the whole dial look a bit cheap to me.
The background aside, I find the dial layout delightfully quirky. The seconds sub-dial is offset from the centre between the 4 & 5 hour markers, and its colour scheme echoes the iconic RAF roundel. Speaking of which, Avi-8 have placed a roundel opposite between 10 & 11. It's slightly smaller to create a sort of unbalanced symmetry, which works surprisingly well, whilst providing an unusual twist on dial design. Combined with the bold zero and six hour markers, and the crosshair on the dial, Avi-8 have provided a watch face that's full of military-esque features. But they've also executed these in such a way that the watch doesn't feel serious or dull.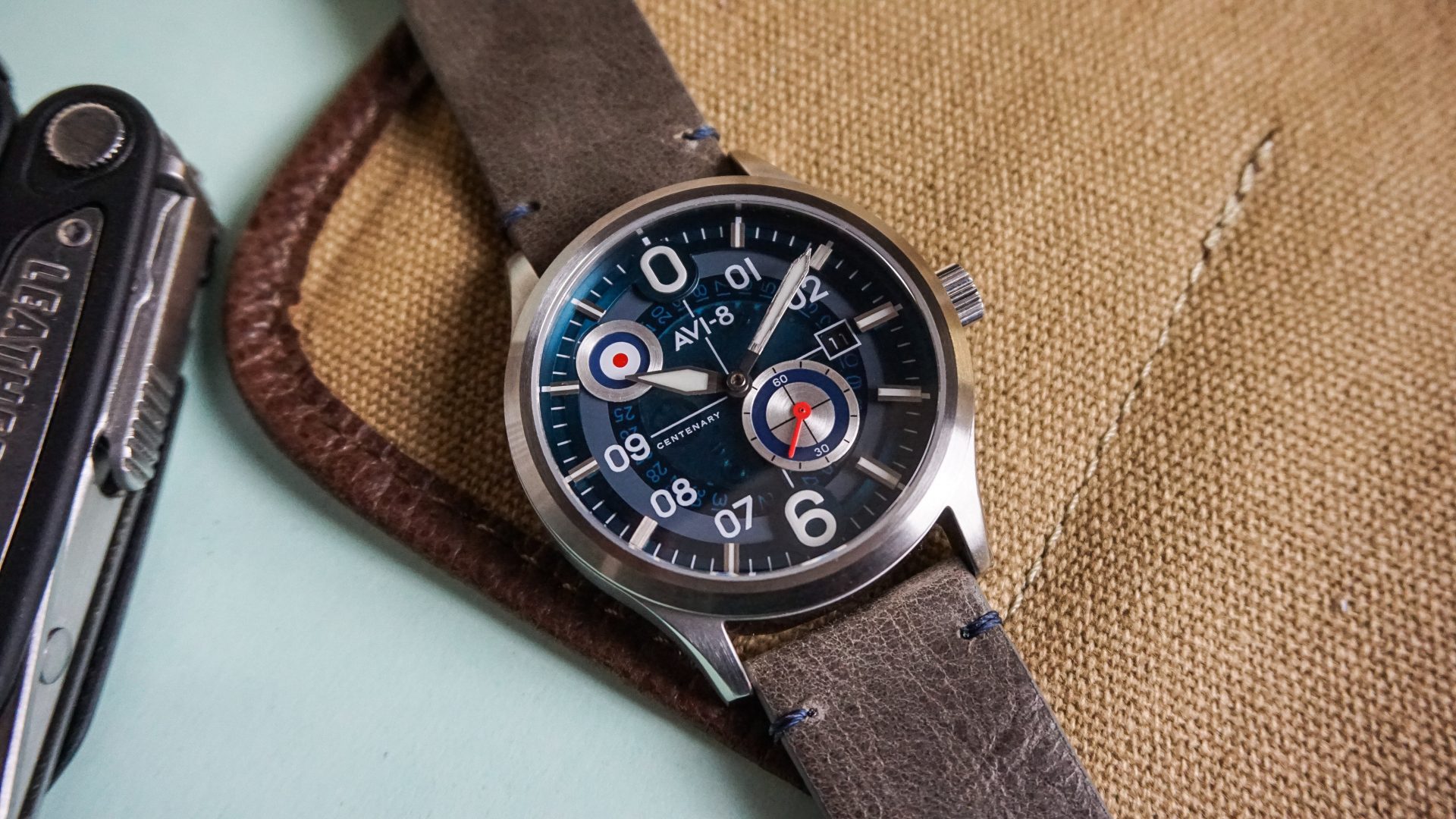 THE LUME
As you'd hope to see on an aviation watch, Avi-8 have naturally lumed the hour markers and hands of the Flyboy. To be honest it's not the brightest lume I've seen, but Avi-8 have compensated for this by making the hands and markers pretty broad, so they're still easy enough to read in the dark. I think if the lume was better it would really raise the Flyboy up a notch, but again, at this price you don't expect the brightest.
THE MOVEMENT
Powering the Avi-8 Flyboy is the ever-dependable Miyota cal. 8215. It's a 21 jewel automatic movement that beats at 21,600 bph, and features a quick-set date but no hacking seconds hand. Miyota's 8215 is a solid workhorse of a movement, and like all their movements can be depended upon to run reliably for years. It's one of the go to movements at this price point and it's nice to see Avi-8 going to the trouble using a mechanical movement, and not just stocking a quartz in and flogging it for the same price.
THE STRAP
Avi-8 mounted the Flyboy on a grey genuine leather strap. It's nothing special, but it's nice and thick, and pretty supple. I've no doubt that it'll last a while and take the rough and tumble that a watch takes when you wear it daily. Likewise the steel buckle is pretty solid and hefty. It's engraved with the Avi-8 logo and has a smooth brushed finish. Overall it's a great strap for the watch, that's comfy and isn't going to fall apart in a couple of weeks.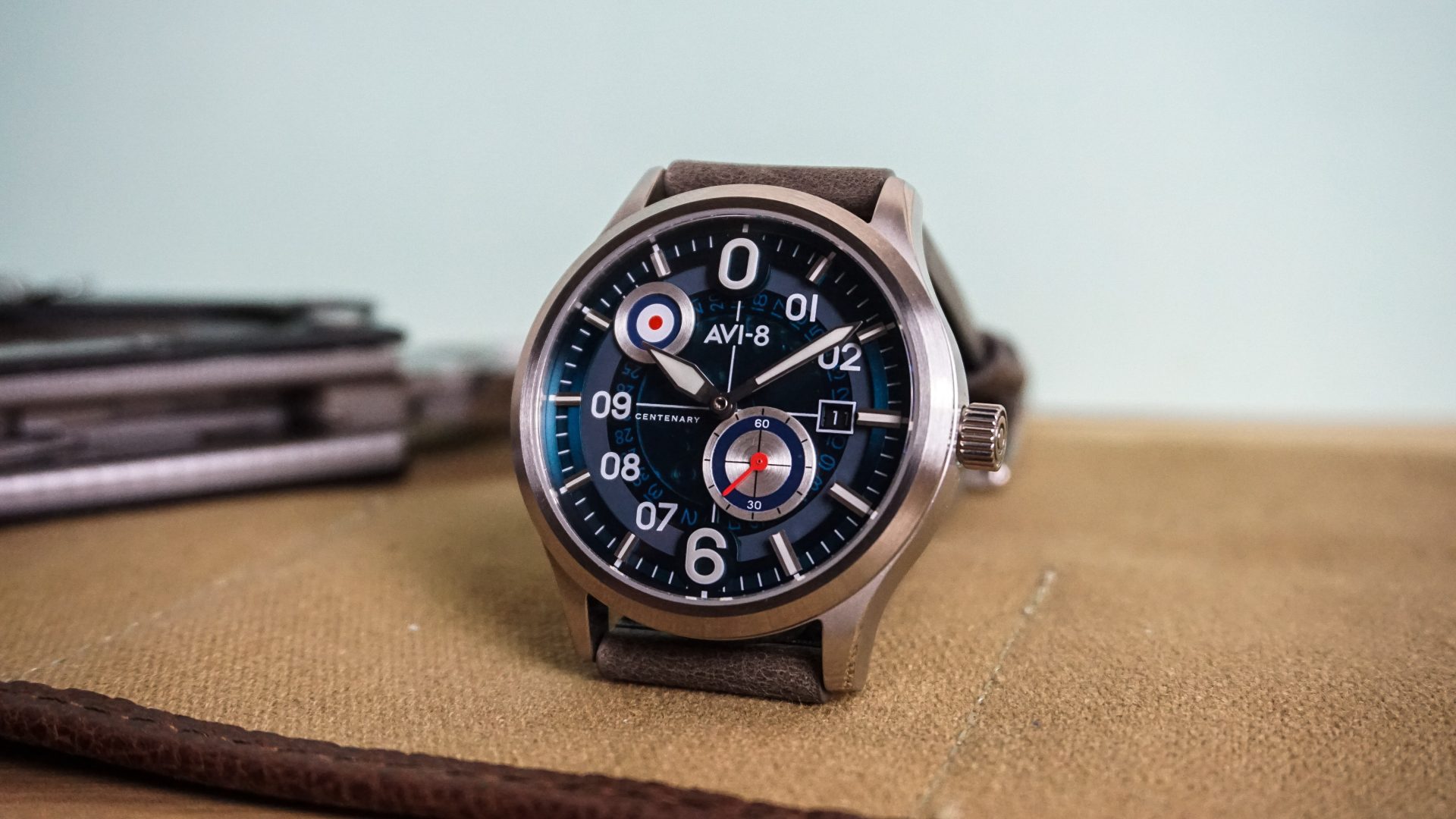 FINAL THOUGHTS
So what do I think of the Avi-8 Flyboy Centenary 1960's? Well, looking at the specs on paper it offers a decent bang for your buck. You get a reliable Miyota movement, sapphire crystal, 50m water resistance and a unique design. All for under £300. It's a tempting package, that's for sure. Of course, it all comes down to whether or not you like the design.
I think you have to praise Avi-8 for coming up with original designs for all their watches, not just the Flyboy. It would be very easy for them to crank out flieger homages, and be no different from a nameless Chinese brand on eBay. That said, I think that Avi-8's aesthetic is a divisive one. You'll either find their watches quirky, different and fun, or you'll hold the opposite opinion. I think that the Flyboy Centenary is one of their more unusual designs, and that some of their standard models are far more suited to those of conventional tastes. Avi-8 certainly put out some unique watches with some decent specs, it just depends on whether their design language speaks to you or not.
If you find Avi-8's pieces interesting, you can check out their full range on their site here.