Let's be honest. The words "microbrand" and "value proposition" are used together a bit too frequently these days. Whilst often true, the former does not necessarily mean the latter.
As the microbrand market has developed over the past few years, we've seen prices creep up. Microbrands are now starting to use their reputation and brand to justify higher prices. There's nothing wrong with this. These small companies are just naturally growing. However, the sector is no longer the bastion of affordability it once was.
Enter Alkin watches, a British brand run by Charlie Fowler. Charlie set out to create affordable mechanical watches with a clean functional aesthetic. His latest watch, the simply named Model 2, follows that vision to a tee.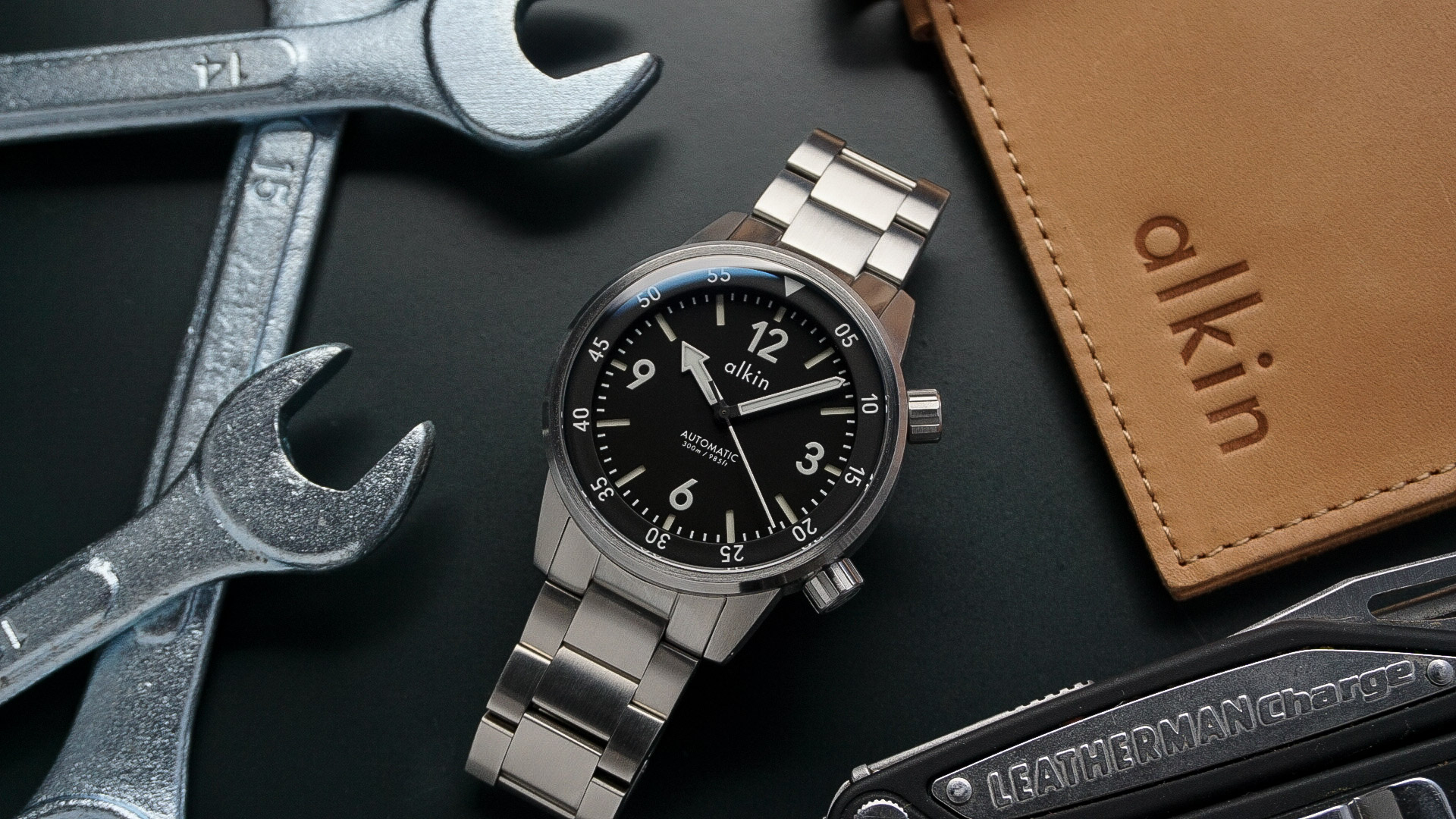 THE CASE
The overall shape of the steel case is reminiscent of vintage super compressors. It's a simple shape with an all brushed finished. This no frills look is just what Alkin stand for, and as a result the watch really does feel like a tool as opposed to a piece of jewellery. At 41mm the case is perfectly proportioned too, at least for my slim wrists. The Alkin Model 2 isn't too thick either, being 12.8mm tall.
The twin screw down crowns are of course a key component of the super compressors the Model 2 imitates. The top one moves the inner bezel, and its head is decorated with the iconic crosshatch pattern that's a signature of the original compressors. The bottom obviously sets the time, and is signed with an "A". They're both nice and easy to grip and screw in rather smoothly, which brings us on to the watch's water resistance.
With a depth rating of 300m, the Alkin Model 2 is more than capable of standing up to whatever the average user can throw at it. Few, if any, owners will ever need that much, but it's reassuring to know that you'll be able to take the watch pretty much anywhere.
If you flip the watch over you can see that Charlie opted for a display caseback on the Model 2. This is sure to please many people who like to see the heart of their watch ticking away.
THE CRYSTAL
Naturally the Alkin Model 2 uses a sapphire crystal. It's the top choice for a tool watch thanks to its incredible scratch resistance, and it's nice to see it on a watch costing under £400. It's also got an anti-reflective coating, so it's still pretty legible in glaring sunlight.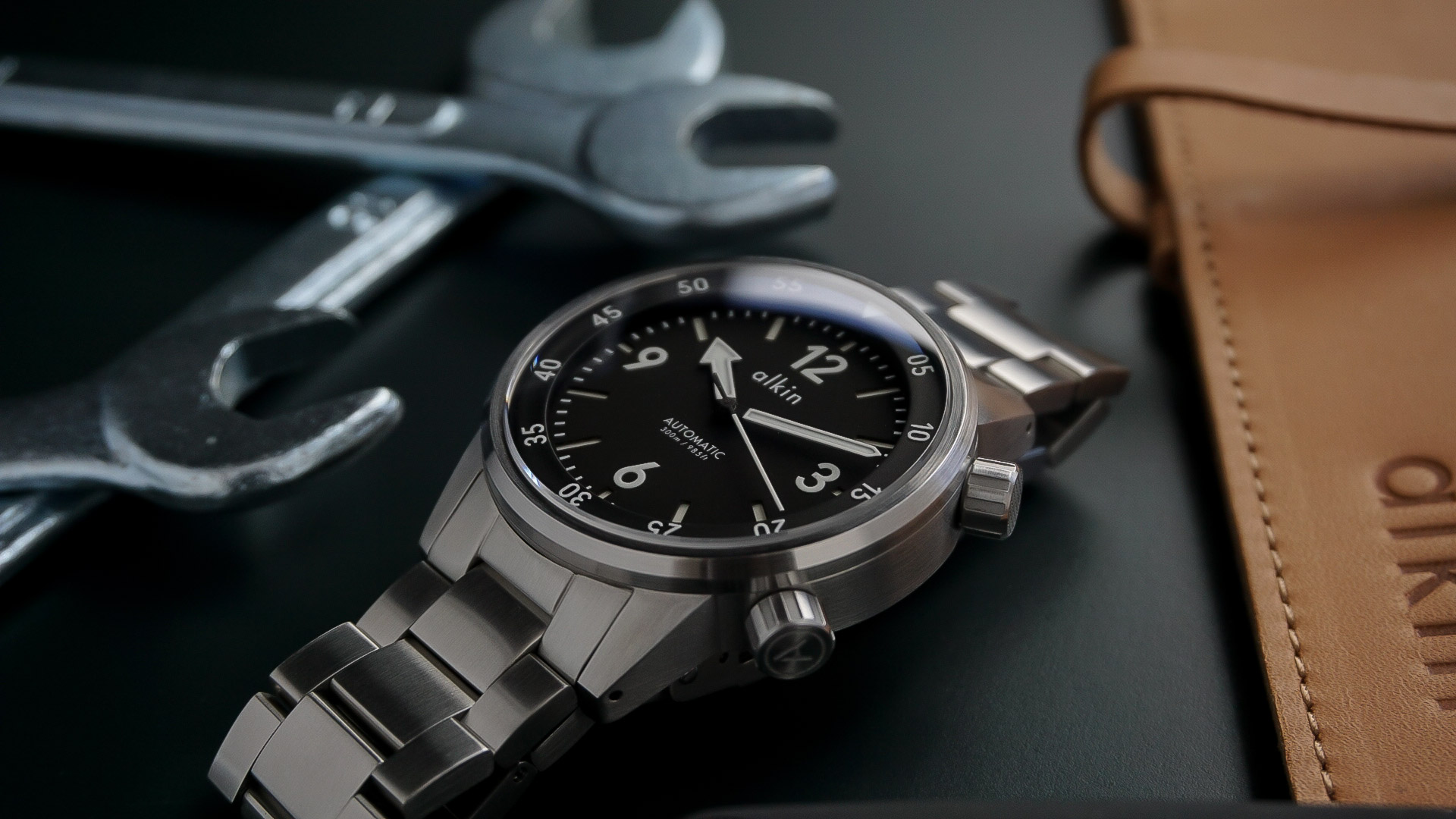 THE DIAL
The Model 2's monochrome dial is a perfect example of functional minimalism. The design is fairly simplistic, and entirely practical. With the large Arabic numerals and clean layout, it's supremely legible.
The only artistic flourish is the fact that the Model 2 uses a sandwich dial, with the hour batons sunken beneath the main dial. Combined with the raised internal bezel, this creates some nice depth that keeps the straightforward design interesting.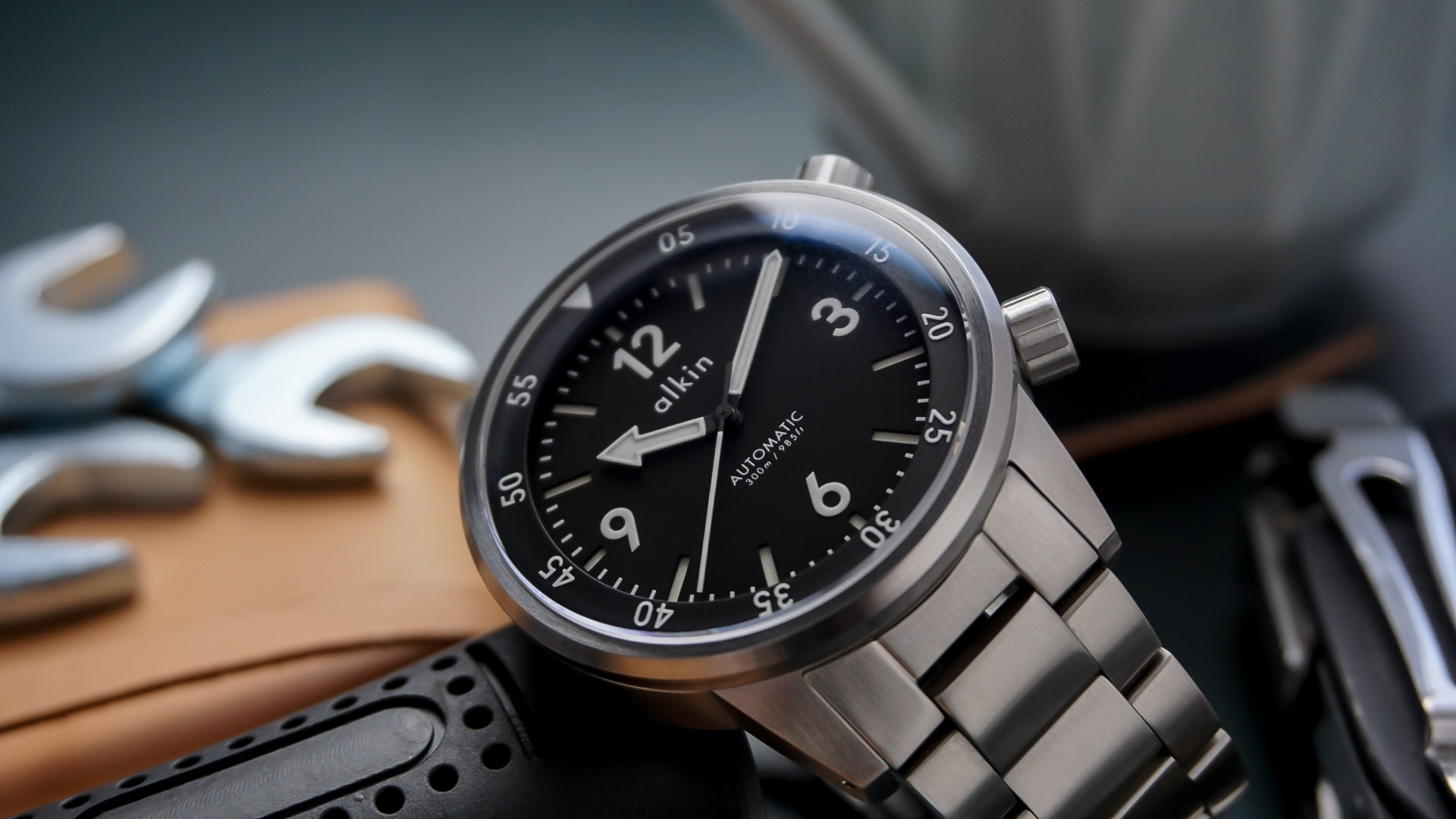 Speaking of the internal bezel, whilst I like its minimalism, I don't like its action. It rotates far too easily in my opinion, to the point it feels loose. I'd like to feel a bit more resistance when I use it. But, at least there's no danger of it slipping once set.
Keeping with Alkin's theme of simple functionality, the handset is plain but highly legible. With the crisp arrow-shaped hour hand they're evocative of the ones found on the Tudor North Flag. To be honest there's not much more for me to say about them. With their coating of white paint they're crisp and easy to read, and are a solid pick for a tool watch.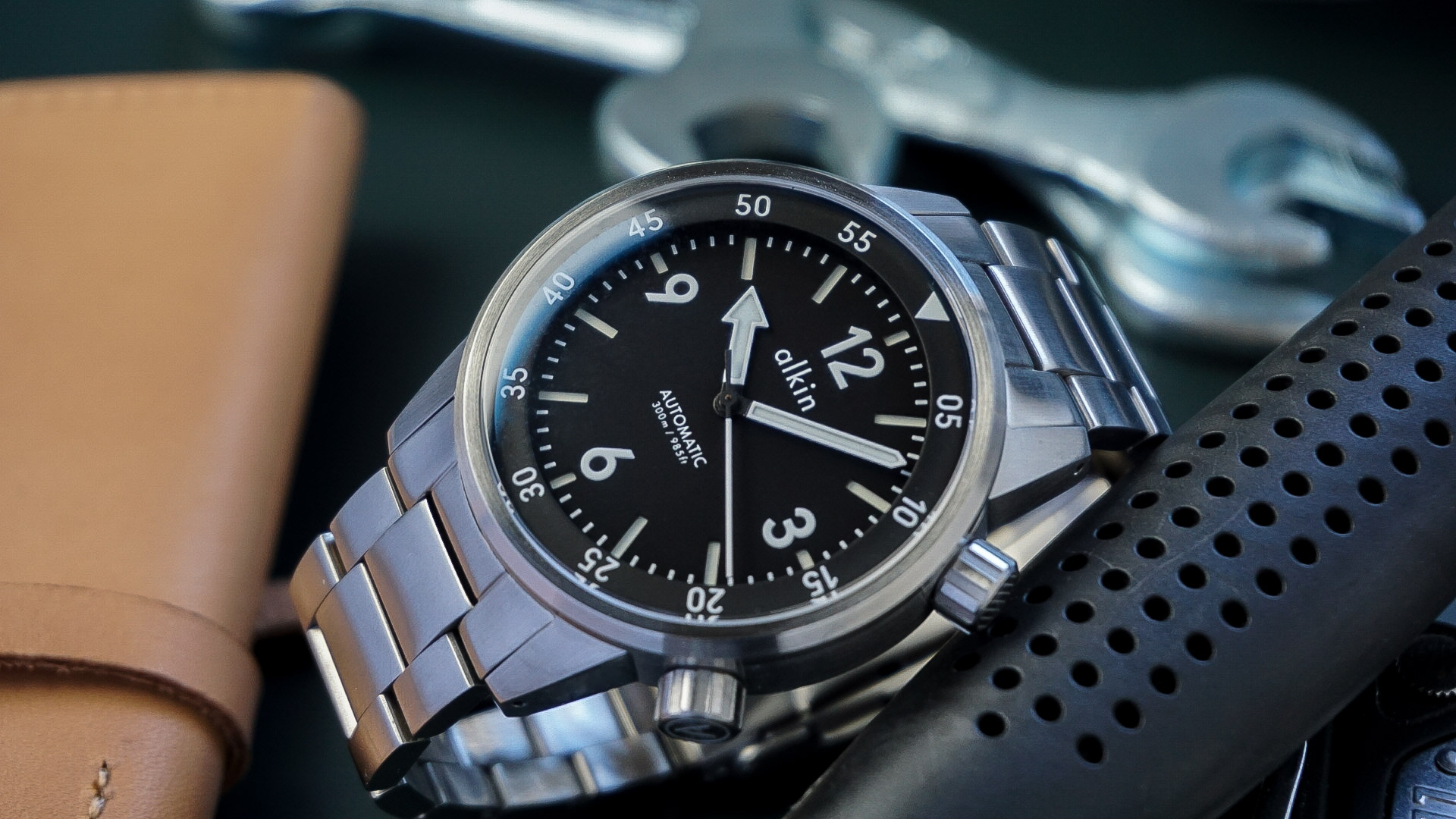 THE LUME
The dial, hands, and bezel are all applied with Super-LumiNova BGW9. This is supposed to be the second brightest grade, and I'm pleased to say it doesn't disappoint. The lume glows nice and brightly when charged and lasts a good while. What's more, the final production versions of the watch will have even more lume on the bezel. I think that lume is a key part of a tool watch, so it's nice to see that Charlie hasn't scrimped on this area of the watch. Personally I think he could have left the lume as is, but the fact he's taking the time to perfect it says a lot about his work ethos.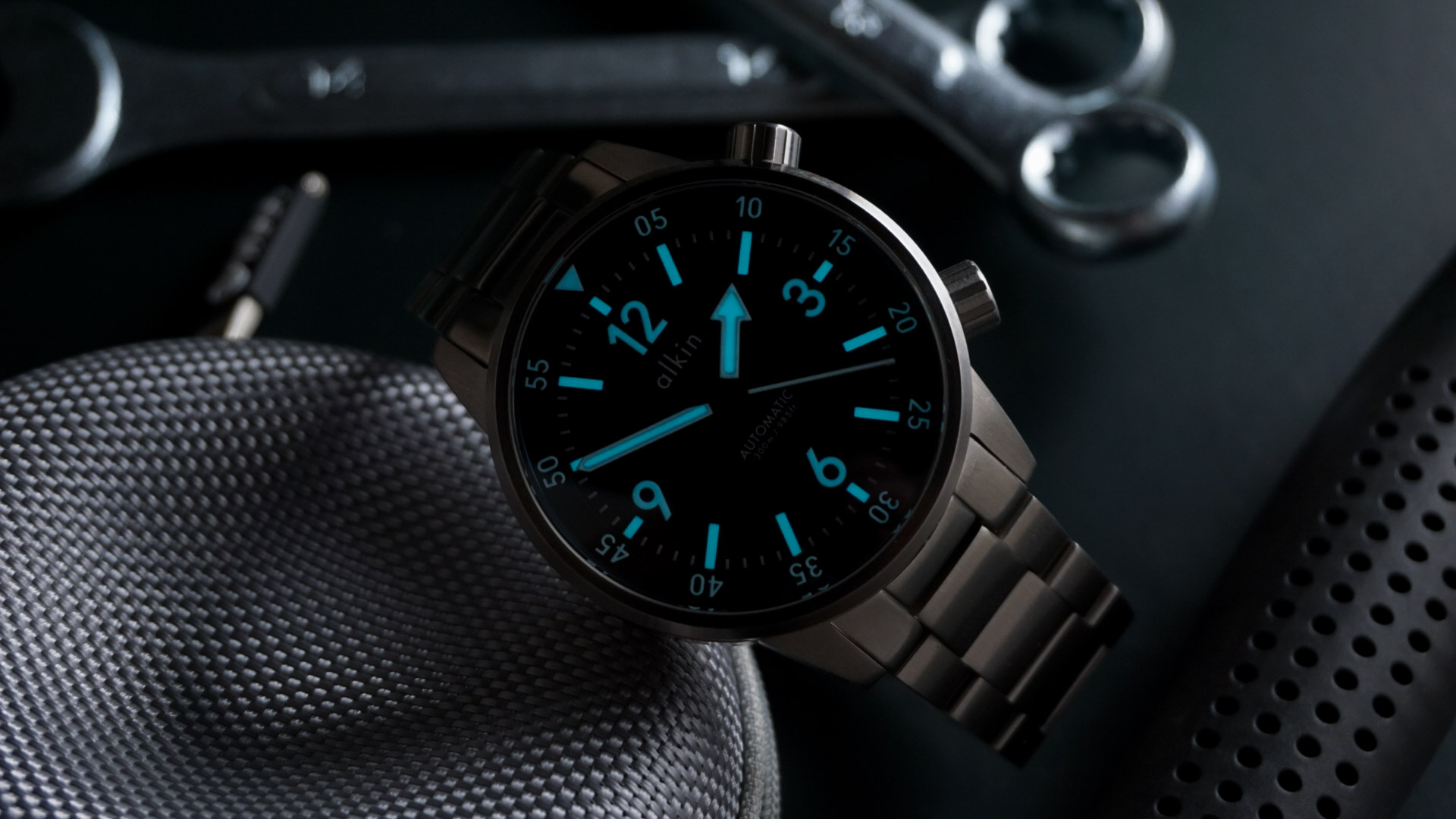 THE MOVEMENT
Inside the Alkin Model 2 there is a Miyota 9039. The 24 jewel automatic movement is well known for its reliability, and Miyota are often the go to choice for mechanical watches that cost under £500. It beats at 28,800 bph, hacks and hand winds.
About the only niggle I have with the 9039 is that the rotor only winds in one direction. This means that occasionally you can hear the rotor free spinning. This doesn't affect the watch's performance, and to be honest it's hardly noticeable. But I know that there are some who don't like it, so I thought it worth mentioning.
Overall though it's a great movement to use in the Model 2, and it's great to see it being used rather than the lower end Miyota movements that some brands go with.
THE BRACELET
The watch comes on a brushed 20mm oyster bracelet. Whilst fairly standard in appearance the build quality is solid for this price point. The links are secured with screws too, which makes it incredibly easy to adjust.
The clasp is a standard milled one, and it's got a decent 6 micro adjustment positions, which is plenty for anyone. The clasp is simply signed "alkin", and Charlie tells me that this will be slightly bigger on the finished product.
Whilst I think the Model 2 looks great on the bracelet, the watch does have drilled lugs, so it will be a breeze to change it out.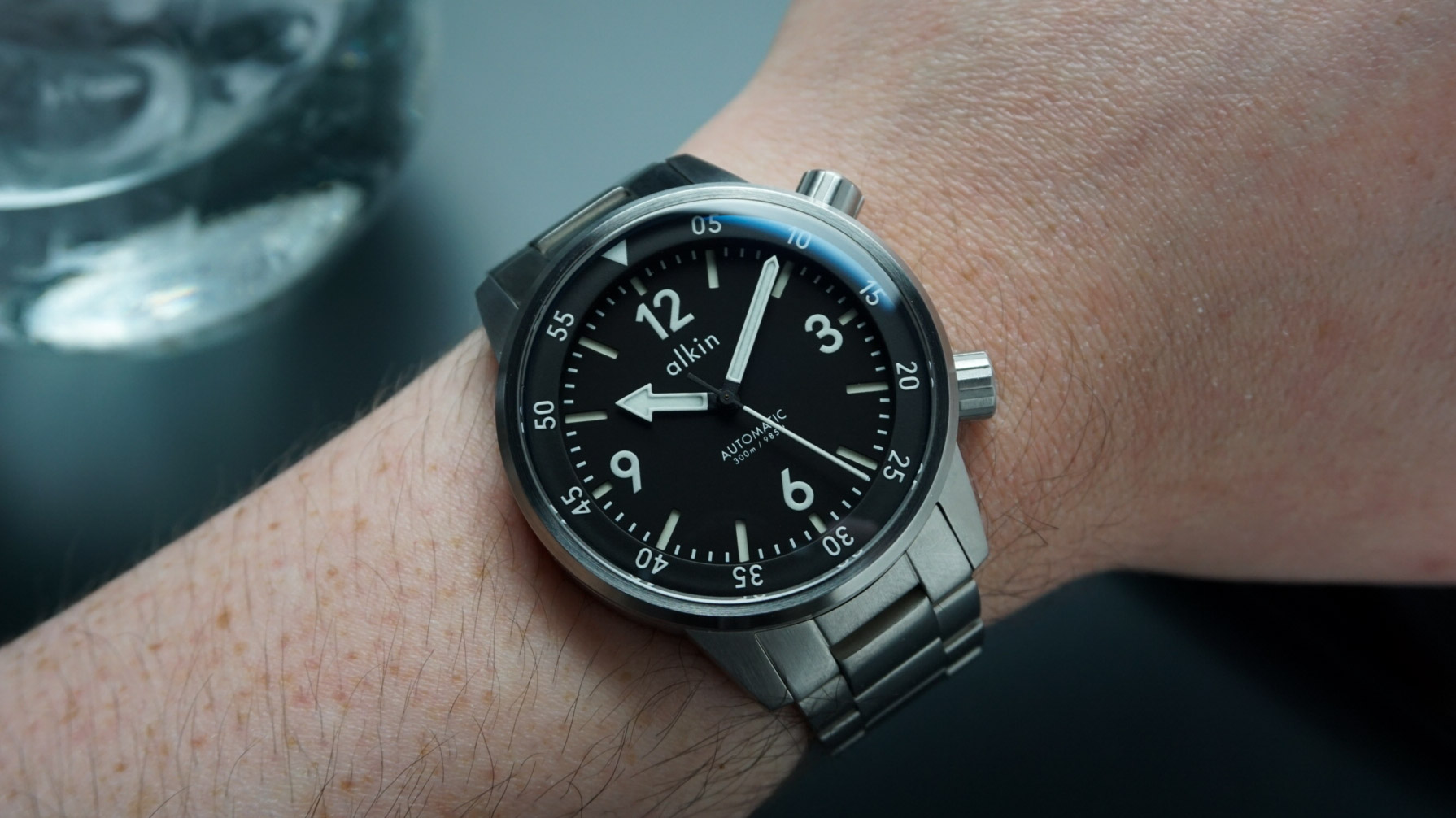 FINAL THOUGHTS
So when you bring everything I've just talked about together, it's clear that the Model 2 is very good value for money. For a watch that's £395 you get a true tool watch with some very solid specs.
This is all backed up by a competent no-frills design that's easy to read. Though, if I'm honest, I think the design might be a bit generic for some. Whilst every element works perfectly together, I worry that there's nothing to make the Model 2 stand out visually.
That said, there will equally be people for whom this crisp, clean finish is just what they're after. And if you're one of those people then I don't think you'll be disappointed, because this is certainly a very well designed watch. The Alkin Model 2 gives you everything you could want from a dive watch. It's got some rock solid specs, the build quality is excellent, and the design is clean and well-balanced. There's a lot to like about the Model 2, and I think that Charlie's philosophy of keeping things simple, functional, and well-made has served him very well indeed.
And if you agree with me and are interested in the Alkin Model 2, you'll be able to pre-order the watch from the end of June. The pre-order price is £325, after which it will be available for £395. The watch will also be shipped in a leather watch roll, rather than a traditional display box, to help cut down on unnecessary waste.
The Model 2 can be purchased from Alkin's website here.