Ask any watch nerd to recommend an affordable mechanical field watch, and I'll give you good odds they pick the Hamilton Khaki Field Mechanical. In the few years since its release, the Khaki Field Mechanical has established itself as the quintessential entry-level field watch.
It's not hard to see why. Based off the field watches Hamilton supplied to the US military in the 1960s, the Khaki Field Mechanical follows a timeless design that's proven popular amongst both military and civilian customers.
Priced at £395 or $495, the original Khaki Field Mechanical has proven so popular that the range has expanded to include several different dial options, a bronze-cased version, and a larger 42mm model. 
Buy the Hamilton Khaki Field Mechanical at Goldsmiths.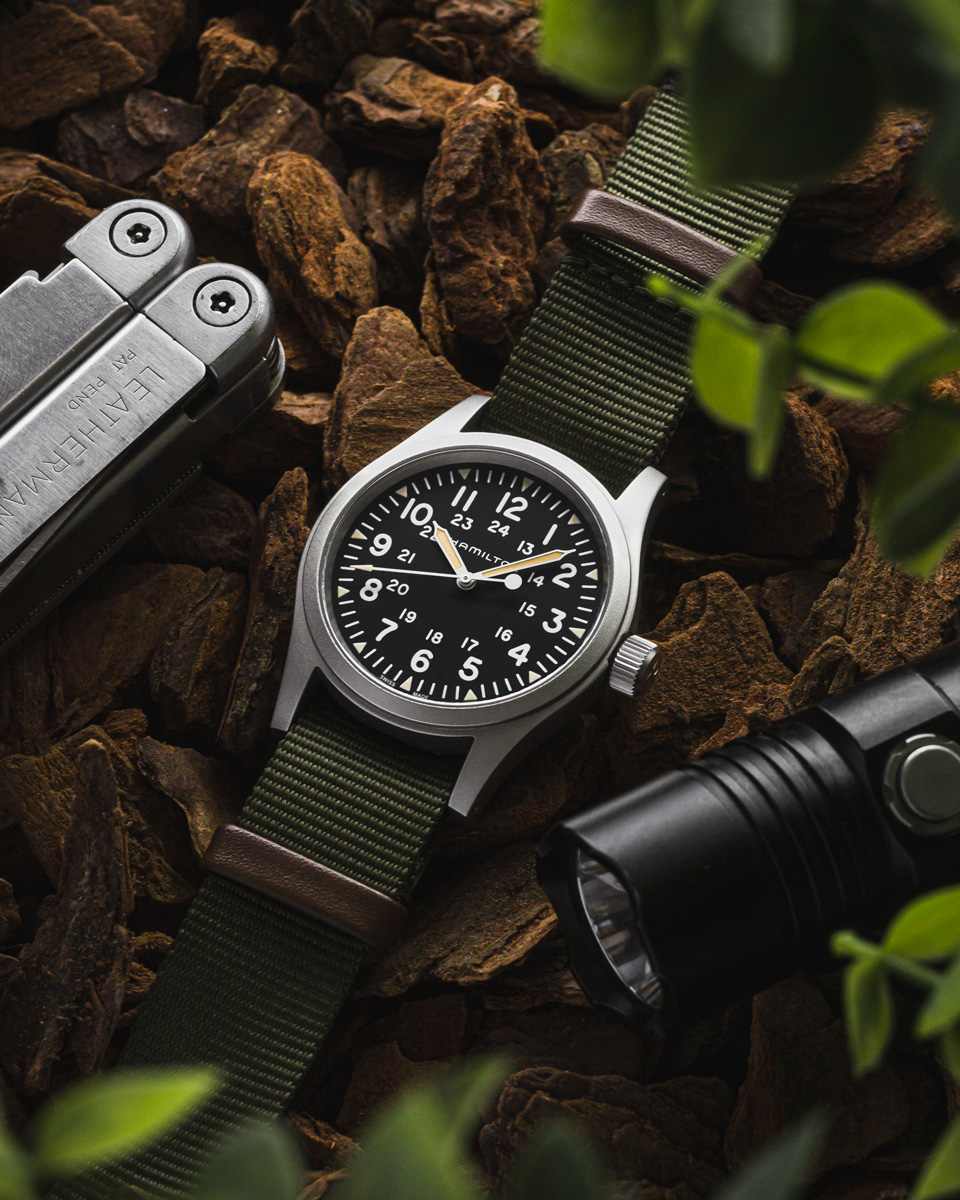 So, when I had the urge to add a mechanical field watch back into my collection, the KFM seemed like the obvious choice. But when I got it, I actually found a few things that stopped me from really connecting with it. Which is pretty surprising, because on paper the watch seems to tick every box.
But, before we cover what bugged me about it, let's instead explore what (in theory) makes this watch great.
An Immensely Wearable Watch
With a 38mm steel case the modern watch is noticeably larger than its Vietnam-era predecessors, which were mere 34mm big. By today's standards that's absolutely tiny, and the increased size makes the modern KFM the ideal size for both men and women. The case is also just 9.75mm thick, meaning the watch sits very unobtrusively on the wrist. So, with dimensions like these, the Khaki Field Mechanical is one of the most wearable watches out there.
The case has a simple bead blasted finish in keeping with the watch's military roots. It might not be the most visually interesting finish, but of course it's not meant to be. Military watches often have blasted cases because it creates a matte surface that eliminates reflections. This is a key part of concealment, where shiny surfaces can give away a soldier's position.
The case also features drilled lugs that allow for fast strap changes. Though the NATO strap the watch comes on is of excellent quality, with a supple, tightly woven nylon, and a solid steel buckle. On a side note, you should be aware that if you put the watch on a two-piece strap, there will be a noticeable gap between it and the case, owing to the position of the spring bars on the lugs. It's not a problem for me, as I'm happy to keep the watch on a NATO, but I know that it will be for some.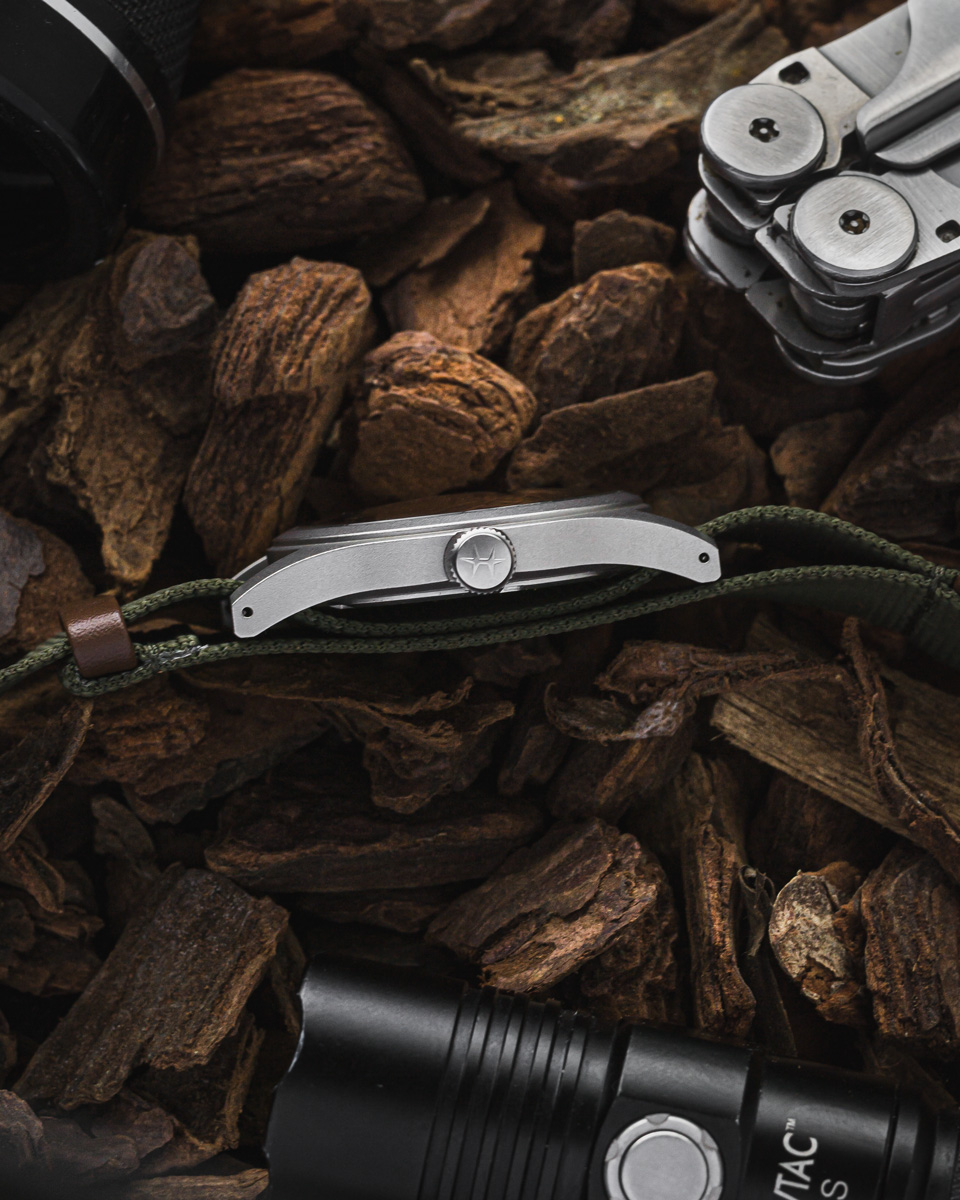 A Classic Military Dial
Protected by a scratch-resistant sapphire crystal, the dial follows the same classic military layout that Hamilton has used for decades. Printed in thick white are bold 12-hour numerals, with a smaller 24-hour track inside them. This is enclosed in a simple minute track with lumed triangles at each hour. The syringe hands are also painted white for high contrast against the dial, and are filled with "old radium" Super-LumiNova. It's a no-frills design that's endured because it's so simple and easy to read at a glance.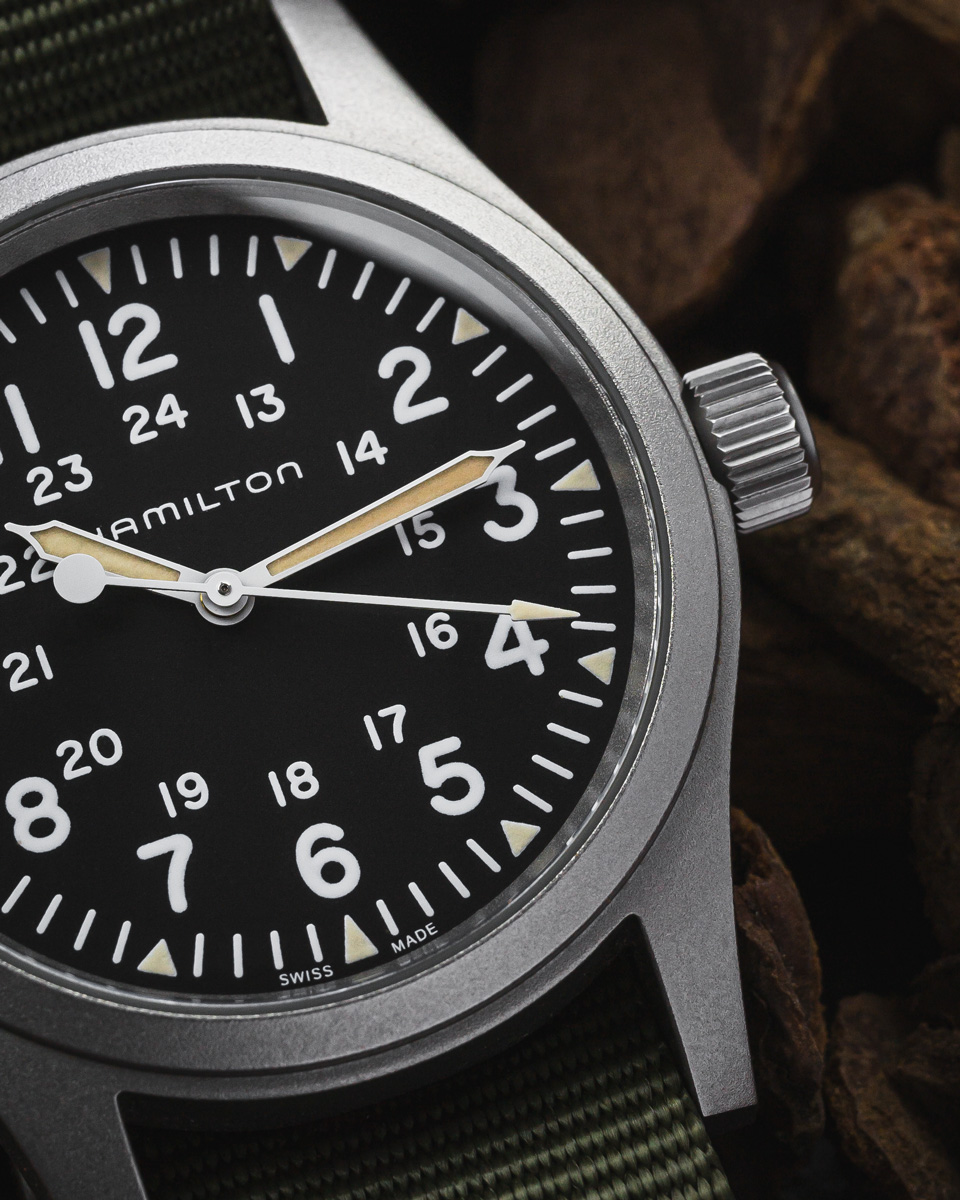 The lume isn't spectacular, but it is legible in the dark, and to be honest the only problem I have with the dial is that the lumed triangles aren't a closer colour match to the lume on the hands.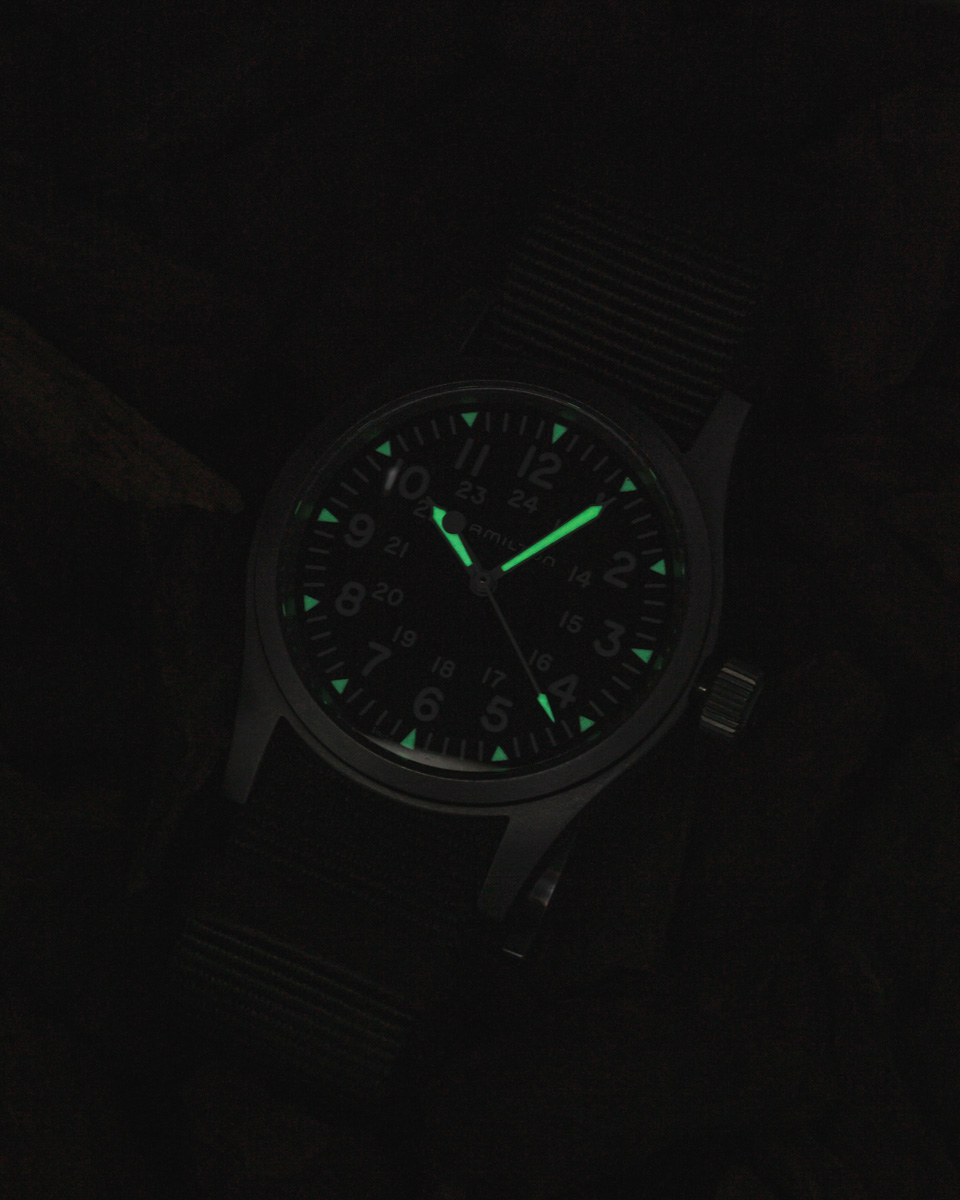 A Reliable Hand Wound Movement
The Khaki Field Mechanical uses a solid H-50 manual wind movement. This 17-jewel calibre is based off the ETA 2801-2, but lowers the beat rate down from 4Hz to 3Hz in order to help give it a whopping 80-hour power reserve.
As the H50 is essentially the next generation of 2801, I've no concerns about the movement's reliability, and it's also very easy to wind thanks to the watch's large crown.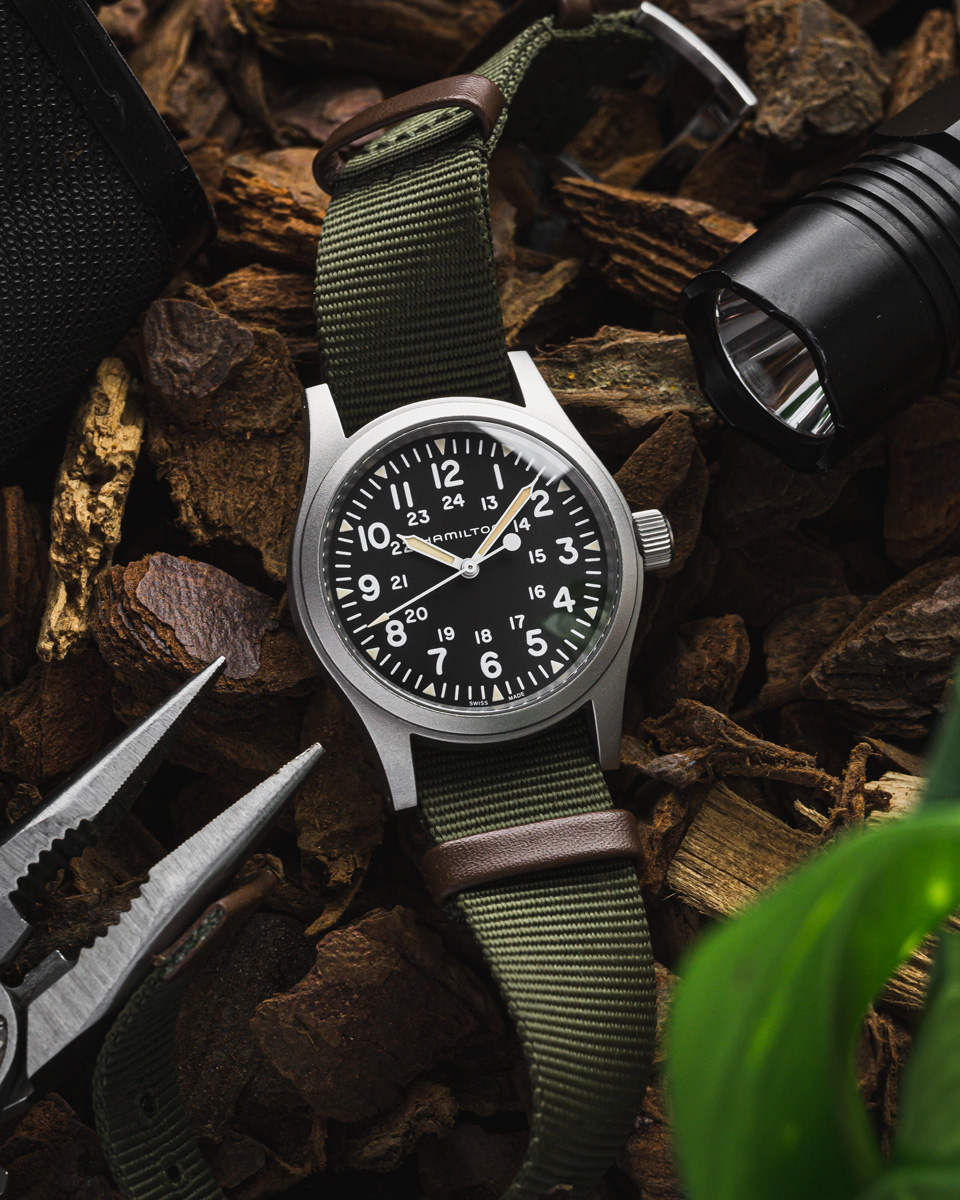 Why Can't I Love It?
So far the Khaki Field Mechanical seems to tick every box when it comes to the perfect field watch, but despite that I think there are three things that hold it back from being absolutely fantastic.
The first is the water resistance. The watch is only rated to 50m, which is generally only good enough for brief submersion in water. Now, as this is a field watch, it's not vital that it be any higher than this. However, I'd find it a big plus if the watch had a slightly higher rating of 100m, just because it would prove peace of mind if I chose to swim with it.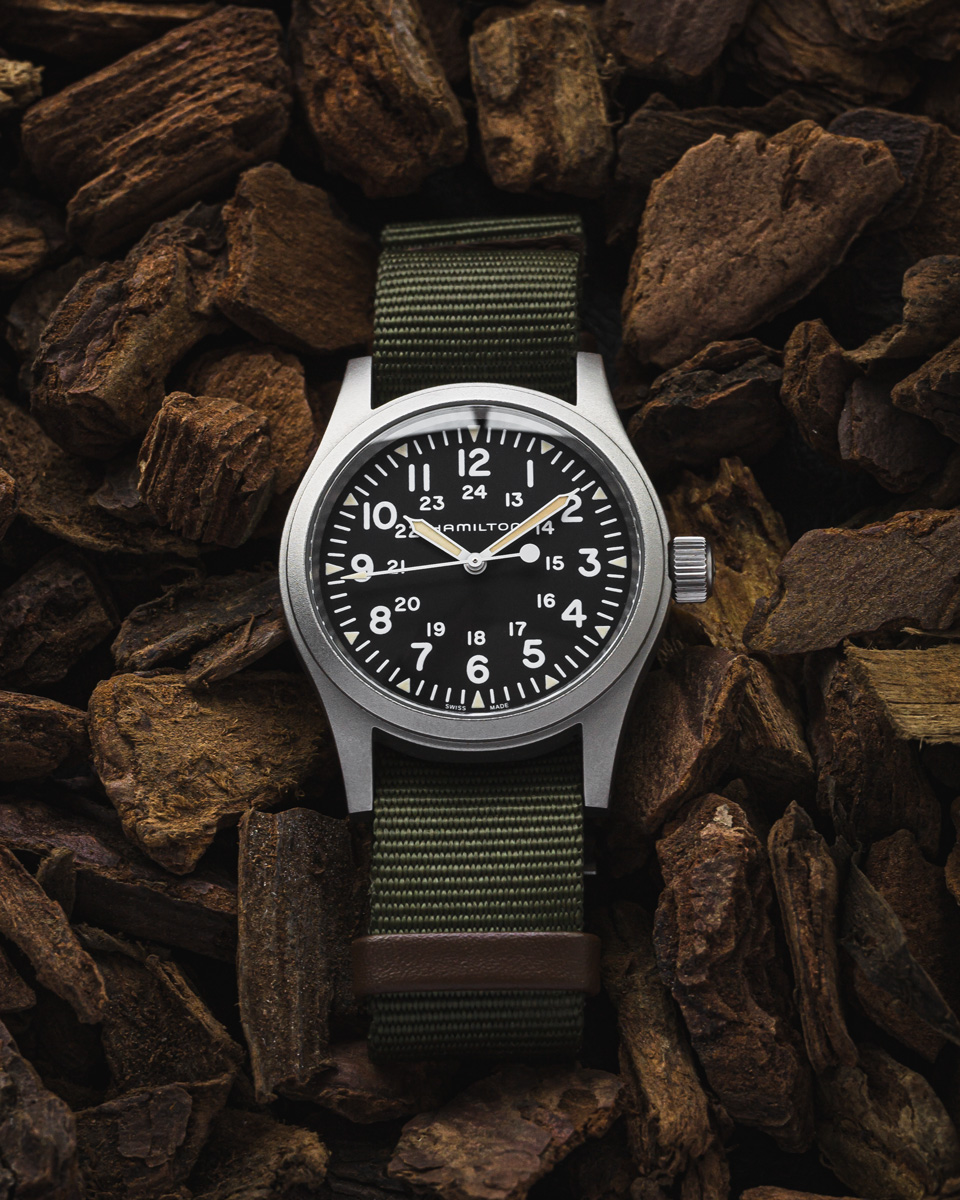 My second issue is that despite the renders on Hamilton's website, the colour of the lumed triangle markers is noticeably lighter than the hands. It's a small thing, but I think making those markers a richer colour would have helped make the whole dial pop, and give the watch a touch more character. Field watches are simple by design, which means that they rely on small details to give them depth and identity, and I can't help but feel that Hamilton missed a trick here. Though in their defence, I think that it's something they're aware of, because they appear to have improved the colour on newer additions to the Khaki Field collection.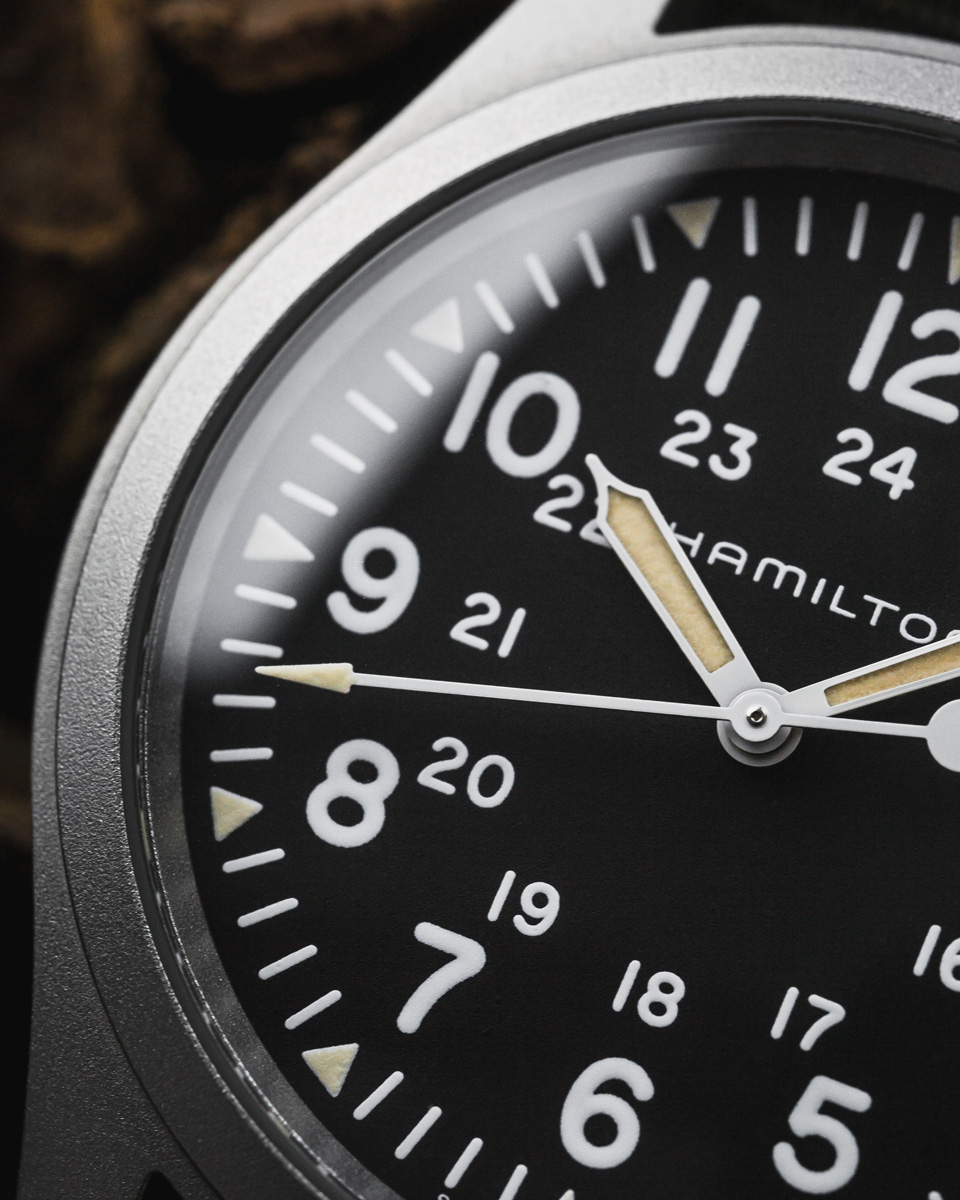 The final, and for me the worse, fault with the watch is something incredibly simple. It's the fact that the sapphire crystal has no anti–reflective coating. This might sound trivial, but it means that the crystal is incredibly reflective in certain conditions. I wouldn't say it makes the watch impossible to read, but it is something that I find very distracting. When trying to read the time at a glance, I find that I take a fraction longer to focus on the handset. When I compared it to other similarly priced field watches like the Hamilton Khaki Pilot Pioneer or the CWC G10, the difference was night and day. I think that if Hamilton had opted to give the Khaki Field Mechanical an anti-reflective coating, or a different crystal, then it would have just taken the watch up a notch.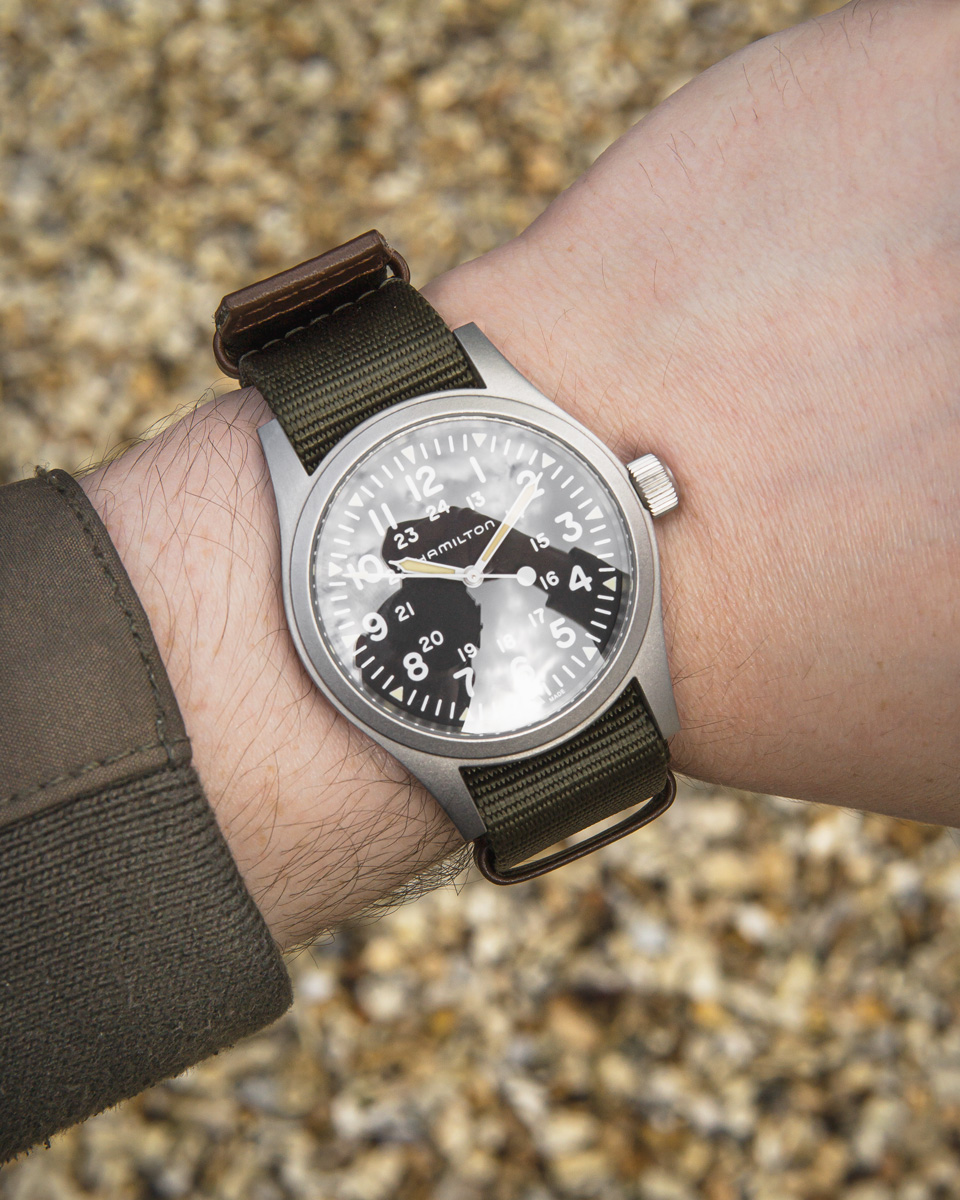 Comparing these two side by side, the annoying reflections of the Khaki Field Mechanical are obvious.
Final Thoughts
I know that my complaints about this watch are subjective, and that they might not bother other owners. But, I just think they hold this watch back from reaching its full potential. Because, despite my issues with the Khaki Field Mechanical, I think that Hamilton got an awful lot right with this watch.
The size, the design, and the price point are all spot on, and at £395 the watch is a tempting value proposition to those on the lookout for a vintage military inspired timepiece. If there's one thing I'm a sucker for, it's a good tool watch, and Hamilton has done an excellent job of updating their Vietnam-era field watch. It's an incredibly comfortable piece to wear, and the simple, no-frills aesthetics and bead-blasted finish work to make the watch feel both rugged and casual.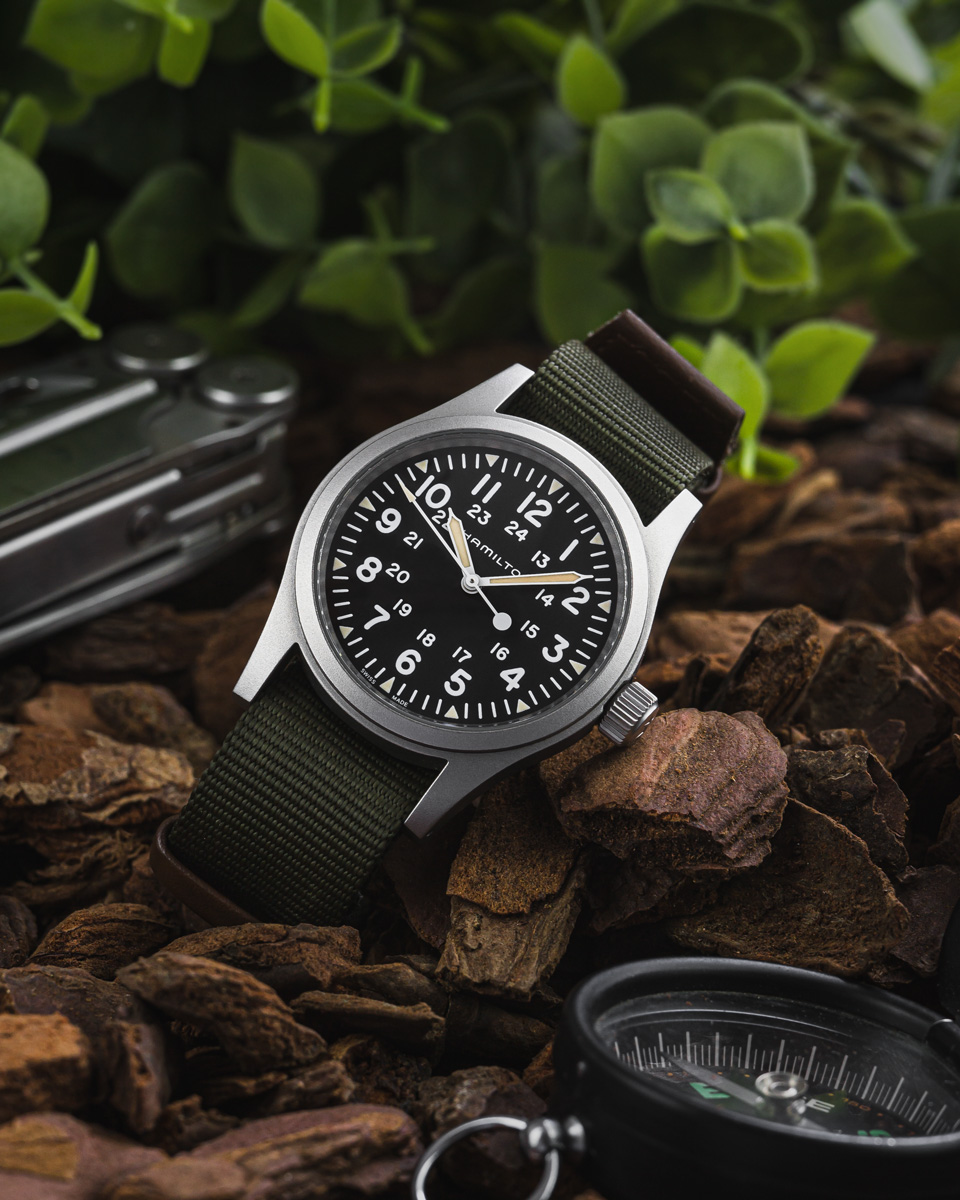 But, unfortunately for me, the somewhat trivial issues I have with the watch stop me from really connecting with it. And, though I think it's a great first field watch to get, I just don't have the desire to wear it myself.
Luckily, Hamilton makes another field watch that solves all my problems, and that is the previously mentioned Pilot Pioneer Mechanical. I found this to be a much more interesting watch to wear, and I'll be covering why that is in the very near future.
You can read more about the Khaki Field Mechanical on Hamilton's website here.