CATEGORY: Watch I have been loaned for review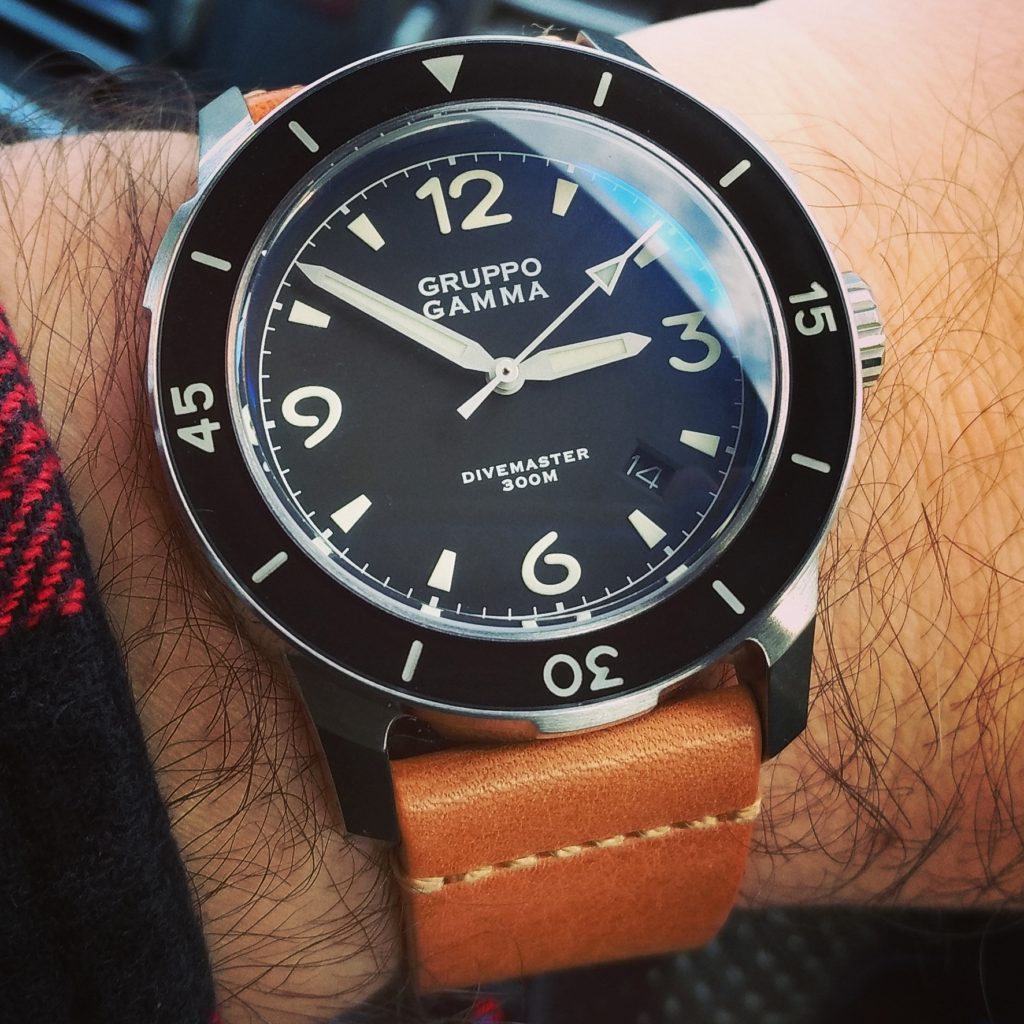 I don't get bronze watches.
I don't get patina.
Well, ok, I do get patina. The scratch from the bedpost on a watch, from a night of unbridled passion is a great memory. The flaking lume from a friend I've had for many years, I get too. The time I fell over drunk on a great night out, that caused a dent, is worth keeping.
But buying an old watch that that has loads of "patina" on it I don't get. That patina isn't mine. Those scars it suffered weren't because of times I had with it. They were someone else's memories, they were because of someone else's journey.
And now we go on to bronze watches. I don't like the look of bronze because it looks like low carat yellow gold from a distance. In my eyes, yellow gold is unappealing, it just looks common or poseur-ish. I don't wear any.
But the whole point of bronze is to wait for it to develop patina. Mostly it develops by being shoved in a bag with lemon, water, acid, egg and goodness knows what else. Forced patina. False adventure scars.
If I buy a watch, I want it to look good. I don't want it to look like an old copper coin. I don't want it look like I just dragged it out of a puddle in a field, where it has sat for 20 years.
But that's just me. It'd be boring if we were all the same.
So what's that got to do with the Gruppo Gamma Divemaster? Well Gruppo Gamma are well known for their bronze watches, and that's what I expected to get. Indeed their bronze Panerai homages are well loved, so much so that if Panerai DID release a bronze watch, they would be homaging Gruppo Gamma 🙂
Gruppo Gamma are owned by Naoki and are from Singapore. They're a brand I was in awe of when I owned Deaumar. They just seemed to crop up everywhere in enthusiast circles and yet they seem to have "stealth marketing". I don't think I've seen an advert for them in my FB feed.
So as you can probably guess, I wasn't looking forward to receiving a big, bronze, dateless diver, which is what Gruppo Gamma have forged their reputation on, but was looking forward to seeing what the fuss was all about. I wanted to know why some people seem so loyal to another asian brand at a premium price.
So I opened the box and saw a decent sized, diver in Steel. Good lad Naoki, sweet spot attained, this looks good.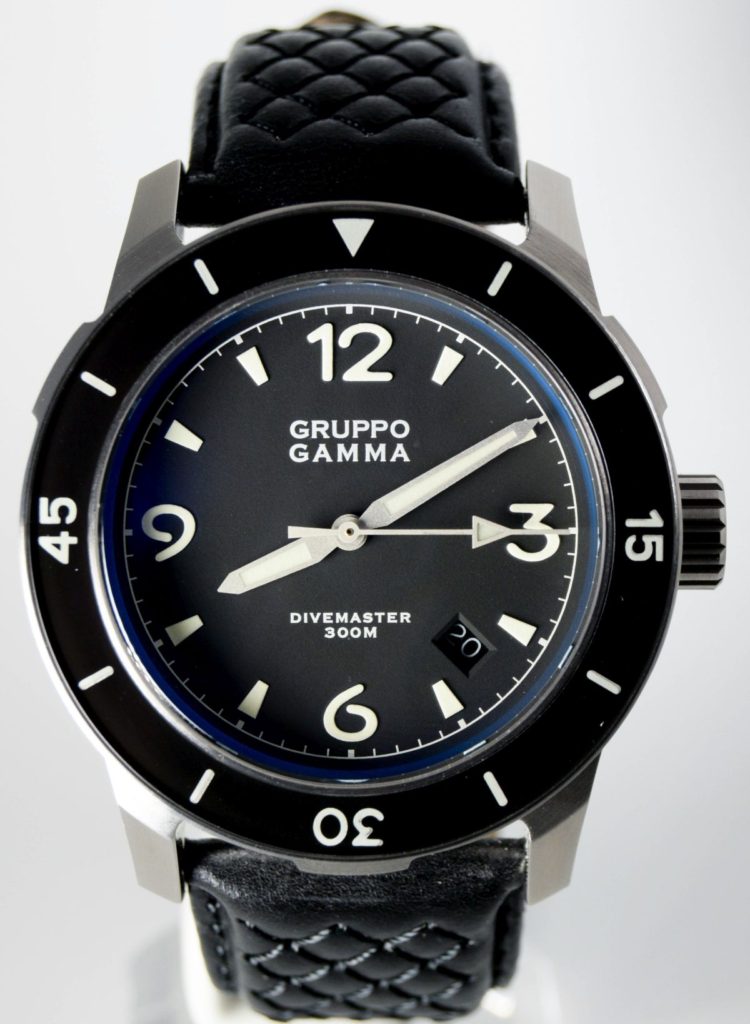 Actually, I was kinda hoping that it might be a big bronze watch. I was hoping that maybe wearing one for a while might suddenly make me appreciate why so many people like them so much.
But it's not and I'm glad it isn't.
Now, in my book, there are "homages" and homages. What's the difference? To me an homage watch takes elements of other watches, but changes them so that they're still recognisable, but they are their own watch. Sometimes they're an amalgam of different design aspects from other watches. "Homage" watches are basically a straight copy with enough changed to not get in trouble or be branded a fake.
This is an homage watch, and it's one that's done really well.
Heck, this is taken directly from Gruppo Gammas press release:
"1953 Blancpain introduced the Fifty Fathoms which was issued to the US and French naval divers, Zodiac introduced the Sea Wolf, and in 1954 Rolex introduced the Submariner. Ironically, it was also in the 1950s that Panerai stopped producing dive watches for the Italian frogmen.
Retrospective but adventurous, Gruppo Gamma's Divemaster draws inspiration from these legendary watches in much the same way that different watch designs in times past have influenced one another. "
The case to me reminds me on the Blancpain Fifty Fathoms. Stocky, round, distinctive. The bezel insert also reminds me of the FF.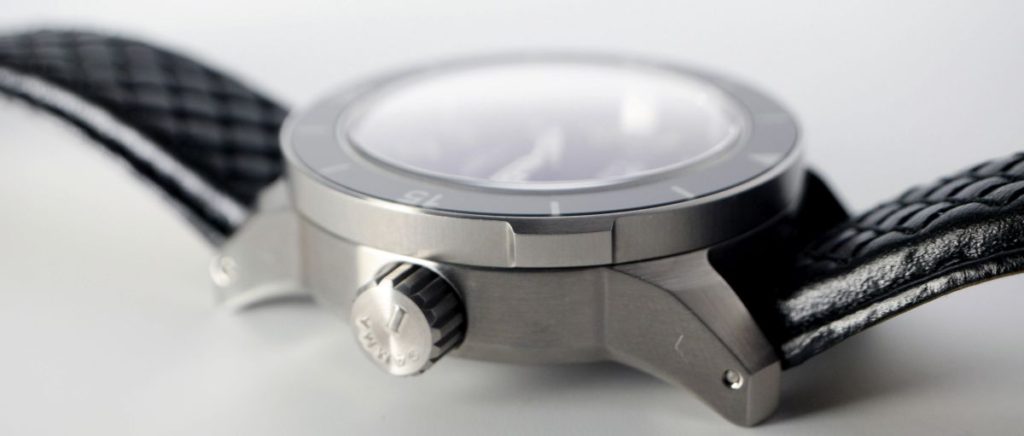 The face, true to Gruppo Gammas heritage, reminds me of Panerai, especially with that font. But nothing is a straight "lift and shift" here.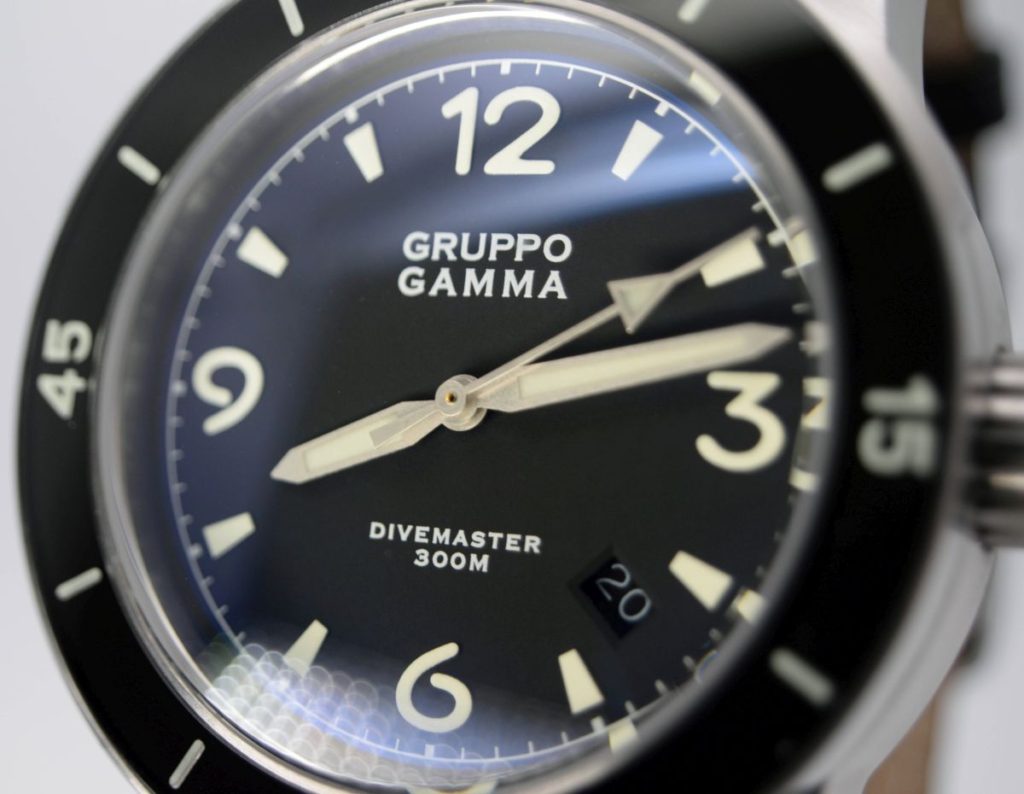 The watch costs $499.
It comes with a leather strap and an ISOFrane style. The leather is nice and thick, with a chunky buckle. The ISO style is nice and supple. The lugs on the DM are a manly 24mm. But again, it comes with a leather and an ISO, not a surgical steel bracelet.
The watch costs $499.
The movement is the SII version of the Seiko 4R35 auto. 24 jewel, not high beat. These can be found in $99 Seikos.
The watch costs $499.
The case it comes in is made of plastic. I used to use ones like this to keep my Gameboys in in the 90s. It's practical and protective, but has no "wow" factor.
The watch costs $499.
The indices on the face are not applied, they're printed lume. The non date versions seem to have a sandwich dial.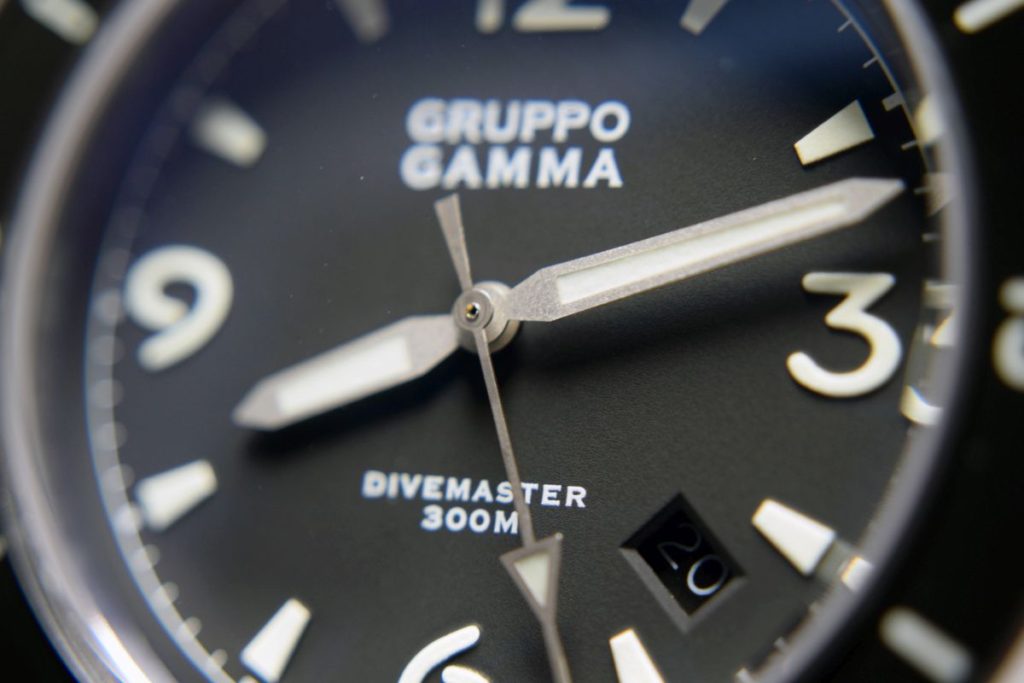 The watch costs $499.
The bezel isn't ceramic. It's a lumed inlay with sapphire glass on top.
The watch costs $499.
I'll stop now. The constant "The watch costs $499" bits are me flicking "the bird" to people who strip a watch down to component parts, look at a picture, then go trolling as their formula is:
PRICE OF WATCH = COST PRICE OF COMPONENTS + TINY PROFIT YOU ROBBING MICROBRAND BASTARDS
This formula is a big pile of bollocks.
The more time goes on, the more I exist in this world, the more I'm finding that the "magic" that is left in this world comes from intangibles. That's why it's "magic". You can't see it or hear it, you have to experience it.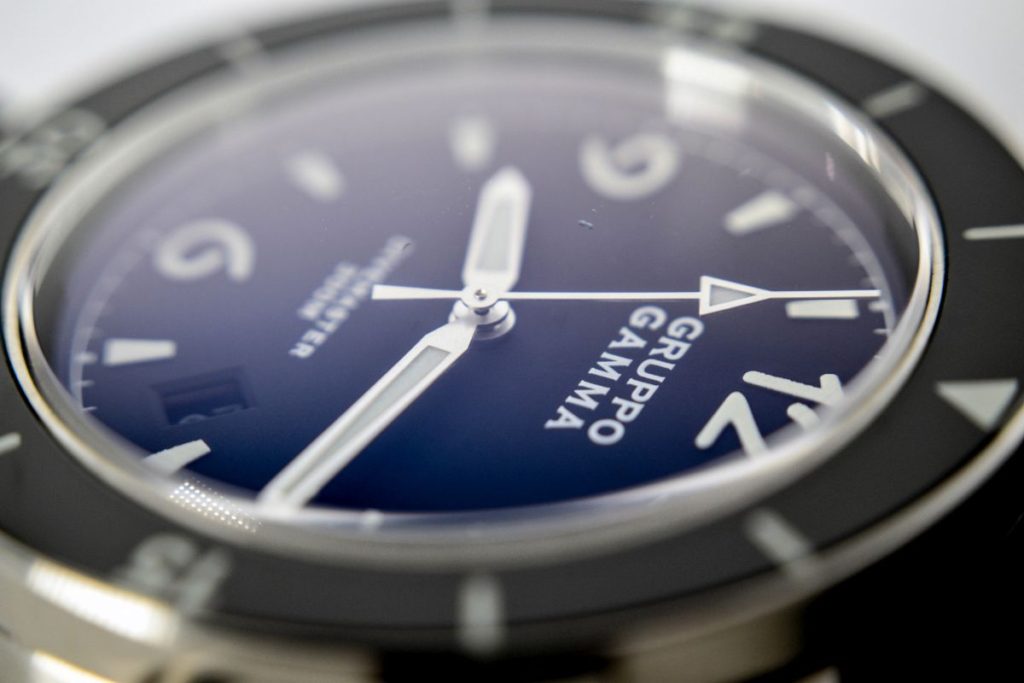 I've never worn an expensive MicroBrand watch. I've never seen a Megalodon in the flesh. I've never strapped a Vintage VDB to my wrist. Never gazed at an Angelo Delmare. These cost many times the cost of the DM.
But you know I've got high end Swiss stuff to compare and contrast with, and I'm going to stick my neck out here and say I think this Divemaster is the finest MB watch I've ever seen and, honestly, put an ETA 2824 in it, Swiss Made on the dial and a prestige brand name on the face, and I wouldn't argue. It is that well made and finished.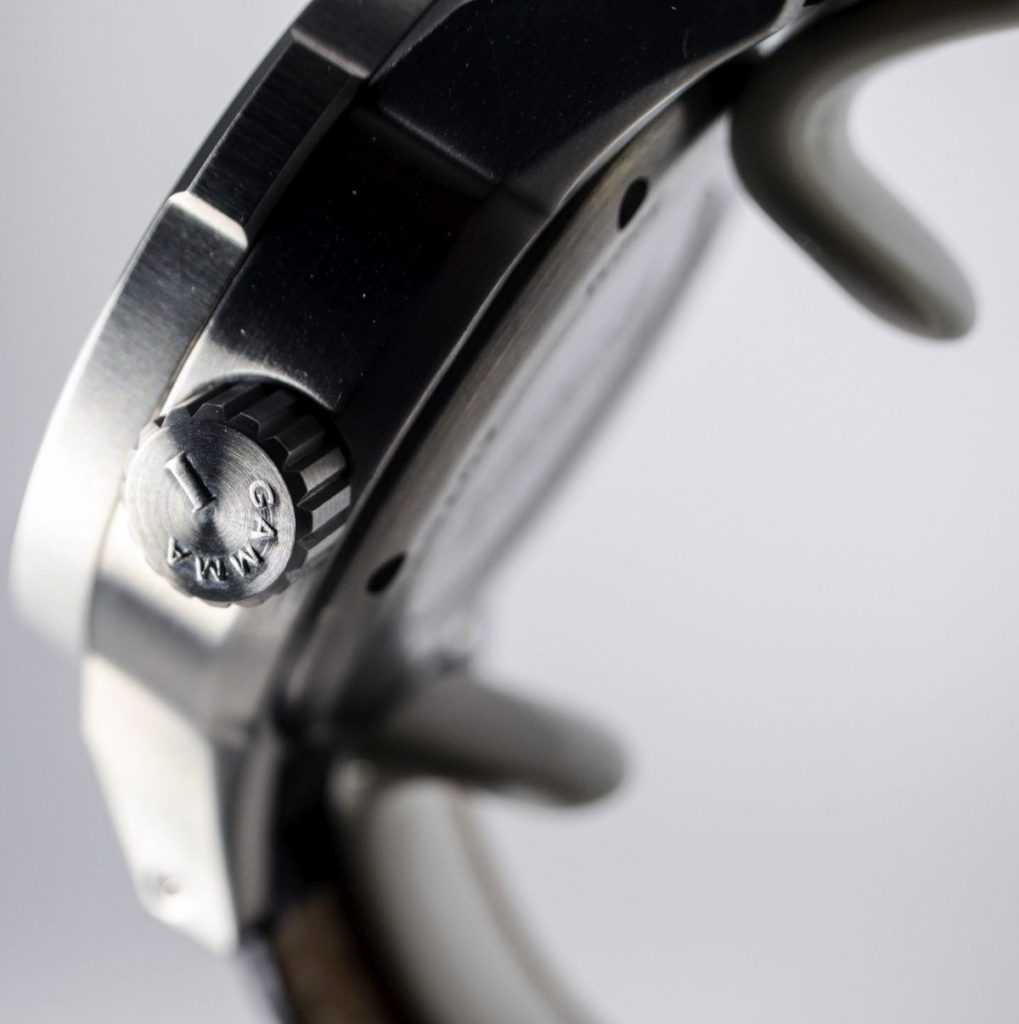 The bezel. Never seen one like it. It's not knurled at the edges nor has any real grip; it looks like it won't rotate. In fact it has 3 x "blocks" at 2, 6, 10. First time you try and turn it, you assume there's going to be grip, and your fingers slip. Then you look again and see the blocks. You then turn it fine. Not the heaviest or clickiest bezel turn I've ever experienced, but it works. There's no slop, it doesn't move by itself and it lines up great. The upside is though, that it looks very elegant. The sapphire coated inlay is simple and effective, elegant again, and lights up like a Christmas tree.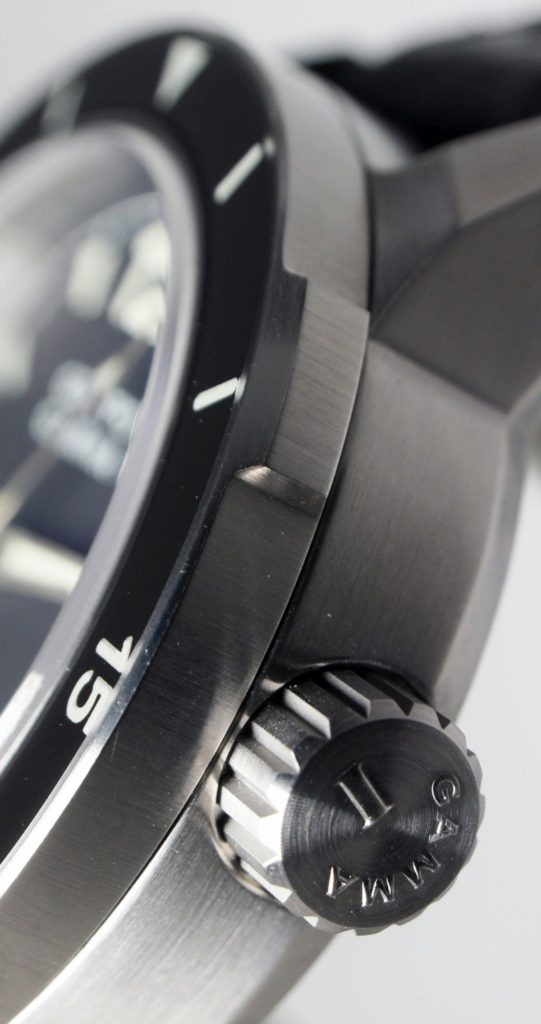 The case is a simple design. It's lovingly all brushed. This is going to be a pain if it gets scratched, but it looks lovely. The bezel edge is also brushed. I'd rather have a good, well made, well finished, "classic" case like this than one that's being innovative for the sake of it and ends up looking ugly.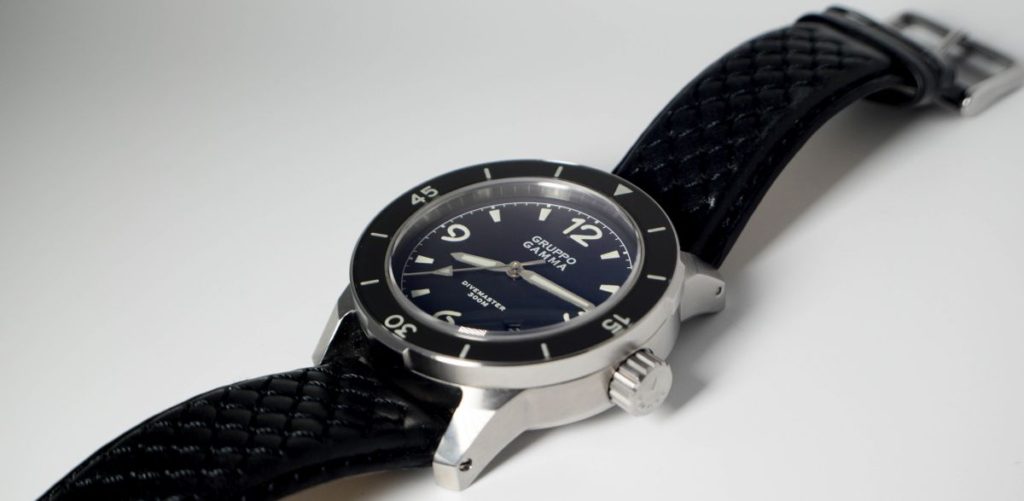 I like bracelets and this rocks a shark mesh, but I put it on a quilted black leather and I think it suits it to a tee. The included tan leather however is a notch above the ones supplied with other MB watches I've bought. It's thick and supple with a great big buckle. And like I've said, the ISO is what the ISO does.
But to change the strap, there are no spring bars here. Just take the small included screwdriver, unscrew the bar in the drilled lugs, thread it through the strap, screw it back in. Wonderful. For me, all strap changes should be this easy. No stress, no scratched lugs, easy. Yes, you'll have to keep checking for tightness of the screw every now and then, but I think that's a small trade off for not swearing a lot whilst scratching your lugs whilst trying to force a strap on.
The crystal is wonderful. A lot of watches boast a domed sapphire. When you look at them from a certain angle they distort like this. Not knocking it, just saying.

Not so on the DM. As you tilt, the face just seems to move away and look deeper. I'm no diver, but domed crystals are there to help with distortion at depth. I always wondered how the distortion displayed on most domed crystal would help. I can actually see how it would here.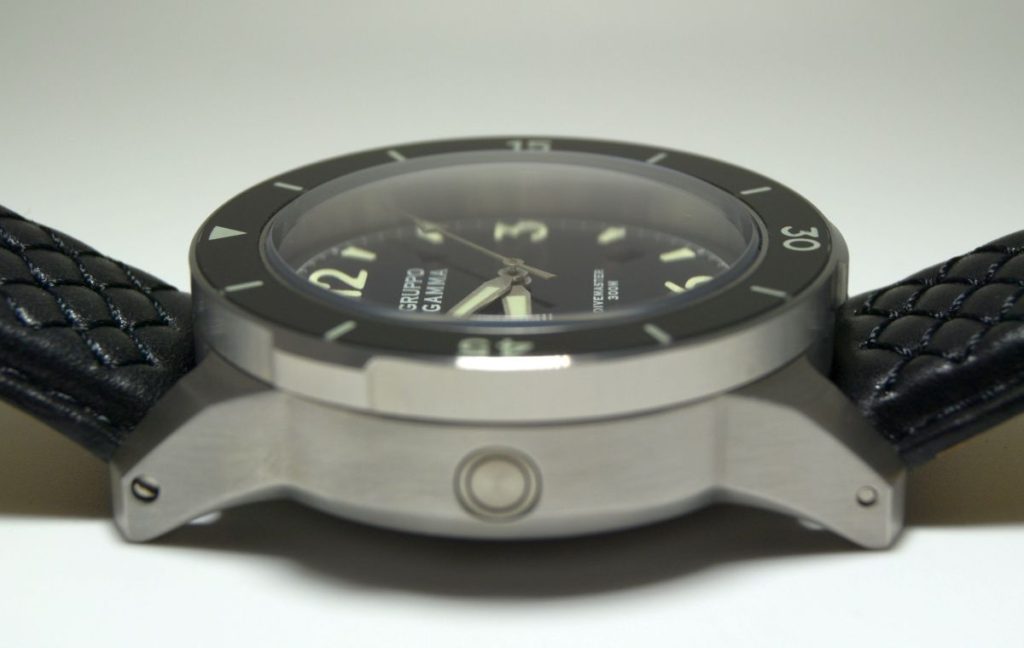 The AR coating is subtle, but really well done. The face can go from crazy reflective to really legible depending on the position you're looking at it and the light.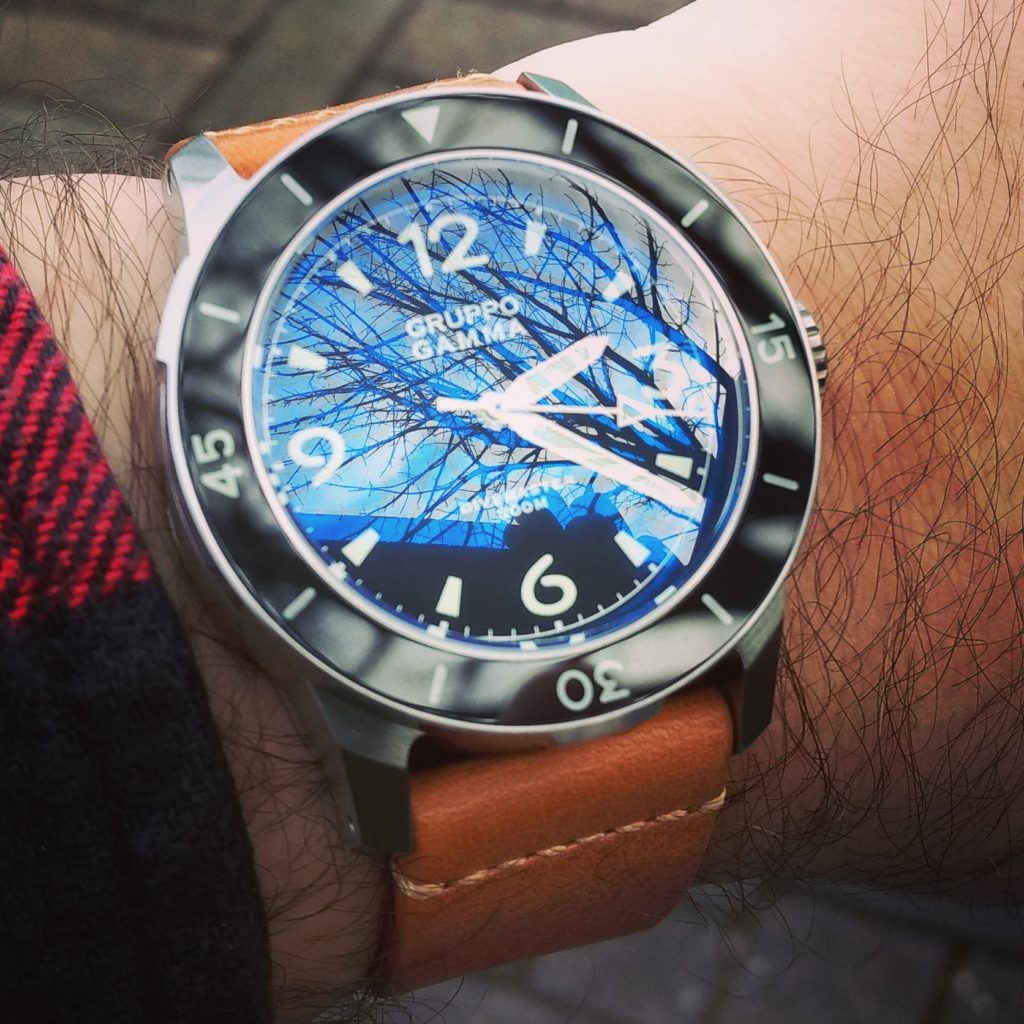 The caseback is competent and nicely done. Again, I don't really care about casebacks.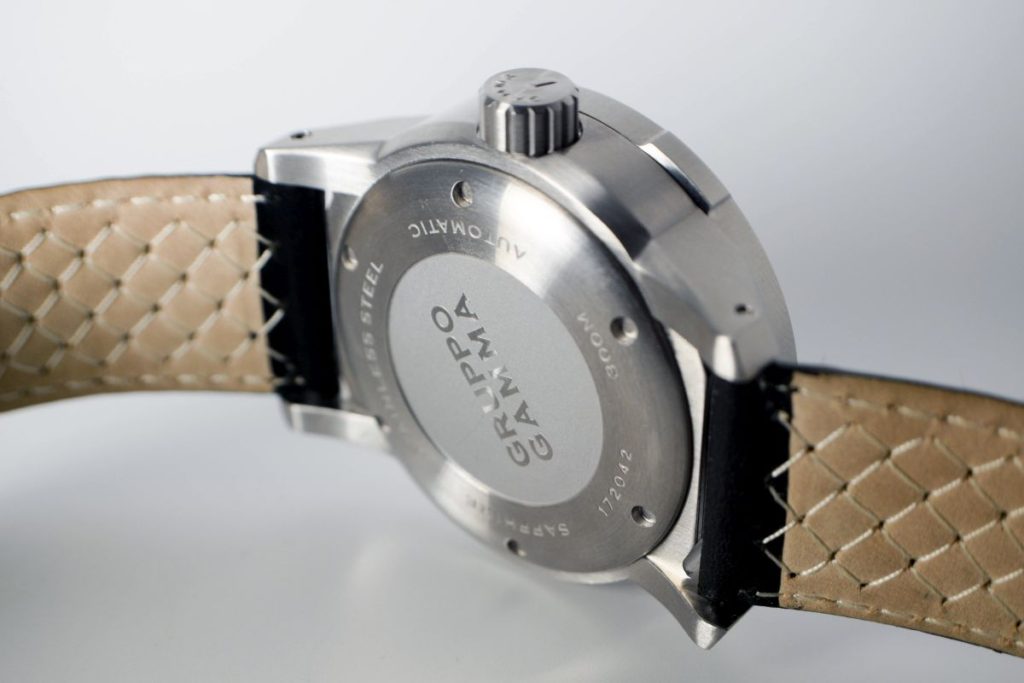 But like trying to judge a persons character by looking at a picture, you have to live with a watch to really appreciate its subtle nuances.
I took this abroad with me on a recent business trip. It was worn with suits, it was worn with jeans, it was perfect in all situations.
This really is a "universal" watch. It's like a Green Beret in a dinner jacket.
The brushed case with subtle bezel, the understated face, the sober yet glossy bezel insert makes this look like a big dress watch. Yet this has a big signed crown, a domed sapphire with AR, superb lume, 300m WR and a Helium Escape Valve. This is a watch that goes with anything and can handle anything.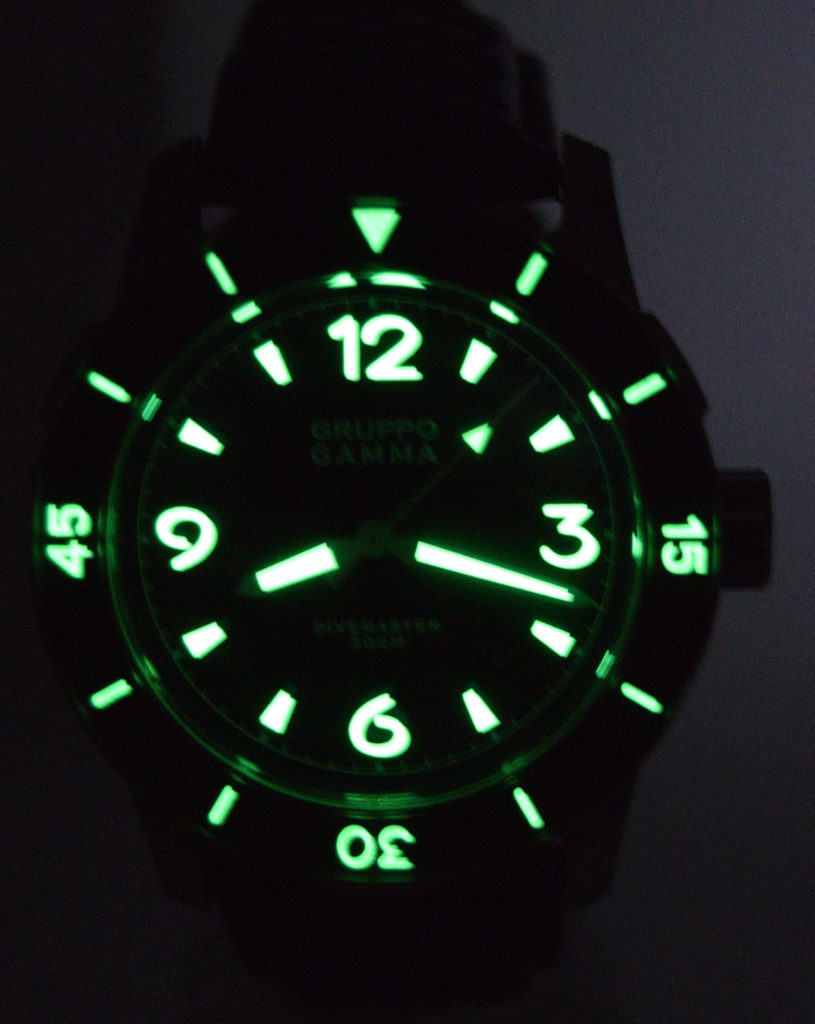 Yes, you need a big wrist, this is no shrinking violet, but that's the way it goes. For me, I truly love this watch.
Faults? I'd be nitpicking but the date window, although I'm glad it's there, is a bit hard to read unless you're in good light, it's quite recessed from the face. I worry about getting a scratch on the brushed case. I wish it had a fitted bracelet. The hands are functional, but anonymous. A better movement would be something I'd pay more for.
But again, nothing and no one in this world is perfect. We can love things for what they are or walk away. It's when we look at it, at a certain time, at a certain angle and it smiles back at us that we can forgive anything.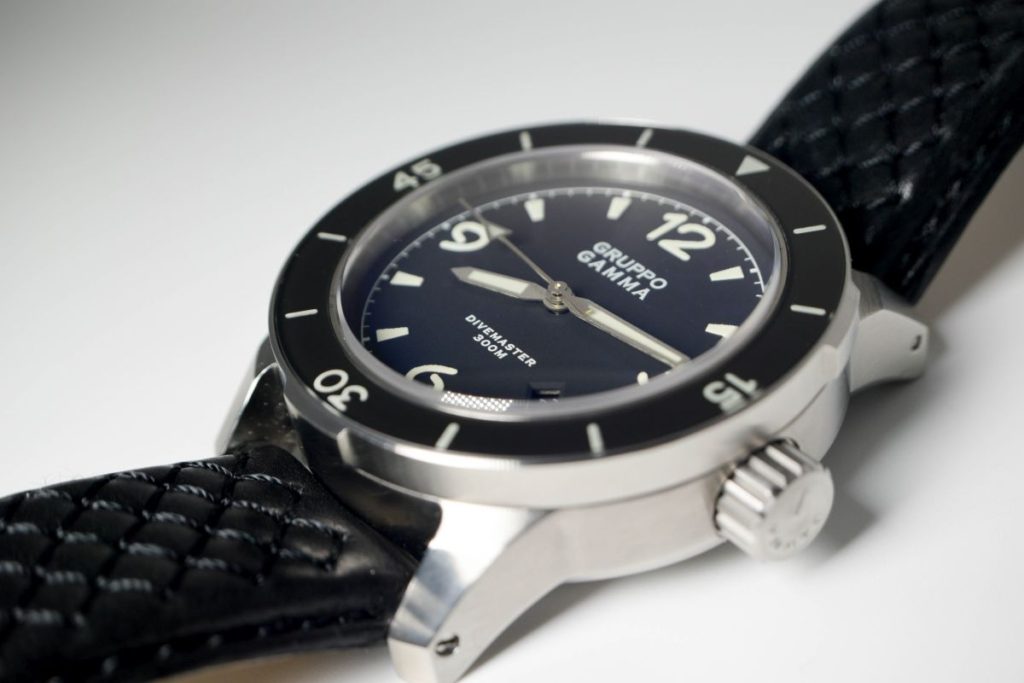 Whilst returning from this business trip I looked in the watch boutique they had in the airport. They had Mido watches for sale. They are unknown in the UK. I hastly tried on a Mido Commander, a watch I always fancied. I put it on and thought…it's ok. Then I looked at the Divemaster that I'd laid on the counter so I could try the Mido on. It smiled back at me.
So now I need to speak to Naoki about paying for it, as this watch is going nowhere.