CATEGORY: A Watch I Own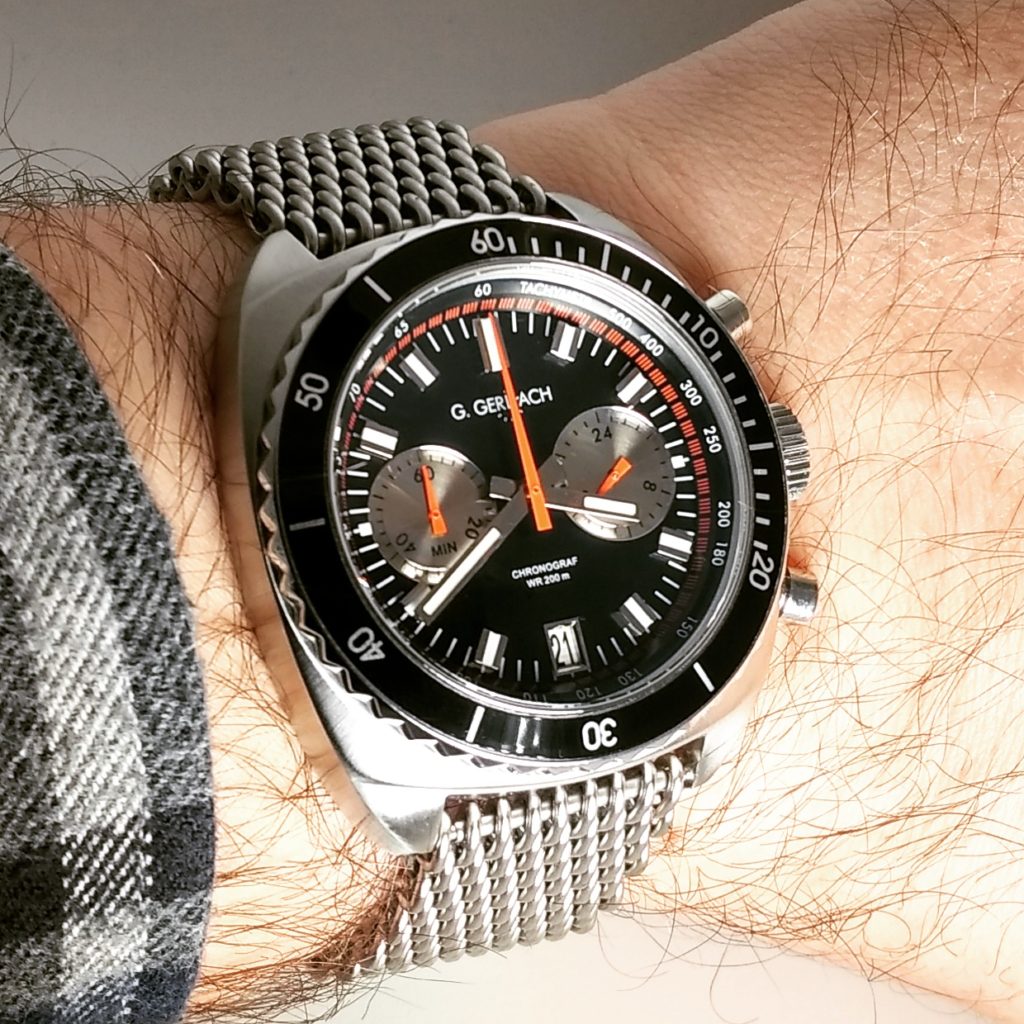 When I think of Eastern Europe, I must admit that I have stereotypes. Places that are good for cheap beers and stag parties (I remember shooting old farm equipment with an AK47 at a "shooting range" one hung over morning at one), but also sad places that had a lot of oppression and war but in some parts are achingly beautiful with some gorgeous cities and very friendly locals.
When I think of Eastern European goods, I think of functional items. Mostly ugly, a lot of it an "homage" to a Western product, not really top quality, but most probably hardy. They make top notch alcohol though.
Now, there's a bit of a quiet Microbrand scene going on in Eastern Europe.
Small, unassuming, brands quietly making watches with little fanfare or advertising. They don't appear on Kickstarter. They don't flood my FB news feeds.
They make everything from dress watches to chronos, to divers and even some LED digitals.
You need to know about them as they seem to employ "stealth marketing", I stumbled across them by accident.
They don't seem to have any ADs and the production runs are usually small, less than 200.
To buy one, you have to know about them, then you have to navigate through their websites (which are not always in English) and then place your order or pre-order.
The communication back to customers is, erm, rudimentary, but I have received everything I've paid for.
I didn't know what to expect. I'm led to believe that most of these watches are fabricated in the East and then assembled locally, but still wasn't sure if the quality would be as good as mainstream brands or if, like in the case of Poljot or Vostok, they would be quaint or rough and ready.
My first eastern MB purchase was this, the G. Gerlach Enigma. It was right in my sweet spot.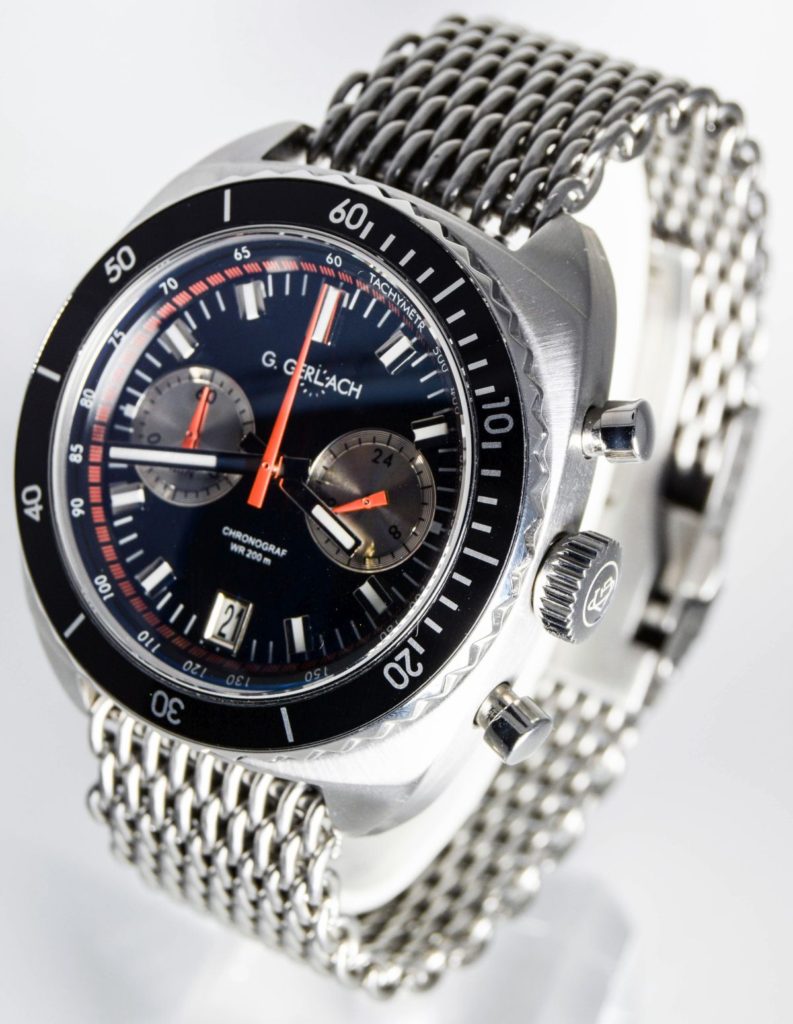 A retro looking divers chronograph with a reverse panda dial and orange accents. Sold.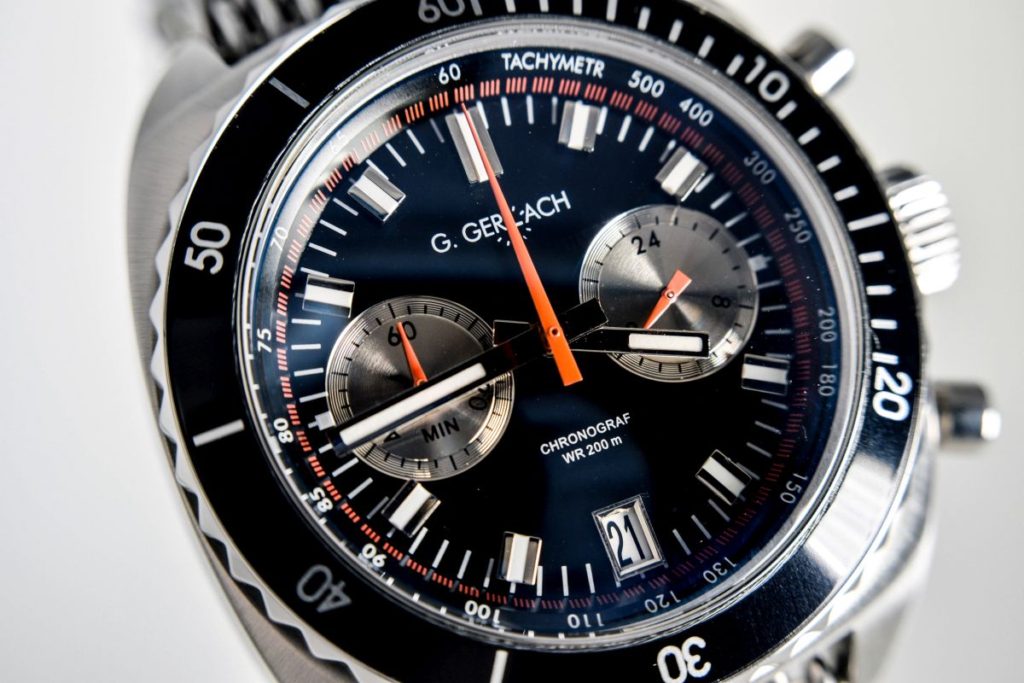 The specs are good:
316L surgical steel case

Size: 43x49x13mm – Lugs 22mm
Domed sapphire crystal with anti-reflective coating
Seiko TMI VK64 Mechaquartz movement
Signed, screw down crown
Rotating bezel
200m WR
This seems a great watch for £160, so I was ready to find the short cuts taken or a complete piece of crud in the box.
After owning this for nearly a year, I can only conclude it's one of my best MB purchases.
So, the case. The case is all nicely brushed, except for the bezel. It is a big, hefty case. Feels very solid and has a lovely cushion shape to it, but the slight stepping just after the bezel and before the lugs really is a nice touch.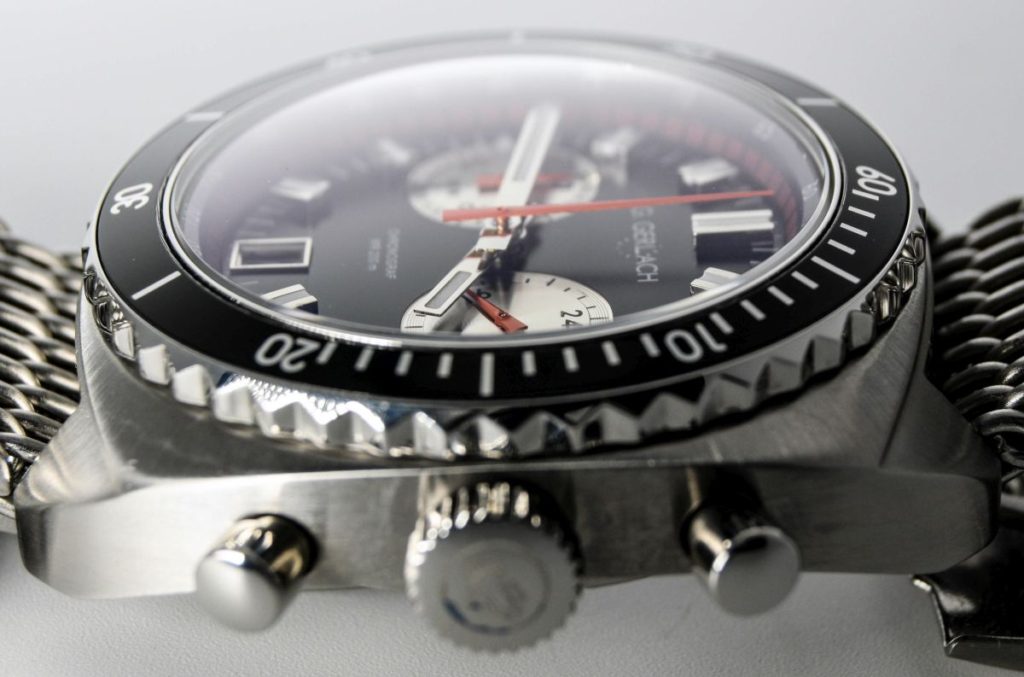 The crystal is indeed a domed sapphire with AR and it really sparkles. It has a slight blue tint and really does the face a lot of favours and really makes this watch look substantial.
The crown is a big, signed, affair which is easy to grip and screws down nice and tight.
The chrono pushers are not screwed down, which seems strange for a watch that boasts 200m WR. However I'm not likely to dive with it that deep so it doesn't particularly bother me, but bear it in mind.
The face is matte black. The indices are applied and have lume in them. The date window has a metal border and is at 6. The metalwork isn't silver coloured, it has a very faint yellow gold colour to it which is unusual. In the right light it gives a rainbow effect on the chrono subdials. In my mind, it slightly cheapens it, but at the same time it's still good looking.
It has an internal Tachy scale.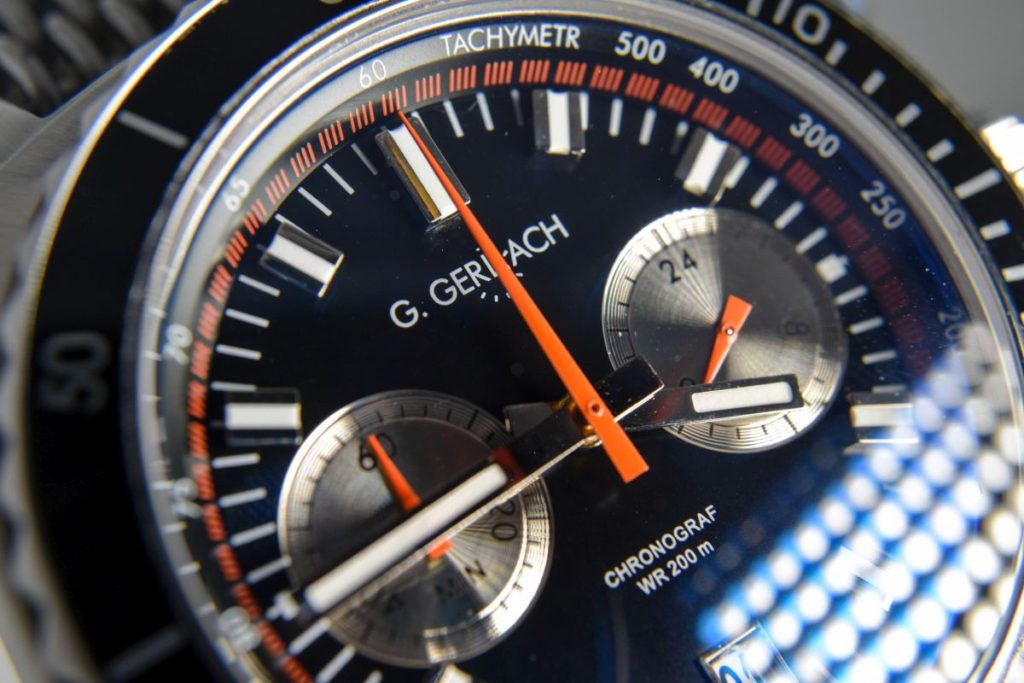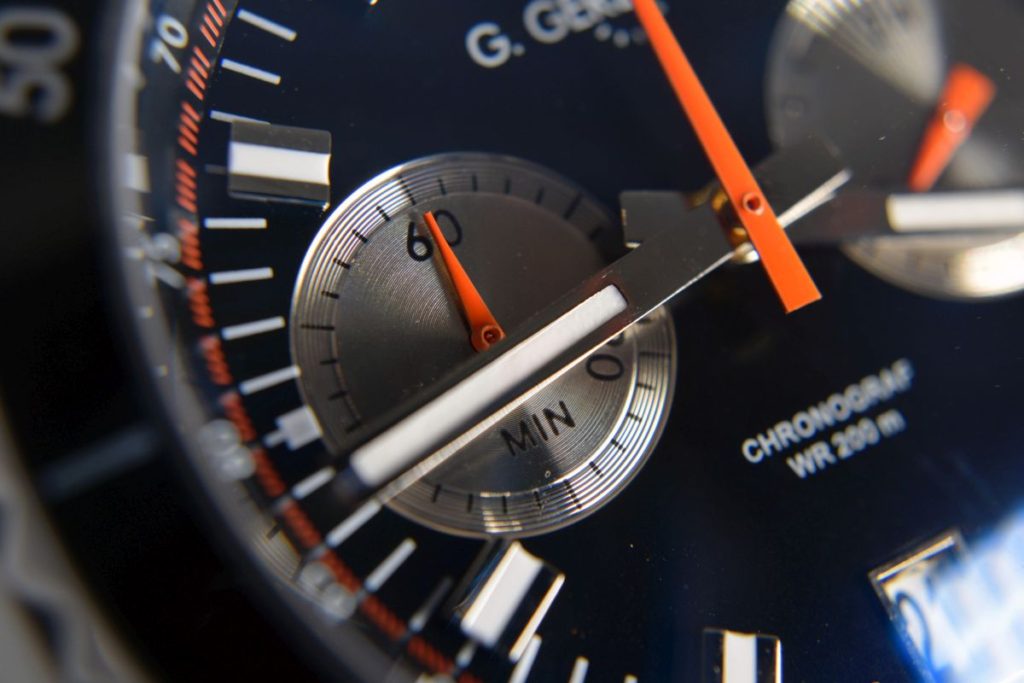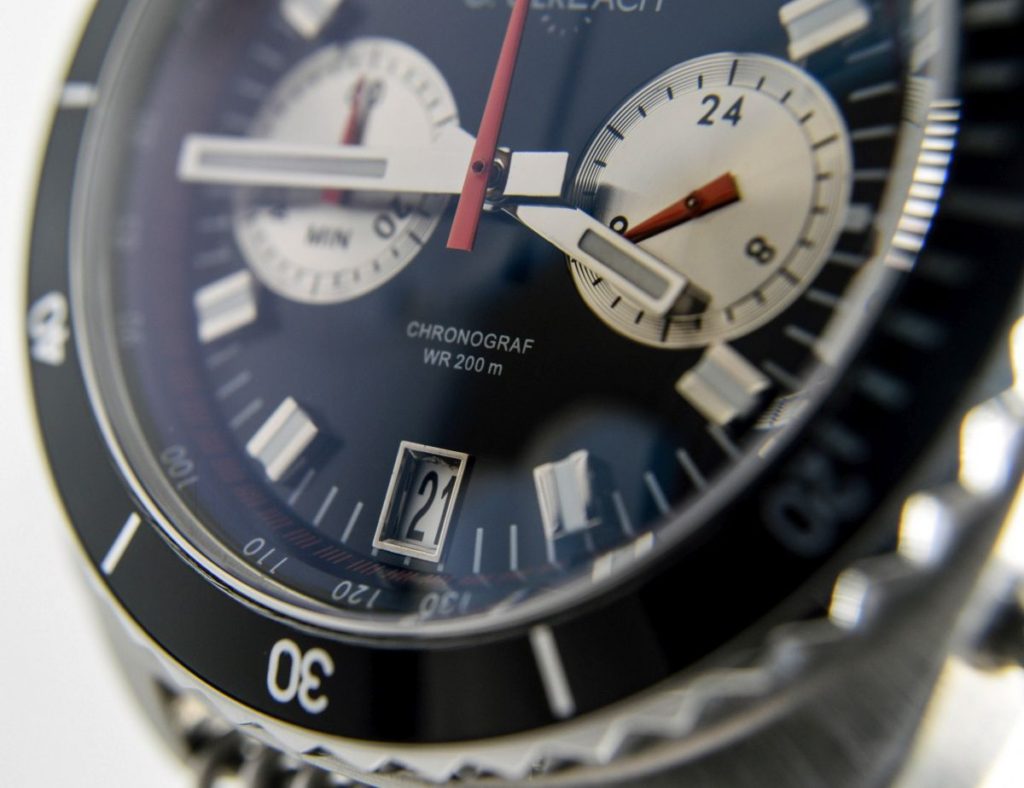 The caseback has the expected writing and an Enigma logo in the middle. It's shallow and laser engraved, as opposed to moulded, and most of the text is in Polish. Nothing spectacular, but decent enough.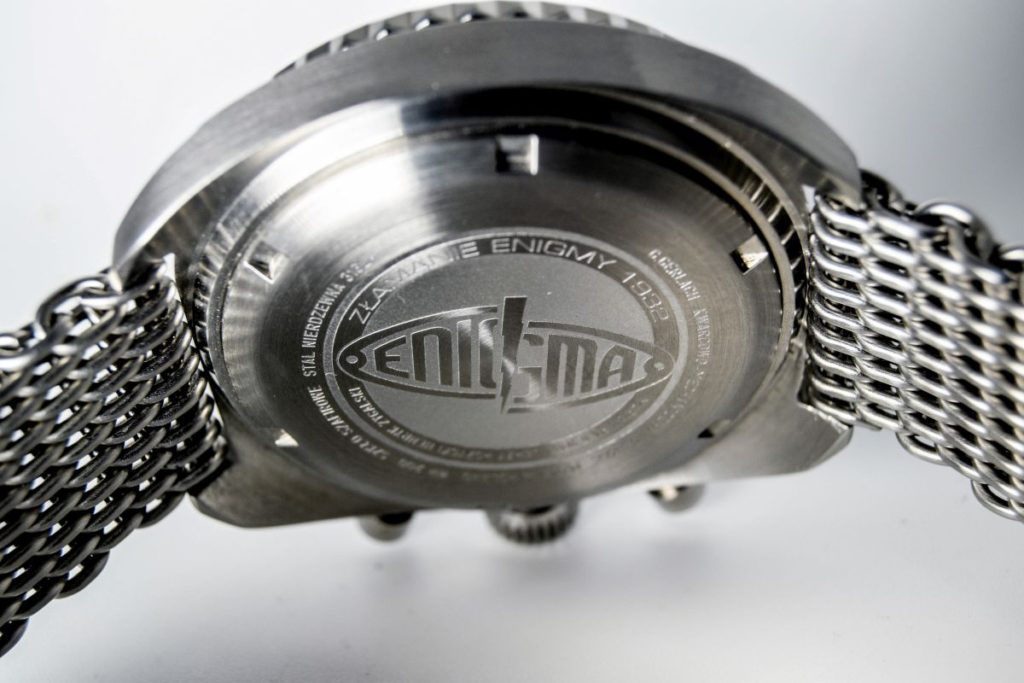 It comes on a pretty low grade black leather rallye style strap. You know me, off it went. I like it best on a shark mesh. I don't know of a sports watch that doesn't look good on a sharkie. This also looks good on rubber and natos, ISO style in particular as it has decent lugs so can accommodate most straps.
The packaging is a small wooden box. Not particularly nice, but also not particularly important since it's been stuck in a cupboard from 10 minutes after unboxing…along with all the other elaborate but ultimately useless boxes most watches come in.
So, what's the verdict. A modern Skoda or a Lada throwback (sorry for the stereotype there)?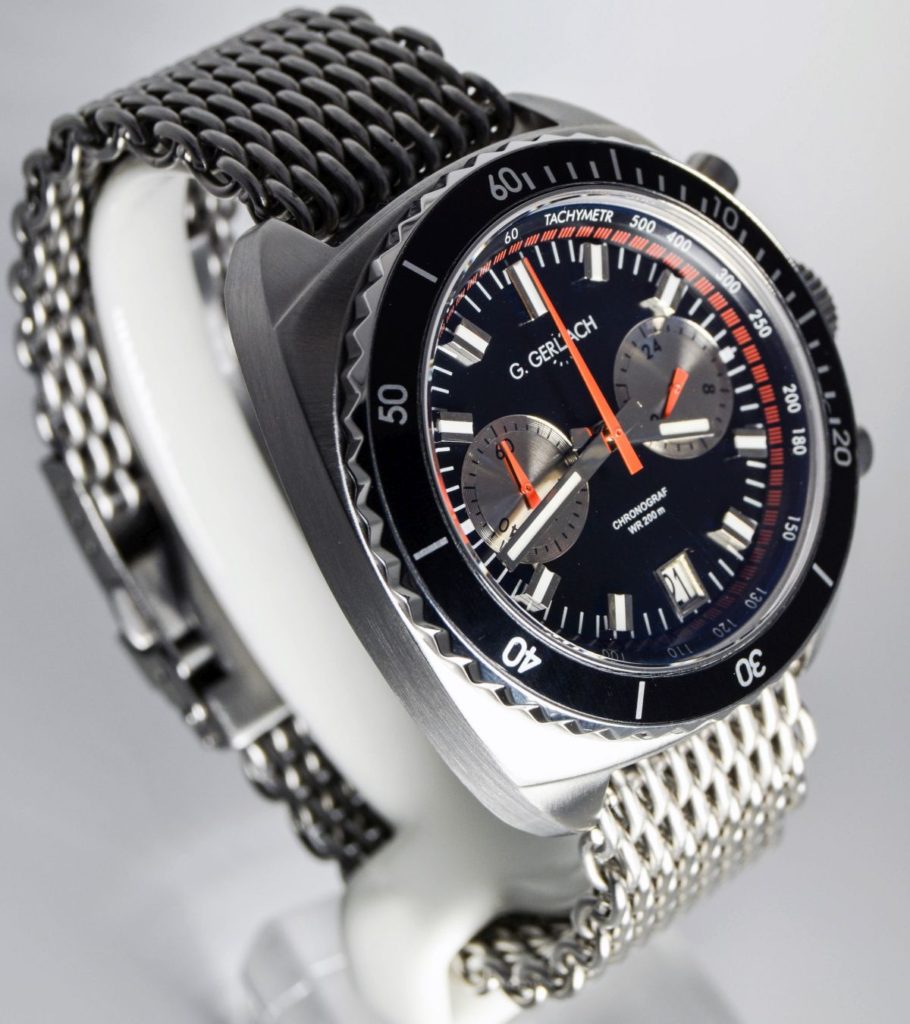 I have to say that I can't really find any faults worth mentioning here. The watch is well made, well specced, has real wrist presence, gets noticed and all in all is fantastic. OK, the bezel has no lume, is a bit rought to turn, not great to grip and has a cheap looking insert, but that's not unique to this watch.
As a whole thought it really has that retro Heuer vibe, yet glistens in the light like a dark jewel. The orange second and subdial hands enhance this.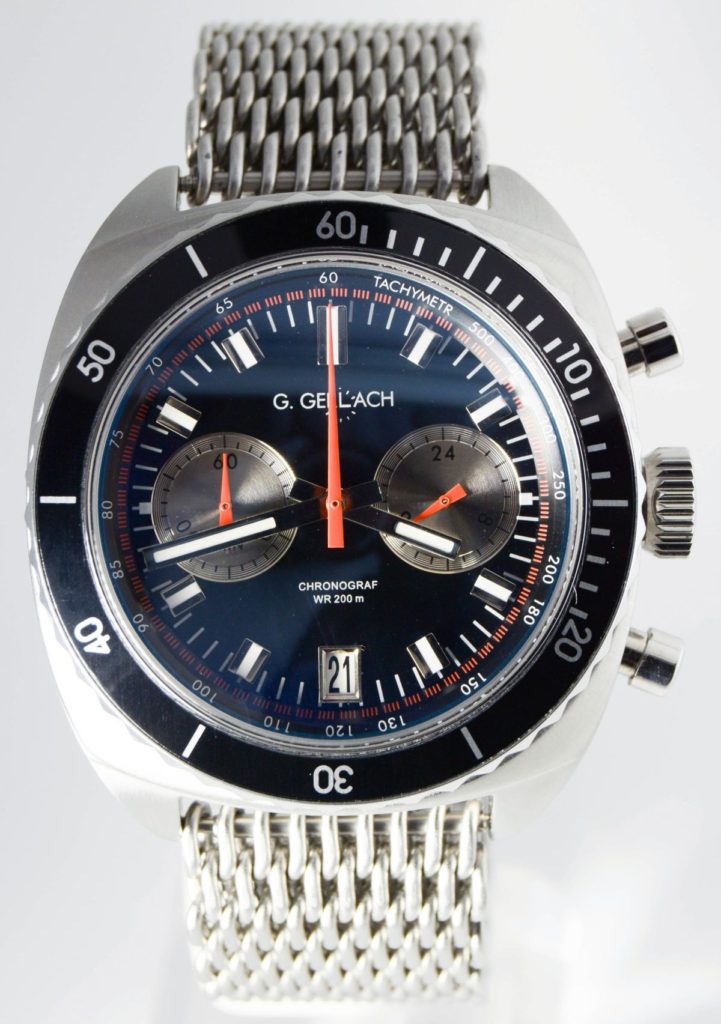 The VK64 is the joy of a movement it always is, giving that sweet sweeping chrono second hand with a satisfying click and snapback when used. Like with the Straton Curve, you wouldn't know it wasn't an auto unless you knew otherwise.
But this watch can also be subtle and on the mesh, with my suit, I've had someone ask if it was a Breitling!
These are sold out from new, but sometimes pop up second hand, so if you like the pictures, the real thing will not let you down.
Gerlach have some other interesting watches too, so keep popping by their site. If you fancy one and if they're built anything like this Enigma, you won't feel short changed…you'll think you got a real bargain, with that enigmatic air of Eastern Promise.