G. Gerlach was created after the founder wanted to show that both in Poland and abroad, products with the proud "Made in Poland" are of the highest quality and that they can be proud of them. Seeing that a lot of Polish work is reproductive and not innovative (as in they manufacture but not develop, such as cars, fridges, TVs), G. Gerlach wanted to be the leading Polish watch manufacturer.
I've reviewed a good number of G. Gerlach watches, and I'm pleased to say that they are indeed fulfilling this goal; they're innovative, unique, and extremely well-built. Their latest model, the Bathyscaphe, supports this even more. I mean, just look at it – whilst its primary inspiration is a bathyscaphe, it could also be the timepiece equivalent of the Polish 7TP tank.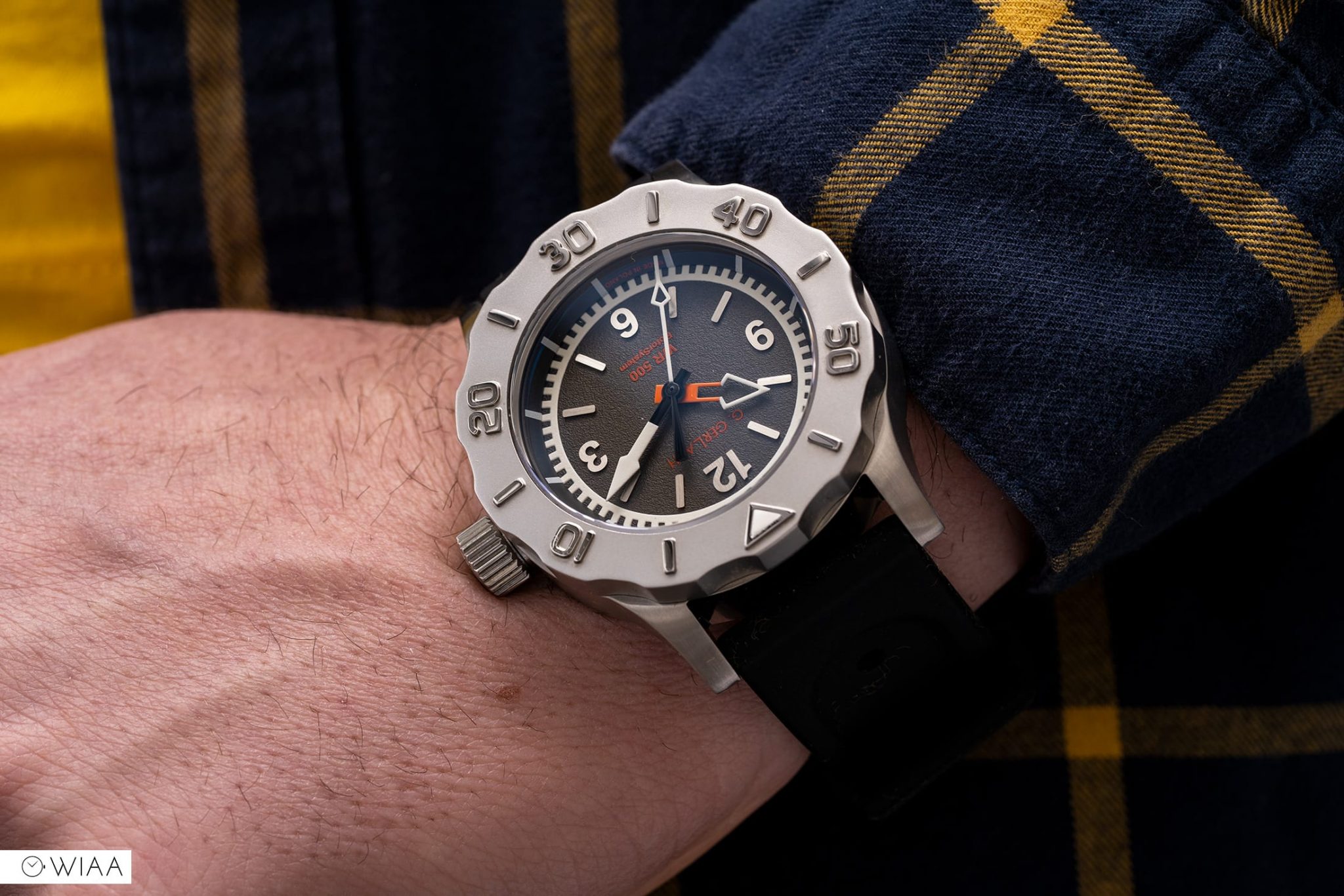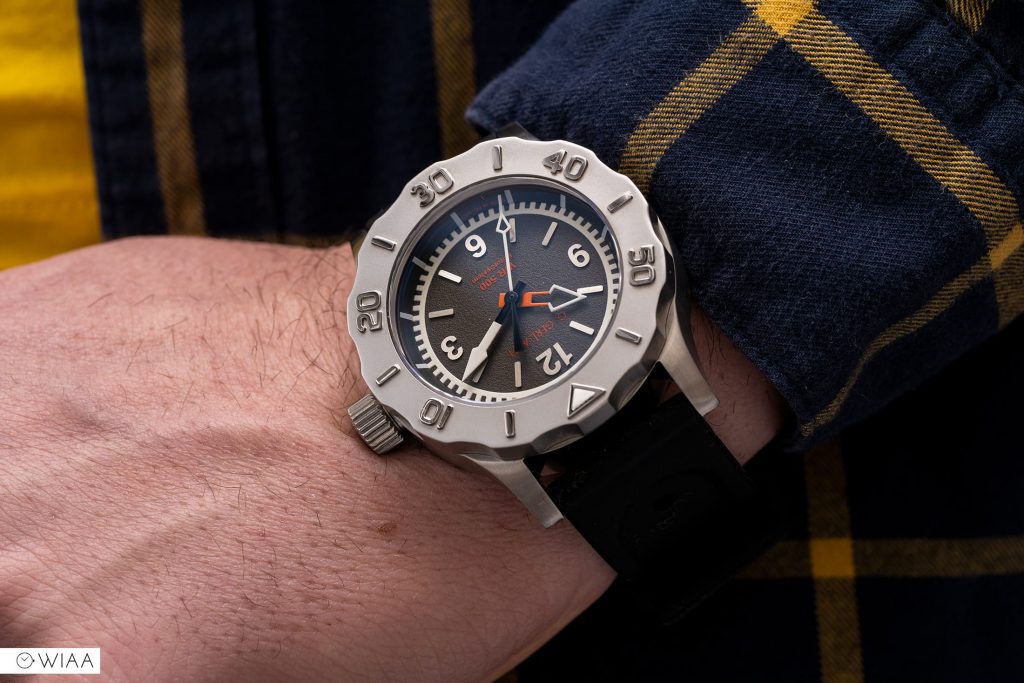 A bathyscaphe (meaning "deep ship") is a self-propelled vehicle used for deep-sea dives. One of the most important bathyscaphes was the Trieste from the 1960s, reached the deepest known point on the Earth's surface, the Challenger Deep, in the Mariana Trench in the Pacific Ocean. An incredible achievement and the influence is clear on this watch, with its impressive construction and 500m water resistance.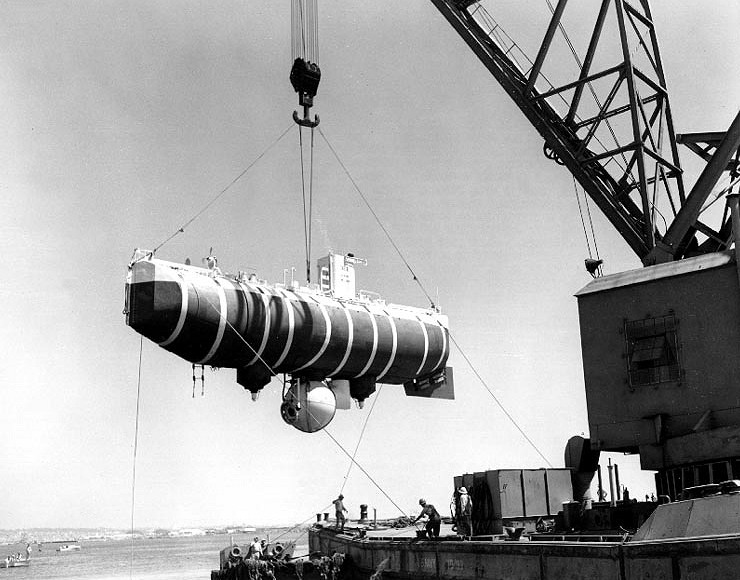 The dial is available in yellow, orange, blue, or graphite (this one). At first glance, it appears to be quite an immense watch, with a reasonable price tag of 1,899 Poland złoty / ~£385 / ~$520. I'm not going to lie; in terms of looks, it's a bit of a marmite watch in that you'll either love it or you hate it. Personally, I respect the bold and aggressive appearance but it's not the kind of watch I'd go for. But of course, this is totally up to personal choice.
Let's check it out.
The specs
Dimensions: 44mm diameter x 16.3mm height x 53mm lug to lug
Weight: 158g
Water resistance rating: 50ATM / 500m
Movement: Seiko NH35A
Accuracy: +4.1 sec/day
Lug width: 22mm
Warranty: year
Price: 1,899 Poland złoty / ~£385 / ~$520
Buy here: http://gerlach.org.pl/bathyscaphe.html
The video review
I'm going to start by saying that yes, this won't be for everyone. The overall design is strong, bulky, and determined. For many, they love watches that have these characteristics. For others, it'll be just too much for them. I'm on the fence; I appreciate the uniqueness of the watch and I do enjoy rugged design, but perhaps it could be slightly more attractive and less in-your-face. But, that's a personal opinion and it's ultimately down to you whether you like how it looks or not.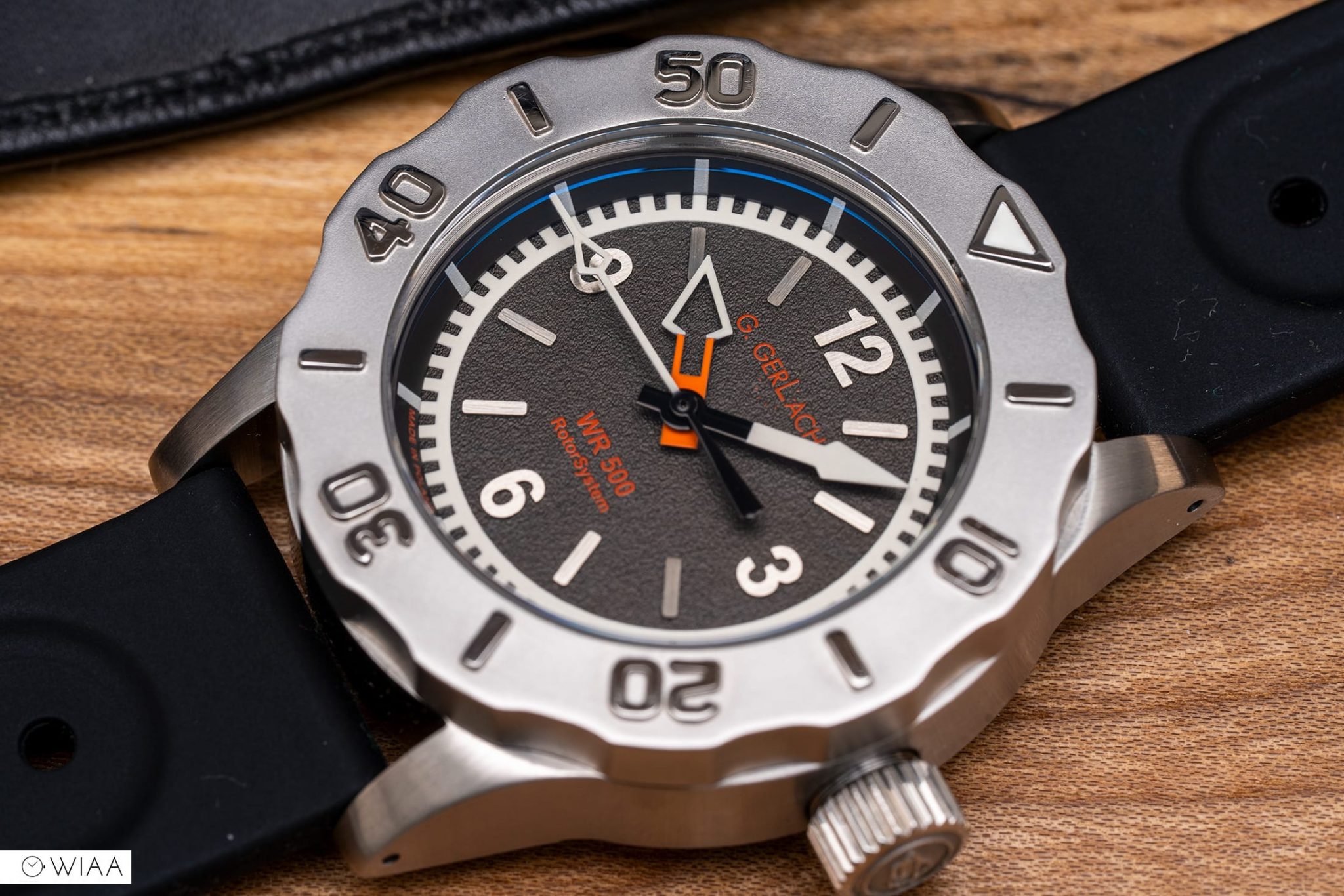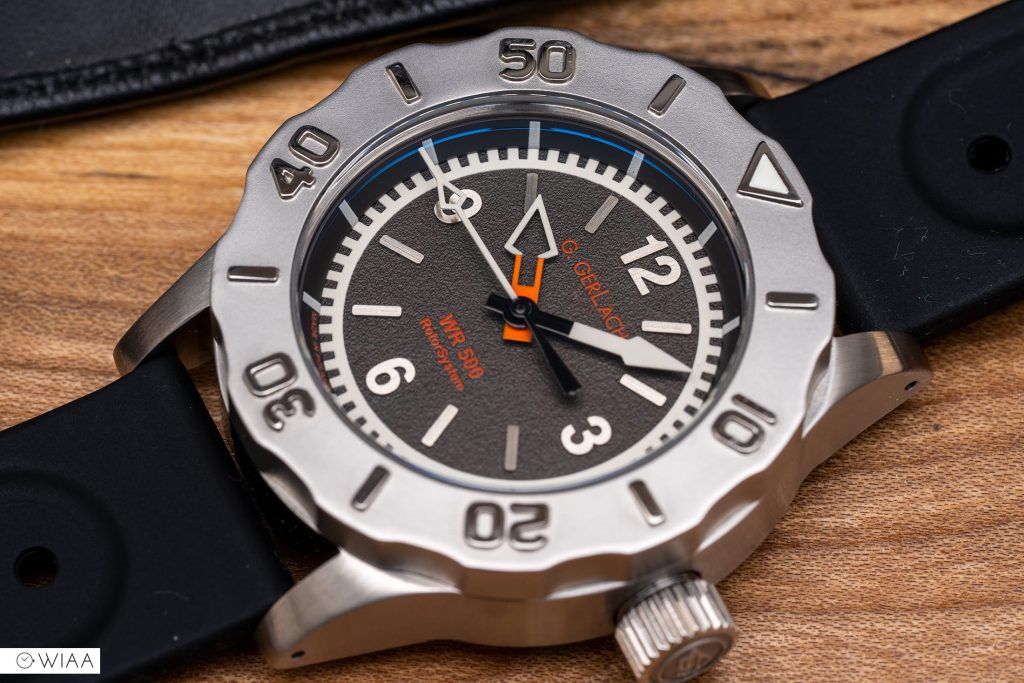 The G. Gerlach Bathyscaphe is a big, heavy, chunky thing with an overbearing bezel as its primary design feature. The case profile is rather plain and simple, which only exaggerates the thickset appearance.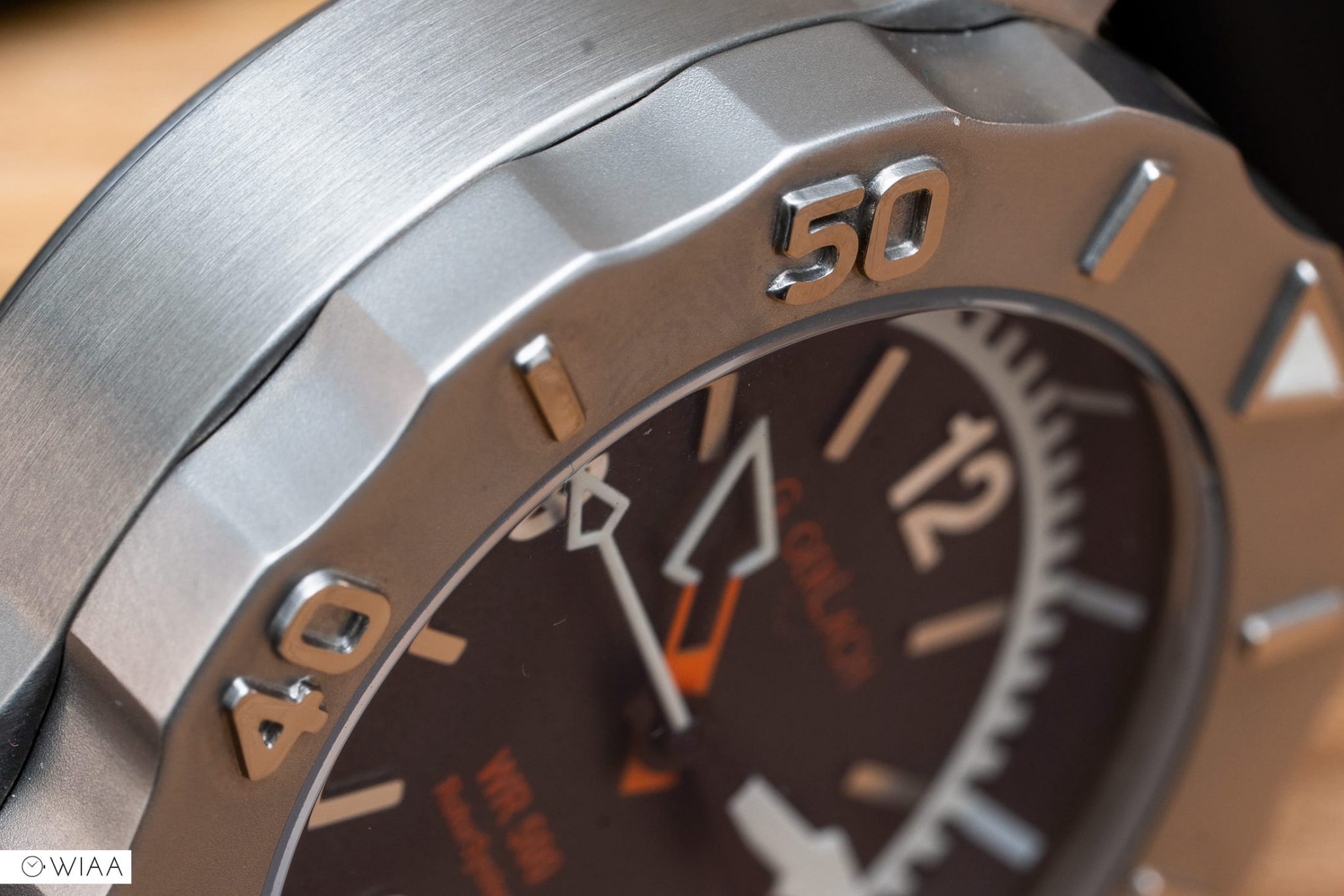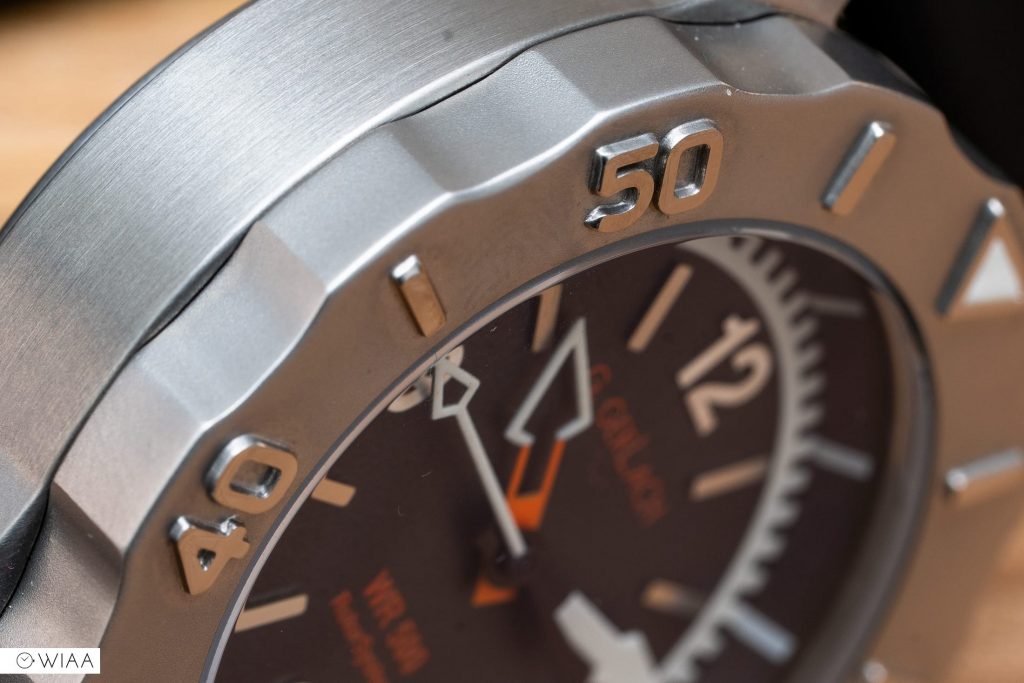 Dumpy lugs and a surprisingly short lug-to-lug length of 53mm means it's easier to wear than the 44mm diameter suggests. Drilled through lugs are always good to see on a proper tool watch. It makes changing straps dead easy, and you're less likely to damage the lugs when you do.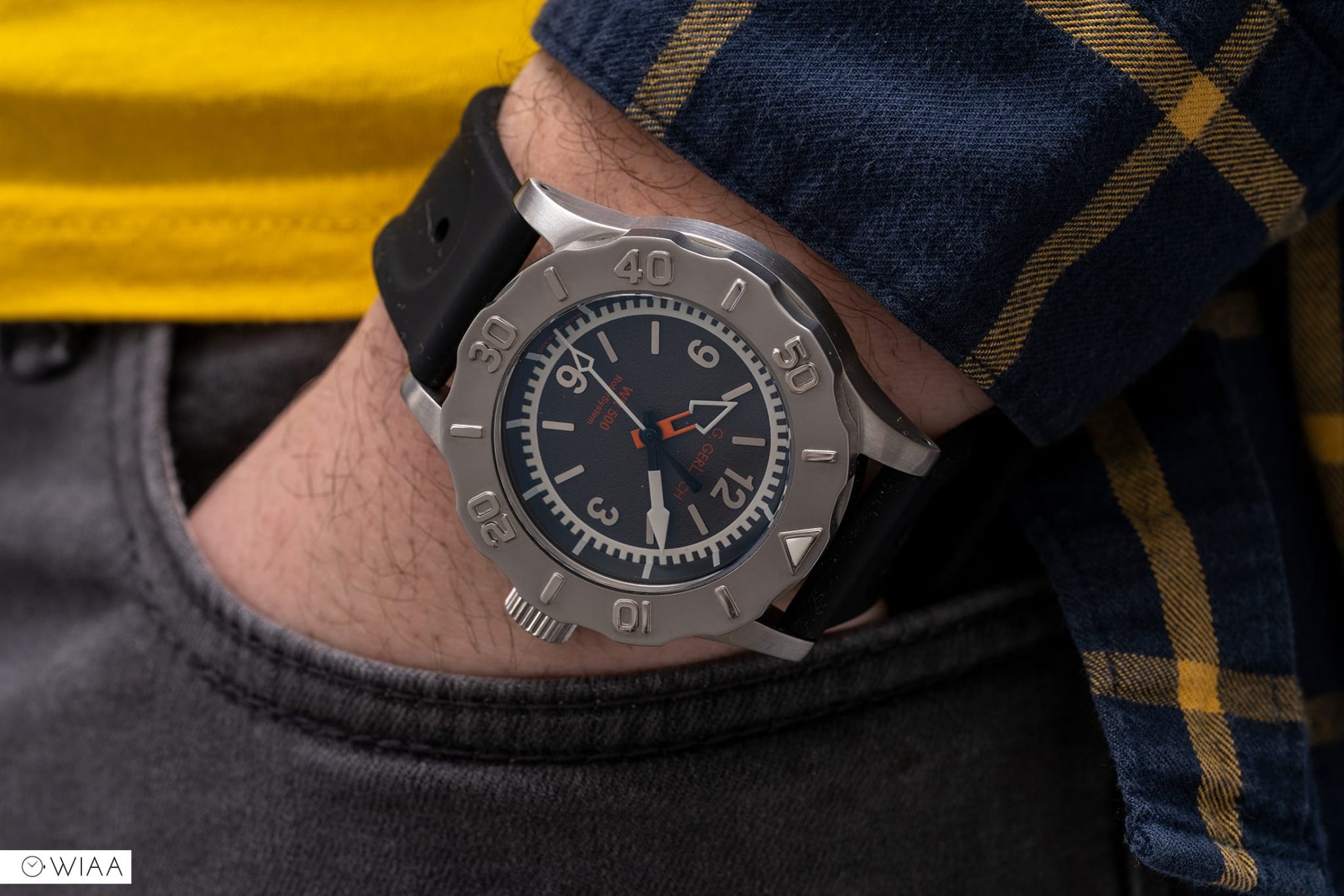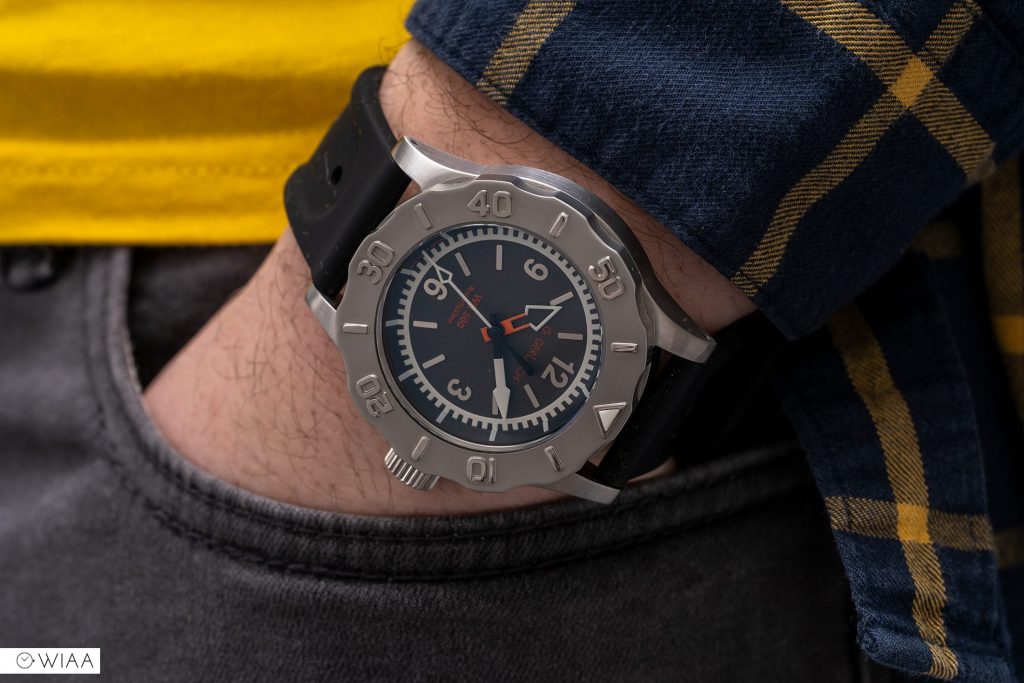 One thing's for sure: at 16.3mm tall, this thing is thick – there's no chance of it fitting under a shirt cuff, but then again I would highly doubt you'd wear this in a smart setting. The size is most likely due to the impressive 500m water resistance.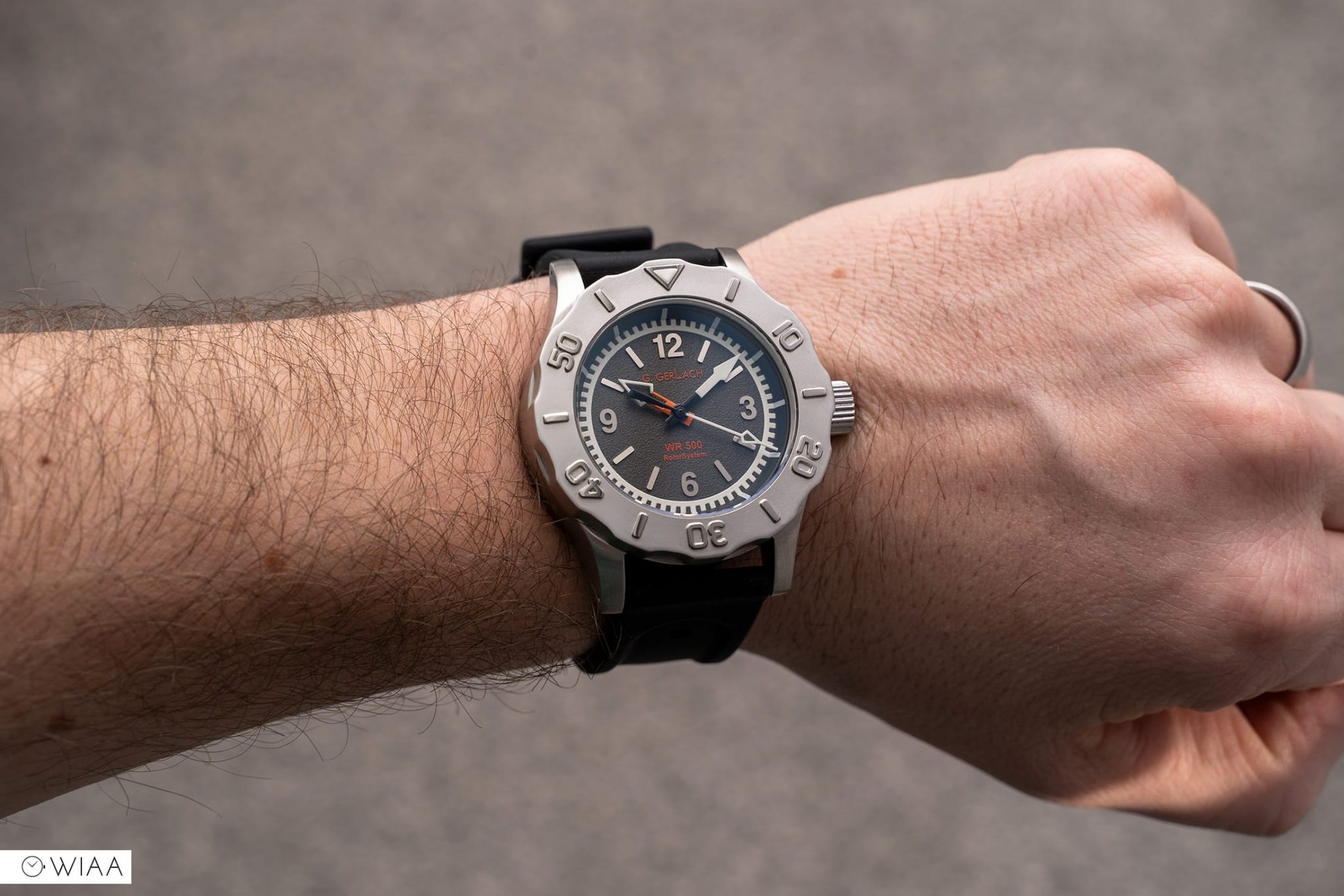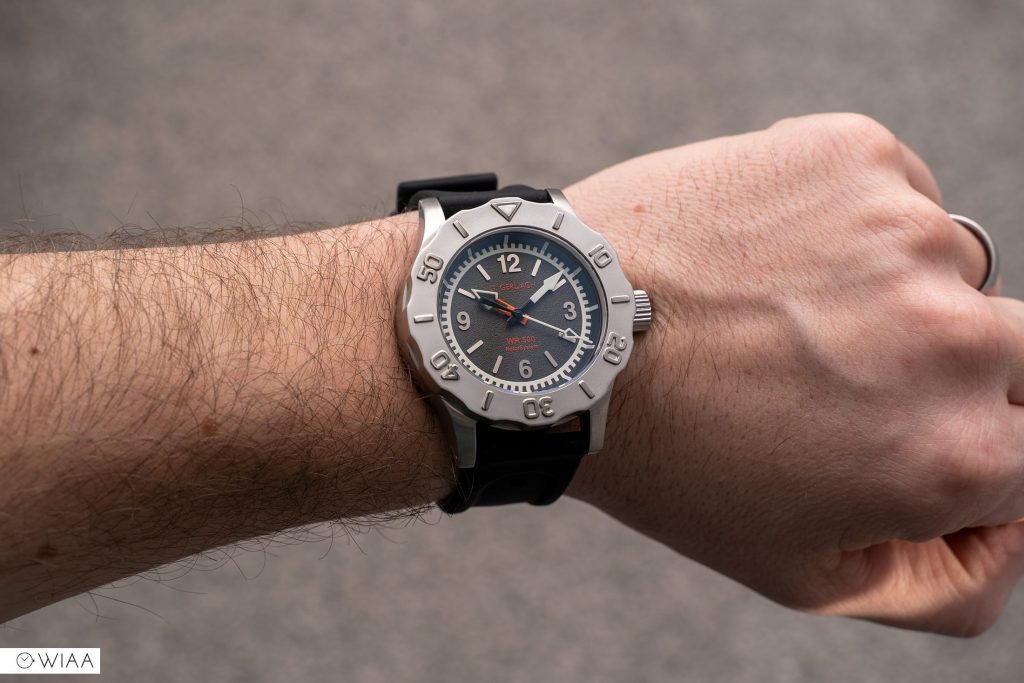 The aggressive bezel grip means it's amazingly easy to use, the 120 clicks are solid and loud. There's a little bit of wiggle and back play, but it does line up nicely.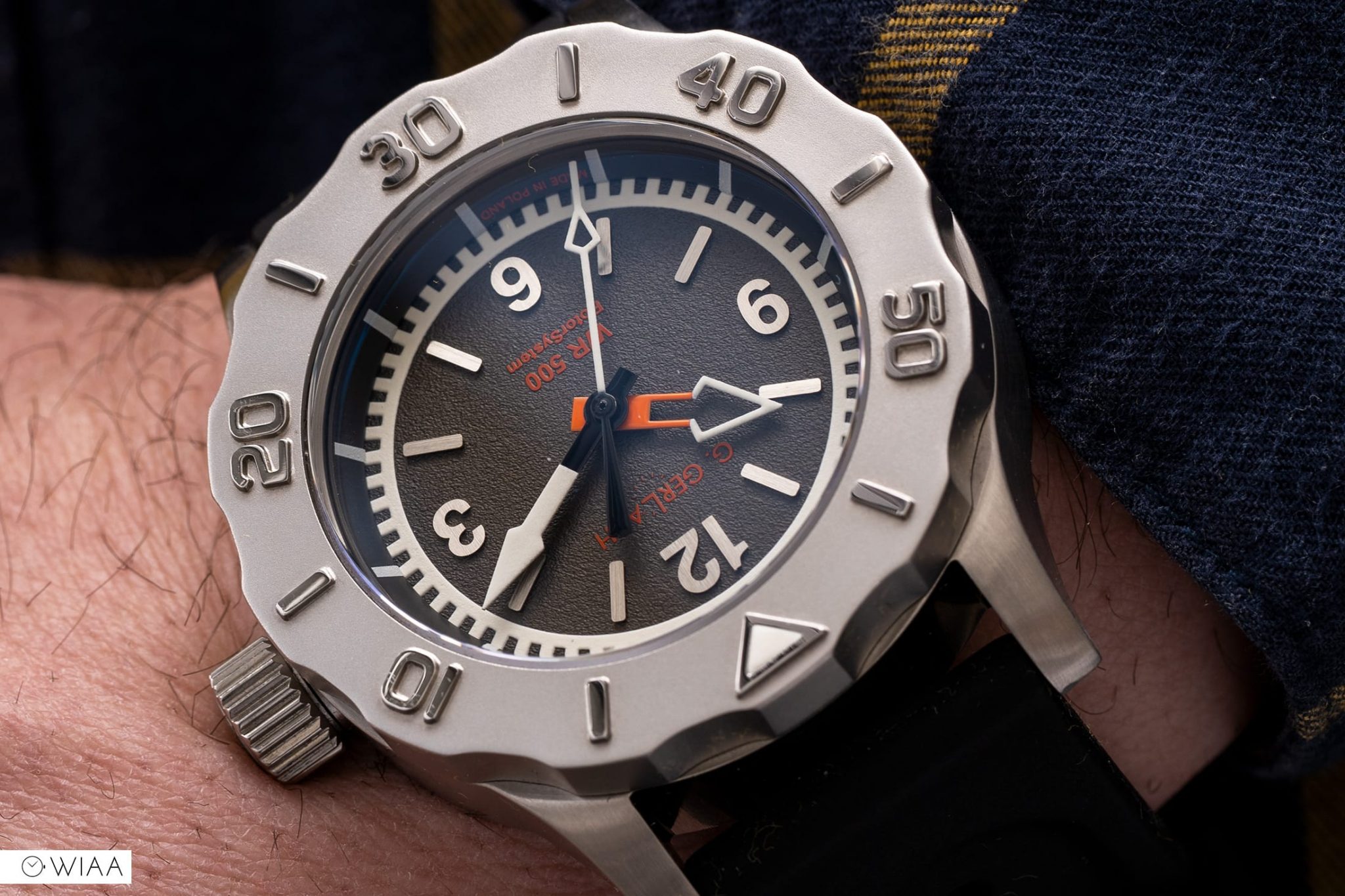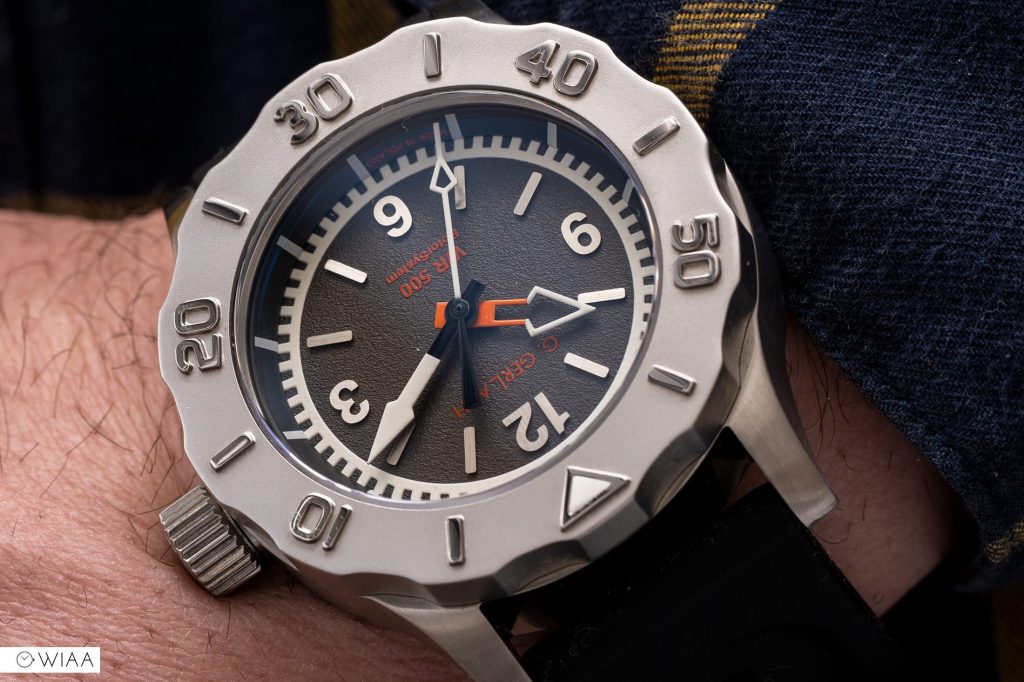 The case is graced with simple and purposeful finishing and production, it's also all brushed. The only stitch of polishing is the very top of the raised bezel markings, which does provide a glimmer of glitz and a flash of light against the blasted finish of the top of the bezel.
The lume is of pretty good strength. It's also cool to see the bold outer minute track light up. The large arrow at 12 in the bezel insert is purposeful, and the thick minute hand offsets the skeletonised lumed tip of the hour hand. It's a great and interesting watch to view in the dark!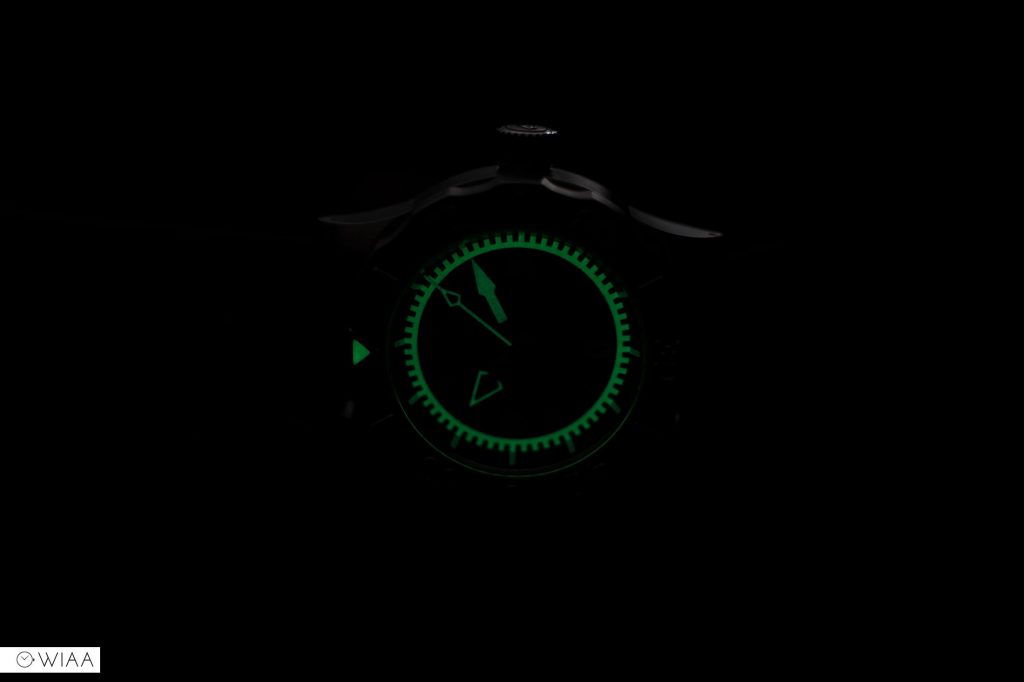 The lack of crown guards allows the screw-in crown to protrude. No crown guards mean it might dig into the back of your hand, as it is big and chunky. It means it's extremely easy to use and will be able to take a knock or two if you're using this as a genuine deep-sea diving watch. It has good grip and the G. Gerlach logo embossed on the end, raised and polished against a blasted backdrop.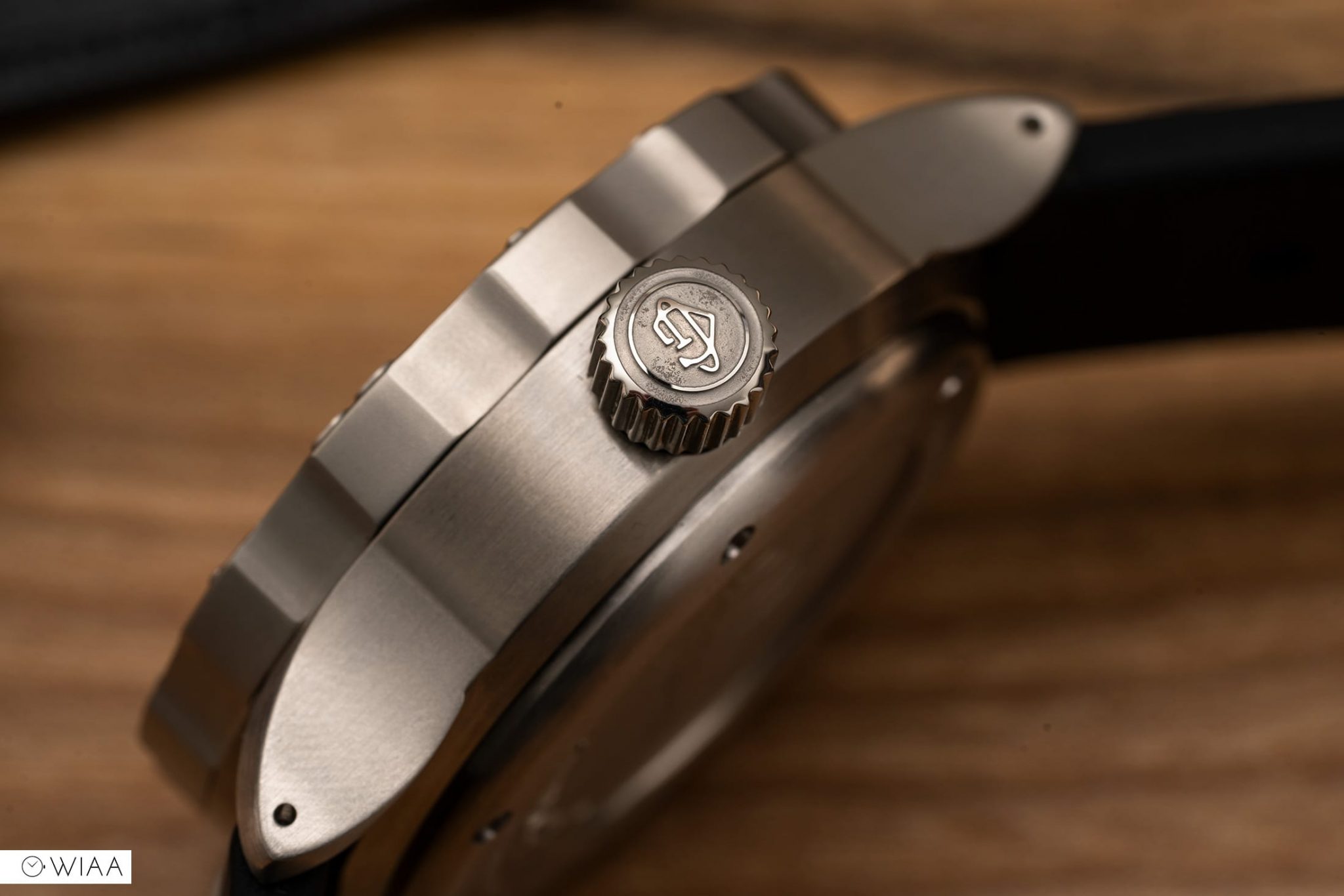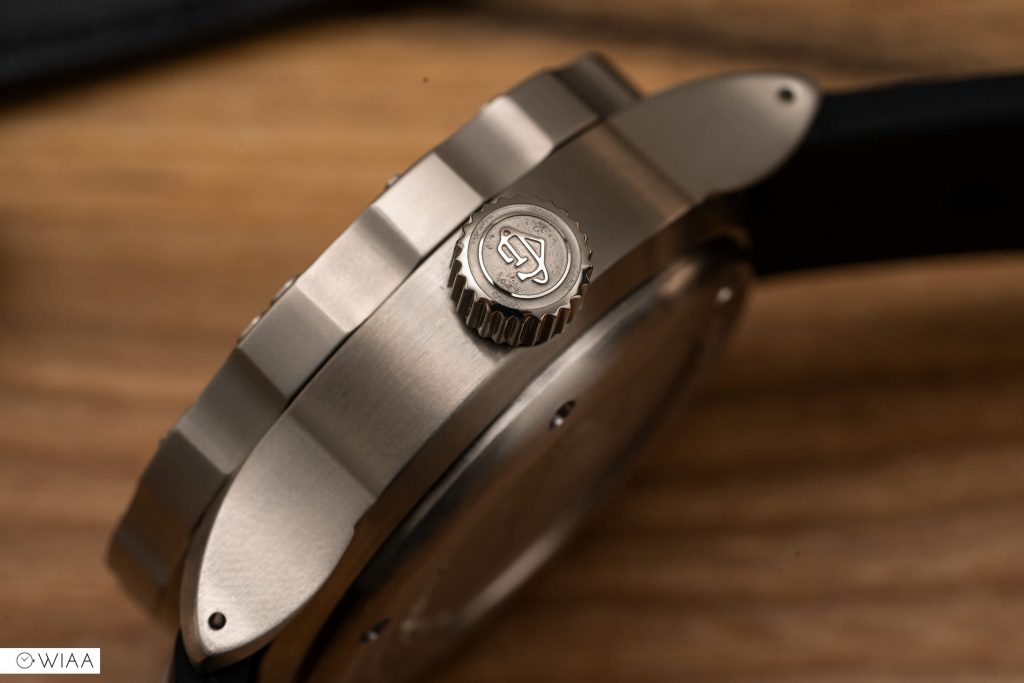 The dial is as over-engineered as the rest of the watch; chunky, brushed hour markers offer a sense of quality, set against an interesting textured top. The graphite colour is pleasantly industrial looking and a subtle change to the usual dial colours we see so often.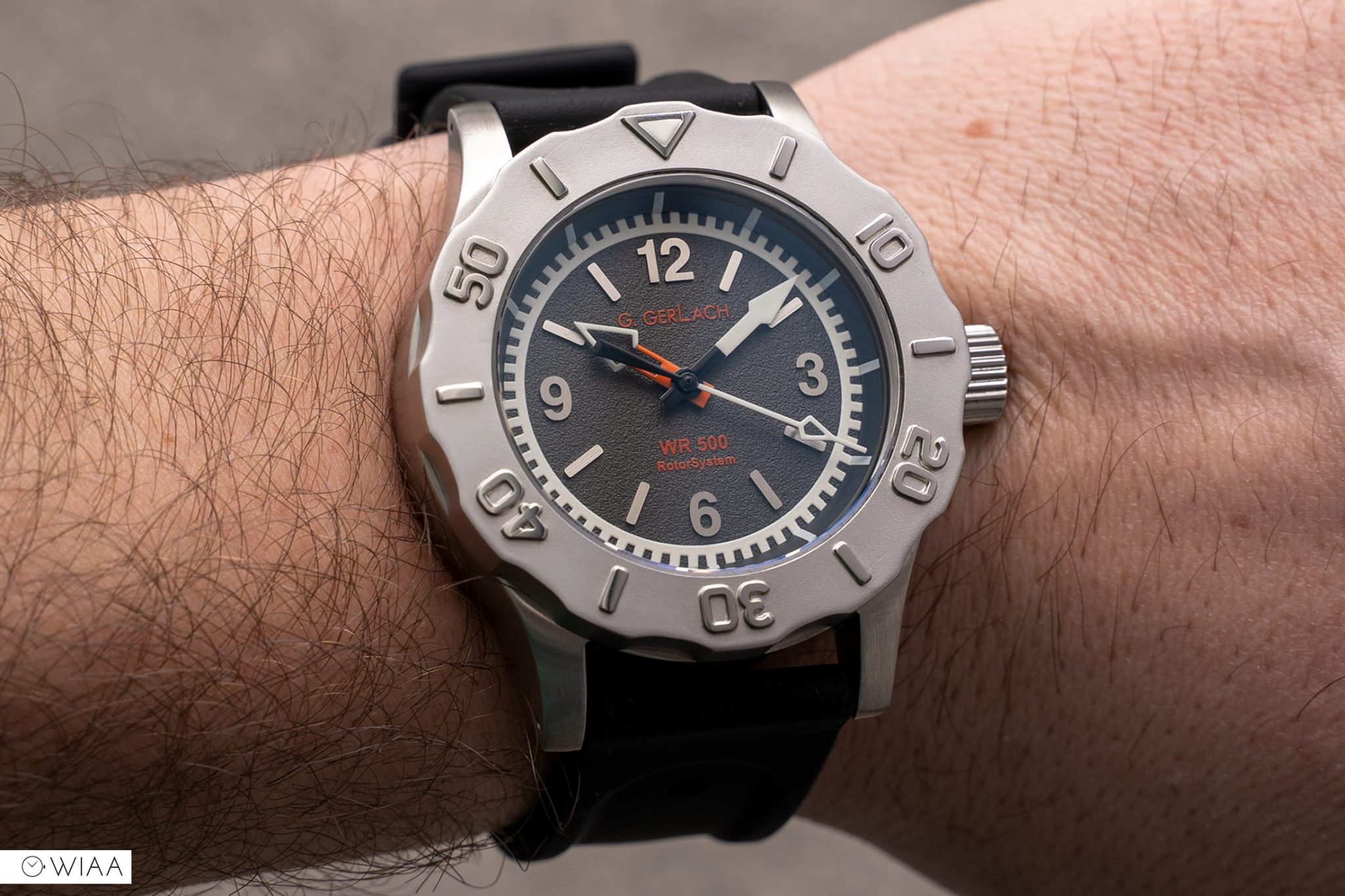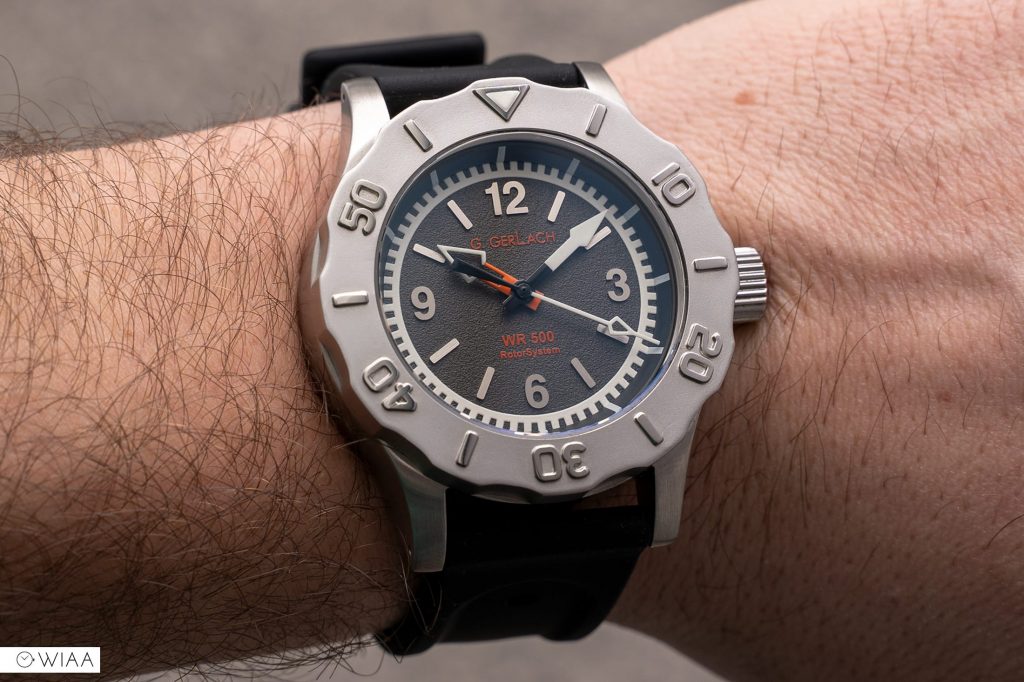 I always like to see unique handsets, and that's certainly the case with the Bathyscaphe: they're large, legible, and interesting – I especially appreciate the slight skeletonization on the minute and seconds hands.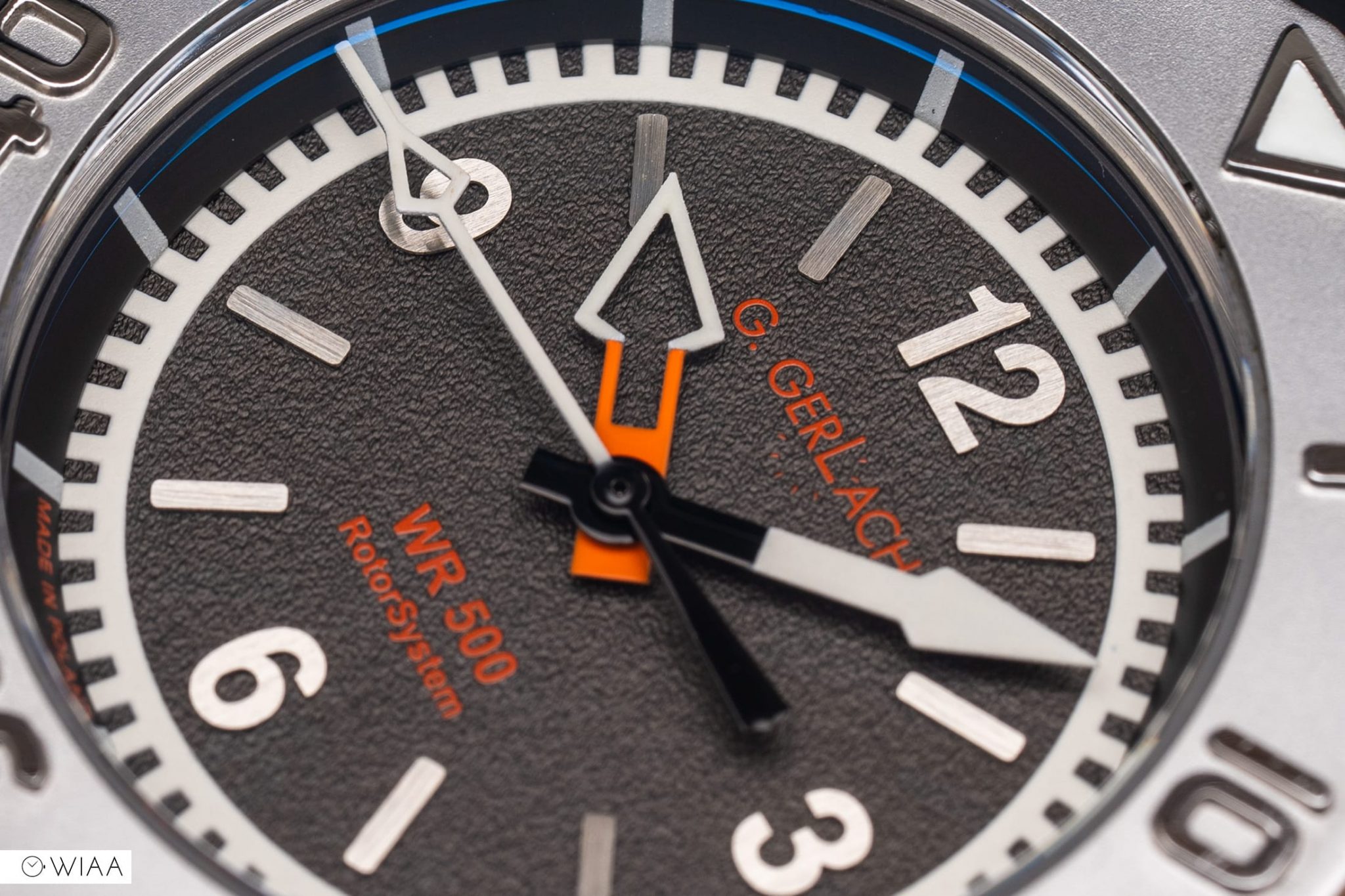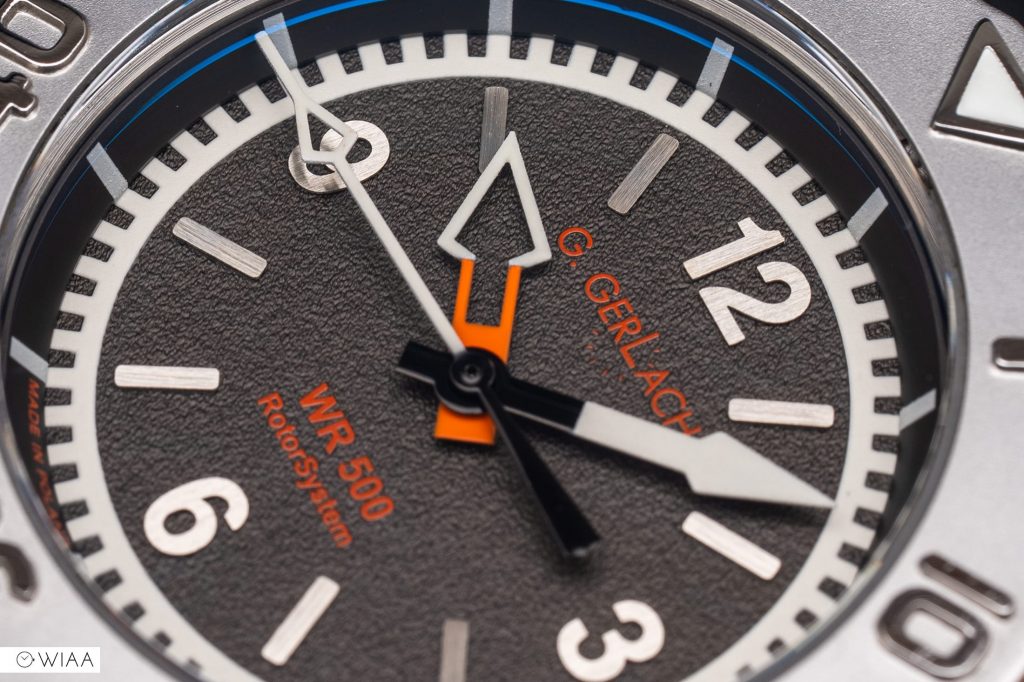 The deep-stamped caseback features a detailed illustration of a bathyscaphe, surrounded by some specs. It's quite thick too if you notice how deep the indents for your caseback removal tool are. It's this thick for the 500m water resistance rating, but it's good to see the thickness has been put to good use for the deep-stamped drawing.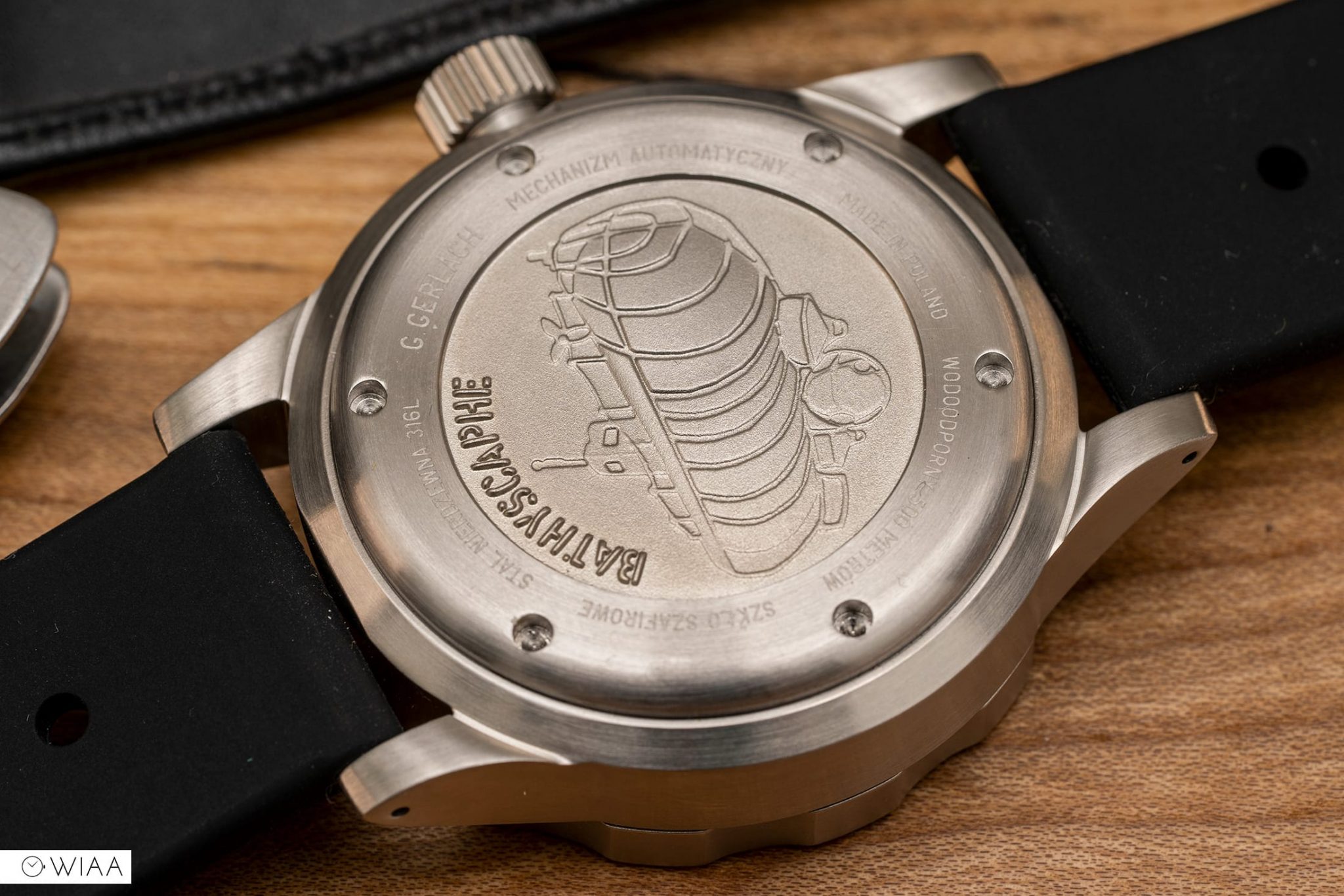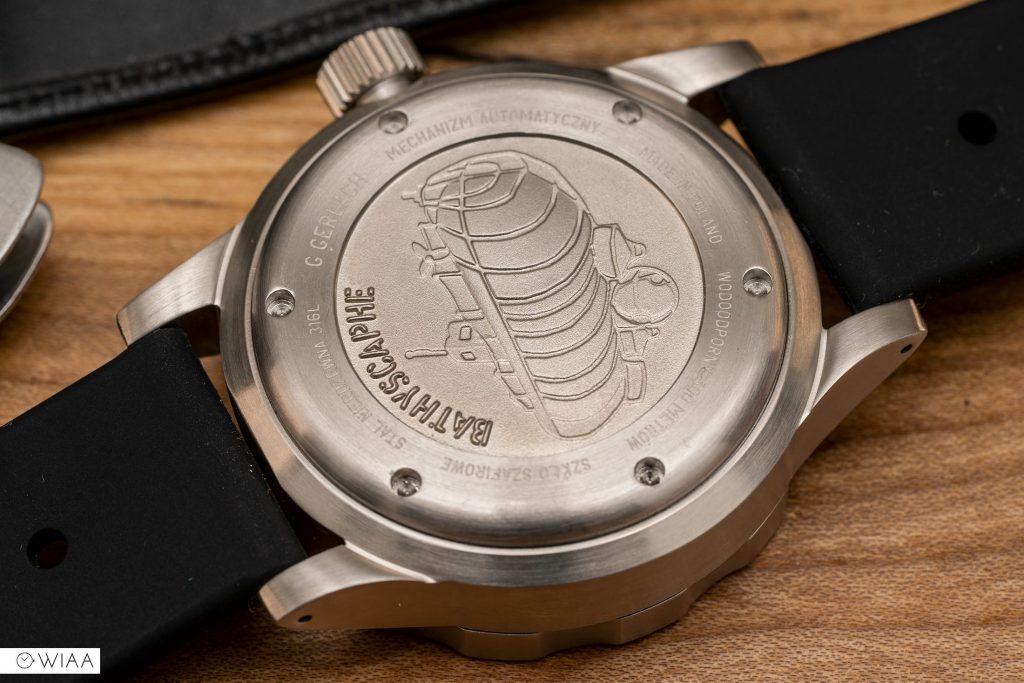 The silicon strap is beautifully soft and manipulative, fitting snugly around the wrist. It's not a massive dust magnet either, which is good, and I like the subtle design to it; square ends, wide holes, a dipped centre, and small holes at the top.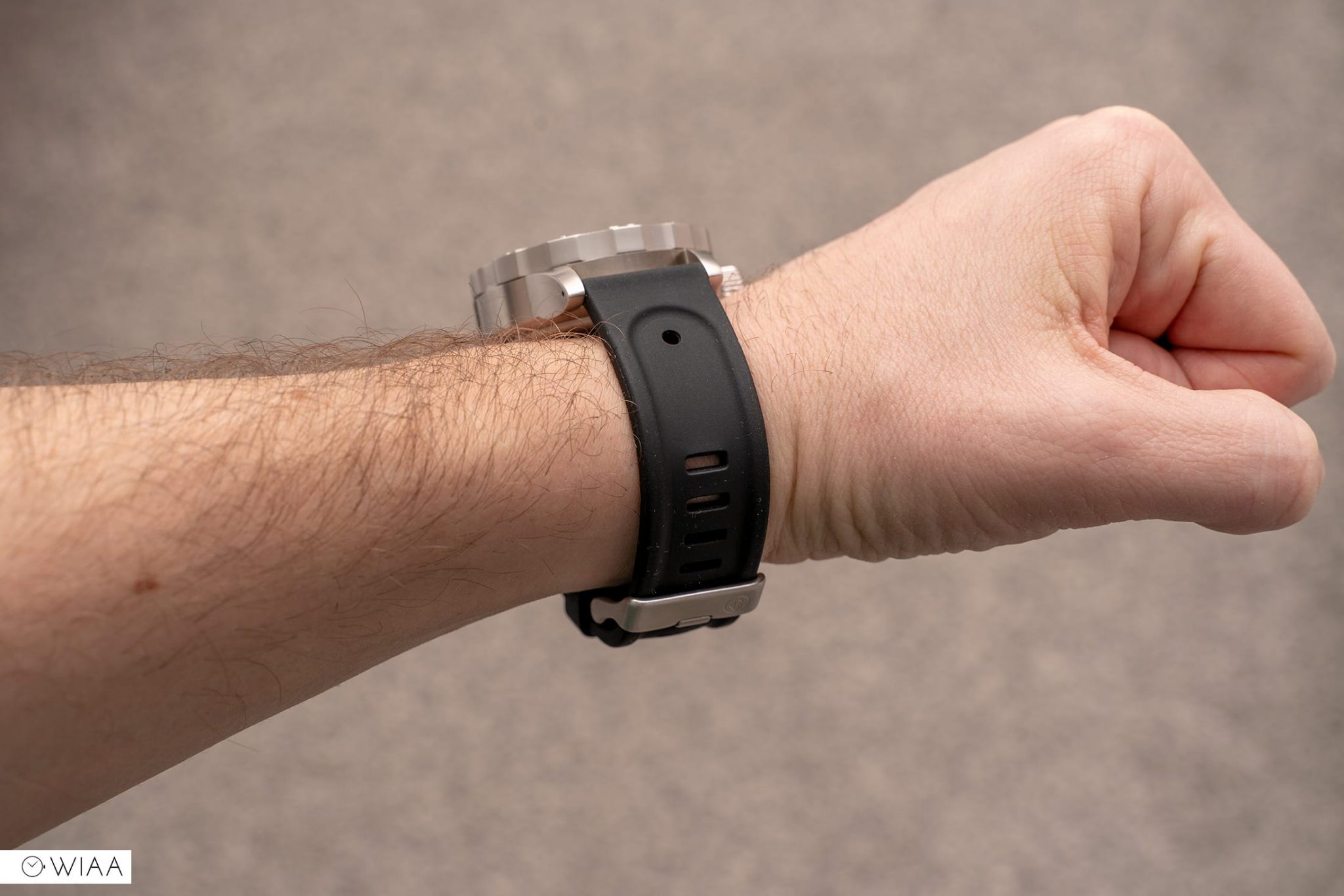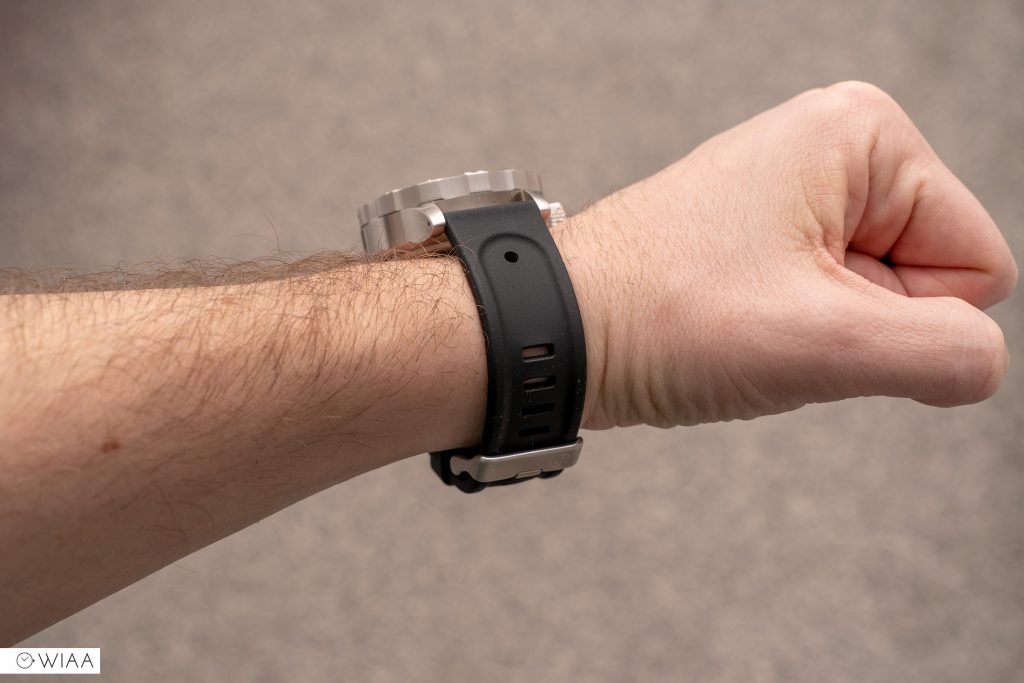 The brushed buckle is robust in appearance to match the case, with a thick top bar featuring the G. Gerlach logo engraved on one side. The wide tongue fits the holes well and will provide optimum security.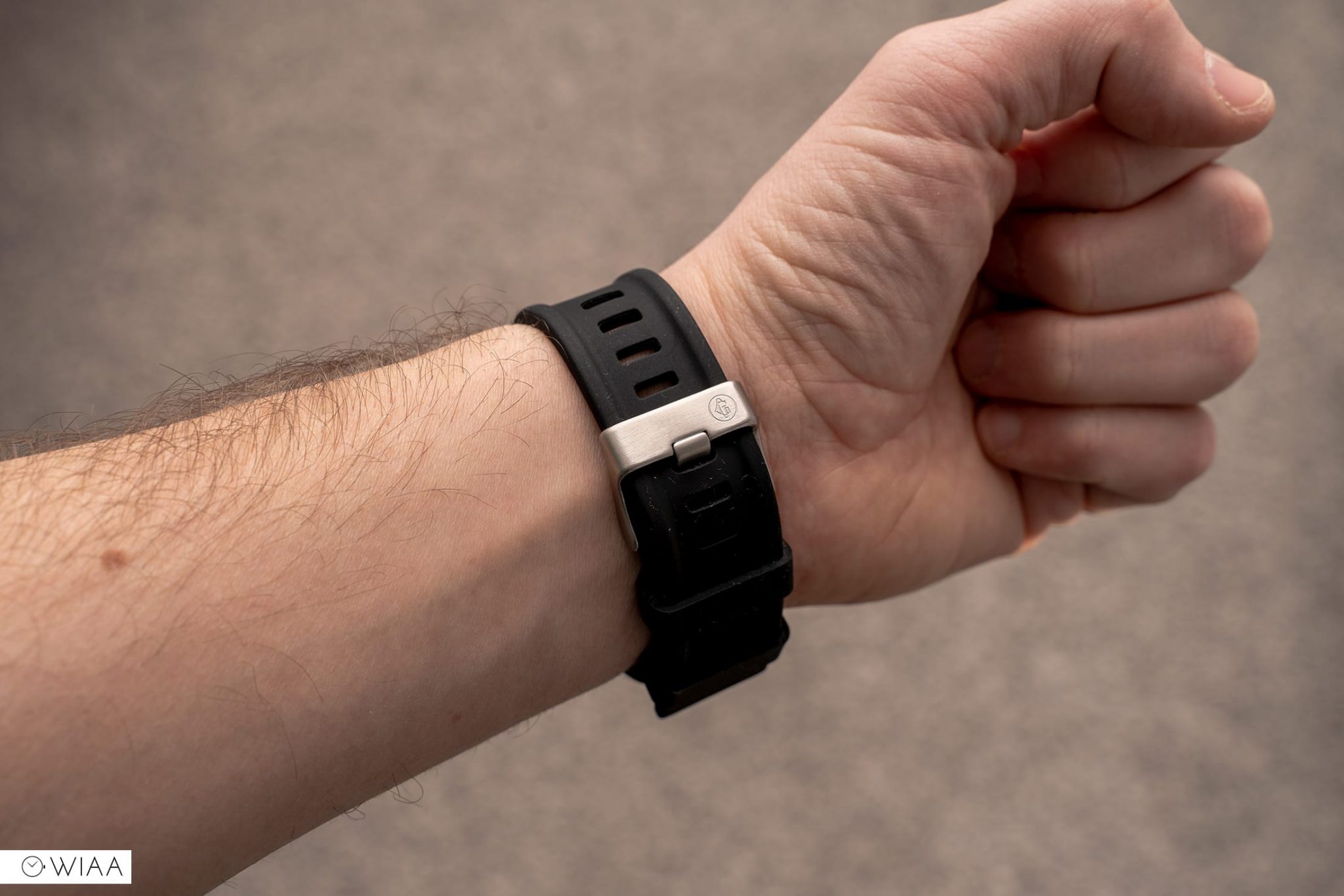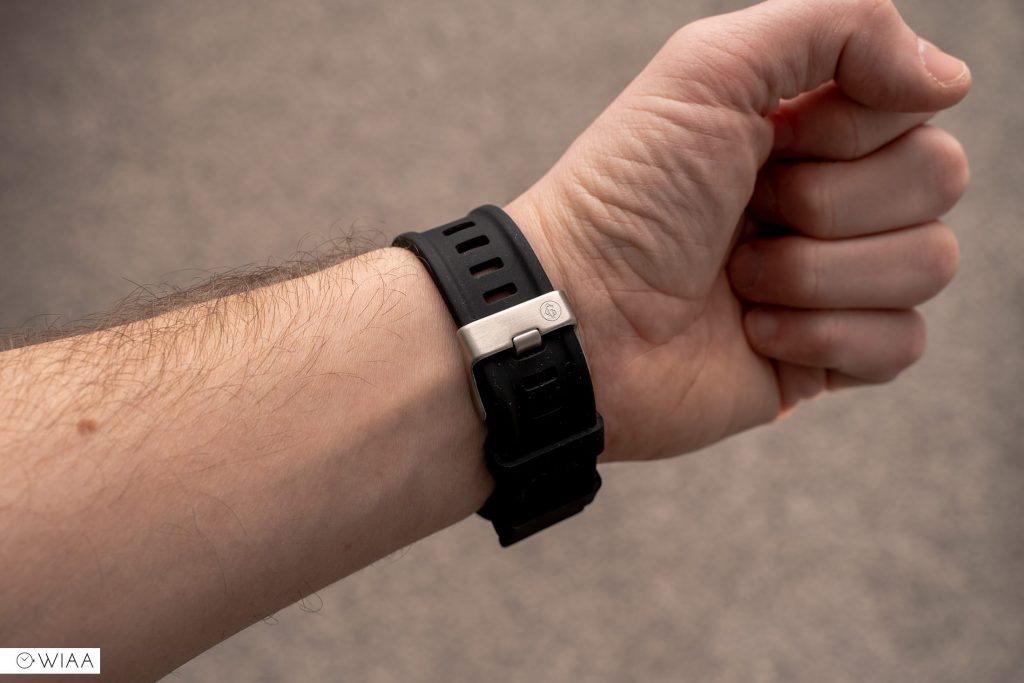 The movement is the same ol' trusty movement in 90% of watches I review: the Seiko NH35. It's not exciting in the slightest, it's not exclusive or extravagant. But, that's a good thing. It's rustic, reliable, cheap. The specs include a low beat rate of 21.6 bph (6 ticks per second), 24 jewels, 41-hour power reserve, hacking seconds, and hand and automatic winding. This one is coming in at a remarkable +4.1 sec/day.
Final comments
For 1,899 Poland złoty / ~£385 / ~$520, there's no doubt that you're getting a lot of watch for your money. The build quality and specs to price ratio have never been in question. Instead, the question is – do you like the look of it? Visually, it's bound to be divisive; but that's what's so appealing about it – even if you don't like how it looks. It's a refreshing change to the droves of same ol' same ol' divers we see so much of nowadays.