CATEGORY: Watch I have been loaned for review.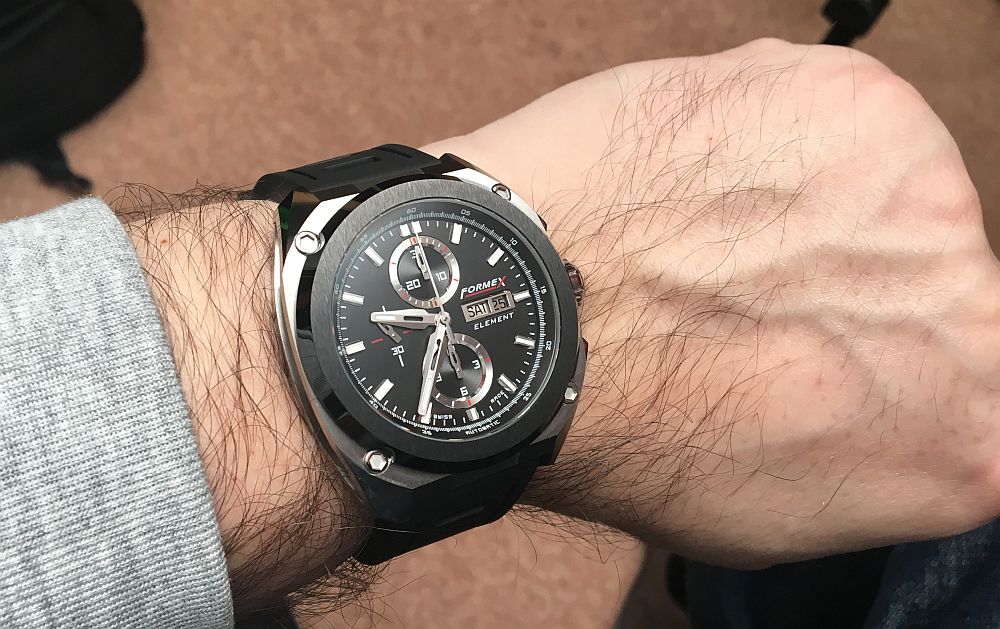 As life goes on, you learn more and more. It's a cruel irony that when you have the most knowledge, you're least able to do anything with it and when you're physically at your best, you don't have the knowledge to maximise that either.
One thing that has become apparent to me on "this journey" we call life is this: perception is more important than reality.
Let me give you an example. Recently I've got back into Hi-Fi, particularly analogue formats. Now, I've always loved music (I have enough musical failures of my own making from over the years, to attest to this. Any of you in Northern England want to sing in a band for me?) and I have missed acquiring physical media. Streaming is very convenient, but is it "magical"?
A lot of people think that their old hi-fi gear is worthless in the world of streaming and wifi connected players, so I've been getting some bargains out there. For example, this below is the "dream" hi-fi separates stack from my late teens. A Class A Technics with 3 head Cassette deck, CD, MiniDisc and a pair of Mission speakers. Something I just couldn't afford in the mid 90s, but have got now for the price of a decent iPod dock.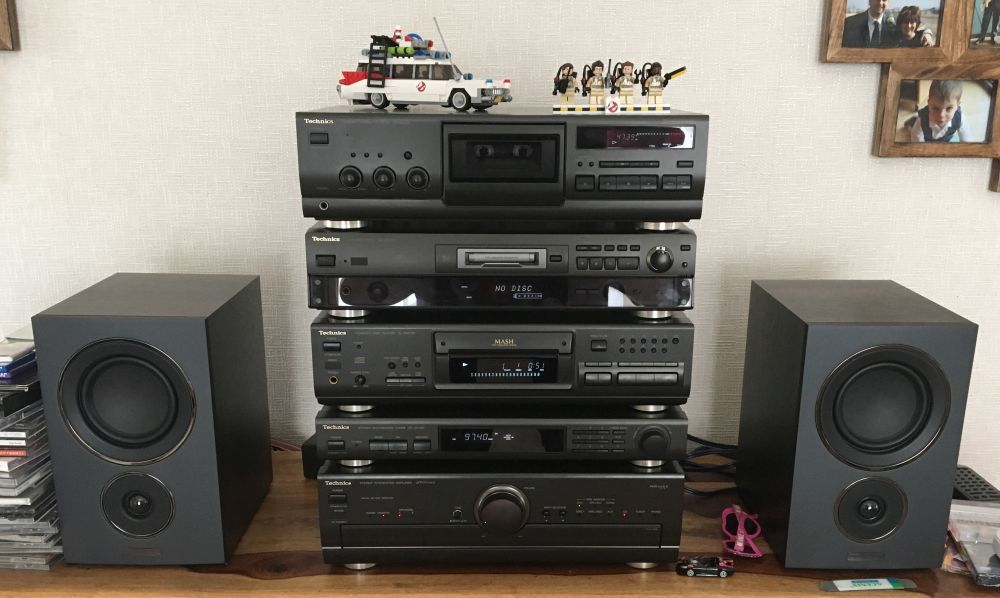 To me, it sounds like God itself is streaming the music directly to my ears. However when chatting about it online, the "audiophiles" point out that it's crap. What I really need is a Naim CD player, connected to a McIntosh amp, going through to some B&W speakers.
And they may be right, but that's not important. If I perceive that my humble stack sounds fantastic, but in the grand scheme of things it's mediocre, why should I care? Like I say, perception is more important than reality.
If I'm having a steak, and loving it, who cares if a restaurant I don't know about and never likely to visit, has a steak that makes the one I'm eating seem like an old shoe?
So what's this got to do with watches?
Well, a lot of the pleasure of collecting and owning anything is perception. Before you impress others, impress yourself. So you go out and spend thousands on a well known watch. You worked hard for this, you justified the expense to yourself, you got it and it's a top marque. Add all this together and you're happy with your purchase and it gives you joy every time you wear it. Others may not understand. Others may think that it's a waste of money. It may be that the name carries a watch that in reality is far from special.
But who cares as long as you wear it and love it?
And this brings us on to this Formex Element.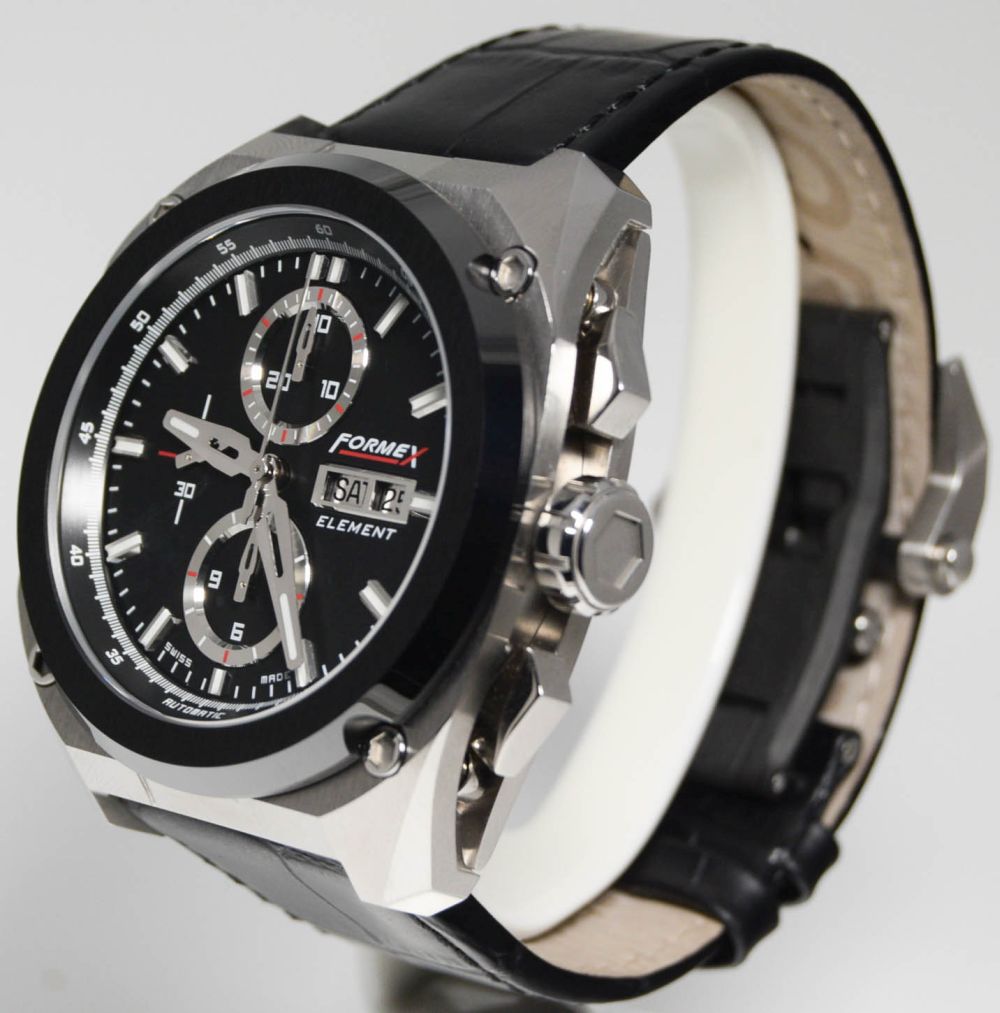 Here are it's specs:
Movement
ETA Valjoux 7750 (13 1/4") Automatic, Chronograph with weekday and date display. 42 hour power reserve
Case
Diameter: 46mm
Height: 14.5mm
Specials: Patented case suspension
Waterproofness: 10ATM (100 m)
Material
Case: Stainless Steel 316L
Container: Titanium Grade 2
Bezel: Zirconium Oxide Ceramic
Glass: Sapphire crystal with anti-reflection treatment
Strap: Black Italian calf leather with embossed croco pattern and black
stitching
Clasp: Folding clasp with carbon fibre composite frame with fine adjustment function and stainless steel 316L clasp
Dial
Black satin-finished base with machined indexes, 60 second scale on the flange and super luminova on hands and indexes
Here's the thing, you really have to be impressed with a watch to pay over £1000 for it.
Let's be honest, this steers this watch into the path of well established brands like Hamilton, Mido, Certina, Tissot, brands with a name and reputation. How can Formex hope to compete at this level?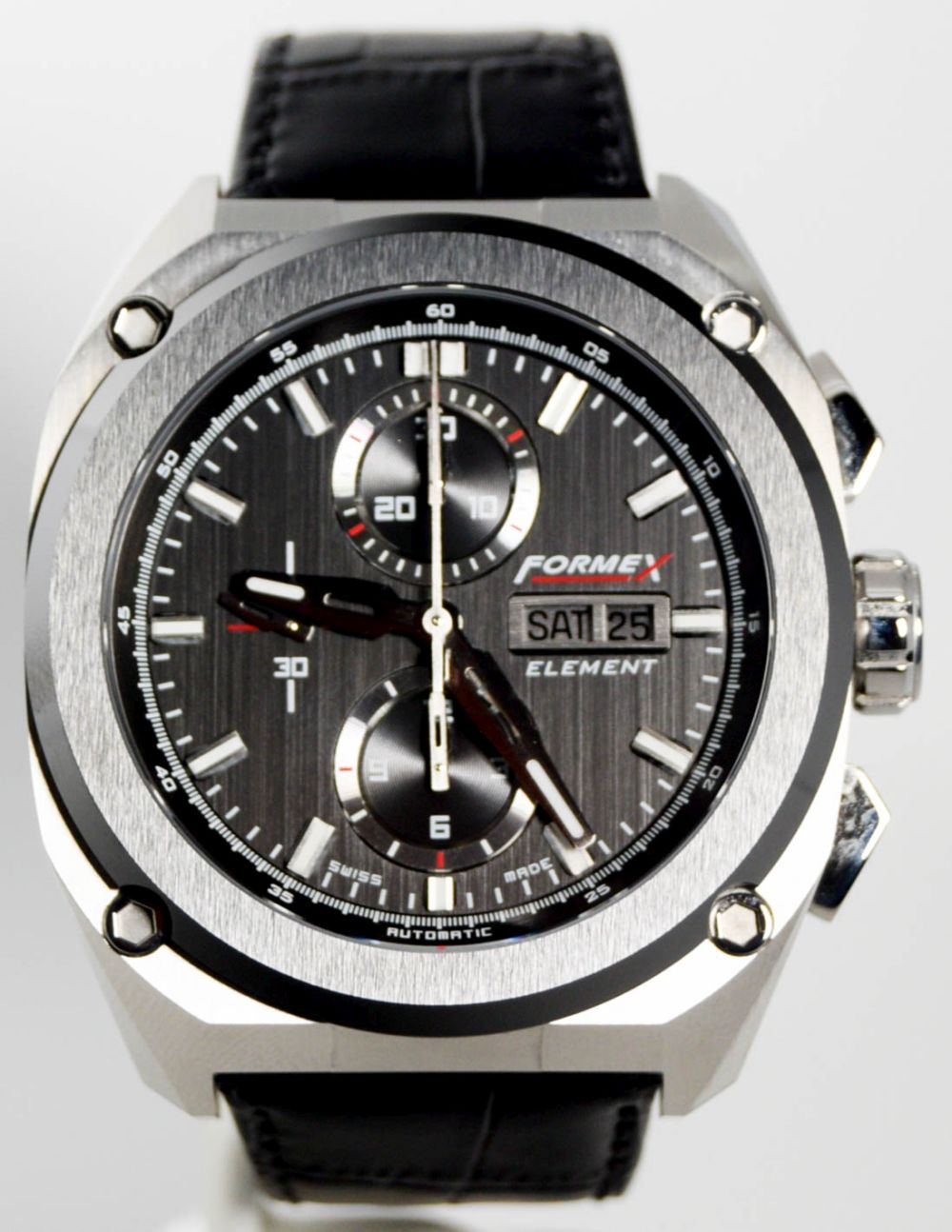 Well, lets start with the case.
This is one of the most impressive cases I've seen on ANY watch. It's in 2 pieces, held together with bolts that pass through.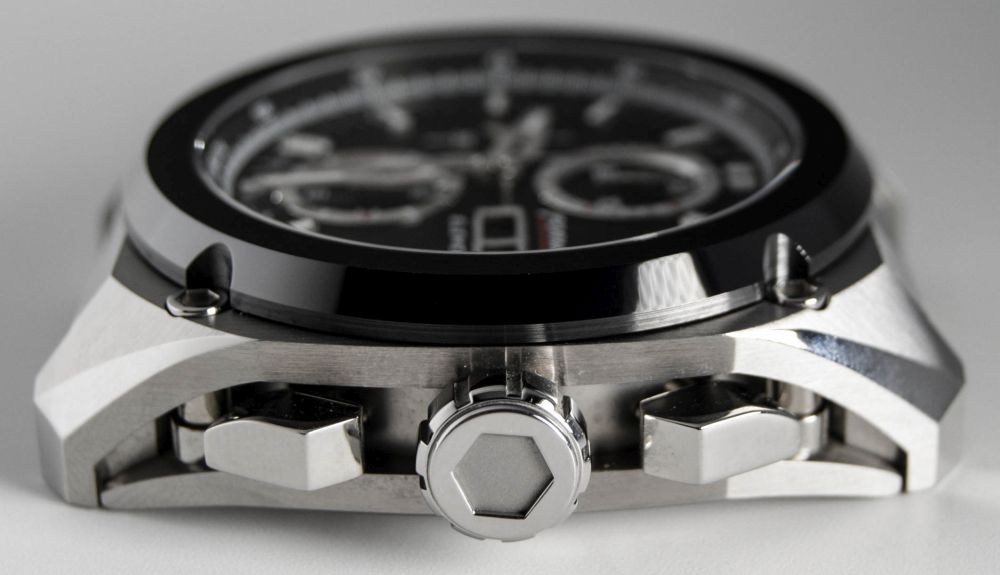 Very 3D, textured, brushed and polished. Absolutely stunning with fantastic attention to detail.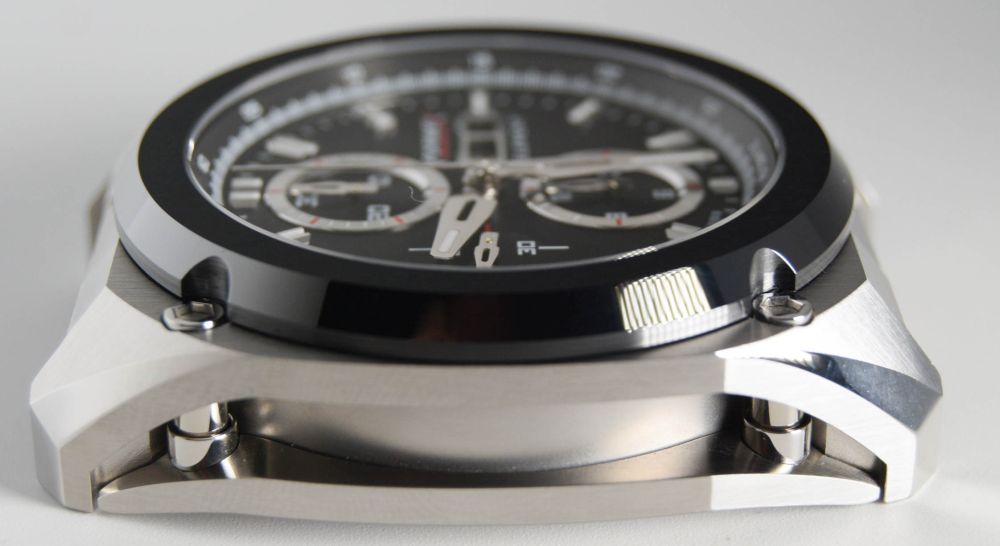 The crown is nice and big. The chrono pushers are square and have a great action and when looked at on the side, in conjunction with the case, gives a view unlike any other watch I know.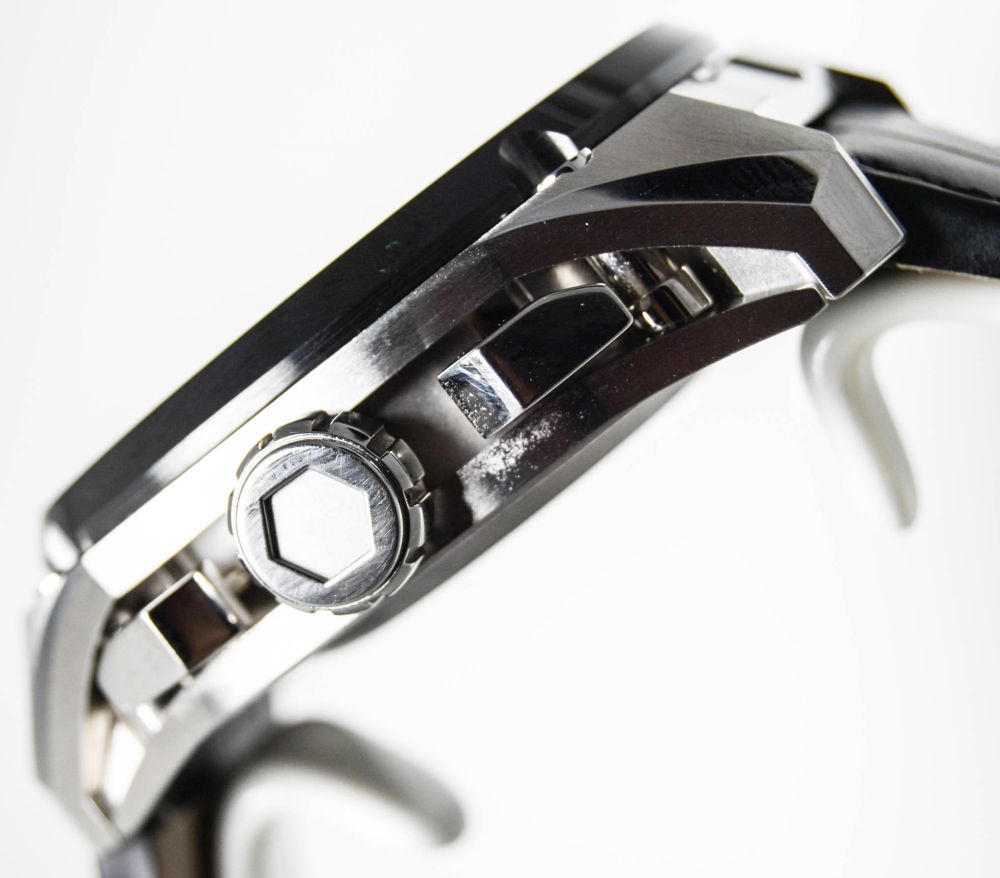 The best endorsement I can give to how a watch looks is that my mum even noticed it. Usually I have a different watch on every time I see her, not a peep, but she commented on this.
I wore it on a recent business business trip. When I took it off at airport security, the guy said to put it in a pocket as "You wouldn't want something that nice to go missing at the other end". I've had Rolex go through those scanners in plain sight previously…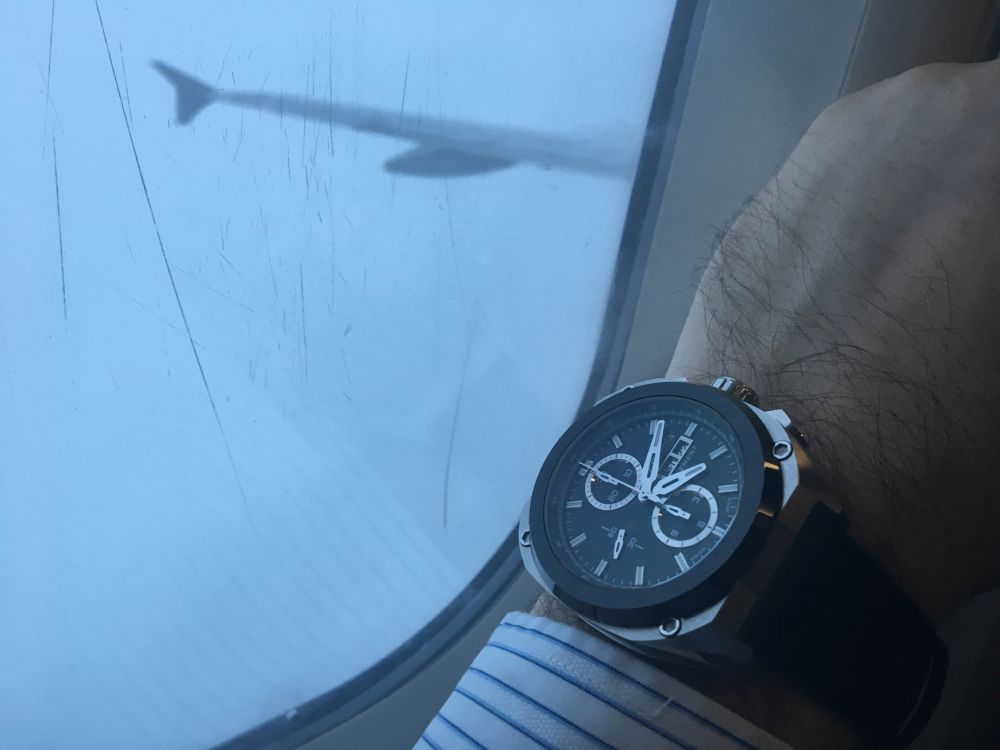 It is a big watch, and it does ride high, but I'm a big guy and so this suits me perfectly.
Now, as you know, I like a bracelet on my watches and when it comes to straps I usually say something along the lines of "the are what they are", but I have to make a mention of the ones that came with this Element.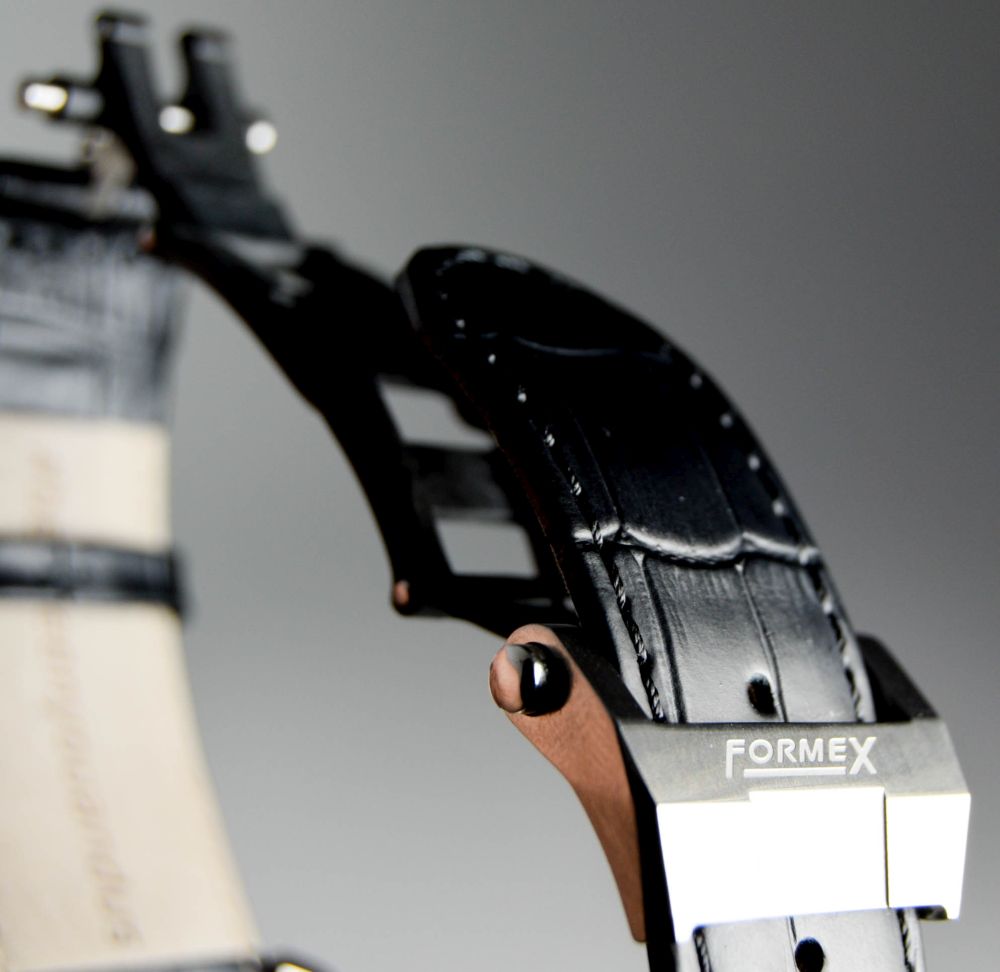 Firstly they have the quick release pins which make changing straps a breeze. For me, all straps should be like this.
It has a carbon fiber butterfly clasp, but this is a bit different insofar as you can actually do micro adjustments on it, very easily at the push of a button. Indeed the release of the strap is done by pressing in buttons on the buckle. Very nicely done.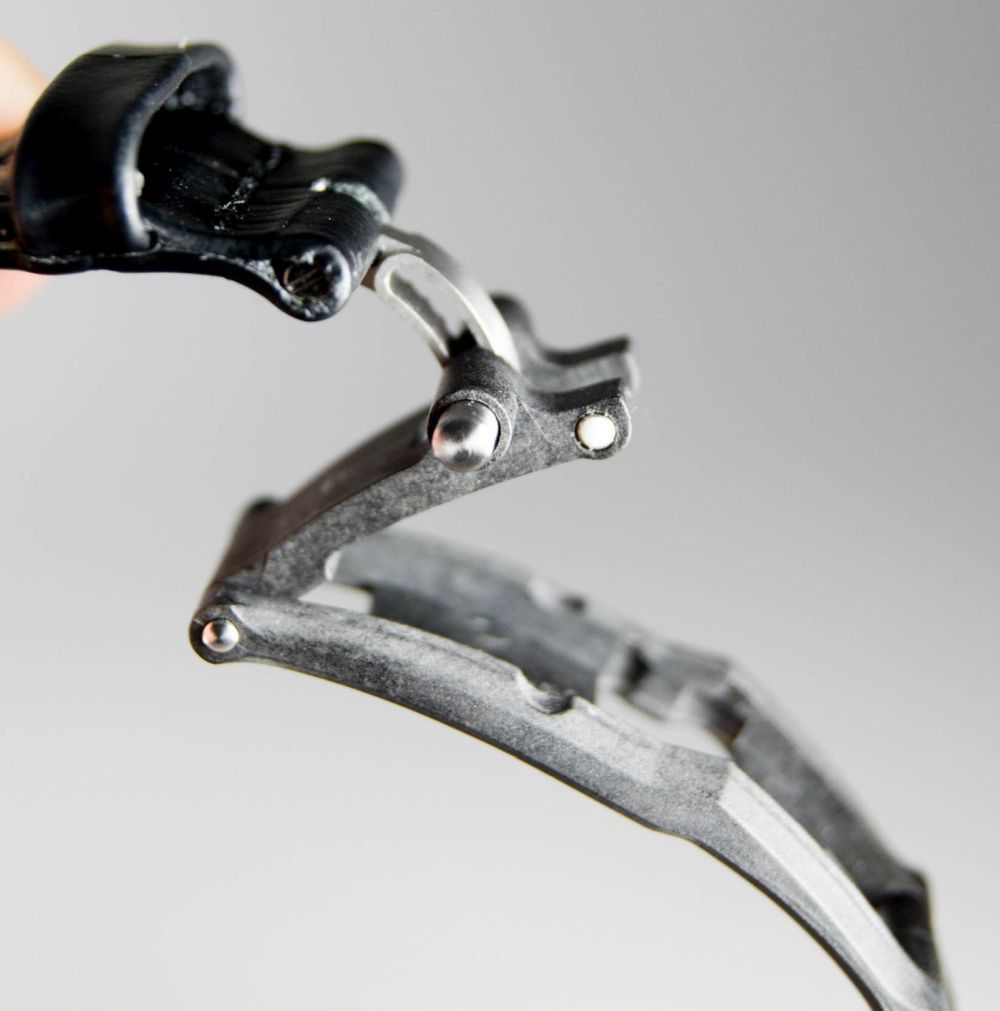 My only criticism is that it's a bit short, making the 2nd retaining band a bit superfluous, but this is a wonderful strap. As you can see in my wrist shot, I like it on a ISOFrane too, but the lug size is a bit strange, I measure it at 25mm, but 24mm straps work with it.
The face is the only sligt letdown for me. It's not that there's anything wrong with it, it's just after the spectacle of the case, it's a bit, erm, plain. A bit ordinary. Nothing wrong with it, it's well done and finished, deceptively so. The subtle detail on the face, the subdials and the subtle brushed finish are all high quality, but just not "spectacular"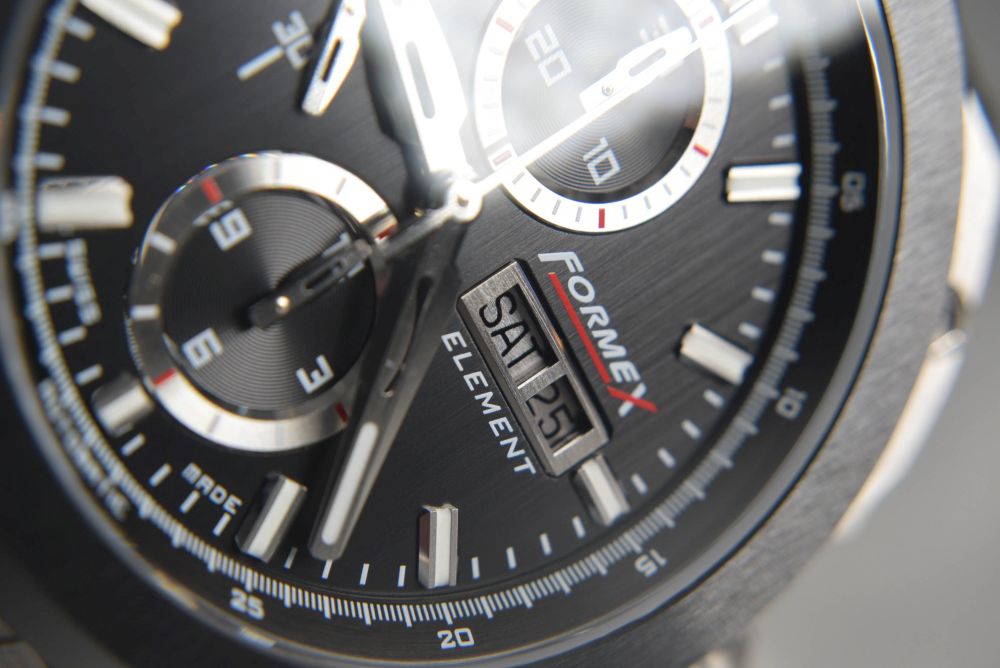 It's not offensive, it's just for me, I'd have liked the subdials in white to add contrast and perhaps a red second hand.
Speaking of hands, I do like them. With both lume and cutouts and a unique, broad design, I really like them.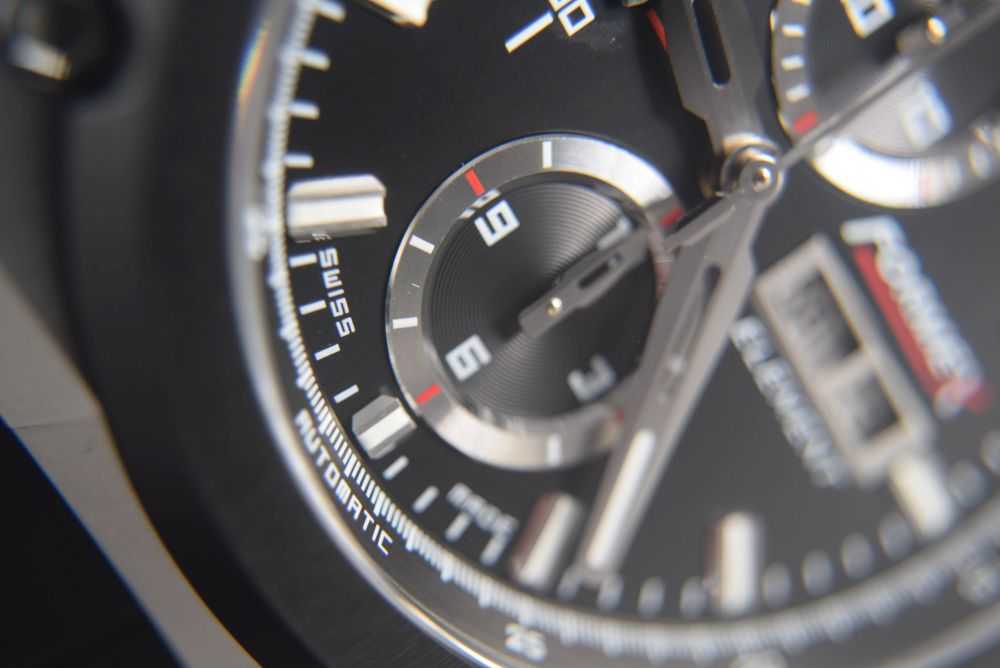 Likewise the caseback with smoked glass and a view of the Valjoux and engraved rotor is very nice.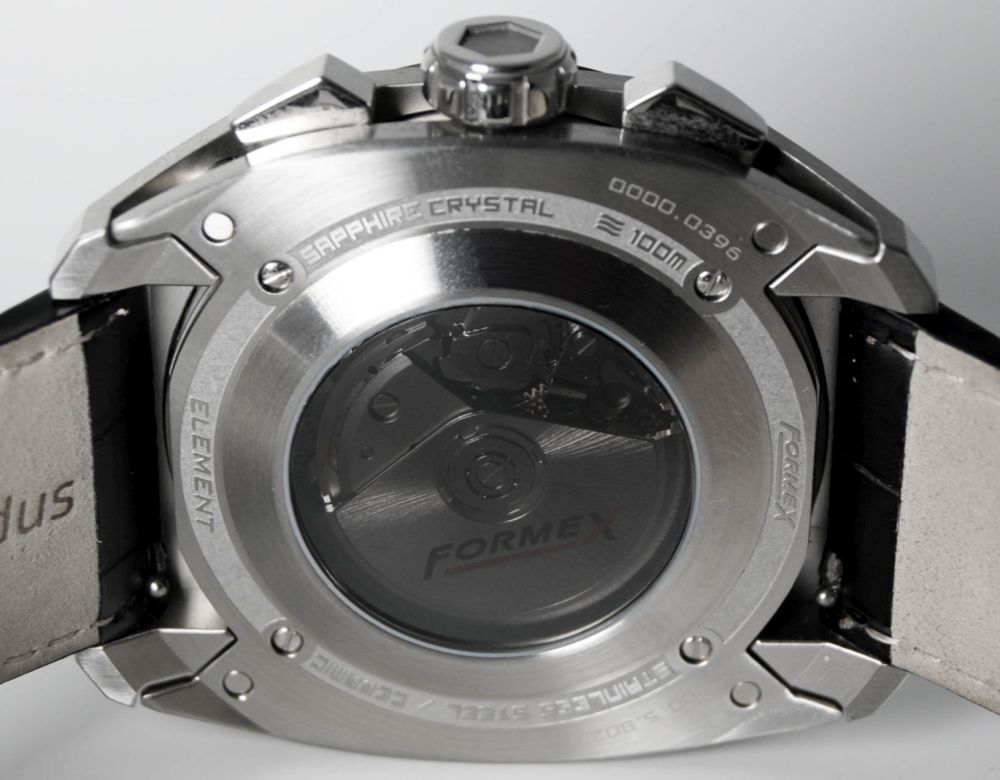 The Valjoux powering this is one of the great movements and I really like that the day date wheel is silver, a really nice touch that blends with the rest of the elements on the face.
The lume is what it is, but this isn't a diver, so the fact it's there is nice enough.
The bezel is ceramic, but cut and brushed. Unusual, yes. Un-needed, yes. Beautiful, definitely.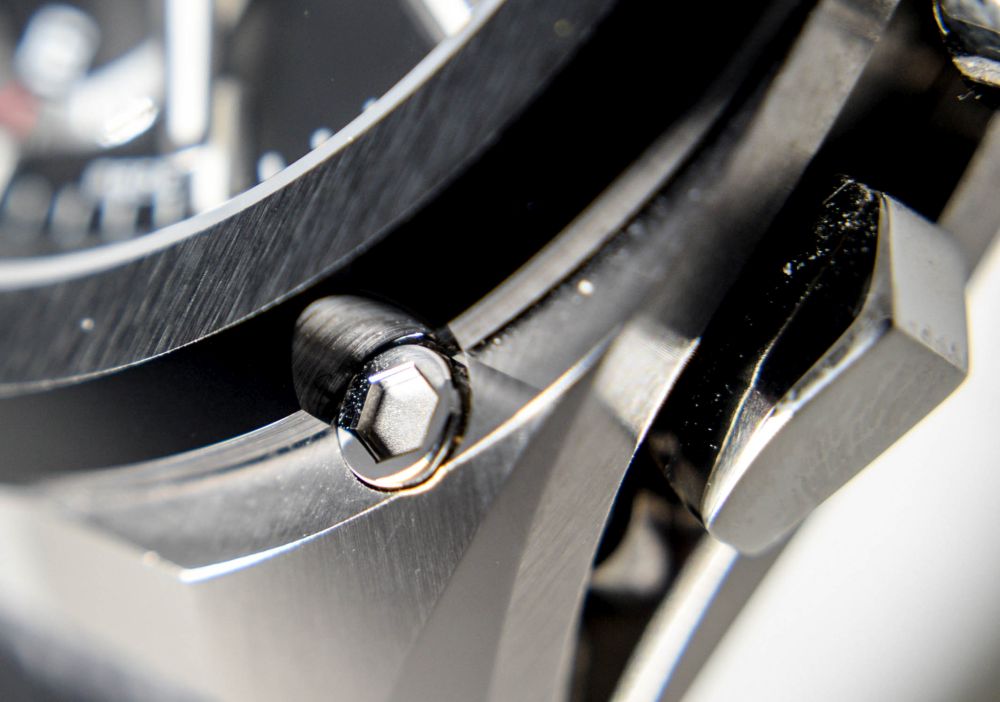 So what are my overall thoughts?
I don't usually like hyperbole from a manufacturers website, but they say : "A timepiece priced at its real value rather than by its brand's name."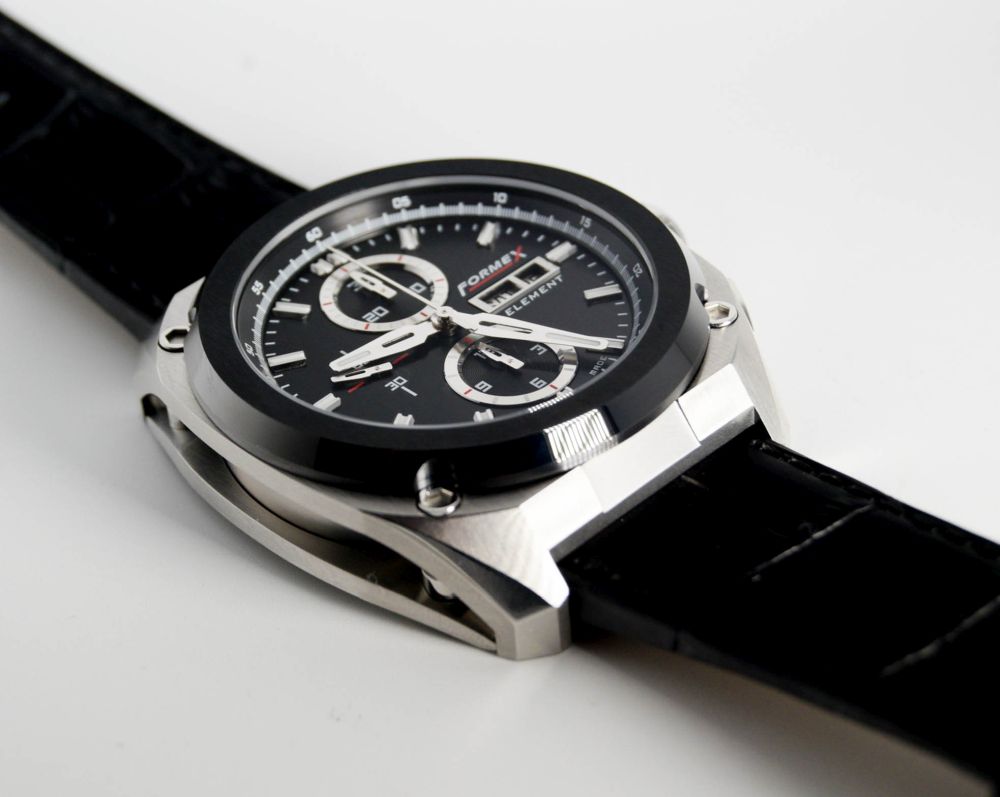 And I agree. This is no mass produced case from a Chinese catalogue. This is no "me too" retro case. This is a wonderfully made, gorgeous, unique, case.
Indeed, this is no catalogue watch with a face changed in Photoshop.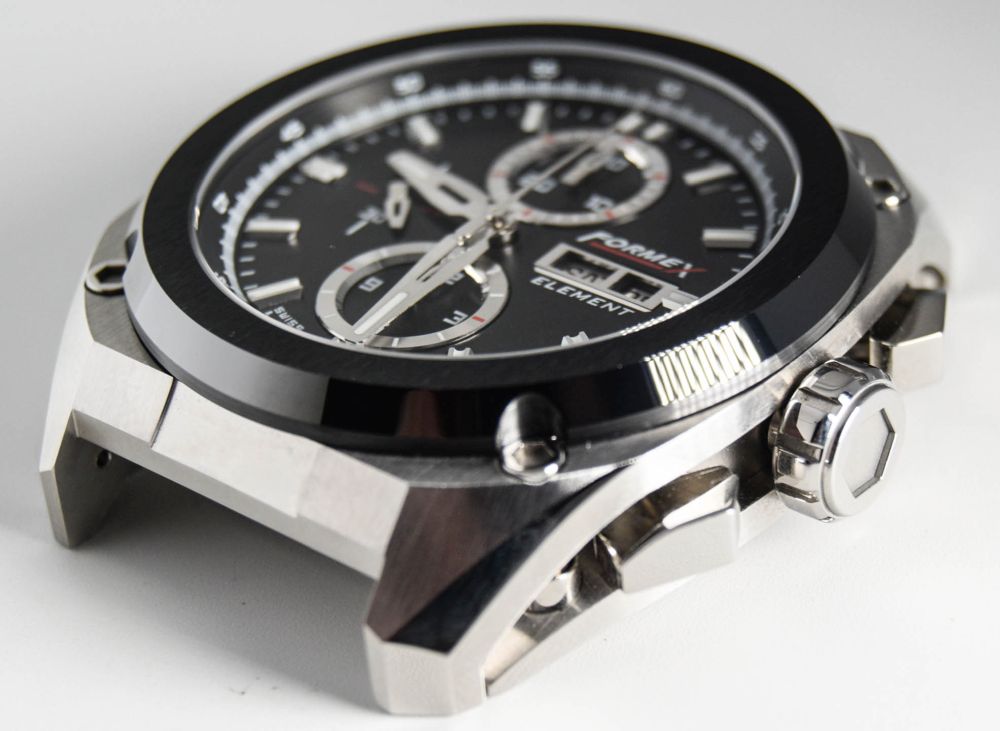 With 100m WR, good for a chrono, superluminova, ceramic bezel and sapphire glass, this is really a take anywhere watch. That looks stunning.
Back to my earlier points, that perception is more important than reality, did I perceive that this WOULD compete with the likes of Hamilton, Mido, Certina, Tissot like mentioned earlier? If I wore this, did I think I would be impressing myself more that if I was wearing a similarly priced watch from one of these name brands?
No.
But then after actually wearing it, I still don't think this watch competes with the likes of Hamilton, Mido, Certina, Tissot.
After wearing this for a while, I actually think it competes more with the likes of Tag Heuer and Longines.
The reality is that this is a bargain. A Valjoux powered, Swiss Made, chrono of this quality is a rarity for £1000.
Formex has an augmented reality app that allows you to virtually try on their watches before, to see if they will suit you. It's good fun actually and there's a few I fancy looking at in more detail, like their DS2100 diver (hint, hint!). But an app like this shows investment and a desire to actually be different, rather than just writing it in copy…
Yes, the name Formex makes me think of a company that makes plastic mouldings as opposed to watches. Yes, the face could be more striking and unique, like the rest of the watch. But taken as a whole, this is a watch that makes me question my "perception is more important than reality" statement, only for a while.
The reality is far more impressive than your perception of what this watch would be.
And then when you actually see it in person, your perception will be you've got a unique, wonderful watch and only end up impressing yourself.
I wish I was a commercial watch blog that gets to keep their review watches…