It's not very often that a brand spanking new watch has excited me as much as the Erroyl E30 Heritage has. They were recently successfully funded on Kickstarter, receiving a whopping $41k AUD. Their goal was just $15k AUD.
Now, the E30 Heritage Rose Gold will cost you a mere $399 AUD, or £201, which is an extremely reasonable price for a watch of this quality with these specs. I think it's even worth mentioning the superb presentation boxes. These are so often overlooked, but Erroyl have really worked hard on making your initial opening experience as pleasurable as possible, and it has really impressed me. The outer cardboard box is obviously high quality, with the logo foil printed on the top, and the box itself is of a similar vein. All the books and cards with it are meticulously designed and support the high quality feel of the watch. View the video review below to see what I mean.
How about the name, Erroyl? Interesting isn't it. Wes, Errol's CEO, states the following about it:
"The name Errol derives from the title of Earl from the Anglo-Saxon period and again we can draw this back to my interest as a child in the folklore of the Anglo-Saxon period. We added the Y to ERROYL to make it a little different and to create some curiosity in it's origin."
So far, so good. Want something else that's cool? How about a voucher entitling you to 10% off an Erroyl E30? Here you go: E30-WIAA110. This is valid until the end of March.
So let's take a closer look to see how it fares as a £200 watch.
The case
The case is a suitable size for a dress watch (although some hard-core fans will say it's still too large) at 40mm in diameter. It does fit comfortably on my 7.5″ wrist, and in my eyes is a good size – not so big it looks like a dinner plate on your wrist, but big enough to be noticed and have some wrist presence.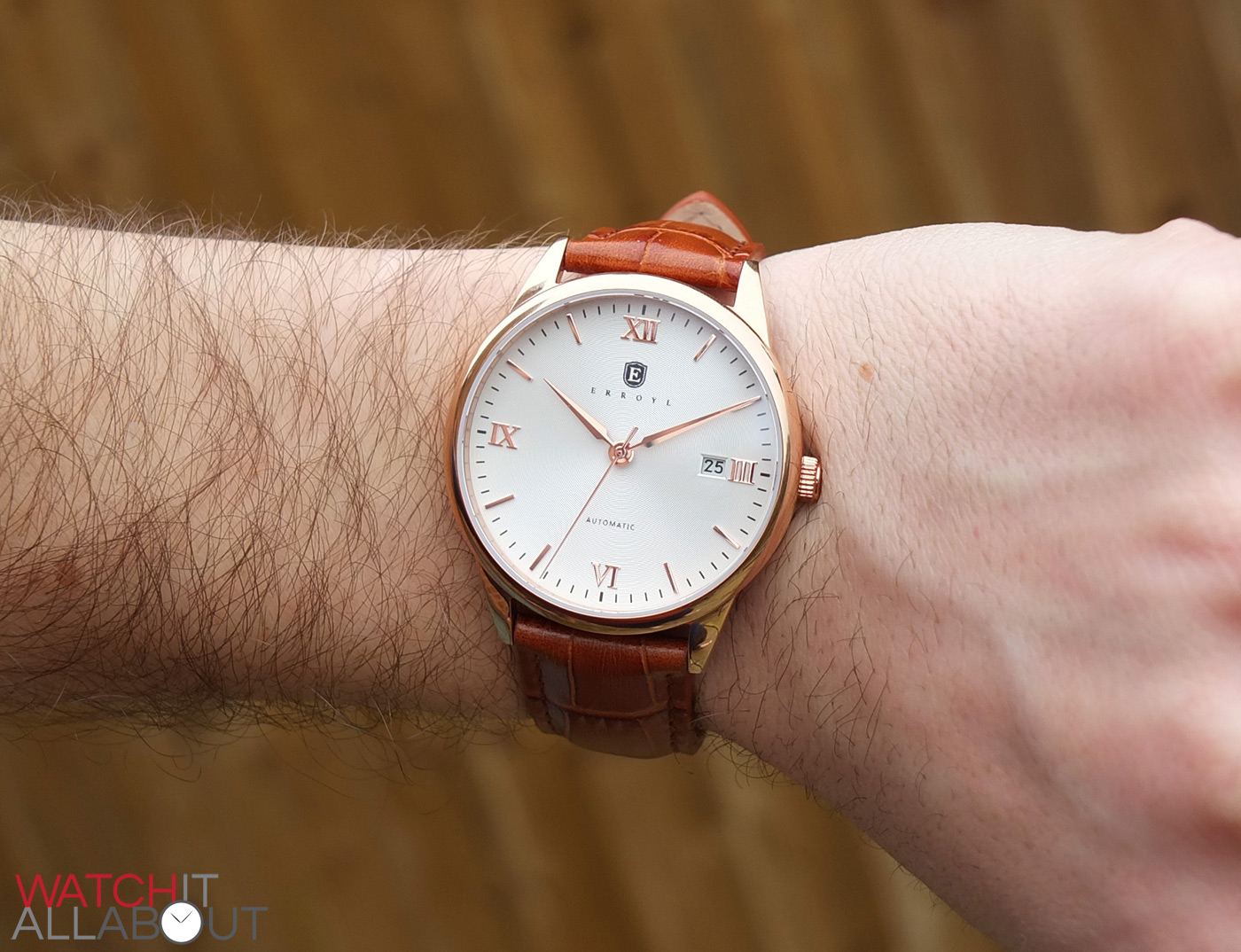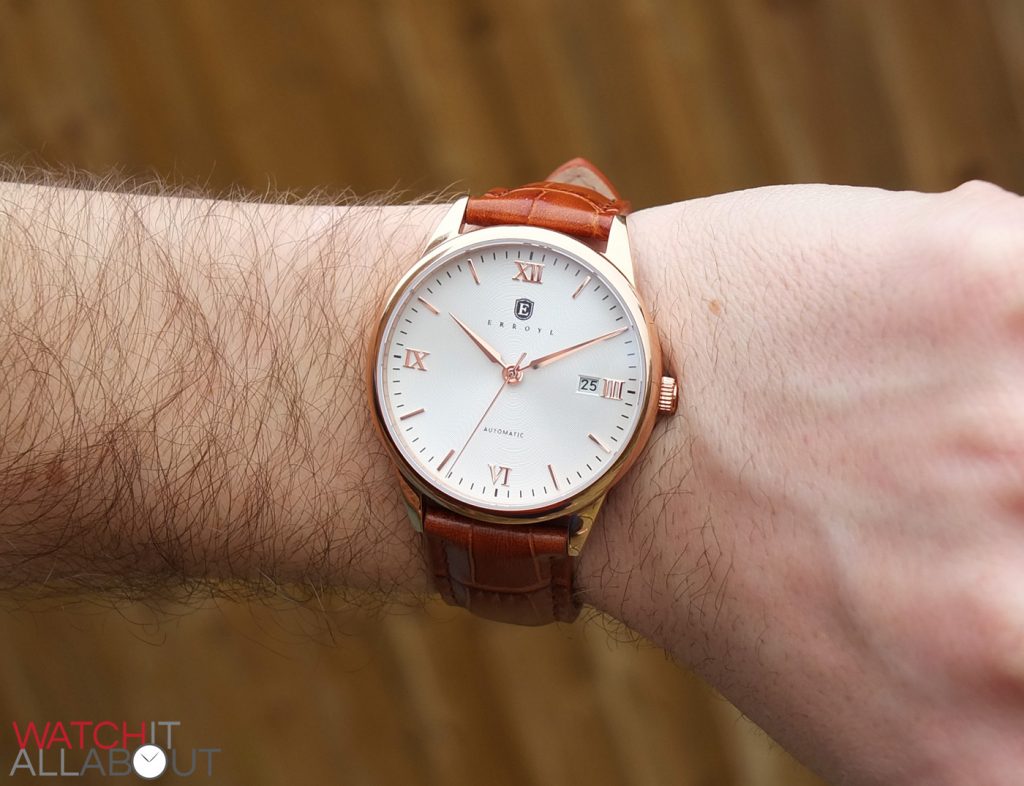 It's actually quite a slender watch too, measuring 10mm in height. This is at least 1-2mm thinner than a lot of other new watches. It fits neatly under a dress shirt with no problem at all – just what it was meant to do.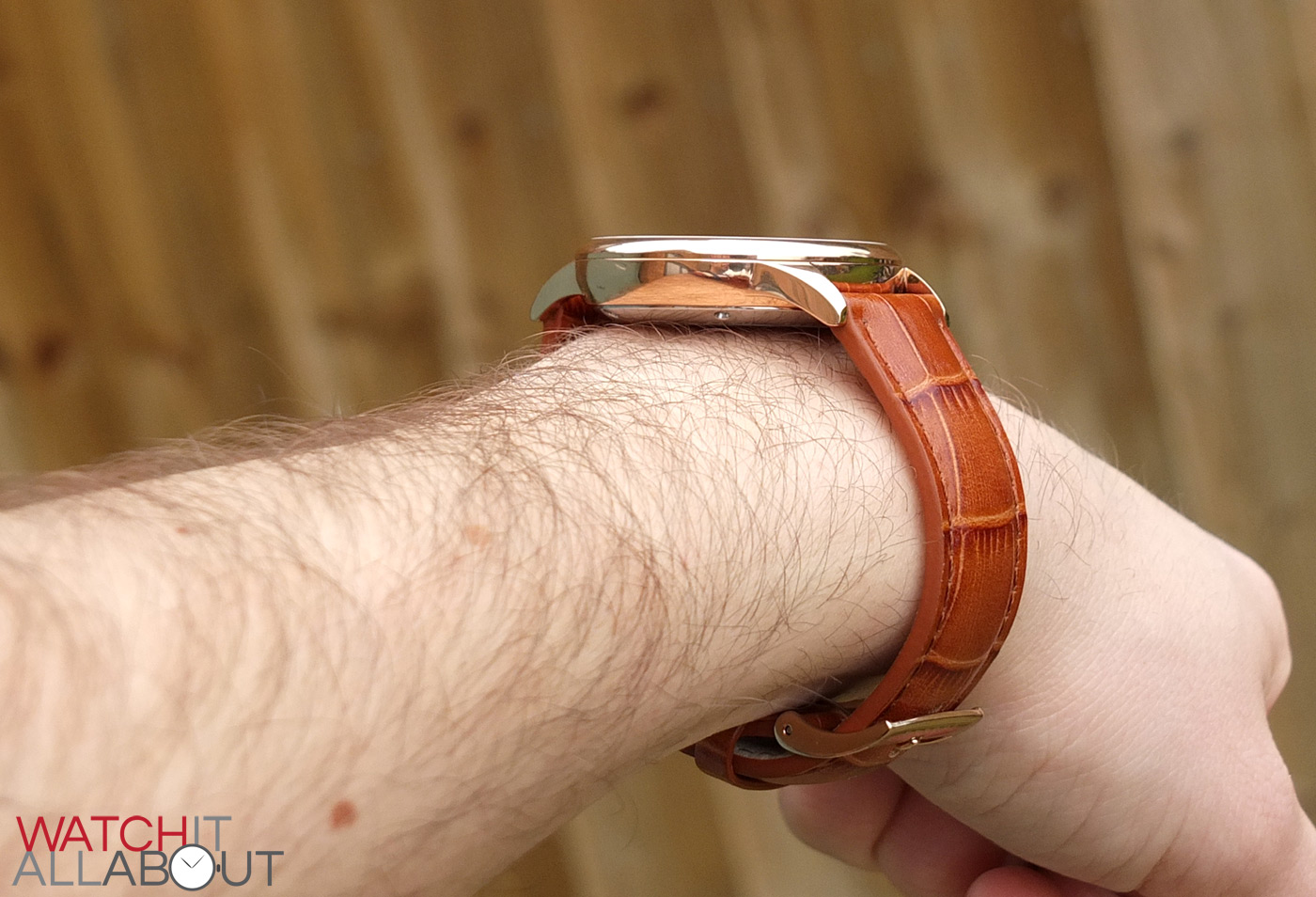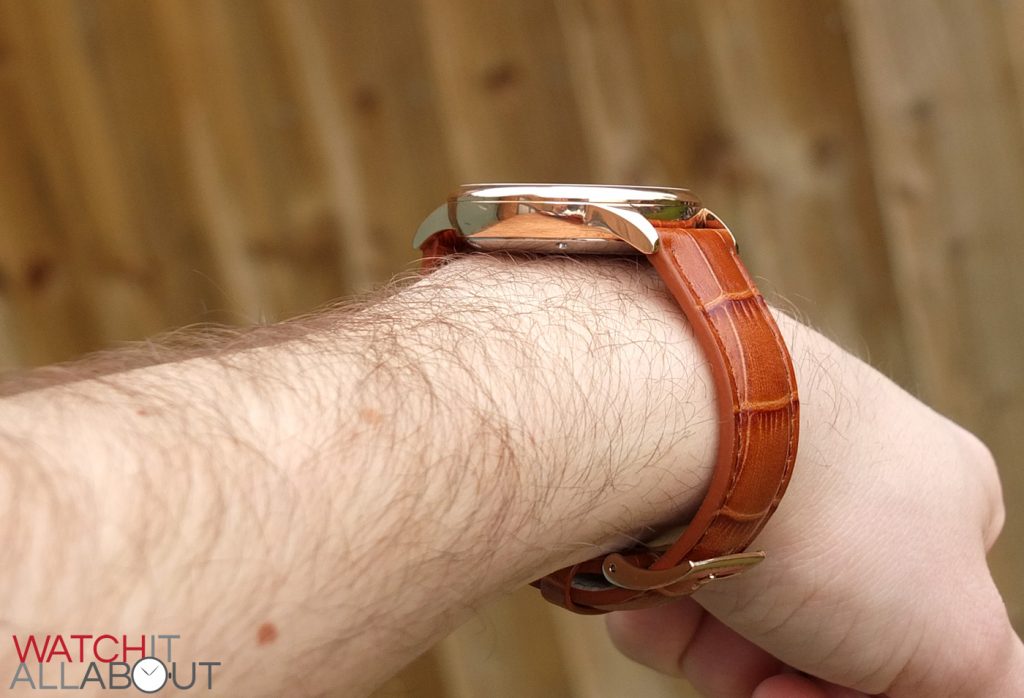 Lug to lug, the E30 Heritage is 46.5mm long. This is quite long for a 40mm watch, but when you see the lovely and elegant, out-stretching lugs you can see why this is so. Thankfully, they don't interfere with wearability – even though the lugs are reasonably flat, the watch sits well on the wrist.
Looking at the case lug-on, you see that it's very fluid, and has an almost bulbous shape. The bezel join provides a line to break it up. For a simple case, it's very well designed.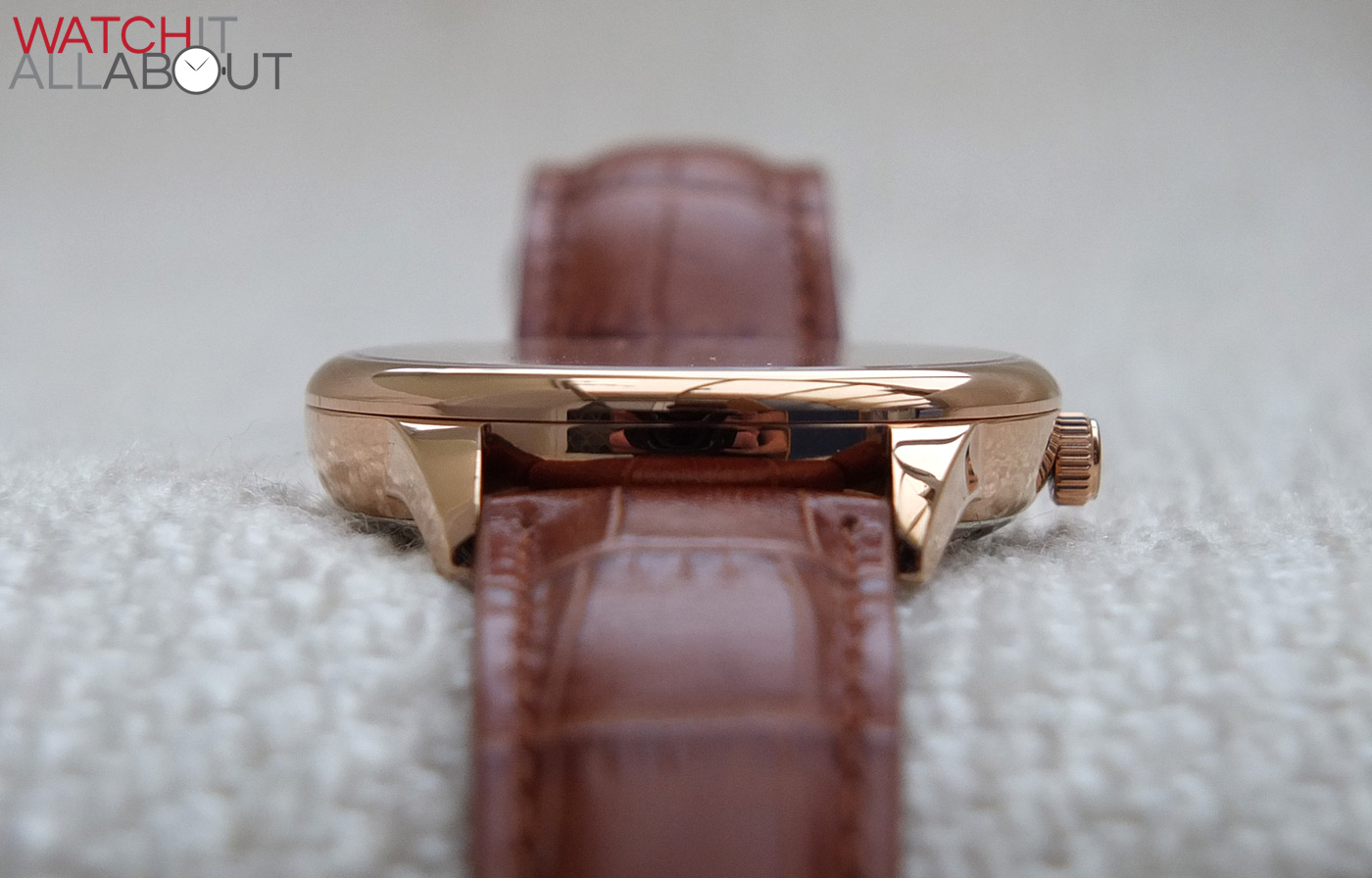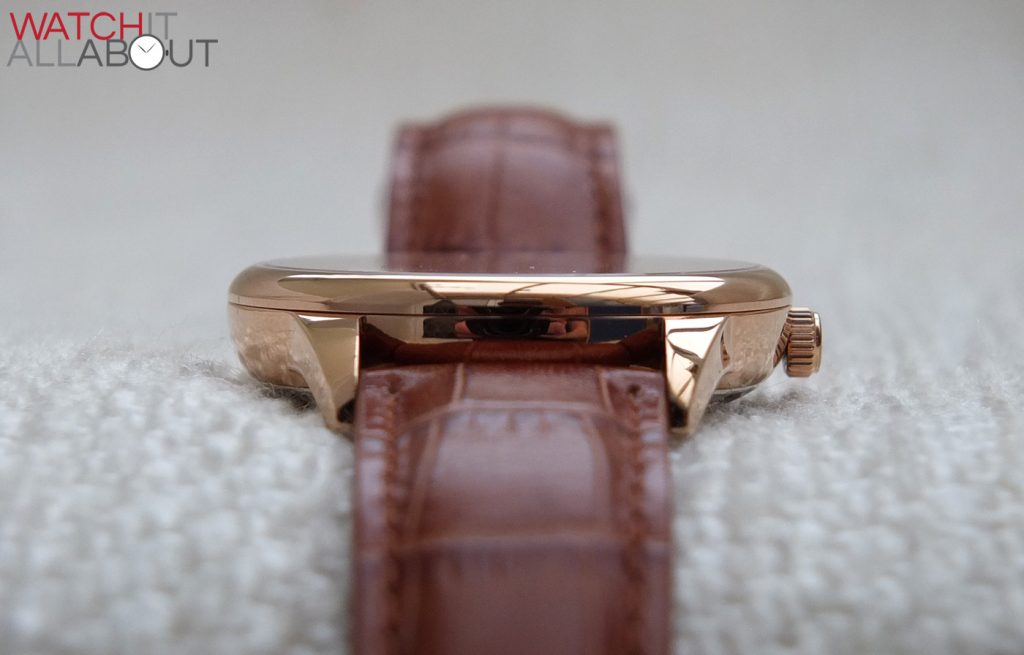 The weight is minimal at 80g – when you're wearing the E30 you can barely tell it's on your wrist. This results in a very comfortable wear, and you'll be fine to have it on your wrist all day with no bother at all. 
The E30 case is made of 316L stainless steel, and is available either as standard steel – or (as is the case here) rose gold plated. Both models are completely polished head to toe. The fit and finish of the case is genuinely flawless, I'm impressed with just how well the case is made. There's not a mark on it, it's exceptionally well machined.
Of course, we also have two flat sapphire crystals – one on the front, and one for the exhibition caseback. This is a positive as usually manufacturers put a mineral crystal in the caseback to save costs. The sapphire crystal used on the top of the watch has a truly excellent anti-reflective coating on the underside, which is again of a surprisingly high quality.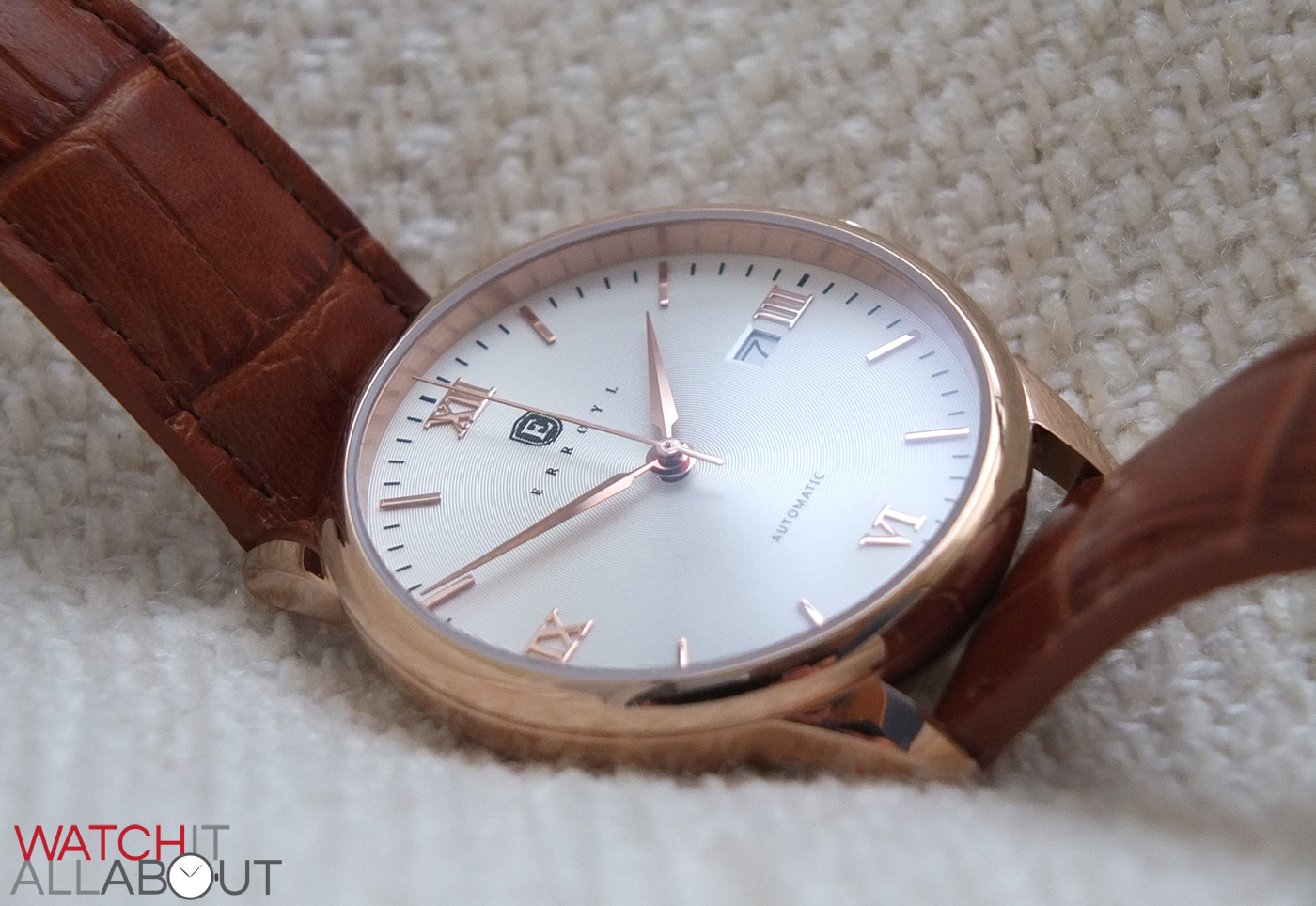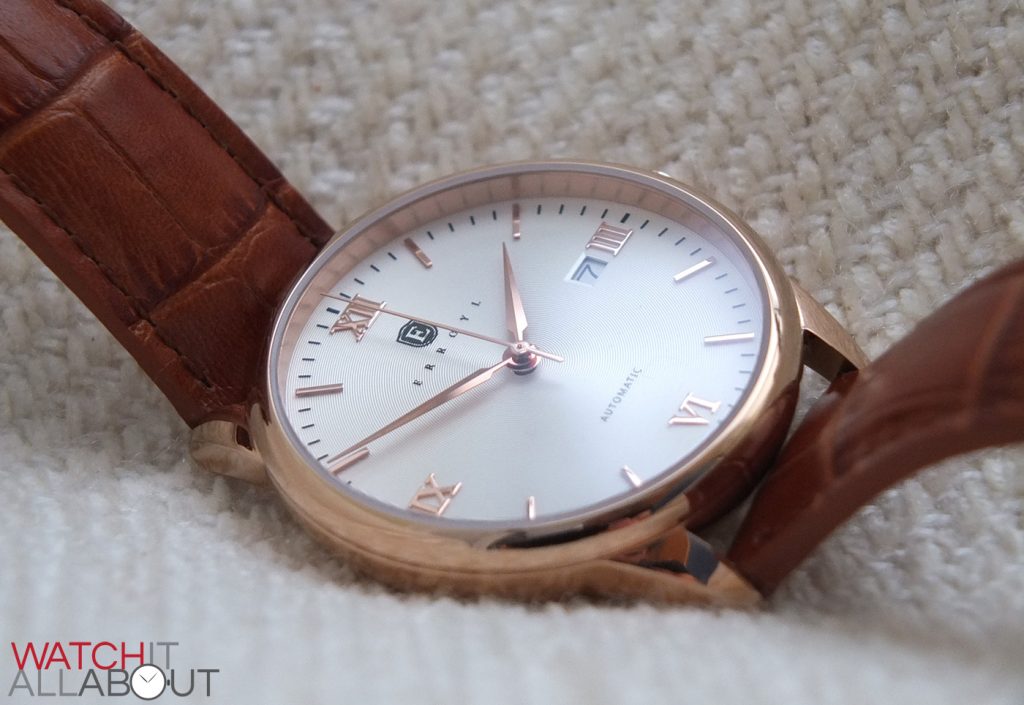 The crown is a push-pull type. It is an understated yet suitable size, with decent grip. It features the Erroyl E logo accurately and deeply etched on its end – a nice touch that could have been left out.
The E30 Heritage has a water resistance rating of 50m. This means that it can be lightly submerged in water no problem, as long as it's not too deep. 
The caseback is polished stainless steel – but is not rose gold plated as per the main body of the case. This may put some off, and it does spoil the design ever so slightly having two different colours on the case. But, I understand the cost implications it would have meant to have had a matching rose gold caseback. Hopefully in the future they can match. That's not to say that it's not a good caseback, far from it. As we learnt earlier, it's an exhibition caseback – so you can see the Miyota 9015 movement in all its glory. The window is sapphire too. It's secured in place by 6 screws, and it has a number of the watch specifics deeply etched surrounding the exhibition window.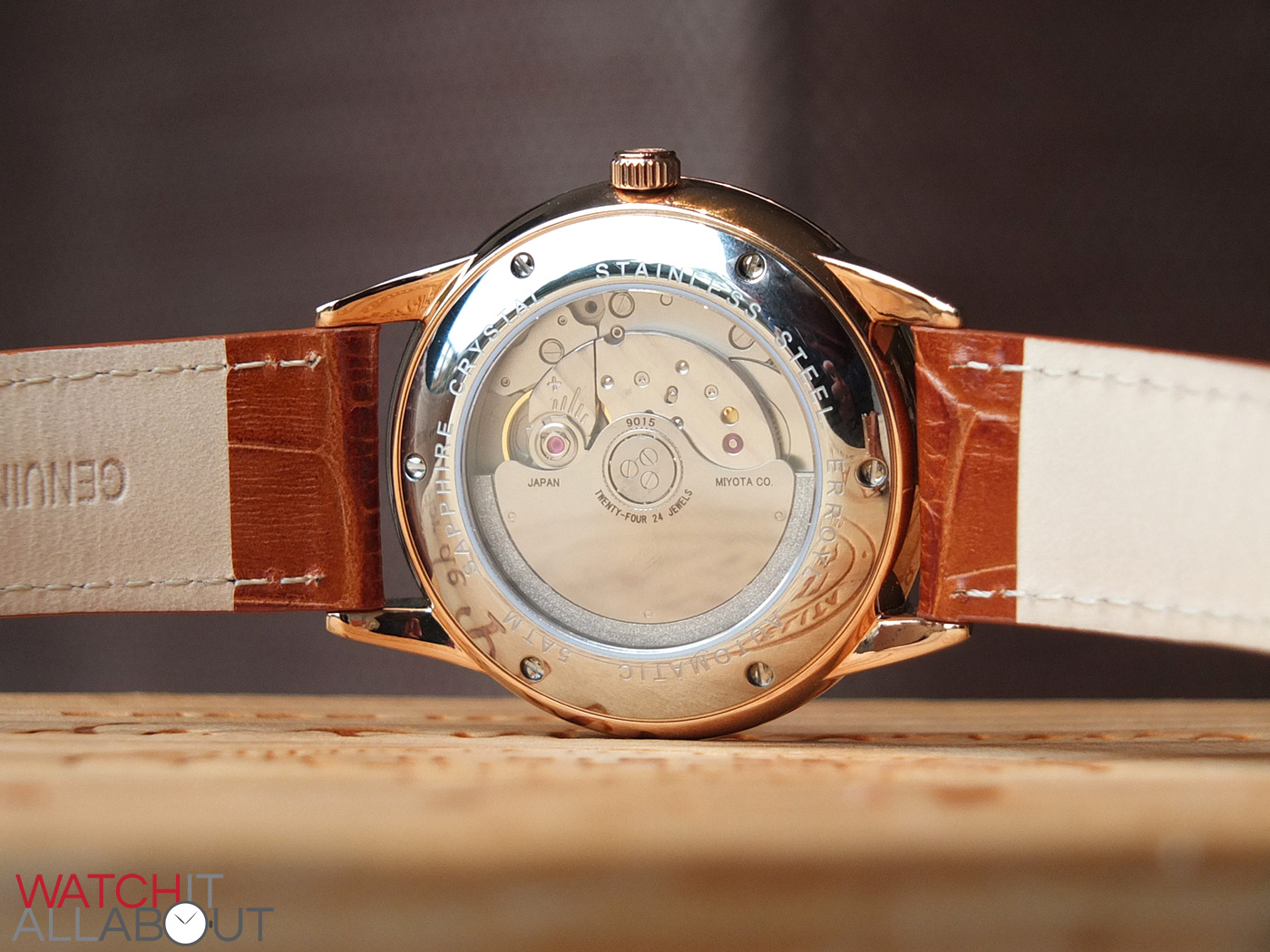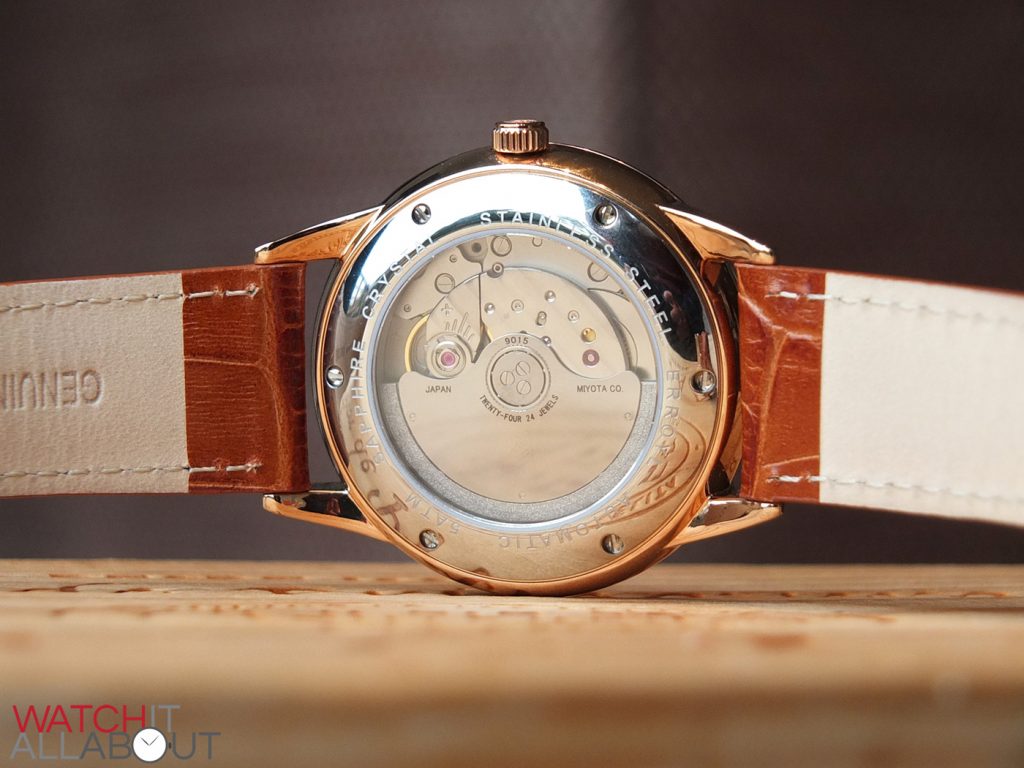 As is more or less the same throughout this watch, the quality of finishing and machining is pleasantly surprising. It's extremely good for a watch of this price and I've been very impressed with it.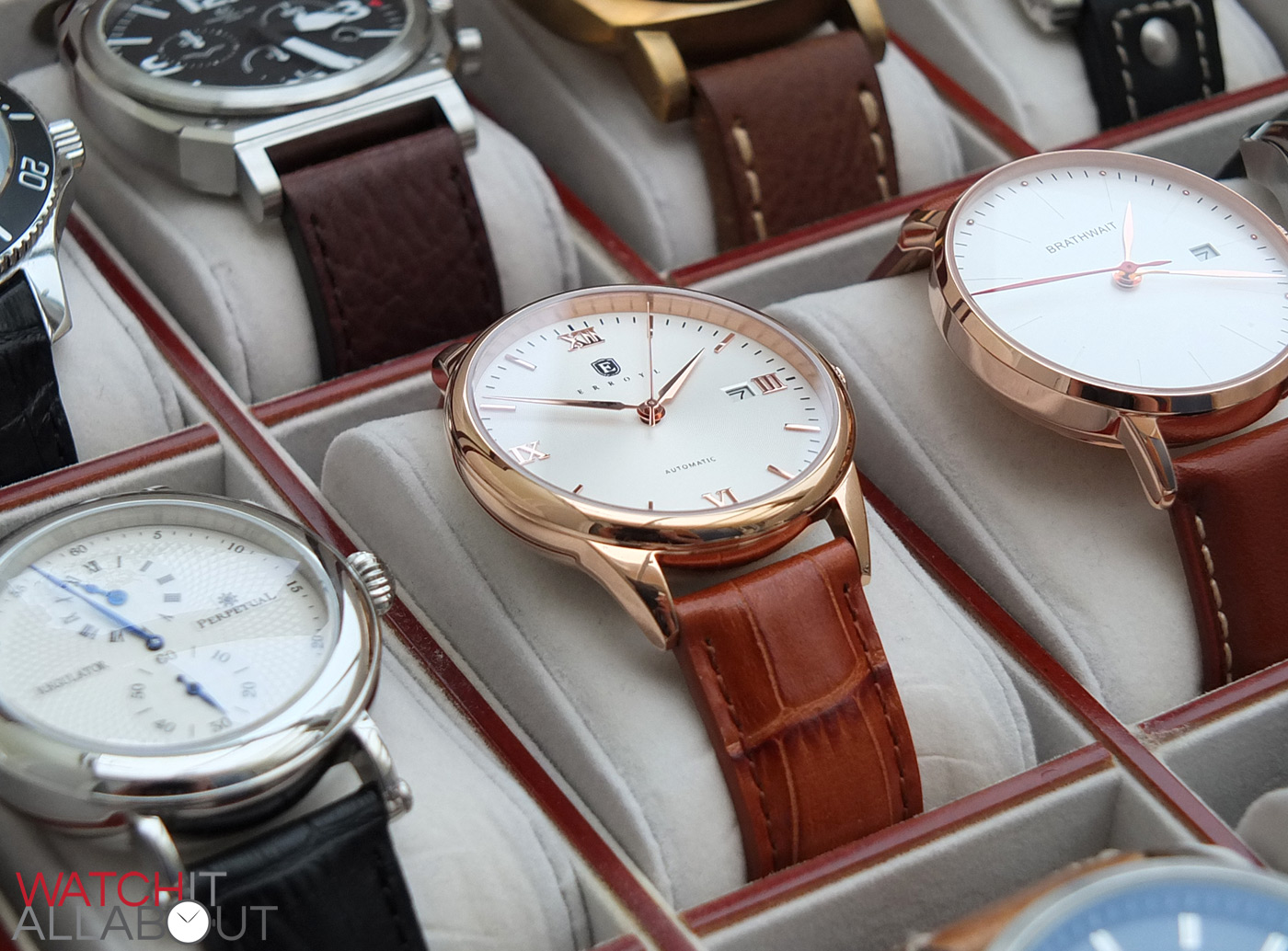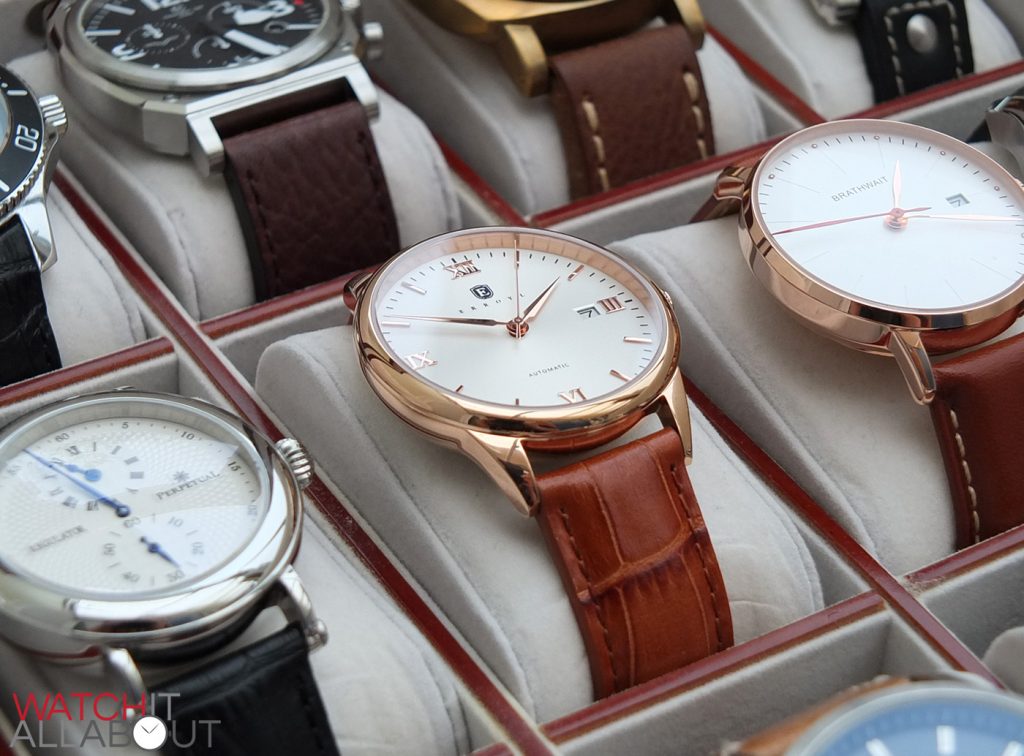 The dial
What has surprised me most is how accomplished and flawless the dial is on a watch not only costing this much, but also a brands' first release. It really is extremely well put together, and I think the design is spot on too – it has a classy elegance about it which is very pleasing to the eye. Everything is well balanced and in proportion with each other.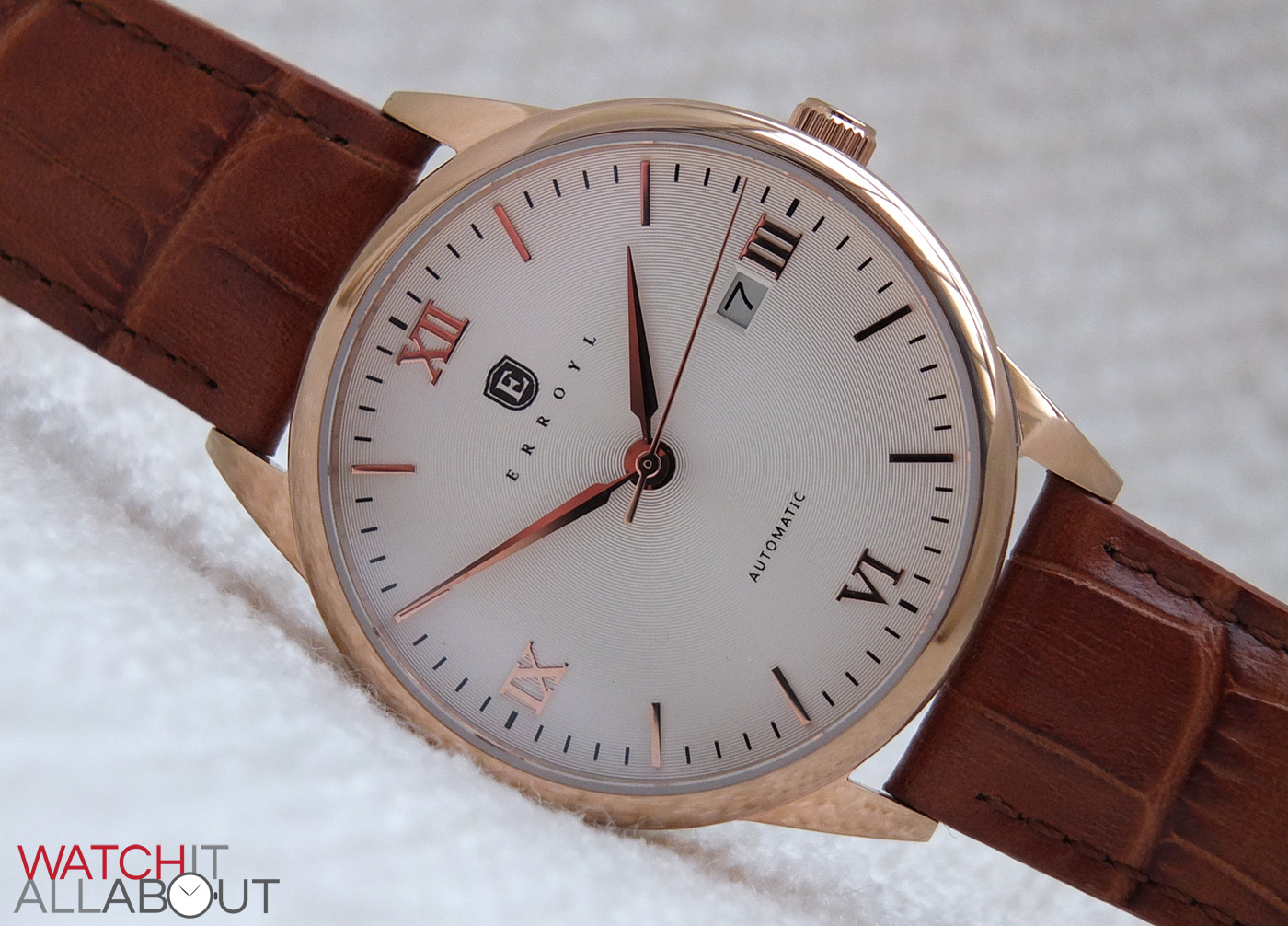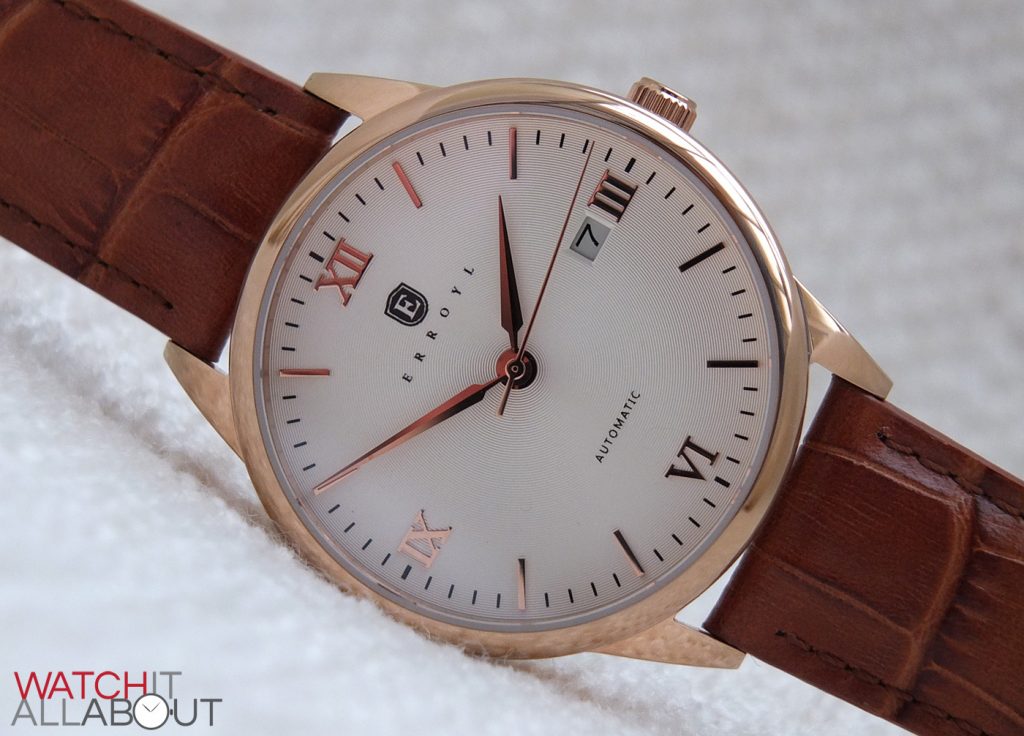 One thing I love to see on a dial is texture. The E30 Heritage provides this thanks to the concentric circle pattern it has. It's surprisingly well made, and is also fairly subtle too which is good – it doesn't take over. When the light hits the dial, it produces an attractive sunburst effect which spins around depending on the angle.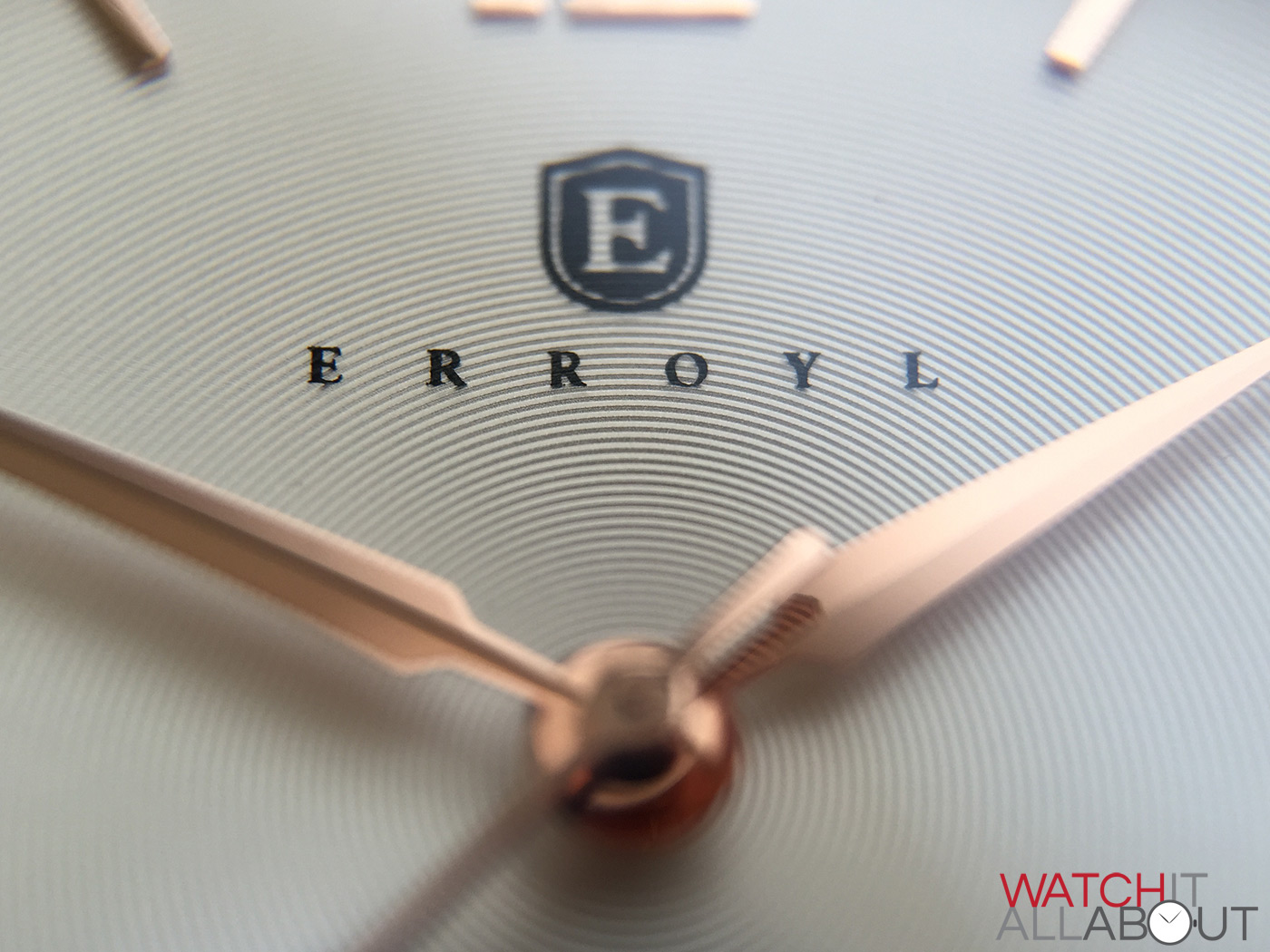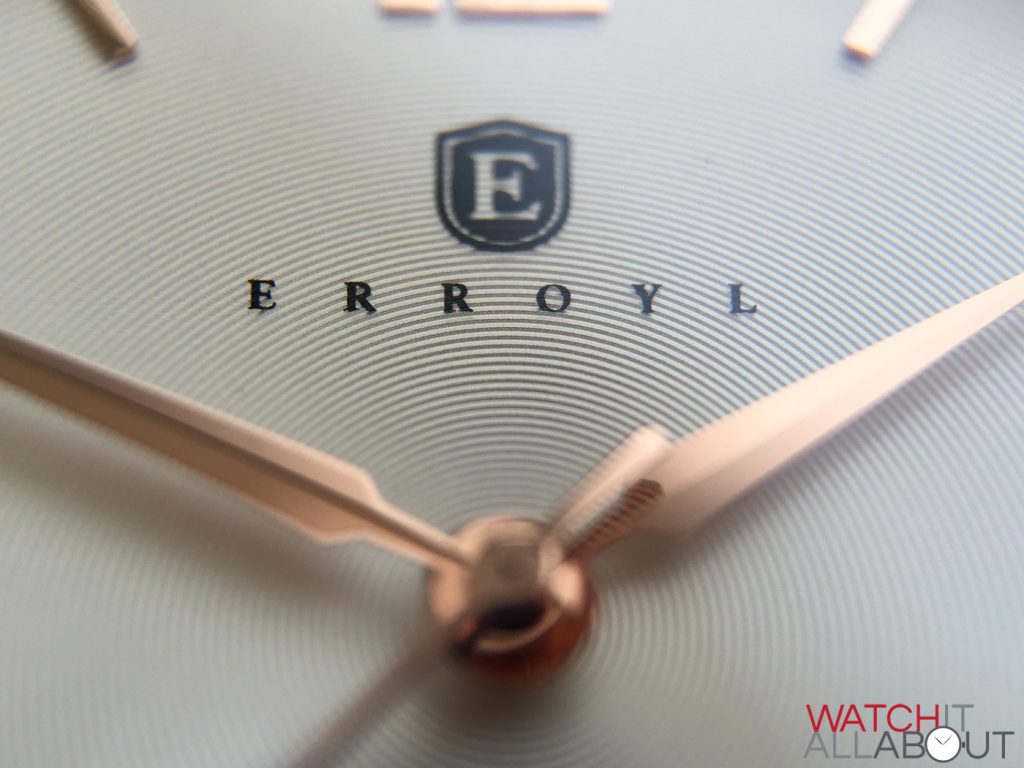 The dial itself is an off-white champagne colour, which again provides a measure of elegance to the watch. It suits the rose gold case and tan leather strap exquisitely. 
Next, the applied hour markers are also extremely well made and finished. The markers at 3, 6, 9 and 12 are Roman numerals, which are beautifully made. All the other hour markers are simple batons, again made with surprising precision. All the hour markers are polished rose gold, harmonising with the case and buckle.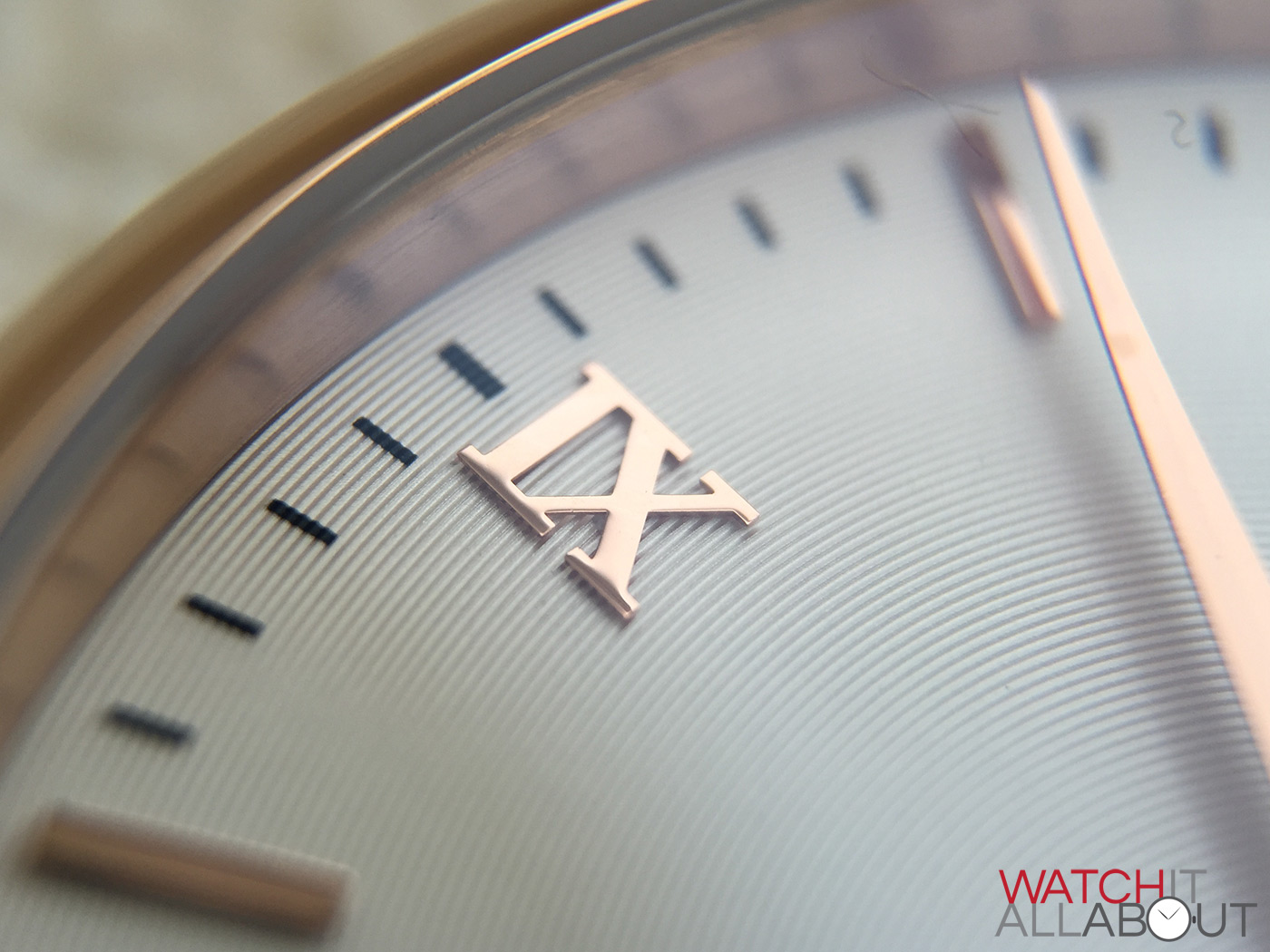 The date window is located at 3, and has a fine framing around it. It's good that the date wheel is close to the dial, as this means there's little to no gap between the two (also known as a sunken date wheel), which can be a little bit ugly.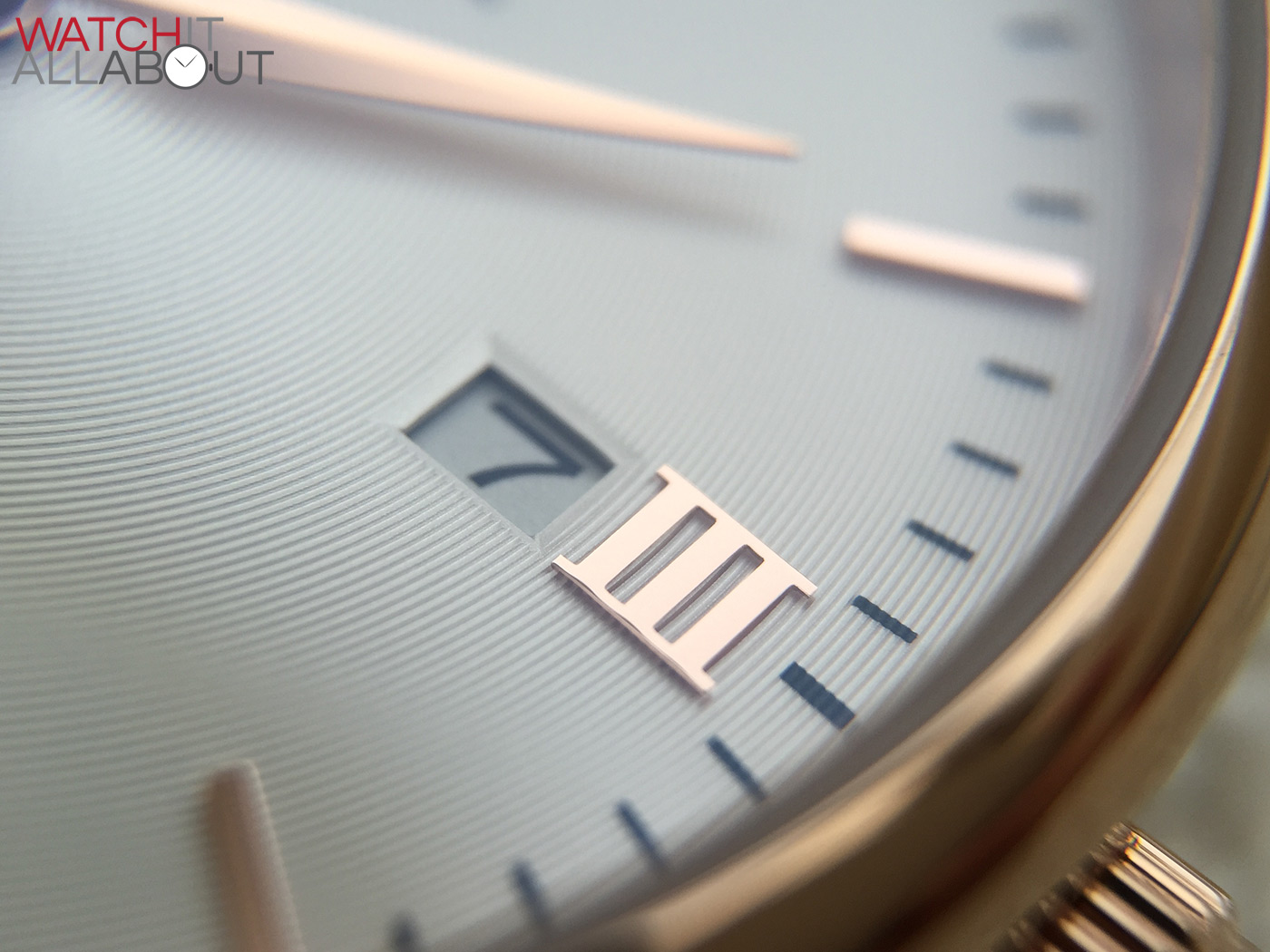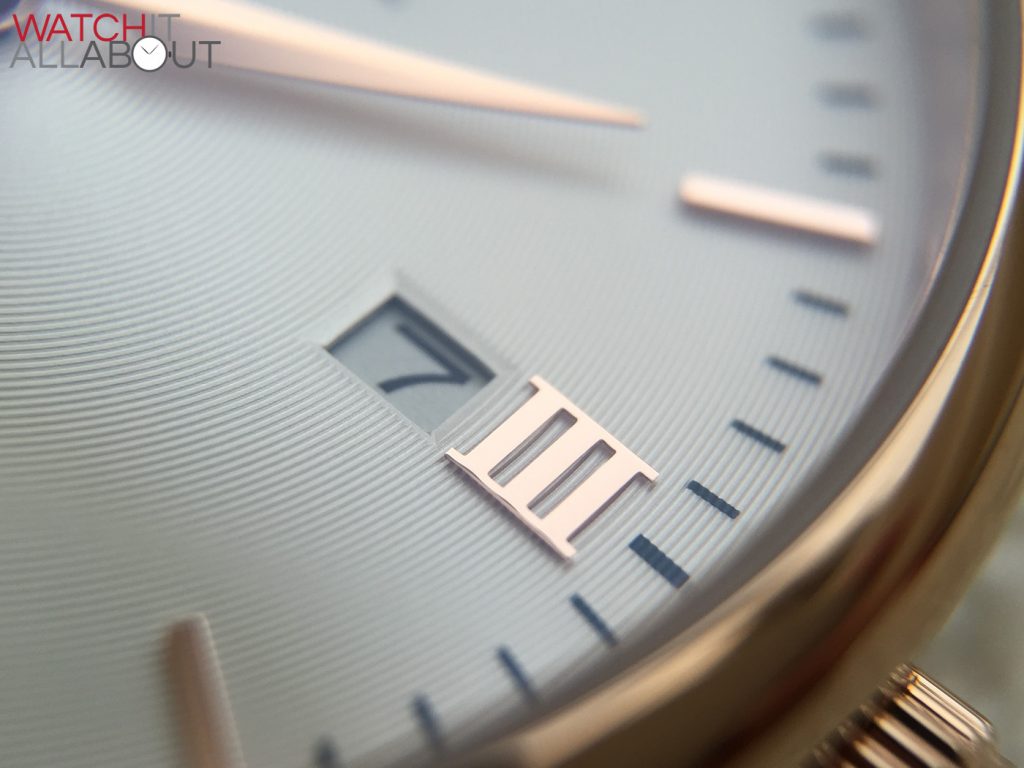 The hands, just like the hour markers, are polished rose gold and are made extremely well. It's very hard to find any flaws or faults with this dial – it's been put together with great care. The hour and minute hands are a lancette type, thin and stretching out towards the edge of the dial.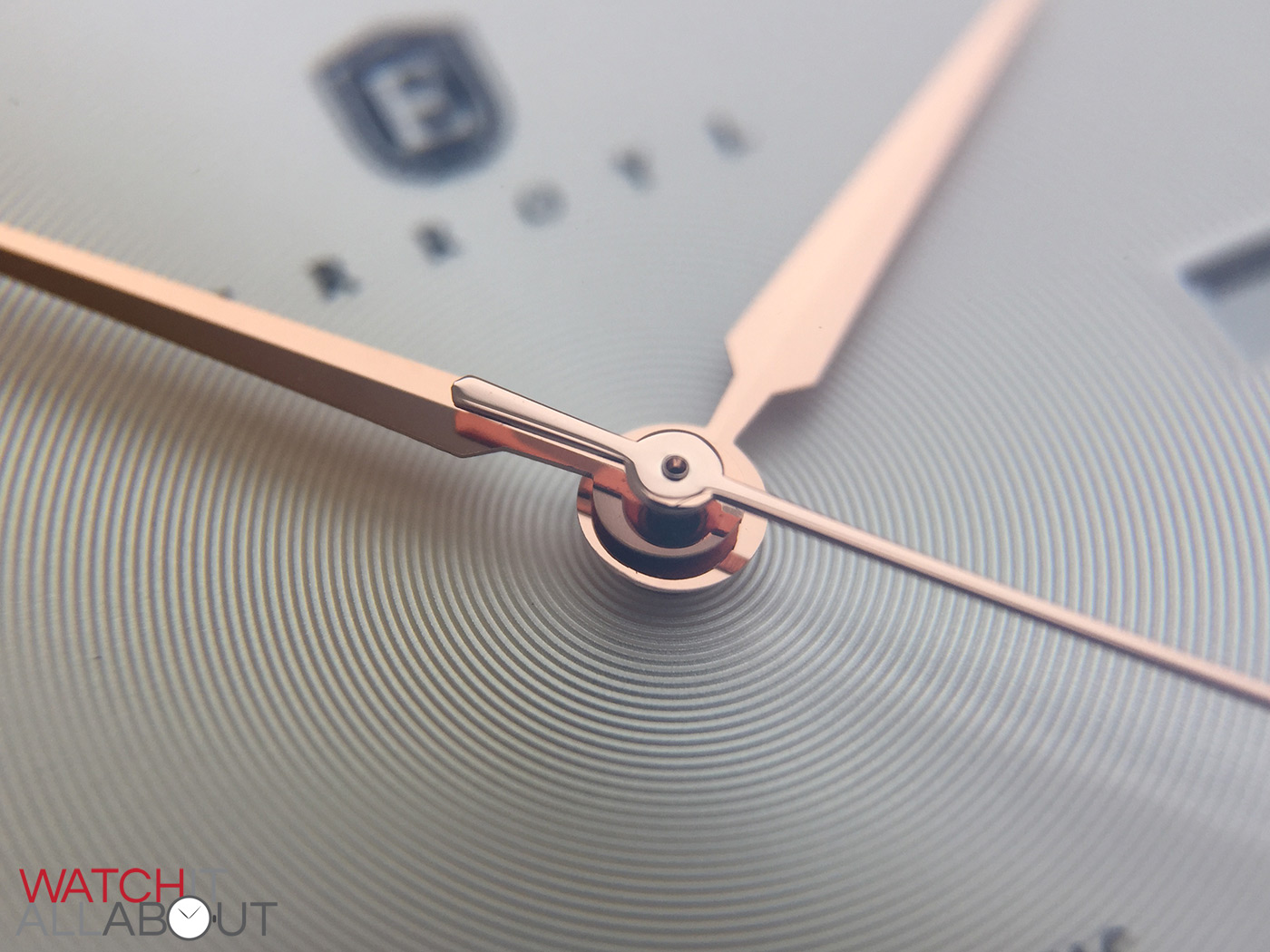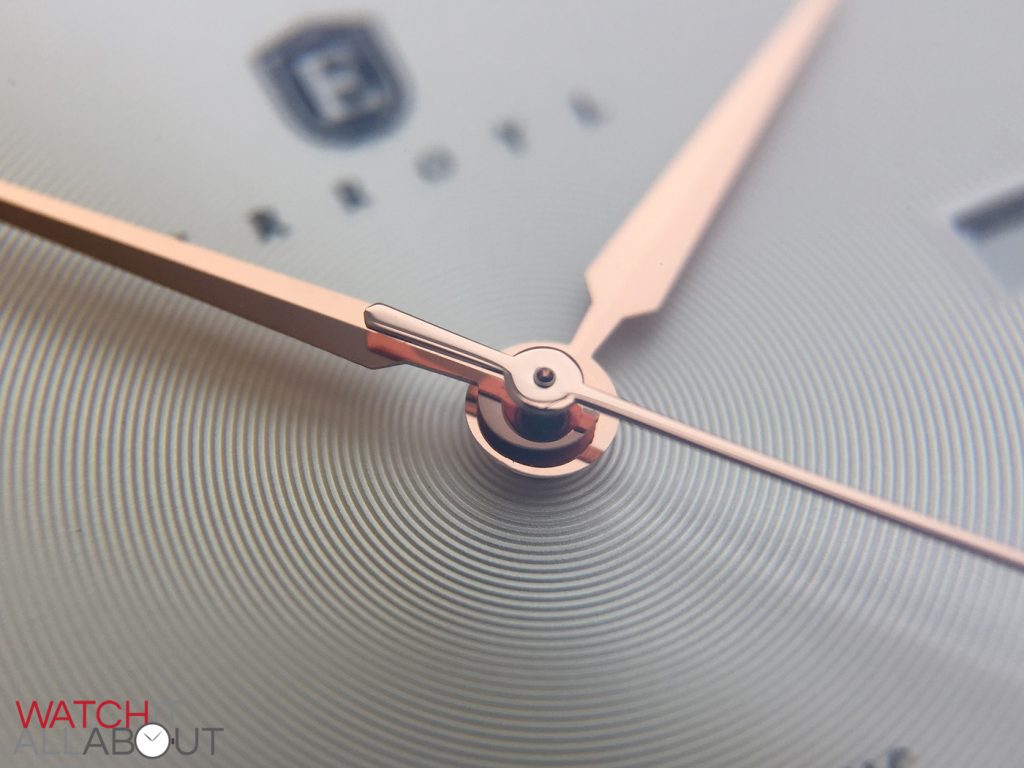 The printing is minimal – in fact, just the logo on the top half, the single word automatic in the bottom half, and the minute track is printed on the dial. Considering the printing is on a concentric circular texture, it is surprisingly crisp and clean.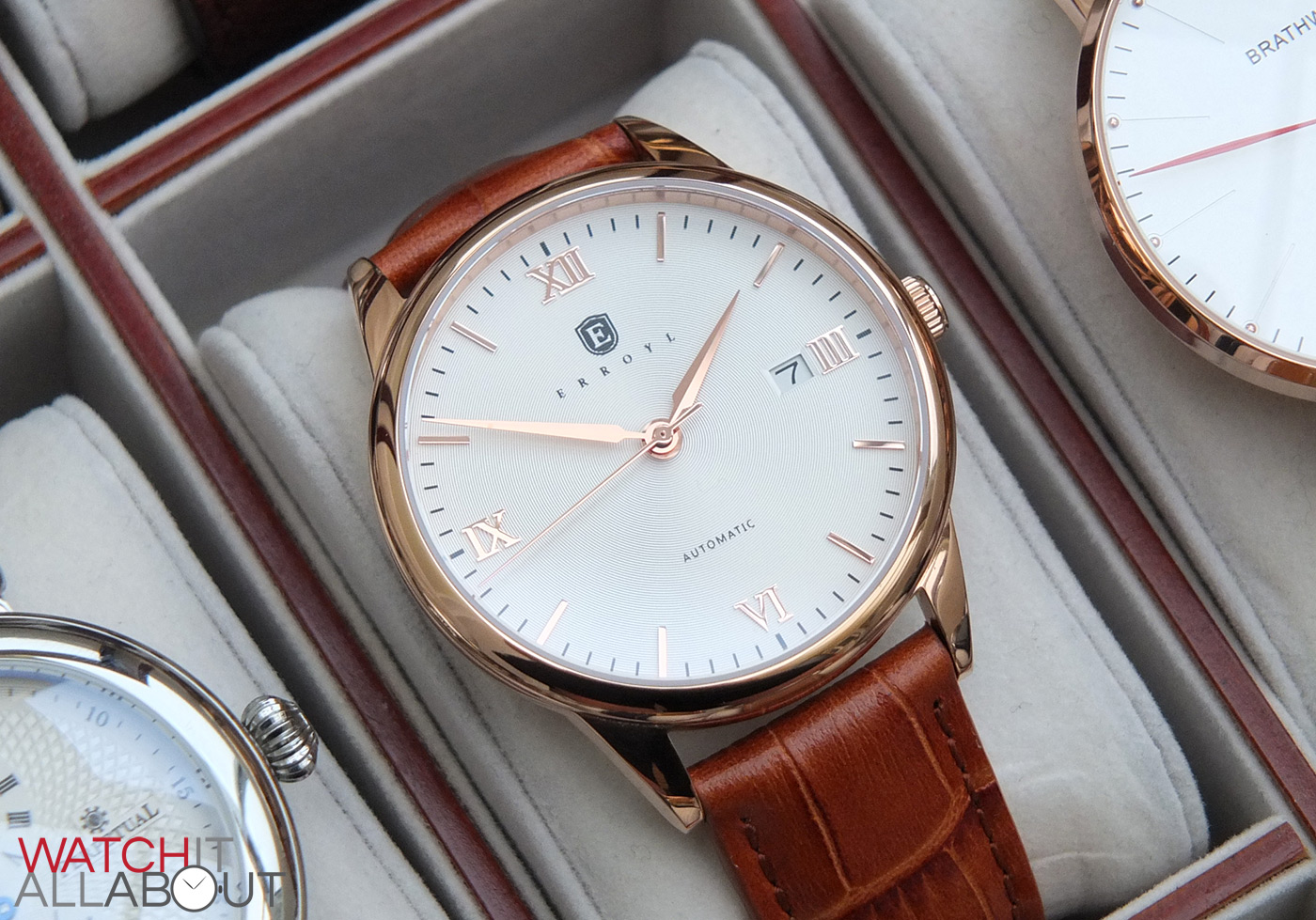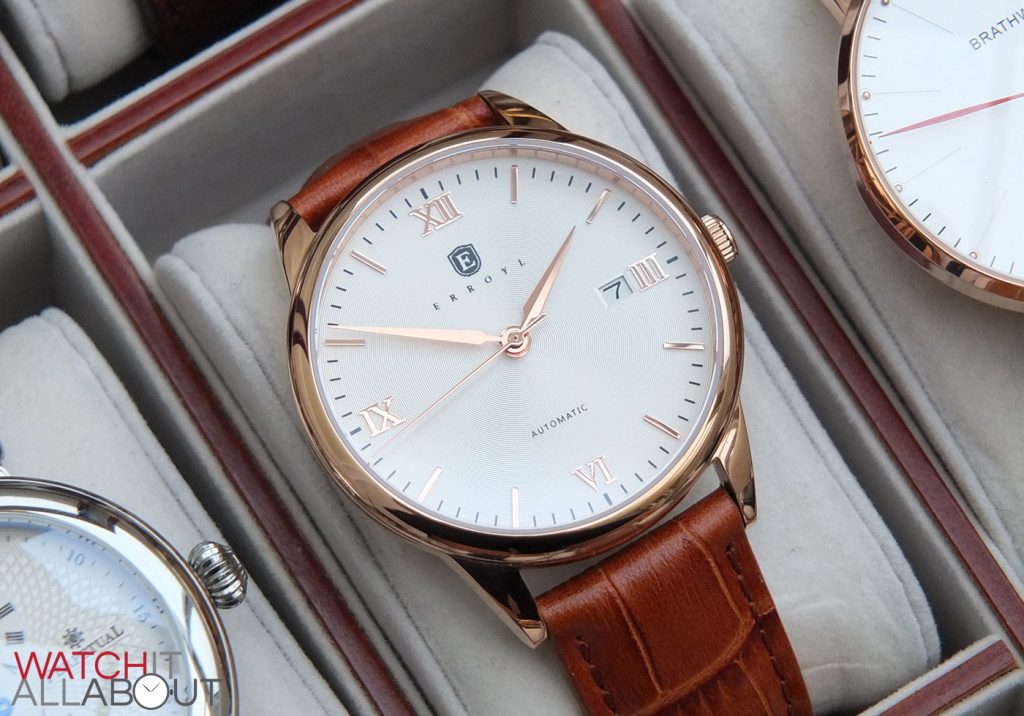 The design of the dial in general is very charming, I strongly believe it's been designed with a lot of thought and with a good eye. I like appreciate how everything on the dial is polished, so it creates a lovely reflection in the light.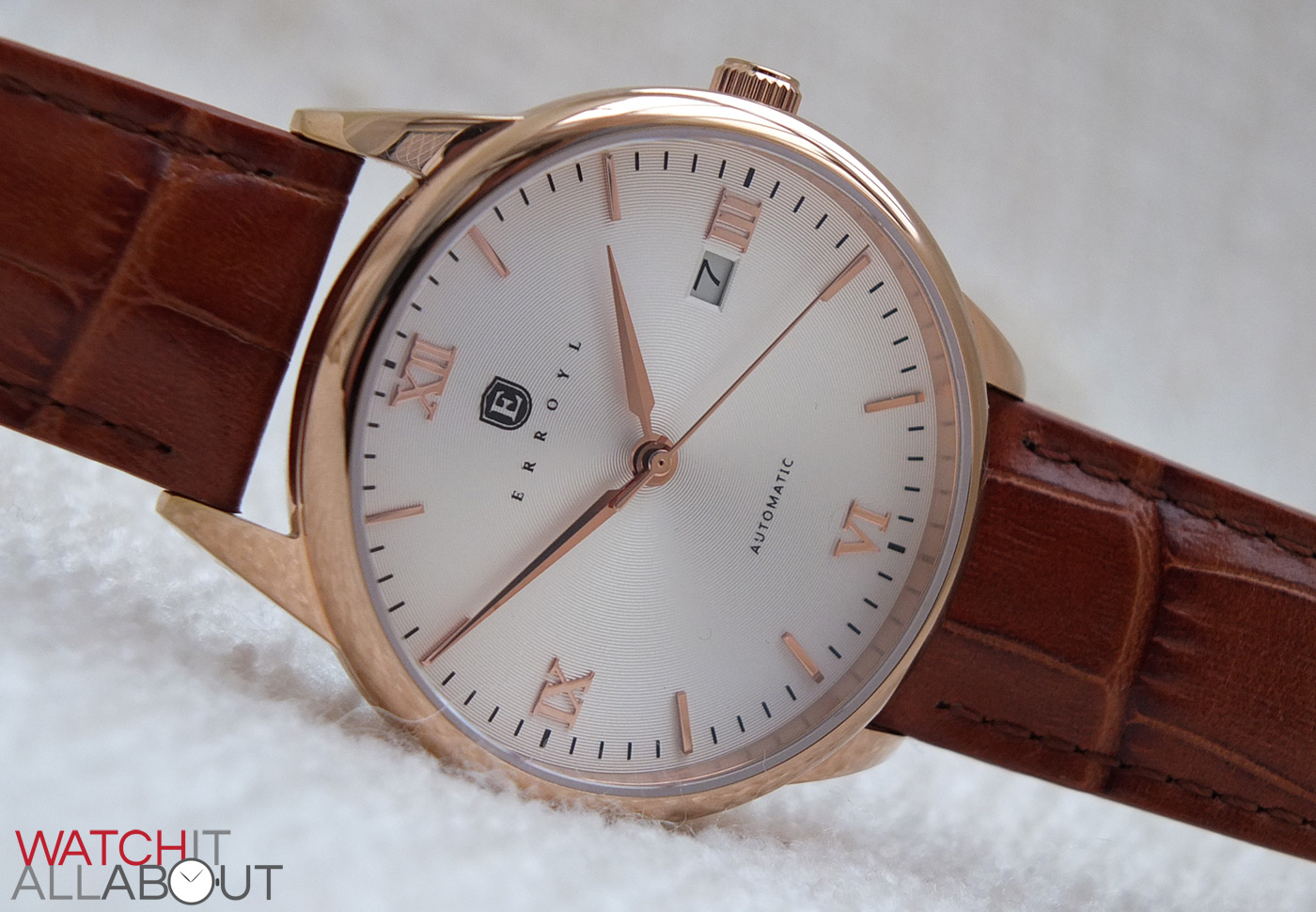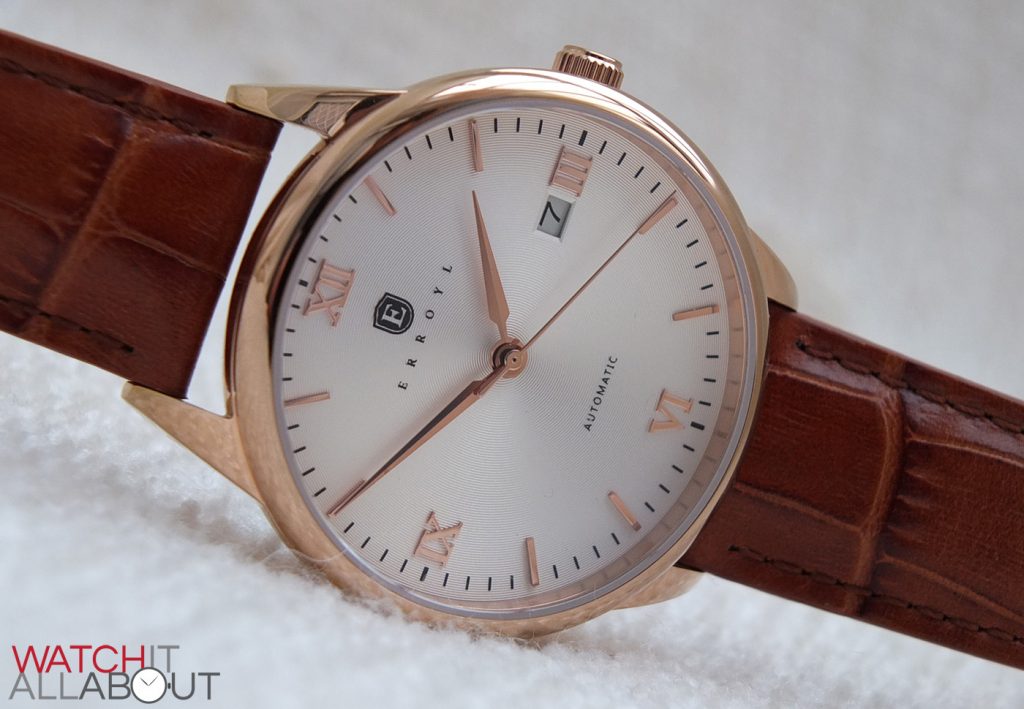 The movement
Once again, we find the ever-present Miyota 9015 within a small boutique watch. There's no better choice of an affordable high-beat movement, which is why we see it used so much. It's rugged, reliable, and offers the same specs as the Swiss Made autos it's based on – a high beat of 28.8k bph (8 ticks per second), over 40 hours power reserve, automatic and hand wind ability, and a hacking seconds hand. Sure it's not the best looking movement, but that's something that can be overlooked. If you're anything like me, seeing any sort of mechanics – no matter how plain it is – is a joy to see.
The 9015 in the Erroyl is proving to be satisfyingly accurate too, coming within +10 seconds a day which is definitely acceptable. In fact, I've timed this E30 Heritage and the movement is running at +7 secs a day. Can't complain with that at all for an affordable mechanical watch. 
So you're sure to have a reliable and accurate movement, with a lovely smooth sweep in your E30 Heritage. 
The strap
The strap on the E30 measures in at 20mm at the lugs, reducing to 18mm wide at the buckle. A very standard and suitable size that fits the watch and wrist well.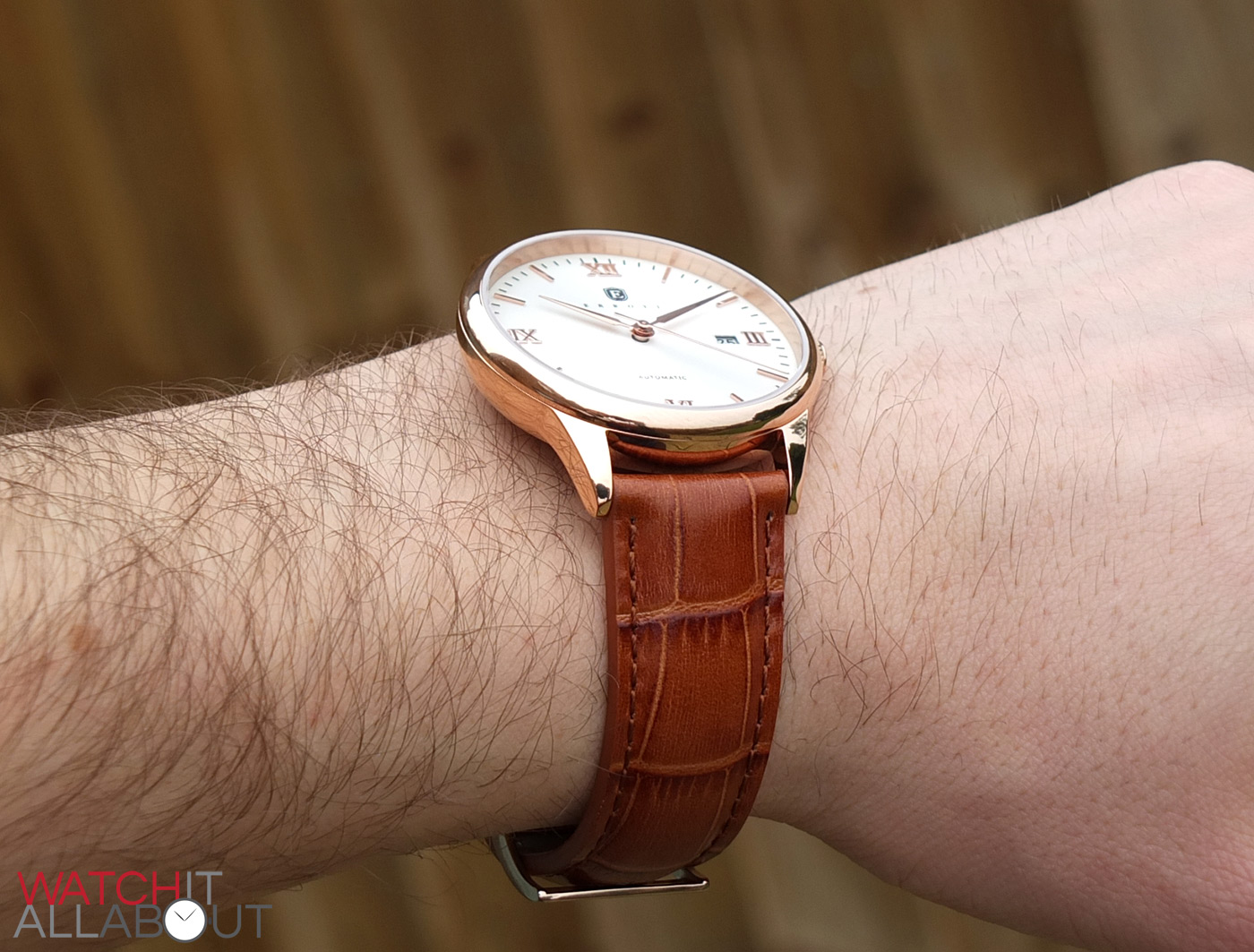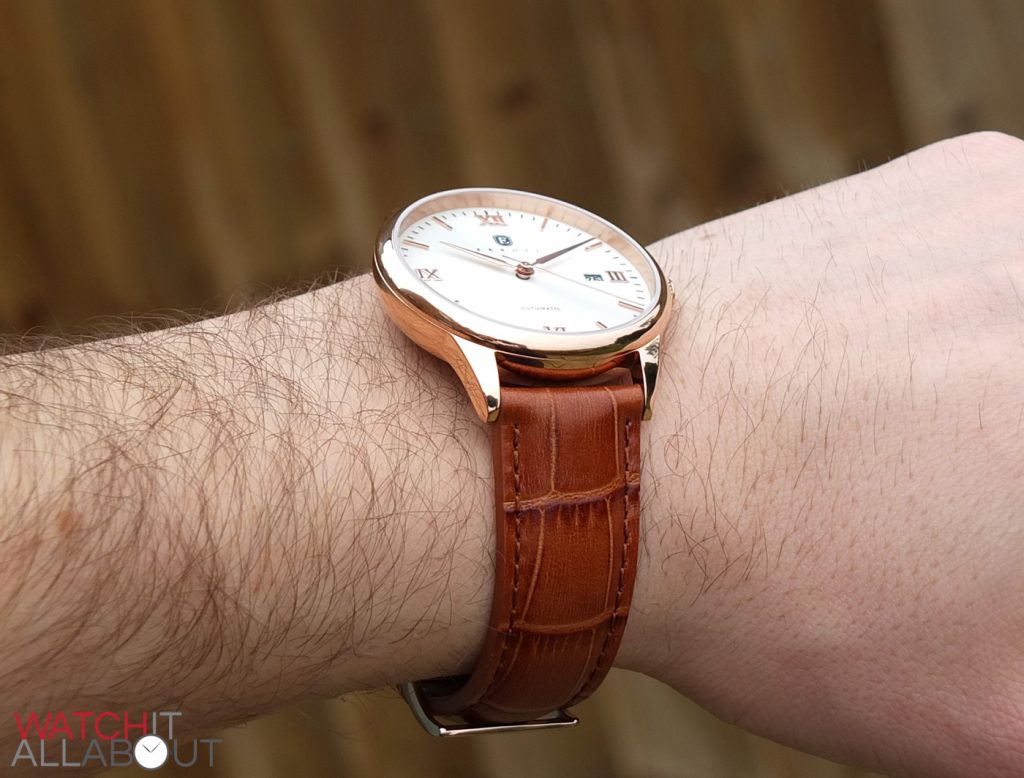 The leather is a beautiful tan colour, setting off the rose gold case perfectly. It has a nice alligator pattern to it, with darker and lighter characteristics which looks great on the wrist – it's a real eye catcher. 
Although it looks great, it feels a little stiff and doesn't feel that high quality – but the level is perfectly acceptable for the price of this watch. I've been wearing it every day for a couple of weeks now, and the top where the buckle slides along to put it on is starting to show a little bit of wear already, which is a shame. Obviously a strap is extremely easy to replace, so it's really not that big a deal, but I thought it was worth mentioning. It's nice and thick, and comfortable on, so it does what it's meant for well.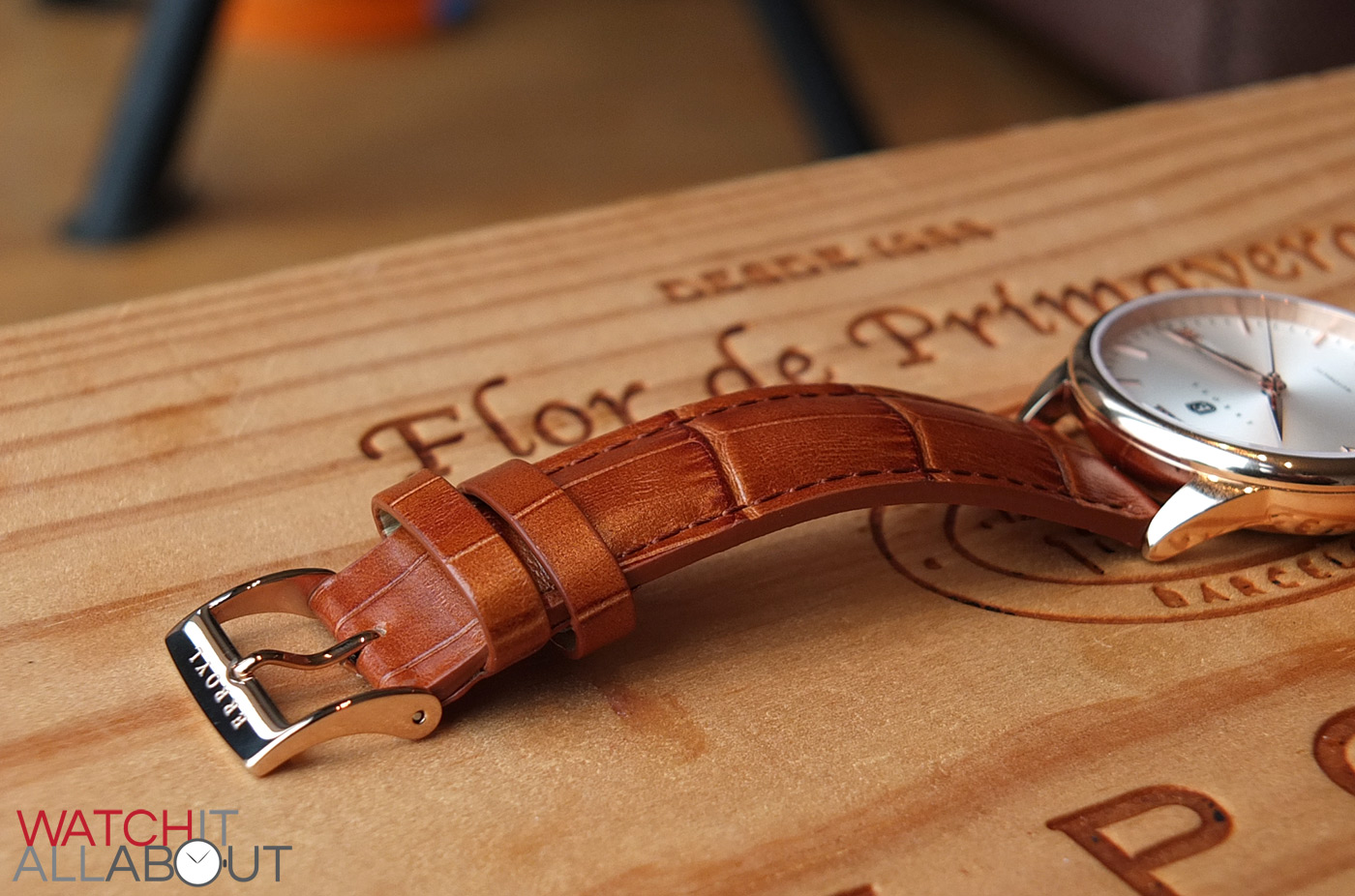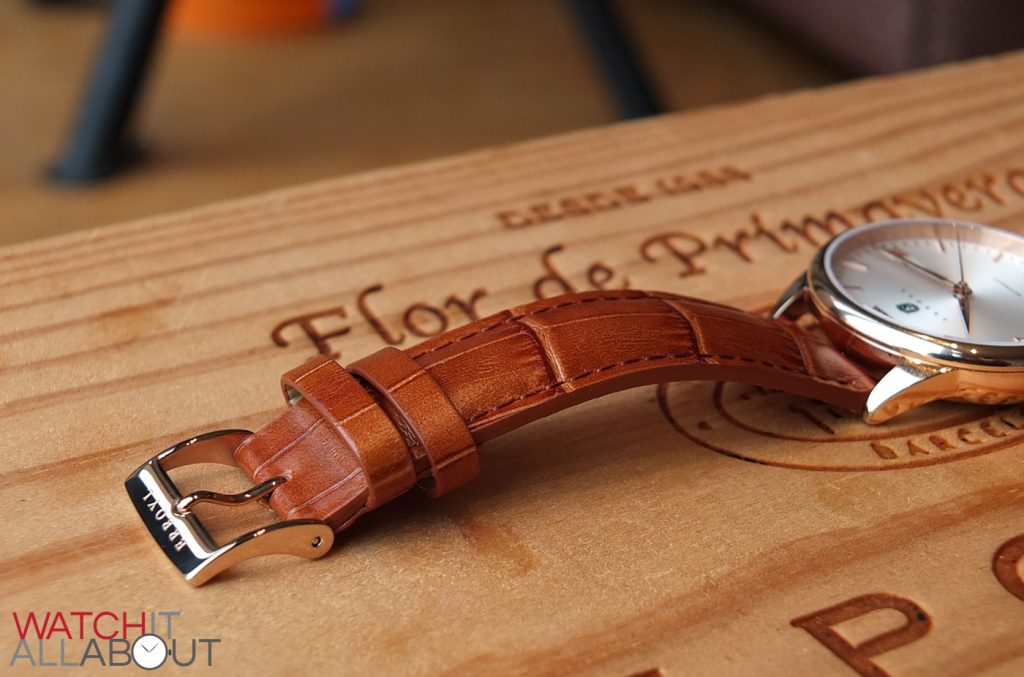 The strap features a standard buckle, excellently machined and perfectly finished polished rose gold to match the case. It has "Erroyl" very neatly etched along the top bar. Again, I'm very impressed by the quality of manufacture for a first model.
There is talk of the introduction of a deployant clasp for the next batch, which I think will make this watch even better value for money. But in all honesty, the strap is perfect for the watch – it would be unrealistic to expect anything higher quality than it already is. 
The competition
The two main competitors that come to mind are both just as new as the Erroyl, and are rose gold autos.
Firstly, there's the Melbourne Watch Co Parkville – which is a tad more expensive at £235. It's just as classy as the E30, with a splendid guilloche spiral pattern on the dial.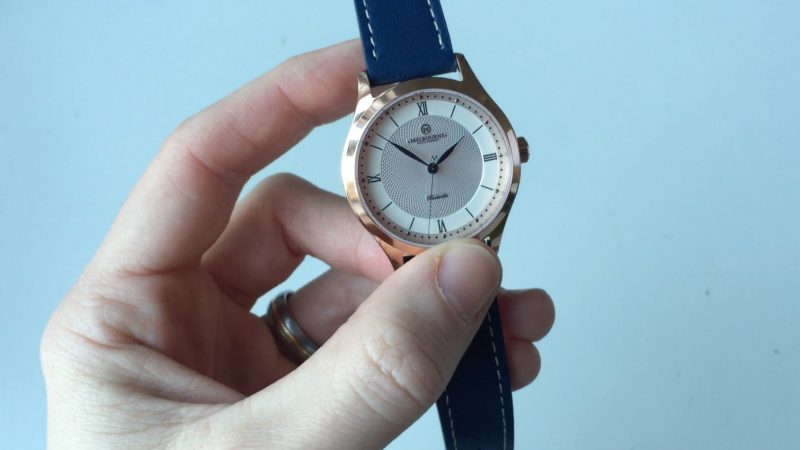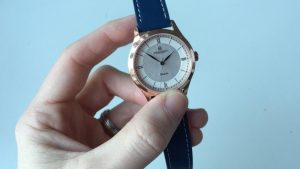 Then there's the Brathwait Minimalist Automatic, which is the cheapest of the lot – costing you a mere £170. It's a little more trendy in its design, and not as elegant / classy looking. So it's up to you which way you want to go. These are all great watches.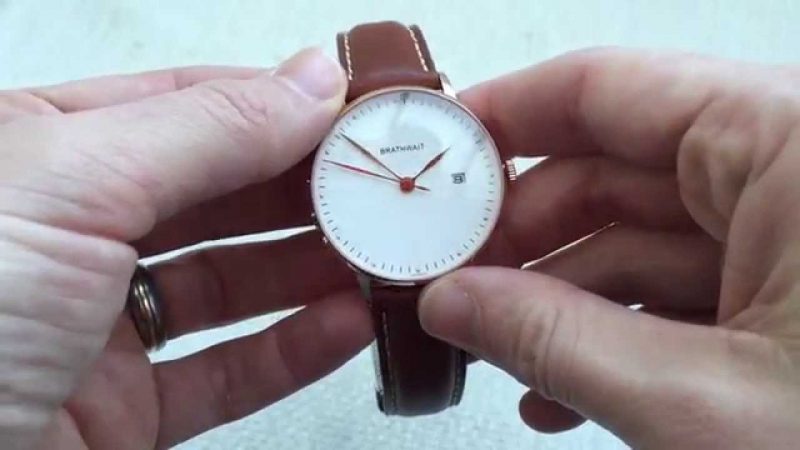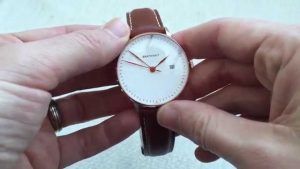 Final comments
I am extremely impressed with Erroyl's entrance into the world of watch manufacturing. They've done such a good job first time round – it's hard to say where they can go next. The strap could be a little better I suppose but that's a small issue. The packaging is well thought out and impressive, the design and build quality of the watch is spot on, and the specs can't be beaten – all for what is honestly a crazy price of £200.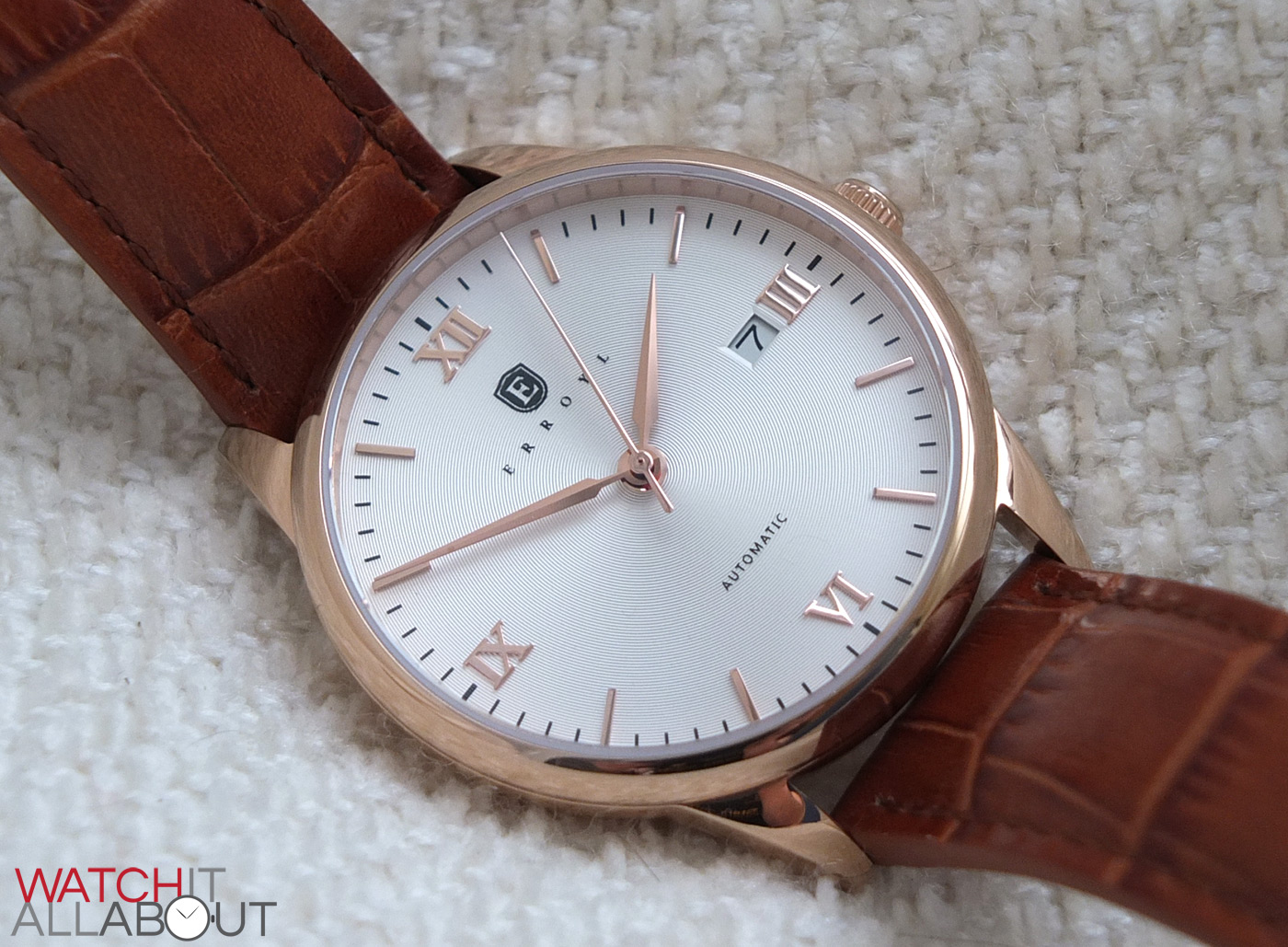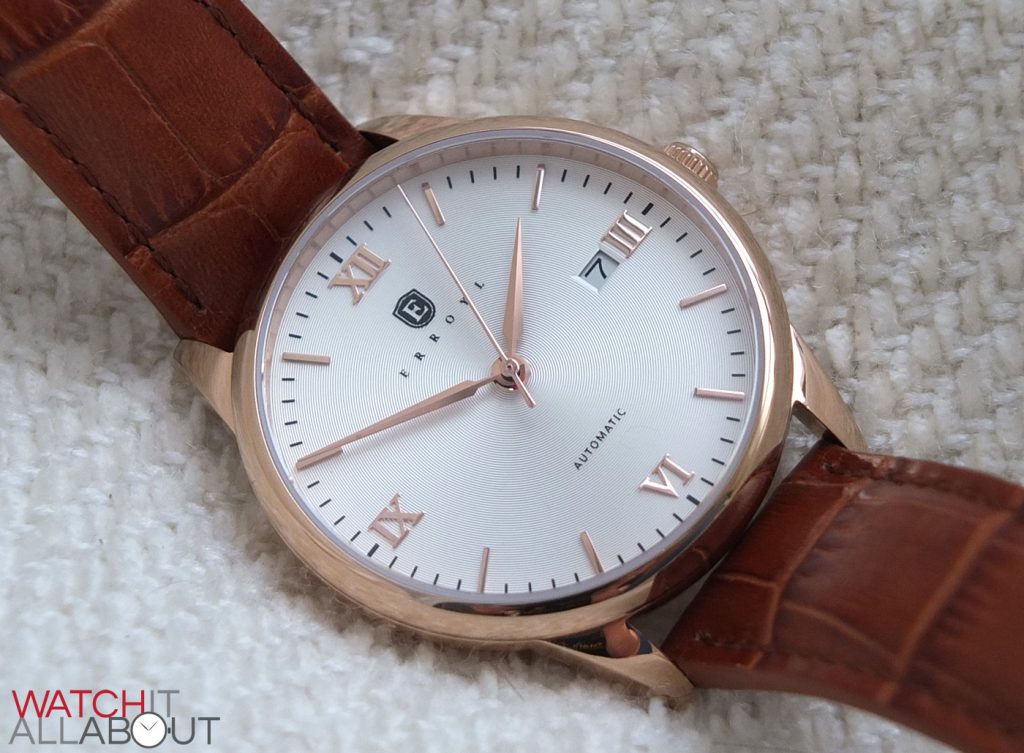 And what's more, the price gets crazier still with this voucher code available to WIAA readers: E30-WIAA110 will get you 10% off, and is valid until the end of March.
If the E30 Heritage is anything to go by, Erroyl are going to be making great watches for a very long time.