Life is a series of moments that can, in theory, be summarised by thousands of points in time, each of them as unique as us. Most of these moments are shared, and that is what Egard are trying to capture.
Egard, founded in 2012 was created as a tribute to the bond between close relatives – in this case, father and son. Ilan and Peter Srulovicz – the founders, work together in their offices in LA and Toronto to design and manufacture their creations using components from Switzerland and Japan.
We were fortunate to be able to receive a sample of their V1-Class which is one of their more affordable offerings but even given that, the V1-C is very well specced for the price point. So let's take a closer look as we review the Egard V1-Class.
SPECS
Case diameter: 40mm
Case thickness: 11mm
Lug-to-lug: 45mm
Lug width: 20mm
Case material: 316L Stainless Steel
Crystal: Sapphire
Dial: Black
Movement: Miyota 8215
Water resistance: 50m
Weight: 104g (approx)
Price: £118
Beginning with the dial; it's a simple affair that would be dressy in style. At the 12, 3, 6 and 9 you'll find some nicely applied metal Roman numerals which beautifully contrast against the subtle sunburst black dial. The rest of the indices are also metal, applied and done in a minimal slim baton-style which compliments the numerals. There is a small border-less date window at the 3, and an applied Egard logo sits under the 12. Surrounding the entire dial is an ever-so-slightly raised minute track that features white markers. Back to the dial and as mentioned it is a faint sunburst though in the right light it does shimmer in a dark grey. As a whole, the dial is clean and uncluttered which means it is nicely legible at a glance and looks attractive.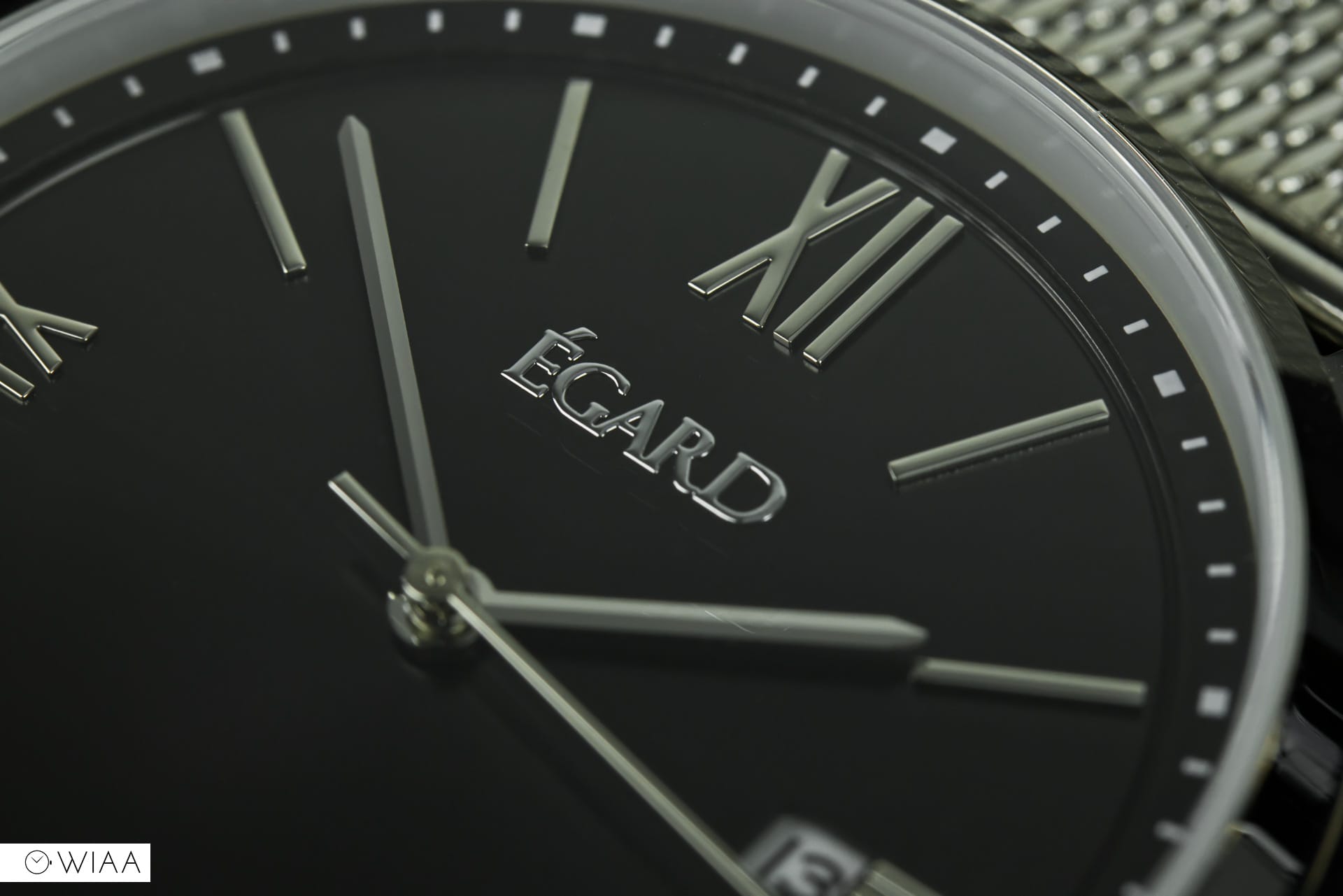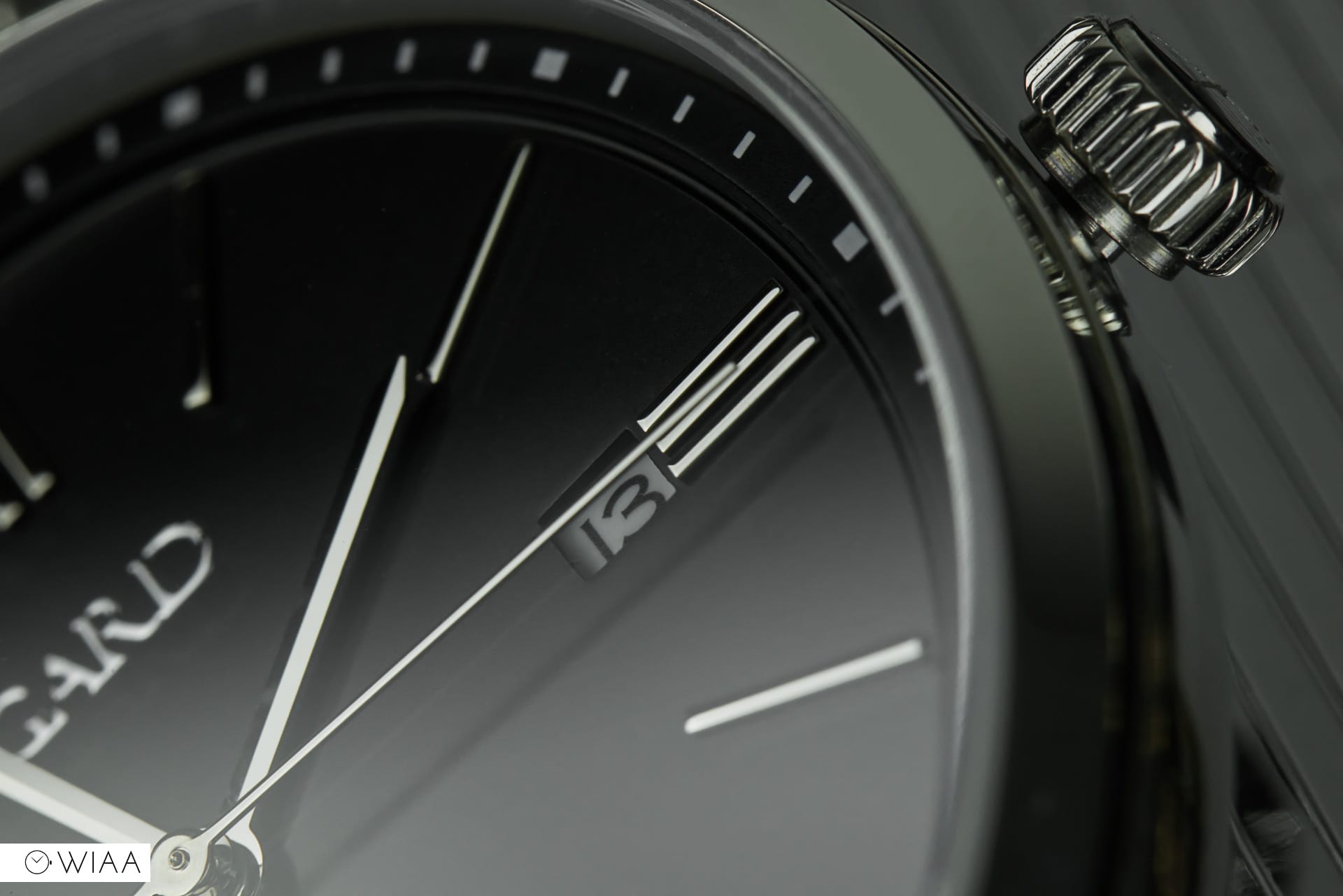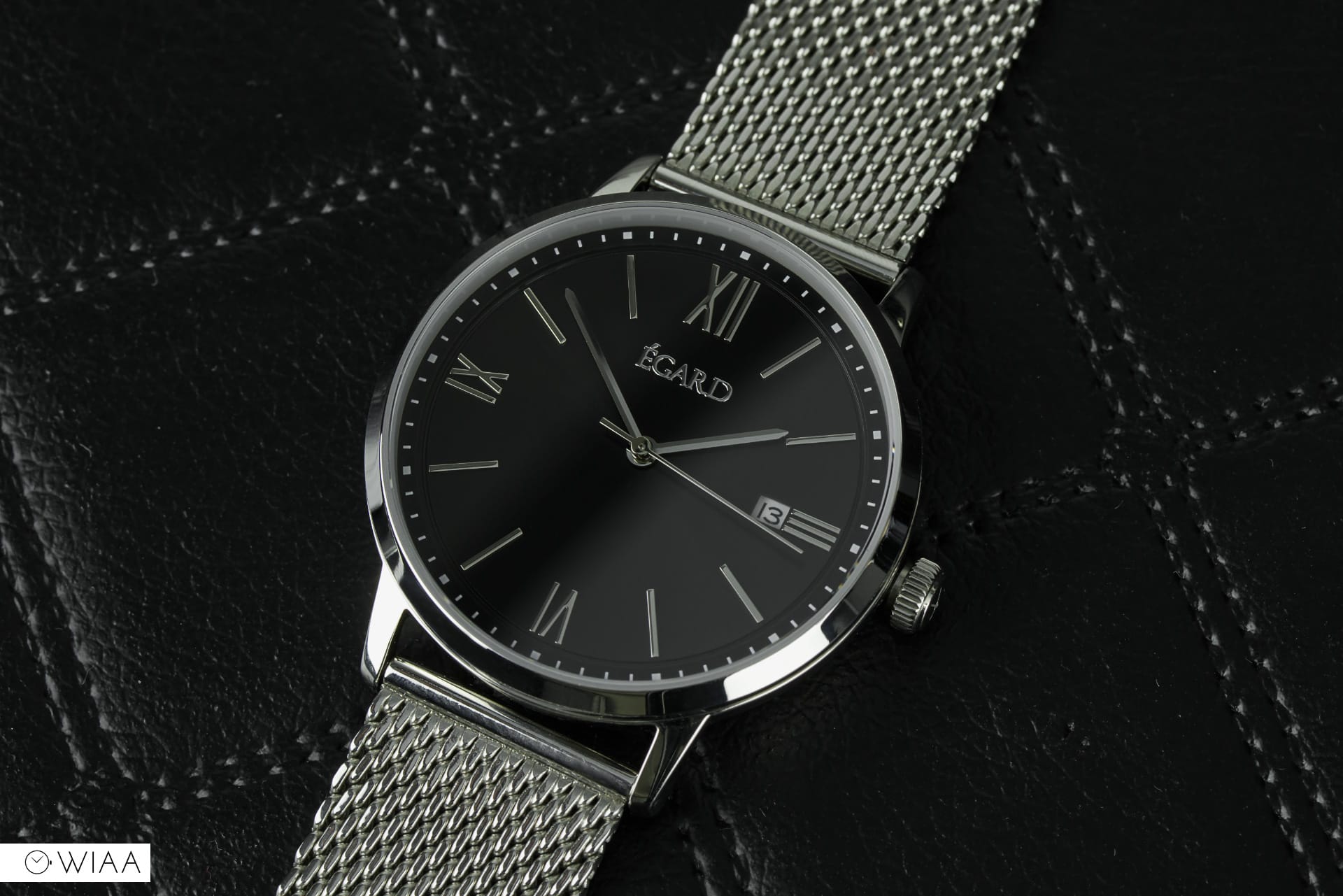 Covering the dial is a flat sapphire crystal which is flat-topped and breaks the boundary of the bezel by a hair. This a nice to see as most of the watches at this price only have a mineral crystal. Speaking of the bezel, this is a clean design that is finished in high polish and slopes down nicely into the mid-case. The midsection of the case is finished the same and flows smoothly down into the caseback. Here you'll also find the lugs which are not the best integrated as they are stepped and don't blend into the case seamlessly. The lugs are also high polish and do match the case design nicely, we just wish they were blended better at the sides. The overall side profile is nicely shaped and well done though its, unfortunately, nothing we haven't seen before.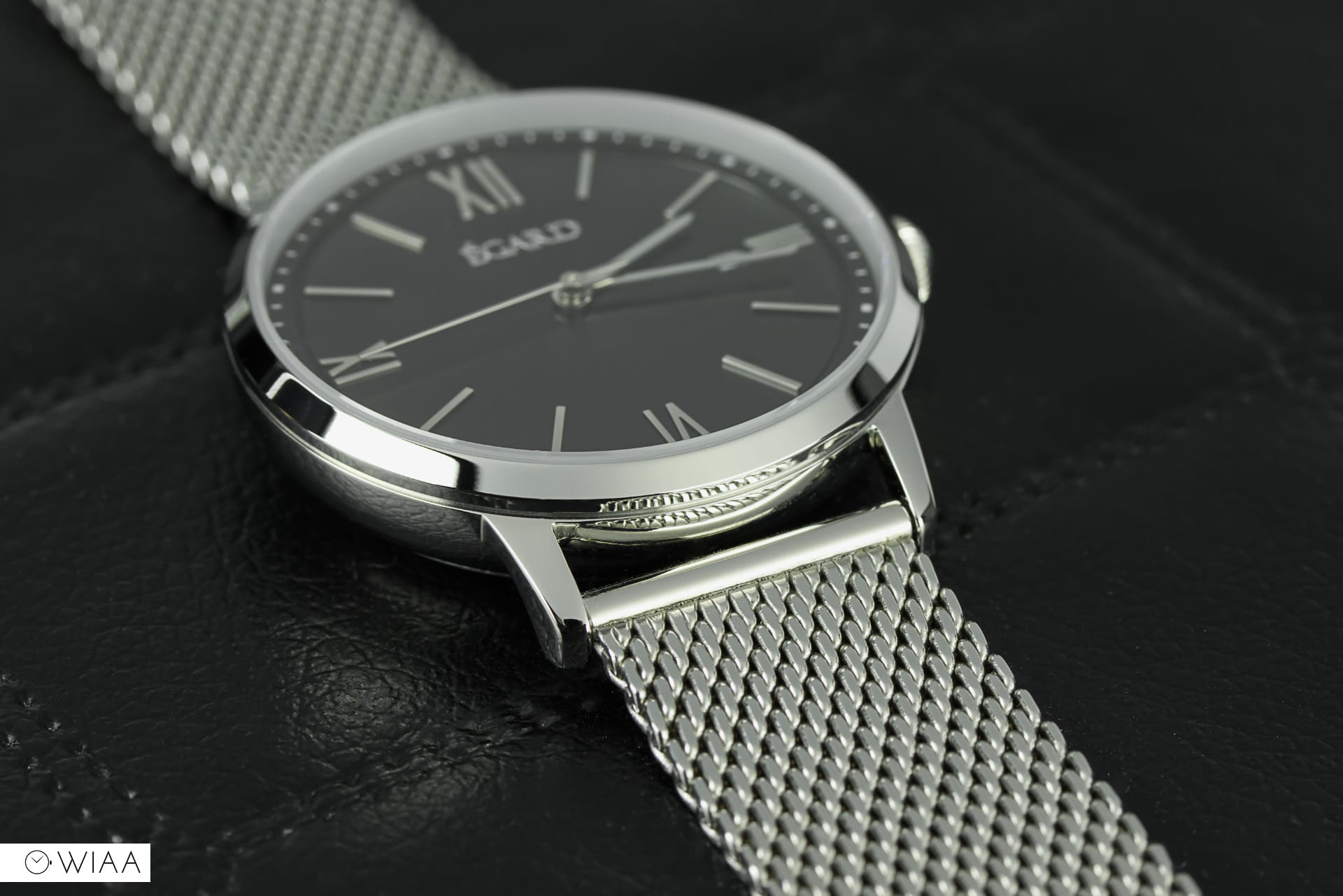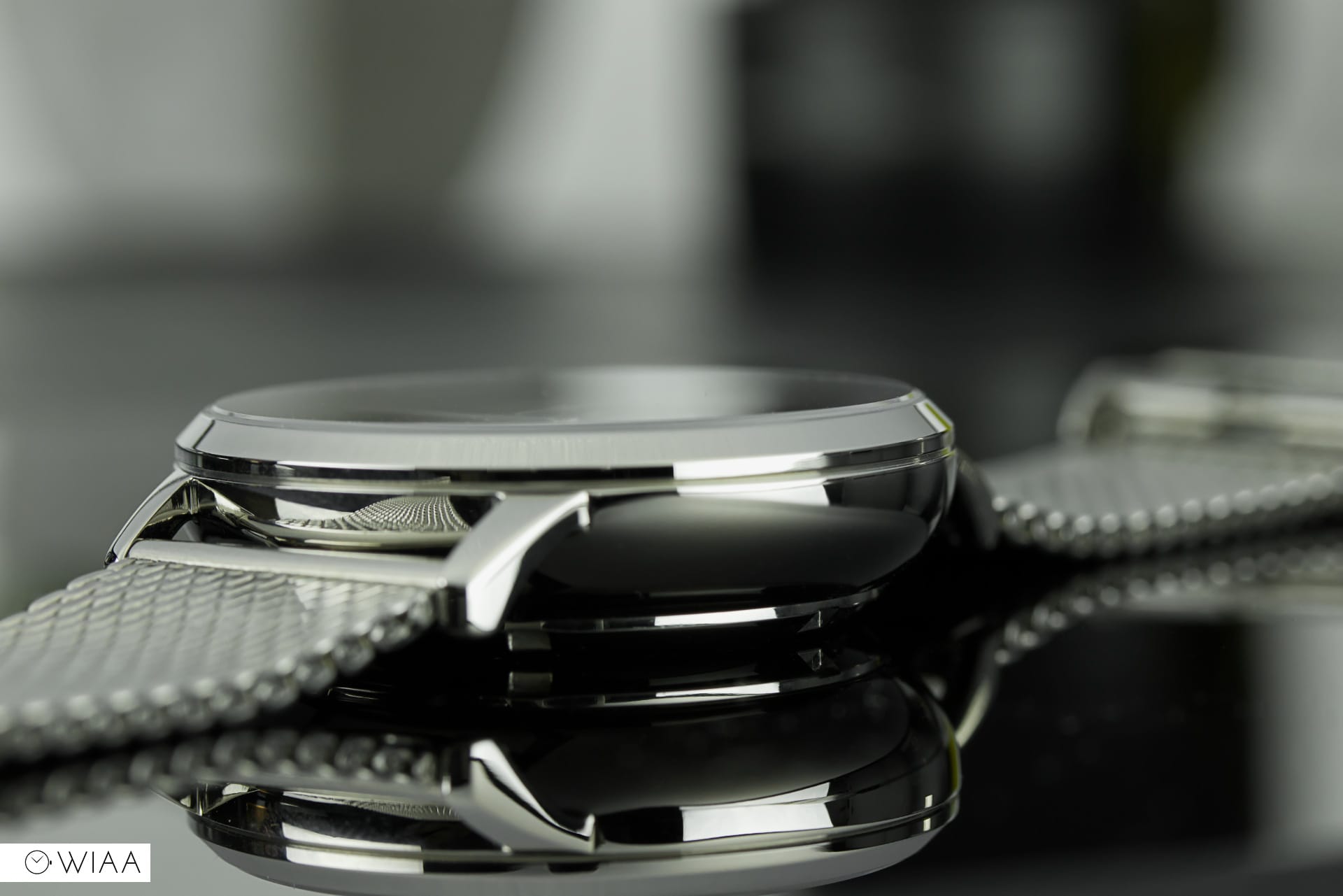 On the plus side, the crown well implemented and suits the overall aesthetic. It's a nice size, has plenty of grip and is easy to operate. Like the rest of the watch – minus the bracelet, it is highly polished though it is signed which is a nice touch as this can be often forgotten. The crown is a standard push-pull and feels solidly connected to the stem. There are no major issues in use, and the movement adjusts perfectly fine yet it isn't the smoothest we've ever encountered.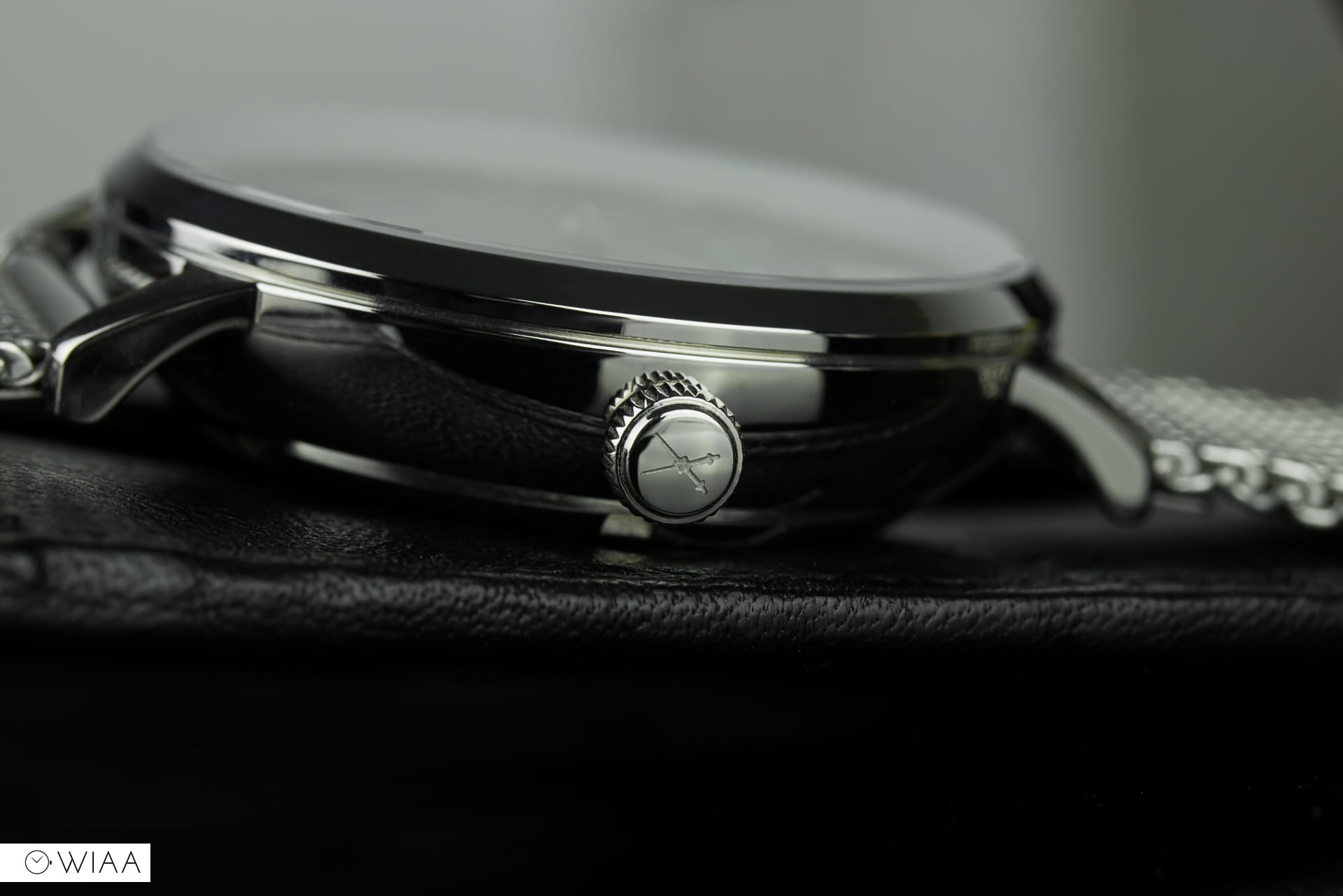 On the underside of the V1-C is an exhibition caseback which you may have guessed is polished. Here you'll find some engraved specifications and a window that lets you peek at the Miyota movement. Speaking of, the movement of choice is the calibre 8215 which is a solid, reliable Japanese movement. Notable specifications include manual winding, a 42-hour power reserve, 21 jewels, an accuracy of between -20 to +40 seconds per day and it goes at 21600bph. Unfortunately, as I don't possess a timegrapher, I can't provide a 100% precise accuracy for the movement, but it is easily within the stated tolerance as is the 42-hour power reserve. The 8215 also features a quick set date and takes approximately 40 winds of the crown to give you the full power reserve. The 8215 may not be the prettiest of calibres, though most watches of this style and in the price range feature a quartz movement, so it's a big plus to see a sub £150 watch with this movement.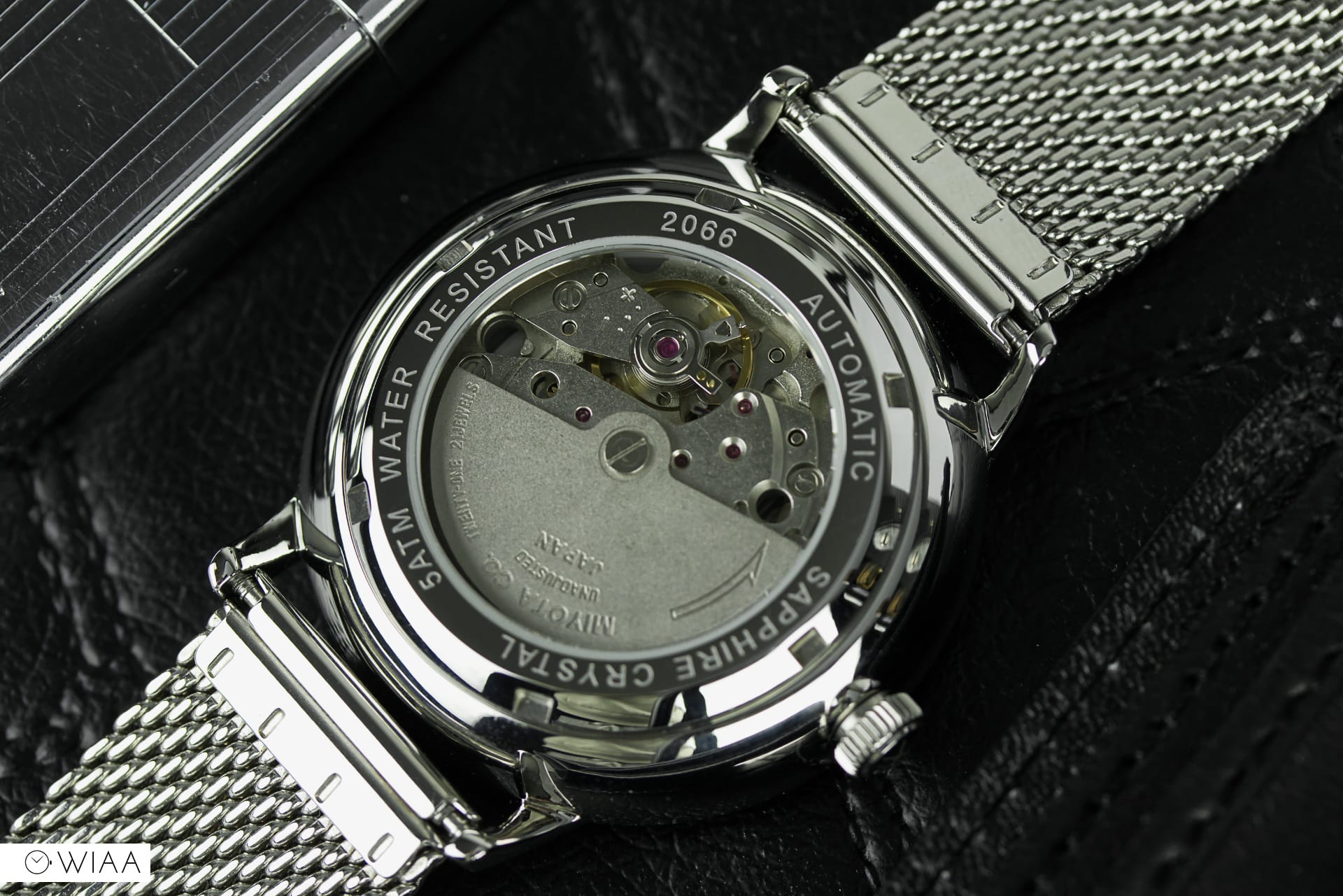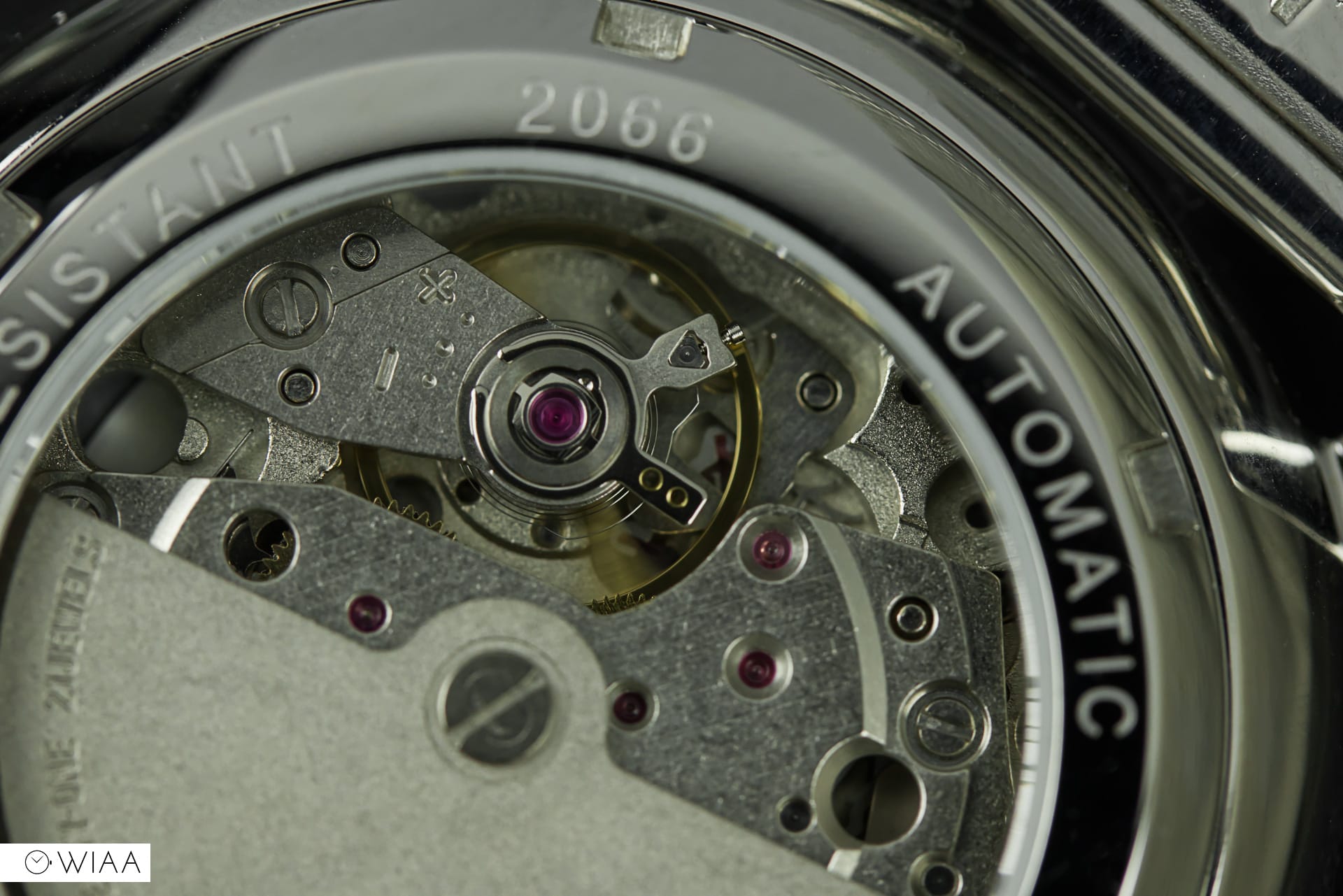 The chainmail mesh bracelet is one that admittedly took some adjusting too as they aren't a bracelet style I would usually opt for. I found the bracelet is extremely comfortable to wear throughout the day as it's highly flexible and wraps around your wrist unlike any other metal bracelet I have used previously. The adjustment mechanism is simple in design though I found it cumbersome to get perfect as it does move that freely. This is great for security, though setting it to the perfect size took some finessing, however, now it's there I can be confident it won't move unless I want it to. The mechanism to secure the bracelet is a touch fiddly as well as you have to hook it and then pull it to secure it in place. In theory, it sounds simple, but at times it would close, and be uneven. I'm not certain if this is a trait of all these bracelets or just my unfamiliarity with them, so it can't be plus or negative. Once engaged properly it does feel secure and it's well made too.
Style-wise the bracelet suits the watch perfectly and helps refine the aesthetic as a whole, though if you aren't a fan, this would probably look very classy on a leather strap.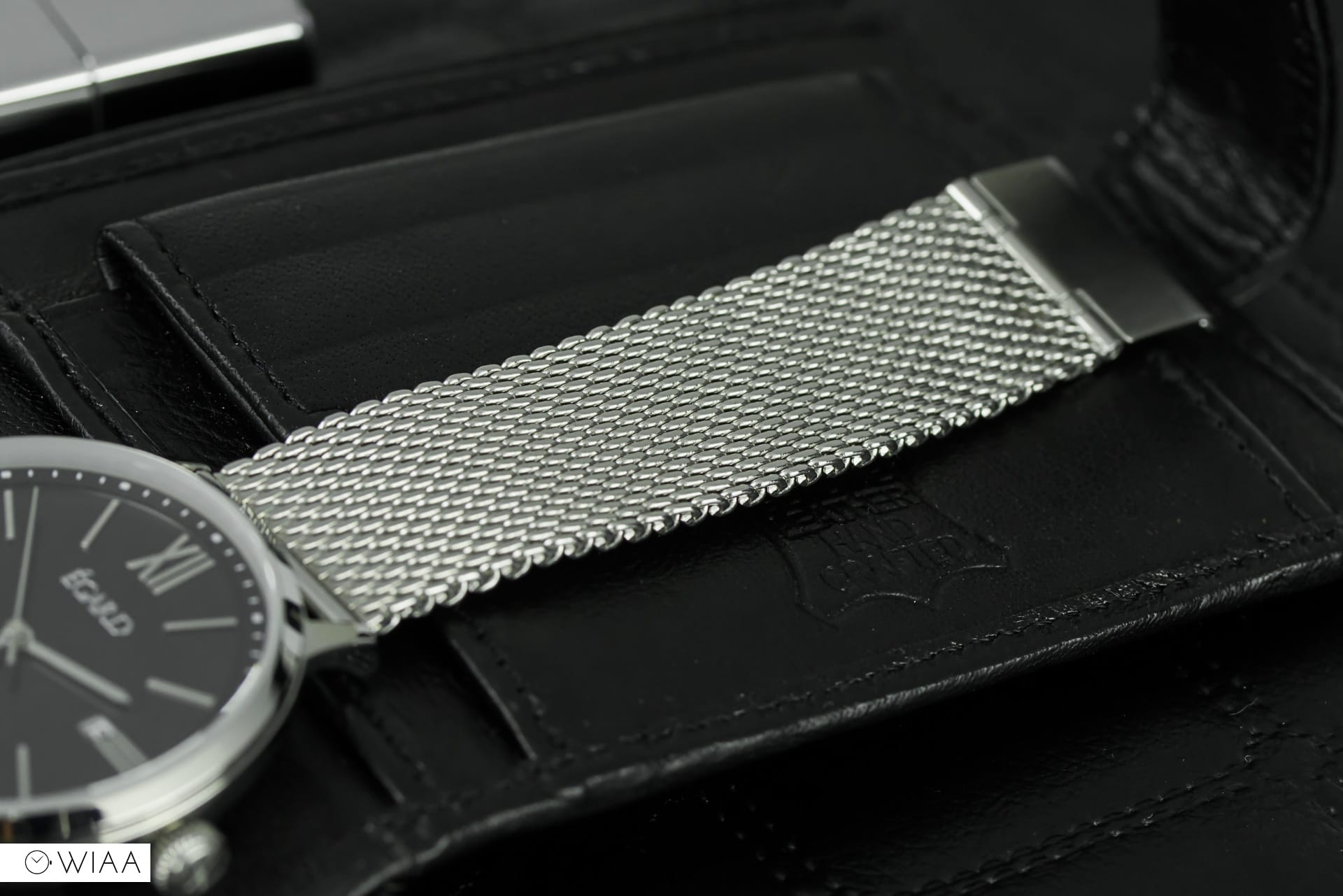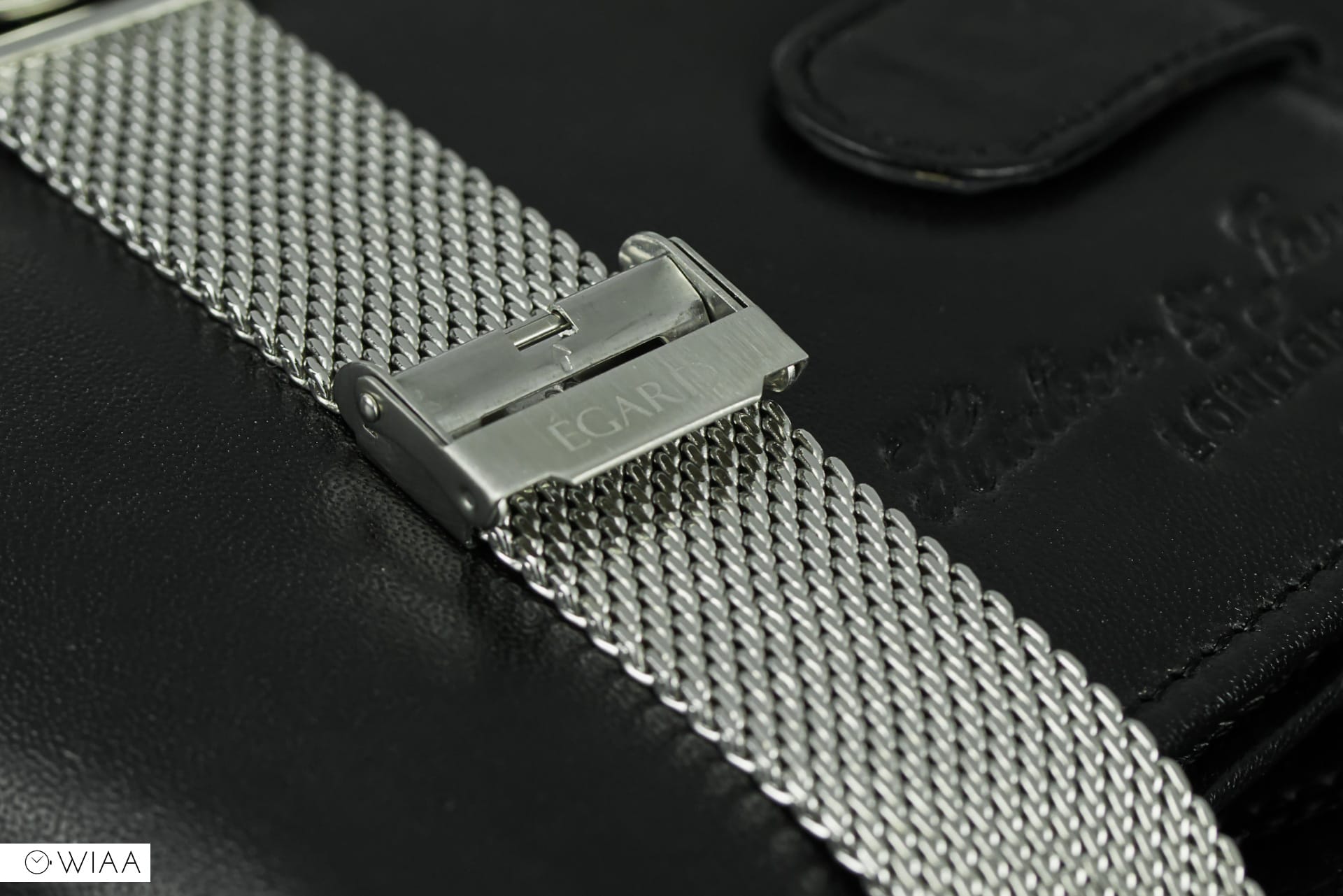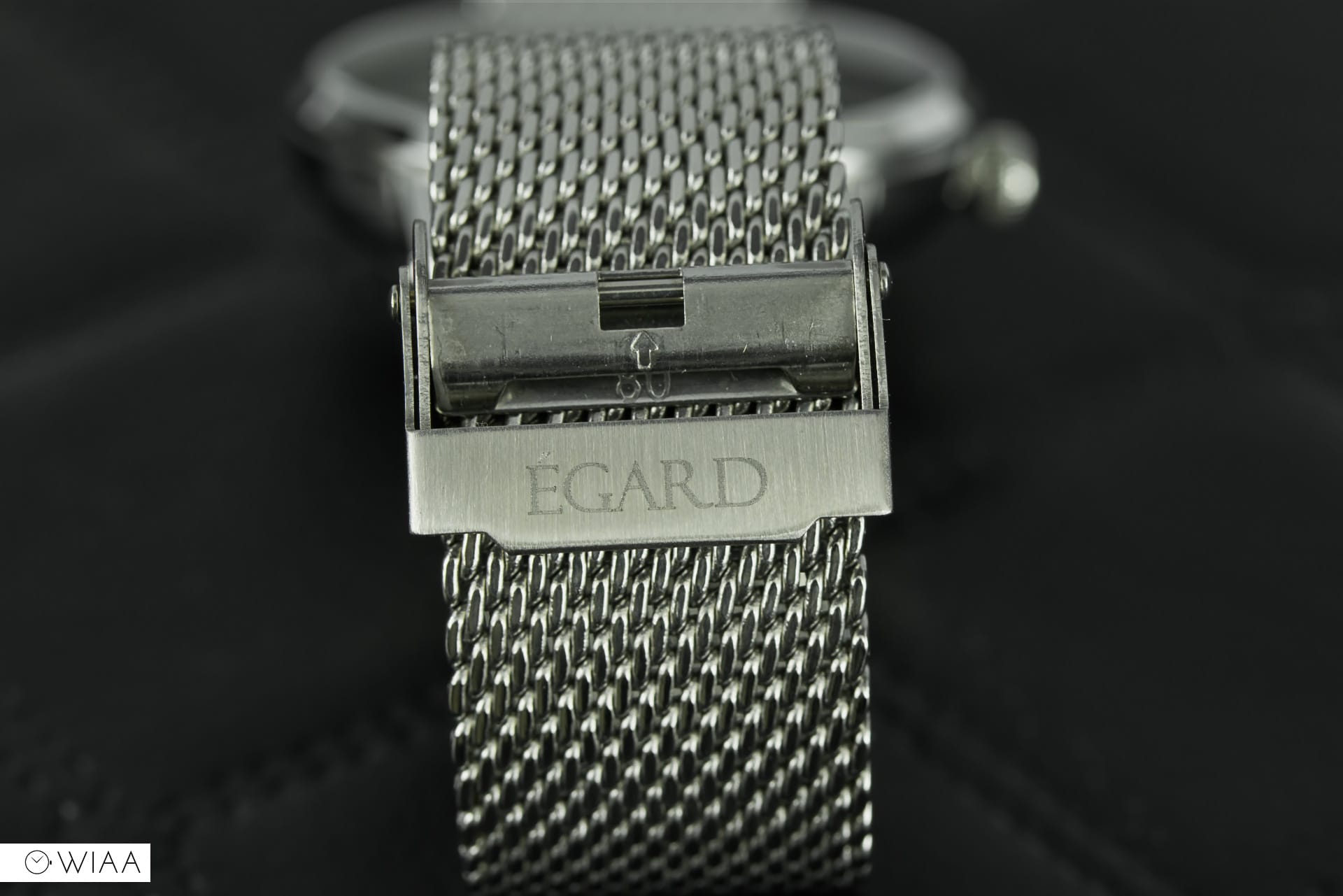 Thanks to the short lug length of 45mm the V1 wears extremely well on my six-inch wrist, this is also helped by the 40mm diameter and relatively slim nature of it. However, if Egard had removed the exhibition caseback they could have knocked an extra 1mm off the overall thickness: this doesn't sound like much, but it makes a big difference. The lugs also help with comfort as they slope downwards to help bring the bracelet down and improve how it conforms to the profile of your wrist. The 104g weight isn't a big factor either as it's well distributed throughout the entire watch rather than all being in the watch head, this means that it's not top-heavy and a result it doesn't feel unbalanced on while wearing it.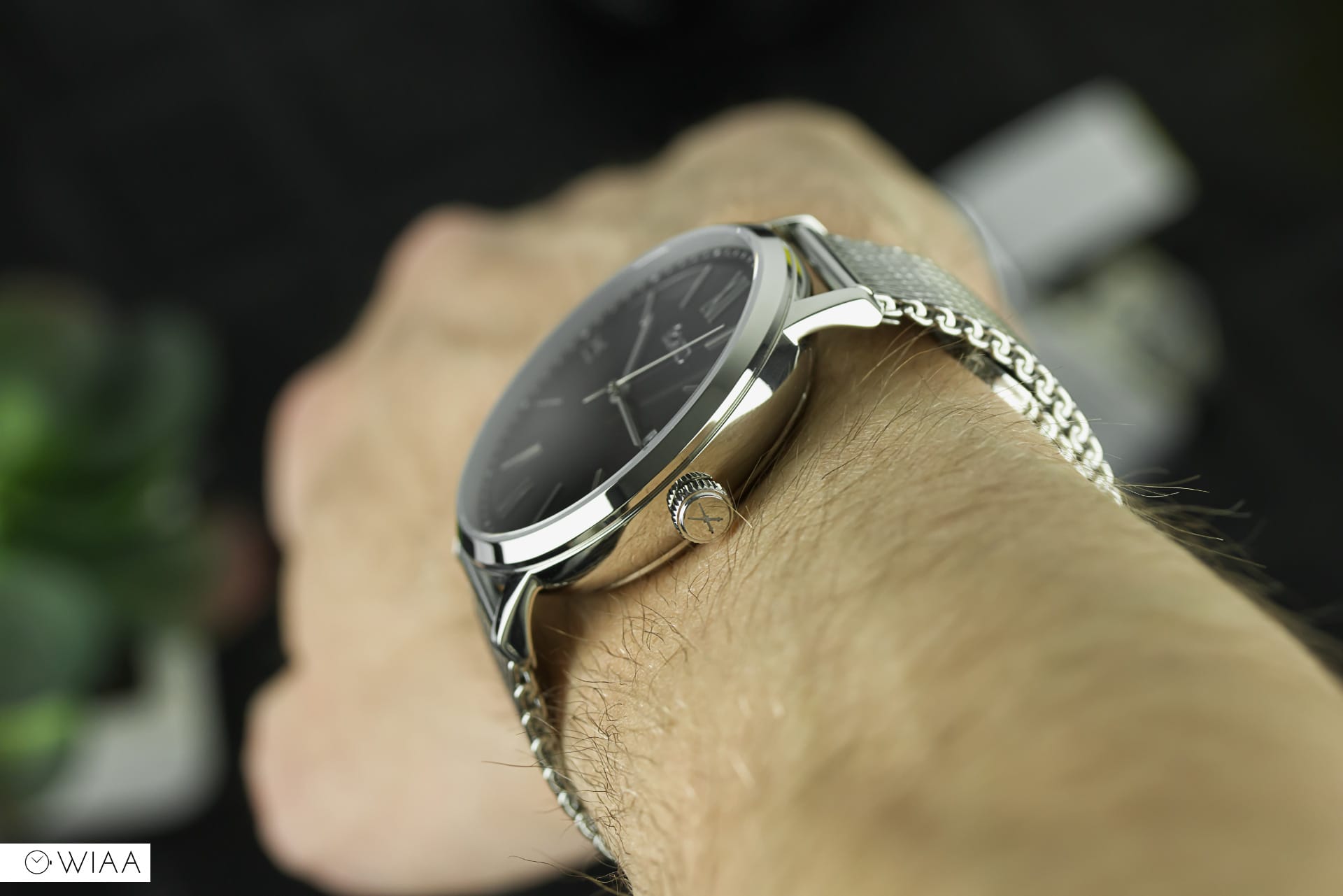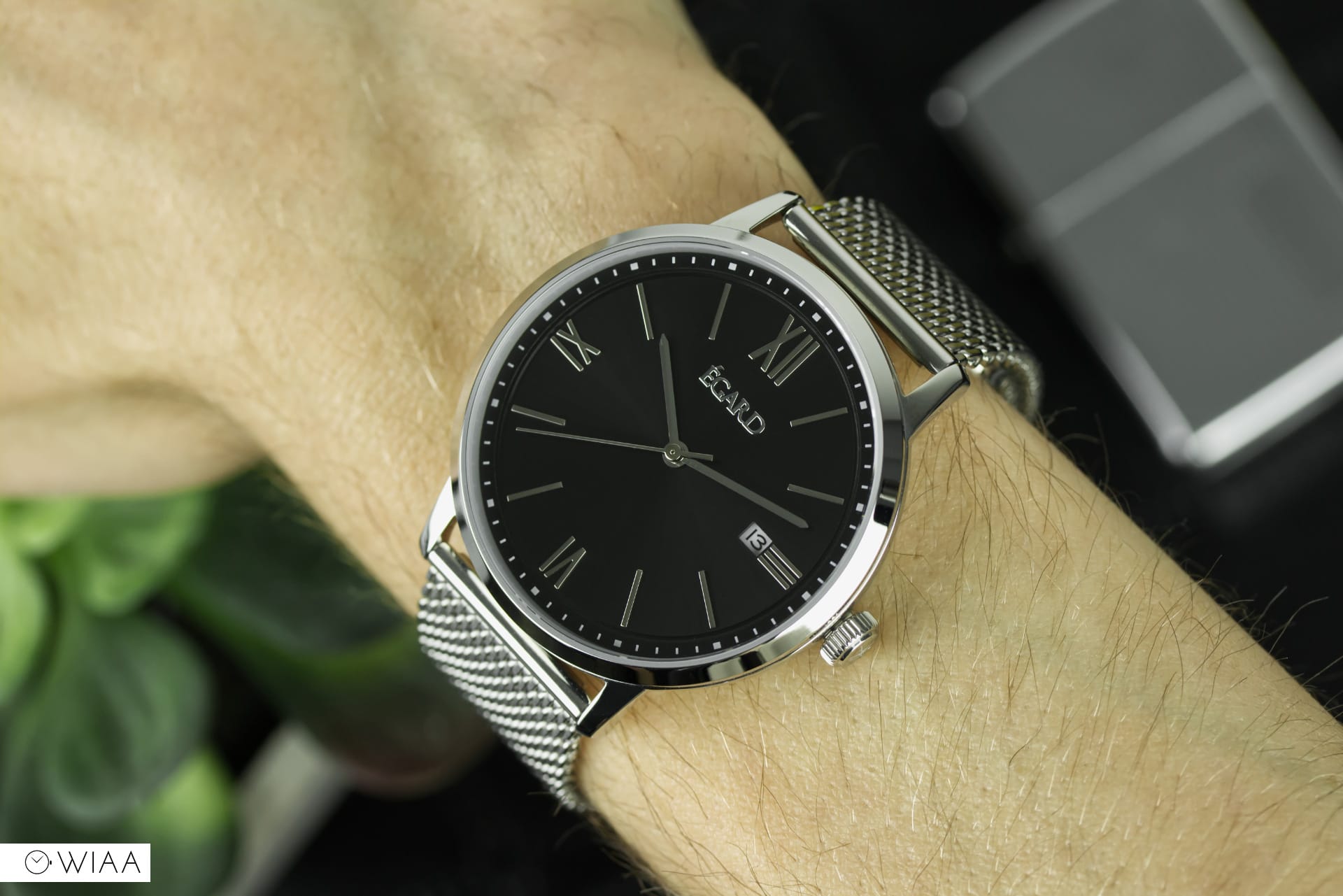 Overall, the Egard V1-Classic is a lot of watch for the money as usually watches of this style and price come with a quartz movement rather than an automatic, though this could be its potential undoing depending on your preference. On one hand, it's great to have an automatic in a dressier watch under £150 as it adds a certain character to them, on the flip-side this does add bulk which can be too much if you often wear shirts with tighter fitting cuffs. We did note that the removal of the exhibition style caseback could have helped this somewhat, though that isn't what we have.
Back to the watch and it is well constructed, wears extremely well on my slim wrist, and is tastefully done, yet it doesn't light that spark we get when we try on that perfect watch. It may for you, though it just doesn't for me. That feeling aside, and as previously mentioned, it is a great value watch that has an impressive list of specifications and is in my opinion better value than a lot of other watches at the price point.