Dufa have a real knack of creating stunning Bauhaus inspired timepieces. Check out my reviews of the Breuer, Aalto and Walter Gropius to see what I mean. The Weimar Calendar is another example; and this time it's a genuine nod to Bauhaus design – thanks to the triangle / circle / square complication found on the dial and caseback.
As I work in design, it's interesting to understand the reasoning behind this – in fact, my colleague who heads up design at the agency I develop websites for is currently sipping tea out of a mug with these same coloured shapes. They signify Wasilly Kandinsky's test in 1923 – one of the founders of the Bauhaus movement. He asked what colours should relate to each shape, and this was the result: yellow triangle, blue circle, red square. It's also a vital reminder to all designers to keep things as simple as possible.
Anyway, history lesson over – let's take a look at the watch to see if it's a decent purchase at $409 / £305.
The specs
Dimensions: 41.5mm diameter x 10.4mm height x 51mm lug to lug
Weight: 56g
Water resistance rating: 3ATM / 30m
Movement: Seiko TMI VH88
Lug width: 22mm
Warranty: 2 years
Price: $409 / £305
The case
The case features slender lines and a flowing profile, with long elegant lugs.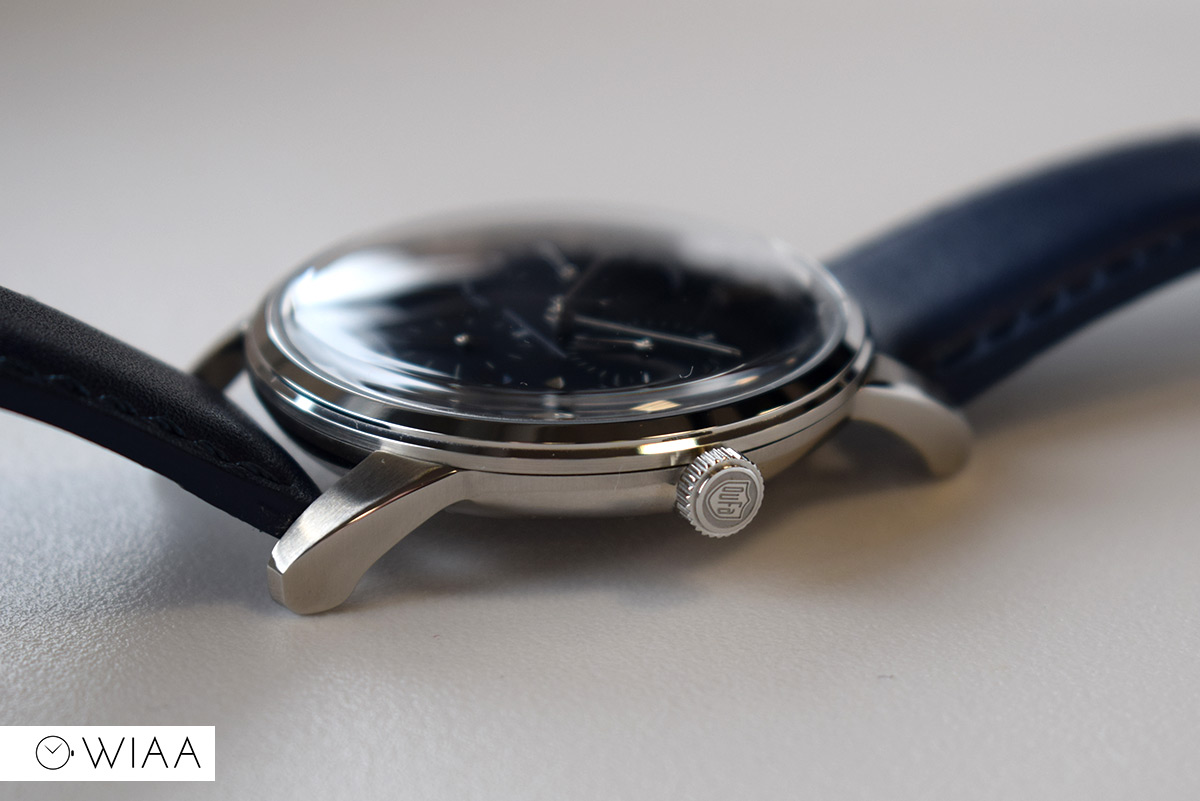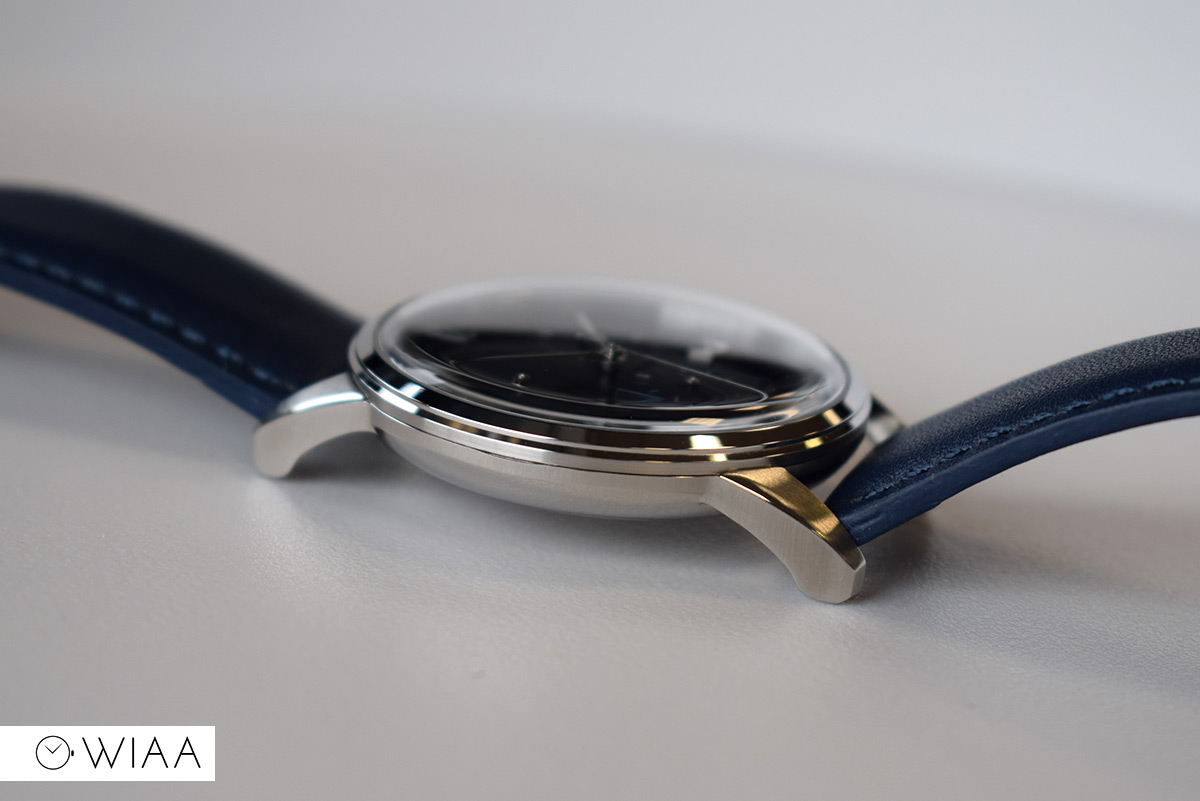 It has a thin polished bezel and underside, and brushed lugs (bar polished shoulders) with a brushed channel throughout the case. The case is smaller on the underside, so it wears smaller than the 41.5mm diameter.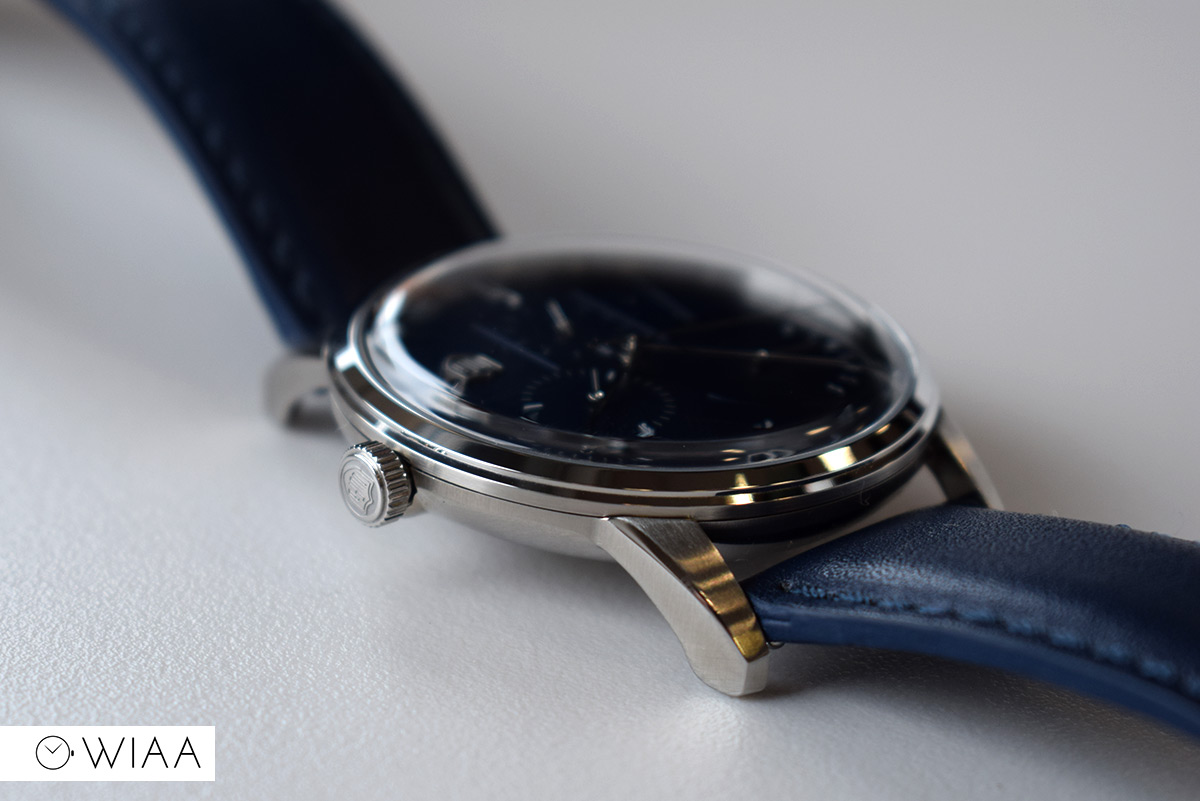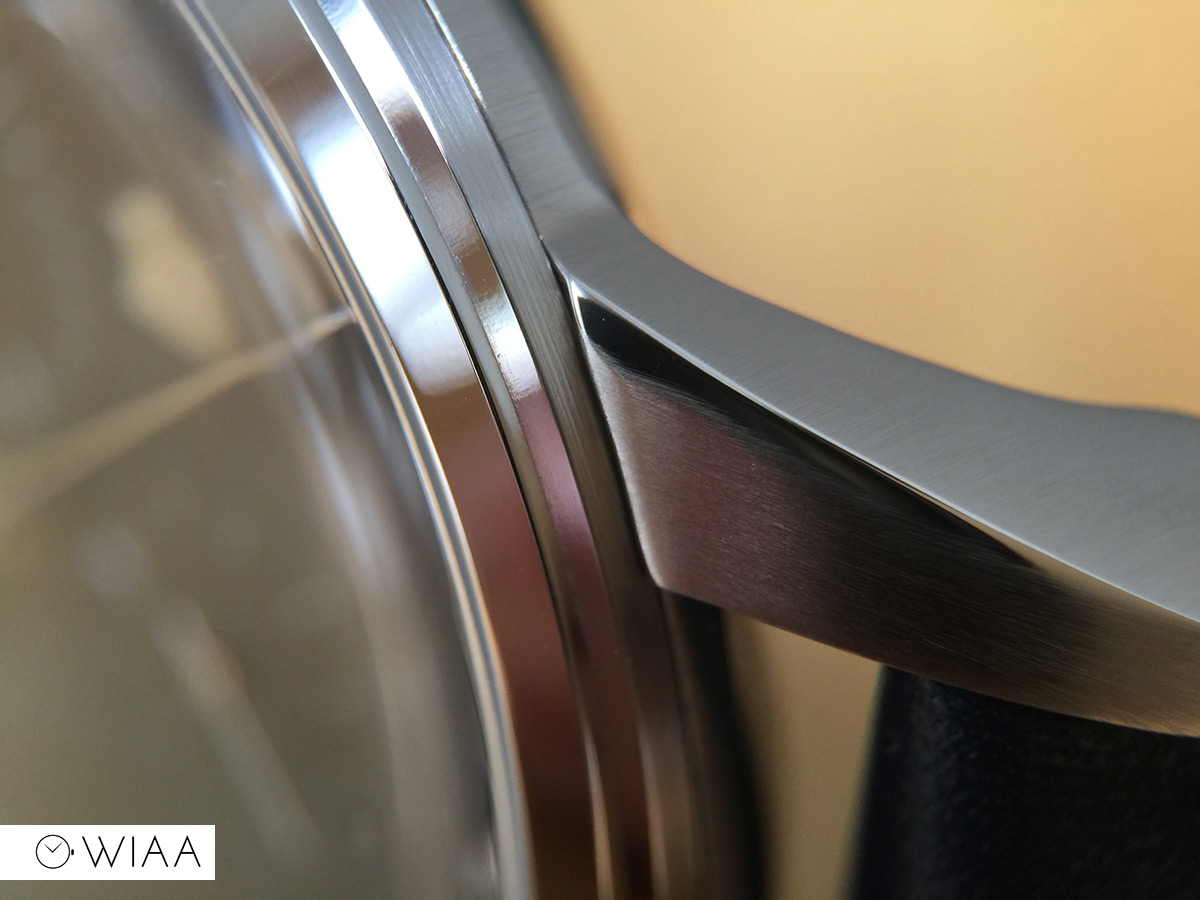 The crown is small and easy to use; with good grip and sits just right on the wrist. It has the Dufa badge logo engraved on the end which is remarkably defined for the size of it.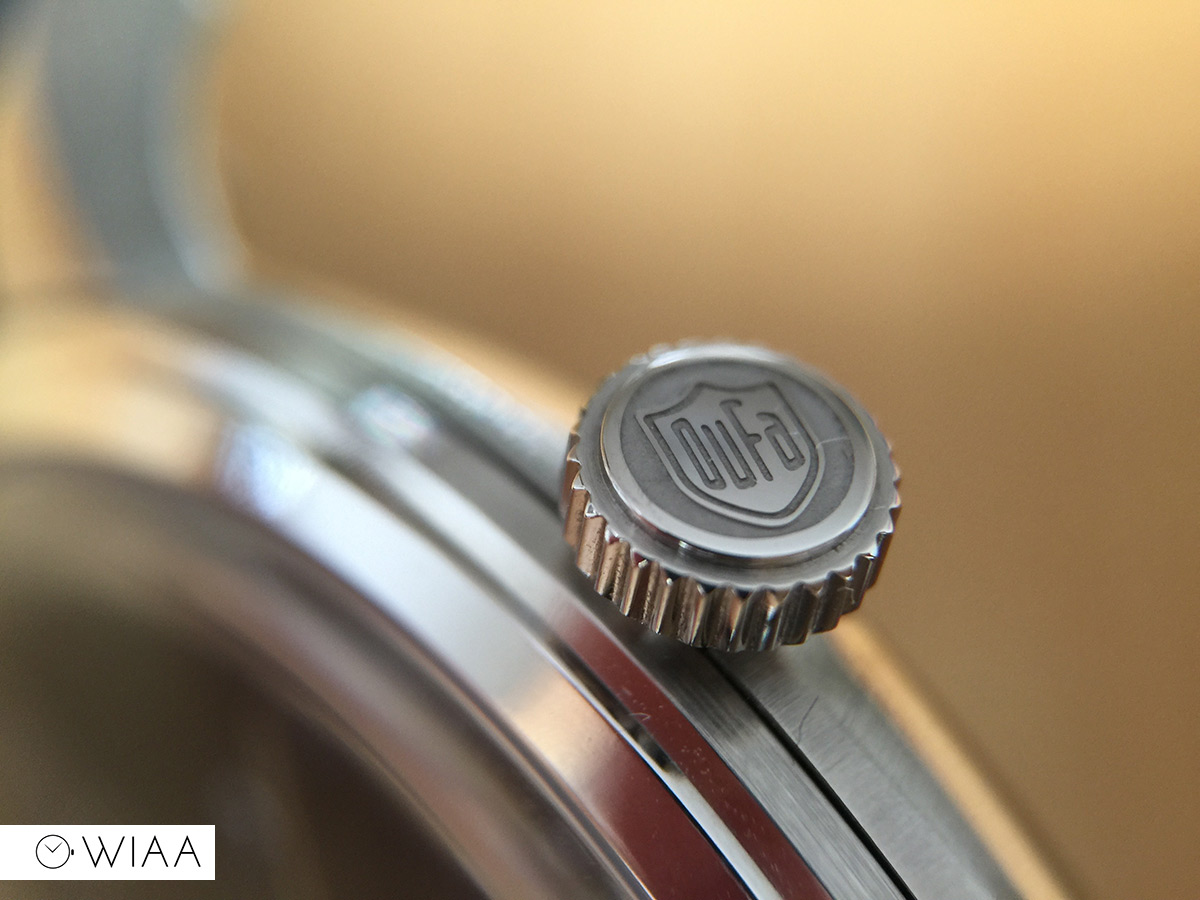 The push-on caseback contains the true example of the Wasilly Kandinsky test, with the coloured shapes in the centre. They appear to be engraved out and then filled with paint, which is a surprisingly high level of finish. The Dufa logo is located above these shapes and various specifics surround both in an engraved channel.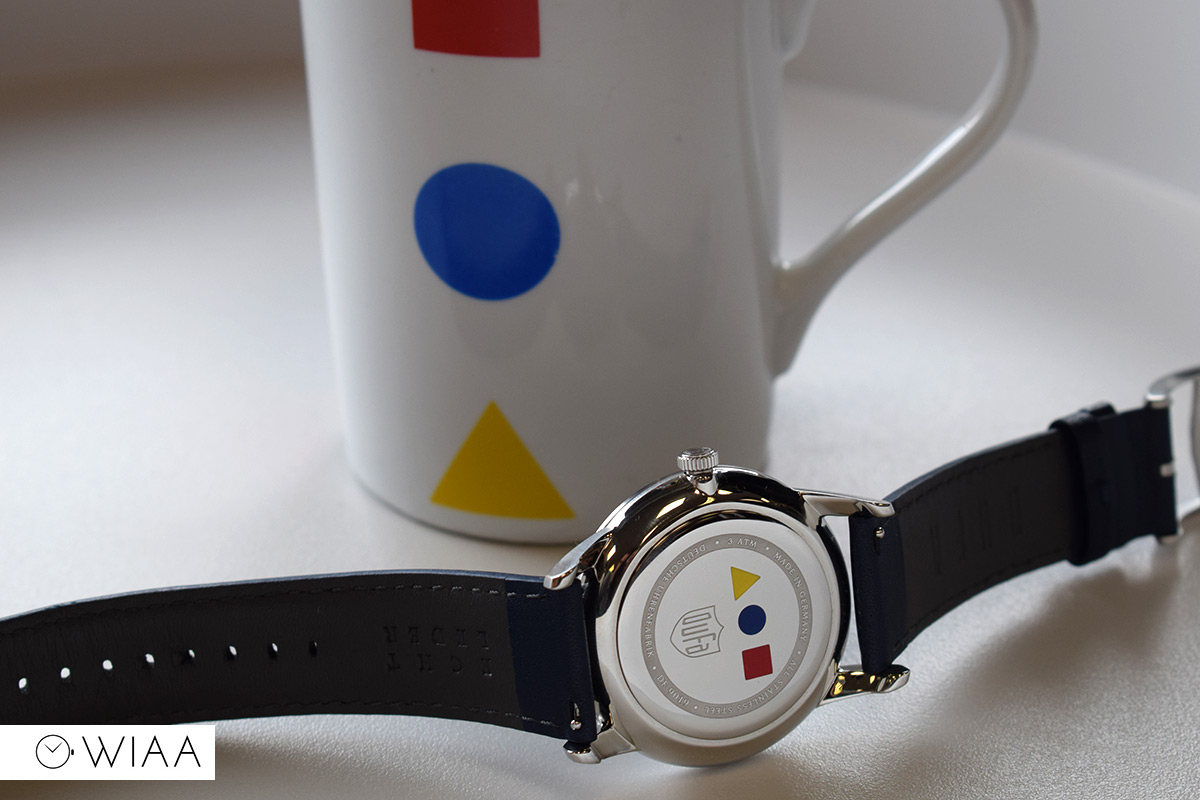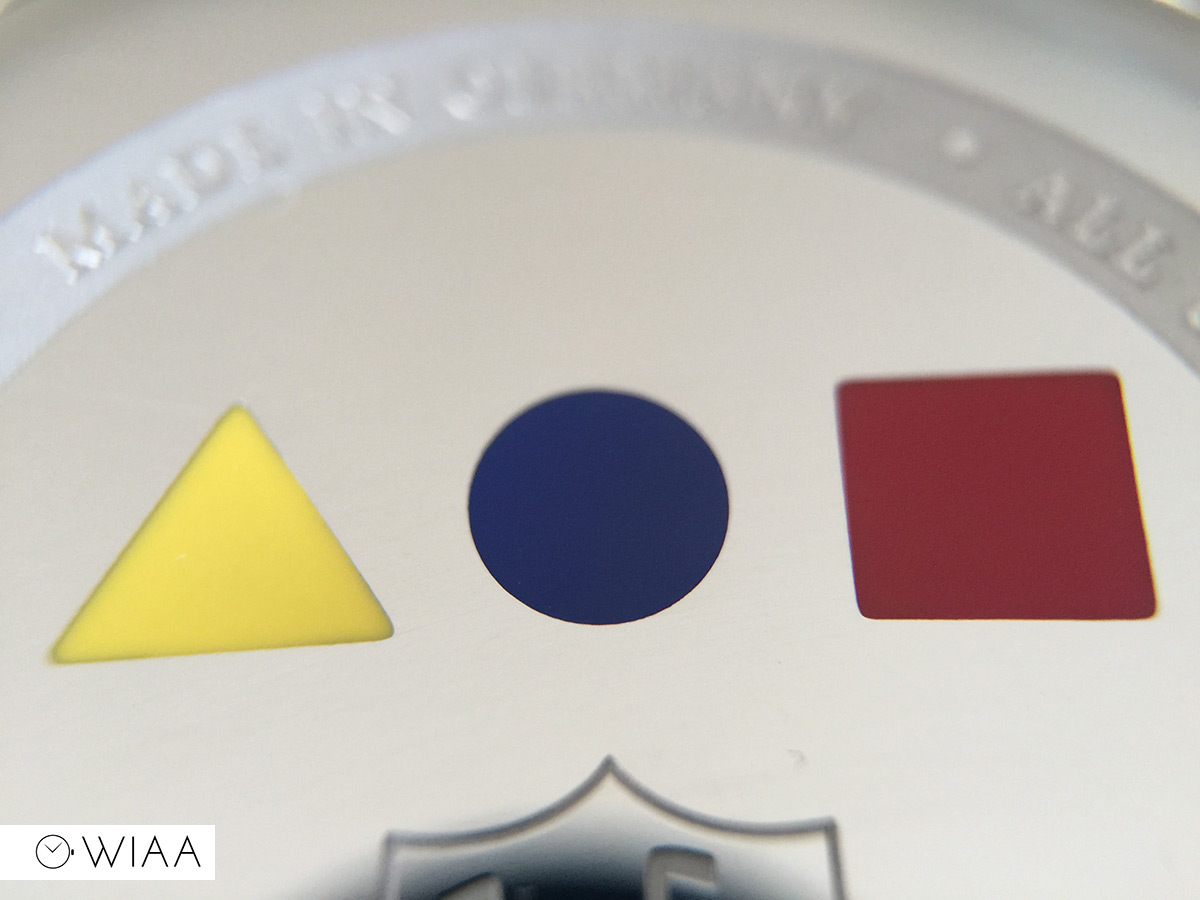 The dial
The other obvious homage to Wasilly Kandinsky's Bauhaus test is found in the dial design and construction – an engraved circle encompasses the retrograde day indicator, a square around the 24hr subdial and an angled triangle behind them both.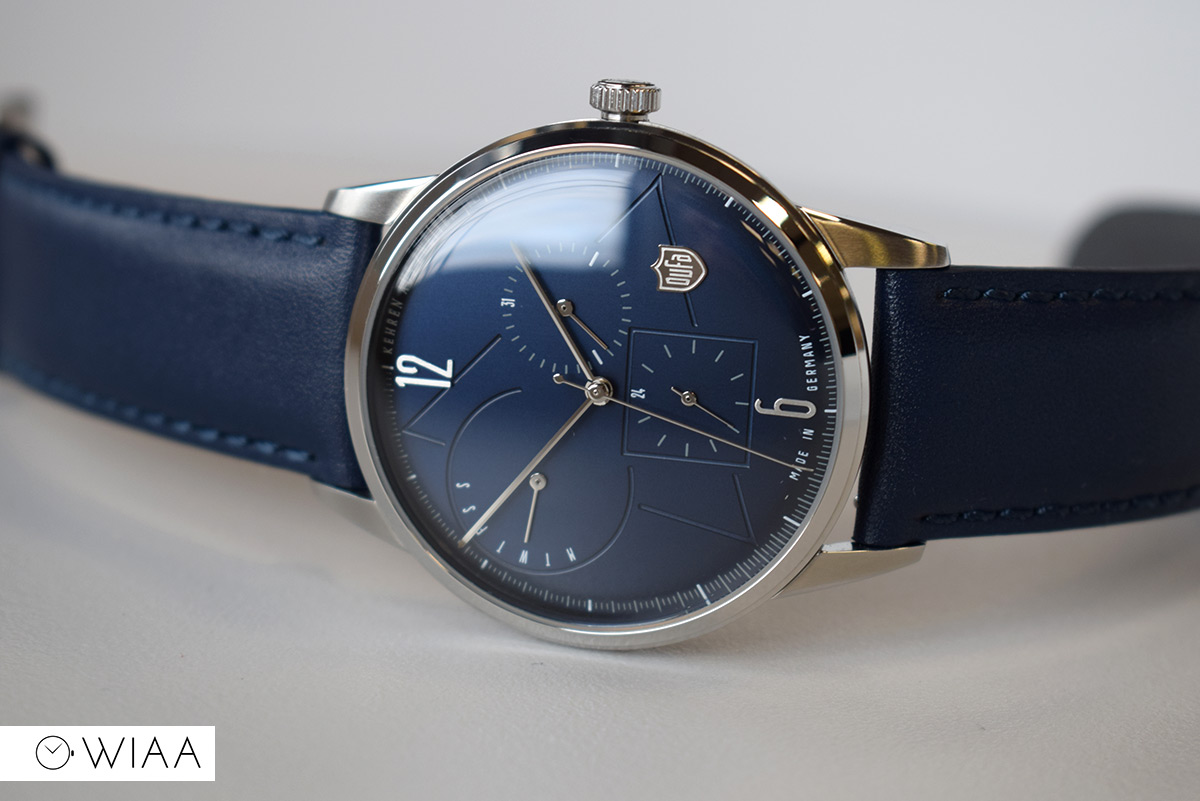 The applied numerals at 12 and 6 are in a sublime Bauhaus font – tall and thin. They are nice and thick in construction too, displaying high quality materials.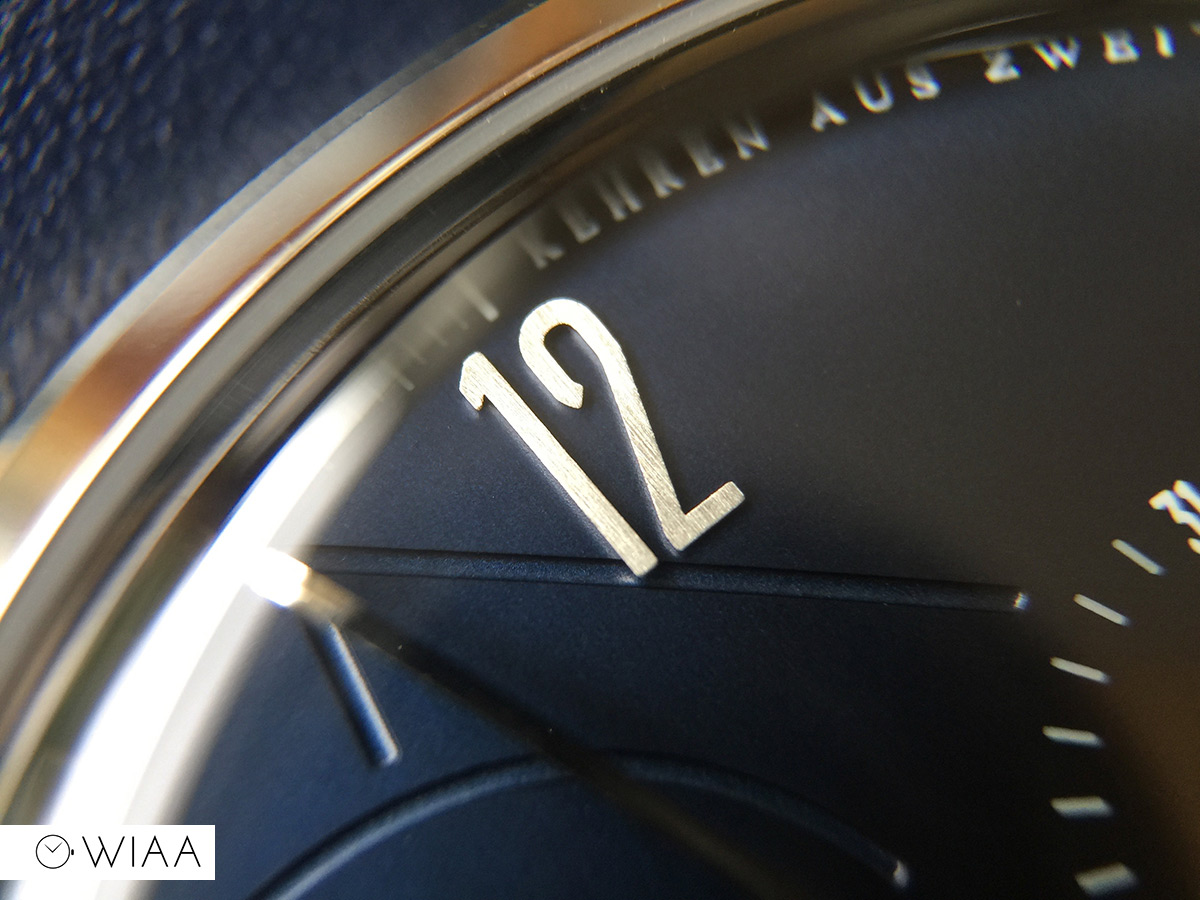 The applied badge logo at 4 is also very nicely manufactured – it is also thick, as well as being accurately and delicately detailed.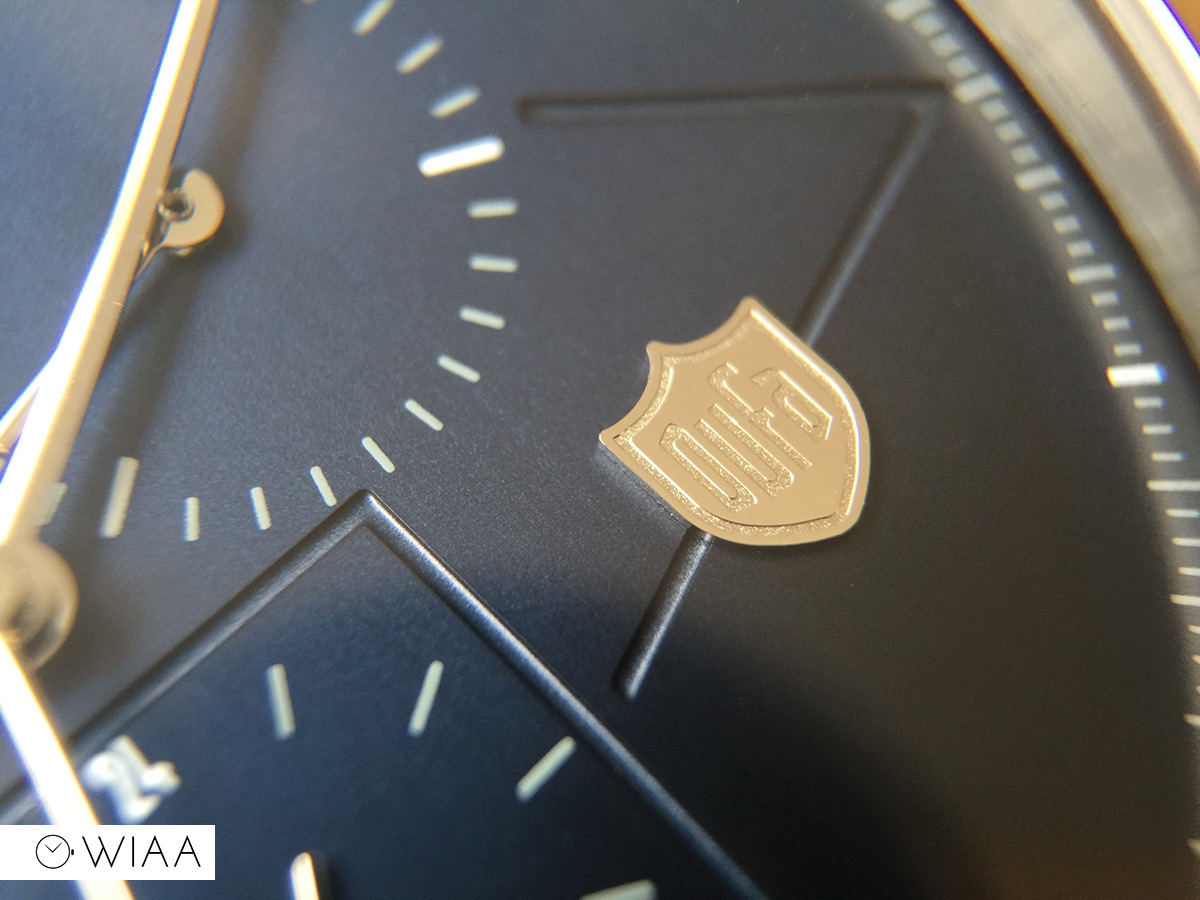 The main minute and hour hands are simple points with a very shallow pitch. I love how the long minute hand stretches out to the edge of the dial, and turns down into the slight convex edging – another really splendid touch. The subdial hands are all plain and straightforward points, but nothing more complicated is required on a watch with a design like this.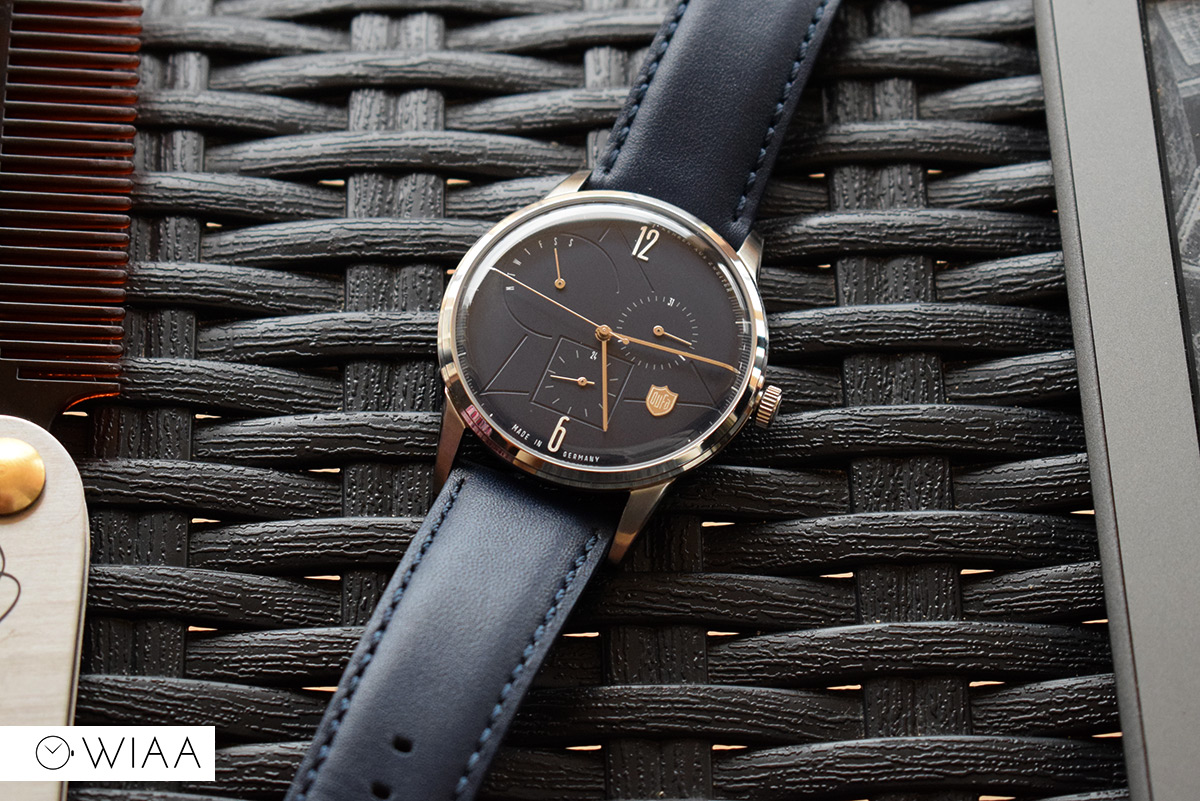 The German words "kehren aus zweiter" appear in the edge between 12 and 2, which means "sweeping second" – referring to the movement (more on that later).
The strap
The strap is blue with the same colour stitching to match the dial. With a lug width of 22mm it's quite imposing and wider than you'd expect; much likely due to modern influence.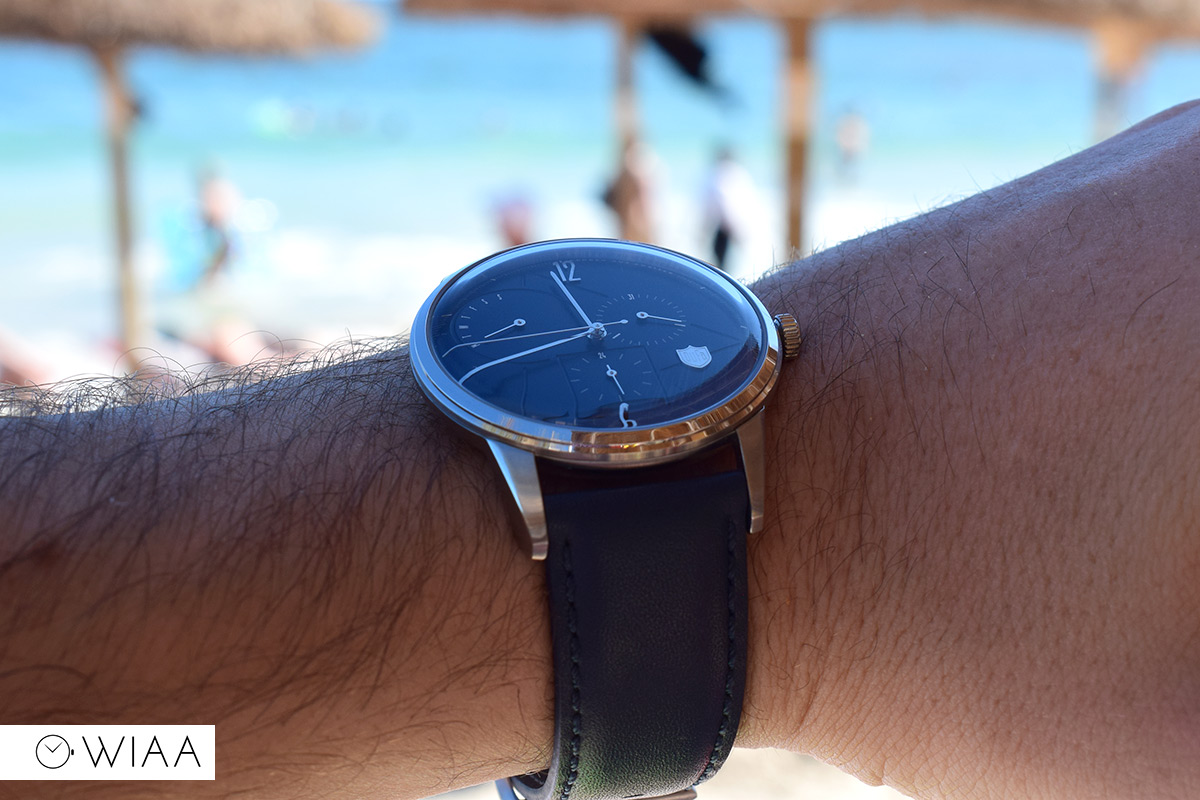 The leather is soft enough but not outstanding quality for a watch costing £305. The strap does come with quick release pins, which are always a good addition.
The tang buckle is pleasantly shapely and is the same for all Dufas; brushed flanks and a polished top bridge with the badge logo neatly sitting on top.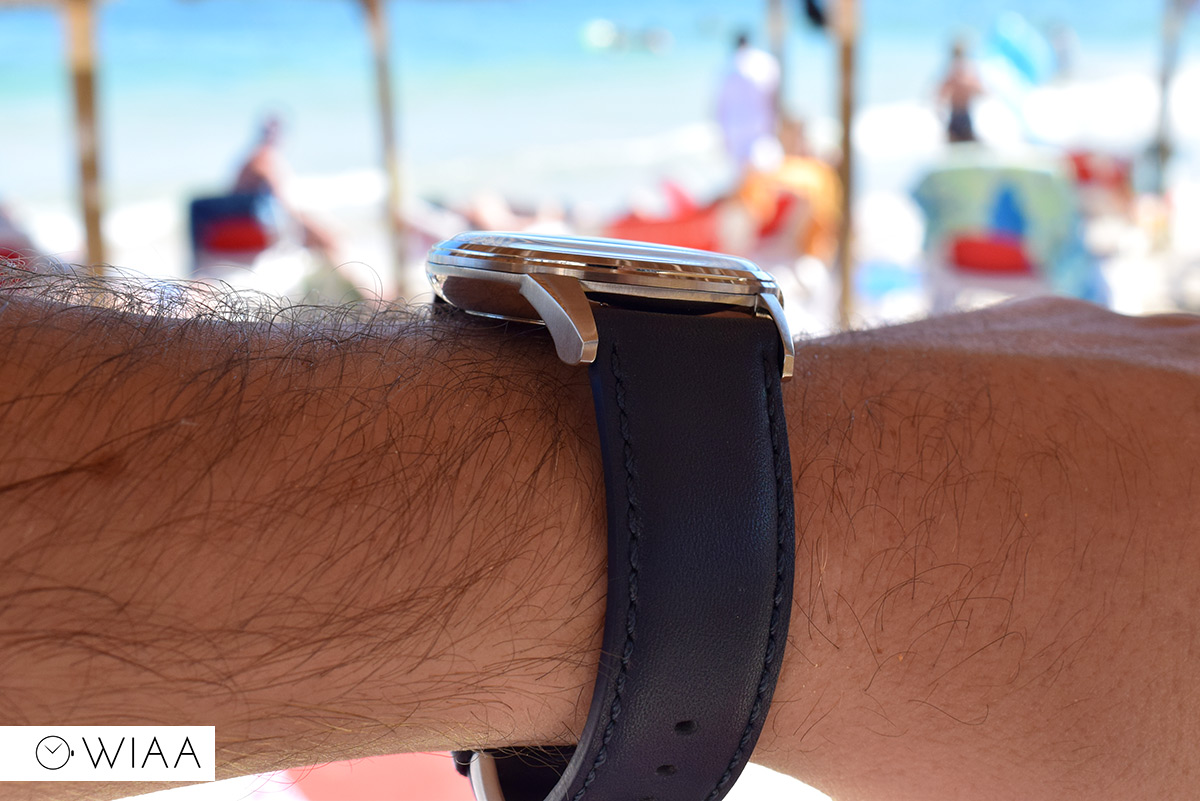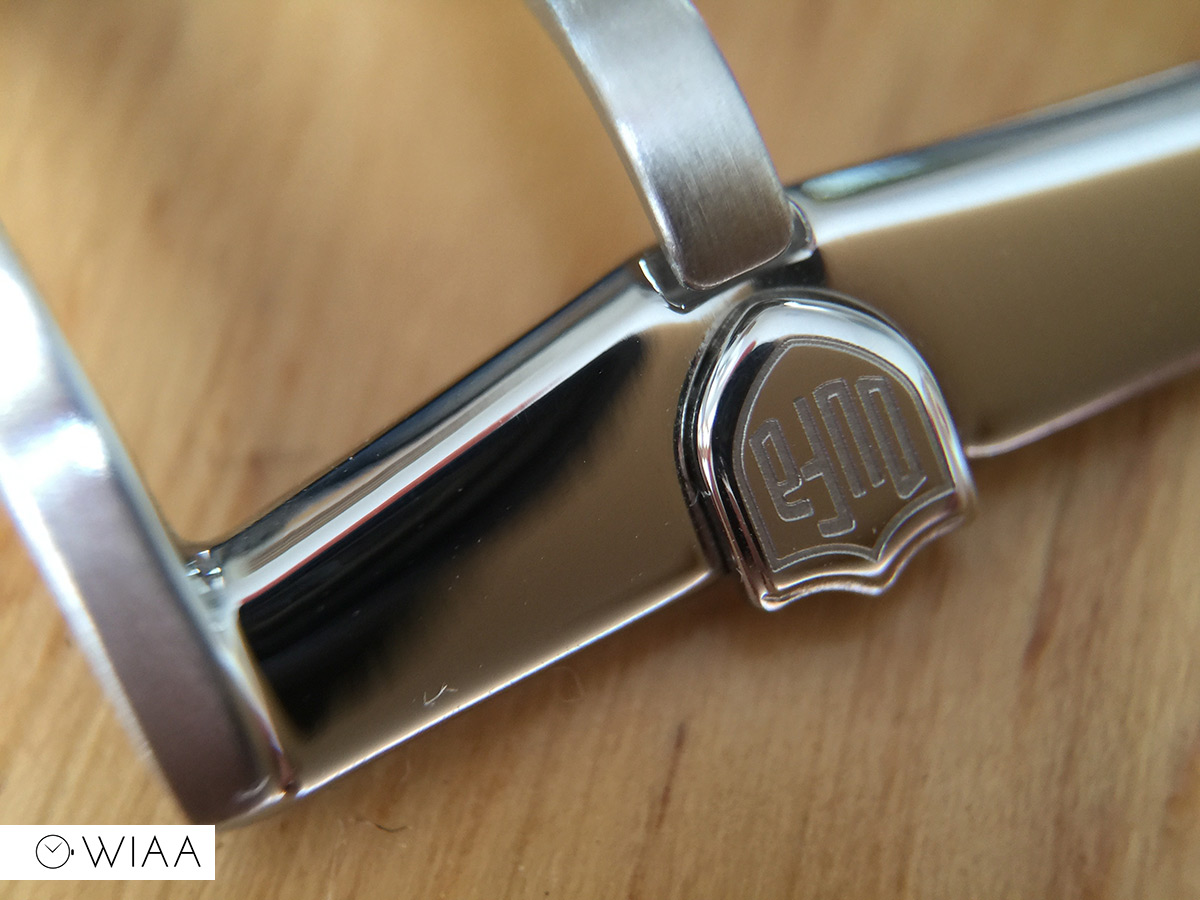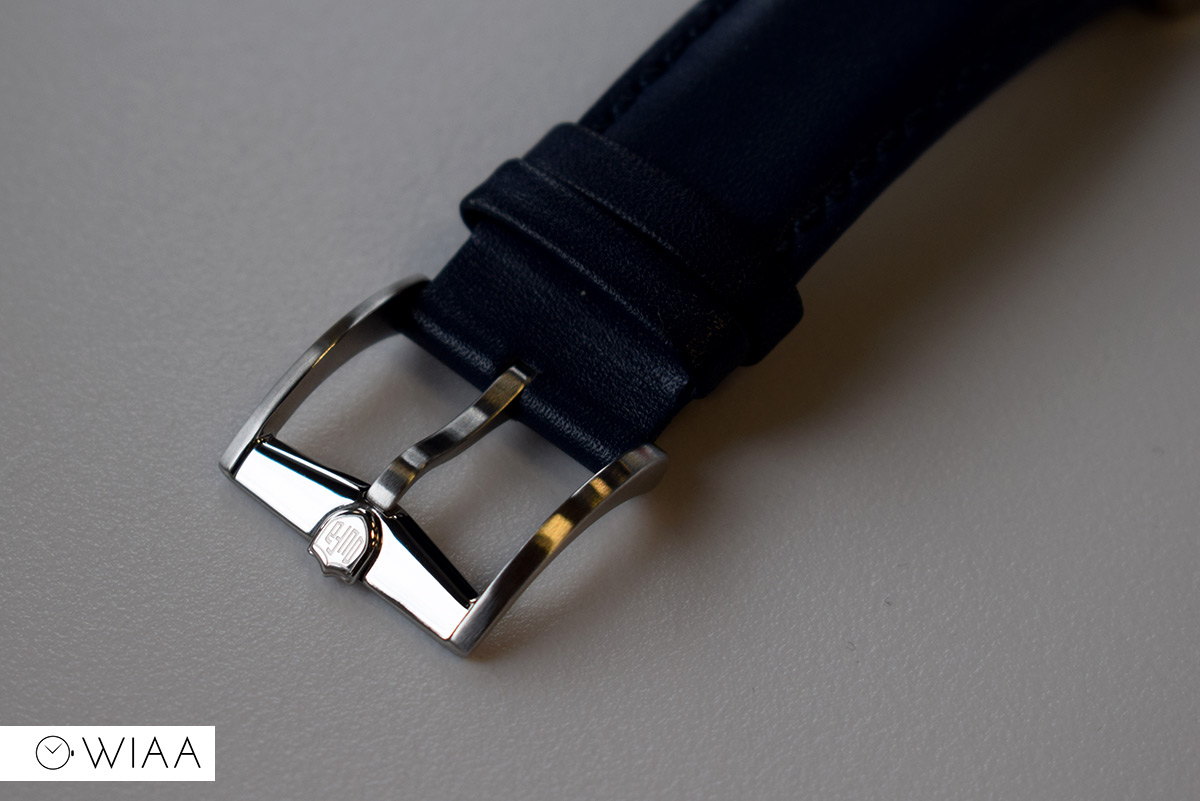 The movement
The movement powering the Dufa Weimar Calendar is the TMI VH88. Time Module are part of the Seiko Group, and this movement is one of their "VH Sweep Second Quartz Series". The unusual thing about this watch? It's quartz, and it has a sweeping second hand. I've counted the sweep to be 4 ticks per second, so whilst it's not as nice a sweep as a mechanical (usually 6 or 8), it's still rather unusual to have. It has the sweeping charm of a mechanical, but the accuracy and maintenance-free "set and forget" nature of a quartz.
The movement has a 2 year battery life and 2 jewels, and the retrograde day indicator is a pleasant alternative to the norm.
Final comments
This is a timepiece that's sure to appeal to designers out there. The obvious nod to Wasilly Kandinsky's test is a good way to attract those who have a serious interest in Bauhaus – and in reality, it's hard to get more Bauhaus than the Deutsche Uhrenfabrik Weimar Calendar.
As a timepiece as a whole, it's a lovely watch that's for sure. It's a shame it's not a sapphire crystal, but as far as looks go, it's very striking indeed. The case profile, dial design and fit and finish is sure to impress.
However, I do think the RRP of $409 / £305 might be a bit steep for this watch. It's quartz powered after all (albeit a quartz with a smooth sweep), and although they claim to be German Made I'm still a bit dubious about that. Saying that, if you can find this at a reduced price then I'd highly recommend it, as Dufa have done their best job yet just in terms of a true Bauhaus inspired timepiece.