CATEGORY : Bought To Review
*THIS IS AN EDITED REVIEW. DAN HENRY HIMSELF CONTACTED ME TO FILL ME IN ON SOME DETAILS I INCORRECTLY ASSUMED*
Dan Henry watches have come from nowhere. He was featured in Hodinkee regarding his vintage watch website and trading. Had exposure with Worn And Wound, and a funded article on A Blog To Watch and Voila!
Where Dan Henry chose a mineral crystal, I chose a sapphire for my own Deaumar watches. Where I chose a ceramic bezel insert, Dan Henry chose aluminium. Where I chose custom 316L SS bracelets with SELs, Dan Henry chose nylon and leather straps. Where I chose Mecha-Quartz, Dan Henry chose ordinary quartz Miyotas…and my watches cost less at launch.
This particular Dan Henry watch was sent from a forwarding warehouse in Hong Kong. Dan says that he has a business partner there who handles the fulfilment side of the business.
The wesbite says that the watches are limited, but to a minimum of 1947 pieces, and there's 4 models. Not really limited then.
There's a trend to call every small company a Microbrand. This company is launching with 5000 watches. There's nothing micro about that, but the fact that Dan himself contacts people directly and deals with customers directly still make it a Microbrand in my book.
Dan says that he had to sell some expensive watches and a "Terrestrial Globe" at Christies in order to raise the funds to start the company.
Before receiving the watch I had a (possibly irrational) hate for them. Mainly because, as a watchmaker, Dan Henry makes me feel stupid. He got it so right. I'm so jealous.
So I bought this watch purely to review here. Out of my own pocket, to be objective.
So the 1963 chronograph I bought. Basic miyota quartz movement, mineral glass, steel case, leather strap, a plain black NATO strap, a watch roll, $230, shipped. Another £18 in fees when it got to the UK from Singapore. Not the bargain of the century.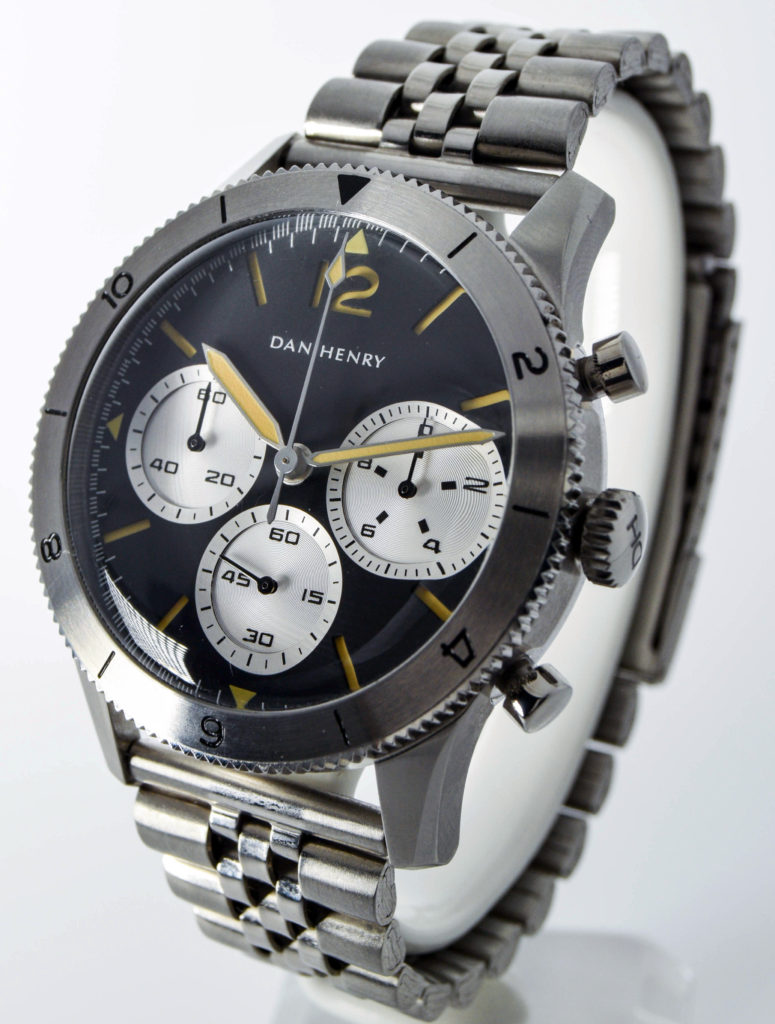 But there is one aspect of the watch that I haven't touched on. One thing that negates all the rest. One thing that makes my stomach churn and makes me clench my fists in anger.
It looks great.
I'm jealous because what Dan Henry has made here is distilled brilliance.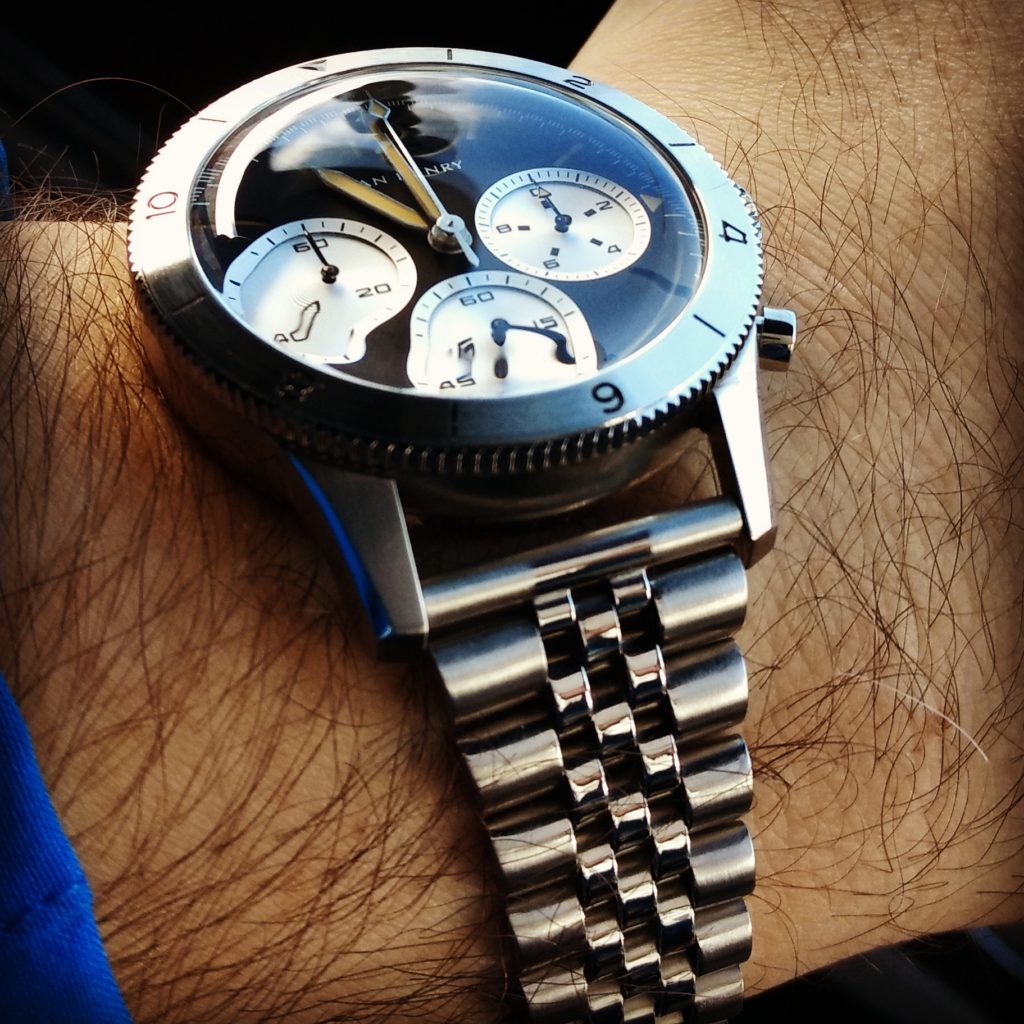 Just humour me here. Imagine you saw a watch in a shop window and it was the most amazing looking watch you'd ever seen. You couldn't imagine any other watch on your wrist after seeing this. So you go in the shop and it still looks amazing. You ask about the specs and they're adequate but not "high end". Then you ask the price. And it's less than you are willing to pay. Do you now really care about the specs when you have an amazing looking watch at a low price?
I wouldn't. As long as I like the way a watch looks and it if it's functional and reliable, then chances are I'll buy it. When you glance at it and it gives you a kick, you don't remember at that moment that the glass is mineral and not sapphire. This crystal is domed too and looks very fitting.
And this is where Dan Henry has it right.
I've been reading on forums about this. Forums that were savage to me. These forums are gushing over Dan Henry as although they accept the parts the watches are made of are not as good as they could be, they look so good they don't care. People only really care about watch specifications if they don't actually like how the watch looks. People like a bargain…but chances are they'll never love it. Good specs can try and bridge the "love gap" but they'll never conquer it.
So Dan Henry has the formula. Make it look good, keep the components respectable, but not the best they could be, sell at a reasonable price and have them in stock for quick delivery.
I guess it's only to be expected since the owner is a vintage watch collector. He obviously knows how to distil vintage down and make it modern.
The 1963 looks like all the vintage Breitling / Heuer I could want. I wish it had a date, but that's because I feel a watch is incomplete without a date. I would have preferred a bracelet, but then again that's the same for any watch as far as I'm concerned. I normally would have gone for the black bezel. That's what I normally would have bought. I kept thinking of the silver though when I imagined this watch.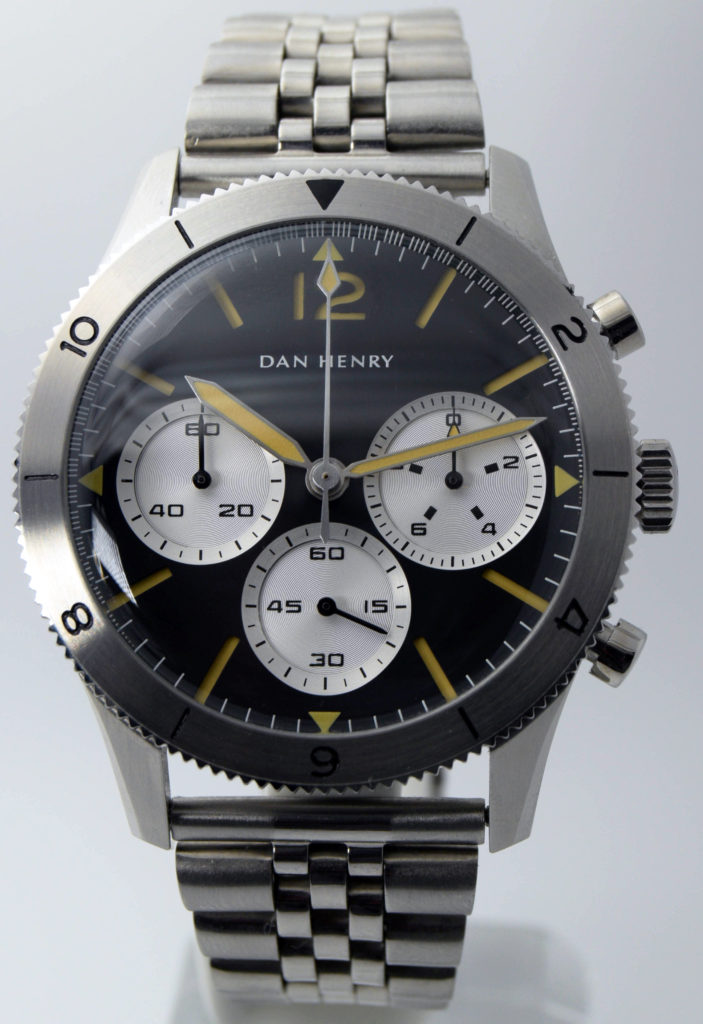 Here's a tip, if you're torn between watches, think of them in turn, close your eyes and think of just one. The one that pops in your head is the one you want. When I thought of this watch, I thought of the silver bezel. So that's what I bought.
---
Here are the specs:
CASE
42,5mm stainless steel 316L
22mm lugs size
47.3mm lug to lug
Stainless steel 12-hour rotating bezel with 5-min click
Screw-back case with Lockheed Blackbird 3D medal
Sapphire coated double domed mineral glass with Anti-Reflective treatment
MOVEMENT
Miyota 6S20 quartz (Japan) chronograph with smooth motion center seconds. Watch seconds, 60-min and decimal subdials
DIAL
Sandwich dial with patina Swiss lumens and silver subdials
60-min chrono subdial at 9 position and 1/10 seconds big subdial at 3 position
---
As for the wearing of it, the 1963 wears great for me, but I do have a 7 3/4″ wrist. It looks amazing, like a NOS Breitling with that sandwich dial with vintage lume. And of course its a reverse panda design. The case finishing is lovely, the brushed and polished effect on the side is classy. It feels light for a watch of this size. There is the belief that weight = quality. If that's the case, bring on the lead watches…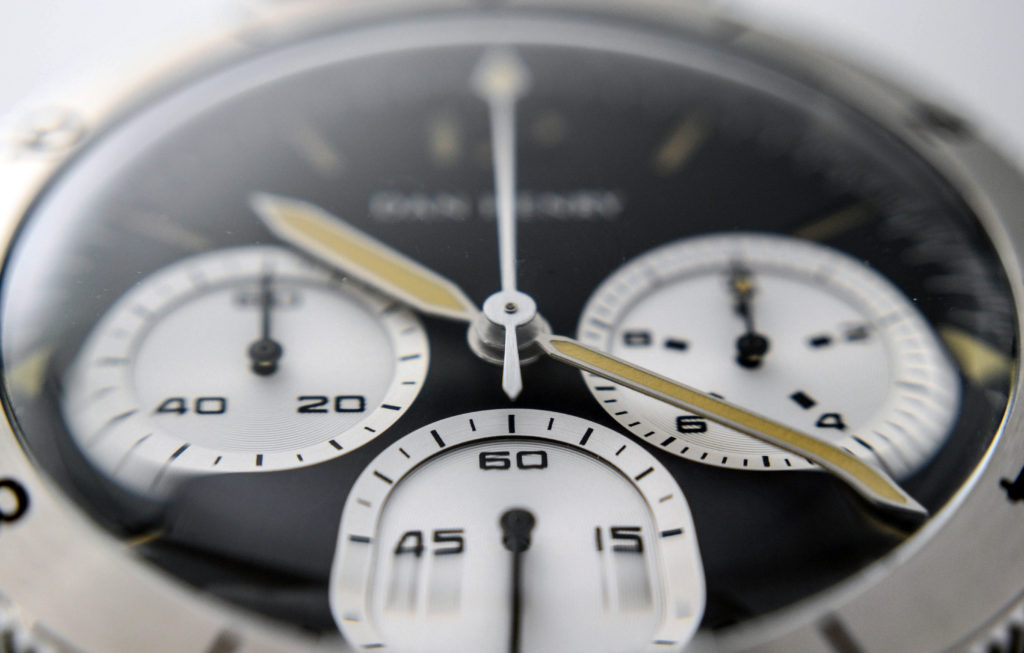 The face is a nice matte dark grey. As if it was black once, but years of sun have faded it. The lume is ok. I'm not a lume freak, so that doesn't bother me, but the sandwich dial is nice. In fact the whole watch is pretty good a homage of a 1964 Breitling Co-Pilot, which Dan Henry has / had in his collection.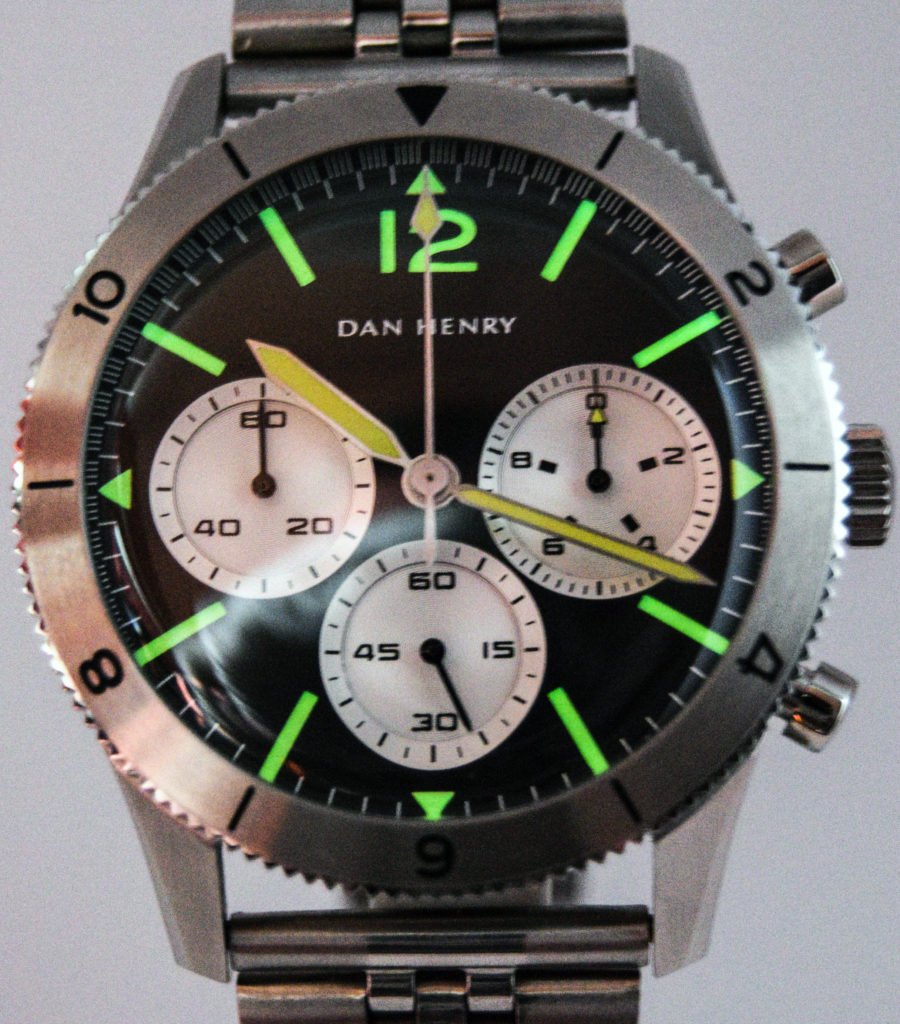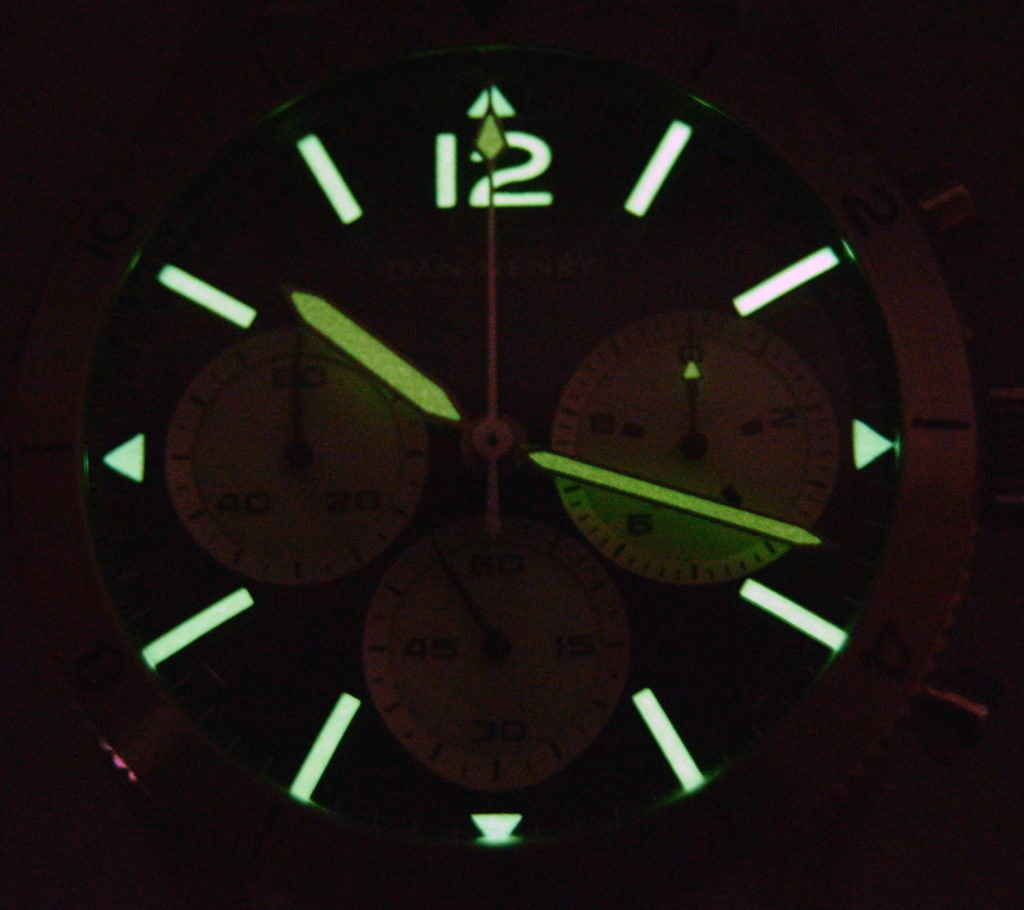 Again, the hands are from the aforementioned Breitling,
The caseback is very nice. I'm not a caseback fan, as you only really see them when you're not wearing the watch and it's not in its watchbox, but the caseback is nice and premium. There is a Lockheed SR-71 on the back. I don't know what this has to do with the watch, or Dan Henry, but it's nicely done. Not etched, but moulded. Yeah, it's really nice.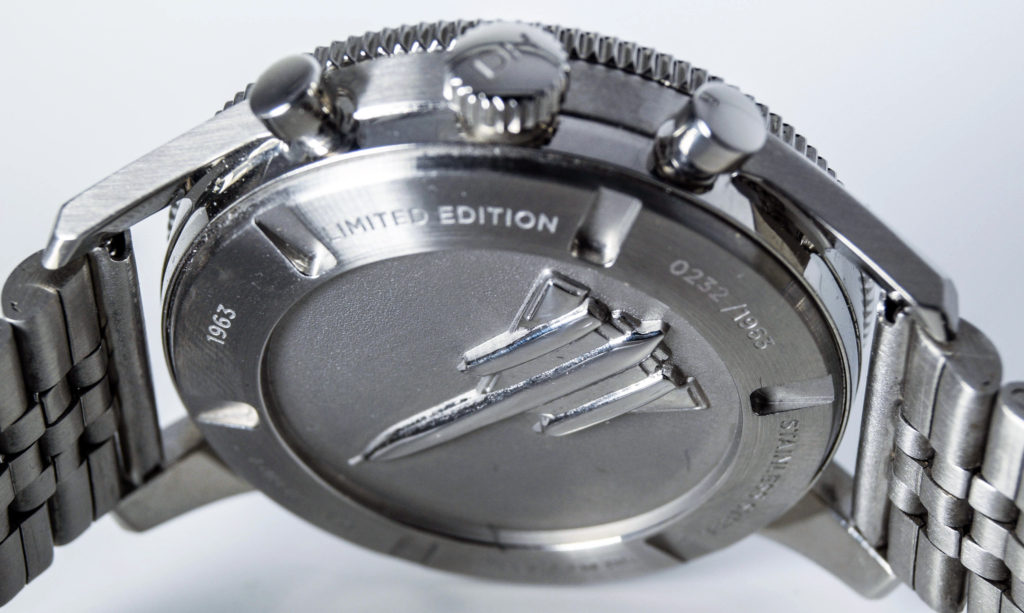 The bezel is cheap. It really is. It's a simple 12 click, bidirectional affair with aluminium insert. It serves its purpose, it allows you to time a second time zone. But the action is loose, it's easily moved and like I say, it does feel cheaply done.
My watches don't have a hard life. In my day job I am a usually found in a suit. If I'm doing rough stuff, I've got G-Shocks for that. I'm sure this will survive fine.
Did I mention it's amazing looking?
The strap has one of those clever slide release spring bars. I guess Dan Henry aren't just aiming for WIS here. Every WIS has a springbar tool and can change straps easily enough, but they'll be a boon for the general public.
I've put it on a cheap jubilee with straight ends. I think this looks great. It makes the watch look like it's an old family heirloom that at some point got a cheap aftermarket strap on it after the original perished. Cheap Chic is the name of the game here after all.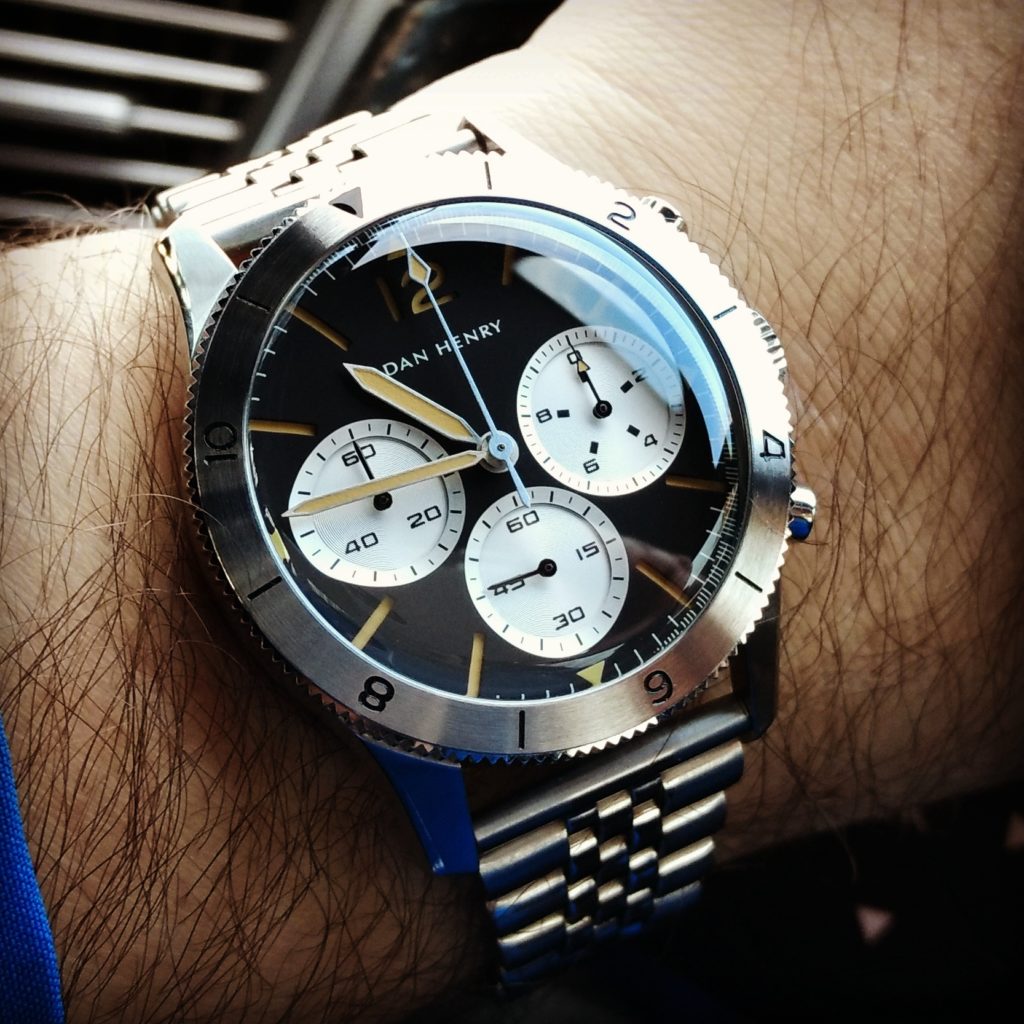 The only thing I don't really like about the watch is the name.
In fact here's me helping future brands. British sounding names are what the masses want at the moment, so I'm giving you some suggestions, feel free to use them if you have no ideas of your own:
Giles Chesterfield
James Worcester
Philip Worthington
Miles Mackenzie
David Lancashire
Simon Yorkshire
Terence Westmidlands
Yeah, the name, it just makes the watch scream "FASHION WATCH" and we all know that is a cardinal sin. This is where it's a bit strange, everything about this watch screams "fashion" except the design is something that mostly WIS appreciate.
But I'm keeping it. It's just so pretty. It will get worn in rotation. Looking forward to the summer and short sleeves.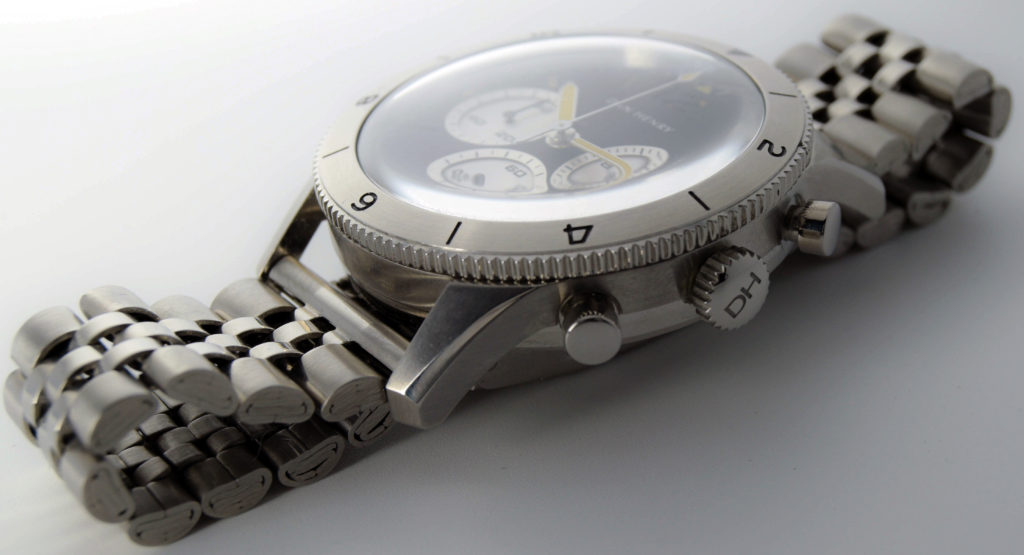 So I'm chagrinned to say it, whilst I collapse on my knees, look to the sky and curse God, but Dan Henry has got it right. Dan Henry deserves success. This is a good watch.
And I hate it.
Bastards 🙂