CATEGORY: Watches I own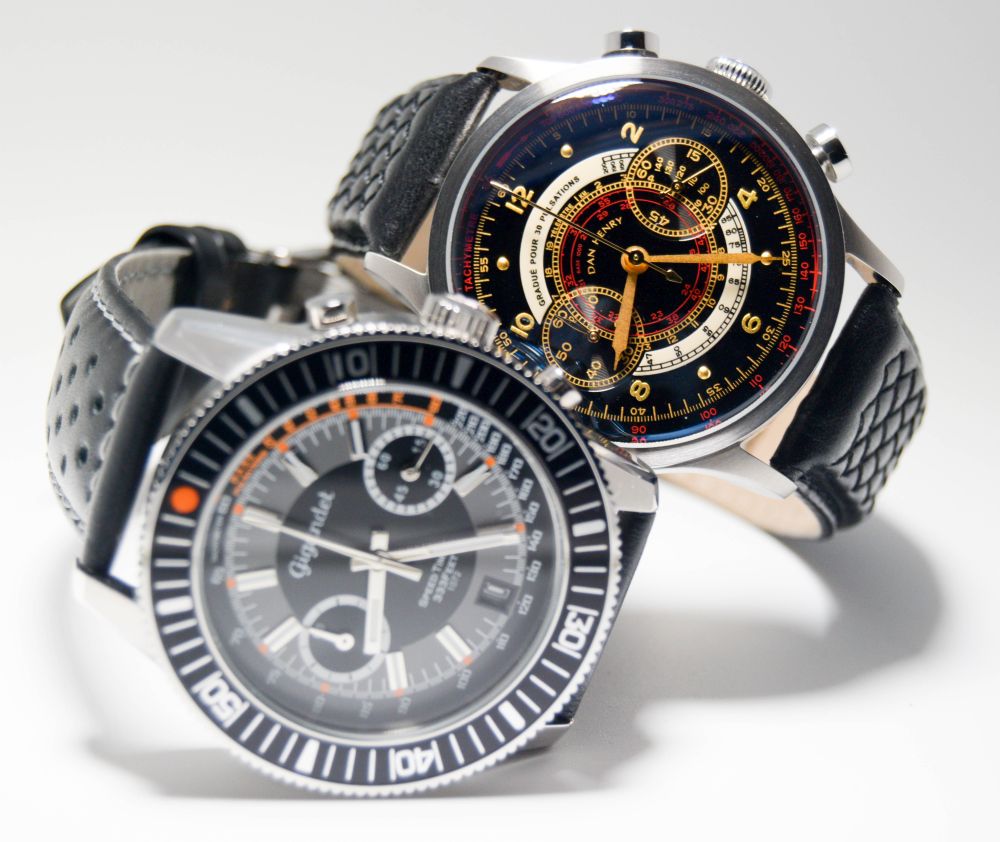 As you probably know, I'm a sucker for vintage inspired chronographs.
Now Dan Henry are getting lots of praise for bringing vintage inspired  watches to the "lower" end of the market.
But I wanted to bring to your attention another brand which has been doing the same for a while now, Gigandet.
The current Gigandet company literally bought the name of the old Swiss company and has the watches made in the Far East, it's got nothing to do with its illustrious past except the name. They are based in Germany and seem to sell mostly through eBay and Amazon, but again, they are vintage inspired watches with a low price tag and workman like build and movements, so this is a valid shootout.
If you've read my thoughts on the Dan Henry 1963:
https://12and60.com/2016/12/19/dan-henry-1963-quartz-chronograph/
You'll know I came away with a very love / hate relationship. I still like and wear that watch, but most of the hate came from the fact that it made me feel stupid in the wake of the death of my own brand, Deaumar. It was a cheap watch that looked amazing and I was envious.
So it may come as a surprise to learn that I bought another Dan Henry, this time it's the 1939 bi-compax chronograph.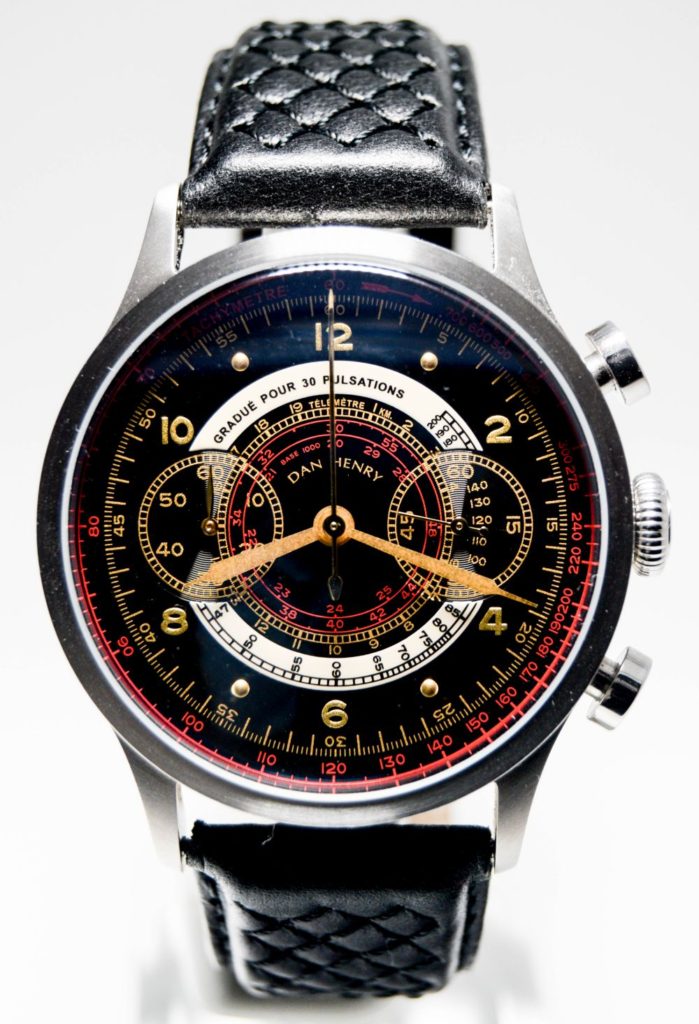 Again, I saw this and thought it looked amazing. It captured the look of the classic bi-compax chrono to a tee, but is modern and will be reliable. Sold.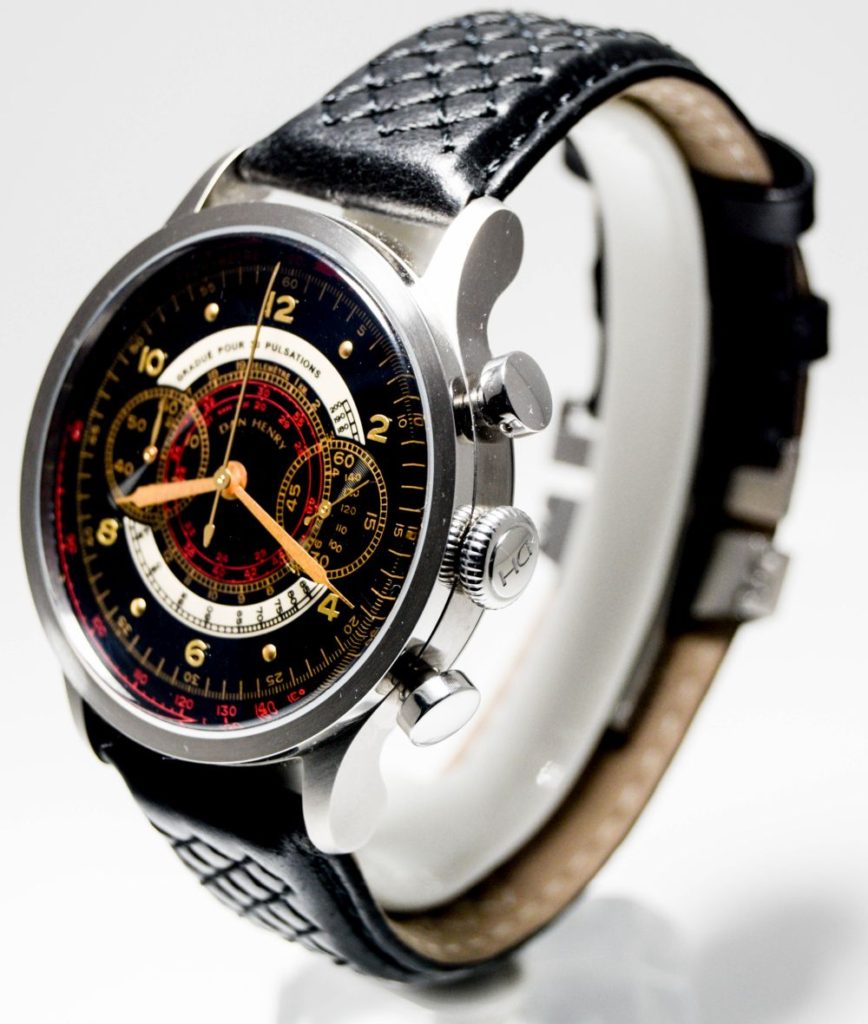 Here are the specs:
CASE
41mm stainless steel 316L
22mm lugs size
49.2mm lug to lug
Screw-back case with Temperature, Fuel Consumption, Pressure and Speed conversions tables
Sapphire coated double domed mineral glass with Anti-Reflective treatment
MOVEMENT
Miyota 6S21 quartz (Japan) with smooth motion center chrono hand
DIAL
Black gloss, with gilt numbers and syringe hands
w/ Pulsometer, Telemeter, Tachymeter and 60-min chronograph
So, the "special features", and these specs are direct from the Dan Henry website, are really all to do with the face, this "smooth motion center chrono" and the numbers on the caseback.
It comes in the "watch roll" with a black leather strap and black NATO with quick release spring bars.
The black leather strap was taken off straight away. It simply looks like it is, cheap. Just a plain, designless, black leather strap. Not as nice as the brown that came with the 1963. The NATO is what a NATO is, but again, apart from the spring bar, nothing that isn't plentiful on eBay for a few pounds.
The "Screw-back case with Temperature, Fuel Consumption, Pressure and Speed" just looks like a brushed caseback with some numbers on it. No real world use to me, and not even a "nice to have" feature, as you have to not be wearing the watch to appreciate them.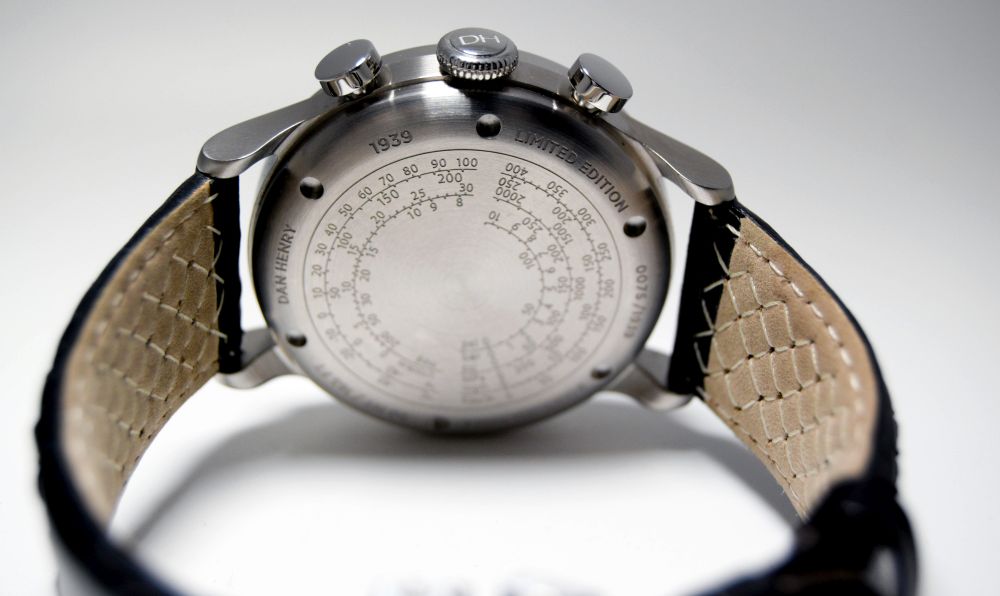 This watch is all about the face. The lumeless face, with a couple a blobs of "gold" as indices. There are slight recesses for the subdials and the printing on the face is of a very high quality, but that's all it is, print.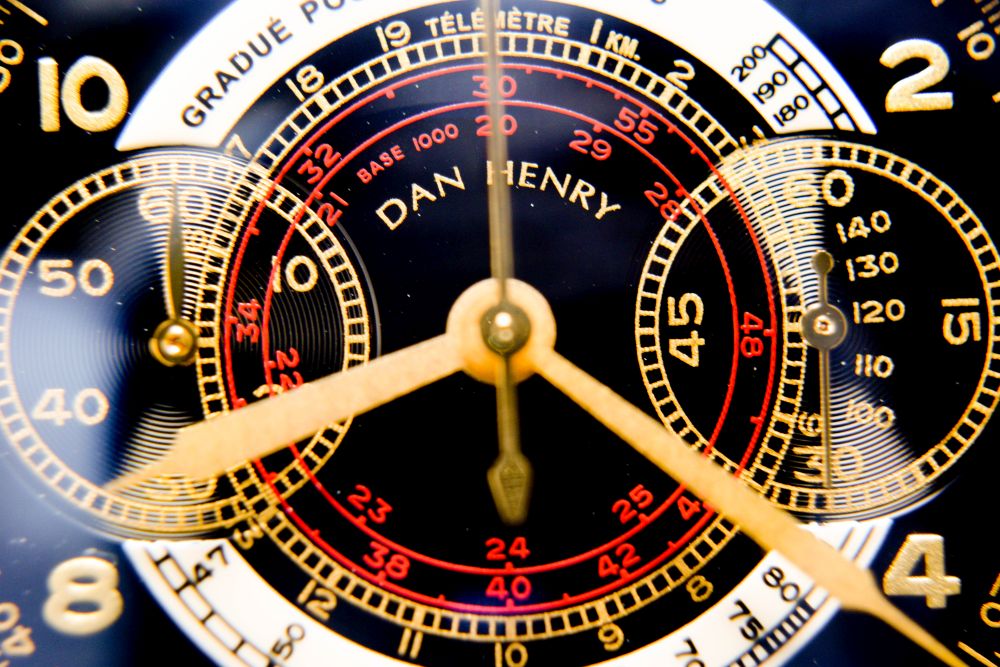 Now this may be true to a vintage bi-compax, but they also have mechanical movements. This doesn't, it's another low end Miyota, so if you're going to homage, go the whole hog, don't pick and choose which parts are going to be homaged.
The case is brushed, not finely brushed, in the middle and polished above and below this, it looks like the 1963 but smaller and without the bezel. It has an "onion" crown. The crystal looks like a double dome, but it's "Sapphire coated" (I'm still not sure what that means or how to prove it's not just a mineral crystal) with AR.


But, that face makes the watch and makes it beautiful, at least at first glance.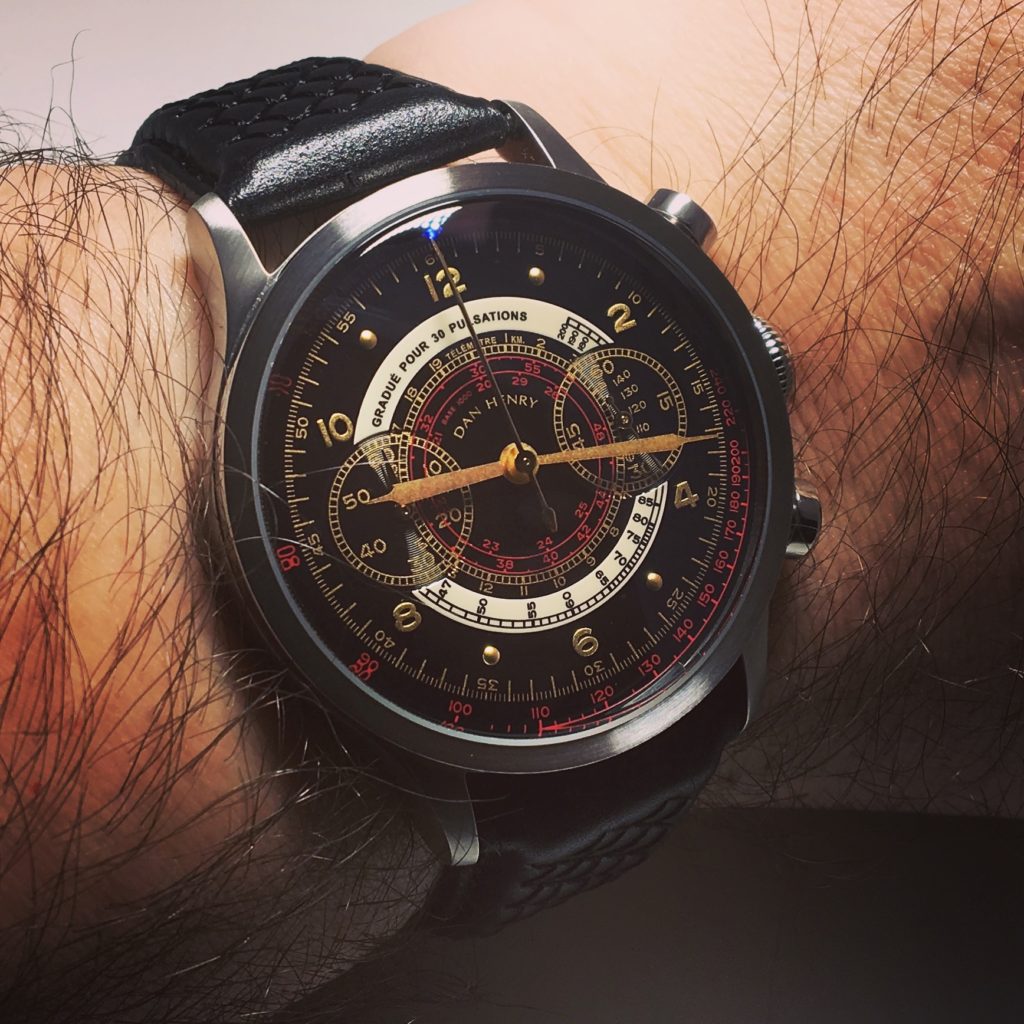 The Gigandet is another bi-compax, but from a different era, this is stuck in the 1960s.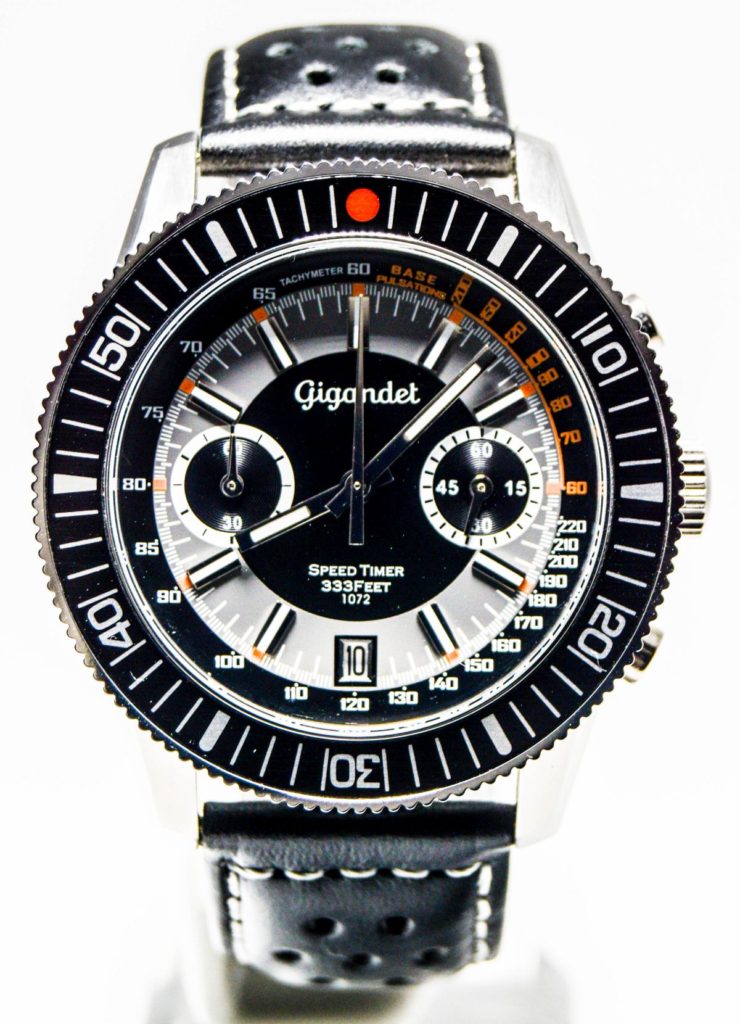 Here are it's specs, stolen directly from Amazon: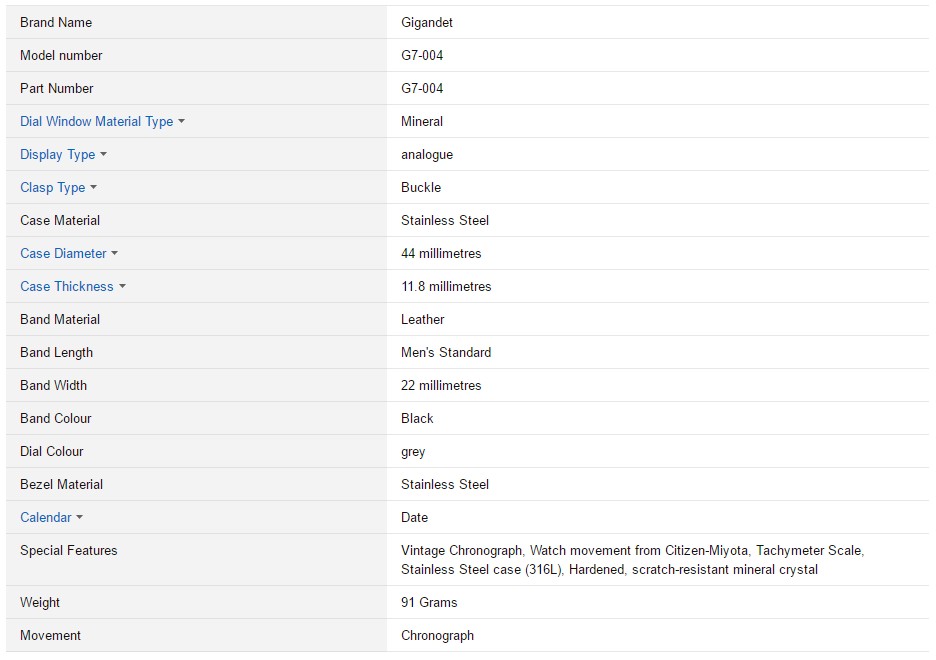 Like the Dan Henry it has an all steel case, a Miyota 6S21 movement, a mineral crystal and comes on a leather strap. This has a bit more "pizzazz" to it as at least it has orange stitching to match with the watch, however this isn't a high quality strap. I put it on this grey stitched rallye strap and like it better.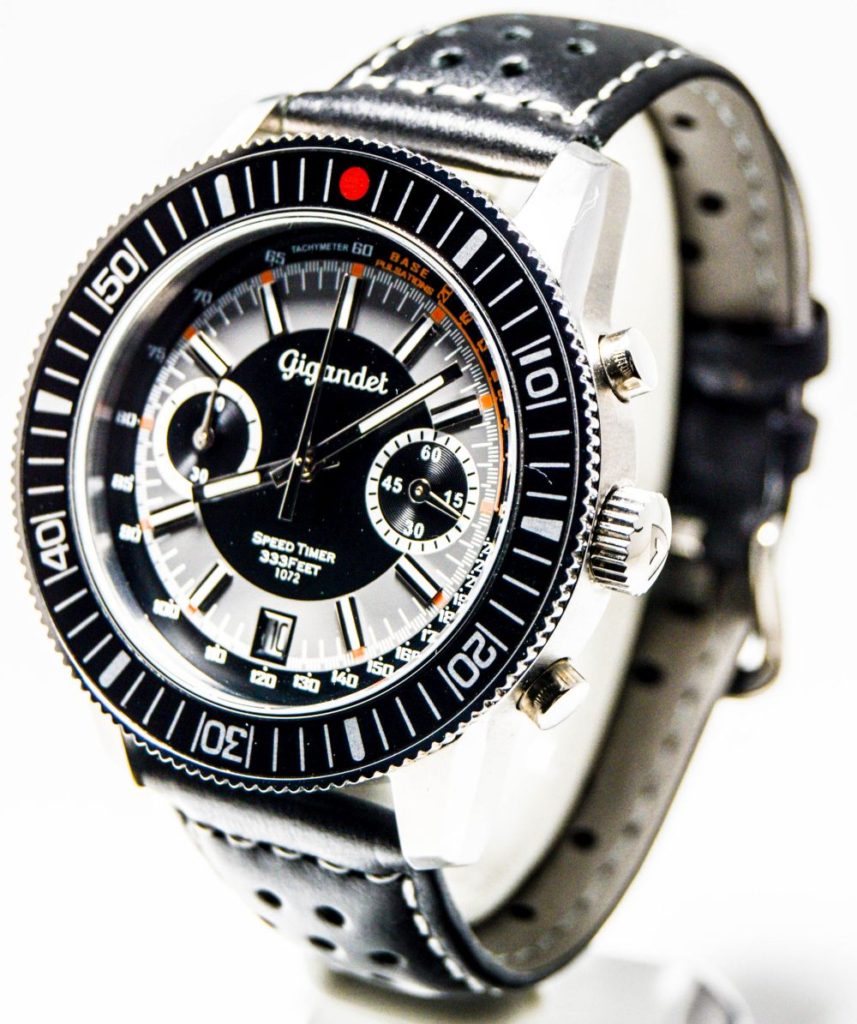 Dan Henry, on it specs, states:
"Miyota 6S21 quartz (Japan) with smooth motion center chrono hand"
But look at this video of them both running at the same time, the Dan Henry doesn't look noticeably smoother than the Gigandet, so what that "feature" means I don't know.
The bezel is a con. There's an internal tachymetre scale running round the face and the bezel is coin edged and looks like it could be useful for timing. But it doesn't rotate. This is a fashion watch level faux pas in my book. I hate it when watches look like they have a function, but it turns out that they don't.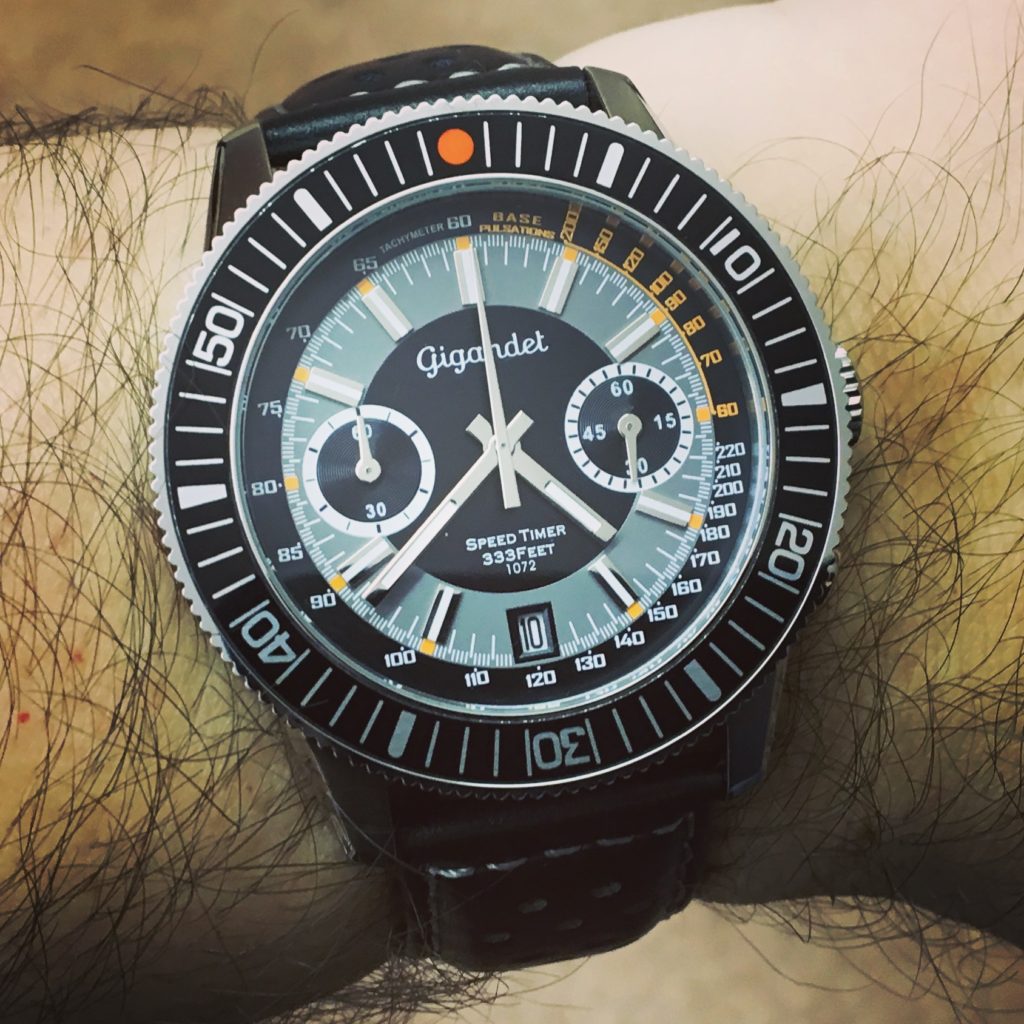 The case is brushed with some polished outlines. The crown is signed, but the chrono pushers are small and standard.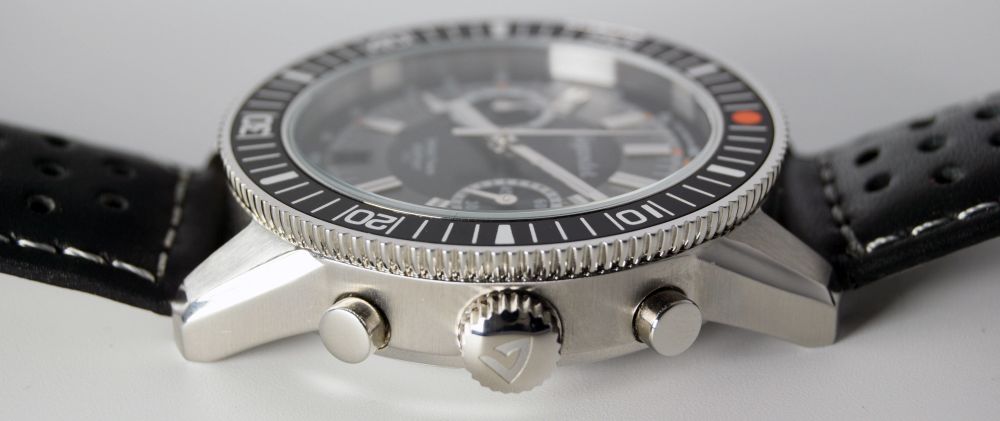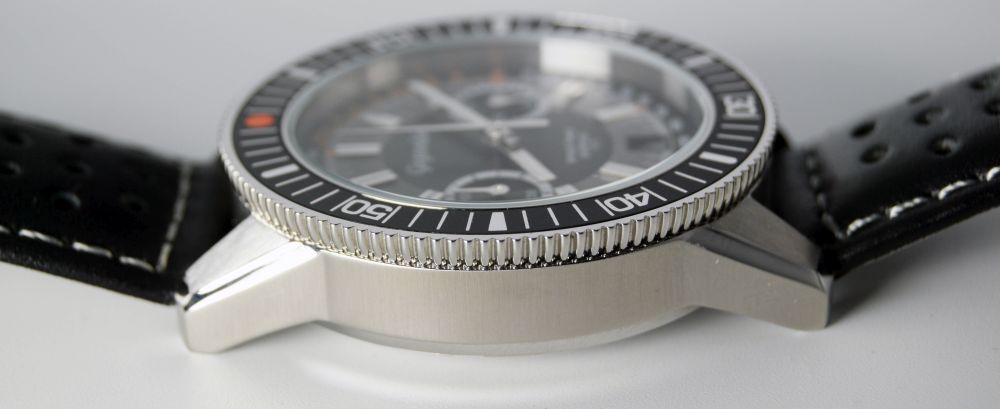 The face is very retro and well done. The indices are applied steel with lume, in a retro oblong style, and the hands, although not amazing, are not ugly, in keeping with the retro theme and are lumed. I like the way the hour hand stays within the inner black circle of the face and that when they're on the hour, they make a big baton with the hour indices.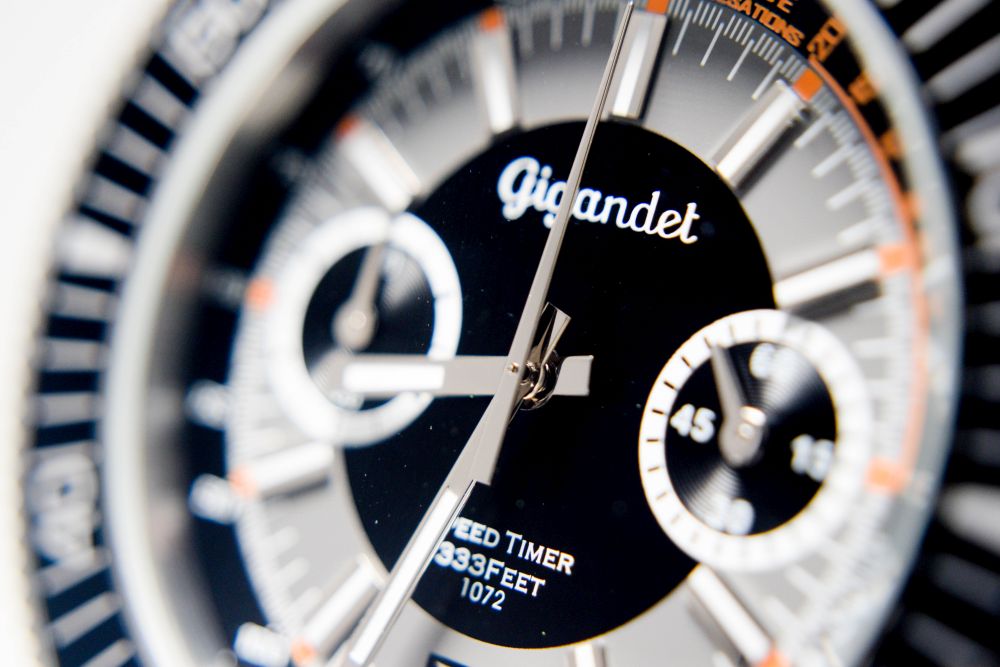 As to be expected, the lume is poor though, almost as poor as my lume photos.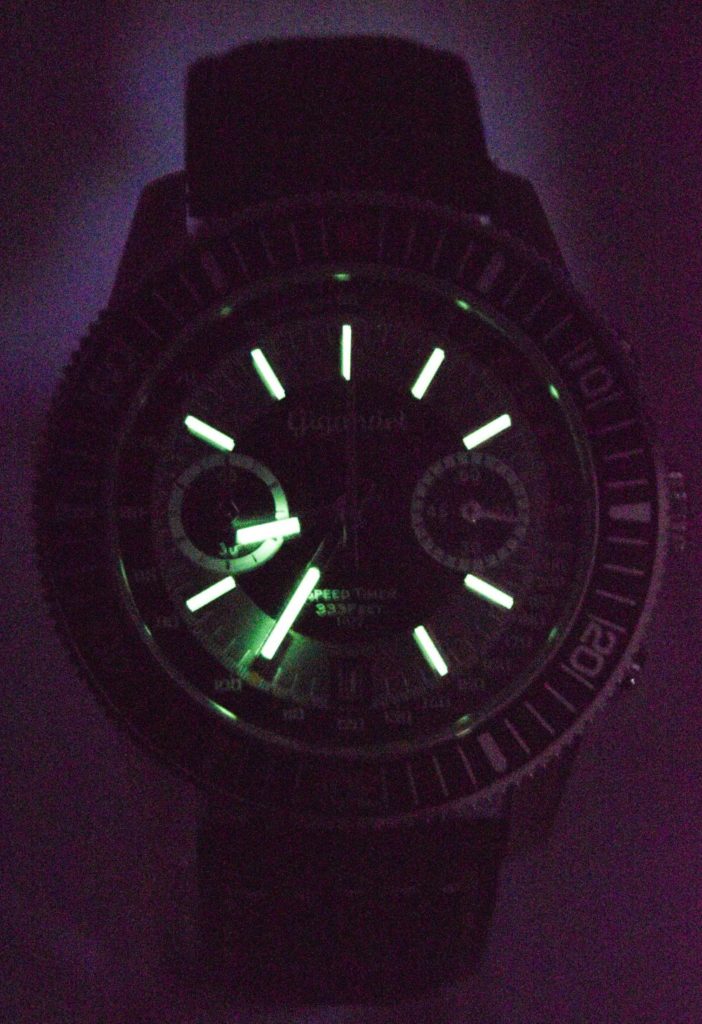 The caseback has a galleon on it. I don't know what this has to do with the watch as, like the DH, neither are "diver level" water resistant. It's not really well done, with some of the text fading at the edges.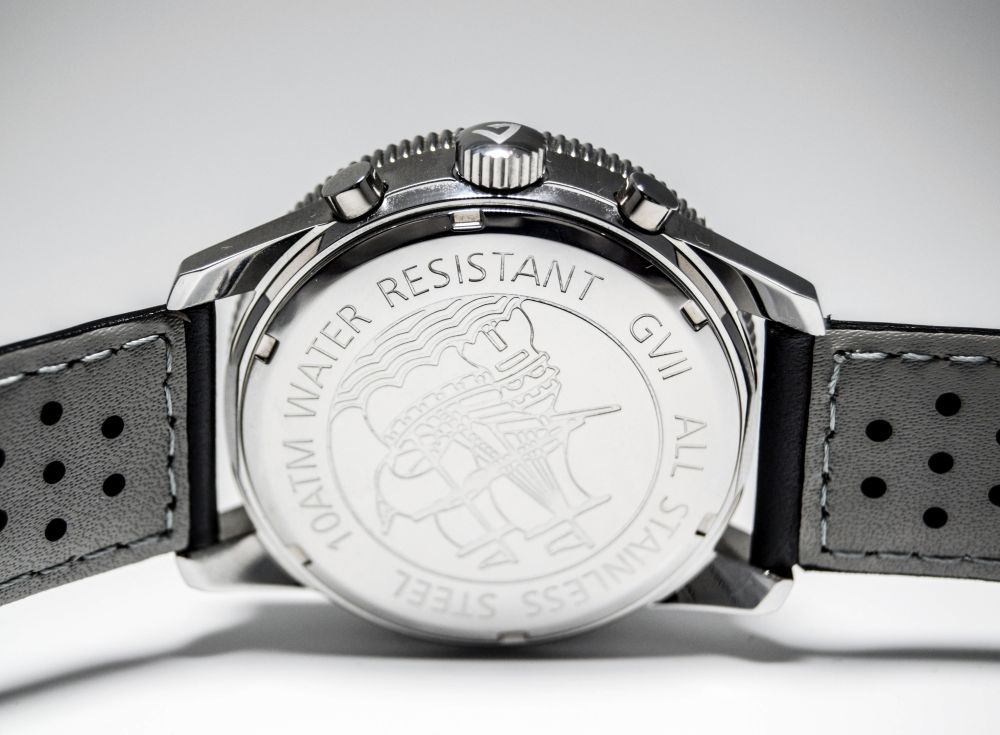 But to look at it as a piece, I think the finish and detail is not left lacking in comparison to the Dan Henry. It's not as good, but whereas the Dan Henry cost me £180 to my door, the Gigandet cost £80. That's £100 less. The Gigandet is 44% the price of the Dan Henry and it's 95% of the watch the Dan Henry is.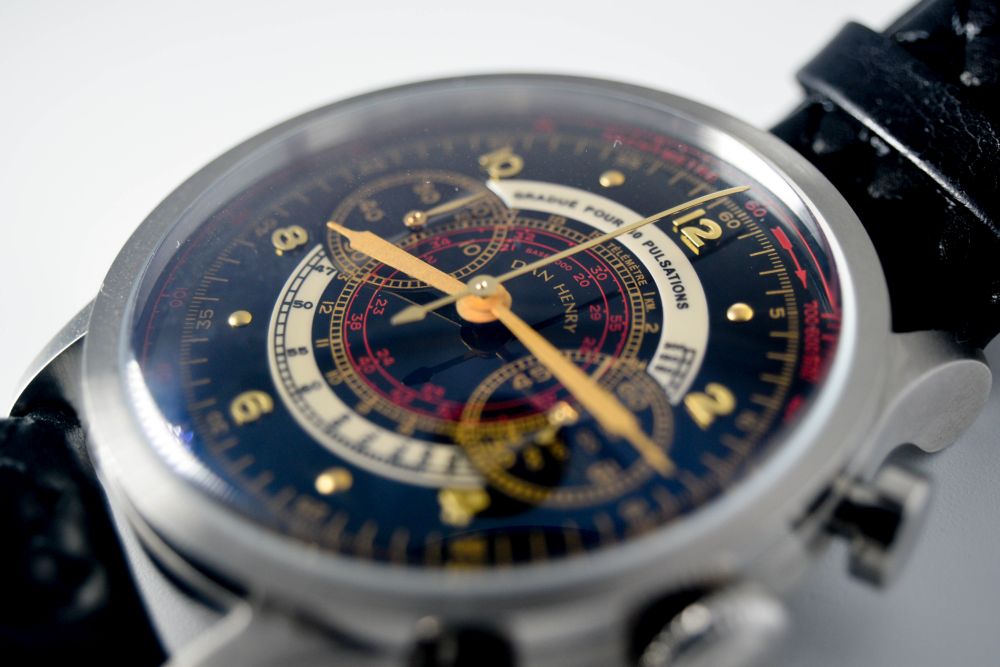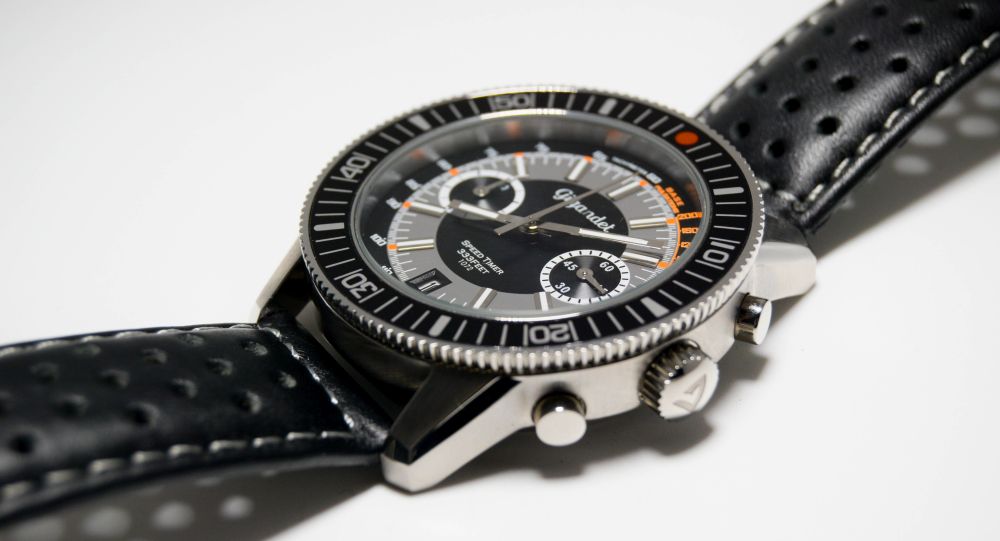 The bottom line is this. The Dan Henry is all about the face printing. If that face was printed in generic black and white and wasn't so complicated looking, this would just come across as a low end quartz chrono. That face and hand set is very clever.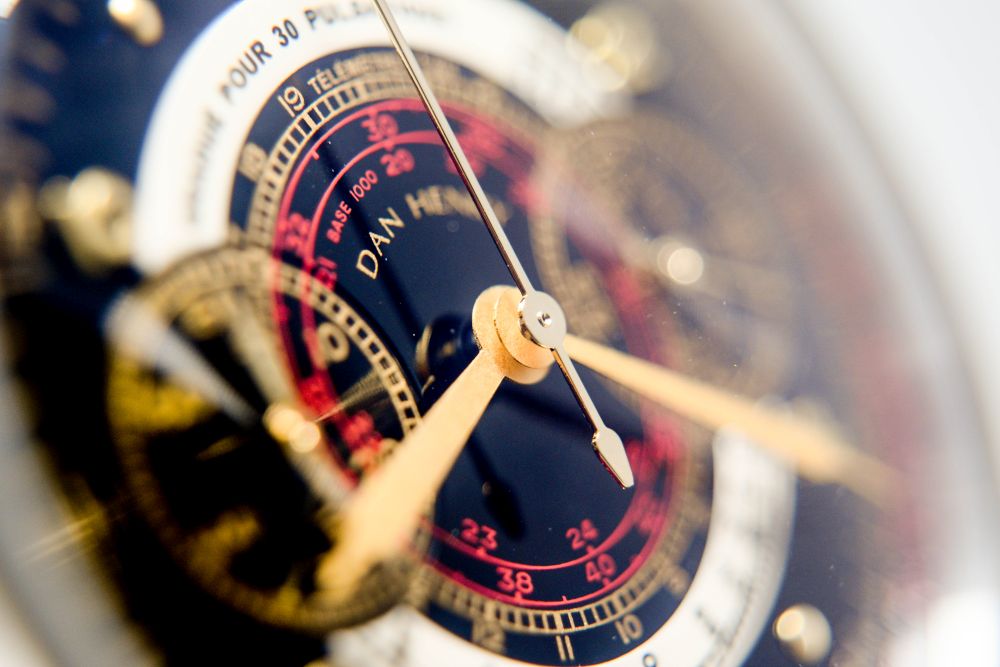 What made the 1963 for me was the sandwich dial, with lume, the concave sub dials, the 24 hour bezel, the SR-71 sculpted on the back. These little loving features made me forgive its overall low spec, but this 1939 has none of these features, but costs nearly as much. The 1963 was still not an expensive watch, but I thought its success would be a gateway to higher quality watches from Dan Henry.
Dan Henry hasn't "upped his game" on this, in fact it's a step back from the 1963 and that's why it's a disappointment. Maybe I had my hopes set too high.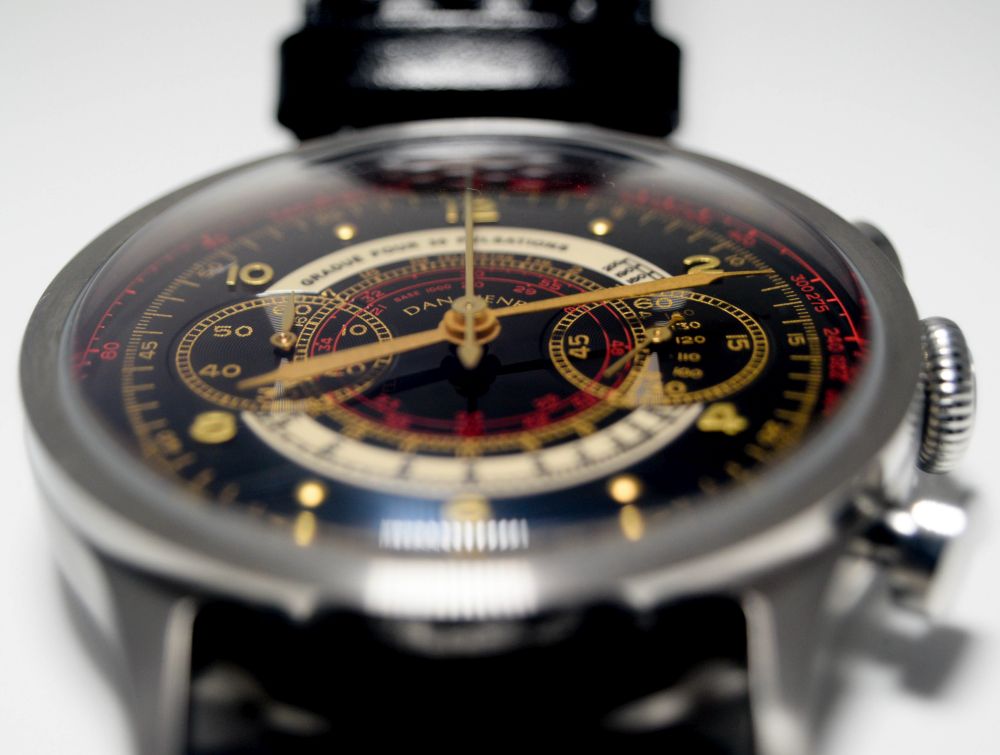 The Gigandet on the other hand came with no expectations, especially at it's price point. But as I keep saying, it's how you feel when you wear a watch in person that matters and I like it a lot. In fact, I've just ordered another Gigandet to see if this is a fluke.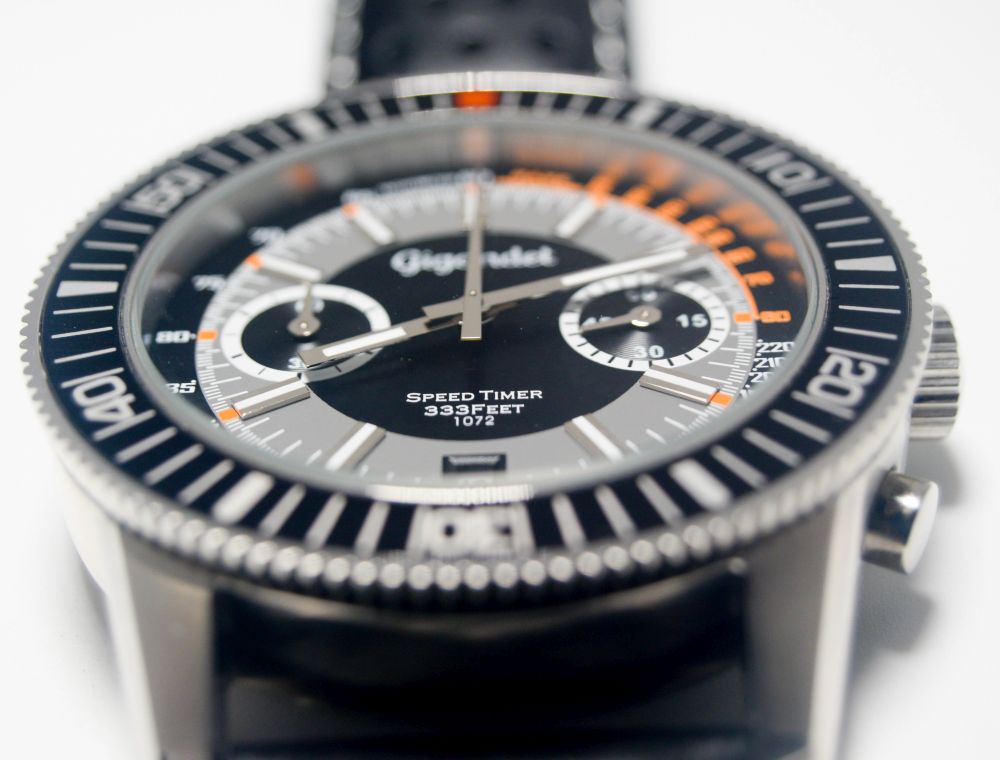 Would I like the Gigandet as much if it cost the same as the Dan Henry? Probably not. Would I like the Dan Henry more if it was as cheap as the Gigandet? Probably.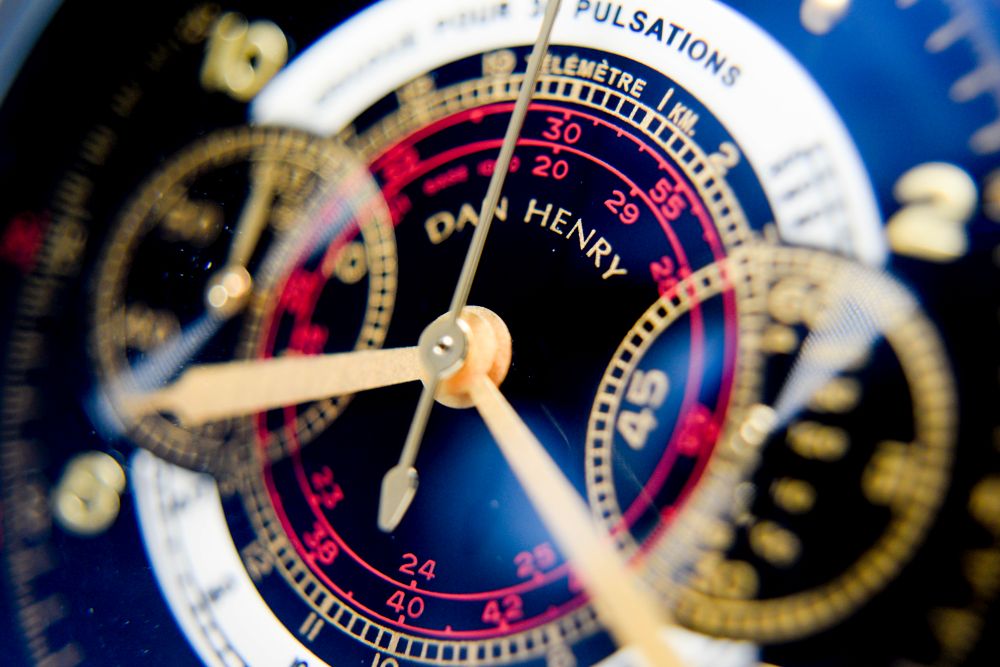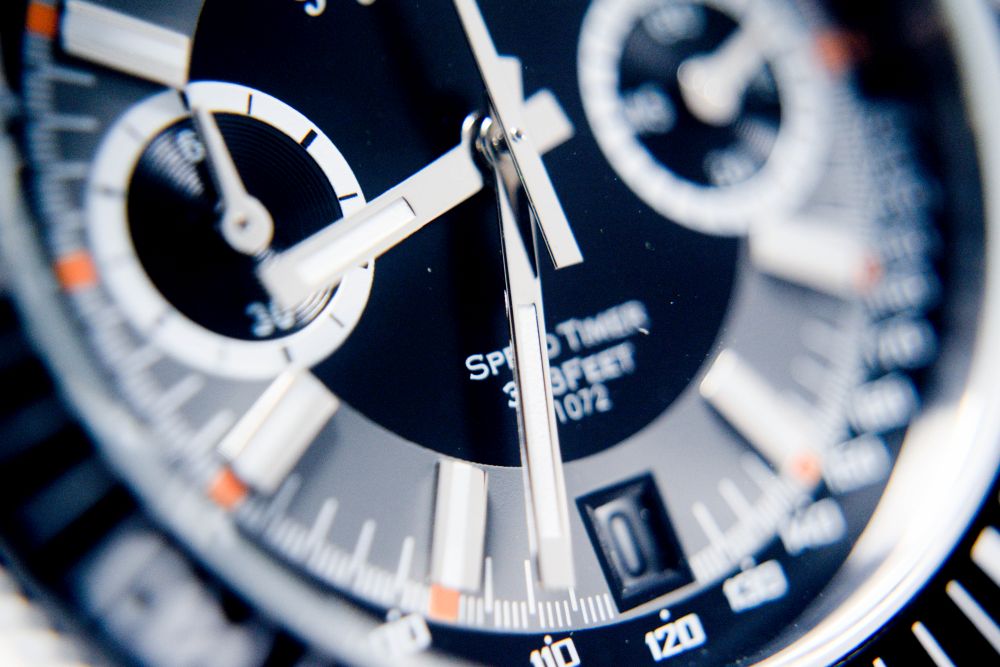 And here's the thing, I know I keep saying it's about the watch and not its components, but at this level, you can't ignore that value plays a role in the overall perception and ergo the happiness you get from a watch.
Here the Gigandet trumps the Dan Henry as I feel it's worth every penny of its £80 asking price, whereas I don't feel the Dan Henry is worth every penny of its £180 asking price. Both of them pale when compared to a Straton Synchro which is about £140 more than the Dan Henry, but looks and feels much more than that.
However, if you put either on your wrist and think it looks epic, I'm sure you'll love it, they are well made and should be reliable, but for me, at least with the Dan Henry, I have this nagging in the back of my mind that I paid more for the watch than I think it's really worth…even though when you look at it right, it's stunning.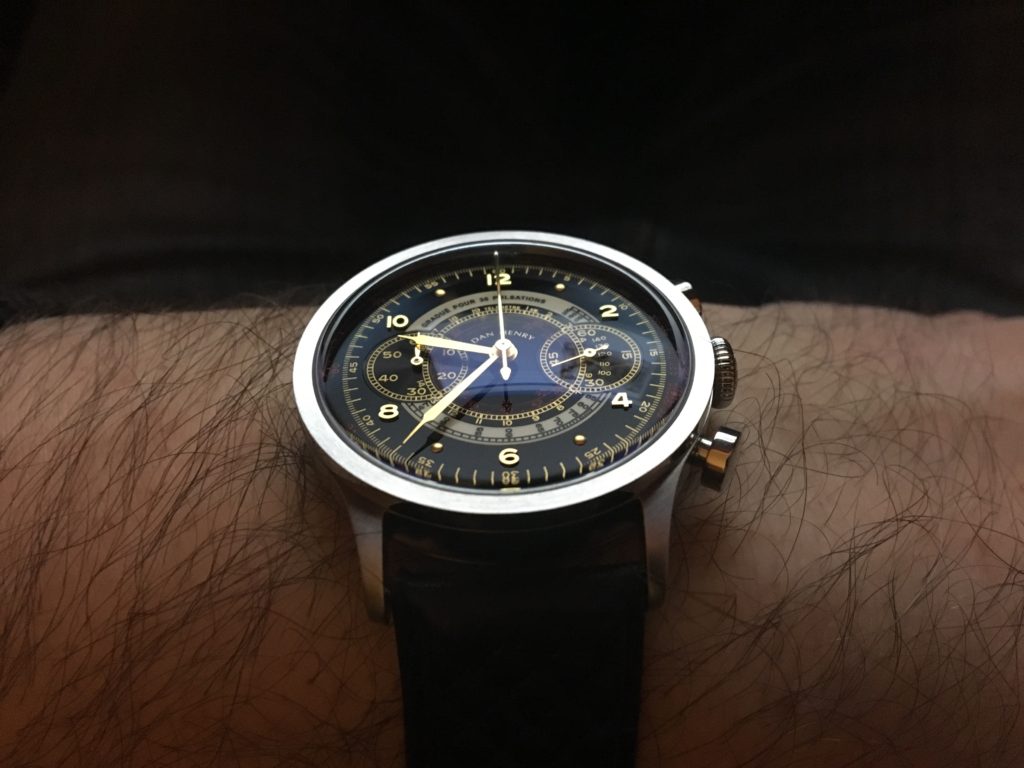 Watches are bloody strange things.