If ever there was a brand that excels at out of the box thinking it's CODE41. The brand has a unique design language that's instantly recognisable, and with the market as saturated as it is that's always a very nice thing to see.
CODE41 is a relatively young brand that was started in 2016 by Claudio D'Amore. Claudio is a veteran of the Swiss watch industry, having spent 10 years designing watches for brands that include Tag Heuer and Montblanc.
CODE41 have released several models over the last 12 years, with their next project being Edition 6 of their futuristic X41. The X41 is a watch that almost looks like it's from science-fiction, with a sharp rectangular case and a skeleton dial that exposes a lot of the mechanical movement beneath. It's a bold look that showcases the literal heart of our hobby – the mechanical movement.
The fact that CODE41 are now on their sixth iteration of this watch demonstrates its obvious popularity, and this latest version offers two new choices of bridge colour – green and a particularly eye-catching rainbow.
You can pre-order your own X41 directly from CODE41's website here.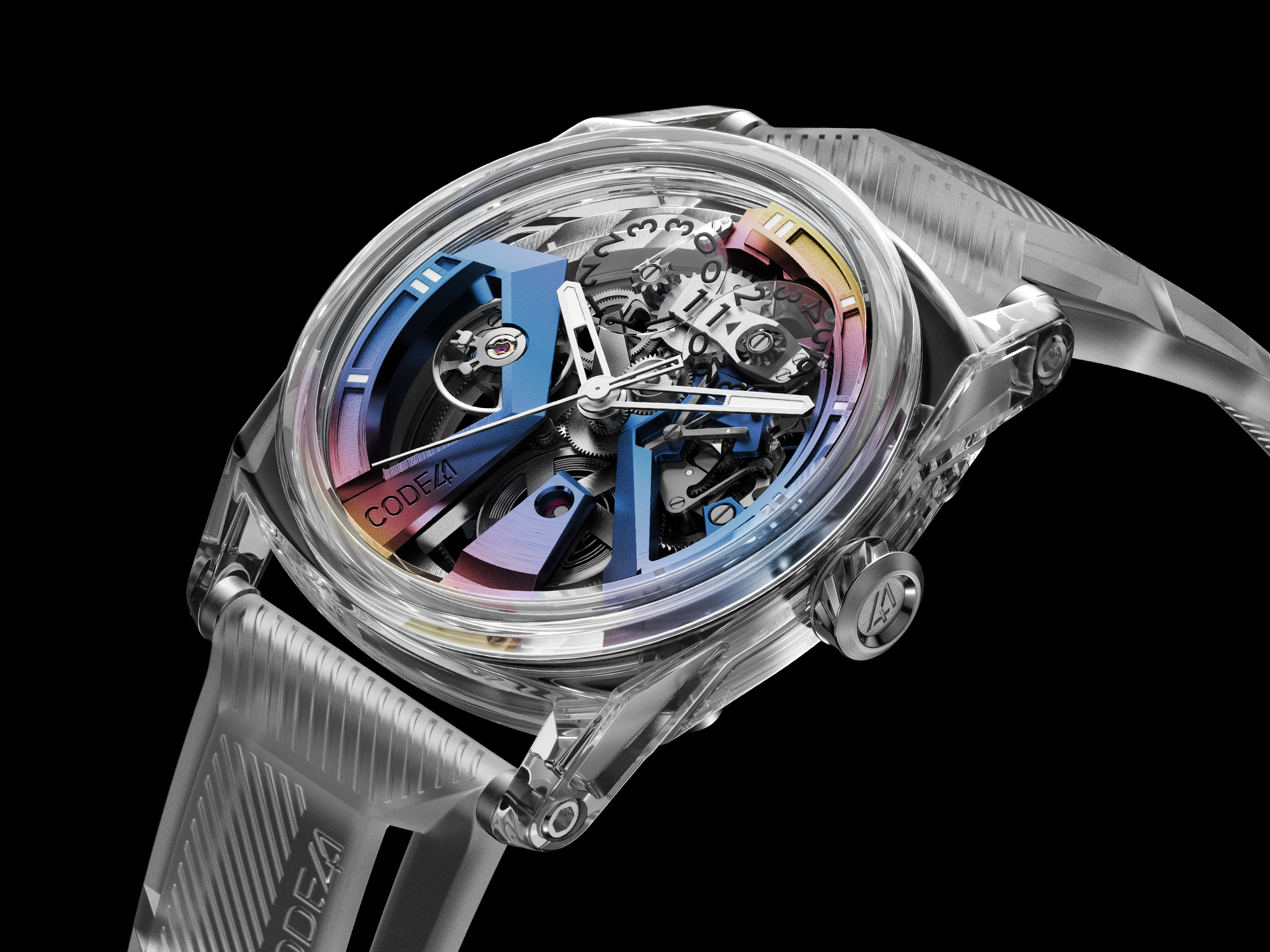 However, the most interesting change for the Edition 6 of the X41 is the introduction of a sapphire case. As most of you know, sapphire is virtually scratch-proof, but it's also twice as light as steel. It's a difficult material to work with and as a result most brands charge tens of thousands for sapphire-cased watches.
As testament to the complexities of machining sapphire, CODE41 highlights the price difference between the X41's titanium and sapphire cases. The former costs just €160 compared to the whopping €3600 for the latter.
The reward for persevering with such an expensive and tricky material is a completely transparent case that further enhances the sci-fi appearance of the X41 and displays its movement as completely as possible.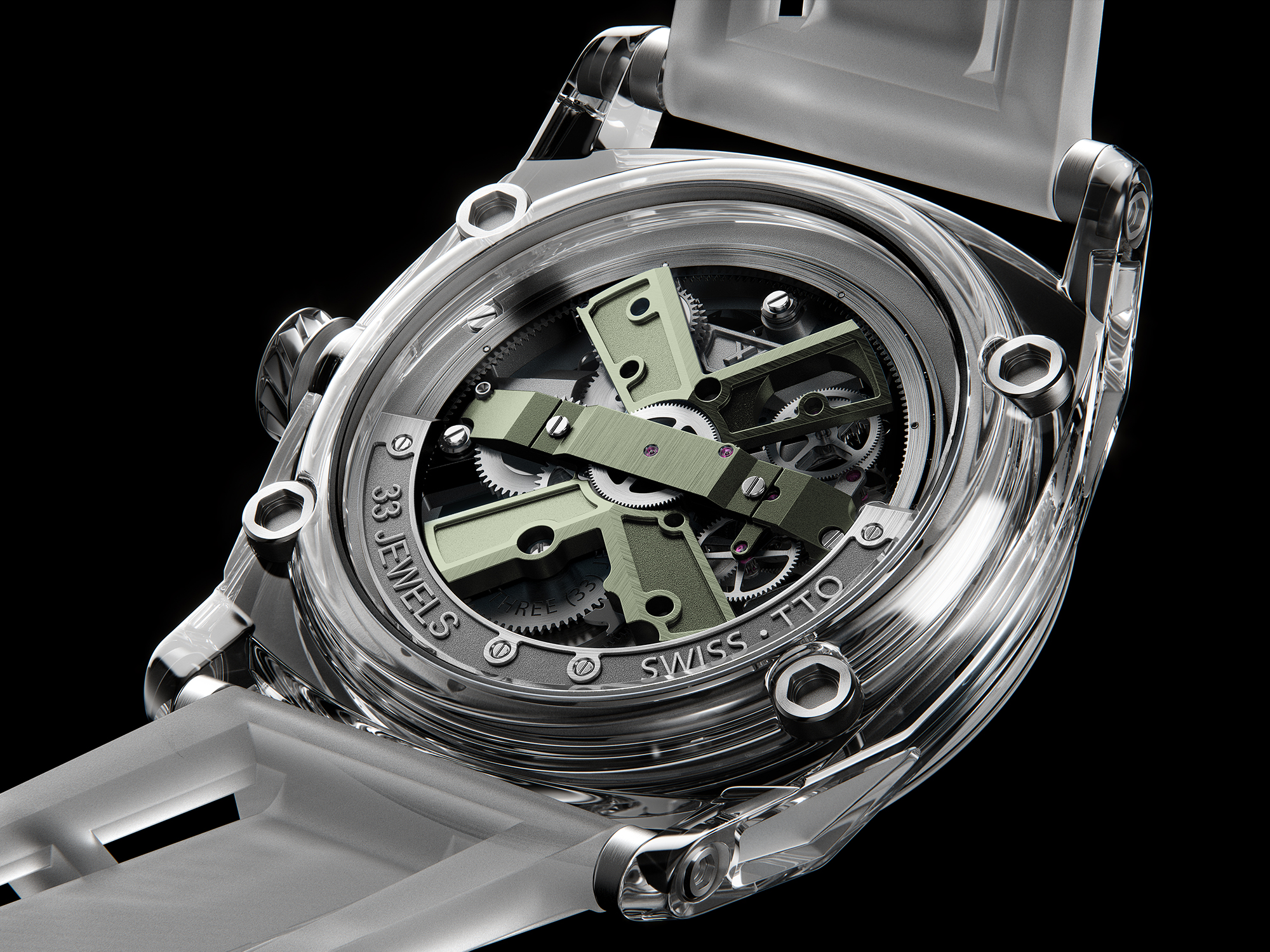 An In-house Movement
Speaking of which, the movement inside the X41 has been developed specifically for the watch. This in-house calibre features 33 jewels and beats at a rate of 28,800 bph. The movement has also been regulated in 5 positions to an accuracy of -2/+10 seconds per day, and features a decent 45-hour power reserve. Unusually, the movement features a peripheral rotor, rather than one mounted on the top. This allows the movement to be thinner than a regular automatic calibre, as well as displaying more of the movement itself. It's partly thanks to this that the watch is only 11.7mm thick. It's by no means the slimmest automatic watch out there, but it's still thin.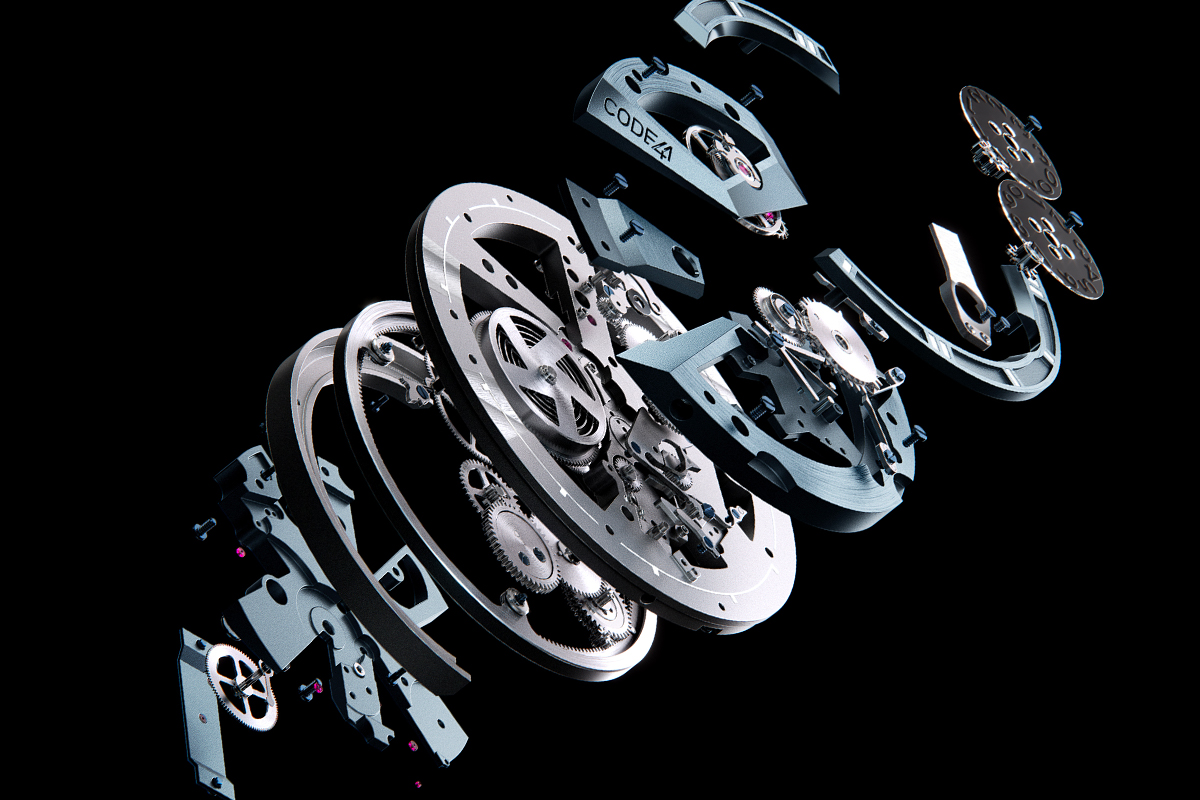 There's A Lot Of Options
So along with the sapphire case, you also have the option of a grade 5 titanium or AeroCarbon, a high-density carbon fibre. Titanium is of course known for being two times lighter than steel, and the grade 5 used on the X41 is also more scratch-resistant than the grade 2 that is more commonly used in watchmaking. Meanwhile, the AeroCarbon is two and a half times more resistant to bending than steel, and it's the lightest choice of the three case materials, being twice as light as titanium and four times lighter than steel.
Once you've selected your case material, you then have a choice of 5 bridge colours: black, blue, grey, green, and rainbow. You can also choose whether or not to have a red tip added to the hands in order to improve legibility. Lastly, you can choose from a whopping 17 different strap options to go with the watch itself.
You can pre-order your own X41 directly from CODE41's website here.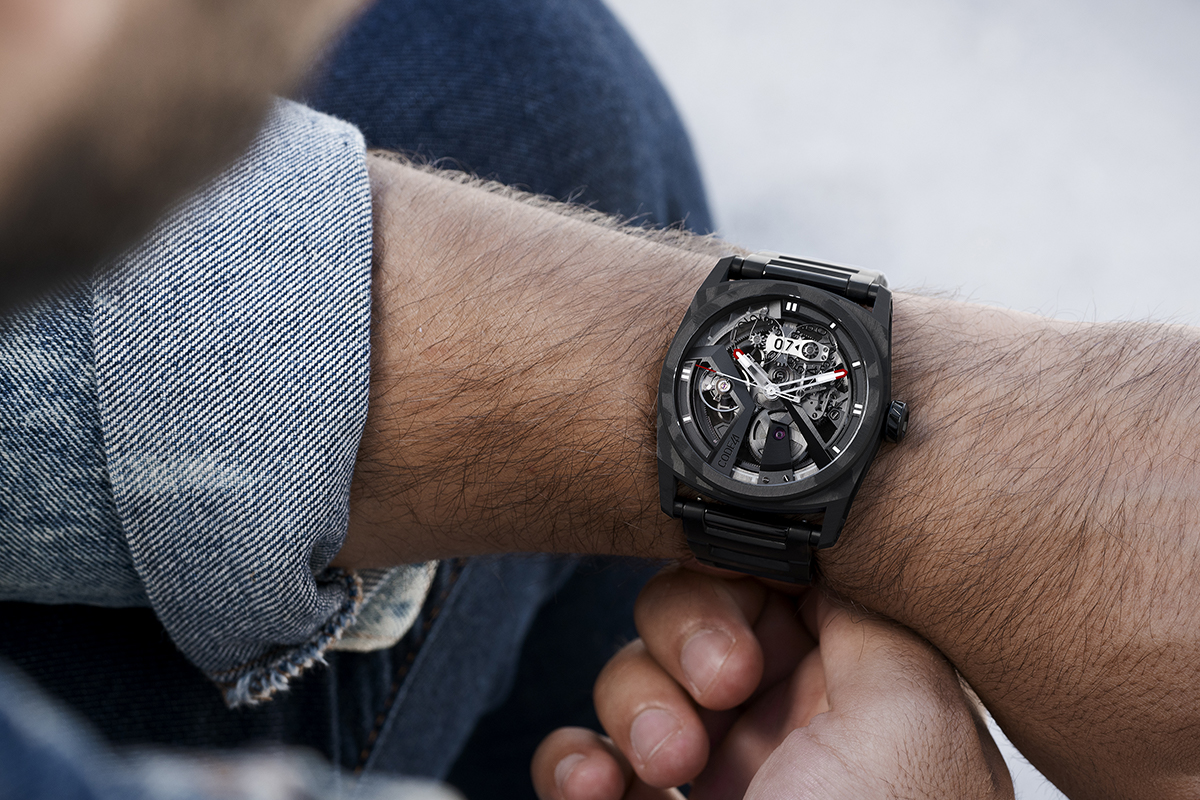 Total Pricing Transparency
One of the most unusual things CODE41 offers is total transparency in their pricing. Obviously, it relies on trusting that the costs the brand states are correct, but in theory it allows you to see the exact breakdown of production costs and their profit on each watch. Such transparency is exceptionally refreshing in the world of watchmaking, and it instils confidence that the brand is offering good value for money.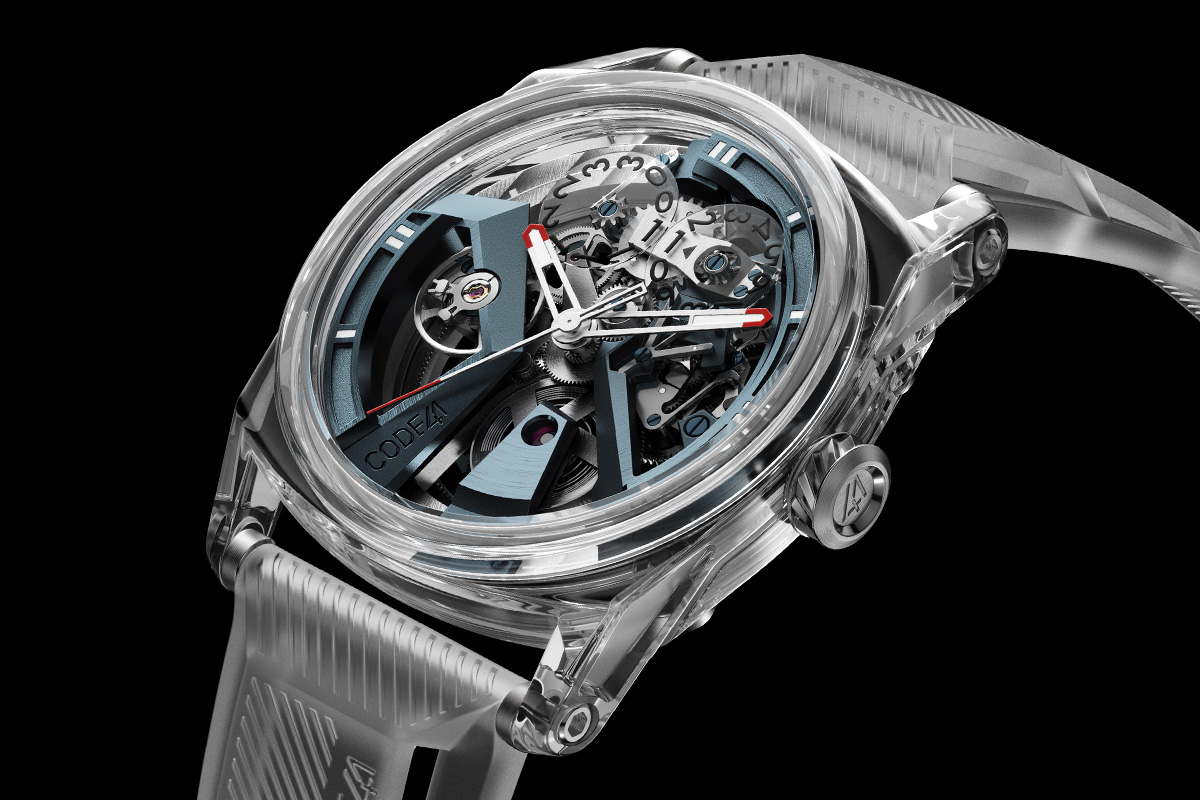 Specifications
Case size: 42mm
Thickness: 11.7mm
Lug width: 24mm
Case material: AeroCarbon, Titanium, or Sapphire
Crystal: Sapphire with anti-reflective treatment
Water resistance: 100m (AeroCarbon / titanium) or 30m (Sapphire)
Luminescence: Super-LumiNova applied to hands and indices
Functions: Hours, minutes, seconds, grand date display
Movement: In-house automatic calibre with 33 jewels and peripheral oscillating weight. Adjusted in 5 positions.
Power reserve: 45-hours
Accuracy: -2/+10 seconds per day
Price:

AeroCarbon – starting from £5,445
Titanium – starting from £4,995
Sapphire – starting from £13,995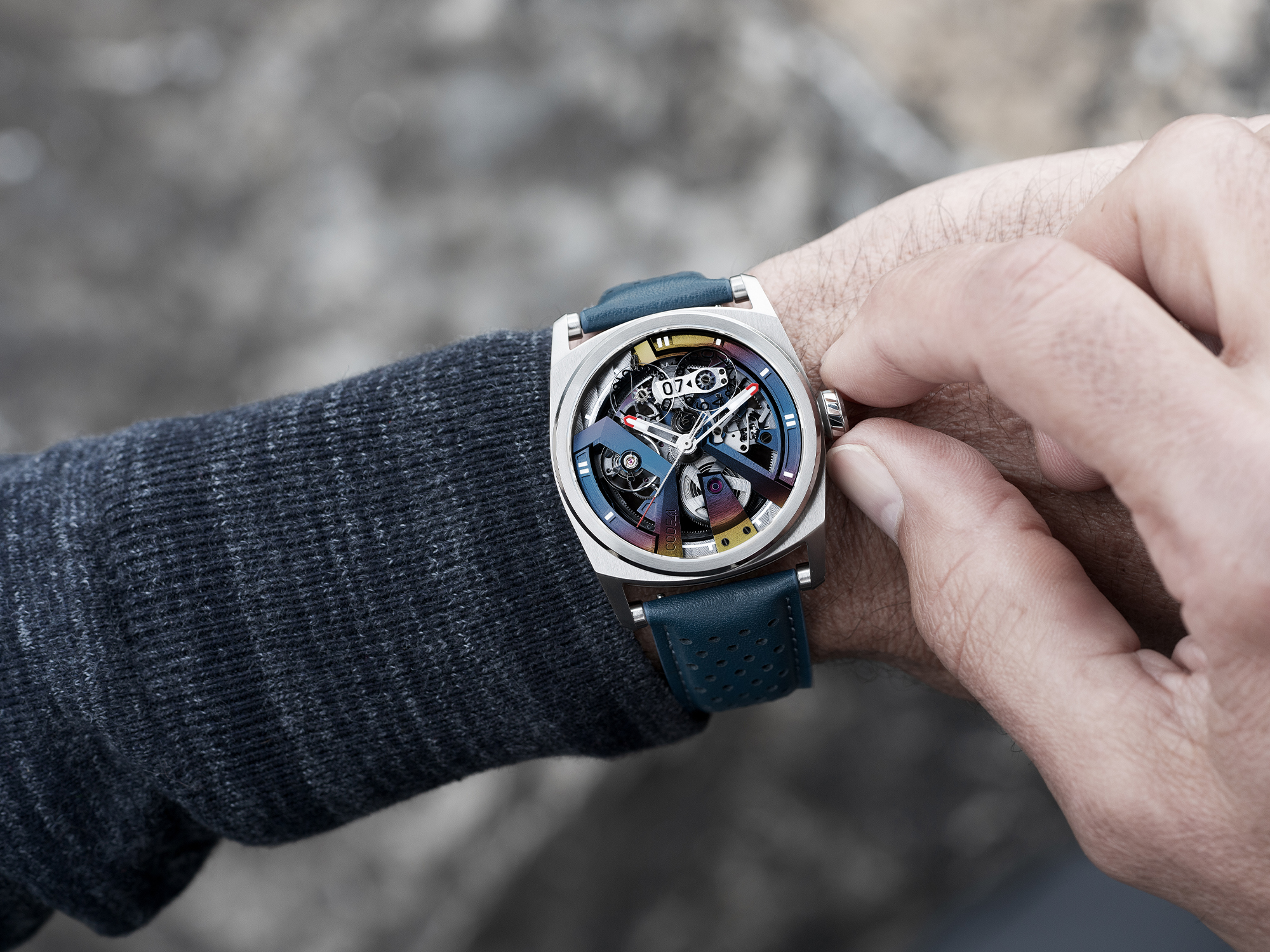 Final Thoughts
It seems fair to say that the X41 offers an impressive package, with hi-tech materials, a striking skeleton design, and an inhouse movement. As a result the X41 is far from cheap, with prices starting from £4,995, and £13,995 for the sapphire case. But, it is still a fraction of the cost of its more mainstream alternatives. For example, Hublot's sapphire-cased Big Bang models start from a whopping £57,000, and rise well into six figures.
So, if you're after something futuristic and of exceptional quality, then I recommend you check out CODE41. The X41 is available to pre-order until 4th May 2022, with delivery estimated to be in March/April 2023.
You can pre-order your own X41 directly from CODE41's website here.