CATEGORY: A Watch I Own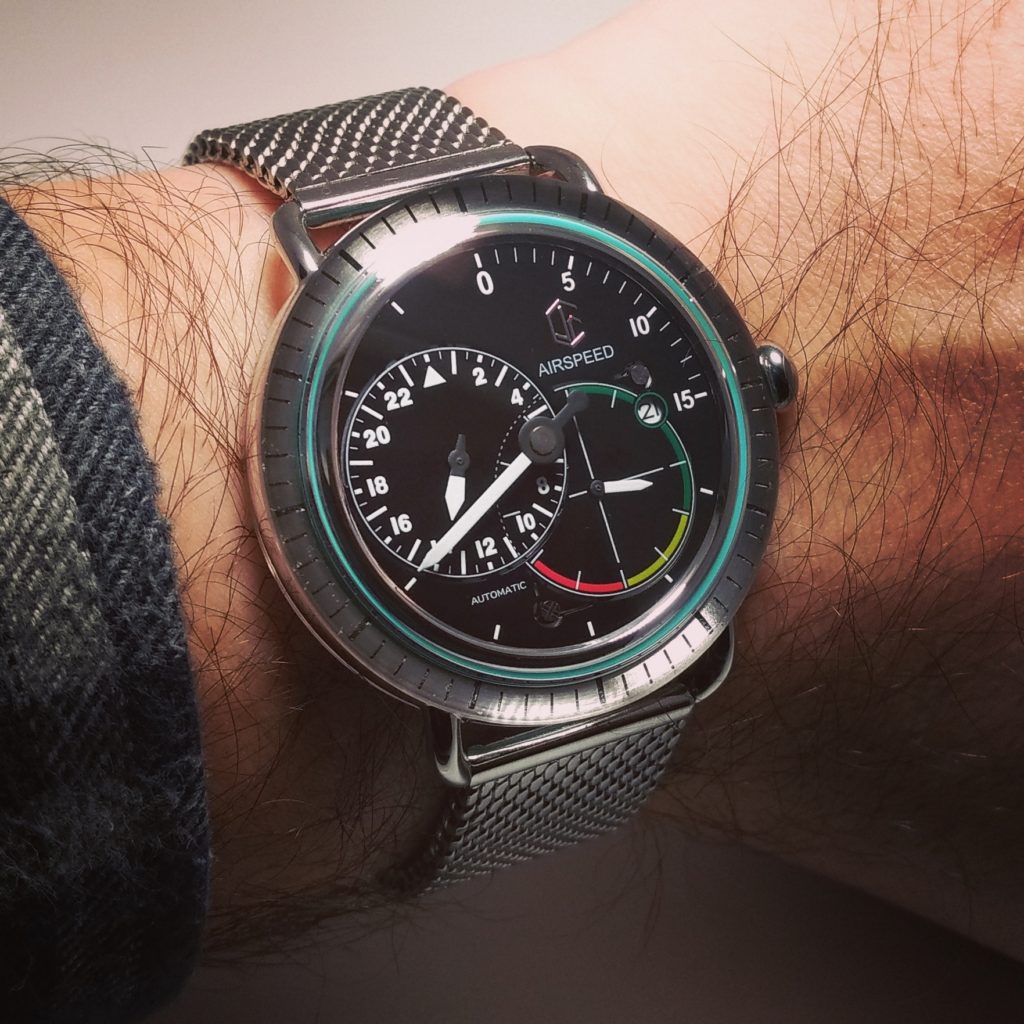 Watches usually can be "pigeon holed" – Diver, Chrono, Flieger, Dress, Digital, Fashion Crap.
Some can't. I'm not sure what category this would fit into. It's technically an aviation watch, but it sure doesn't look like a Flieger. It looks like something Doctor Emmett Brown would have worn in the 50s.
I like high end watches. I like low end watches.
But I really like "clever" watches. You know, ones that take convention and flick the bird at it. Watches that are innovative not just for the sake of it. The ones that make this hobby so unexpectedly fun sometimes.
And that's what this watch is. It's clever. I loved this from the first pictures and backed it on Kickstarter.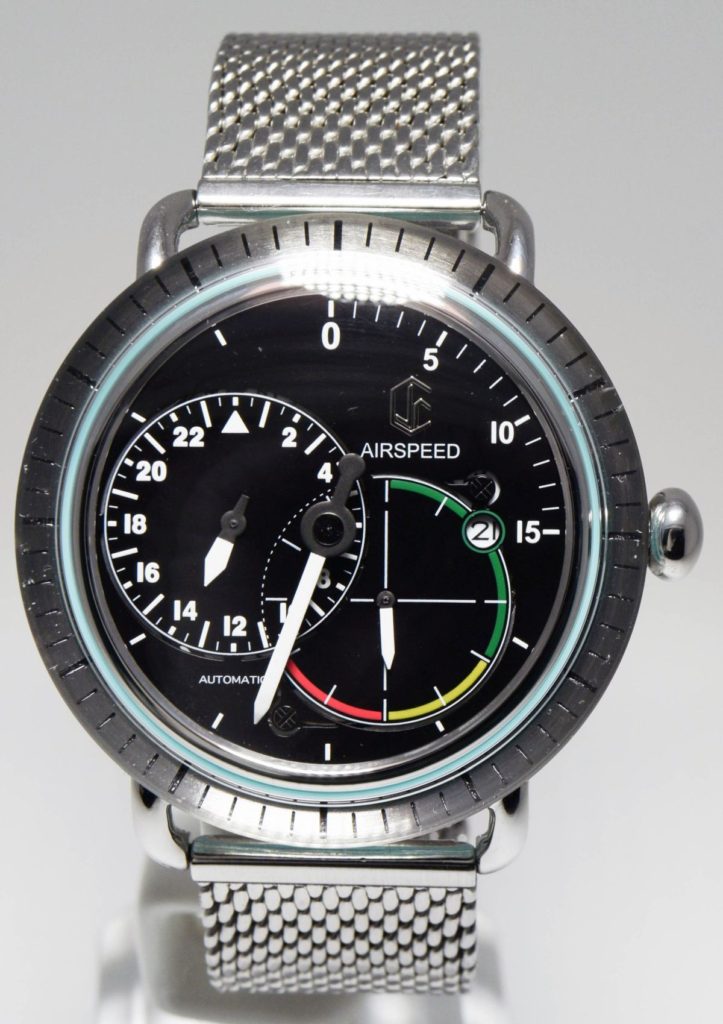 Regulator watches are ones that pilots used to wear in days of old. One big minute hand and a separate hand for 24 hour indication.
Usually when a new regulator appears, they're at the higher end, using a bespoke movement.
This CJR airspeed doesn't use a bespoke movement.
Like I say, clever, done on the cheap, clever. Truly an inspired concept.
You see the Airspeed uses a regular Miyota 8219 auto movement. It doesn't hack nor handwind. They just removed the hour hand and let the 24hr subdial be used for hour measurement. And it works. Genius.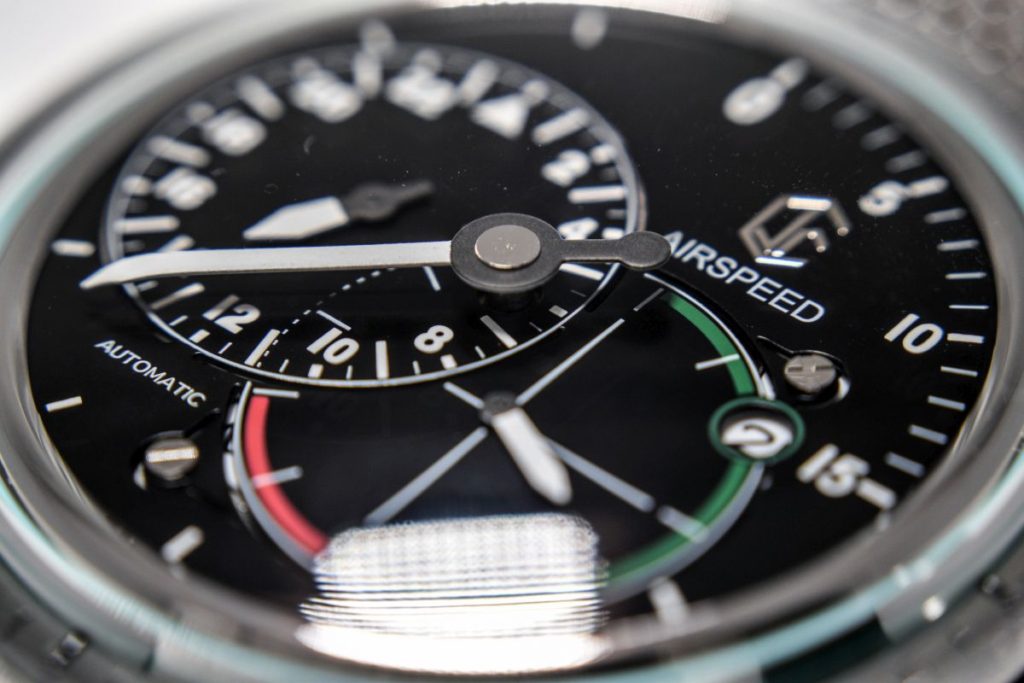 The case itself is of masterly design, because, well, it doesn't really have a case.
It's basically 2 Hesalite crystals housing the face and movement, held together with a band of metal around the edge. The lugs are attached to this band.


This gives the watch a design that sort of reminds me of a Junghans Max Bill, but in reality is quite different to most things out there. Again, this is very clever, it's like wearing one big domed crystal.
There are 3 face styles, 2 black and one white, and 2 "case" styles, SS or PVD steel.
Anyway, here are the full specs:
Case Diameter: 43.0 mm
Case Thickness: 14.8 mm
Lug Width: 20.0 mm
Case Material: Hesalite Crystal
Movement: Miyota Caliber 8219
Water Resistance: 3 ATM (30 m)
It comes with a NATO and a leather strap, but I put it on a mesh and I think it looks better for it.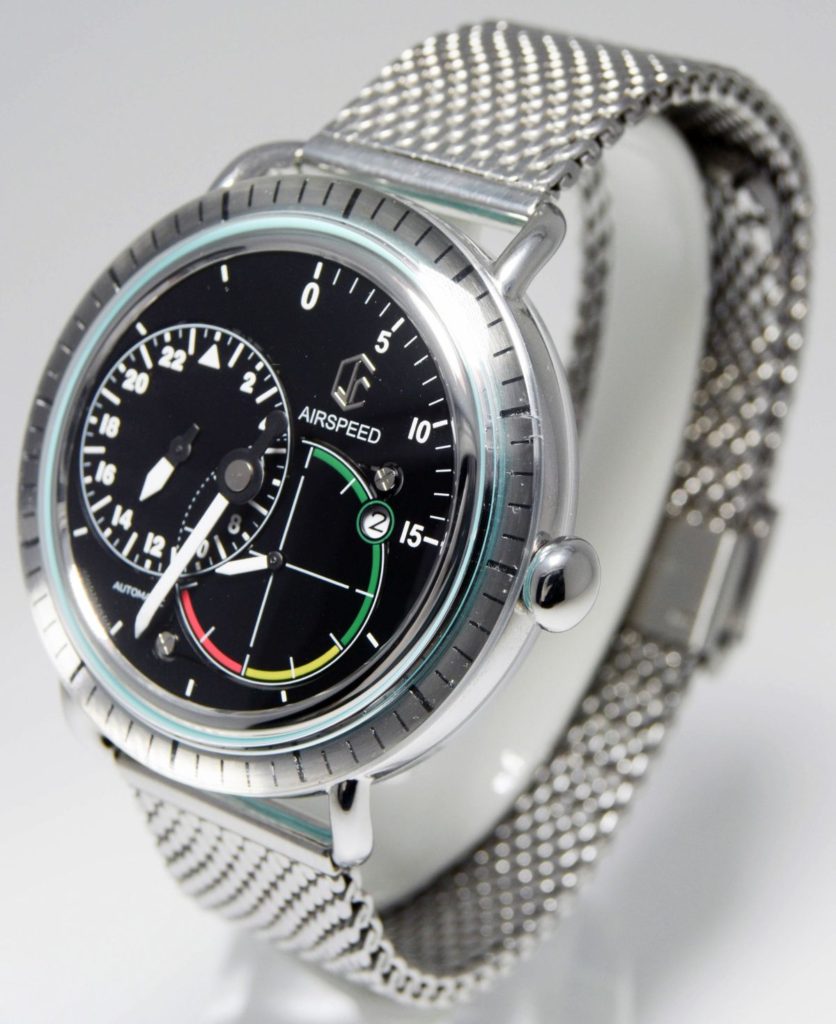 The inner plastic spacer for the movement is a light green / blue colour and at angles shines through the case.
The back is naturally see through but the movement looks un-decorated and stock. The rotor isn't signed by CJR.
The face is a nice matte black with an applied logo. It's a bit fussy, but it does show all it needs to.
However there are parts which are cut out and you can sort of see the movement underneath. I'm not sure if this was by design or by necessity, but I think it cheapens the face a bit.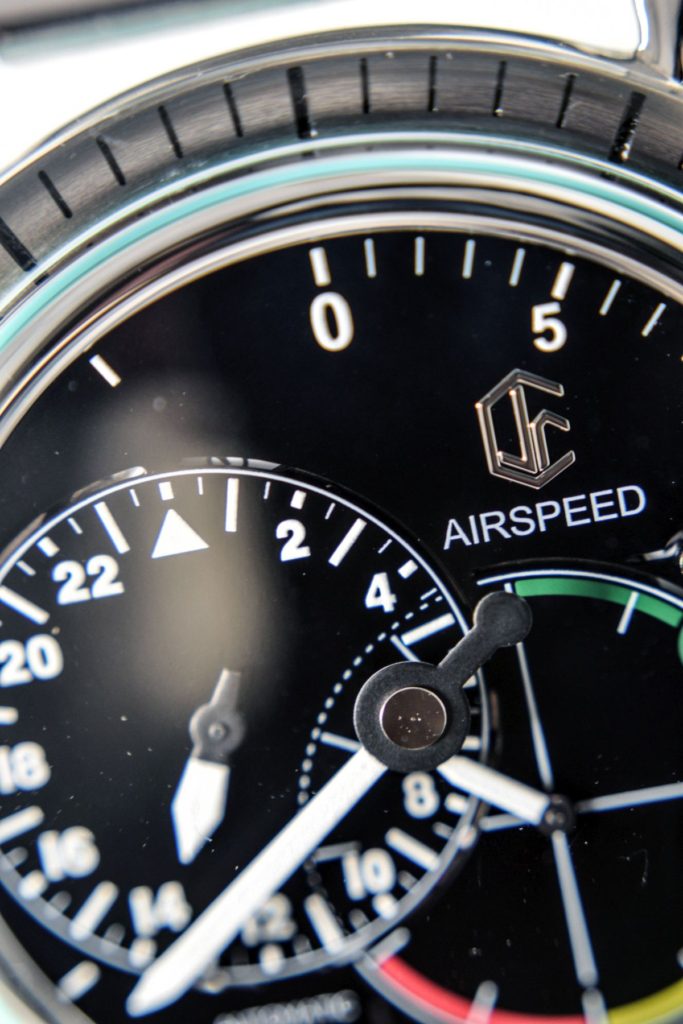 The lugs are 20mm and neat enough, there is plenty of space for different strap choices.
There are however 2 things that stop me truly loving this watch.
Firstly, the price. Yes, it's clever. Yes it's unique at this price, but at $550 I think it's too expensive. It's 2 pieces of hesalite with a low end Miyota movement. I know I keep saying you can't judge a car by its engine nor a watch by its movement, but this is not some elaborate case with a sapphire crystal, ceramic bezel, quality bracelet AND a low end movement. It's 2 pieces of plastic, with a low end Miyota and 2 x $10 straps. You're paying a lot for the cleverness of the design. If you want a regulator watch, I'd be tempted to spend the money on a Hamilton Jazzmaster Regulator for around the same price.
But the other problem I have with the watch is a big one. Hesalite is thought of as being an upgraded acrylic. It's supposedly shatterproof and you can polish scratches out of it.
Now, I'm careful with my watches, but we all know how annoying it is when we bump them. It happens, but usually the case is the one that takes the impact and if it's bad, you can usually polish it out. If you impact your crystal, then this can be an issue as they may scratch or indeed crack if the impact is hard enough.
Now look at this picture, I only noticed this when I was taking the pictures.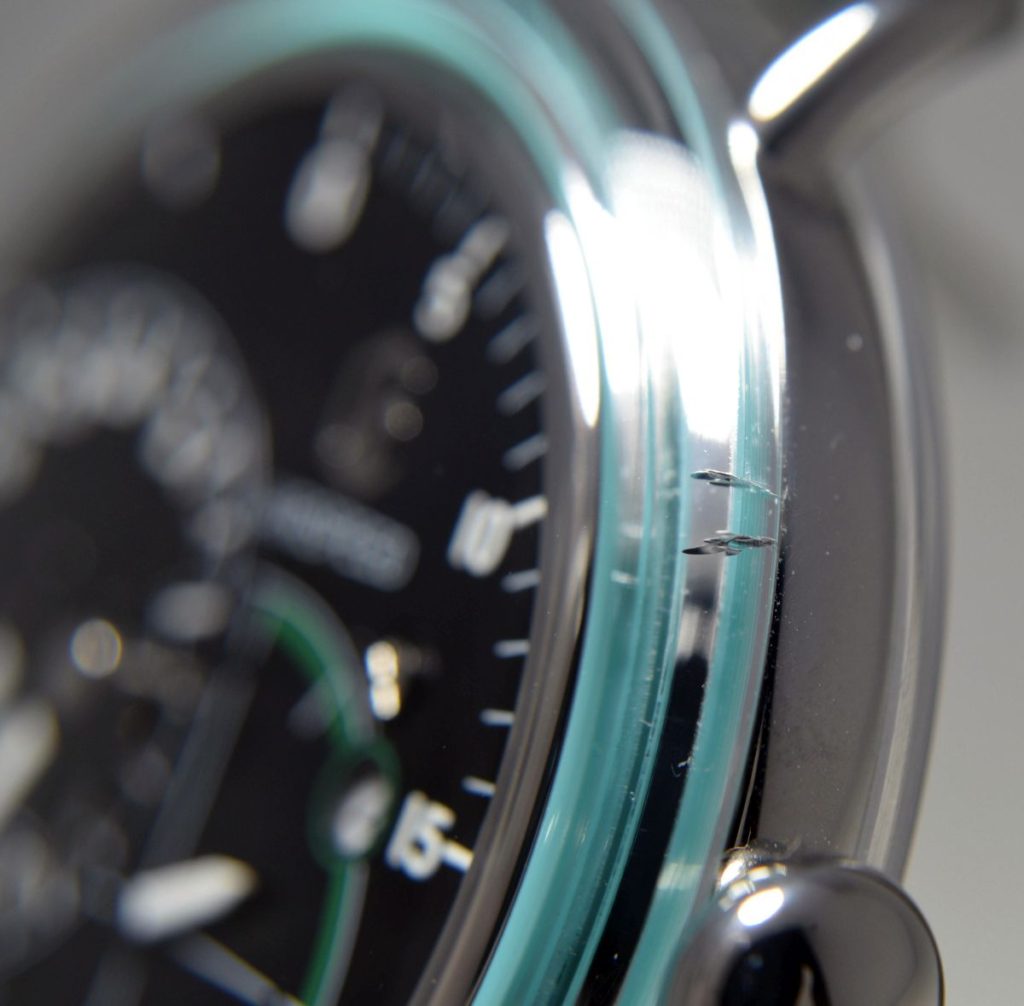 I have 2 "inclusions" in the watch. I don't know what caused it, I can't remember dropping or bashing this watch as it's pretty new to me, but it's there. This Hesalite doesn't seem as tough as its supposed to be. It's not supposed to crack, but there it is.
And this is my main problem with this watch. It's essentially one big plastic crystal. You wear it day to day, it's going to get the odd bump and it doesn't have a reassuring case around it to protect it. It's genius is also its downfall.
I don't know if these inclusions are going to get worse but I do know that the resale value of this watch will be severely impacted. Who wants to spend $550 on a mostly crystal watch, which is cracked?
Also, when under the bright studio light, I've noticed other things with the crystal. I cleaned this thoroughly with a microfibre cloth, but they're still there.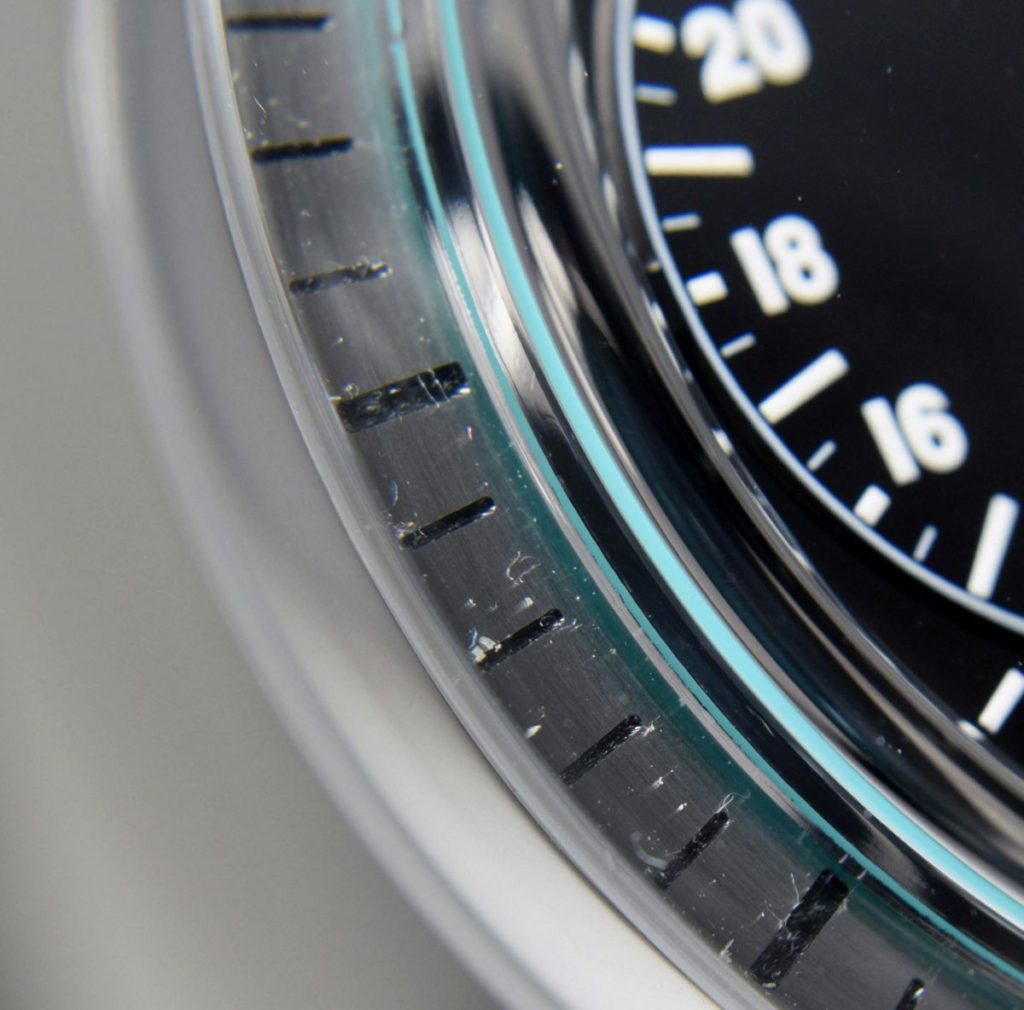 I don't know if these again are small inclusions from the crystal moulding process or some dust that got trapped during assembly. You can't see them in normal light, but under bright LEDs whilst taking the photos, they show up. Now look back at the earlier pictures…you notice them all over the place now…
So if you really like the design and you are only going to wear it sparingly, then by all means go for the Airspeed, it is a pretty unique and very clever watch.
However I feel it's also expensive for what it is and fragile, and that is why I can't wholeheartedly recommend it.
Which is a shame as it looks gorgeous.