Chronologia came onto the scene this summer with an impressively priced Kickstarter campaign. To my surprise, they only raised about a third of their goal. This watch was priced at a very competitive €129 – under £100. How they didn't get more backers, I really do not know as this watch for that price is remarkable.
The failure of the campaign didn't stop them however, and you can now get your Chronologia R004 for an RRP of $395 / approx £265. Much more than the Kickstarter campaign. So let's see if it's still a good deal.
Packaging
First things first, I always like it when a watch brand put some effort into their packaging – which is why I just wanted to show it. The Chronologia R004 comes in a useful tactical nylon pouch. Not only that, it comes with a neat little flashlight / laser pointer too. Things like this show that little bit of extra attention to detail that is good to see. 
The case
The case is certainly pretty large at 46mm in diameter, with a height of 15mm, and a lug to lug length of 52mm. But, due to it being constructed of carbon fibre, the watch is remarkably lightweight at 108g considering the size, but is stronger than steel.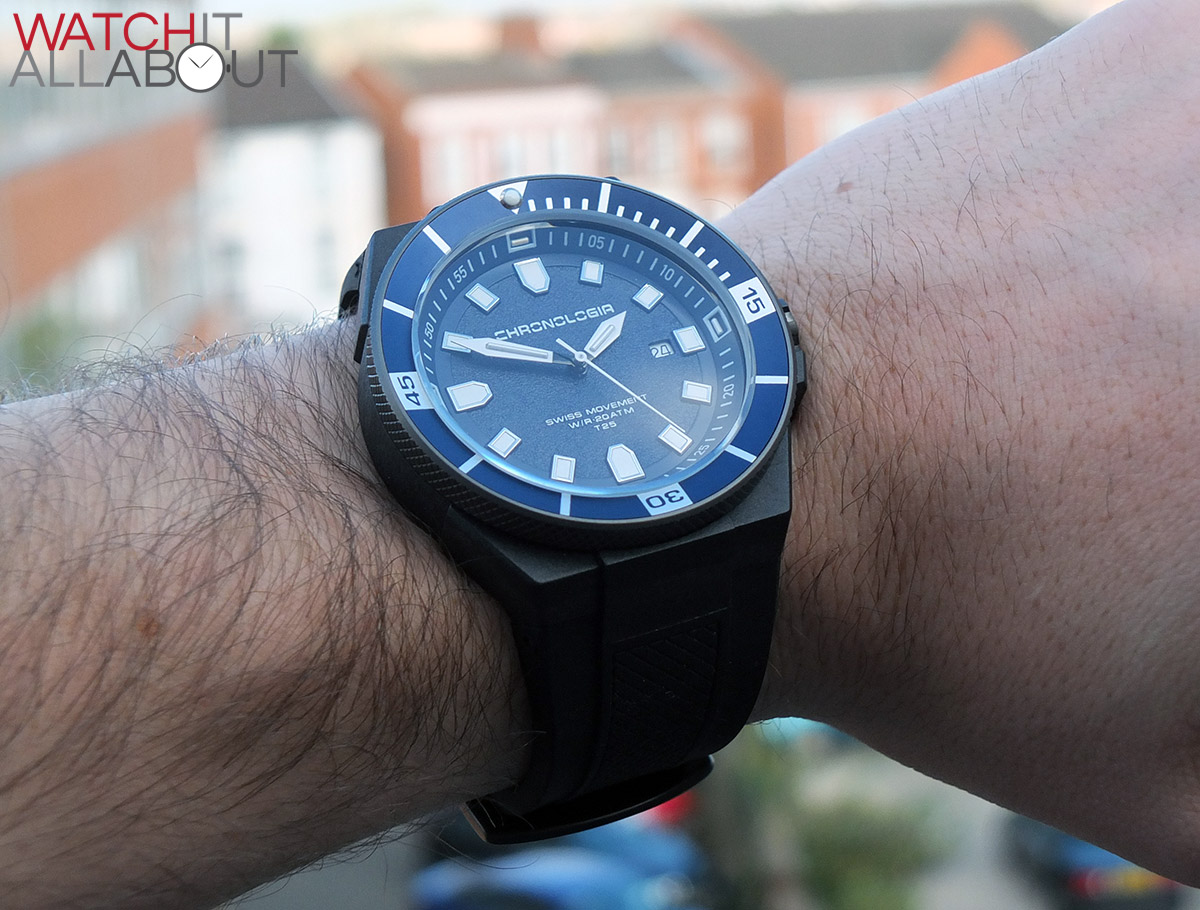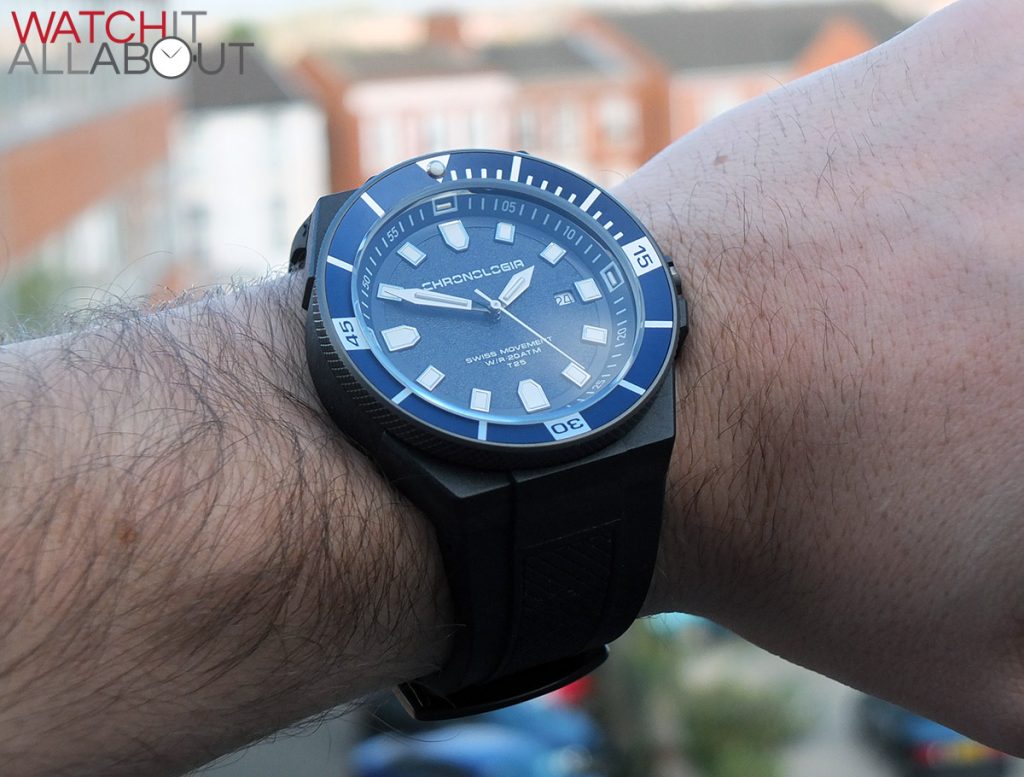 Whilst for the most part it's well made and accurately done, it is a tiny bit rough around some edges. Sitting on top of the case is a sapphire coated mineral crystal with AR coating.
The watch is primarily a dive watch, mainly focused on scuba diving – hence the 200m water resistance and tritium tubes (more on them later). This rating is thanks to the screw-in crown and caseback. 
The screw-in crown is not carbon fibre, but rather PVD coated stainless steel. This is to keep a secure thread to screw (carbon fibre can't be machined like steel can). To be fair, they've done a great job at matching the colour – I didn't notice it at first at all until I read it in the specs. The crown features huge engineered teeth, perfect for unscrewing and setting. It has the Chronologia "C" logo embossed on the end, which is well done. The crown is surrounded by thick, angular, heavy duty crown guards.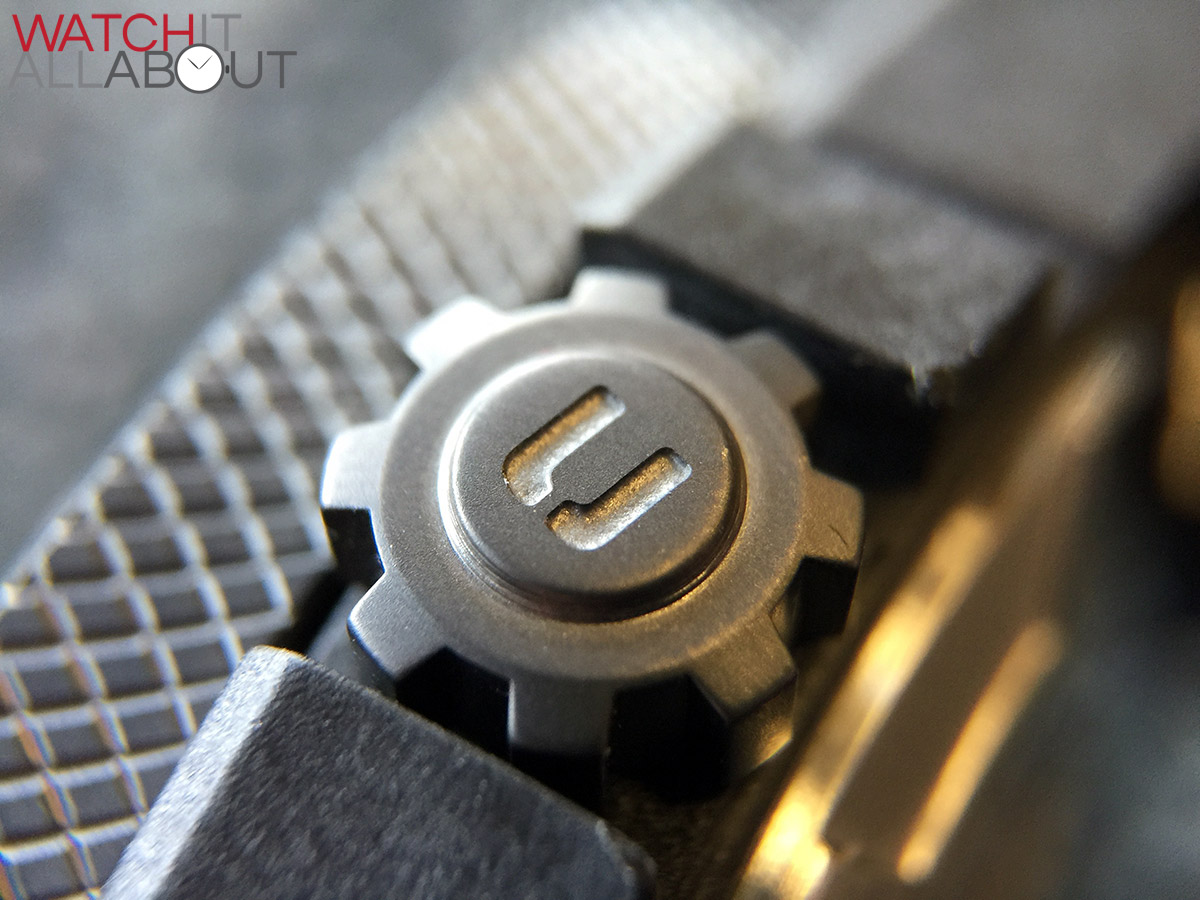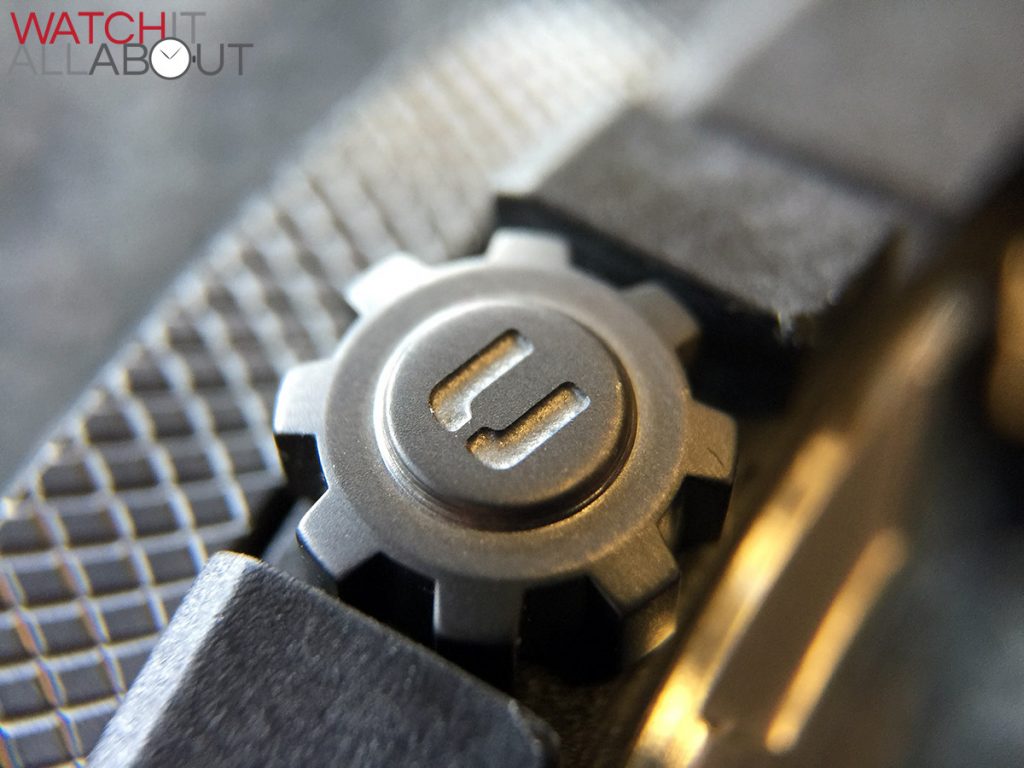 The screw-in caseback is made of stainless steel, although it's not PVD coated like the crown. Ultimately it's fine, as I've seen a steel caseback on a black case many times before, but it would have been cool to see it coated as well considering they went through the effort for the crown. It has quite a unique look with a turbine fan styling surround the Chronologia "C" logo in the centre. Visually, it looks great, and is machined / embossed very well.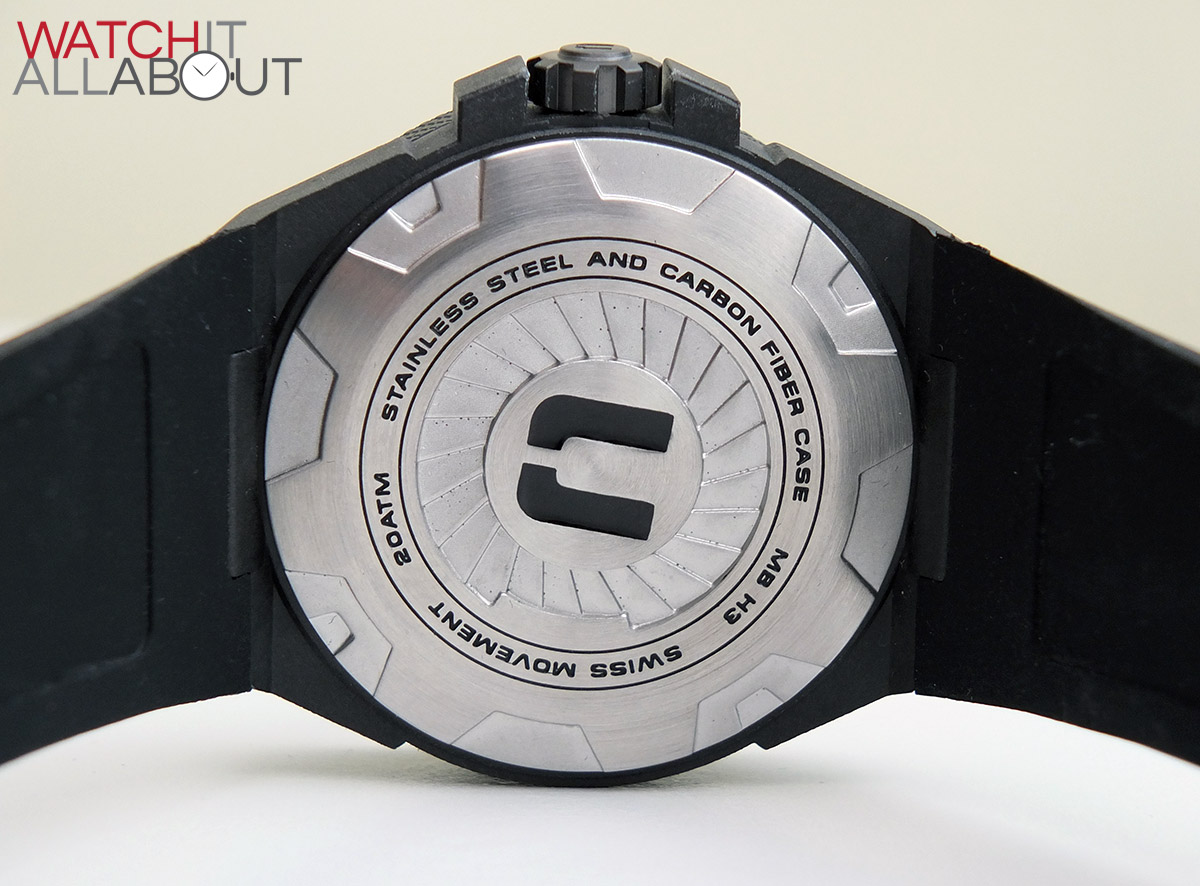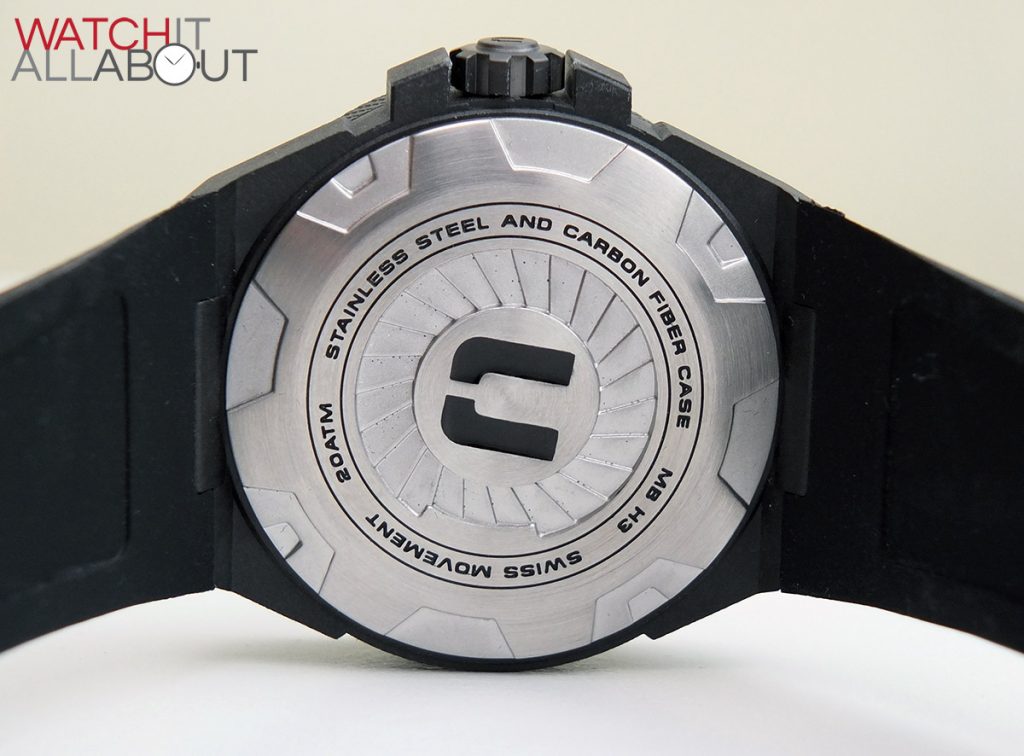 The bezel is a little bit loose but looks decent. It's loose as in you can wiggle it up and down about half a millimetre – take a look at the video review to see this. It's also fairly easy to rotate, it hasn't much torque so if you knock it, it would likely move. It has a knurled edging, providing a tactile touch for positive grip. The aluminium insert is as good as can be expected, with all printing accurate, and a nice deep blue colour to offset the dial.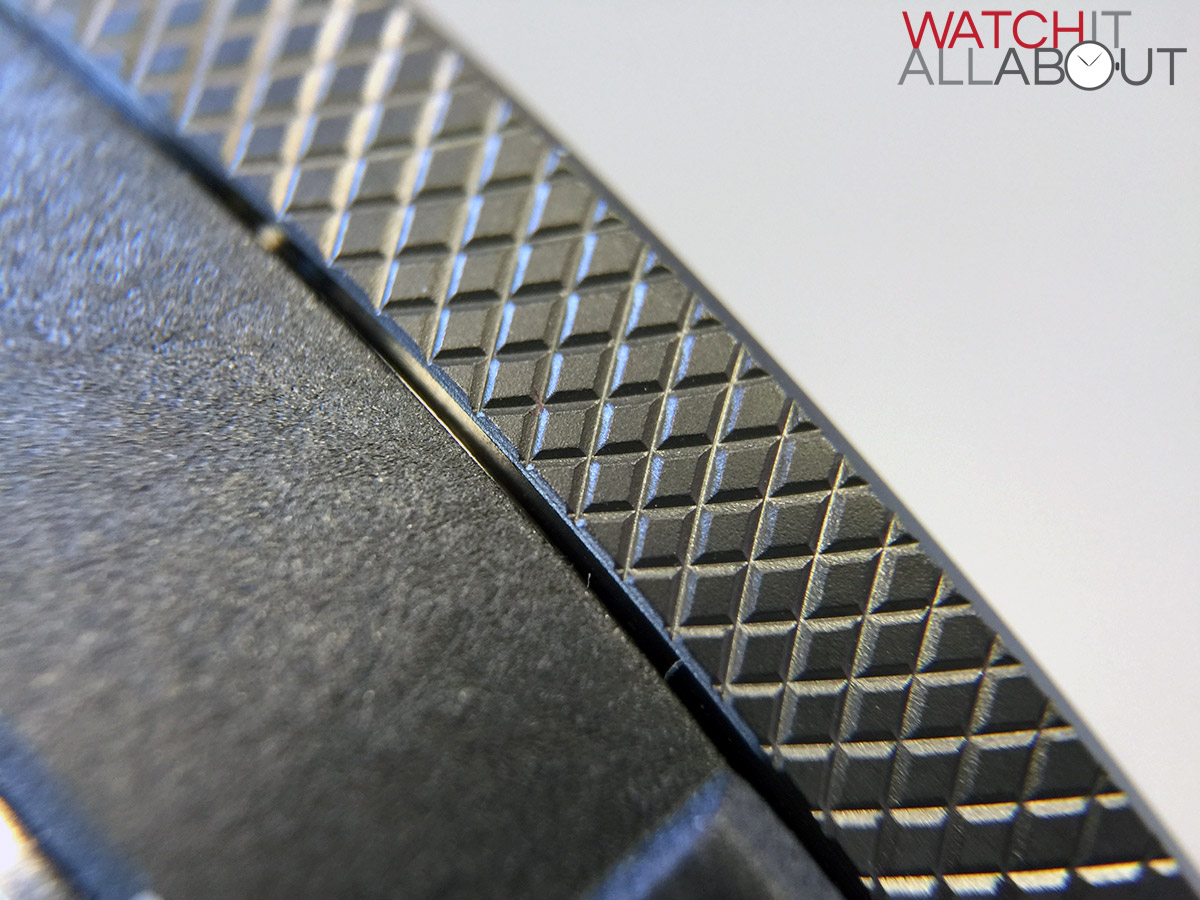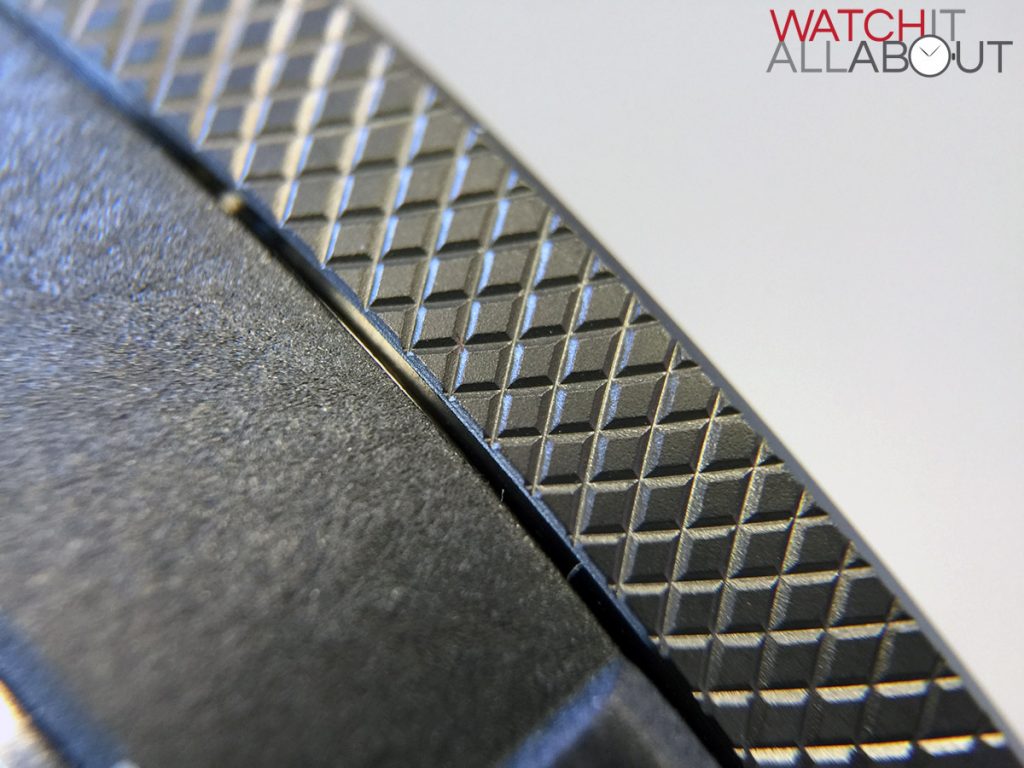 The dial
This model is the R004.3 to be precise, the final decimal point determining the colour of the dial / bezel combo. There are 5 to choose from, with a selection of blue, orange, black and grey combos.
Chronologia describe the dial as "triple layered", which I believe refers to the main textured base, then the flat higher outer surround, and finally the applied hour markers. I do like the textured finish to the dial, as it keeps things interesting and introduces some depth.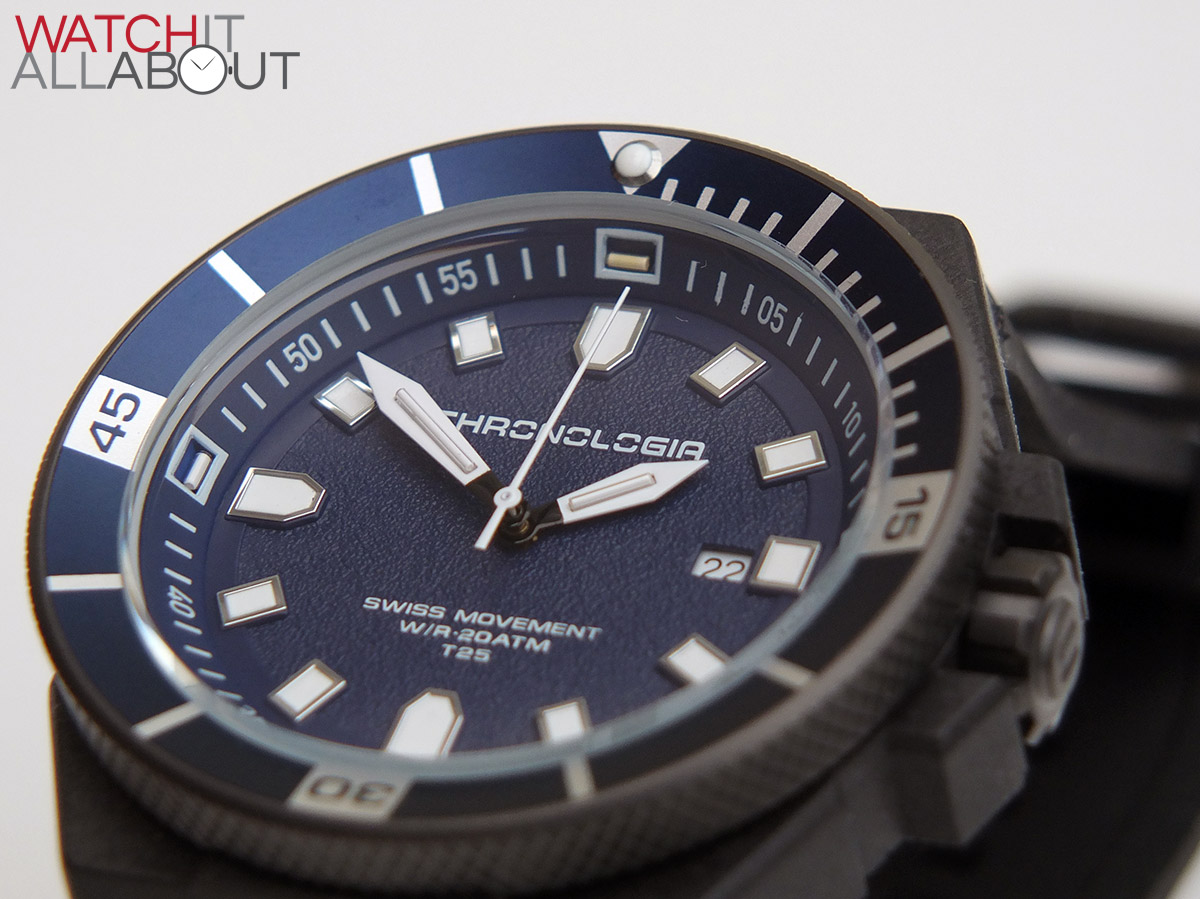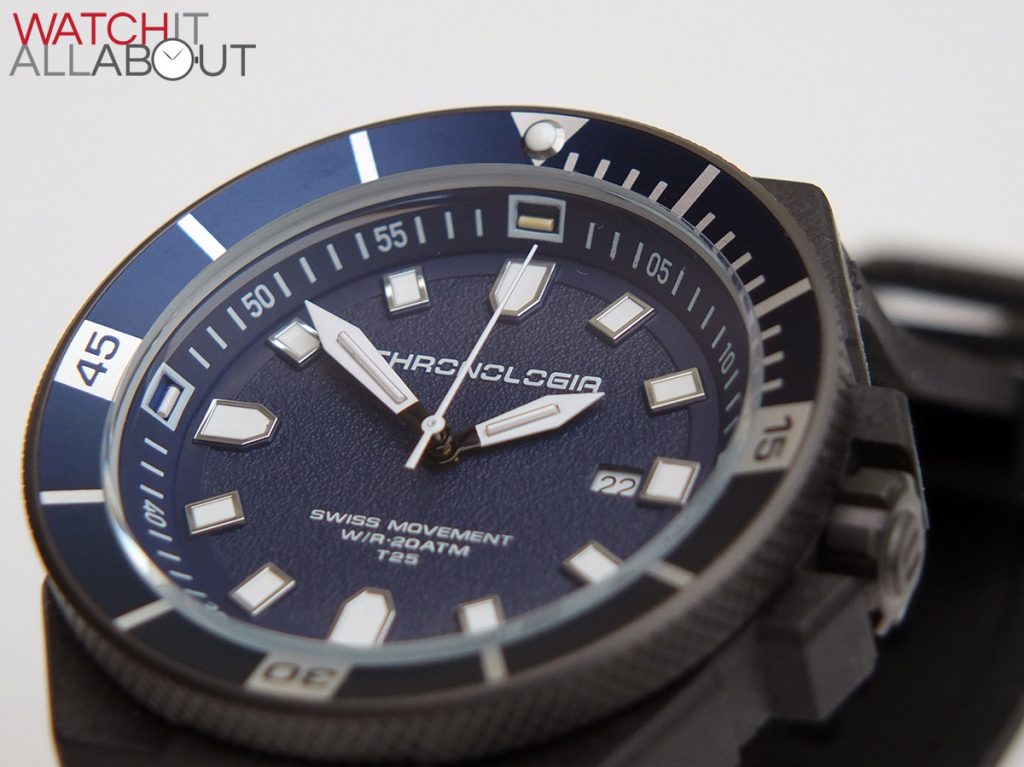 Another thing I like is the impressively deep rehaut, containing the minute track and tritium tubes at 12, 3, 6 and 9. These Trigalight Tritium T25 tubes can also be found on the main hands. T25 is the rating, which refers to the total watch radiation content, measured in millicuries. T25 is pretty much the lowest rating that can be found on a watch, as these tubes can also be T100 and T200, amongst others. So the thing to realise is that it's not a bright glow – but it is a permanent glow that does not need any charging. Whilst we're talking about illumination, the hour markers and bezel pip use Superluminova lume – although it isn't the strongest.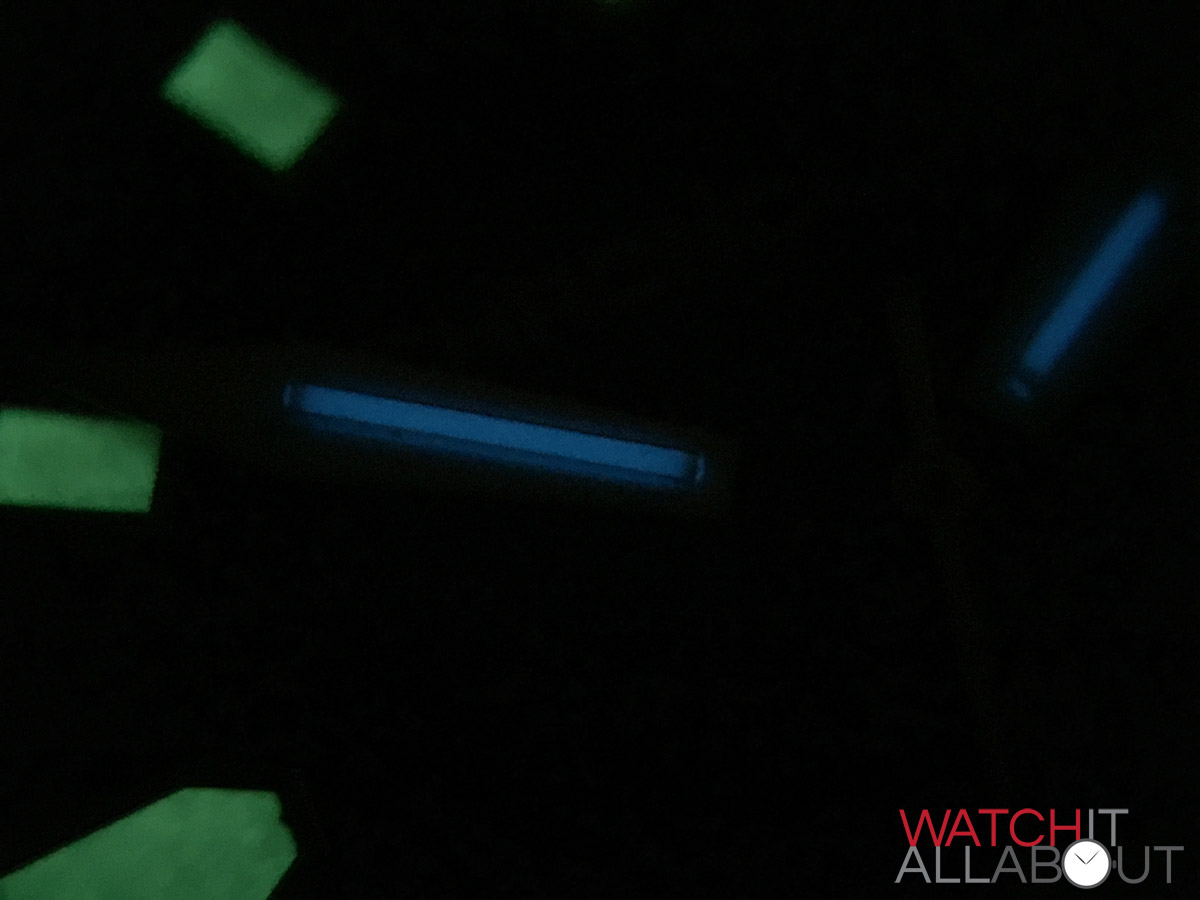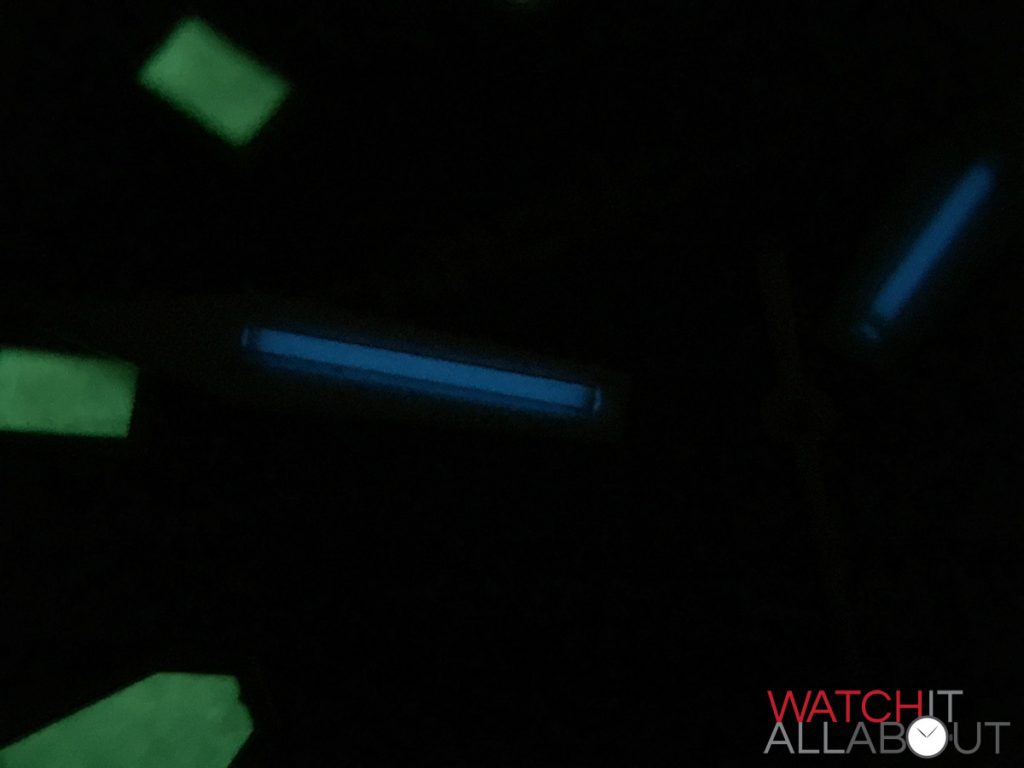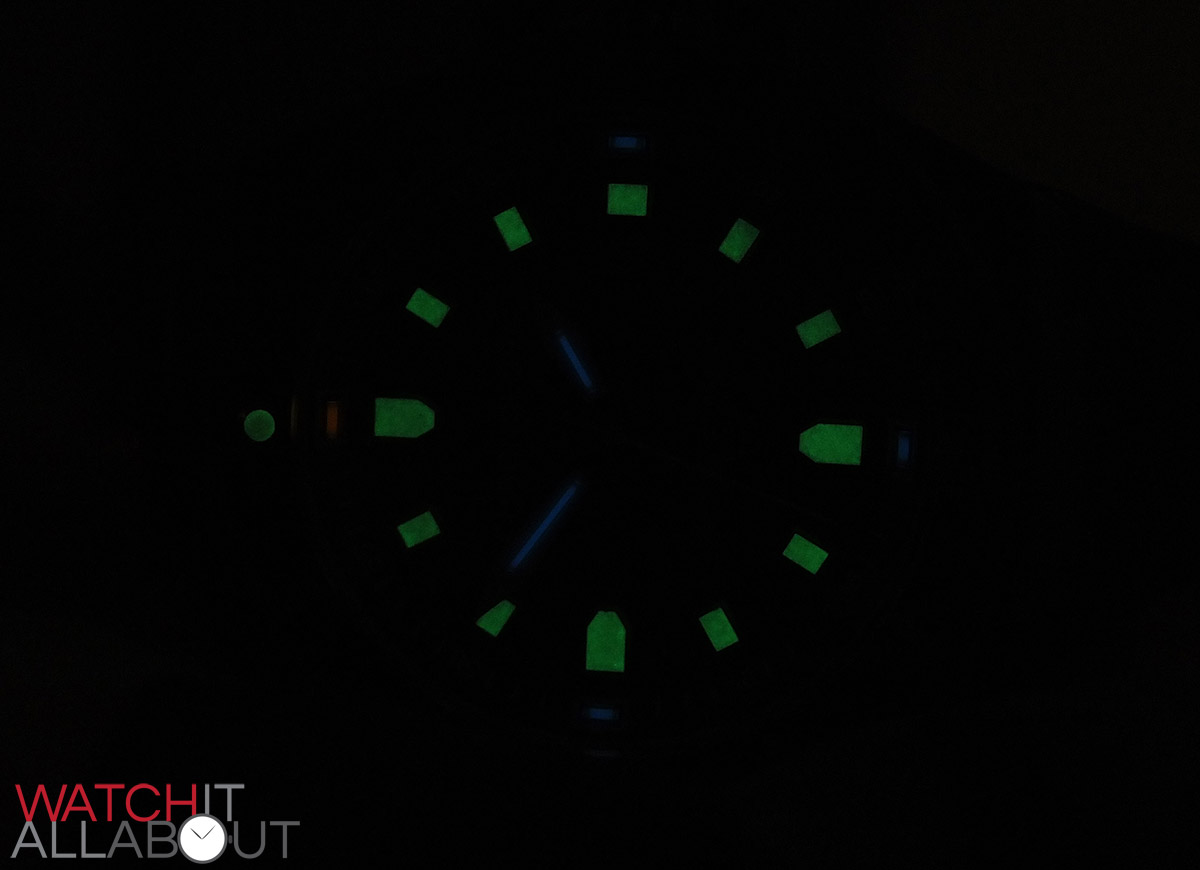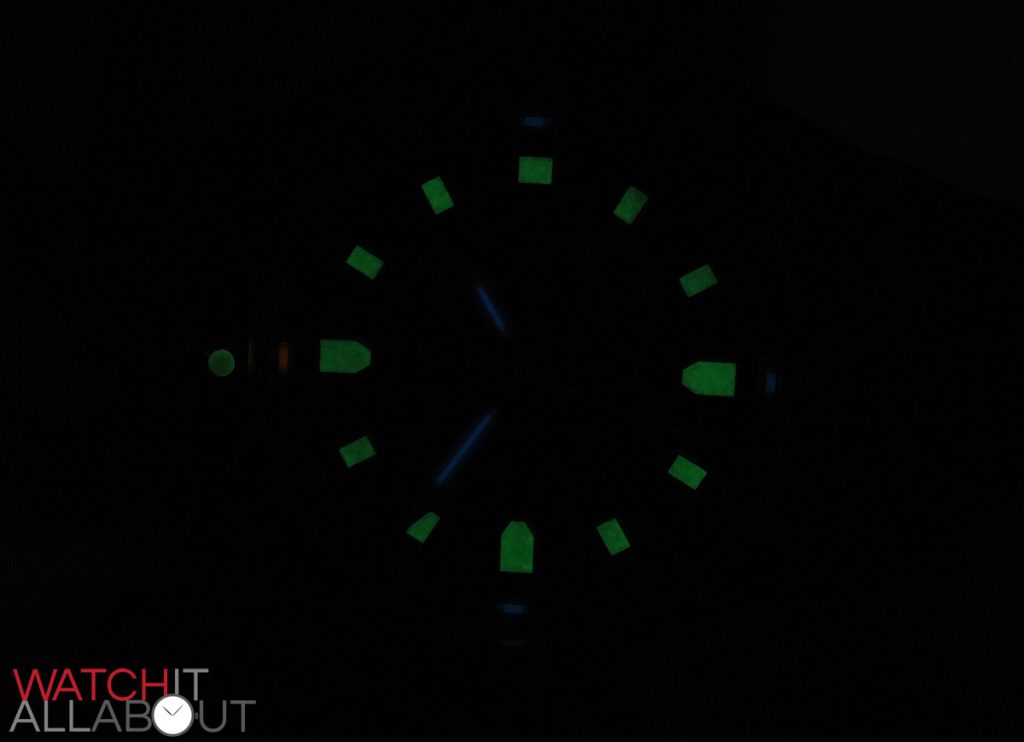 The hands are a big and bold style, being oversized swords with black bases. The seconds hand is a long, thin point.
The applied hour markers are attractive, with a polished steel border and eye-catching shapes and sizes. They're all square apart from at 12, 3, 6 and 9, where they are larger and have a cut-off point to them.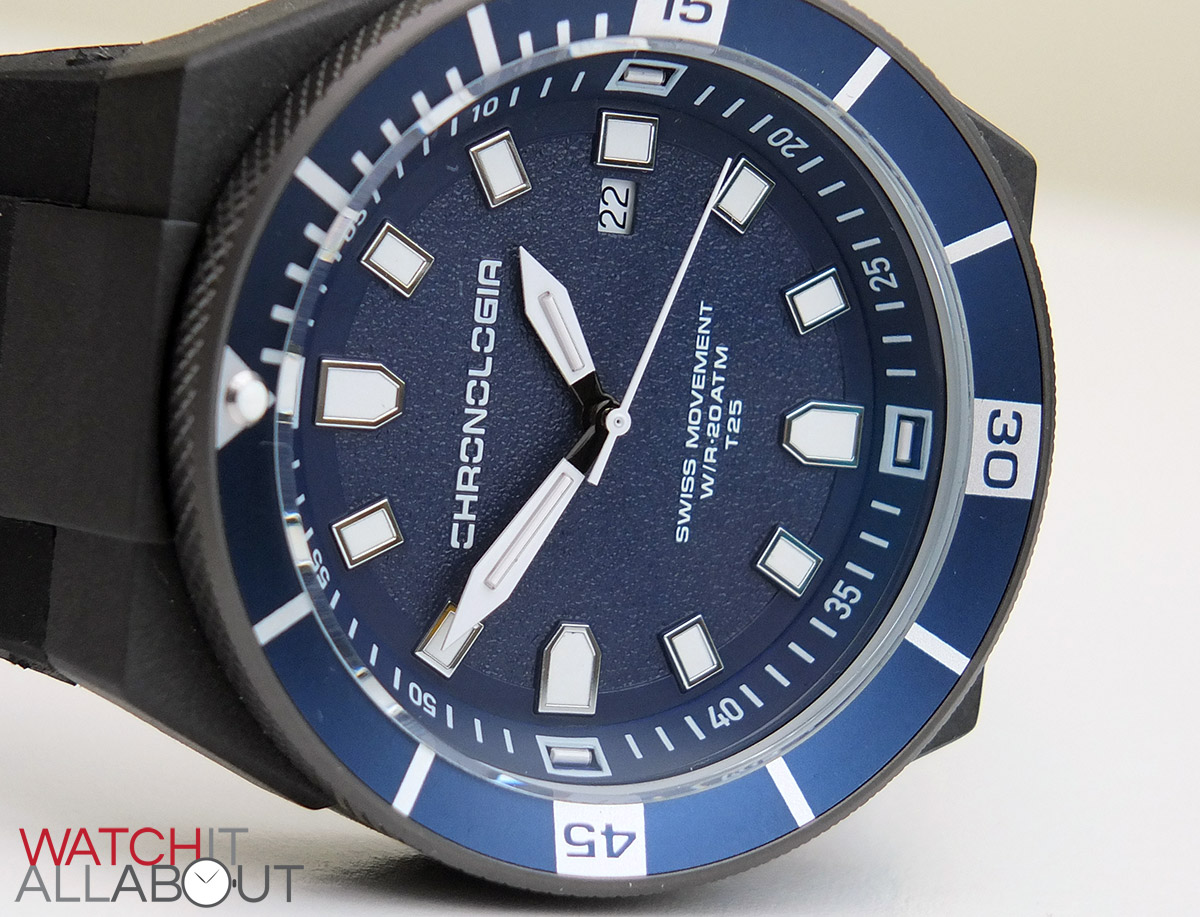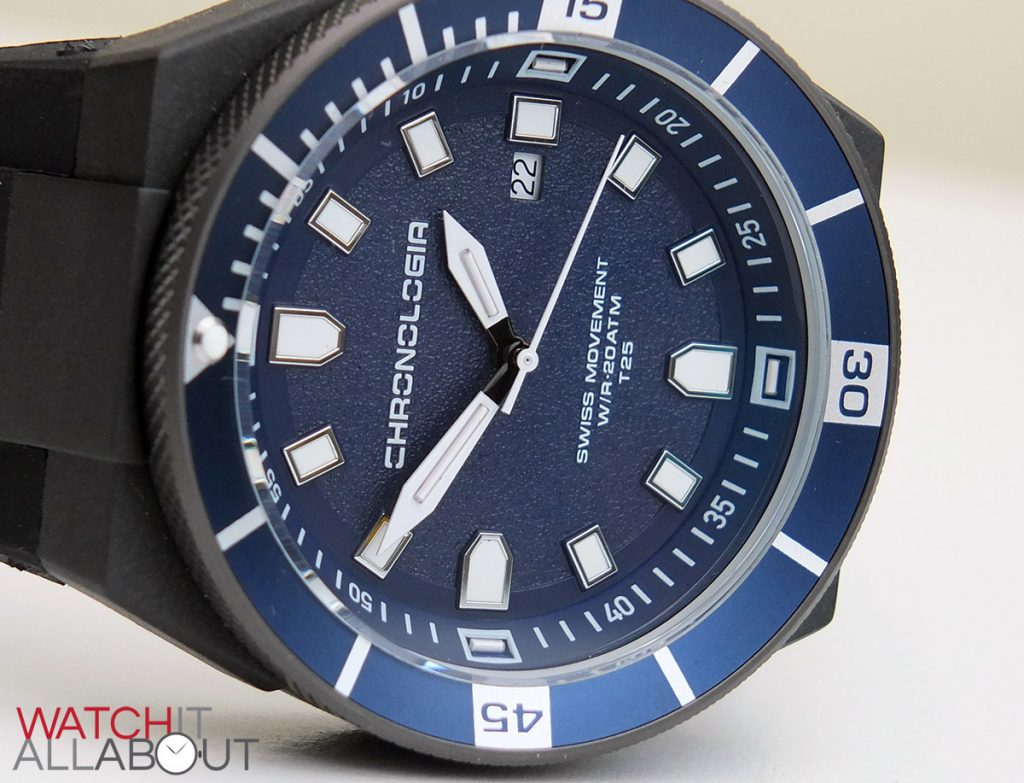 The printing throughout the dial is clean and crisp, and anything that's on the textured section is on it's own platform to keep the print fine.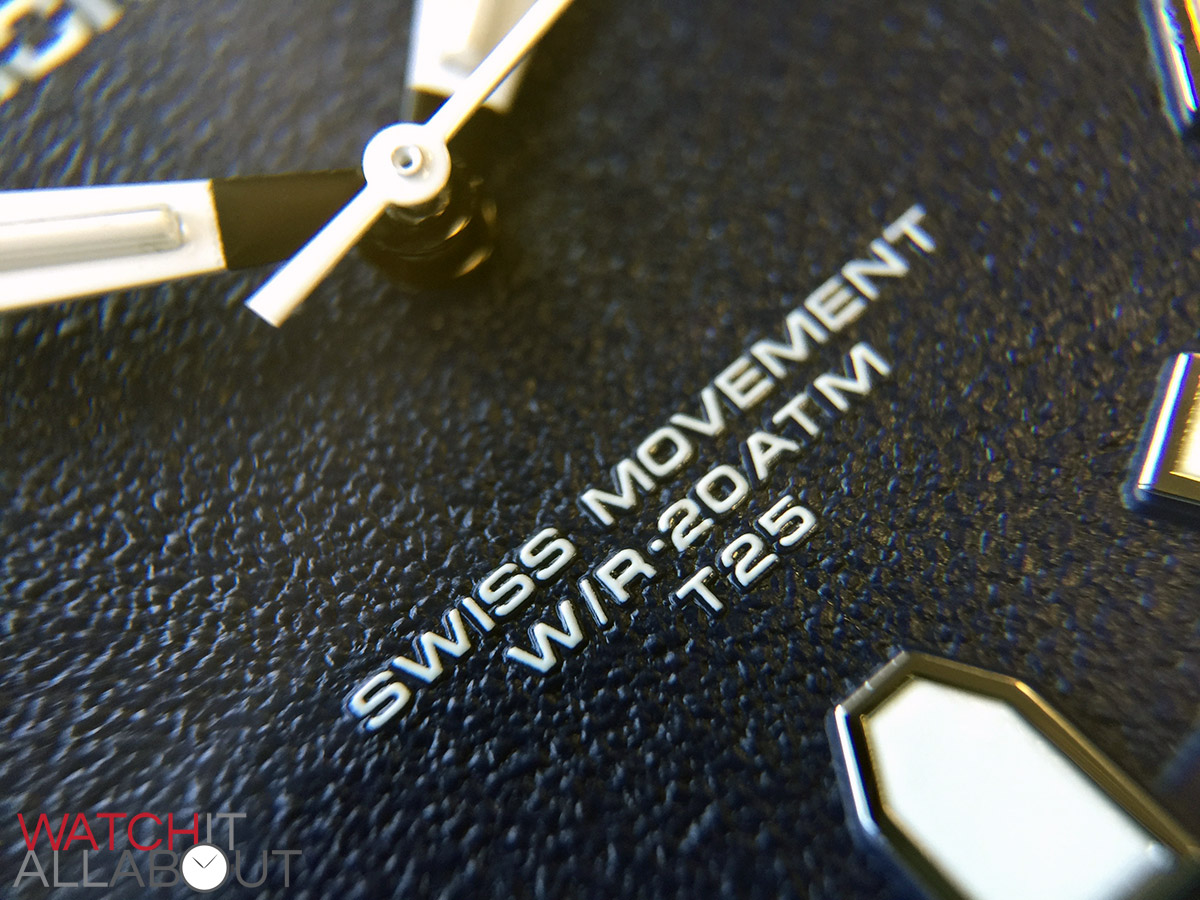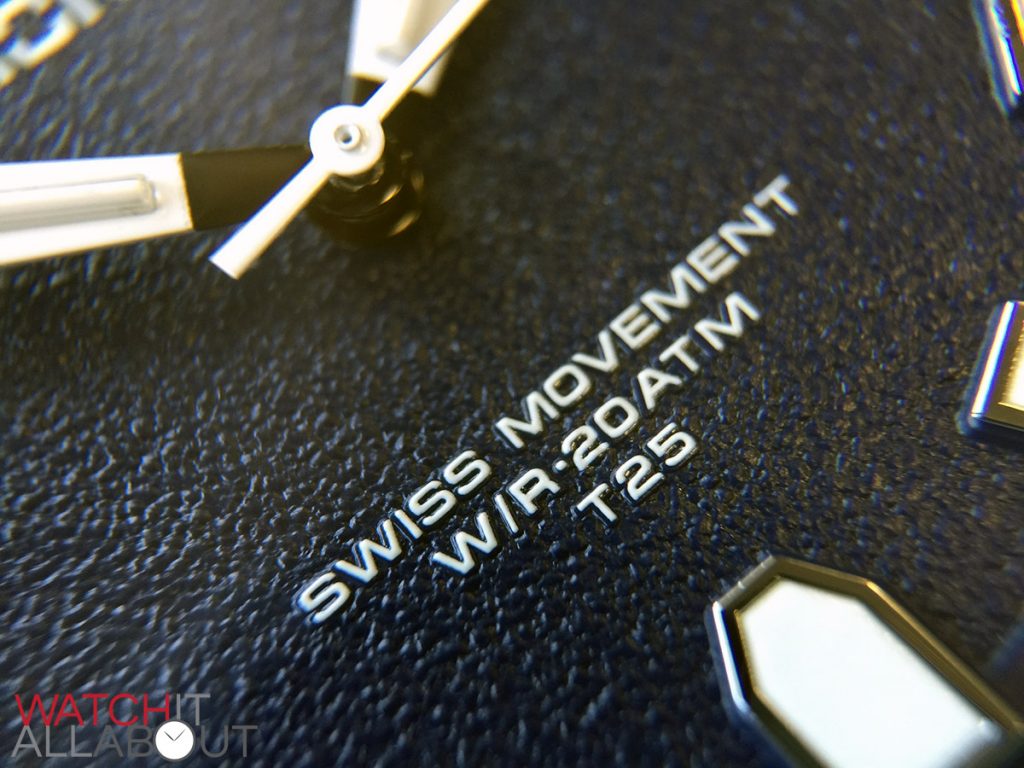 Finally, the date window is a simple affair that is merely cut out of the dial. It's a straight white wheel on all models, keeping legibility high.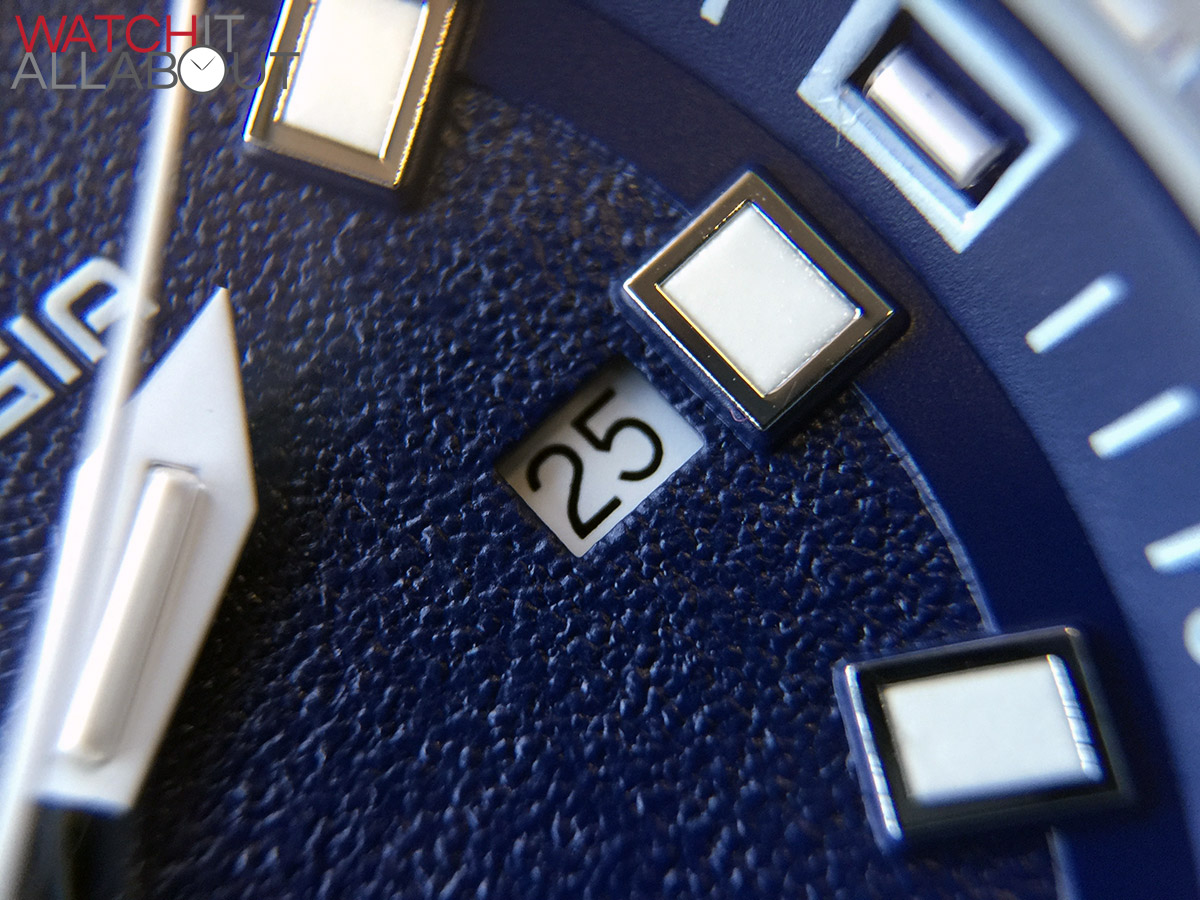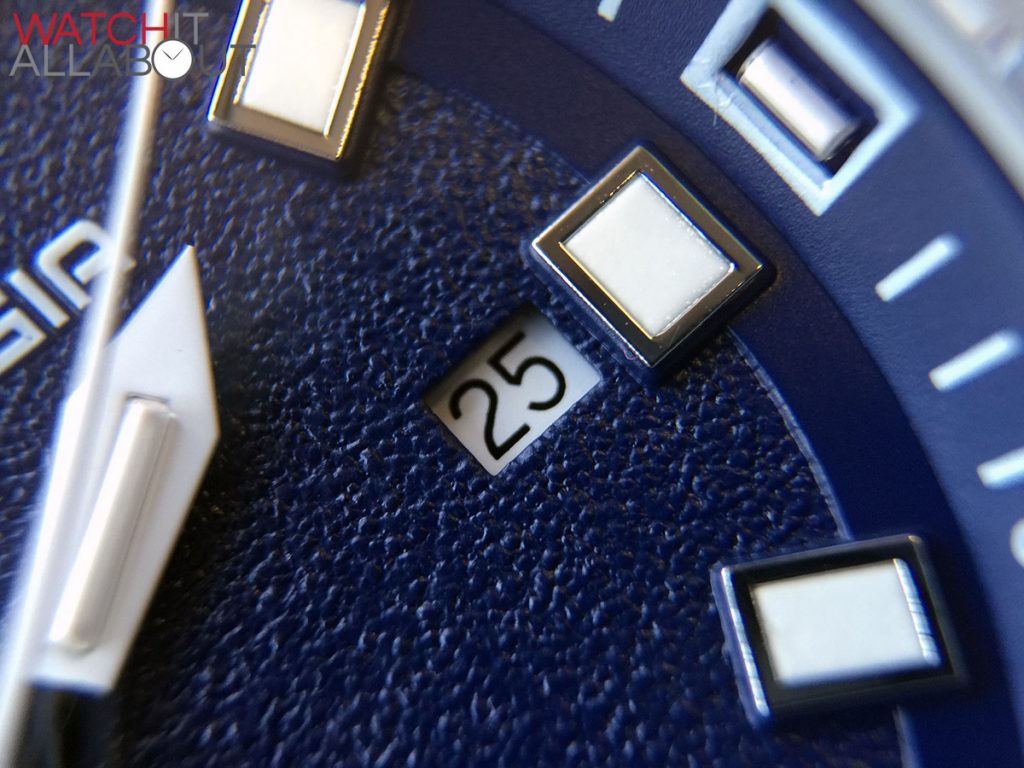 The dial on the whole is well finished, with a striking, highly legible design – perfect for scuba diving.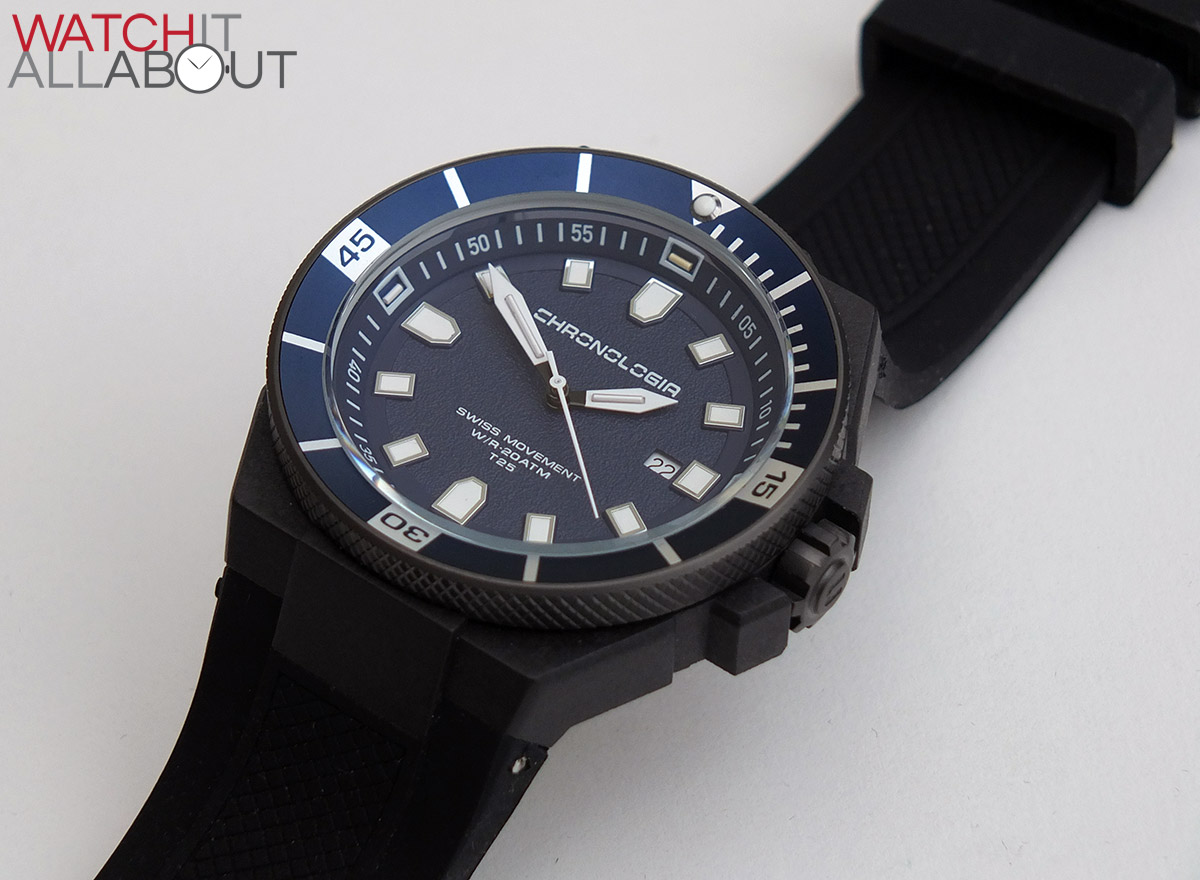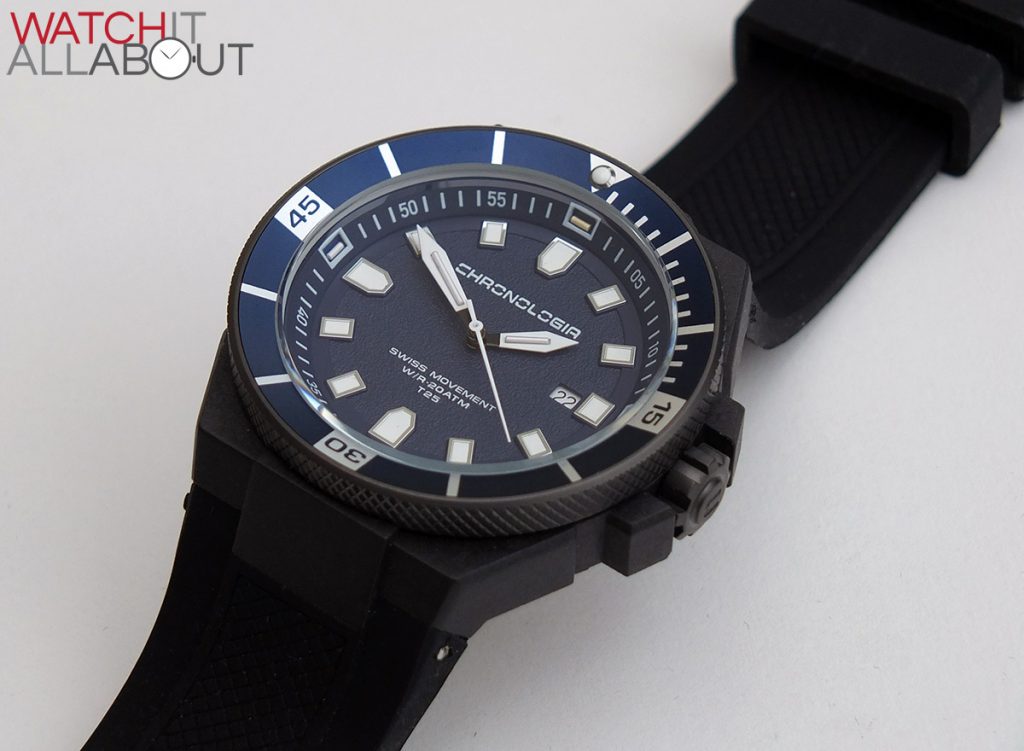 The strap
The silicone strap is shaped to match the angular lugs. You're unlikely to be able to fit an aftermarket strap here, so you're stuck with what you get.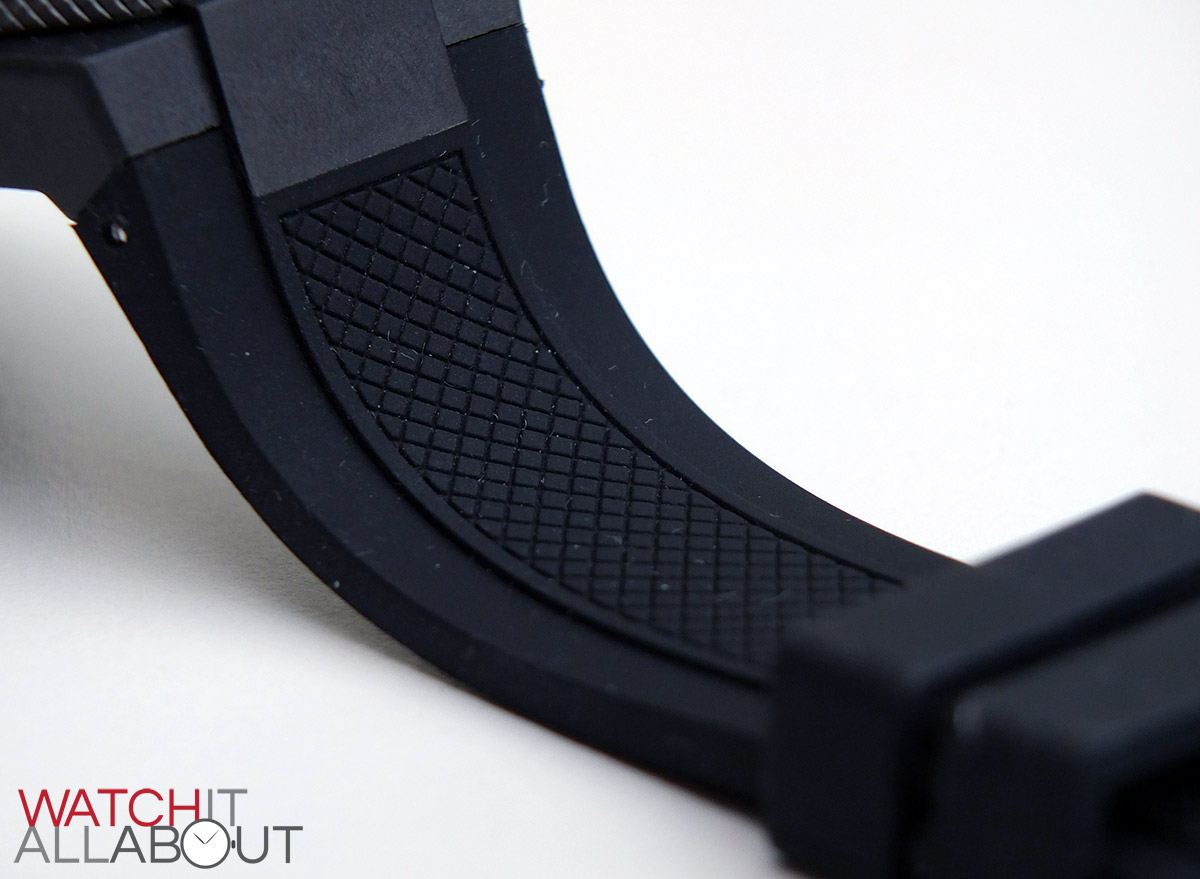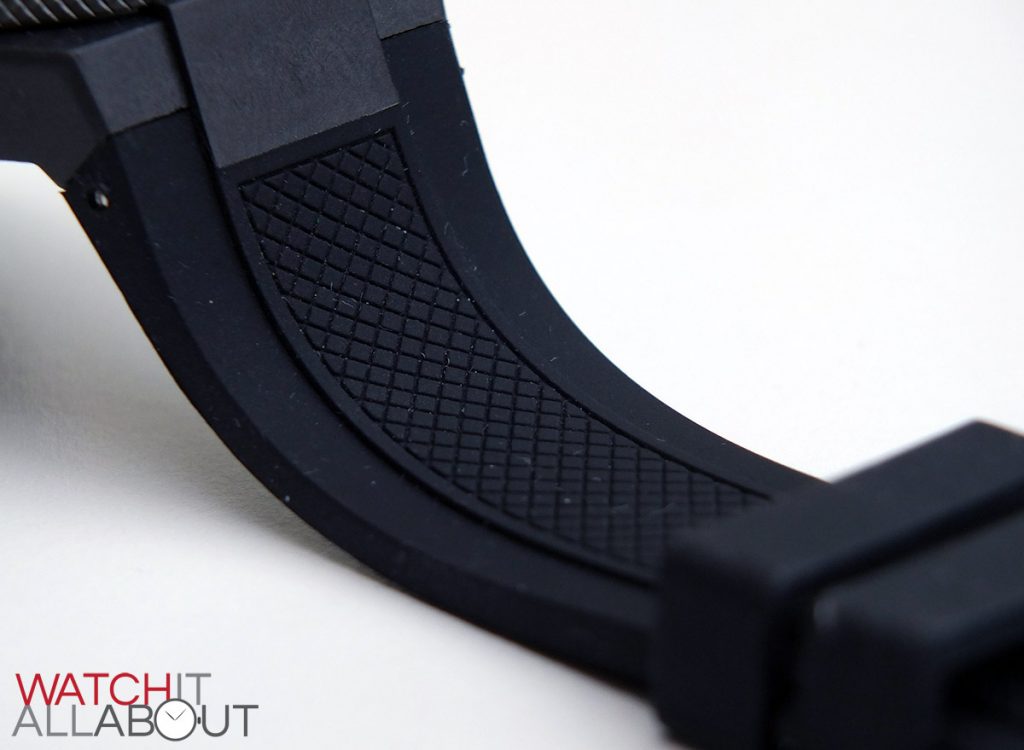 The strap angles down naturally from the case to fit the wrist snugly, which is surprisingly comfortable considering the lug to lug length of the watch. It has a cross hatched pattern down the centre which is the main design feature. It's supple, soft, and feels really good in the wrist – providing minimal to no irritation. The strap has thick keeper loops to match.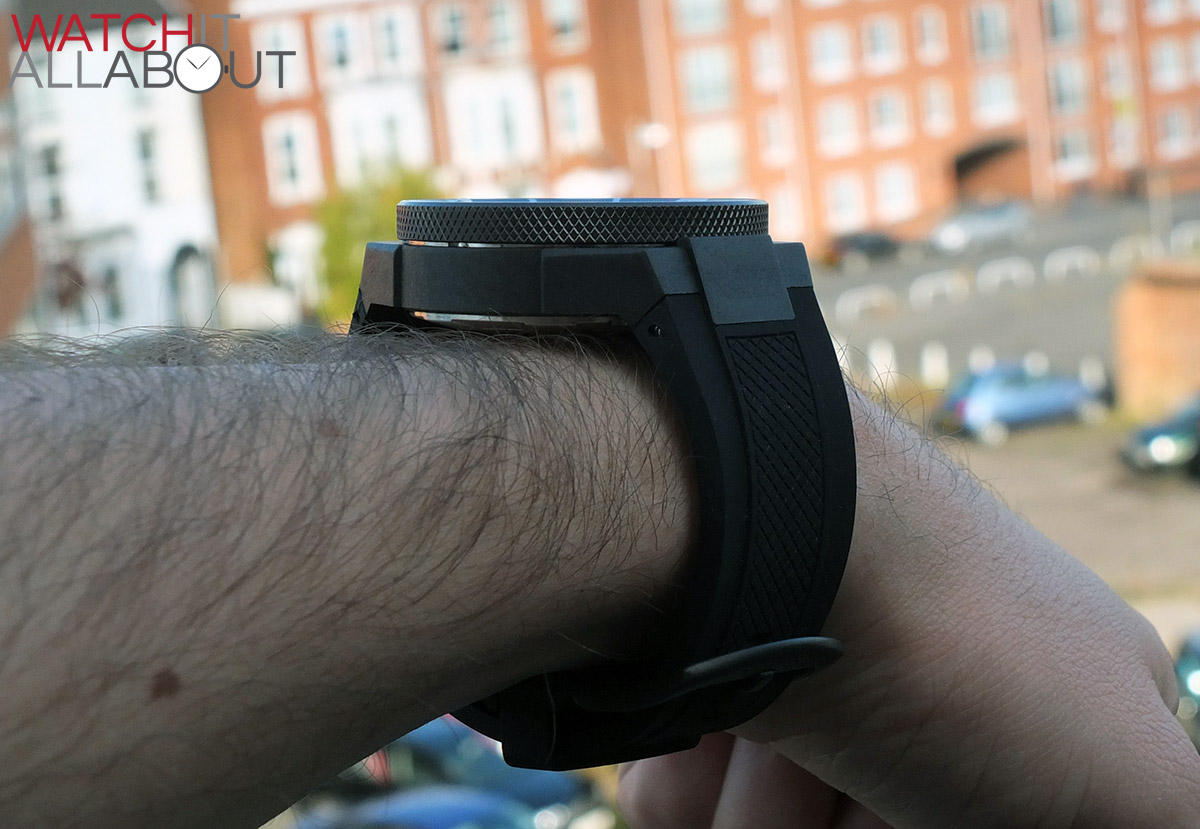 The buckle is the same PVD coated stainless steel as the crown, which matches the carbon fibre case remarkably well. It's well machines and finished, with the Chronologia logo deeply engraved on the top bar.
All in all, the strap is comfortable, well styled to match the watch, will definitely pass the test of time and good use. The only minor fault is that it's a little rough around the top edges where it's fitted to the case. 
The movement 
You'll have noticed the "Swiss Movement" statement on the dial. This is a Ronda 515 – a well respected, reliable Quartz movement that can be found in many affordable watches that want to offer something higher quality than Miyota etc. It has 1 jewel, around 4 years battery life, and is accurate to -10/+20 seconds a month.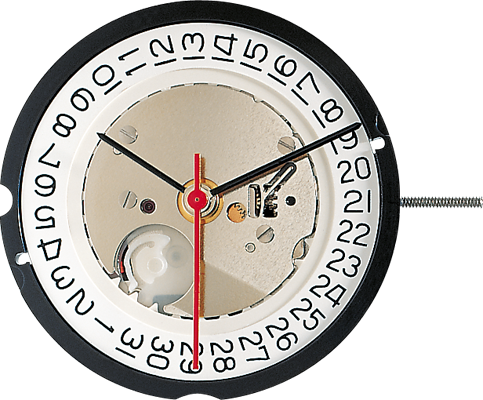 Final comments
I'm baffled why this didn't fly out of the door for €129. But anyway, that's all in the past now, and for £265 it's actually still a fairly good proposition. For this price range, I don't know of any alternatives that offer carbon fibre case with tritium tubes. Plus, a Swiss movement and sapphire coated crystal is a nice plus. So if this is your bag, or if you're a genuine scuba diver after a decent watch then the Chronologia R004 has got you covered. The only downside is that the case and strap could be finished a little better, but hopefully that'll be ironed out with time.