The Casio Duro is another one of those watches that I see EVERYWHERE. Across forums, social media, Facebook groups. It's another watch that I've been meaning to buy to review to see what the hype is all about.
The MDV-106 is also referred to as the marlin, due to that fish appearing on the dial and caseback. It's widely available at under £65 / $60, and I've seen other watch enthusiasts share it going for a pretty ridiculous $35 in places such as Walmart.
The main thing going for it is that it's a solid, dependable, trustworthy diving watch. Let's take a closer look to see if it lives up to its hype.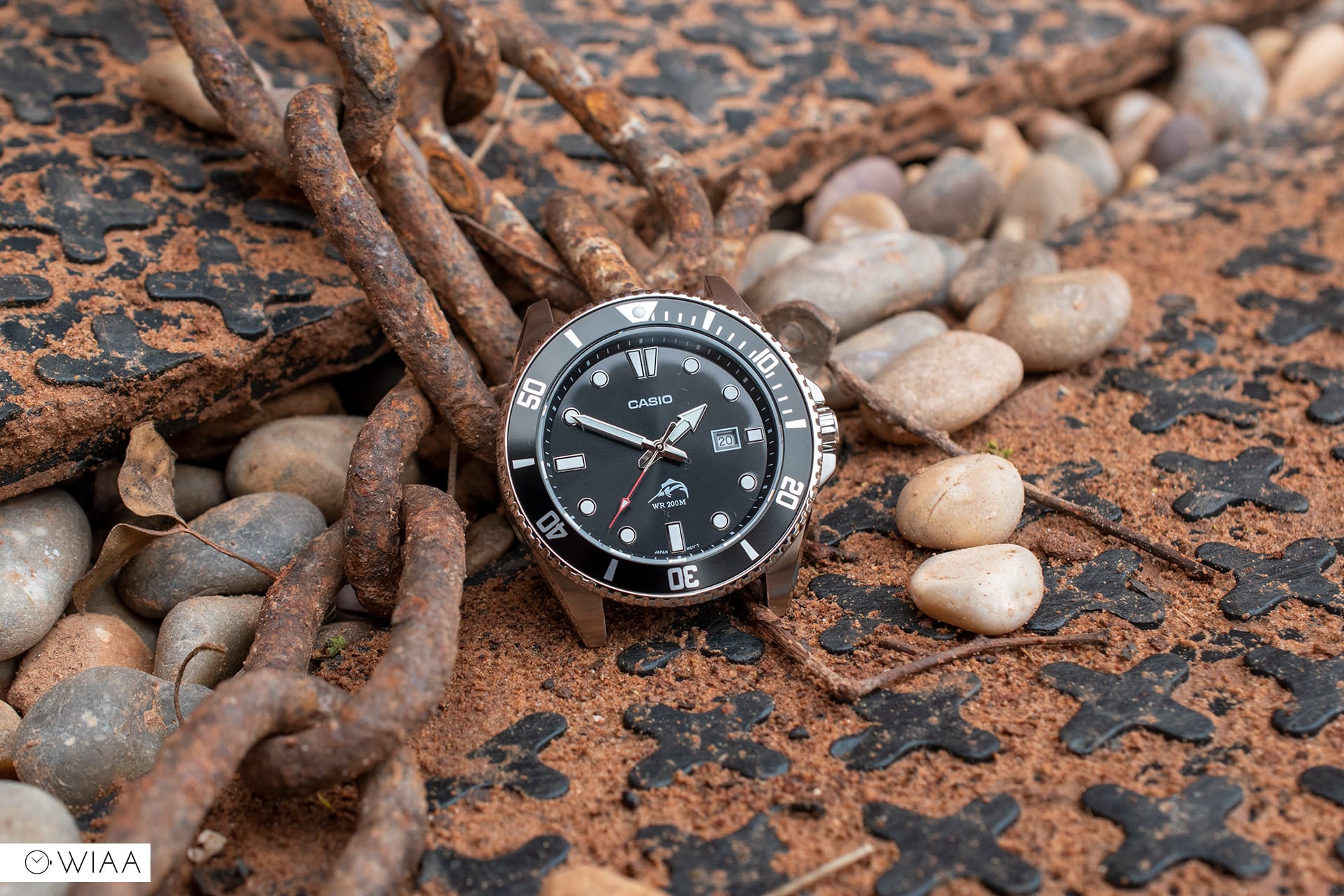 The specs
Dimensions: 44mm diameter x 12mm height x 49mm lug to lug
Weight: 92g
Water resistance rating: 20ATM / 200m
Movement: Casio 2784 Module
Lug width: 22mm
Warranty: 1 year
Price: varies; $60 / £65
Buy here: https://amzn.to/2jMJ0RX
The video review
The case
I'll be honest, the case isn't the most exciting, but I suppose throughout this review we need to keep in mind the price. The majority of the case is polished, which is an interesting choice: the side and bottom are, with a brushed top. As this is supposedly a functional diving watch I was expecting more to be brushed to avoid obvious and easy scratches.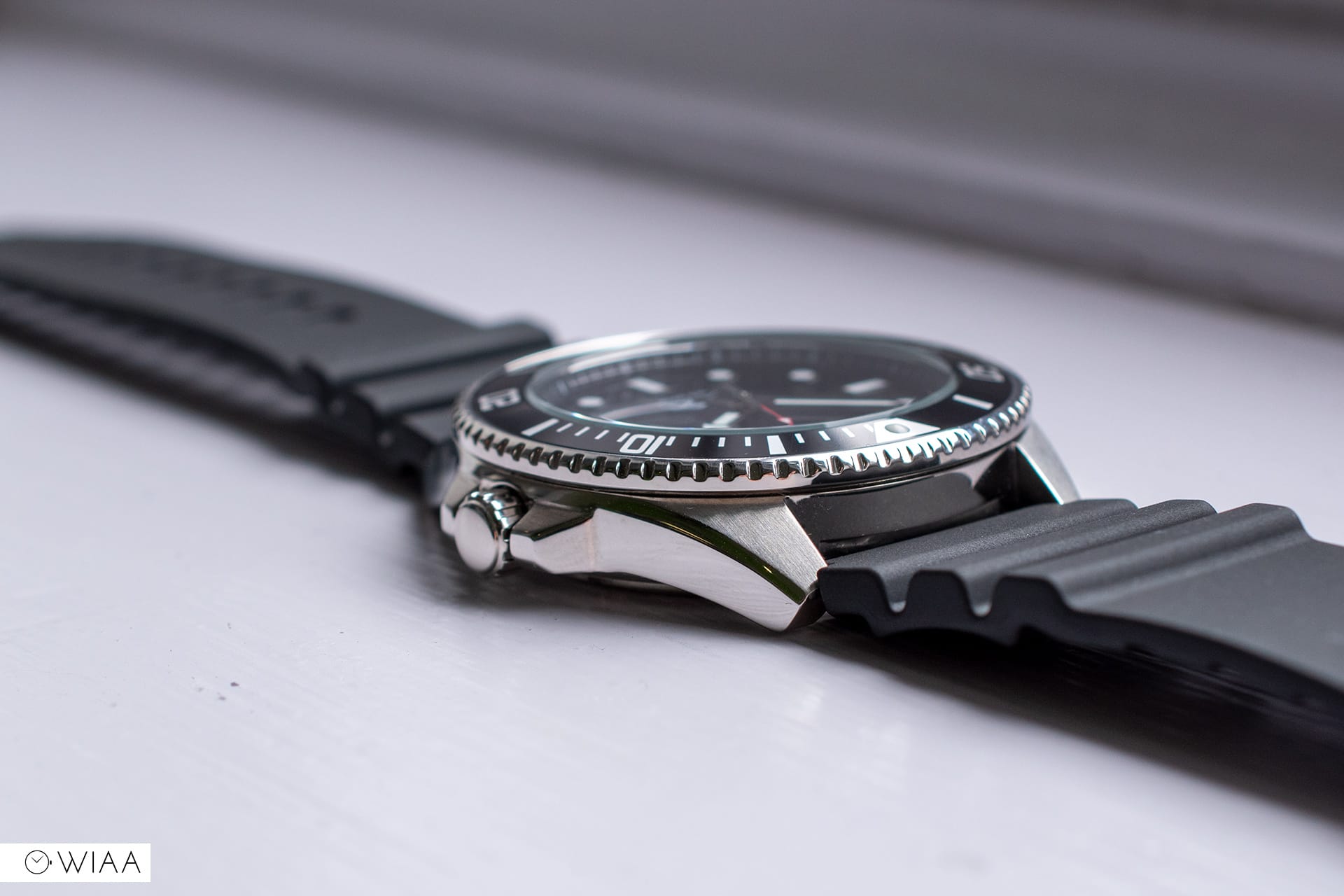 The shape is very much a standard barrel, with a bevelled edge on the top shoulders. It's an interesting choice that the sides of the case are fully polished – as this is a watch built for purpose, to be used in the water, it's going to get knocked about. Perhaps a brushed finish would be better for the sake of longevity; as it's not going to take long for scratches to take over. The top and bottom of the case are brushed, with reasonably defined lines where the finishes meet.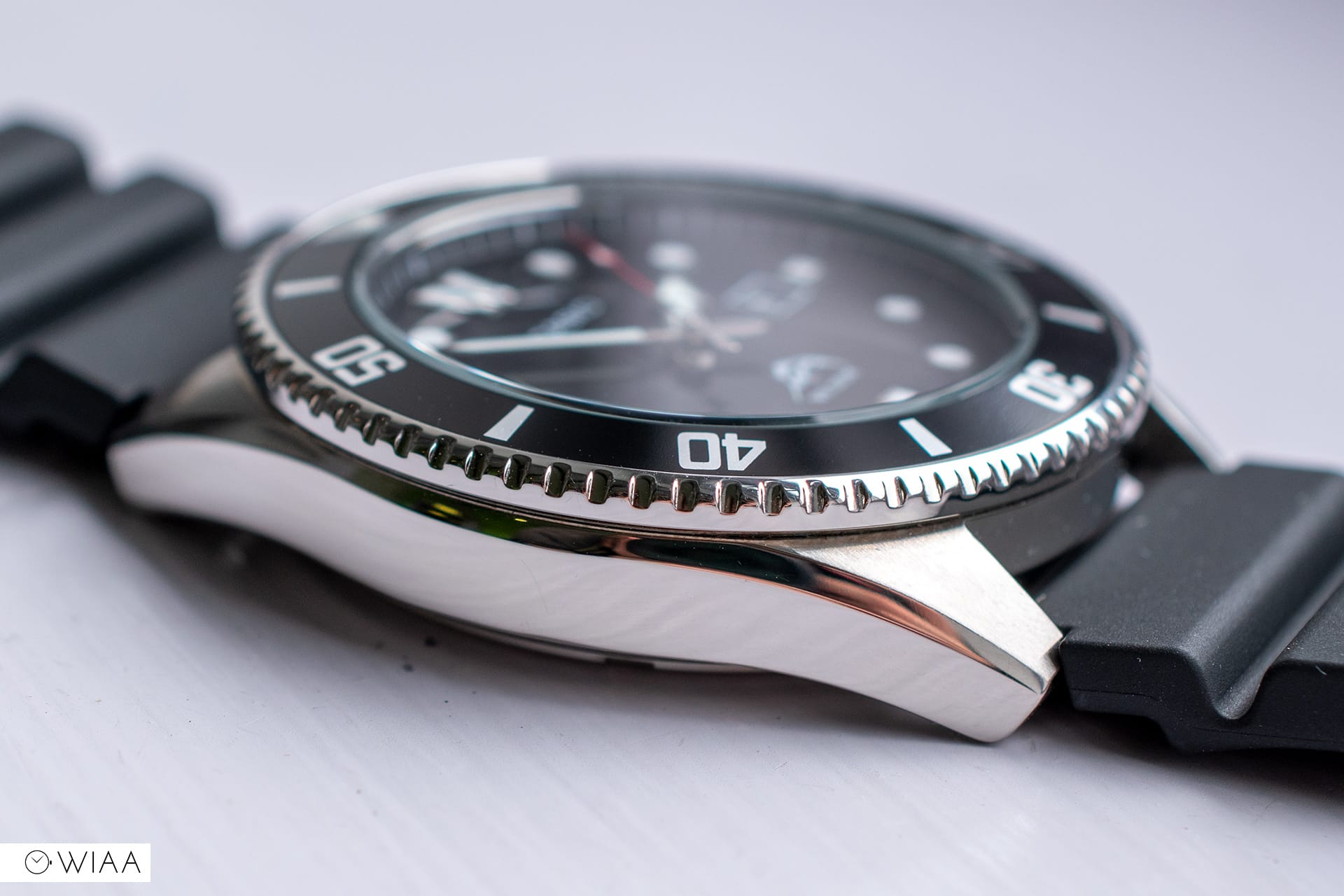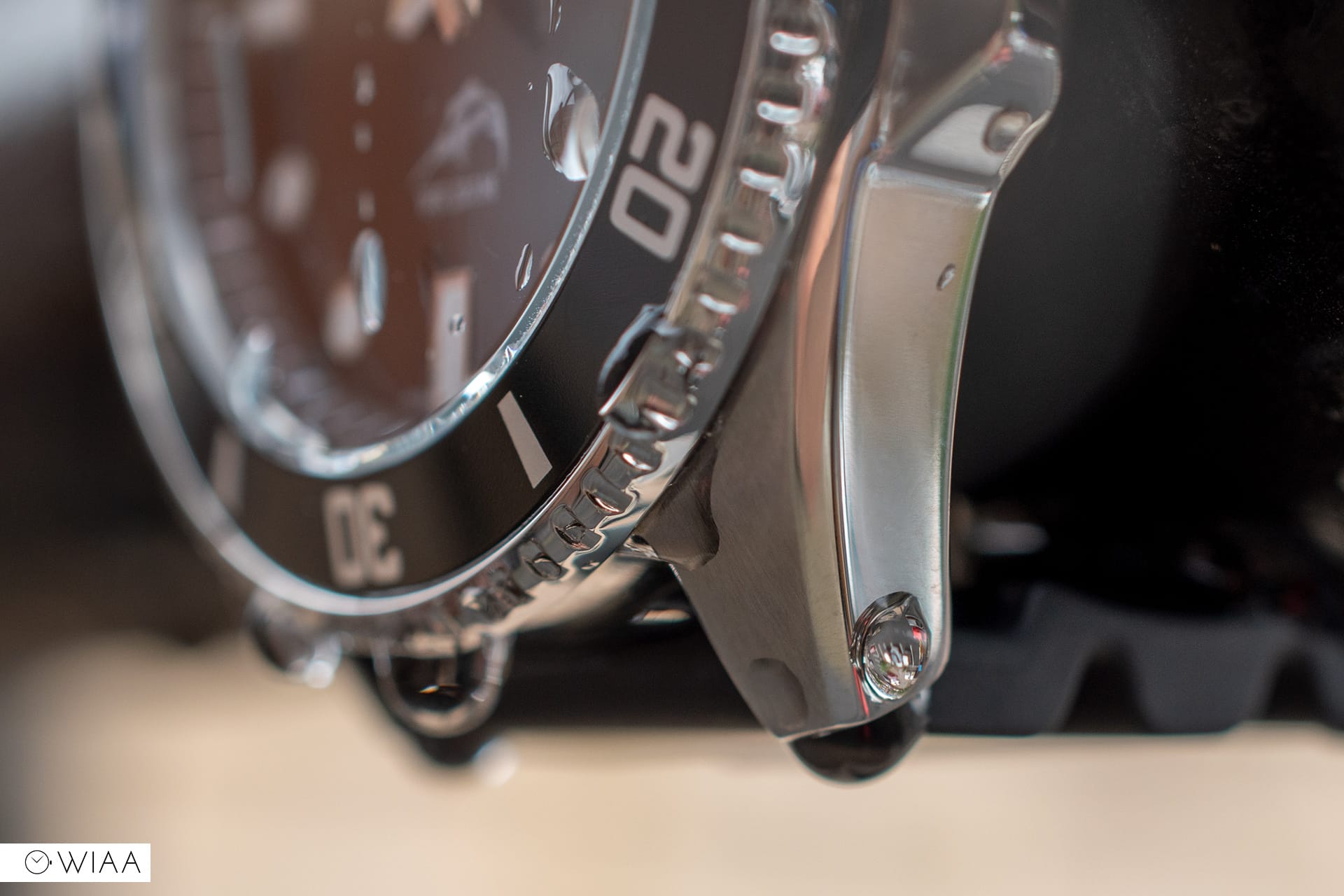 The crown is very plain – no markings exist on it at all. It's screw-in, with a reasonably smooth thread. The grip is fine to use, but nothing outstanding. I guess they have to cut corners somewhere.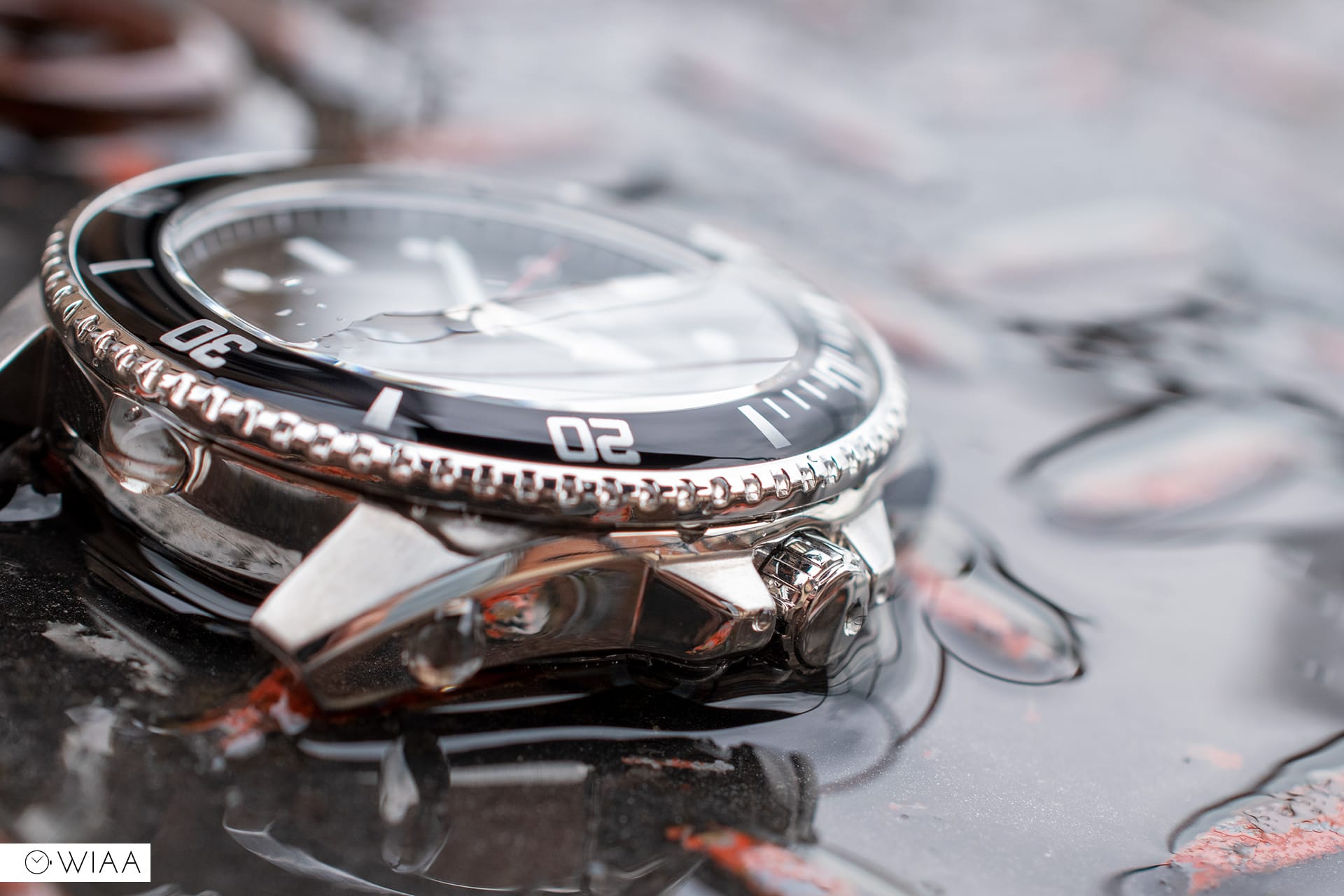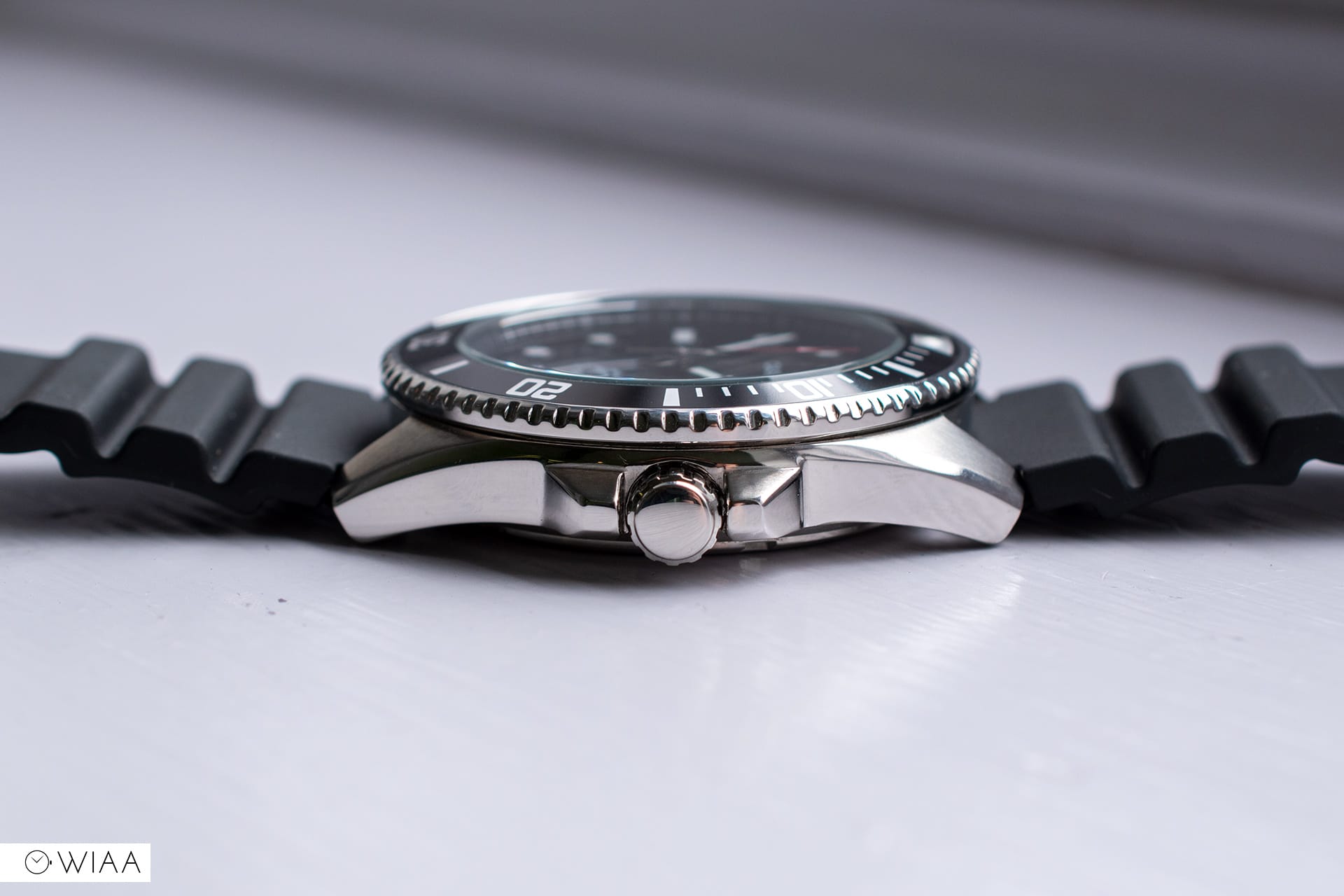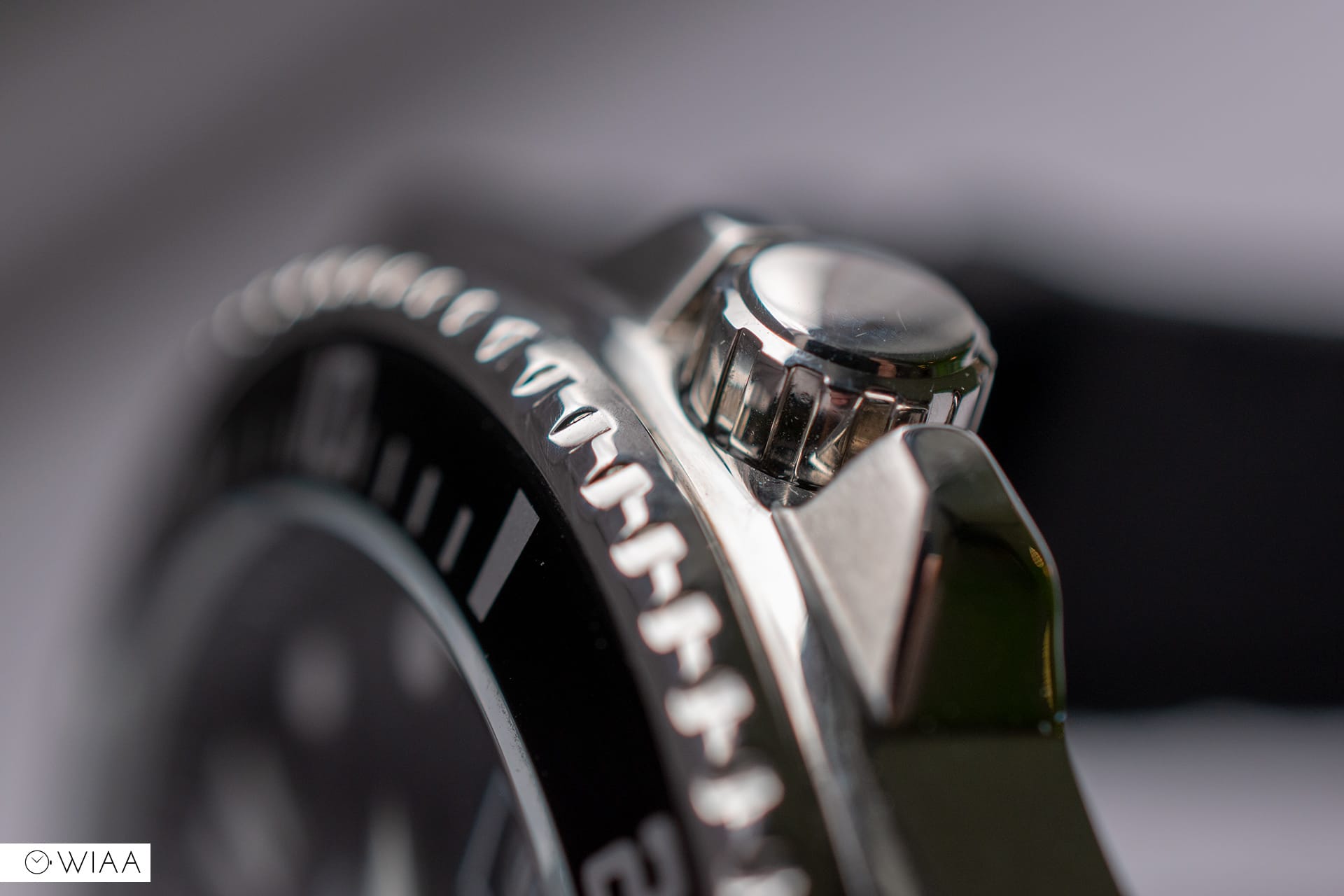 The fact the Duro has a mineral crystal can perhaps be seen as a negative. To be honest, it's unrealistic to expect a sapphire crystal on a watch under £100, so I'm ok with it. Whilst it doesn't appear to have any sort of anti-reflective coating, it provides a clear view of the dial.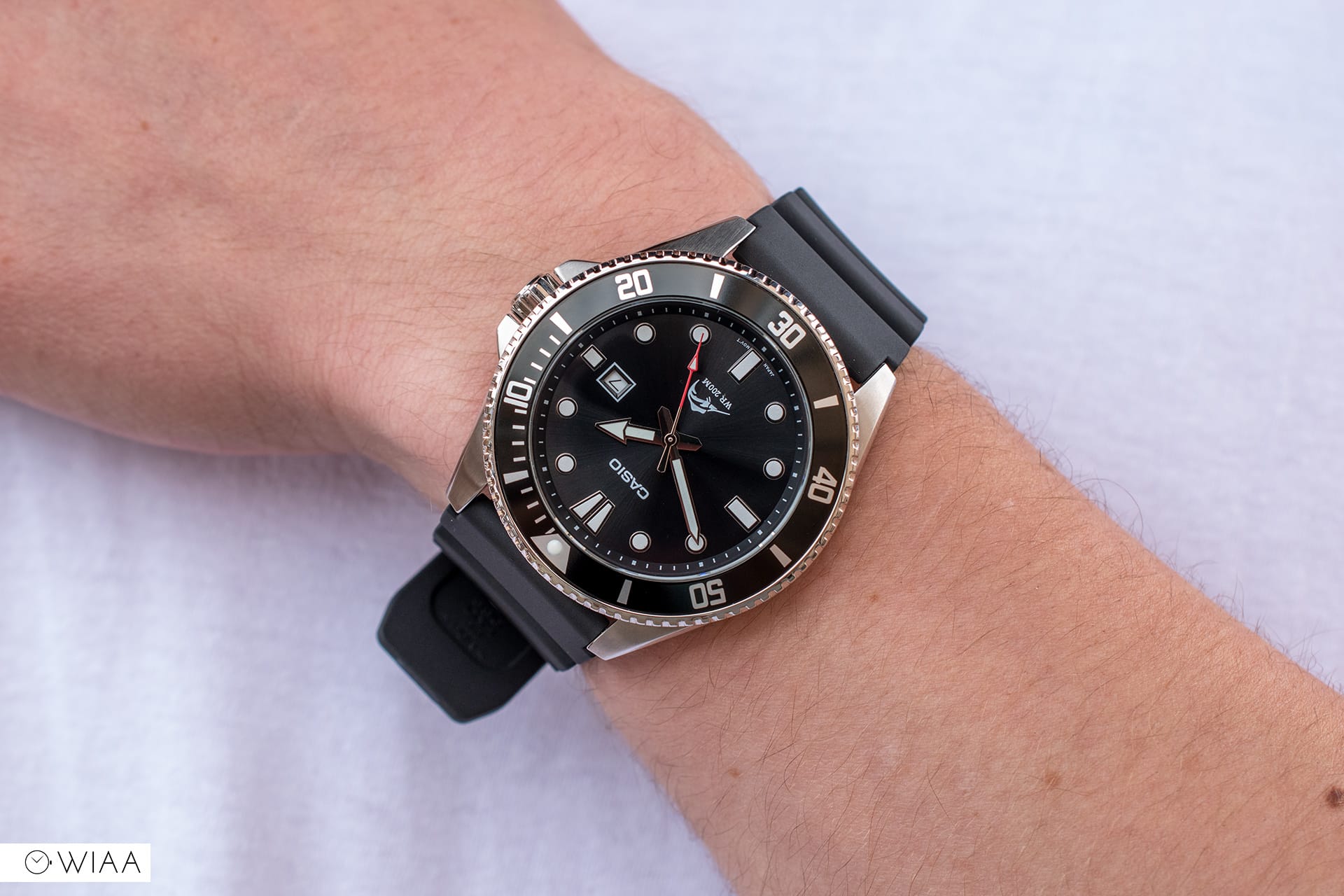 The 120 click bezel is easy to rotate, however, it does have a small amount of wiggle and backwards play. The toothed outside edge provides a suitable grip allowing me to use it. Being polished, it catches the eye due to the array of angles associated with the teeth. The bezel insert is made of aluminium, with printed markings and a lume pip at 12 located within a trapezoid.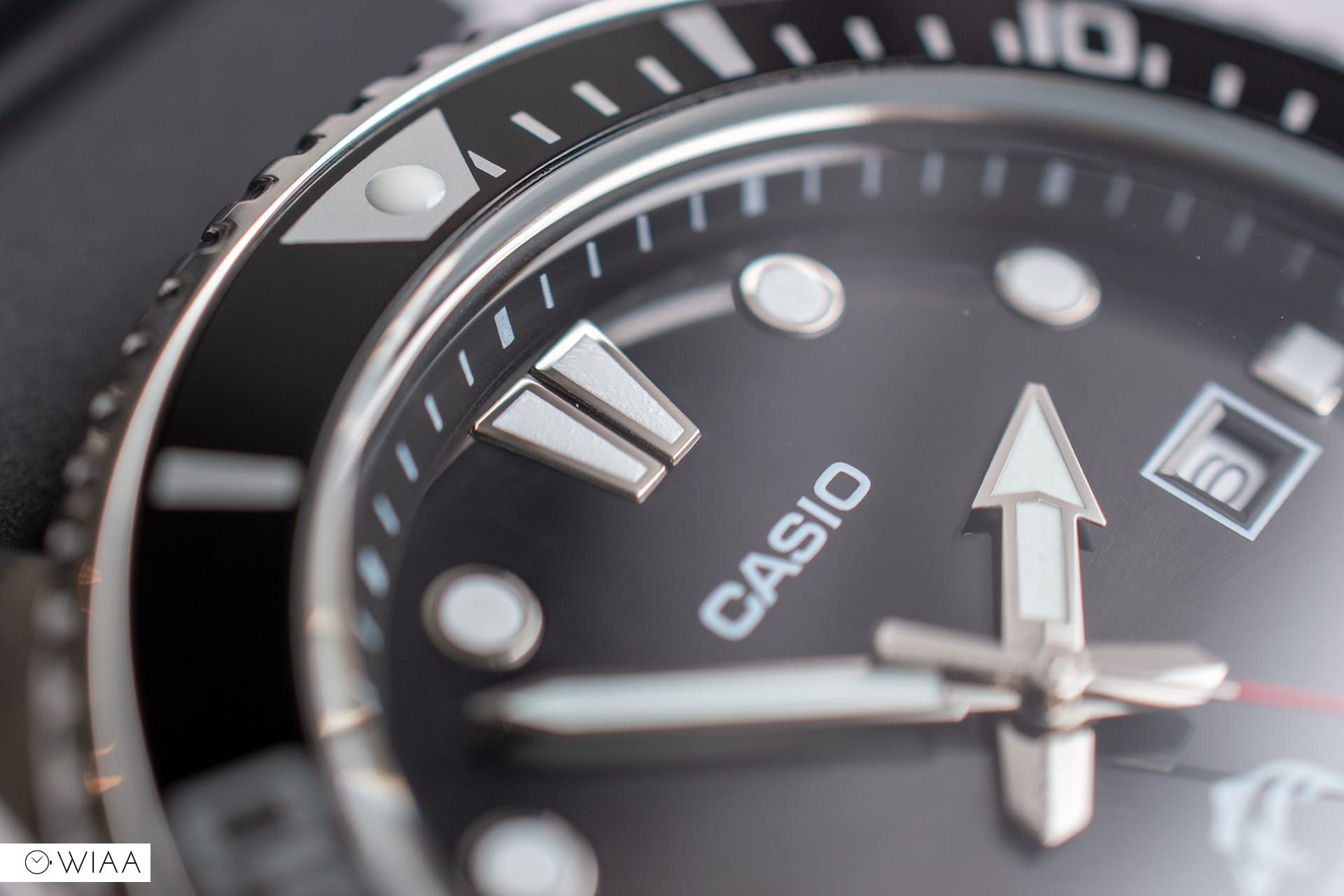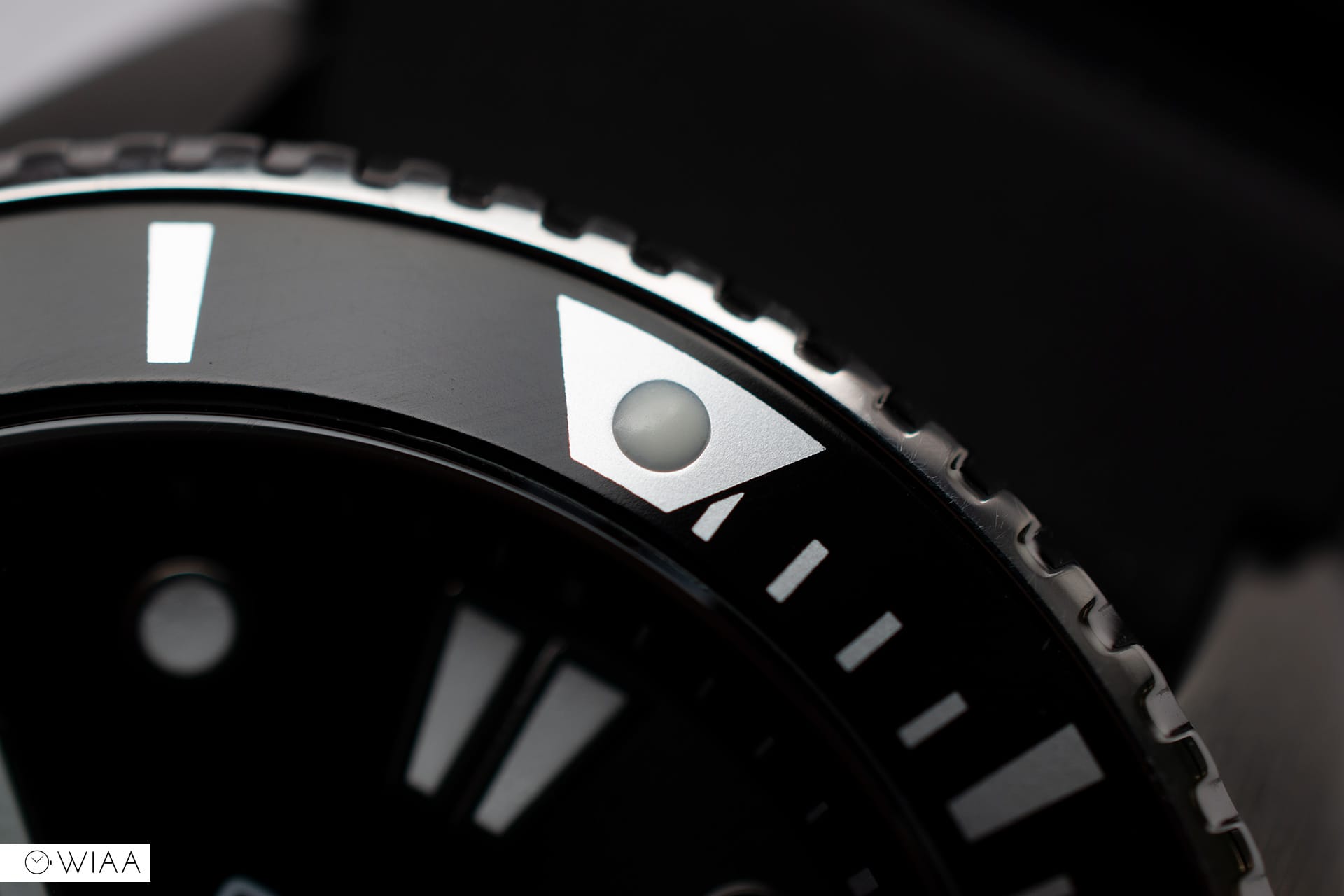 The screw-in caseback is brushed, with a polished bevelled edge around the outside. In the centre, a marlin fish is engraved, with some other specifics surrounding and below it. All the markings are done to a deep and accurate level.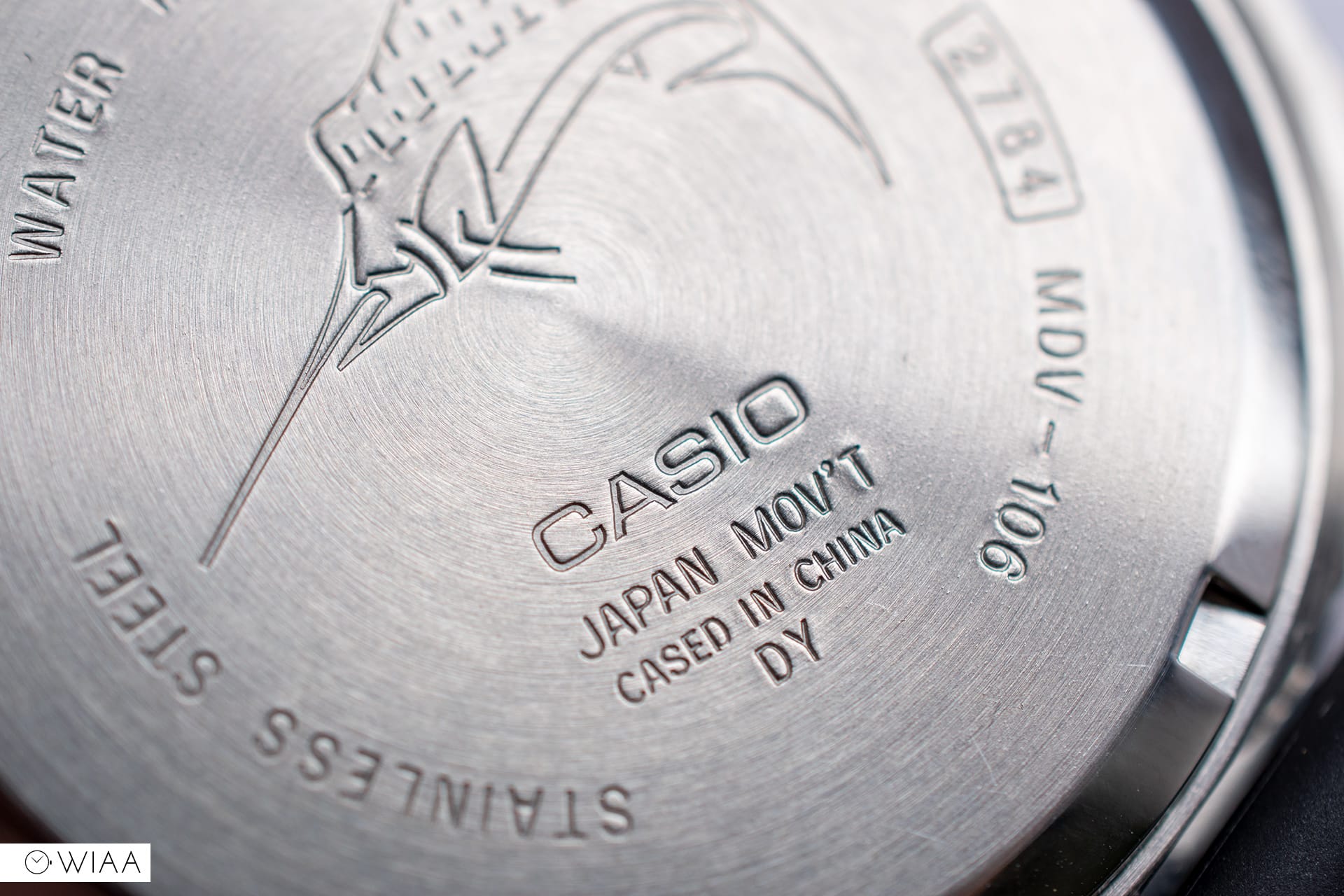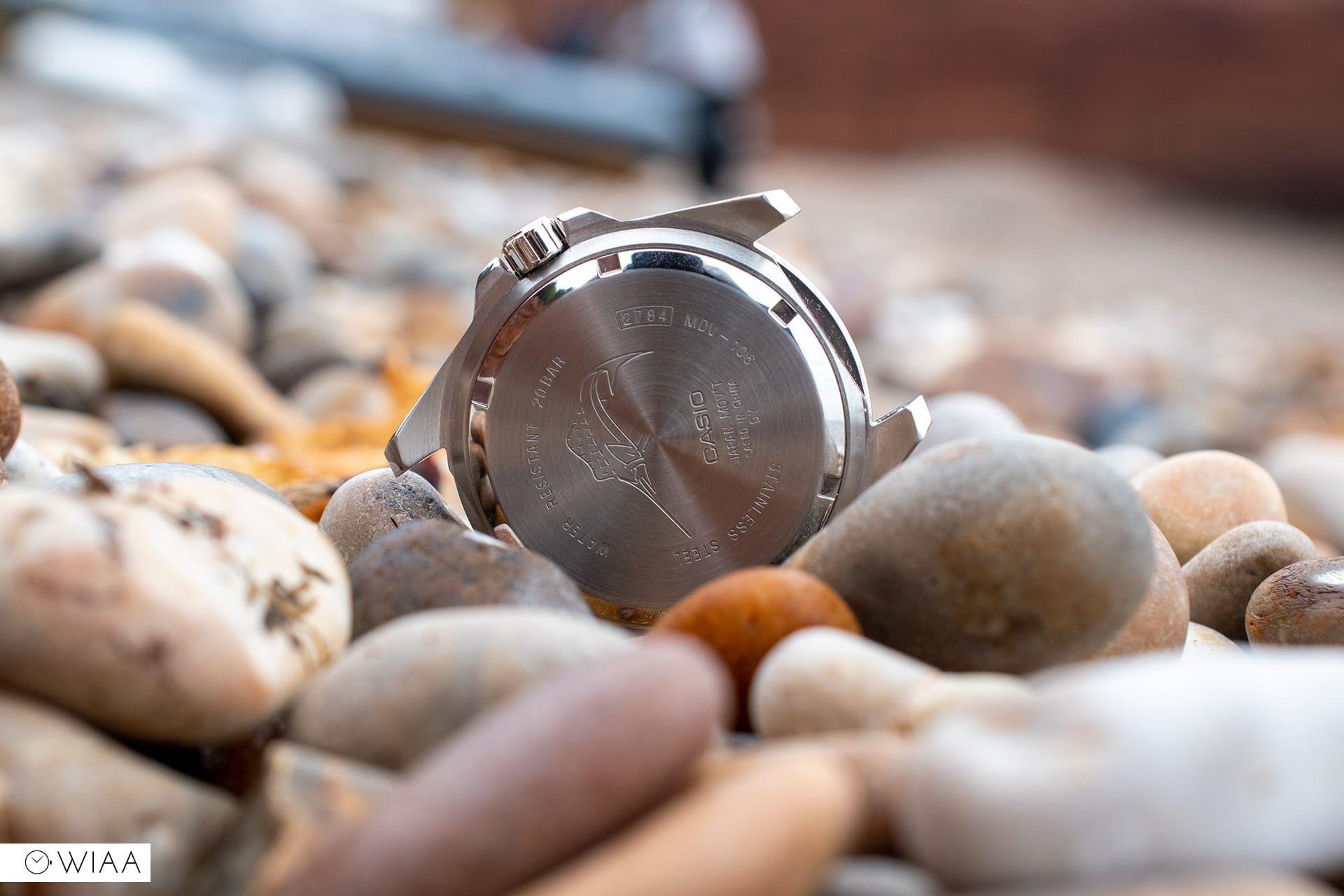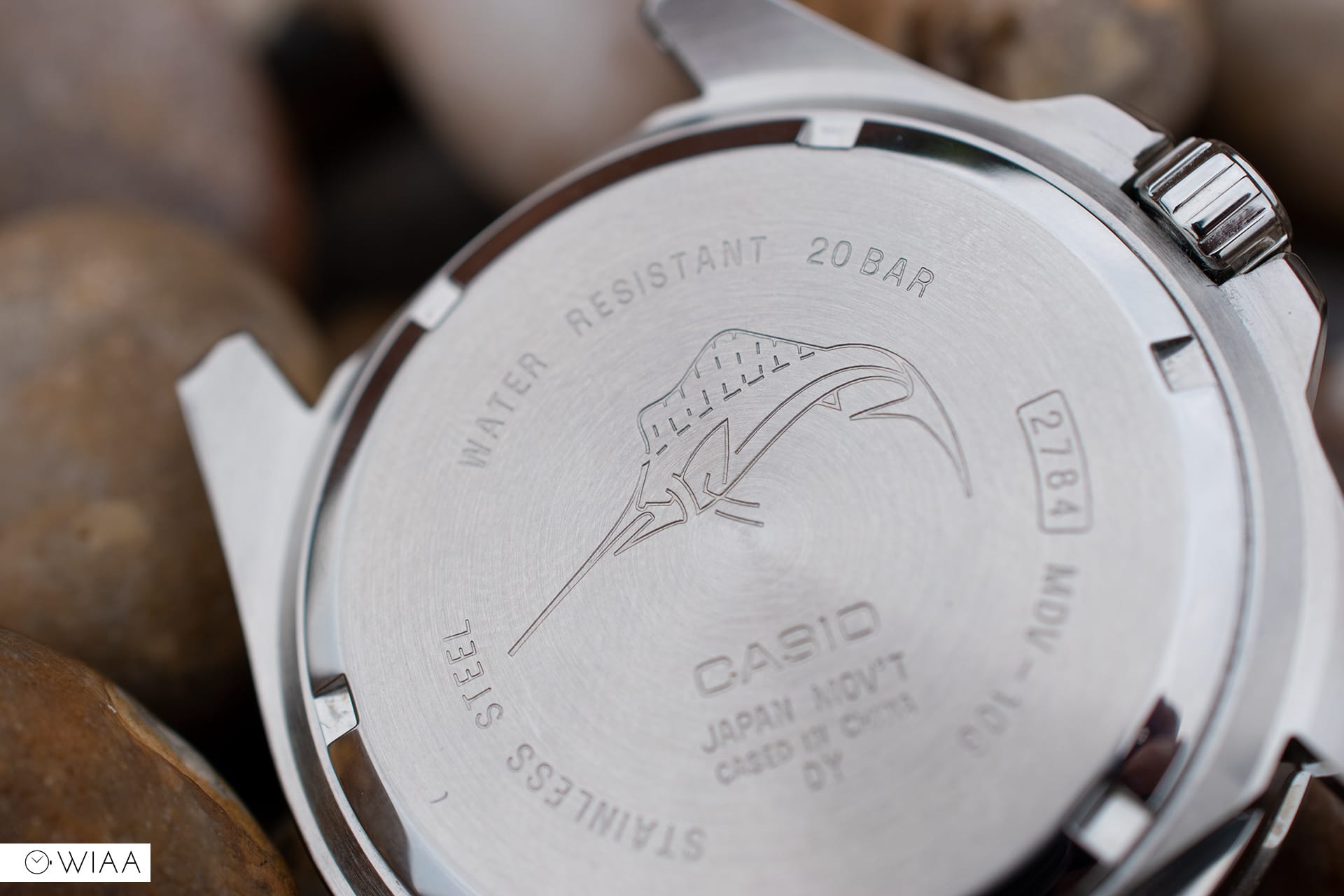 The dial
A standout characteristic of the Duro's dial is no doubt the sunray finish to it. Completely unexpected, and not something I had previously noticed on photos, it's a beautiful dark charcoal grey intermingling with deep blacks.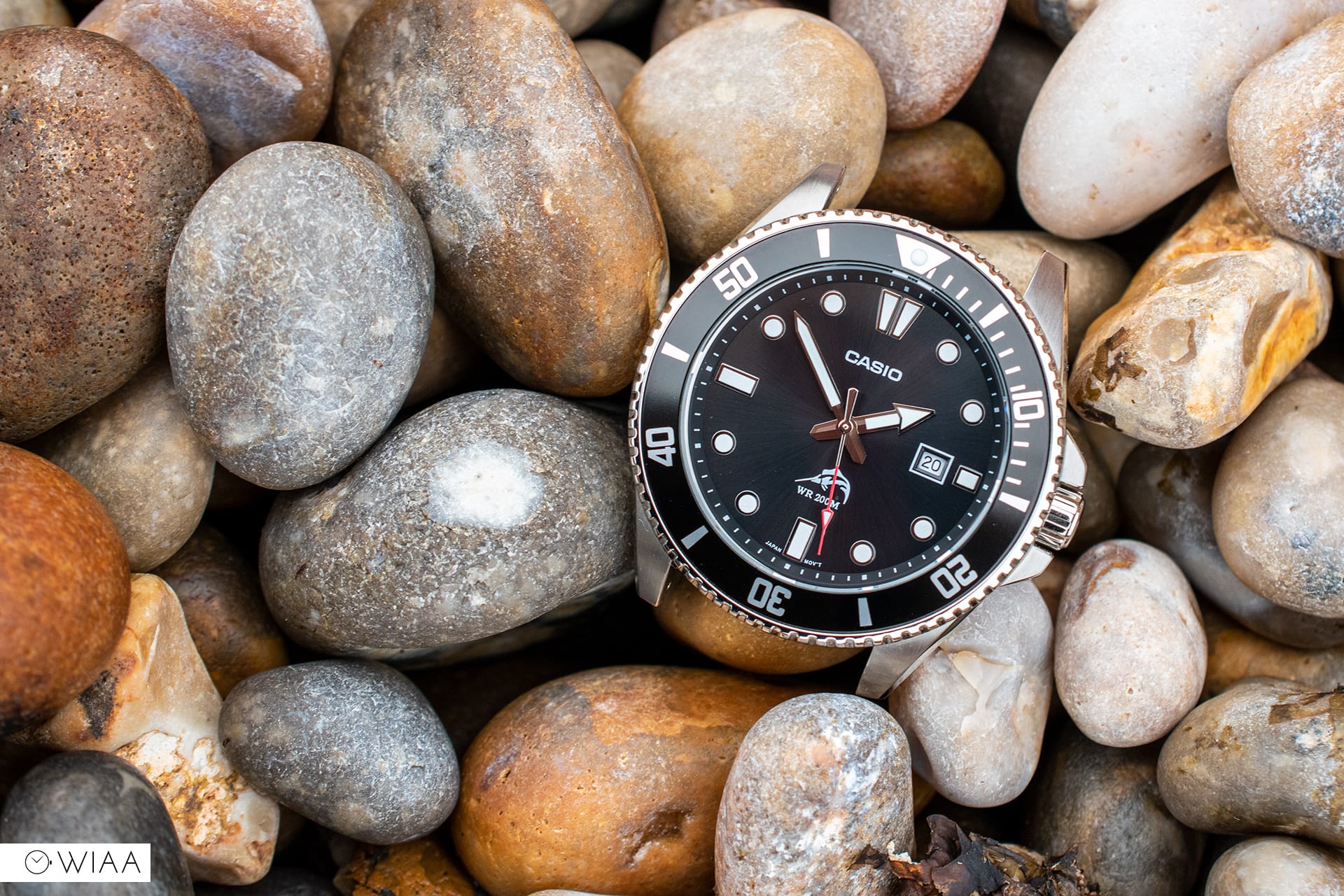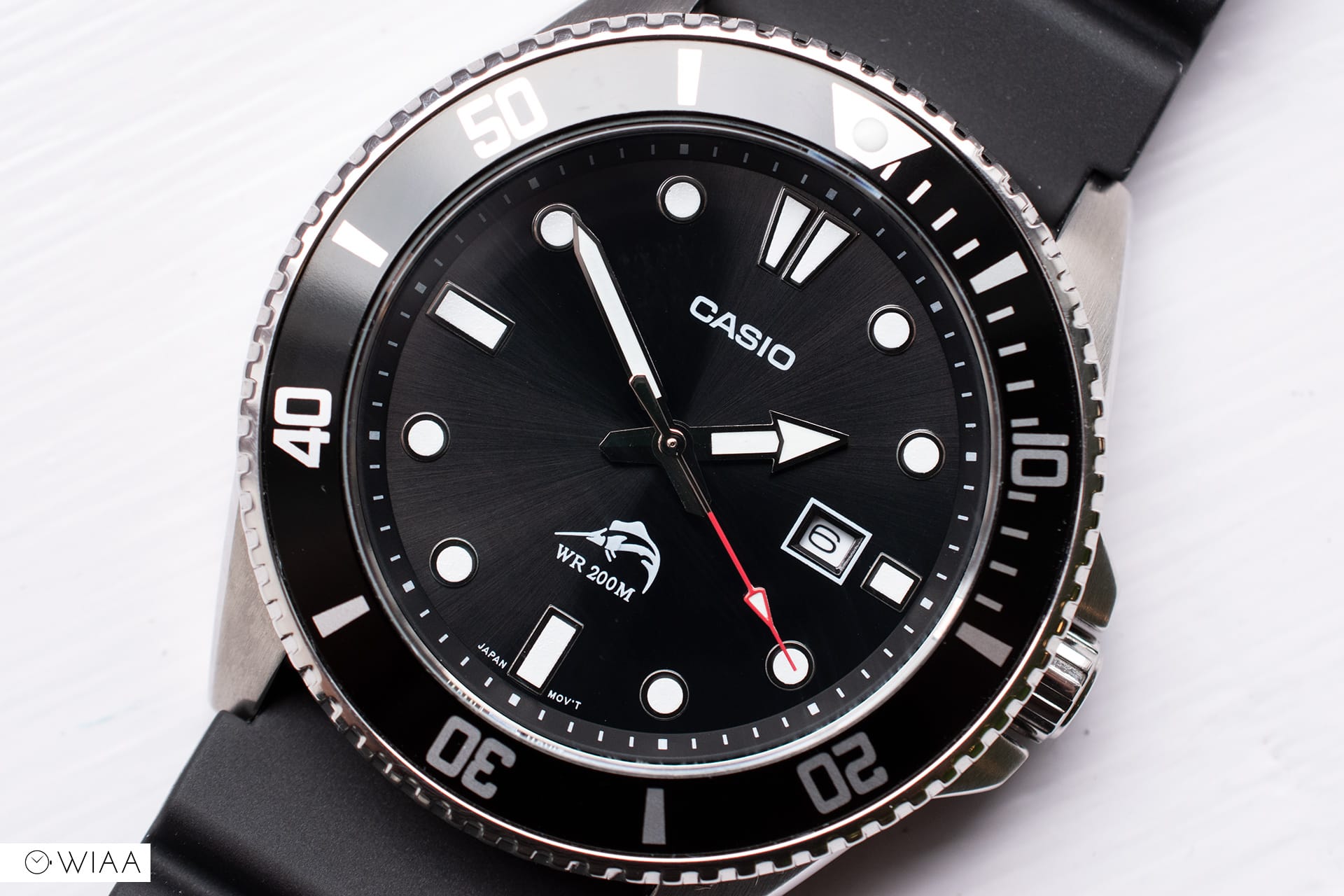 The printwork is delicate and functional. Casio is printed in the centre of the top half, and the marlin returns on the bottom half of the dial above "WR 200". The marlin artwork is very tasteful and is even of cult status due to its graceful design and recognisability. When Casio uses a marlin, it is a grade classification and signifies it has at least 200m water resistance and is suitable for diving.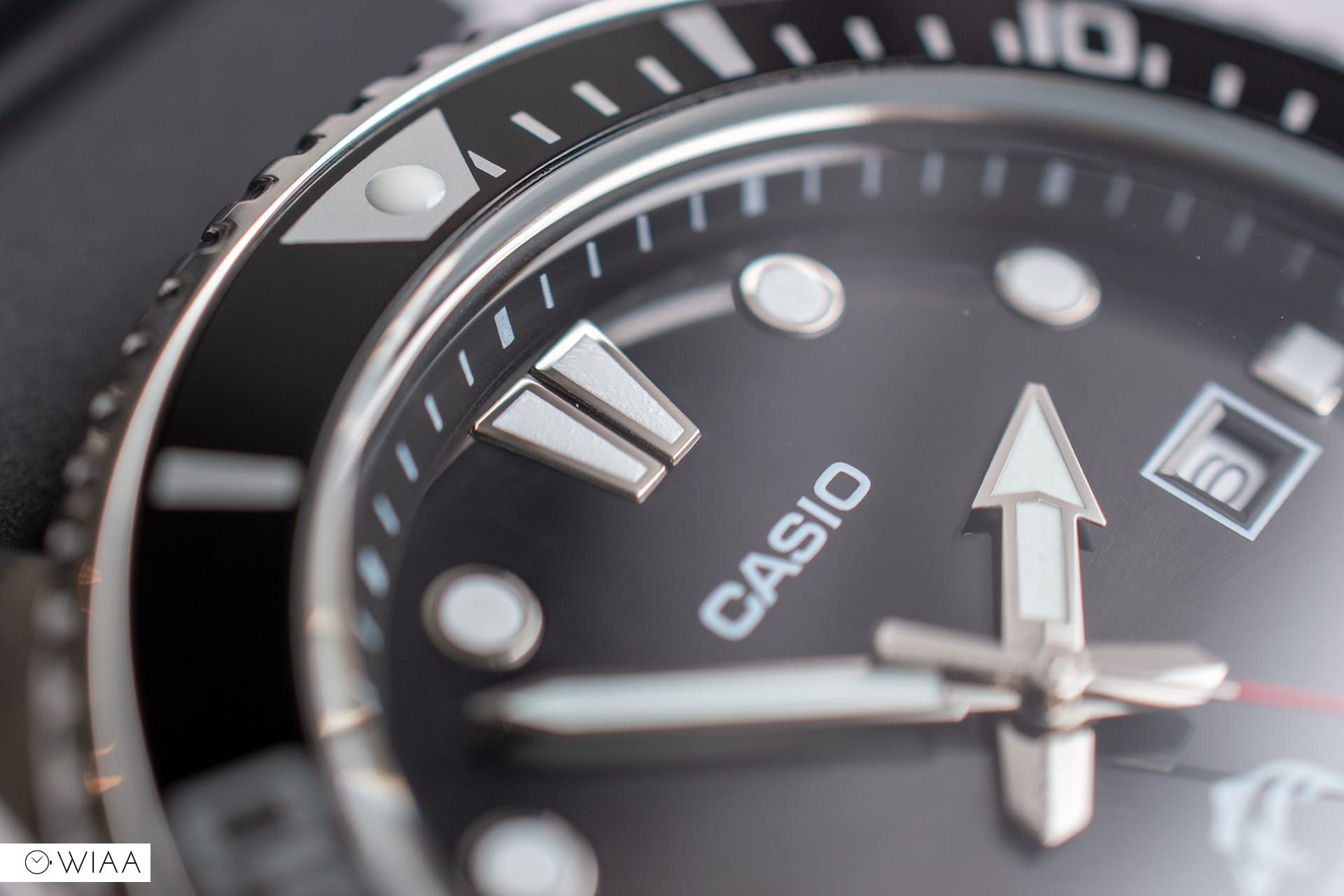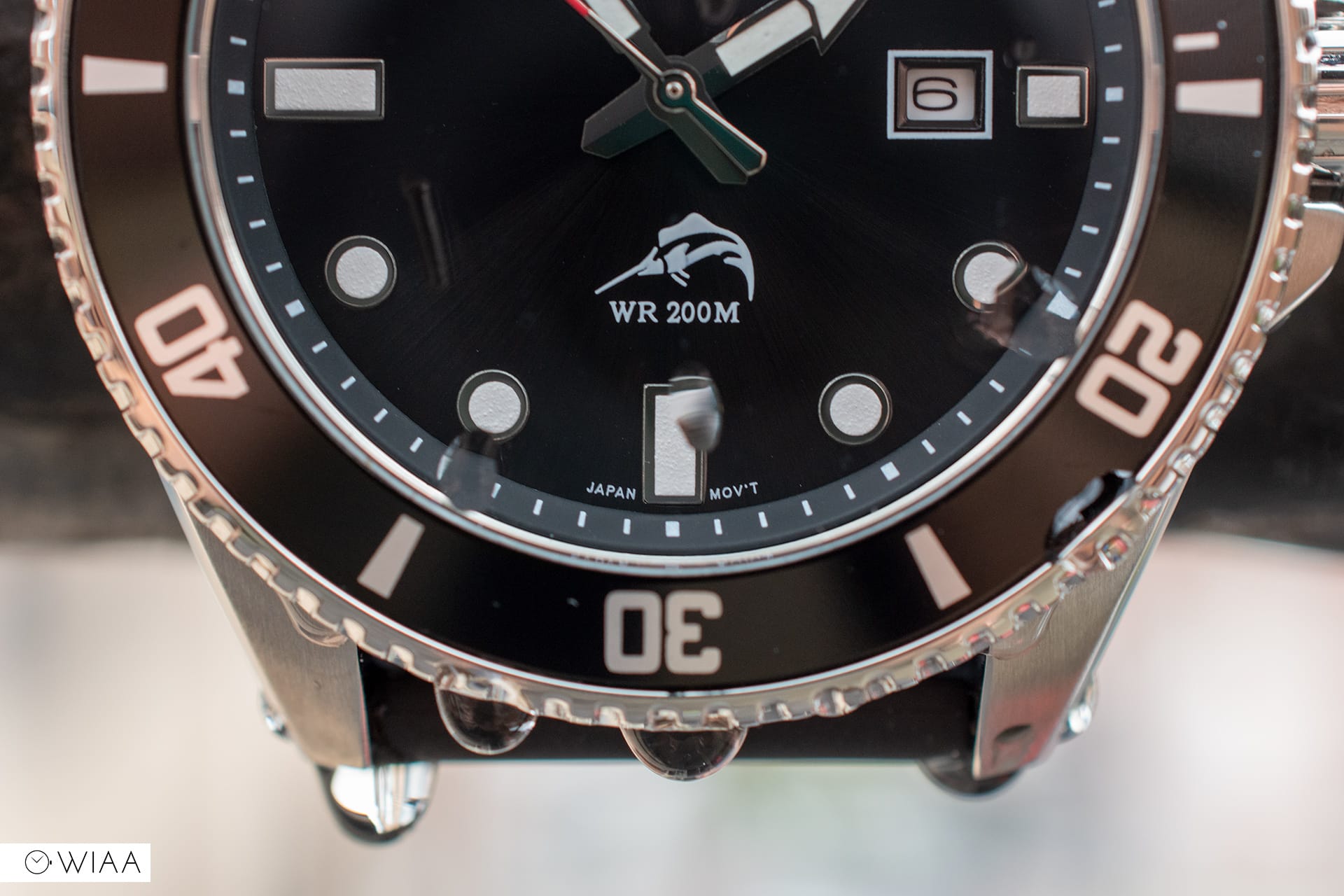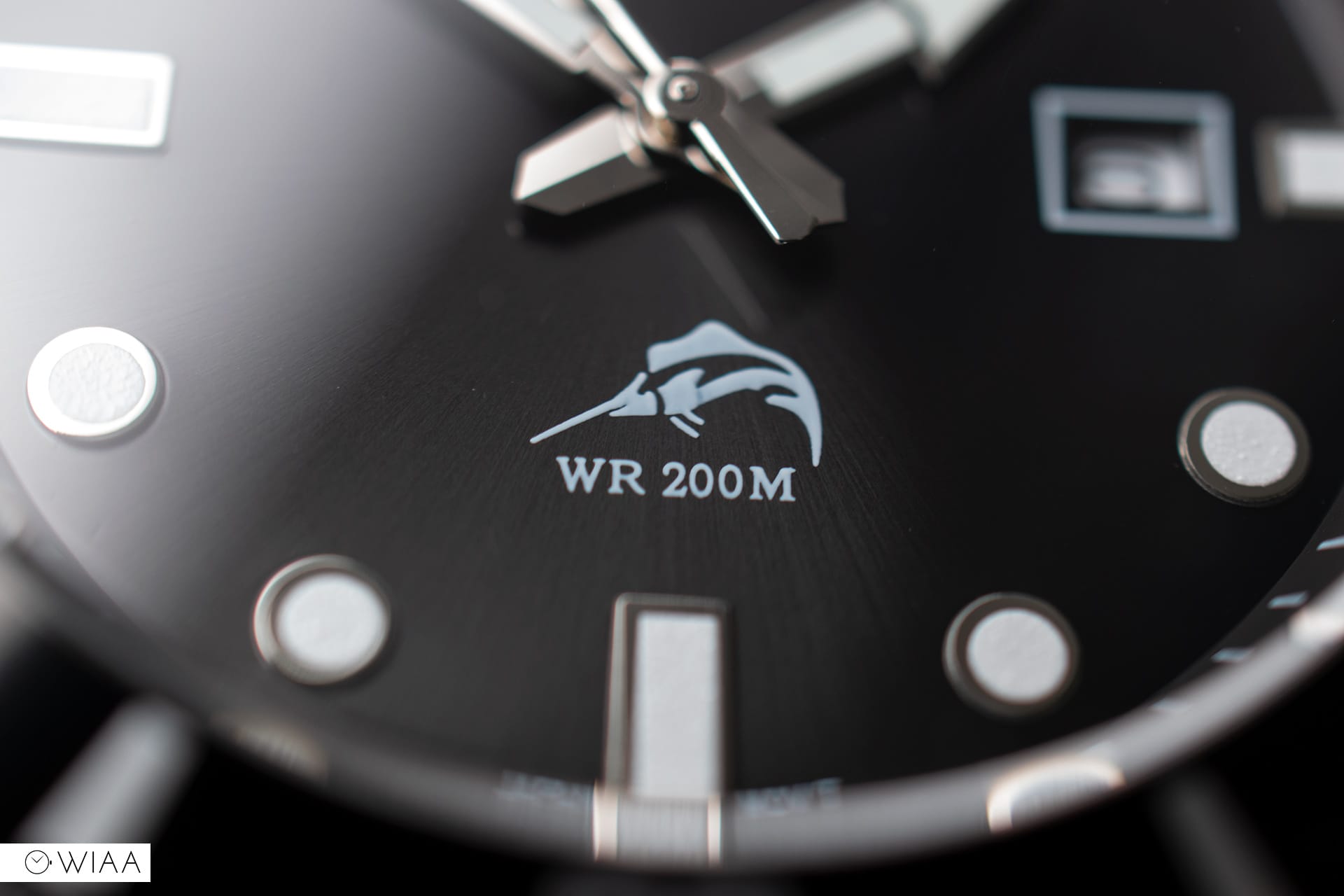 There's a subtle minute track on the rehaut which frames the dial.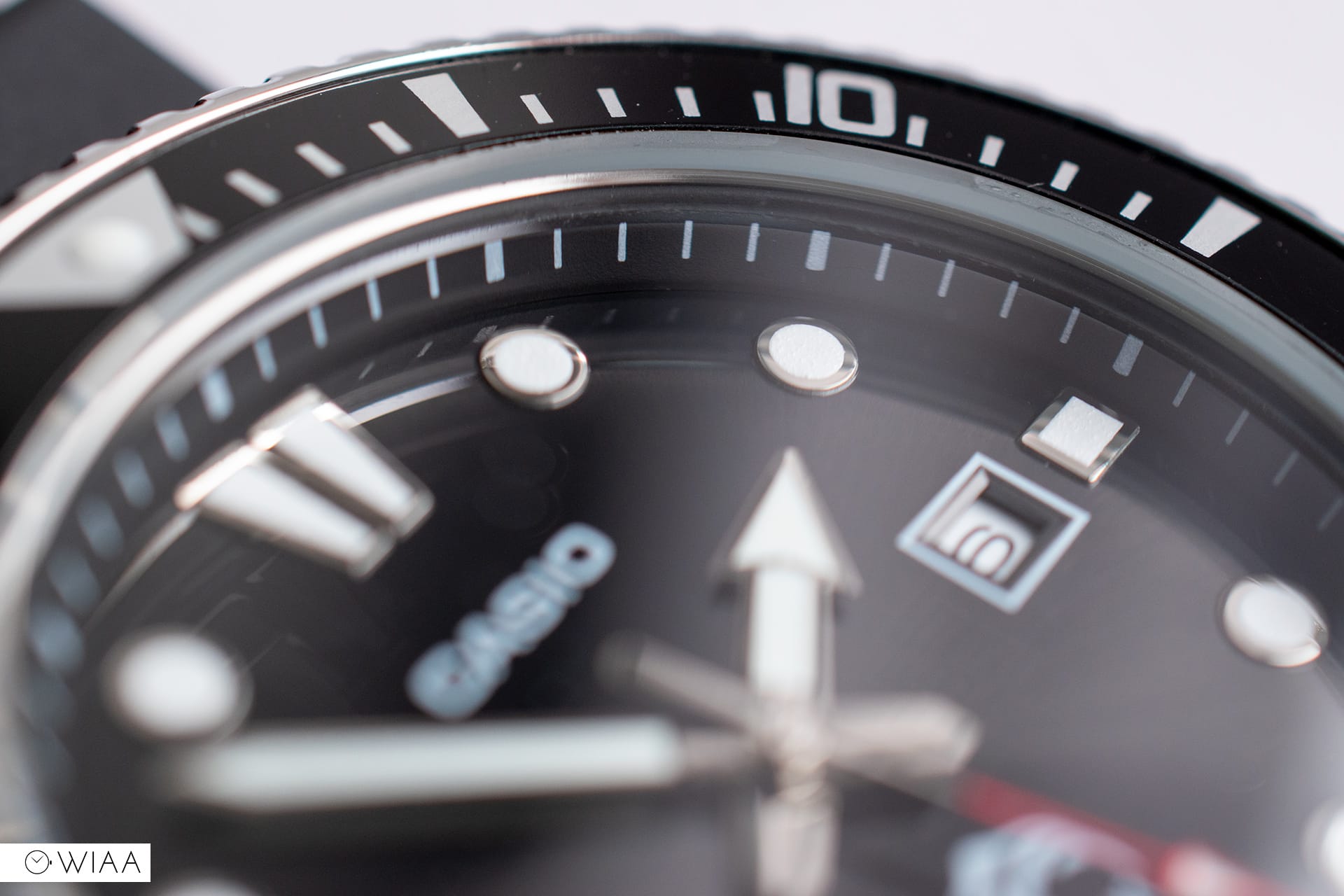 The date window at 3 is just large enough for the black numerals on the white wheel to be legible. There's a bevelled edge which helps soften the transition, and a printed white outer border.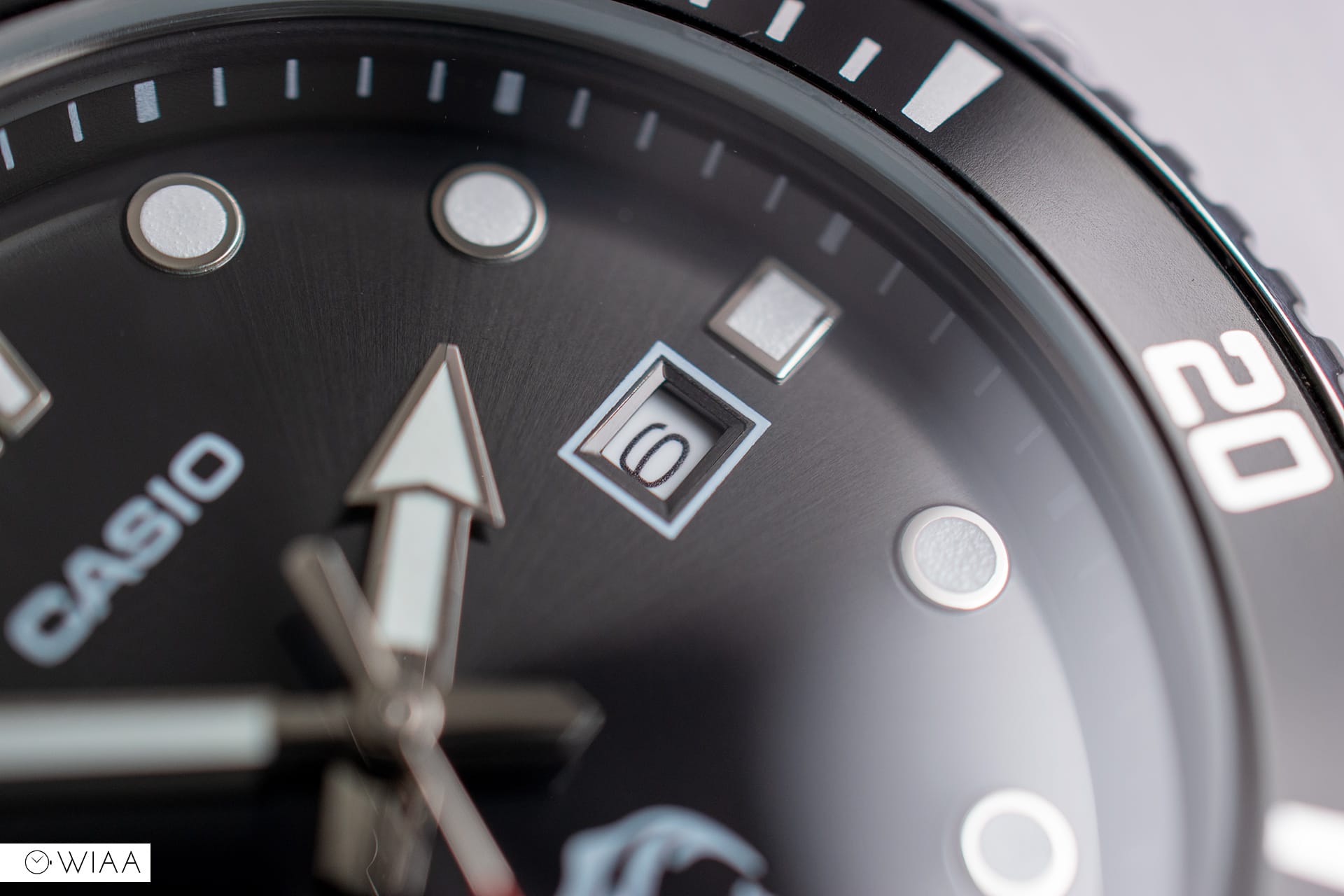 The applied hour markers have a polished border and are filled with lume. They're not the deepest, but they do catch the light effectively and make the dial stand out whilst working in tandem with the sunburst backdrop.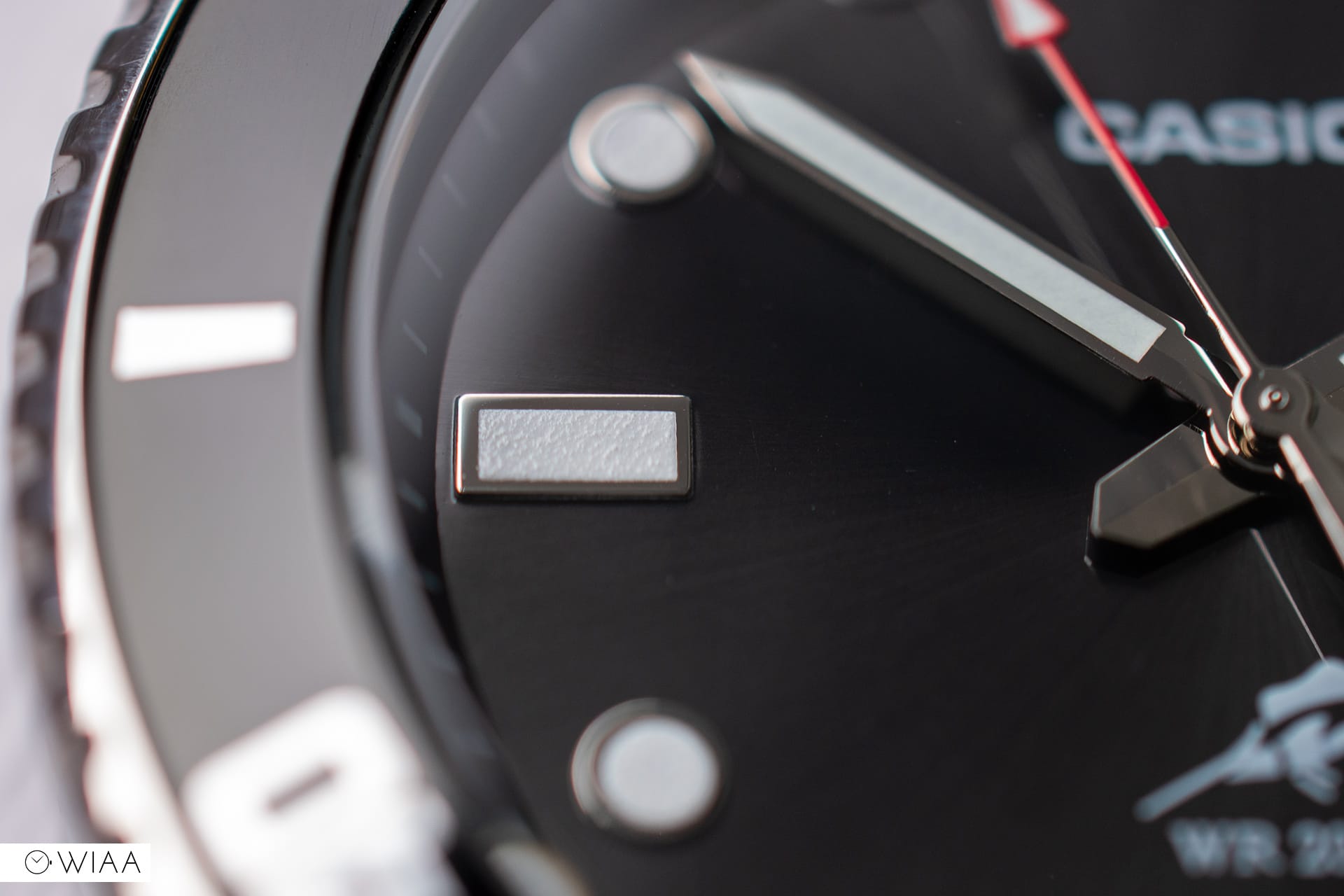 The hands are reasonably straight forward: the hour hand is an arrow with a border to separate the head. The minute hand is a pointed baton; both are pitched. The lume filled centres don't extend for their entirety; they have a metal counterweight. I've found the hands to be perfectly legible, if not a tiny bit small visually.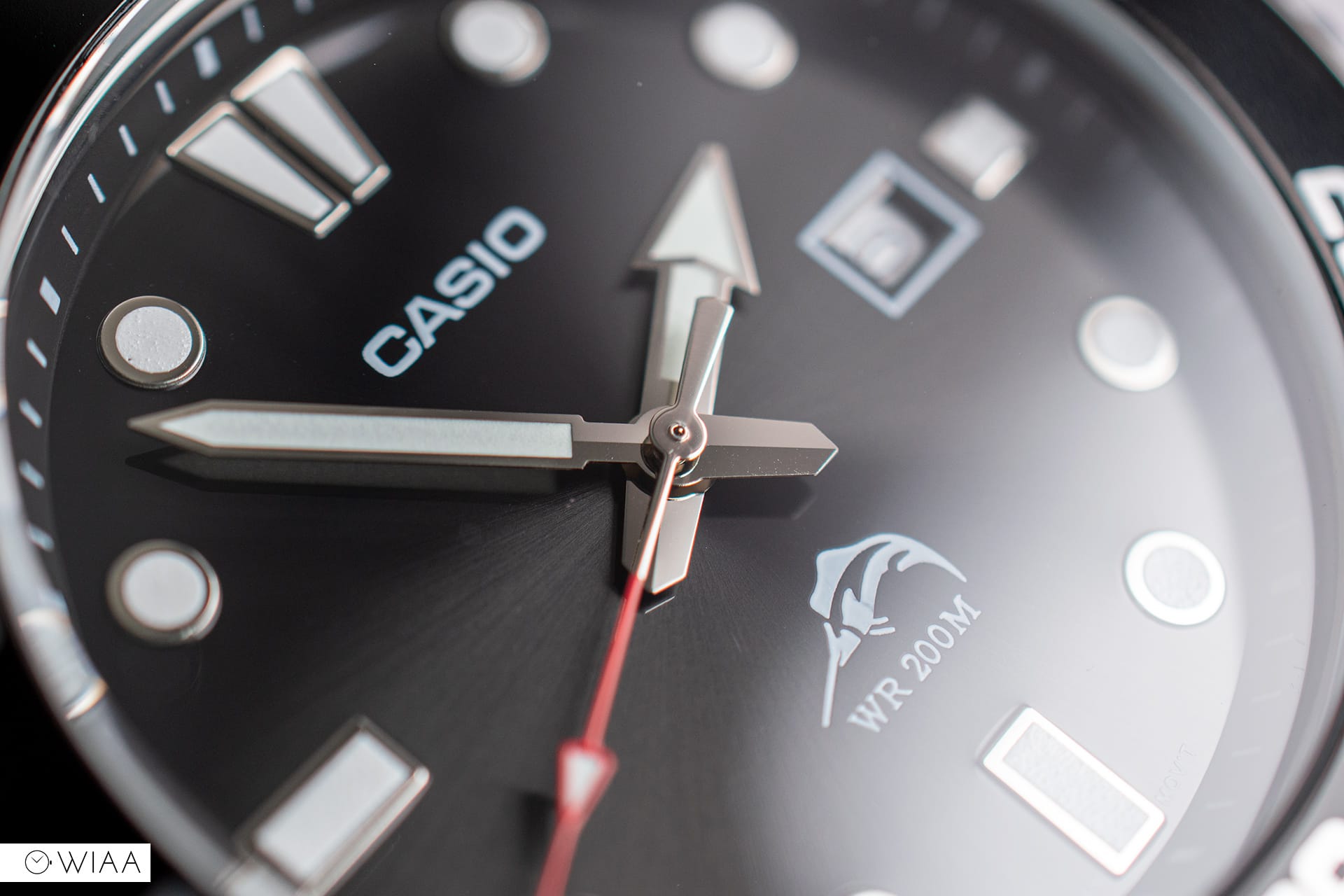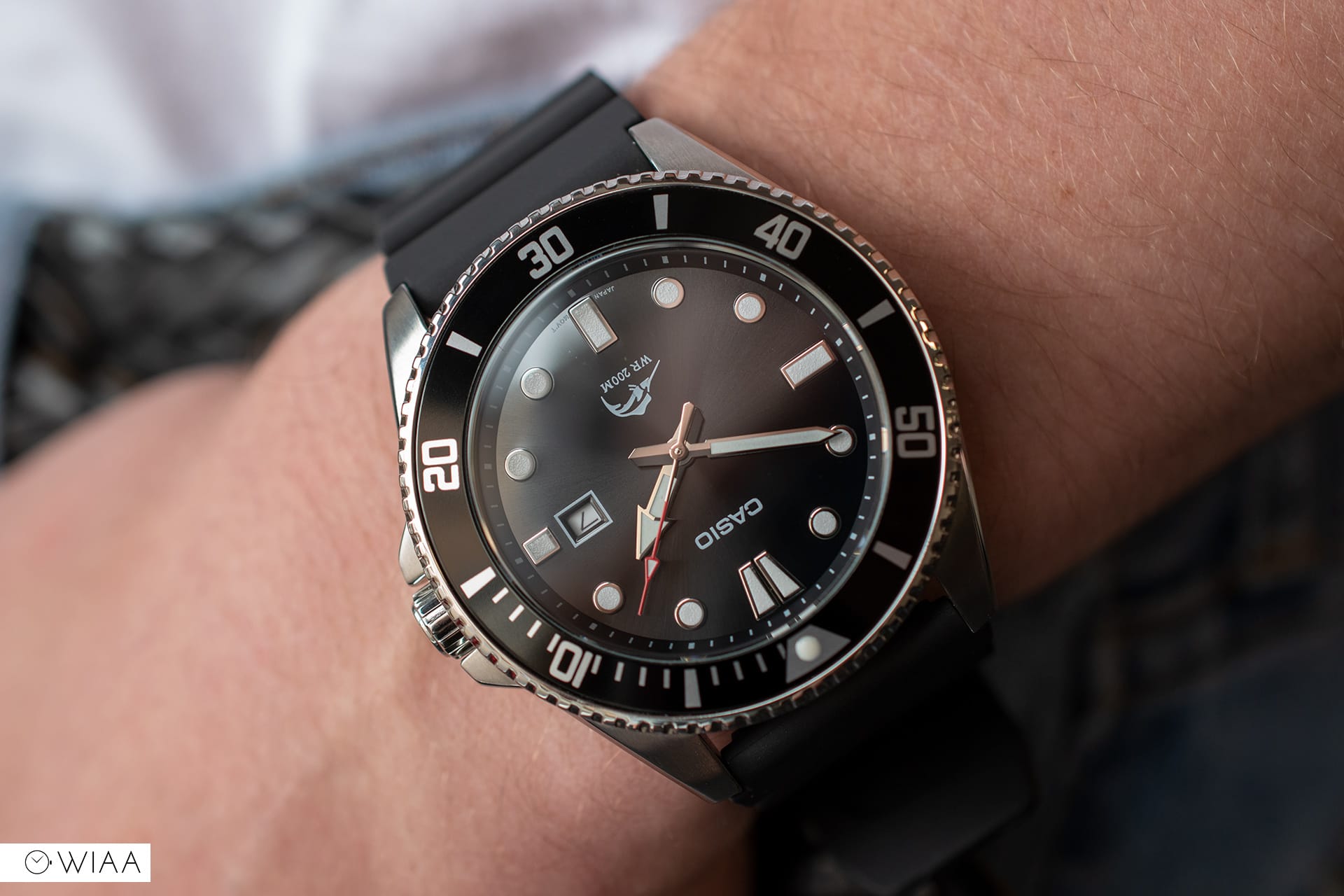 The lume is pretty decent for the price. It glows green and is certainly above average for watches costing a few times the Duro.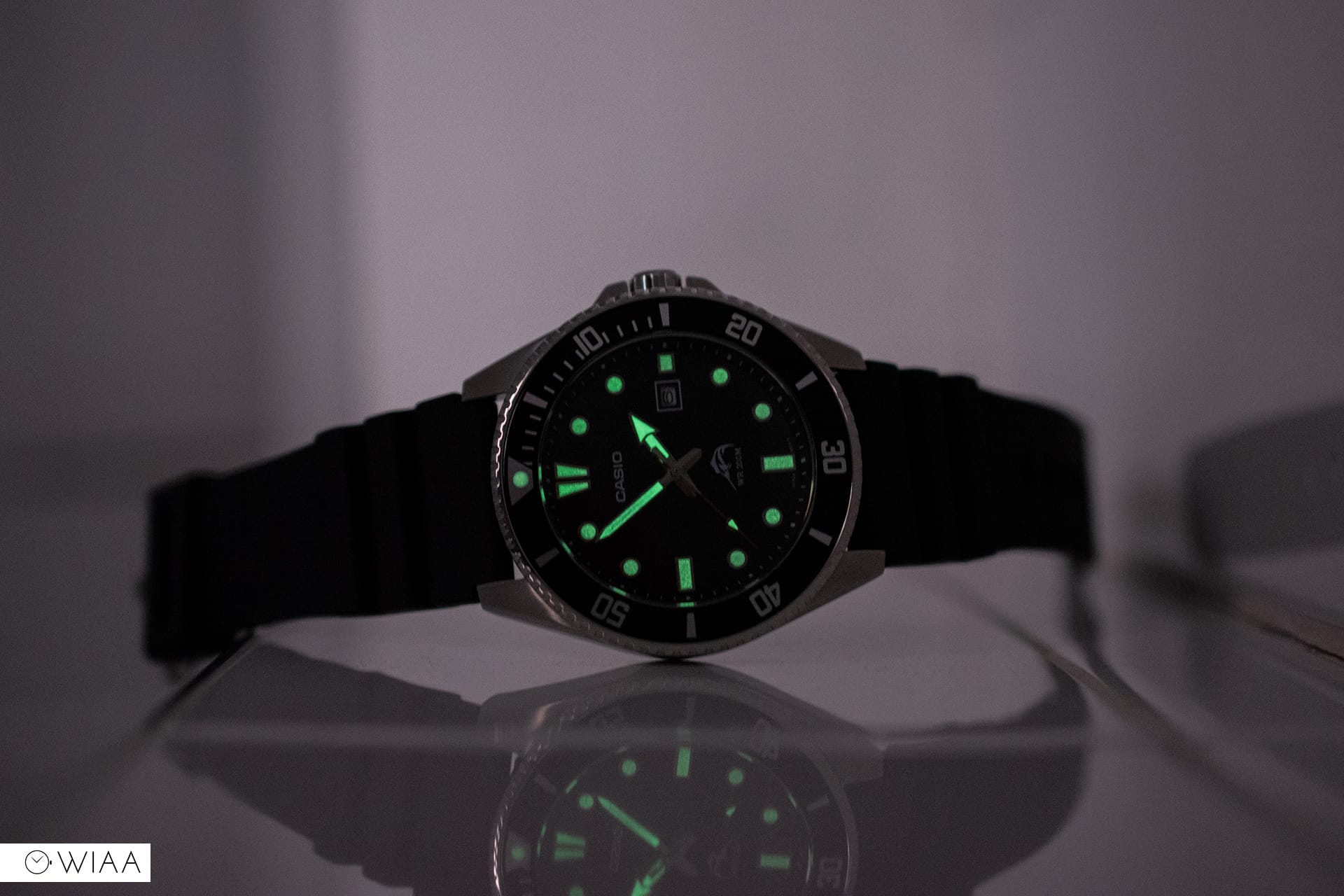 The strap
I'll be completely honest, the black resin band the Duro comes with is plain, boring, and does the watch no favours. Hence why I immediately switched it out for one of my two-piece NATO straps, which is so much more comfortable and looks much better.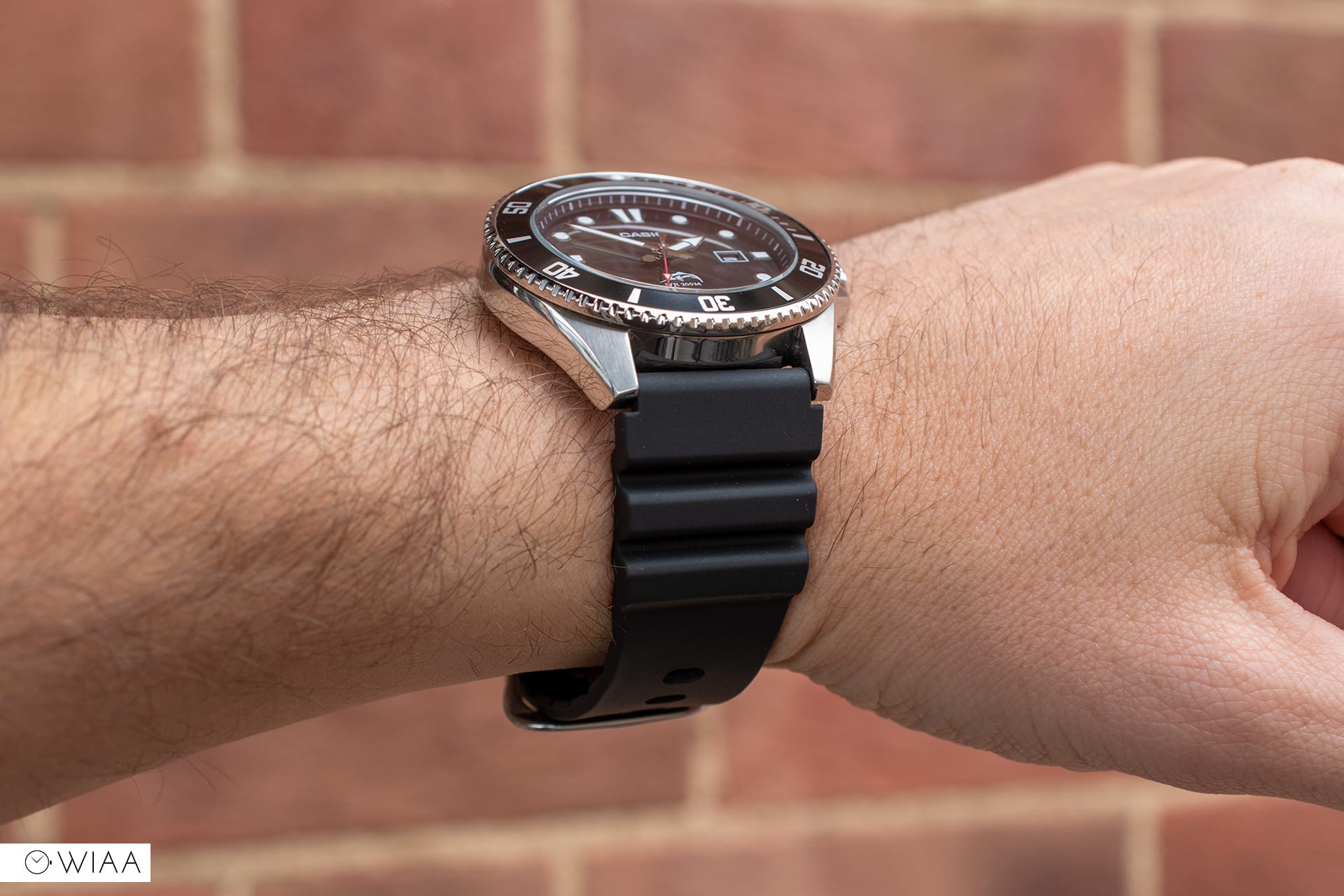 The resin strap is useful still, but personally, I'd only use it for actual swimming or diving. It's comfortable enough but is very long so you end up having a long tail end. The tang buckle is also disappointingly plain, being polished steel and not having any markings or detail at all.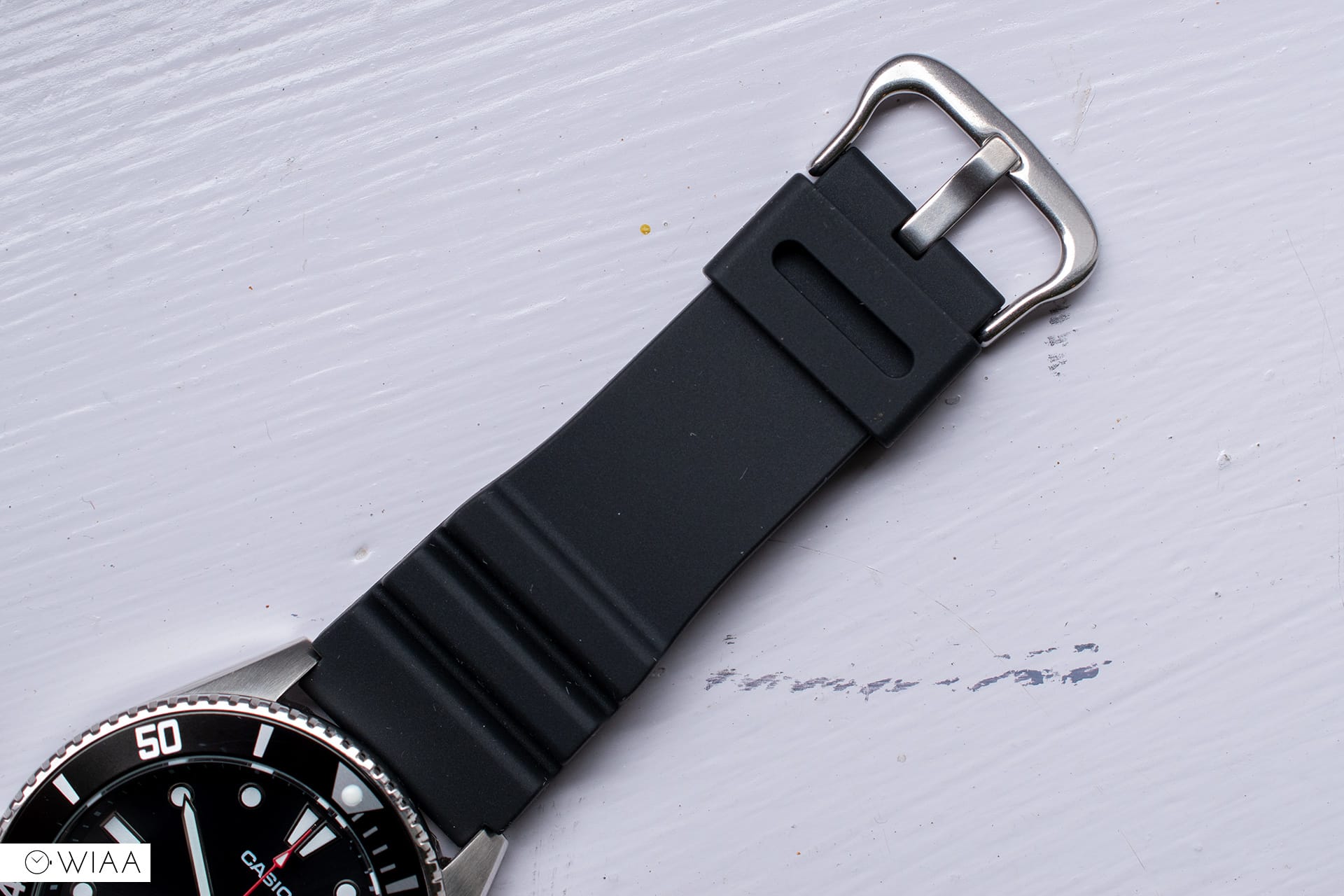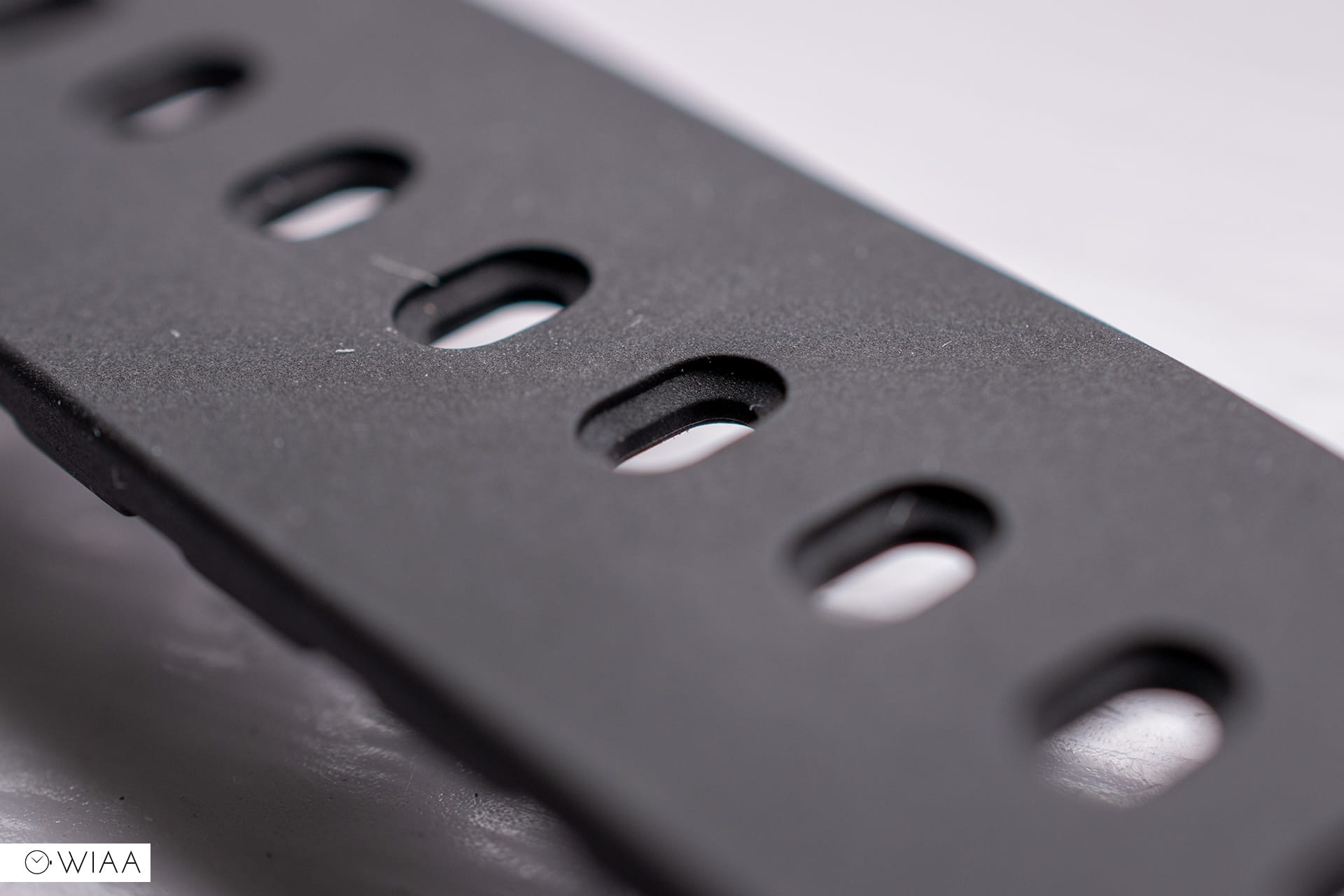 At least with a standard 22mm lug width, you'll be able to find plenty of options.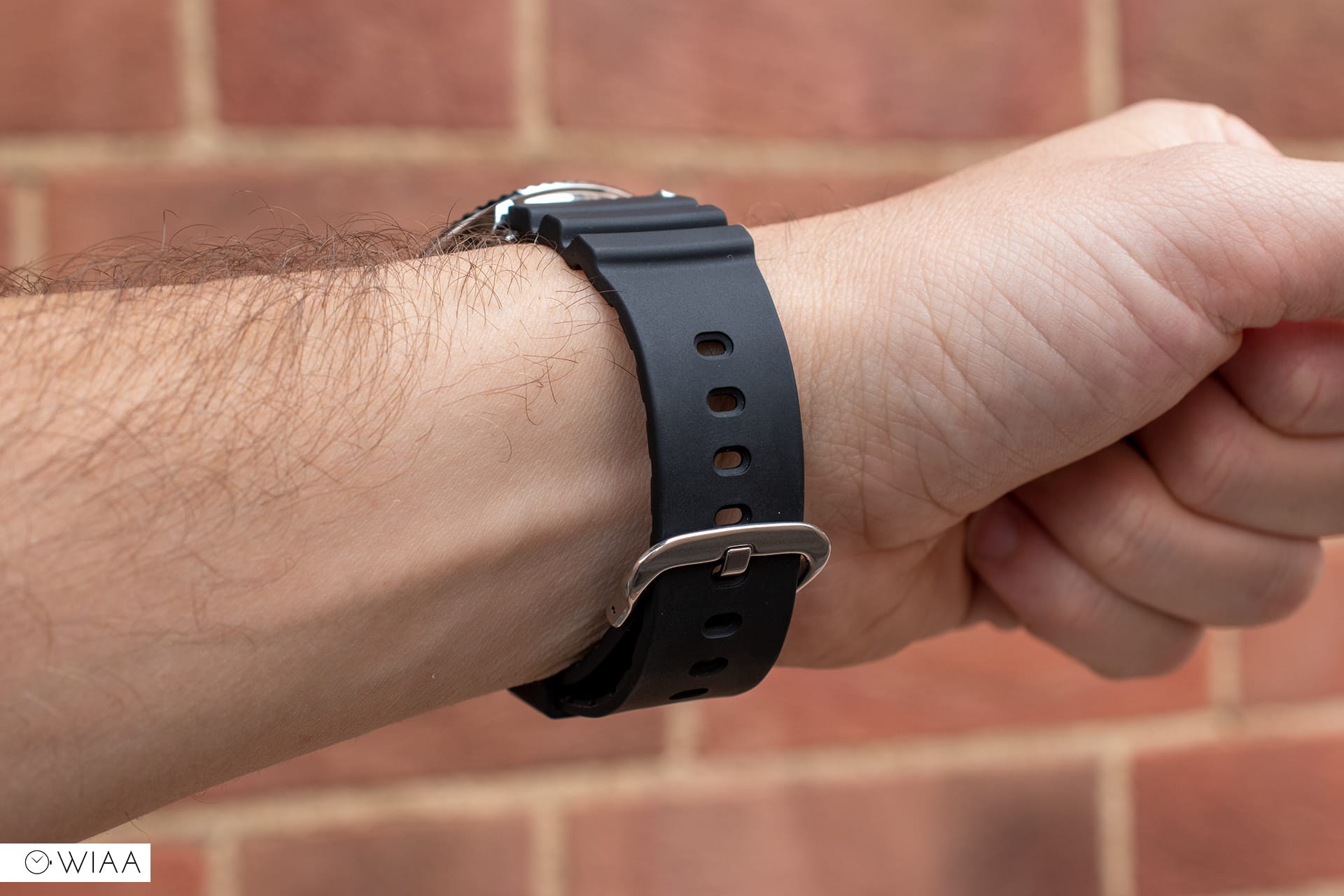 The movement
The movement is a Casio 2784 module. The SR626 battery should give you 3 years battery life, and the movement is easy enough to operate: unscrew the crown, pull out to the first step for date advancement, and the second step for time alteration. It has a hacking seconds hand so accurate setting is possible.
Another thing the Casio Duro is well known for is the accuracy of the seconds hand. Believe it or not, it's quite often you see seconds hands not hitting the markers bang on. This Duro is indeed very accurate although not quite perfect.
Final comments
When I first opened the box (which is a small cardboard box with a plastic watch stand within), I wasn't overly blown away by the Casio Duro. Whilst I'm still not blown away by it, I've realised that it doesn't aim to impress. It's all about being a solid no-frills diver. Designed and built to be used. Diving.
Yes, there are other options available at the same price range. Parnis immediately springs to mind; however – would you trust a Parnis enough to actually go diving with? Most probably not – I certainly wouldn't. So in reality, the Duro is the cheapest, most trustworthy diver available. And that's where it comes into its own. I'd wholeheartedly trust this watch underwater. I'd trust this watch to keep ticking whilst I use it for jobs that would most likely end with it getting bashed up.
There are countless examples of Casio Duros being used, nay abused, to within an inch of its life – and they just keep on going. As long as you're not expecting it to replace all your watches in your watch box, you can't go wrong with adding this to your collection.