CATEGORY: A Watch I Own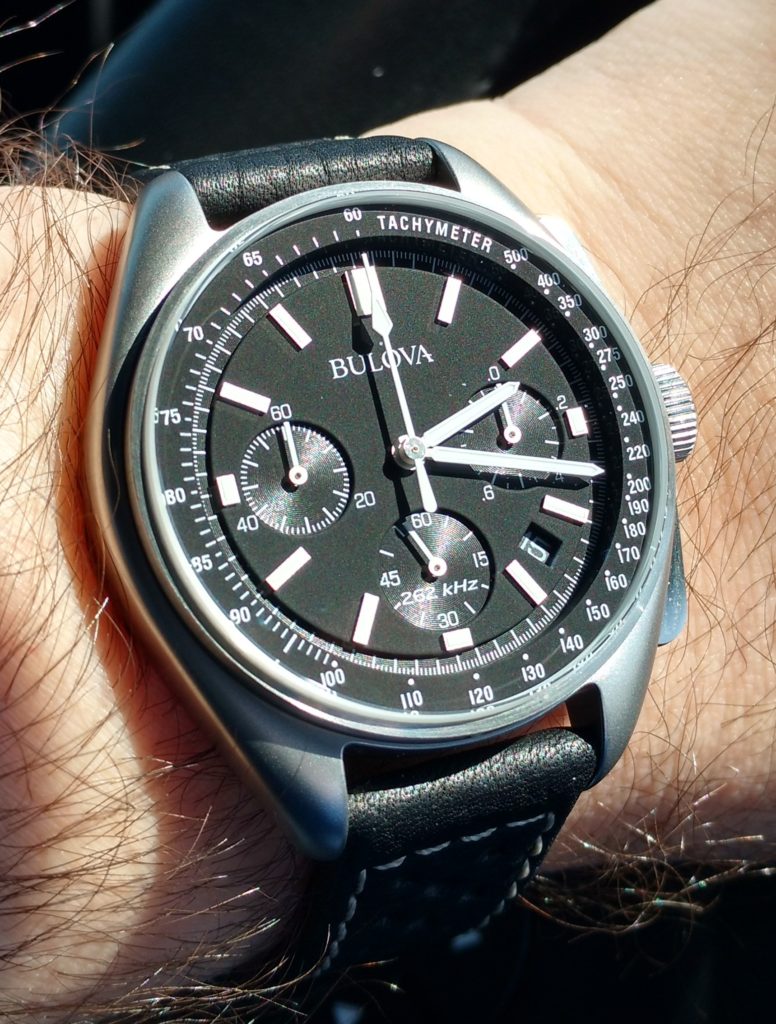 Tool watch. It's a term that's bandied about among watch enthusiasts.
You know, you have your dress watch, and your divers watch, your beater, your chrono, your flieger, lots of different categories that you need to get watches in, in order to have a fully rounded collection.
One of the most popular, is a tool watch.
So what is a tool watch. Simply it's a watch that is designed to do a certain job. This is a subjective term as surely the job all watches are designed to do is tell the time, so any watch that tells the time can therefore be classed as a tool watch?
No, it's not that simple. A tool watch has to be focussed. Not showy. Apart from telling the time, the rest of its design and construction has to be singularly focussed on its intended use. Divers watches with a 120 click bezel with lume, minimal face with big lumed indices and big lumed hands are a tool watch. A Rolex Submariner Serti with diamond indices and use of gold isn't. A tool watch is designed for a specific application, not really for show. This is what makes them desirable, that it has a purpose beyond being wrist candy.
So what does this have to do with this Bulova? Well, it must be said that the "ultimate" tool watches are ones that were designed for the harshest, yet coolest, applications. Pilots watches, racing timers and coolest of all…astronaut watches.
You think space / moon watch; you think of The Omega Speedmaster. It's well documented that these were the watches independently chosen by NASA as standard issue to astronauts from the Mercury programme onwards. These are what were on the wrists of heroes like Neil Armstrong and Wally Schirra. The back of some models has the inscription "Flight Qualified By NASA For Use On All Manned Space Missions". You can't really get cooler than that.
But there were other watches used on manned missions, that NASA wasn't aware of at the time, sneaked on-board by their astronaut owners. One was the Seiko 6139. The orange dialled version is called the "Pogue" as it was worn by William Pogue on the Skylab 4 mission. The other is a one off Bulova chronograph watch made for Dave Scott, that he wore on The Moon during the Apollo 15 mission.
I won't go into details about that original watch (as a quick Google will fill you in) except to say that the original sold for a fortune at auction in 2015 and seeing that, Bulova decided it wanted a bit of the "space watch" pie.
So it has come out with a re-issue of Scott's Moon Watch. I guess the first thing to do is look at them side by side (picture wise, I couldn't afford the original)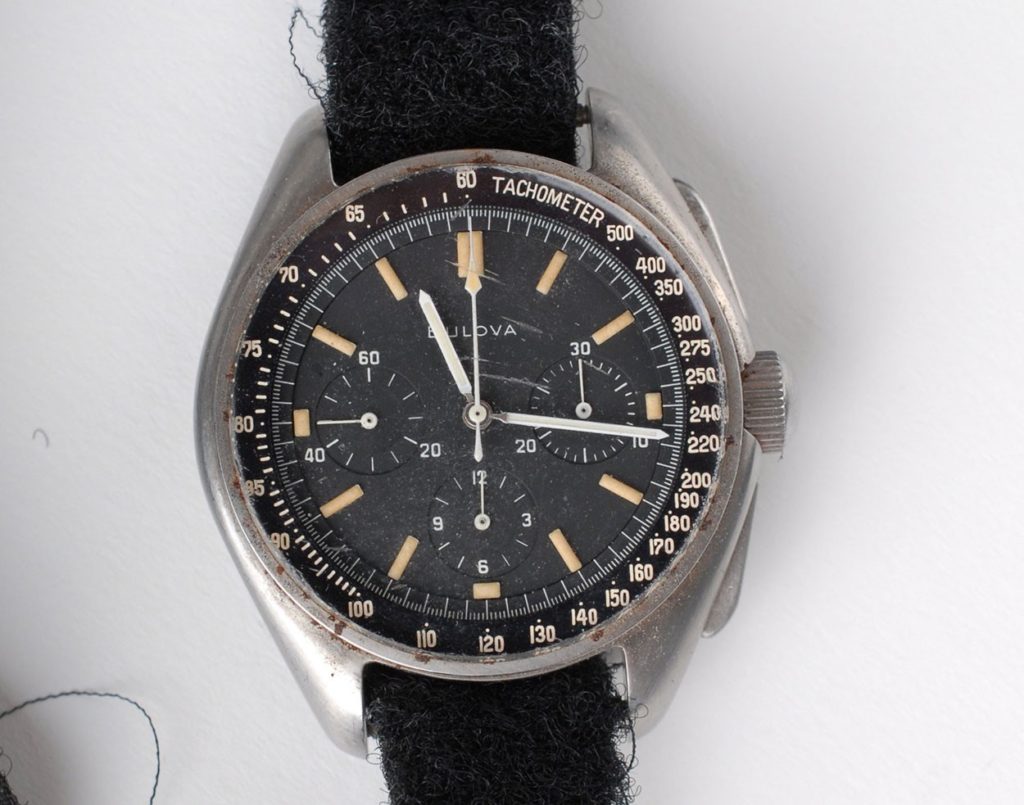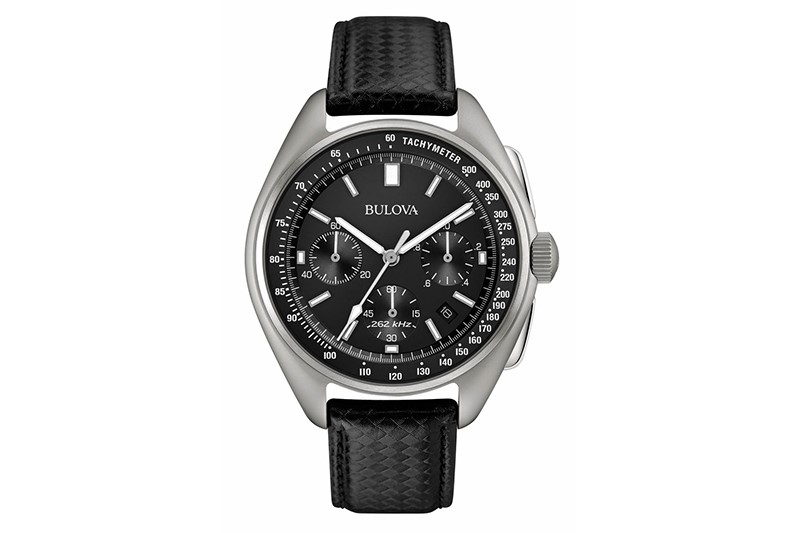 The case, the crown, the hands and the distinctive large chrono pushers are very good homages, it's clear these are from the same bloodline.
The lume is obviously not the same, but the indices are nicer on the re-issue as they are applied steel with lume and look classier. There is a date window on the re-issue too, the Bulova text is now in its modern incarnation and there is a "262 KHz" marking on the lowest chrono dial.
So, it really does look like the original, however, the movement is very different.
The movement in the re-issue is thoroughly modern. It uses a Prescisionist quartz chronograph movement. "262 KHz" refers to the oscillation of the crystal in the movement. This is much higher than a regular quartz movement. Bulova claims that this is accurate to within 10 seconds per year. If it is or isn't I'm not sure, but I certainly haven't noticed much slippage, but I don't need a watch to be ultra accurate, so I don't really measure them. However, at least on paper, that is a very accurate movement. Very.
This also means that when using the chronograph function, the dial at 3 O'Clock measures to 1/1000th of a second and the chronograph (large) second hand sweeps as if it was mechanical. Very accurate again, but also looks very cool.
There are differing reports as to what type of movement was in the original, as it was a one off, but even the biggest automatic fan cannot dispute the fact that the prescisionist movement is a lot more accurate and functional than the one that would have been in the original watch.
Many have been put off the watch due to the fact that it has this movement instead of an automatic, but here we go back to the "tool watch" musings. In this day and age, this is the right movement. Accurate, usable, not affected by (lack of) gravity or magnetism. And it allows the watch to be in the reach of people who wouldn't spend what Omega (or Fortis, but that's for another time) want for a "space watch" with pedigree.
Anyway, here's some facts and figures, before I go on with my thoughts:
Crystal: Sapphire Glass With AR Coating
Lume: "Super Luminous"
Case Diameter: 45 mm
Case Thickness: 13.5 mm
Lug Width: 20mm
Lug To Lug: 50mm
Water Resistance: 50M
Textured black leather strap
Black nylon strap with a nubuck leather patch that commemorates the date of mission (DOM) as 08021971
Gift-box presentation includes a Certificate of Authenticity and strap changing tool
UK RRP: £449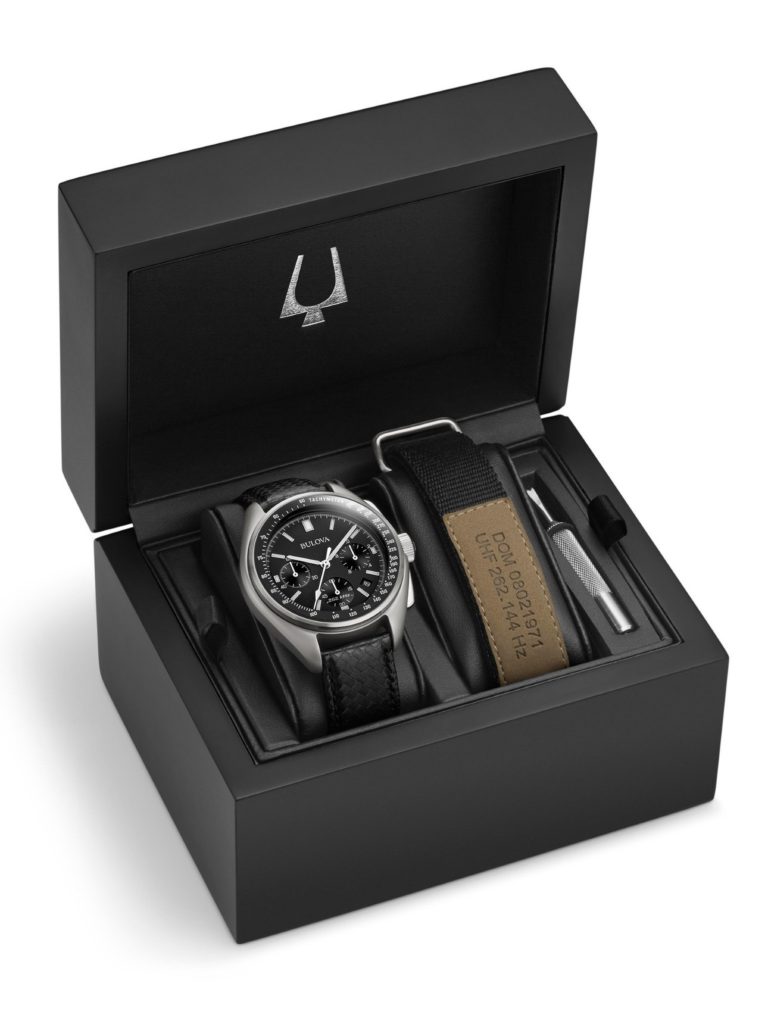 So, what's it like to live with?
Well, I have a 7 ¾" wrist, so I can carry off big watches, but I must admit, the 45 x 50mm size did seem at the top end of what I thought I could get away with.
Also, there are 2 versions, this "limited" edition (by how many I don't know, but they seem readily available and mine isn't numbered) with the 2 straps and a version with a bracelet (never seen that for sale in the UK).
I contacted Bulova UK about buying a bracelet separately, but apparently the lugs are drilled differently so the official bracelet will not fit. Which is a shame. I hope they rethink and create a new bracelet for the limited version in the future, but I won't hold my breath.
So here it is on my wrist on a "Bond" Zulu: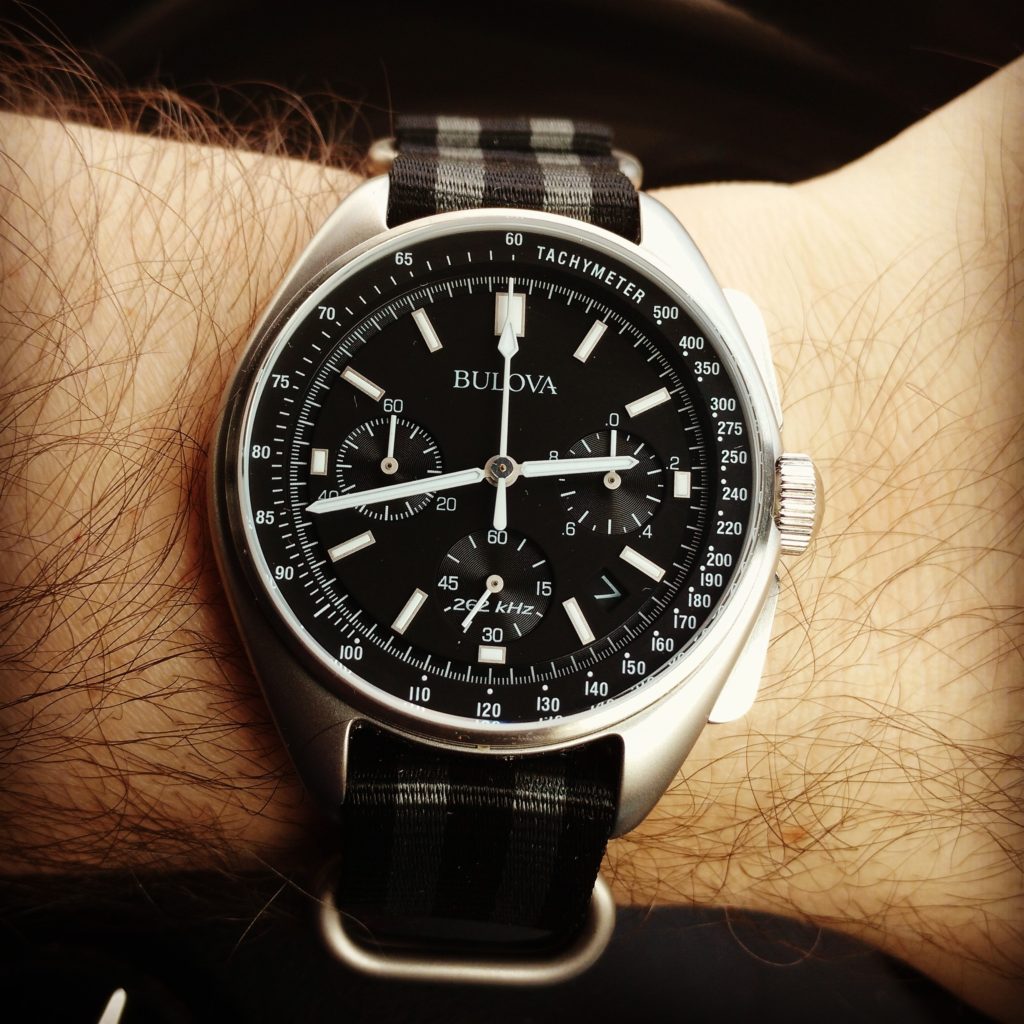 Looks very focussed and "tool" like. This transcends down to the face, which looks plain, but is very easy to read, very nicely done and in its own way, very elegant and beautifully finished.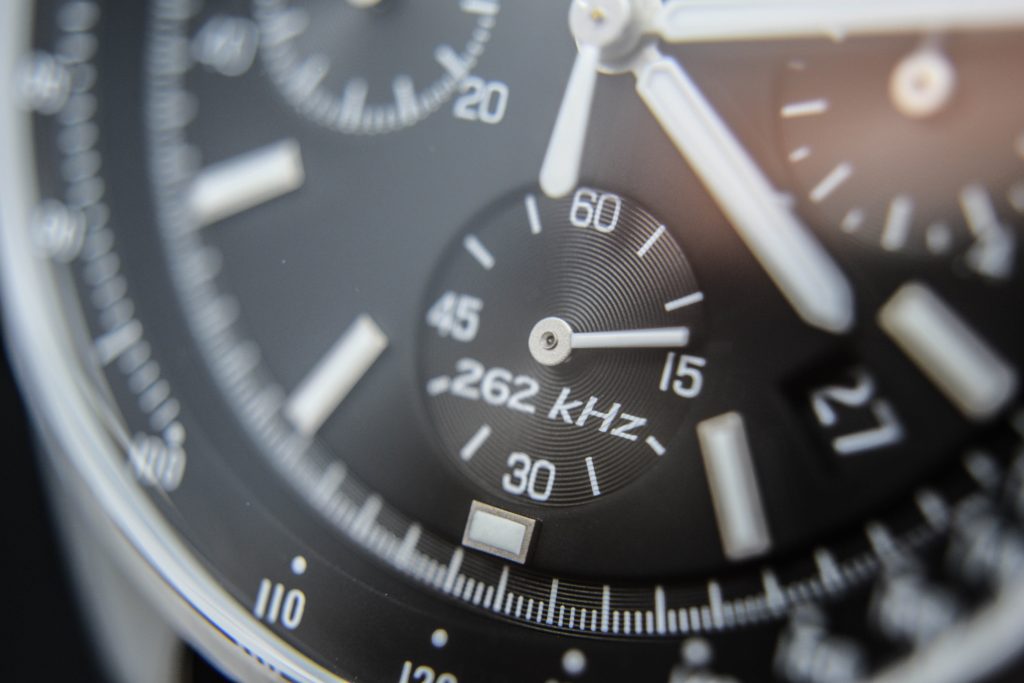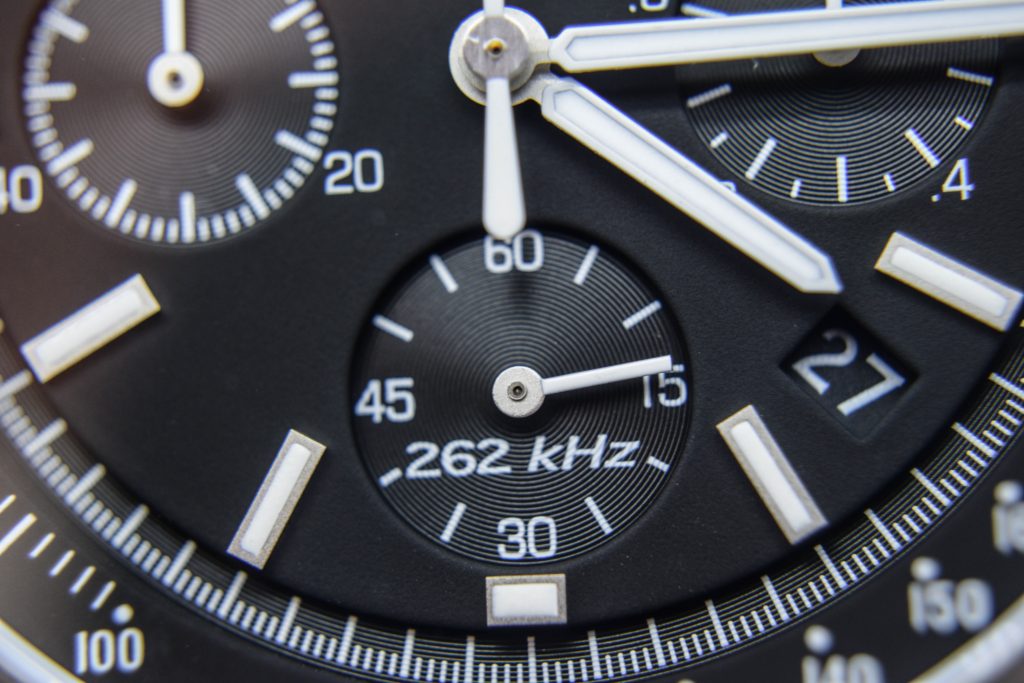 The straps, got to be honest, not tried them. The carbon effect one that comes with it is nice, with a signed buckle, but I already had in mind what I was going to wear on it before it arrived.
It really is very easy to please with straps.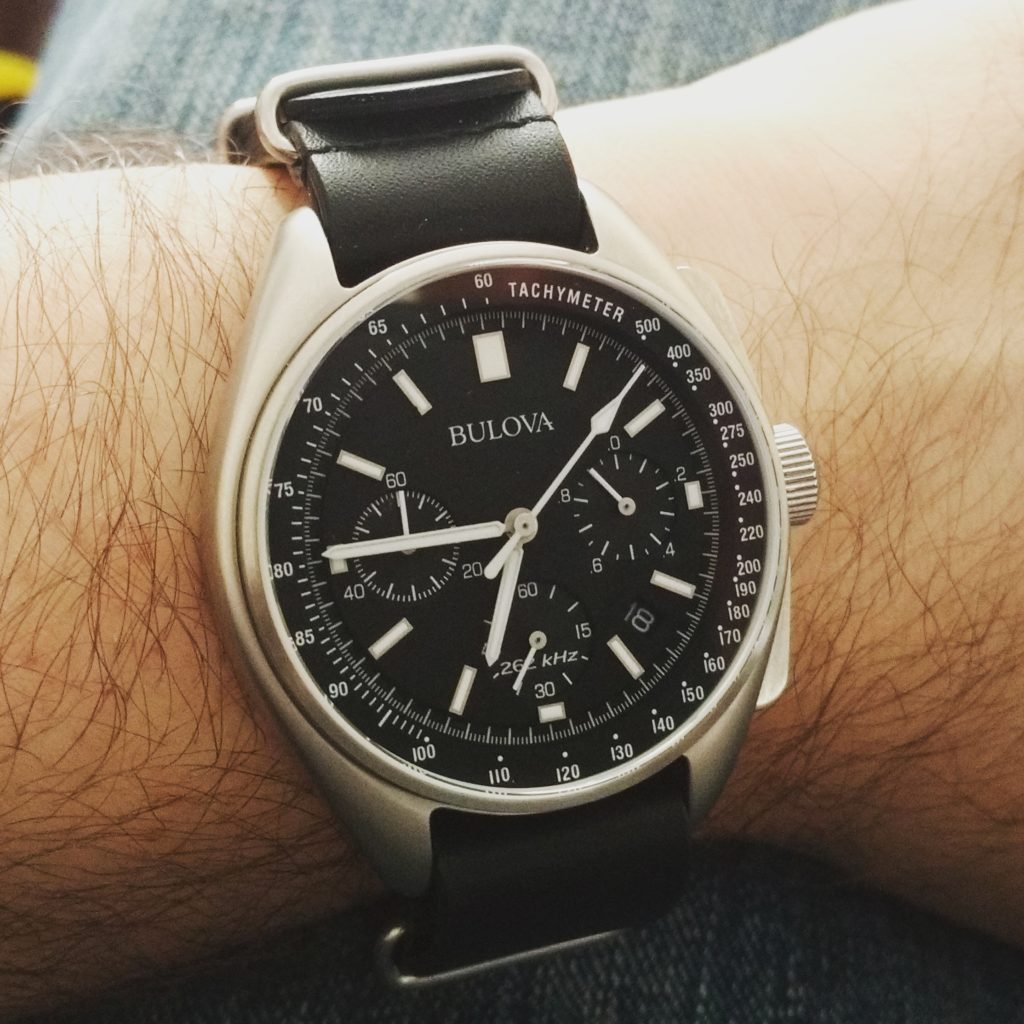 I've found a half decent bracelet for it. A simple "president" style. The fact that it has straight end links I think adds to the retro appeal.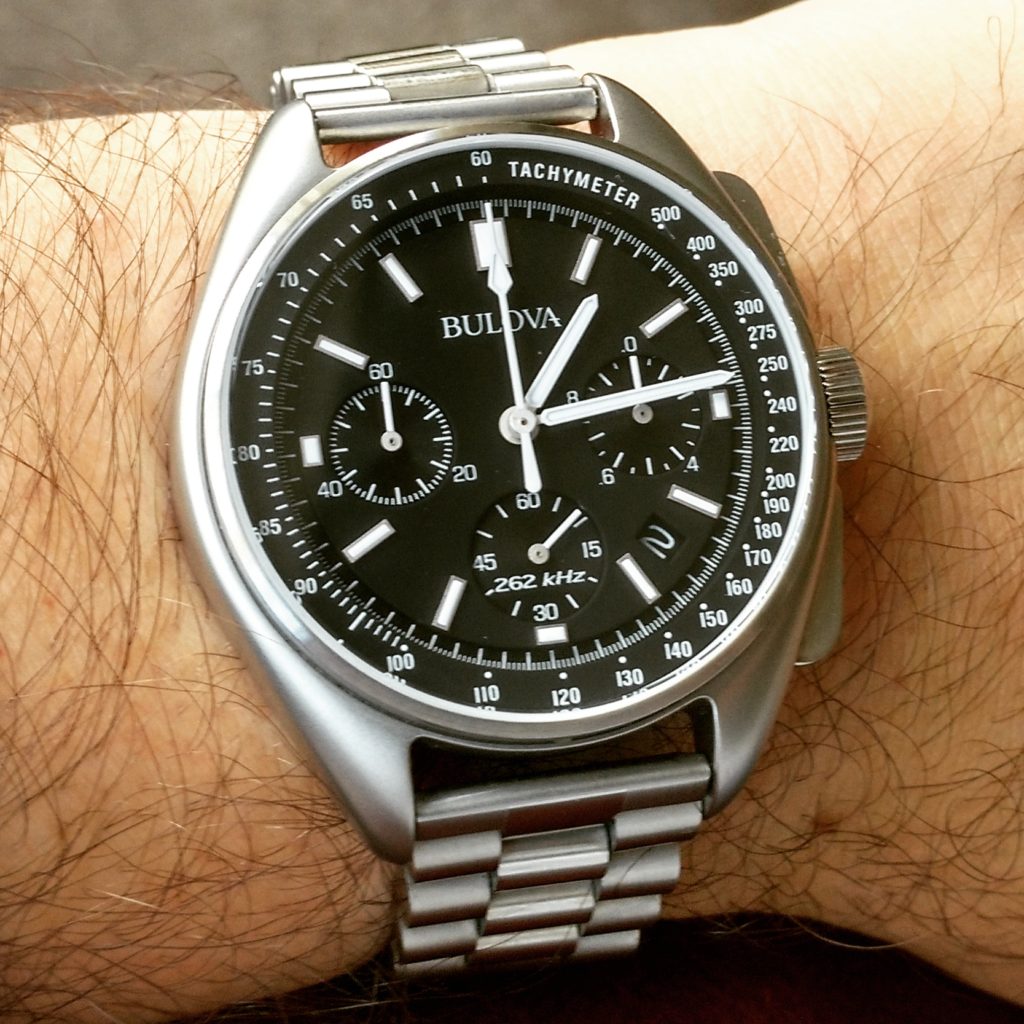 If I could change one thing, I think it would be the lugs. Although it still looks good, I think for a watch this size, 22mm lugs would have been better, with straight ends, but it's a minor thing.
Also, as great as the raised crystal is, you knock it and you could crack it easily, which could well ruin the aesthetic of the whole watch (note the signed crown).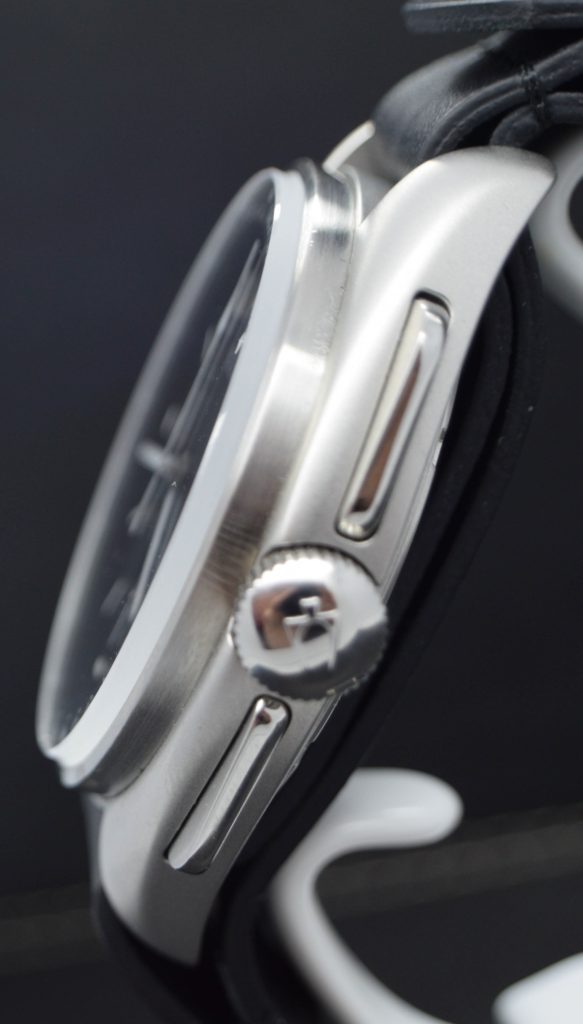 The lume is pretty, but the "Super Luminous" doesn't last long, but this isn't a divers watch so in reality it's not a negative. I'm always near a light source if I need to know the time. However, I have a Speedy Mk II and, like this, I love having the Tachy scale under the crystal. However, the Speedy's is luminous and looks fab in the dark, as you can see, the Bulova's isn't: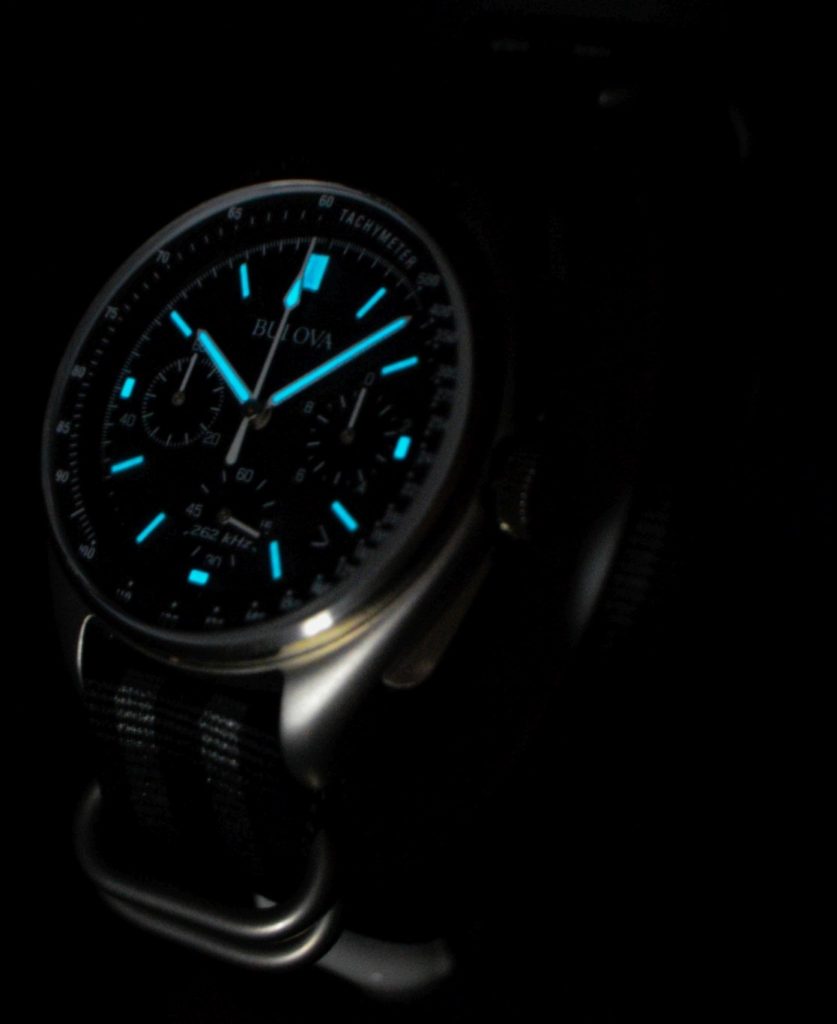 So, is this a keeper? You know how it is, you see a watch, you research it, you ask opinions, you check the finances, sometimes sell some other pieces and then it turns up…and you just don't bond. You don't know why, but you don't.
Then sometimes you have a passing fancy, read a bit more and think "meh, looks ok, price is right, what the hell, I can always flip it" …and it turns out to be epic.
The latter is for me as regards to this watch. It had hype and coverage, it was hard to get hold of (at the time) and had the space coolness factor so I figured I'd give it a go, as I'd be able to flip it at minimal loss if it wasn't for me.
It's beautifully made and finished, the presentation is top notch, it's very versatile, has great wrist presence and if anyone asks, it has an impressive story and the etchings on the caseback to back it up: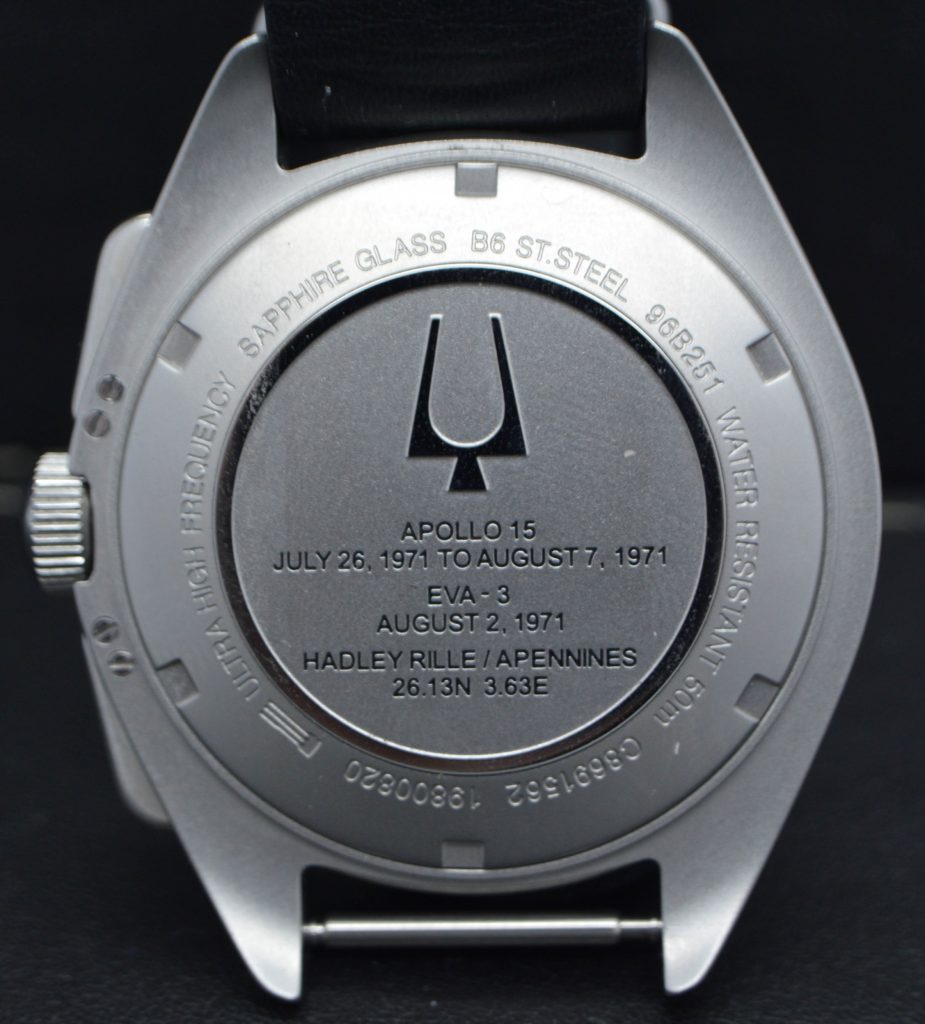 The thing is though…I just don't go for it that often when I wonder what watch to wear that day. I don't want to sell it, as I may regret it, but right now it's a bit of a "box queen".
This is a strange old hobby…