Whilst German brand BOTTA is best known for its one-handed watches designed to 'slow down time', their collection does also include models that use the more traditional two-handed time-telling approach, but that share the same Bauhaus-inspired modern design. Perhaps the quirkiest of these is the CLAVIUS.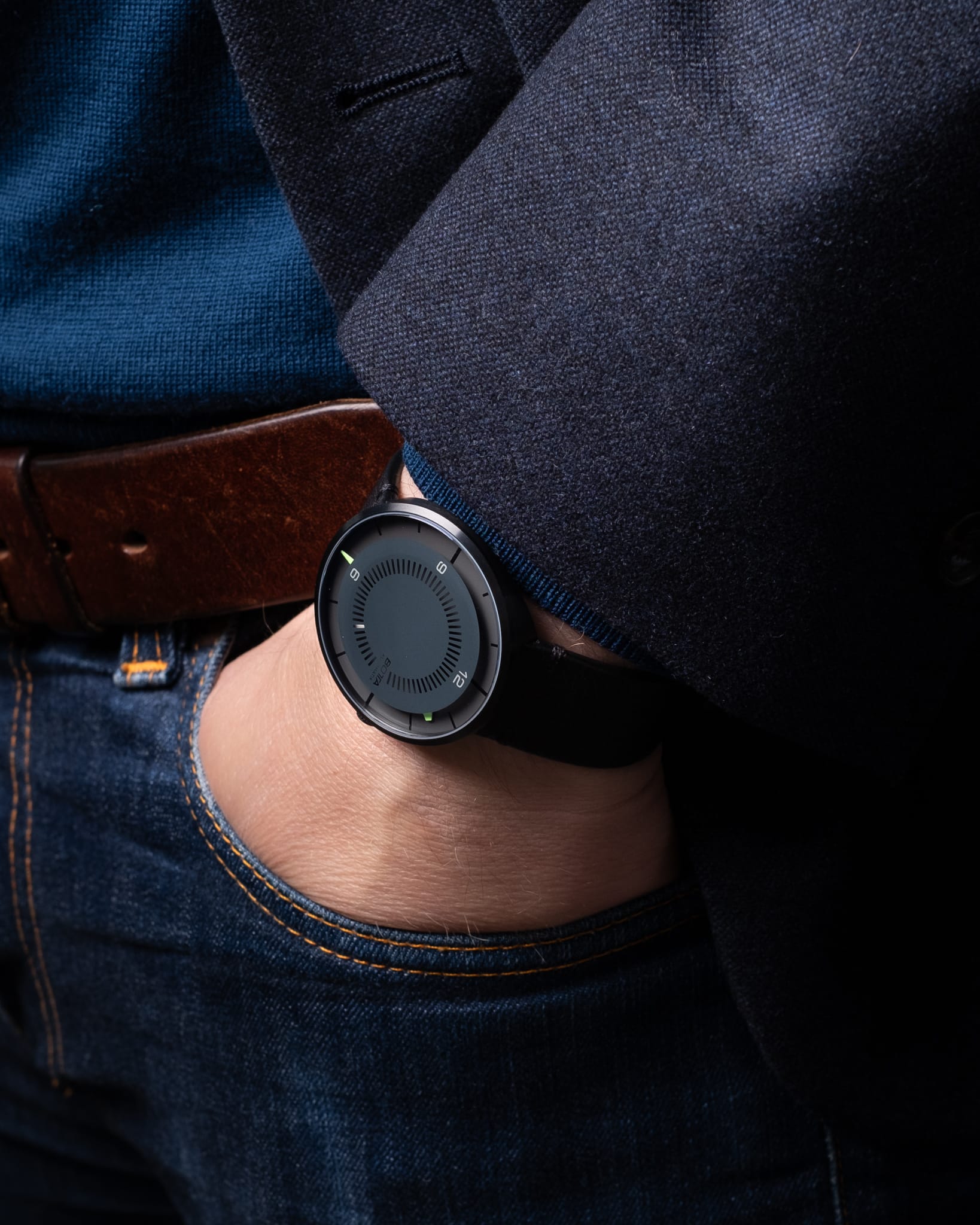 Case and Wearing Experience
The CLAVIUS comes in a choice of two finishes, Black (Black dial with titanium case), or the Black Edition tested here, which features a black PVD case for a stealthy monochromatic look. The large 44mm diameter case of the CLAVIUS is a bold choice for such a simple watch with not much going on. However, don't for one minute think that this is a bulky watch, far from it! With an overall thickness of just 9.1mm and no lugs to speak of, although it looks large, this can be worn on a surprising range of wrist sizes. It's comfortable too, weighing in at a featherweight 42g without the strap, thanks to its Tri-Titanium case. As the name suggests, three different compounds of aluminium are used, with each alloy specifically chosen for its unique qualities best suited to the section of the case it's used for – the bezel, the mid-case and the caseback. This makes the watch extremely light, strong, resistant to corrosion, anti-magnetic and hypoallergenic. Most of the case has a brushed finish, but sandblasting has been used to the undercut sections of the rear.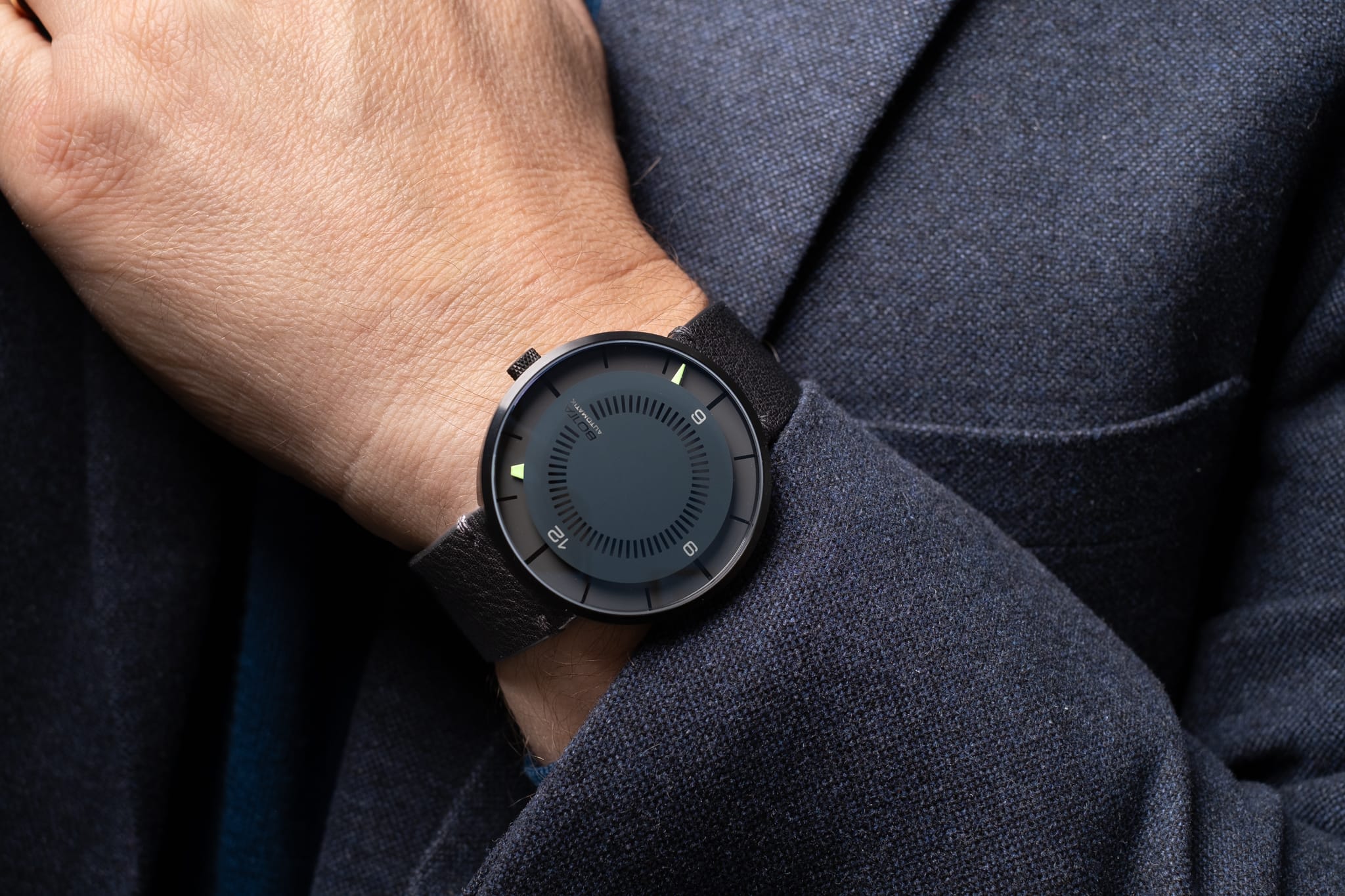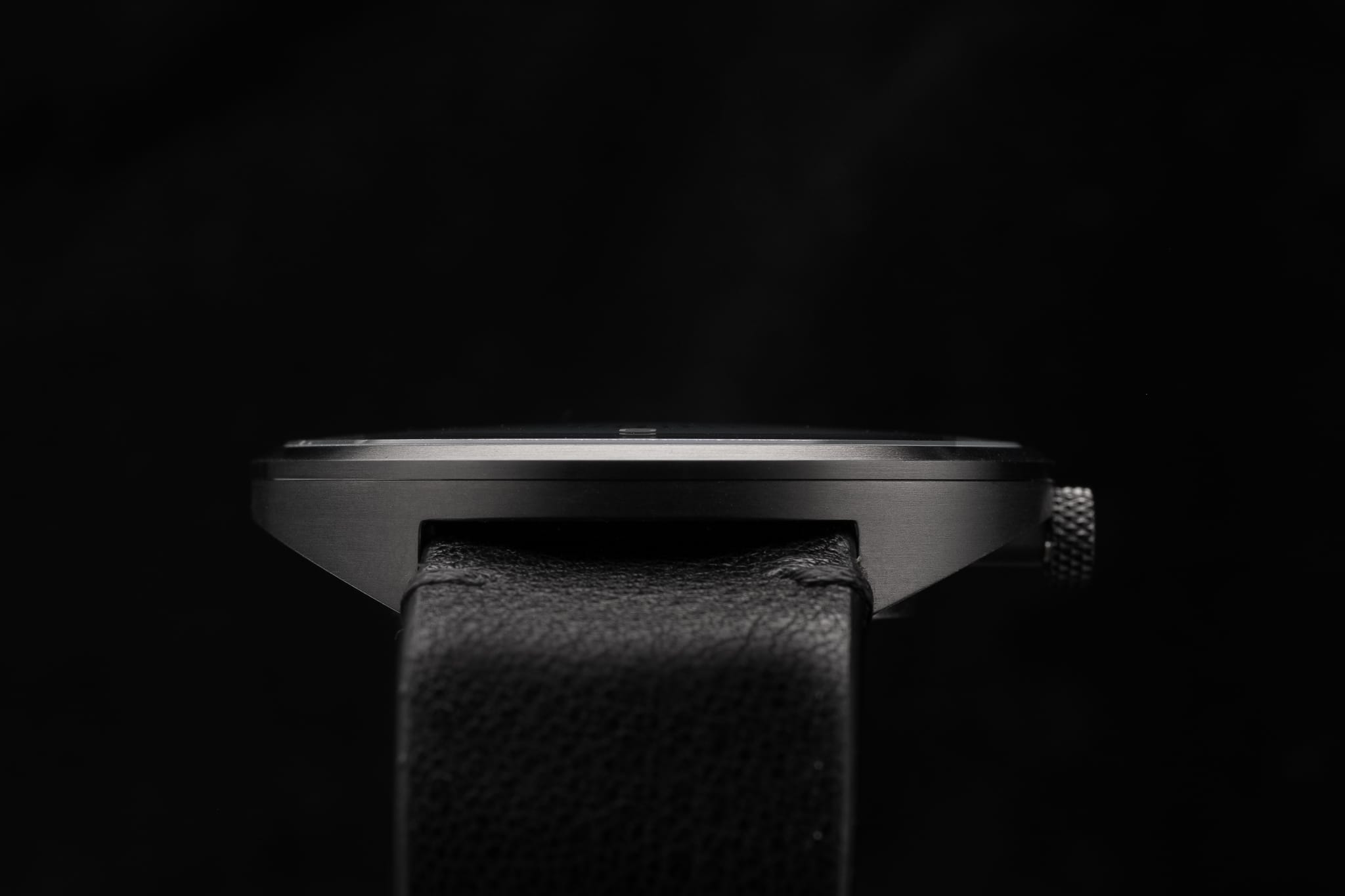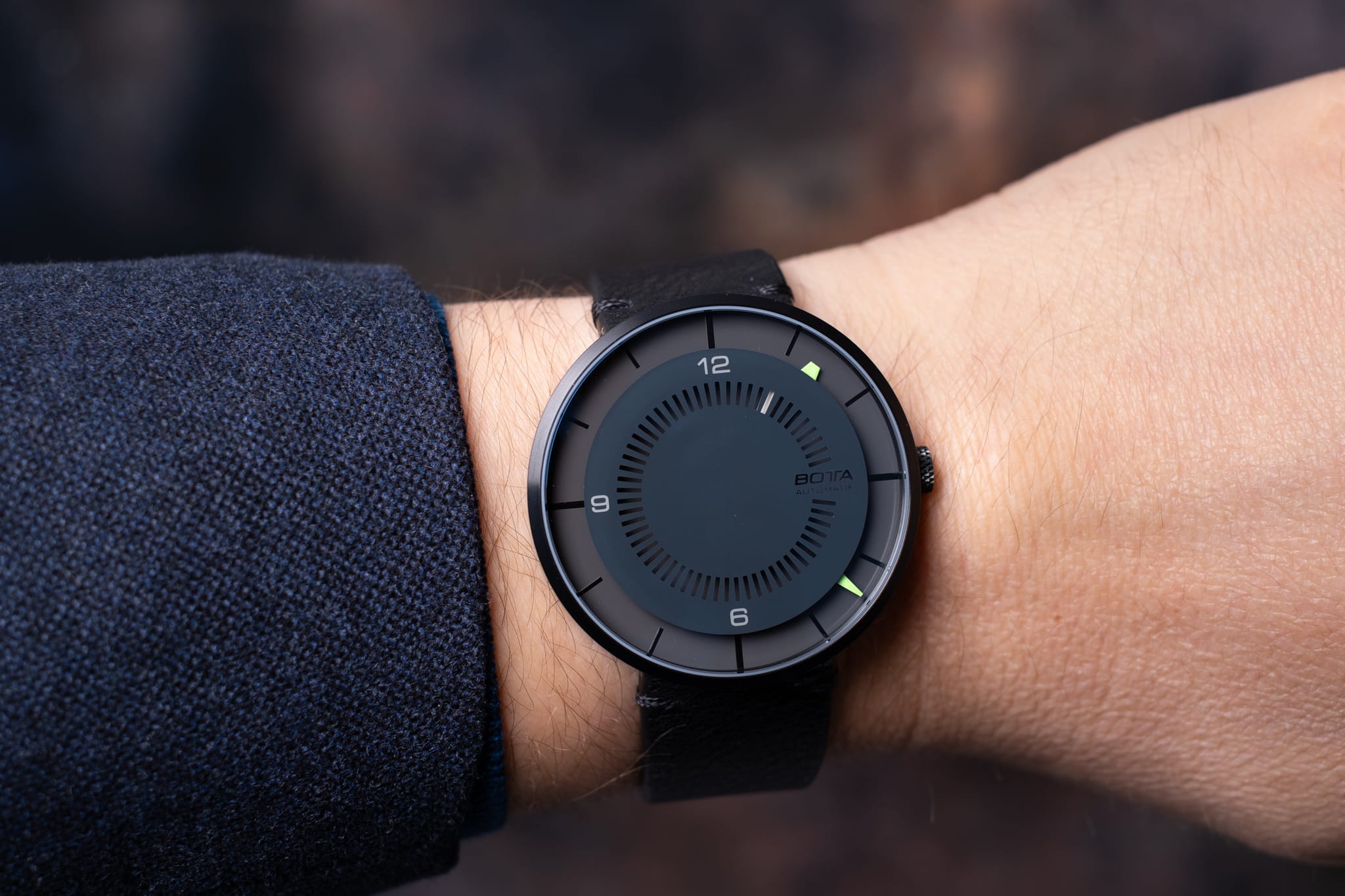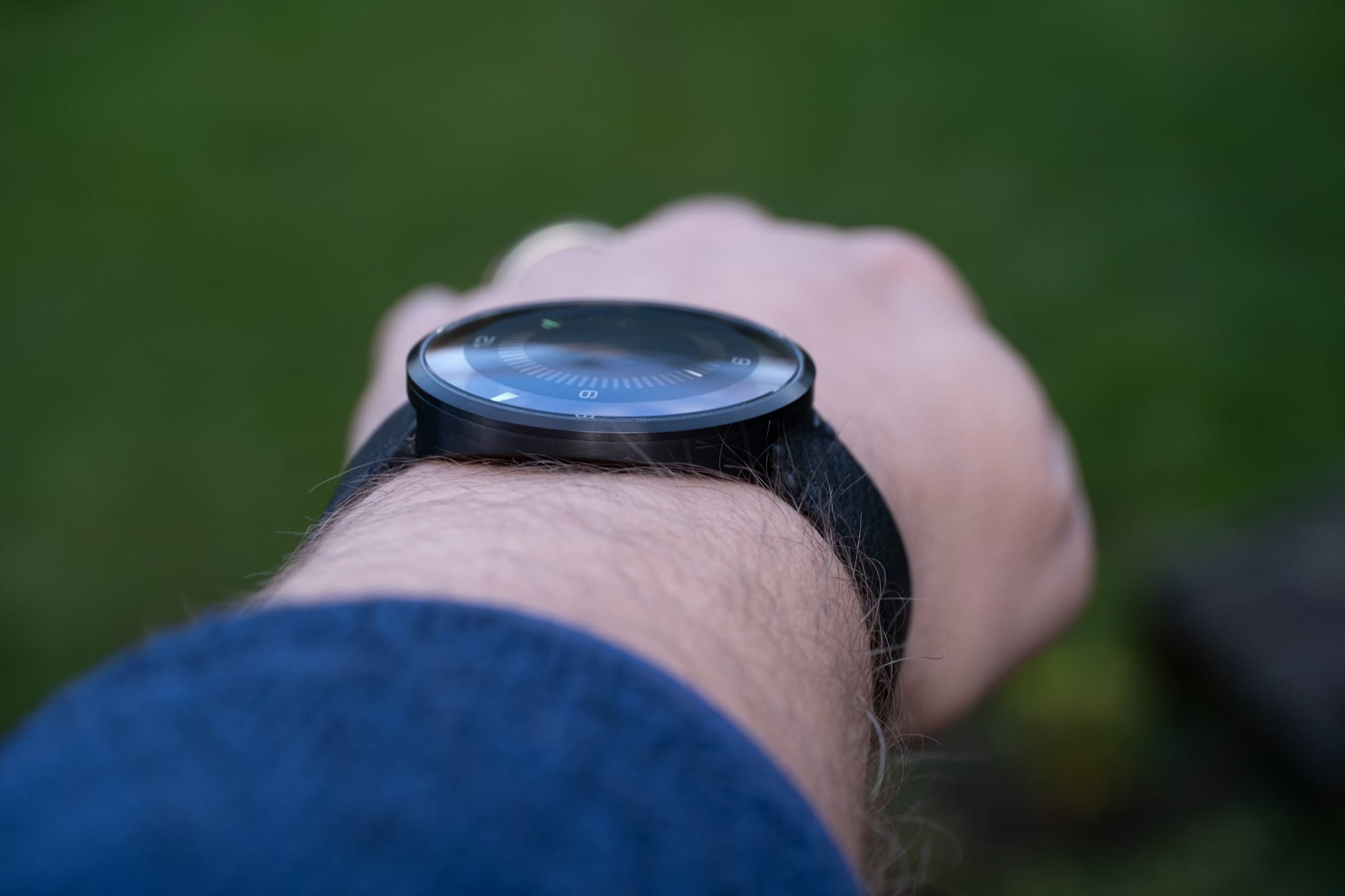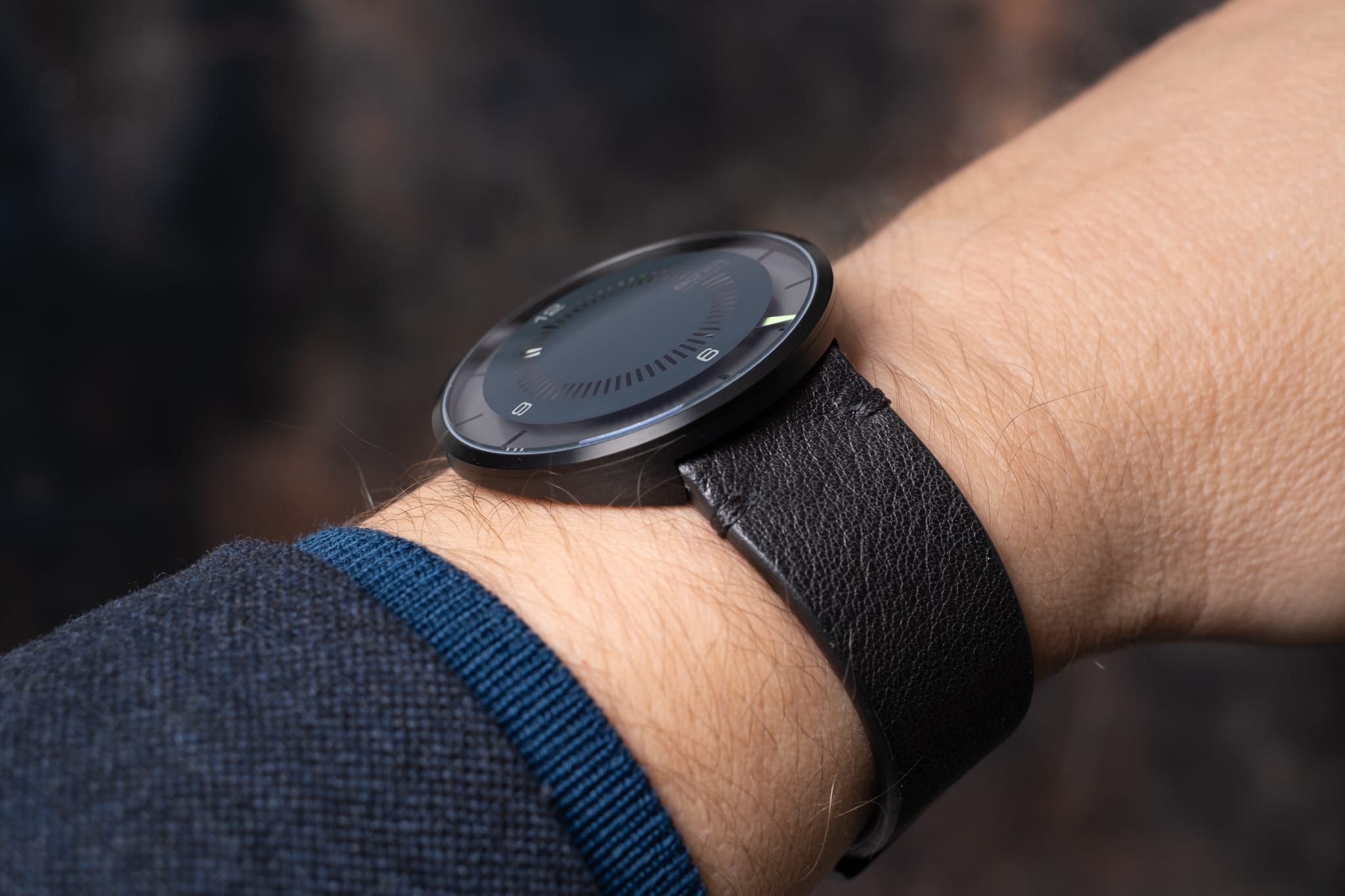 Whilst the case comprises three sections, you'd be forgiven for thinking it was a two-section case as the integration of the thin bezel and mid-case is virtually seamless. The caseback doesn't protrude from the mid-case either as the entire depth of the movement, sapphire crystal and slim caseback outer ring are entirely sunken into the internals of the casing. This is discrete and a nice touch.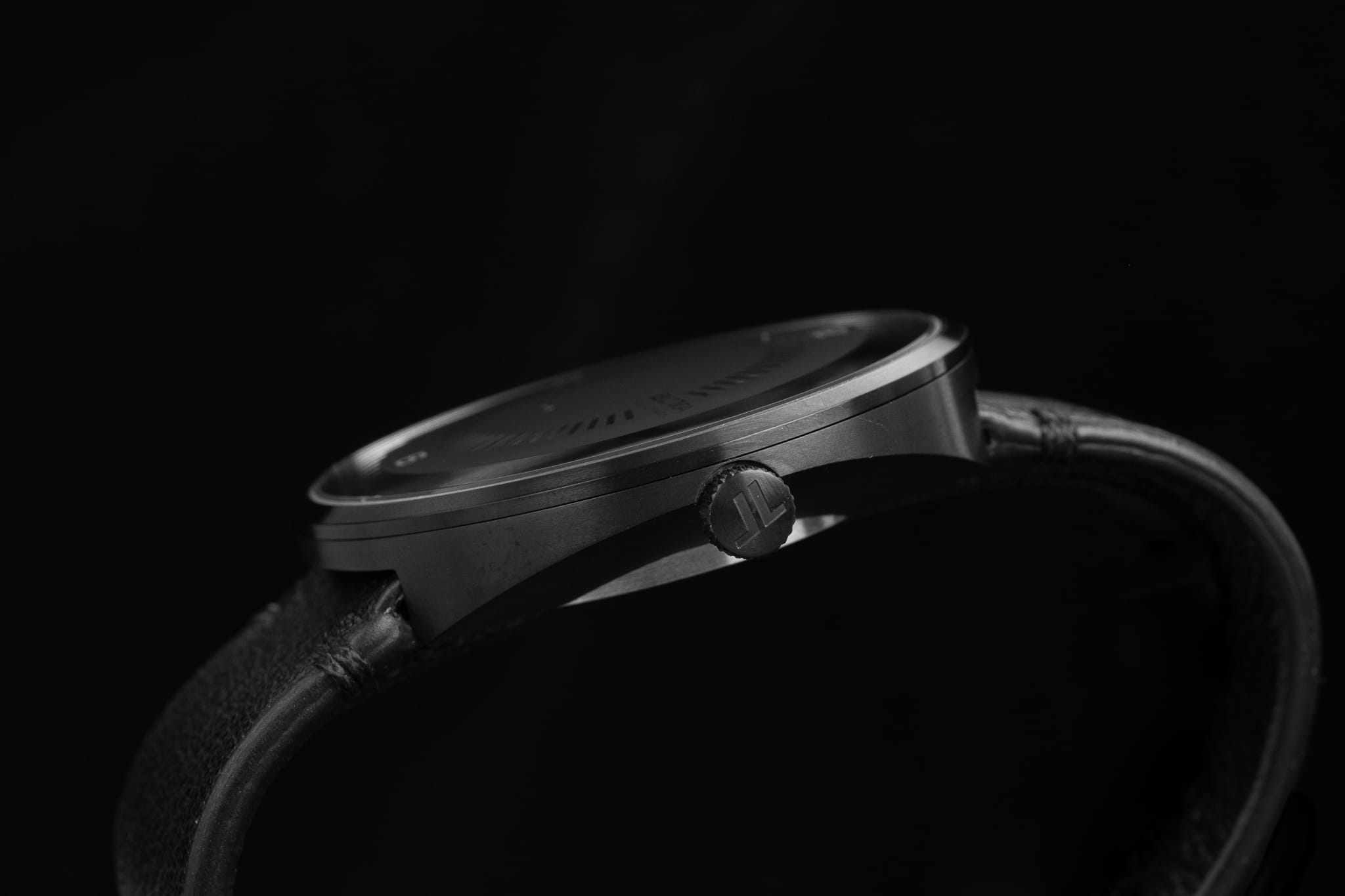 Another point of distinction is the geometry of the case, which is best appreciated when viewed in profile so that the attractive architectural arc of the rear is visible. A small, signed crown sits at three o'clock, which is surprisingly grippy thanks to the deep knurling and easy to grab hold of thanks to the undercut case design. However, this does also leave it somewhat more vulnerable to accidents!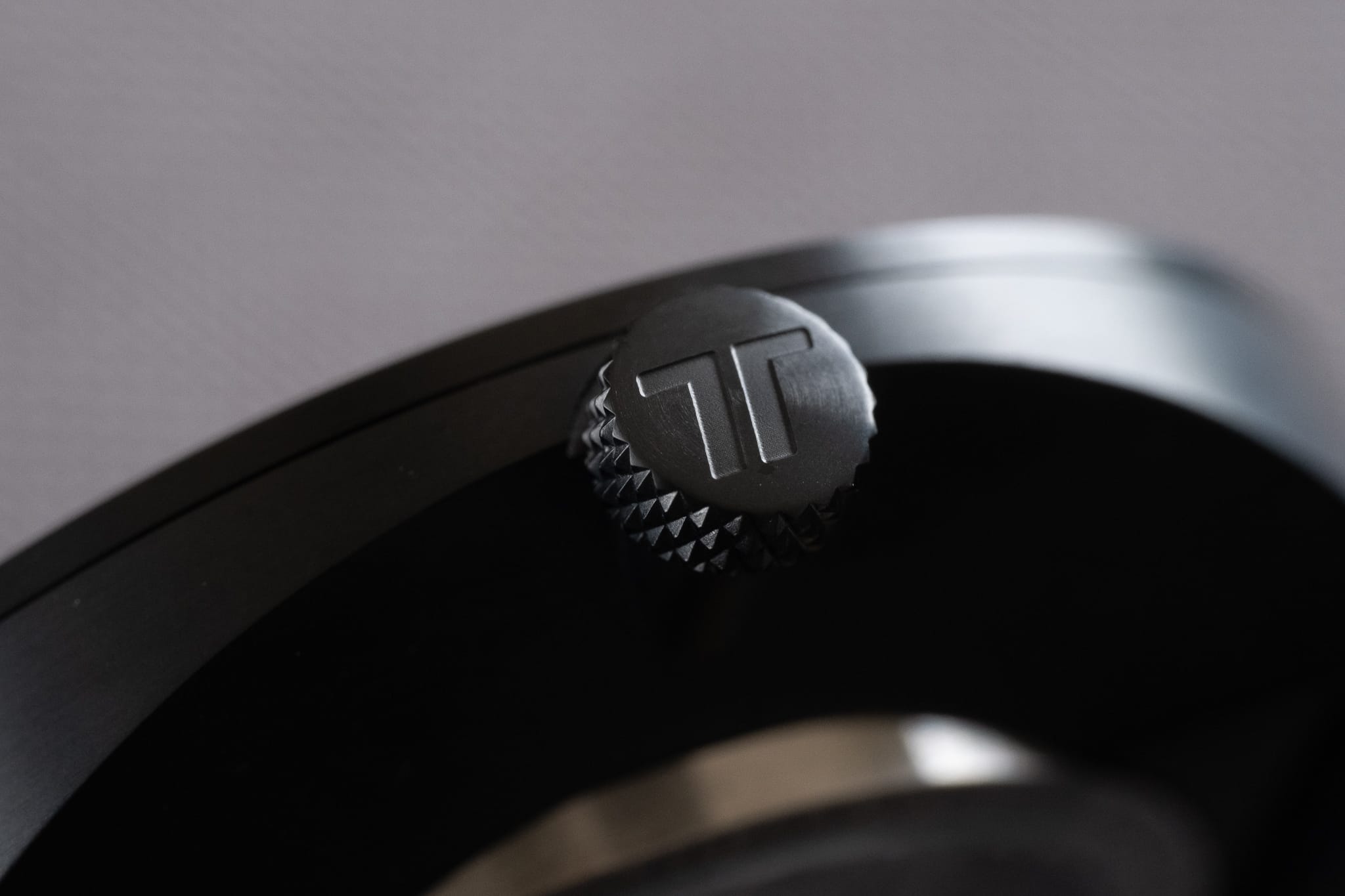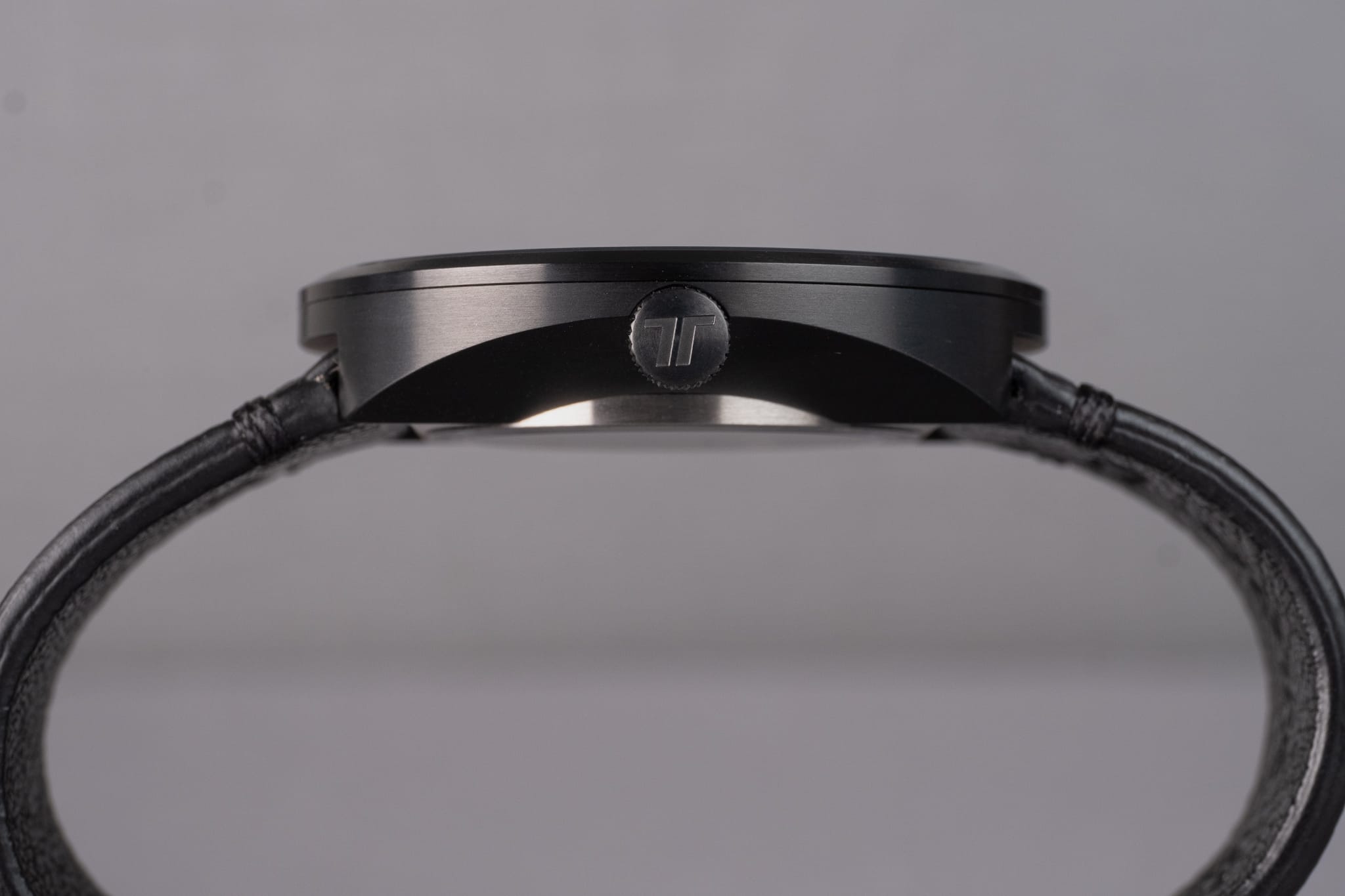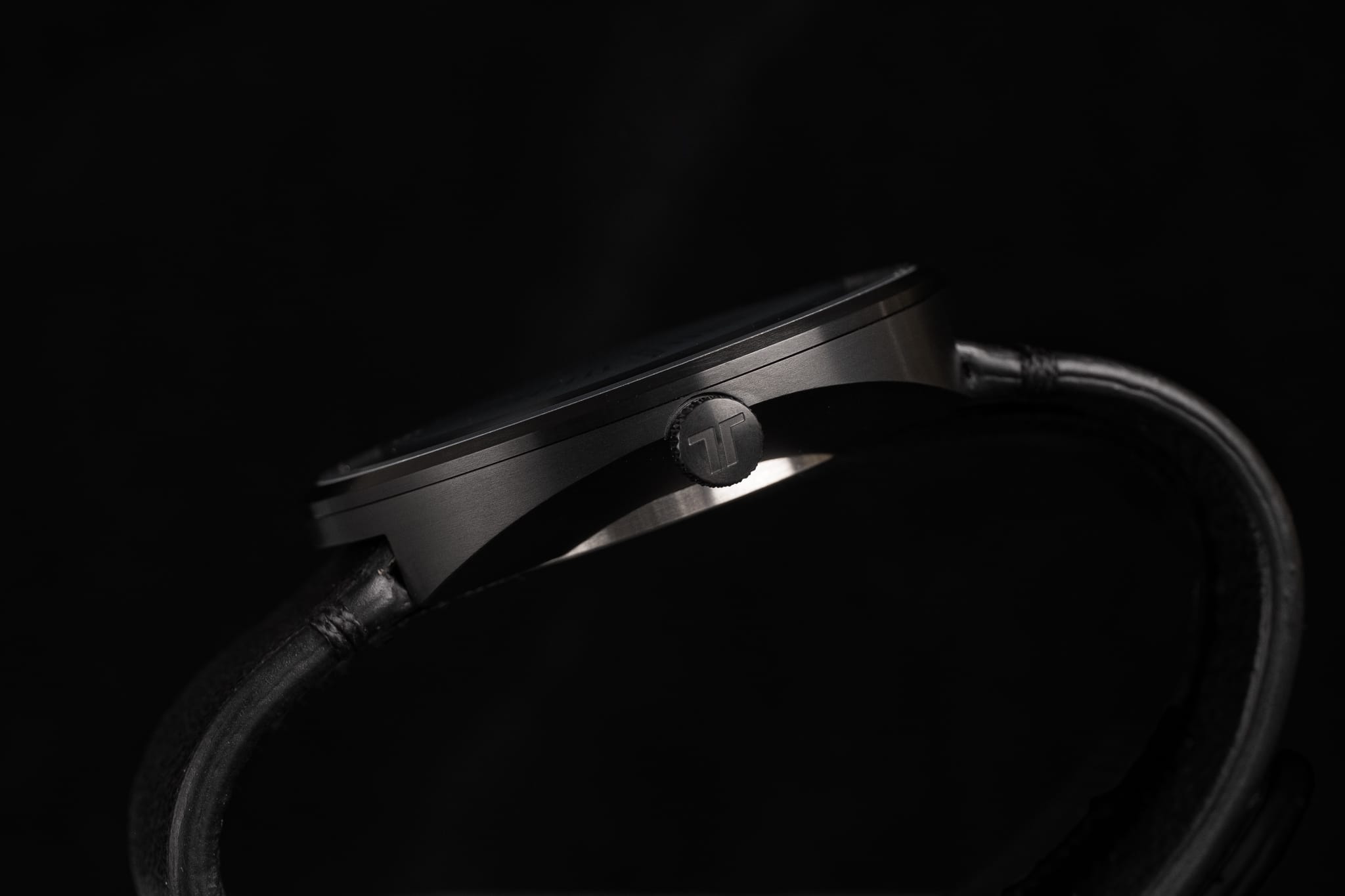 The sapphire crystal is very slightly domed and has anti-reflective (AR) coating on both sides. The AR does a reasonable job, but for a minimalist watch that's nearly all black, I feel that there is still too much reflection. Water resistance is just 50m, but this is fine as it's not really the sort of watch you're likely to take into the water anyway.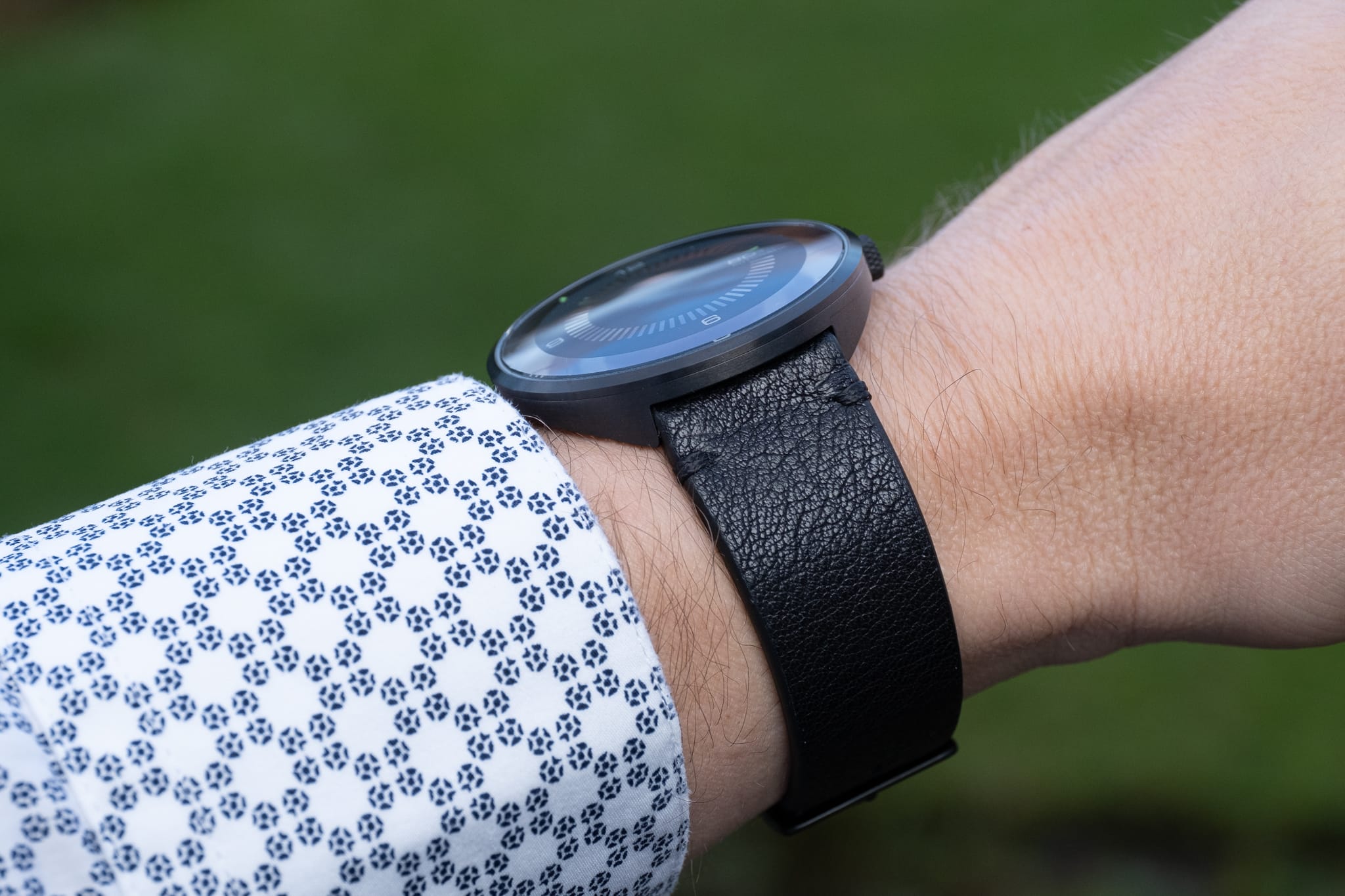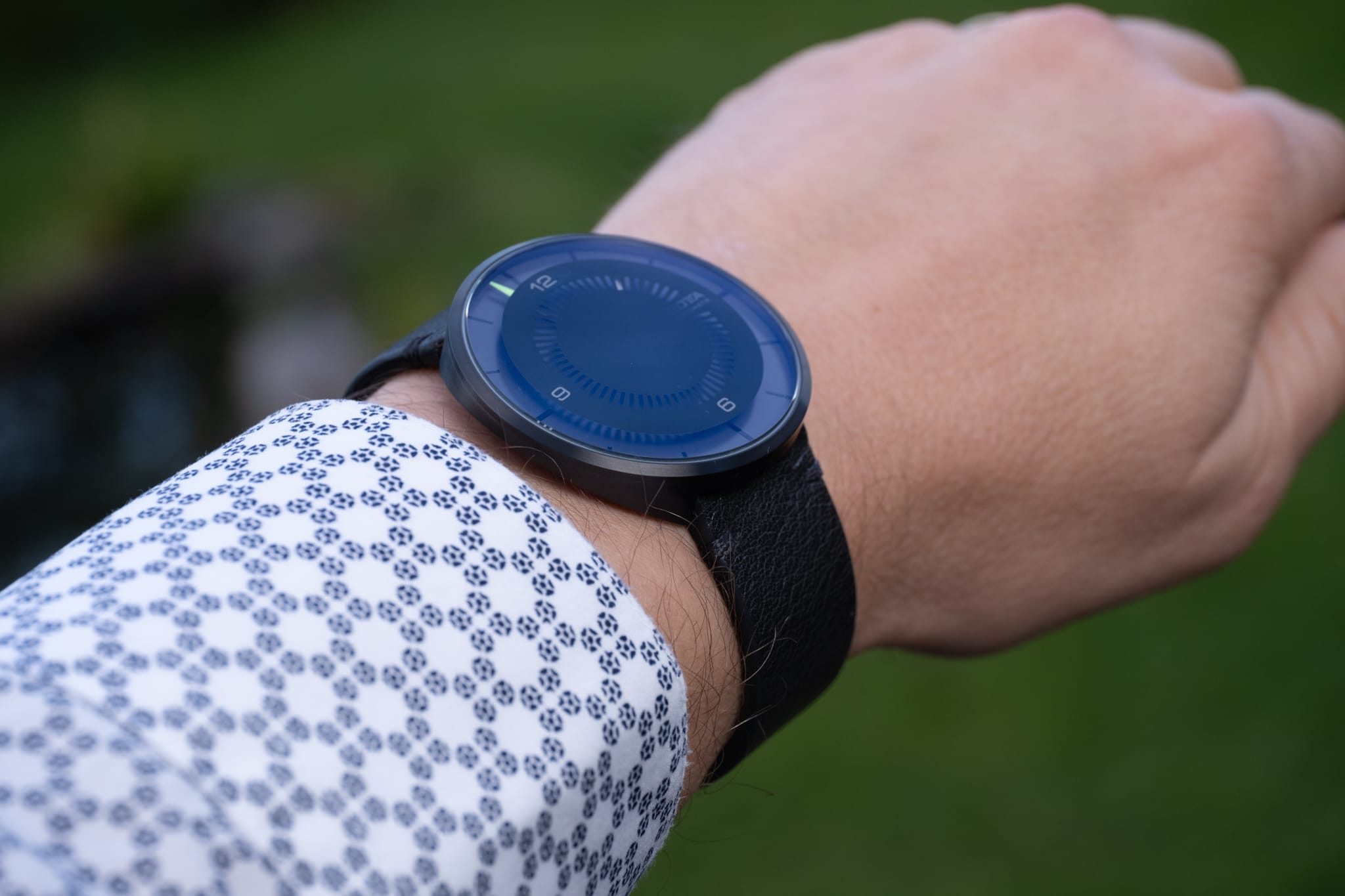 The lug width on the CLAVIUS is a broad 22mm and BOTTA offers a choice of six different straps, including stainless steel options. My watch came on a black unpadded organic leather strap with matching stitching, two keepers, and a simple black pin buckle. It tapers from 22mm to 20mm, and the leather is incredibly soft and supple with zero wear-in period needed. Whichever strap option you choose, they all continue the minimalist, 'nothing unnecessary', design language. Plus, with a 22mm lug width, it'll be relatively easy to pick up an aftermarket strap if you prefer.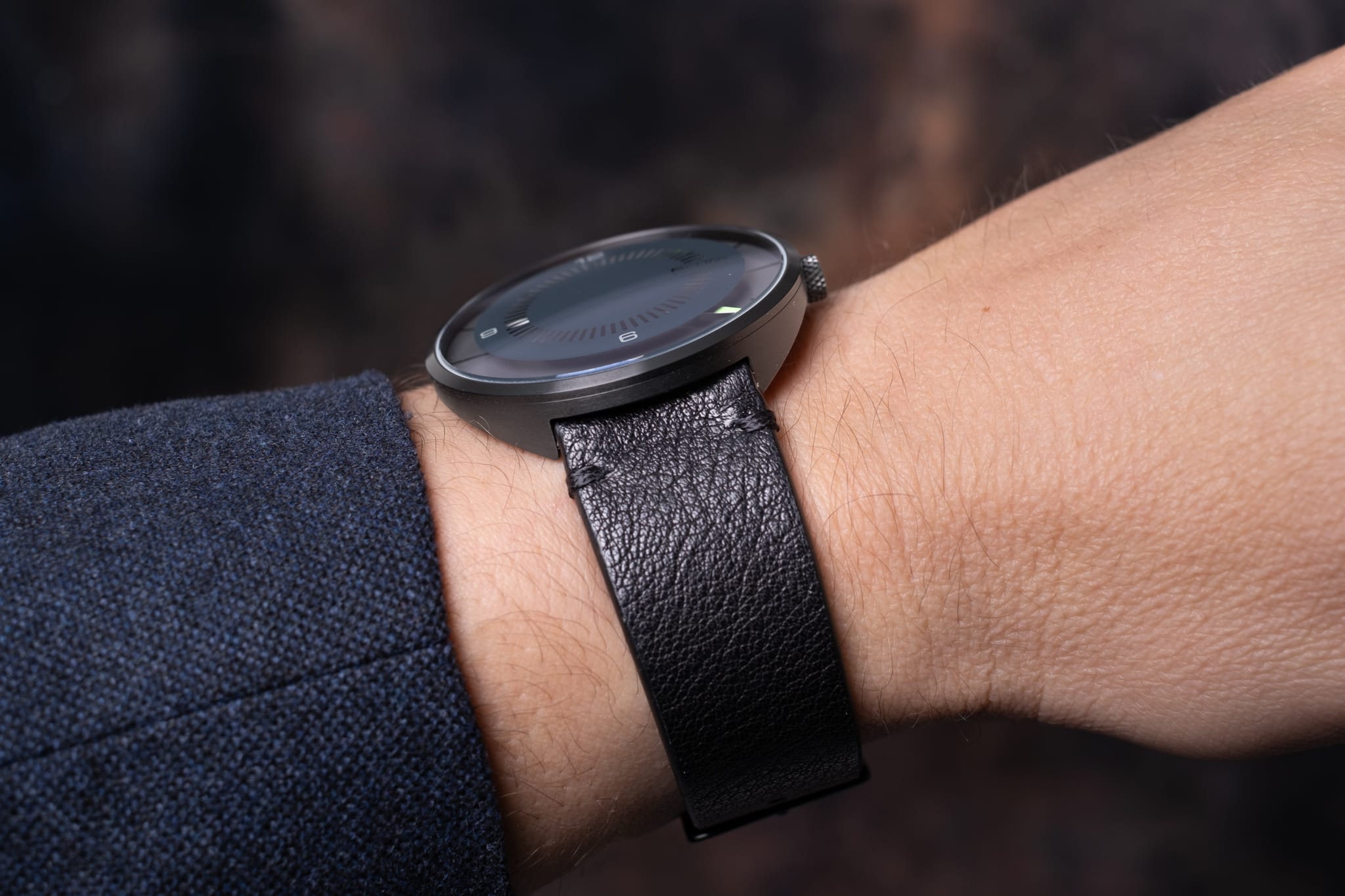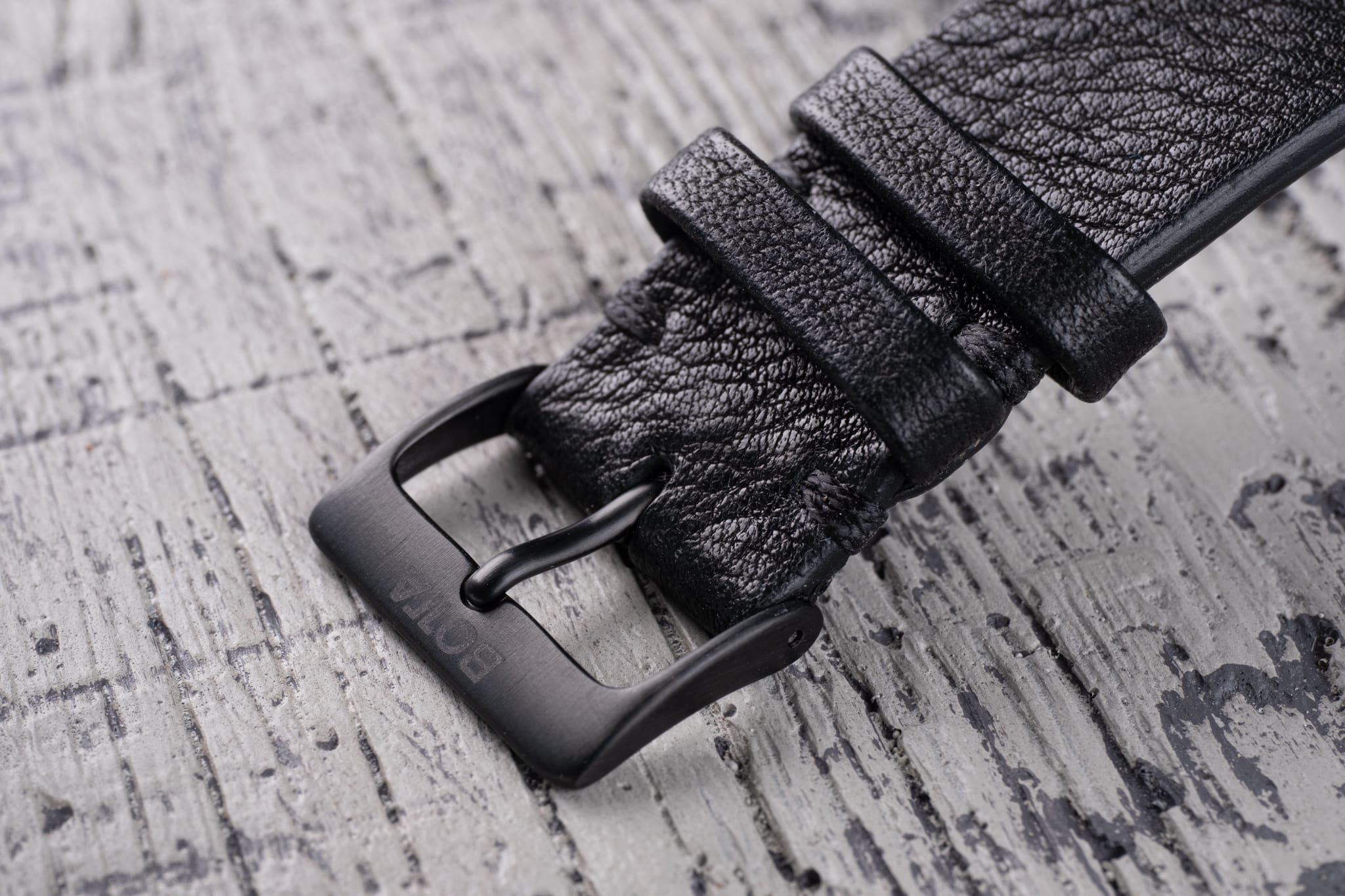 The Dial and Legibility
Working from the outside in, the main lower dial is a matt dark grey with simple, but slightly raised, printed batons for each hour marker, which are slightly thicker and longer for each of the cardinal points. The bright green hour and minute hands are only visible in this sector of the dial. The visible part of the hour hand is a stubby isosceles trapezoid shape which extends halfway across the outer dial, and the minute hand is a thin tapering triangle which extends nearly to the edge of the dial.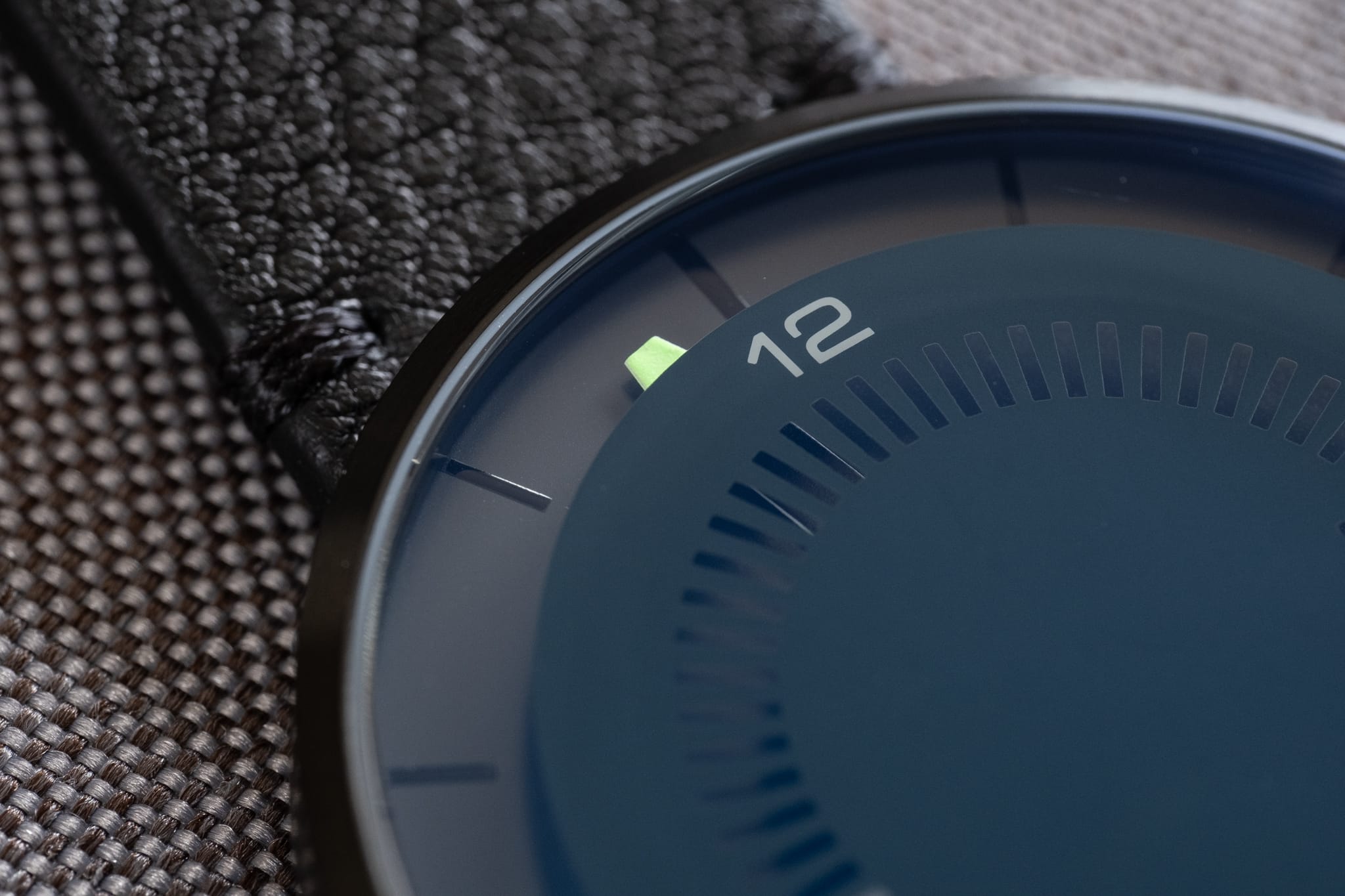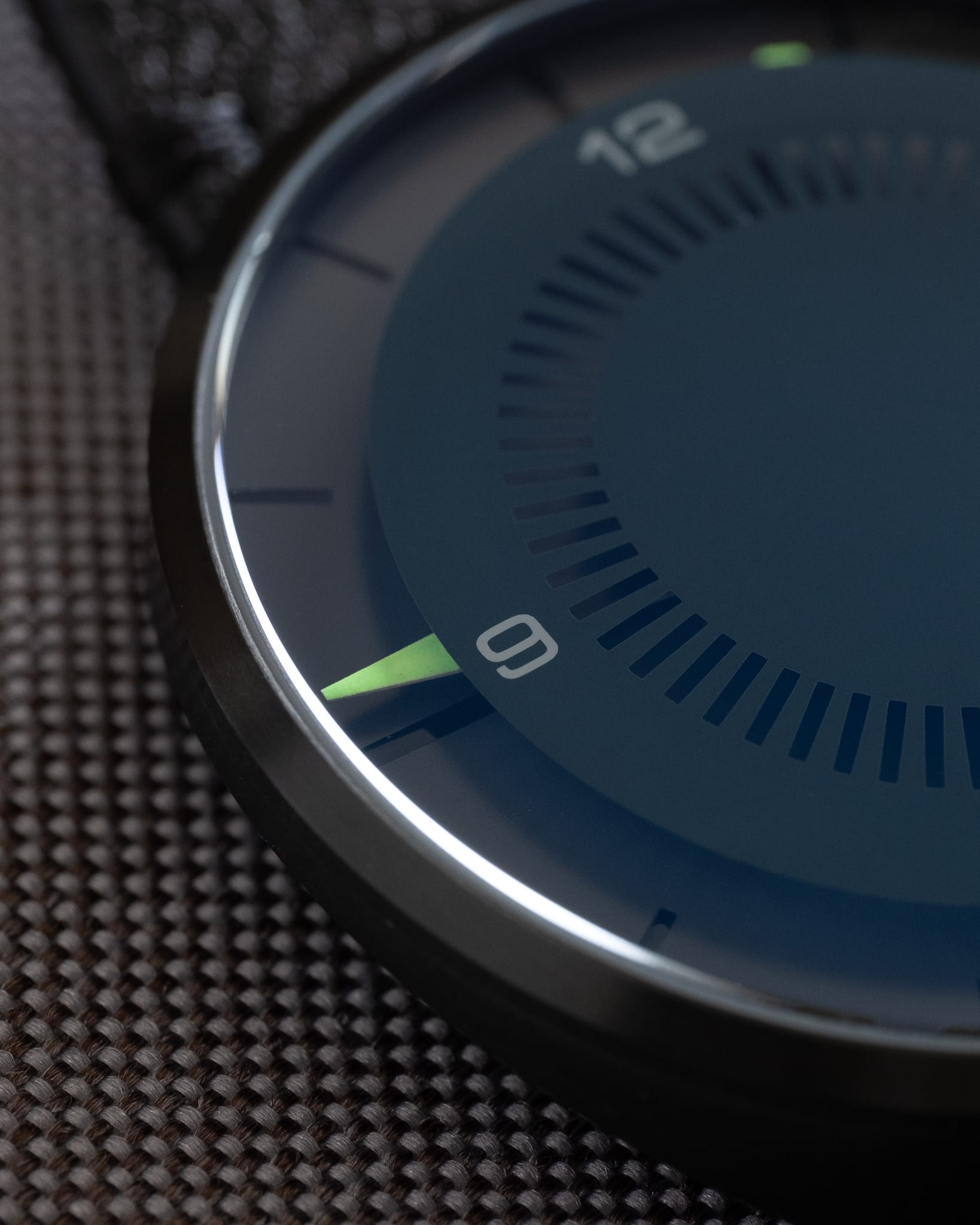 A large matt black disc obscures most of the lower dial and is raised to the underside of the sapphire crystal adding much needed sense of depth. This disc also conceals the stems of all three hands and the pinion. Arabic numerals in grey can be found at 6, 9 and 12 o'clock positions. Rectangular apertures are precisely cut out from the centre disk, through which you catch glimpses of the white seconds hand as it jumps from window to window in one second increments, in a manner somewhat reminiscent of a dead-beat seconds complication. This is very much the party trick of the CLAVIUS and what makes it unique. It's ingenious in its simplicity and mesmerising to watch! Even though you know that underneath the floating dial, the seconds hand must be moving regularly at 8 beats per second like a normal automatic watch, no matter how hard you try, you can't perceive it and you'd swear it's only 'ticking' once per second. The BOTTA logo and 'automatic' text are cut-out at the 3 o'clock position, and this text fades in and out when the white seconds hand passes once a minute.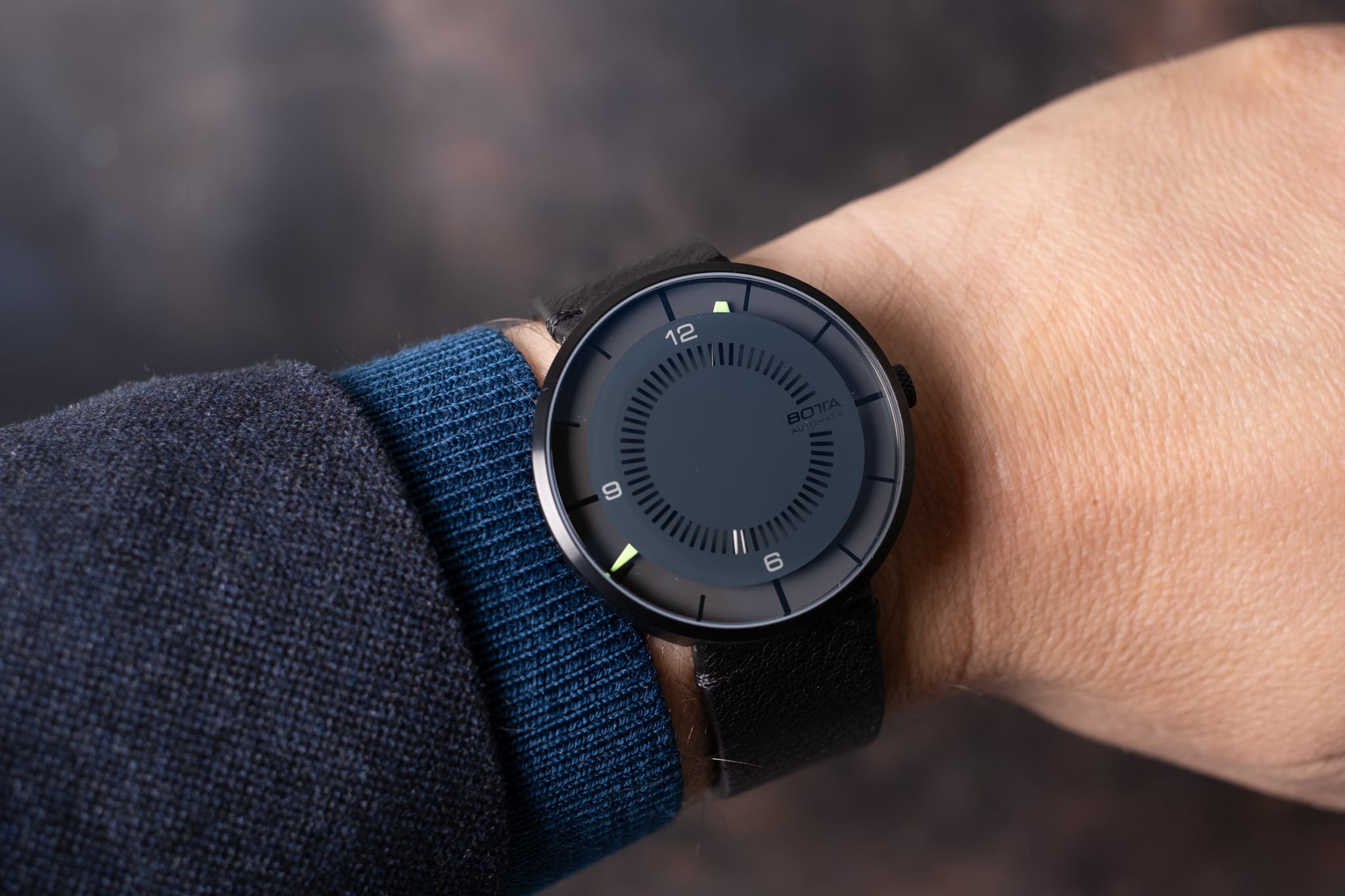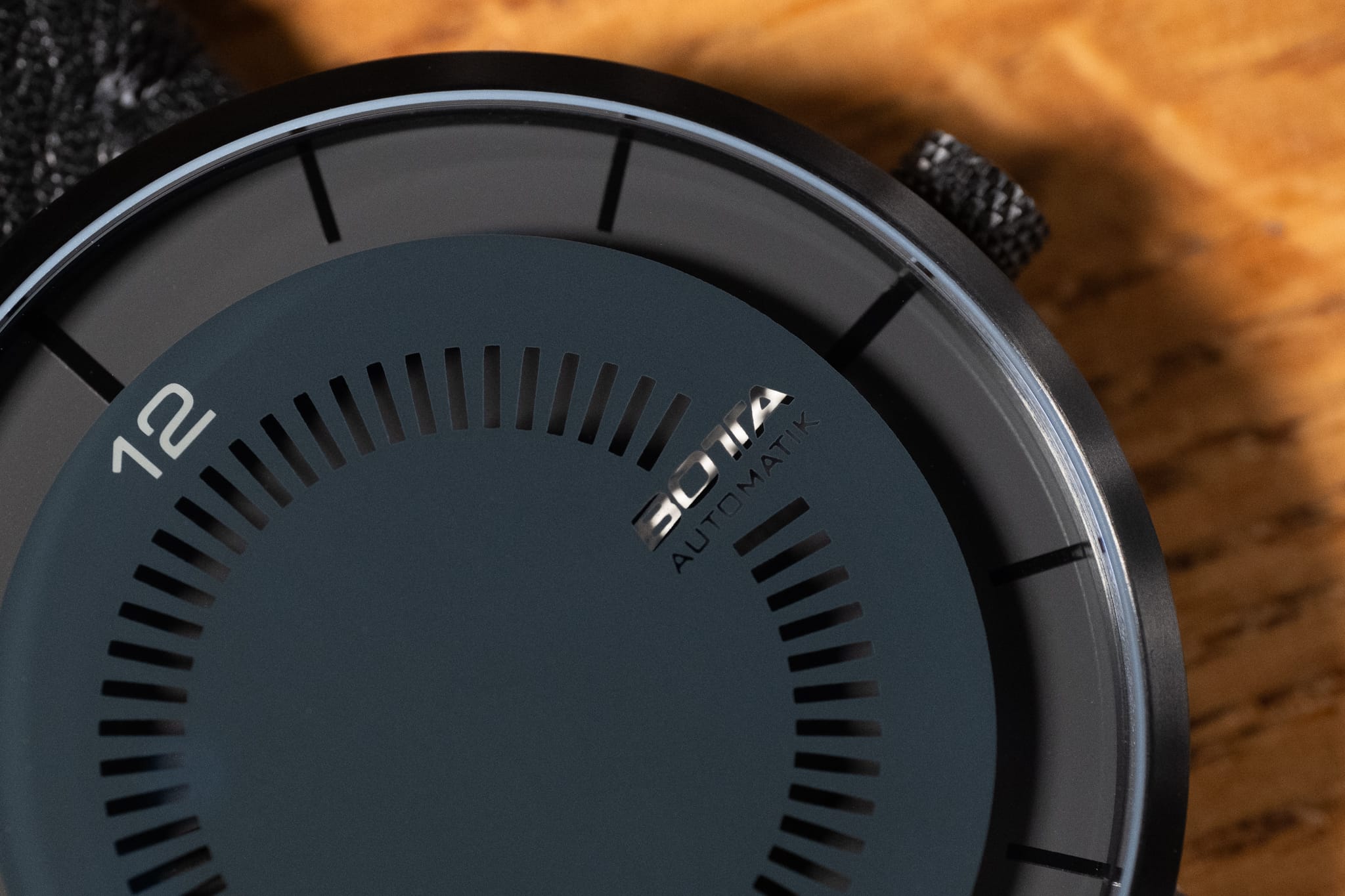 Although the dial is uncluttered, I wouldn't say legibility is a strength of the CLAVIUS. Even though the hands are bright, only small sections are visible. And whilst, of course, this is part of the design, I think the overall aesthetic could be retained whilst decreasing the size of the centre floating disk slightly to allow for larger visible sections of the hour and minute hands. Similarly, in low light, it can be difficult to see the time at a glance as the Super-LumiNova is fairly poor and doesn't glow very brightly. For a watch such as this, I feel that the lume should be exceptional, but it's sadly not.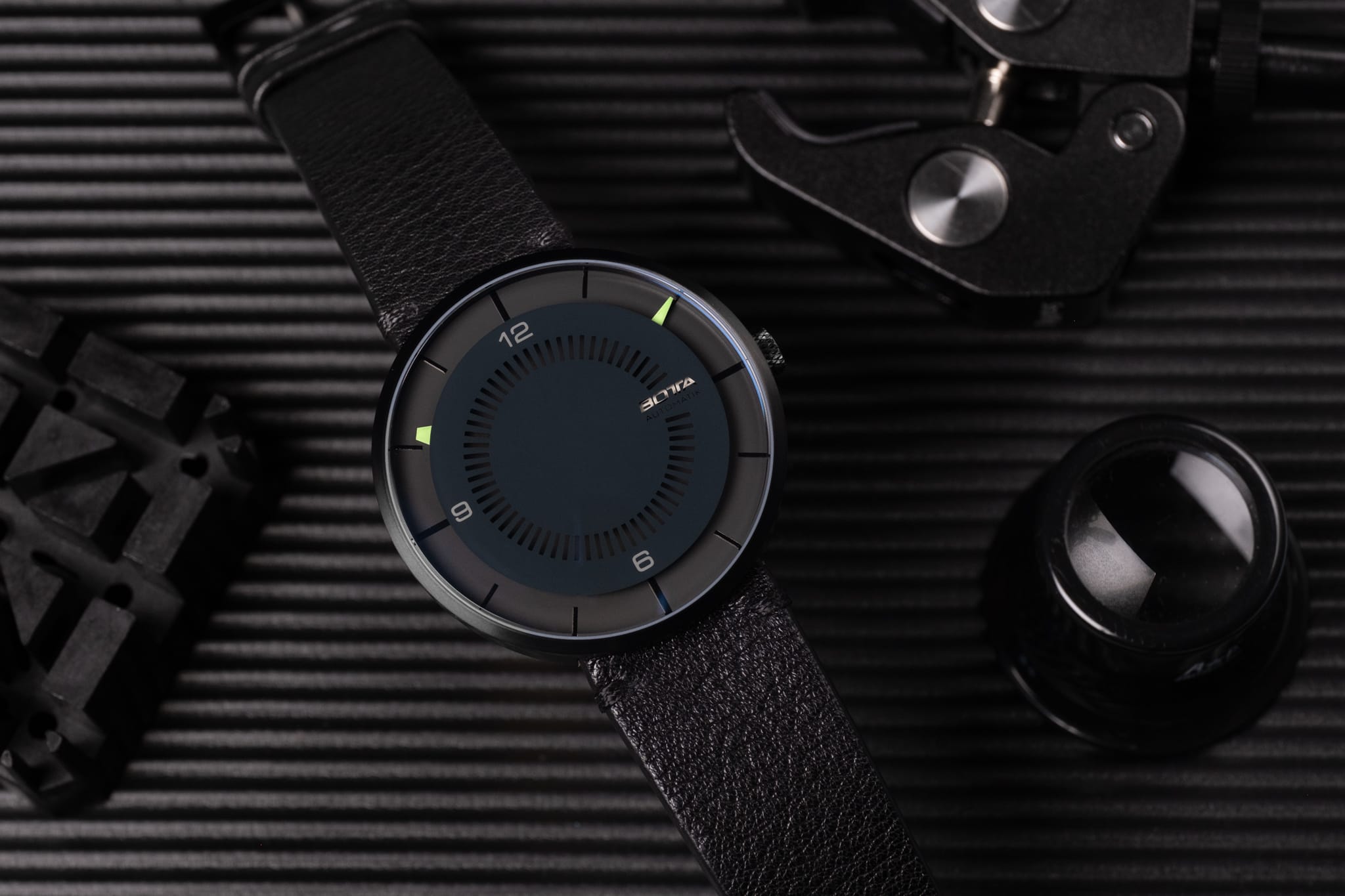 Finally, whilst the CLAVIUS does have an anti-reflective coating applied to both sides of the sapphire crystal, I'd like to see reflections reduced further still. With a big expanse of all-black/dark grey dial and a domed shape crystal reflections are bound to be more prominent than on most watches.
Movement
BOTTA has opted for a Elaboré grade Sellita SW200-1 to power the watch, which can be seen through the exhibition sapphire caseback. This simple, but robust and accurate Swiss automatic movement has also been 'individually adjusted by hand', although BOTTA doesn't elaborate any further on this. A custom rotor has also been fitted and bears the 'CLAVIUS' name acid etched in a gold colour. A nice design detail has also been etched into the rotor which mimics the cut-out dial apertures for the 'digital' seconds track on the front of the watch.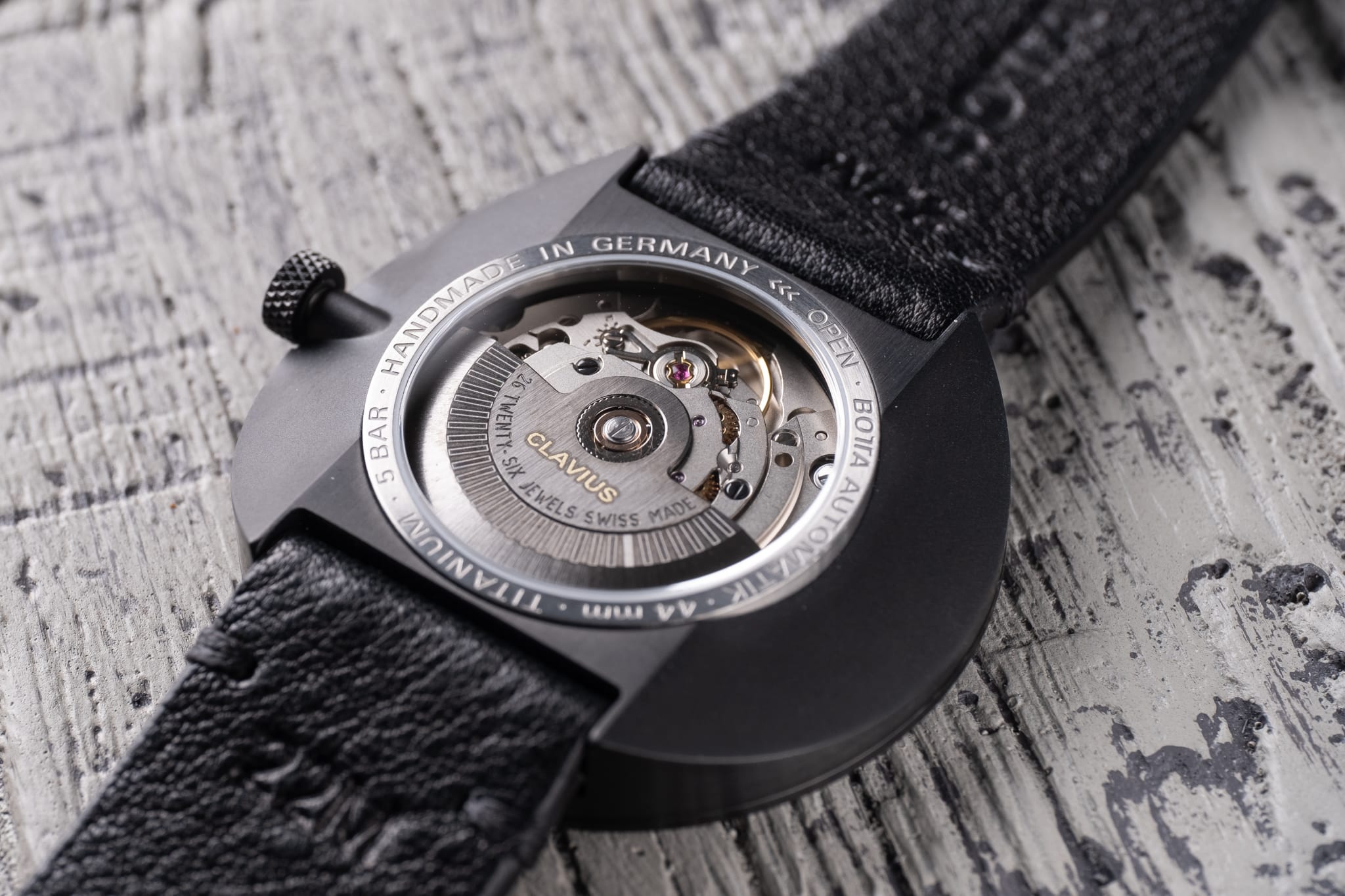 Final thoughts…!
I imagine the CLAVIUS will be a bit of a 'marmite' watch that will appeal to a narrow cross-section of buyers. That's not necessarily a bad thing, as it means that it's daring to be different and stands out from the crowd. I can see it appealing to lovers of modernism, younger generations who have been raised on smart watches but have an interest in mechanical watches, and seasoned watch enthusiasts and collectors looking to add some novelty to their collection. However, given the CLAVIUS' $1953 / €1830 price tag (at time of writing), it's a big ask to expect the CLAVIUS to tempt people away from more conventional historied Swiss brands such as Oris, Longines and Hamilton at similar price points.
With a reliable Swiss movement, sapphire sandwich and titanium case, the CLAVIUS offers solid specifications, but nothing out of the ordinary. So, I guess its appeal will lie in its design-led, Bauhaus-inspired modernist aesthetic. BOTTA certainly puts out some distinctive watches, and CLAVIUS with its 'digital' seconds is perhaps one of the most unique of the brand's two-handers. But the watch's simplicity might be a stretch too far for some, and it could be argued that with such a large expanse of negative space on offer, a 40mm case might have sufficed.
With a watch this stripped down, I feel that what remains needs to be amplified. More extravagance could be lavished by way of top-tier engineering such as an oil-filled dial for the ultimate legibility, flawless execution of solid luminescent blocks for the hands, or applied indices cut with precision.
I admire BOTTA for doing things a little differently and the brand certainly has a niche. The CLAVIUS is a very clever design, without being complicated or expensive to manufacture. It's a strikingly modern watch and a unique conversation piece, with a party trick certainly intrigues!