Birline was yet another successfully funded Kickstarter campaign in 2014. They surpassed their £6,000 goal by over £4k – a total of £10,199 was pledged toward their minimalist watches.
Currently, you can buy one for £149. But is that good value?
You certainly can't argue with the specs – especially their main unique selling point of being the only watch with a hand made genuine Harris Tweed strap. It also has a Swiss movement (the Ronda 762), plus a sapphire crystal. But let's take a closer look to see how it stacks up with other watches in the affordable market. 
The case
The shape of the case is one that can be found on a few different watches currently. Known as a "minimalist" watch, it's extremely thin at only 6mm tall – and it reminds me of watches such as Daniel Wellington and also the Brathwait Classic Slim. This case shape is recognised by the fact that it's pretty much all dial, with a very thin 1mm bezel and equally narrow lugs. It also has a highly tapered rear and a pretty small crown.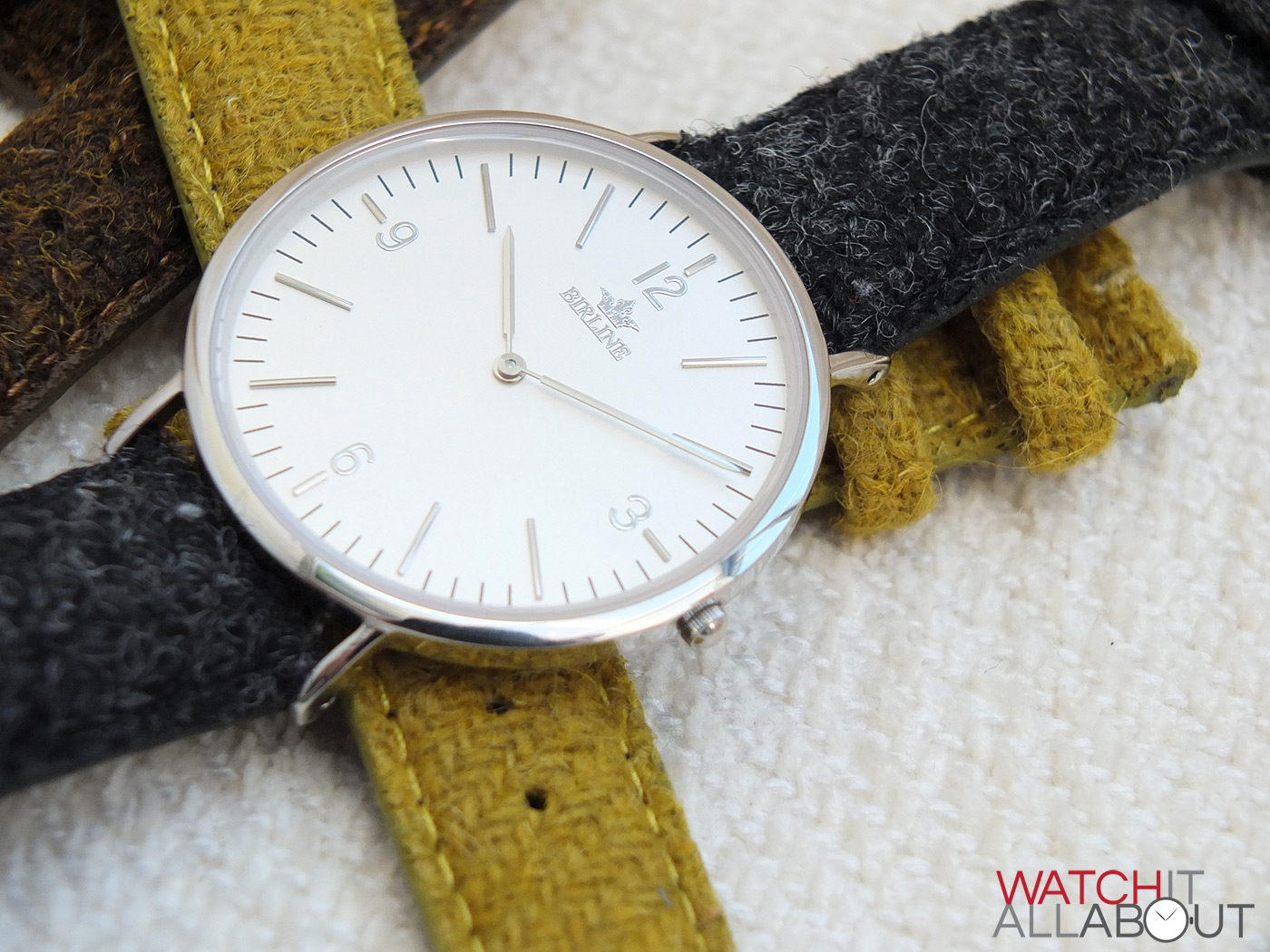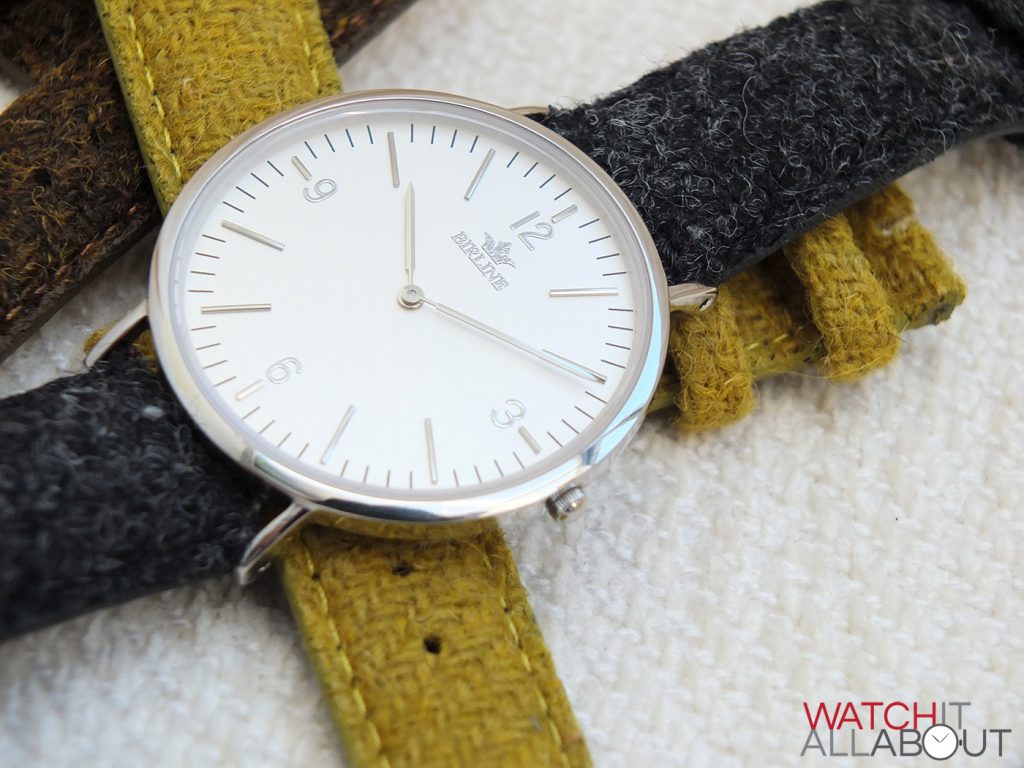 The lugs have drilled-through spring pin holes so changing the strap is a simple process, which is good considering how many colour options Birline offer their Harris tweed straps in. The lug shape from the side is slim, becoming slightly wider at the tips, and are tilted at around a 45 degree angle.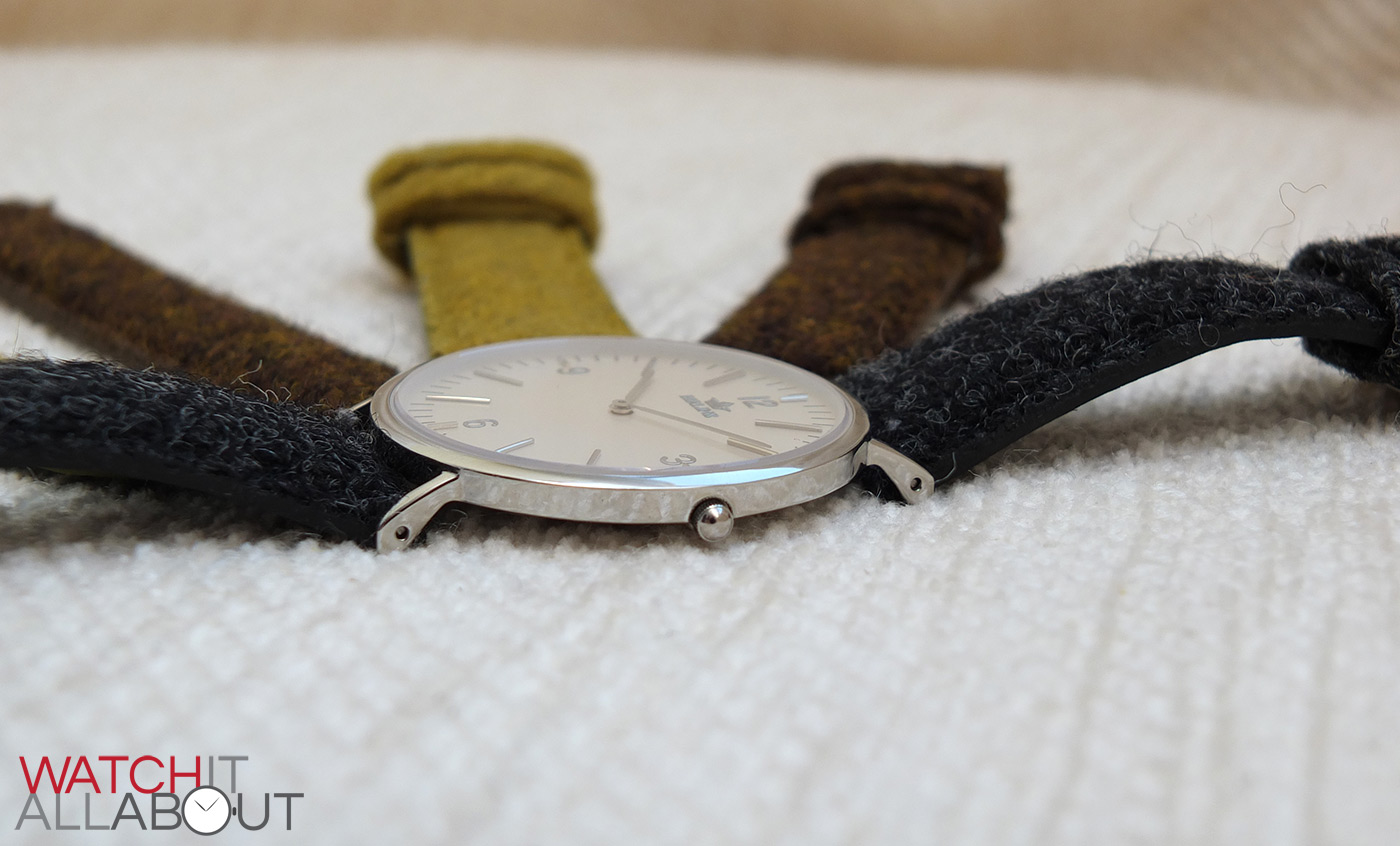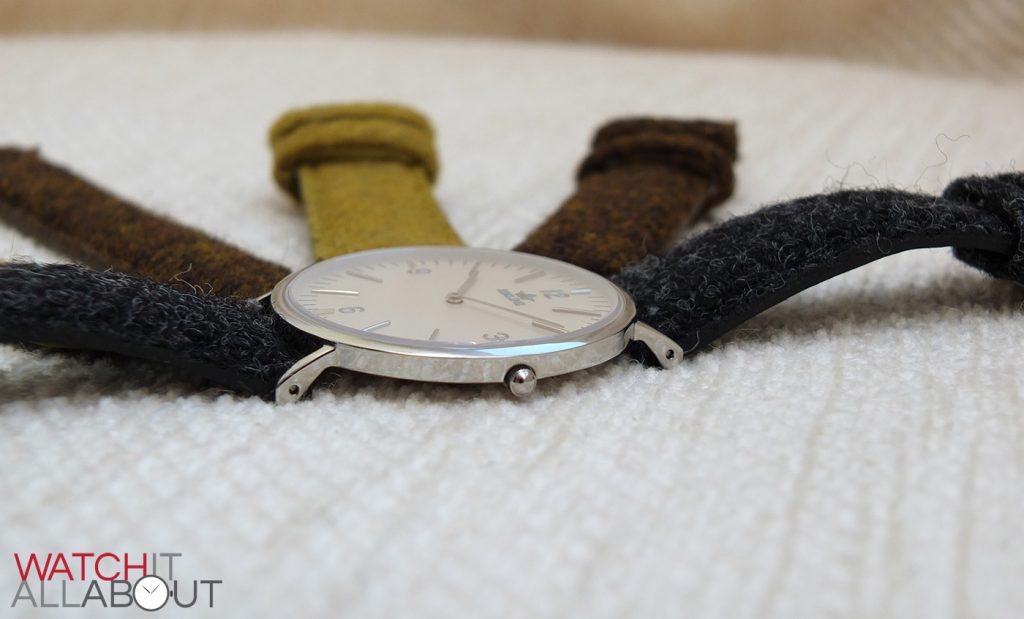 The case measures in at 40mm in diameter, and actually wears reasonably large. This is most probably due to the fact that it is all dial, providing a rather large viewing experience. The height to 6mm means it fits easily under any cuff and provides a streamlined appearance on the wrist.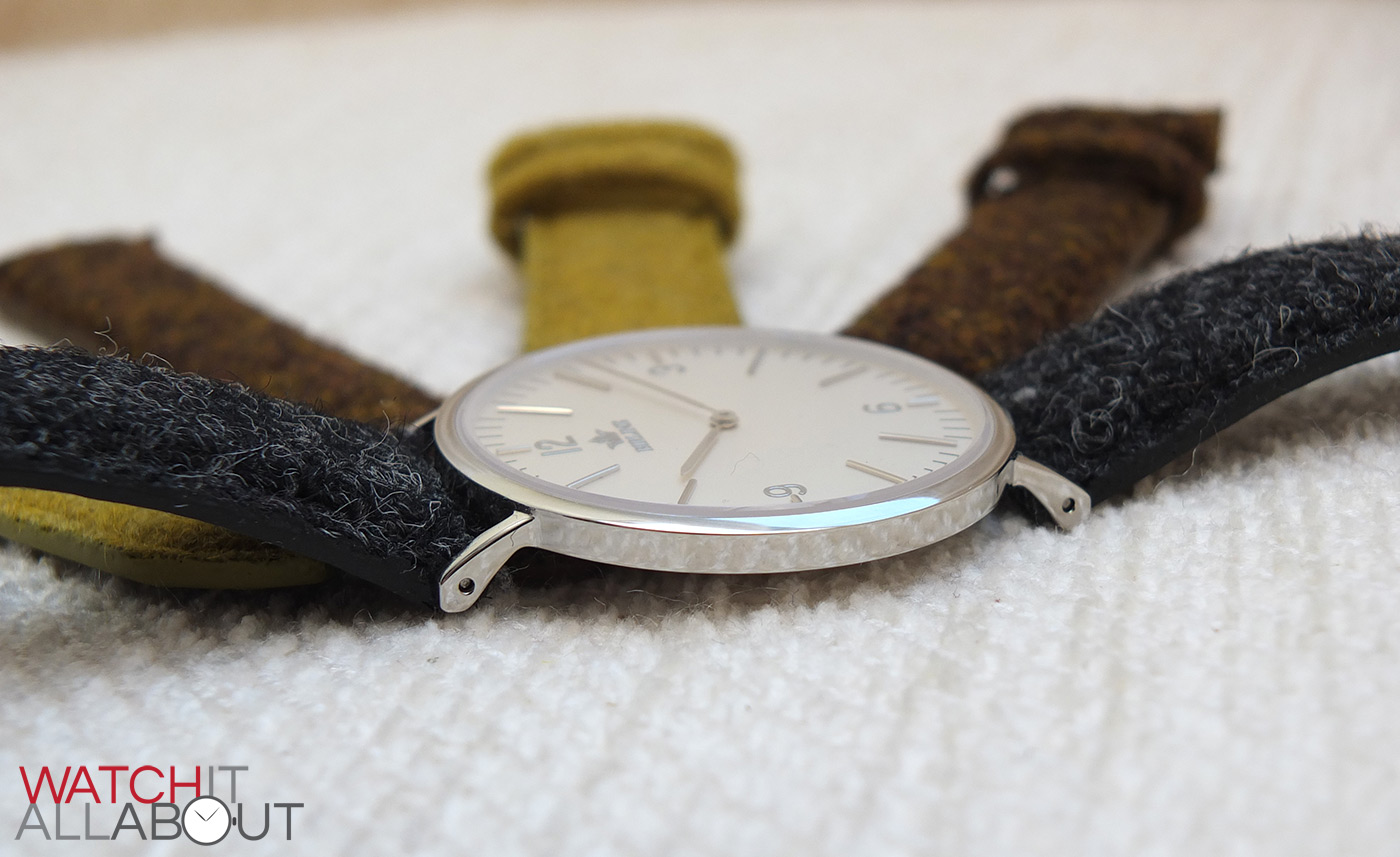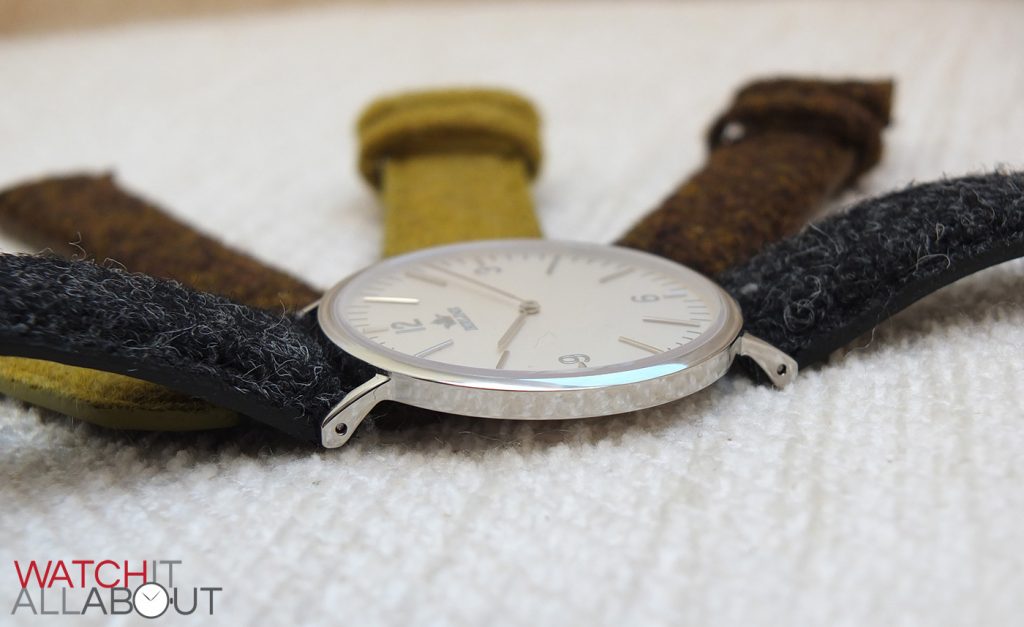 It also has a lug to lug length of 47mm, which again is on the larger side for what is styled as a dress watch. Still, because of the thin, elegant lug shape they don't appear to take too much attention. 
The Birline boasts a sapphire crystal, which is better than its main competitor, Daniel Wellington. At a watch of this price, it's more or less expected but this is not always the case. So in this instance I'm pleased. The crystal doesn't seem to have any particular anti-reflective coating, but with lighter dials this is less of an issue.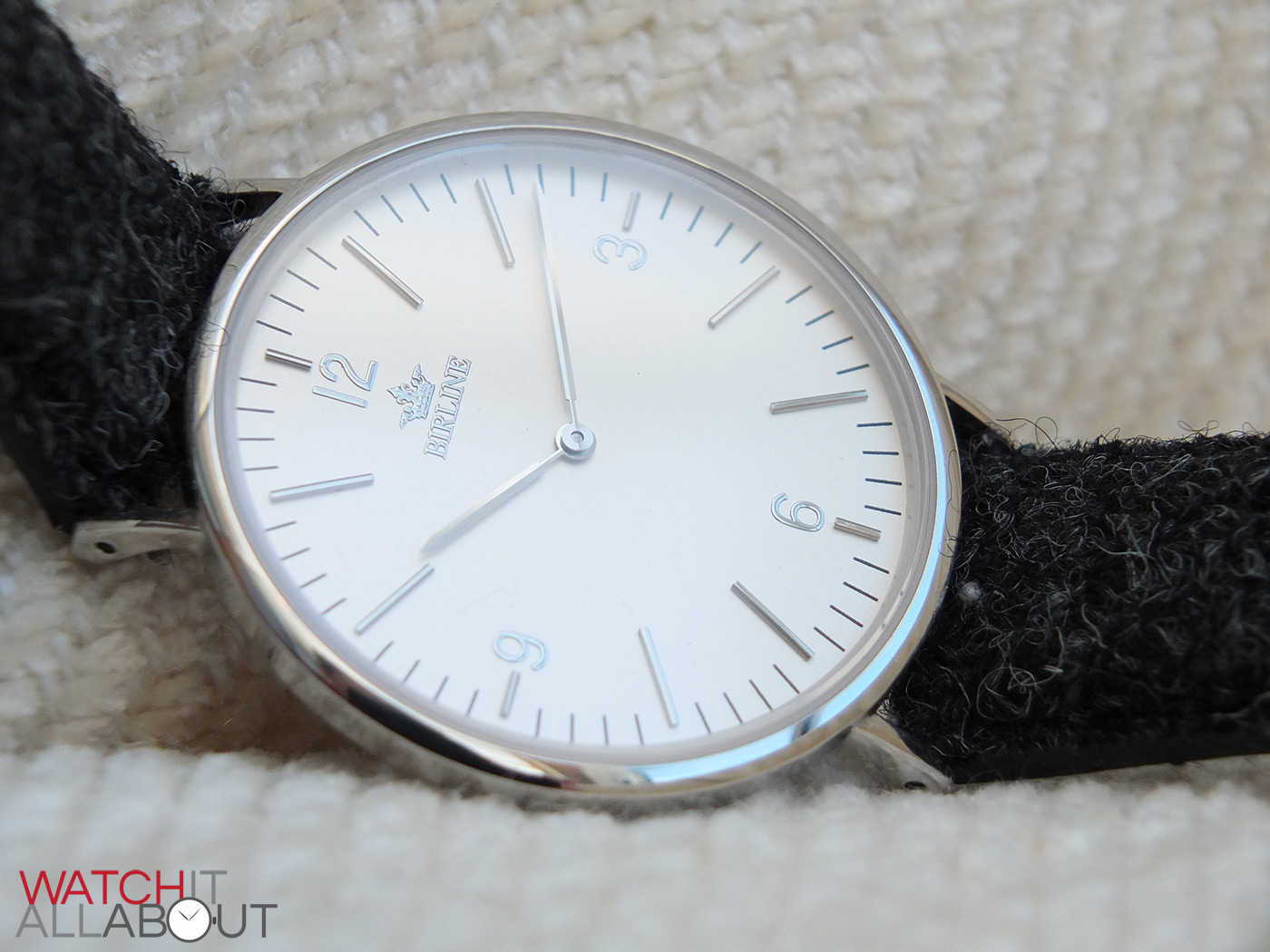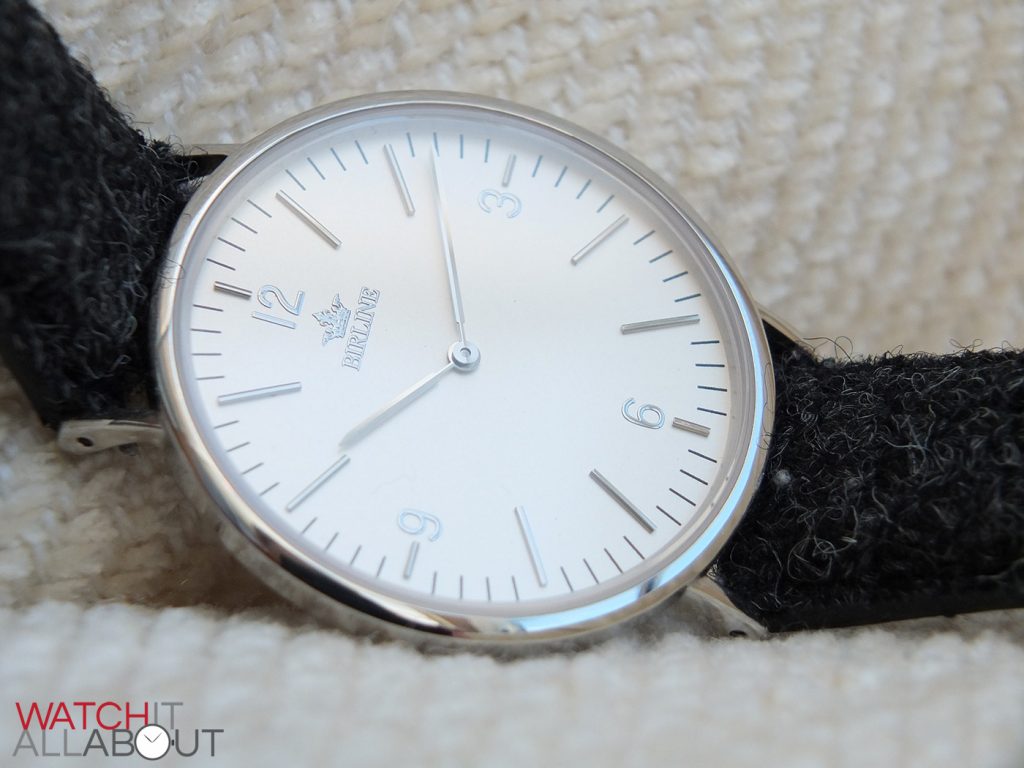 The watch has a 50m water resistance rating. Apparently this is suitable for slight immersion, such as in a kitchen sink or whilst shallow swimming in a pool. Personally I wouldn't wear this watch if I were to go for a dip, but it's reassuring to know if you accidentally drop it in some water it should be able to cope.
The caseback is smaller than the rear of the case, secured in place by 4 screws. It's fully polished as per the case and has the logo laser etched in the centre. This is surrounded by various watch specifics which are also etched on the light side.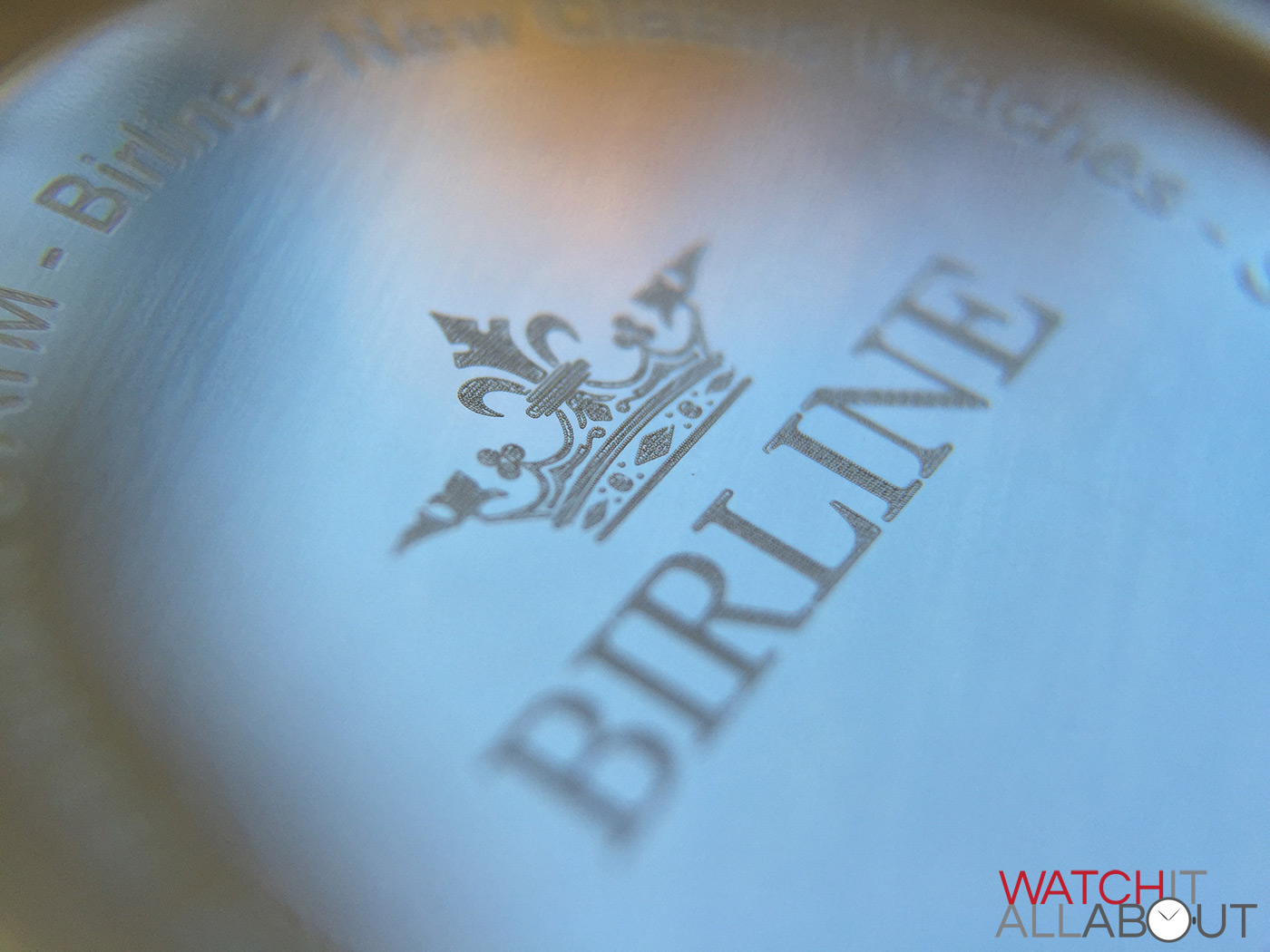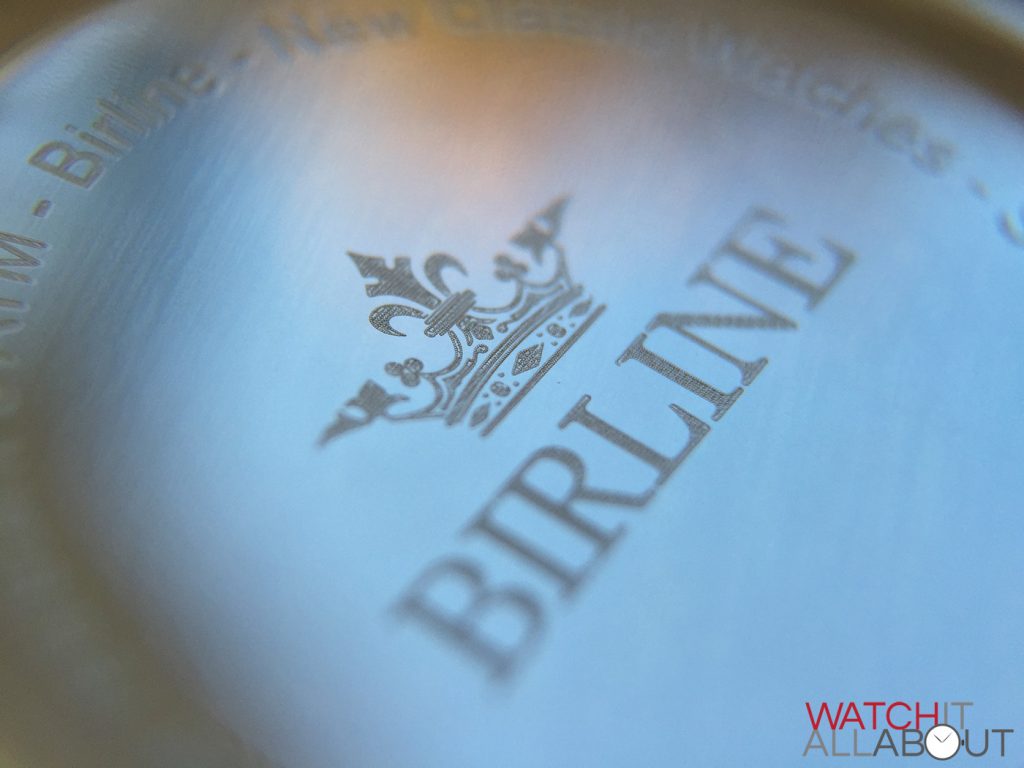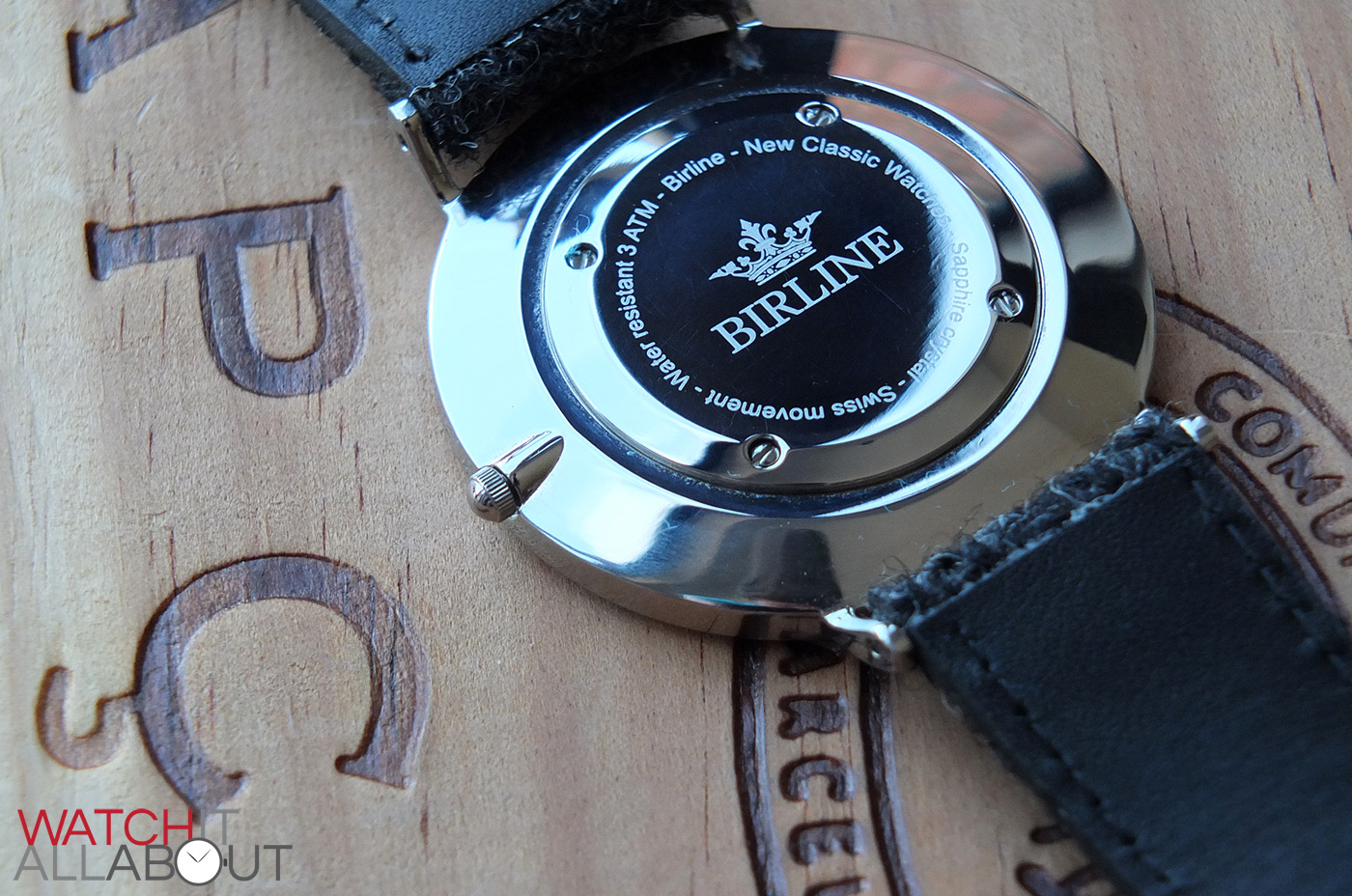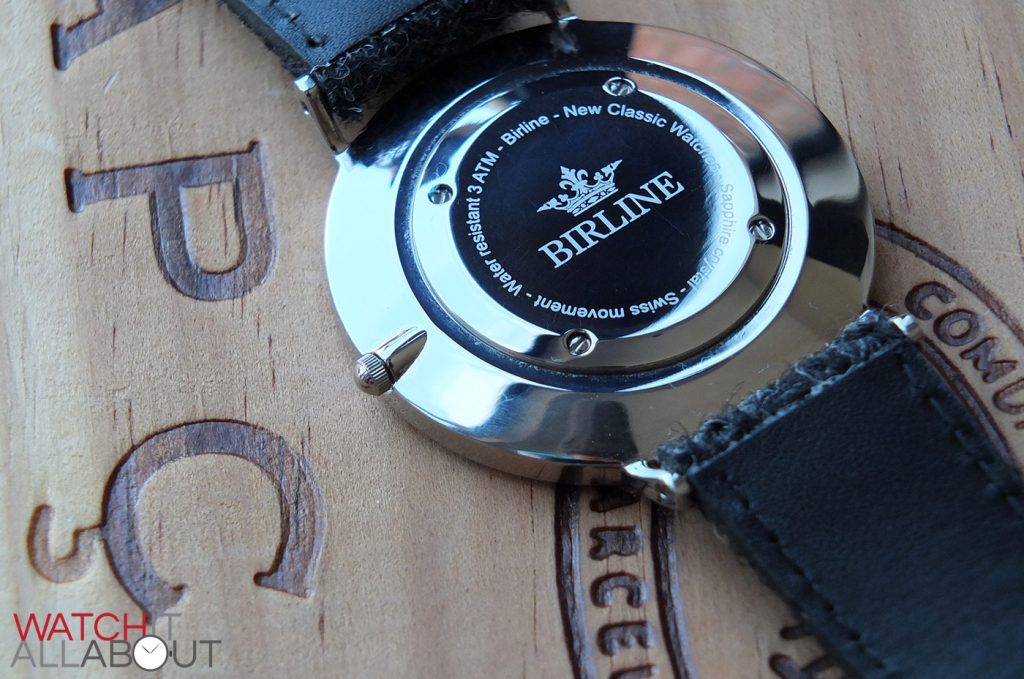 The general build quality of the case is pretty reasonable, with neat and tidy edging and corners that don't have any signs of machining marks. The case is completely polished, the finish being very reflective and again, well machined. It's obvious that it's an affordable watch when you compare it to a more expensive watch, but for the price, the case is decent.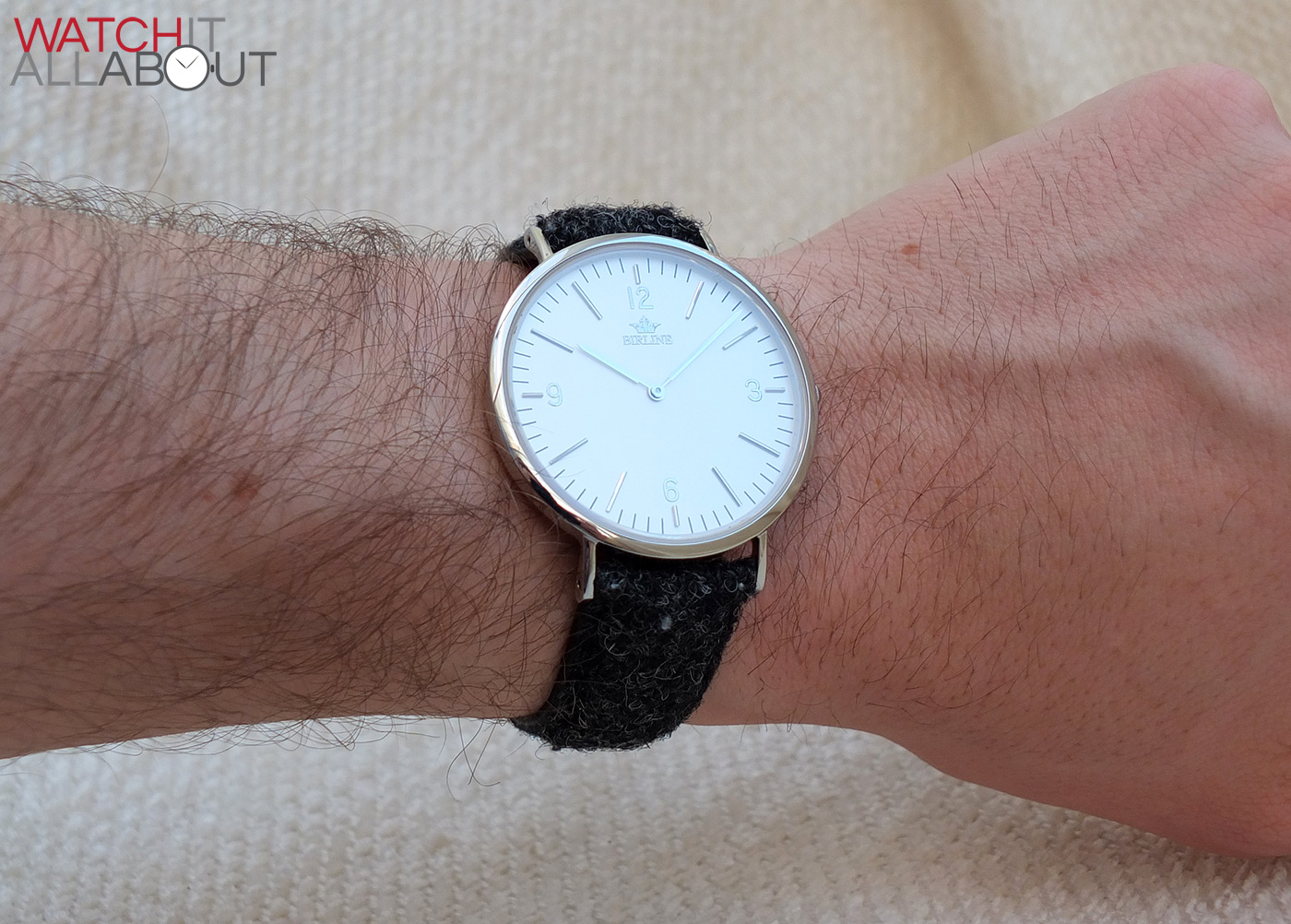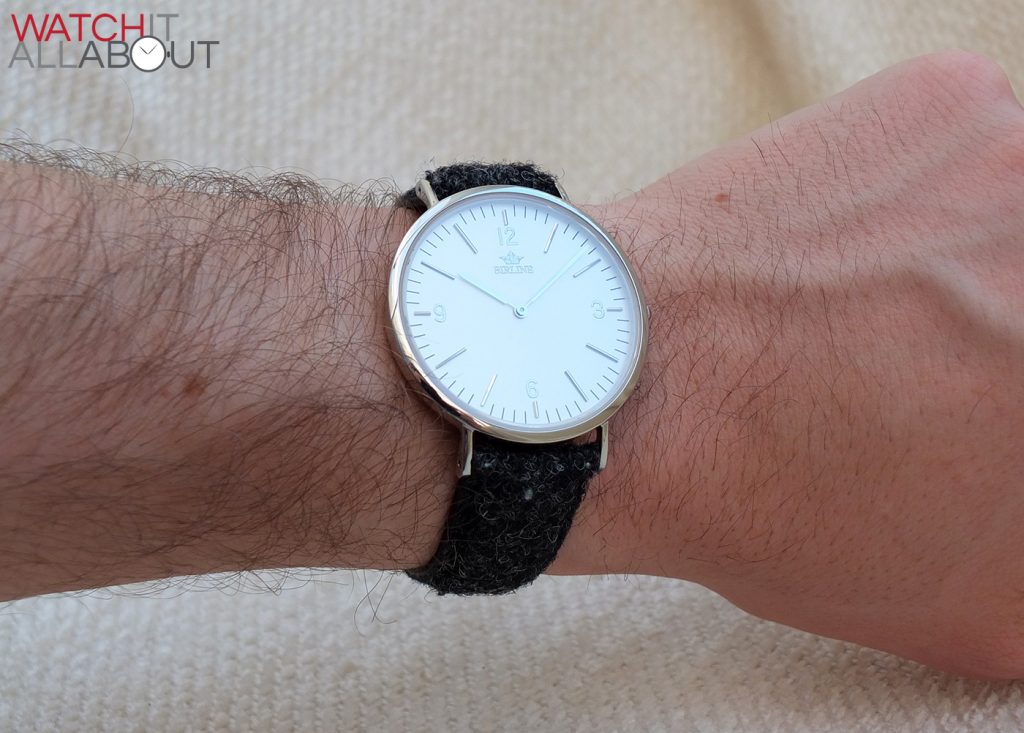 The dial
The dial on the Birline is in the classic minimalist style, which in a way is designed to mimic Daniel Wellington watches, but without the backwards D.
The colour is a splendid silvery champagne colour, matching the polished stainless steel case very well. It has an almost matt finish to it, which creates a contrast with the polished hands and applied hour markers and logo.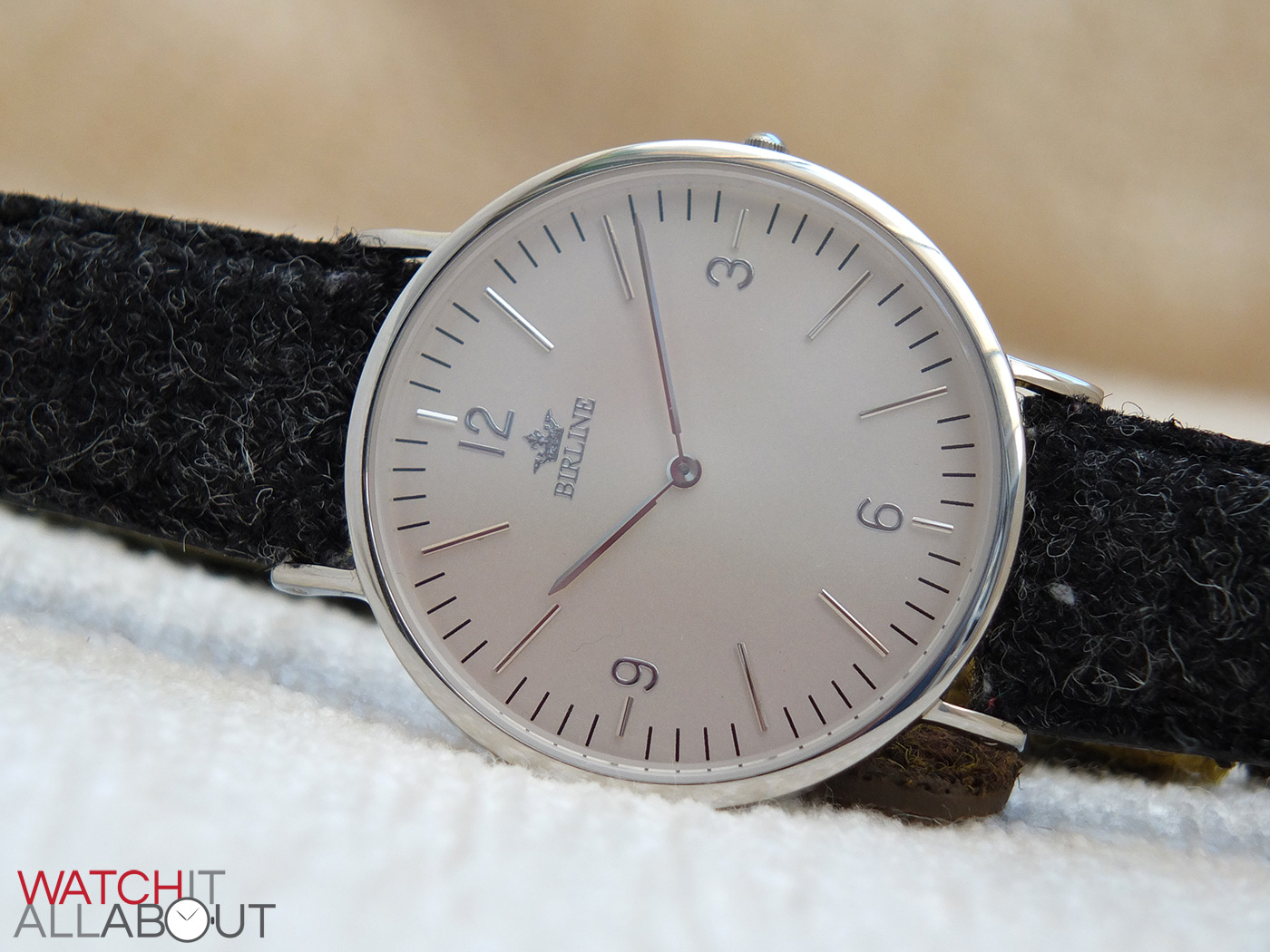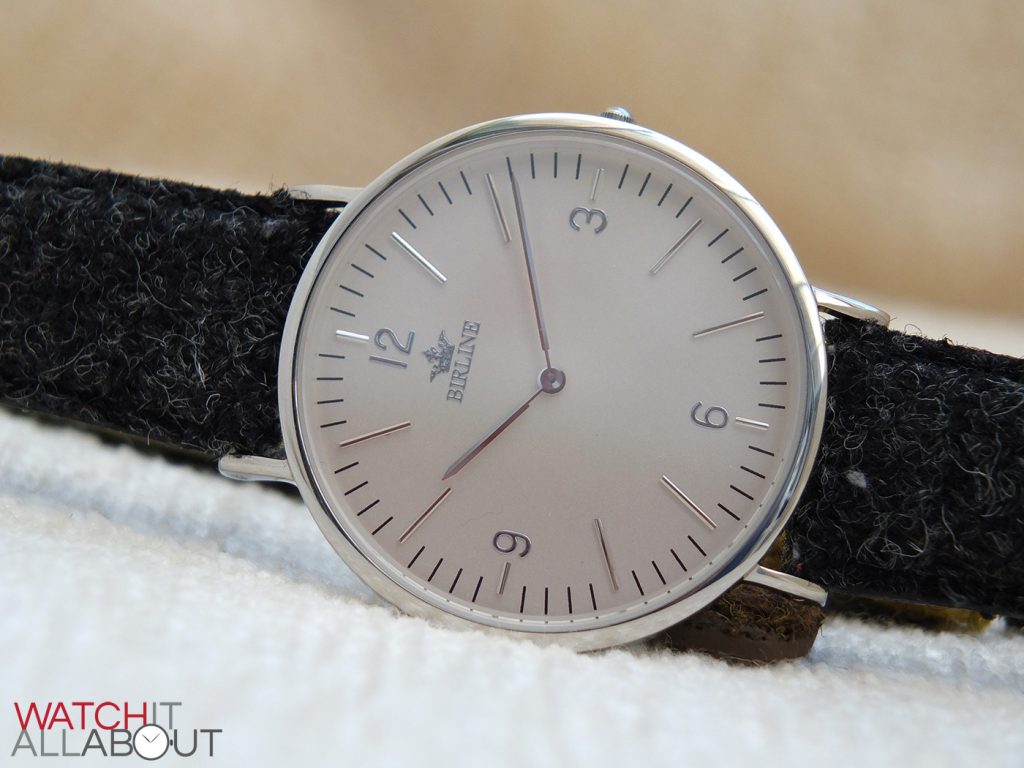 The hands are very simple, being a thin bar with an arrow tip, which reduces down in size at the base. They're very elegant in design, and do their job well. They're slightly pitched in the centre which provides a variety of reflections in the light which is nice to see. They're also very well machined, and appear to be pretty spotless under a macro lens.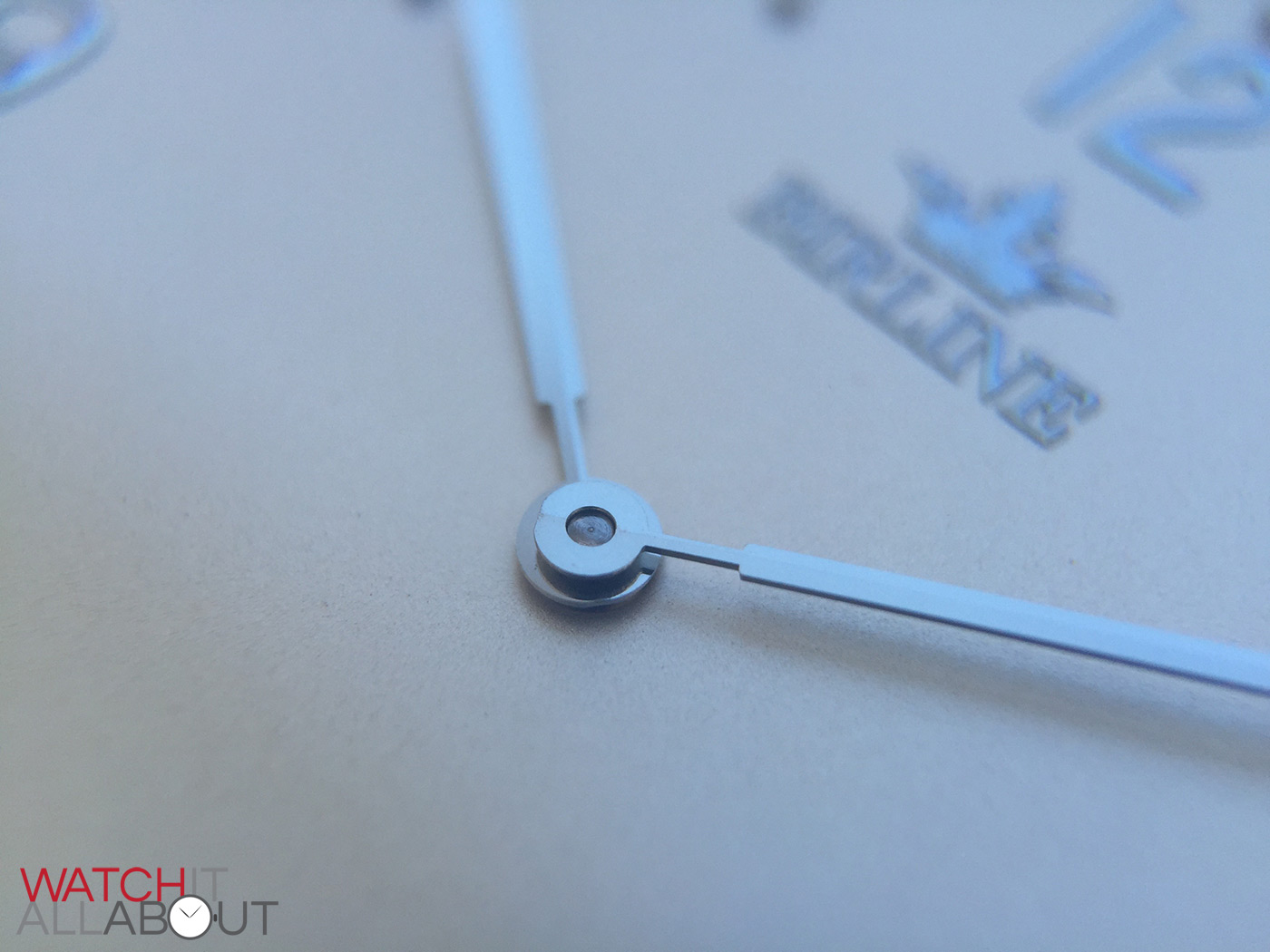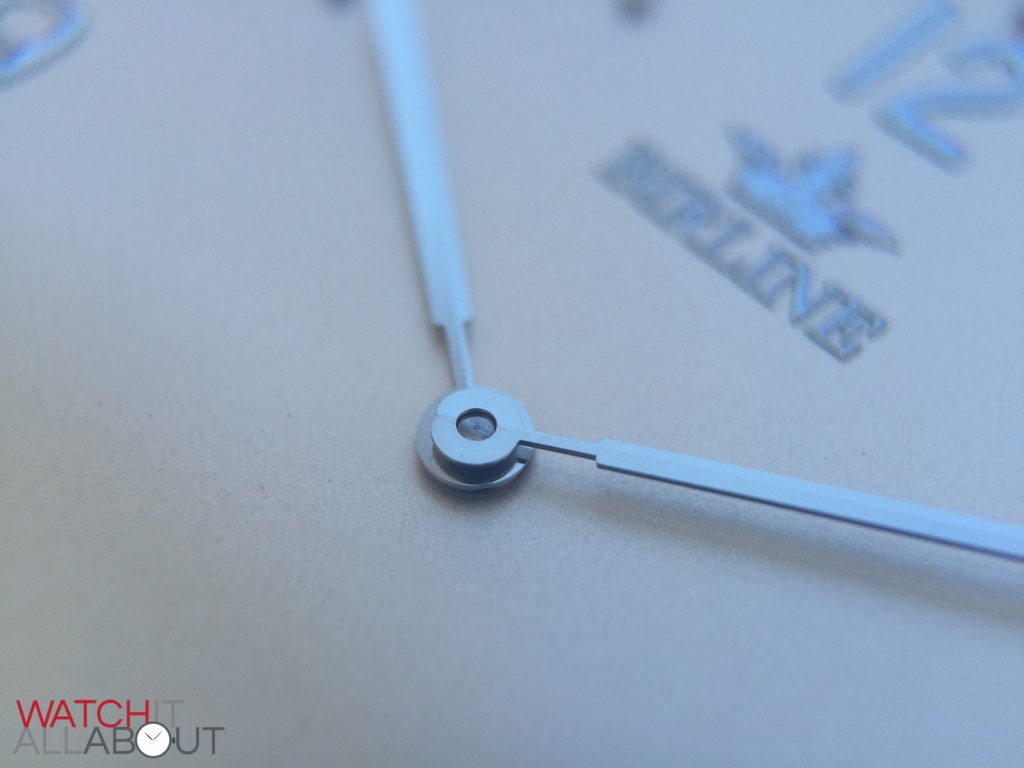 The applied hour markers are a similar affair to the hands. Simple batons at every hour, with the numbers 12, 3, 6 and 9 also added. The batons are quite deep and look decent quality. I wish the numbers were the same though. They're a lot thinner with less depth than the batons so don't look quite as good quality.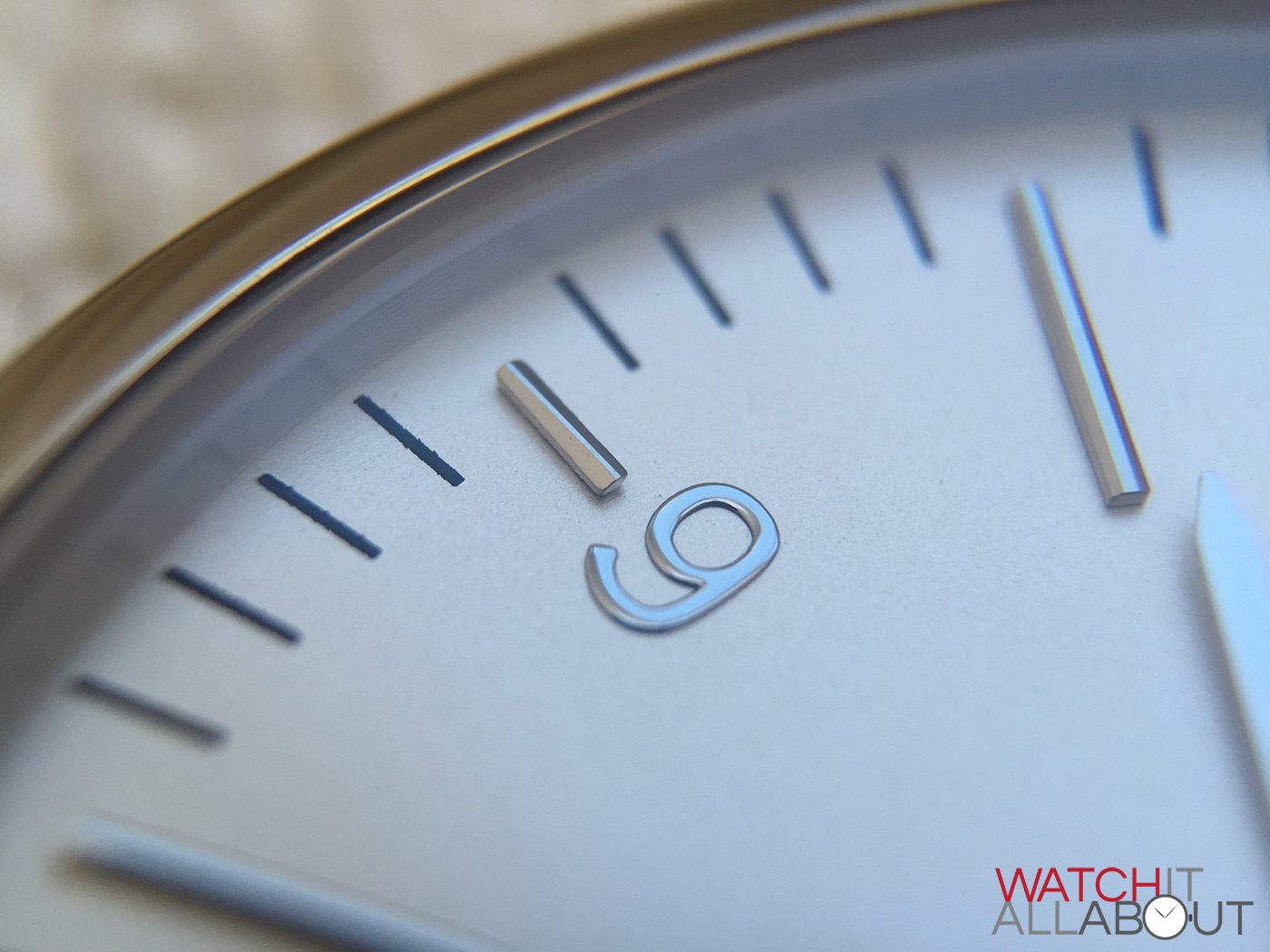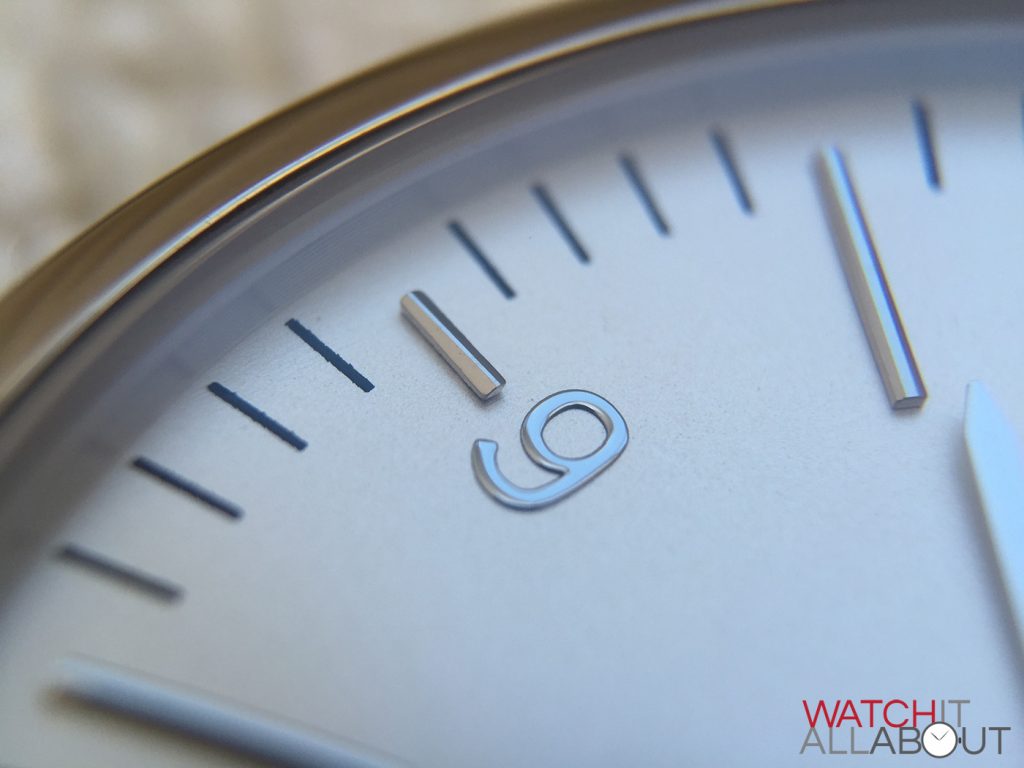 The applied logo is similar to the numerals. Although it's on the thin side, it actually has quite an impressive amount of detail on, especially the crown. The word Birline is also very crisp and is a good level quality for the price.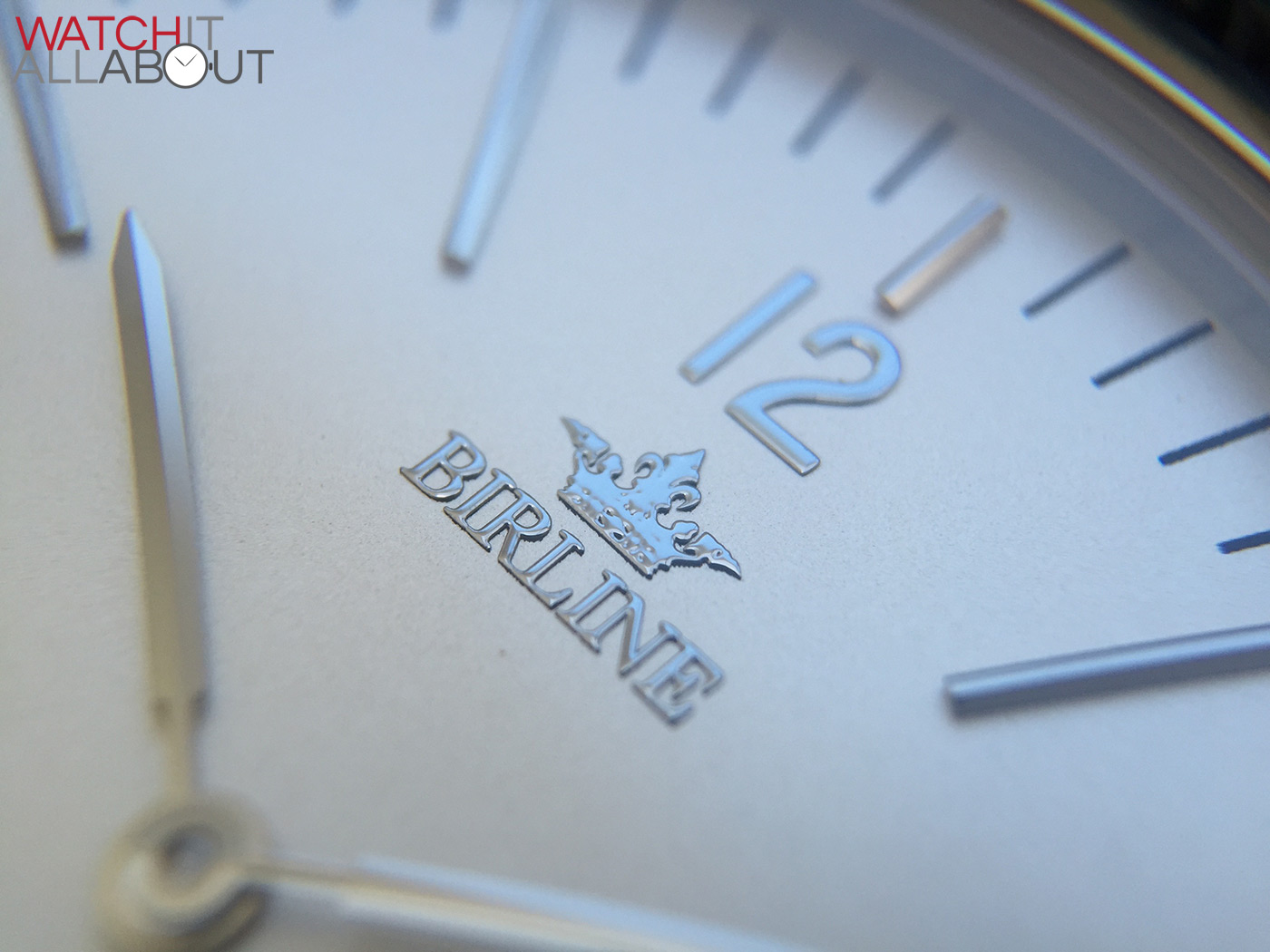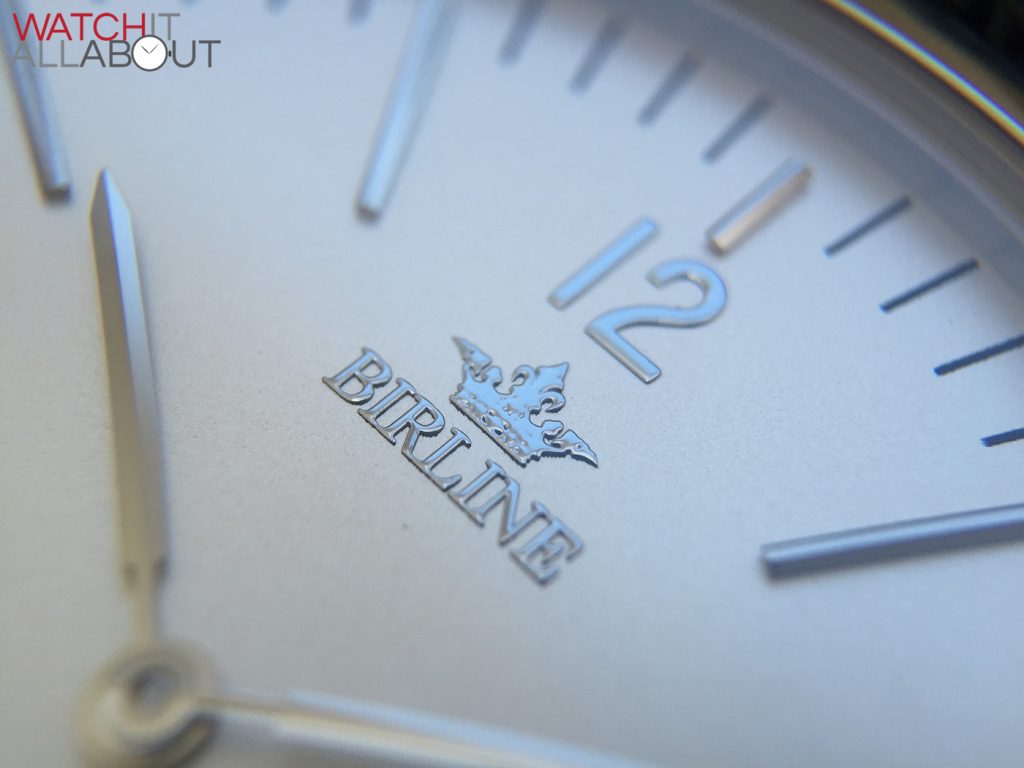 The only printing on the entire dial is the minute track, located around the outer edge. The print is fine and precise, and is not smudged or poorly printed.
The dial in essence is very simple. But, it's been executed well albeit in a similar design to other minimalist watches.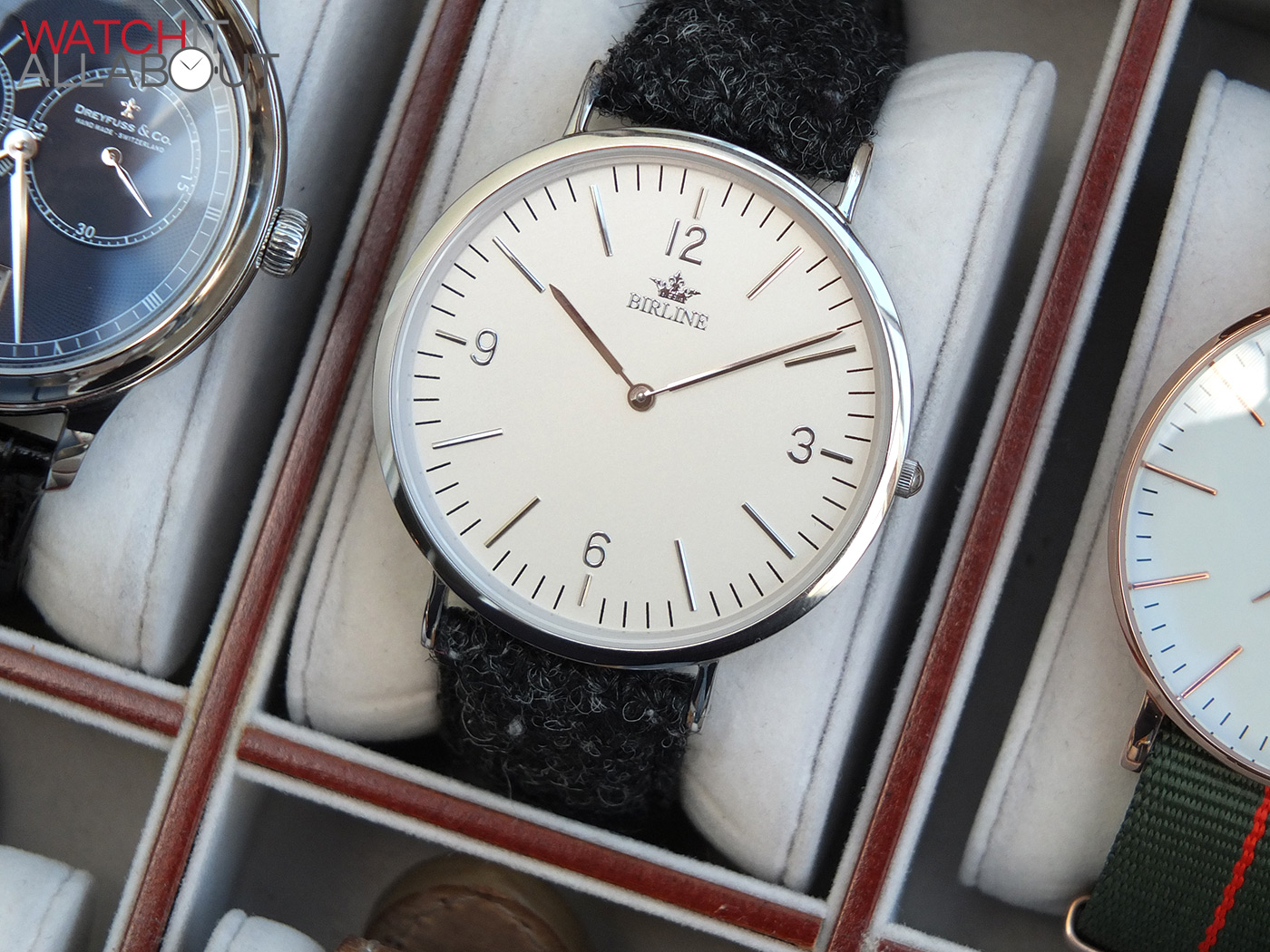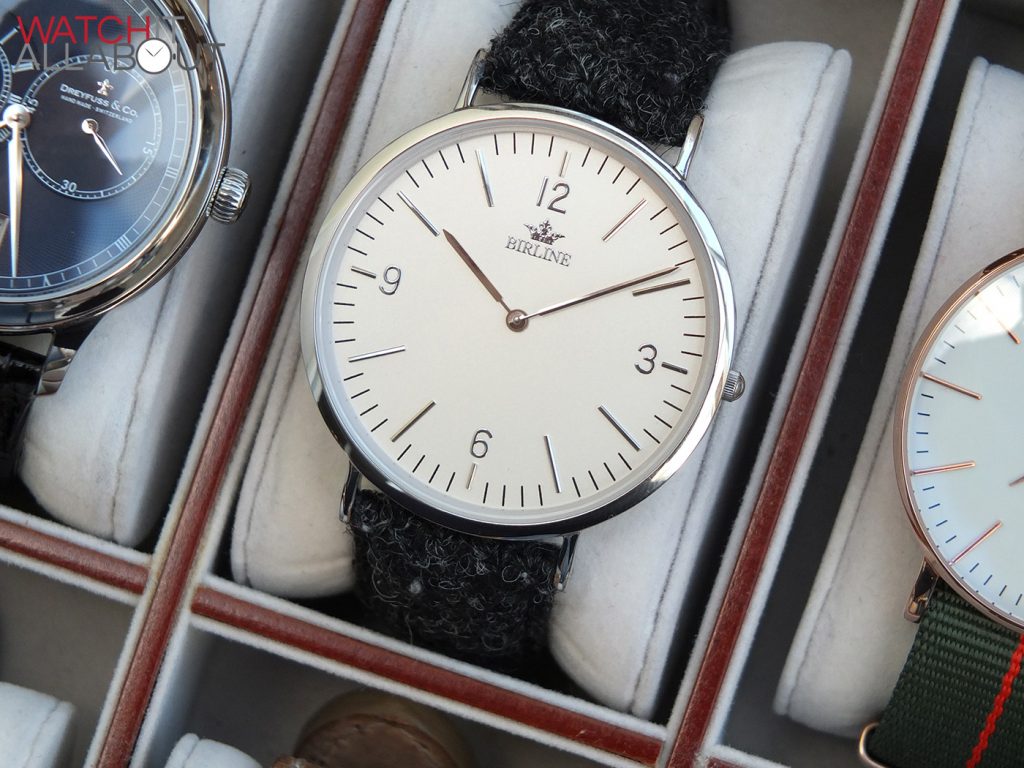 The strap
Now, onto what is probably the unique selling point of the watch. The Birline comes with a 20mm wide genuine Harris Tweed strap. You can expand the appearance of your watch too for £39 for an extra strap, and they have a massive selection of 18 of different colours to choose from.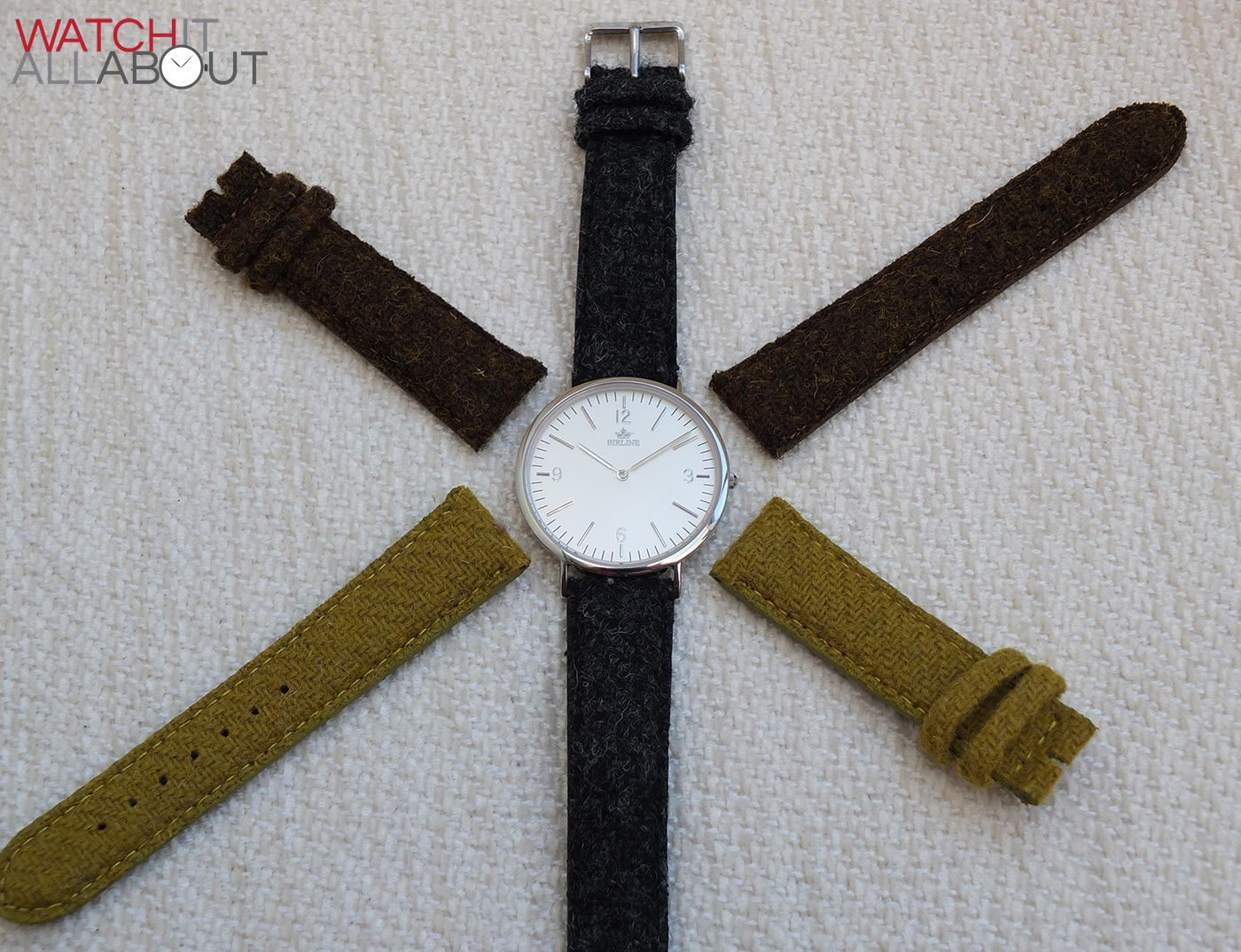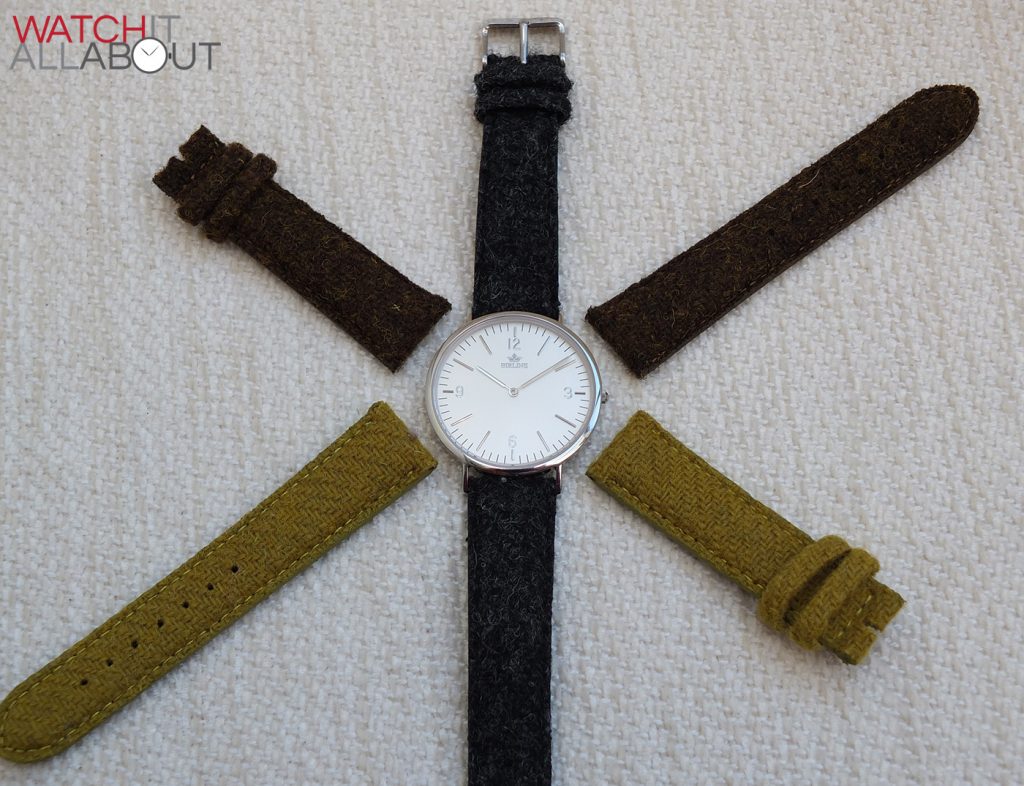 The tweed itself is soft and fluffy, so it does pick up the occasional ball of lint depending on what you wear. It looks very cool though, and the straps are obviously very well made too – the stitching and edging is all very neat and accurately done.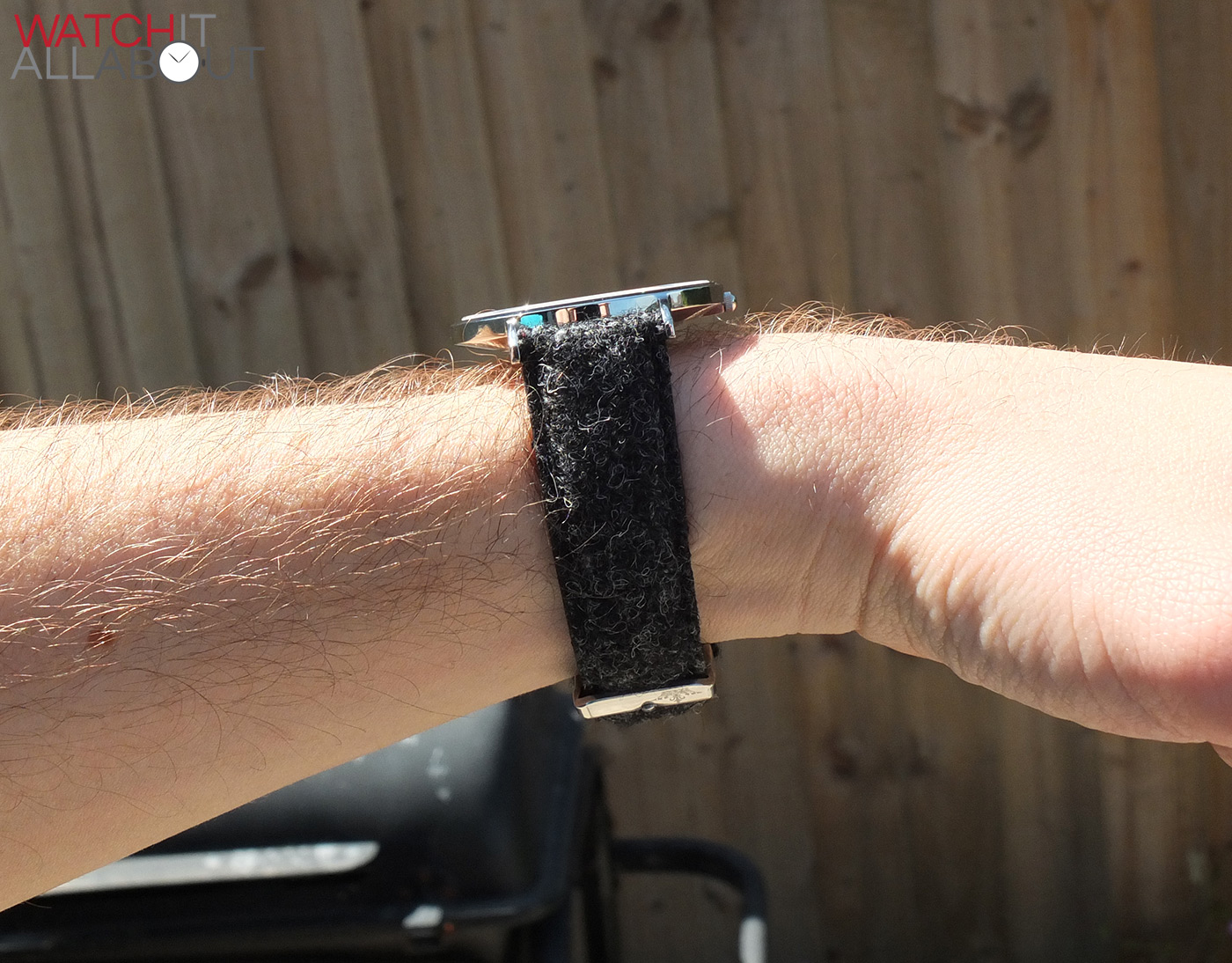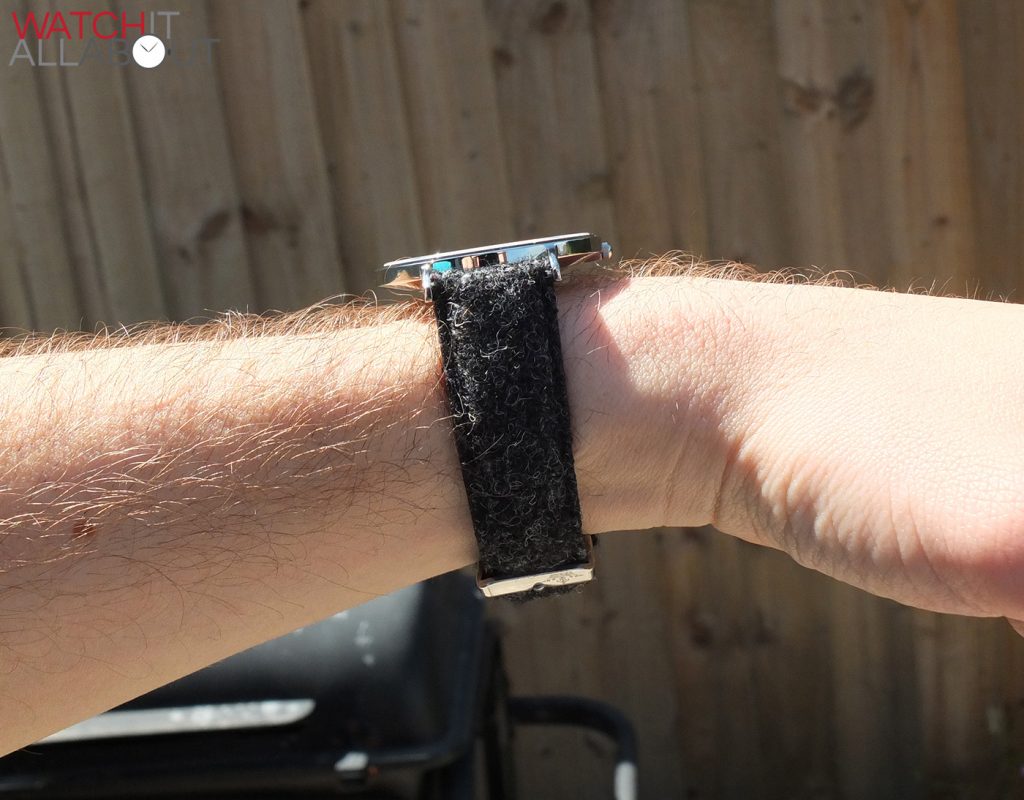 Thankfully, you don't have to endure having the slightly itchy tweed directly on your wrist thanks to the genuine leather backing. It's very comfortable on, and features the word Birline lightly stamped on the shorter section.
The buckle is fully polished stainless steel to match the case and features the Birline logo rather lightly etched on one side of the top bar.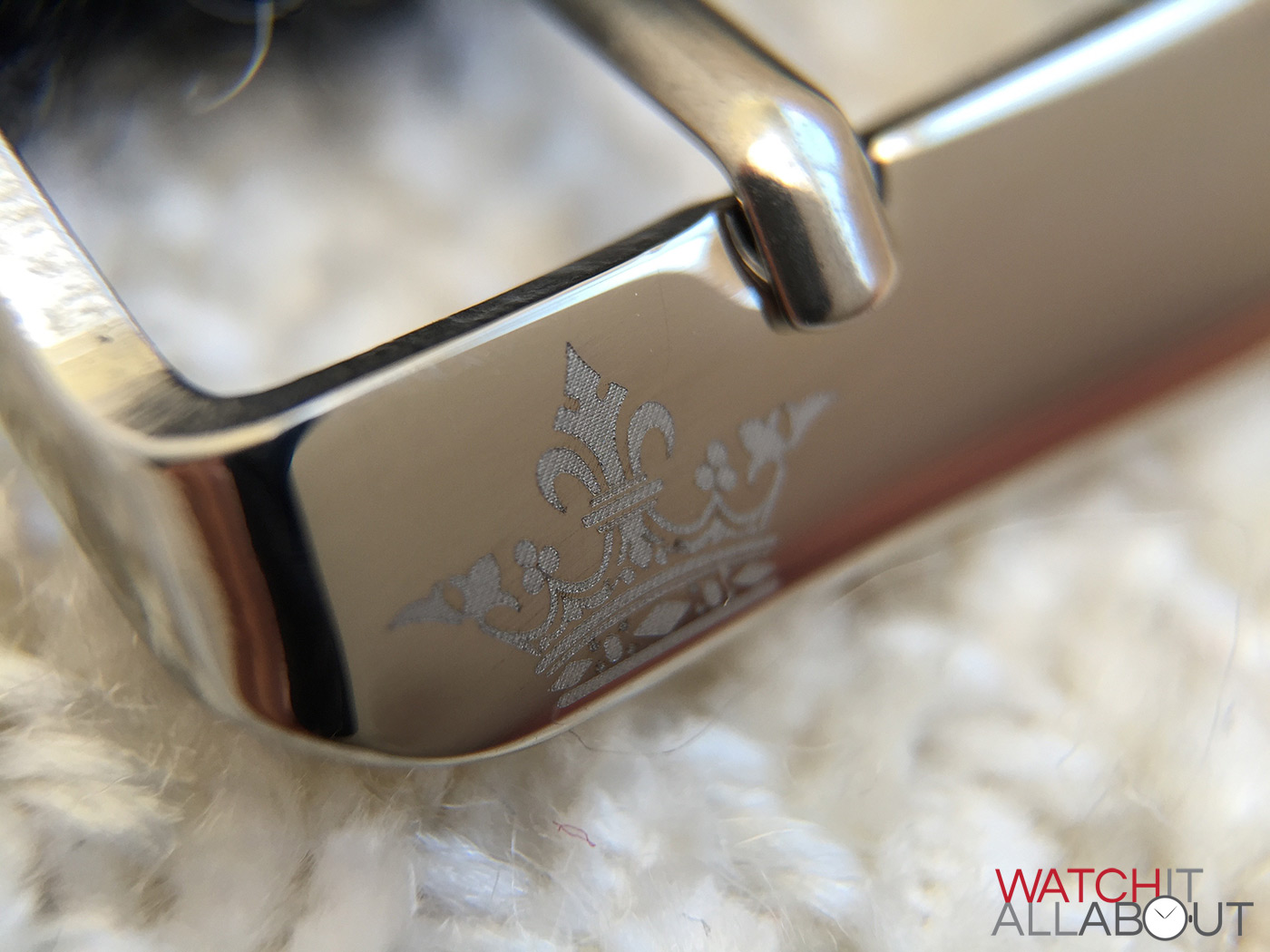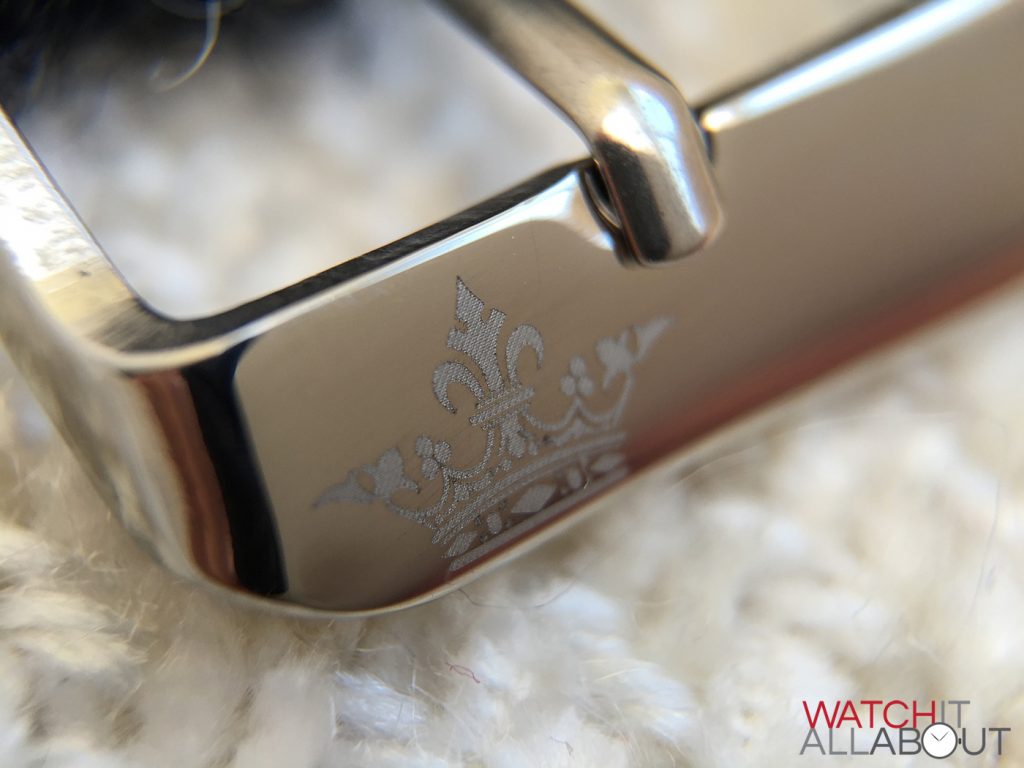 Here's some pretty interesting Harris Tweed facts taken from Birline's kickstarter campaign:
Every meter of Harris Tweed is conform to exacting standards and adhere to the legal definitions of Harris Tweed.

By law all Harris Tweed must be produced in the Outer Herbrides and nowere else. Each inch of wool is dyed and spun in an island mill and every yard is handwoven in the home of a Harris Tweed weaver. These skills are passed down from generation to generation of the island's community with pride. Weaver's skills take months to learn and years to master.

Genuine Harris Tweed is made from pure virgin wool which has been dyed and spun on the islands and handwoven at the home of weaver in the Quarter Herbrides of Scotland.

Harris Tweed is the only fabric in the world governed by its own Act of Parliament. 

Harris Tweed is warm in winter and cool in summer. It resists water and wear and tear with ease, cleans easily and can be repaired with simplest of tools.

Harris Tweed can last for years. The cloth never goes out of style and simply gets better with age.

Harris Tweed has a low-impact production and reliable on natural materials. It is truly a sustainable fabric of 21 century.

The world's best designers, fashion houses and artists have embraced Harris Tweed, showing their appreciation through their wonderful creations with every passing season. Harris Tweed is about quality and style.
The movement
There's not a great deal you can say about a Quartz movement really. It's obviously a positive that a Swiss Made Ronda 762 has been used rather than a cheaper Chinese one. The 762 does appear to be better quality and a higher level than the very basic movements too, as it has 4 jewels (the base Quartz models only usually have 1), and is gold plated. It also has a pretty impressive 10 year battery life, double what you'd normally get.
So although it's a Quartz – it's a decent one which is actually pretty well specced out. It's got the usual Quartz level of accuracy of -10/+20 seconds a month. 
Ronda Quartz movements have a good reputation too for being good quality and extremely reliable so I'm sure this will tick away for many years without fault. 
The competition
I personally don't agree with Daniel Wellington; I think they charge way too much (+£170) for watches that don't have decent specs (not even a sapphire crystal) and aren't particularly unique. They're just priced a little too high for me. 
However, if you do like that style then the Brathwait Classic Slim is similar in design (using exactly the same "minimalist" case), but with a lovely domed sapphire crystal with AR coating and a Swiss Movement. Plus it'll only cost you $150 / £90.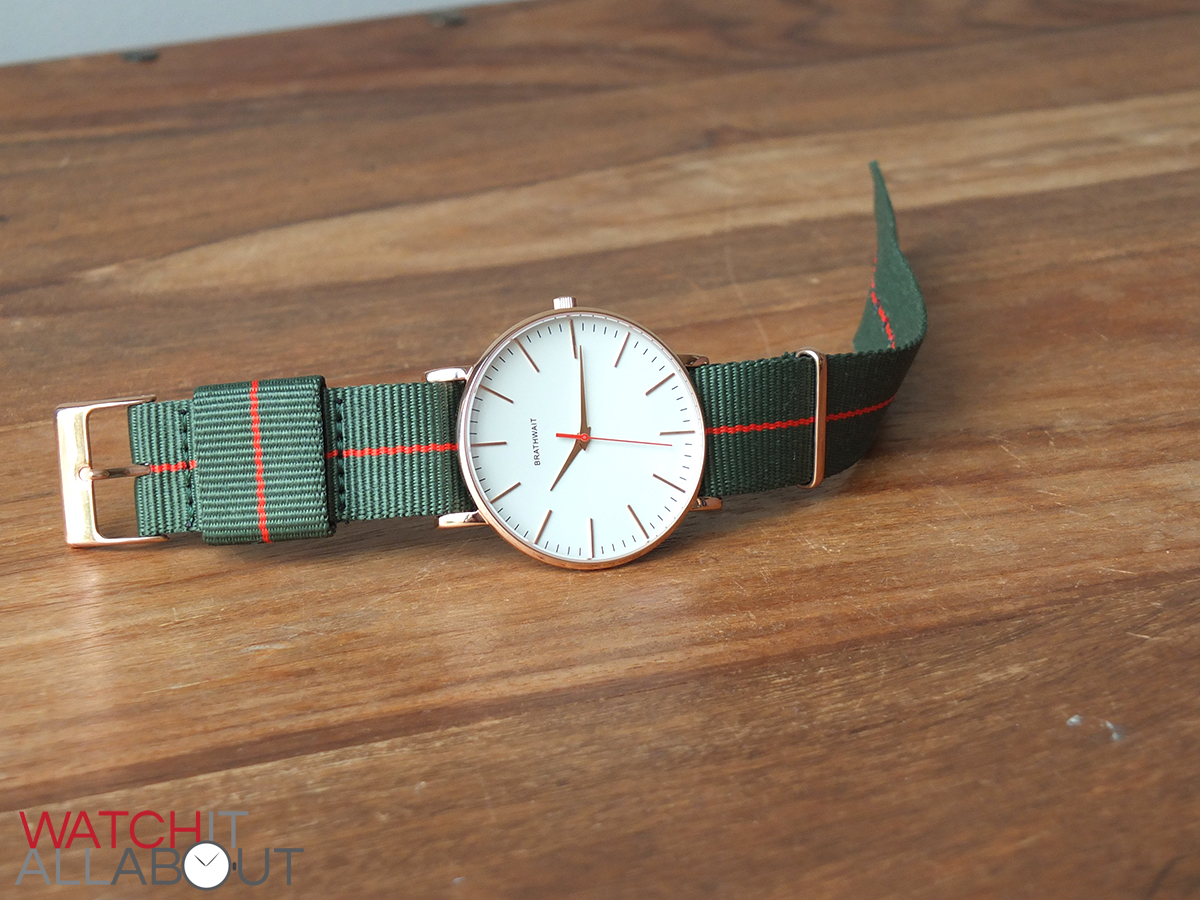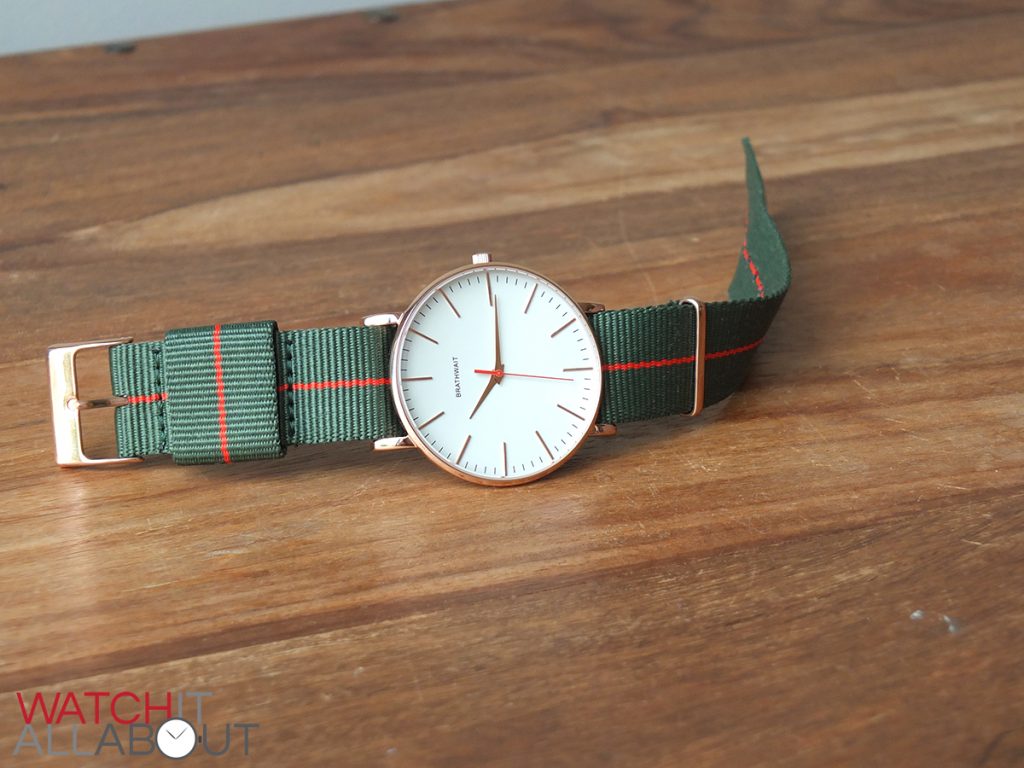 Alternatively, you can go for a multitude of Chinese automatics in the same price range of £150. The one I'll choose as a competitor is the Rodina Bauhaus homage. It's quite a steal at $120, and you get a Sea-Gull ST17 automatic movement and sapphire crystal.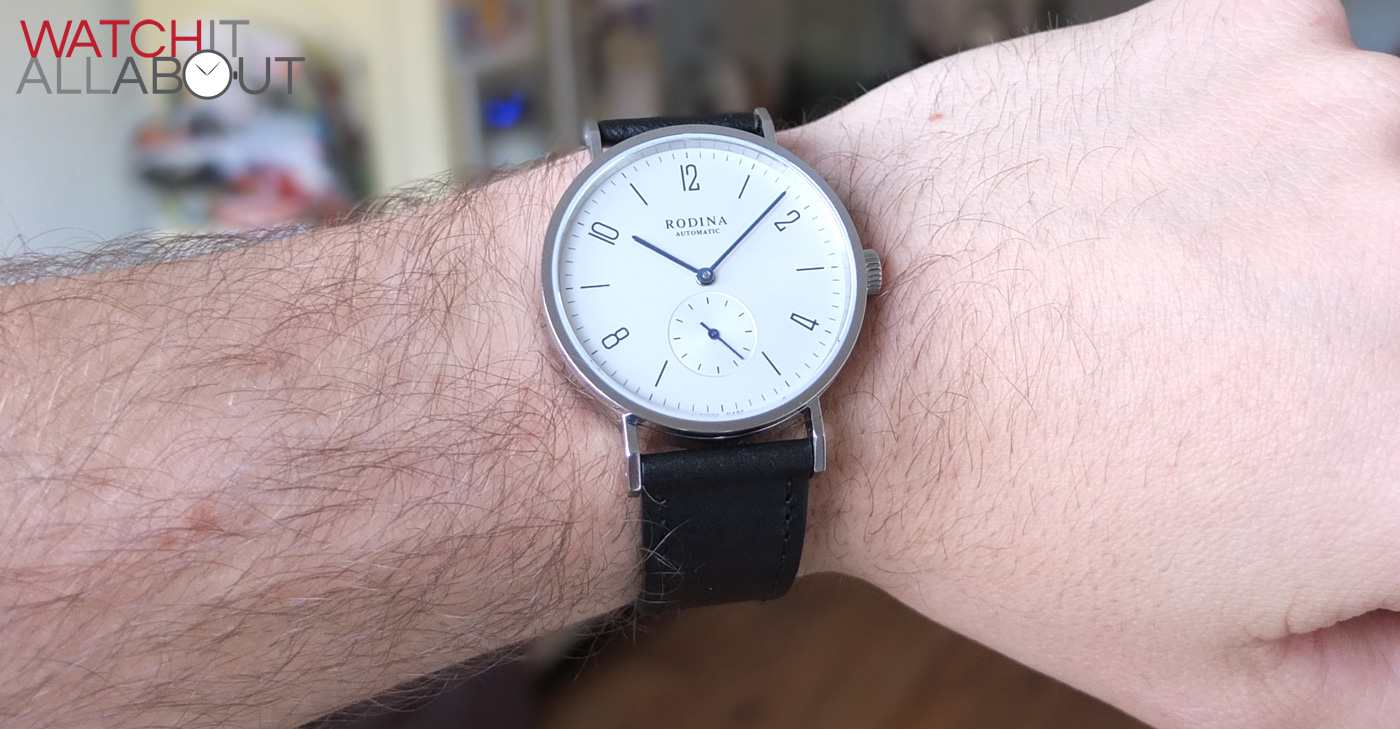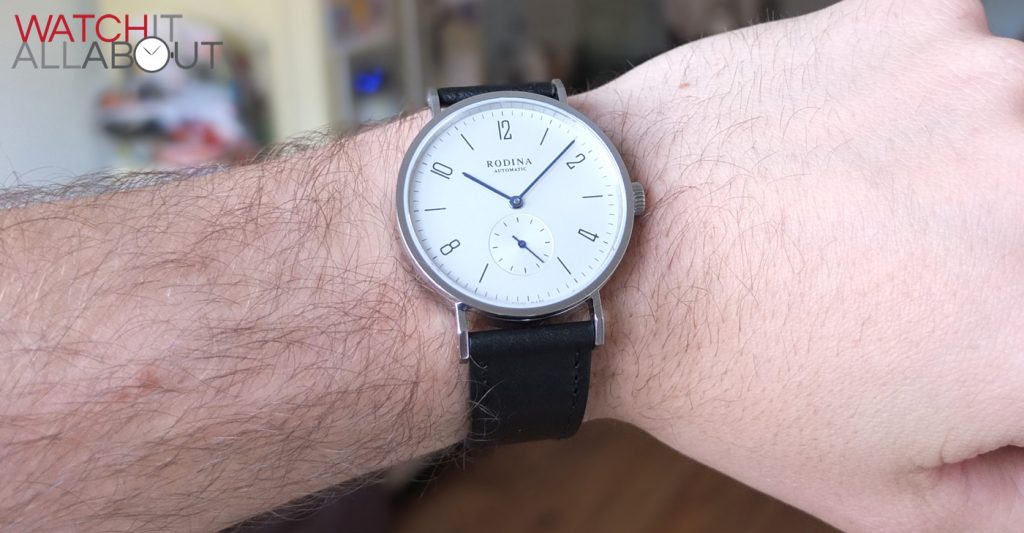 Final comments
So, is the Birline a good value proposition? At £149, it is a fair whack of money – especially when you can get great alternative automatics such as the Rodina mentioned above or anything by Perpetual. 
But, this style of watch is becoming increasingly popular (mainly thanks to Daniel Wellington), and I think Birline will do well despite the alternatives you could get for your money. It still offers more and is cheaper than DW after all. Their main advantage is the lovely Harris Tweed straps, and I think that people will be willing to pay the money for them – rightly so too, as they're currently the only place on the market to get them. I really like the straps, and they fact that Birline offer such a variety of colours is definitely a great bonus too.
Not forgetting you get a 2 year guarantee too, which is a year longer than what you'd usually get from a manufacturer, I think the Birline is a watch that you'd be very happy with were you to purchase it.