A watch winder is one of those things (to me) that I struggle to justify buying. I don't know why though – as I'd happily drop £500 on the right watch (multiple times of course) – so why is £100+ on a handy piece of equipment classed as "a stretch"?
I've been battling against this mental block for a while until I came across Barrington Watch Winders. I had a winder before – one of those cheap and nasty £25 ones from Amazon – and it's true, you get what you pay for. It lasted a couple of months and conked out.
This time, however, I've gone for a proper winder, from a U.K based business. One that looks and feels like it means business. And, at £125, it should do too. Let's take a closer look at this Barrington single watch winder to see if it's worth the money.
Video review + Unboxing
The specs
Dimensions: 11.5cm width x 12cm height x 16cm depth
Warranty: 1 year
Price: £125 – get 5% off with WIAA5
How it looks
Well, to start with, it's not black plastic as you would see on so many cheap winders. It is an elegant and classy blue colour, and the polished piano style lacquered paint finish looks luxurious.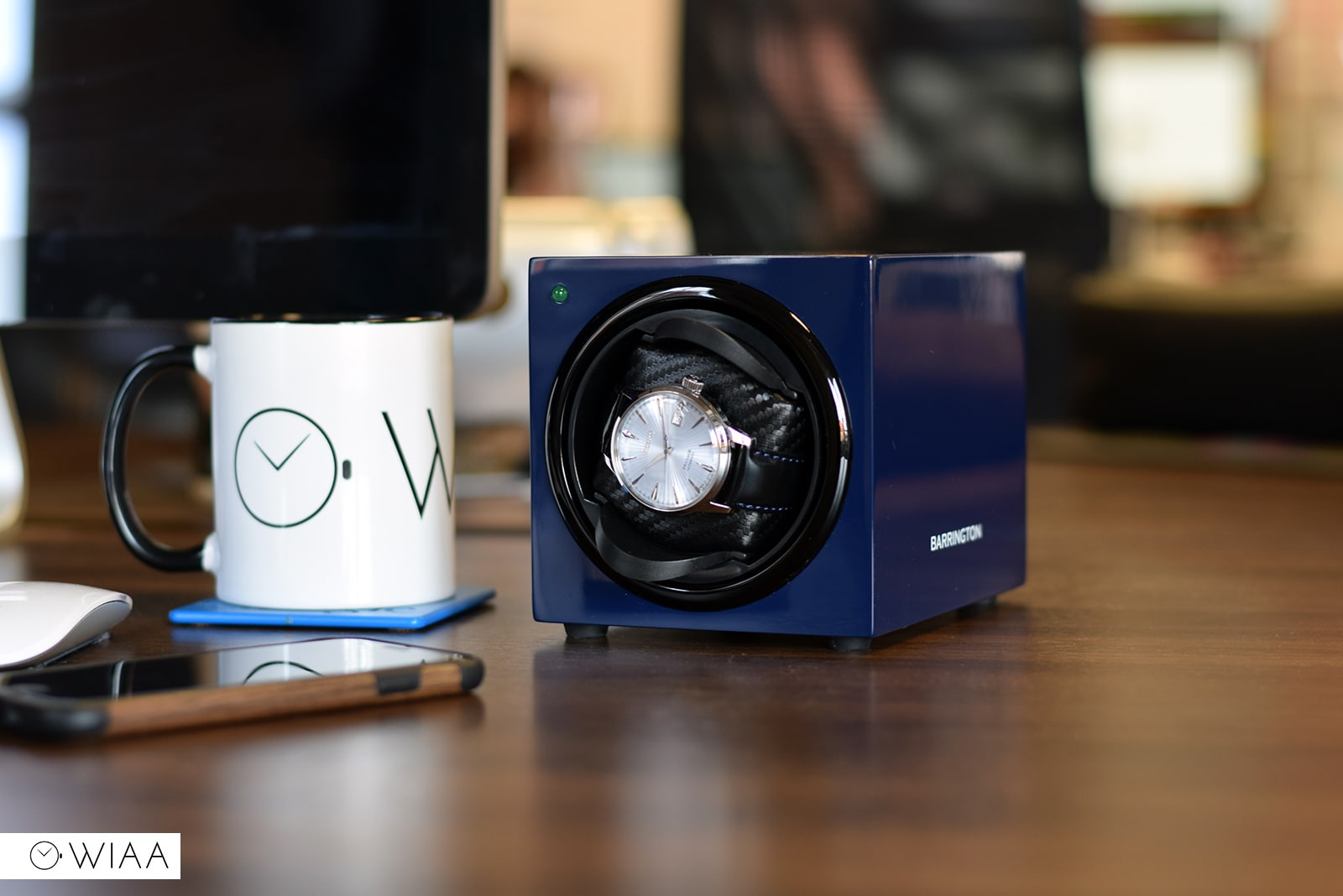 The overall impression is very good – when it's on your desk it'll fit in well aesthetically, with its clean lines and simple design. It won't cause a fuss, but when you notice it you'll certainly appreciate it.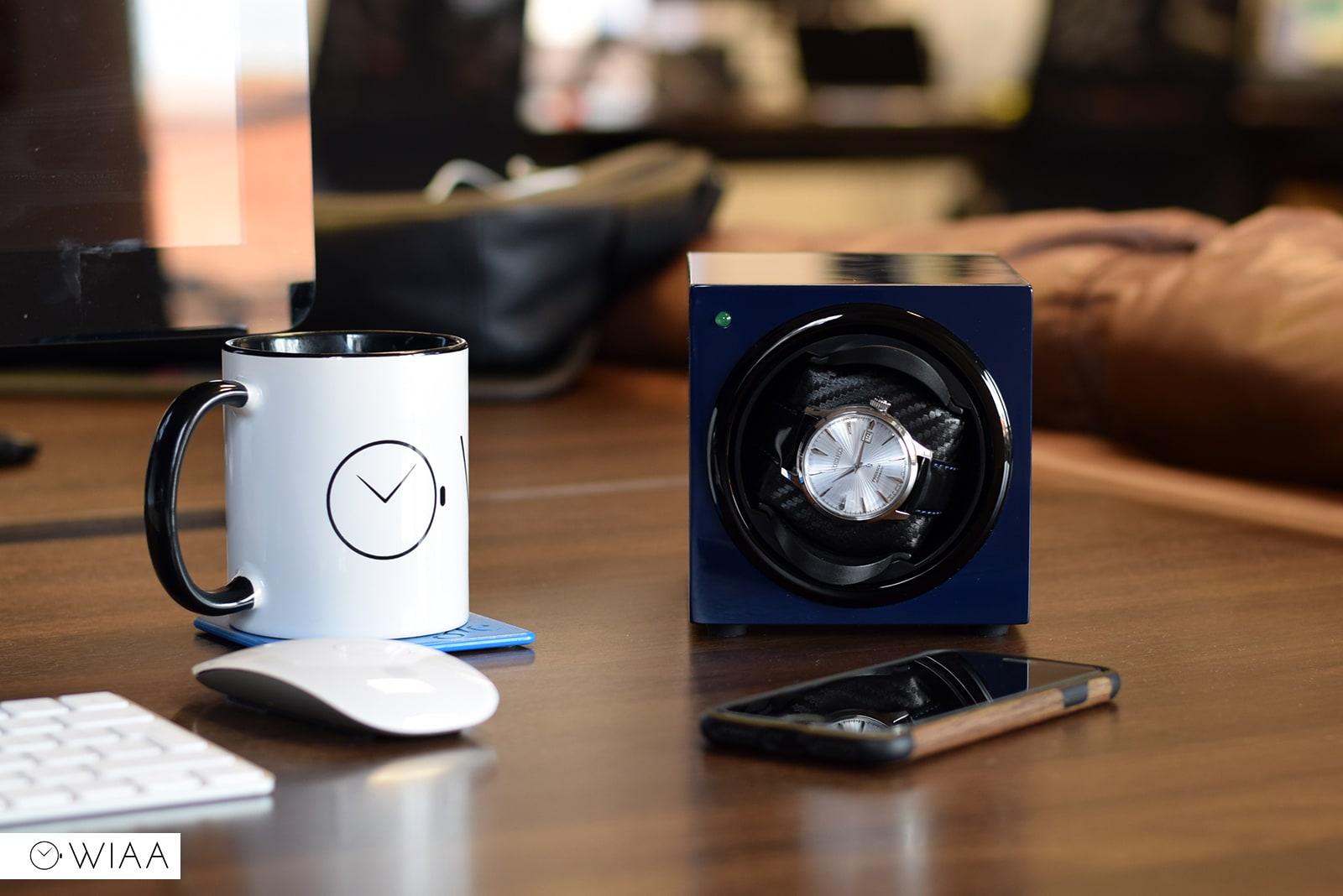 When carrying it, it's surprisingly weighty; which is a testament to the build quality.
Barrington have utilised a Japanese Mabuchi motor, which is exceptionally quiet and beautifully smooth in operation.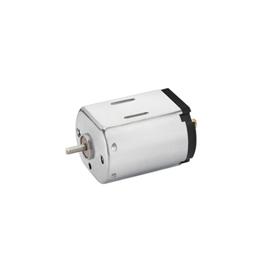 It's pretty handy that you can power the winder two ways: either plugged in with AC power or alternatively by 2 x AA batteries. I'm not sure of the battery life, but it's still a handy feature if you want the winder stationed somewhere near no plug socket, such as a shelf. It also has a jump feature – allowing you to connect multiple together in a daisy chain, thus only taking up one socket for them all rather than one per winder.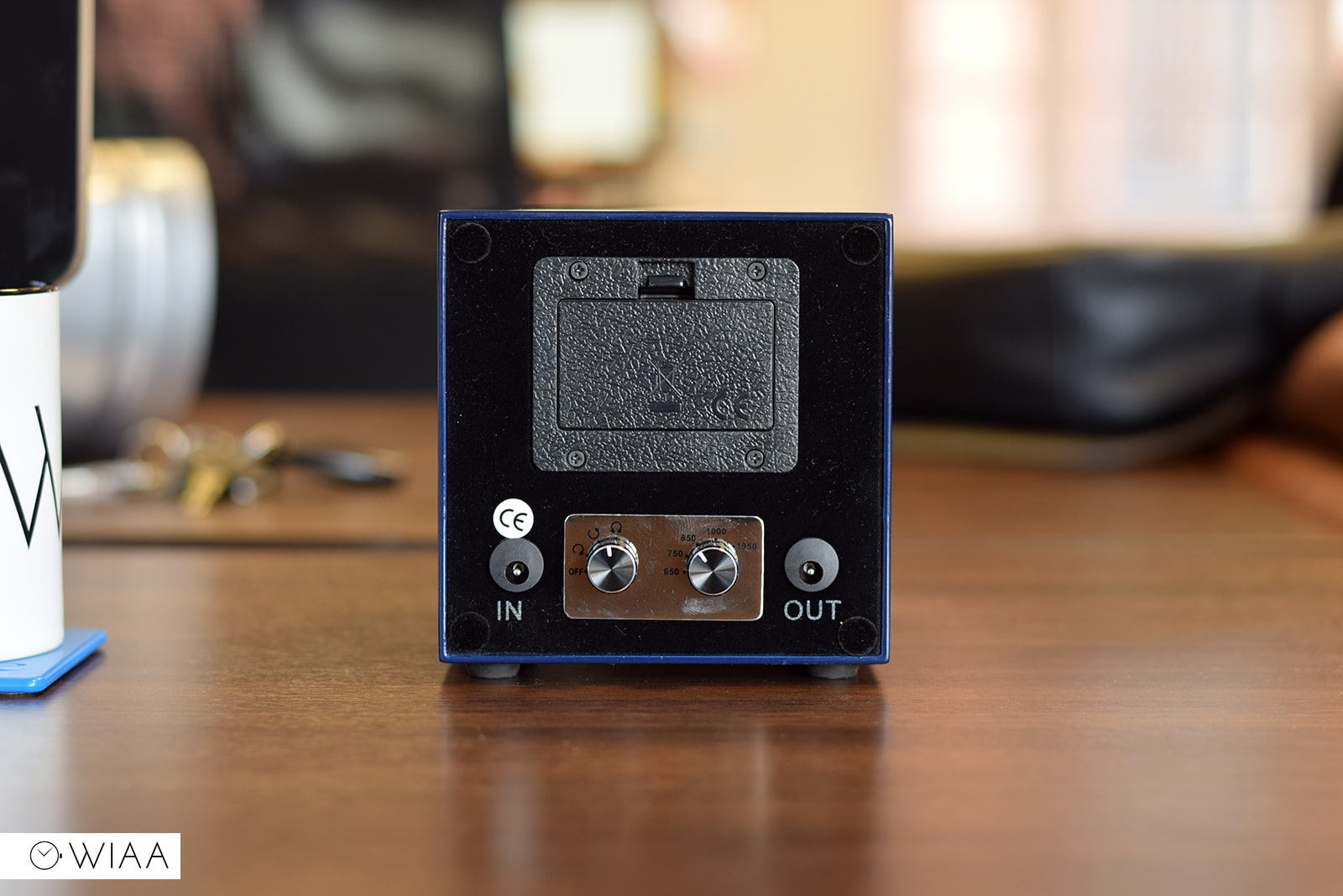 The Barrington logo is printed on both sides toward the base. It helps that it's a clean logo, but it's also tastefully positioned and sized.
What is interesting is that vertical winders may cause less strain on the rotor too, than if it was sat at a ~30-degree angle.
Using it
The fact that there are no controls on the front lend to a minimal appearance: it's just your watch, spinning, with an LED blinking in the top left corner when it does so.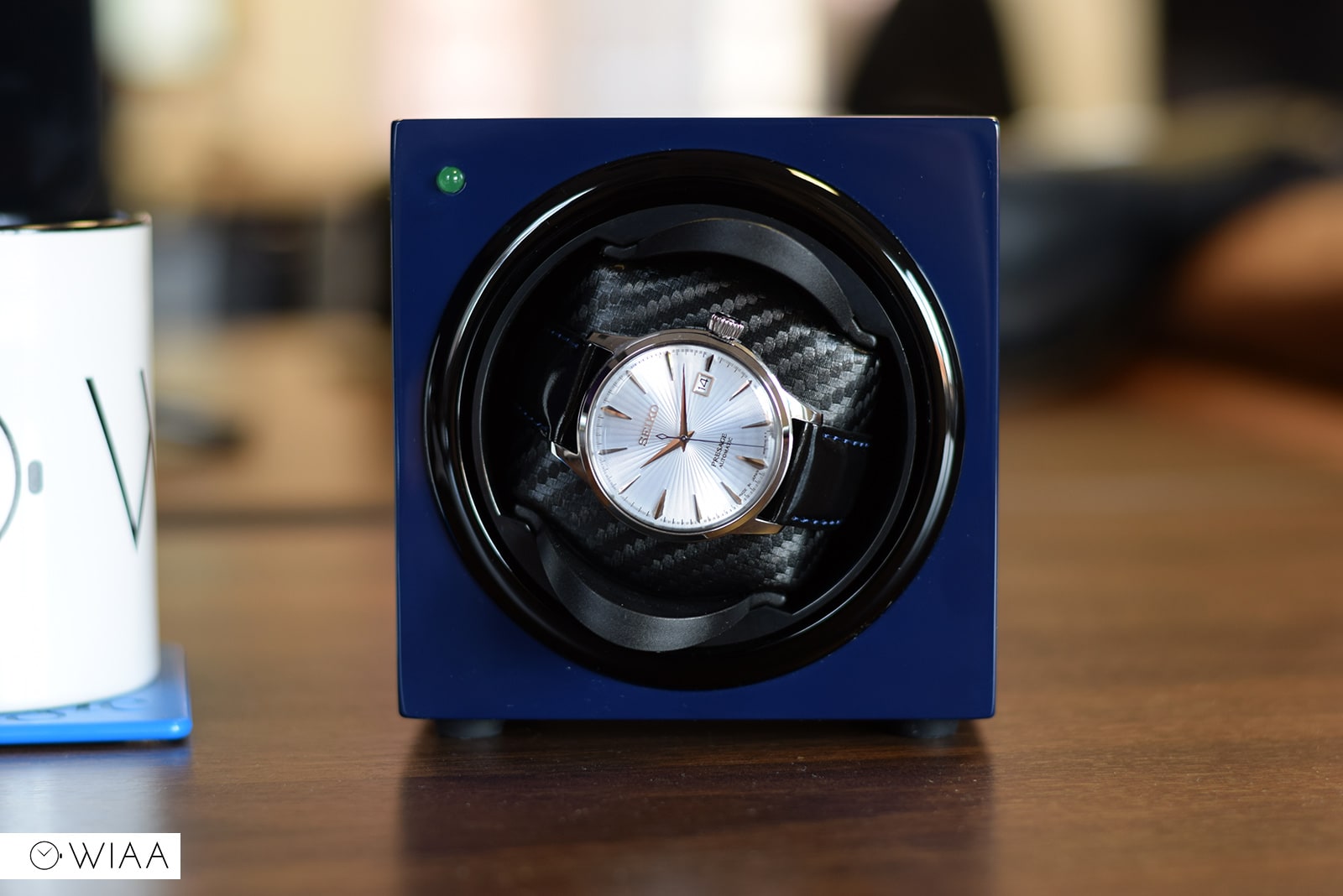 There are 3 rotation settings: clockwise, counterclockwise or alternating. This is due to the fact that some movements only wind when the rotor is spinning in one direction, such as the Miyota 8215, so you're better off just rotating it that direction. The decent movements are bi-directional winding, so alternating would be best.
You then have the option to set multiple Turns Per day (TPD): 650, 750, 850, 1,000 or 1,950; to suit any weight of watch. The length of pause between each rotation is determined by the number of turns, each "turn" lasts 1 minute. The cycle runs for 12 hours, then rests for 12 hours. This ensures that it's gentler on the movement and mimics a more realistic daily wear on your actual wrist.
The knobs are certainly a superior quality to the cheap and cheerful winders; they have a well manufactured head and offer a satisfying clunk when using them. They are set on a steel plate with printed details – and it's good to see this level of detail going into the rear, where no one really will see them.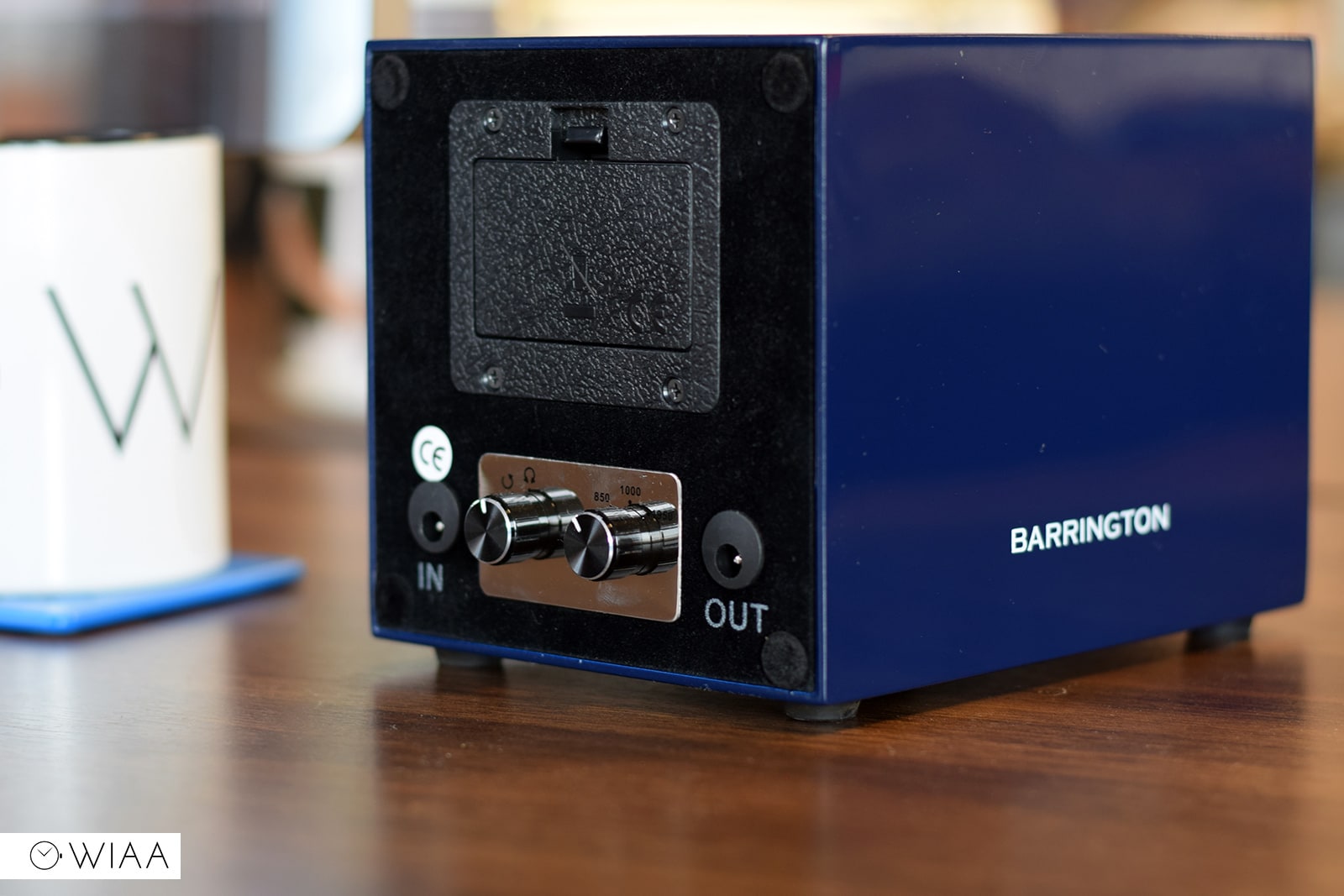 You get the choice of a standard or a flex cushion to hold your watch, here we have the flex option. It fits in snugly and accurately, a simple pinch of the surrounds releases it. The cushion has a carbon fibre style thread which is a stylish twist that works well against the winder's conservative nature.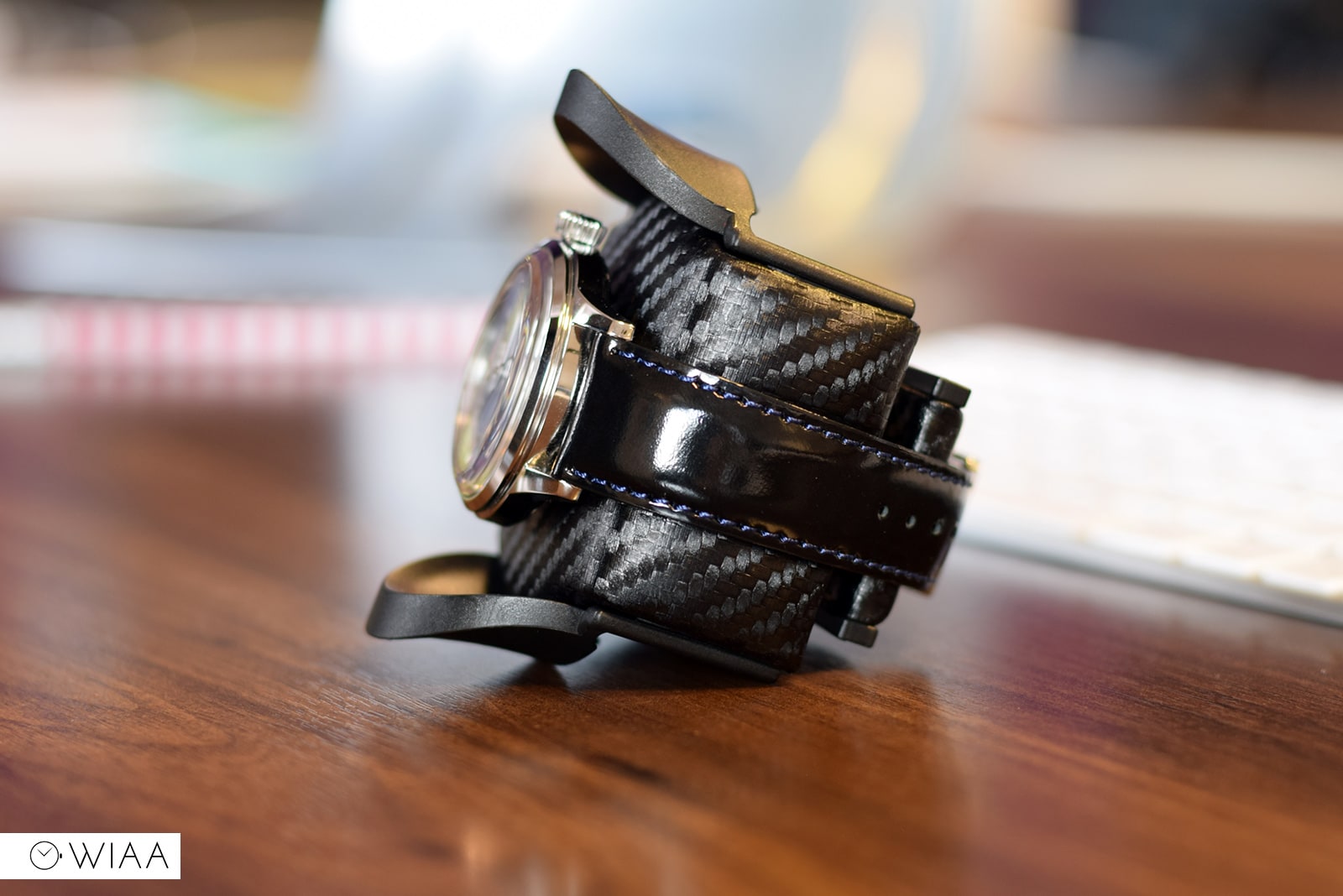 Final comments
I've been incredibly impressed by the Barrington Single Watch Winder. The fit and finish of construction is flawless, and the contemporary design is one that will fit in wherever it is stationed.
Usually, the noise of the motor makes or breaks a winder – and it's sat next to me at my desk at work and I don't even notice it when it starts. The only negative is that the flashing LED when it is running means it might not be well suited for a bedroom; however, if you time it well then you can get the 12 hour rest period during the night, such as during 8 pm – 8 am.
We'd all happily spend £125 on an automatic watch, wouldn't we? So for those of us with a few automatic watches shouldn't really baulk at £125 for a genuinely splendid product that acts as a compliment to any collection.
Don't forget; you can get 5% off with code WIAA5 at Barrington Watch Winders.