At just 36.5mm, the Bicompax 003 is of truly vintage proportions and Baltic's smallest chronograph to date. In fact, I'd say it's probably one of the smallest mechanical chronographs on the market full stop. So, is this ballsy move a clever and calculated risk, or will it be a step too far, even for watch enthusiasts?
Baltic's inherent intuition for producing well-designed watches imbued with just the right amount of vintage charm has won them lots of fans in a comparatively short space of time. They have also shrewdly managed to keep their prices relatively low by knowing just where savings can be made in production costs (such as movements used) without sacrificing the overall appeal. It's for these reasons that I've been keen to get my hands on one of Baltic's watches for some time, so when the chance came to review the new Baltic Bicompax 003 chronograph, of course I jumped at the chance.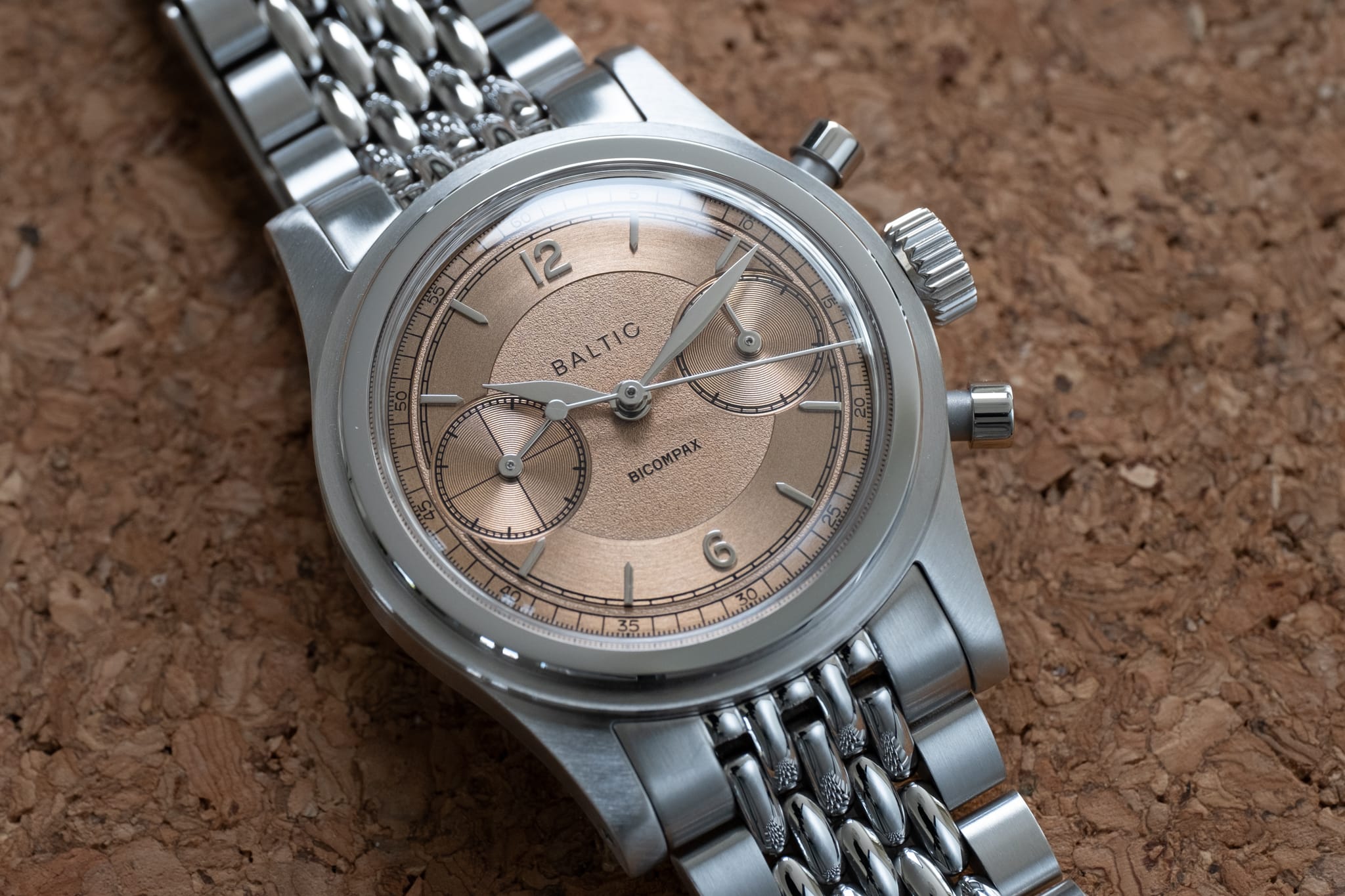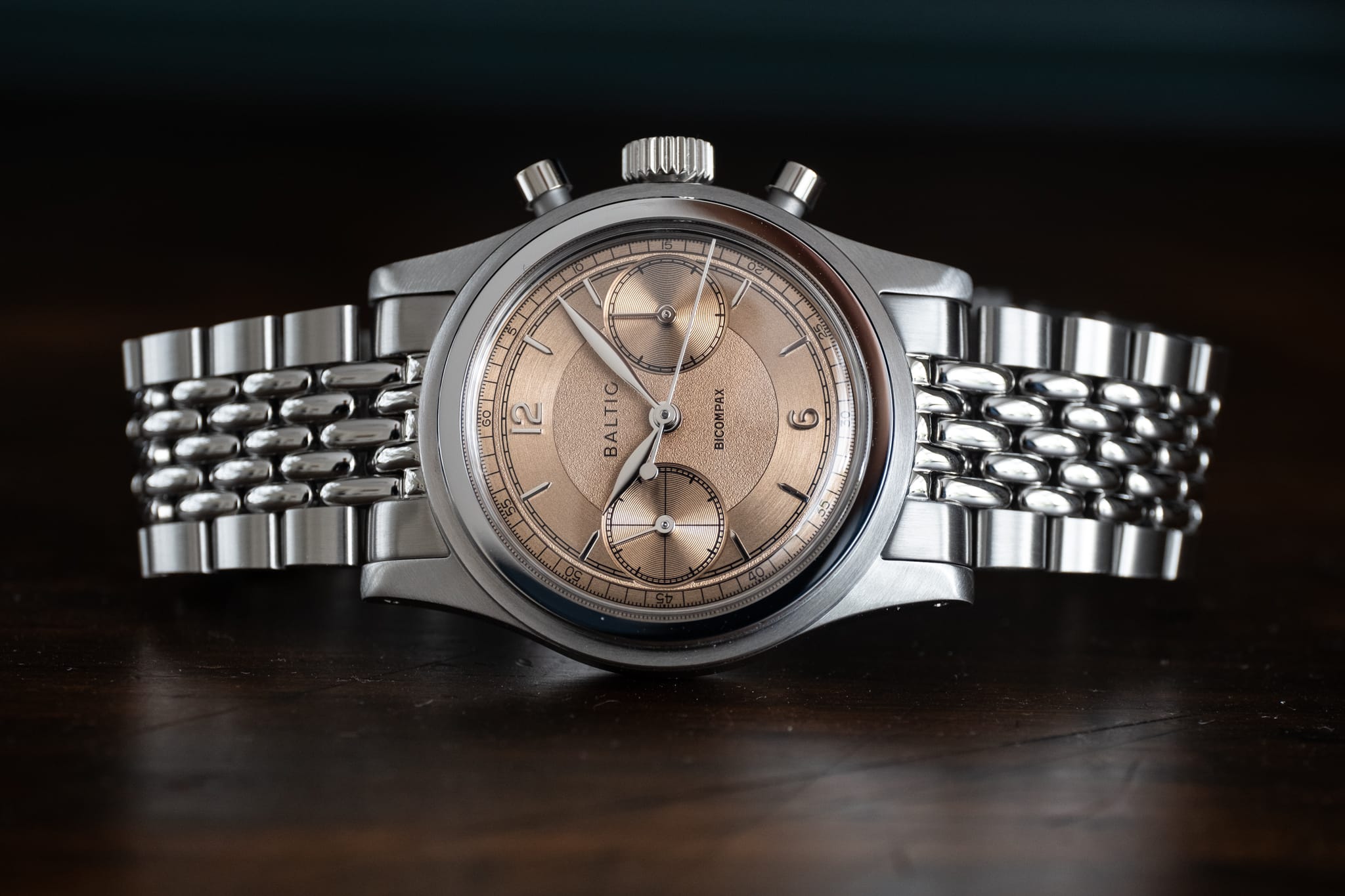 The Case and Wearing Experience
Whilst I love smaller watches as of late, I am averse to watches that have shrunk in all dimensions bar thickness, as proportions can look 'off'. For this reason, when I saw in the specifications that the 36.5mm Baltic Bicompax 003 was 13mm thick, my heart sank. However, after having it on the wrist for a week now, I can honestly say, don't let this put you off! The reality is that this watch wears a lot thinner. In fact, it wears very well indeed. The case itself is just 10mm thick and the stunning high-domed Hesalite crystal takes up the remaining 3mm. The 1940s-style 'stepped' case also helps in this regard. Conversely, I'd also say that on the wrist it wears more like a watch with a 38mm diameter, thanks in part to the relatively long, elegant lugs and lug-to-lug measurement of 46mm. It all balances out nicely and will suit a surprisingly wide variety of wrist sizes.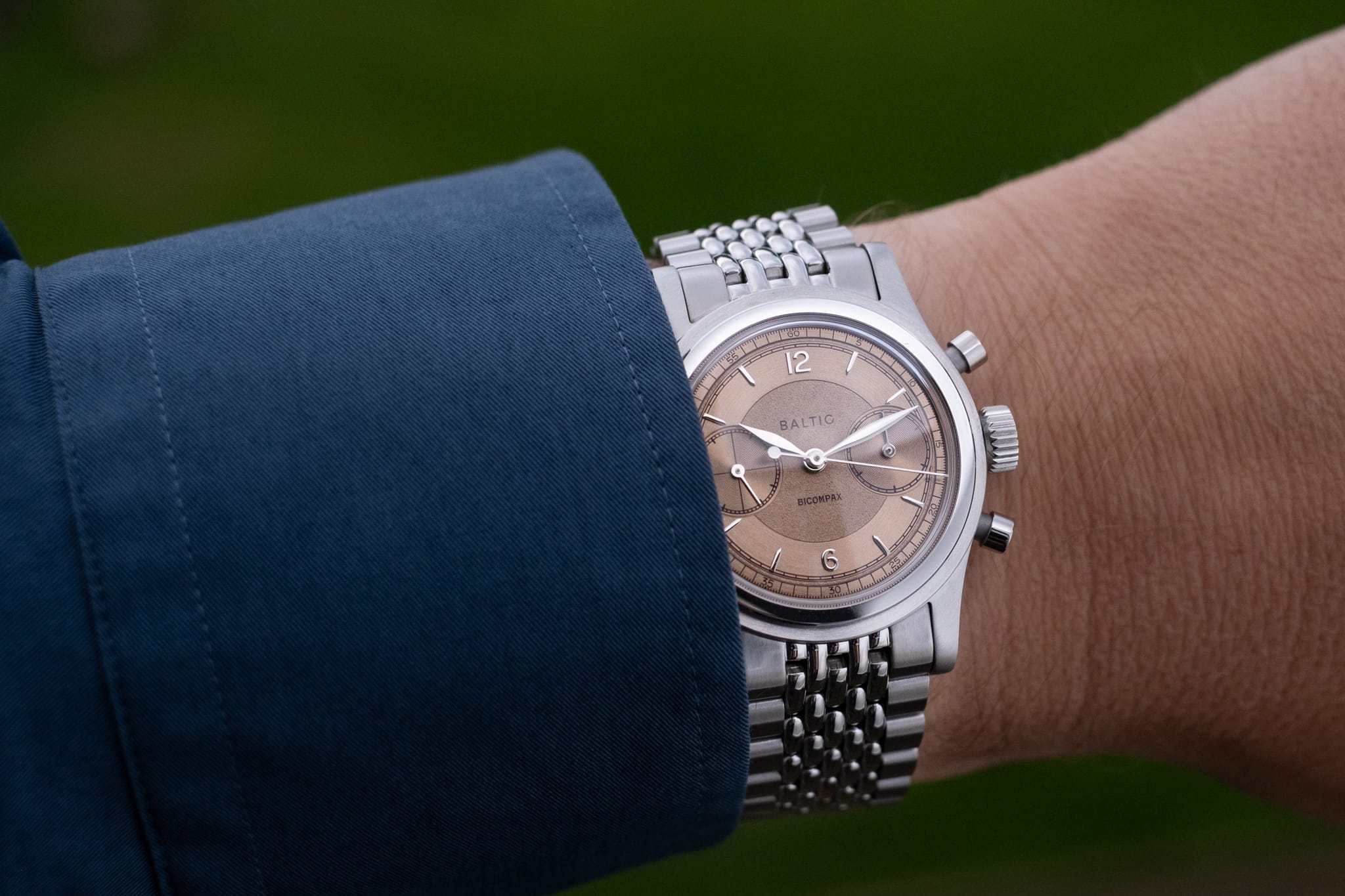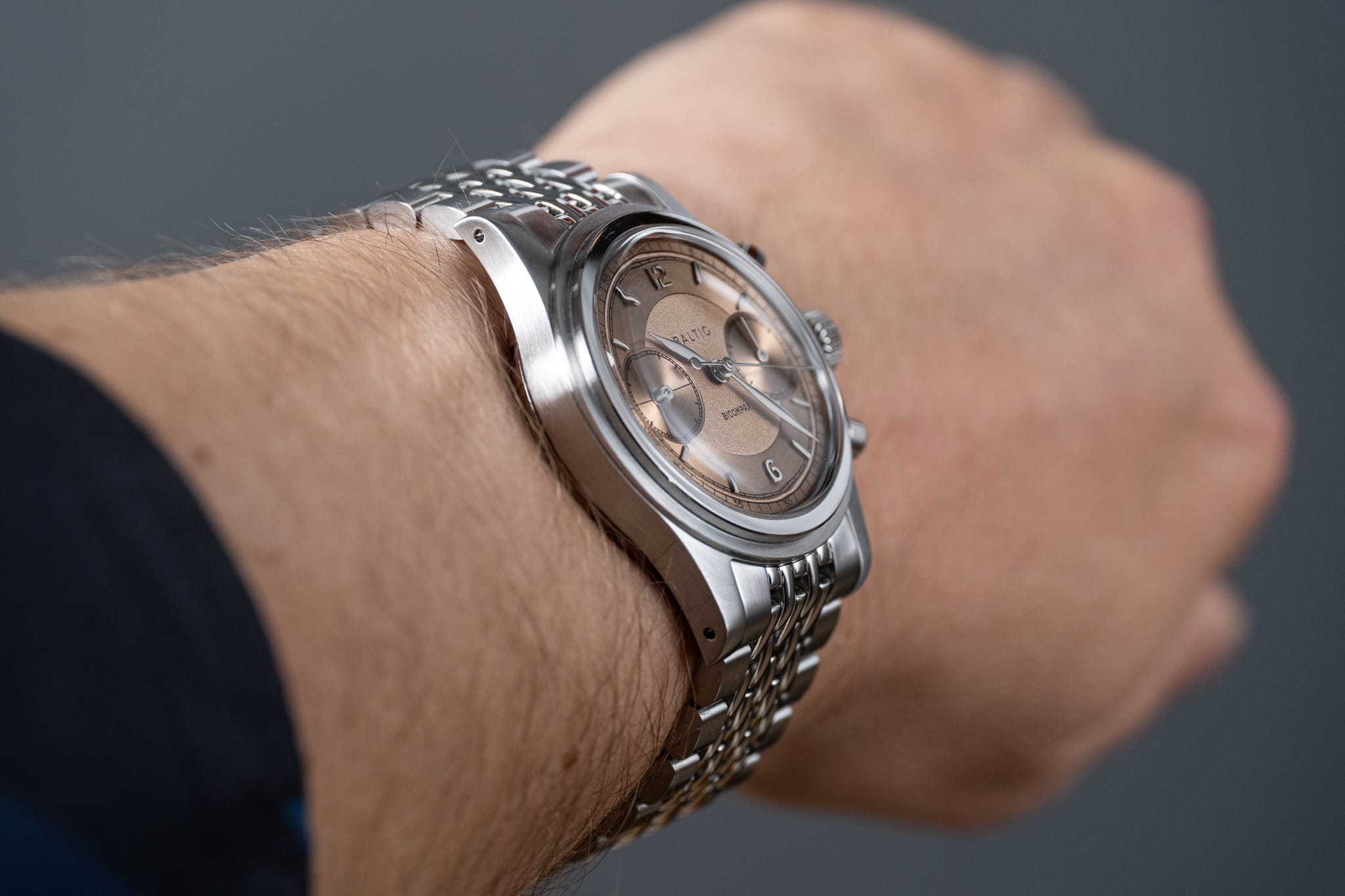 The finishing on the elegant 316L stainless steel case is simple, being predominantly brushed, with just the dial side of the upper bezel, crown, chronograph pushers, and part of the caseback being polished.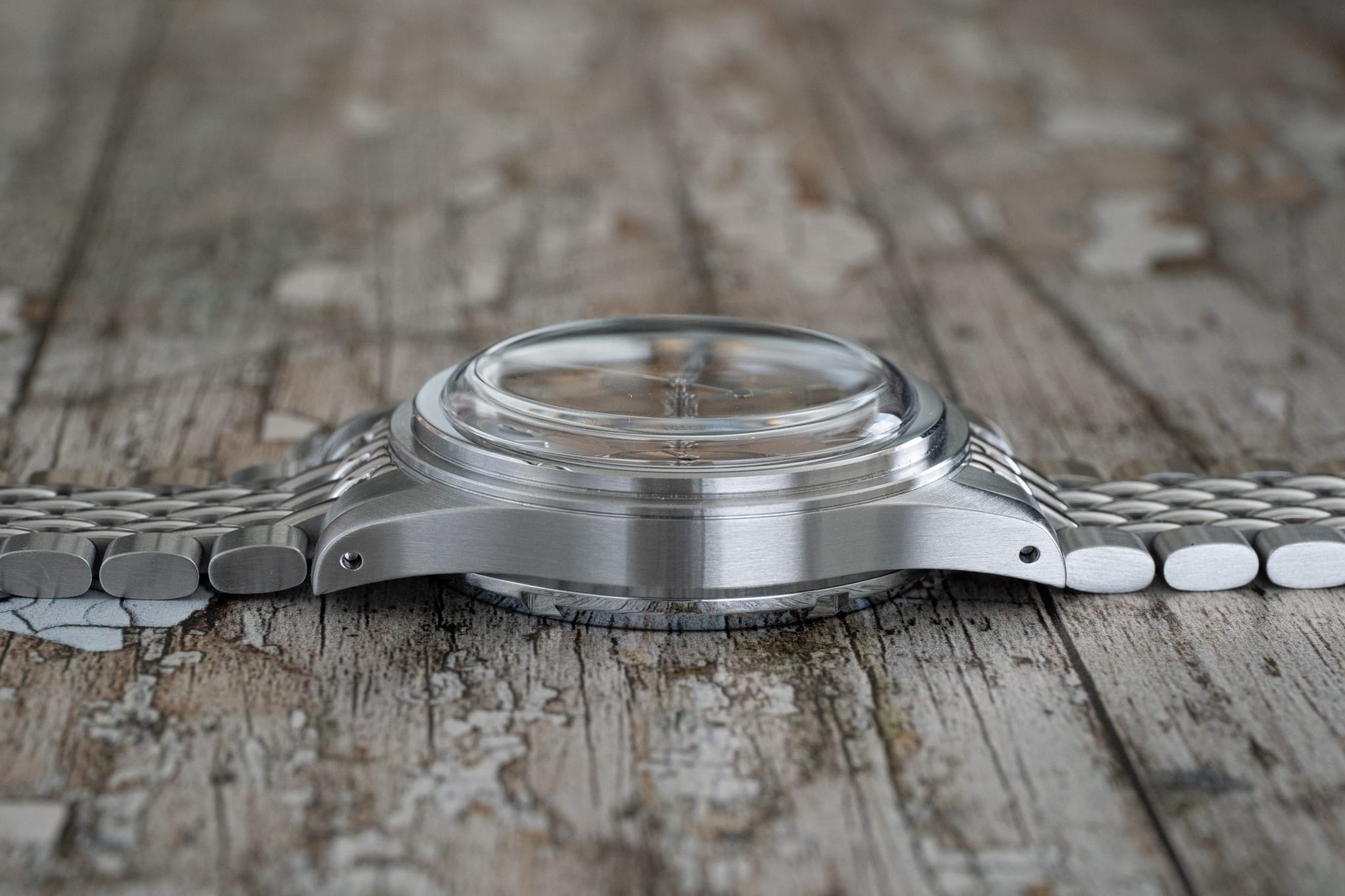 The mid-case is slim and very elegant when viewed from the side and the stepped case is a nice feature. The lugs curve gently downwards, but the relatively deep caseback means that the watch does sit slightly proud of the wrist, but not annoyingly so. The circular brushed finish to the tops of the lugs appears to give a tonally bright, but less refined look than the linear finish to the case sides. The lugs are drilled, a nice feature which makes it easier to swap out straps that don't have a quick release function. However, Baltic's own straps are quick release, so swapping these out is even more of a doddle than using the drilled lugs. My watch came paired with the Beads of Rice bracelet (€60 option) and although there is quite a lot of flex in it, I found this combo to be comfortable, well-balanced and light on the wrist. I think the watch might look great with a dark coloured leather strap for added contrast.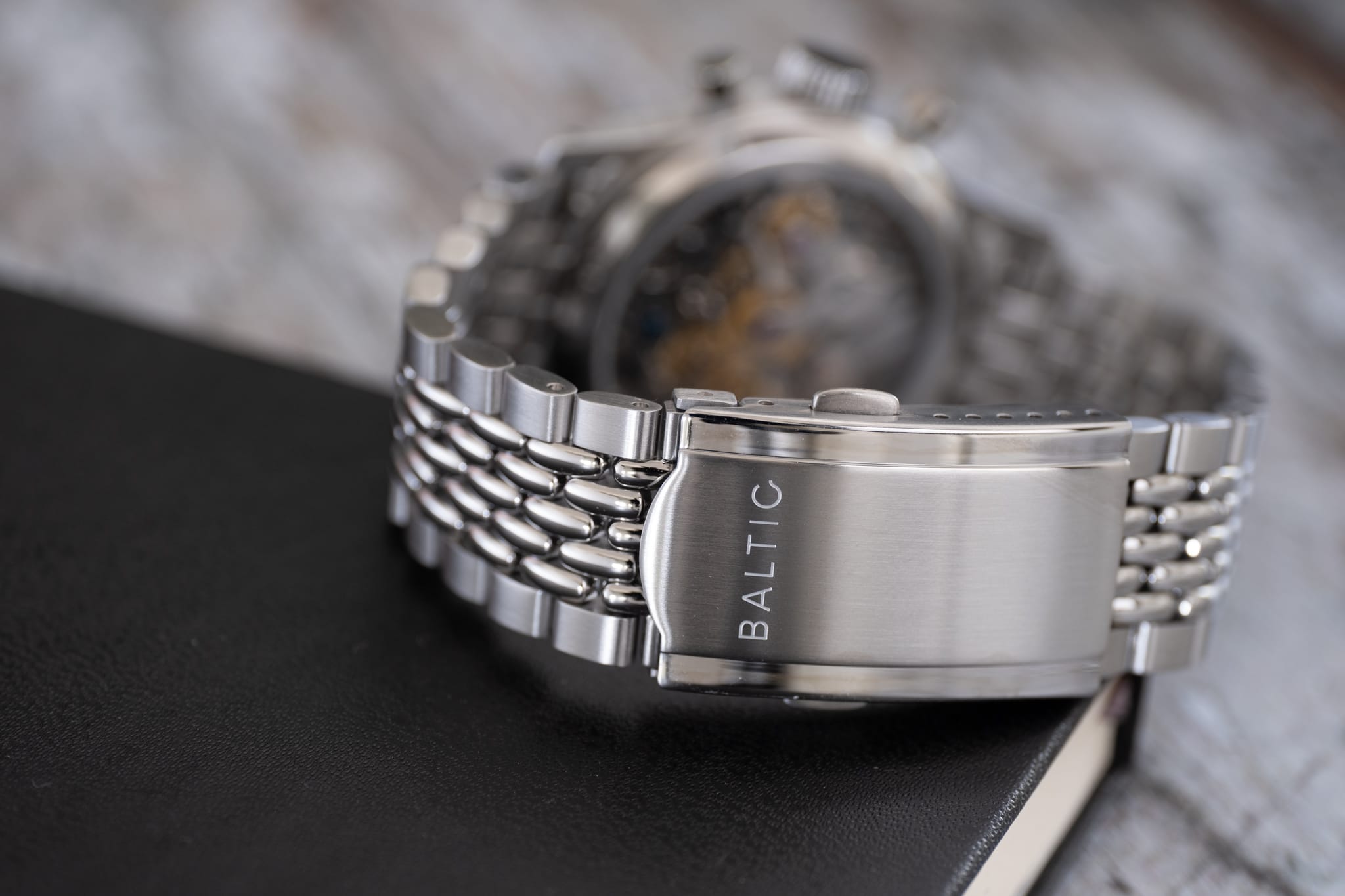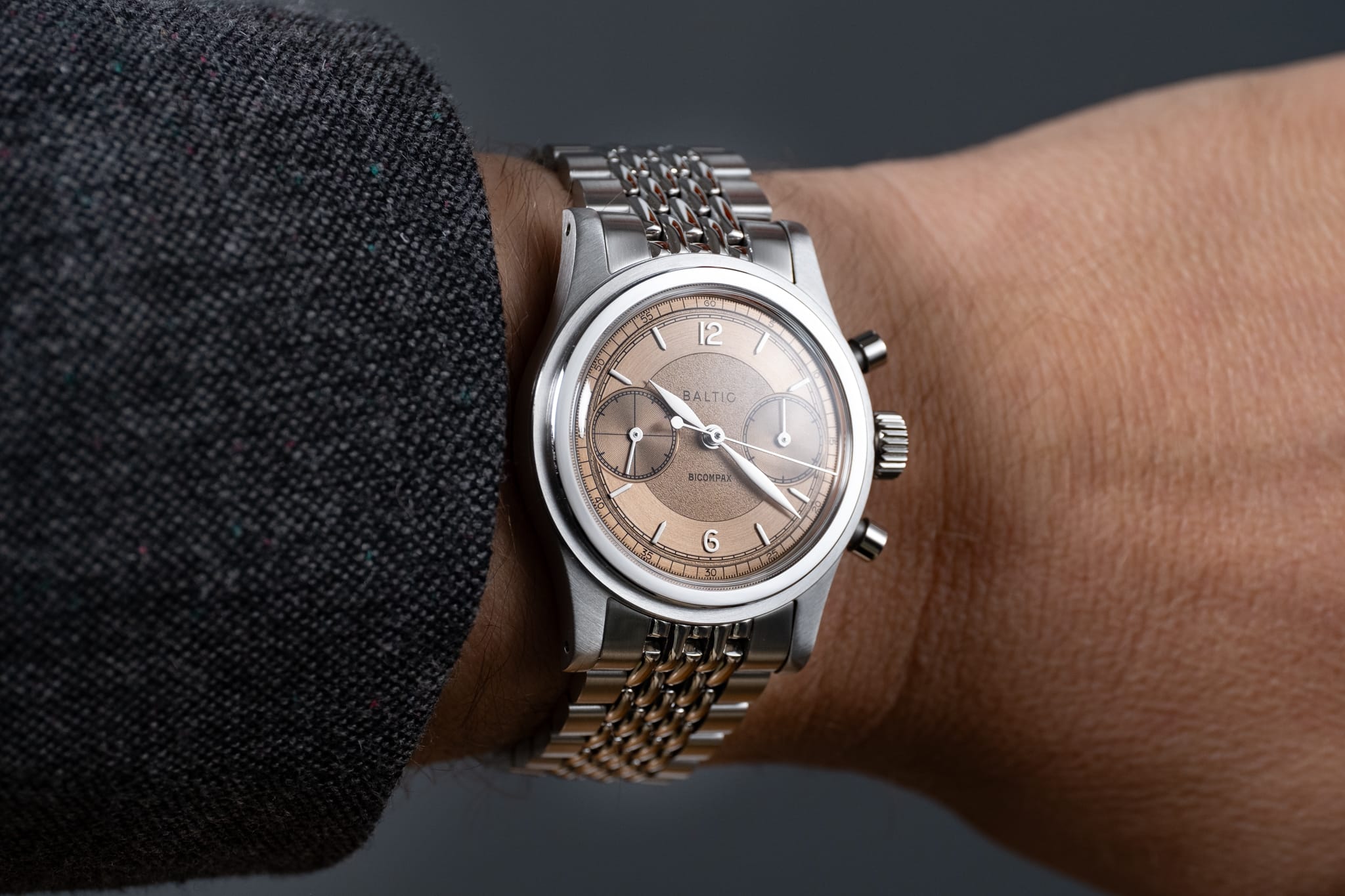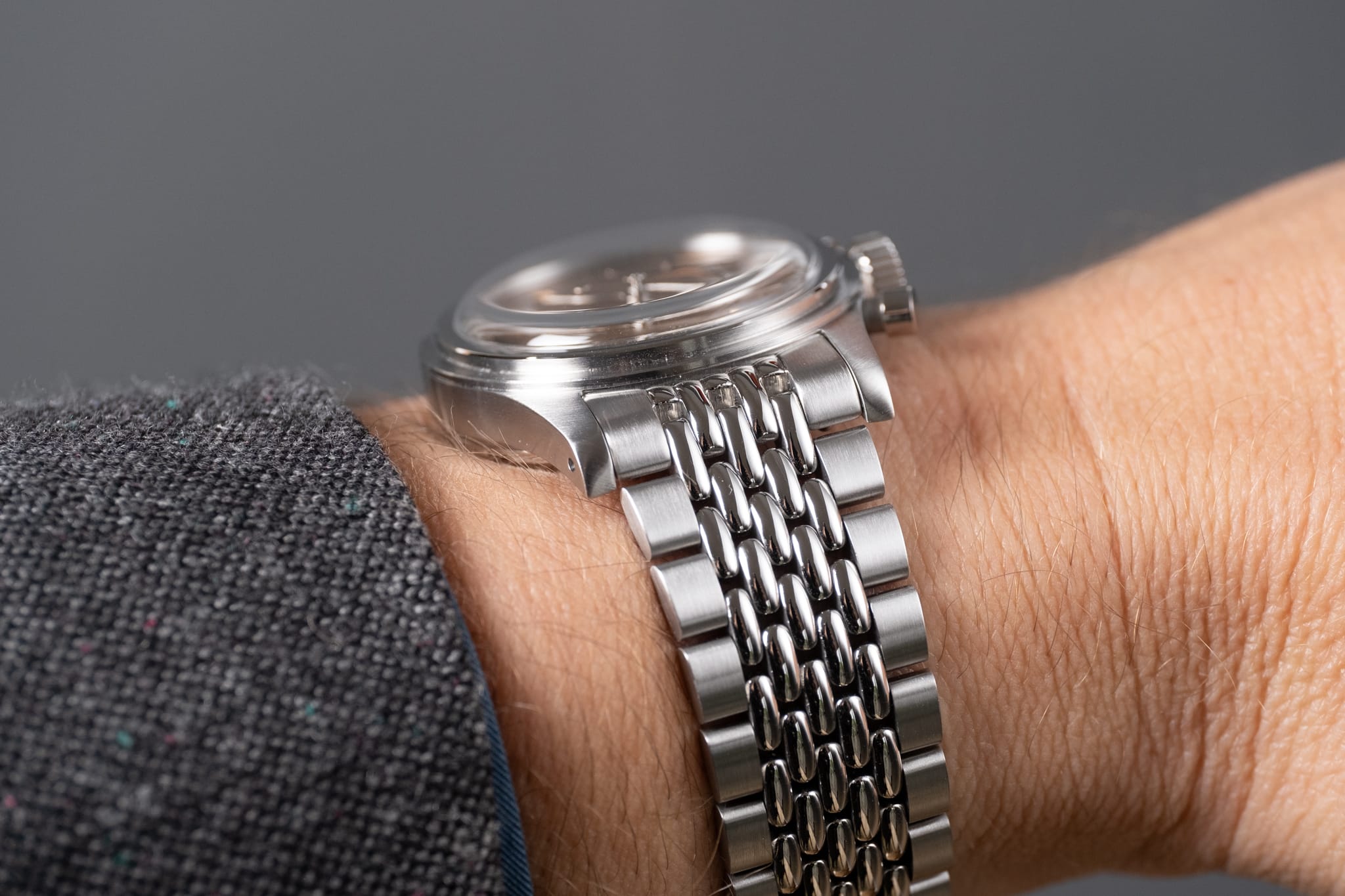 The 20mm lug width gives the watch a wide and flat stance across the wrist. Given the design approach taken with this watch I'm a little surprised that Baltic didn't opt for an 18mm lug width, which would have been truer to the vintage spirit. However, it might then look more dainty on larger wrists.
The screw-down caseback comprises a polished outer, brushed inner and exhibition centre, made from Hesalite. The unsigned push-pull crown is oversized, making it very easy to wind and set the time, a good move for a manually wound watch. Unsurprisingly, water resistance on the watch is just 50m. But then most people don't buy a vintage-style chronograph for water resistance!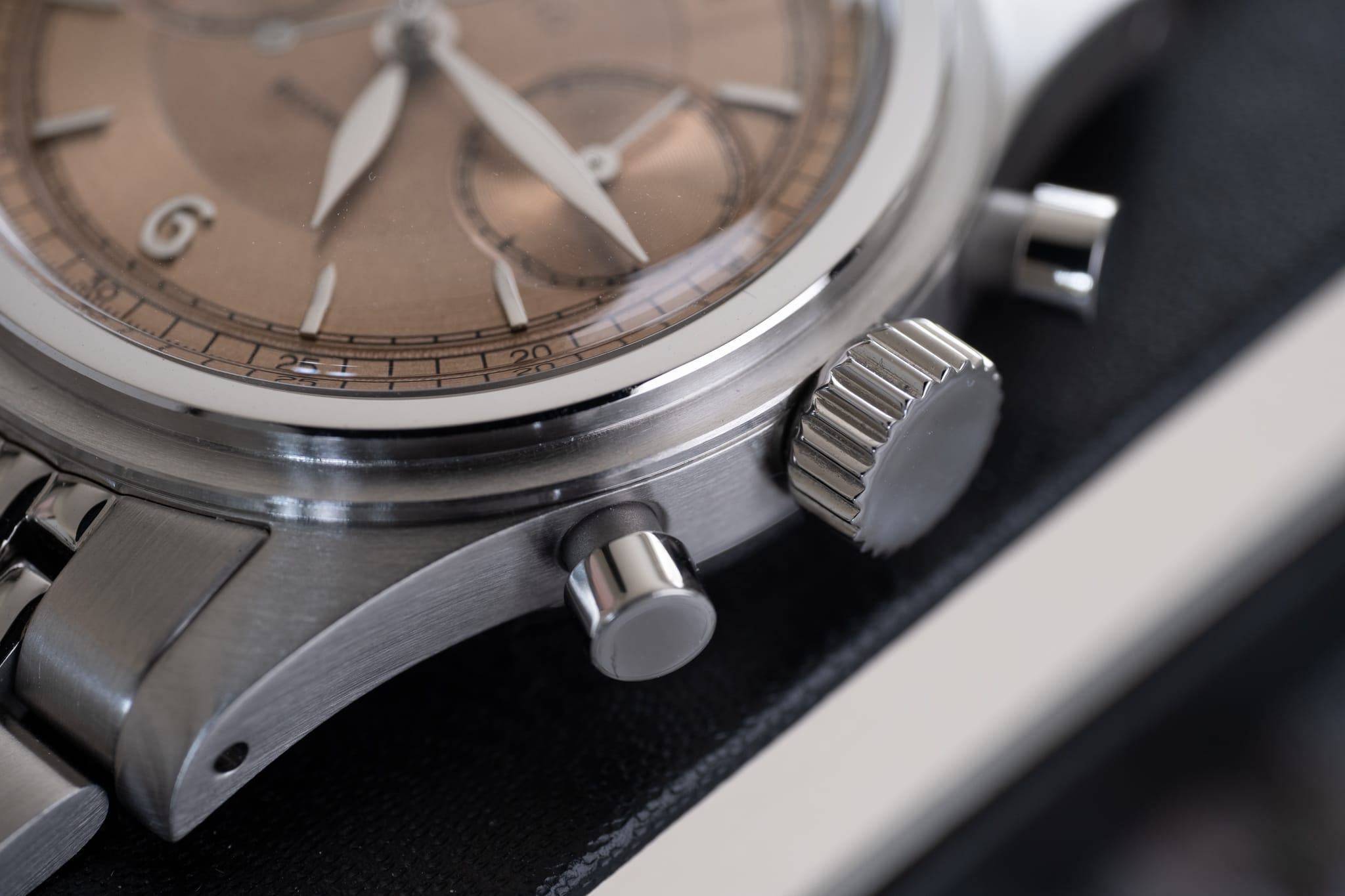 Baltic Bicompax 003 – Dial and Hands
First off, confession time! Whilst salmon dials seem to be a big crowd-pleaser amongst microbrand lovers, I'm not easily pleased when it comes to salmon dial watches. All too often they are either too pink or verge on brown. So it was with some trepidation that I unboxed the Baltic. It was a very dull day when I opened the package, and initially I was underwhelmed. I thought the dial lacked dynamism and the colour was more wishy-washy than I was expecting. However, I'm pleased to say that in better lighting the dial comes alive and has more light play. Now that I've lived with the watch for a bit, I think that the colour choice is a good one, leaning more towards copper, but with just a hint of salmon.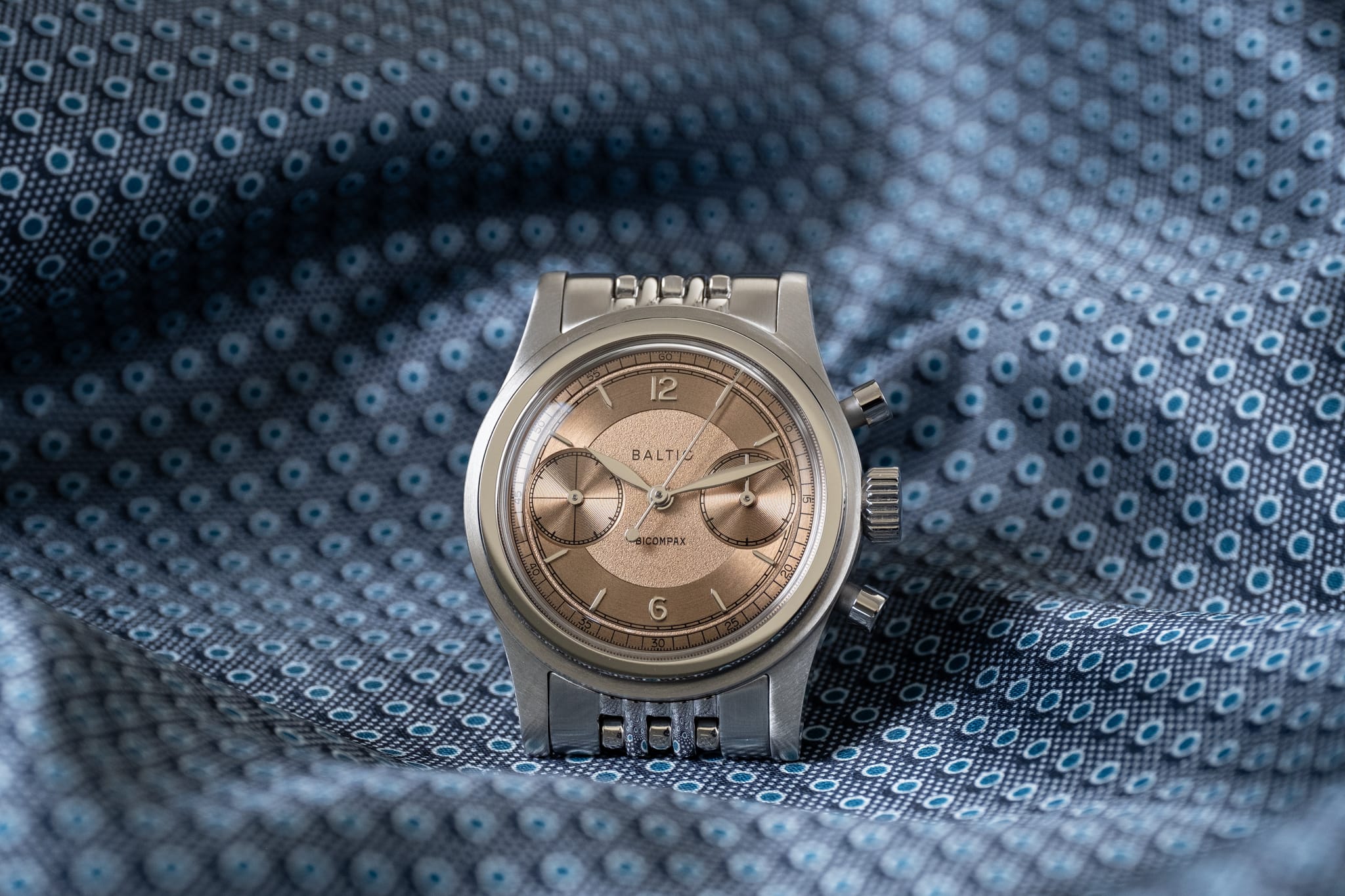 I love that a combination of different finishes has been used. Arranged in a sector dial type design, the centre section has a grained finish, the chronograph sub-dials have a concentric circle pattern (what Baltic call 'Azurage'), and the hour sector and minute track both have concentric brushing, separated by another thin band of graining. These textures help break up the dial in the absence of any contrasting or accent colours and also help bring the dial to life.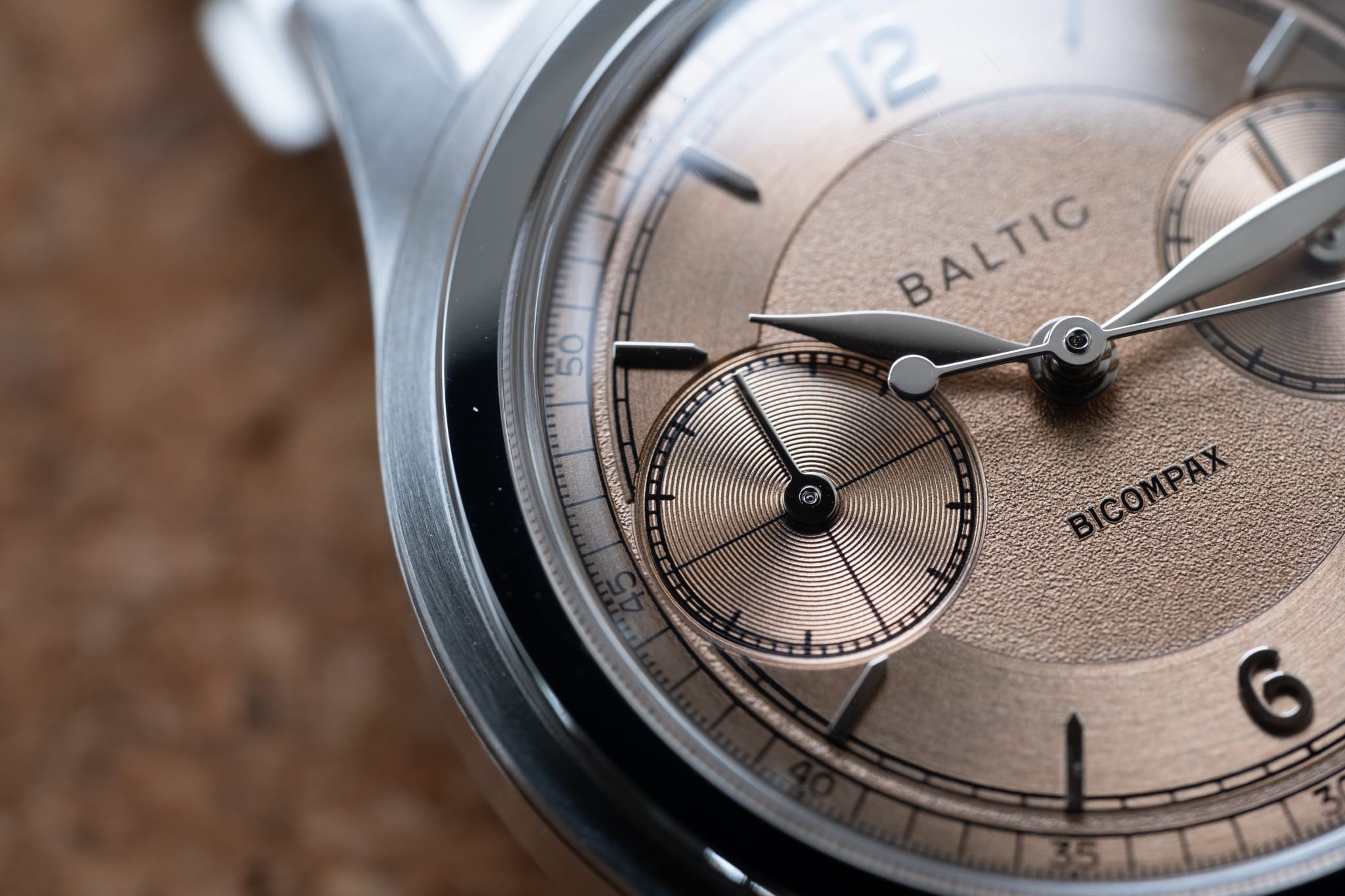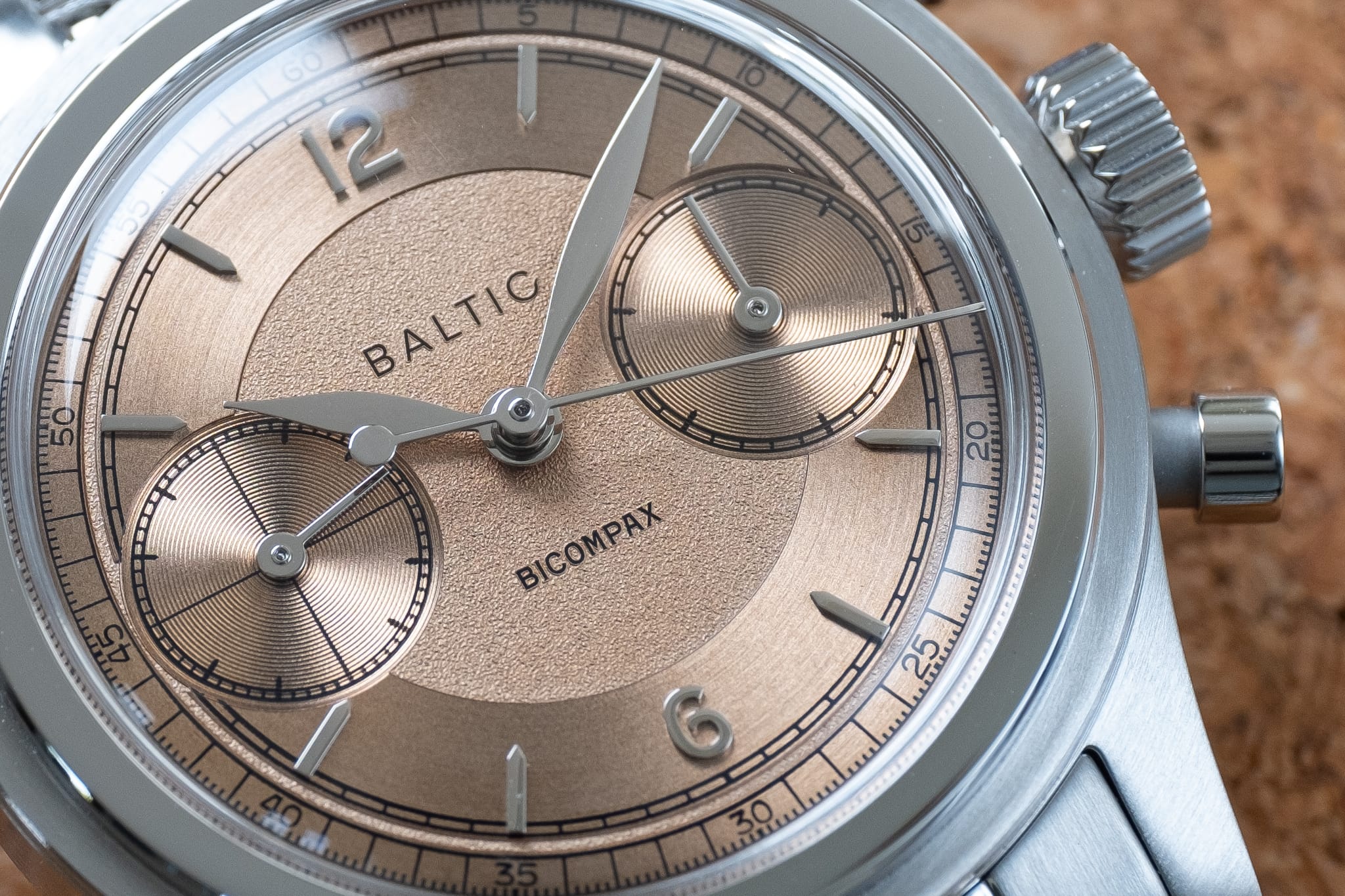 The fully polished flat leaf-style hour and minute hands are elegant and well proportioned. However, adding a longitudinal centre crease, chamfering or contrasting finishes might have helped improve legibility here. The slender chronograph seconds hand reaches right to the outer edge of the dial and has a circular counter-balance.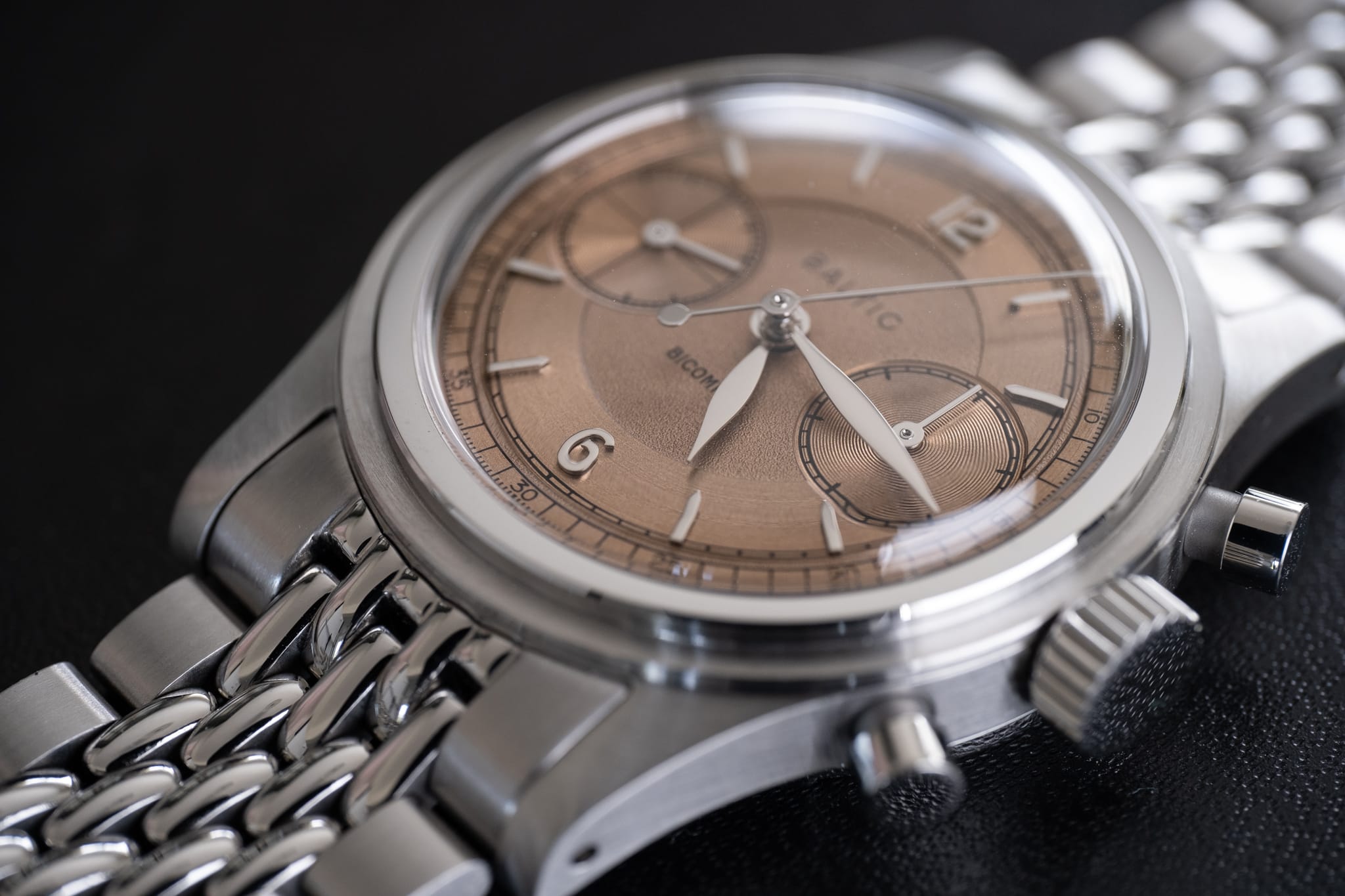 Polished dial furniture comprises pointer-shaped applied indices at each hour, with applied Arabic numerals for the 12 and 6. The outer minute track, running seconds and 30-minute chronograph registers are printed in black, as is the minimal dial text comprising brand name and 'Bicompax' model name. There is no lume, which is to be expected for this type of dressy chronograph.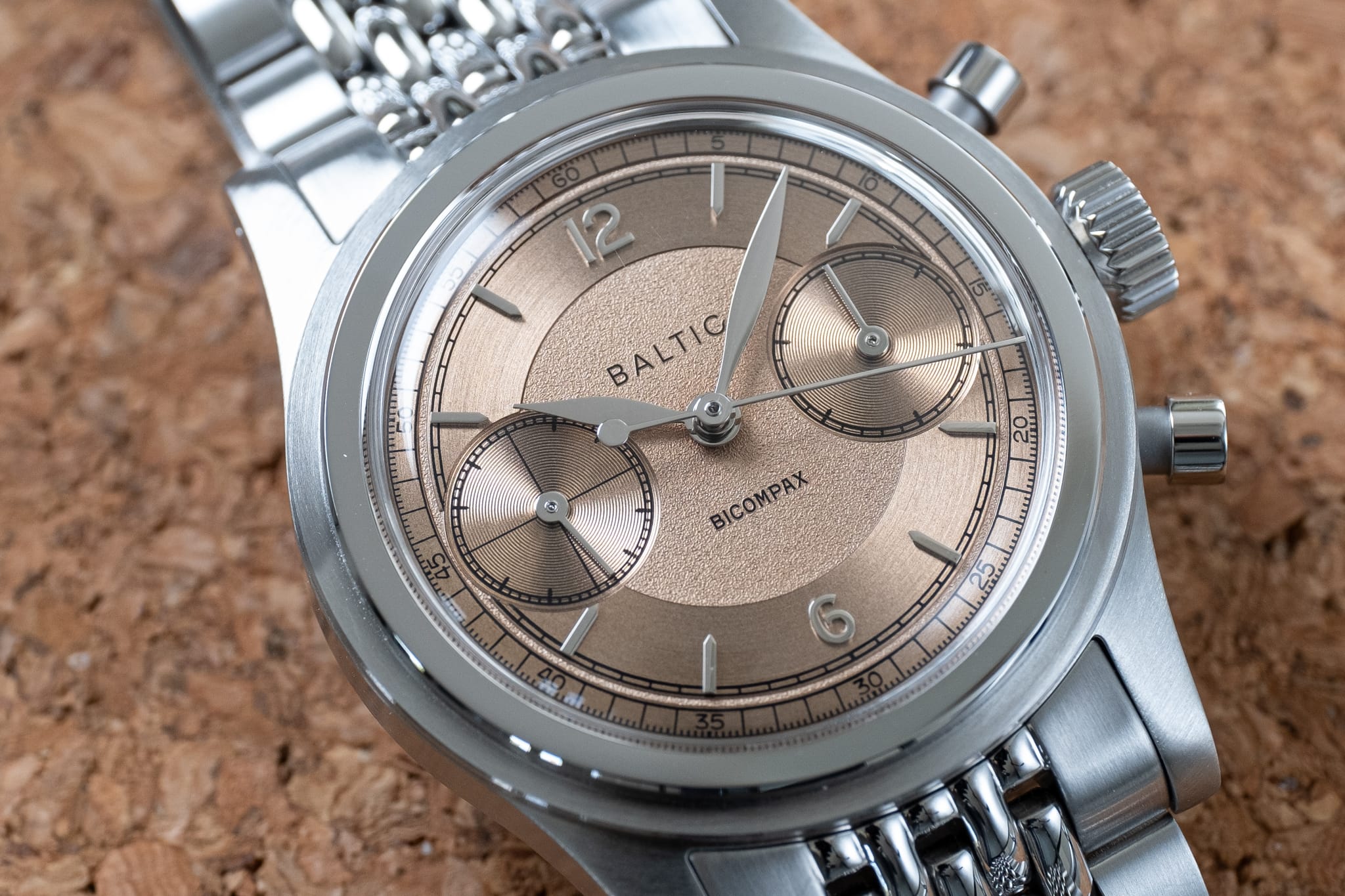 Legibility and contrast are poor on this watch, especially in low light. Also, bear in mind that once you throw a wide bezel and stepped case into the mix, the dial itself is pretty small. This is fine for time-telling and for style, but not so great if you plan on frequently using the chronograph functions. So, if like me, 20/20 eyesight has long since disappeared in the rear-view mirror, you should probably consider one of the other two dial colours available, Silver Blue or Blue Gilt, both of which have increased contrast. I'm hoping that Baltic might also consider revising the salmon dial variant by giving it dark or blued hands for added contrast, wink wink.
Bring on the Hesalite!
As any watch brand will know, choose Hesalite for your new vintage-inspired watch release and people will complain, choose Sapphire and people will complain. It's a no-win situation. However, in the case of the Bicompax, there will surely be fewer distractors than normal. Why? Baltic have firmly planted their flag in the sand with this watch. They make no qualms about the fact that it has been designed to fully embrace vintage, not just pay homage to vintage, or pick and choose certain elements. They understand that this watch isn't going to please everyone, so those that it will appeal to will probably welcome this decision. I know I do, as the high-domed Hesalite looks amazing and certainly adds to vintage charm. Plus, as I've recently discovered (after previously being scared to try it), small scratches can easily be polished out with Polywatch.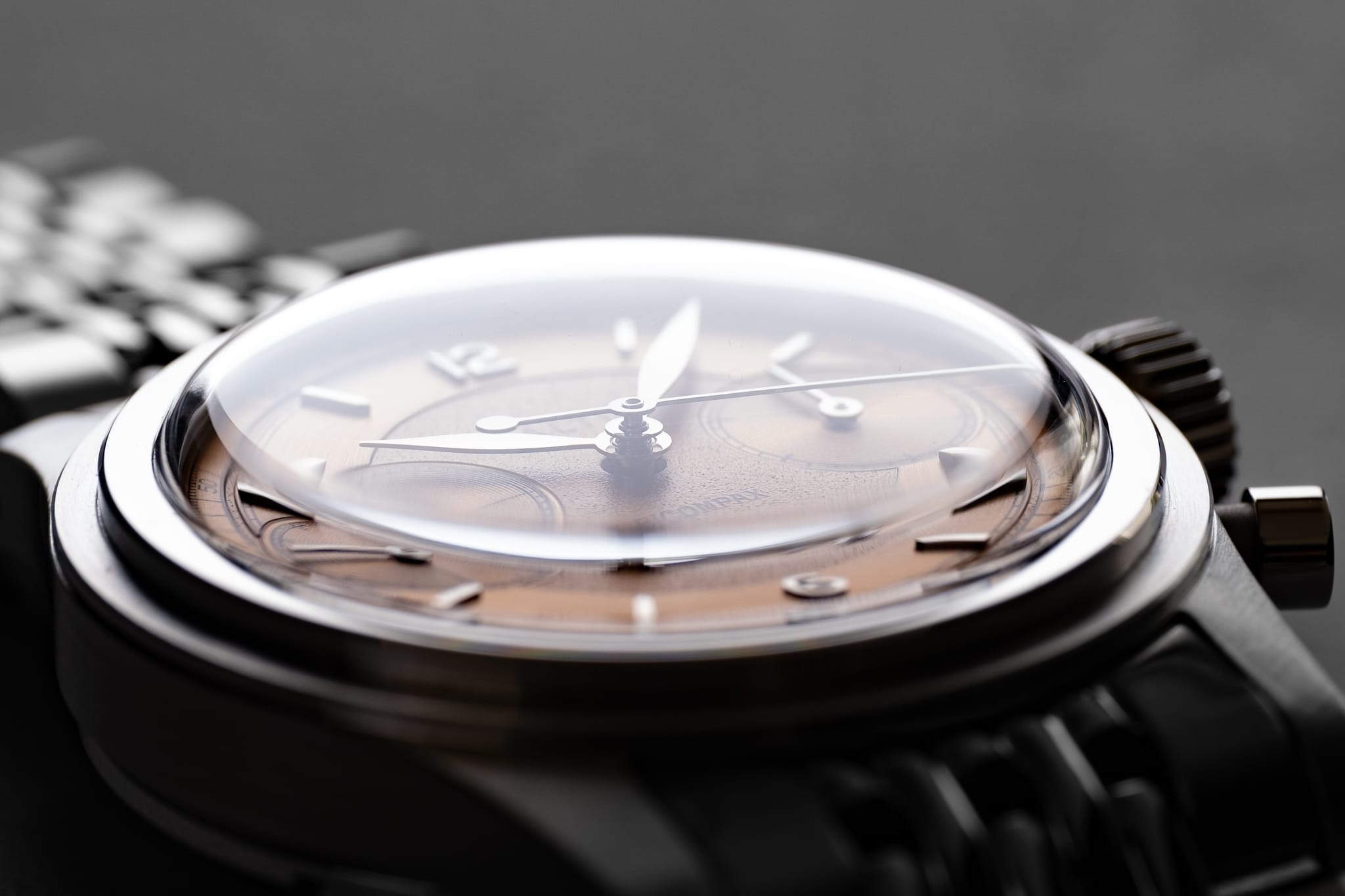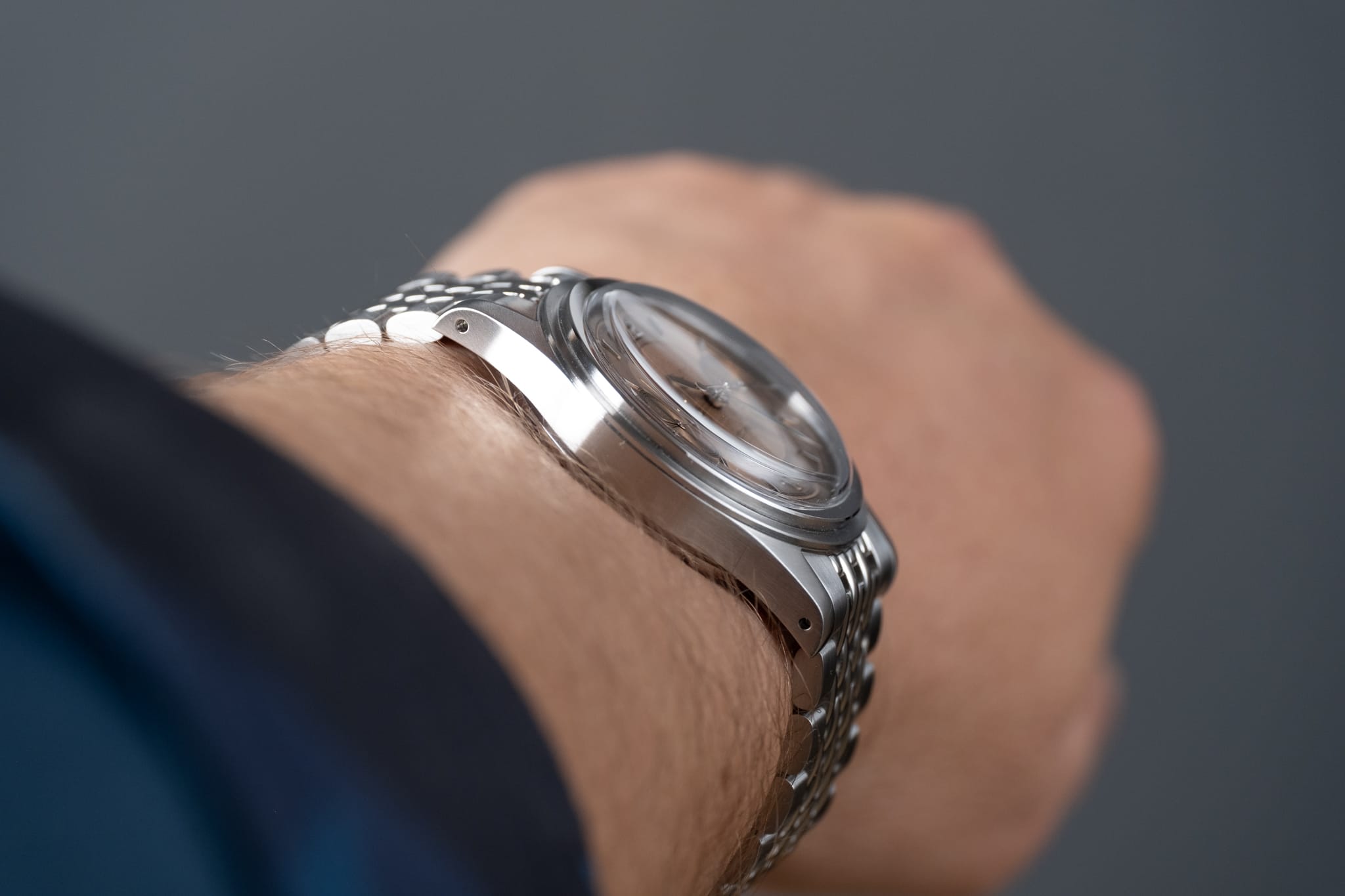 Baltic Bicompax 003 Movement
The Bicompax 003 uses the Chinese-made Seagull ST1901 manual winding movement. This column wheel chronograph is based on the Venus 175 movement and is now a mainstay choice of movement for Baltic. It's non-hacking, has a 42-hour power reserve and beats at 21,600 vph, or six ticks per second. It doesn't give the smoothest sweep to the seconds hand, but it's well suited to this watch.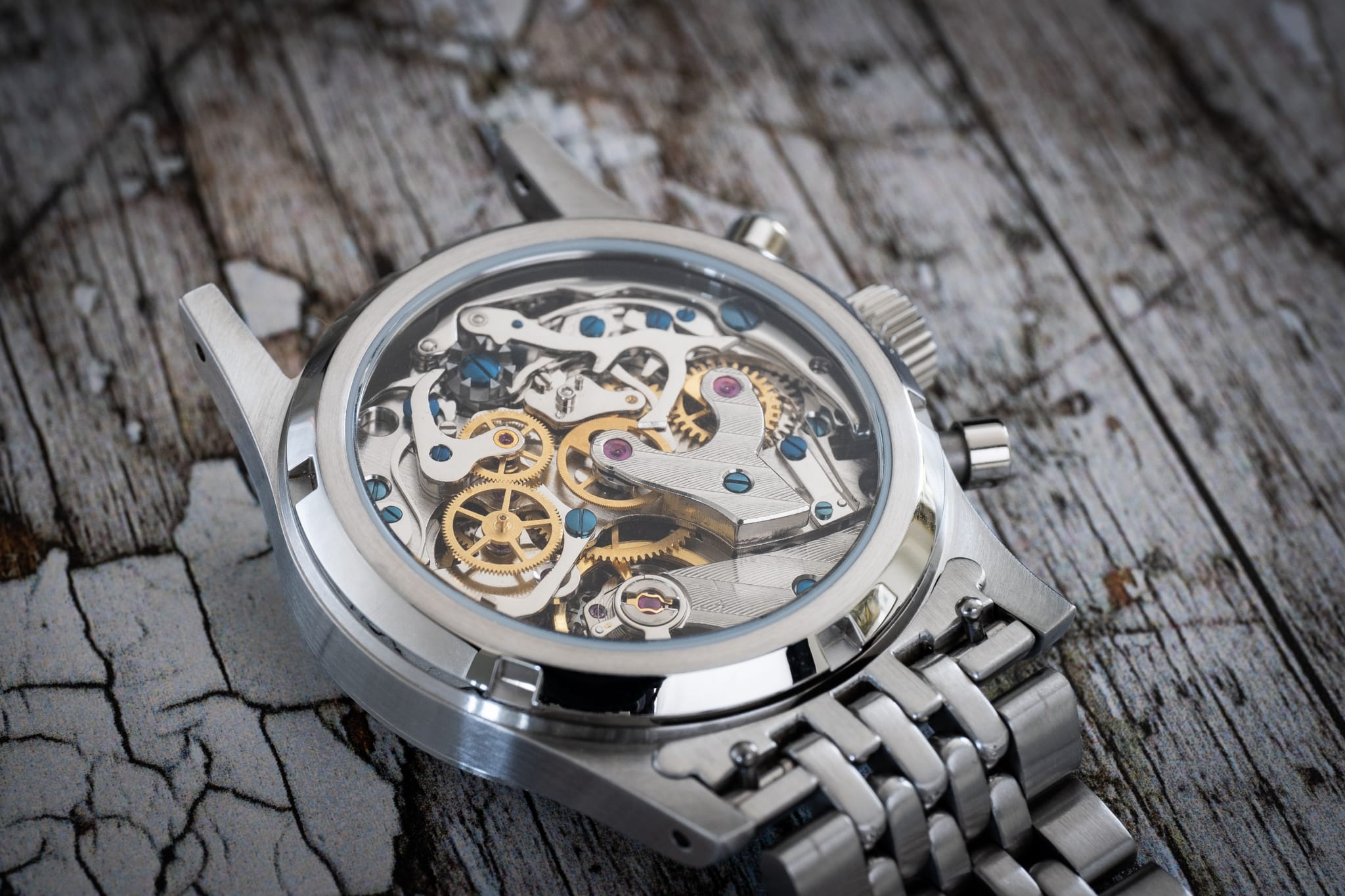 I've not handled a watch with the Seagull movement before and was pleasantly surprised at the winding action. However, the crown's push-pull action takes a bit of getting used to. When you pull the crown out to set the time, the engagement feels vague with very little discernible click, and you're never quite sure what position it's in.
I chose to spec the optional exhibition caseback for my review watch as I wanted to show our readers the movement. And I'm glad I did, as the movement fills the viewing window completely, which is a good look. The architecture of the ST1901 also ensures there's lots of visual depth, so if you love mechanics there's plenty here to keep your attention. There's a nice balance of colour, with steel, gold, blued screws and pink jewels. There are also small sections of Côte de Genève decoration.
At a glance, it's a great looking movement. However, if you buy watches with exhibition casebacks because you like sophisticated finishing and craftsmanship that stands up to scrutiny under a loupe, you might prefer to opt for a solid caseback and save yourself £25 in the process. All-in-all though, when you consider that you're getting a mechanical chronograph from a respected company for a starting price of just £540 in the days of frequent and rapidly escalating price increases, there's a lot to be grateful for here.
Final Thoughts on the Baltic Bicompax 003
With this release Baltic is amongst the handful of trend-setters who have fully embraced vintage, rather than just dabbled around the edges. As I've been saying for while now, I think we're starting to see brands shift from making vintage-inspired watches recreated at modern sizes, to truly vintage-sized pieces (KUOE, Nivada Grenchen, Baltic to name a few). Most brands that can afford to experiment with this approach will still offer core collections of crowd-pleasing sizes, whilst others are choosing to specialise. I'm not suggesting that these watches will be the biggest sellers, but there is certainly a growing niche for them.
I think Baltic is onto another winner with the reduced size Bicompax 003. They've timed its release well and I'm sure they'll sell enough units to make it worth their while. I'd be curious to know how sales of this new 36.5mm size compare with its larger sibling, the Bicompax 002.
Other than field watches, there aren't currently many truly vintage-sized watches on the market, even less so when you're looking at chronographs. Therefore, at this point in time, the Baltic Bicompax 003 is a compelling package, especially when you consider its price point (from £540, or £625 as tested). This watch will likely appeal to two different types of buyers. The first will be those who already know that they love smaller watches and are looking for a watch with full-on vintage aesthetics. The second will be those who usually buy modern 'full-size' watches but are drawn to the romanticism of smaller vintage watches. The Baltic Bicompax provides the opportunity for them to take the plunge without breaking the bank, and without the risks that come with buying a genuine vintage watch.
My biggest gripe about the watch is undoubtedly legibility. Contrast is low, and the lack of angles, chamfering or alternating finishes on hands and applied indices doesn't help. If you're concerned about this, you have two choices. You could choose between the other dial colours, or you could look towards the 003s larger sibling, the Bicompax 002.
All-in-all, the Bicompax 003 is another interesting release from Baltic. It's got killer looks, great overall design, and attractive dial finishing. It's also configurable with different dial colours, caseback options and plenty of strap choices. Just as importantly for some, it feels like you're wearing an actual vintage watch and it's fun!