The Avi-8 XV741 is a tribute to the 50th anniversary of the Transatlantic Air Race from London to New York won by Tom Lecky-Thompson in his Harrier XV741 in 1969.
In this special edition, the multilayered and skeletonised dial of the watch incorporates a unique piece of Harrier XV741's fuselage, under the index at 12. The standard versions are £360, so I feel a premium of £35 is pretty good for something that cool.
Limited to 741 pieces, it's a stunning, uniquely designed watch with one hell of a dial. Let's check it out to see if it's worth it.
The specs
Dimensions: 44mm diameter x 13.5mm height x 52mm lug to lug
Weight: 92g
Water resistance rating: 5ATM / 50m
Movement: Miyota 82s7
Accuracy: +21.2 sec/day
Lug width: 22mm
Warranty: 2 years
Price: £395, 15% off with code WIAB – £335.75
With a 44mm diameter, it does feel quite large for me and my ~7" wrists. With a height of 13.5mm and a pretty flat case, with no particular downturn on the lugs, I feel like it balances a bit like a saucer on the top of my wrist, unfortunately. Watch size is down to personal preference, but I think it would be a much nicer watch to wear had it been 42mm.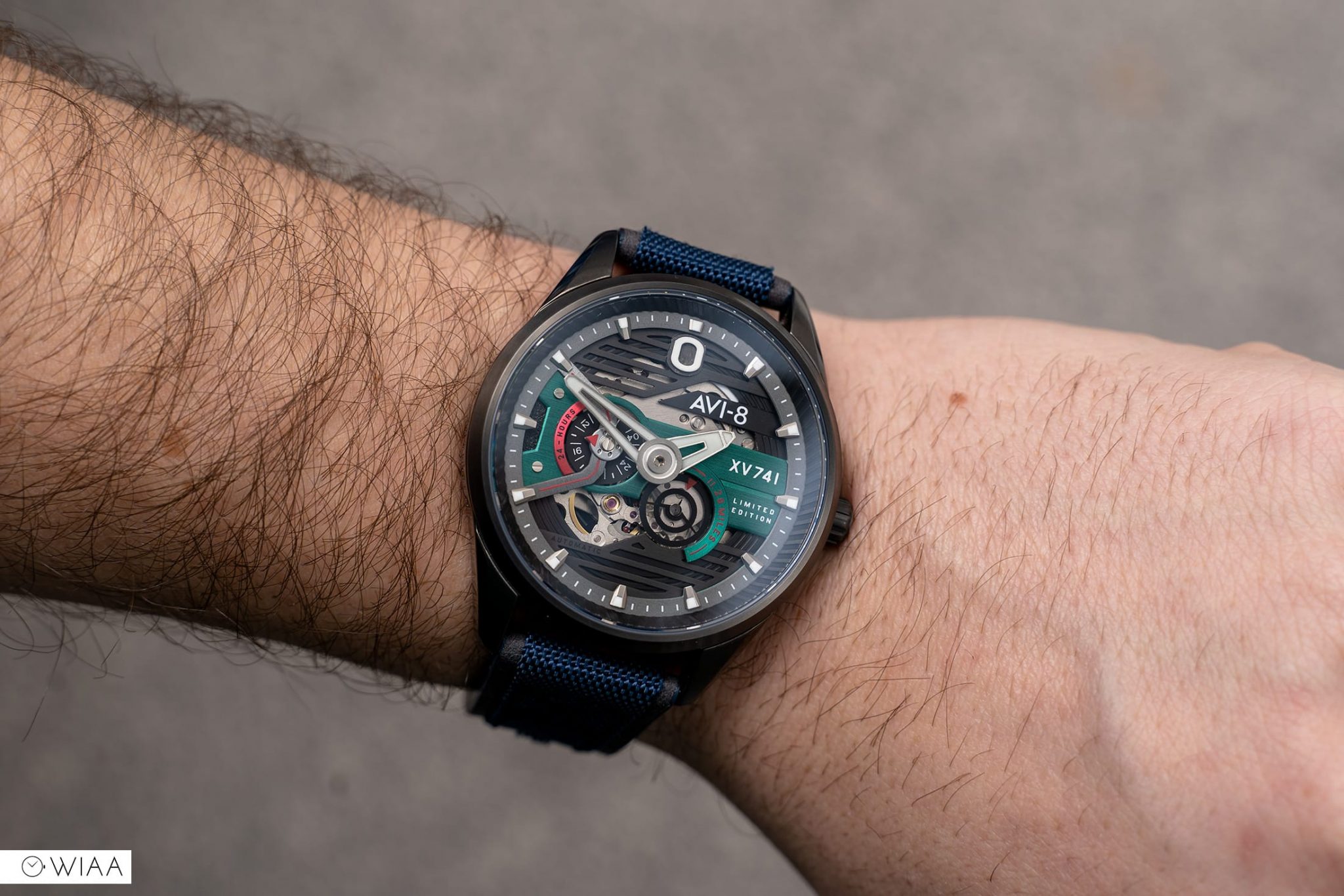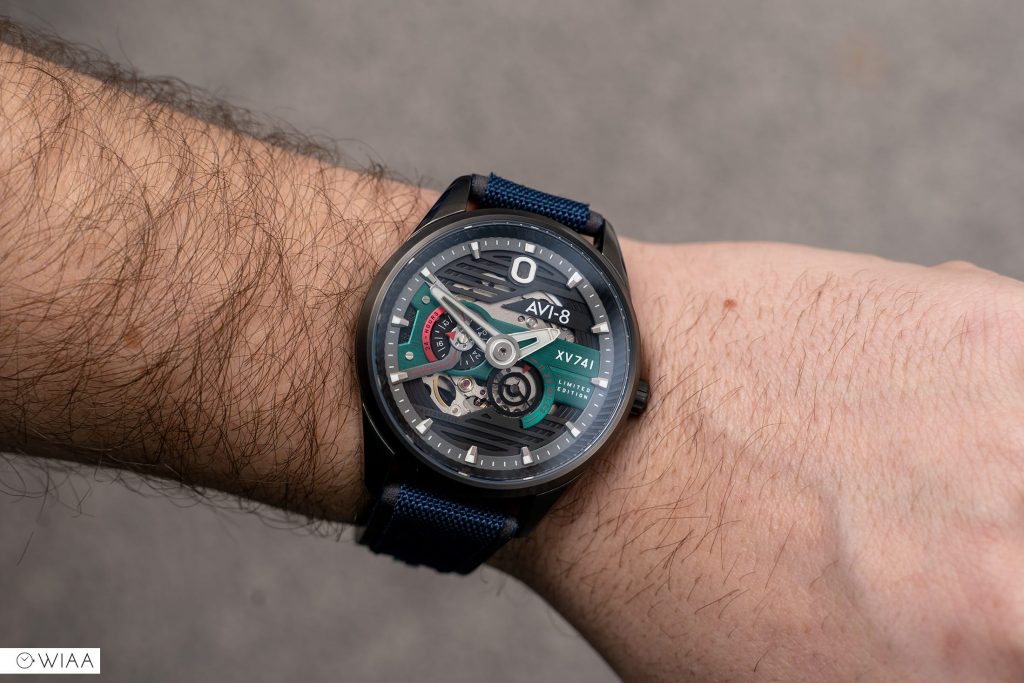 The case itself also doesn't particularly reach out to me either, due to the finishing. Gunmetal is awesome, you can't deny that – but the polished finishing Avi-8 have used is a little bit tacky looking in my eyes. It also picks up fingerprints like crazy.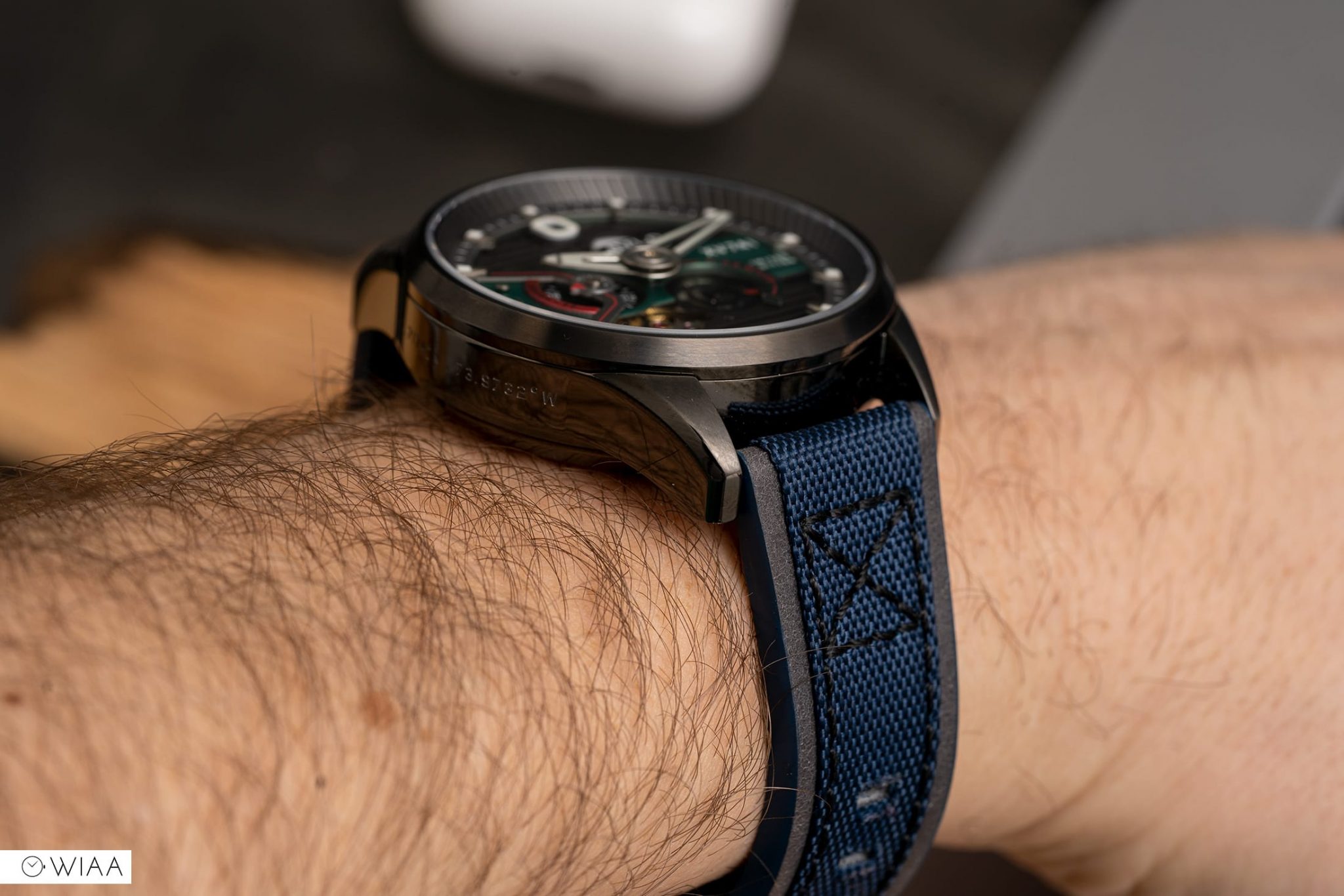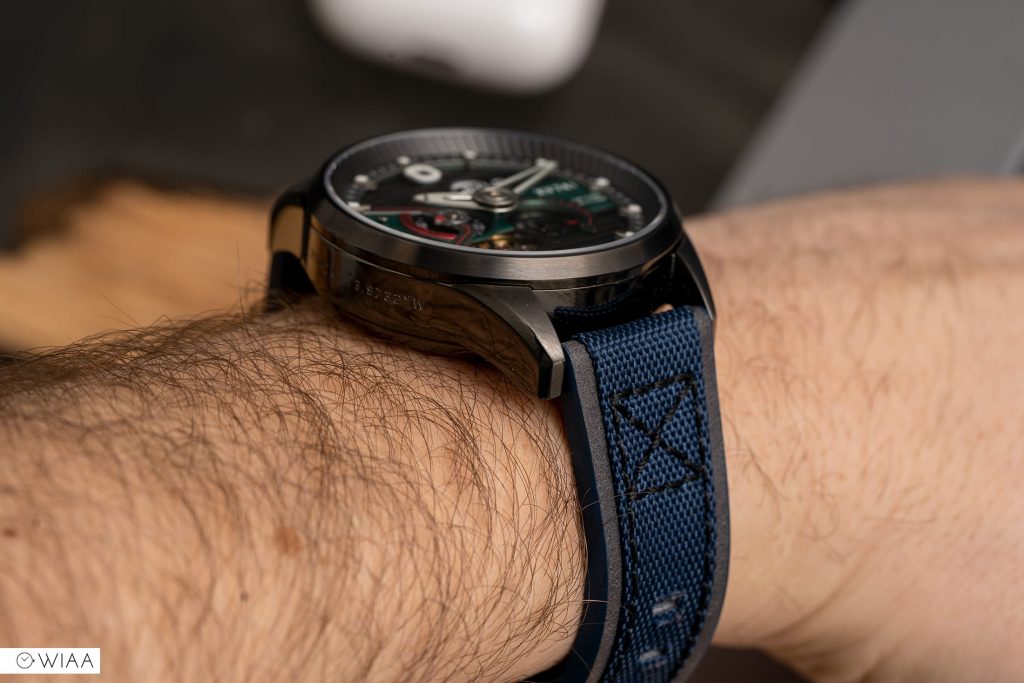 One interesting feature is that the XV741's takeoff and landing coordinates from the Transatlantic air race are etched into the case sides. The push-pull crown is easy to use with good deep grip, featuring the RAF roundel deeply and neatly engraved on the end.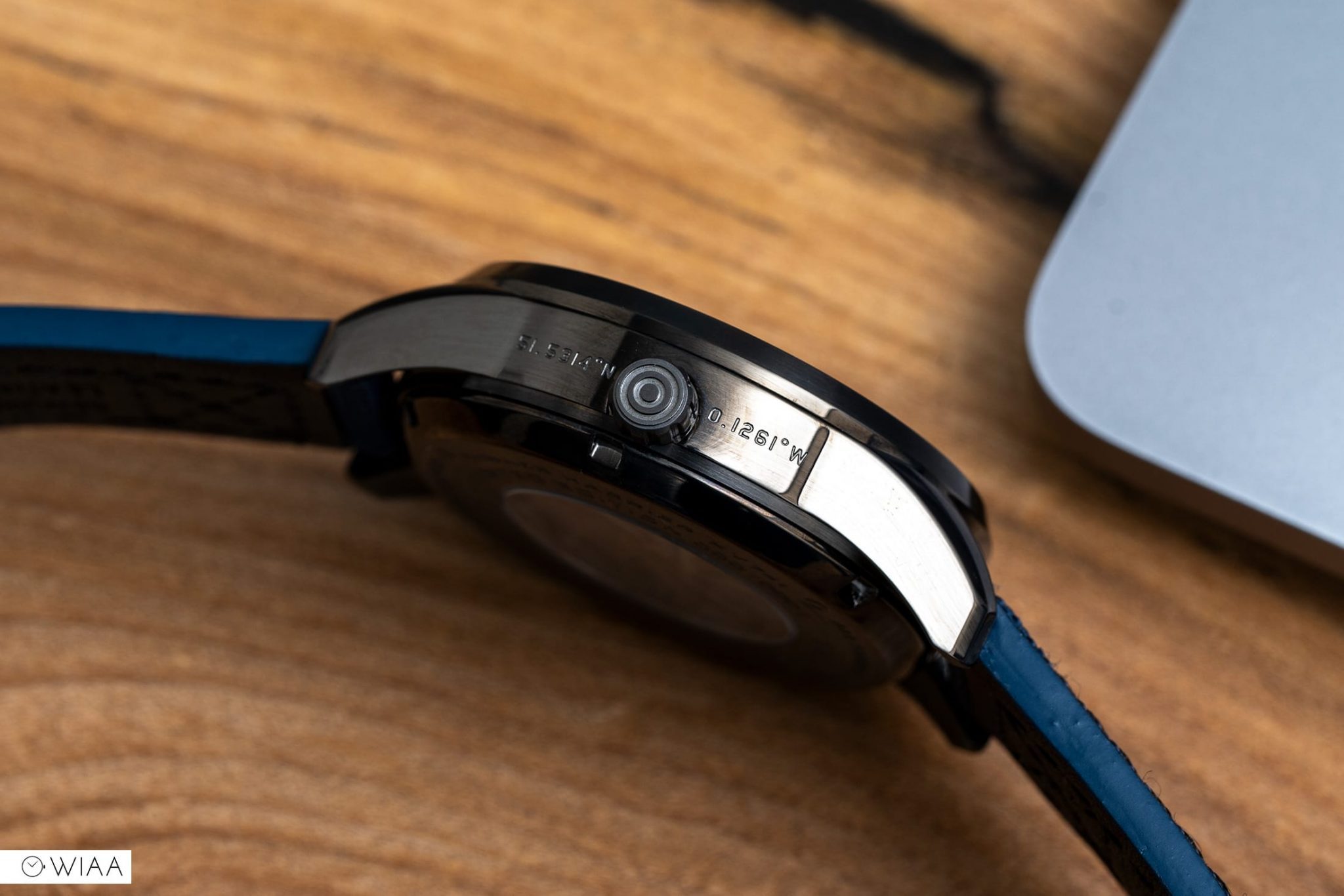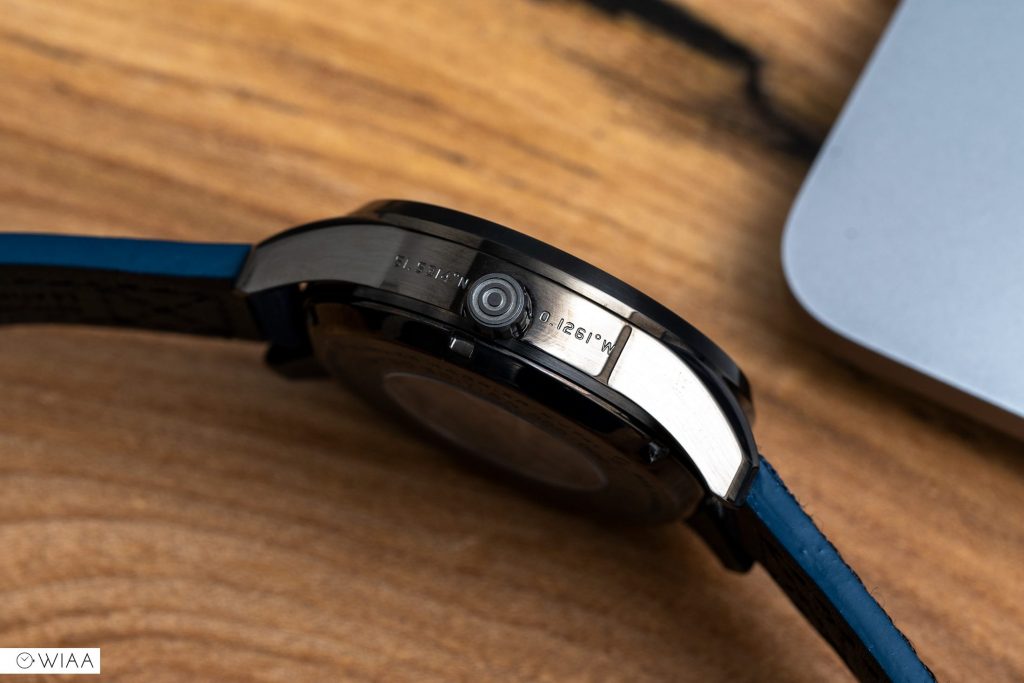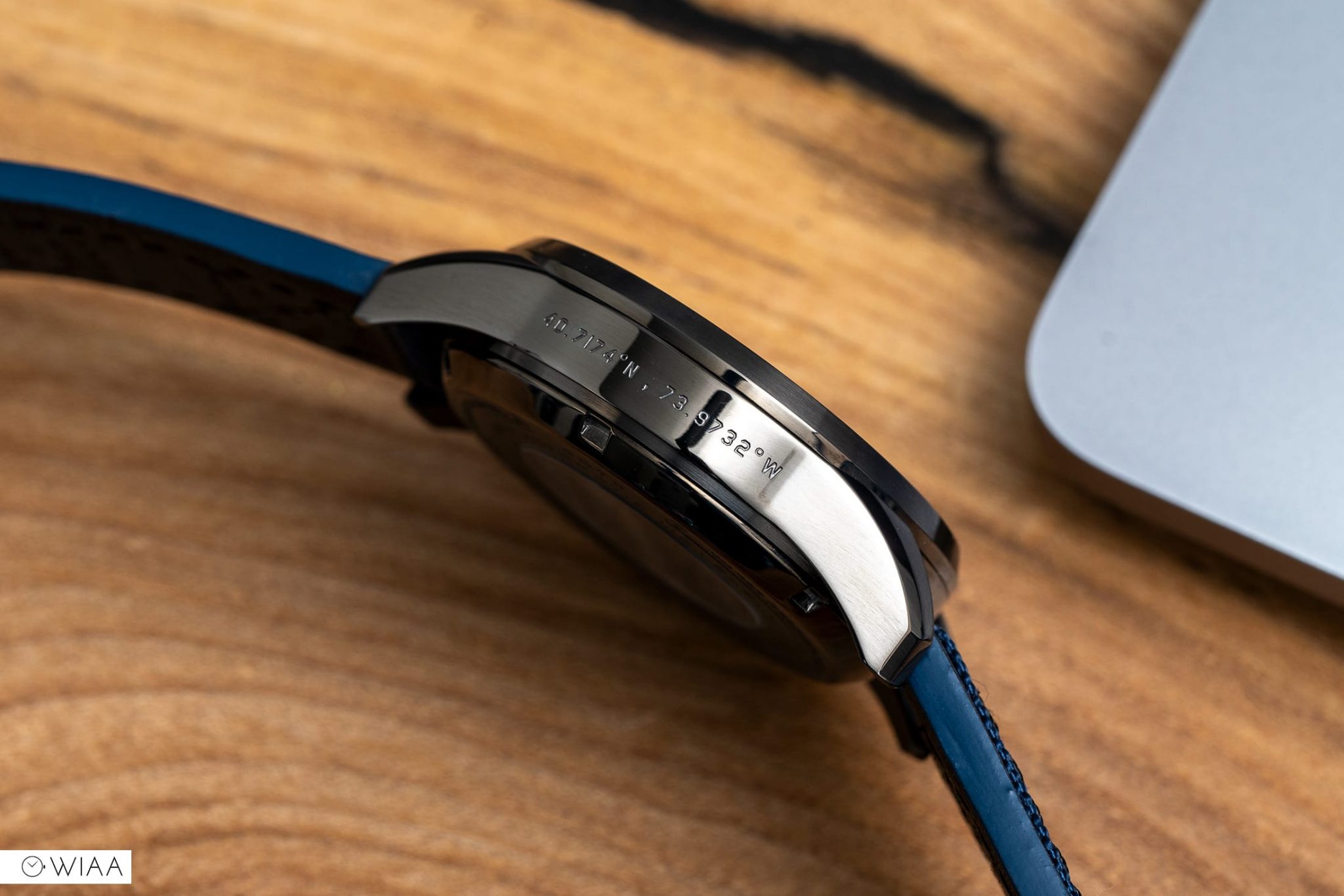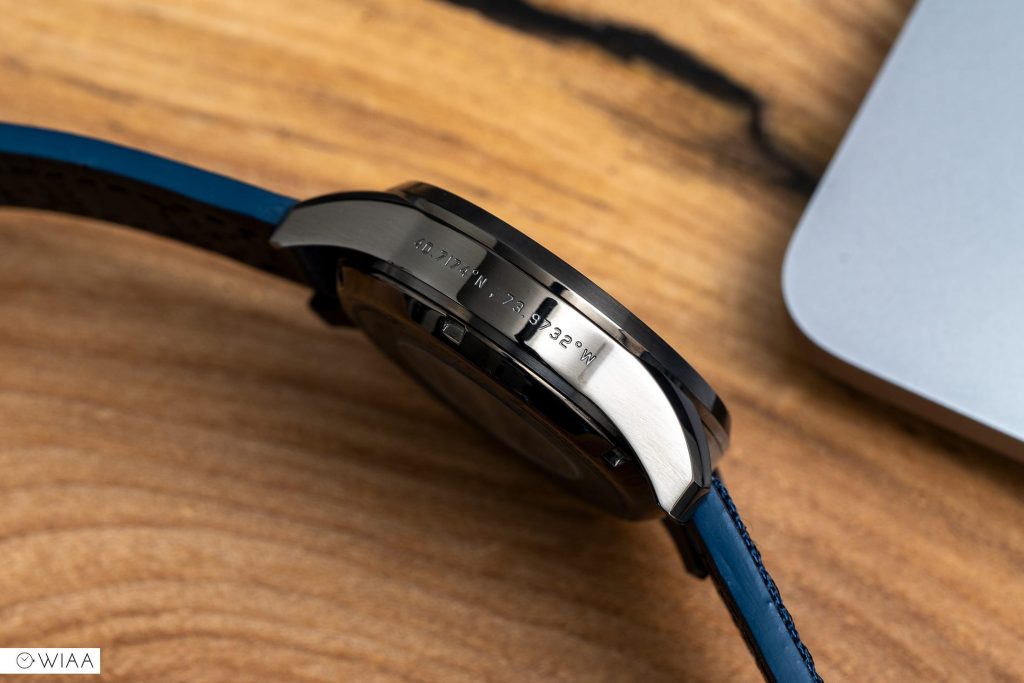 Let's face it, the dial is truly unique. I like it, it's unusual without looking like it's trying too hard – if you know what I mean. The bold hands are super – in terms of design, construction and legibility, and despite a complex and detailed dial with loads of depth to it, the dial as a whole is not overbearing at all.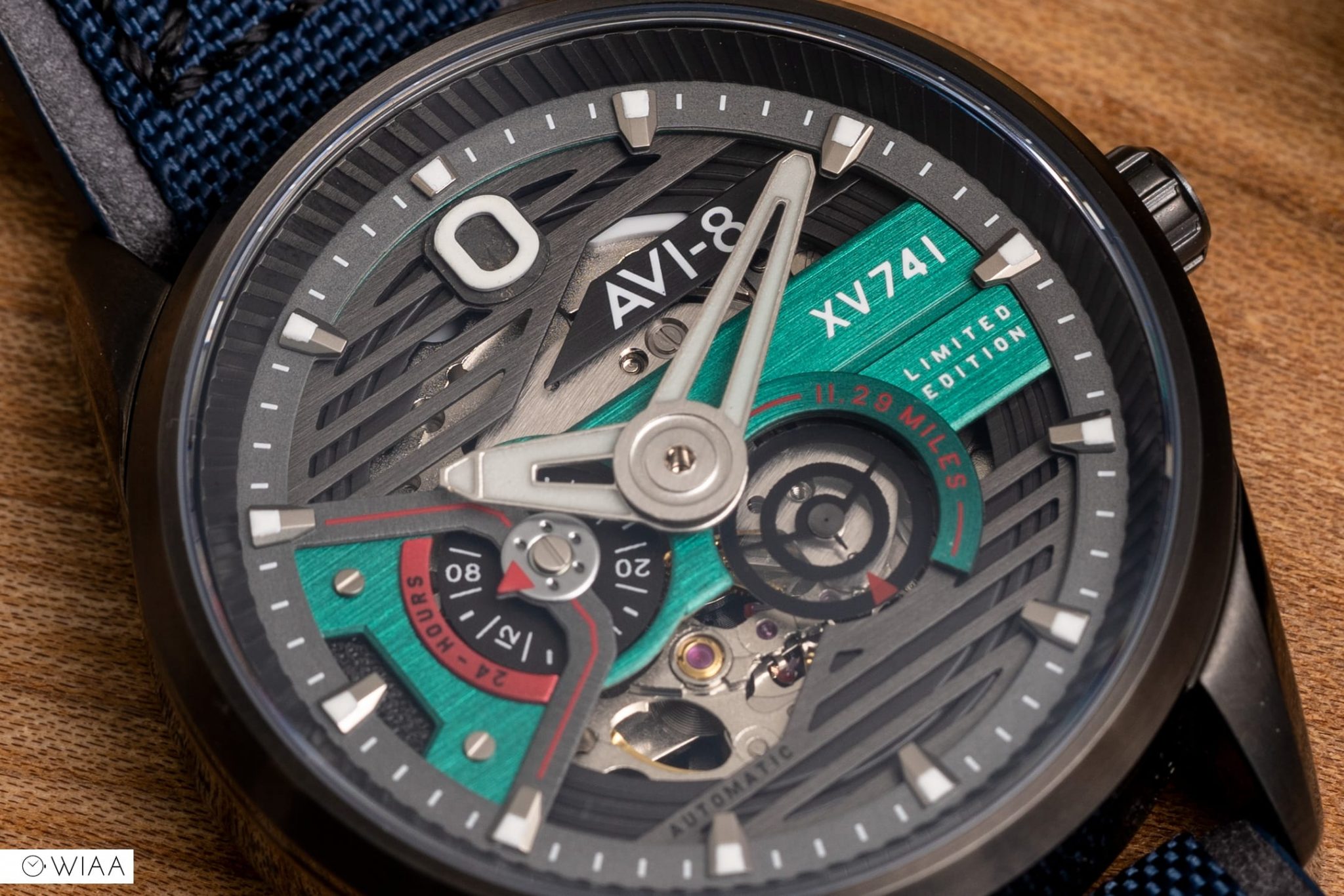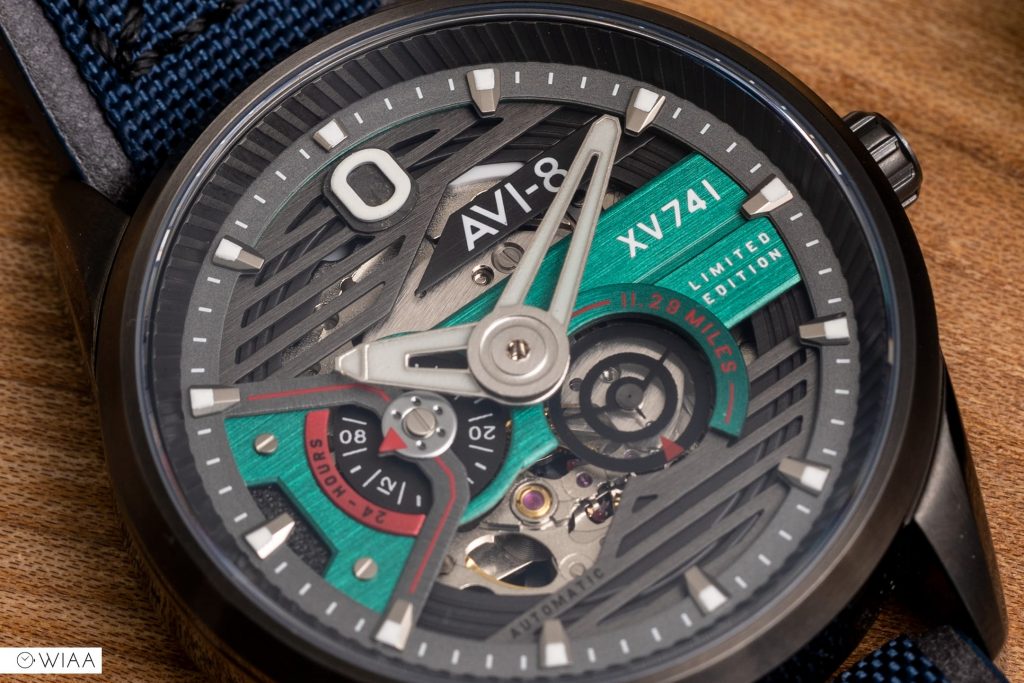 The running seconds hand is located at 4:30, an interesting skeletonized disc, supposedly mirroring the front profile silhouette of the Harrier XV741. The "11.29 miles" on the seconds hand display represents the average distance per minute flown during the race (0.89 mach or 677.5 mph equates to 11.29 miles every 60 seconds).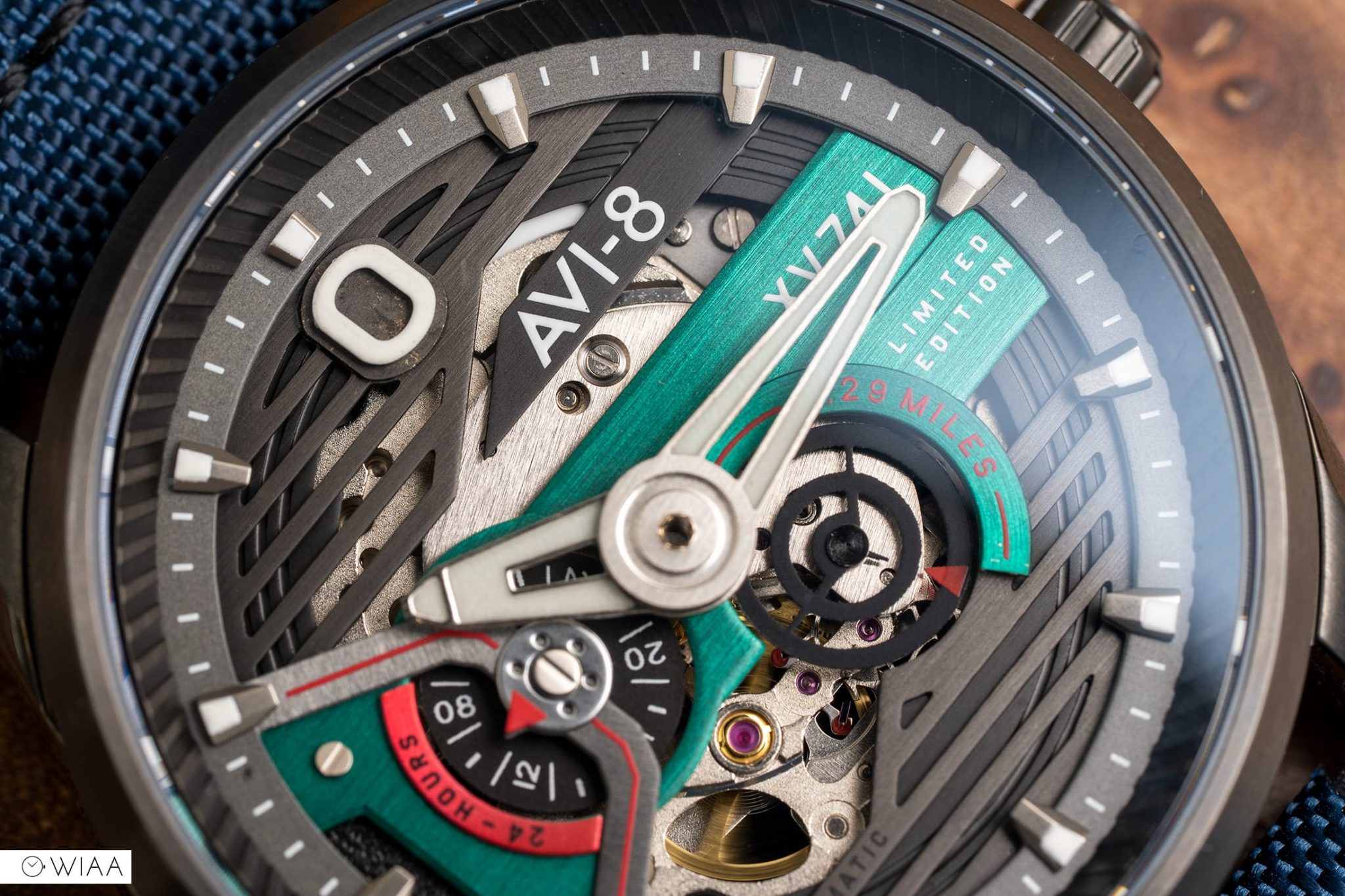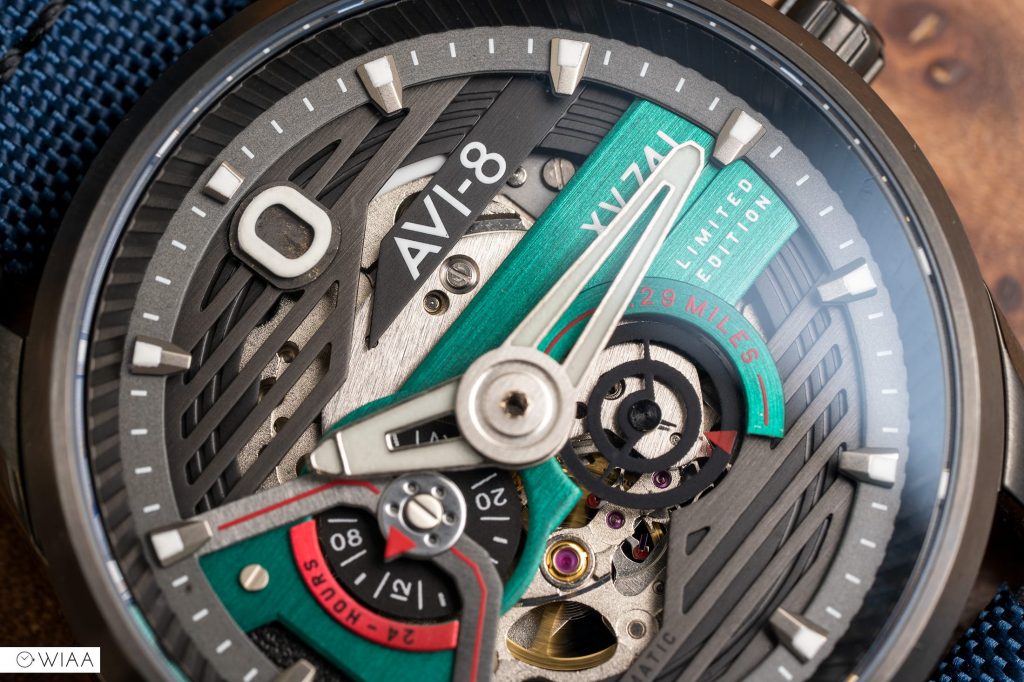 The frame surrounding the 24-hour indicator at 9 is inspired by the shape of the Harrier's cockpit, whilst the dial itself is not a hand, but rather a rotating disc with a detailed bridge over the top with an arrow.
The green metal bar positioned horizontally across the middle is striking, both in terms of a lovely injection of colour, but also in terms of construction.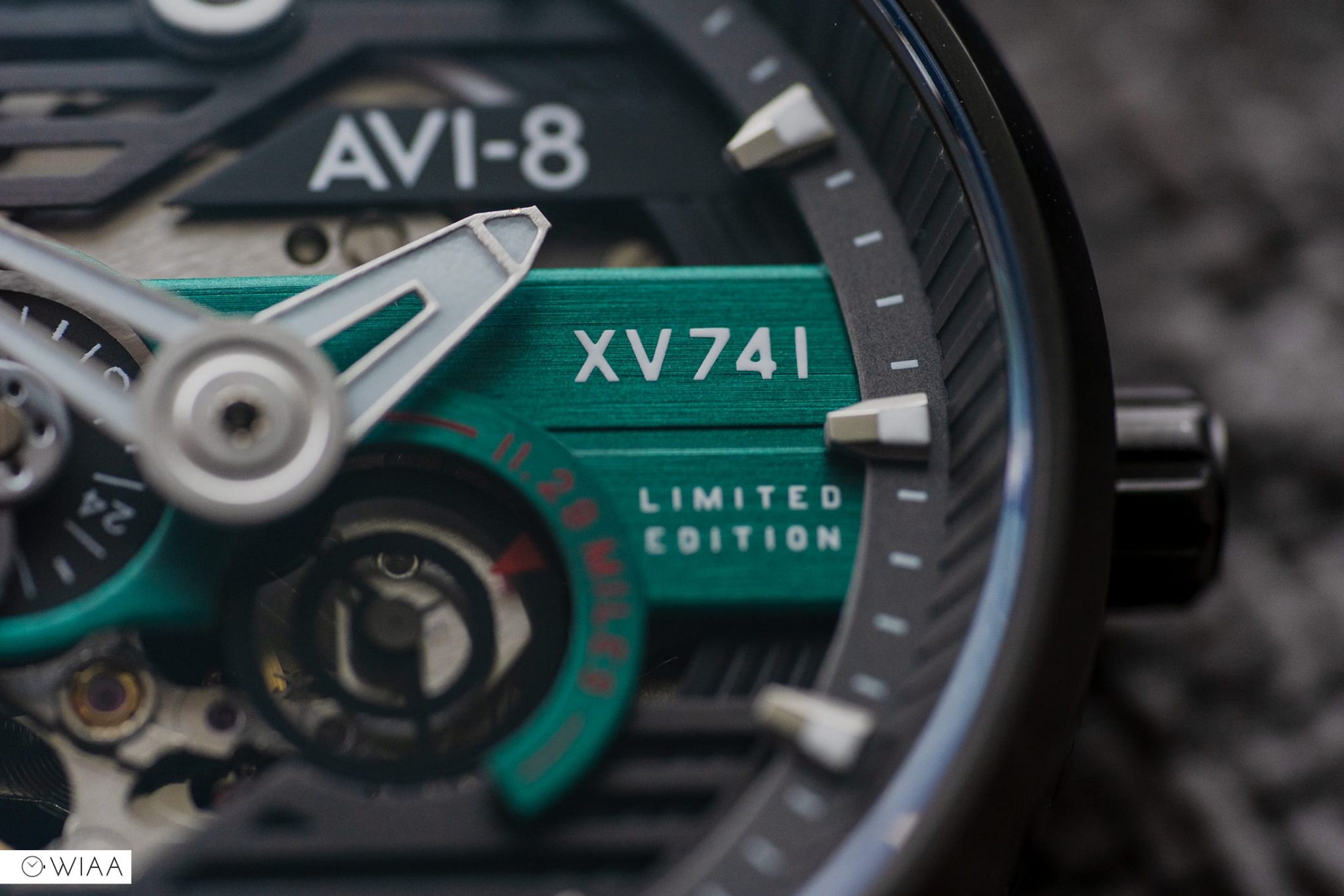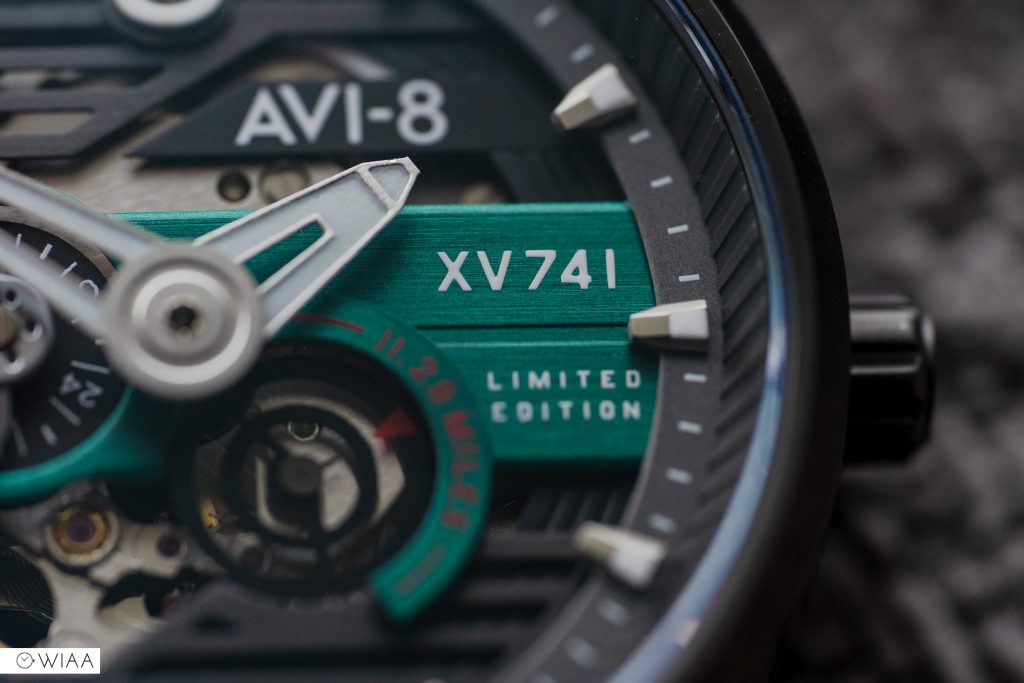 Surrounding the dial is a lovely knurled rehaut, which looks fantastic and frames the dial so well. It's a simple thing that shows impressive attention to detail.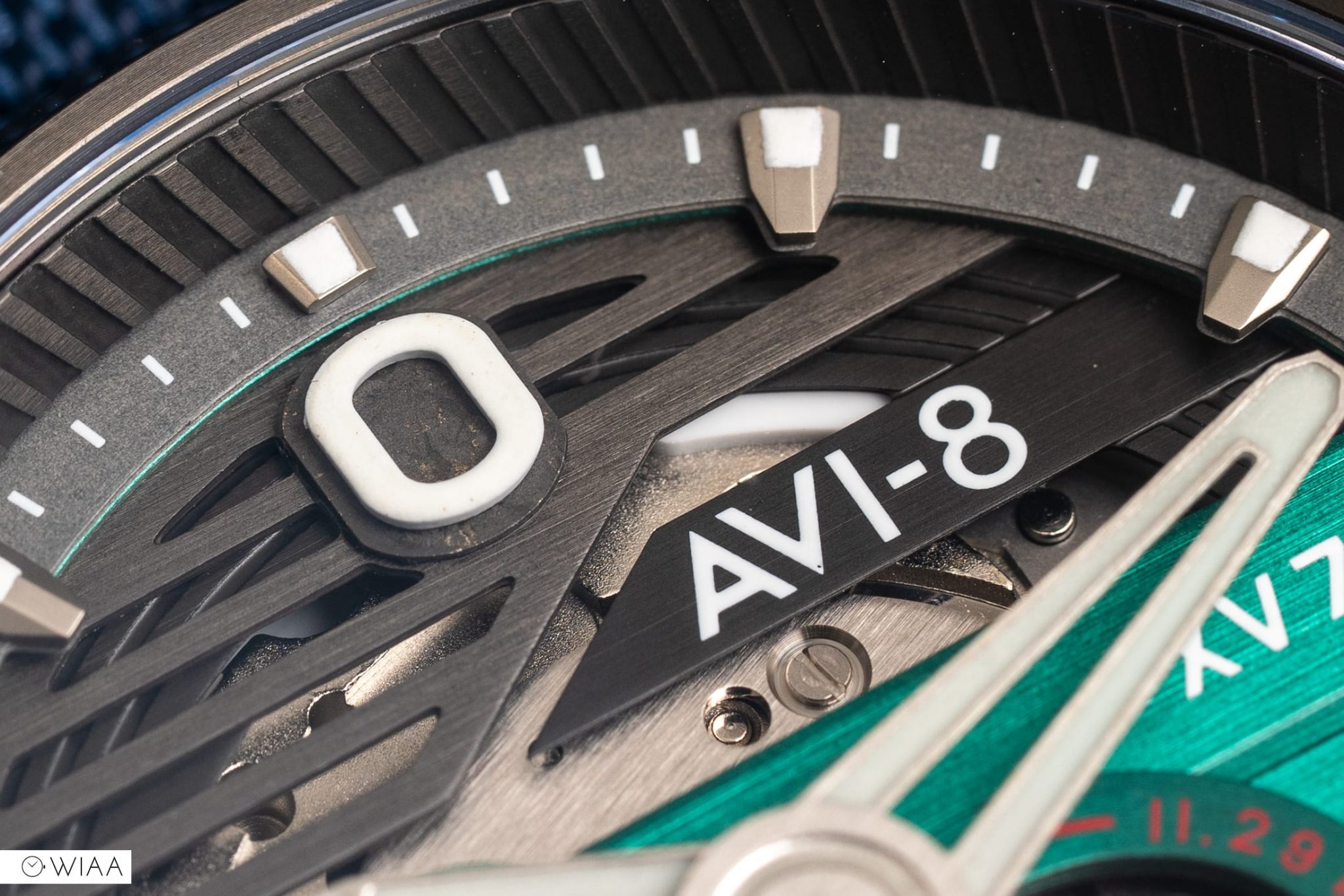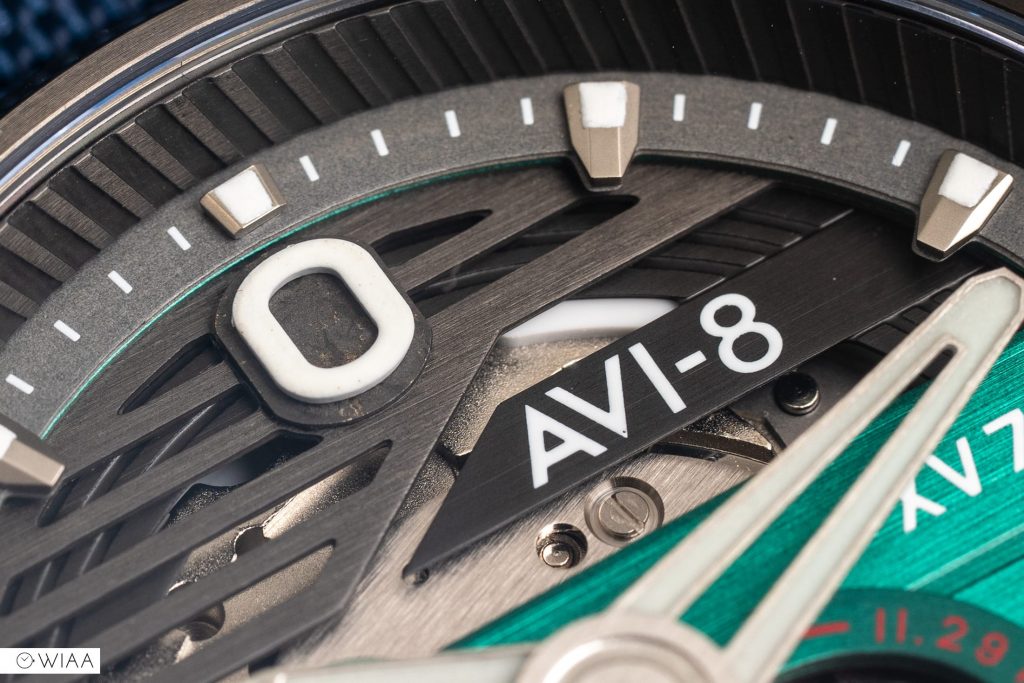 The unique piece of Harrier XV741's fuselage under the index at 12 is a marvellously unique aspect of the watch, done in a really tasteful way.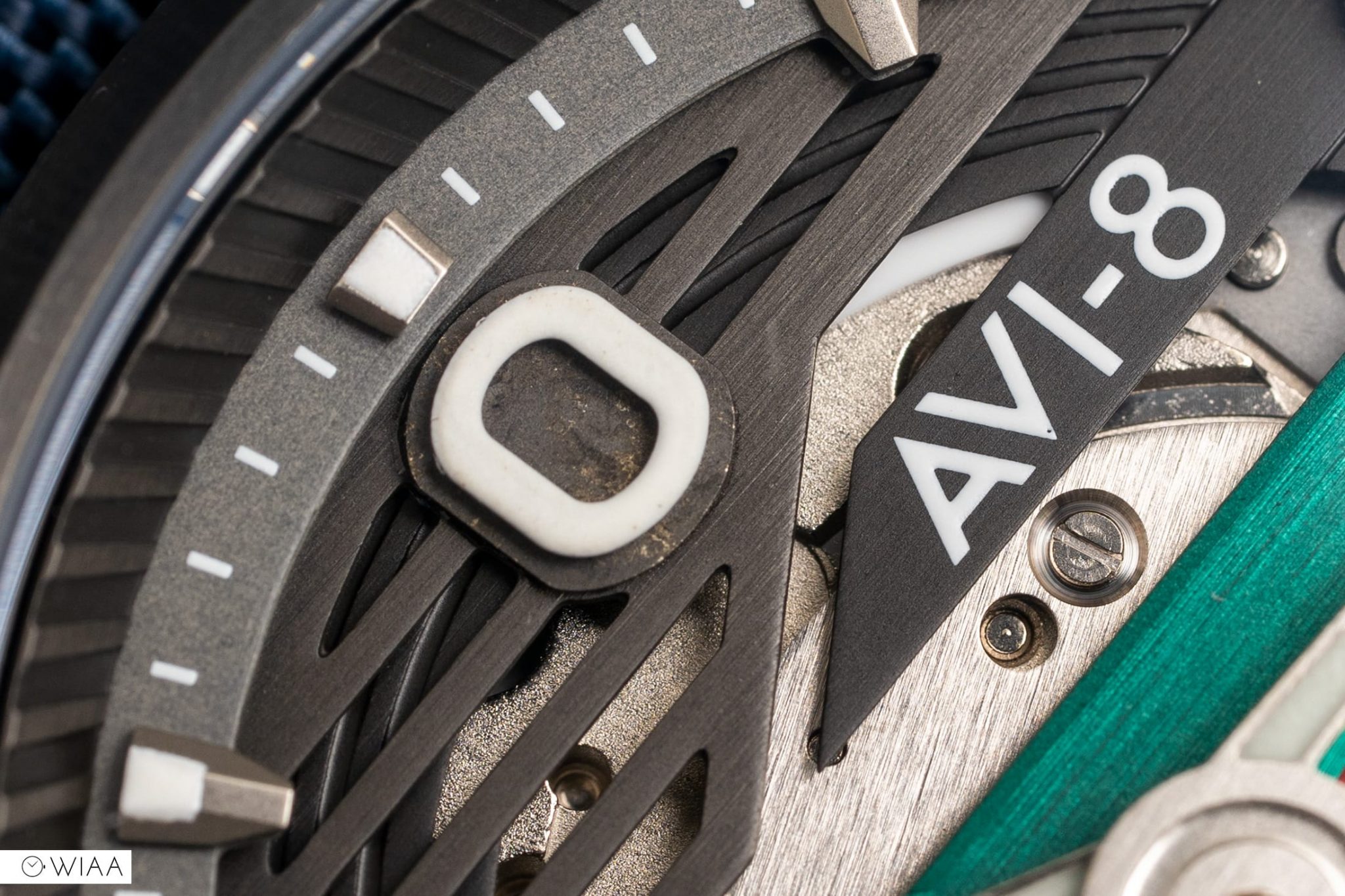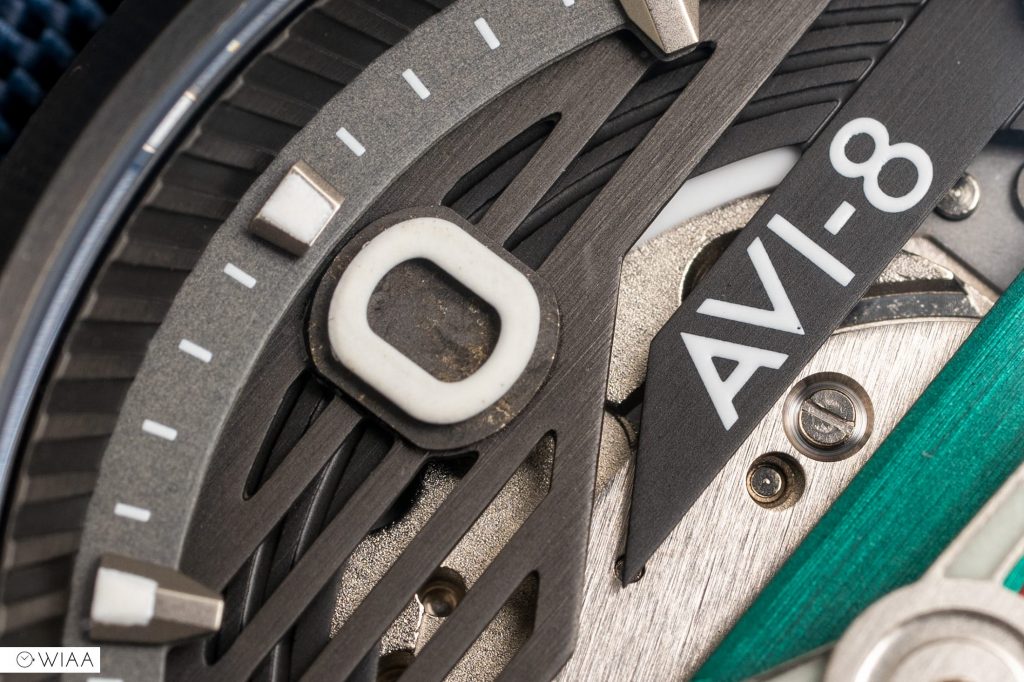 Avi-8 have labelled the lume as "Swiss lume". This is likely Swiss SuperLuminova; the strength is average.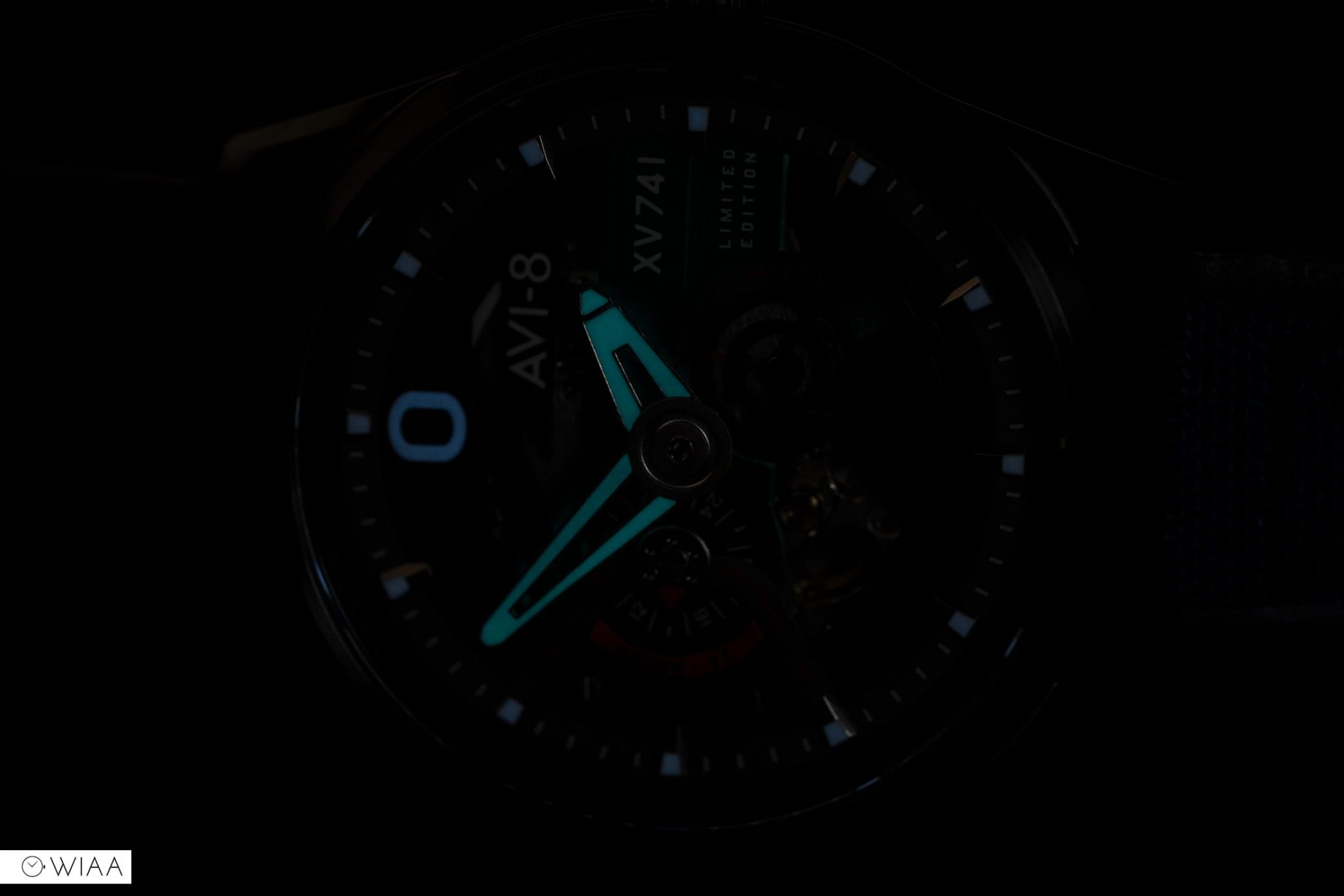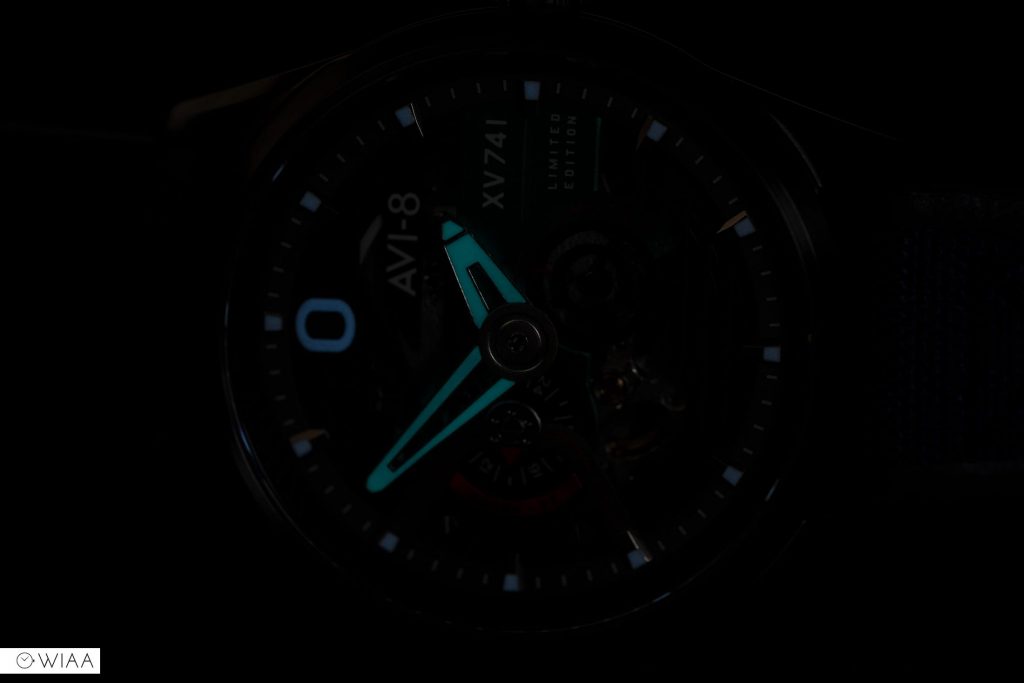 The movement is labelled as a "Miyota 8 series", but after some digging, I identified it as the 82s7 https://miyotamovement.com/product/82S7/. It runs at 21.6k bph, has a 42-hour power reserve, and 21 jewels. It does not have a hacking seconds hand. The custom rotor to mimic the Rolls Royce Pegasus engine on the Harrier looks fantastic and is very responsive.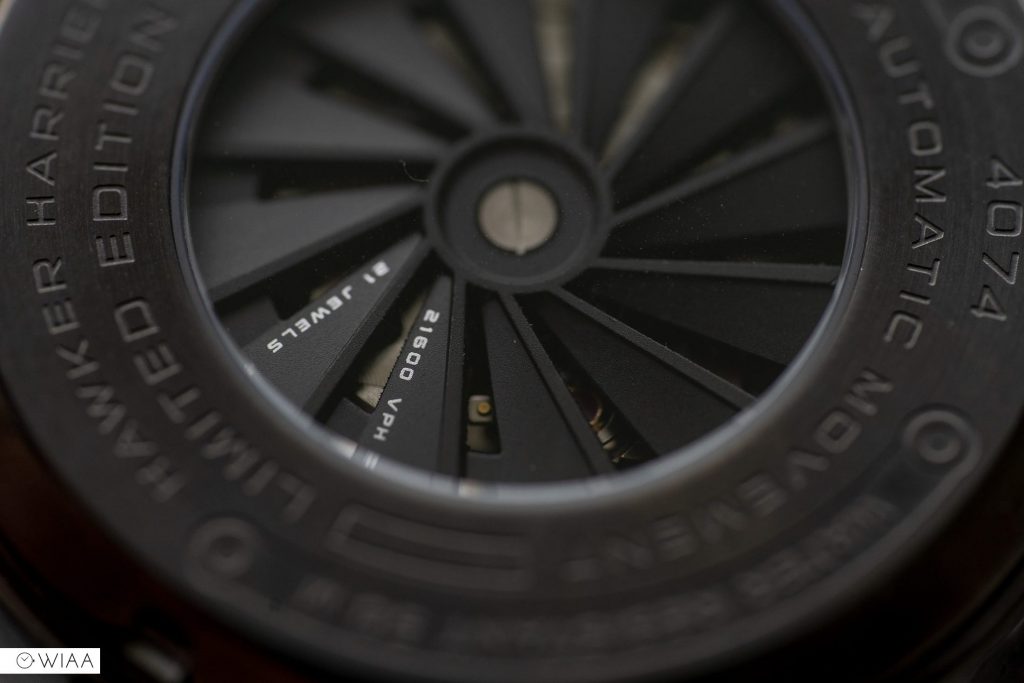 The exhibition caseback is quite industrial looking with a load of specs engraved around the window. It has a brushed finish, which in my opinion looks a lot better than the rest of the case and I'd much prefer it if the entire case was finished this way.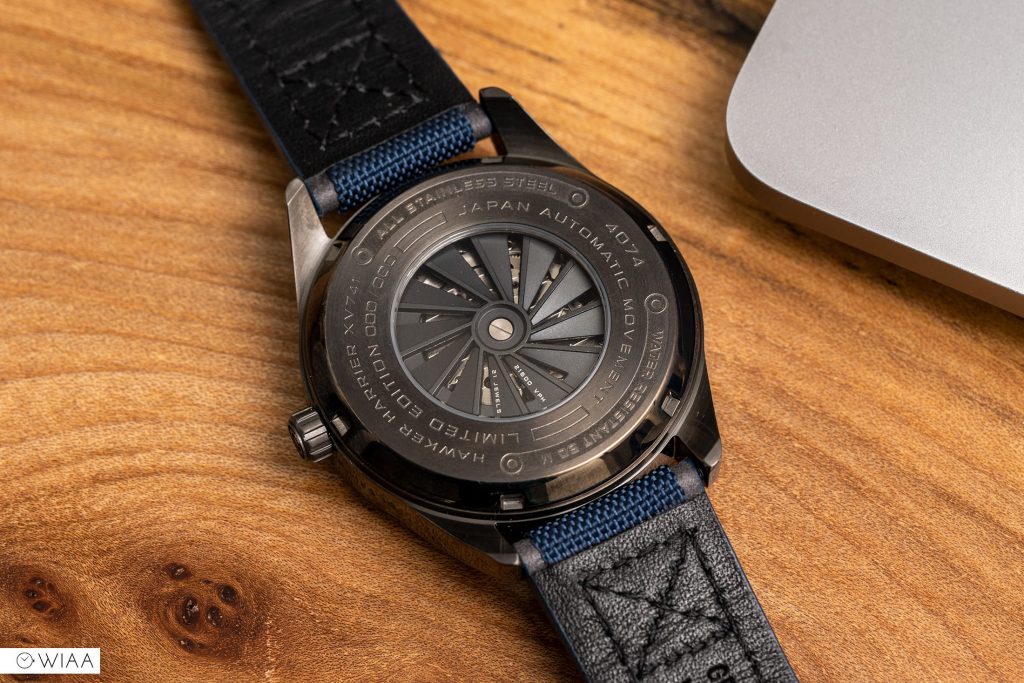 The strap is as good as always for Avi-8; I find them thick, rugged and sure to put in a shift. It's a little stiff out of the box but it'll loosen up.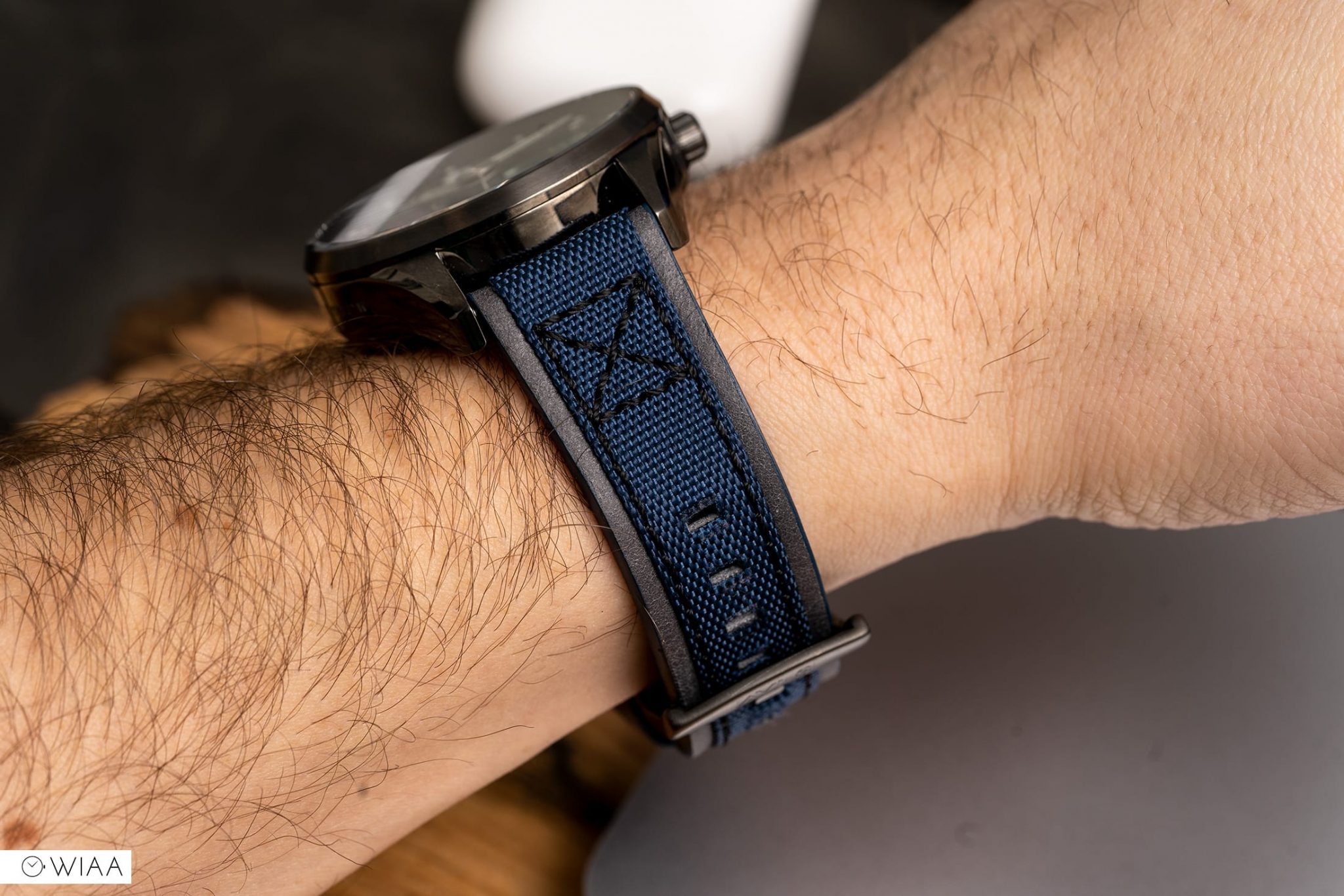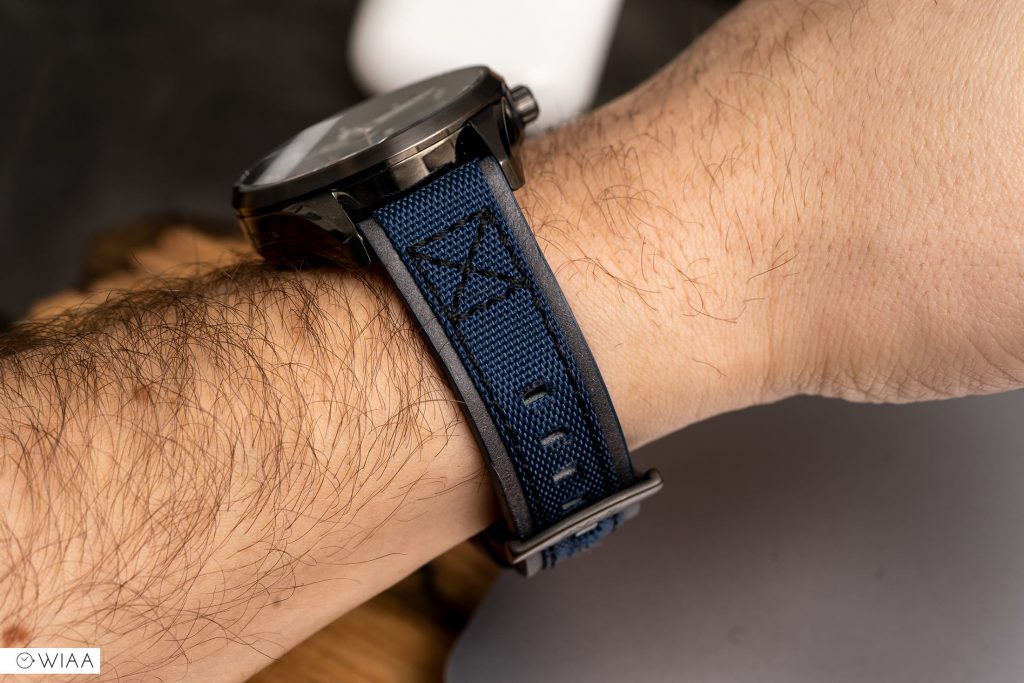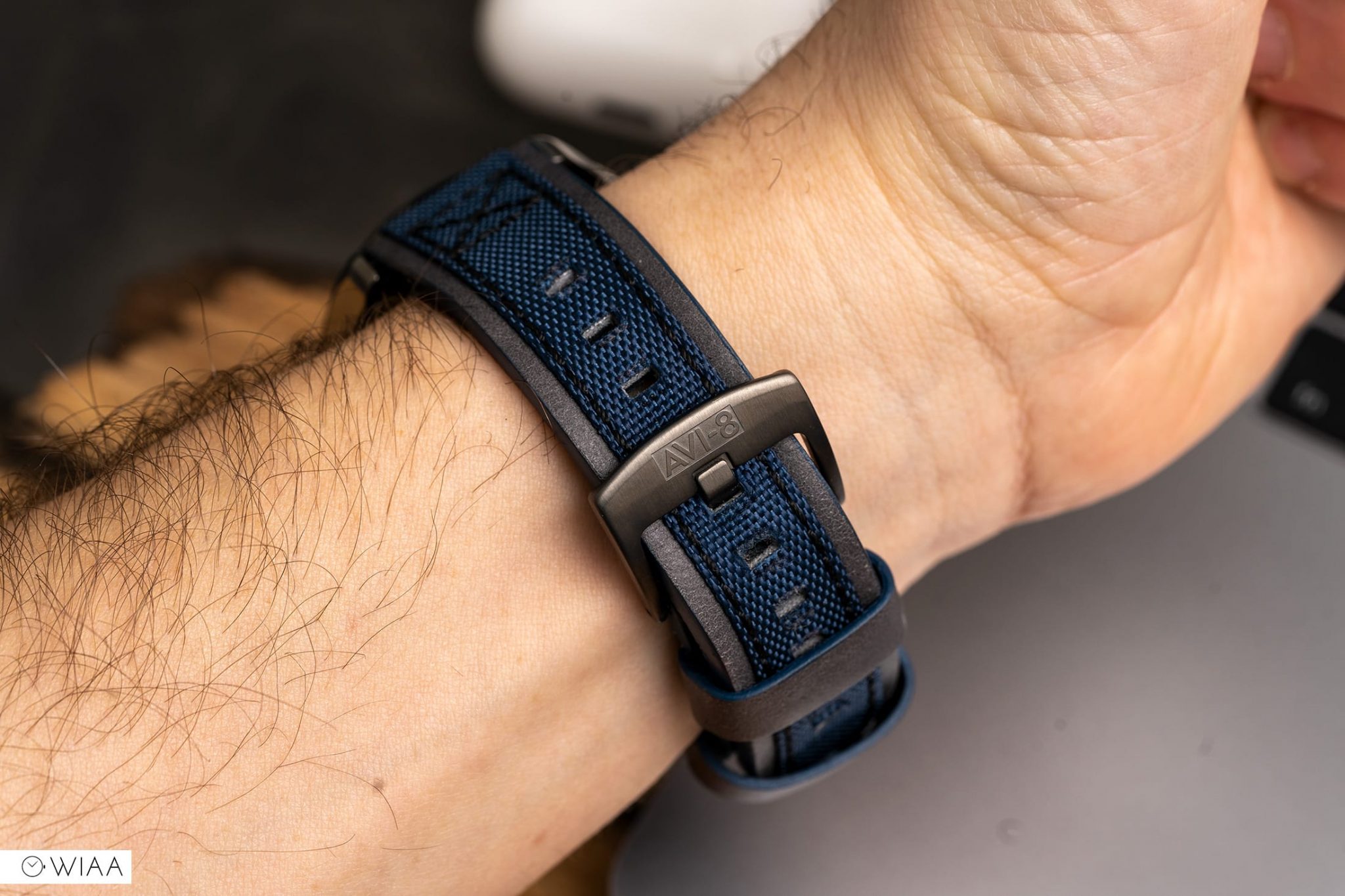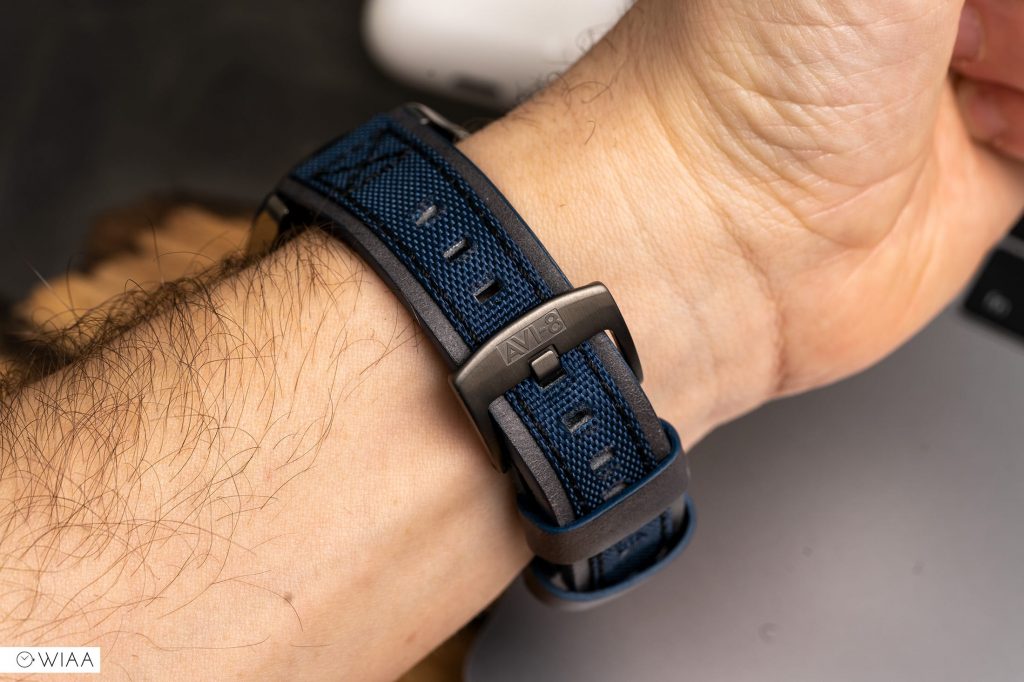 The XV741's participation in the air race was given the code name "Operation: Blue Nylon". Hence, an additional nylon and canvas strap has been included. This strap, however, is a bit of a conundrum for me.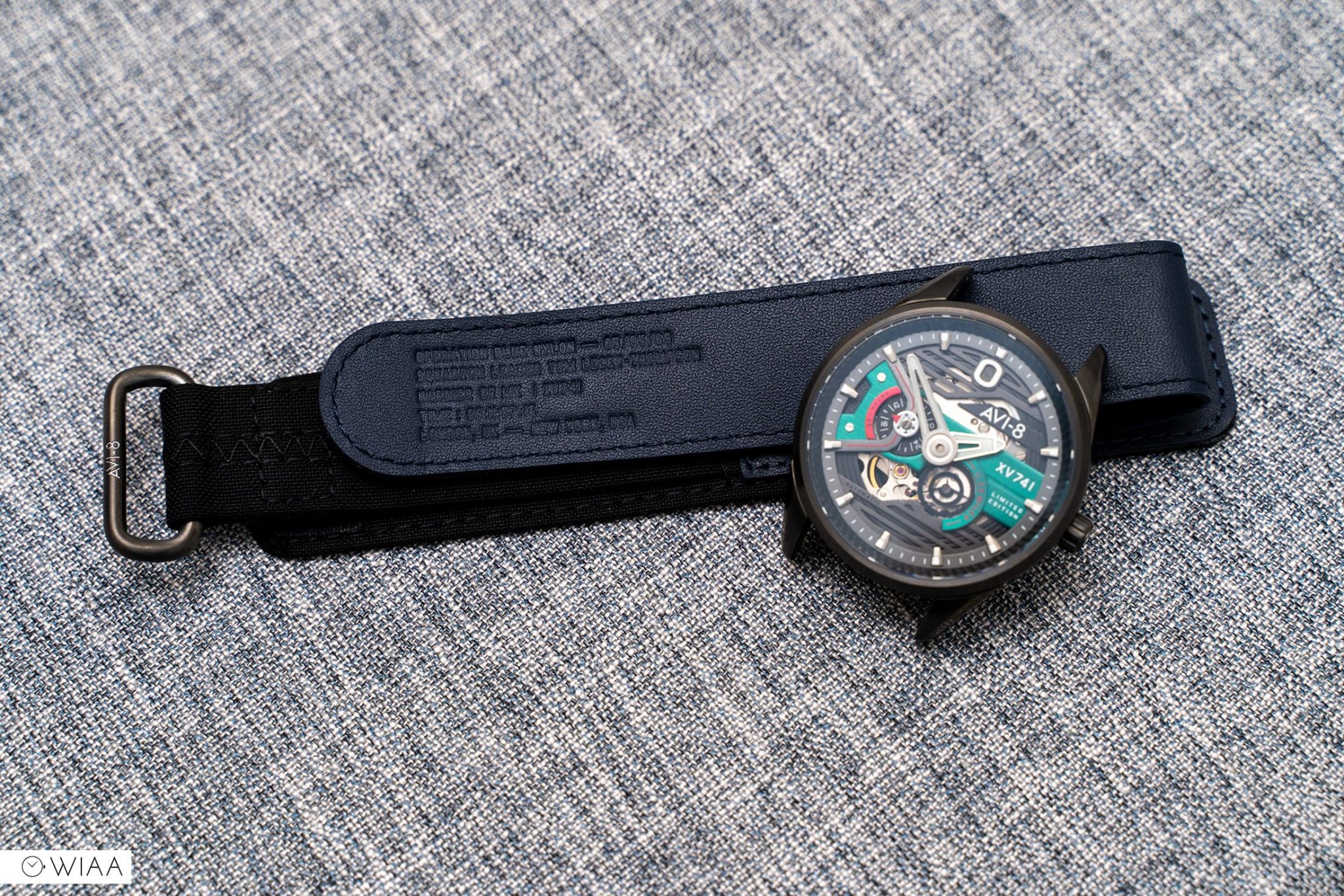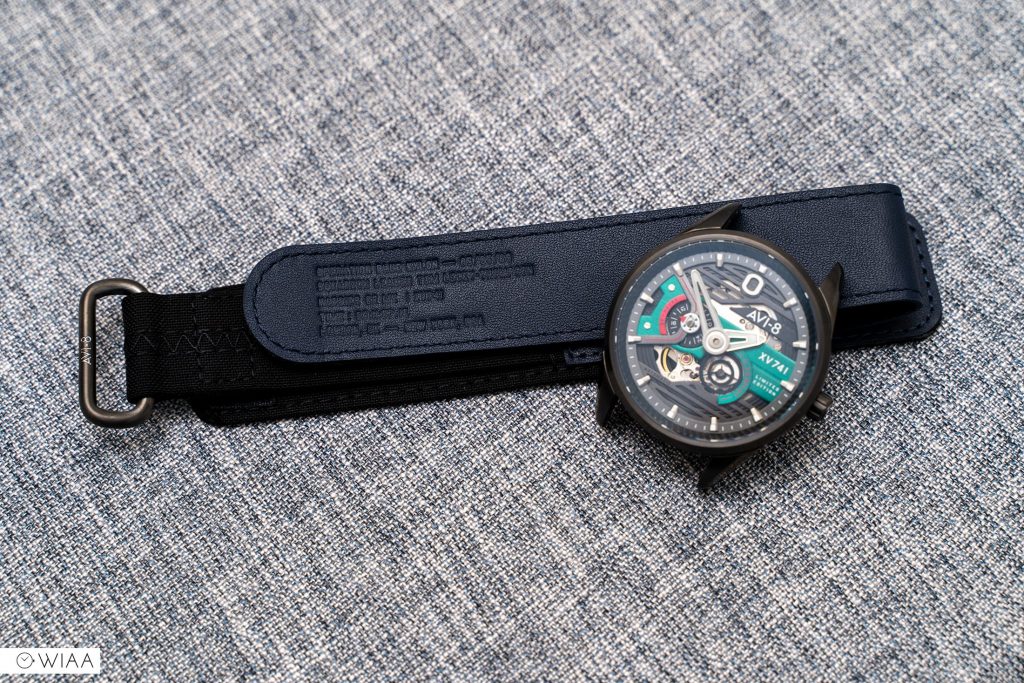 Firstly, it's like a strap I've never come across before. Once I figured out how to put it on, it was overly bulky, lumpy and generally a bit uncomfortable. Whilst it's cool that you get a free strap, it's not one that I'll end up wearing.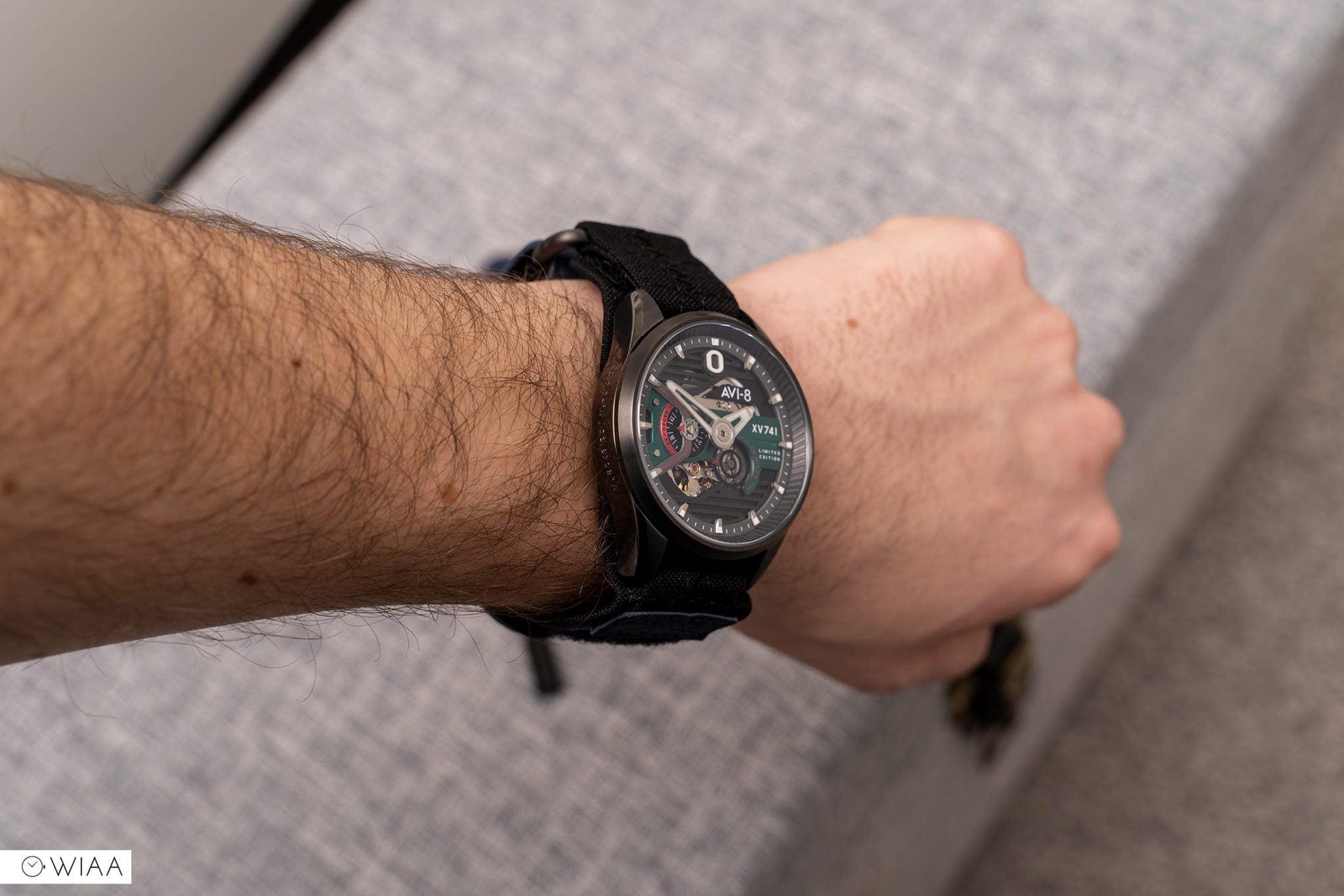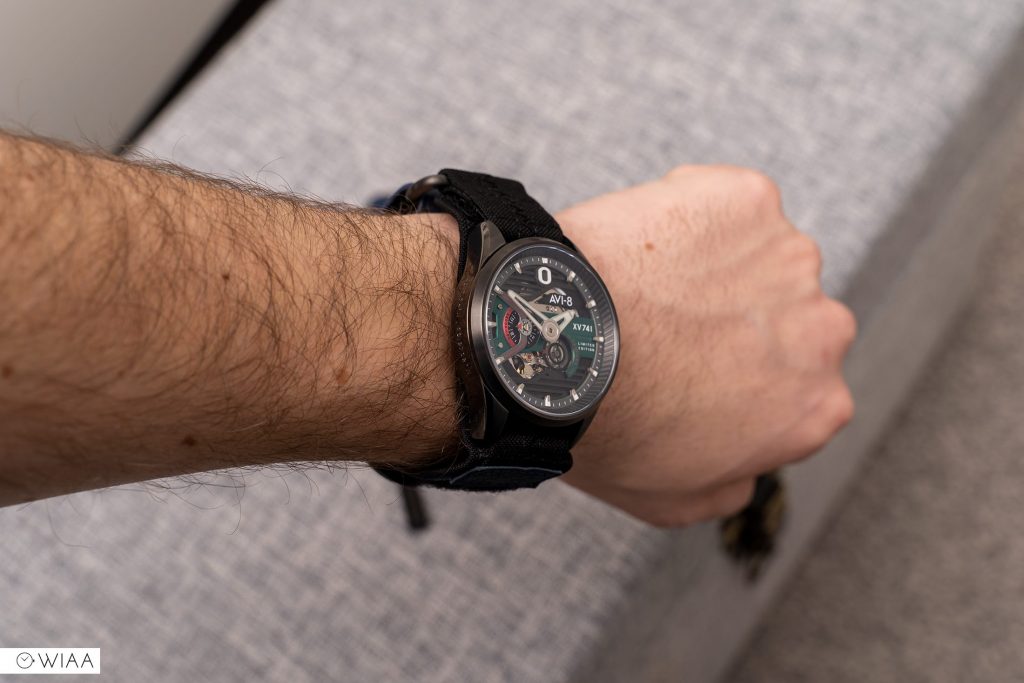 Final comments
I've been struggling to make my mind up about this watch for a while now. But, I feel my concerns do not overpower the positive points of the watch. The case as a whole makes me utter a hard "meh", but the sensational dial completely makes up for it.
Whilst I don't particularly care too much about whether it has the unique piece of the Harrier XV741's fuselage under the "0", I appreciate the historical relevance it would possess to many watch and aviation aficionados. I do find it pretty cool and it would certainly be a talking point.
With code WIAB, £335.75 is a fair price to pay. Whilst it's not completely for me, I certainly believe those who are interested in the aeronautical significance that this watch is portraying will enjoy it. It's a real feast for the eyes and is sure to impress.