Aviation and horology have been linked intrinsically since the birth of manned flight. From the pilots across world wars who wore them to the modern-day guy or girl at their desk who likes the usually big bold style of this genre of a watch, most of us at some point have seen and wanted a pilots watch. When I think of aviation watches I think of Stowa, IWC or Laco; all have a rich heritage and style that's faithful to some of those early watches strapped to the wrist of pilots doing battle across the skies of Europe and the Pacific. But for a new generation what if you want something that takes its cues from aviation heritage but adds a twist and style all of its own? Well, this is where AVI-8 steps in.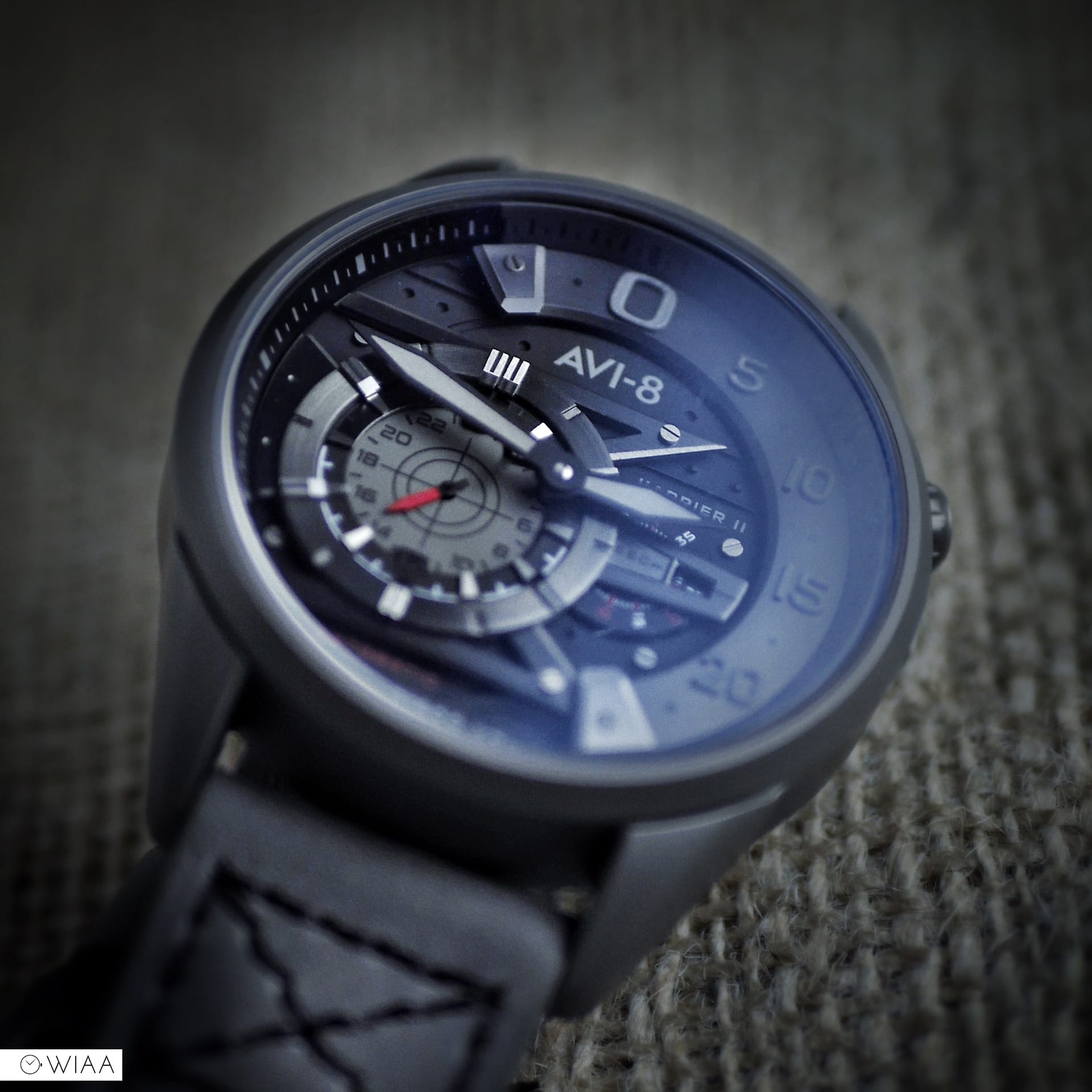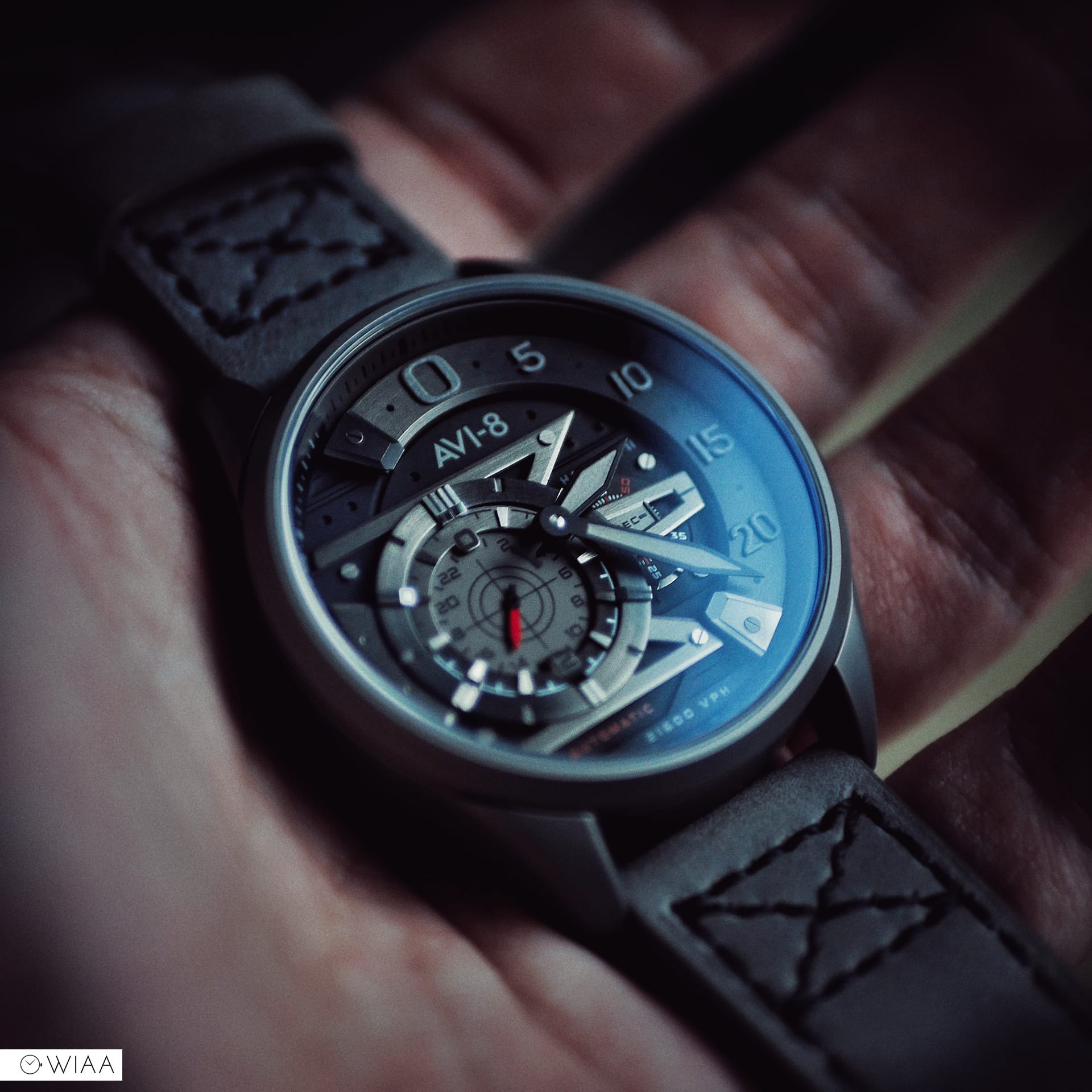 AVI-8 produces quite a wide range of aerospace inspired watches that take design cues from some of the most famous planes and squadrons that flew over the years. Recently I got to spend some time with one of their Harrier 2 models, specifically the Ace of spades version (ref AV-4070-03) this model is a tribute to the 231st Marine attack squadron who fly the Harrier 2 in operations.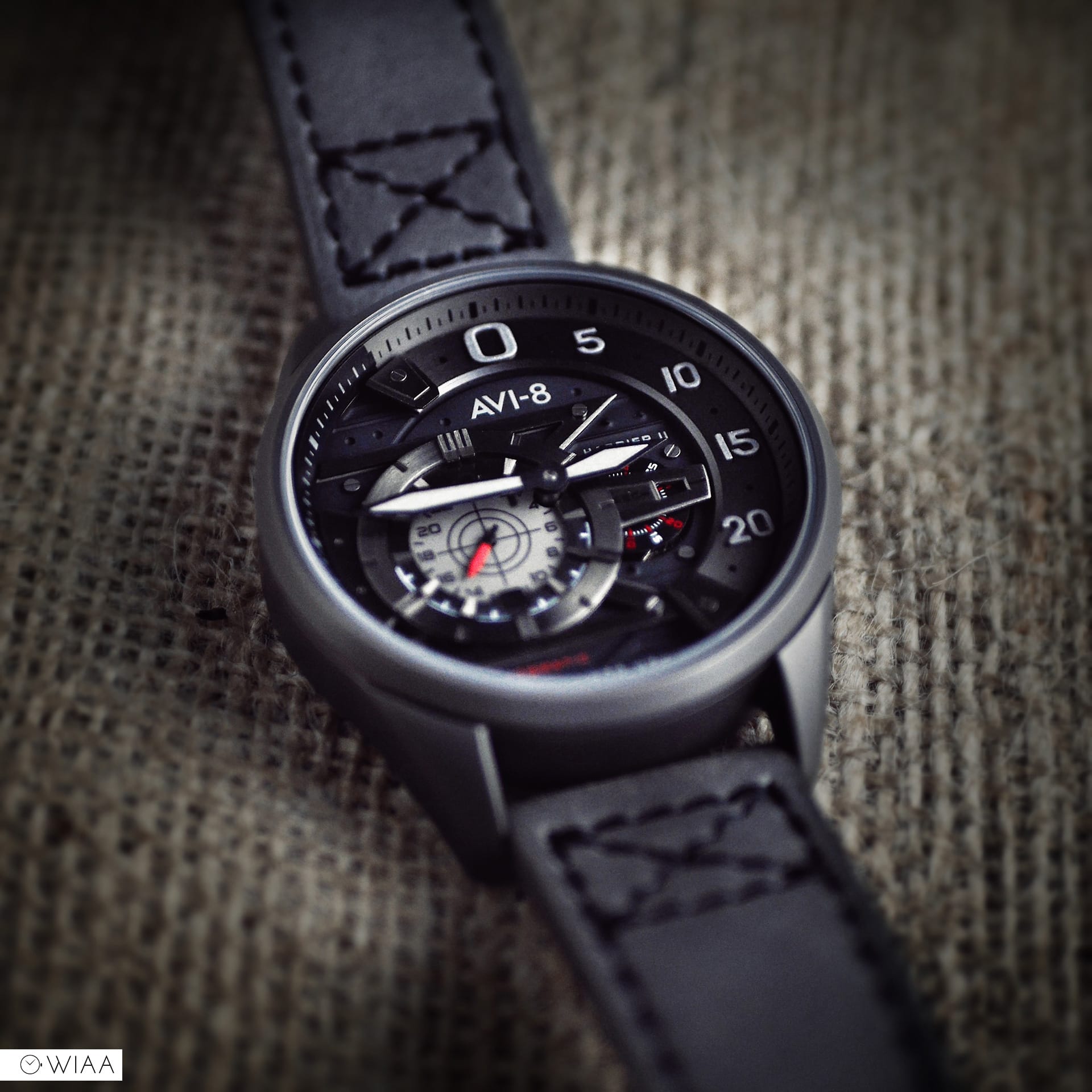 So straight off this is not a small watch at 44mm, but with downturned lugs, it thankfully wears very comfortably on the wrist. The case is in stainless steel but has a grey IP coating that suits the industrial style of the watch overall. Sat across the dial is a flat piece sapphire crystal with AR coating to maintain legibility and ensure a scratch-free life.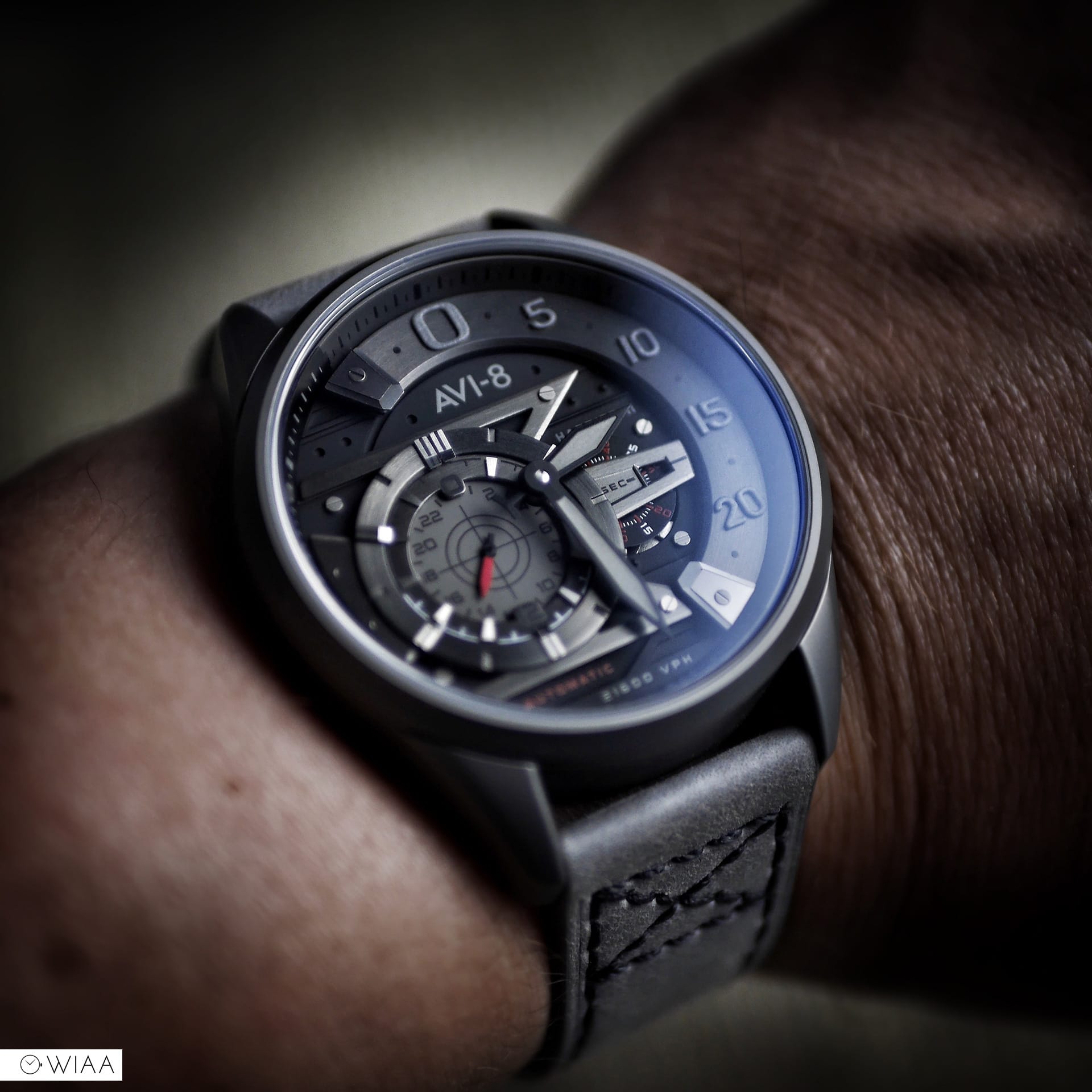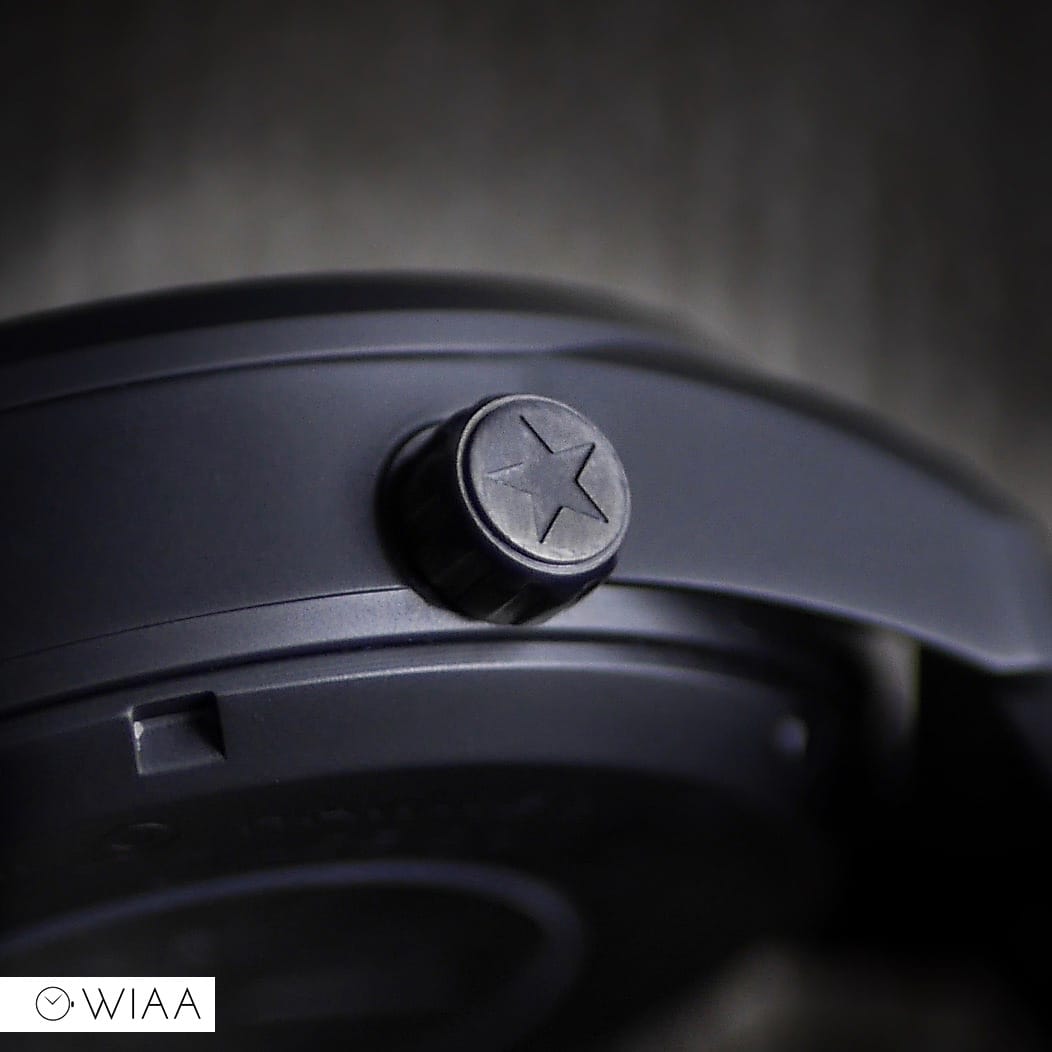 The lug width is 22mm, so this should make swapping straps easy if this is something you like to do to make a watch your own. If not, then I had absolutely no complaints with the grey leather strap with black contrasting stitching that comes supplied. It's a very supple strap while still feeling substantial and tough enough to last many years. The strap looks like it will probably age well and give a beautiful distressed look as time goes by. It also comes with hardware in the same grey finish as the case and is signed on the buckle with the AVI-8 name.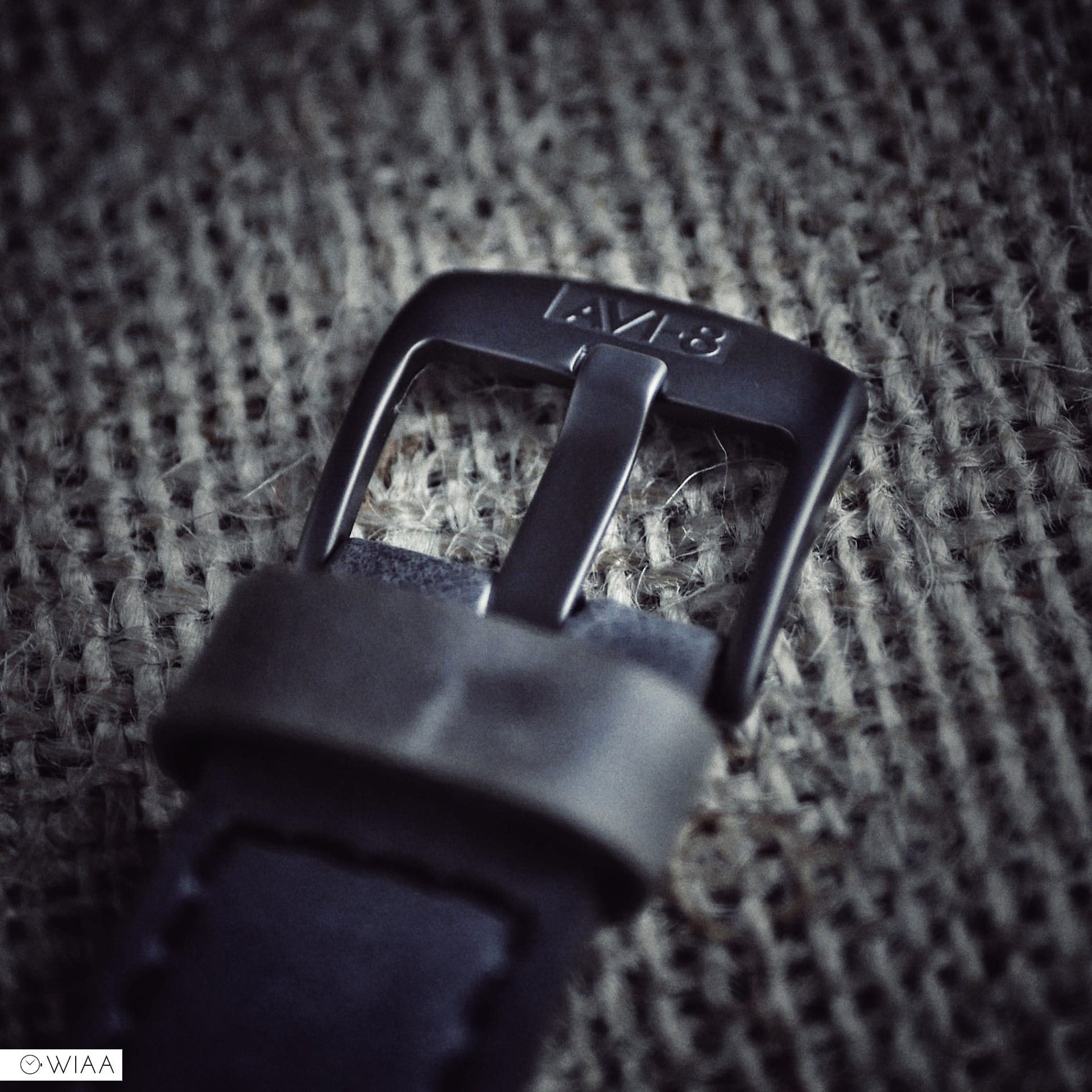 The back of the case has the usual information we all expect and also refers to the Ace of spades squadron, which is a nice touch. And then there is the dreaded display case back. Anyone who has read any of my other reviews on other sites will know where I sit on display case backs. Far too many companies add these for what I can only assume is a misguided view that they are interesting. For the most part, unless the movement is something unusual or a special effort has been made to make it enjoyable, I'd rather not see it thanks. Thankfully as with the dial which we will come to shortly, they have added an exciting rotor to the automatic movement. The rotor wheel is made to look like the ducted fan blades on the Harrier. So as much as I hate to admit it, this does look very nicely done! So no complaints on this one thumbs-up to AVI-8 for not taking shortcuts in this area.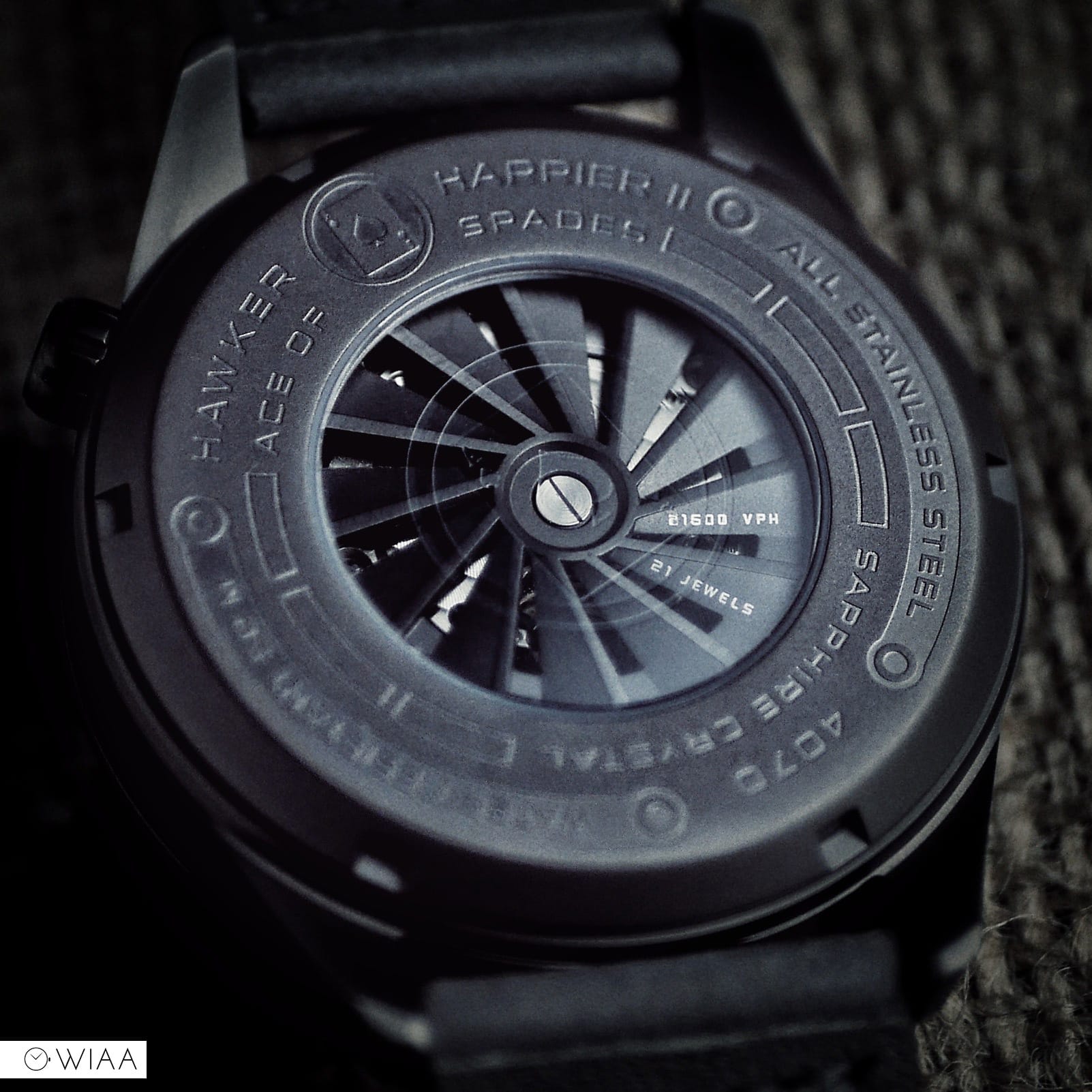 So dials are something that I think stand out for AVI-8 I have seen dozens of variations and I would challenge anyone to say they are ordinary or uninteresting. The Harrier 2 is no exception, made up of thirty individual pieces all laid out in a way that draws inspiration from its namesake the Harrier they say! In all honesty, I don't know enough about the Harrier to pick up on all these I'm certain subtle design cues, but I can say it's detailed and undoubtedly fun to see. The seconds, for instance, run on a small circular disk instead of a seconds hand and it's just an exciting way to do this that's fun and different.
There is also a 24-hour sub-dial that looks like some sort of targeting or radar display with highly polished and faceted indices. There are so many layers to this dial it's hard to not just stare at it and look for more details. Splashes of red on the 24hr hand and the seconds disk break up the grey theme along with the polishing. You get a real mechanical but also almost futuristic feel from this dial and for me, that was quite refreshing.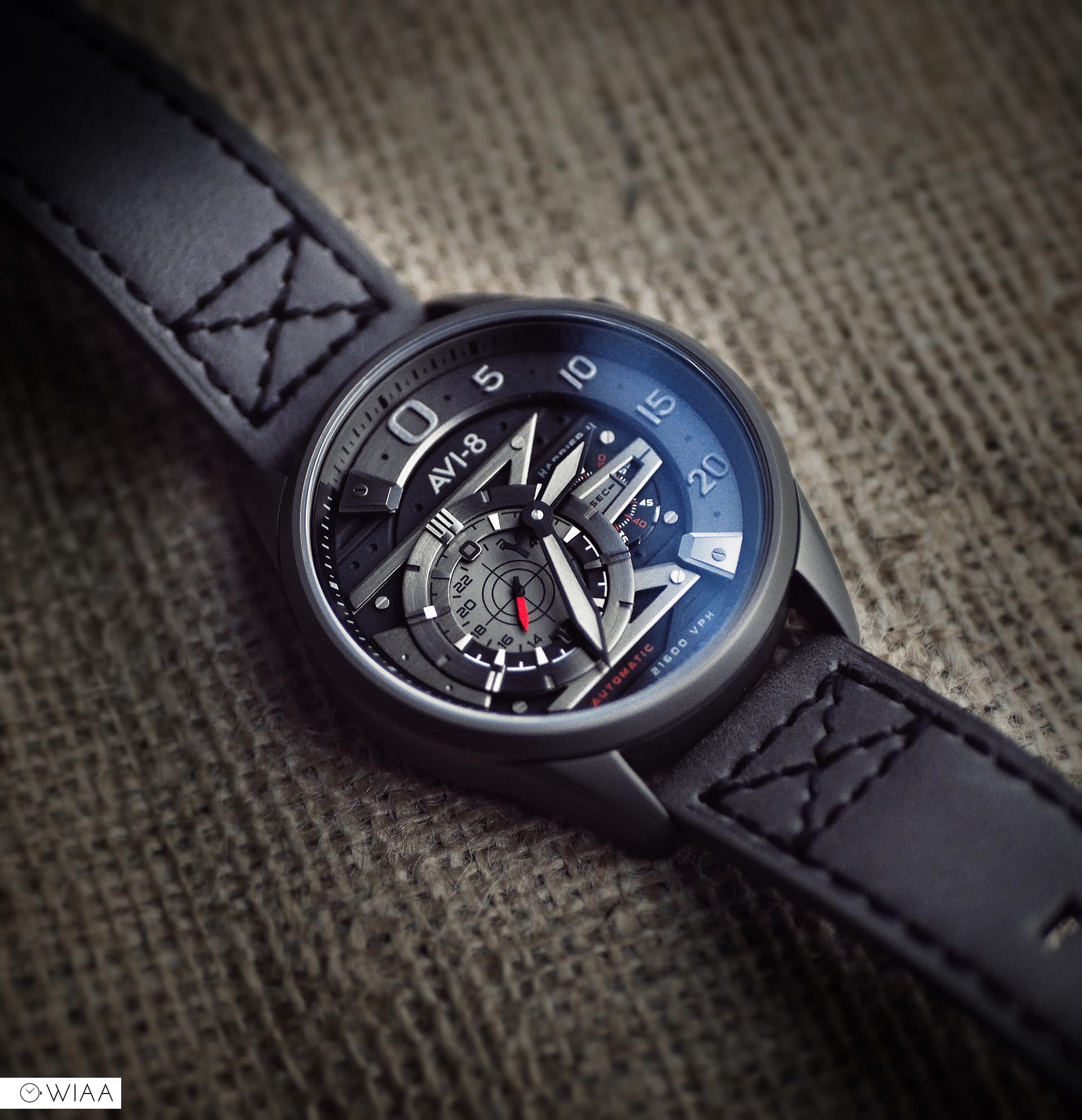 So in conclusion, what do I think? Well, the Harrier 2 is a big watch, maybe too big for some but only you can decide from a size perspective what works for you, but it does wear well considering its size. It is an aviation-inspired watch, so I dare say if you're looking at these you understand the size, for the most part, comes with the territory. There is 50m of water resistance which I would usually complain about, but this is an aviation-themed watch, not a diver, so should be perfectly adequate for most people. The specifications state Japanese automatic movement but go no further in stating what this is. In the time I had it, I had no issues with timekeeping so again in this instance I can't say I was concerned. The AVI-8 isn't a pilot's watch. It's an aviation-inspired watch with lots of subtle little details and some premium materials like the sapphire crystal and nice leather strap rounding out the package. The dial is the star of the show, and I'm sure will have mass appeal. If you look at a dial and it holds your interest and makes you smile then that's a win in my book. So bravo too AVI-8, the Harrier 2 doesn't go far wrong in its execution and fun factor.
Specs:
Movement: Japanese automatic two hands with 24 hours and small seconds disk
Dial: Black Dial with Swiss Luminous applied index
Case: 44mm round IP-gun stainless steel case Thickness: 14.5mm
Lug to Lug: 53mm
Crystal: sapphire with ar coating
Water resistance: 50m
Band: 22mm grey genuine leather with tang buckle
Price: RRP £305 / ~$380

Use code WIAB for 15% off: making it £259.25 / ~ $325

Buy here: https://avi-8.co.uk/products/av-4070-03