CATEGORY: Watches I've been loaned for review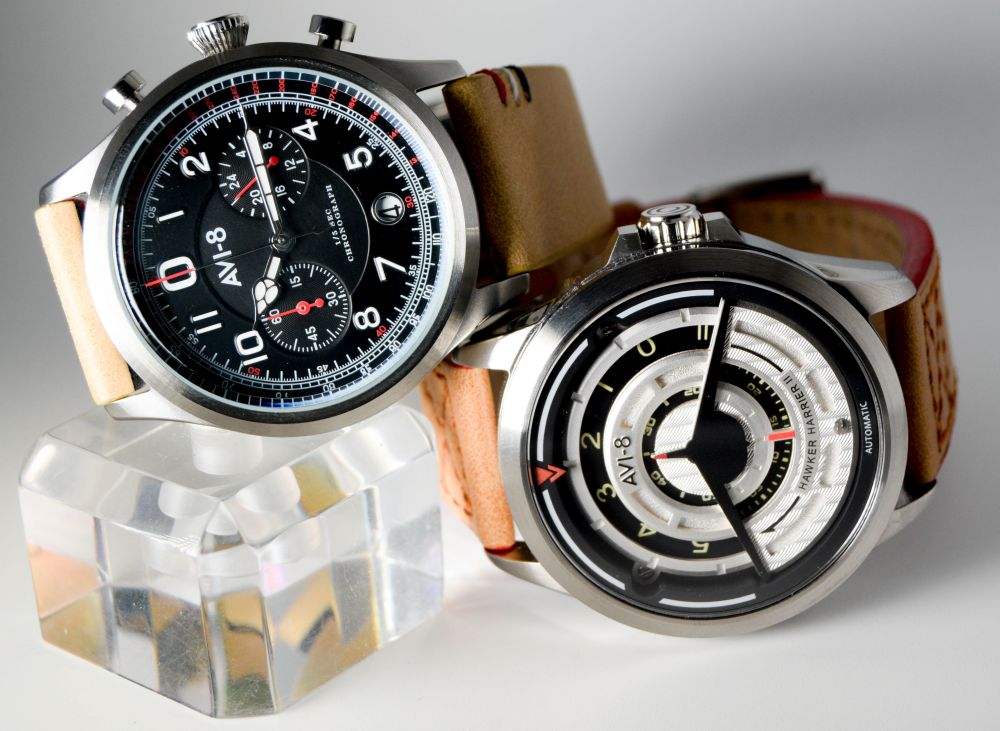 I recently watched an old movie again. I remembered liking it a lot when I saw it about a quarter of a century ago and thought I would revisit it.
It's a Dudley Moore film called "Crazy People". It's about an advertising executive who one day wants to advertise things honestly. He does a campaign for Volvo called "Volvo. They're boxy, but they're good" and "Sony. Because Caucasians are just too damn tall"
https://www.youtube.com/watch?v=96iJsdGkl44
His employers think he's gone nuts and send him to an asylum for help…until the adverts get accidentally printed and turn out to be a massive success.
So what's that got to do with watches?
Well, it can't have escaped your notice that more and more watches are being marketed without much honesty.
"Inspired by *enter defunct but fantastic thing here, that no one is going to sue over, because it's defunct* and paying tribute to *enter something else that can be used for free to glam up this watch*, and disrupting *the industry they want to be in*, this watch will make you beat the women away with a splintery plank"
Is anyone actually swayed by this type of copy? Would it be too much to say:
"Buy our Chinese made watch. It's good value, people won't recognise it so they may think it costs a lot more than it does, but at least if it breaks, you won't have lost too much money"
No. But you get the idea.
I can't help but think that watches that are sold this way are made by people who don't really like watches, only the money they can make from them. Either that or they simply don't have enough faith in the watch itself, so try and smother on fake provenance.
So this little observation doesn't bode well as the preface to the review of 2 x watches from a company called AVI-8, who name their watches after classic British Aircraft, of which one is called the "Hawker Harrier II"
From the website: "Our collection of timepieces seeks to honor both the aircraft and the untold story of the airmen who have dedicated themselves both in and out of the cockpit to bring these incredible machines to life."
Oh yeah, "Honouring" someone. "Honouring" them by referencing whatever they did / made, as a free way of not getting sued. It's like being endorsed, without having to pay anything.
Anyway,  let's forget the marketing now and concentrate on the watches:
AVI-8 FLYBOY CHRONOGRAPH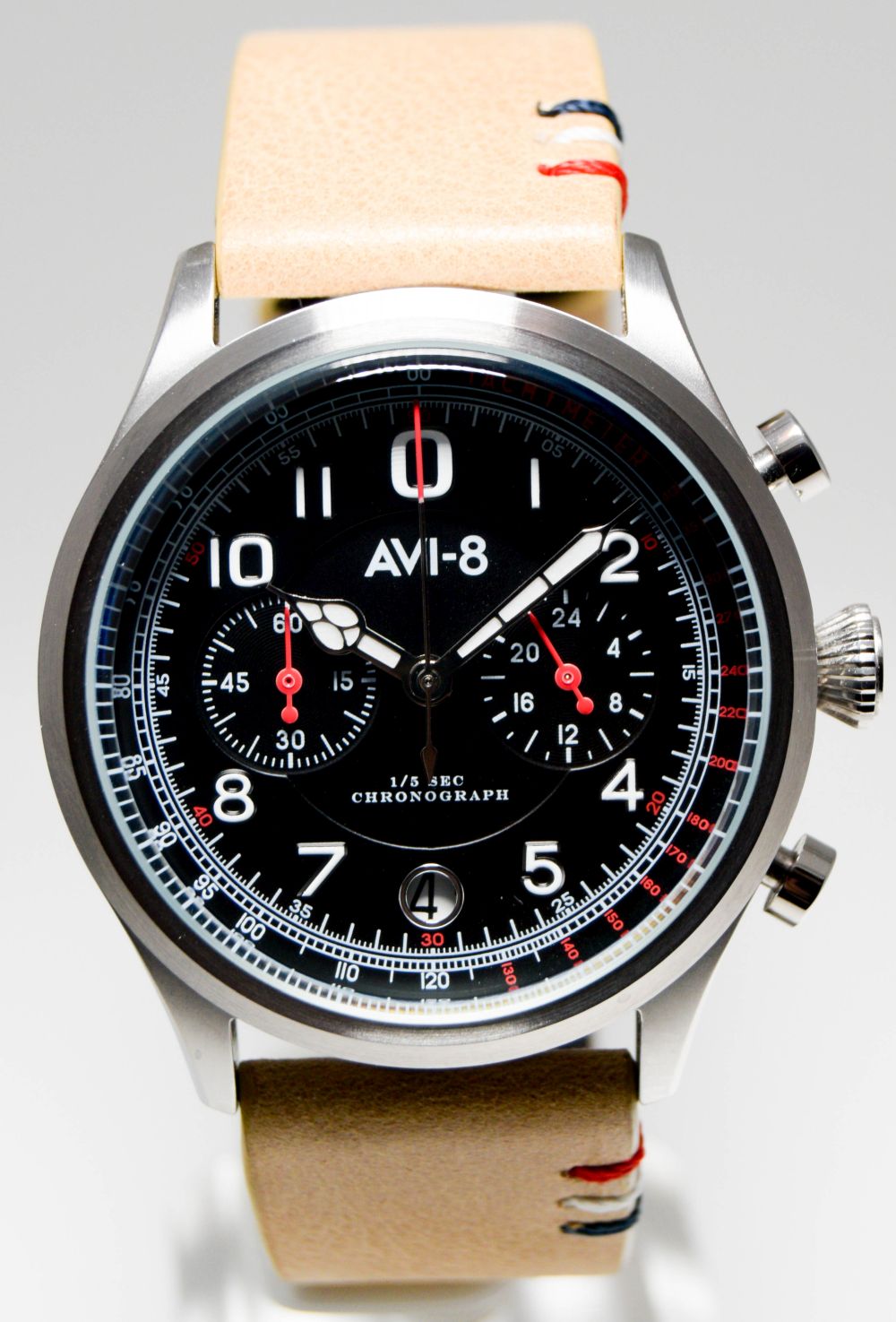 Here's the specs, from the website:
MOVEMENT:Japan Quartz Chronograph with Date and 1/5 second
CASE: Stainless Steel
CASE DIAMETER (mm): 42
CASE THICKNESS (mm): 12
CASE SHAPE: Round
CASE COLOUR: Stainless Steel
DIAL COLOUR: Black
BAND: Genuine Leather Strap
BAND COLOUR: Beige
BUCKLE: Strap Buckle
BAND WIDTH (mm): 22
WATER RESISTANCE: 5ATM
WATCH WEIGHT (g): 80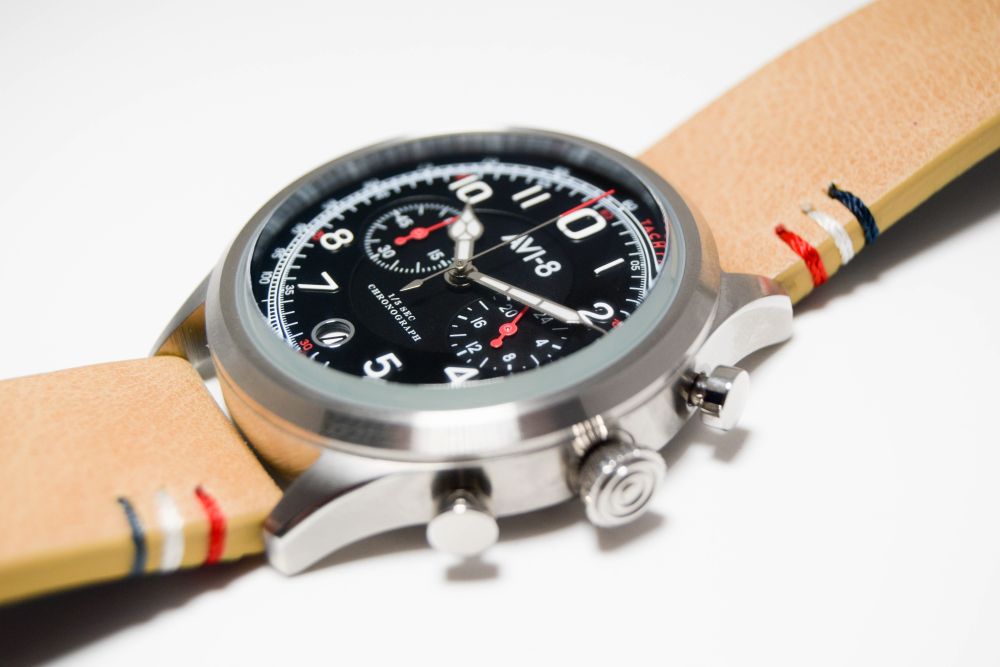 Now, the first thing is the vagueness of this spec list. Case Shape: Round. That's there, but what the actual movement is, isn't.
I can't take the caseback off, it's not my watch and I can't pressure test it afterwards. But from all I can see, I'm pretty sure it's a Seiko VK64 mechaquartz. If you know me, you'll know I really rate this movement as probably the best quartz powered chrono out there.  By not mentioning it, I can assume one of 2 things:
1.  Associating with Seiko isn't "prestige" enough for them
2. They aren't trying to appeal to WIS, as on the whole we like Seiko movements. They're trying to appeal to the general public, who think of Seiko as those cheap watches you can buy in all high street jewellers.
Not sure what the crystal is. I asked the question, they said "sapphire" but surely they should have mentioned that on the website, as that is a selling point?
So, let's strap the watch on and have a look.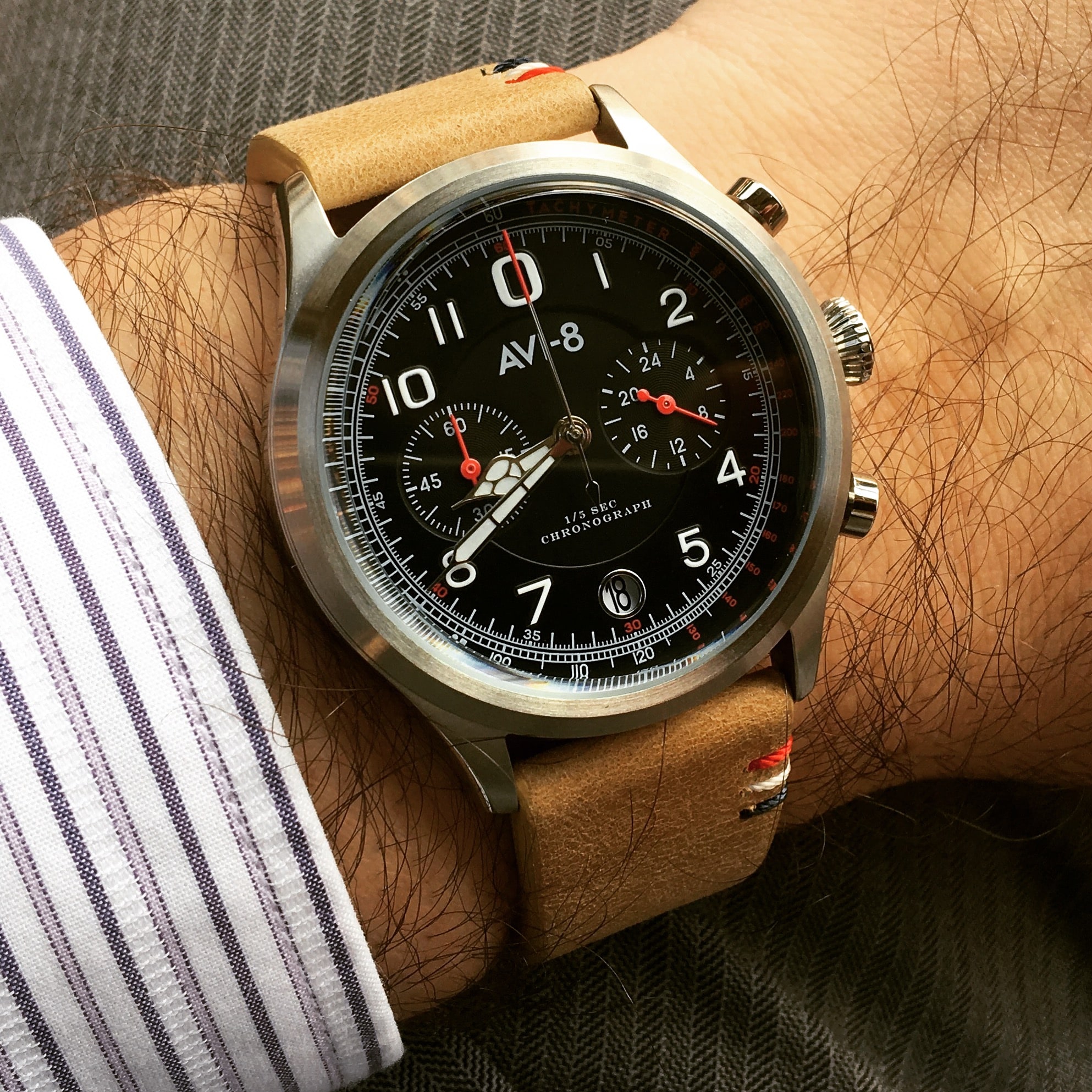 And this makes what I've just said even worse. Without all the BS, this is actually a really well made, good looking chronograph.
Face is multilayered, with raised lumed markers, with a big "0" instead of a "12" a subtle tachymeter scale around the edge and the date, outlined in steel, at 6.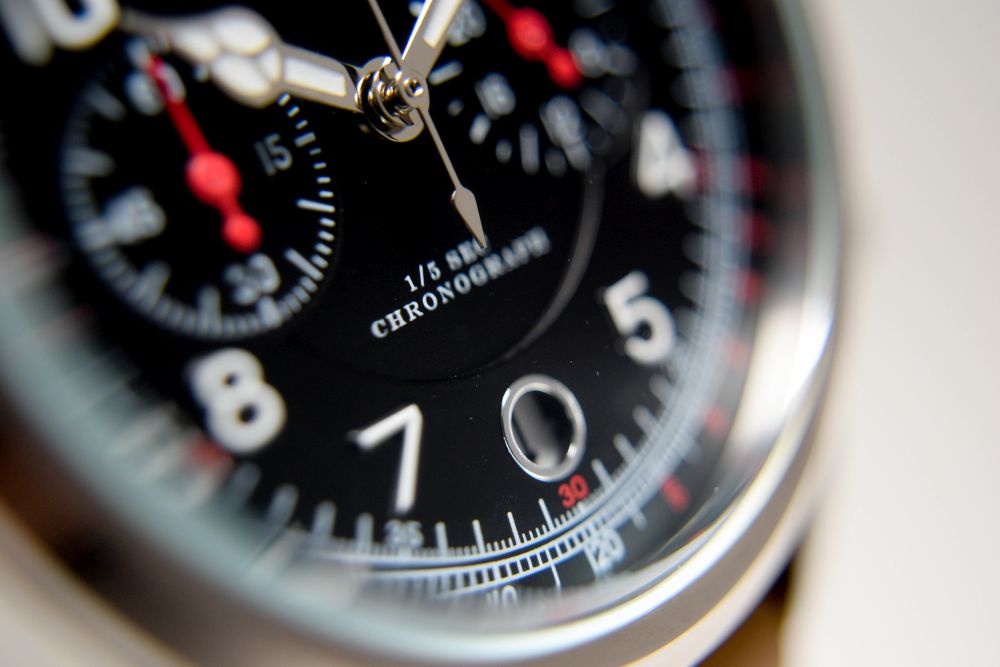 The hands are big, vintage looking, full of lume and very nice. The subdials have red hands to compliment the edge of the chrono hand.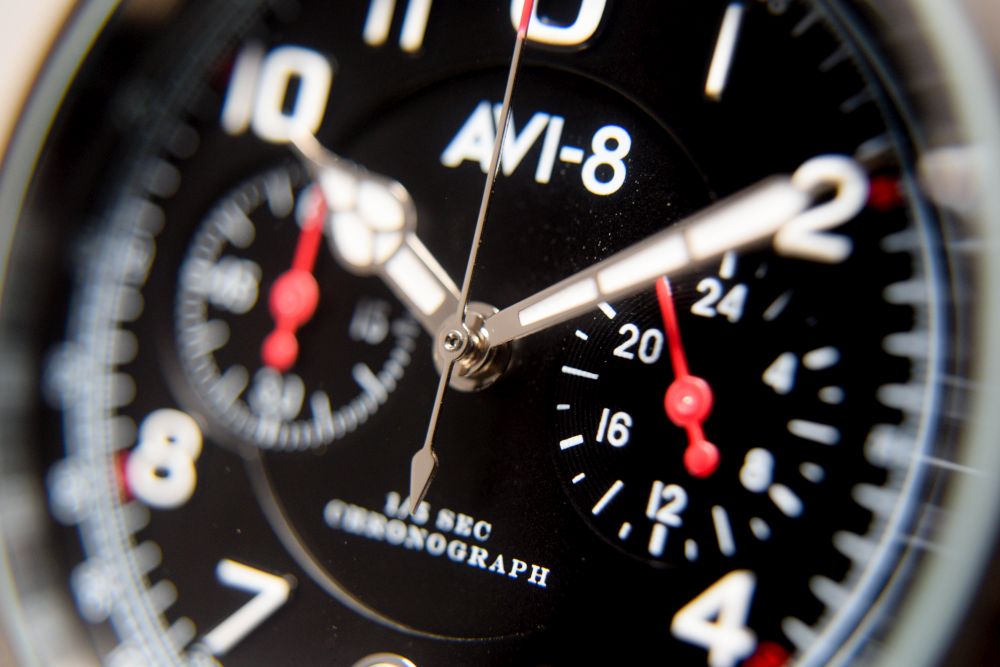 The crown is easy to grip and use. The chrono pushers are fairly anonymous, but work well.

The VK64 is a great movement, like I previously said, the only thing I miss is any seconds indicator. Instead there is that useless 24hour dial instead, but I guess on a "pilots" watch it has a use.
The case is nothing special as far as design goes, but it is decently sized and made. It's nicely polished all over.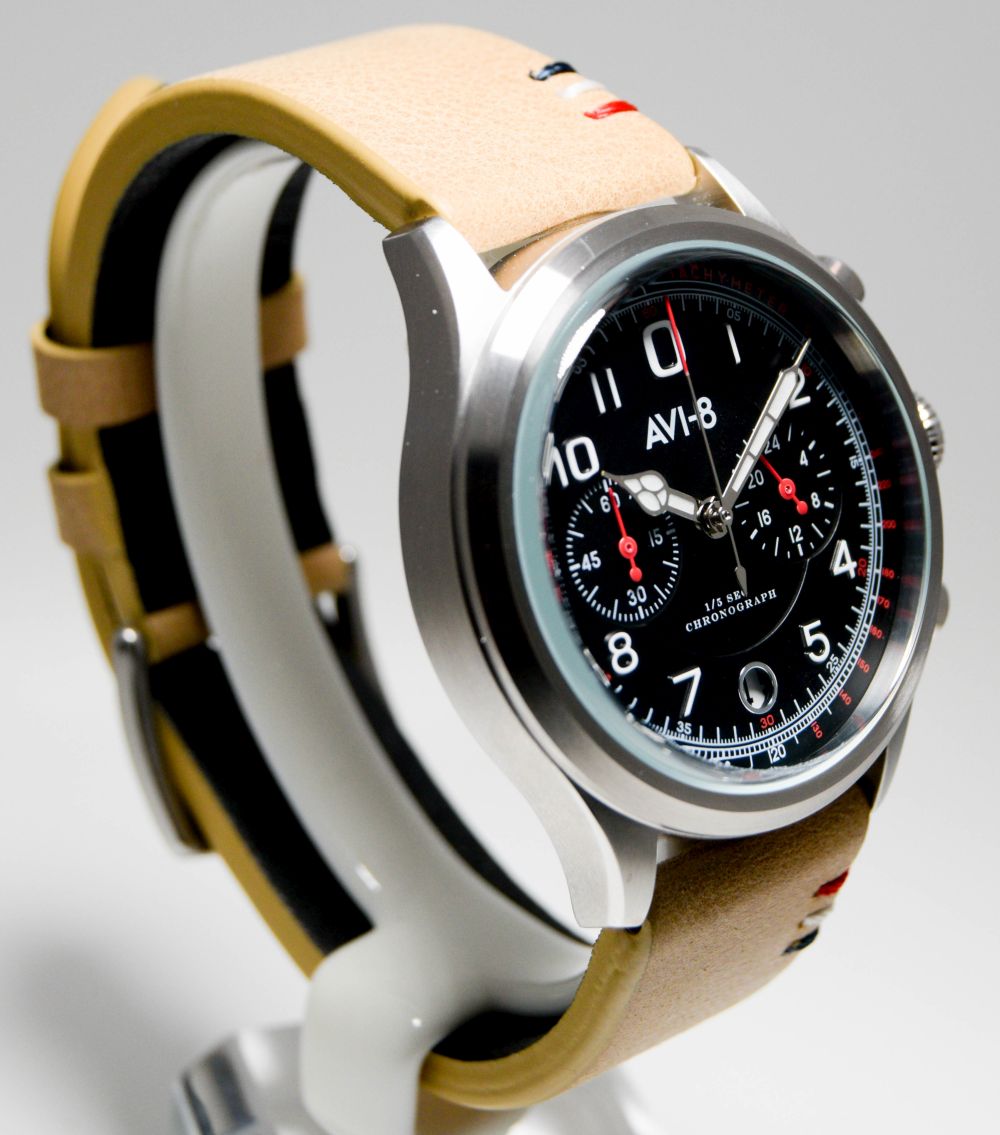 The integrated bezel is also nice and manly.
The crystal stands proud of the bezel and could potentially be subject to damage if hit at the right angle.
The caseback is a simple laser etched job.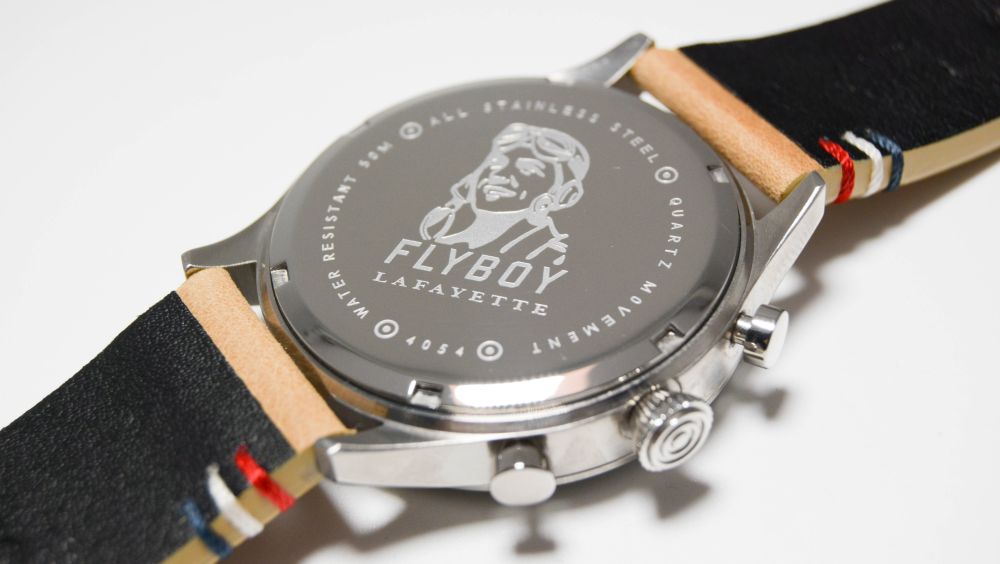 The strap is very nice. It's thick yet supple. The leather has "tanned" just by wearing it and my natural oils and I like that. I also like the blue, white and red stitches. Yeah, this is one of the nicest leathers I've had on a watch and it suits it well, considering I thought black would have been a better bet.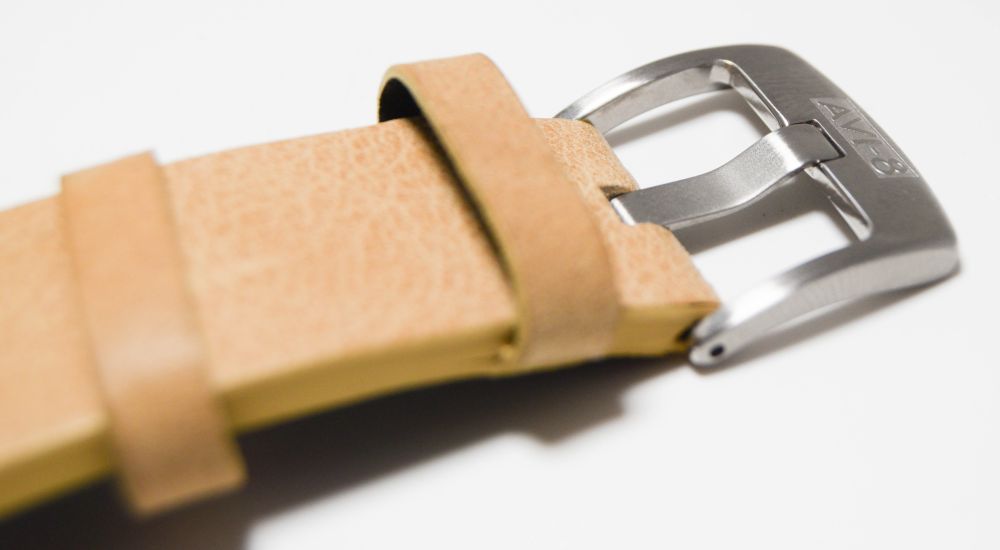 Overall, this is actually a nice watch. It's well made, subtly detailed and very pleasant to wear.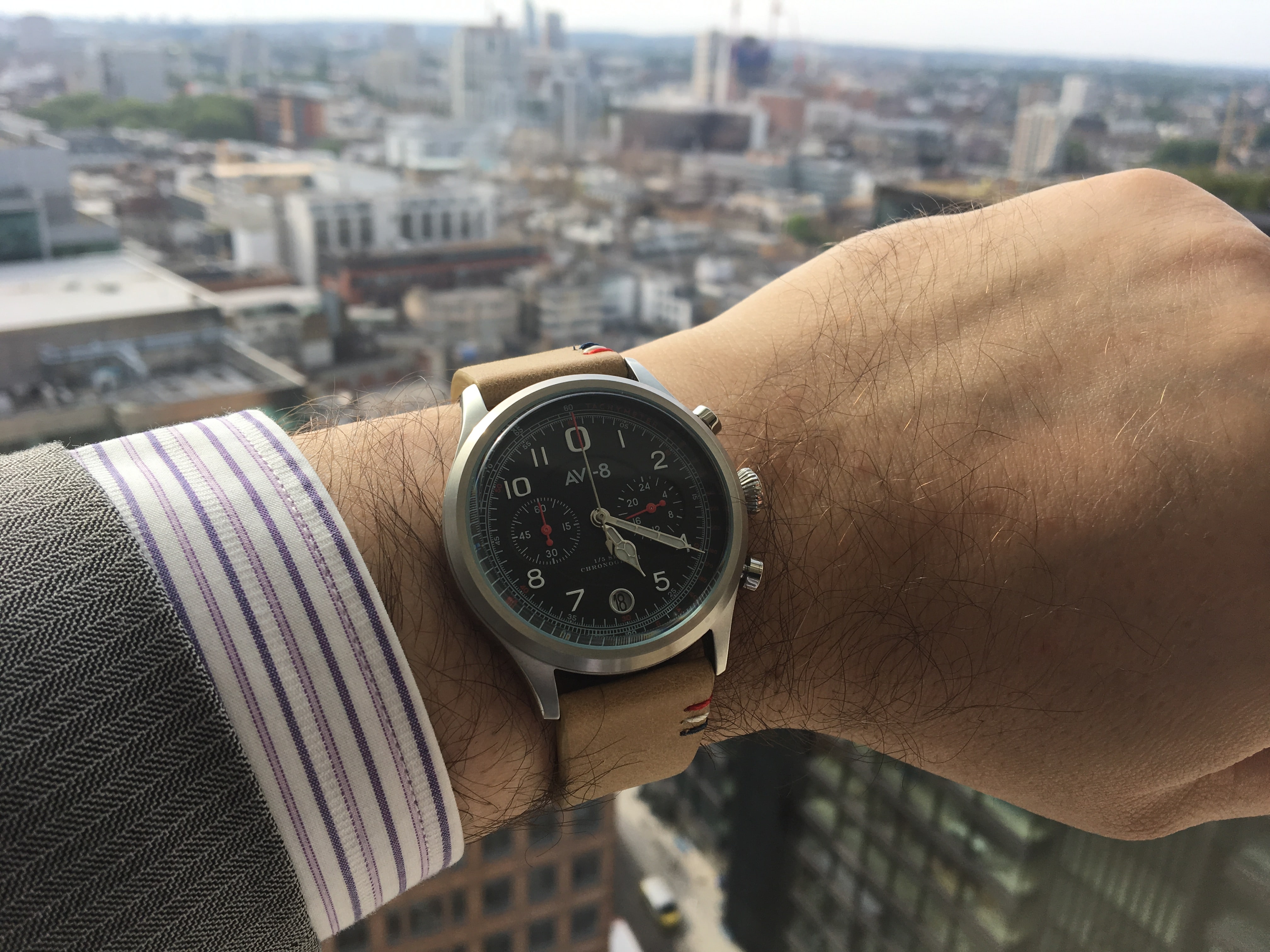 For me personally, it's missing a certain "je ne sais quoi" to make me want to buy one, but if you like the look of it, I don't think you'll be disappointed.
Now we go onto the "Harrier"
AVI-8 HAWKER HARRIER II AUTOMATIC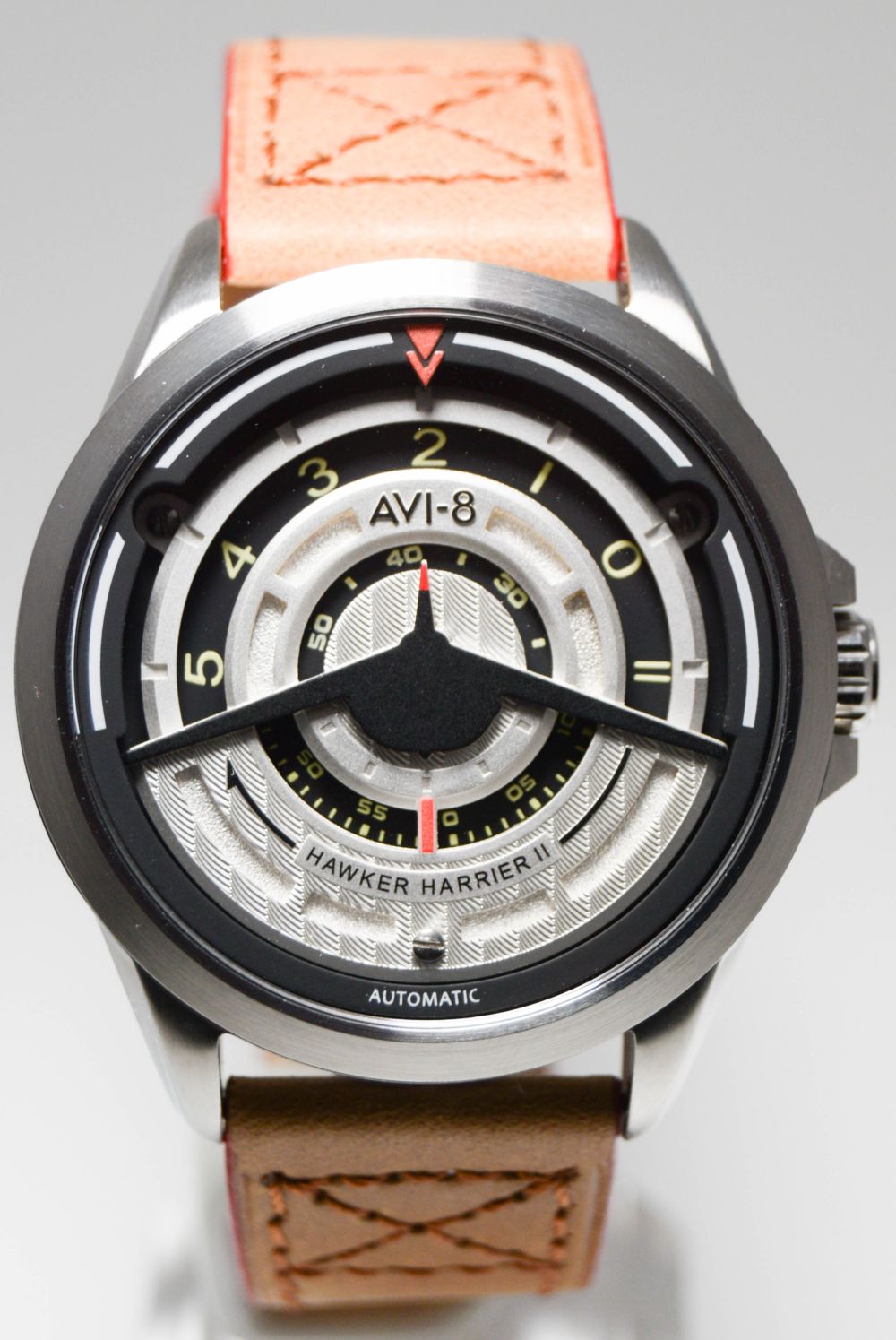 Here's the specs, from the website:
MOVEMENT : Japan Automatic 3 Hands
CASE MATERIAL : Stainless Steel
CASE DIAMETER (mm) : 45
CASE THICKNESS (mm) : 13
CASE SHAPE : Round
CASE COLOR : Stainless Steel
DIAL COLOR : Silver White
BAND : Genuine Leather Strap
BAND COLOR : Brown
BUCKLE : Strap Buckle
BAND WIDTH (mm) : 22
WATER RESISTANCE : 5 ATM
WATCH WEIGHT (g) : 120
Now, the movement on this I'm going to assume it's an 8 series Miyota. I asked if it was a 9 series, they said "yes", but it doesn't hack and is 21 Jewels, so I can only assume it's an 8.
Again, the crystal, unknown.
So, on this one went.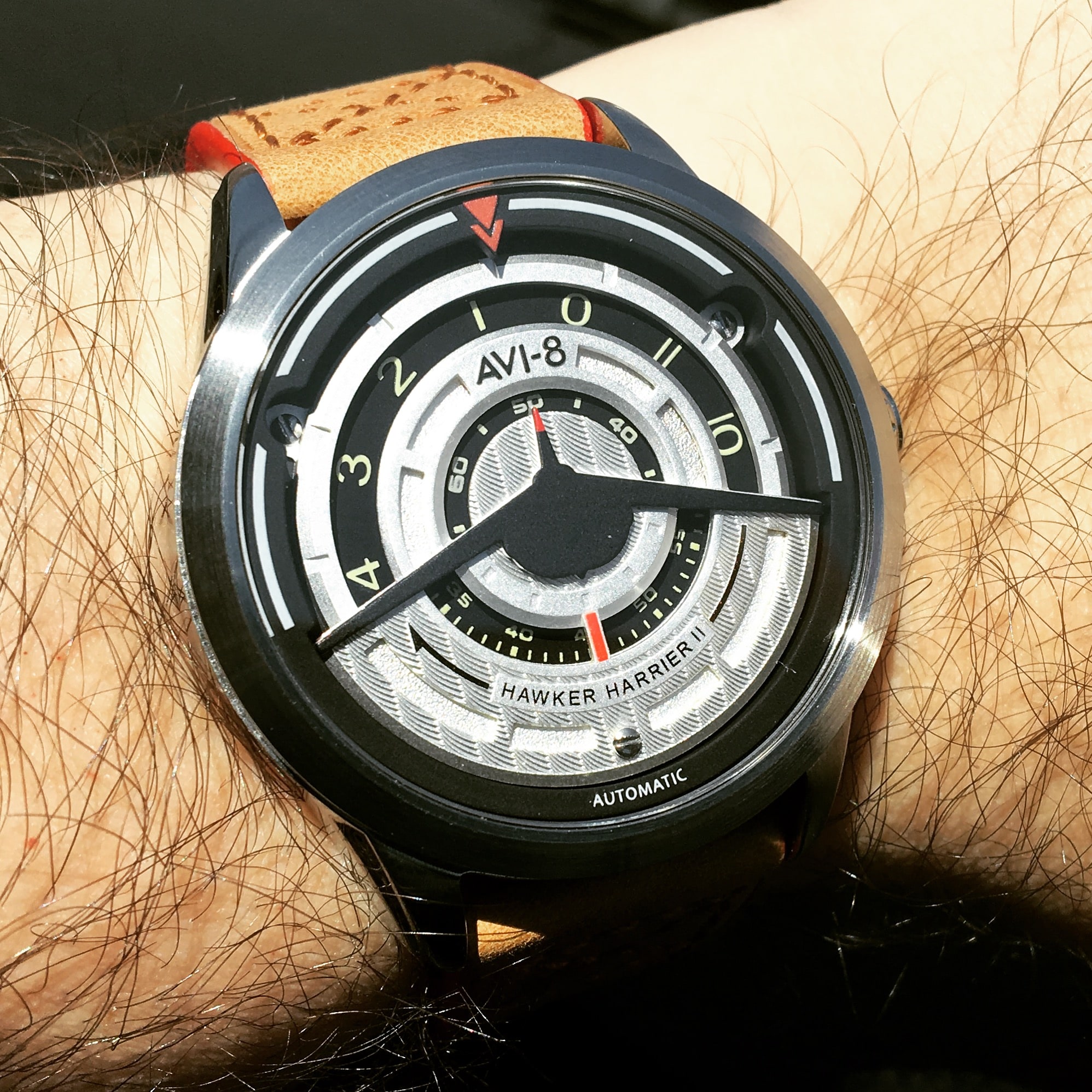 And this is one of the most striking looking watches I've put on my wrist.
Let's get its most striking feature, its handless face, out of the way first. It reminds me of the old "digital" mechanical watches from the 60s. Instead of hands it has 3 disks which rotate. One for hours, one for minutes and one for seconds.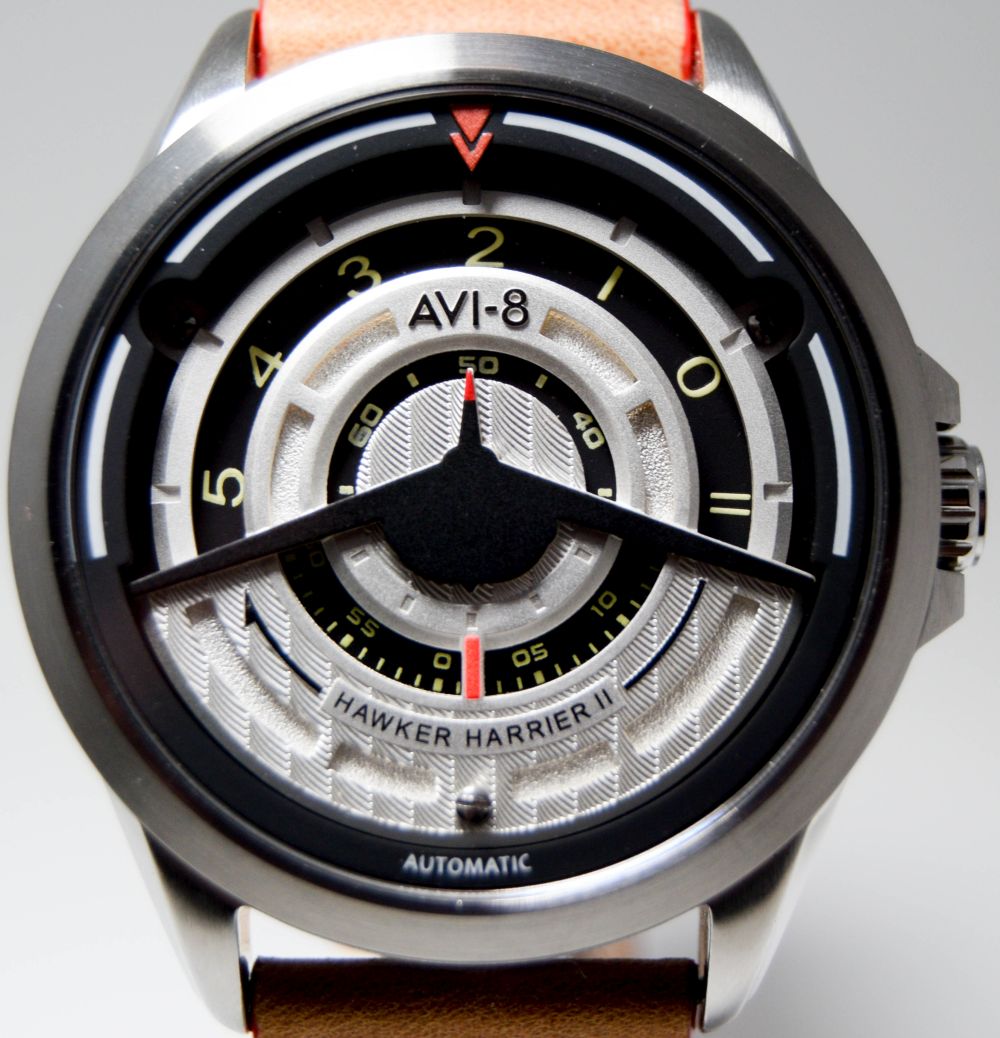 Agreed, this makes the watch harder to read and because there's no lume, it's not really one for the true aviator. But I don't care about either.
This is a really stunning, well made, well engineered and well finished face, considering it looks like it's plastic. The different finishing of different parts, the overall design, which incorporates a silhouette of a Harrier, looks like nothing else I've worn before. This watch got lots of attention and backed it up under close scrutiny. I had to take this watch off my wrist a lot.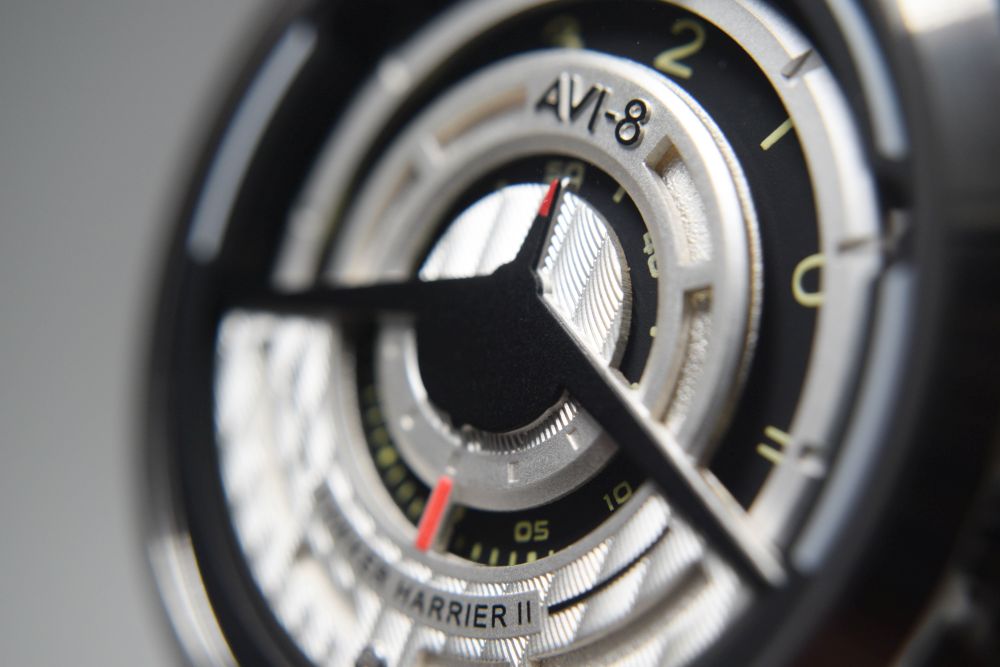 The case itself is nice and substantial too. chunky, but well finished and nicely brushed.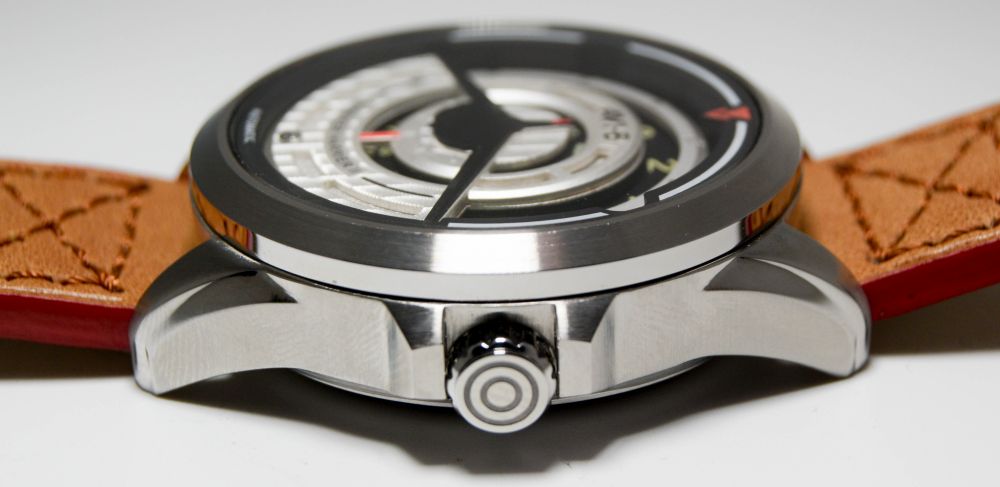 The crown is what it is, but since it has the same logo as on the Flyboy, I can only assume that is the company's signature. It looks like the RAF logo, but without colour.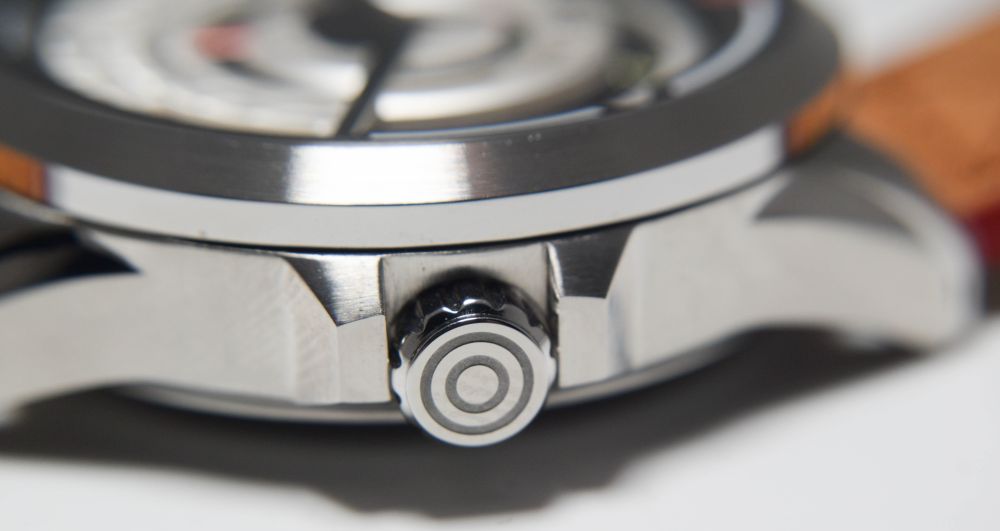 The caseback is see through. The rotor is decorated and it's actually rather nice.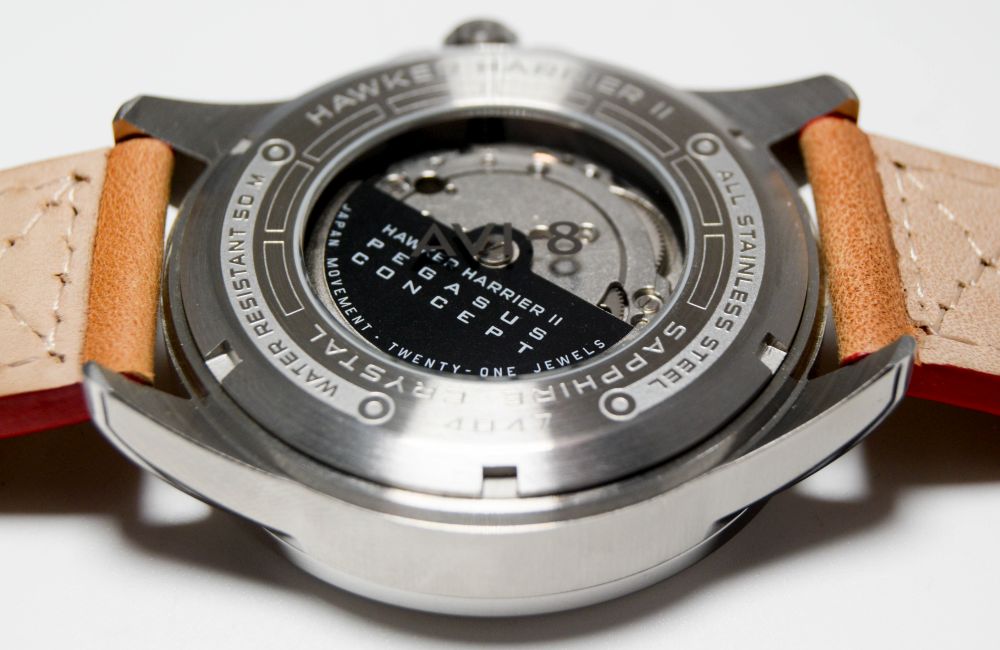 The leather again, is of high quality and really suits this watch, the buckle is plain but signed and nicely brushed.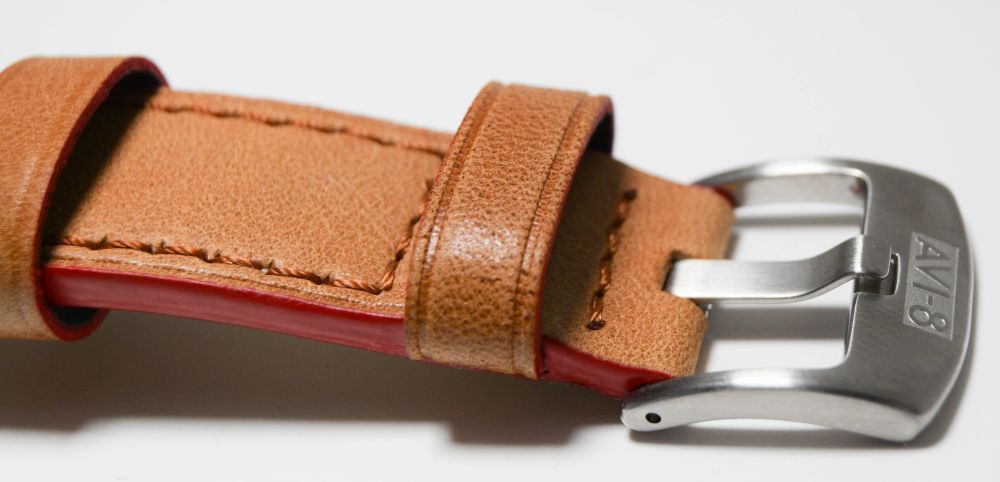 But this watch is all about the face…that 3D Face.

So, this watch costs £350 on the AVI-8 site. The Flyboy Lafayette, is £175.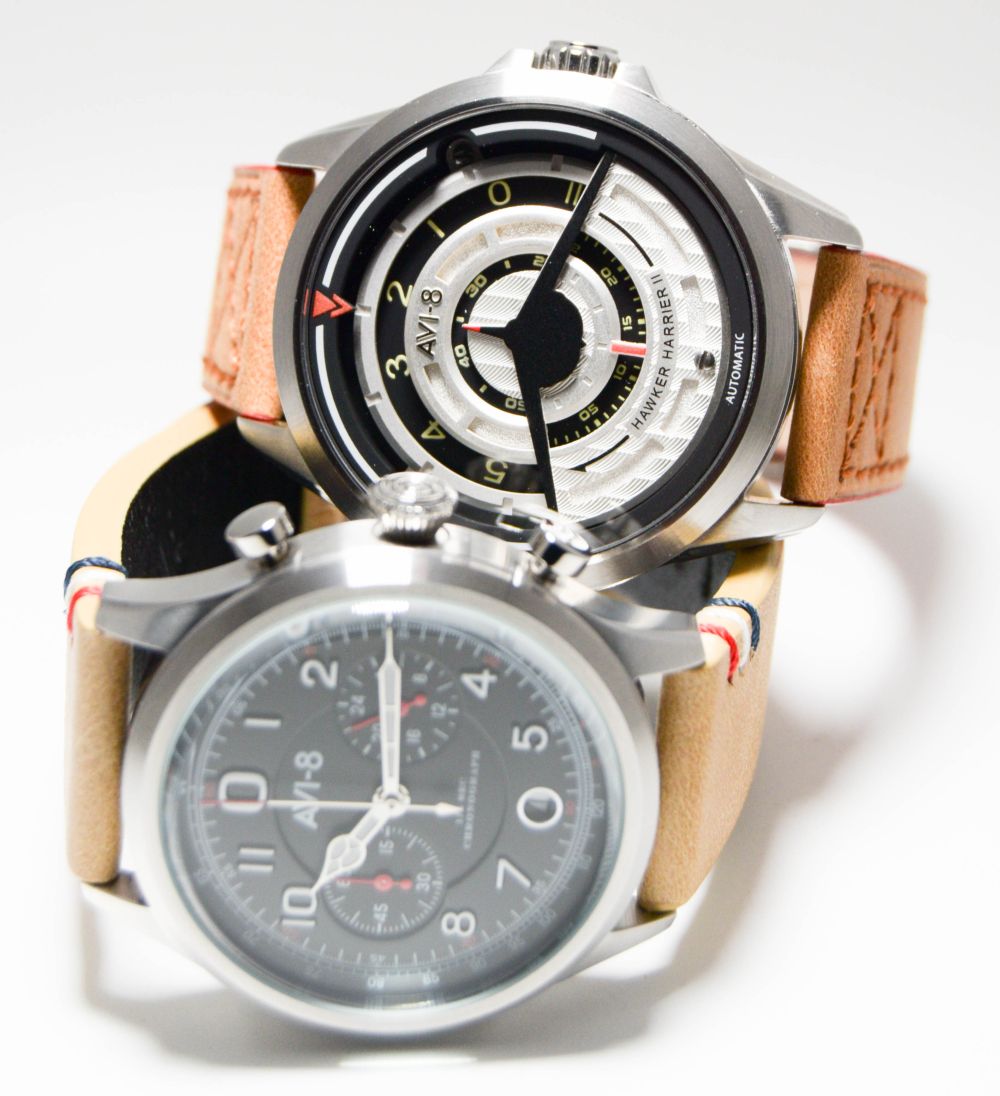 These are hard watches to sum up. On the one hand, they're nicely made,  nice looking watches, that I enjoyed wearing.
On the other, I simply can't get over the marketing and the branding.
The Flyboy is neat, but there are other VK powered chronographs I'd buy in preference at this price. It's a lot better than the Yema Rallygraf however 🙂
The Harrier, I so wanted to love, but I can't get over it's name (right there on the face) nor the Harrier silhouette, slap bang in the middle. If it lost those, then I think it would be a watch I'd consider. But again, if that doesn't bother you, indeed if you're really into your planes it might be a bonus, then I don't think the watch will disappoint.
To be fair, I wasn't expecting much from these watches when I agreed to look at them, after reading the brands webpage whilst they winged their way to me (pun intended), but they did surprise me as they are nice watches…but the "secret sauce" isn't appealing to me because I'm not really a plane man and have nothing to do with aviation.
If it does to you however…