I've reviewed three Audaz watches to date; the Bronzmatic, the Scuba Master, and the Gallant. All three have been pretty solid watches for the money. Looking at the ethos of Audaz, I'd say they've hit the nail on the head:
"Audaz Watches specializes in developing Professional Dive Watches with right technology and best quality components to withstand the high demanding challenges for your underwater adventures."
Their latest model, the Octomarine, builds on the successes of those previous models. In fact, I'd say it's their best yet. Let's check it out.
The specs
Dimensions: 42mm diameter x 16mm height x 51mm lug to lug
Weight: 205g
Water resistance rating: 50ATM / 500m
Movement: Seiko NH35
Accuracy: +11.4 sec/day
Lug width: 22mm
Warranty: 2 years
Price: $425, use 30% off code WIAA30 to make it $297.50 / ~£230
The video review
The case
Let's first consider how it wears. Whilst the diameter of 42mm isn't that big on its own when you combine that with the relatively long lug to life length of 51mm, and the definite tall height of 16mm, it wears like a chunky beast. There's no doubt about it, this is a lot of steel, and for many, that'll make this watch a real winner.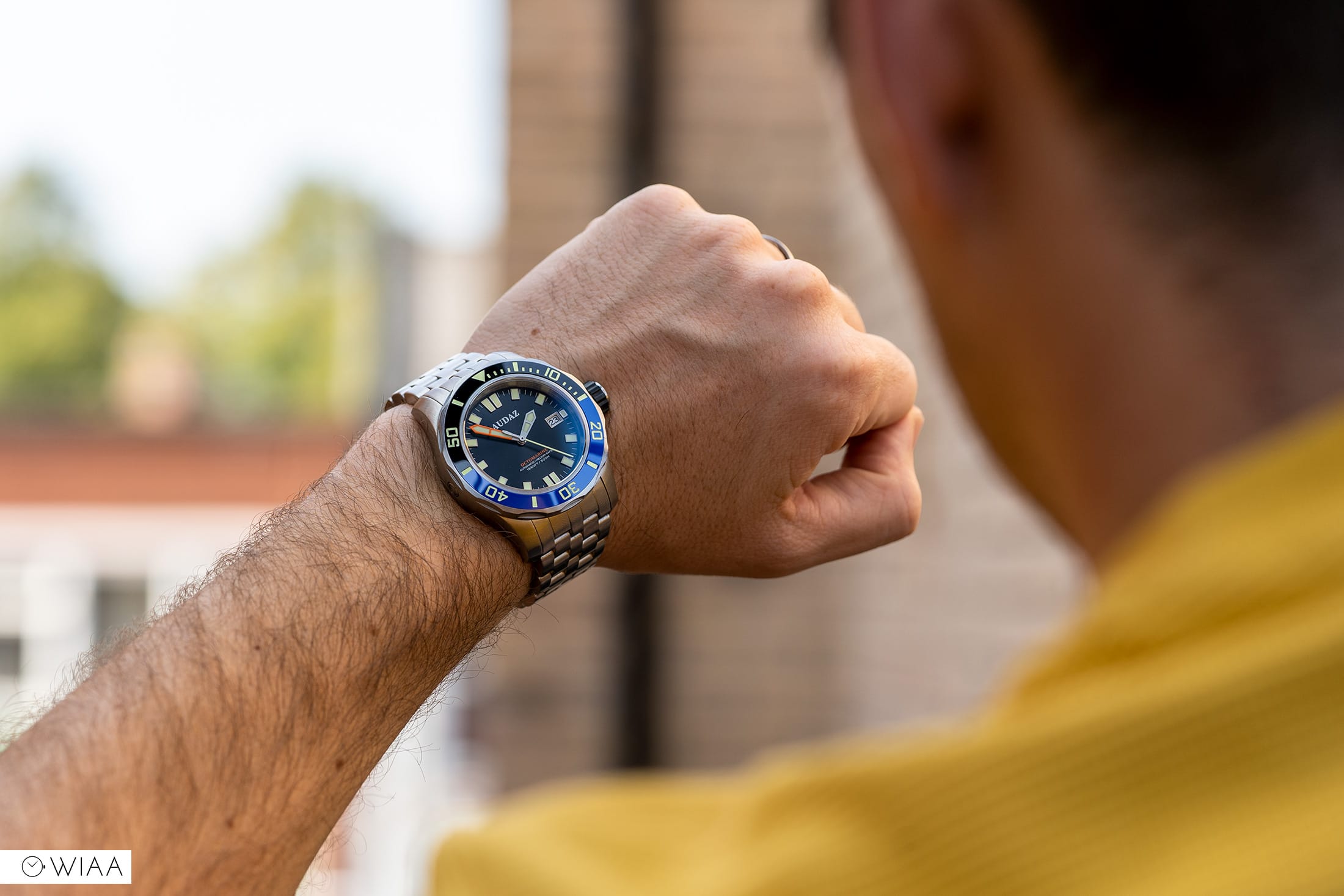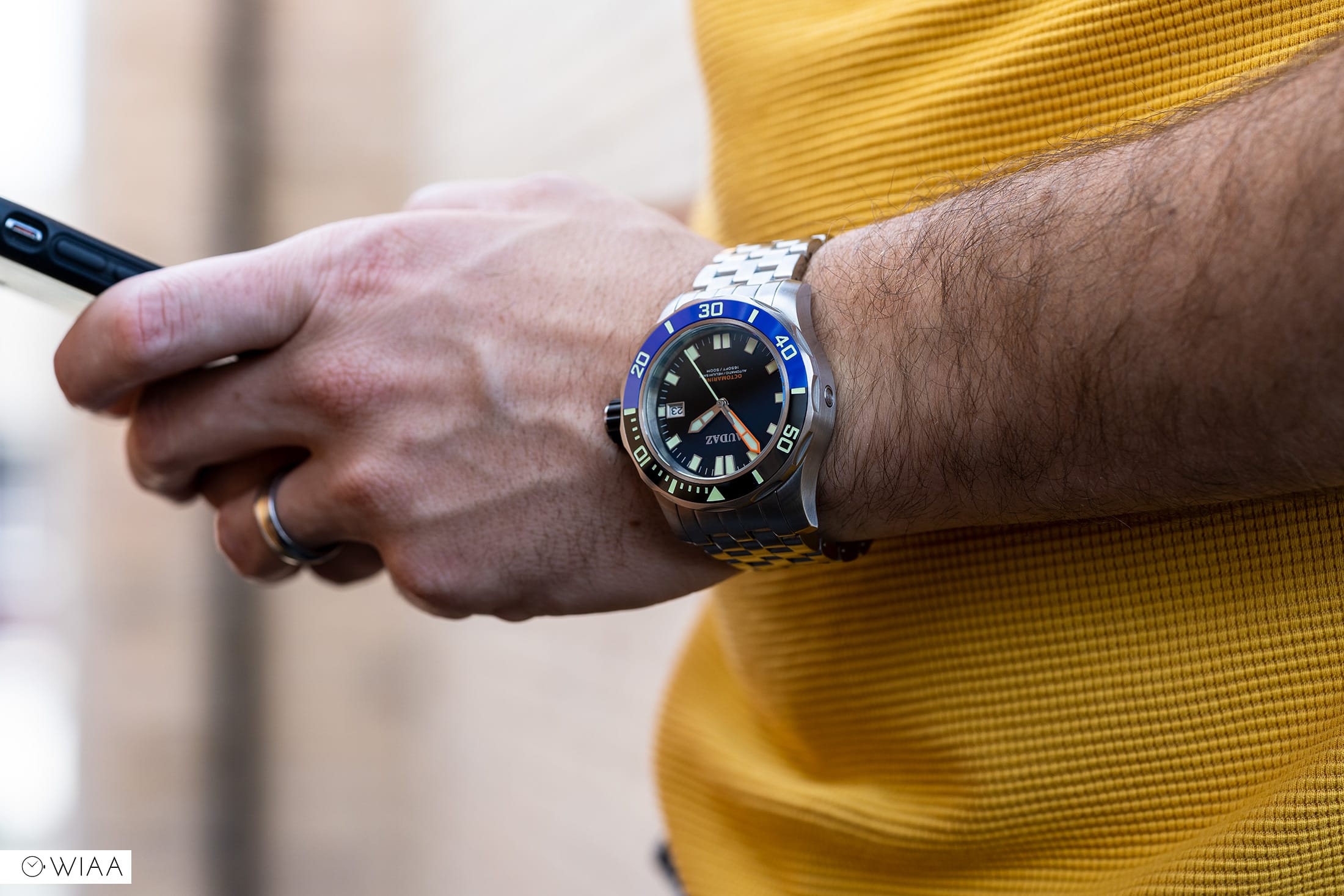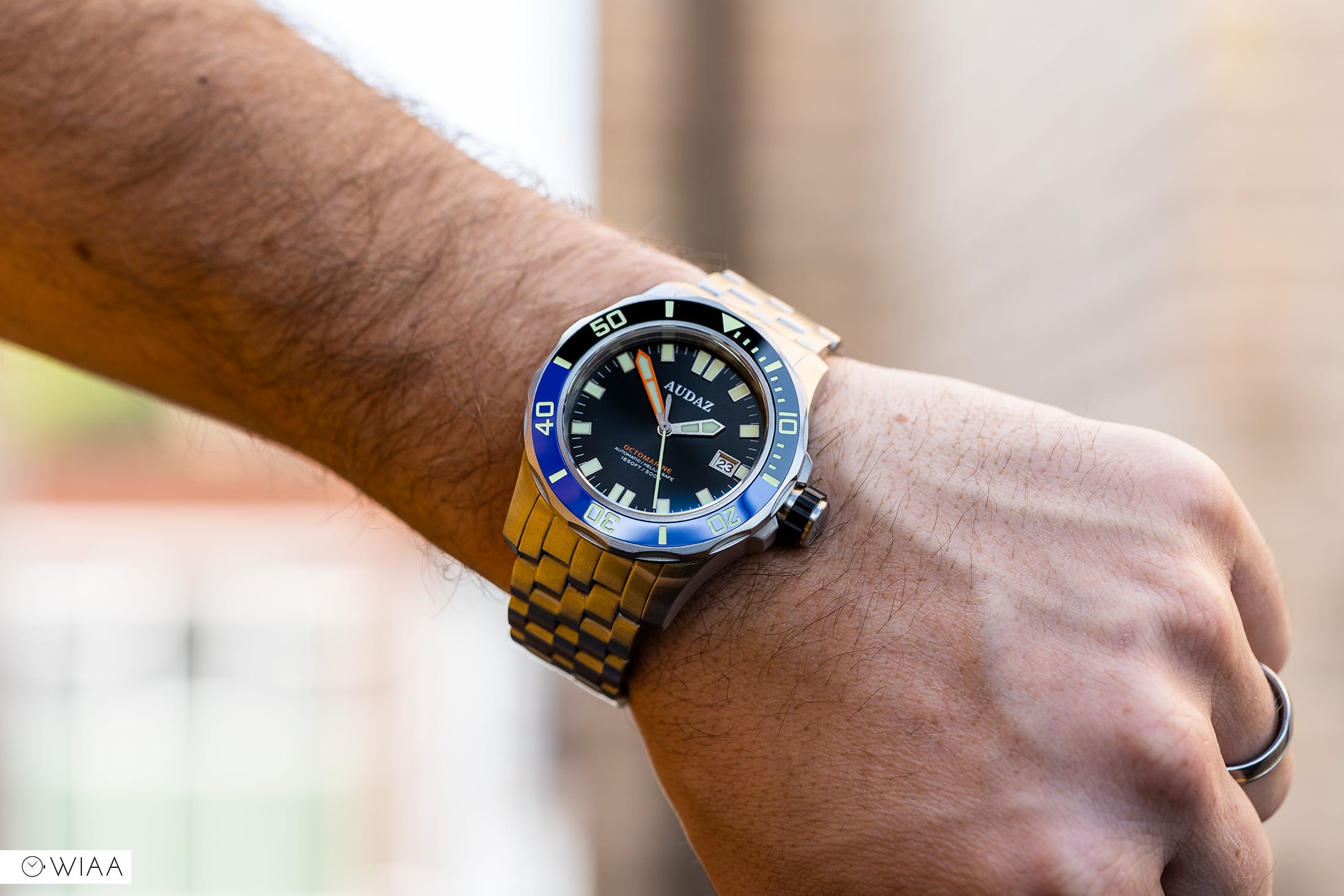 Of course, the 16mm height is mainly due to the rather insane and highly impressive water resistance rating of 500m. This does limit it in terms of wearability; I can't imagine it's the most comfortable in a suit (if you can even get it under a shirt). There's a lovely cheeky little HEV (helium escape valve) on the side of the case; showing that this is the real deal.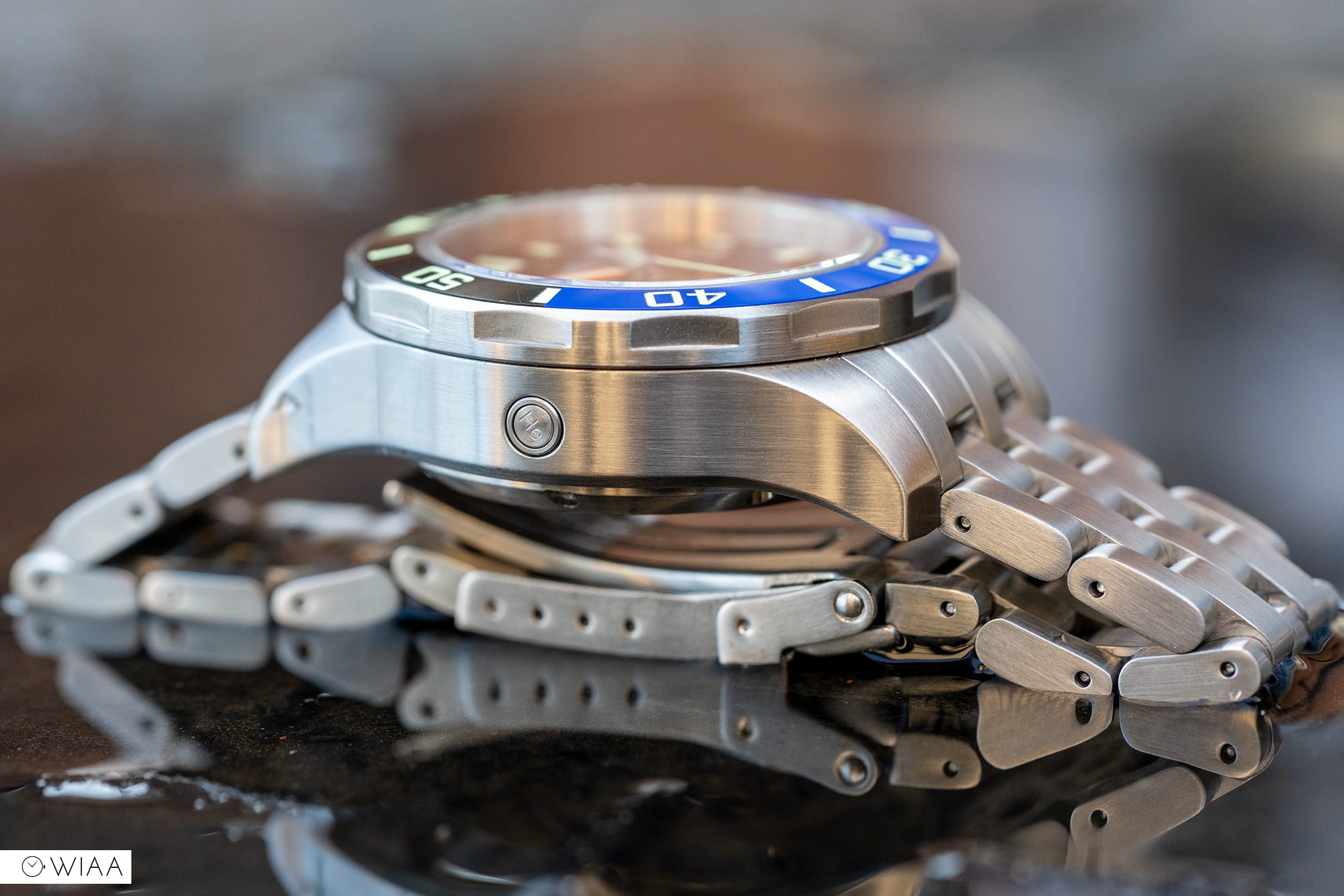 The Octomarine has a 120-click uni-directional bezel loaded with a two-tone ceramic insert. The black and blue is reminiscent of the Rolex GMT Master II, which is a solid nod to a classic watch. The notch edging makes it easy to grip, and the action is beautifully smooth providing a lovely click.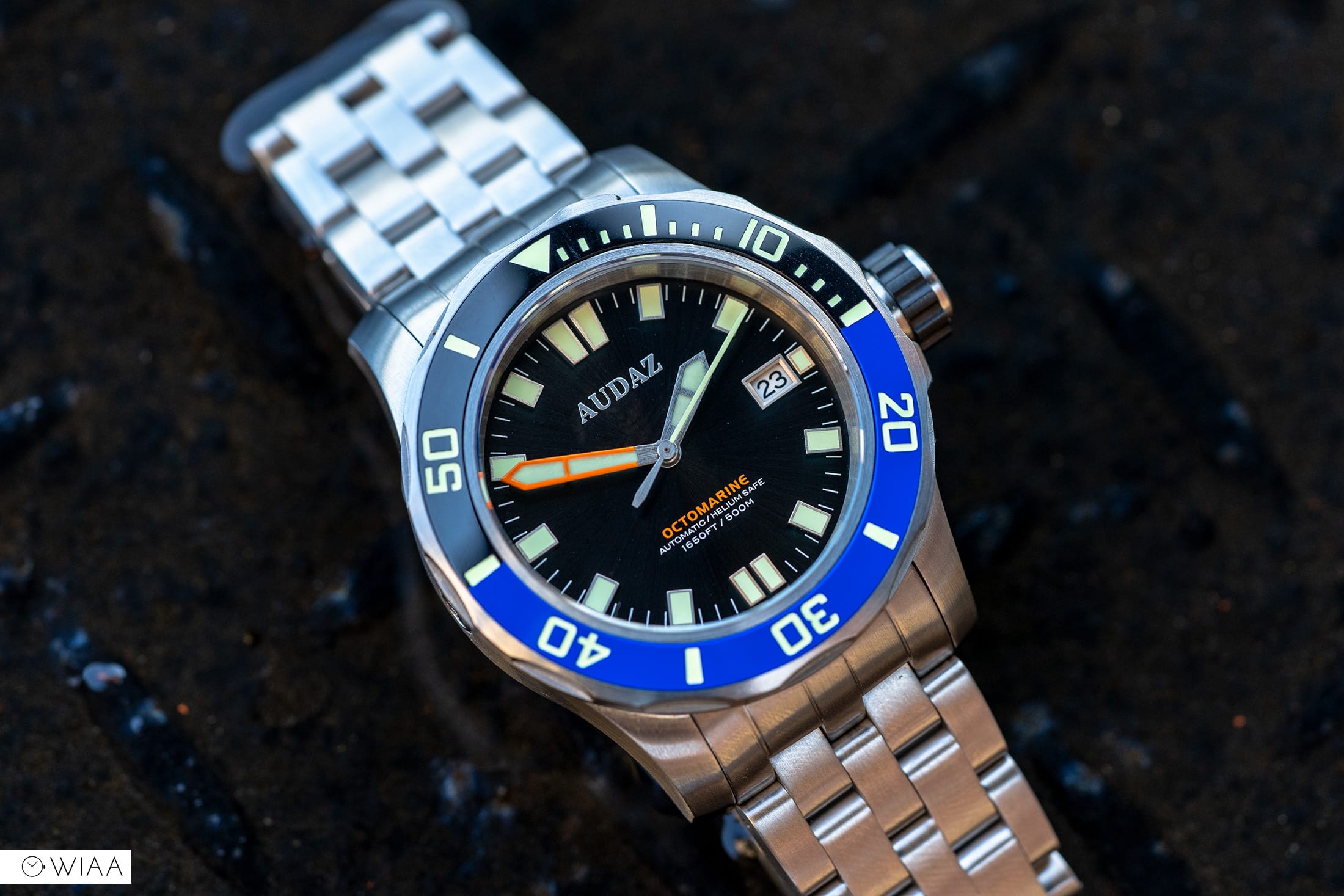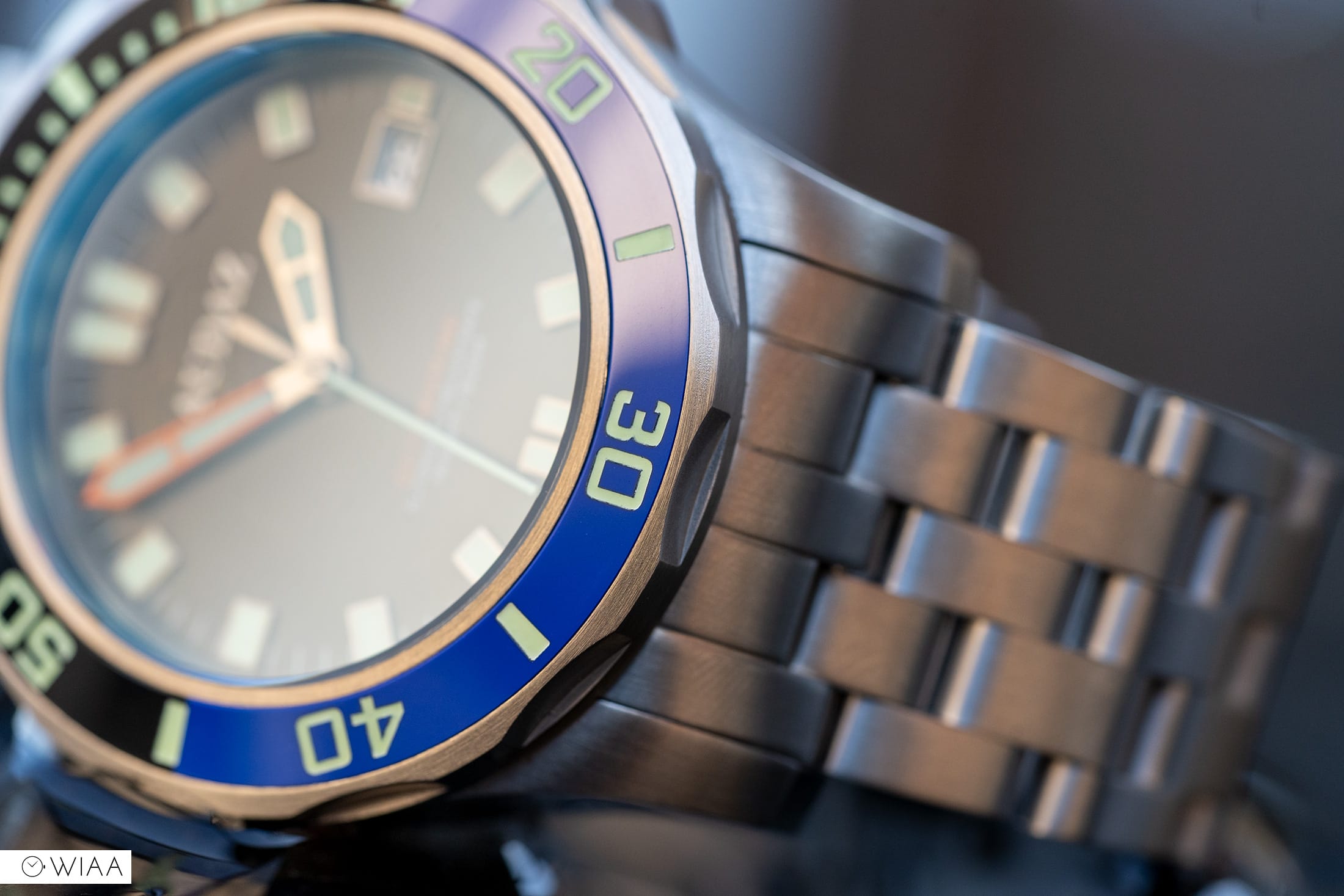 The flat sapphire crystal is a great plus thanks to its scratch-resistant properties. I've no doubt it's pretty thick too, due to the water resistance rating. However, I feel it could do with some sort of anti-reflective coating on the underside – as it's a little bit reflective.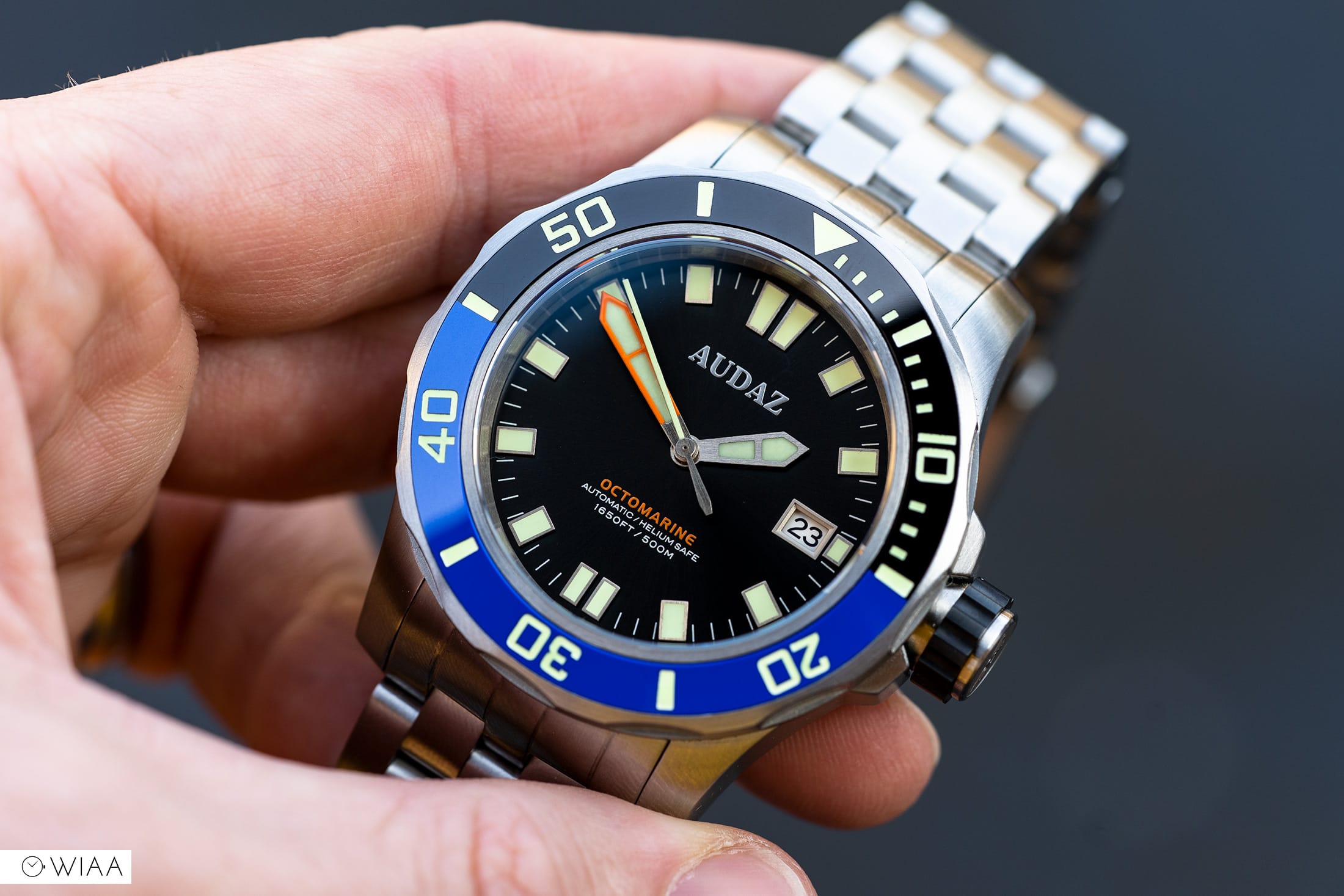 The screw-in crown has a plated steel grip and protrudes out quite far. It makes it very easy to use, but a bit of an eyesore. It also features the Audaz logo neatly engraved on the end.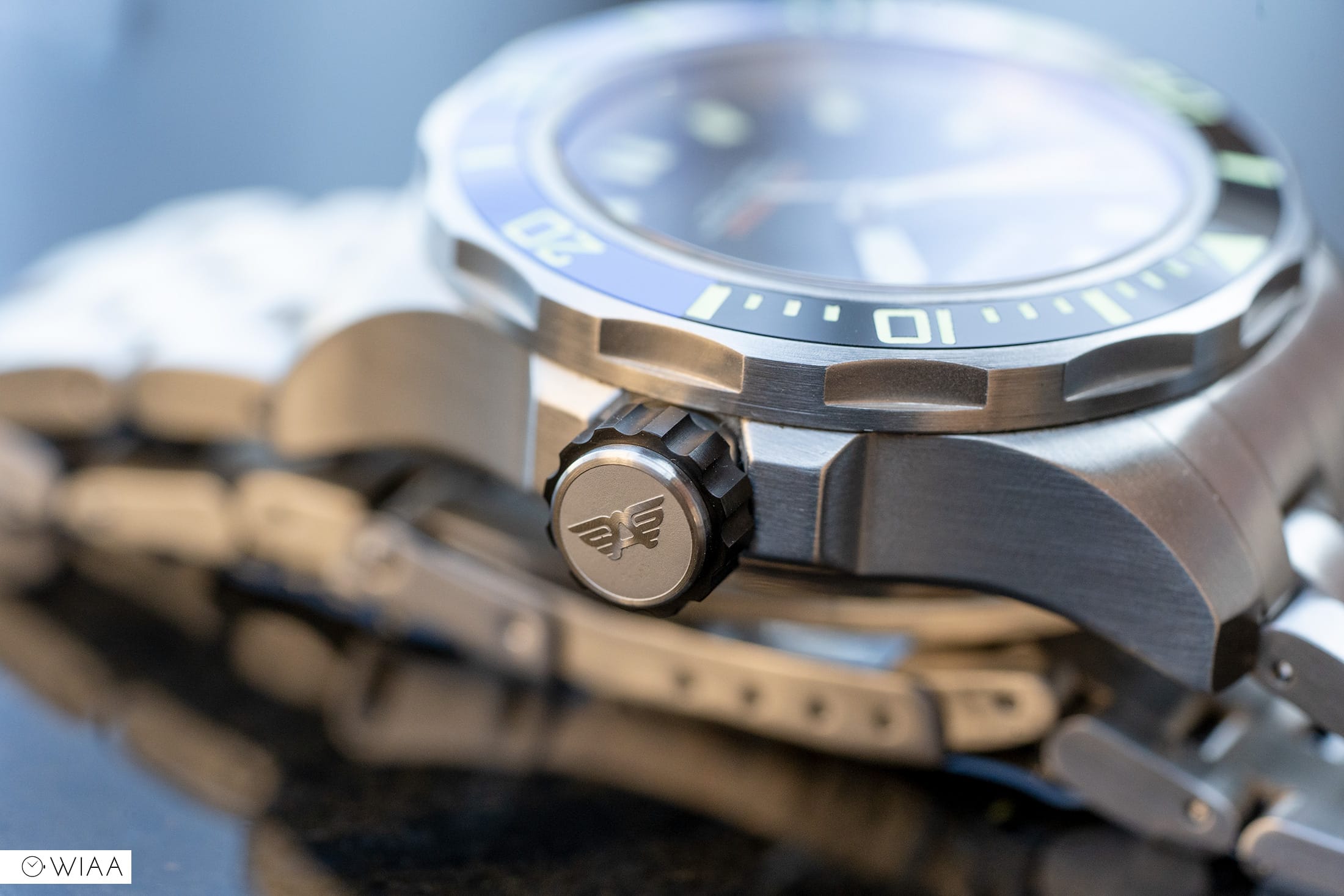 The caseback is a real treat. It features an insanely detailed deep stamped octopus motif in the centre, and to get this kind of steelwork on a watch costing this much is quite simply absurd. Various specifics and the Audaz logo are deeply engraved surrounding it.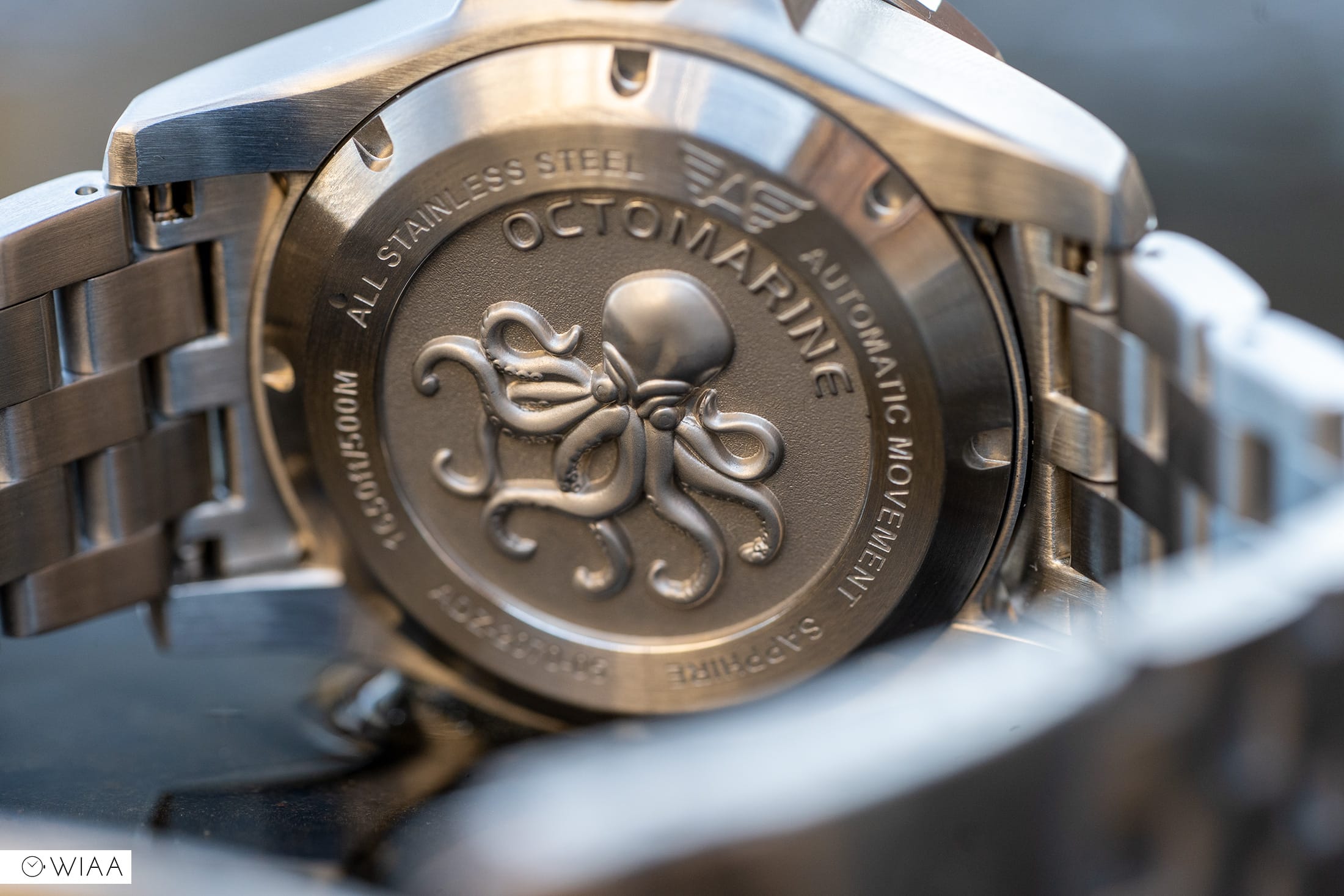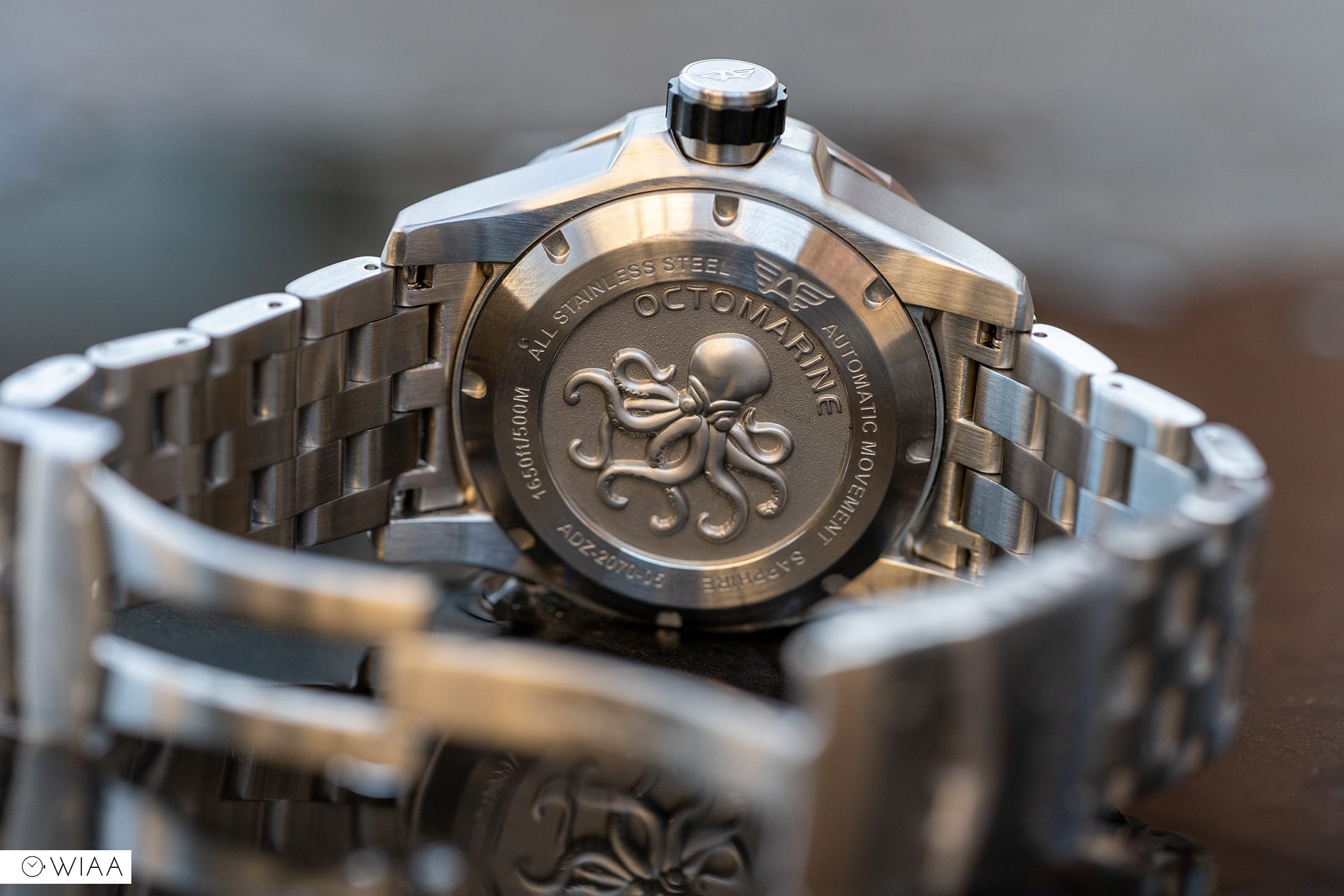 The dial
The dial has a black sunburst backdrop, which means good legibility when the chunky hour markers and hands are involved. It's a subtle sunburst, just enough to catch the eye at certain angles.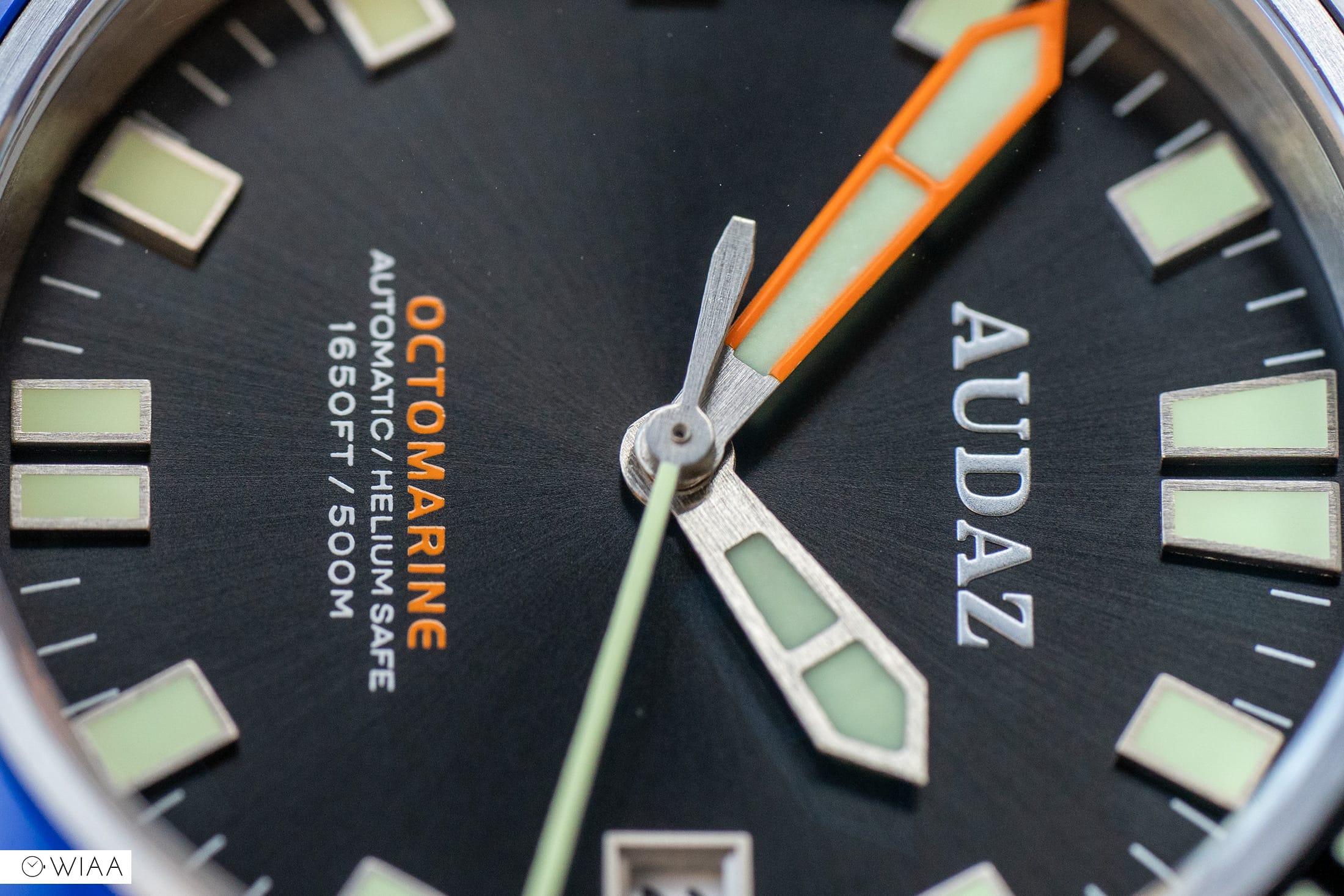 One thing that always impresses me, is deep, chunky hour markers. It shows attention to detail and good build quality. That's certainly the case here.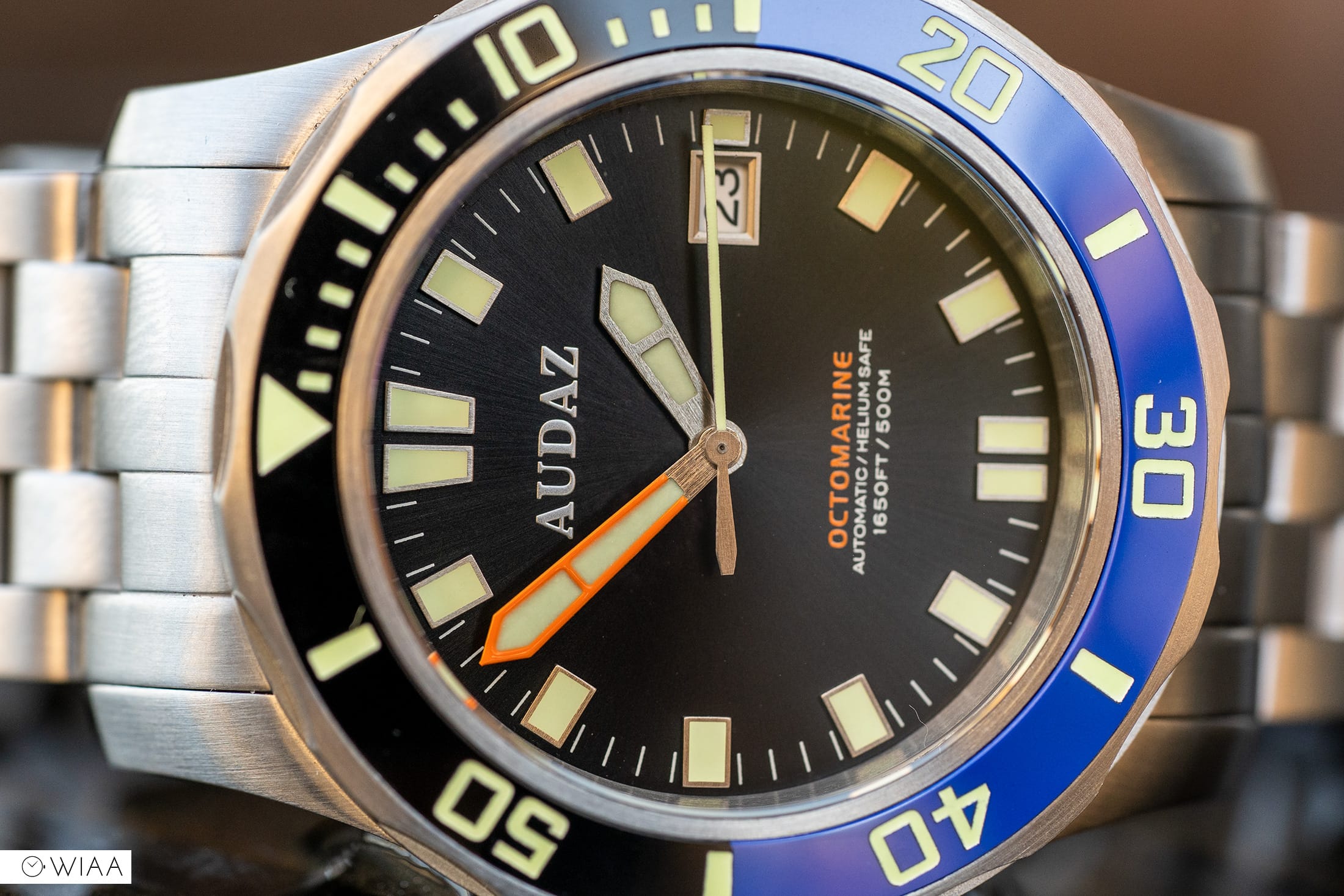 In addition to the bold hour markers, we have complimenting highly legible sword hour and minute hands, with an orange border around the minute providing a splash of colour. The seconds hand is a straight white stick with a slight bulge acting as the counterweight.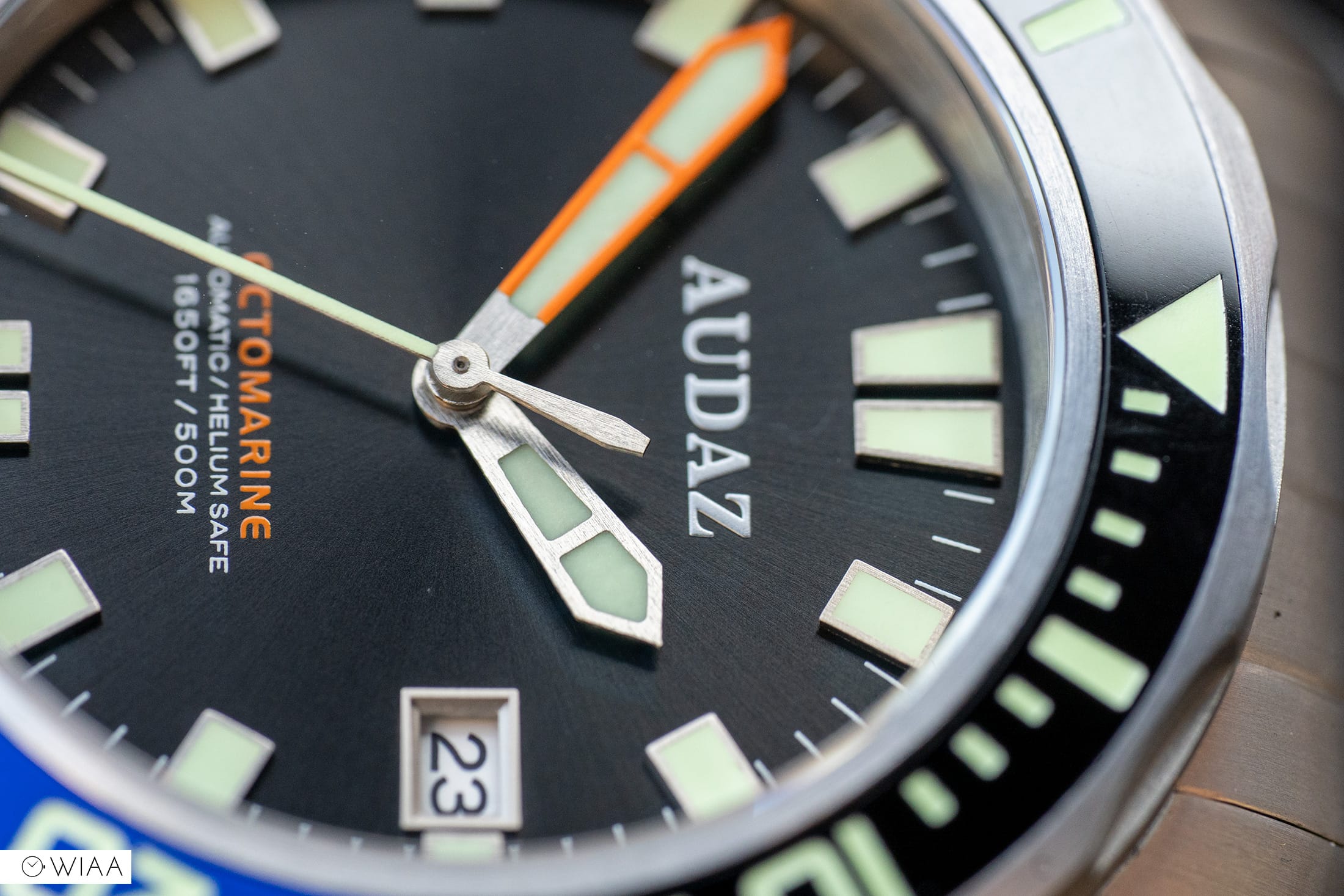 On to the logo, which is probably my biggest issue. Thinly applied logos like this one always end up looking a bit cheap, and can often cheapen the overall look of a watch. Whilst it's not quite that drastic with the Octomarine, it's a real shame to see this thinly applied logo when a simple printed job would have looked so much classier and better.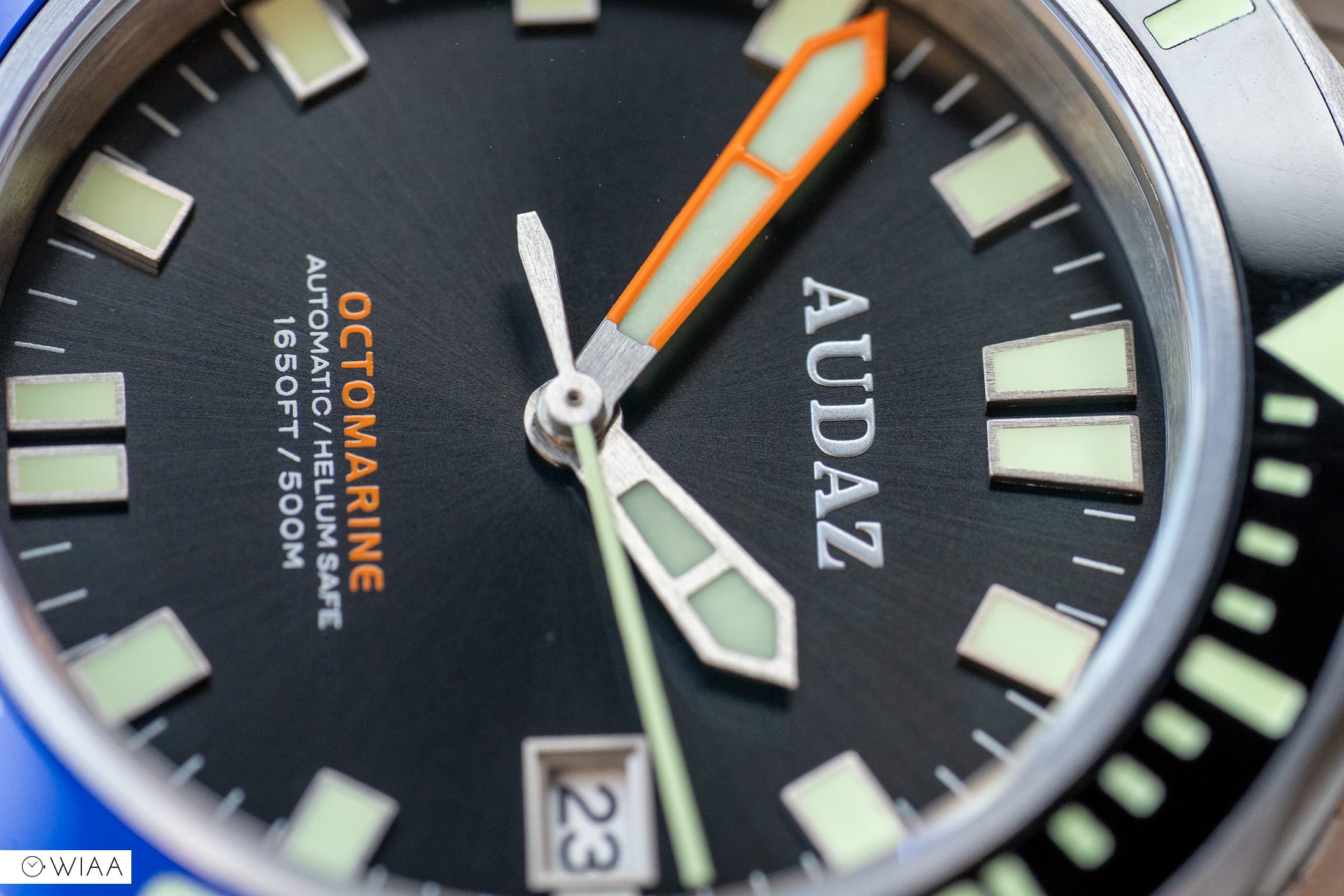 The date window at 3 is surrounded by a neatly brushed border to match the finishing of the hands and hour markers. Some may complain that the date wheel is not colour matched with the dial, but in the interests of legibility, I feel a white date wheel stands out more and is easier to read.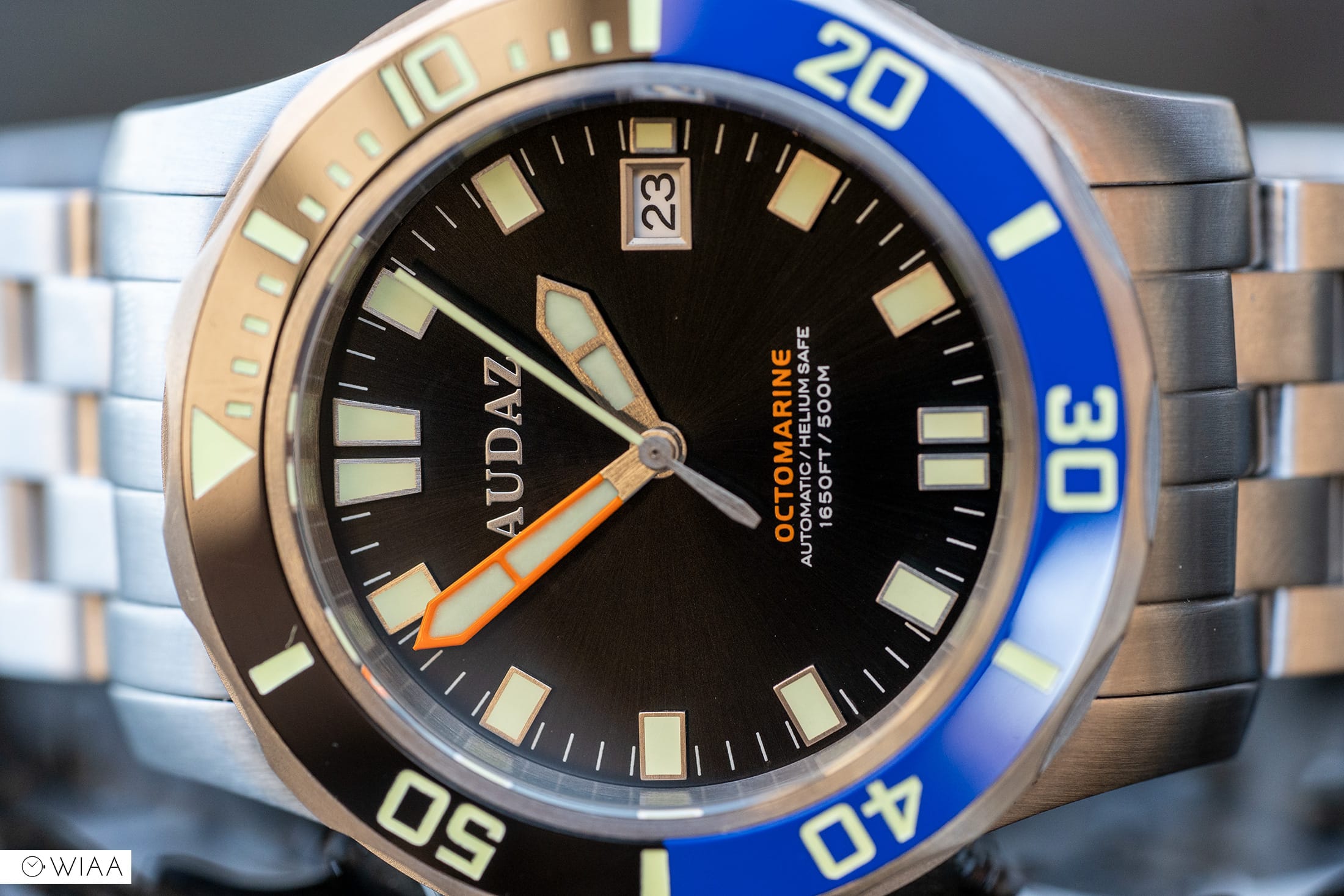 The dial and bezel insert has been slathered with Swiss SuperLuminova. It's strong, quick to charge, and lasts a good amount of time. It's the kind of strength where you see it glowing after coming in from daylight into a darker room – I love that.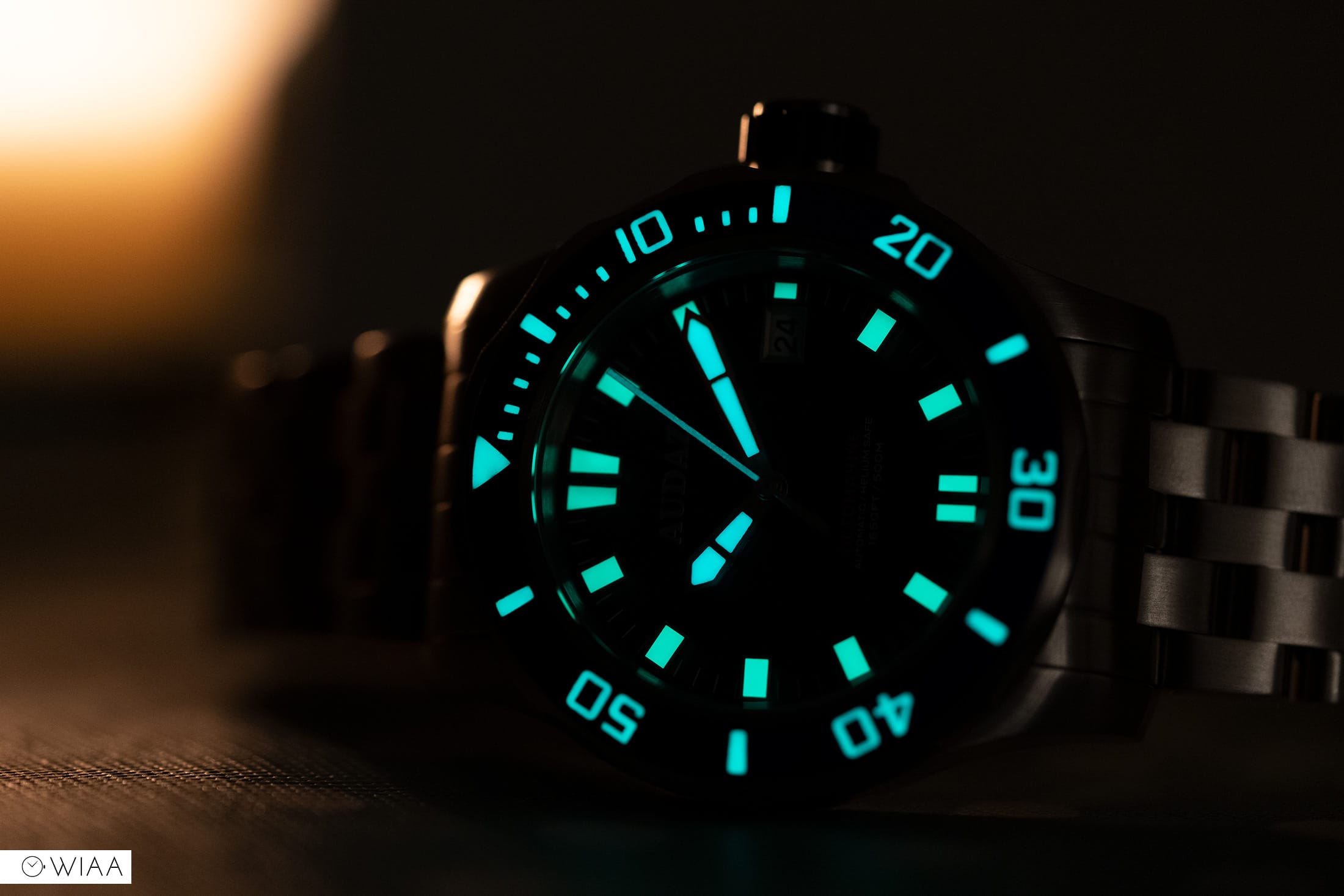 The bracelet
The bracelet is as chunky as the case, it's very well balanced to counteract the weight of the watch head, and gives the impression of solid and dependable build quality.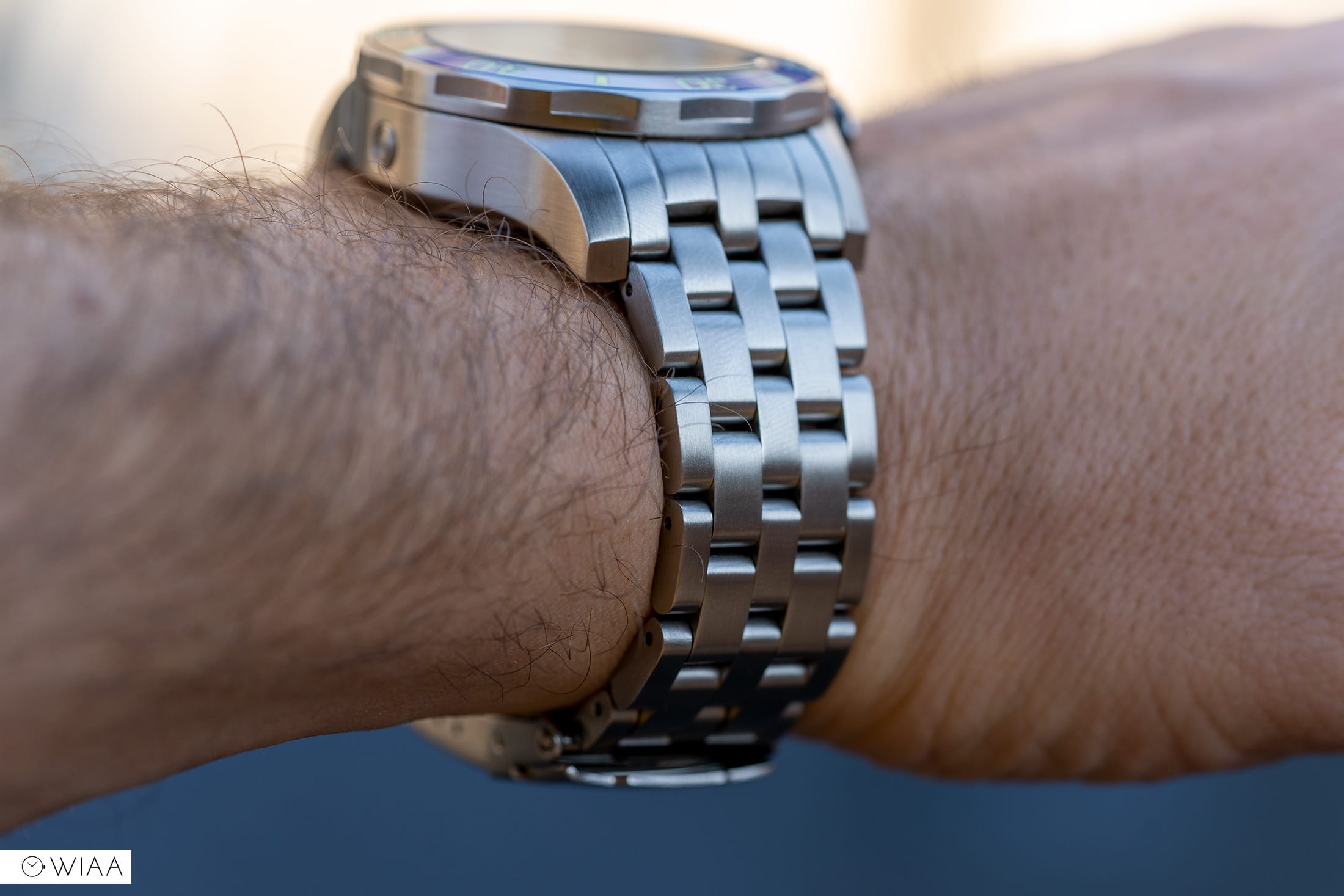 Each link is made up of 5 individual links, and resizing it wasn't too bad – there were two small collars within links 2 and 4, so make sure you don't lose them!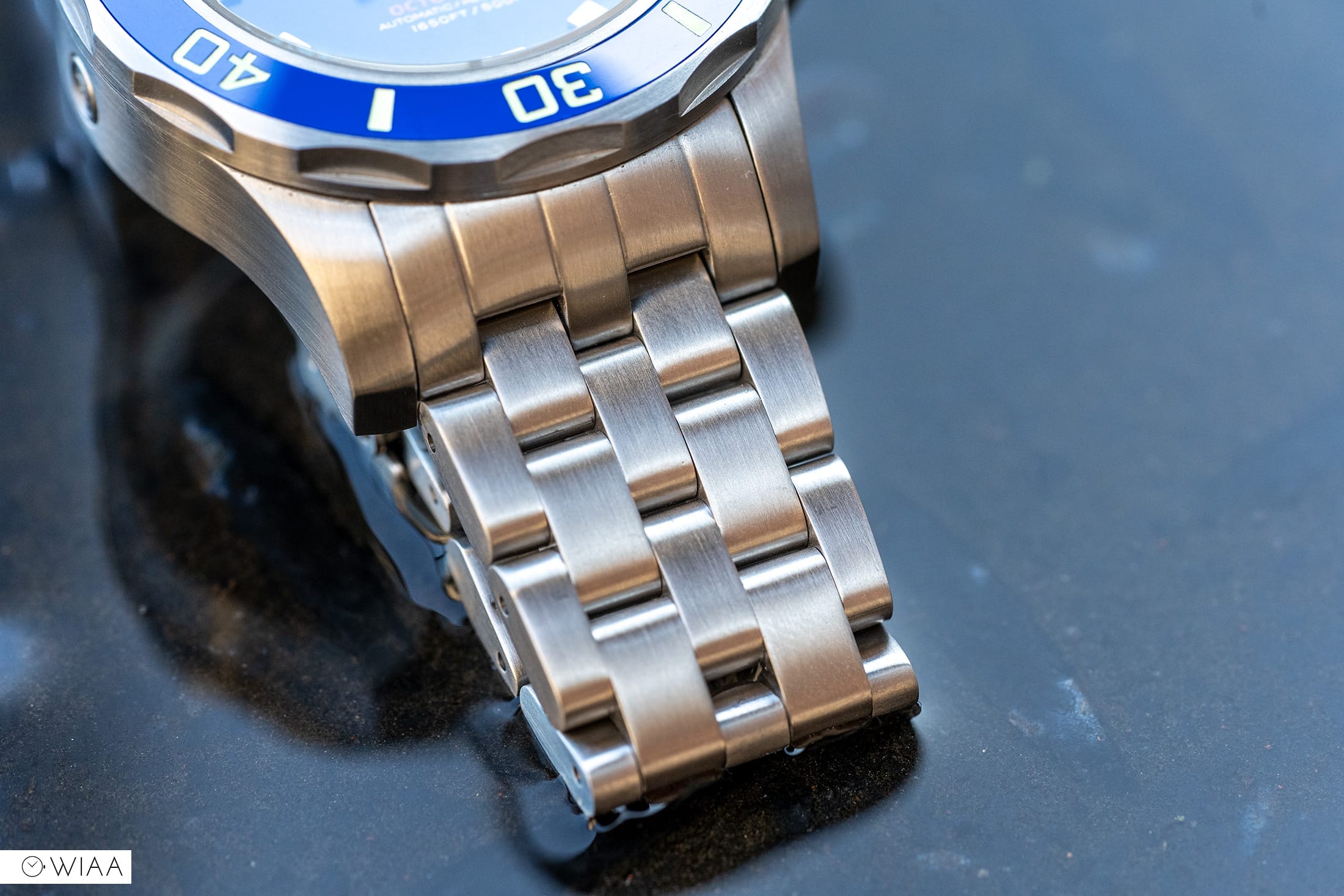 The links are quite short, and when coupled with the 4 minor adjustment points on the clasp, you can get a pretty perfect fit. They're all very deep and well manufactured, creating a very contoured wear on the wrist.
The double locking clasp is simple, secure and no-nonsense. The Audaz logo is deeply engraved on the main section.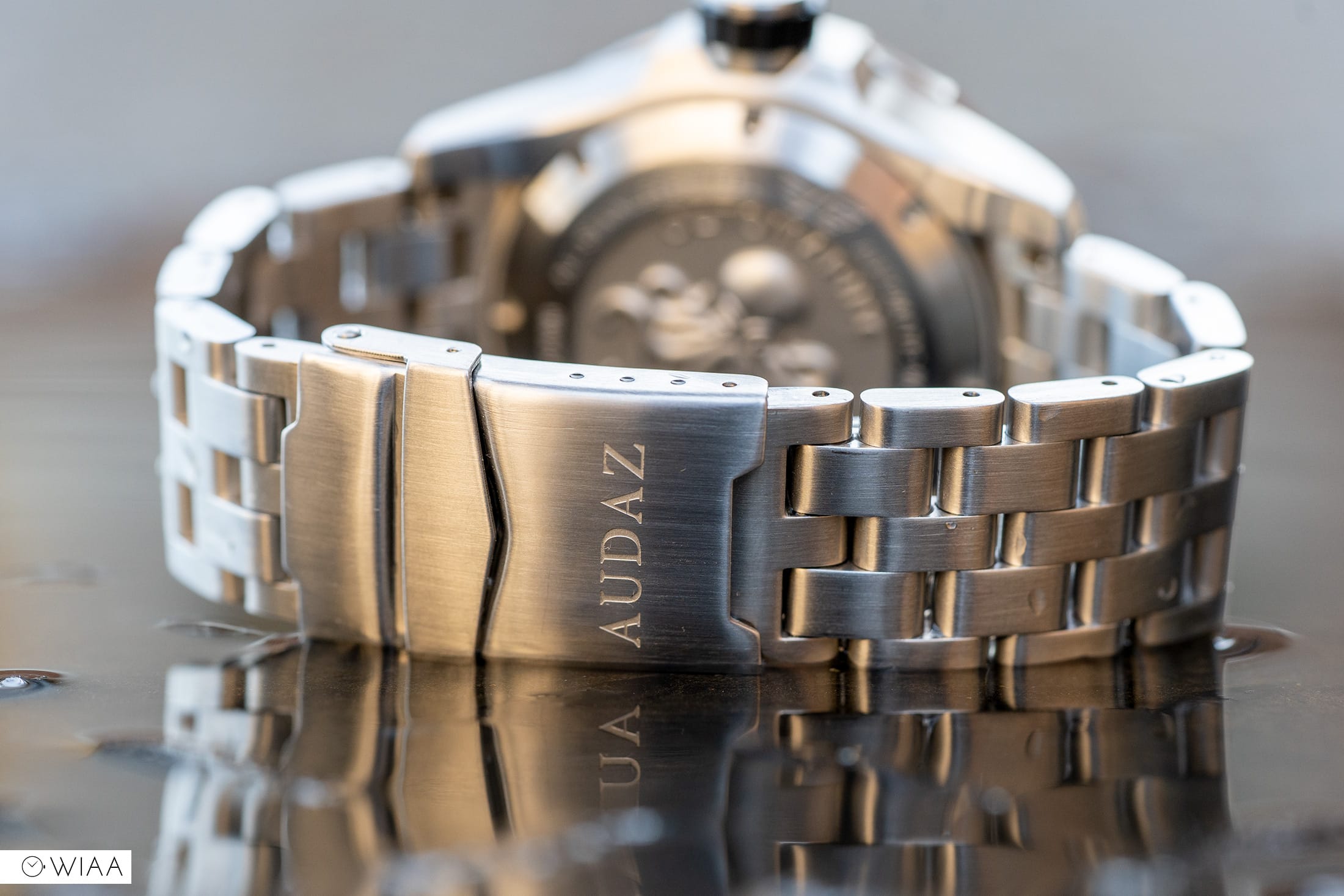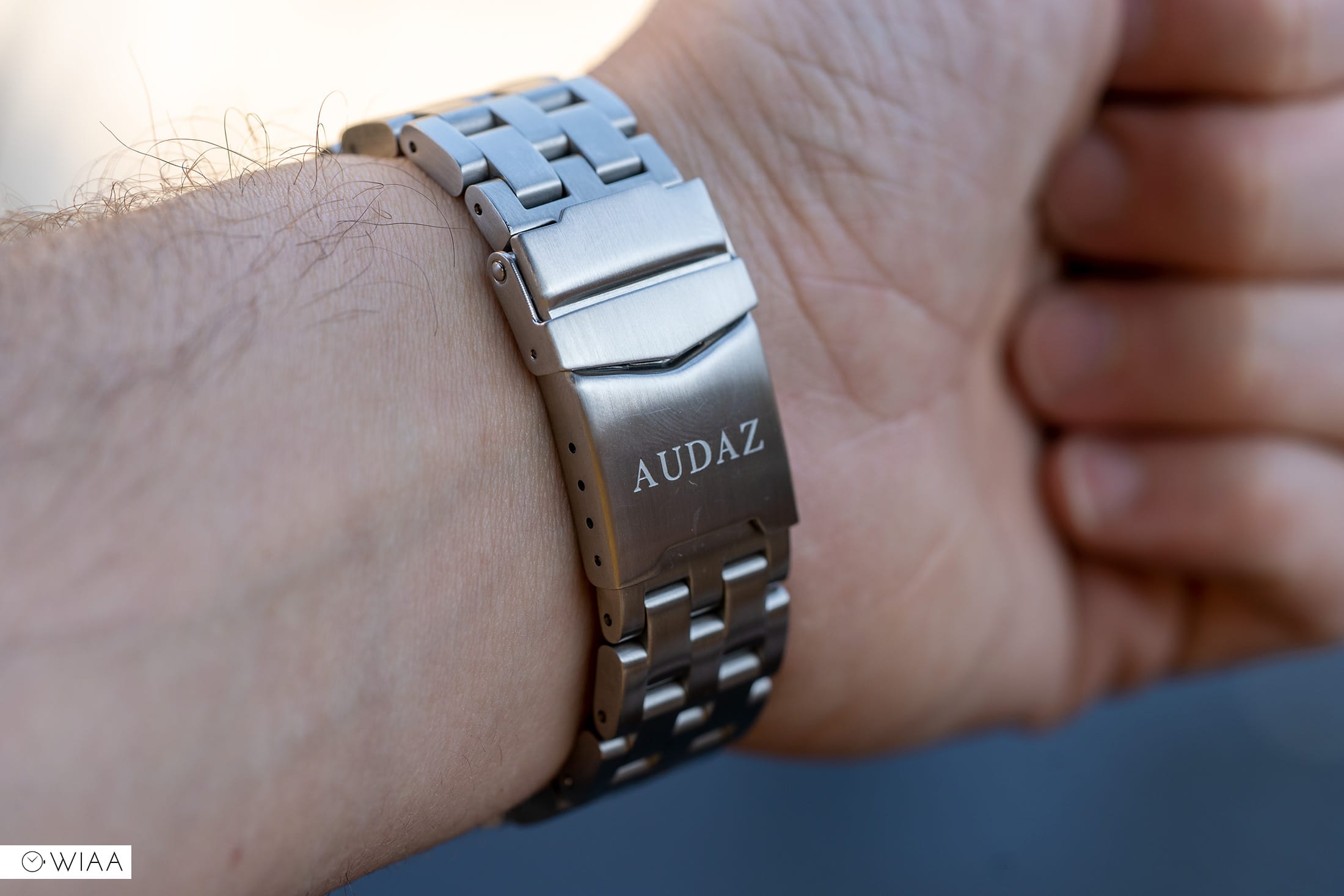 The movement
I'm sure that 90% of the watches I've reviewed in recent memory house the Seiko NH35A. It's everywhere, especially in the affordable microbrand market – but with good reason. It's cheap, easy to source, and reliable. Specs include a low beat rate of 21.6k bph (6 ticks per second), hacking seconds hand, and hand and automatic winding. It's pretty industrial to look at, but thankfully it's behind the solid caseback on the Octomarine.
Final comments
Using discount code WIAA30, this hunk o' chunk o' steel is a very reasonable $297.50 / ~£230. Actually, that's not just "reasonable" – that's pretty fantastic. The specs alone are excellent – 500m water resistance, dependable movement, ceramic bezel insert, sapphire crystal with good AR coating, all topped off with flawless build quality.
There are only two minors to note: firstly, the height of this thing at 16mm restricts its wearability, and secondly, the applied logo looks a tad cheap. But apart from that, it's a sensational watch at an unbelievable price.