Aquatico watches is based in Hong Kong and was founded by Calvin. Having been fascinated in mechanical timepieces for many years, building one was the next step. He believes that great timepiece designs should not be confined to luxury brands.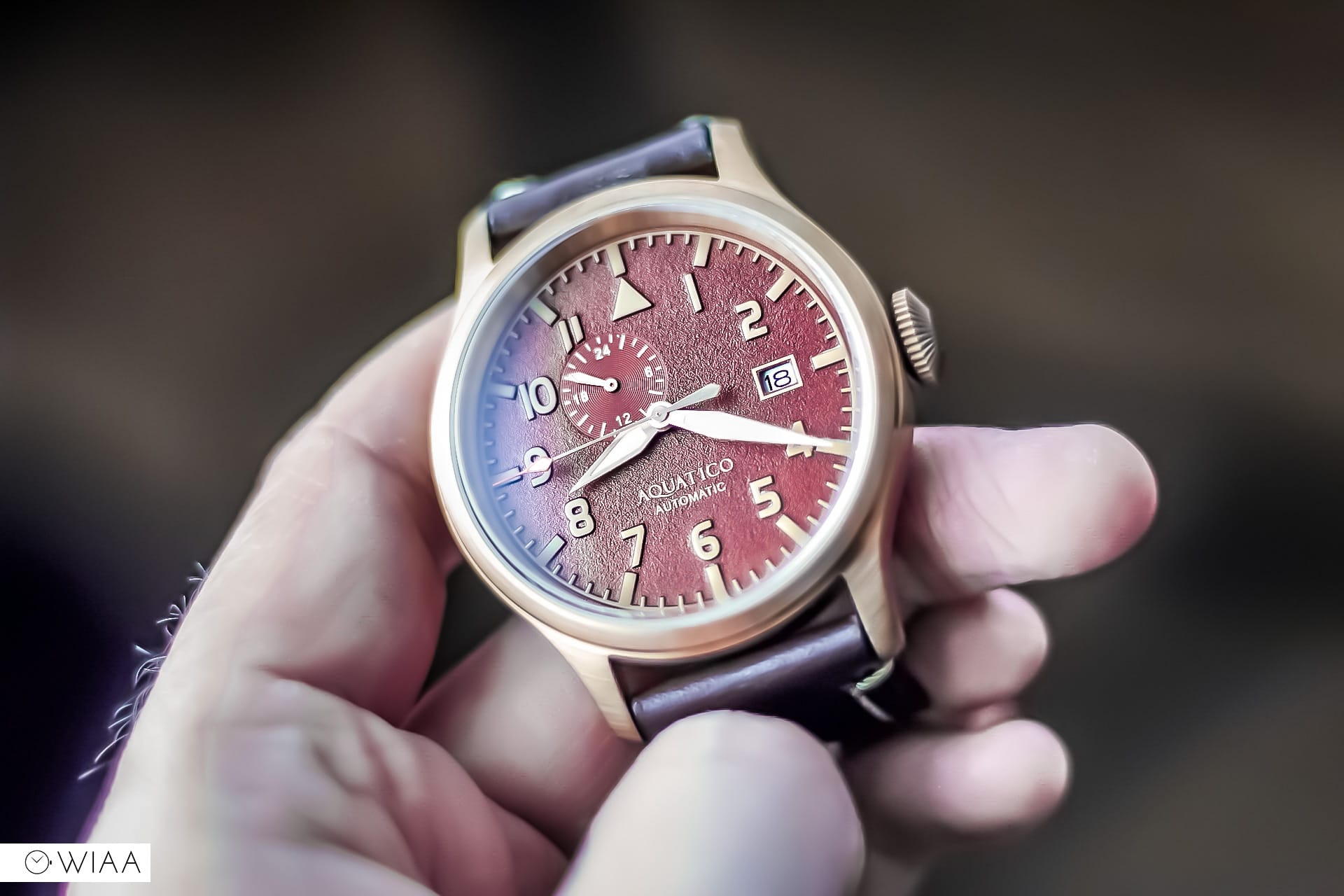 So, I'm introducing, rather confusingly, a pilots watch from a predominantly dive watch company as the name suggests. The Aquatico Bronze Blue Angels.
First impressions are good, as you open up the box you're immediately struck by the beautiful glow of bronze, this being my first time trying a bronze watch I was more awestruck than normal when unboxing this beauty. I can't wait to see how this will patina over time and develop a character of its own.
It's a pilot watch so naturally it's going to be larger, and it measures 43mm in diameter, and a rather large 51.5mm lug to lug. I tend to stick to watches under 42mm and below 50mm lug to lug but this wears surprisingly well on my 7 inch wrists. It is covered by a flat sapphire crystal with AR coating on the underside, and it does wear very flat on the wrist.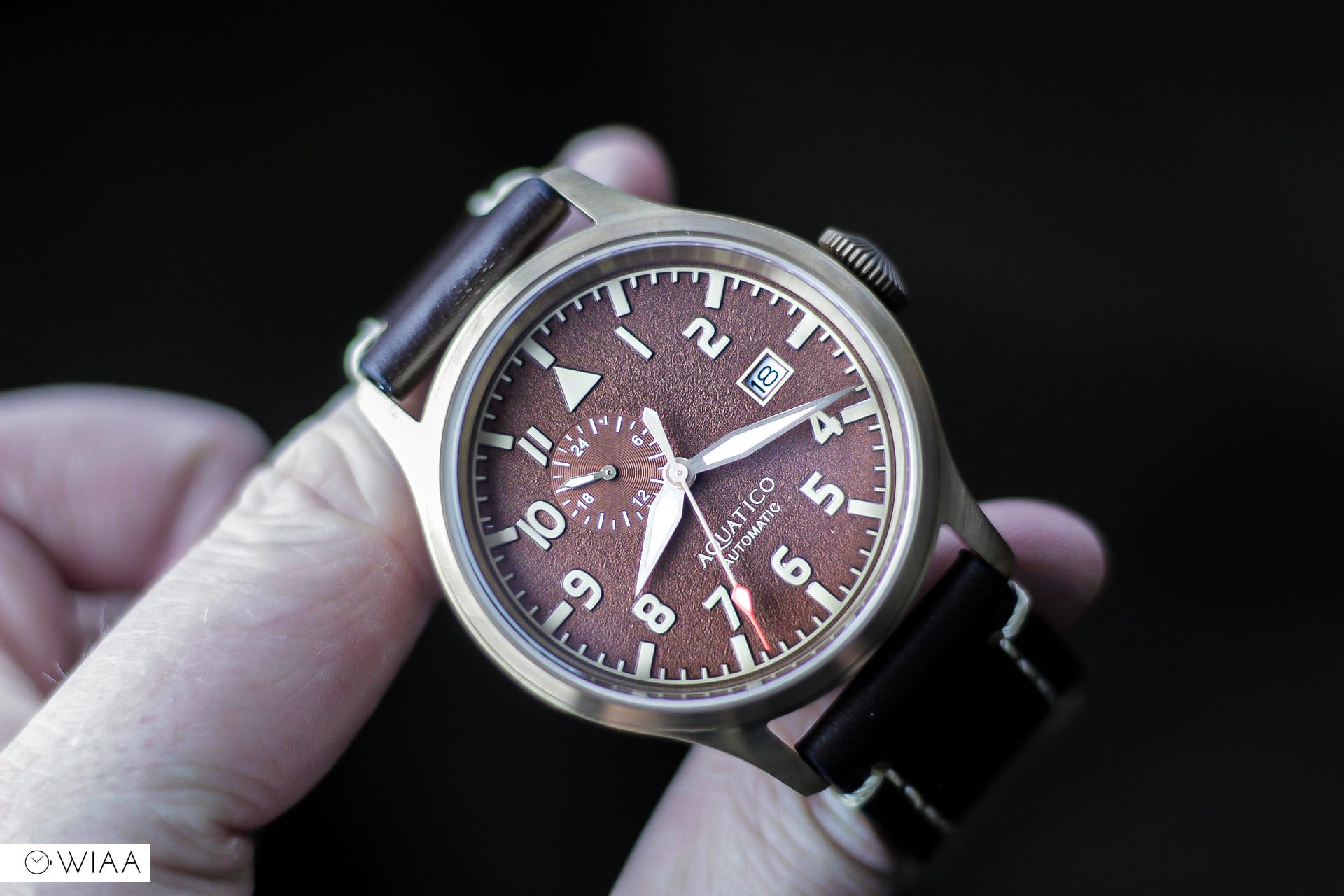 The beautiful speckled brown dial features a 24 hour indicator at the 11 o'clock marker and is a neat (but I don't think particularly useful) feature that I've not seen on a watch before. The dial is uncluttered and precise, leaving no room for distraction, I can't help but feel the removal of the 24 hour Indicator would be a welcome addition on this watch. The aforementioned brown dial is contrasted by large printed bronzey brown numerals that are clear and easy to read. The large sword hour and minute hands are beautifully bronzed on the outer edges and are accompanied by a sweeping bronze seconds hand that has a lovely red tip.
The dial also features a date window that isn't colour matched which is a pet peeve of mine, I think it would have helped the dial immensely and would have made the whole look flow better if it was a brown date window with contrasting white numbers for the date. That being said, the date window is large and clear, the crown has a quick set function for changing the date instantly but no quick correction for it. So, if you overshoot the date you have to go the whole way round again to get the correct date.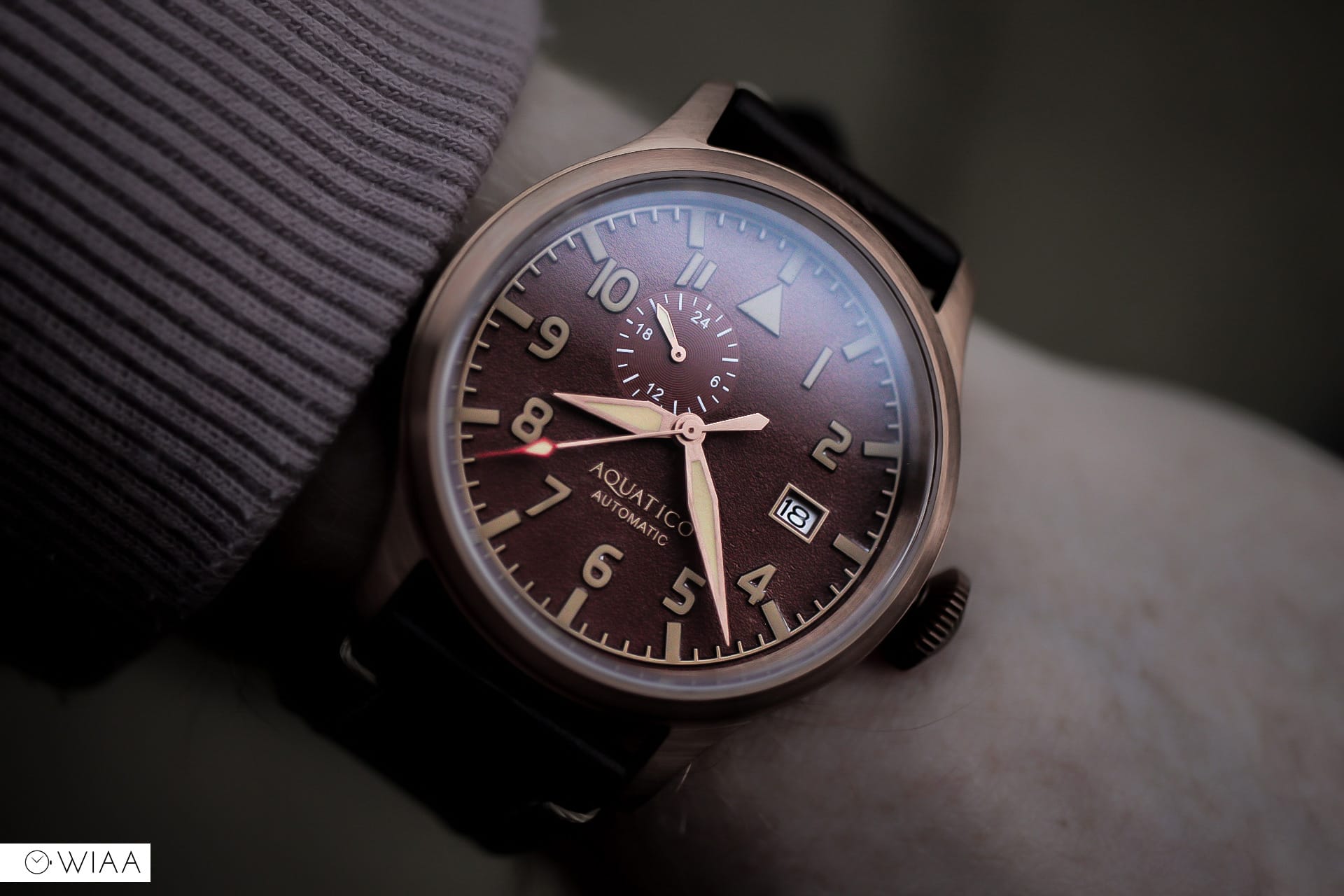 The case and crown are both made from CuSn8 marine grade bronze and like I mentioned before that means that over time this watch will develop a beautiful patina and a patina that is unique to each watch, bringing extra character to it. It's refreshing to see this type of bronze used in a micro brand of this price, other watches at this price point have used aluminium bronze and it won't develop the same character of patina that CuSn8 does, so when you're checking out a bronze watch make sure that it has CuSn8 bronze and not aluminium. The case back is solid and made of 316L stainless steel (not bronze) to avoid the bronze rubbing off on your skin). It features four planes, the blue angels and is rather nicely done, the case back looks good on this one.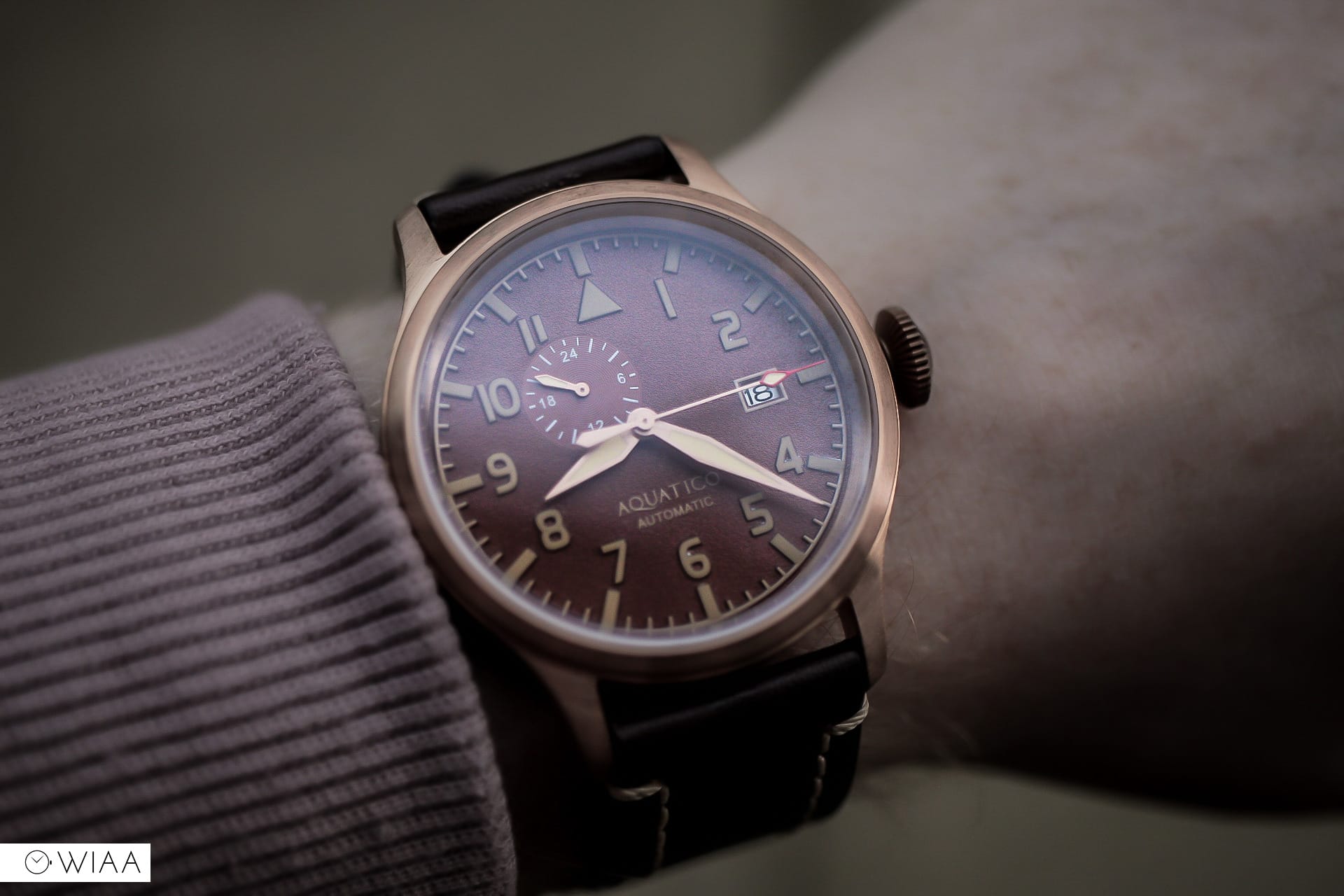 The finishing on the case is basic, but nicely done, it doesn't need to be spectacular because the patina that will develop will tarnish the case. The extremely grippy, slightly oversized crown has already started to develop a patina and is a dark brown with me. It is a screw down crown and this is where it gets confusing, this watch almost suffers from an identity crisis, it has 100m water resistance. Always nice to have of course, but this is a pilots watch, not a dive watch. I feel that 30m water resistance would have been perfect here, lose the screw down crown and upgrade somewhere else. The crown also is slightly misaligned, for me, it is positioned slightly too low and overhangs the bottom of the case meaning it digs into the wrist slightly.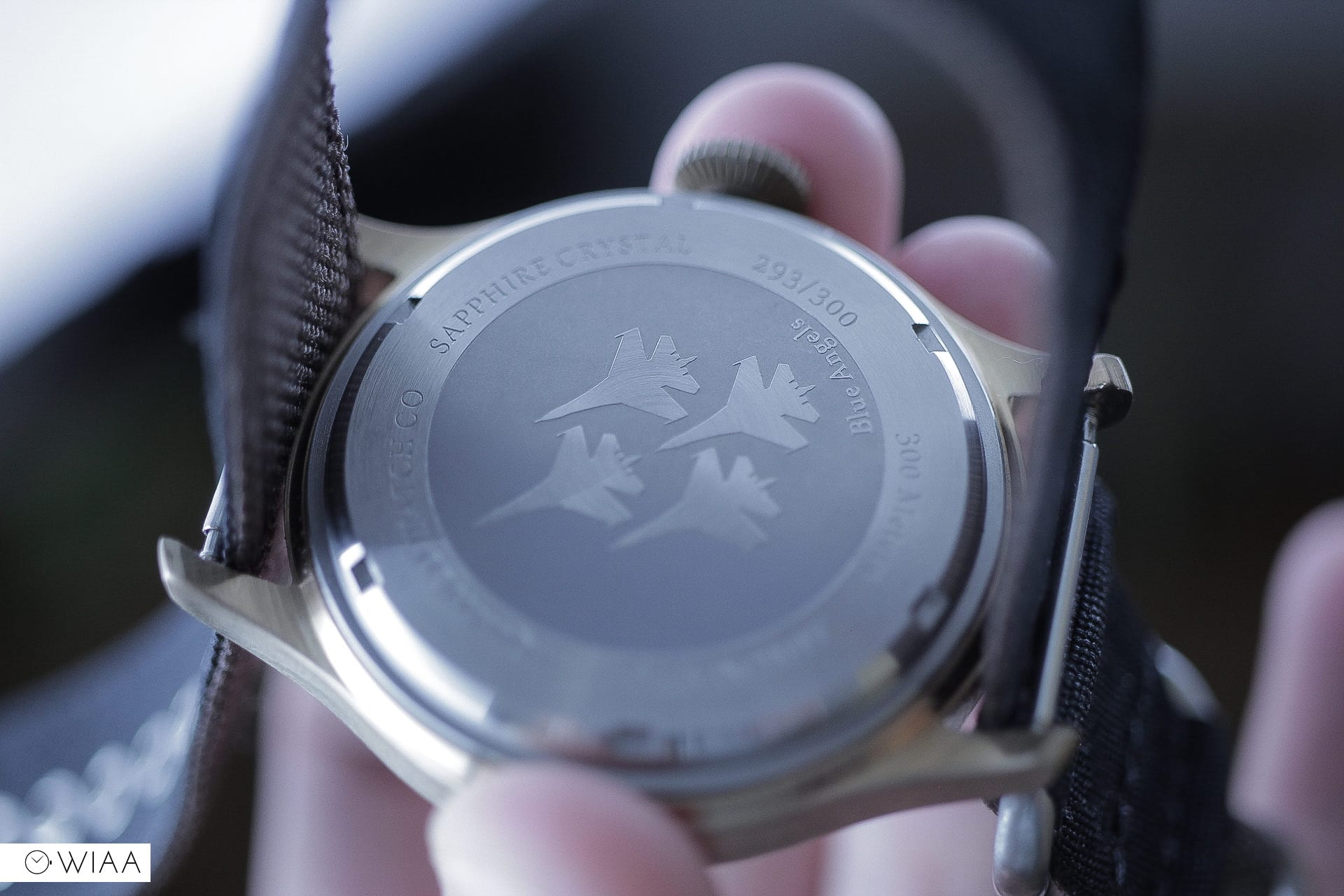 The watch is powered by the Seiko NH37, a 24 jeweled movement that beats at 21,600 beats per hour and has a power reserve of 41 hours. It features hacking and hand winding and the time keeping it stated loosely as anywhere between -20 seconds per day to +40 seconds per day, but mine is doing much better than this and currently runs at around +-5 per day. It's not surprising to see this type of movement in a micro brand as it's incredibly affordable and accessible, but very reliable. A solid workhorse of a movement.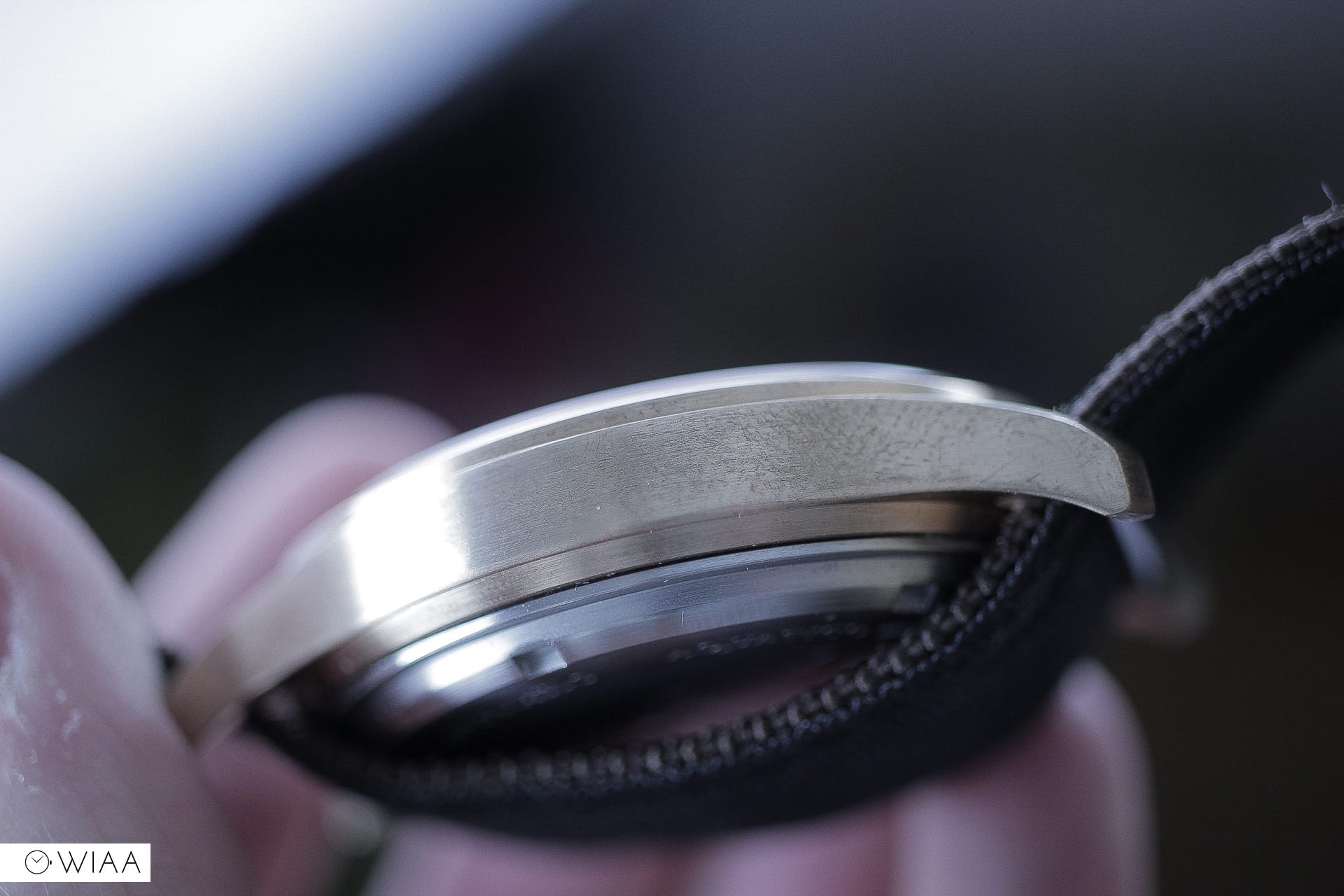 Back round to the dial and the printed indices and large sword hands are covered with Superluminova C3. The lume is massive on this watch, applied evenly and it shines and shines. The hands shining slightly longer than the indices, a nice touch is that there is some lume applied to the 24 hour dial and the red tip of the seconds hand is also lumed. The lume stands out so nicely against the brown dial and it brought a massive smile to my face when I seen how brightly it lit up the room.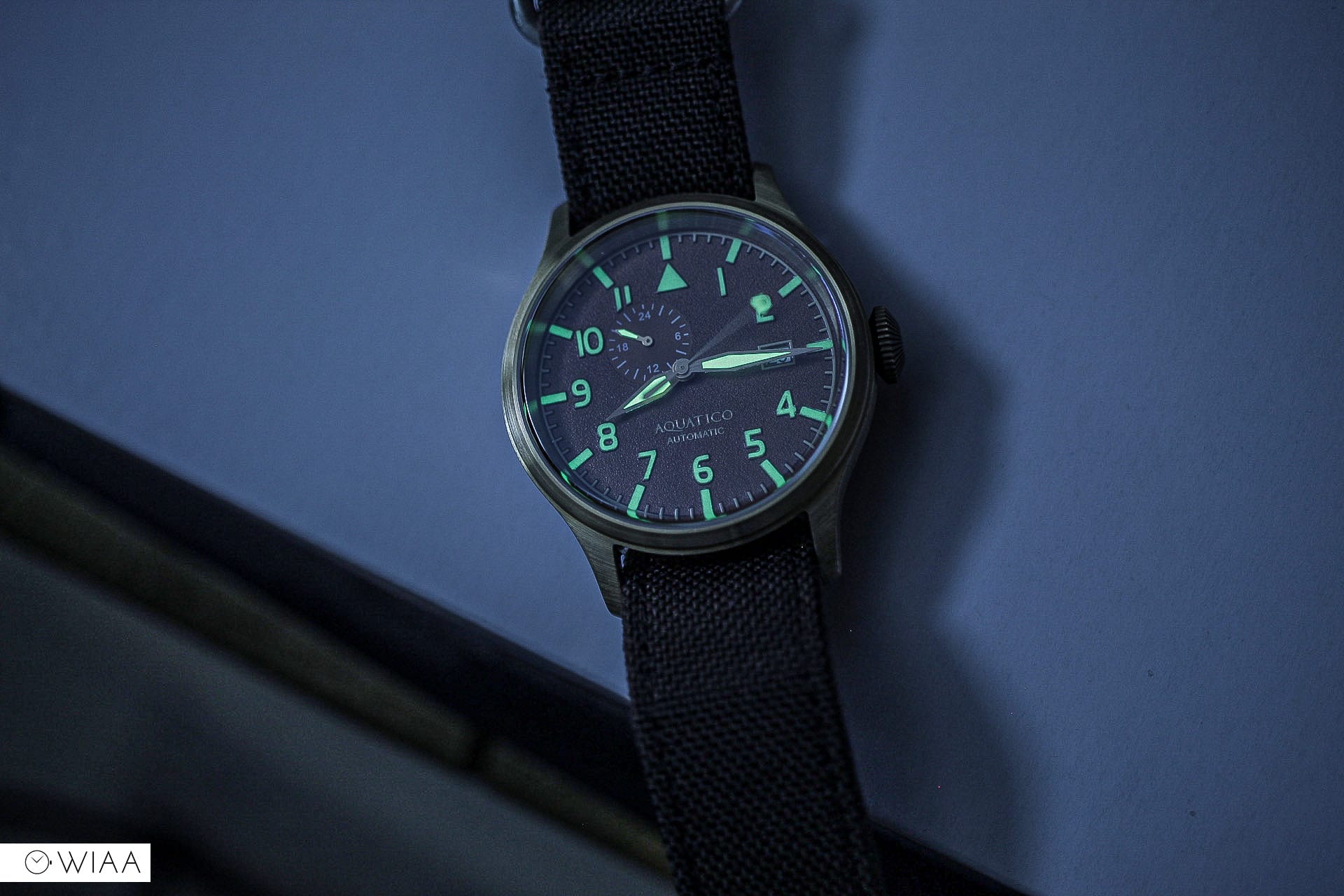 A negative note on this watch is the crazy horse leather strap that the watch comes with, it just feels stiff and a tad plasticky. It does feature a nice oversized signed bronze crown, but I immediately swapped it out for a Vario nato style strap and it transformed the watch and made it extremely comfortable to wear.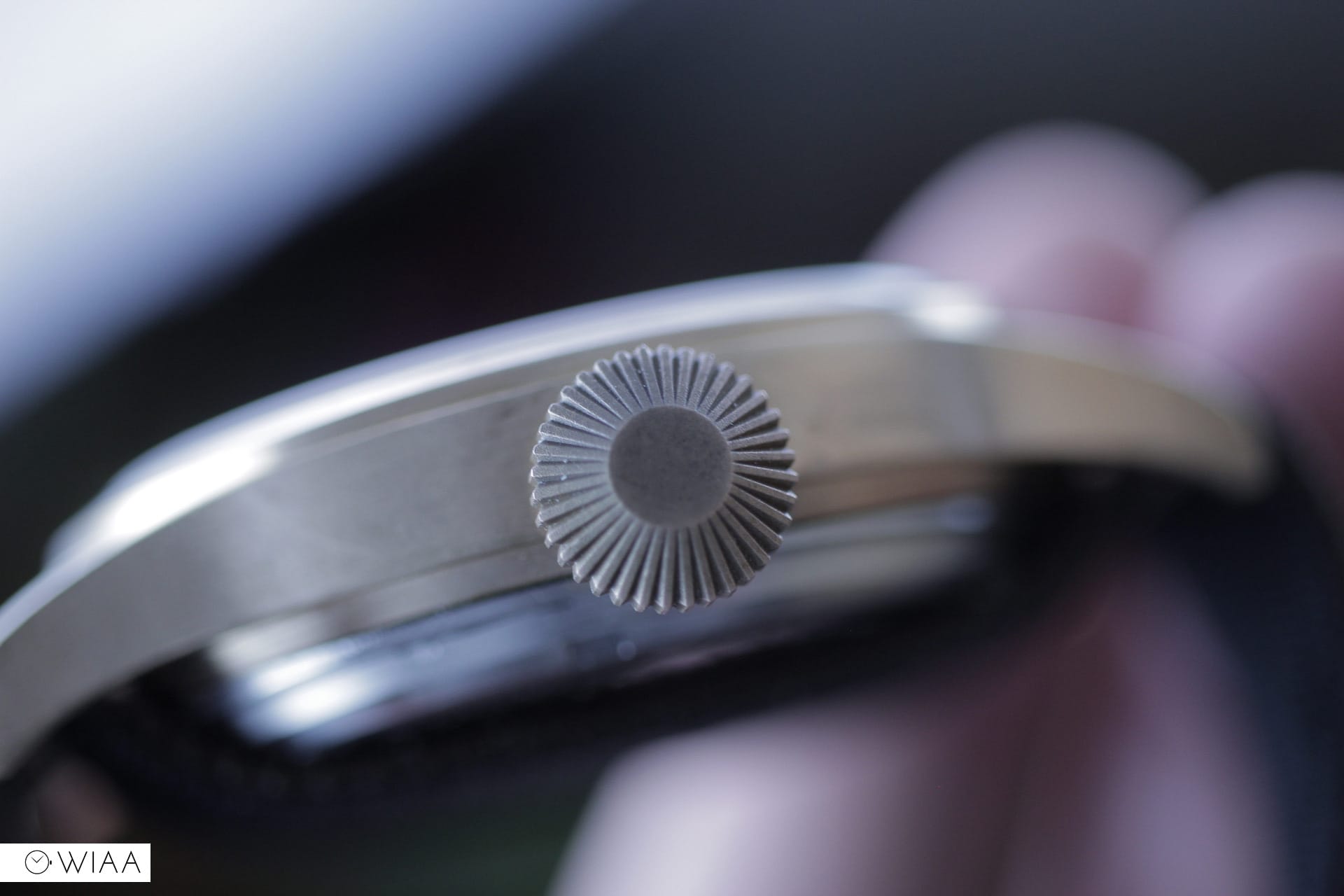 This watch suffers from a bit of an identity crisis, in that it doesn't really know exactly what it is, but it's very close to being a great watch. An extremely affordable but quality pilot watch that has the potential to soar to dizzy heights if a few minor details were corrected.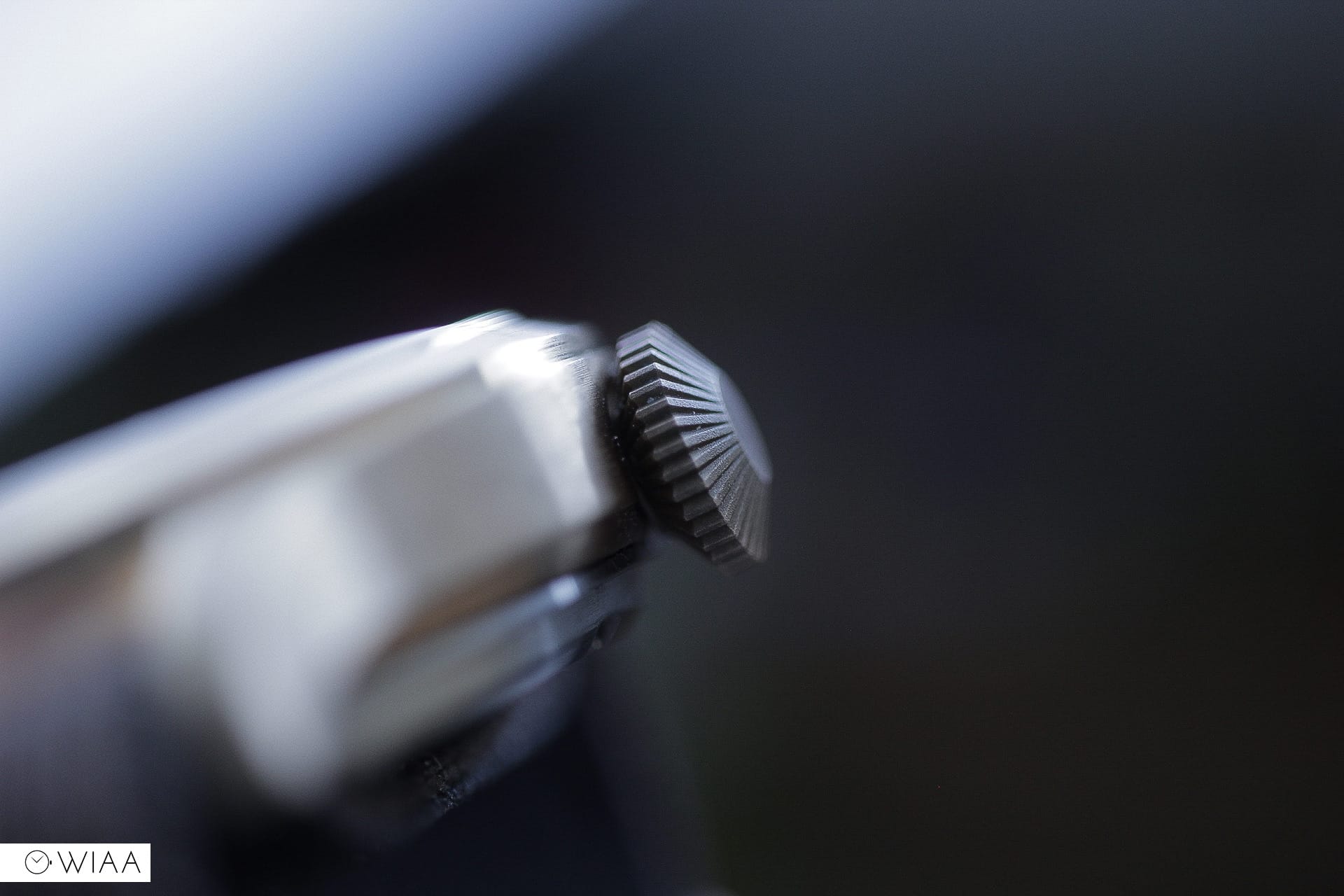 The Specs
Diameter: 43mm
Lug to lug: 51.5mm
Thickness: 12.5mm
Lug width: 22mm
Weight: 75g
Water resistant to 100m
Movement: Seiko NH37
Price: $279 / ~£215