The Rolex Daytona is the watch that is undeniably good looking. Unfortunately for us affordable watch lovers it also costs £10,000. Thankfully, Alpha offer a shameless homage to it. Homages can be quite a hot topic – some people think they're a complete rip-off of the original and are infringing copyright. Others aren't bothered (that's where I sit). Let's be honest, that's a discussion for another day. And Alpha are definitely not going to be stealing any customers away from Rolex. Someone who is going to buy the real Daytona certainly will, and definitely won't spend a mere £120 on a watch that looks like it. So the Alpha homage is unlikely to make Rolex flex their lawyer muscles. But anyway, what does £120 get you? For a start, you get a beautiful design courtesy of Rolex. You also get a decent mechanical chronograph, which is the main selling point. At this price, it is incredibly rare. More on that later. Let's take a closer look to see if it's a good buy or whether you should save up £10,000 to get the real thing.
The case
I'm going to be honest, and start off by saying that there are a number of flaws on the Alpha. But don't let that put you off. Sure, there are some poorly machined edges and some not that great finishing, but always keep in mind what you're getting for the price.
The size of the case is 39mm, in my eyes a perfect size for a smart / casual watch like this. It has a lug to lug length of 48mm, which is a reasonable and comfortable length, resulting in good seating on the wrist.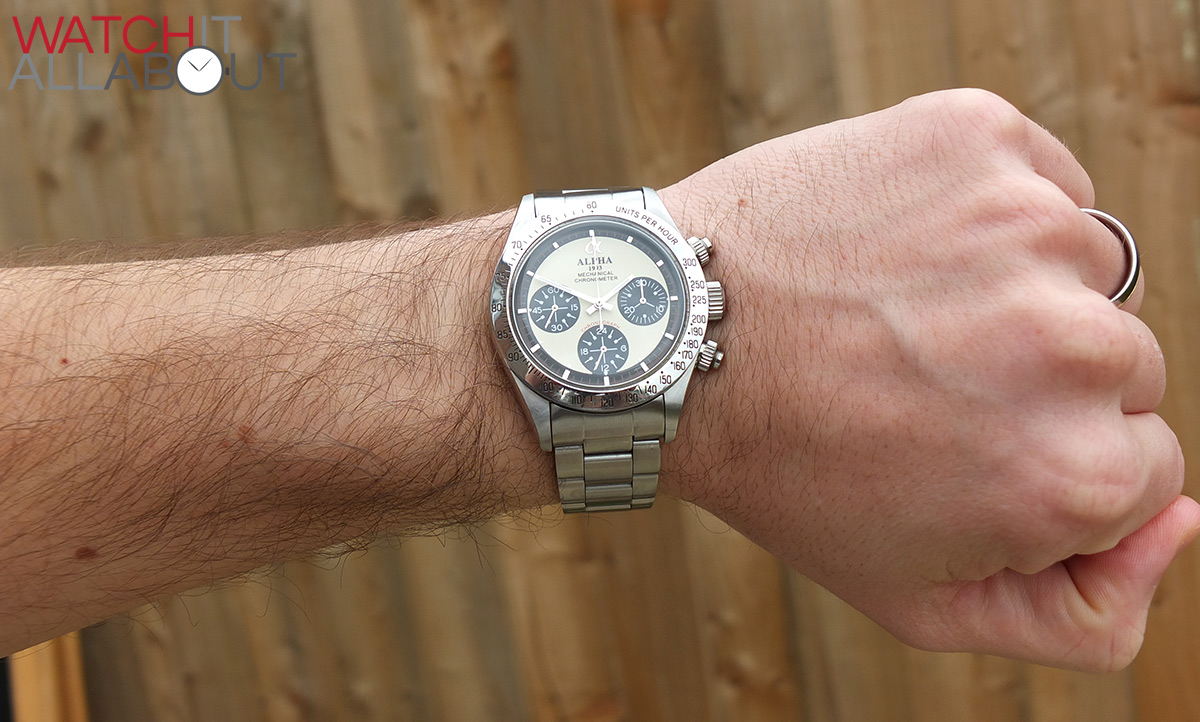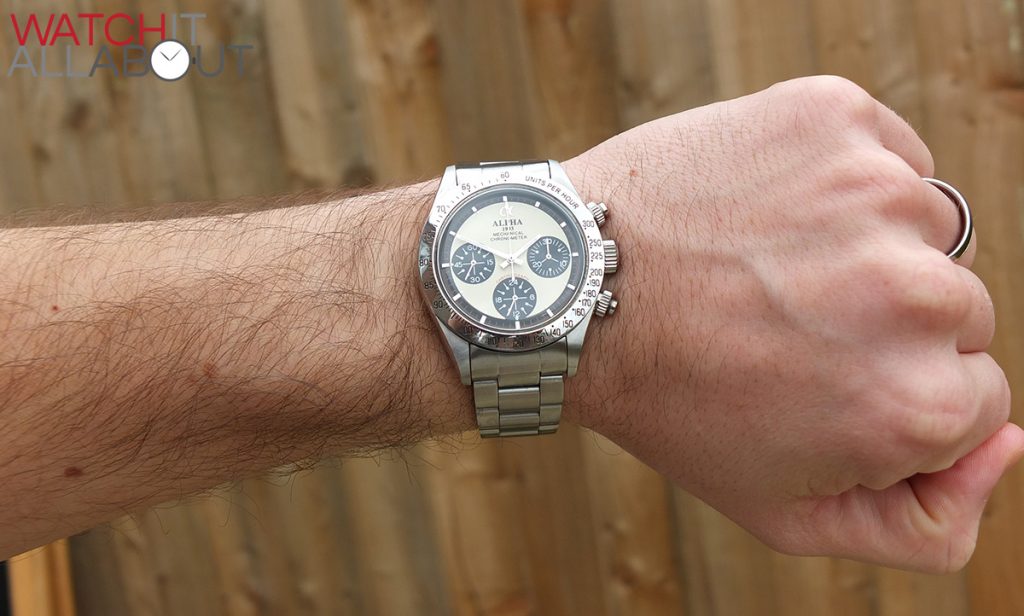 The height is 16mm (mainly due to the exhibition case back being quite tall), but I still think it looks and fits in the wrist well, not being so overtly tall you can't get it under a shirt cuff at all. In every way, I think the dimensions are spot on for a comfortable yet impressive looking watch.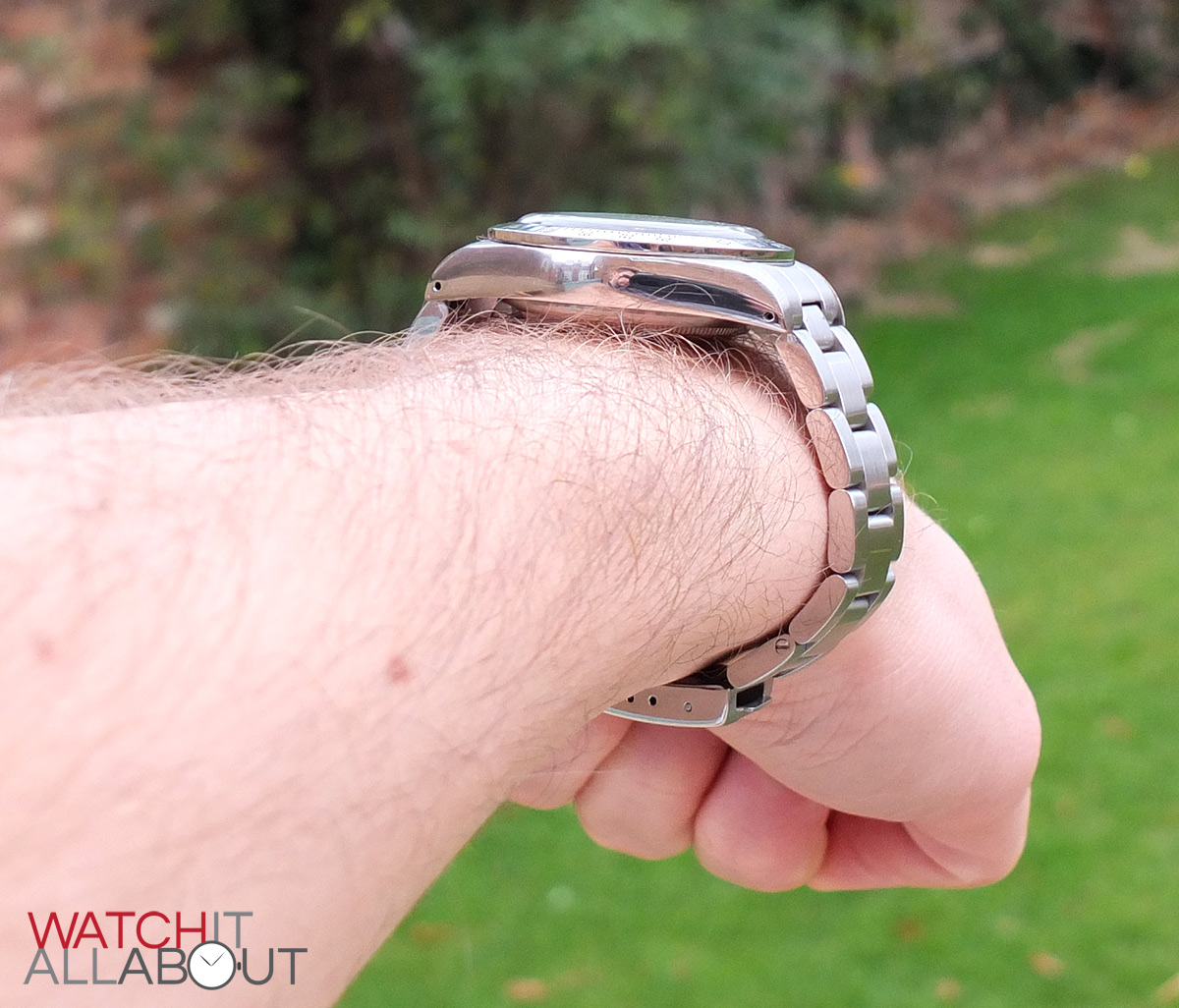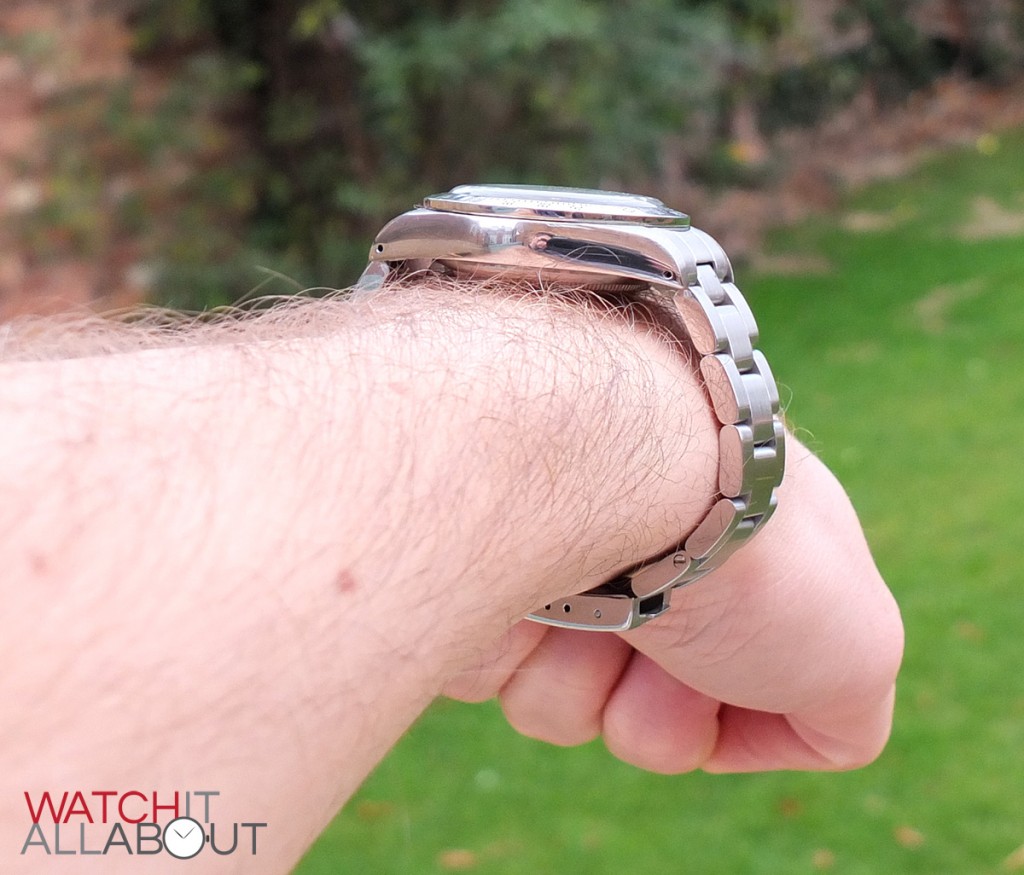 The Alpha Daytona weighs in at 120g, which is a very agreeable weight, too. This is actually quite light for a mechanical chrono on a bracelet. I believe this is mainly due to the bracelet being a bit lightweight, and possibly the acrylic crystal too. Still, it weighs enough to let you know that you've got a nice timepiece on, yet light enough to be able to comfortably wear it all day long. I usually get a bit fed up of wearing a watch all day and end up taking it off, but it's been pretty easy wearing the Alpha Daytona.
The case is brushed on the top and bottom, and polished on the sides and bezel. Whilst the brushed finishing leaves a little to be desired, the polished sides are actually very well done and pretty much spotless.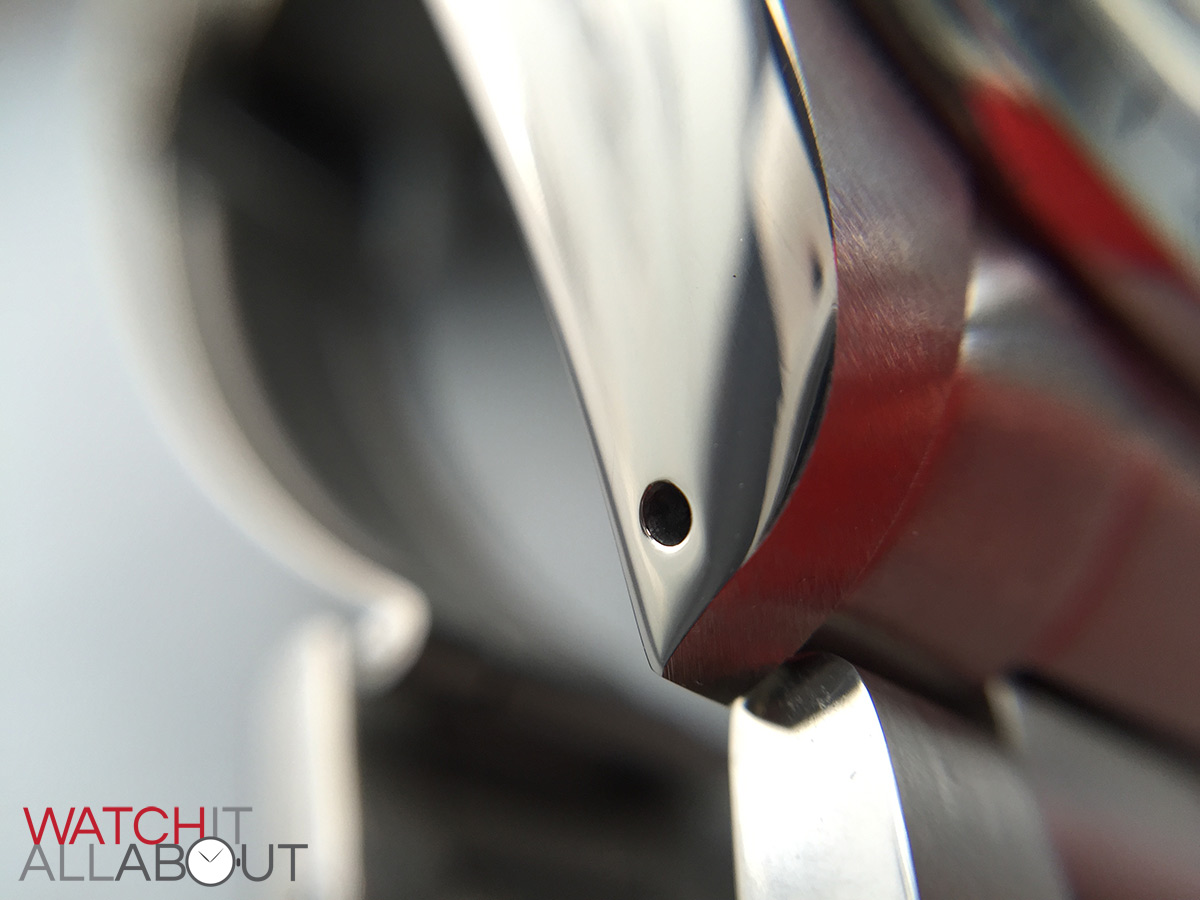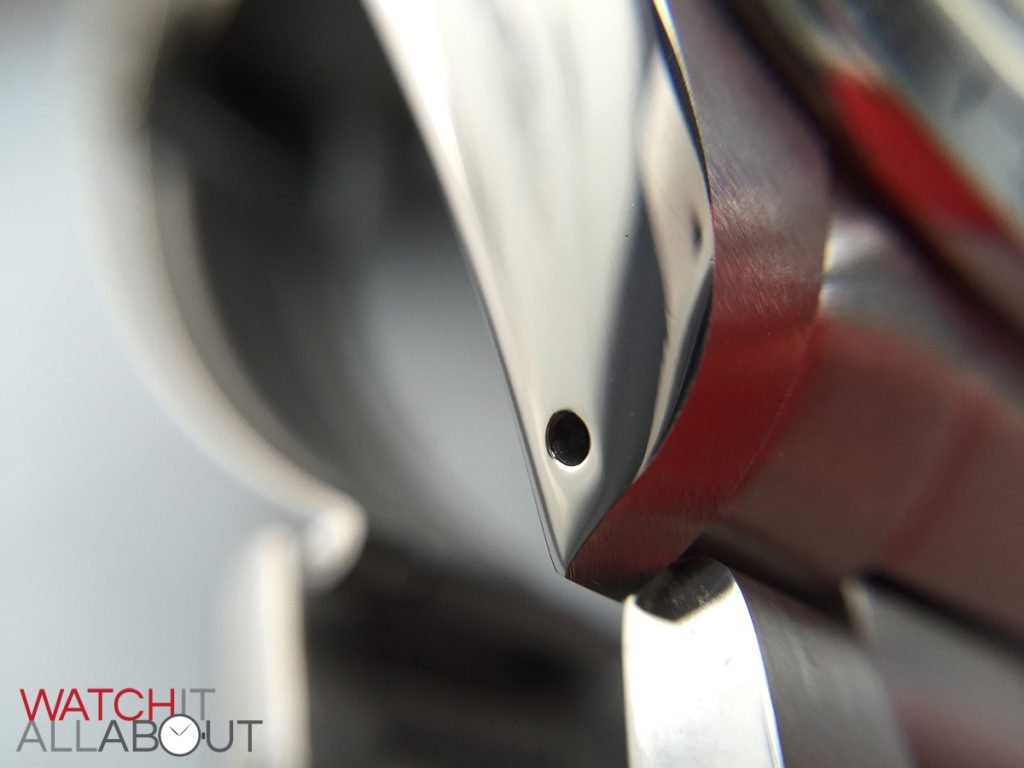 I do really like the shape of the case, mainly due to the lovely slight bulge of the sides, and the slender point of the lugs. Let's thank Rolex for that.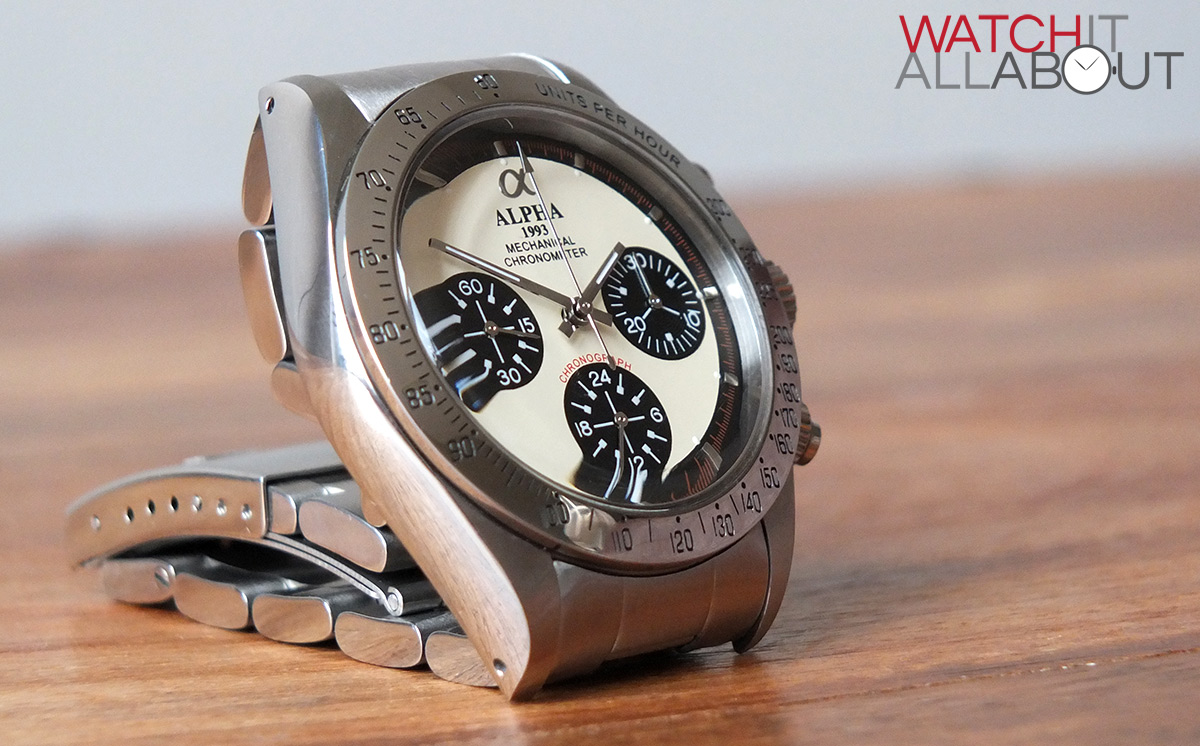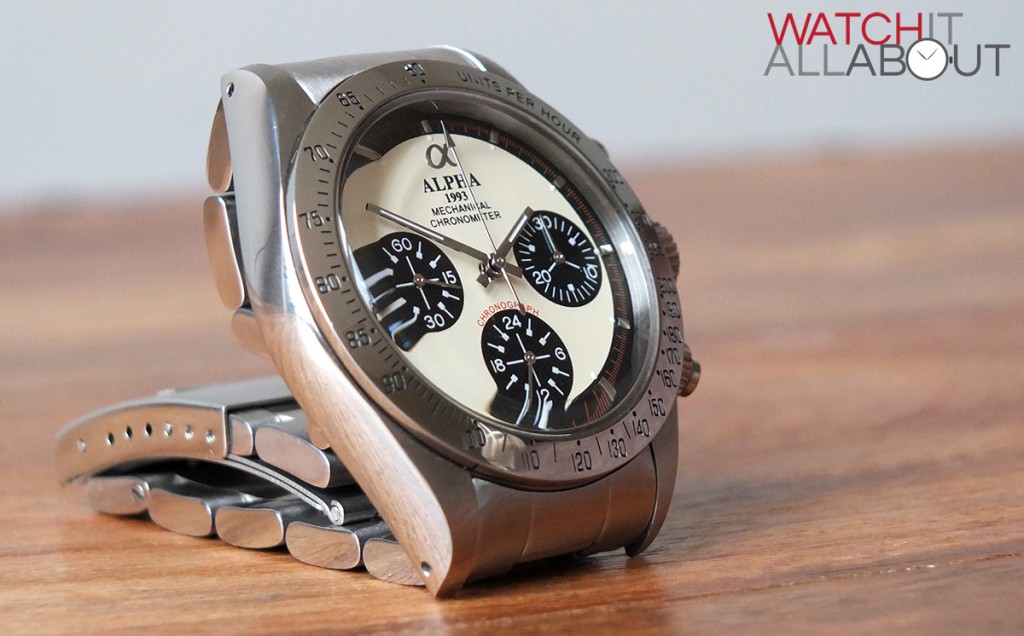 The lugs have a width of 20mm, and are drilled-through – so it's dead easy to replace your strap. The little holes on the two ends mean you can poke a tool or paper clip in to release the pin, instead of risking damaging the underside of the lugs. A good positive. And let's face it, you're likely to replace the bracelet eventually.
The crown is of the screw-in variety, rather than a simple push-pull. A popular opinion is that the threading isn't that great, and I'll agree with that. Being that it's a hand-wind only movement, and you'll have to unscrew it every 2 days, it feels like you may thread it at any time. It doesn't particularly screw in or catch the thread particularly cleanly, so you do have to have a bit of a fiddle, which at times can be a bit worrying. I think it would have been better to just leave it as a push-pull crown so you wouldn't have to worry about it.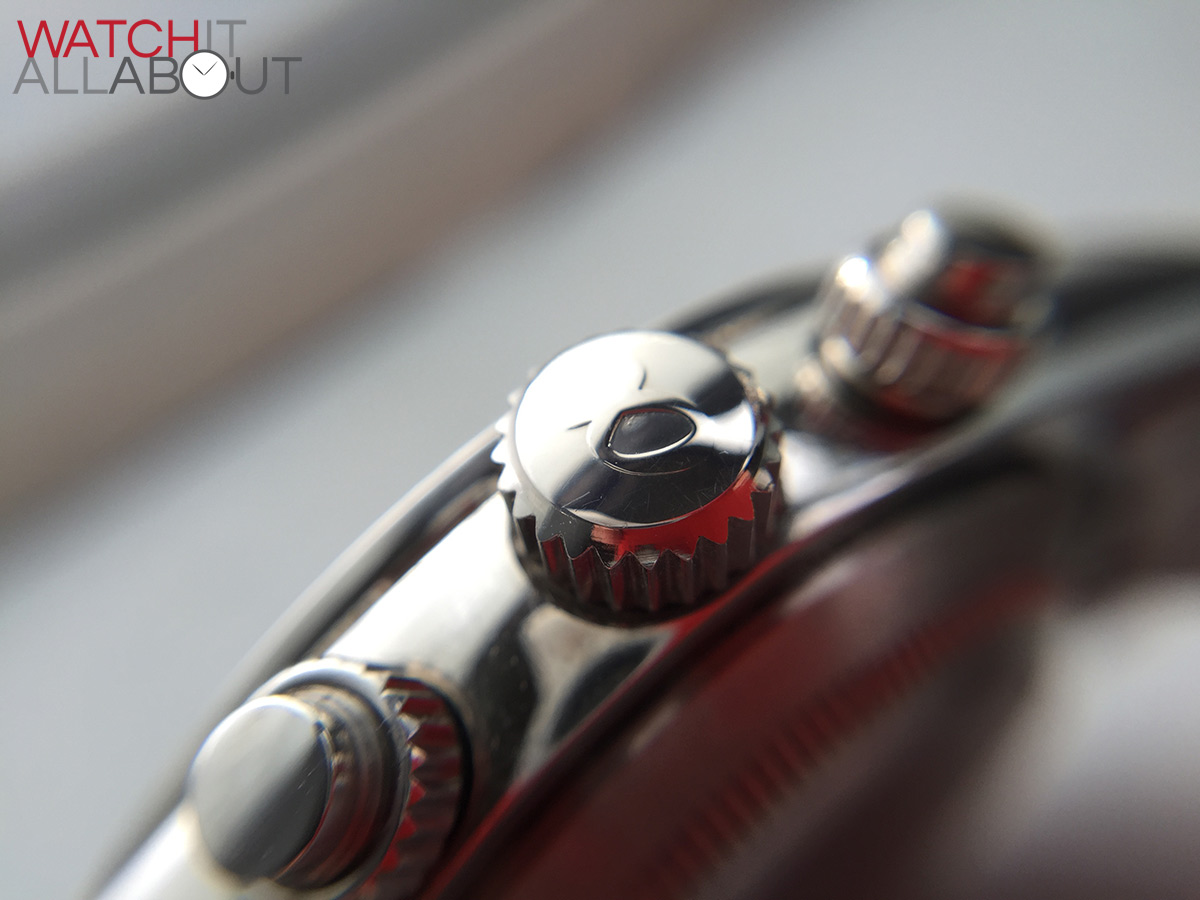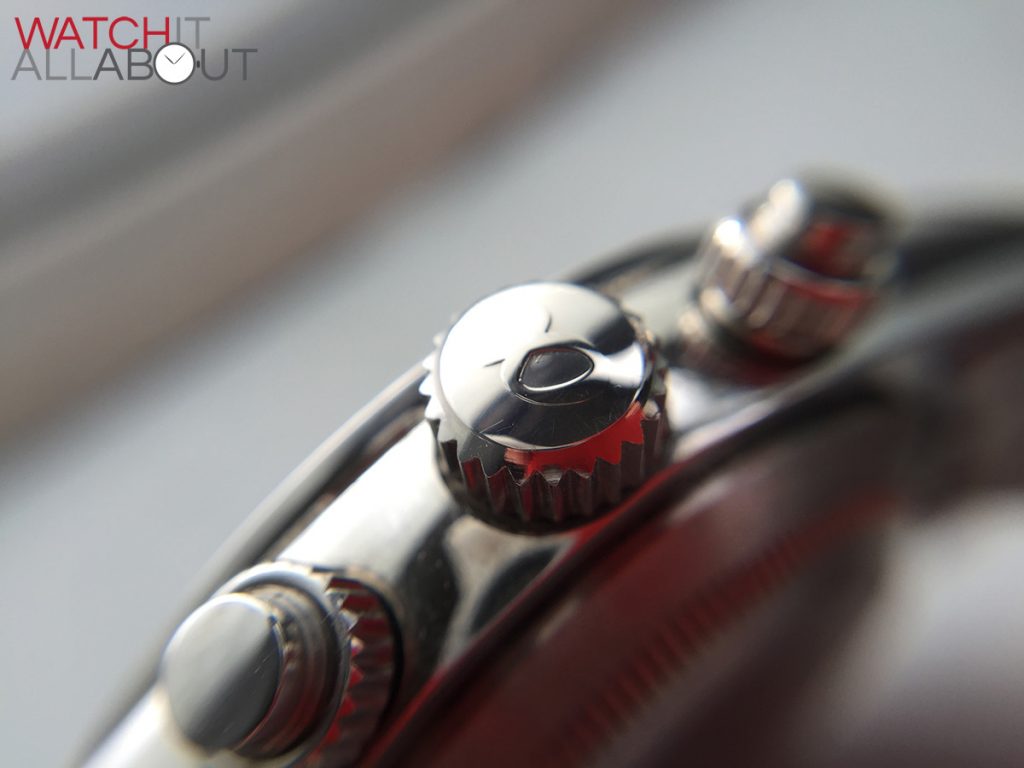 The crown is polished, with an acceptable quality of finishing; and has the Alpha logo embossed on the end, which is not very deep at all – you'd miss it if you weren't looking for it. This is a shame, as coupled with the rough grip, the crown isn't particularly good at all.
Above and below the crown are the pushers. Now these are very good in comparison. They're locking pushers, which have a screwable outer edge which unlocks the pusher, allowing you to push it in. It's quite surprising to see these on such a cheap watch, and they actually work beautifully. Unlike the crown, the grip is decent and well machined; the thread is fine, and the motion of screwing and unscrewing them is pleasant and simple.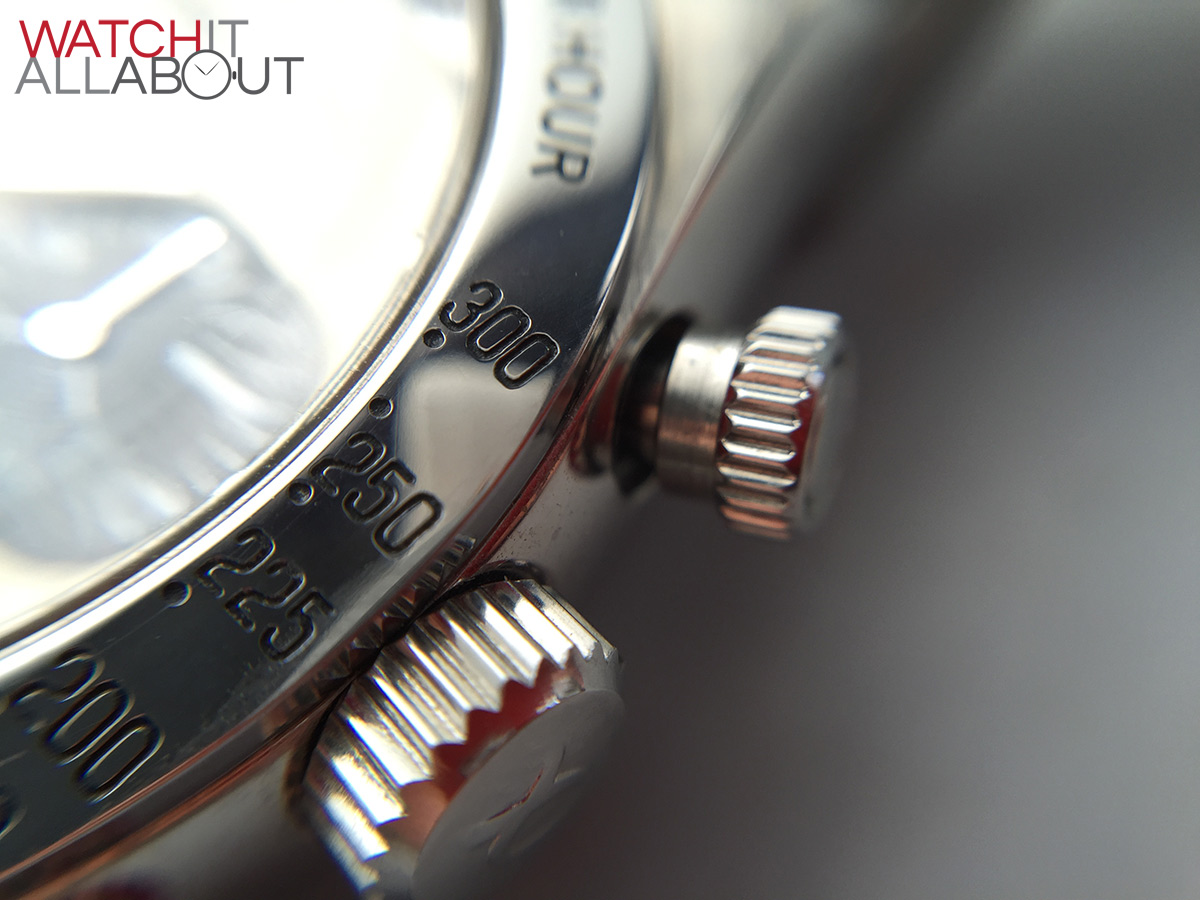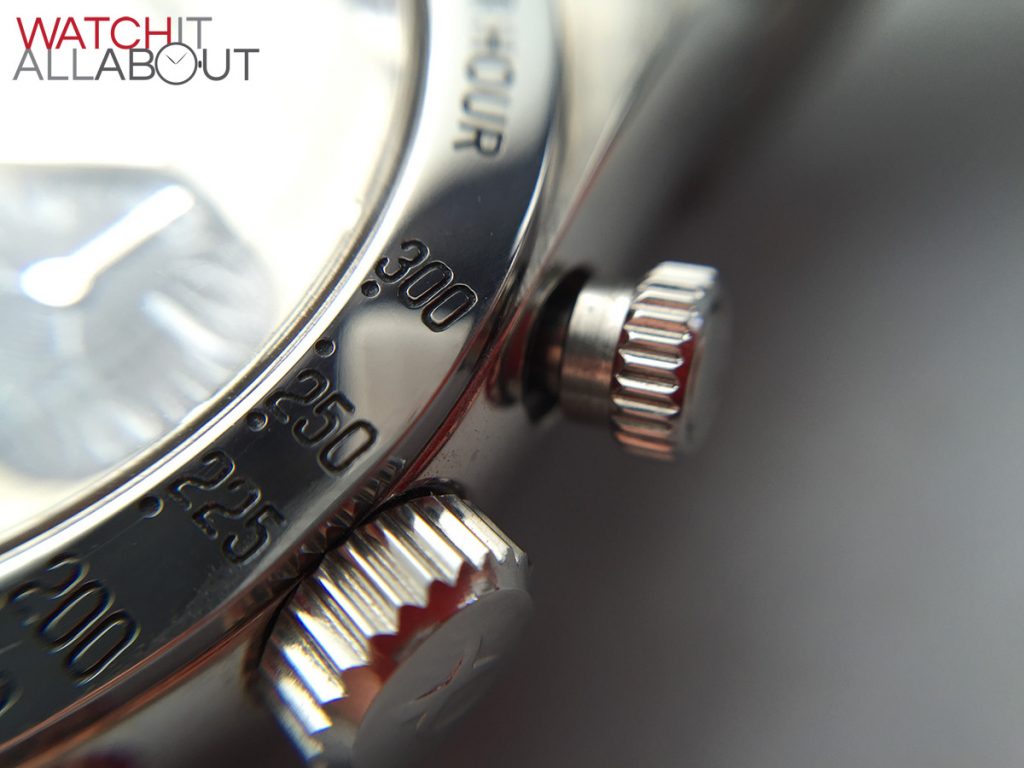 The bezel is polished, with all the tachymeter markings engraved and then filled with paint. This is a great looking and effective solution – you can read the markings incredibly well and they're protected from rubbing off. All the numbers and dashes are all very neatly and accurately machined out too. The only problem is that Alpha didn't quite fill them all in well enough – the 6 in the number 60 at position 12 is only half painted, which is a little annoying. Apart from that, the bezel is surprisingly good and the polished finish makes the watch look excellent and appears high quality on the wrist.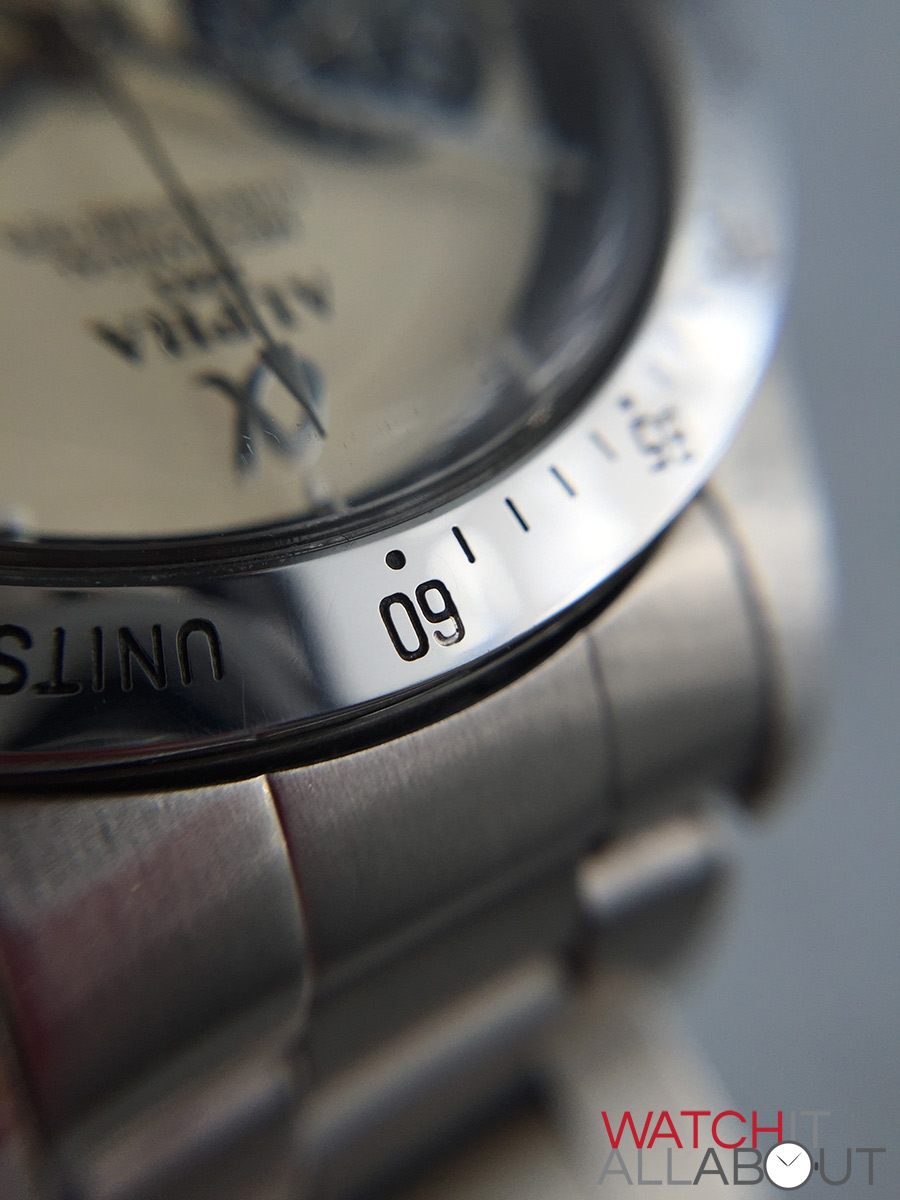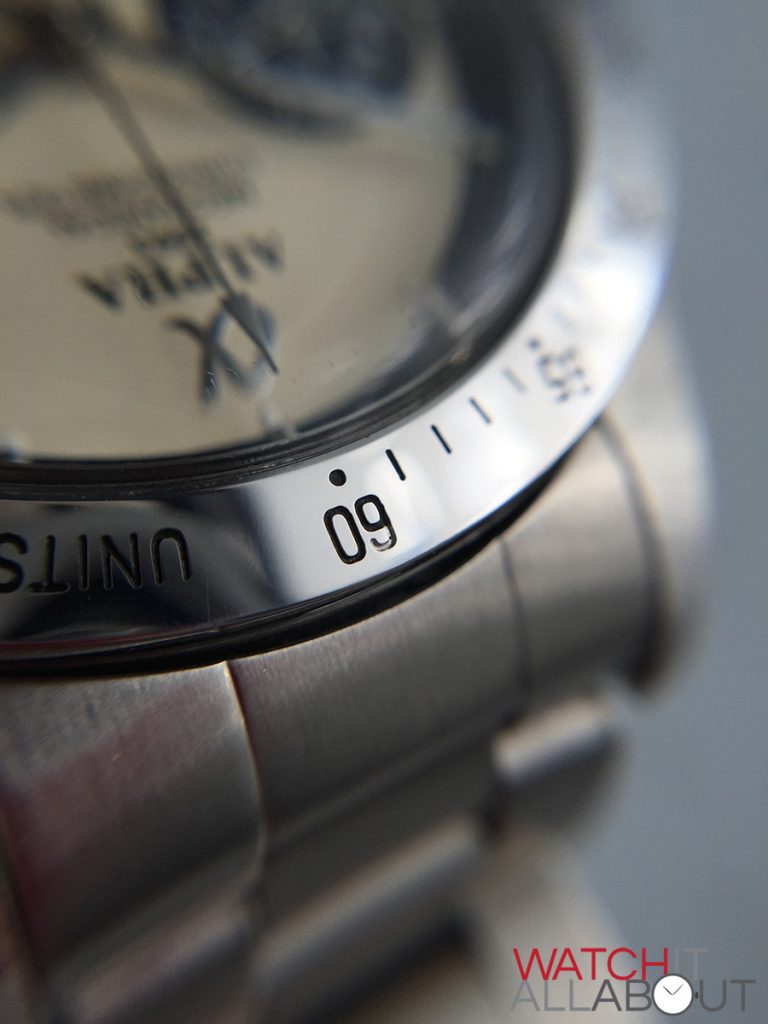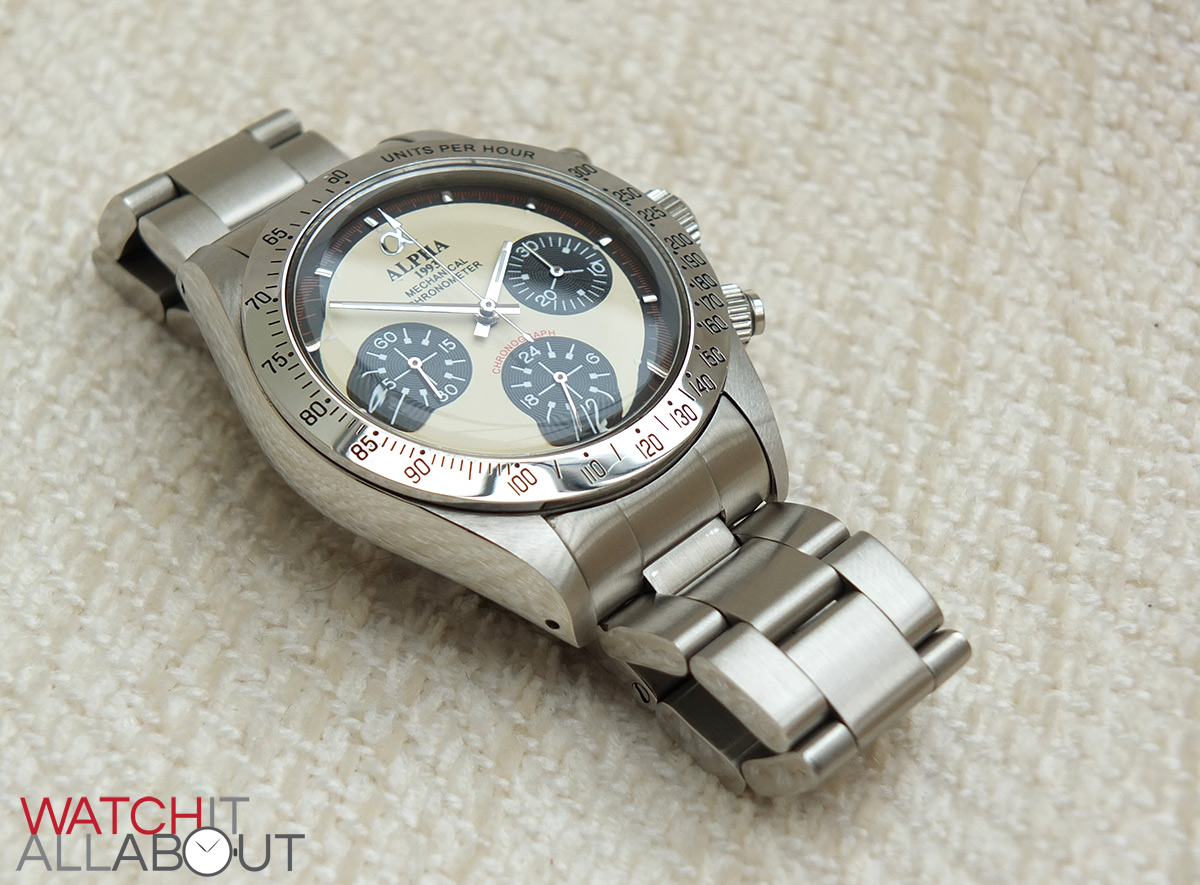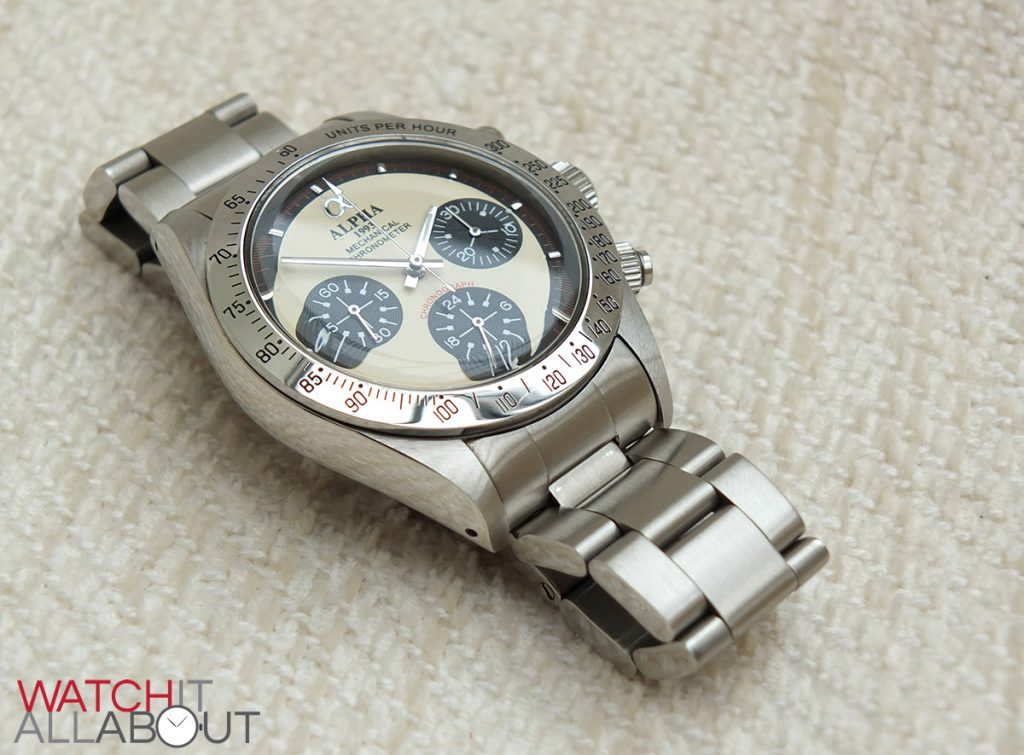 The main worry I had with the Alpha Paul Newman Daytona was the acrylic crystal. I had never properly seen one or had a watch with one before so I didn't know what to expect. I though it would not be very clear, and just look and feel like plastic. Thankfully, though, I was wrong. It looks as clear as mineral crystal and offers good clarity and visibility. Obviously one of the key points to be aware of is how easily it can scratch. And that is definitely true. Within a day or so of regular wear, I had noticed a couple tiny hairline marks on it. But, this is a well-known issue with acrylic so I was expecting it. All you need is some Polywatch and you'll be able to polish those marks right out. One thing which is a little annoying, is how when you do have a mark, sometimes in direct sunlight that mark casts a tiny shadow on the dial. Again, that's something that comes with the territory of an acrylic crystal on top of a light dial. The crystal sits quite high, and has a steep curved edge towards the bezel, which creates a fair bit of visual distortion at steep angles. All in all though, my first experience with an acrylic crystal hasn't been as bad as I thought it would – and despite the small problems that I already knew about, it's proving to be a perfectly clear and effective crystal.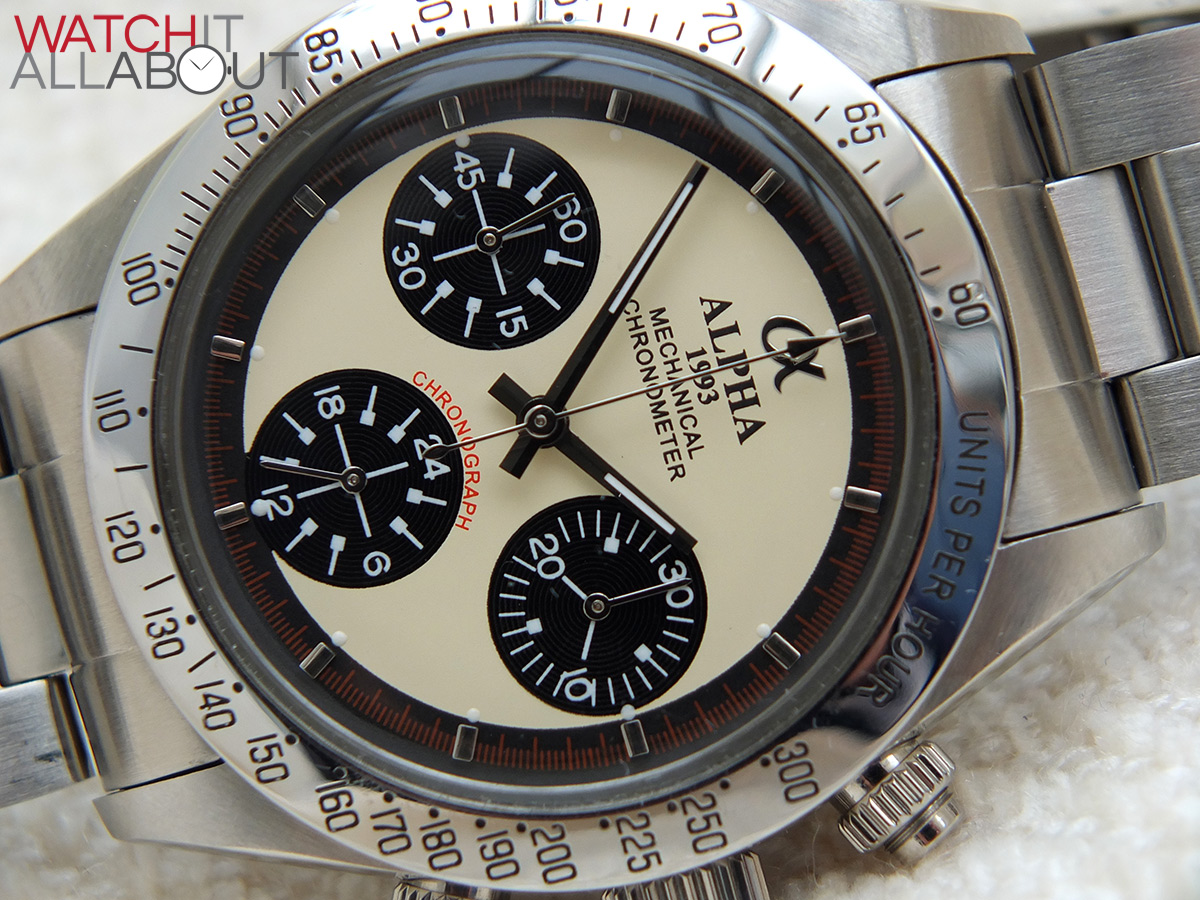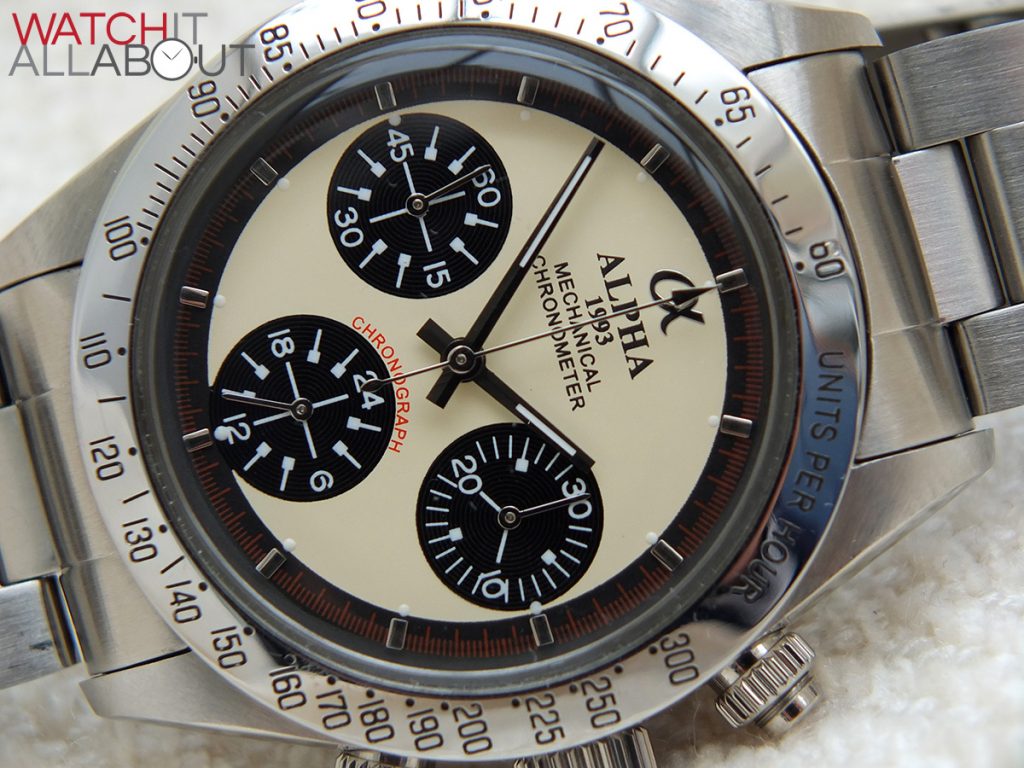 The Alpha Paul Newman Daytona offers 3 ATM / 30m water resistance, which is basically splash-proof. It's not suitable to wear whilst having a shower, nor should it be fully submerged in water. Cheap Chinese watches never really fare well in water proofing, which is a shame – as the Alpha Daytona has screw-in pushers, crown and case back, so theoretically it should be able to handle it.
I personally think the case is fairly good and well made, bar the crown and the below-par brushed finishing. I don't think the acrylic crystal can be used as a negative in this instance, as its used in many other watches at a greater price to offer a "vintage vibe", such as the Smiths Everest.
The dial
The dial style of the Alpha Daytona is commonly known as a panda dial – which is a lighter background with black subdials (which refers to the Panda's white head and black eyes). It's an extremely popular design thanks to how darn good it looks.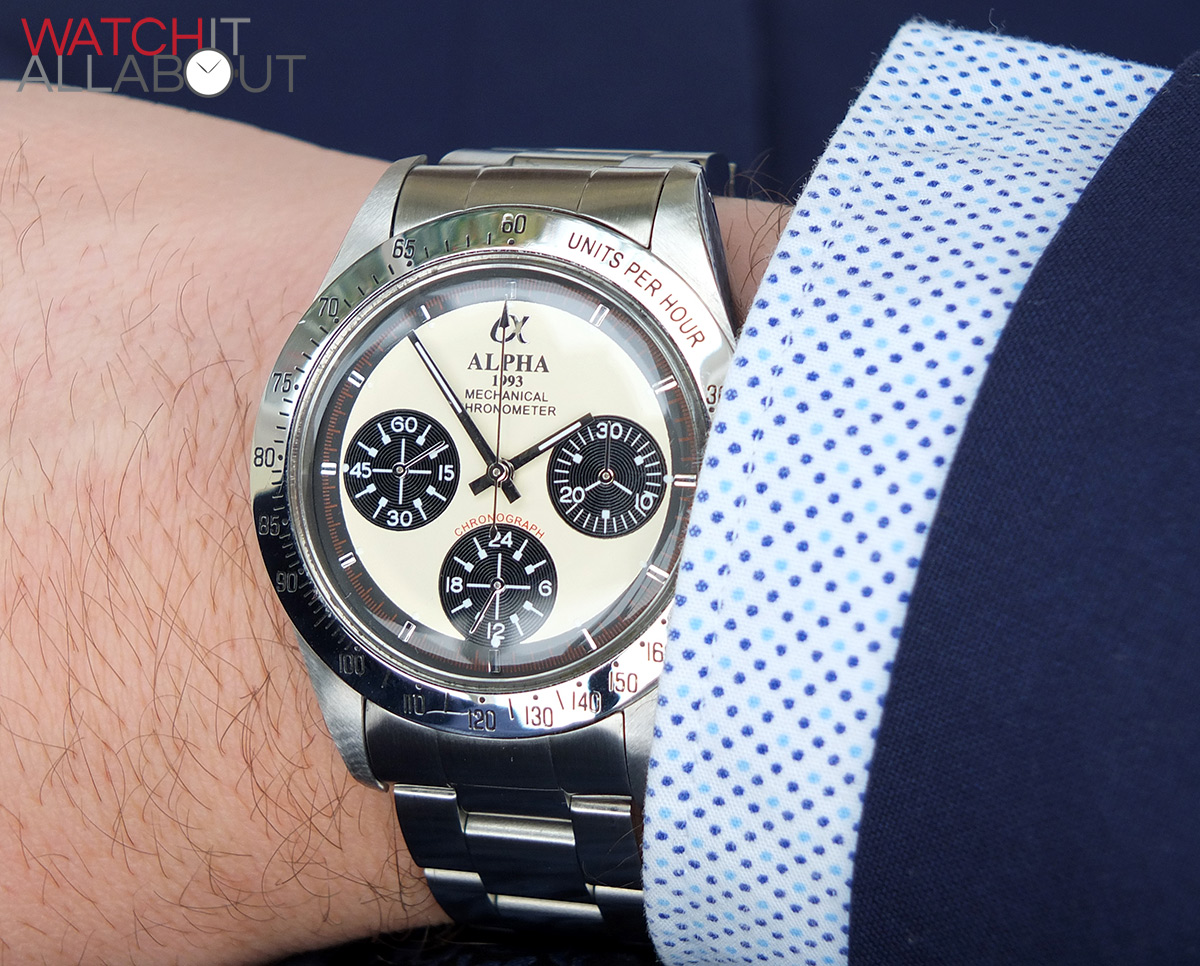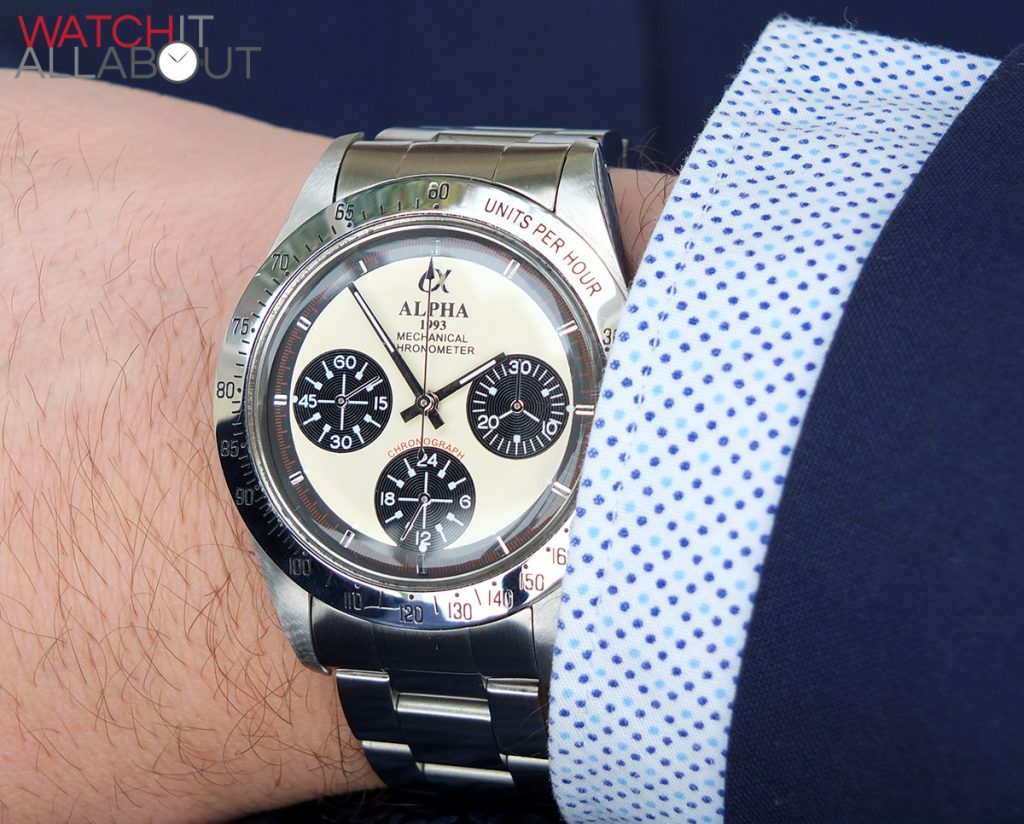 The dial as a whole is actually surprisingly very well executed and is pretty much flawless – which I really wasn't expecting. In the top half, below the 12 marker is the Alpha logo, the main feature being the applied polished Alpha "A", which is a nice touch and accurately made and applied. Below it: Alpha, 1993, and mechanical chronometer are all printed. It's not a chronometer though – that's a complete lie. A chronometer is a movement that has been tested and certified to meet certain strict precision standards. Only the best Swiss Made watches get this done (also known as COSC certified).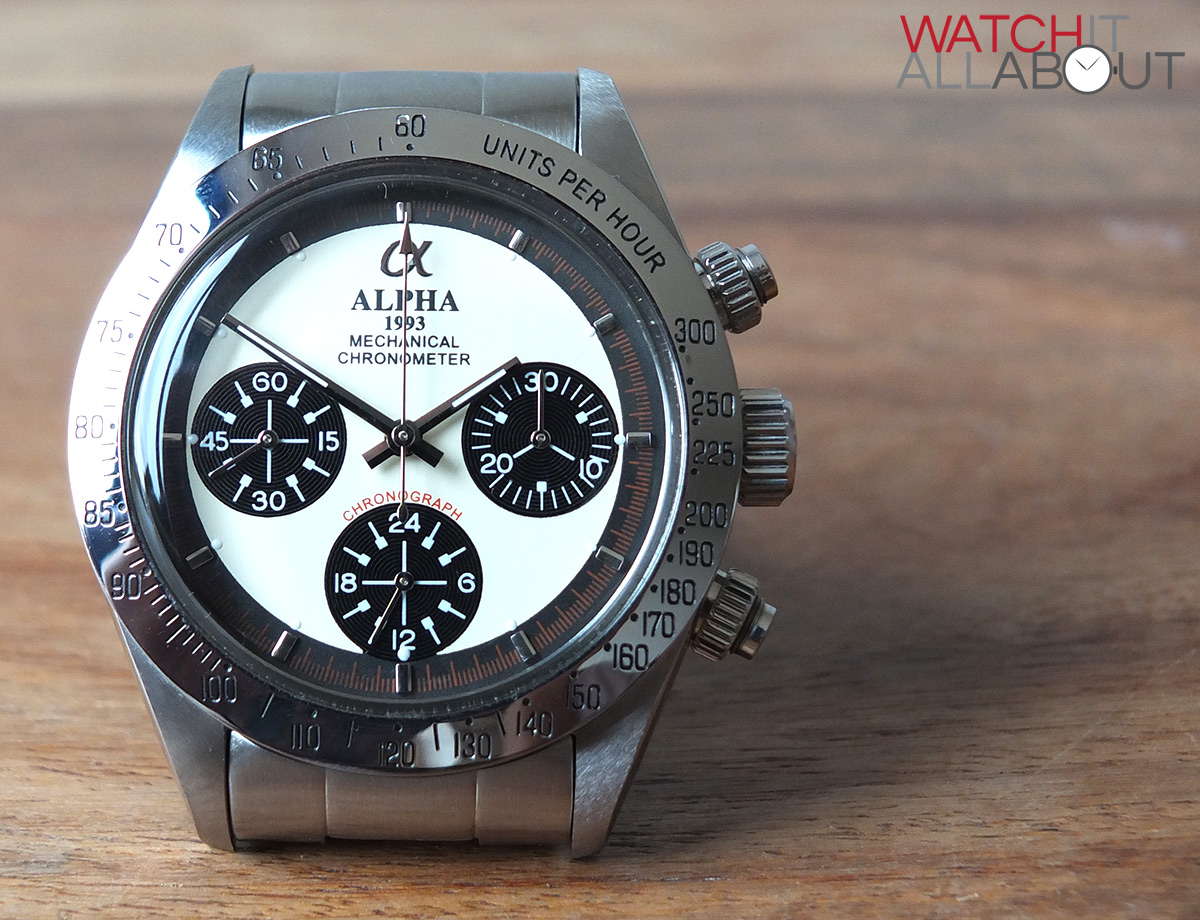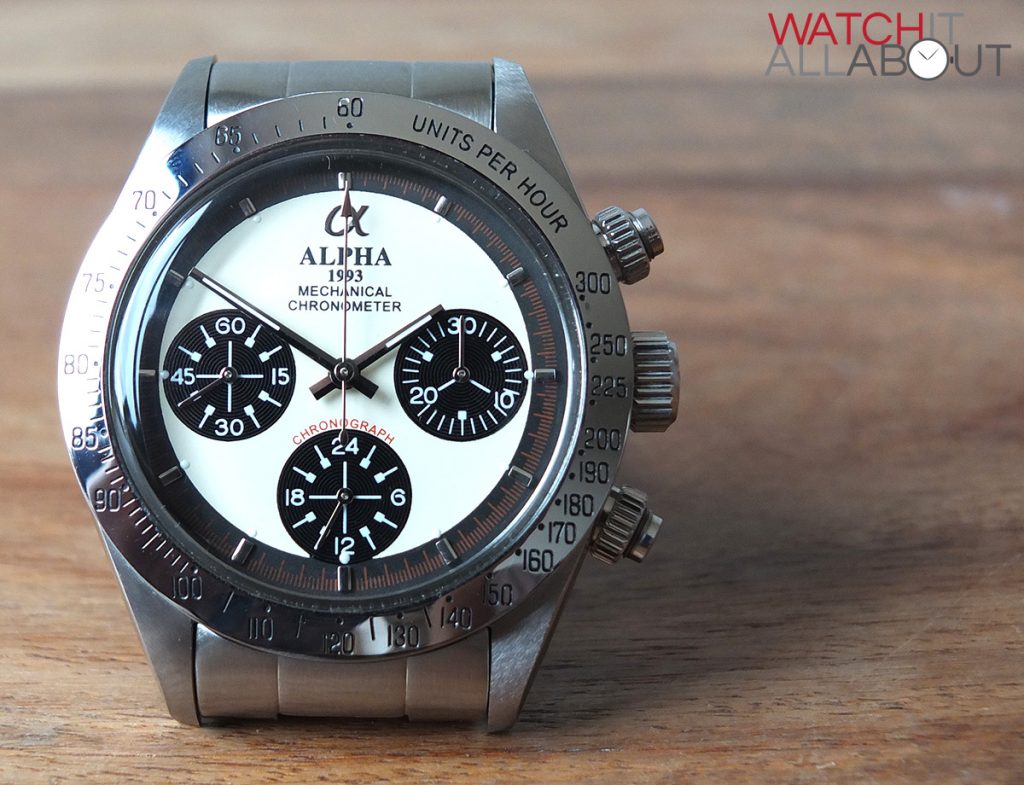 I really love the cream dial, it offers a beautiful softness and vintage touch to the watch and I believe it looks less harsh than a crisp white dial would be. There's a black outer edge, with the minute track within it made up of red markers at every minute and then 3 smaller dashes in-between. The red on black looks great, supplying a very sporty aspect to the dial. There are polished applied batons at every hour within the black ring, which have rather pleasantly impressed me with how well they're made. Below them, on the inside of the black minute track, are lumed blobs. They are tiny and barely visible – and they may as well not have bothered with them the lume is that bad. No charge ability or strength whatsoever.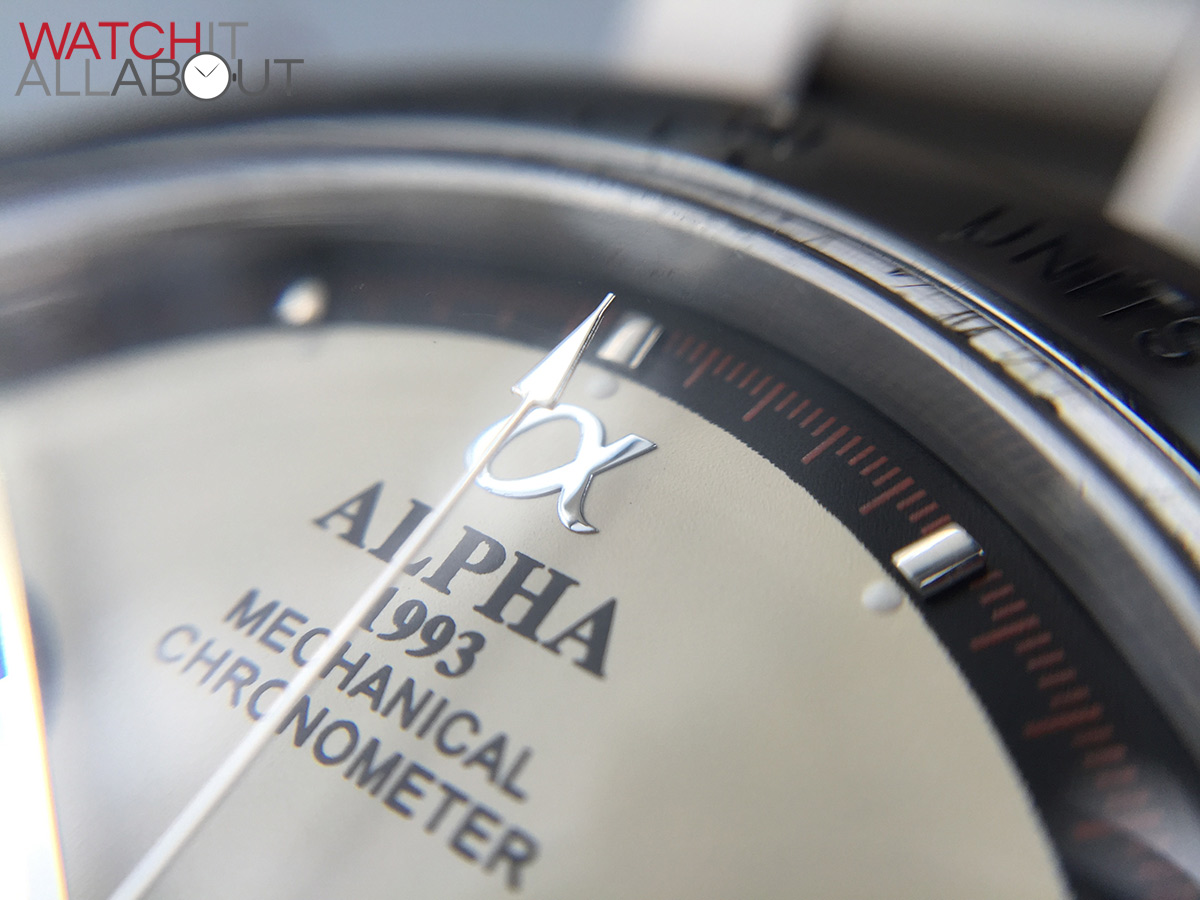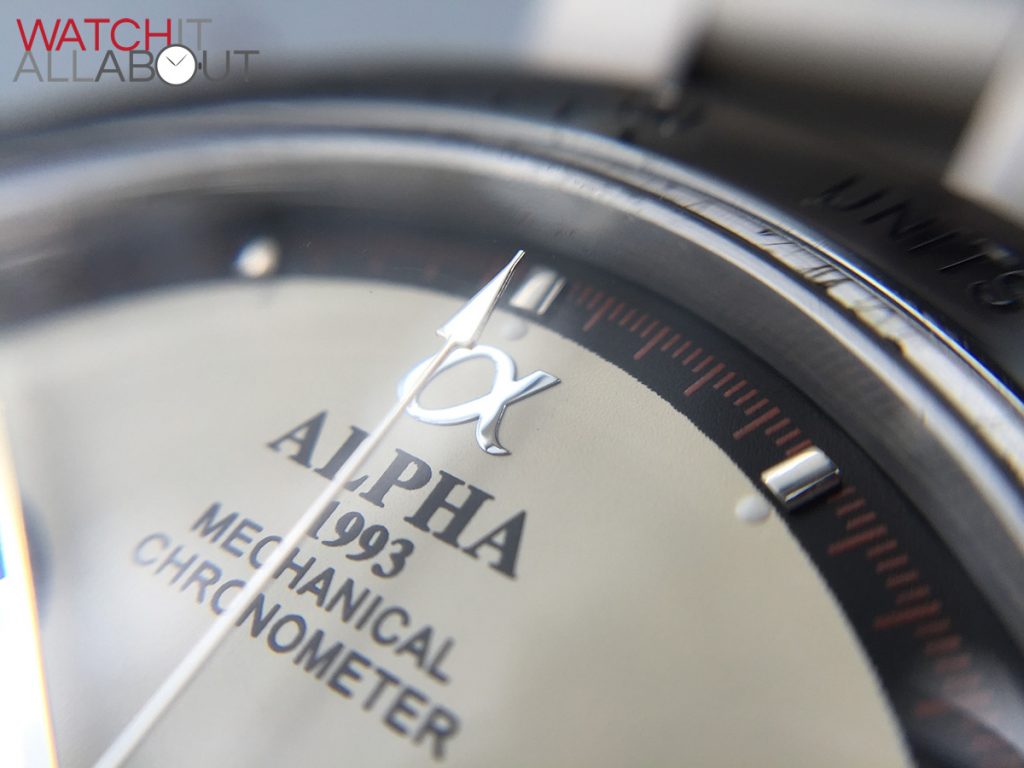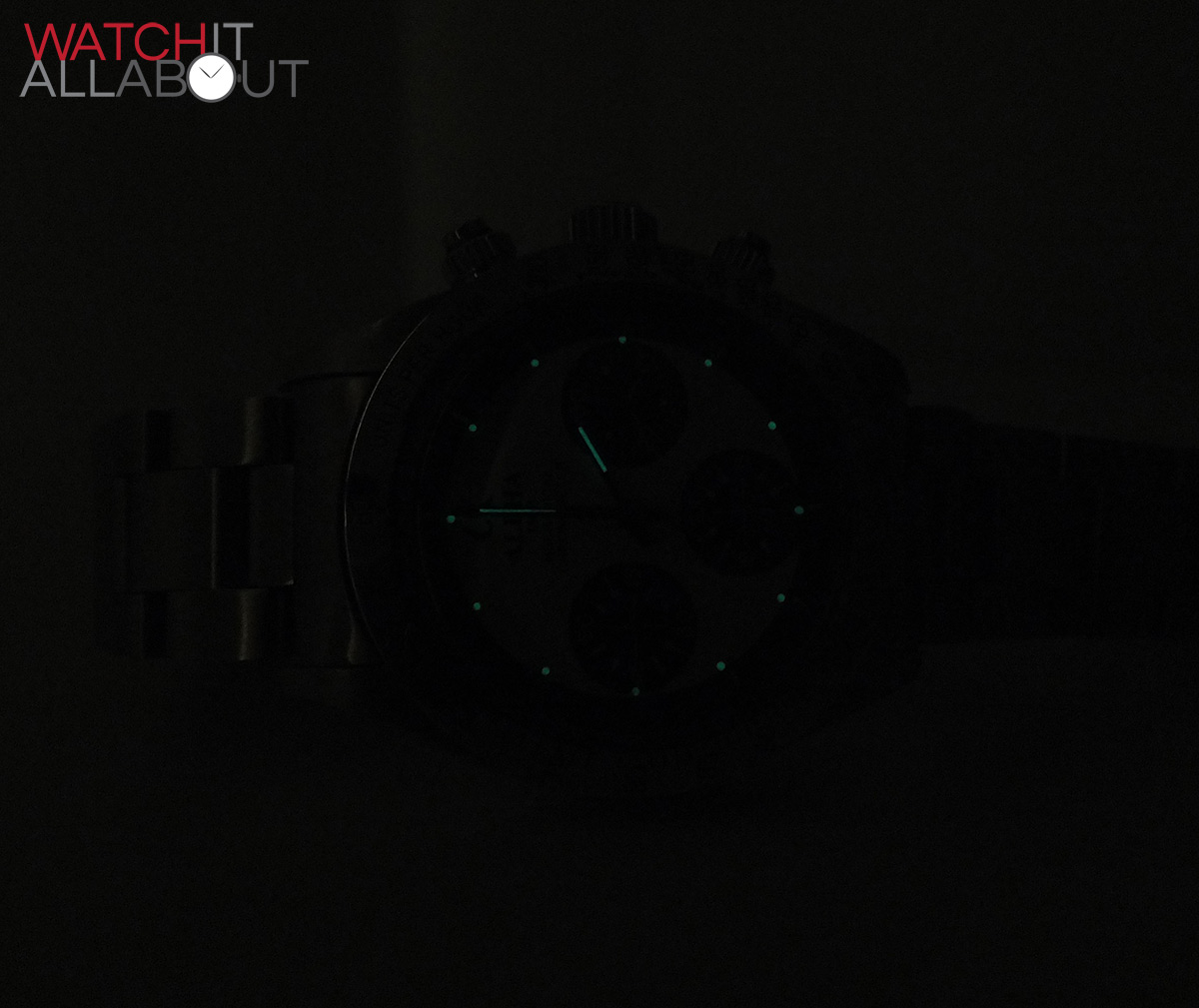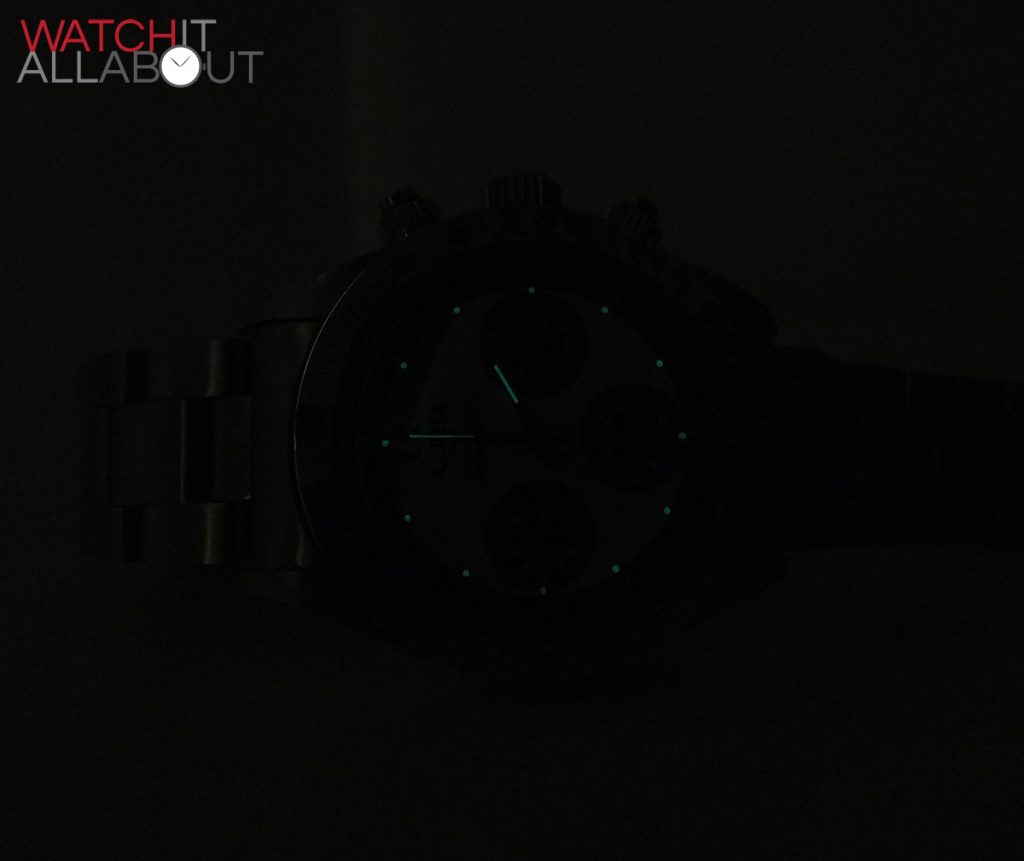 The hour and minute hands are very simple long batons with squared ends, which are pitched down the centre, offering different degrees of reflection based on the angle of light. They have a very thin centre line of lume which is as poor quality as the hour markers.
The subdial hands are very thin stick batons with points on the end. All the hands are polished steel, which reflect the light beautifully. They are all finished to a high standard, which is great to see. They have no flaws on them whatsoever, nor are any tooling marks apparent. Because the dial is cream rather than white, they are visible enough to ensure good readability.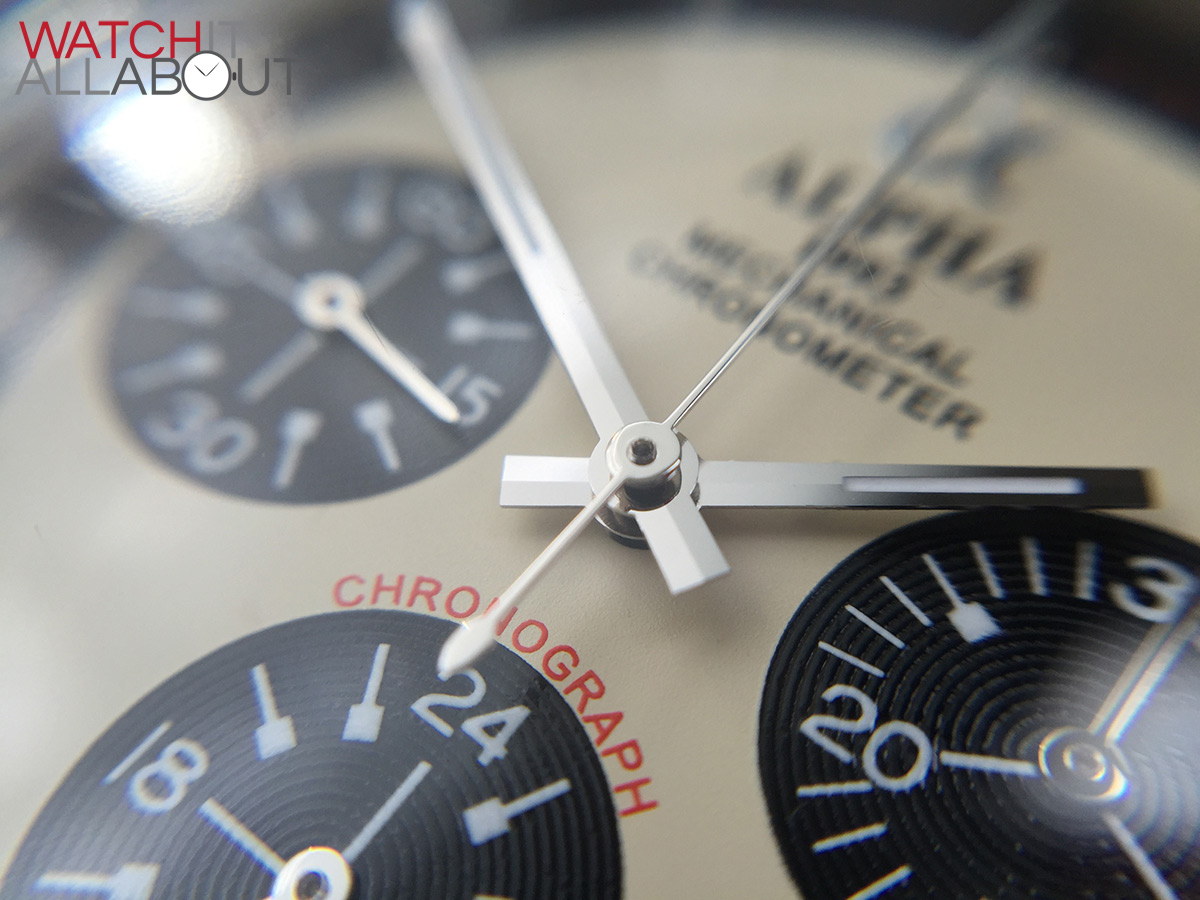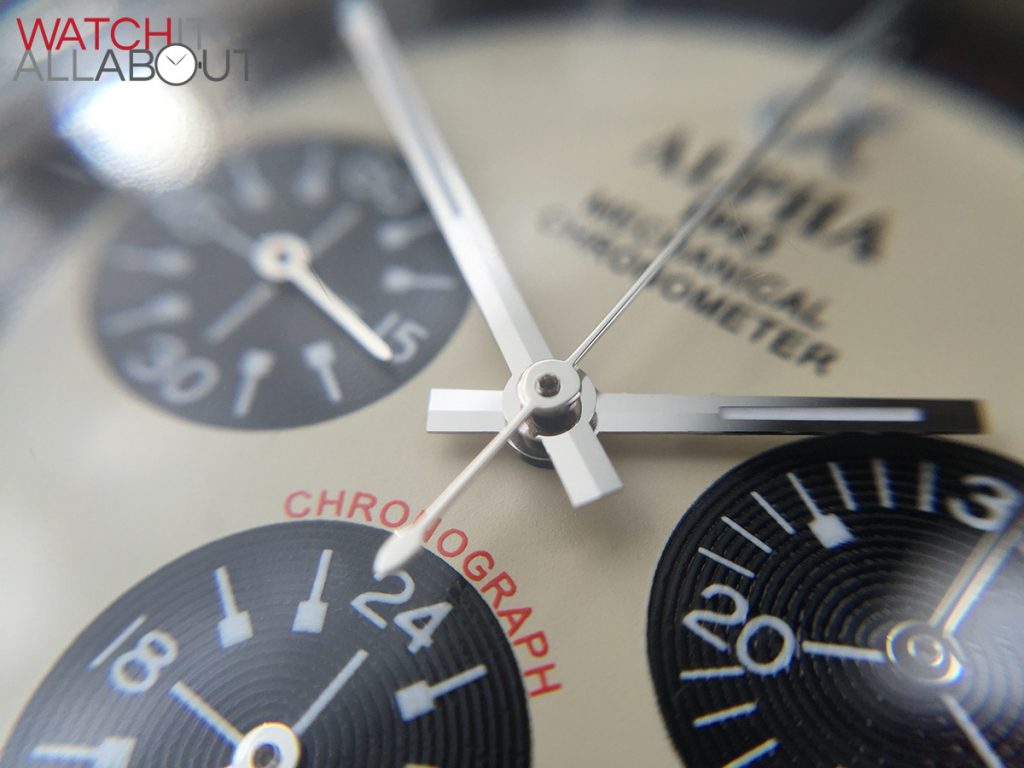 The subdials all have a subtle concentric circular pattern within them, which again is a nice unexpected level of detail I was pleased to see. Each subdial has white printing on, which isn't the cleanest or crispest print work I've ever seen.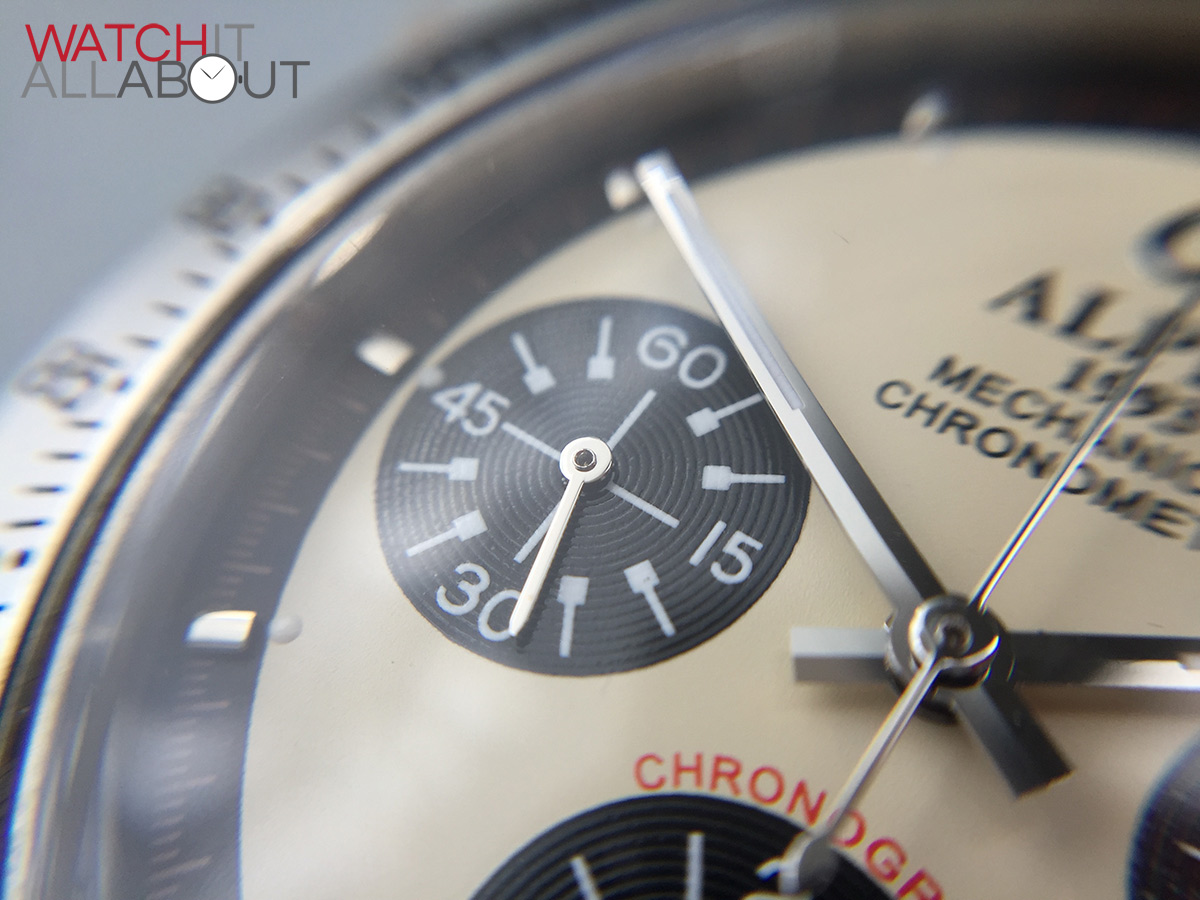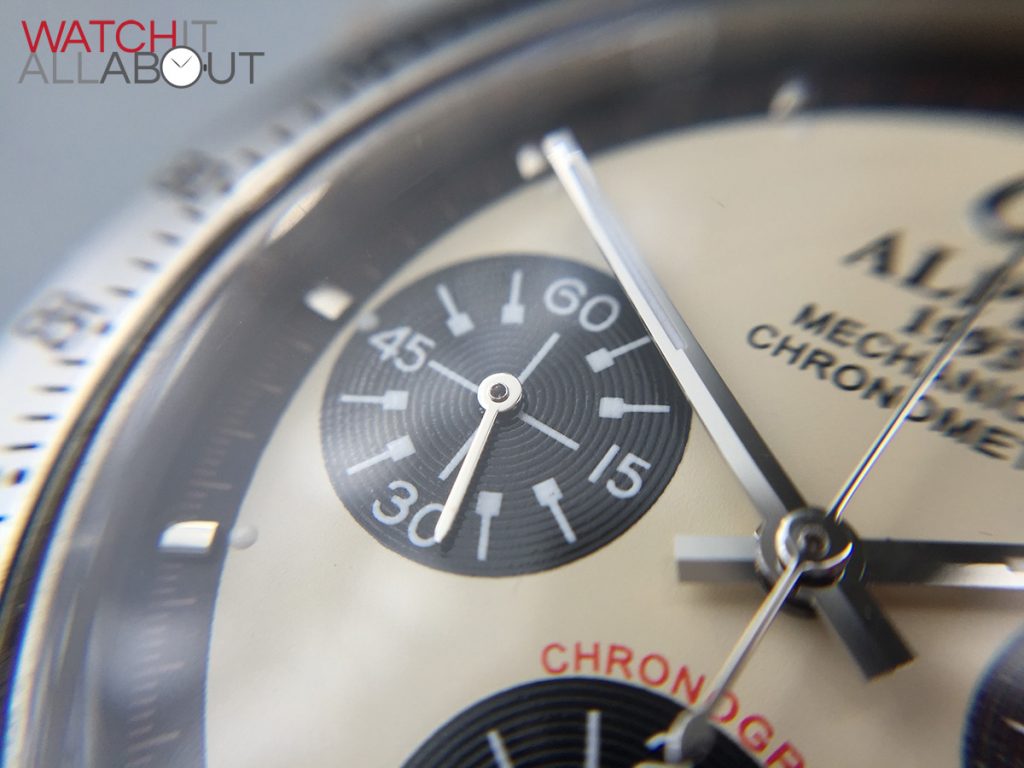 Just above the bottom subdial is the word chronograph printed, curving around the edge in red ink – another sporty gesture which is pleasing to the eye. The printing as a whole is pretty good, apart from on the subdials as mentioned, but this is most probably because of having to print on top of the circular pattern.
I am very pleased with the dial of the Alpha Paul Newman Daytona. It's an undeniable eye catcher, and it has a unexpectedly high level of finish to support that.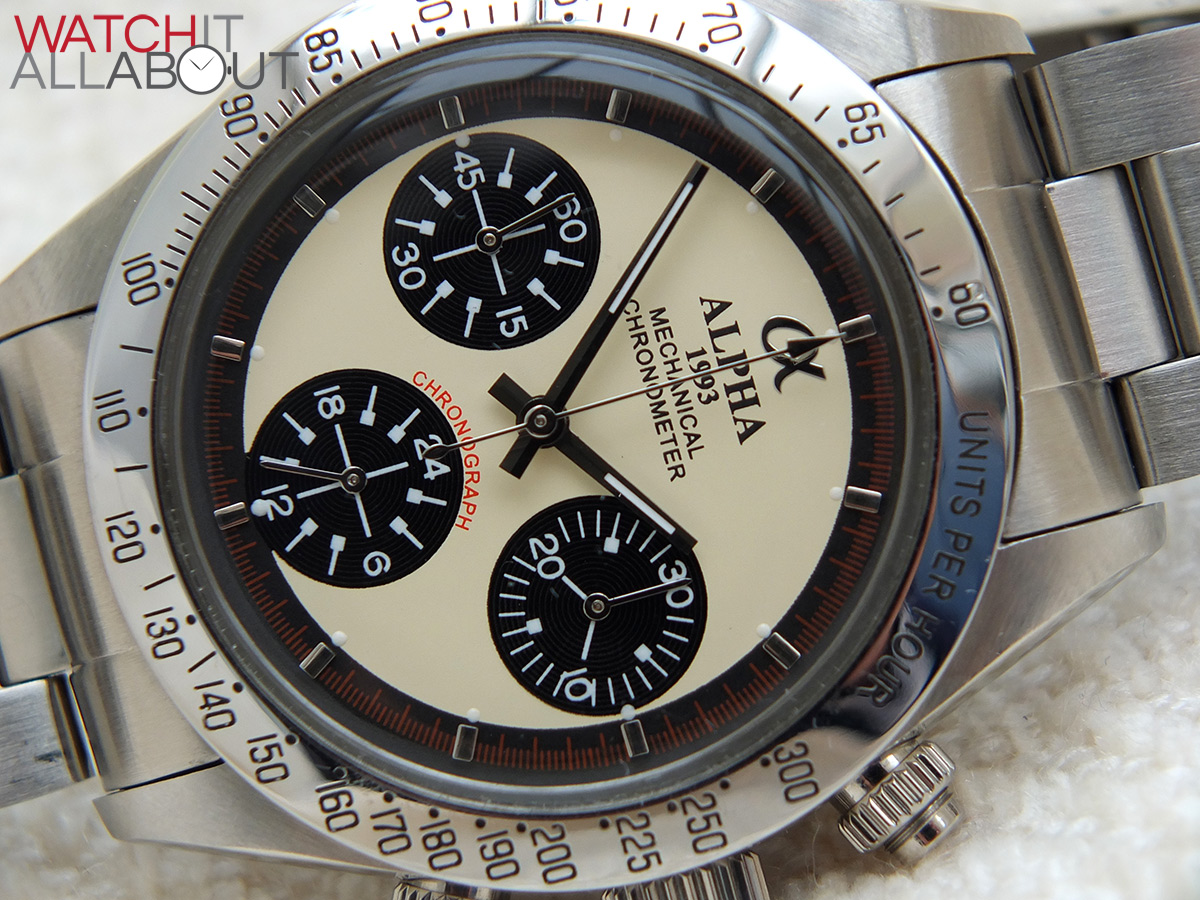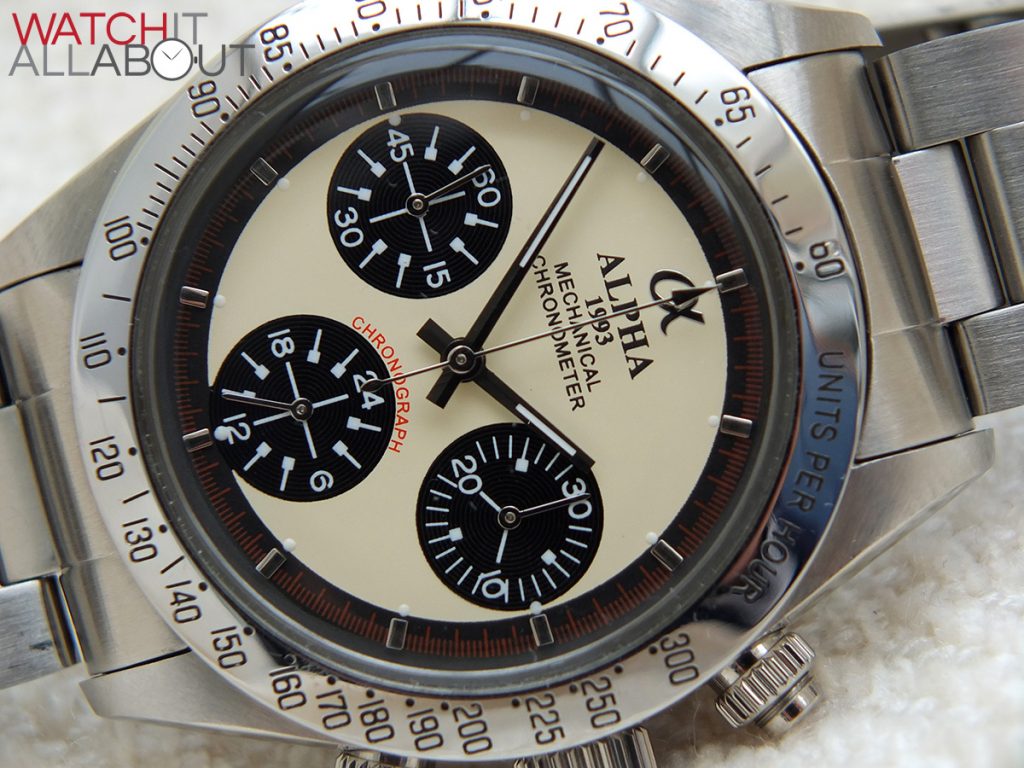 The movement
The movement powering the Alpha Daytona is a Seagull ST1903, or SG2903. It is a hand-winding column wheel mechanical chronograph movement, which doesn't hack. It runs at 21.6k bph (6 ticks per second), and has approximately 40 hours power reserve. It's currently running about 2 minutes slow per week – not the best, but at a price like this I'm not surprised it hasn't been regulated particularly accurately.
It's a 30 minute chrono, rather than the more popular full hour. The centre seconds hand is the chrono seconds, the left subdial at 9 is the running small seconds, the right subdial at 3 is the chrono elapsed minutes, and the bottom subdial at 6 is a 24 hour indicator for the time.
It's well known to be a sturdy and reliable workhorse of a movement, so it's likely to tick away for many a year, as long as it's properly looked after.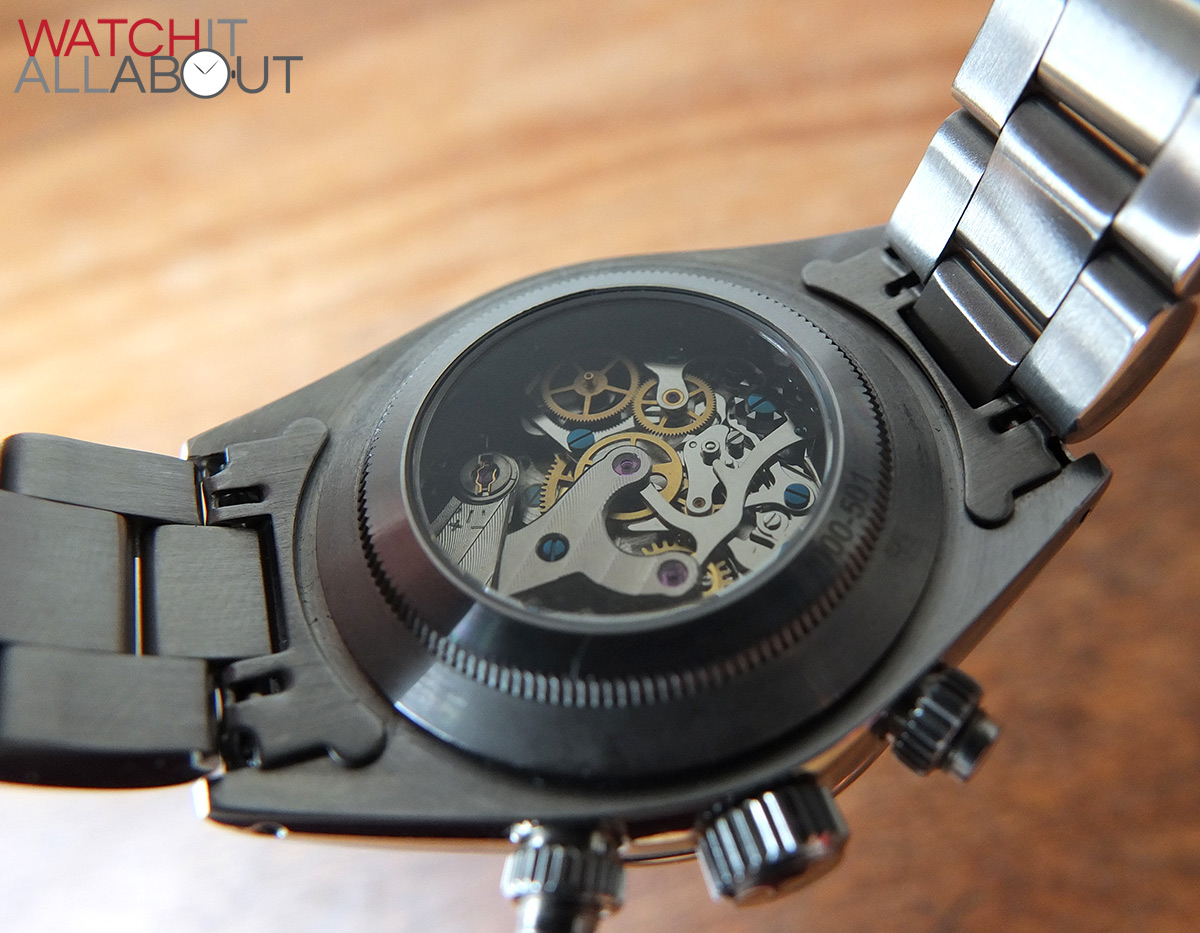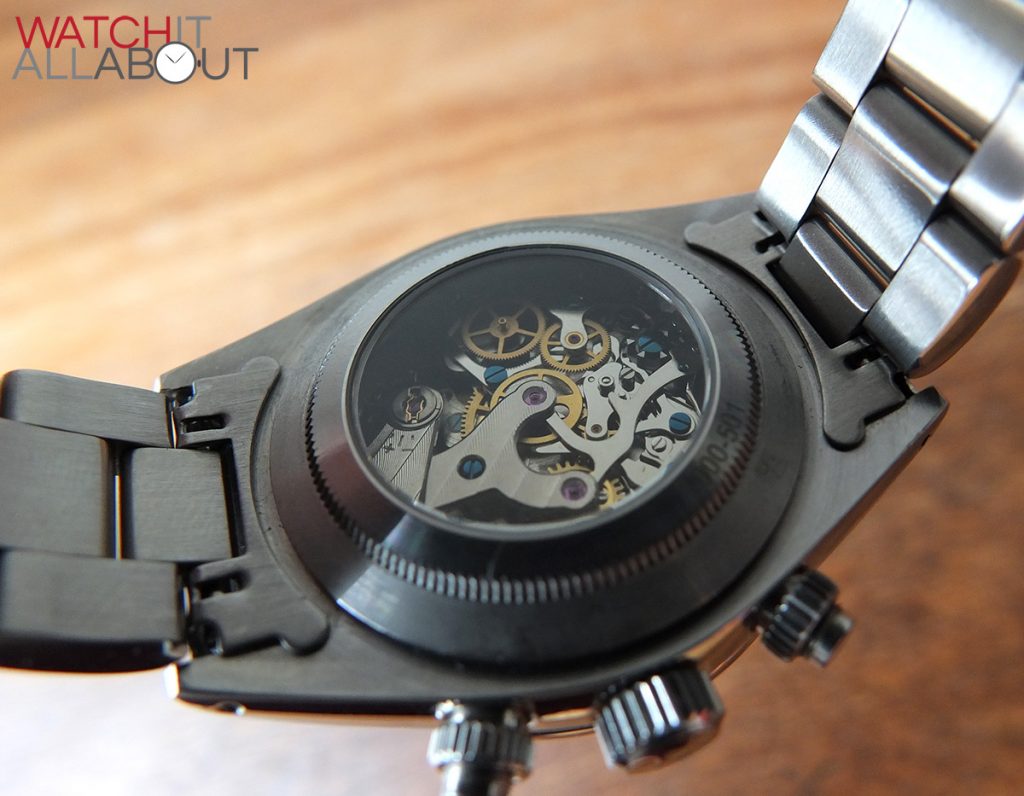 Looking at the ST19 through the exhibition case back, it's a great looking movement, with (chemically) blued screws, 23 jewels, and fairly decent quality Geneva stripes and pearlage.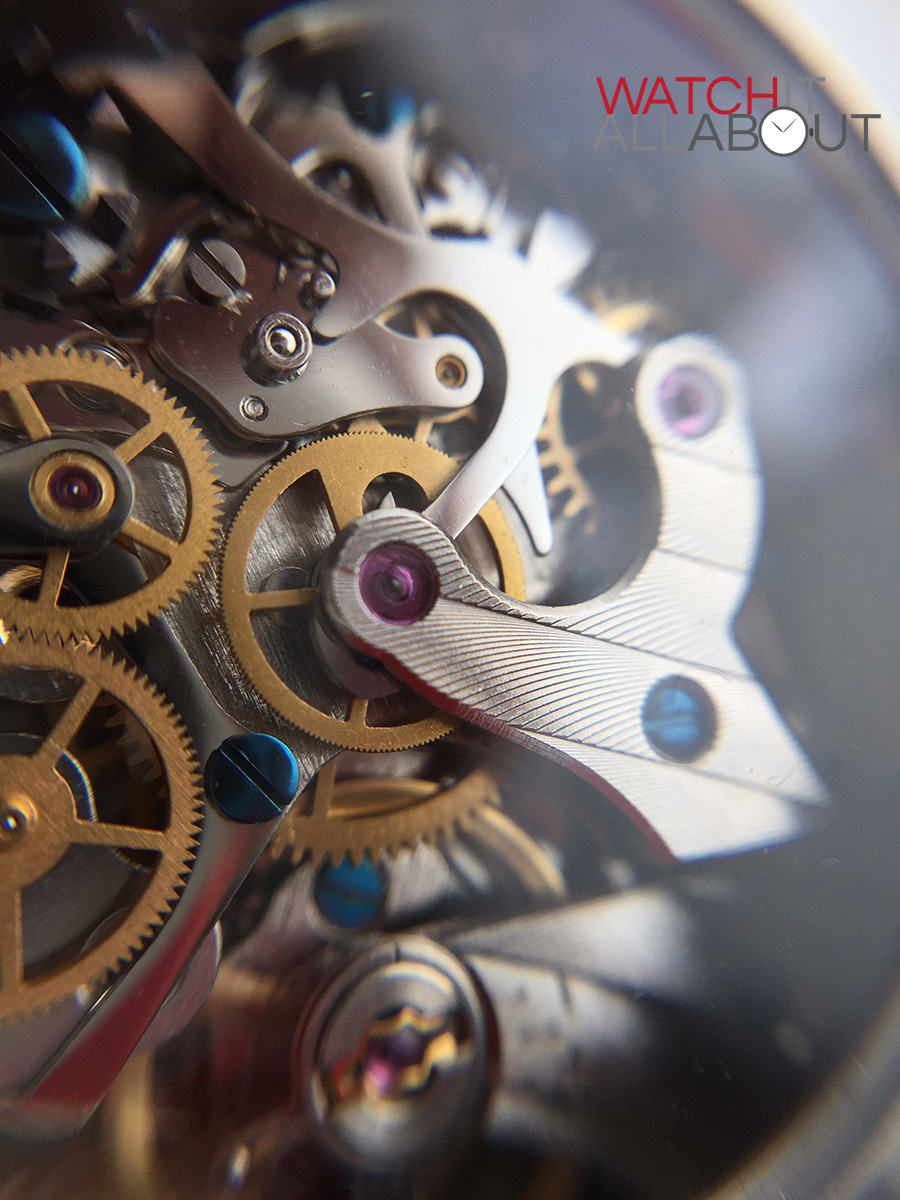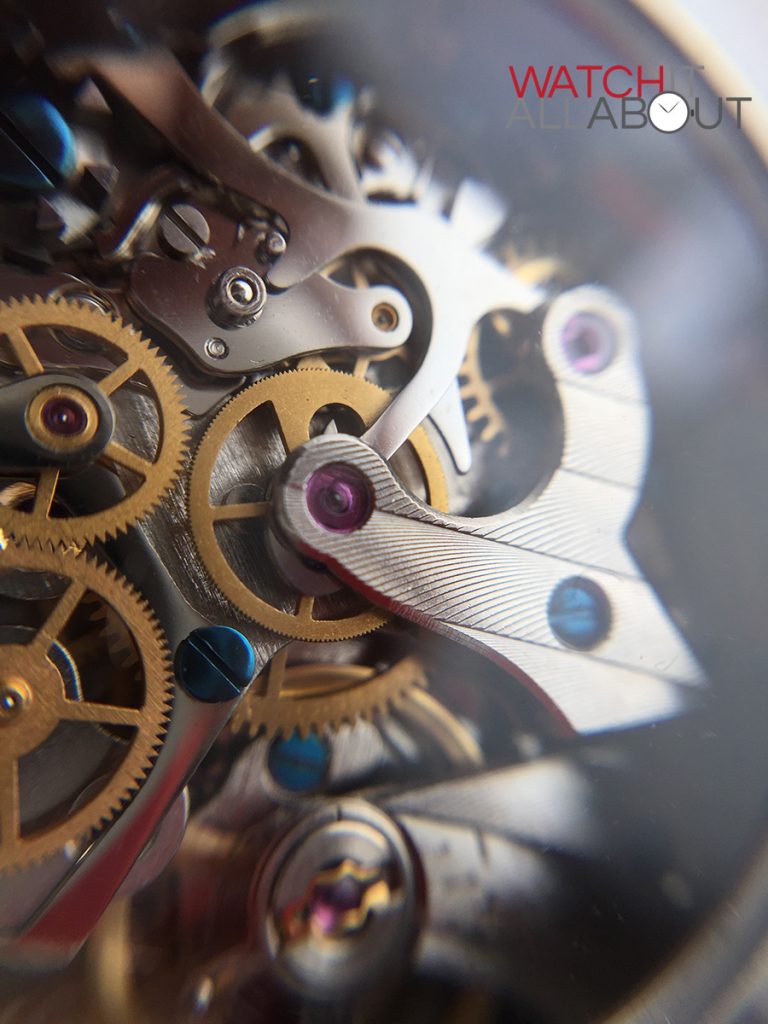 Let's not forget this is probably the cheapest mechanical chronograph you can buy new on the market… And that this watch costs only £120. Quite impressive when you think about it.
The bracelet
The bracelet is most probably the weakest part of the Alpha Daytona. Although each link is fairly well made and finished, it's completely let down by the poor hollow end links that don't fit very well to the case or look that good, and also the lightweight buckle.
The bracelet starts off with a width of 20mm at the lugs, reducing to 16mm at the buckle, which I find to be a comfortable size that fits the wrist and well, and matches and balances the watch head.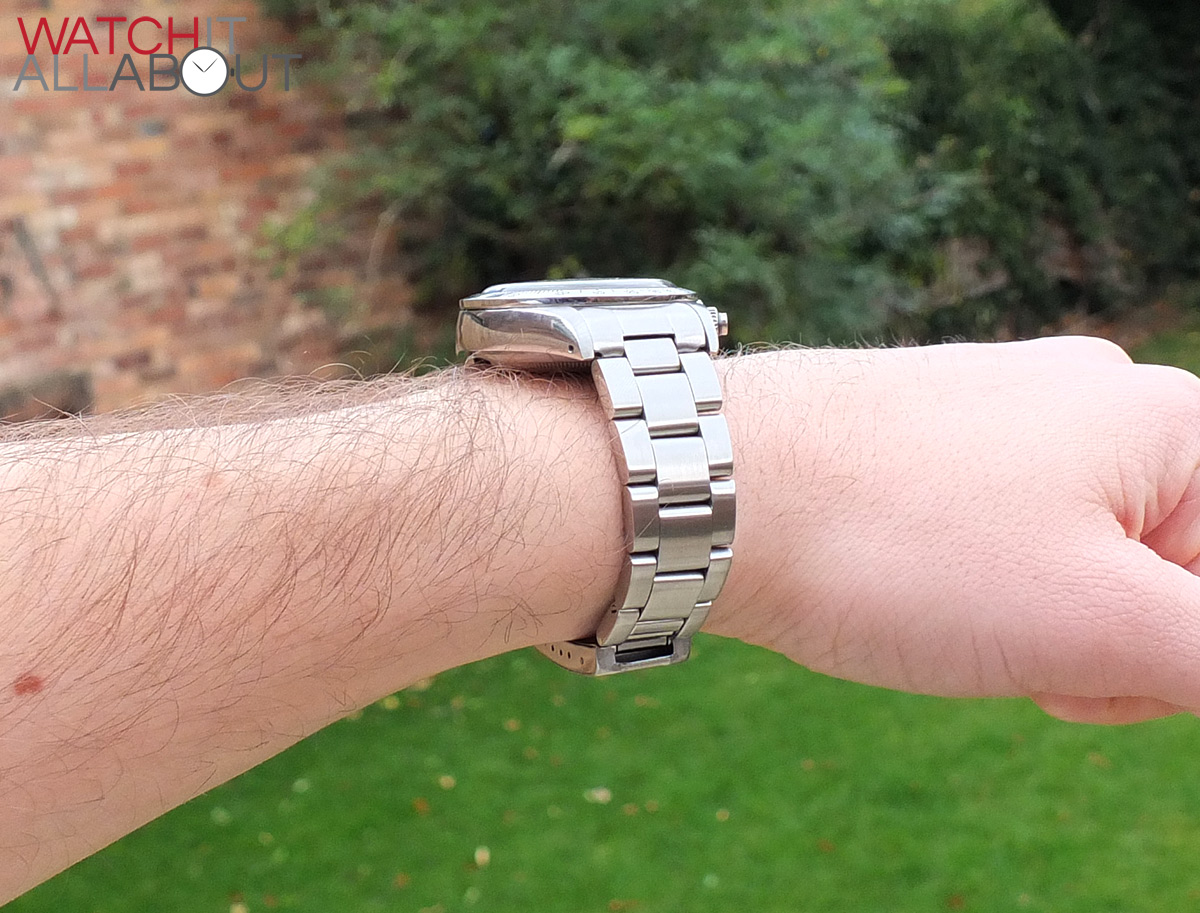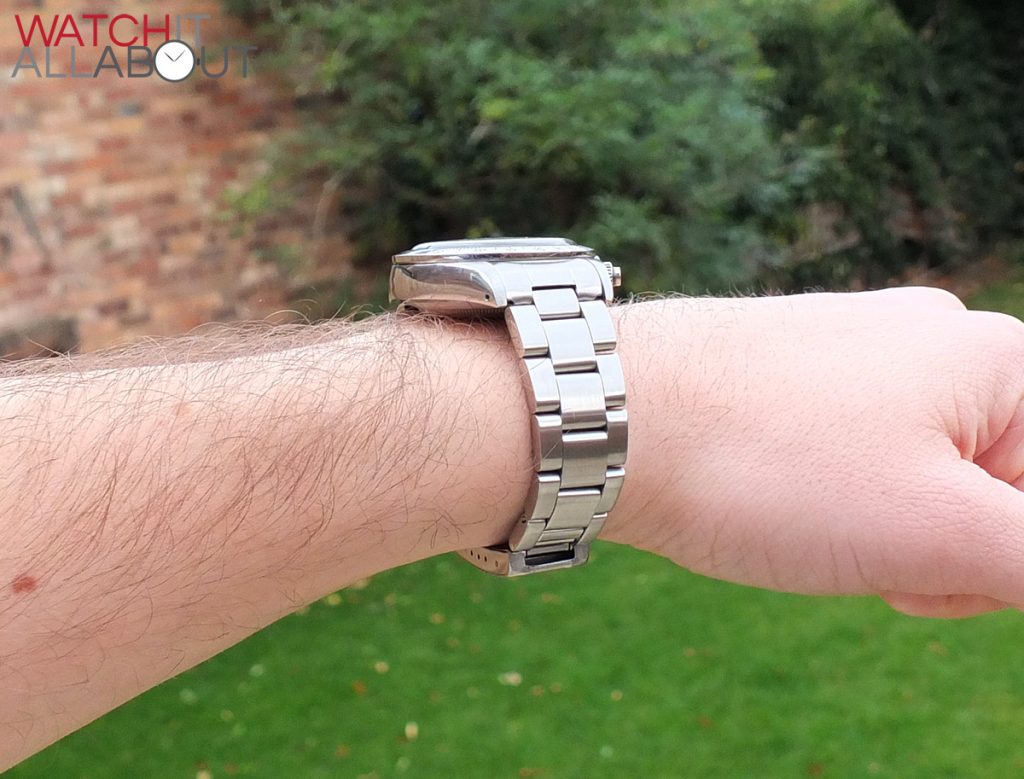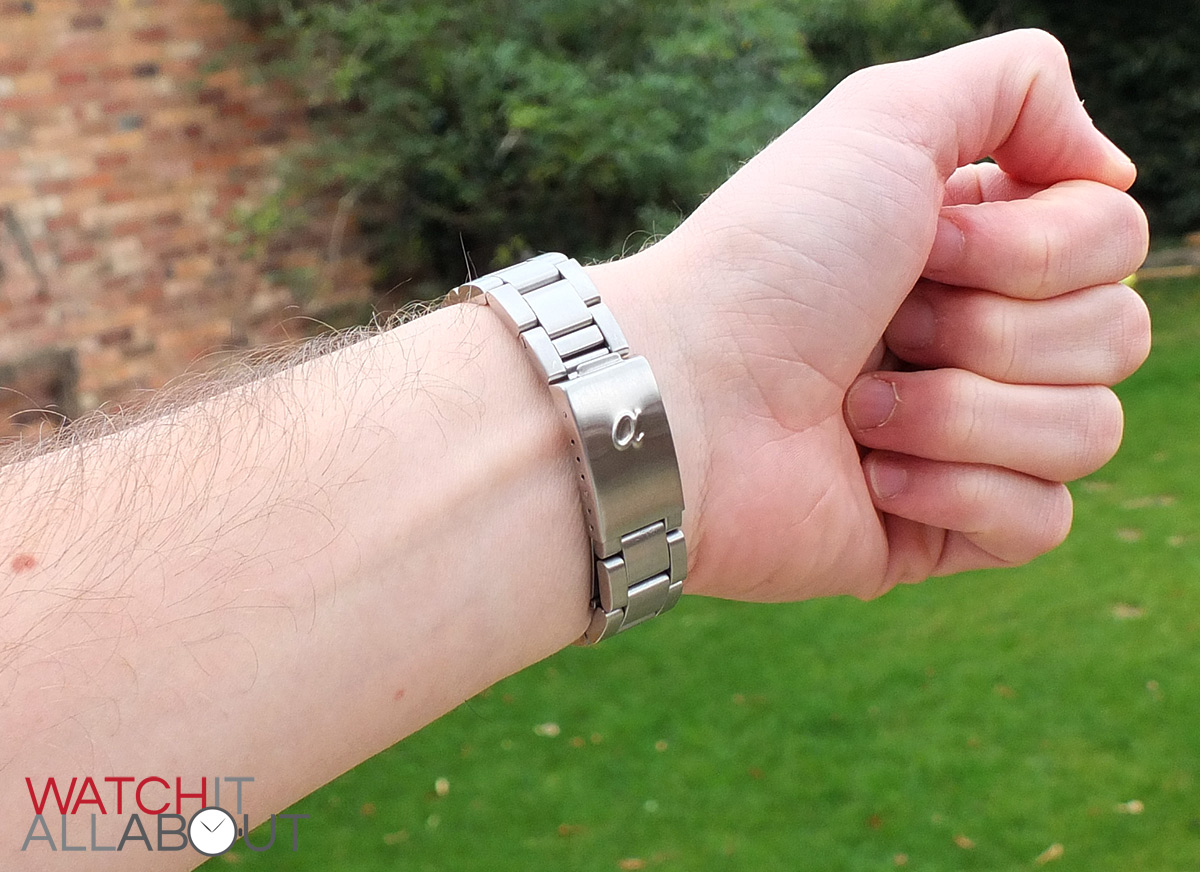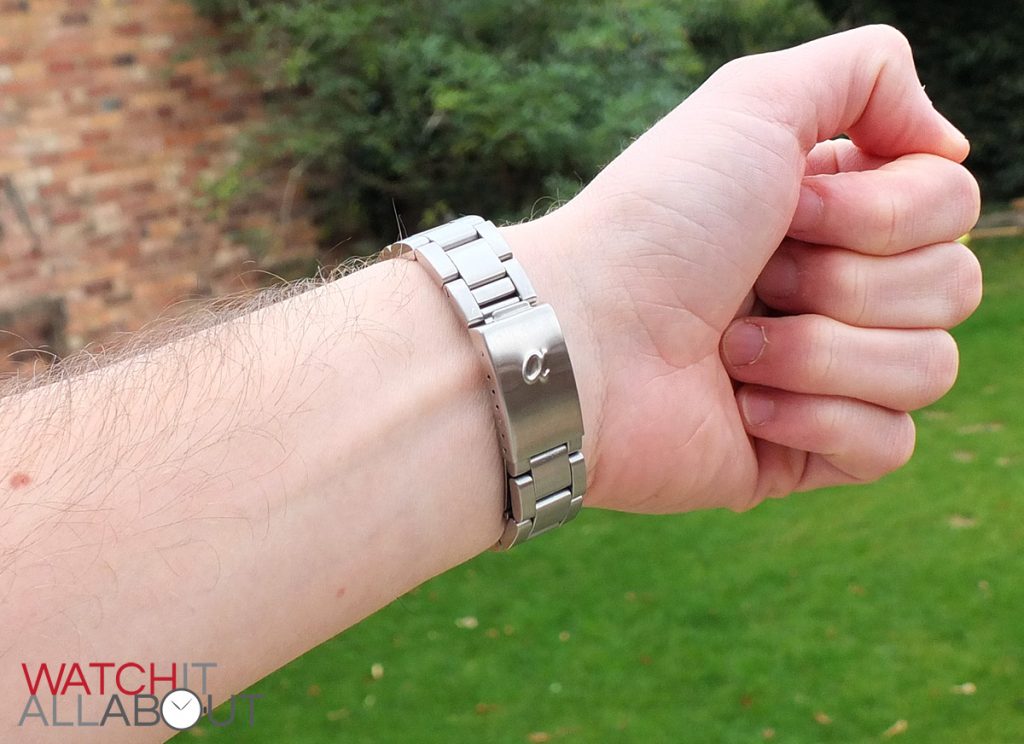 The bracelet is all brushed on the top and bottom, and polished on both sides. The polished finish is actually surprisingly good, with no marks and a mirror-like finish. The brushed finish is not quite so good, it being easy to mark, a bit light, and not too uniform. Still, when you're wearing it as normal, these things can't really be seen when you glance at your wrist. It's only when you start looking a bit closer do you see them.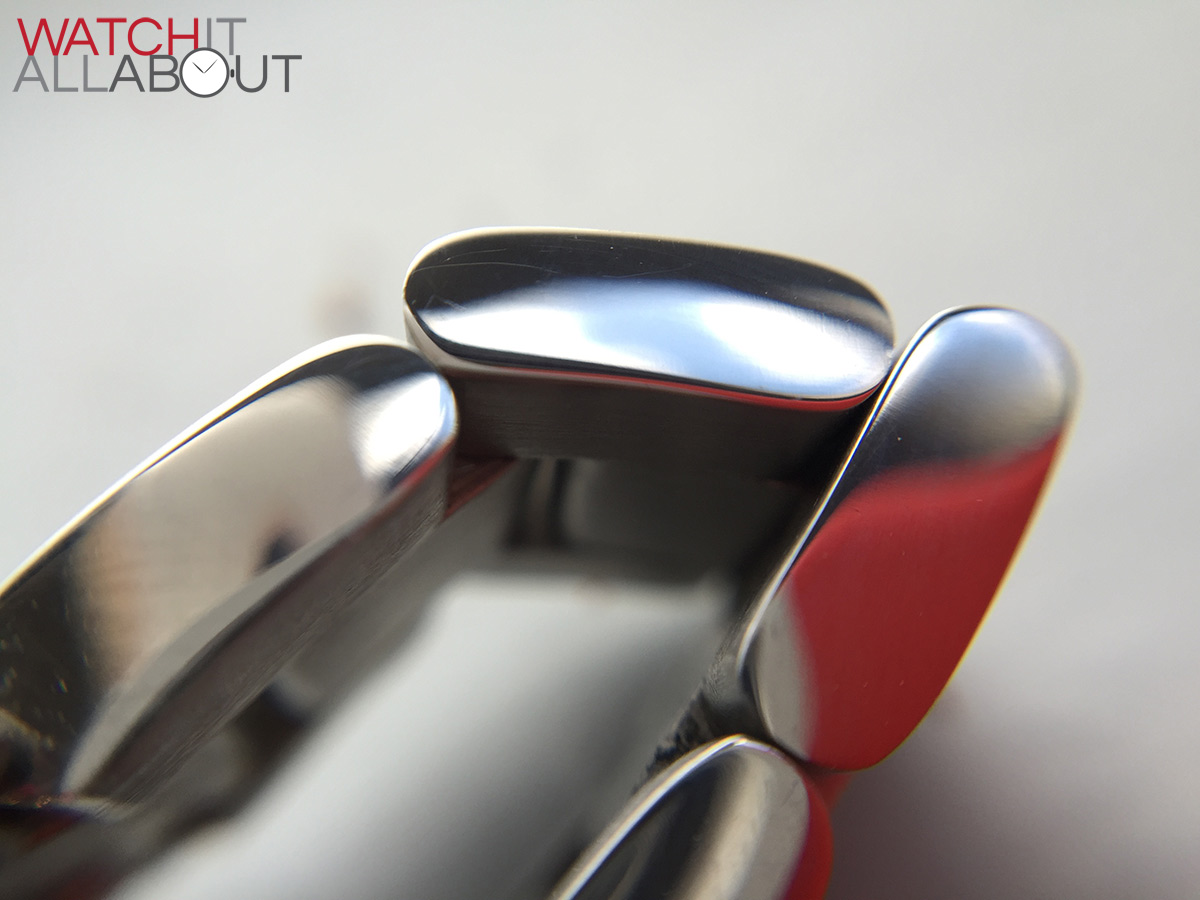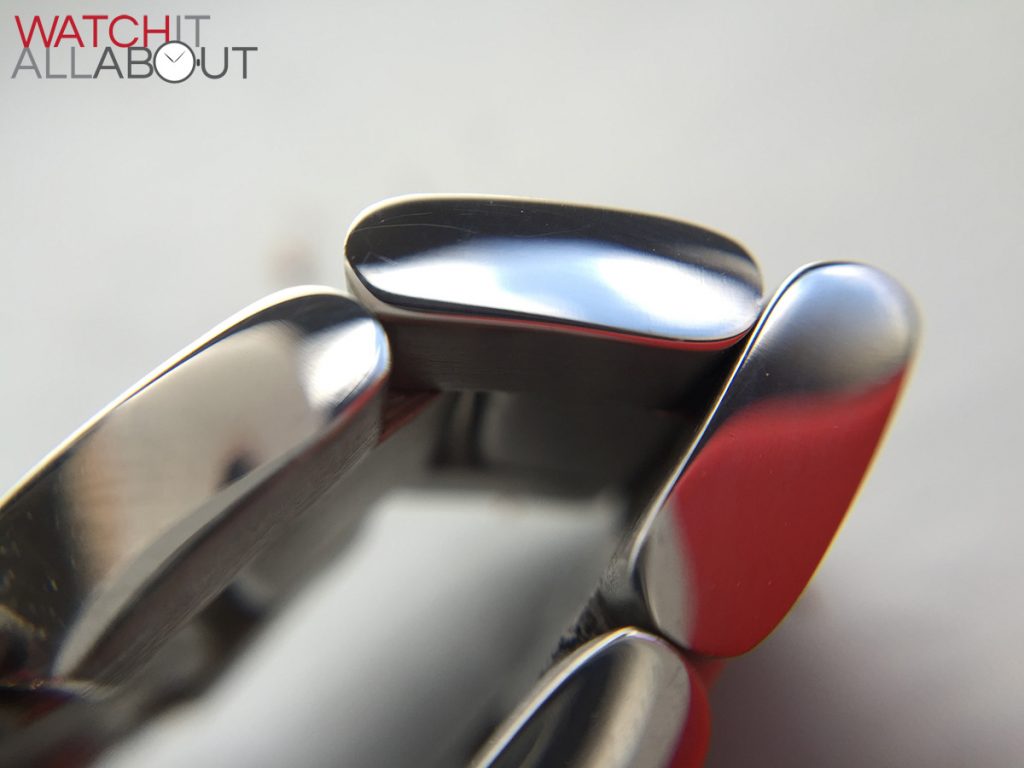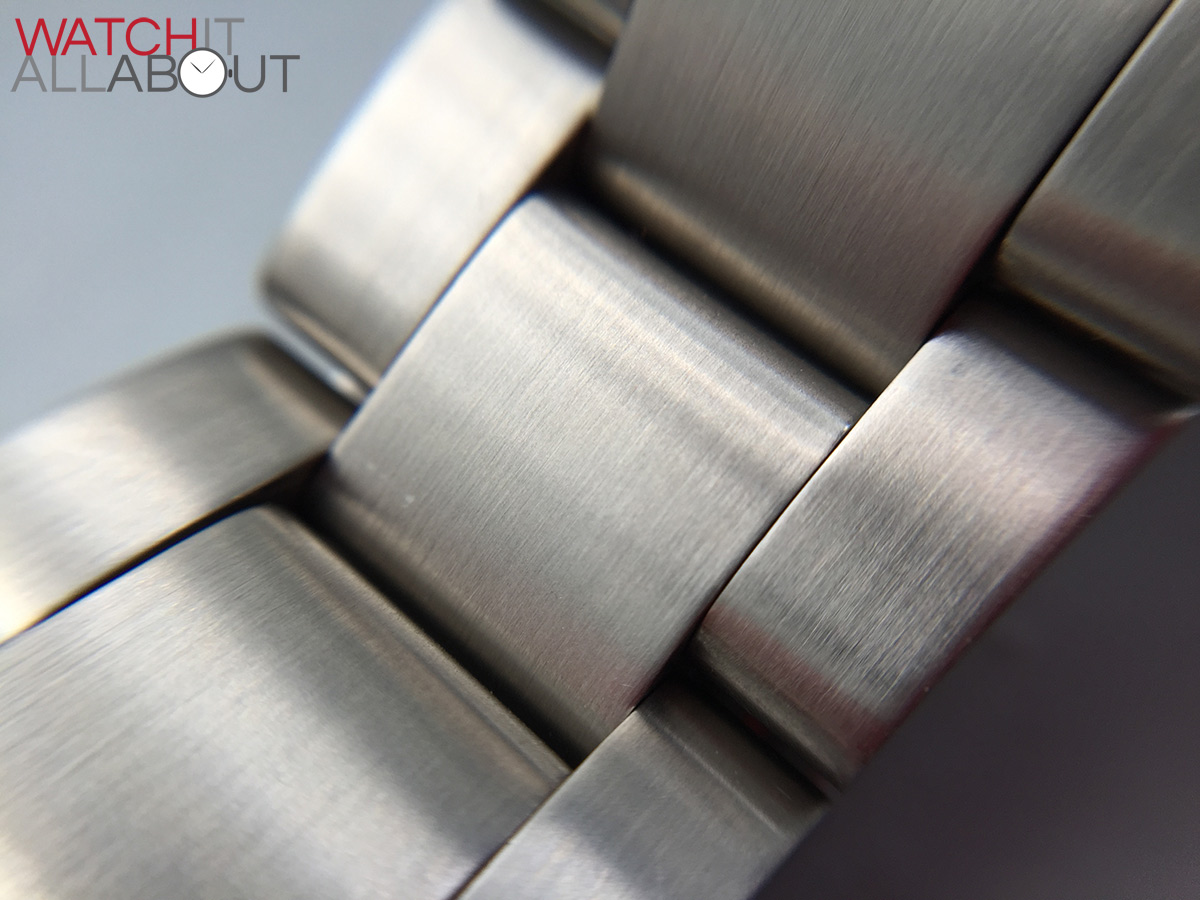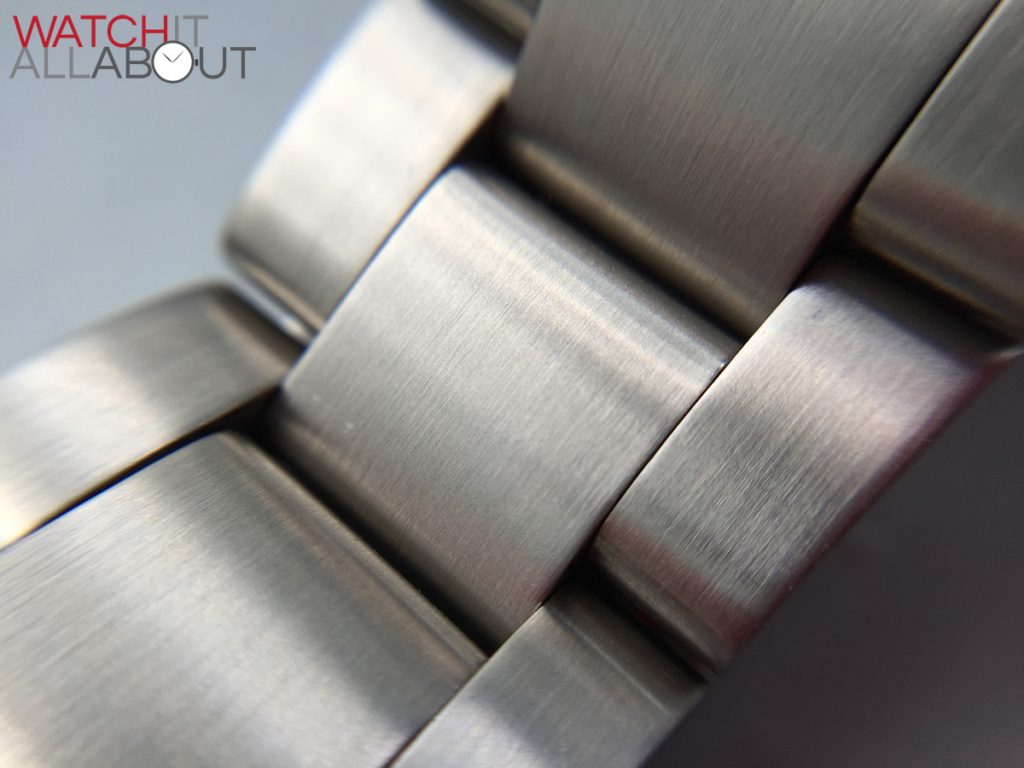 The hollow end links are a bit of a disaster. They aren't cut with that great accuracy, as they don't fit the case's curve accurately. You can also see them all folded up from the bottom. Yuk. Thankfully the bracelet is easy to remove courtesy of the drilled through lugs. This is a shame as the main links are all actually very well made.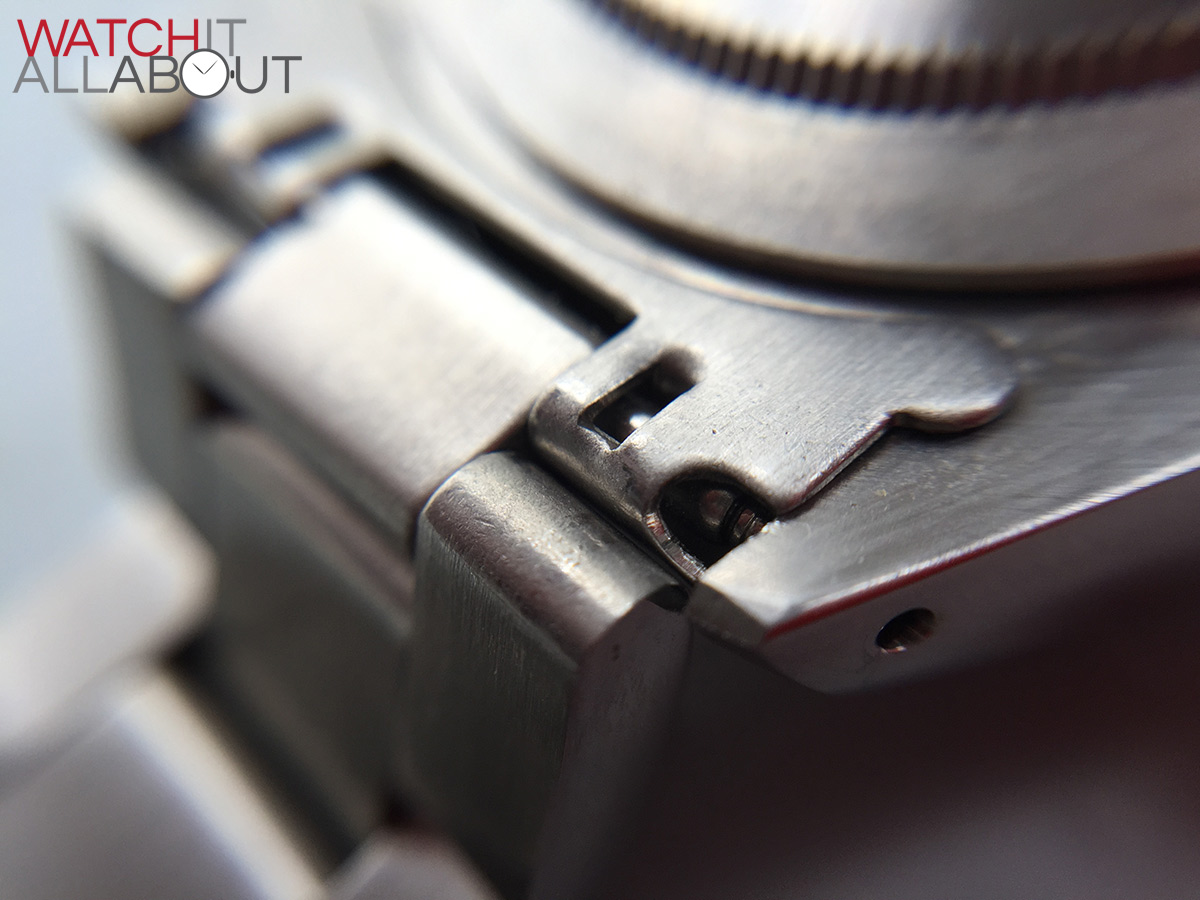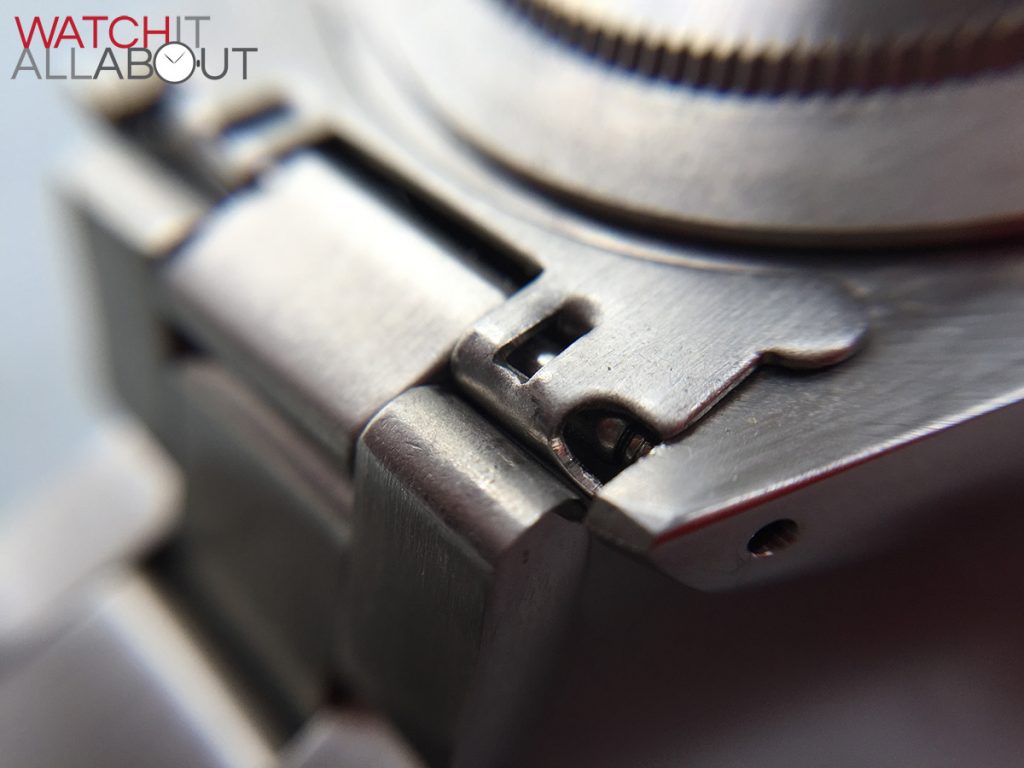 The buckle is another aspect where the bracelet isn't the best. It's very thin folded steel, with the Alpha logo stamped in the centre, which looks pretty bad. It's a single locking buckle, you just push it together and it clicks shut, which isn't particularly secure. In fact, I have had it pop open on me before. One good thing about it is the 6 micro-adjustment holes, so you can get a perfect size to fit your wrist. Like the rest of the bracelet, it has a brushed top and polished sides.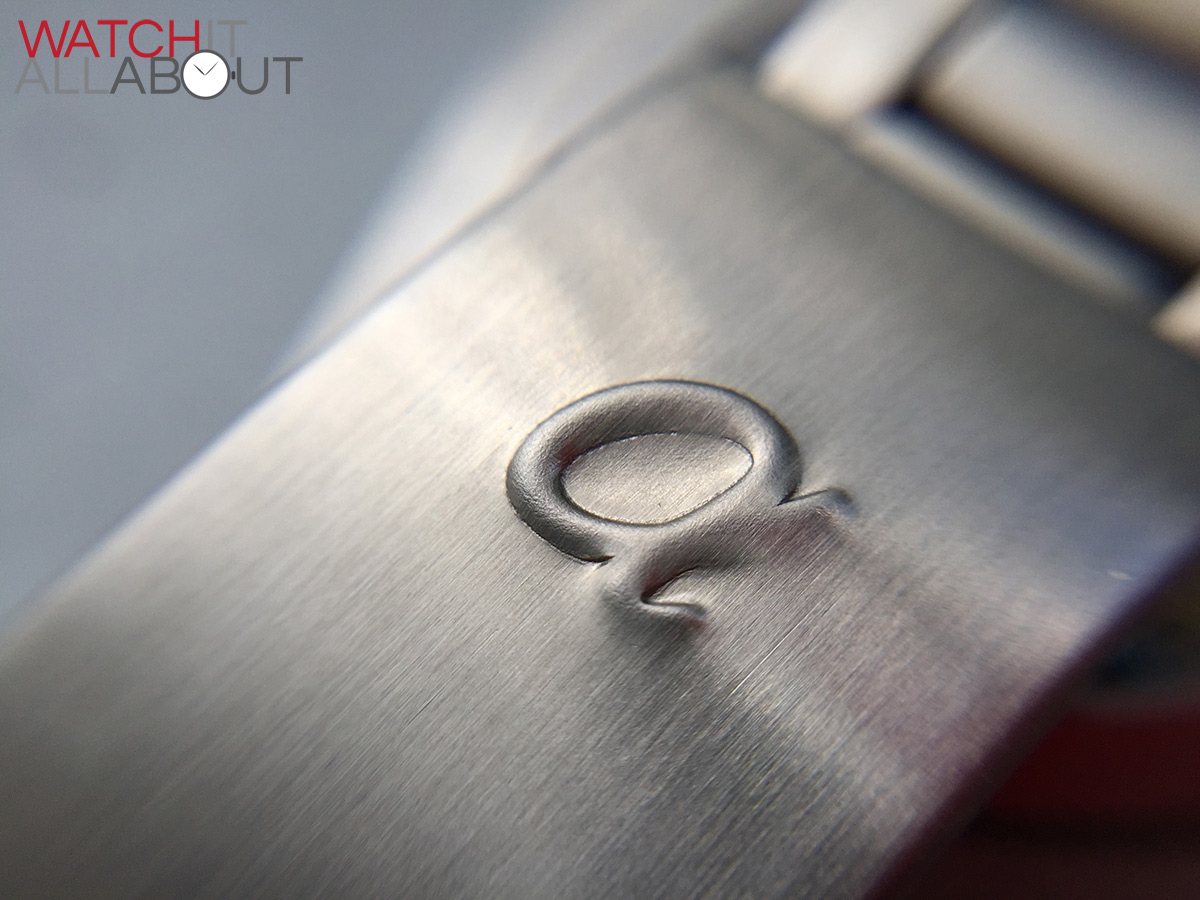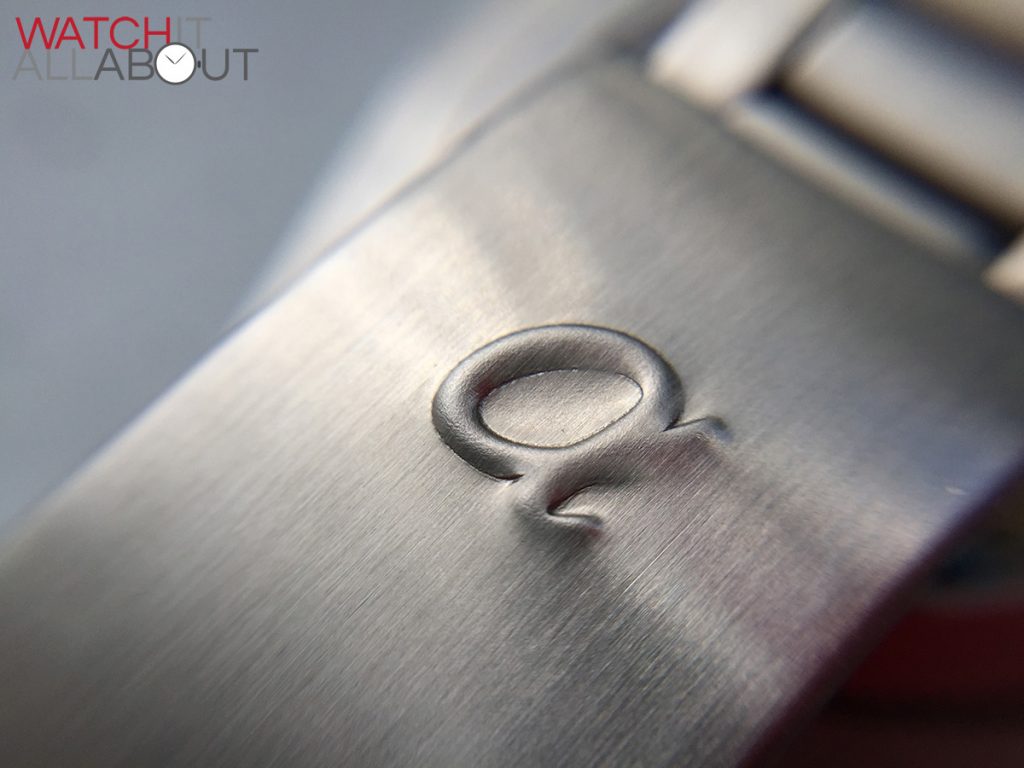 So, it's clearly not the best quality bracelet in the world. But that doesn't mean it completely ruins the whole watch. I actually think the watch looks pretty good on it – as long as you don't look at it too closely.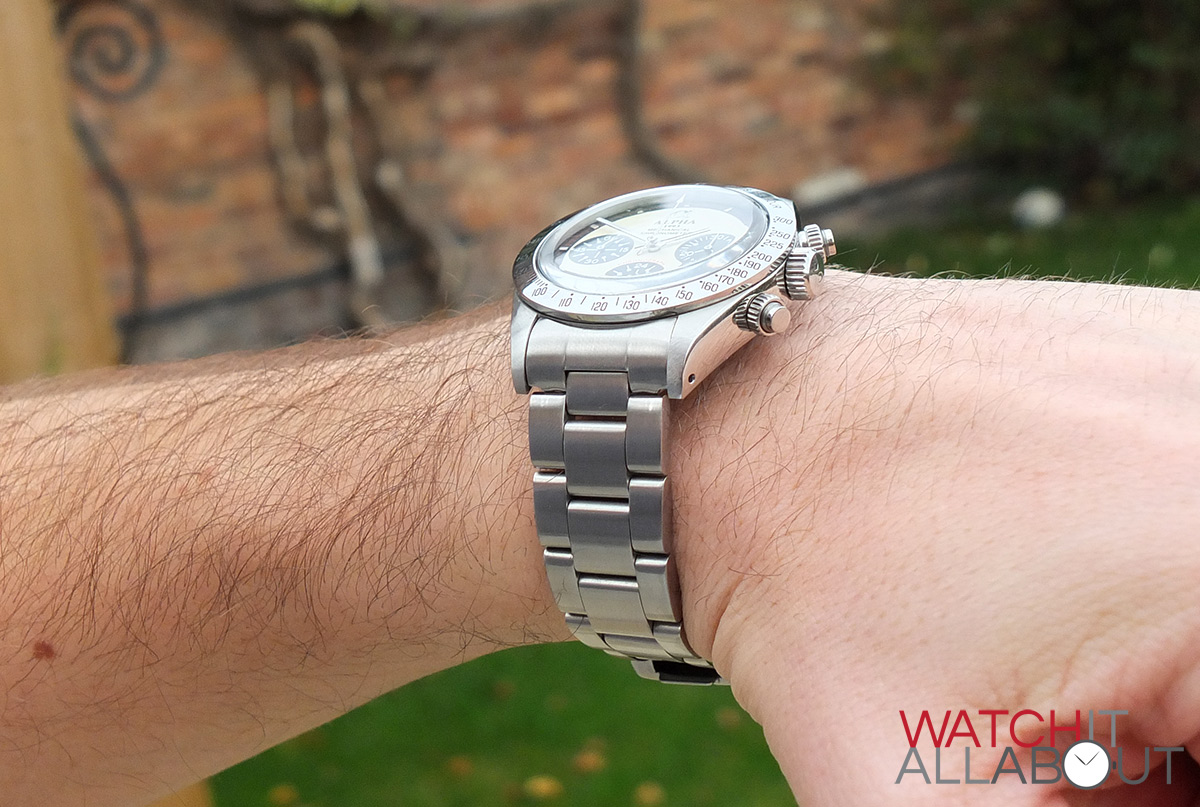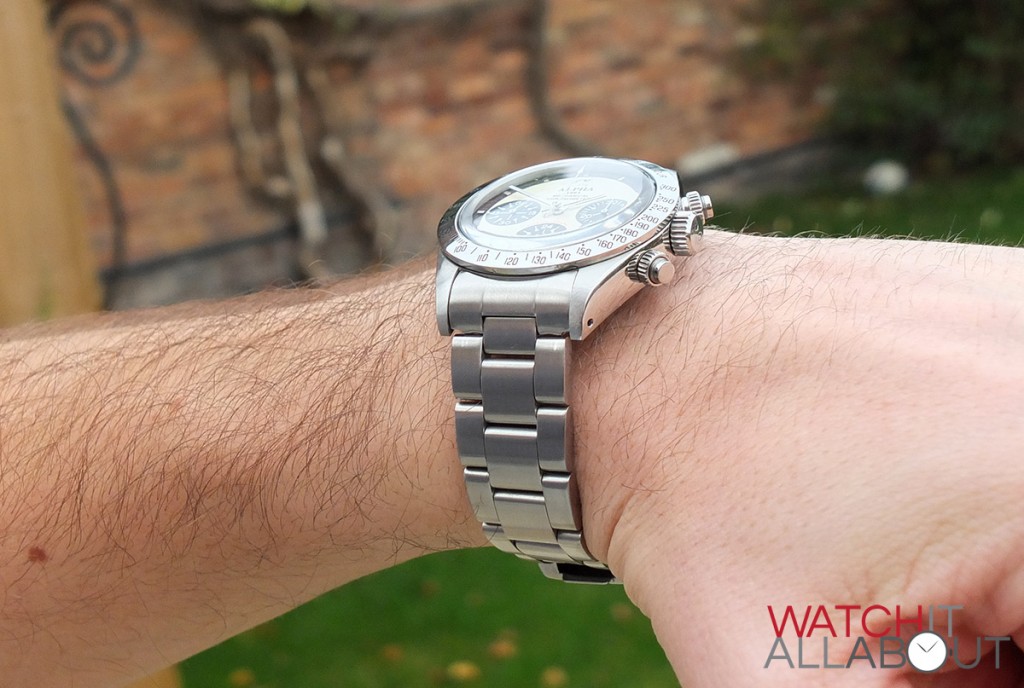 The competition
There's not many other watches out there offering a mechanical chronograph at a similar price to the Alpha. In fact, the only two I can think of is the Alpha Radomir (the same price) and the Seagull 1963 Reissue (available for £150 from WatchUnique). The Radomir wins out on the spec front as it has a sapphire crystal, whilst the Seagull has an Acrylic crystal like the Daytona. But, no matter which one you choose, you're going to get a great watch for your money – so it really is a matter of which one appeals to you most.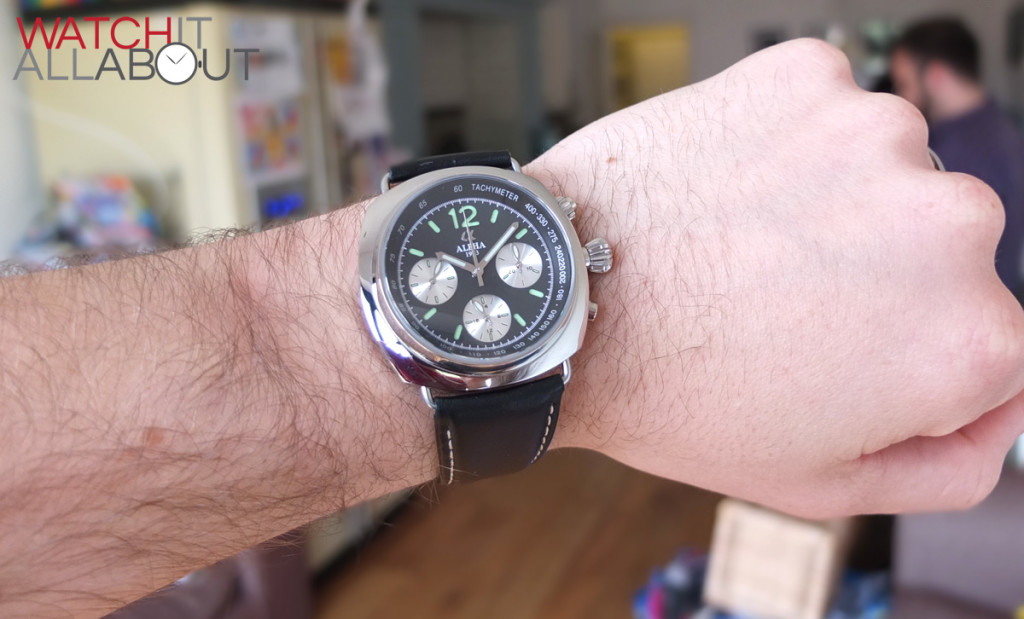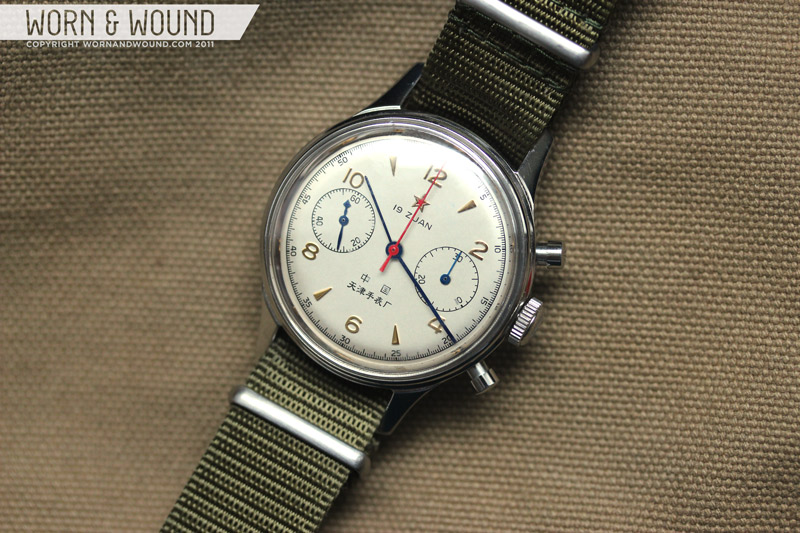 Sea-Gull 1963 picture courtesy of Worn and Wound.

Final comments
If you're serious about watch collecting, then you need a mechanical chronograph in your collection. Unfortunately for us affordable watch geeks, these usually come at a higher price range due to the complicated movement. I find it incredible that you can buy one that looks this good for £120. For that price, you can't really say no. Thanks to the stunning Rolex Daytona, we have a wonderfully designed affordable chrono that looks fantastic on the wrist. The only things to keep in mind is the rather poor bracelet (feels cheap, but actually looks ok, and it can be swapped for a leather strap anyway), the acrylic crystal, which has a tendency to get tiny hairline marks easily, and the crown threading. Still, on the wrist, it looks great. Despite the obvious flaws, it certainly looks more than what it's worth. I love it.