It's not very often I get a watch in for review that makes me audibly go 'wow' upon first unboxing, but the Aera D-1 Diver is such a watch. But what is it about this watch from newcomers, Aera, that makes it so special? And how does a brand that only launched in 2021 manage to make such an impact with its first watch?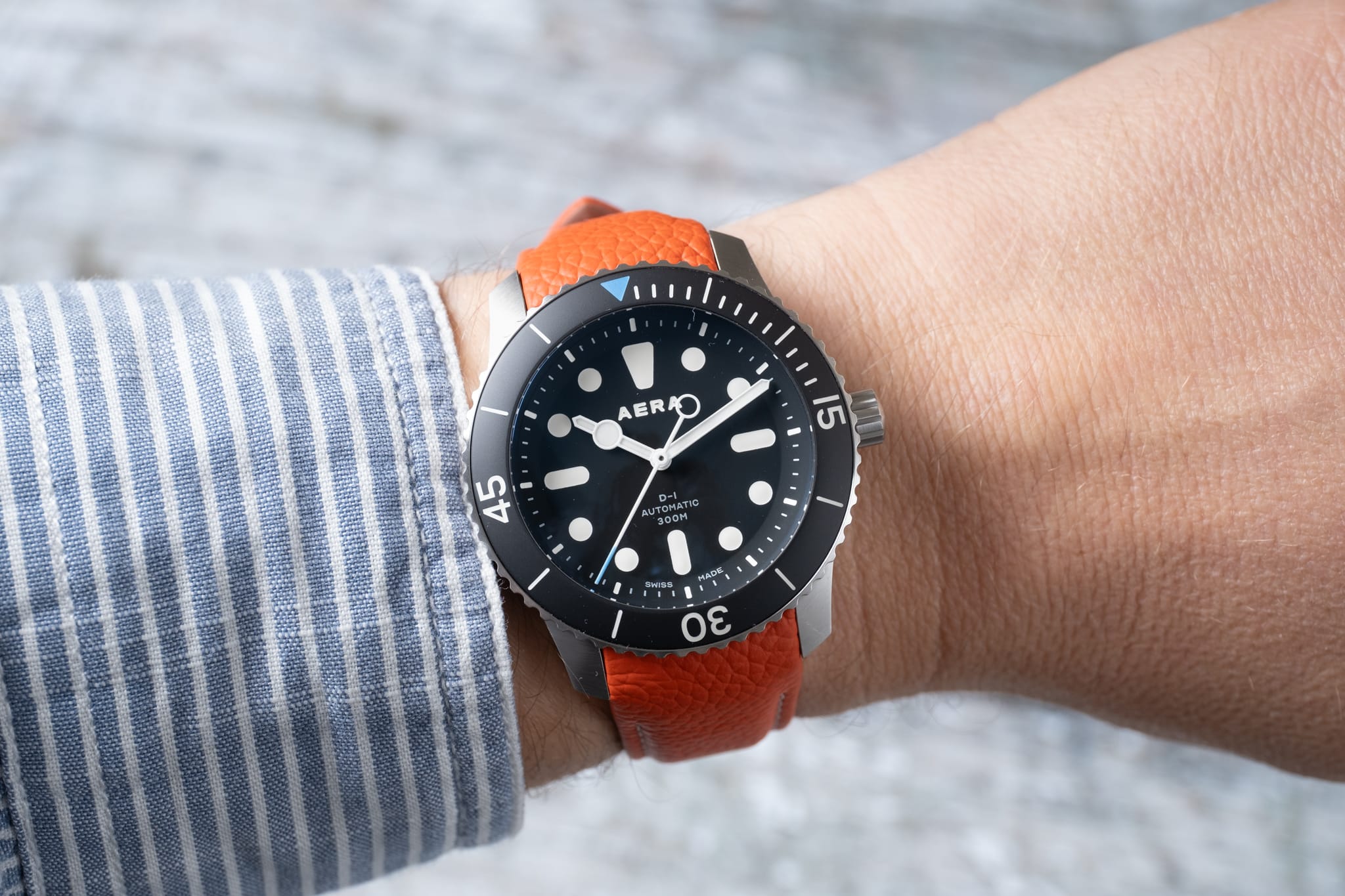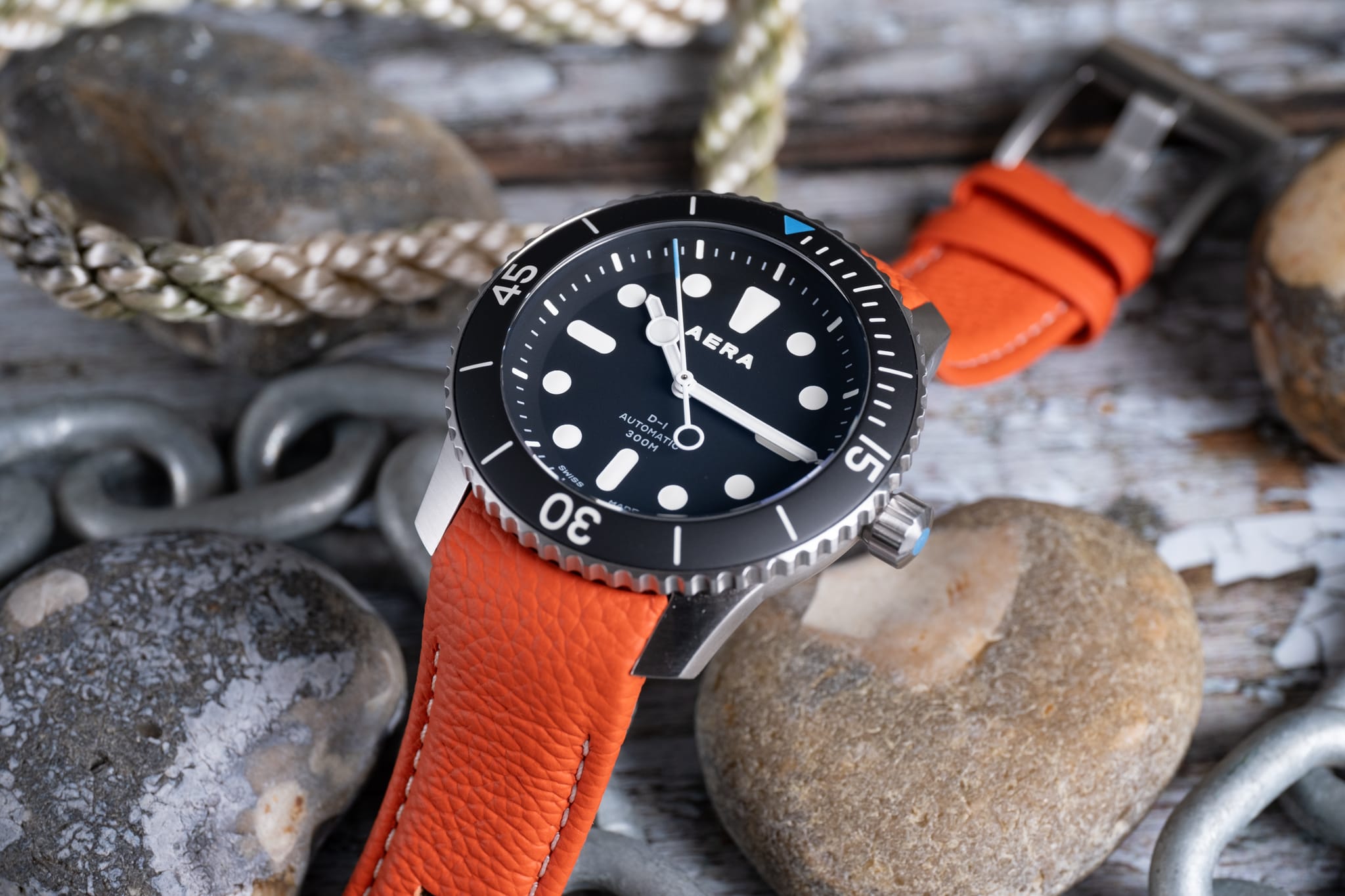 Not your average dive watch!
First off, before I even get to the 'what made me go wow' section, I've got to say that the unboxing experience set the tone for what was to follow. The Apple-like tolerances on the packaging were impressive, with seemingly not a gram of the 100% sustainable packaging going to waste. Getting to your watch is a bit of a Russian doll experience, so you feel like a kid at Christmas. Think fabric pouch within inner box, within outer box, handwritten notes, all using quality textured card, branded and embossed. It strikes just the right balance between making you feel like it's a special experience but without ever feeling opulent or like a disproportionate amount of your money is being spent on the packaging. Even the functional protective packaging made me think that someone at Aera must be in high demand come Christmas wrapping time!
Get to the watch, and you can tell right away that it's a hefty bit of kit, but before you've even unwrapped the plastic you also get a good feeling about the form. The first thing I noticed was that the rubber strap is very high quality, without being too bulky like some rubber straps. Then, unpeel the plastic from the dial-side and you're hit with the beauty of the drop-dead gorgeous, bespoke, high-domed sapphire crystal covering the concave dial. It's quite unlike any other watch and I was genuinely excited to get it on my wrist. Not a bad start for a watch brand that many of you might not have heard of yet hey?!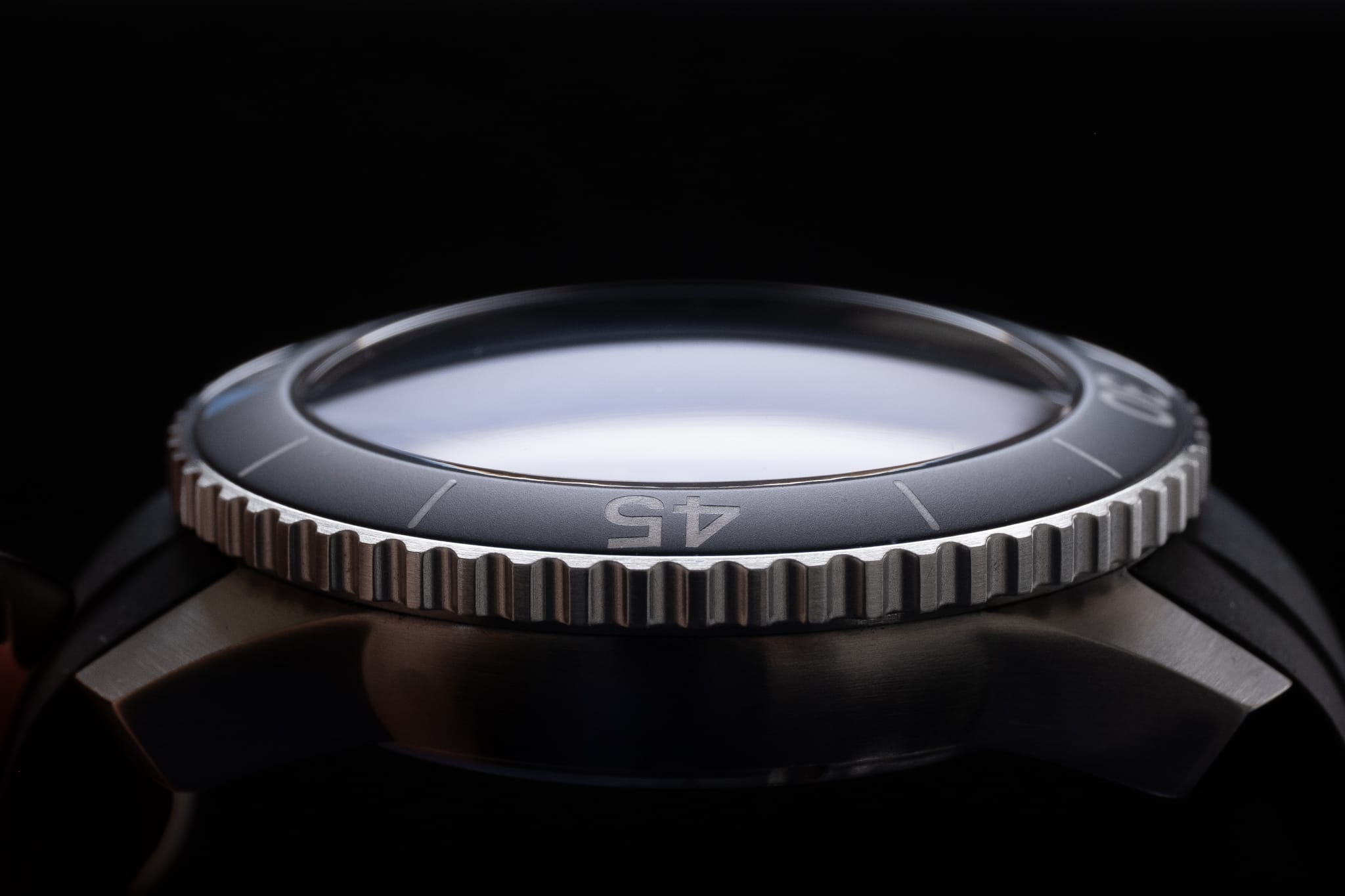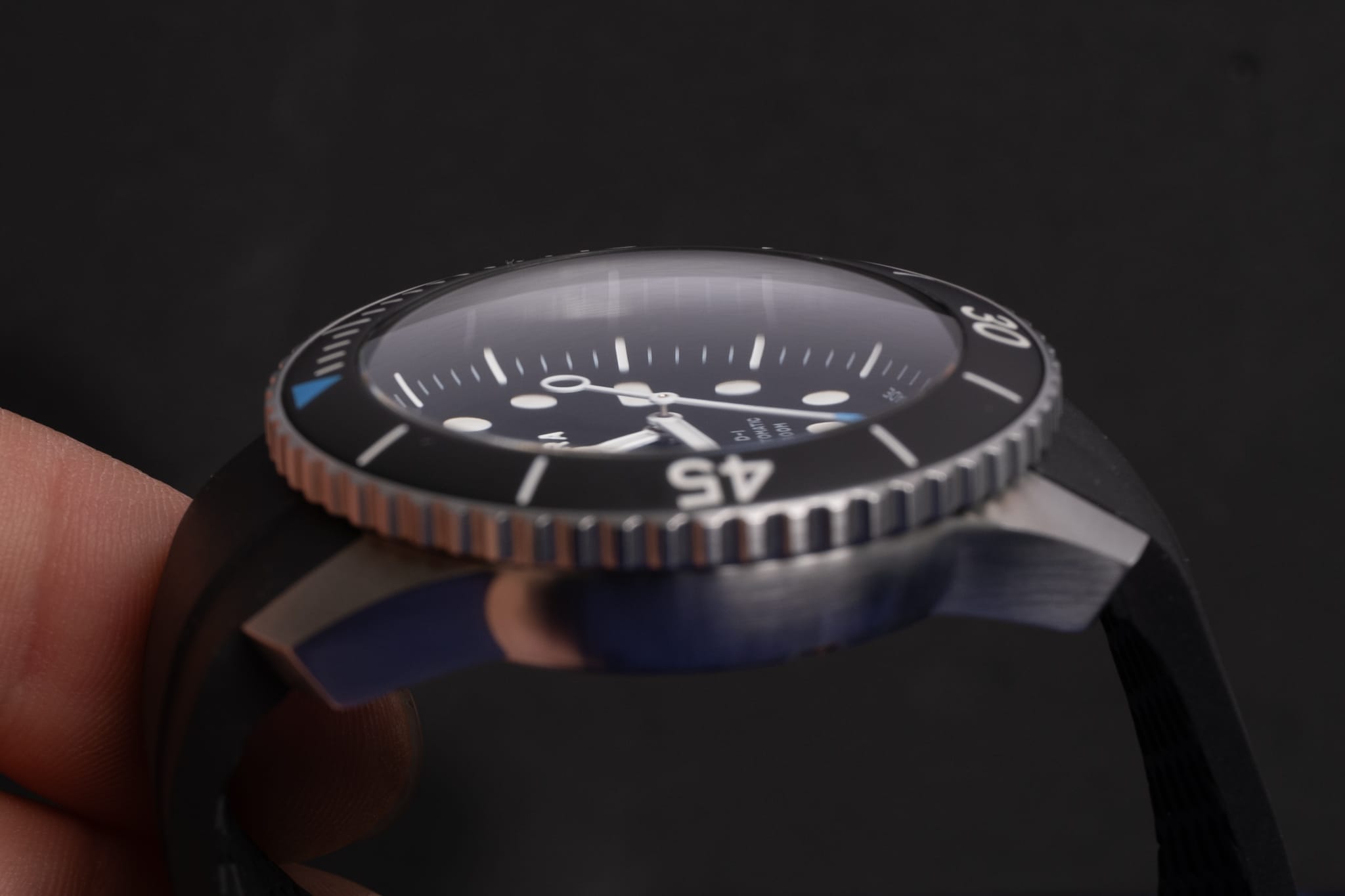 Now that I've had time to take a deep breath and calm my excitement, let's dive into the structured review and see if the good vibes continued…
The Case And Wearing Experience
The first sign that Aera is a microbrand that does things differently is that the case of the D-1 Diver is made using 904L stainless steel. This is more expensive than 316L stainless steel both in terms of raw material costs and the machining costs, but has numerous benefits, such as greater resistance against corrosion and ability to take a higher polish than other grades of steel. The fact that Rolex uses 904L stainless steel, gives you some indication that this is a premium material. Aera has not scrimped on details either as, unlike many watch brands that use 904L for the main case but 316L for other parts, Aera uses 904L stainless steel throughout, including the caseback, crown, bezel, and even the buckles on the straps!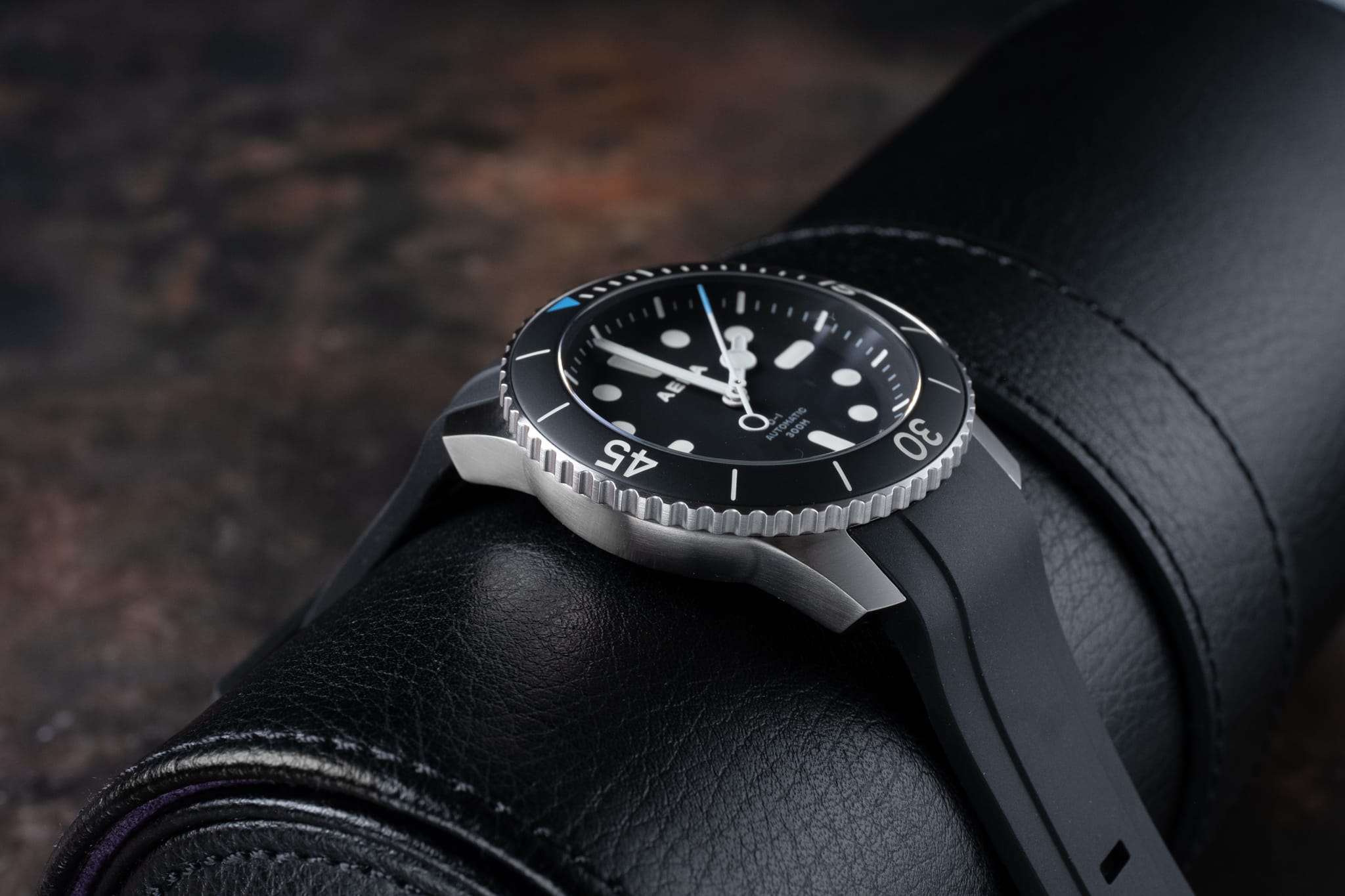 The case diameter is 44mm, so there's no denying this watch is on the larger side. It's thick too, with an overall height of 16mm. You could probably use this watch as a weapon in close combat, and I'm pretty sure it would even survive nuclear meltdown. However, considering its mass, it feels delightful on the wrist. There are a few reasons for this…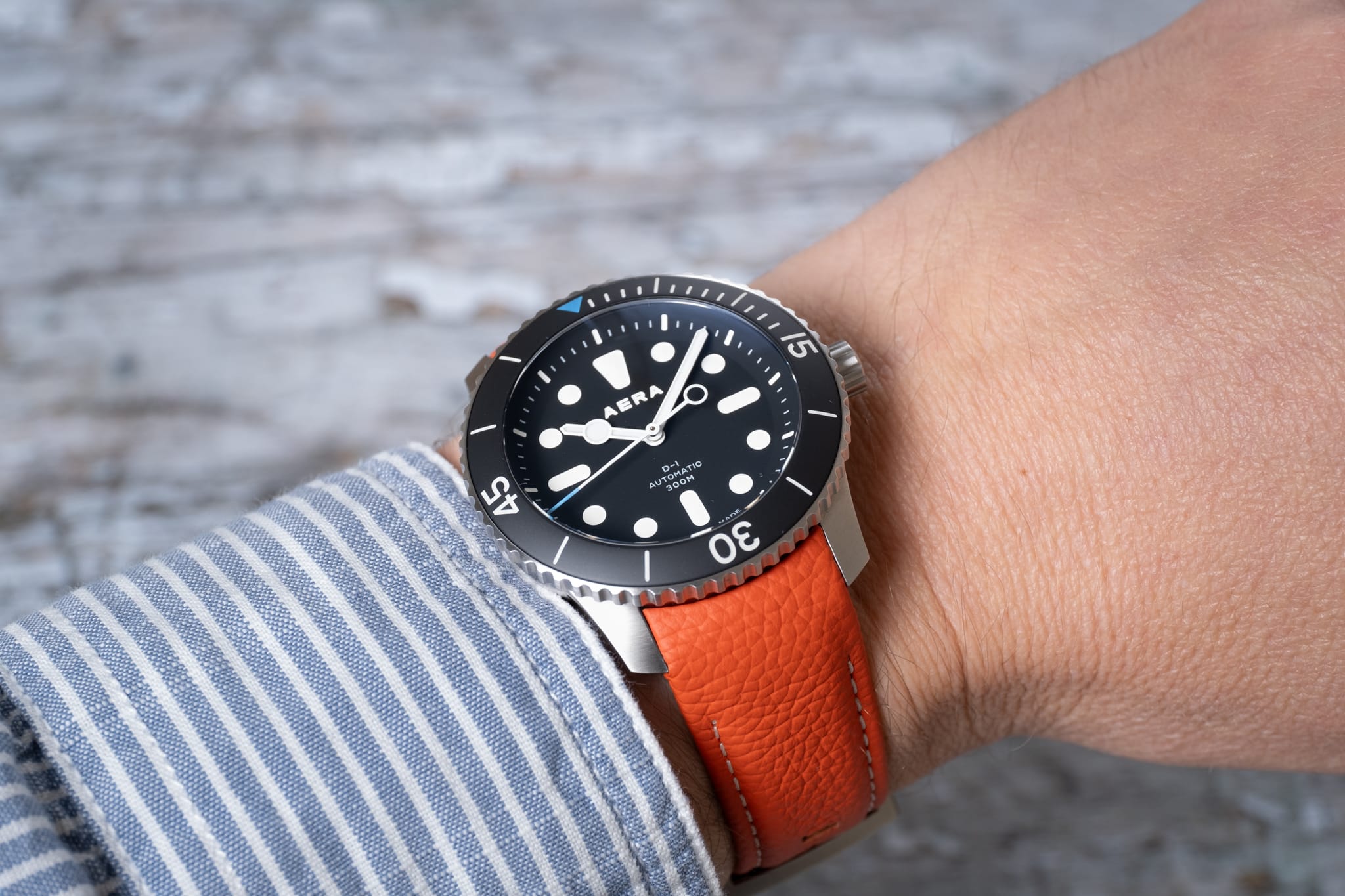 Firstly, the case itself is a much more reasonable 13.4mm thick, with a diameter of 42mm. The remainder of the diameter comprises the overhanging bezel (which significantly aids grip) and the thickness is boosted by the star of the show, the stunning sapphire crystal that covers the dial. The lug-to-lug measurement in relation to the case diameter is also reasonable at 49.8mm.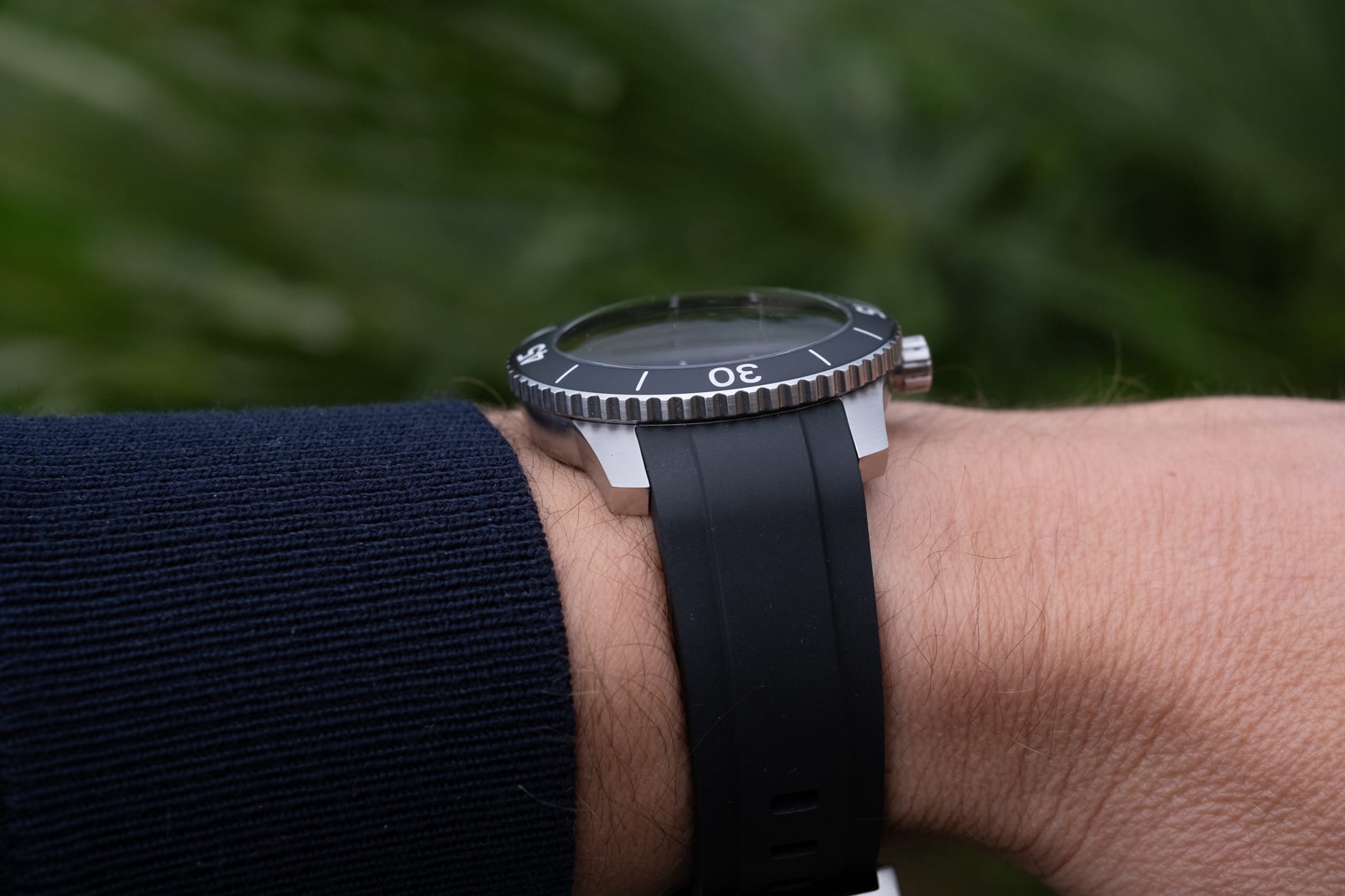 Secondly, case design and integration with the supplied custom fit, curved-end straps is beyond reproach. The organic undercut case shape combines a series of complex compound curves, with a barrel-shaped centre, and a profile that somewhat resembles a UFO. The lugs angle down sharply, and when combined with the sharply downturned, formed straps, the watch hugs your wrist like a koala to a gum tree. You can't help but love it.
Lastly, the bezel and sapphire integrate perfectly with a seamless gentle curve, meaning you're less likely to catch your clothing on the D-1 than most watches this size.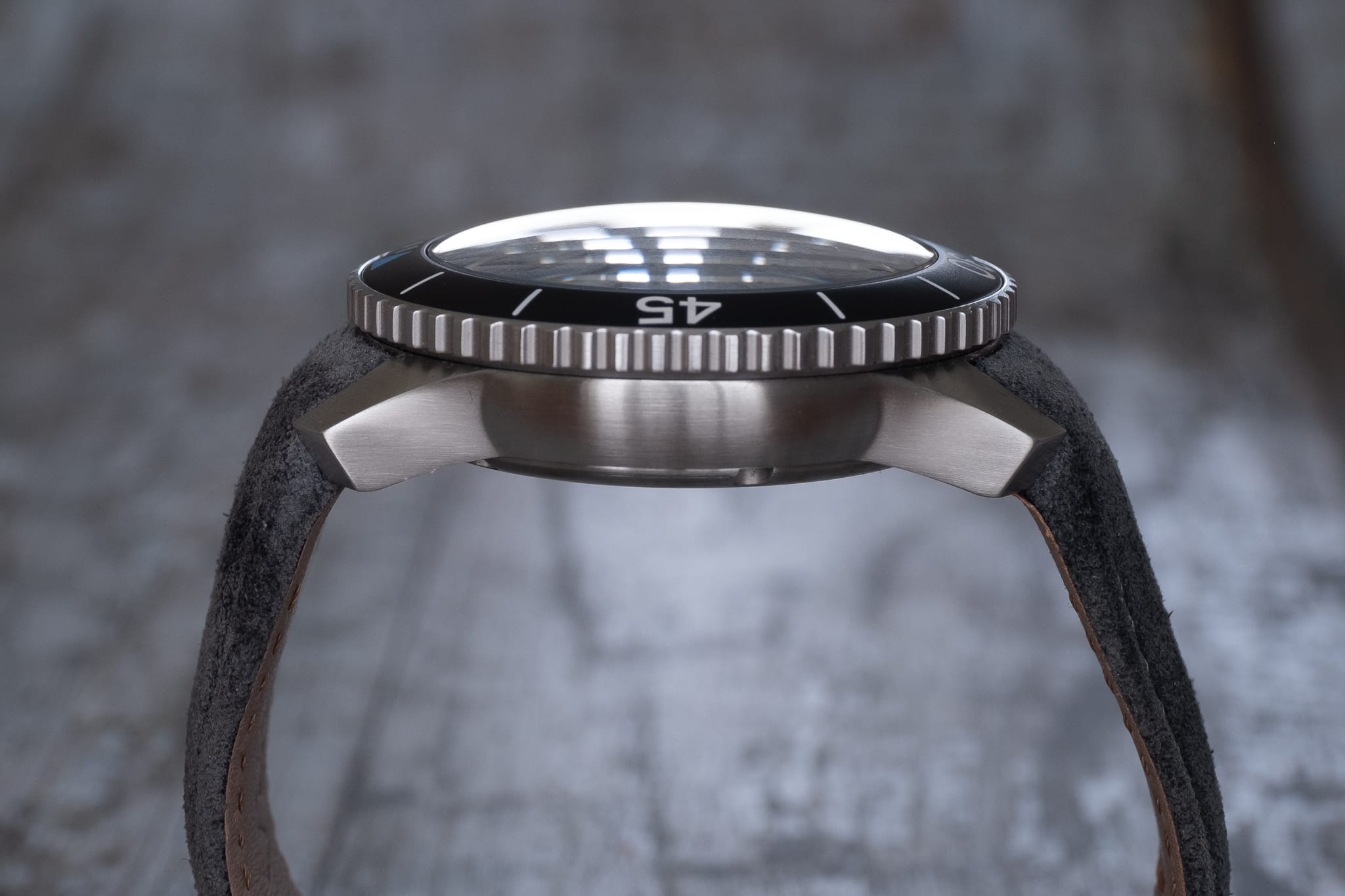 The entire watch has a brushed finish. The top and bottom sections of the lugs, and solid caseback feature circular brushing, whereas the mid-case features linear brushing. The screw-down caseback is engraved with the Aera logo, serial number of the watch and some of its specifications. A nice touch is that the serial number is also engraved onto the reverse of the bottom right lug. The 120-click unidirectional rotating bezel has a matt black ceramic insert with Swiss Super-Lumi-Nova X1 filled, engraved Arabic numerals and hash markers. The Bezel action is crisp, lines up perfectly and has zero back play. Looking at the case on a macro level, maybe the brushing could have been slightly finer, but that's about the only negative here. Whether this is something that's just more noticeable on 904L because of the sheen, I'm not sure, but it's not something you'd pick up on unless examining under a loupe.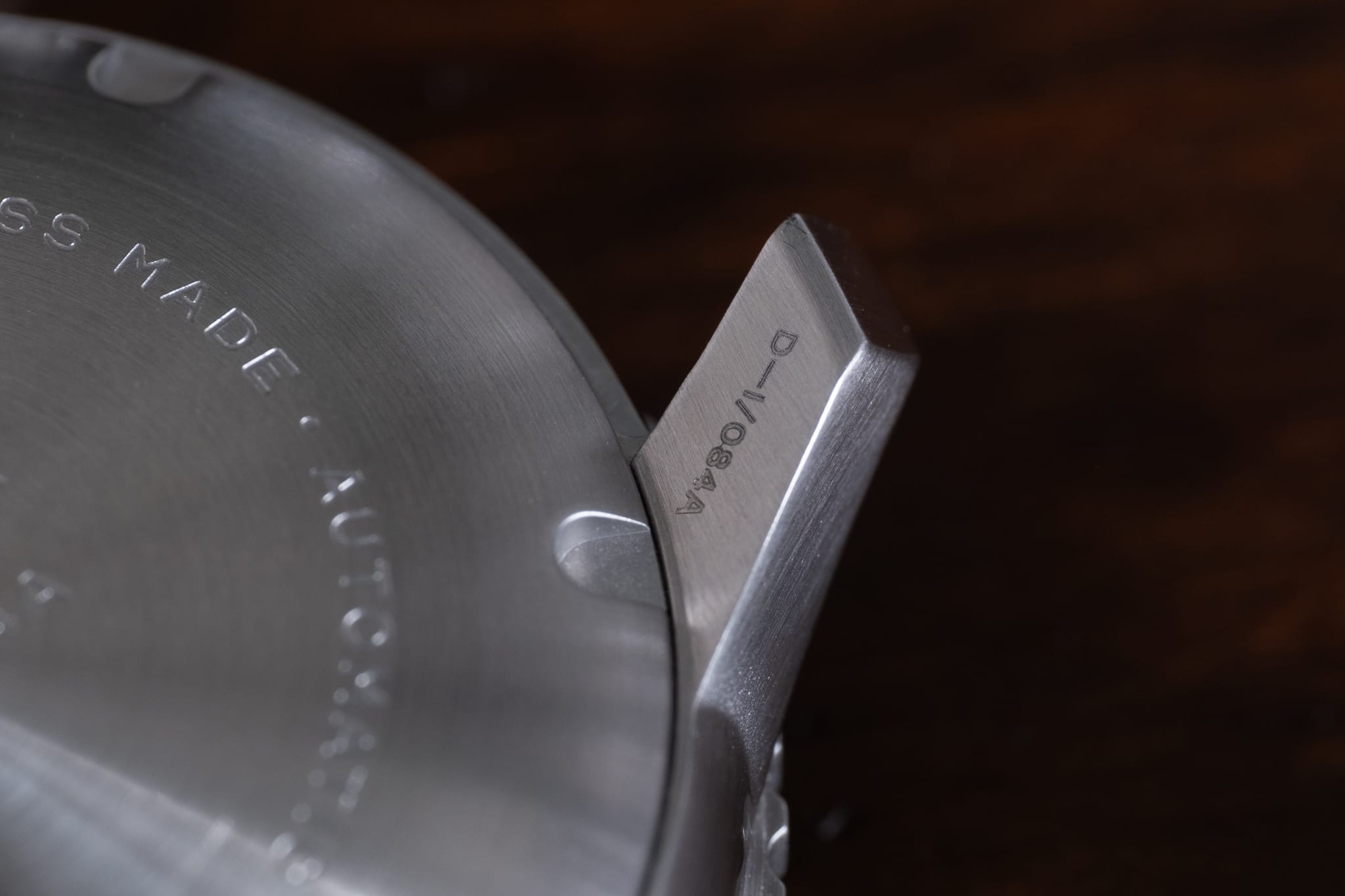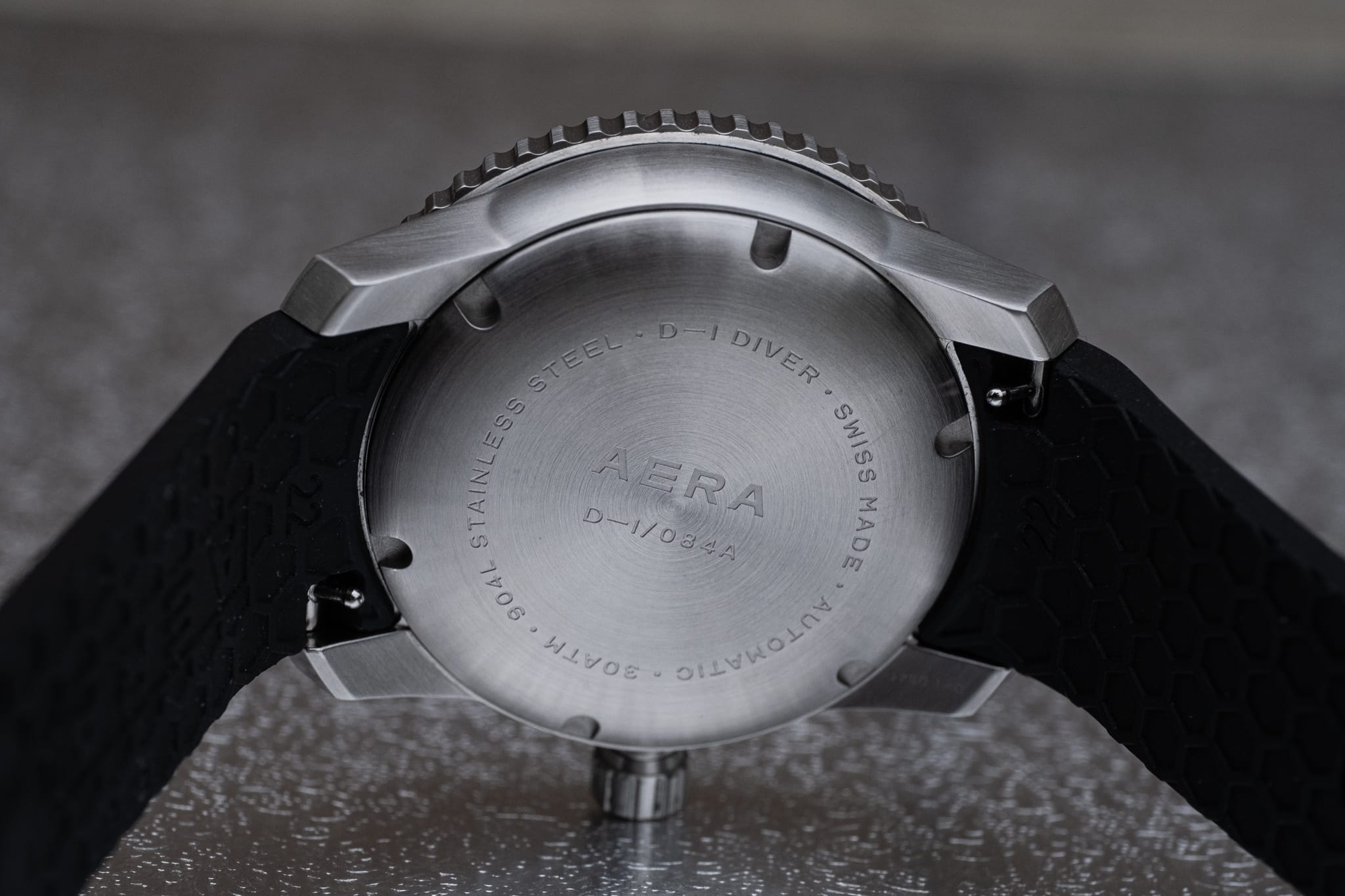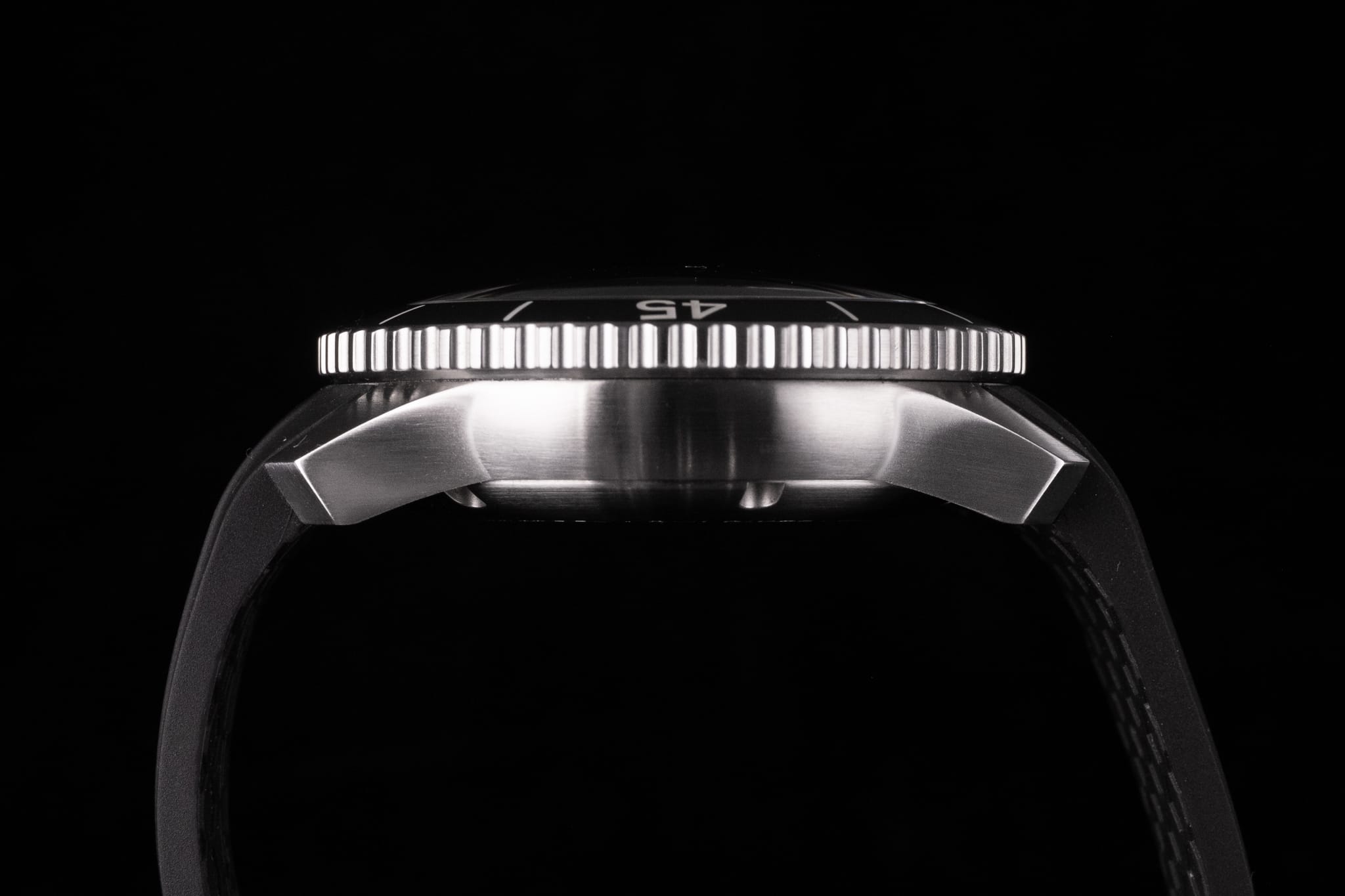 The large 6.5mm crown juts out from the case a fair way, but somehow never digs into your wrist. The crown is grippy, engages positively and features a blue, lumed accent to match the 12 o'clock bezel marker. Water resistance is an impressive 300m / 30ATM.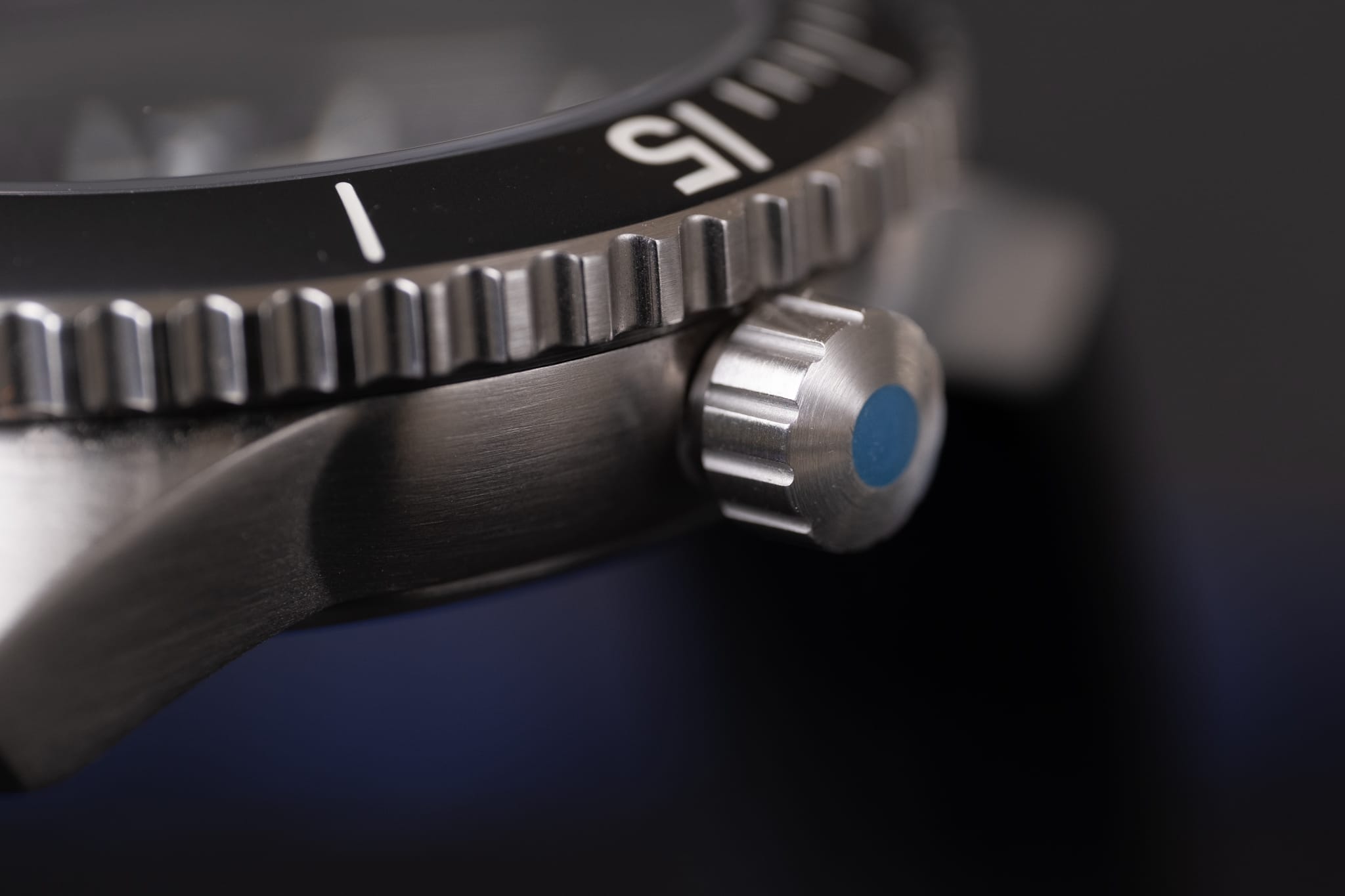 Size Analogy Alert!
In true Watchfinder style, let me make a poor attempt at an analogy here. You're sat on a train, with an empty seat beside you. At the next stop a much larger than average chap, let's call him Dave, makes a b-line for the gap. He takes a seat, but rather than being aware of his mass, he 'man-spreads' like a Puffer Fish in an inflatable sumo suit. Well, the D-1 Diver is the opposite of Dave. The D-1 Diver is Dave trying his darndest to huddle up and pull every flailing limb inward in an attempt to minimise his mass, thus avoiding intimidating others or meeting some stereotype the other passengers may have of him!
Special mention for the straps
The lug width on the Aera D1-Diver is 22mm, so it'll be relatively easy to buy aftermarket straps for. However, I seriously doubt you'll feel the need to. Aera generously supplies three straps as standard, two core straps (black rubber, and grey suede), and you get to choose the third. My favourite was the Orange Pebble leather strap. Make no mistake, these are not cheaply made straps bundled in just to make it look like you're getting more for your money. The supplied straps are carefully chosen and are some of the best quality straps I've handled. All are bespoke to the watch and feature bolstered, curved ends with quick-release spring bars. They fit extremely close to the case and look amazing. The straps are also formed so that they curve dramatically downwards from the case, ensuring the watch doesn't ride high on the wrist. The custom buckles are made form 904L stainless steel and milled to perfection, with a deep channel to the reverse, which ensures that the buckle sits flat against the strap.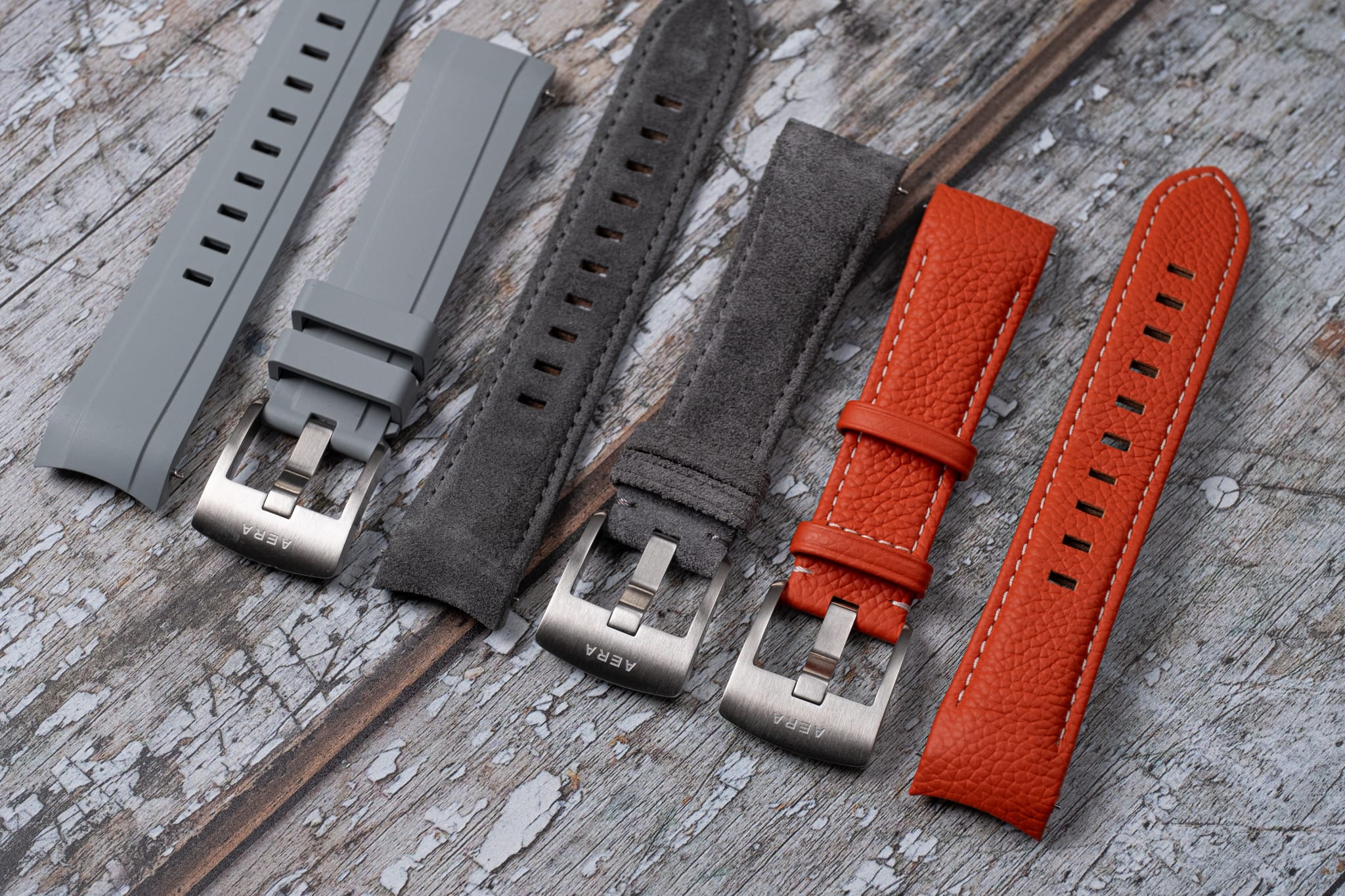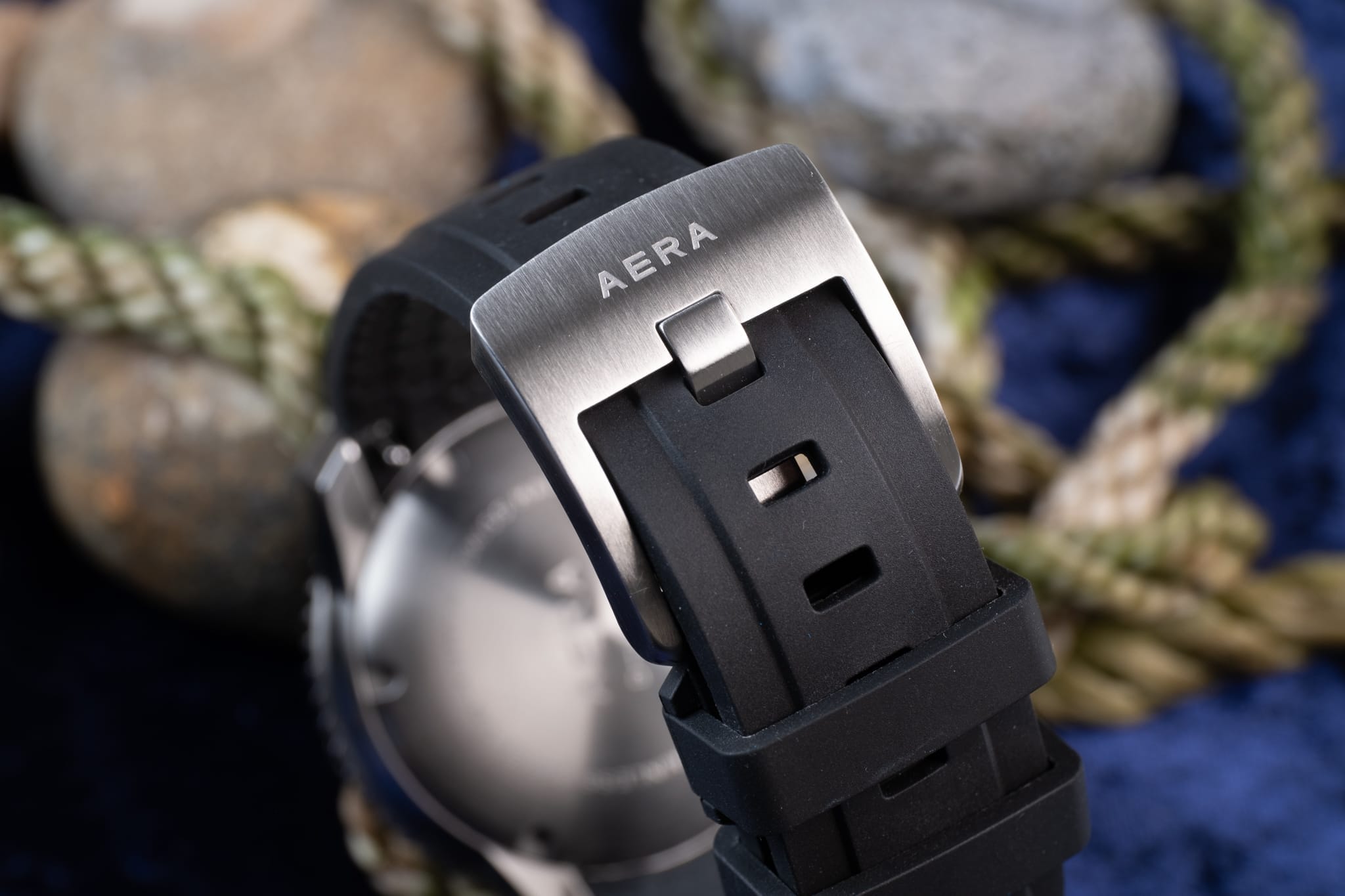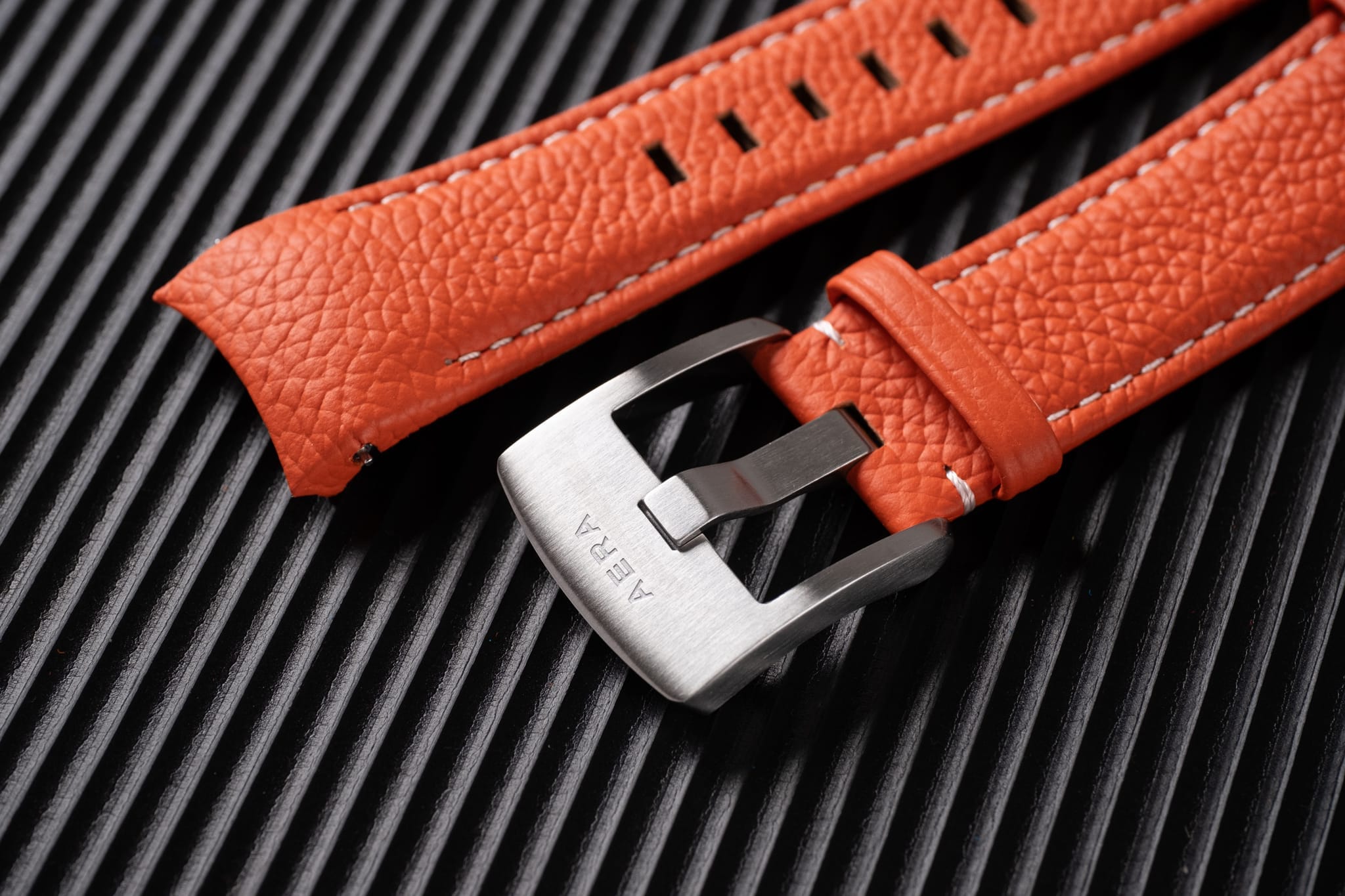 There is no stainless steel bracelet option offered for the D-1, which could certainly be a negative for some people. However, I have a feeling that this might have been a purposeful decision made by Aera at design stage, as I'm not sure how a bracelet would look. In light of this however, it might have been good to fit an adjustable deployant clasp on the supplied straps so it's easier to get a really precise fit. Oh, and whilst the straps are easy to remove thanks to the quick-release spring bars, they are very difficult to fit, because of the tight tolerances. If the quick-release spring bars were double-sided this might be easier.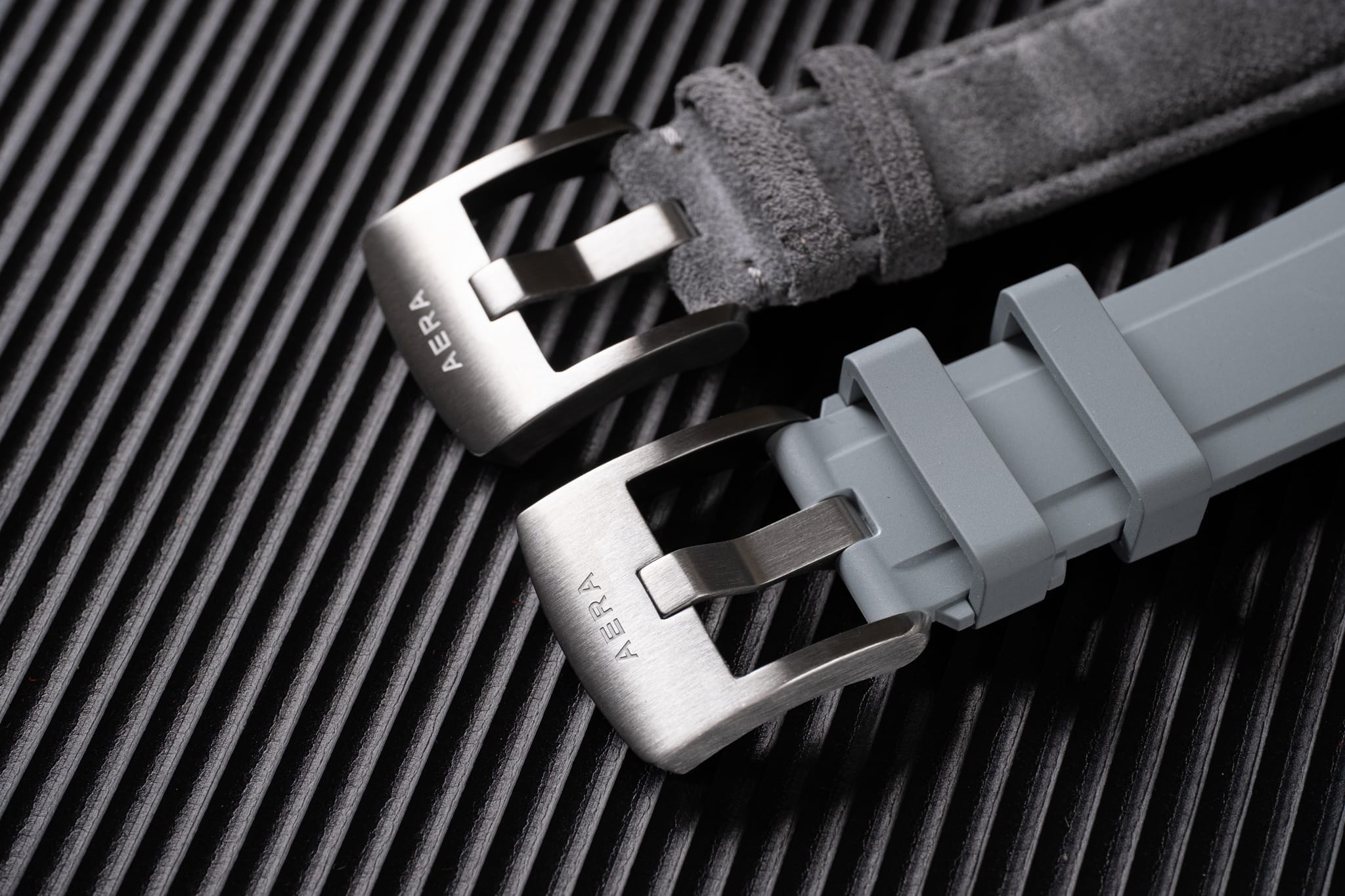 Aera D-1 Diver Dial – a lesson in legibility!
As you've probably gathered by now, the D-1 Diver is all about function, form, and purpose. There are no shiny surfaces, metal surrounds or chamfering, and the dial is entirely monochromatic except for the end of the seconds hand, which is painted with a blue to match the 12 o'clock triangle on the rotating bezel. It's clean, simple and has supreme legibility. Think Sinn or Damasko and then some!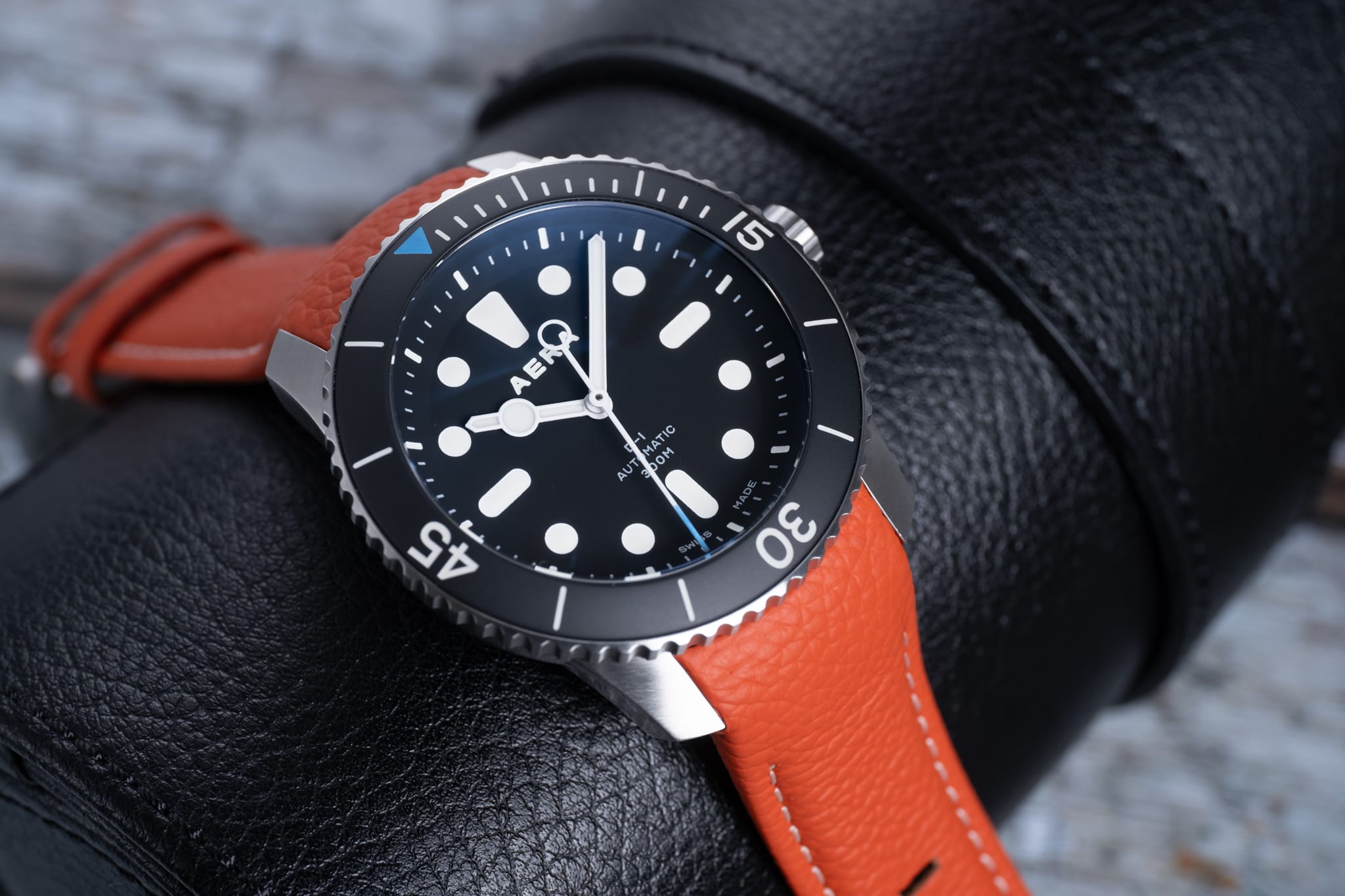 And of course, Aera didn't do the dial the easy way. Extra effort was made to achieve something different. Two design elements in particular deserve mention here. Firstly, the matt black dial is no ordinary dial. It's sprayed with Aera's proprietary matt black "velvet" lacquer. (The deeply etched markings are added prior to this.) This makes the surface super-sensitive. If the dial is touched, cleaned, or if dust lands on it after spraying, Aera's engineers have to start the entire process from scratch again. Now that's dedication to achieving a vision! Secondly, the dial is pressed as one seamless and continuous piece with the outer perimeter of the dial (essentially the minute track) being subtly curved. It's this curved dial together with the exceptional domed sapphire crystal that give the D-1 Diver that 'wow' factor I mentioned early in my review. The sapphire crystal also has a double-sided anti-reflective coating applied.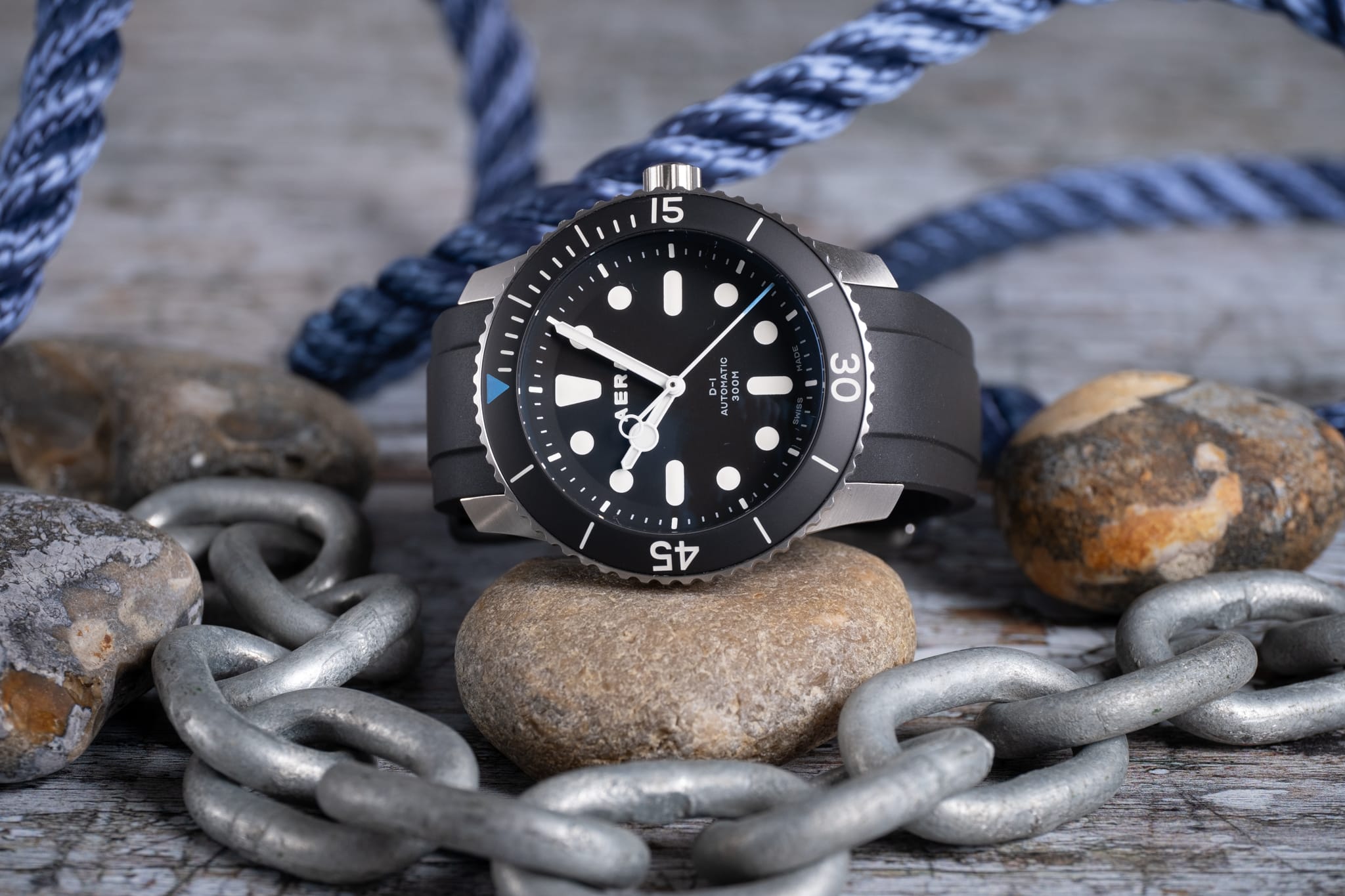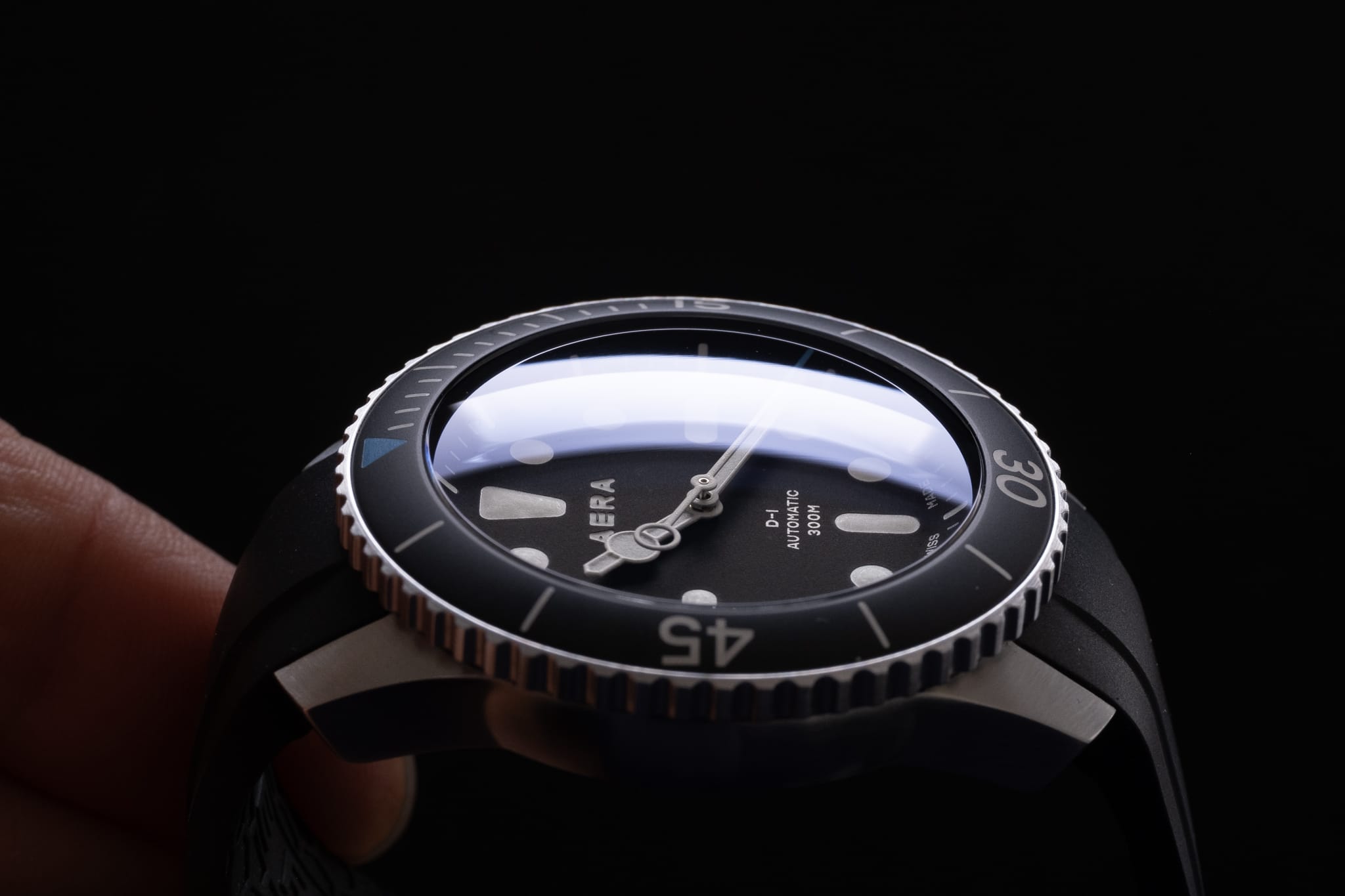 Considerable real estate is given over to immense blocks of Swiss Super-LumiNova Grade X1 which is all applied by hand into the 'wells' created before the dial is sprayed. Dial markings are pure white in the daytime, but glow blue at night, except for the Aera logo which glows white. Every marking on the dial is pure lume, including the bezel markings, the blued tip of the seconds hand, and even the five-minute hash marks on the outer minute track. The result is a lume-lovers dream. If you get lost in the woods at night you could probably use your D-1 diver to guide a safe path home.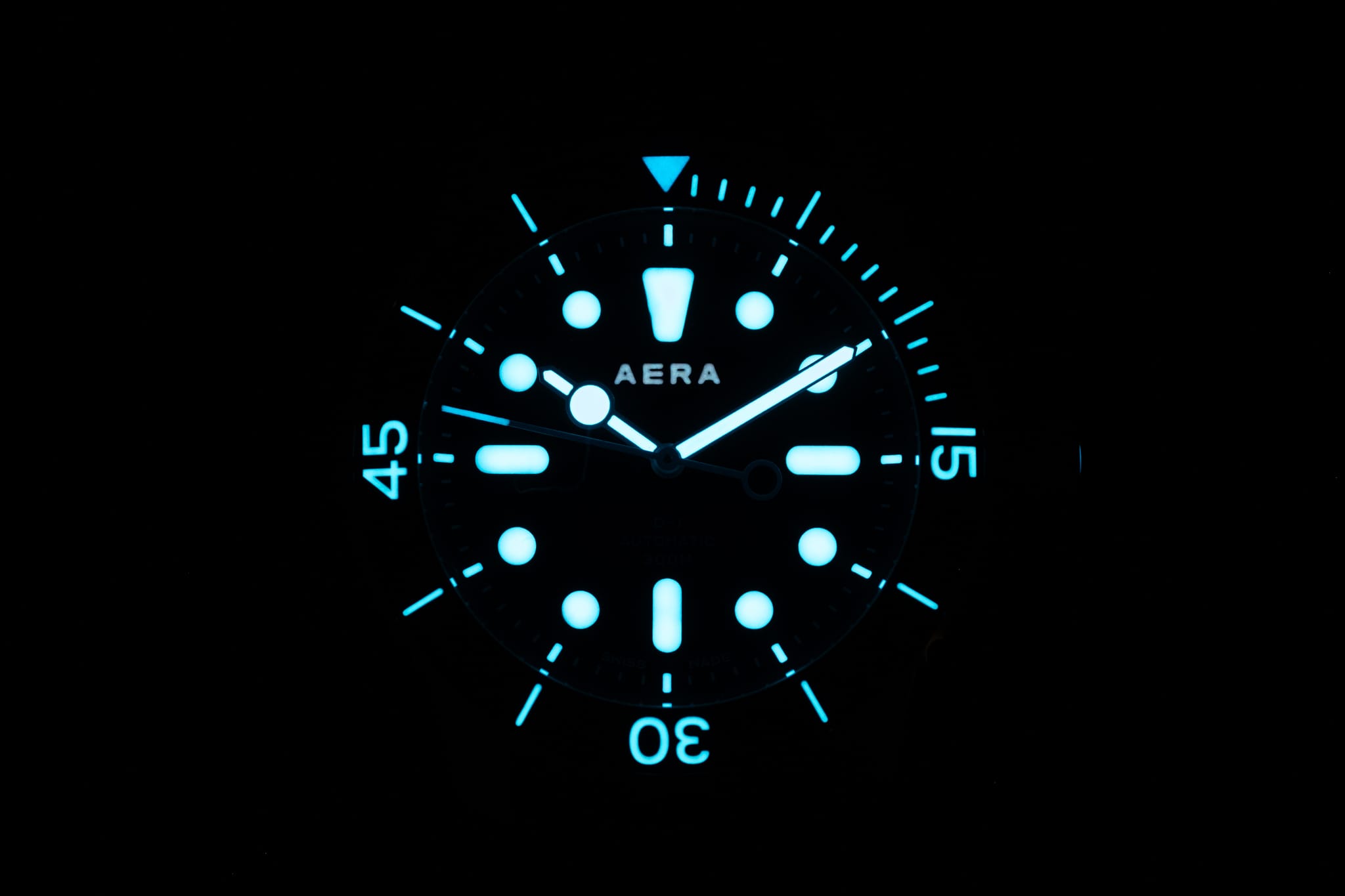 The hour hand is baton-shaped with a circular design element, and the minute hand is a simple baton. A simple stick-style seconds hand features a circular counter-balance. The hands are all lumed.
True to form, Aera has again shown their design flair in two exquisite details that you might not spot at first glance. Firstly, the 'A' in the Aera logo is perfectly framed by the lollipop counterbalance of the seconds hand as it glides by. Secondly, the counter-balance of the seconds hand fits perfectly within the circle of the hour hand as it passes over.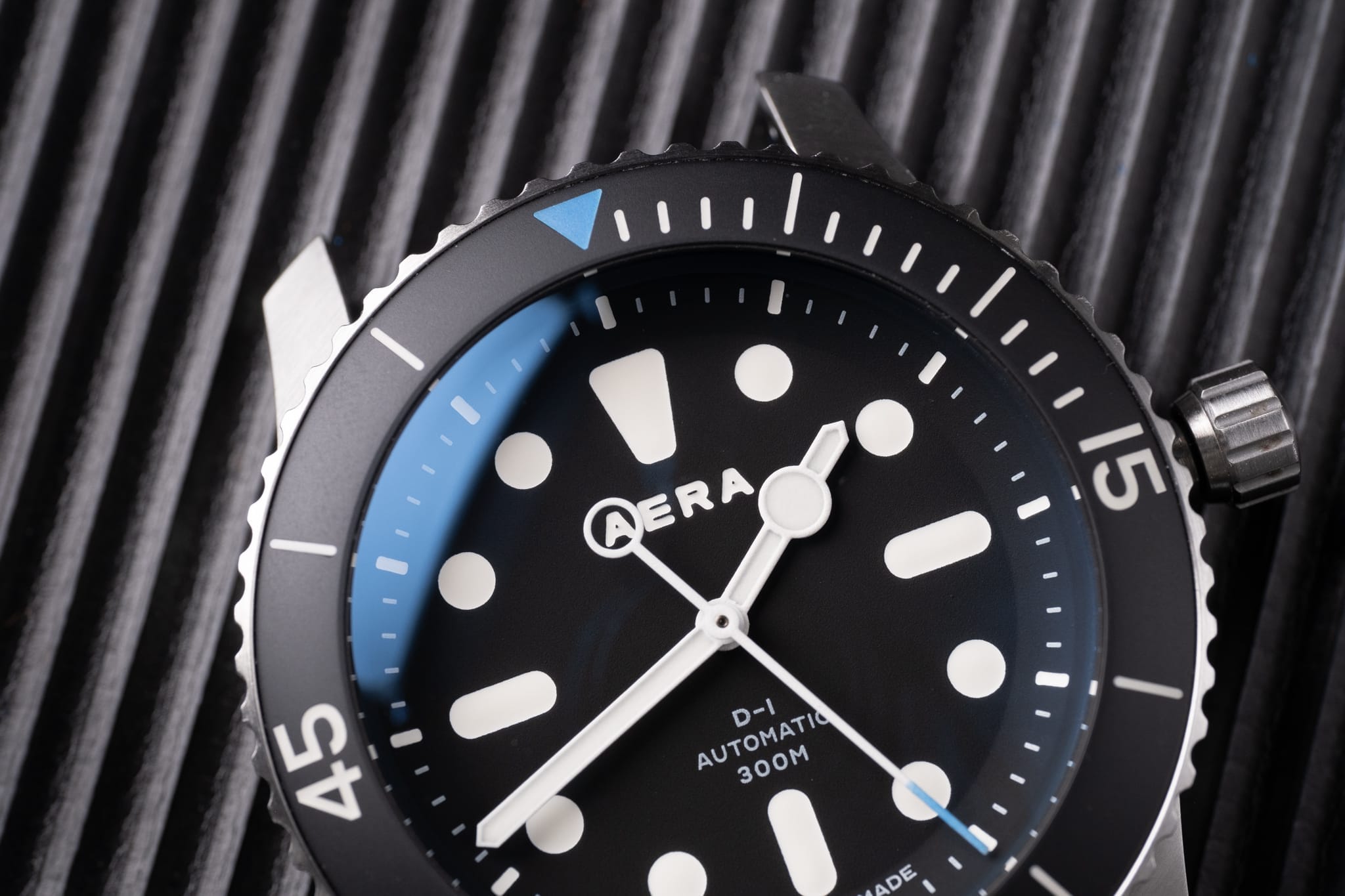 Aera D-1 Diver Movement
The D-1 Diver uses the Swiss-made Sellita SW200-1 automatic movement. This industry standard 26-jewel movement beats at 28,800 vibrations per hour (4Hz), has a 38-hour power reserve, and hacks to stop the seconds hand so you can set a precise time. You can also hand-wind the movement.
Aside from anything subjective, the movement is about the only significant negative about this watch. It's not that the Sellita isn't a good choice, in fact far from it. A Sellita is the obvious choice for a watch at this price point and more than adequate. However, Aera missed a trick by not regulating the movement themselves to bring greater accuracy than the standard +/- 12 seconds a day (+/- 30 seconds per day positional deviation). Also, this is a no-date watch, but the 'ghost' crown position, which would normally operate the date wheel, has been kept. This is a real shame as it feels completely at odds with the level of attention to detail lavished elsewhere on the watch.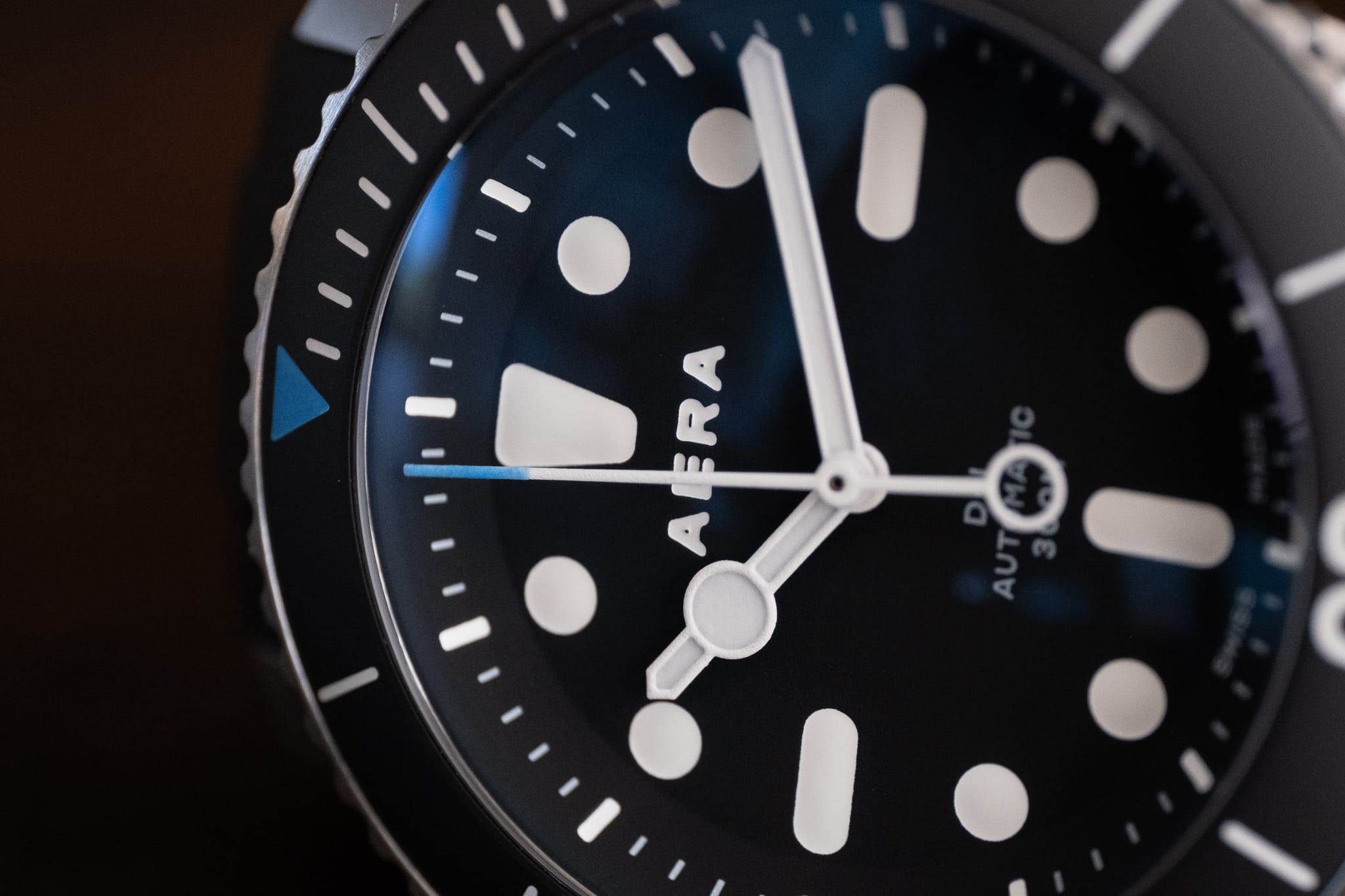 Final Thoughts
It's impossible not to be impressed by the D-1 Diver. Having it on loan has been both a delight and a surprise. Perhaps the biggest compliment I can pay the Aera is that I was genuinely excited about it the second I unpacked it. It just put a smile on my dial and made me feel like a kid in a sweet shop. This is quite an achievement, as the more watches you get to see, the harder it is to be awe struck.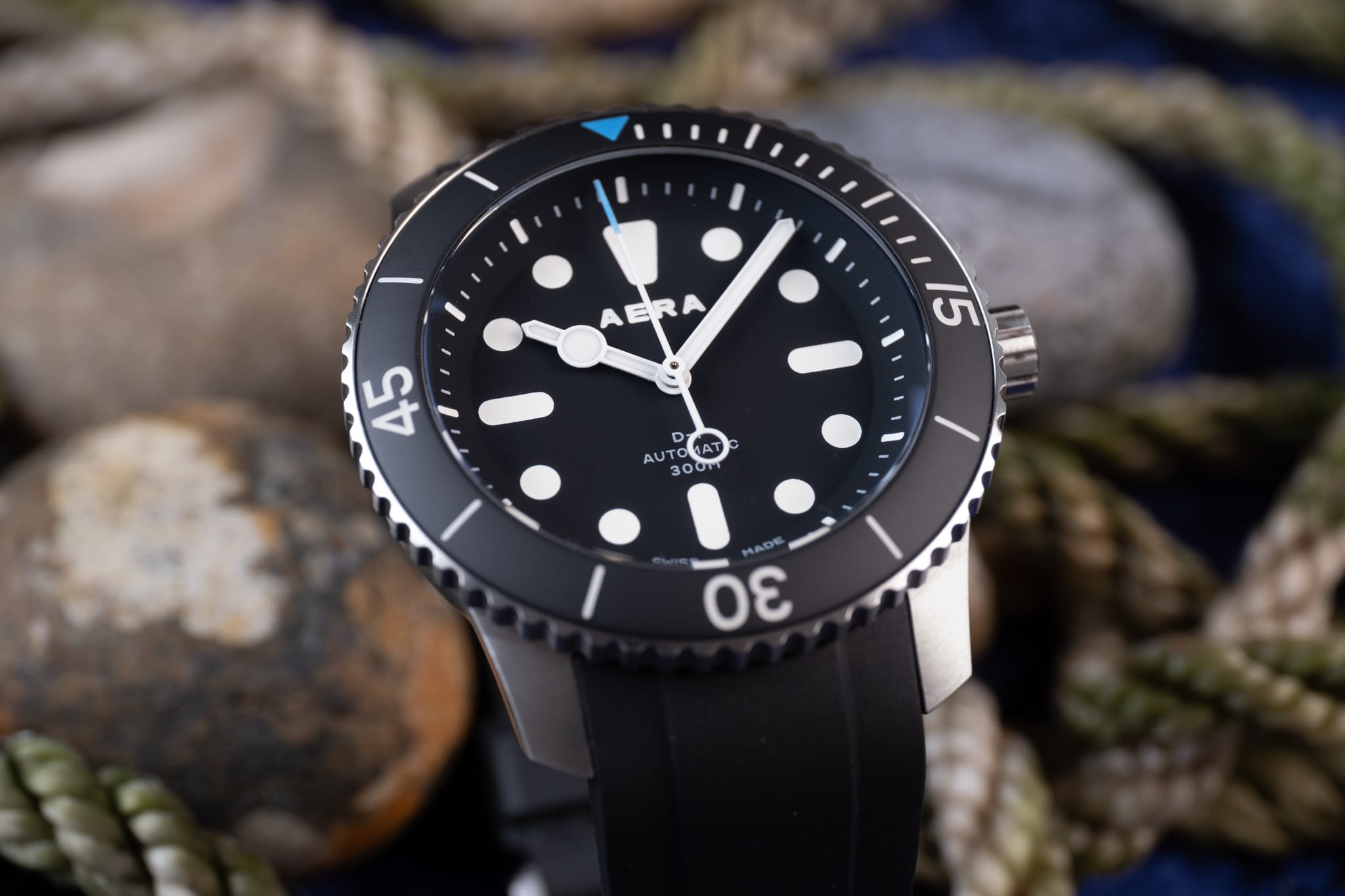 The D-1 is a watch that bucks the recent trend of vintage-inspired small dive watches and skin divers. Of course, its size means that it's never going to be a crowd-pleaser, but to be fair, I suspect it was never designed to have mass market appeal. This is a dive watch in the true sense of the word, a tool designed to be used as such, whilst looking beautiful to boot. Having said that, the watch wears considerably better than its on-paper dimensions. So, unless you have small wrists, dismiss this watch at your peril! To do so would mean missing out on one of the best dive watches currently available for under £1500.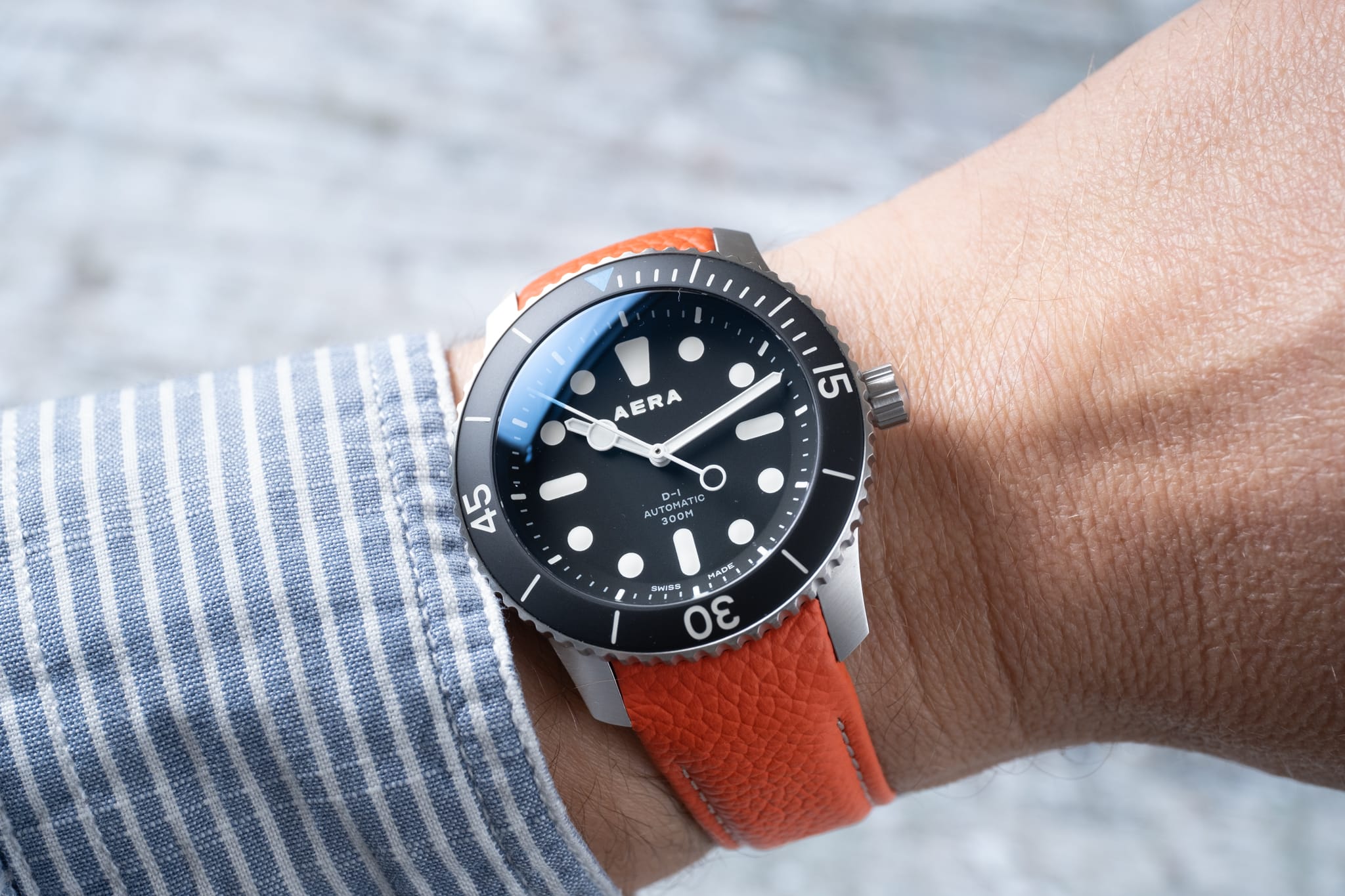 Would I like it to be smaller? Ultimately, yes. But only slightly. The unique design of this watch works best on a large scale. If it was shrunk too dramatically, it would lose some of its appeal and the impact of the amazing dial and sapphire combo.
Excluding any sizing concerns, the only noteworthy negatives of the D-1 Diver for me are the ghost crown position, lack of in-house regulation on the movement, and the lack of a bracelet option. Anything else is either subjective or just nit-picking.
As I'm sure you've picked up on, I've been blown away by this watch. It's a remarkable first watch from a new brand, that also comes with a three-year warranty. The D-1 Diver offers something truly different to most dive watches. It combines many unique design elements, it's well specced, utterly contemporary and it offers phenomenal legibility, probably the best I've seen on any watch. It's virtually impossible to fault the materials used, engineering and overall quality of this Swiss-made watch. This is clearly a watch that has been conceptualised as a whole package, with every detail thoughtfully considered. And if you collect watches, I virtually guarantee it will be unlike anything you already own!