Any Panerai inspired automatic available below £200 is worthy of my attention, so when I was contacted by Advisor in regards to the Astrohelm V1 Antique, my interest was piqued immediately. I was quite intrigued in particular by the antique finish to the dial, plus the insanely domed crystal. Let's check it out.
The specs
Dimensions: 44mm diameter x 14mm (16.5mm to top of crystal) height x 52.8mm lug to lug
Weight: 100g
Water resistance rating: 10ATM / 100m
Movement: Seiko NH35
Accuracy: +4.9 s/d
Lug width: 24mm
Warranty: 1 year
Price: RRP $349 (£250), offer of $249 (£175)
The case
The case is IP plated rose gold, highly polished which is not what this style of watch is associated with – it's either brass / bronze (a much more rugged, rustic look) or polished stainless steel. The shape is a traditional Panerai inspired pillow.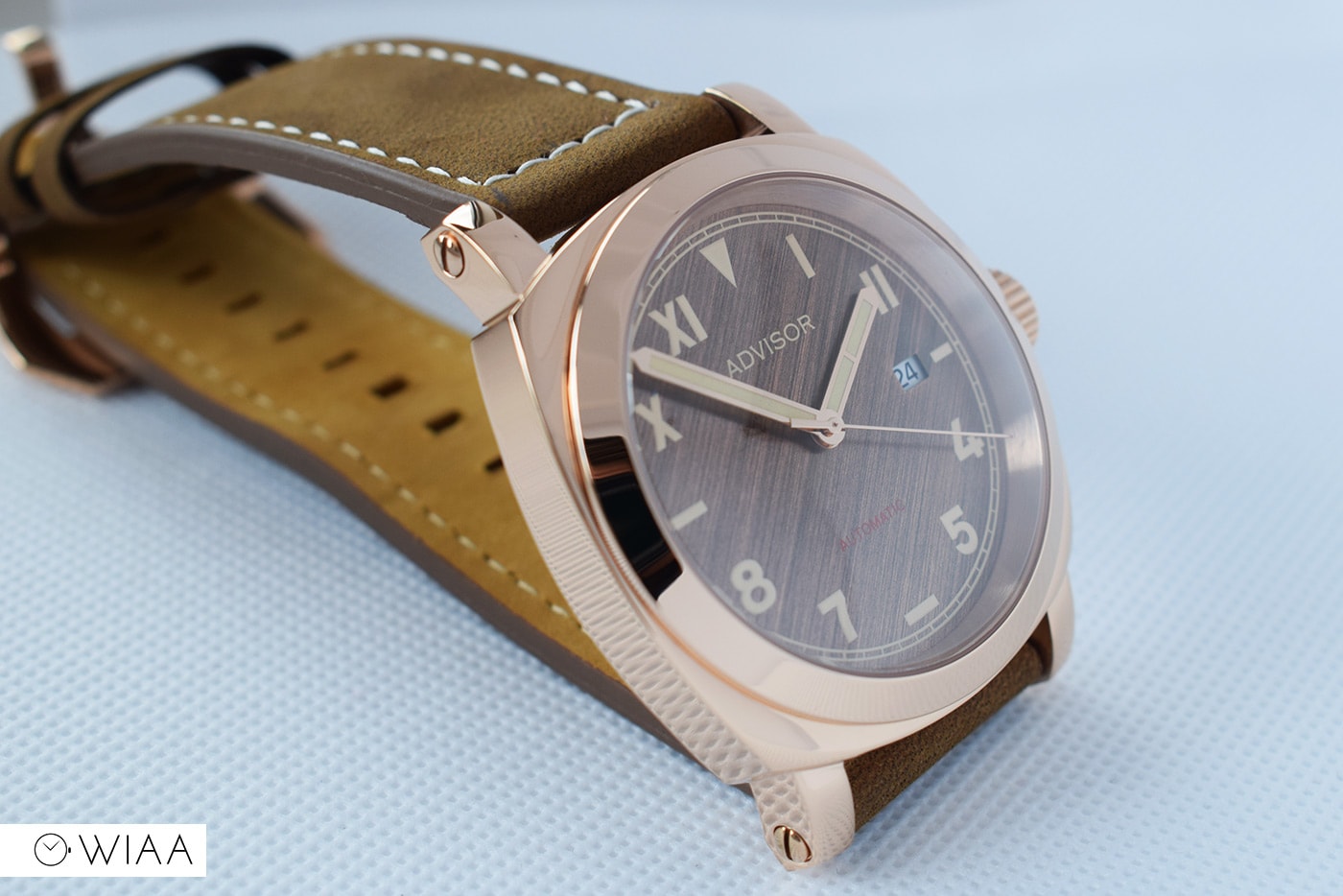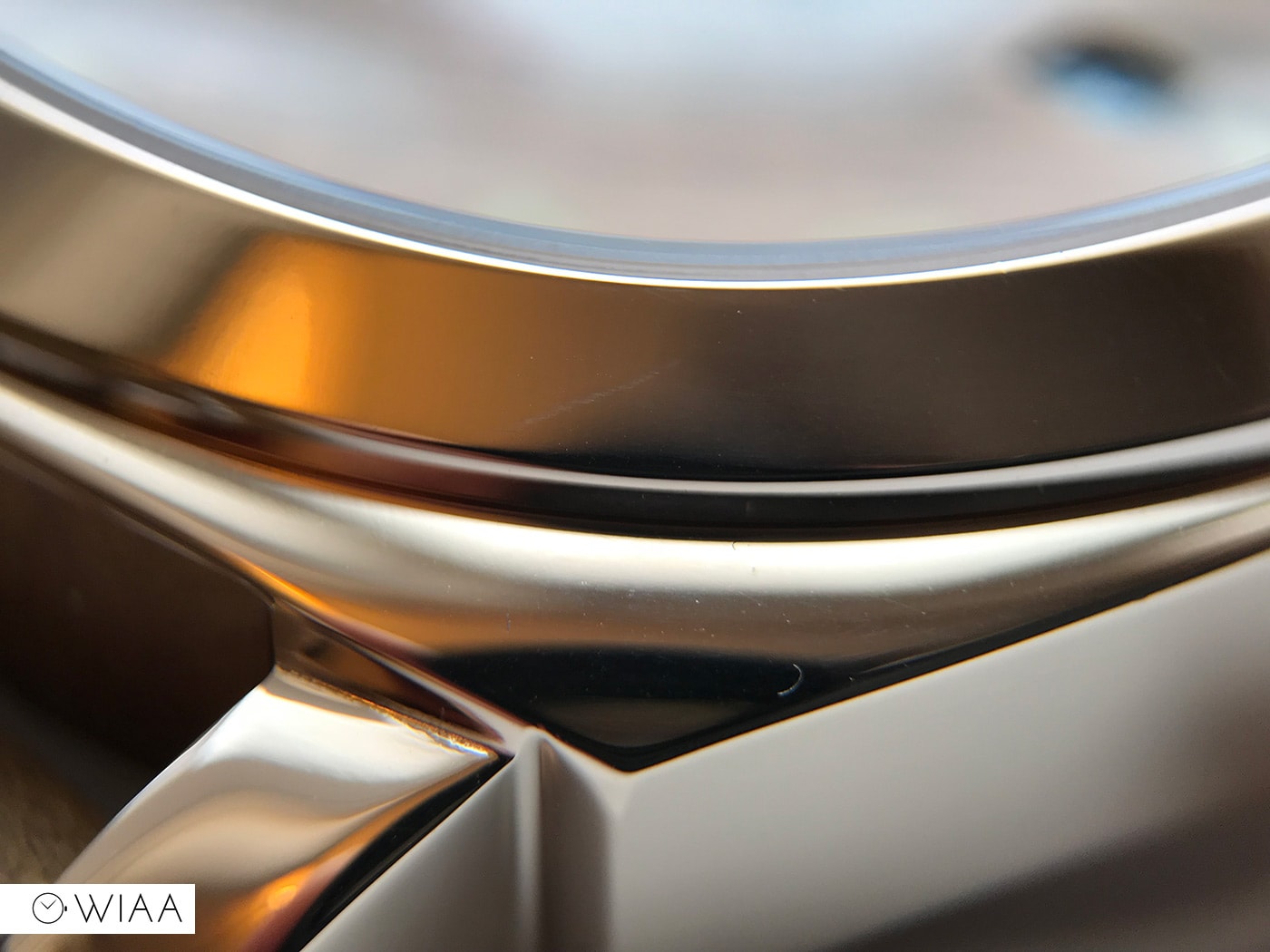 Sitting on top of the case is a ridiculously tall double domed sapphire crystal, which is one of the main talking points of this watch for me. The main issue is that the sheer height makes it a reflection magnet, and there also doesn't seem to be any effective anti-reflective coating. It's thick and reassuringly good quality however, resonating a deep thud when tapped.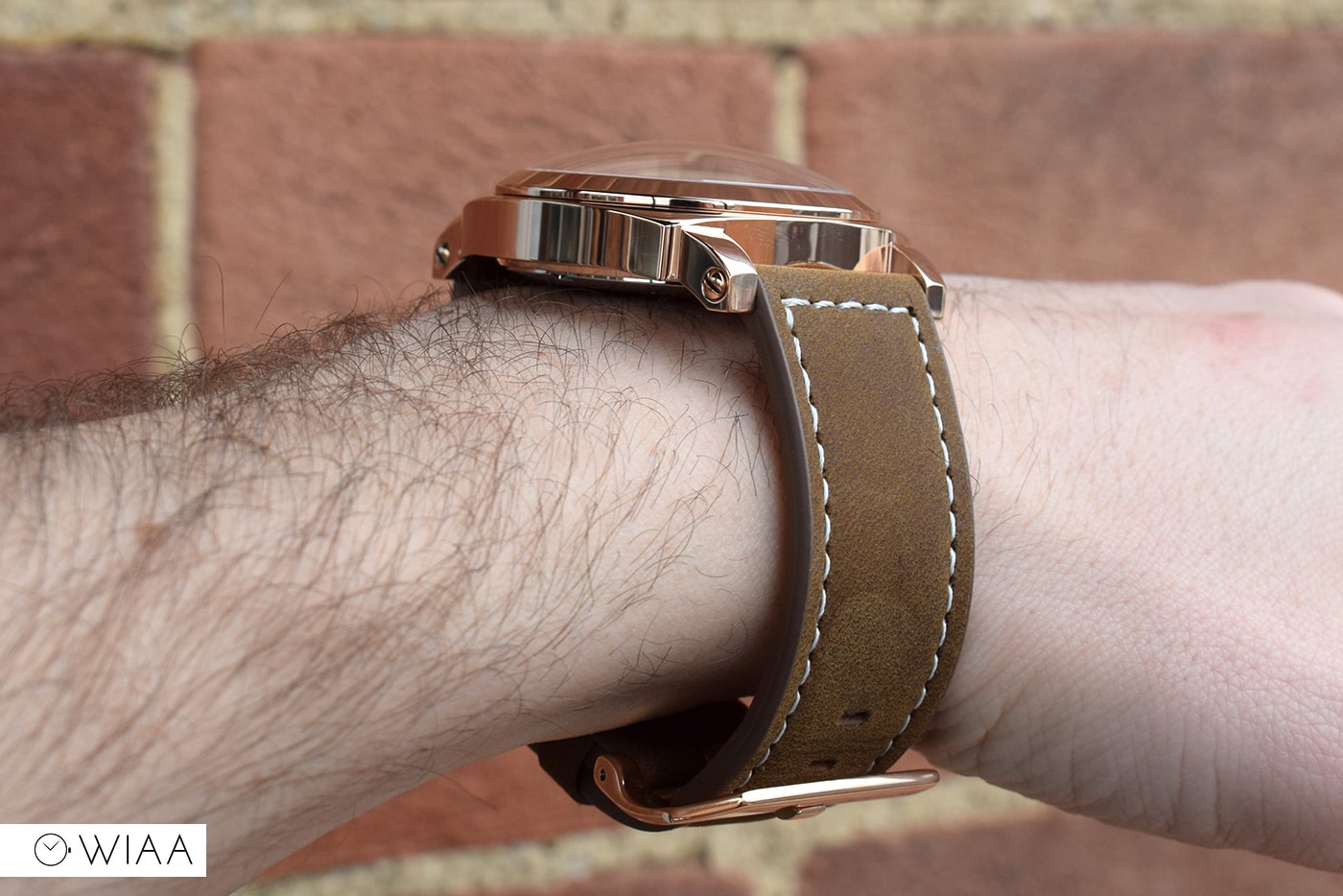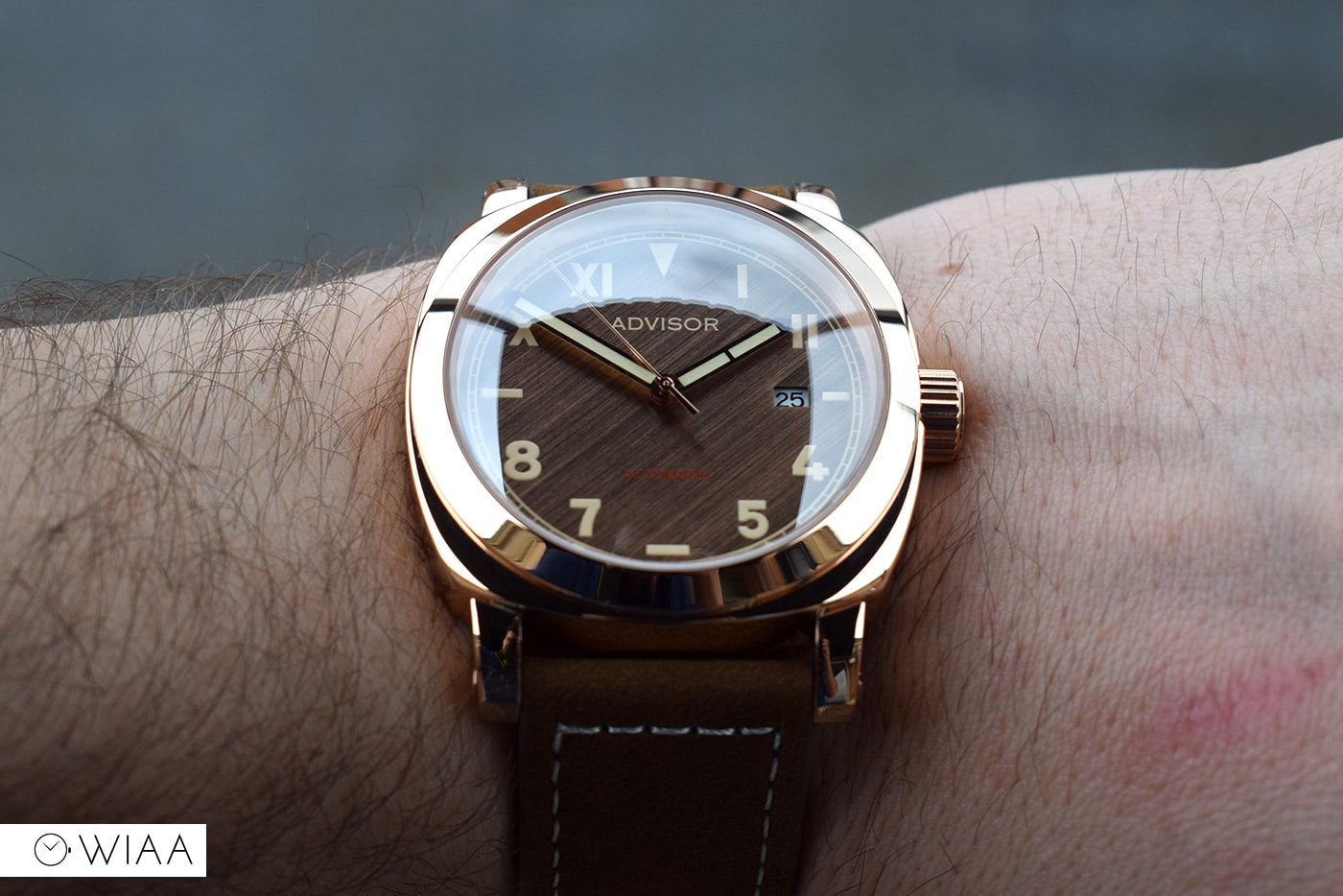 The screw-in crown has no markings, which is a shame; it looks a little plain / bland. It has decent thread, which is easy to use thanks to size and grip,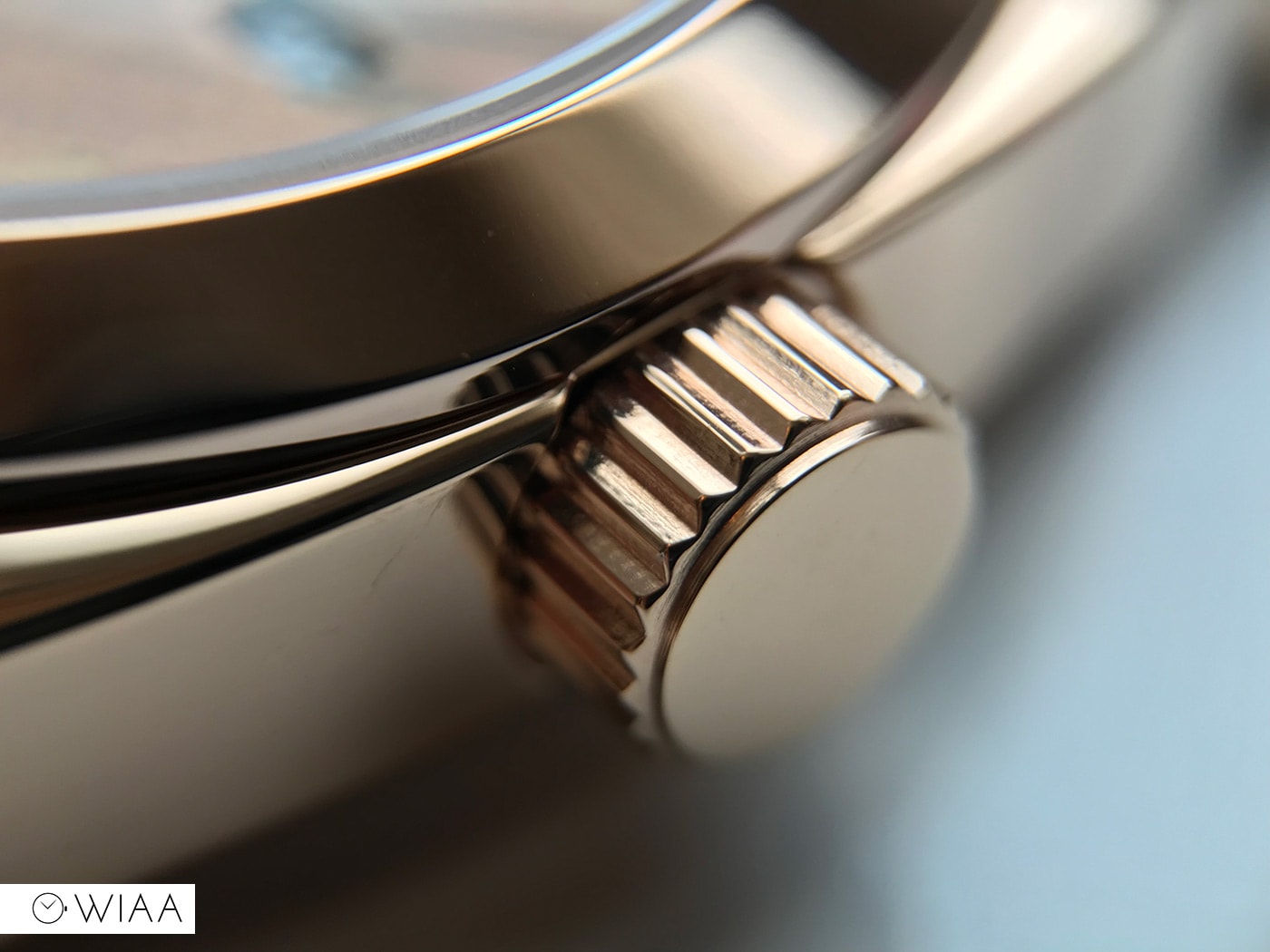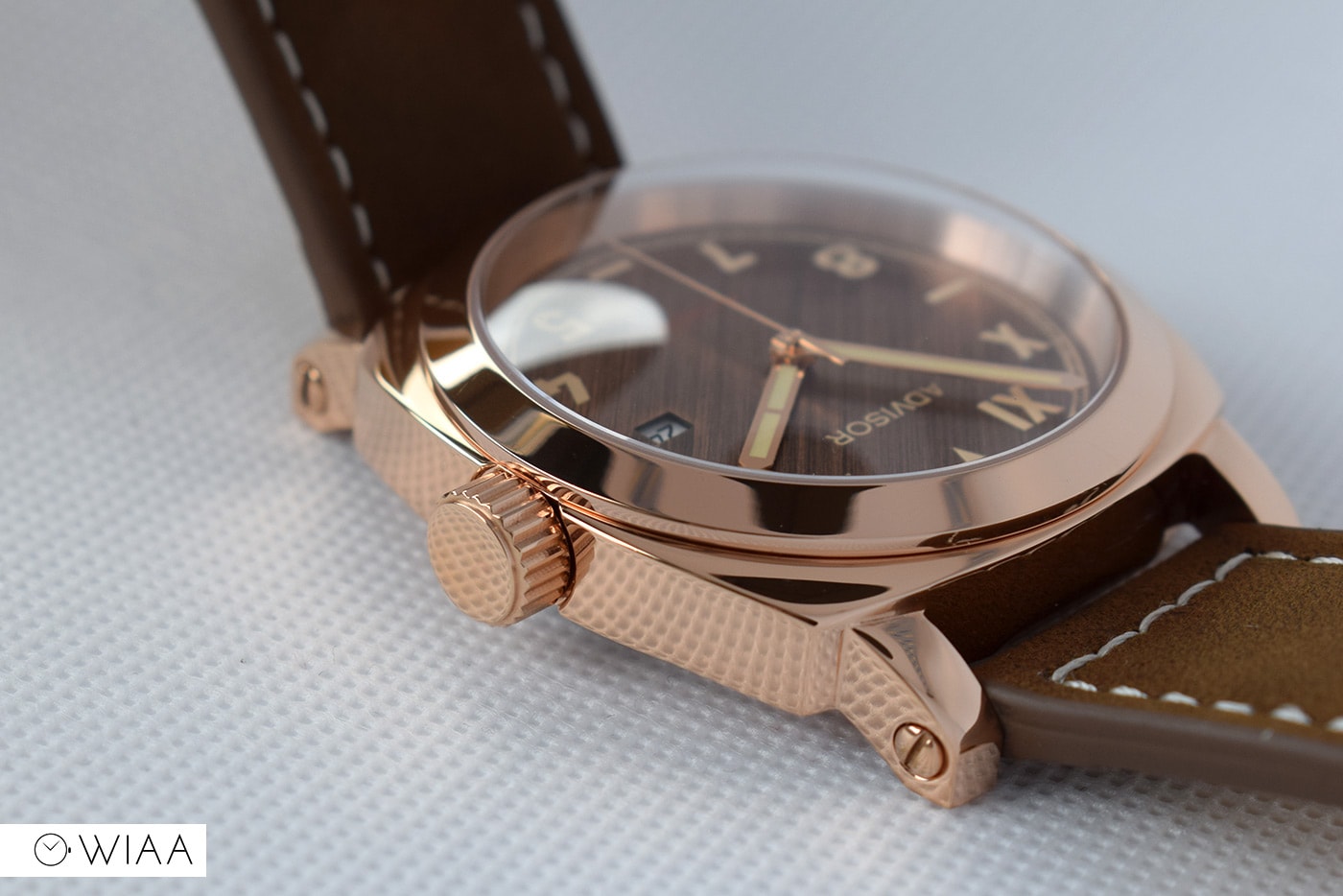 The caseback is stainless steel, which doesn't quite match the gold case visually. The details are deeply engraved surrounding the exhibition window, impressively so and neatly done. The exhibition window has the logo printed on underside.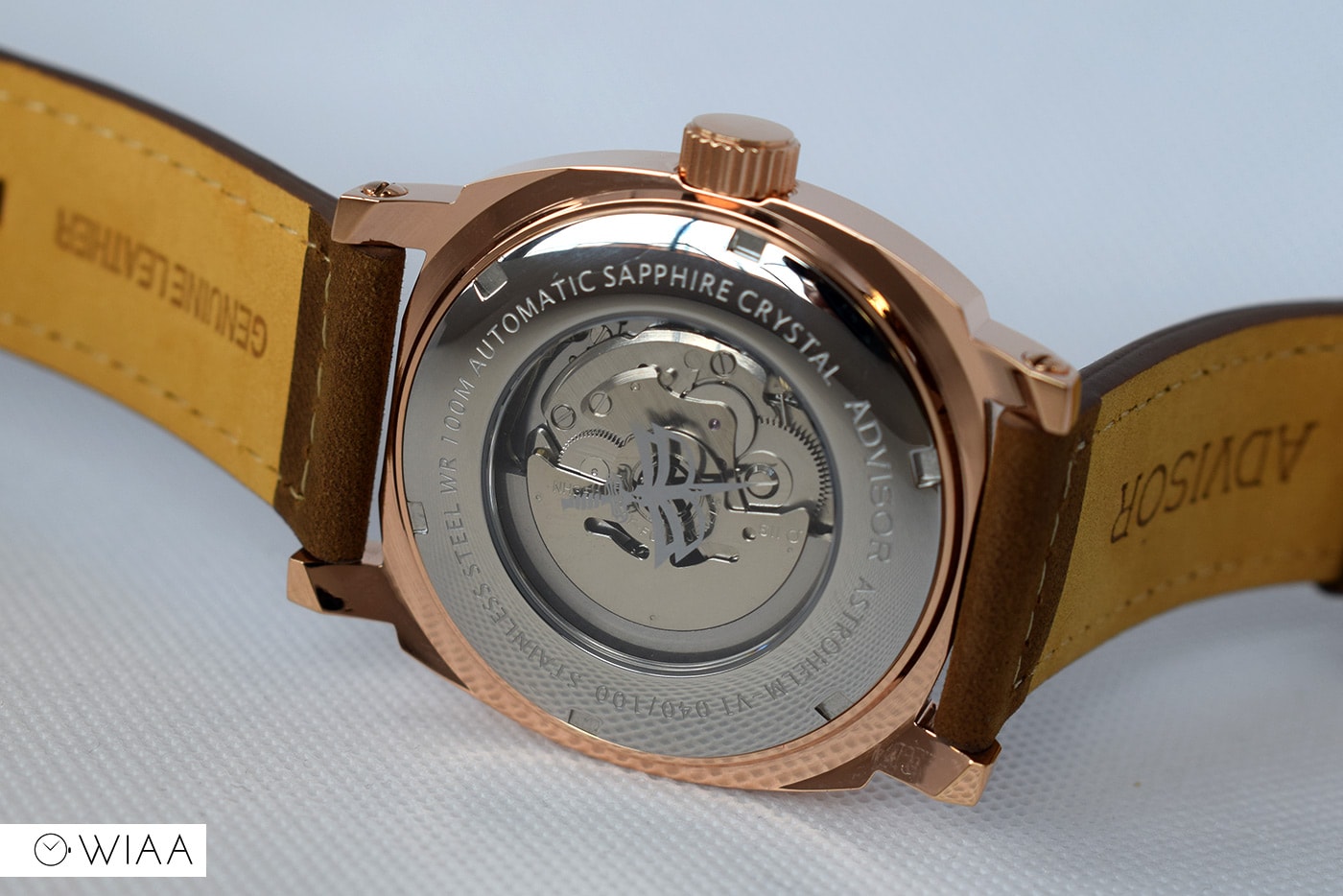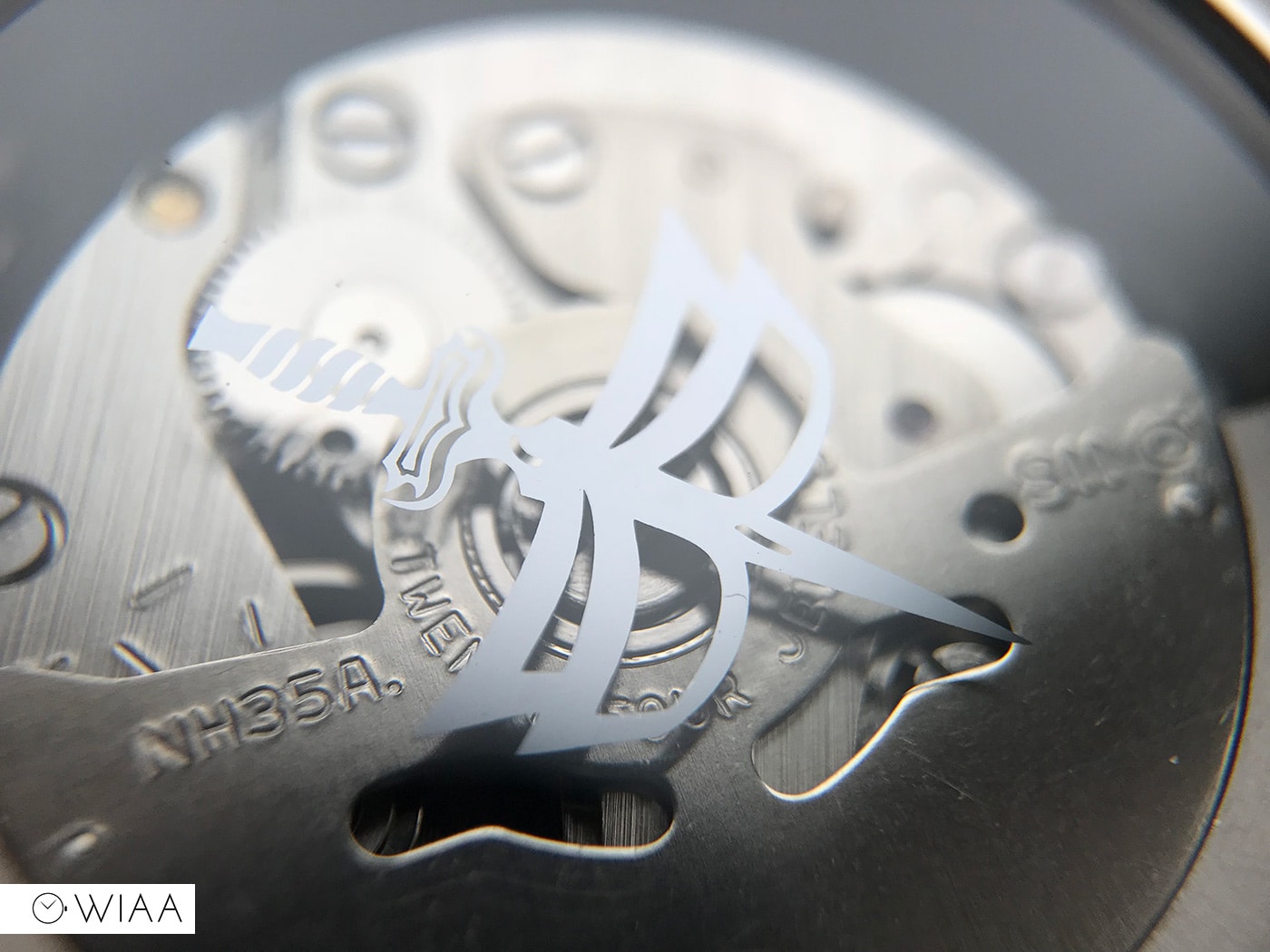 The dial
This dial layout is known as a California dial – identified by the half roman and half arabic numerals. The style was first introduced by Rolex and then Panerai, so it's fitting that Advisor have chosen it.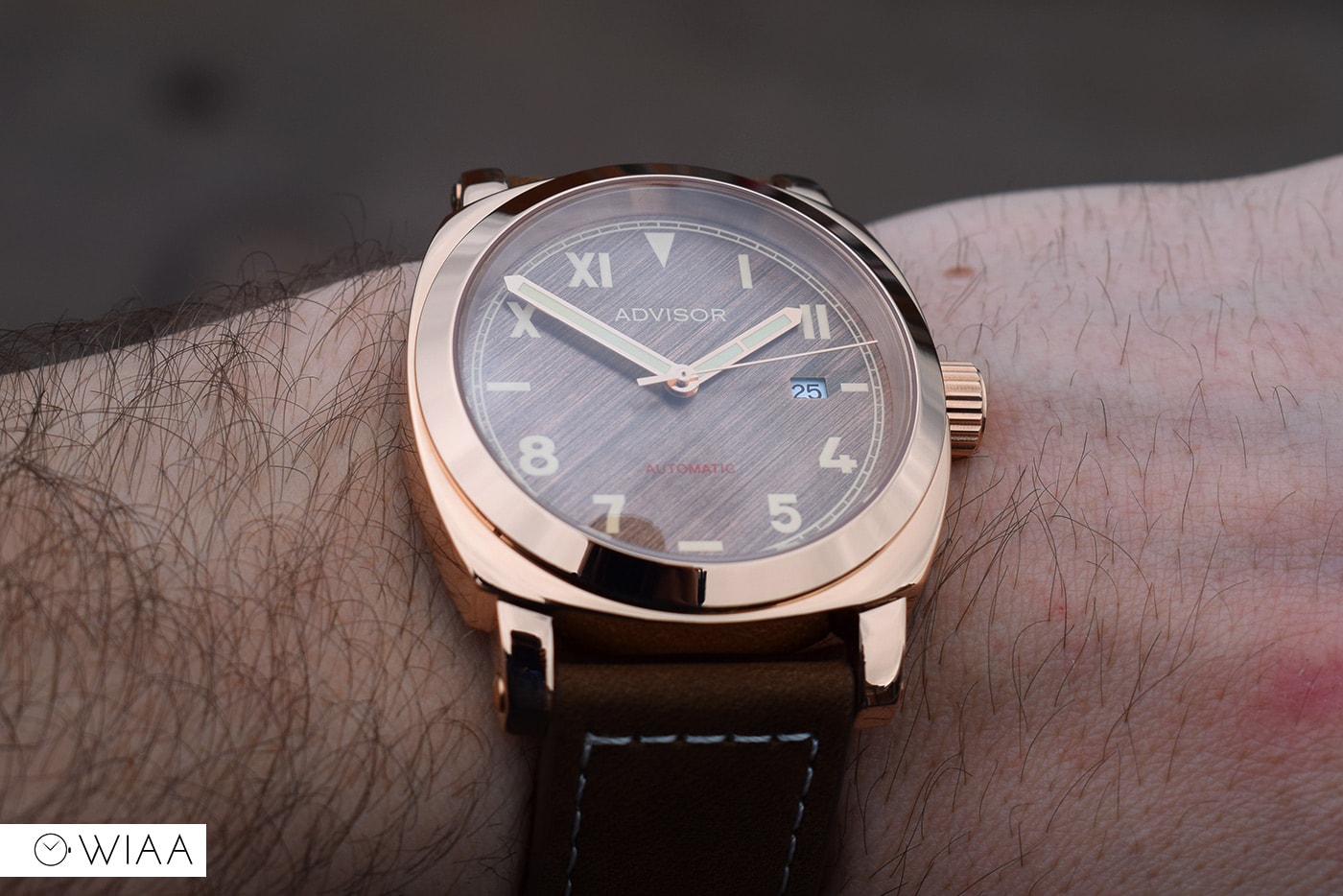 It has a very interesting base – it has a brushed antique plating to it. I find it matches the case really well, but is certainly an acquired taste.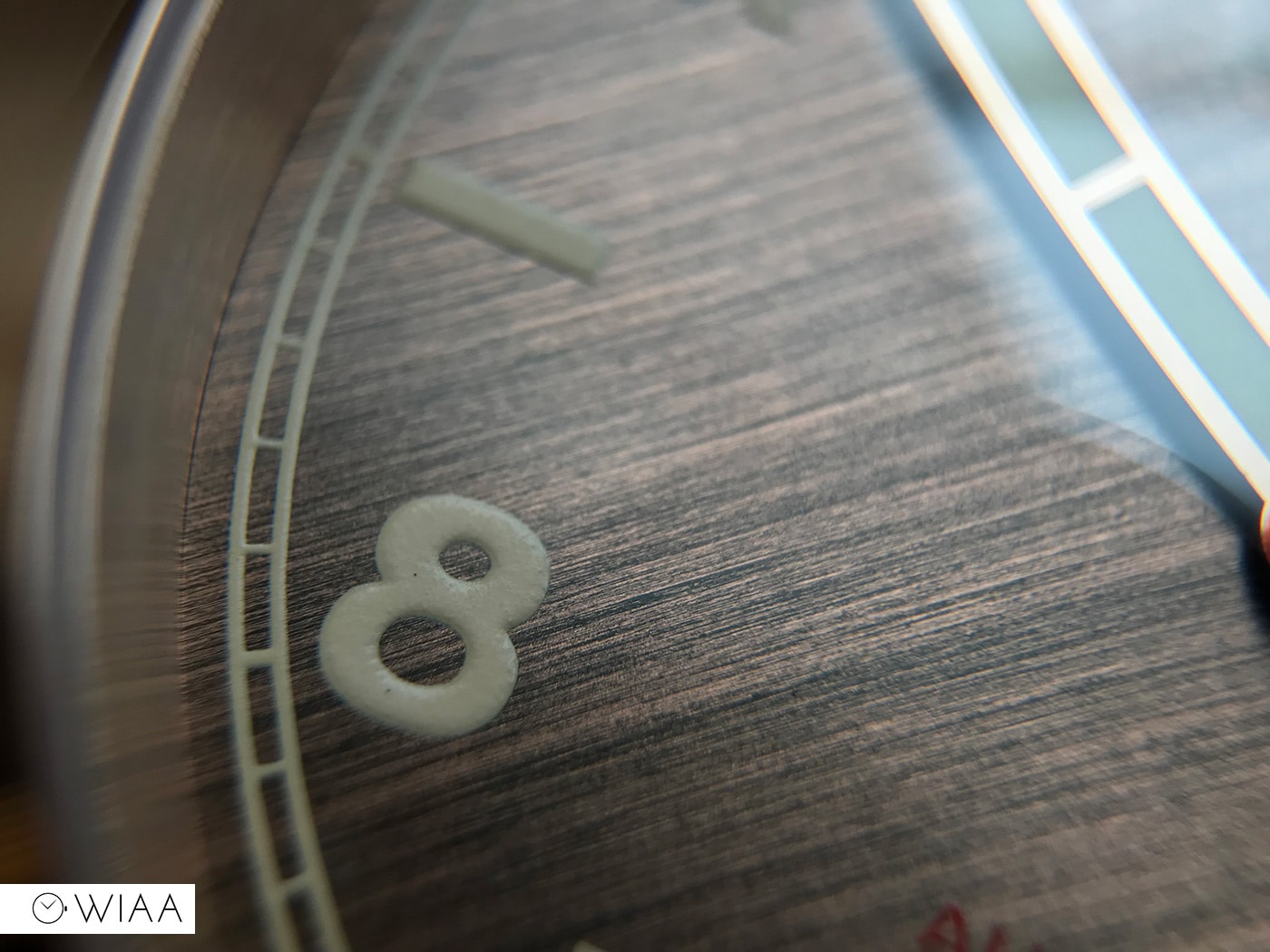 The lume is described as "Old Radium", definitely referring to the light gold colour mimicking an aged dial. The printing is fine and well done; with the logo within the top half and "automatic" in bottom half – which is red, and hard to read.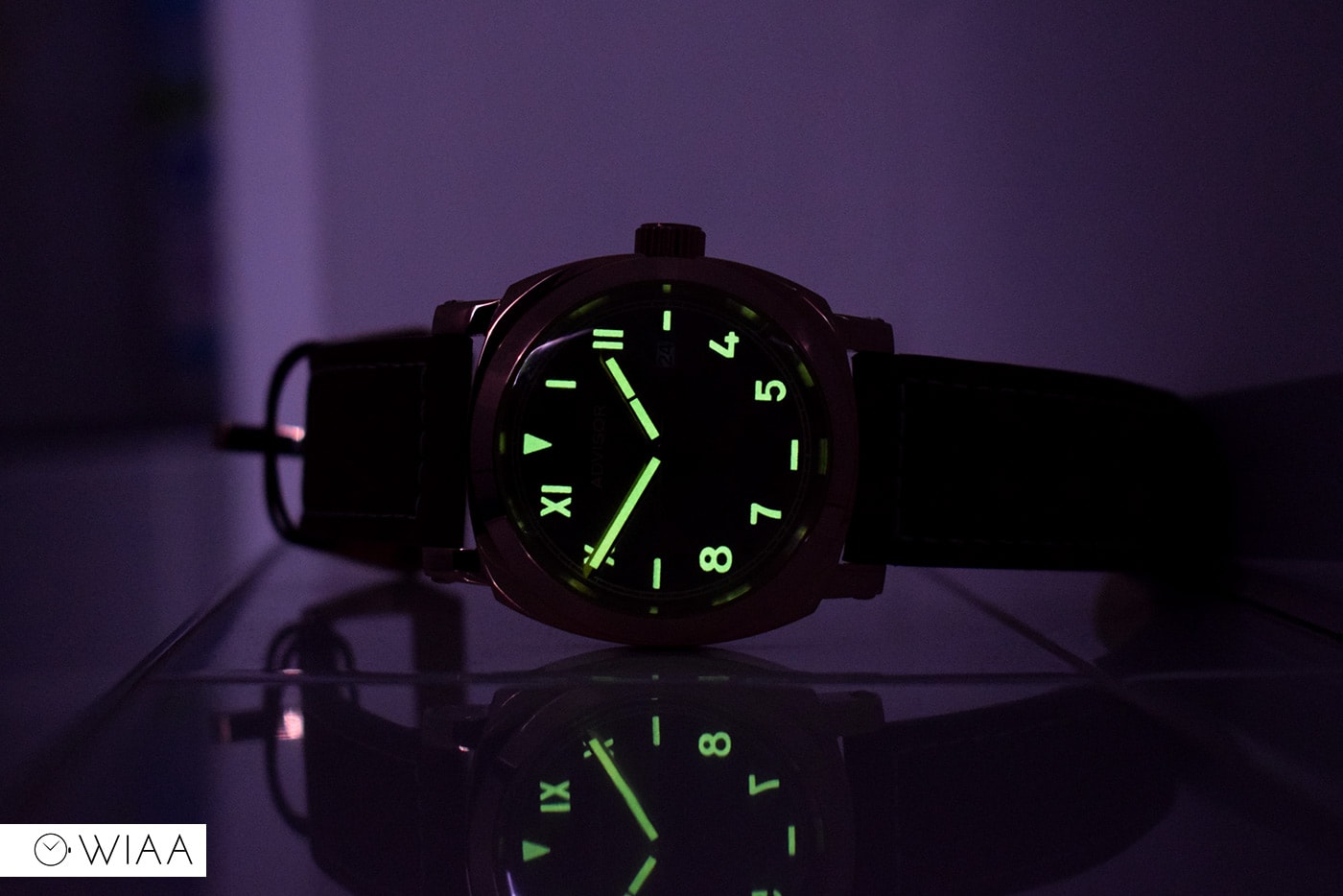 The date wheel is white and appears to be the stock wheel. The date window is cut straight out of the dial; I personally like to see some detailing (printed or applied border), but I appreciate the simplicity here in this situation.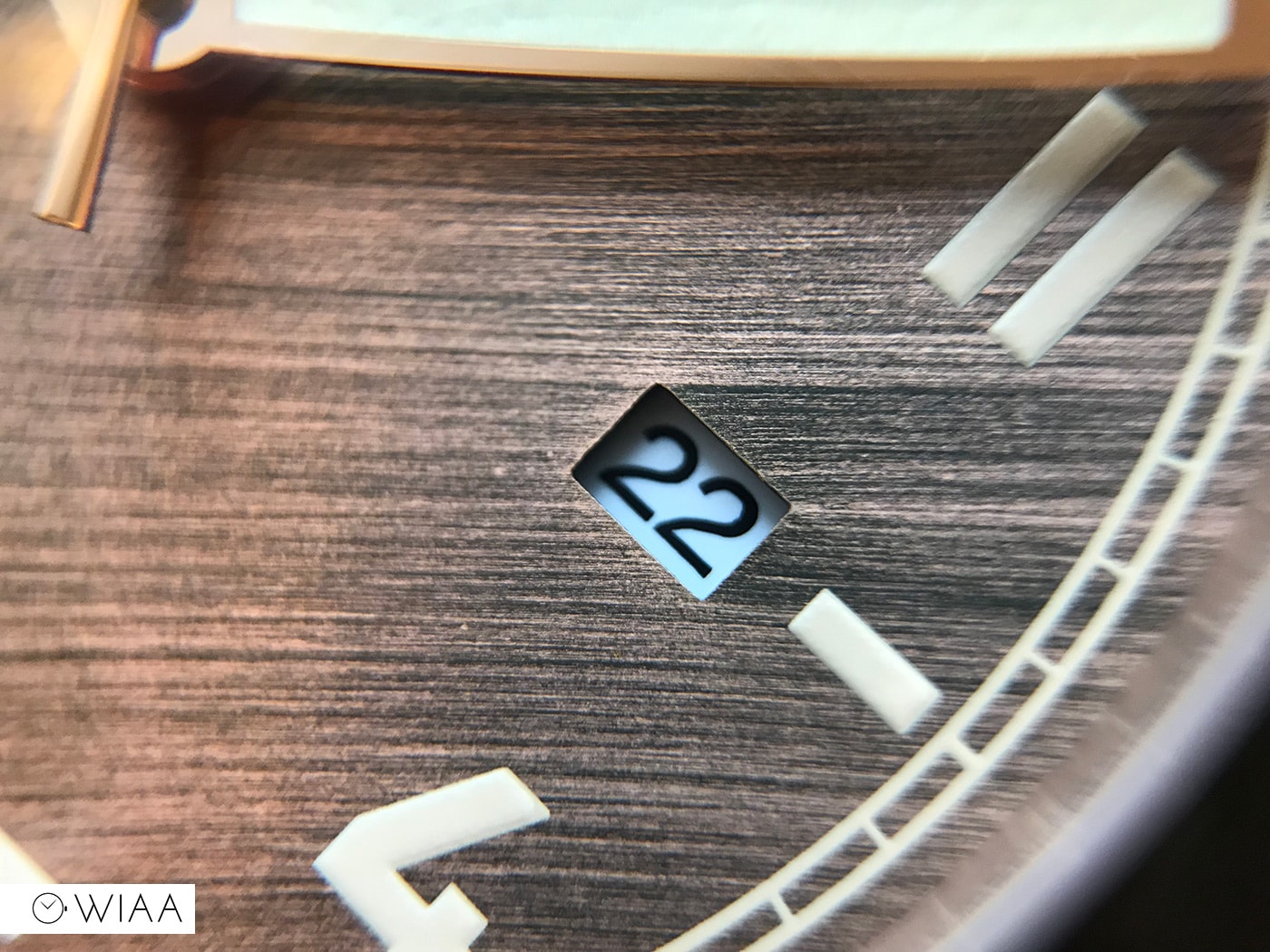 Surrounding the outer edge of the dial is a vintage style railway minute track which frames everything well. The colour is inspired by an aging process, matching the lumed numerals.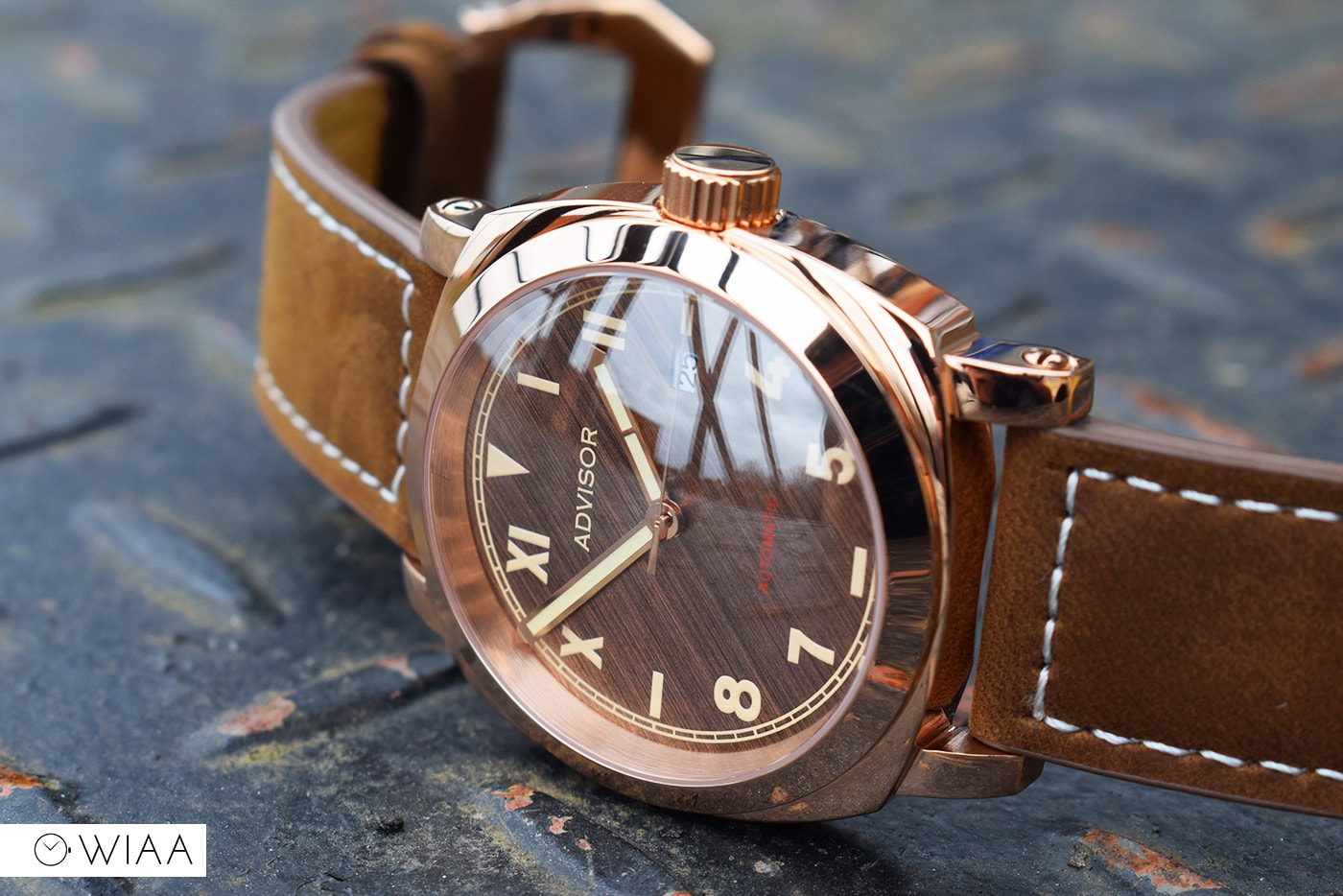 The hands are straight, with arrow tips and a divider in centre. They are polished gold to match the case, and catch the light well. The seconds hand is a straight stick.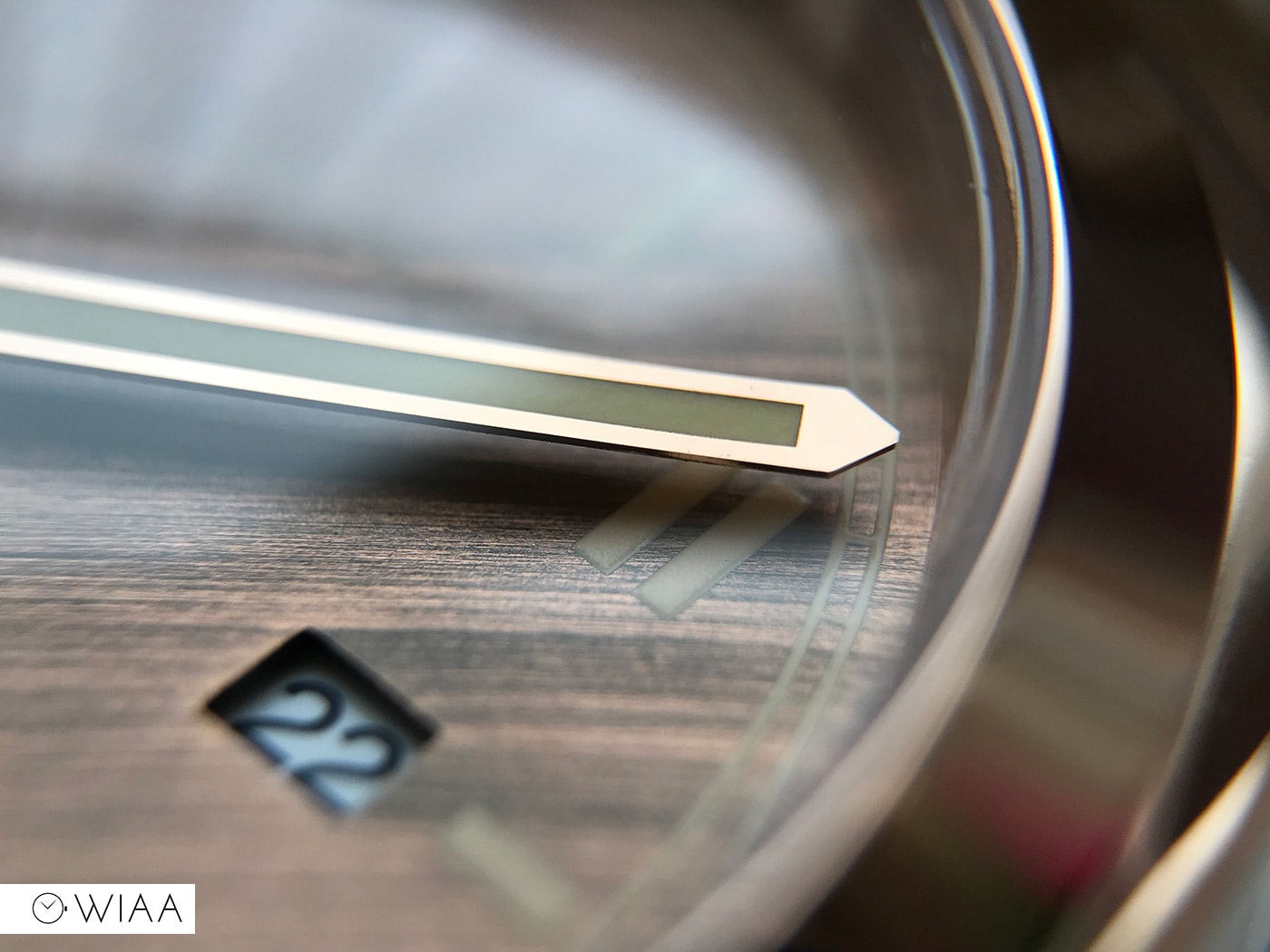 The strap
The leather strap is 24mm wise at the lugs in traditional Panerai style, very wide creating impressive wrist presence. It's made of crazy horse brown leather, which is very soft to the touch. It's a little bit matte on top, but that helps make the watch a little more rugged in appearance than it actually is.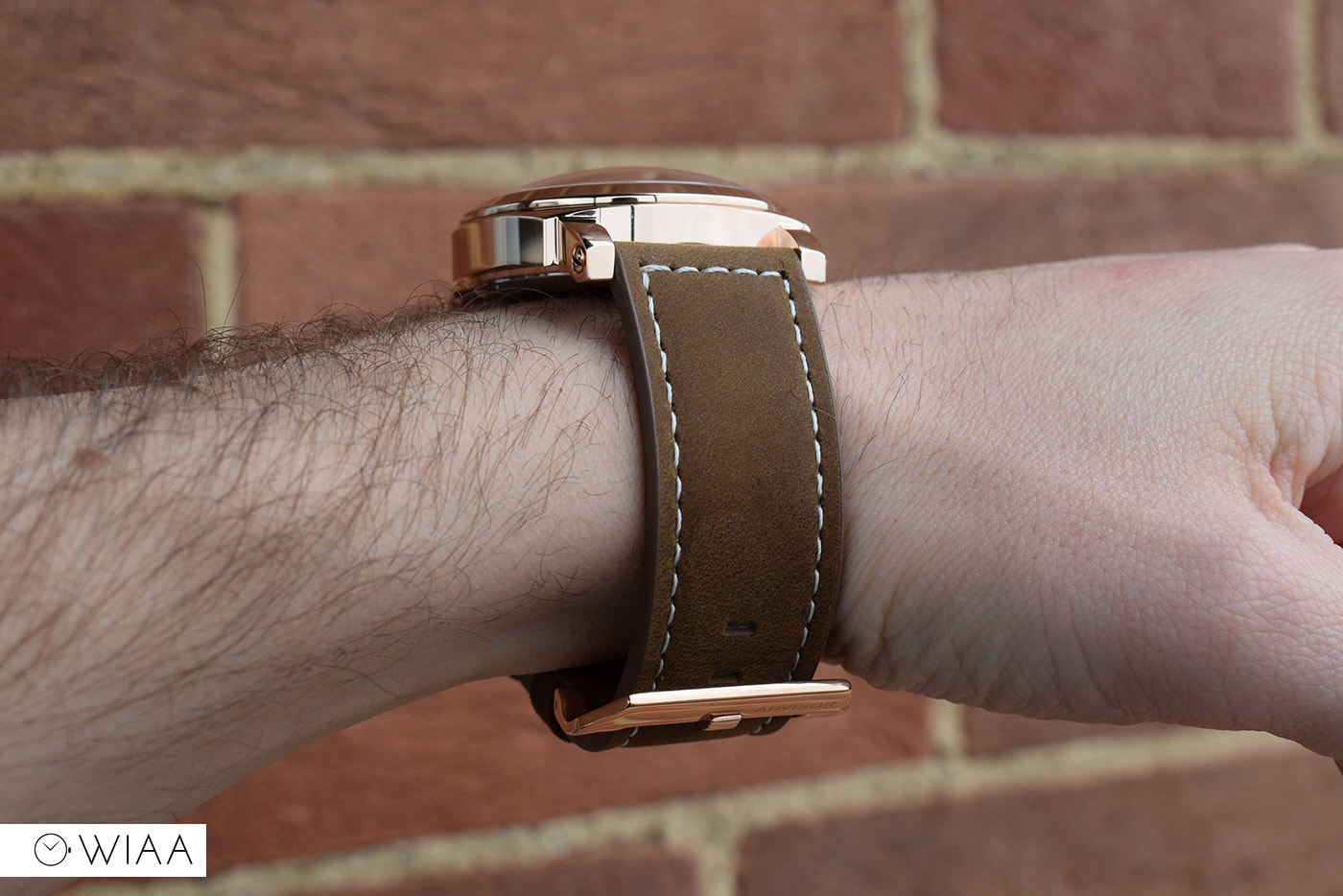 It's clearly very well made, is nice and thick, with good edging and more or less flawless construction. It also smells great which is always a plus for leather items.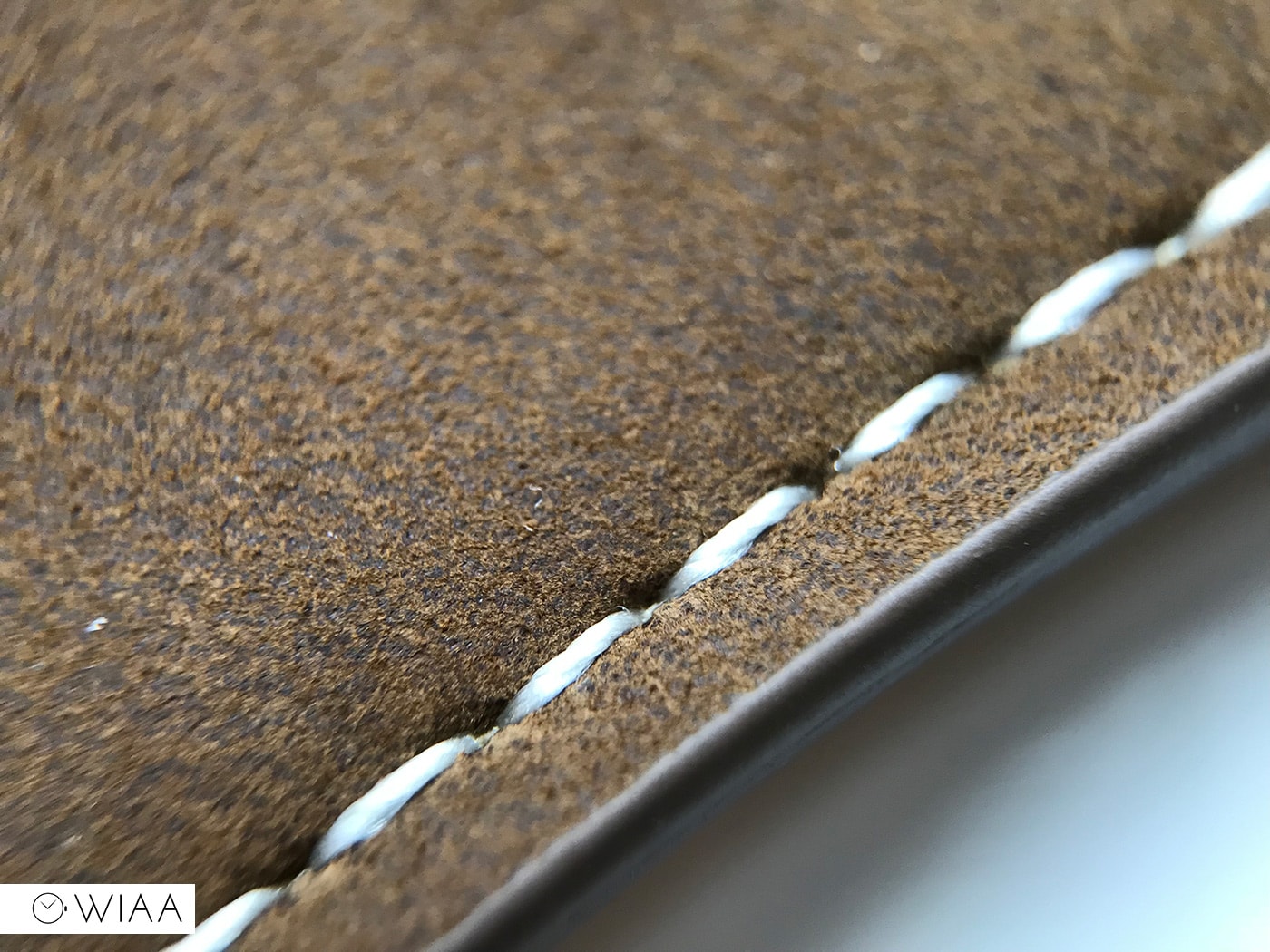 It has attractive white stitched detailing surround the outer edge, keeping ones' interest whilst viewing it.
It comes fitted with a chunky pre-V buckle, which is polished gold to match case. It's likely to scratch, but I've actually and surprisingly not experienced that just yet. It has the Advisor logo deeply and accurately engraved toward one side.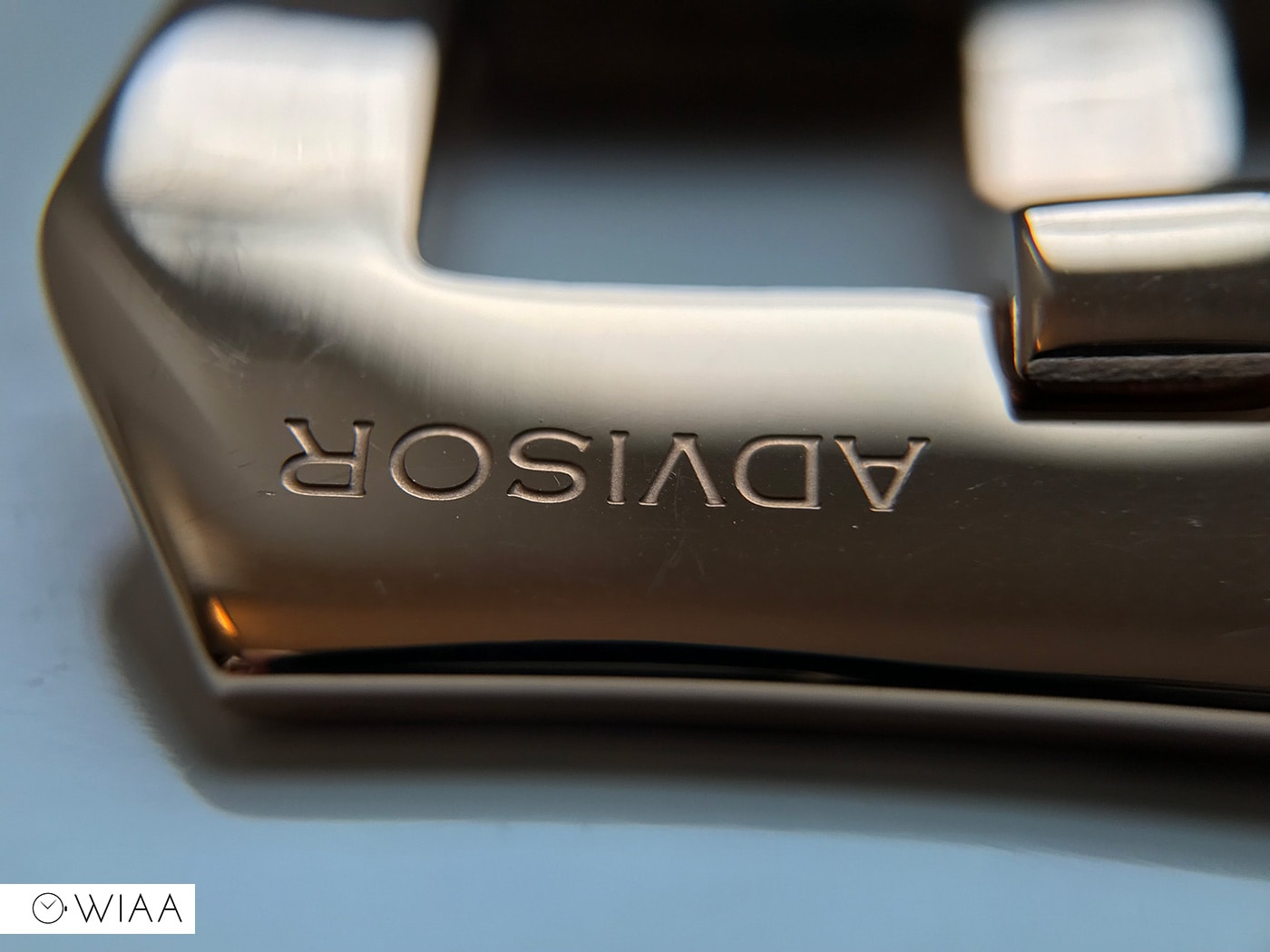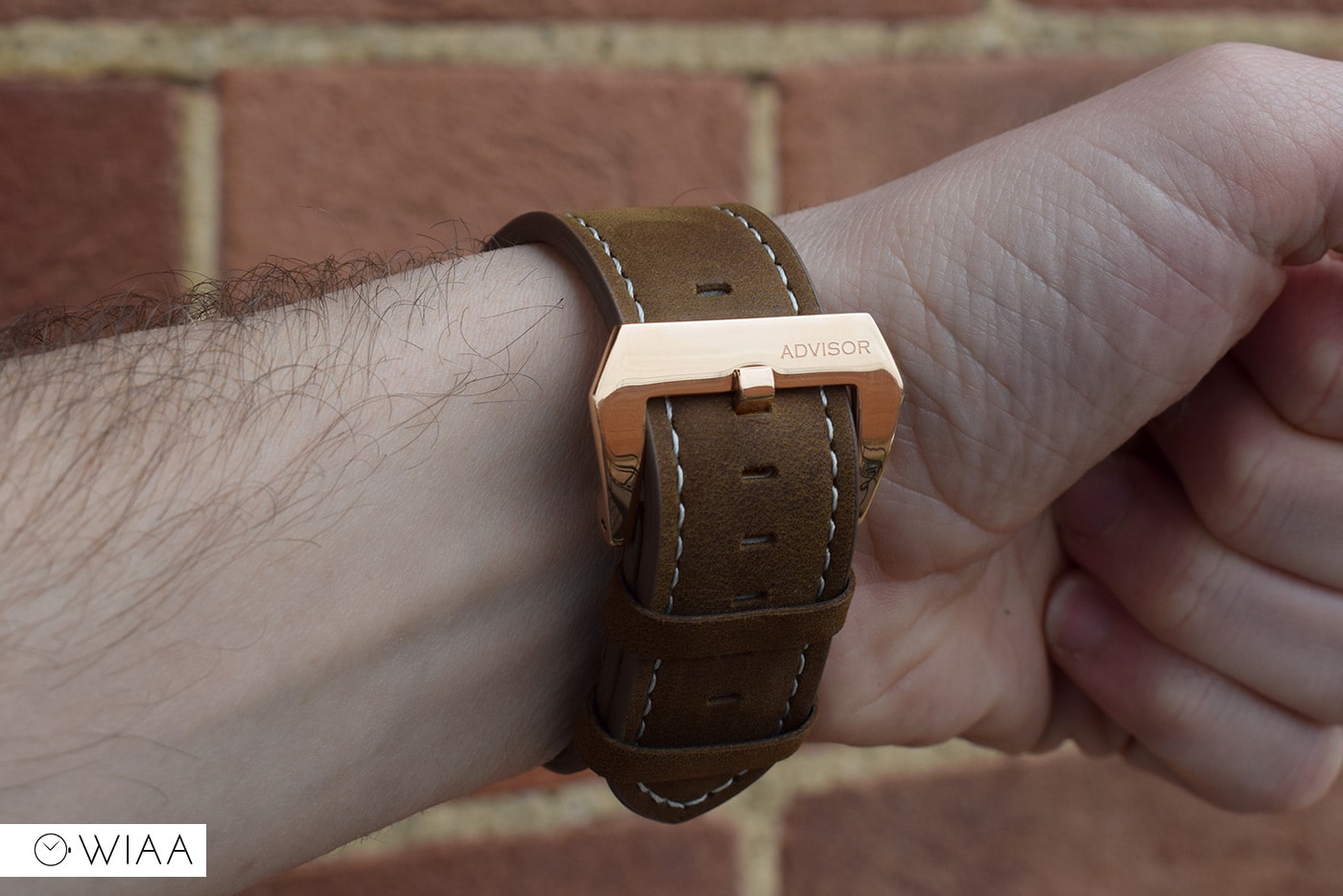 The movement
The movement powering the Advisor Astrohelm is the Seiko NH35. A movement I've seen countless times, and there's little wonder why. It's affordable, hard as nails, and easy to regulate. This example has clearly been regulated well, as it's coming in at a sensational +4.9 seconds a day – that's within COSC specs.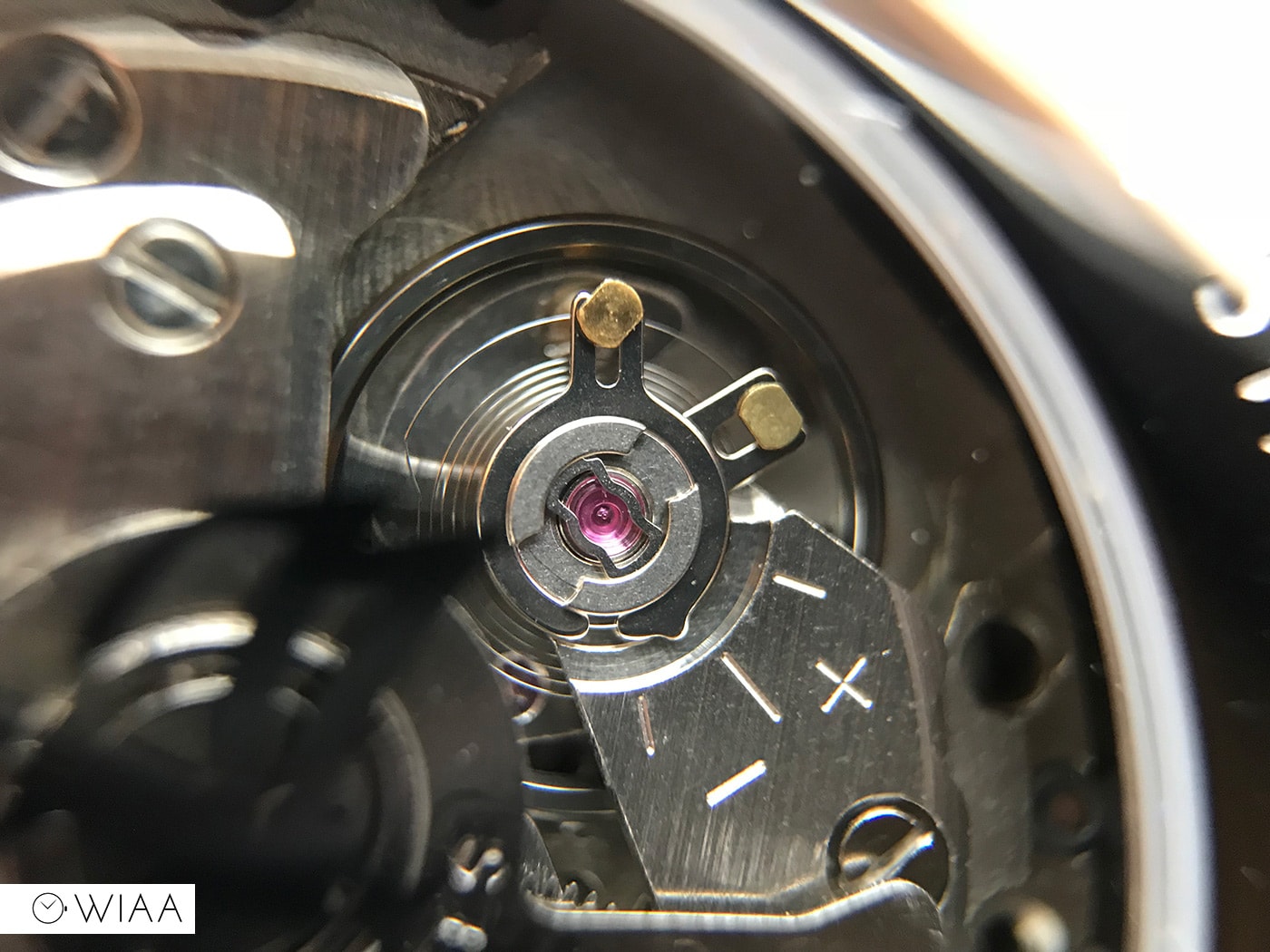 It's completely stock – there's no customisation whatsoever – but we do have the Advisor logo displayed over the exhibition window with makes things a little more interesting.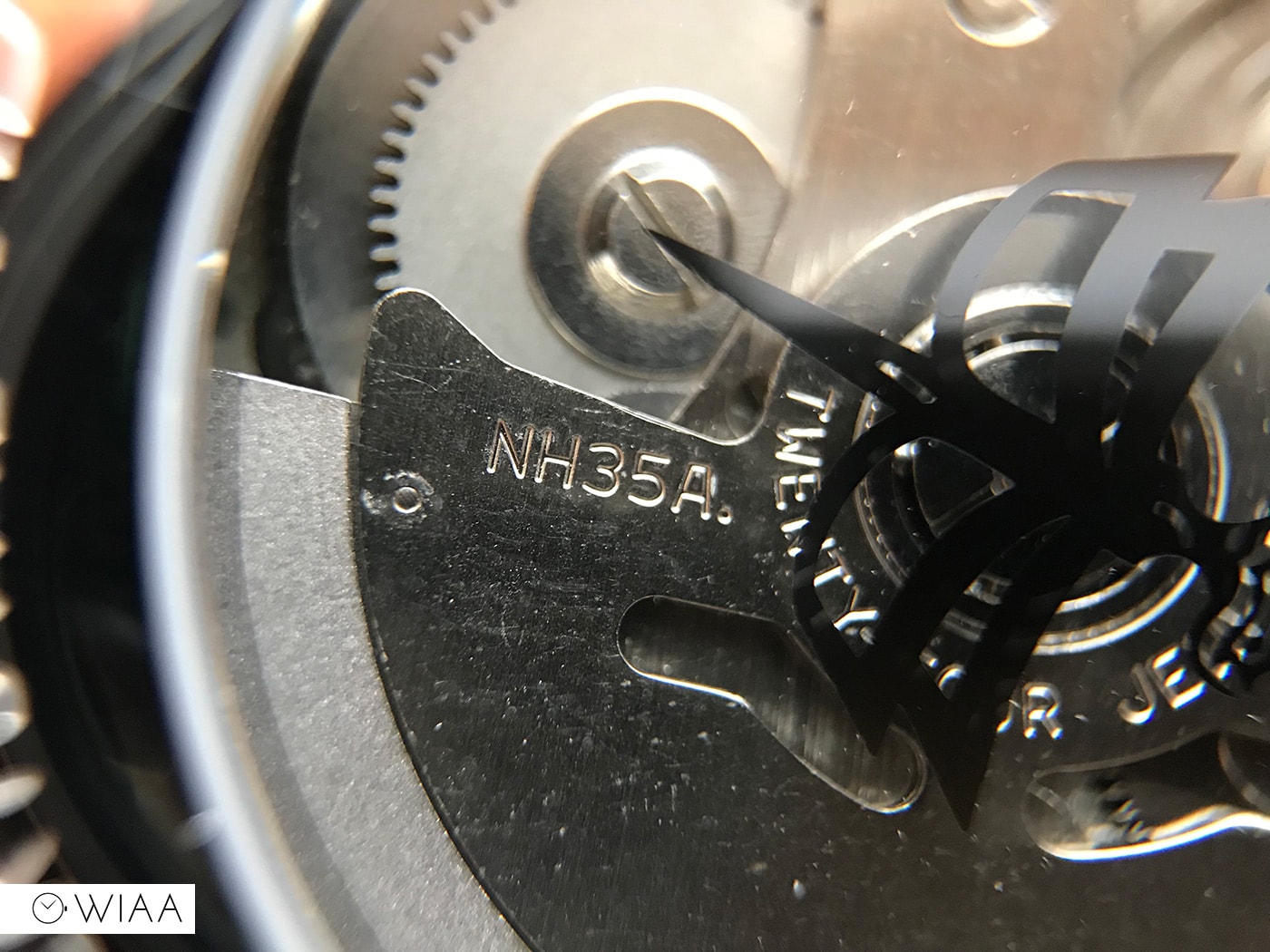 Final comments
Is it for me? Probably not, mostly due to the unexpected polished gold case just not being for me. However, it sure is a lot of watch for the money at $249, as it's clearly a well made timepiece with a great solid automatic movement.
The sapphire crystal is so ridiculously domed, the reflections are so vast it made it difficult to photograph – which is a shame and a but frustrating; as it does effect legibility a bit.
I find the dial very interesting, however – vintage inspired and different to anything else I've seen. If it catches your eye, then it sure is a good watch for the money.