2020 celebrates Accutron's 60th anniversary. Originally released in 1960 with a tuning fork movement; a precursor to the quartz movement which was released around a decade later (the Seiko Astron). This tuning fork movement had a good run of 15 years before Accutron moved on to other things.
Fast-forward to 2020, and Accutron has launched another "first of its kind" electrical-based movement, this time powered by electrostatic. Never before has this power source powered a watch movement.
I will say that there's not a whole lot of information out there regarding the movement, however, the awesome guys at the WatchWithUs YouTube channel did a great interview with Accutron's Managing Director Michael Benavente (which was very informative) here: https://www.youtube.com/watch?v=74pduoV1Bv4
What's quite exciting is how no one knows how this movement will perform in the long run, as it's very rare that new technology is released such as this.
The specs
Dimensions: 45.1mm diameter x 15.6mm height x 52.3mm lug to lug
Weight: 128g
Water resistance rating: 5ATM / 50m
Movement: Proprietary electrostatic movement; Caliber NS30-Y8A
Accuracy: +-5 seconds a month
Lug width: integrated strap; strap 27mm wide at the lugs and 20mm at the buckle
Warranty: 5 years
Price: $3300 / ~£2500
The video review
You can't help but realise this is a watch that demands attention. There's no doubt about it, this is a statement piece with its otherworldly case construction and remarkable movement found within, let alone the size of the thing.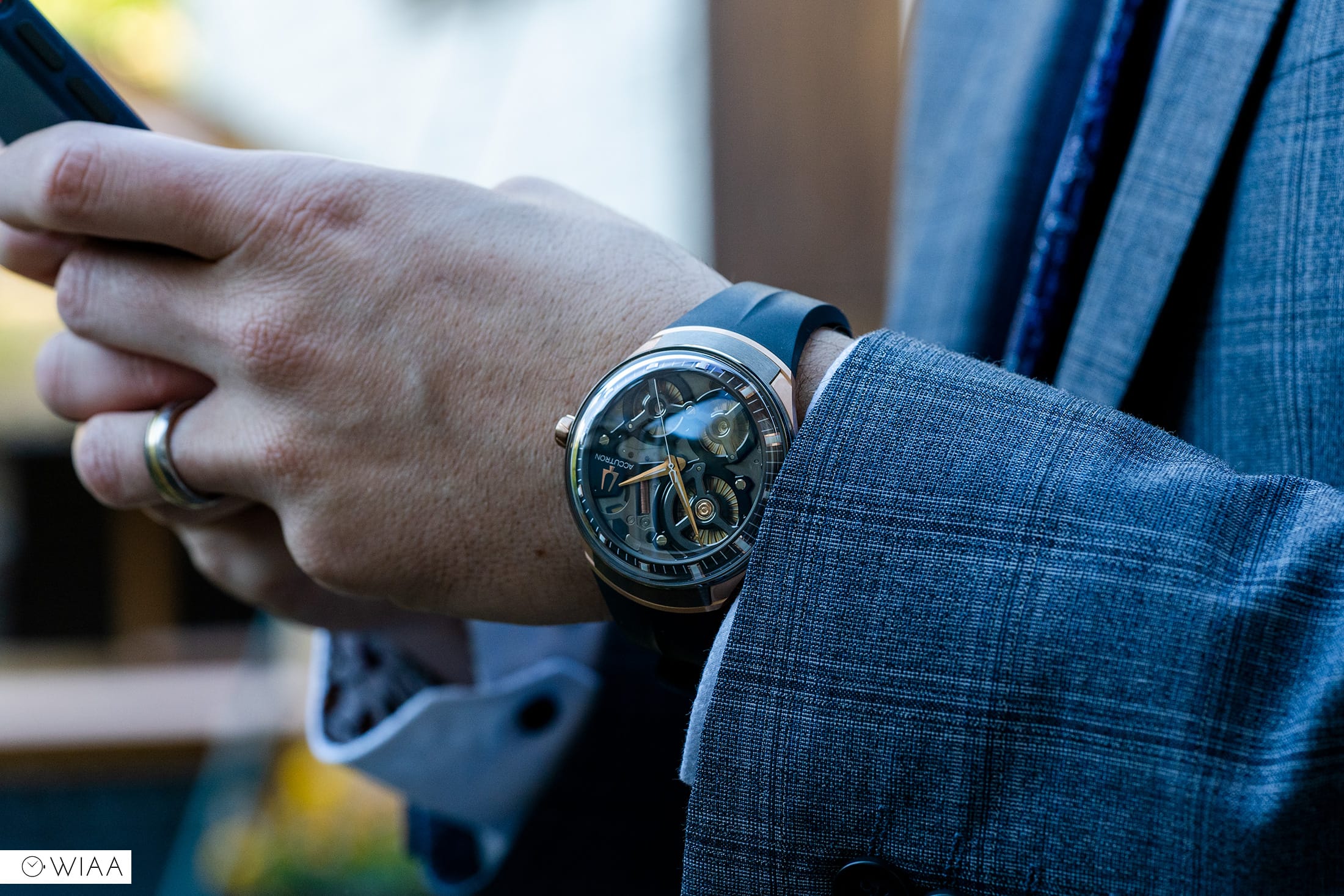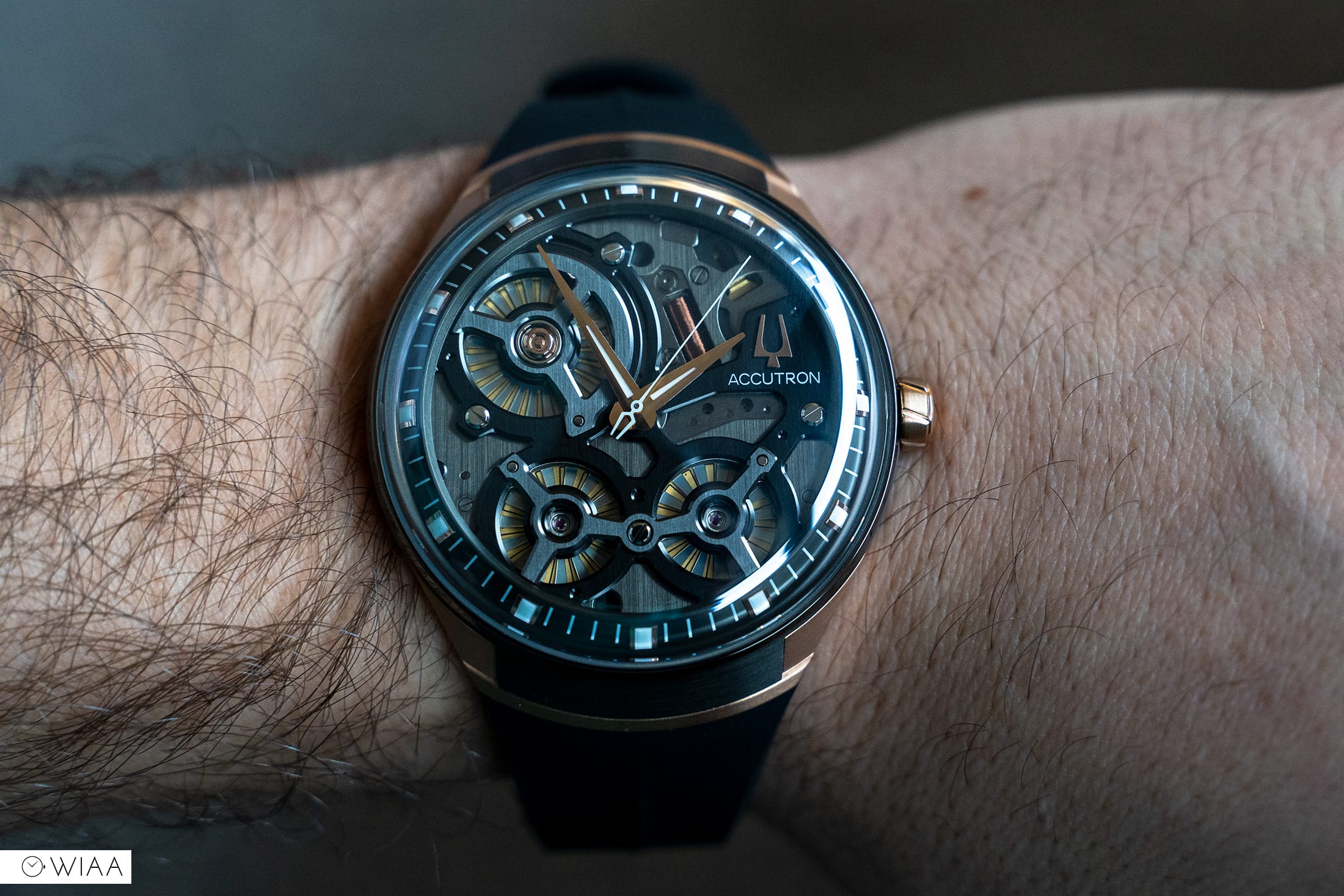 But first, a brief history lesson. Why was Accutron watches a big deal all those years ago? And why is their new proprietary electrostatic movement of note today?
Firstly, it's worth noting that until this year (2020), Accutron was not an actual brand in itself. Released in 1960, Accutron was a range of watches made by Bulova, who have now relaunched Accutron as an independent brand. What was so special about those watches? Instead of a balance wheel, they used a 360hz tuning fork which vibrated to keep time, making it the second electronic watch produced. Indeed, it could be said that they were the pioneers of the quartz revolution. Bulova ceased selling any watches under the "Accutron" label in 2014, but they were bought out by Citizen in 2018. Therefore, it's the new parent brand pushing the Accutron resurgence with a fresh slate.
Back to modern times; and the question why does this watch matter? As technology advances, it's good to push the boundaries of what's possible and reimagine the past. This is exactly what the new Accutron brand of 2020 has set out to do.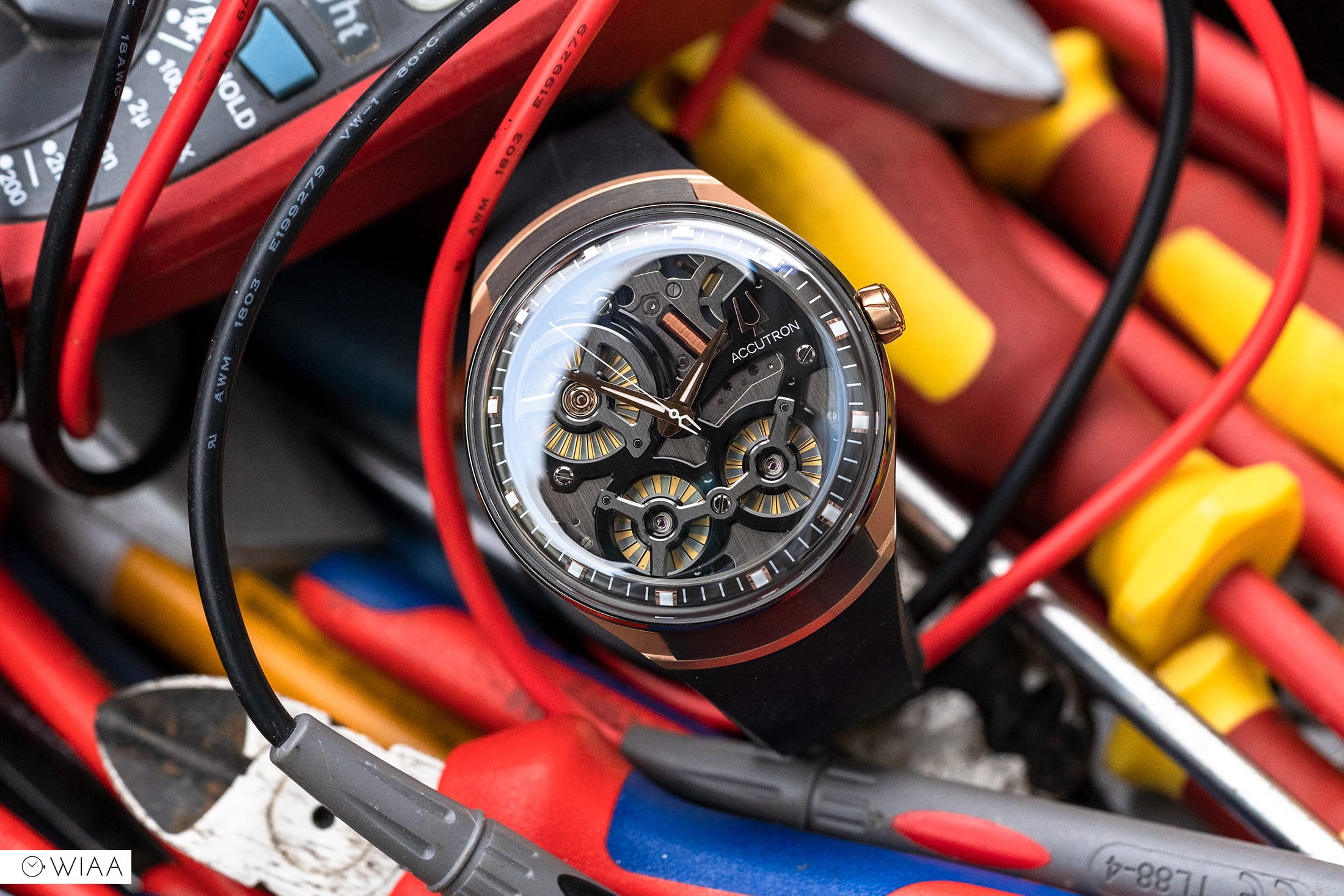 What with? Their new proprietary electrostatic movement – the very first movement in a watch to be powered by electrostatic energy.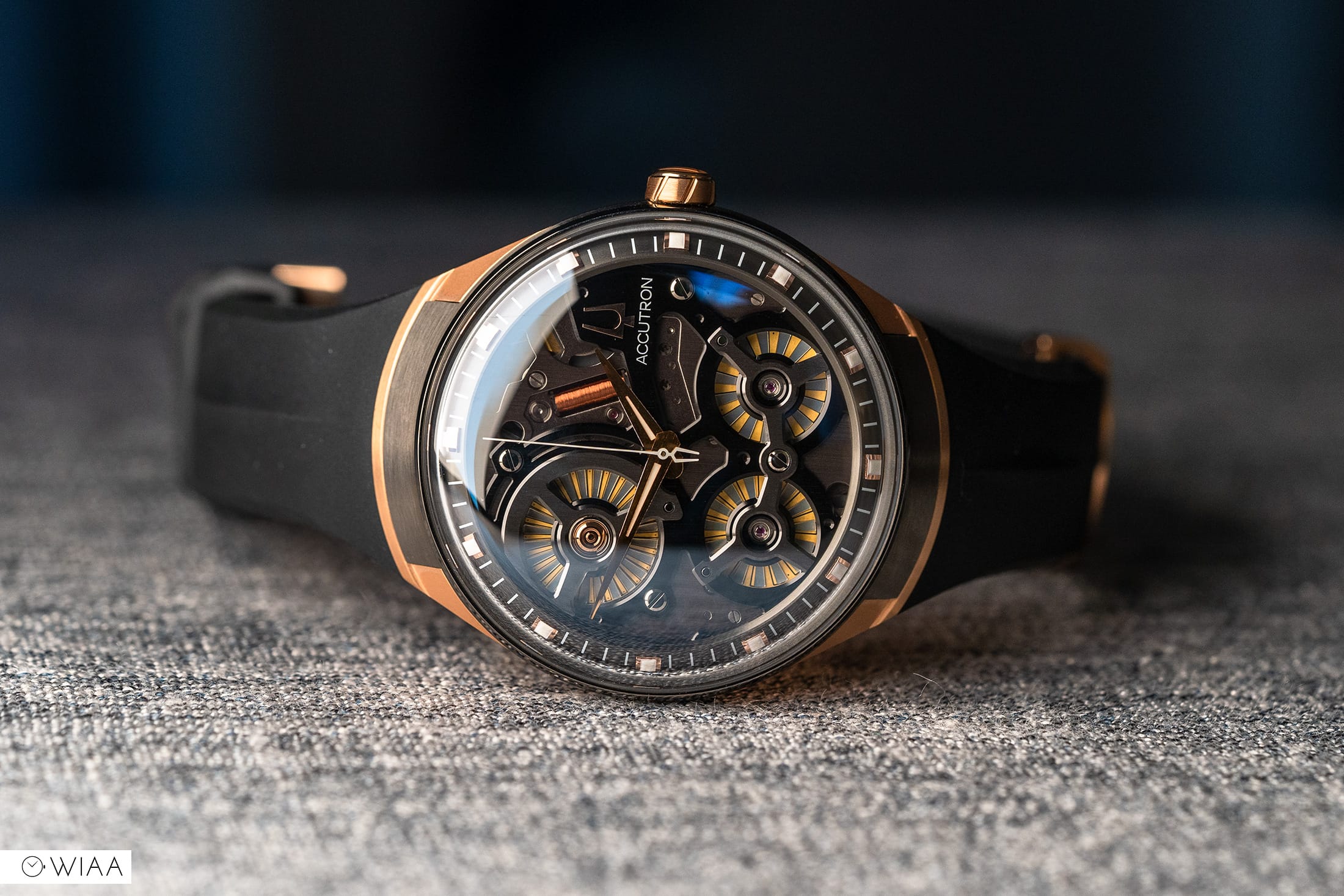 It may look like a perfect stepless sweep such as the Seiko Spring Drive, but in fact, it moves 360 times a second (as driven by the tuning fork mentioned previously.
So how does it work? Even as a fully qualified electrician, it's pretty complex. Want an insanely detailed read about it? Then I recommend this incredibly detailed article by Jack Forster on Hodinkee which boggles the brain.
If you want a simpler explanation; I'll give it a go. Firstly, the power isn't stored in a mainspring or a battery; but rather a capacitor.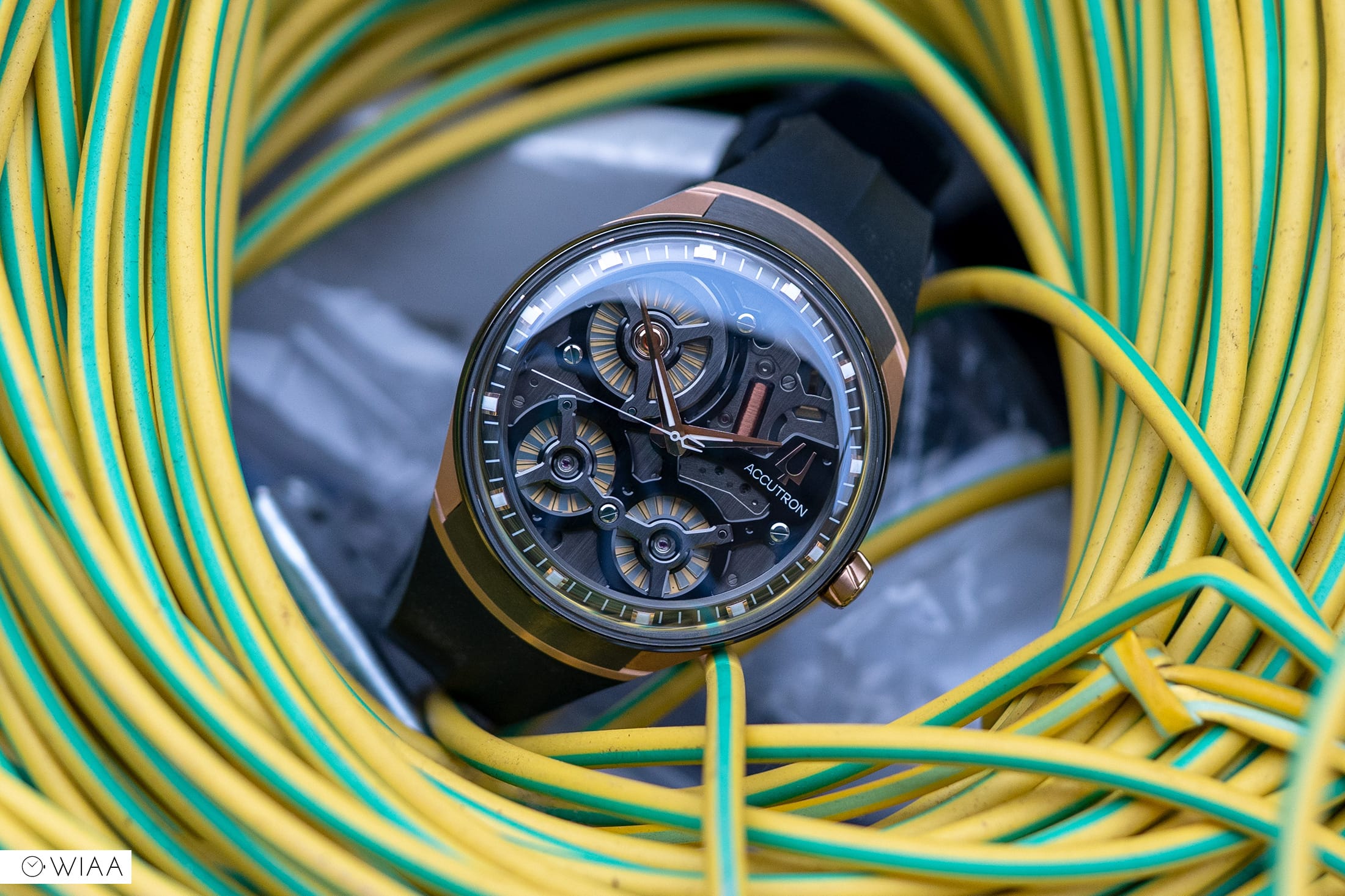 The two lower turbines are electrostatic generators; which are wonderful to watch. The smallest movement or tap kicks the blades into action as they convert kinetic energy into electrostatic charge. There's also an additional rotor hidden away at the back like a conventional mechanical automatic movement doing the same.
The electrostatic motor that controls the watch itself is the large turbine around 10. A regular motor powered by electricity is dependent on magnets and the way they attract and repel one another, however, that's not the case with an electrostatic one. Instead, it works on the attraction and repulsion of electric charge. I've found an awesome video here worth a watch which demonstrates how this works in a wonderfully simple way.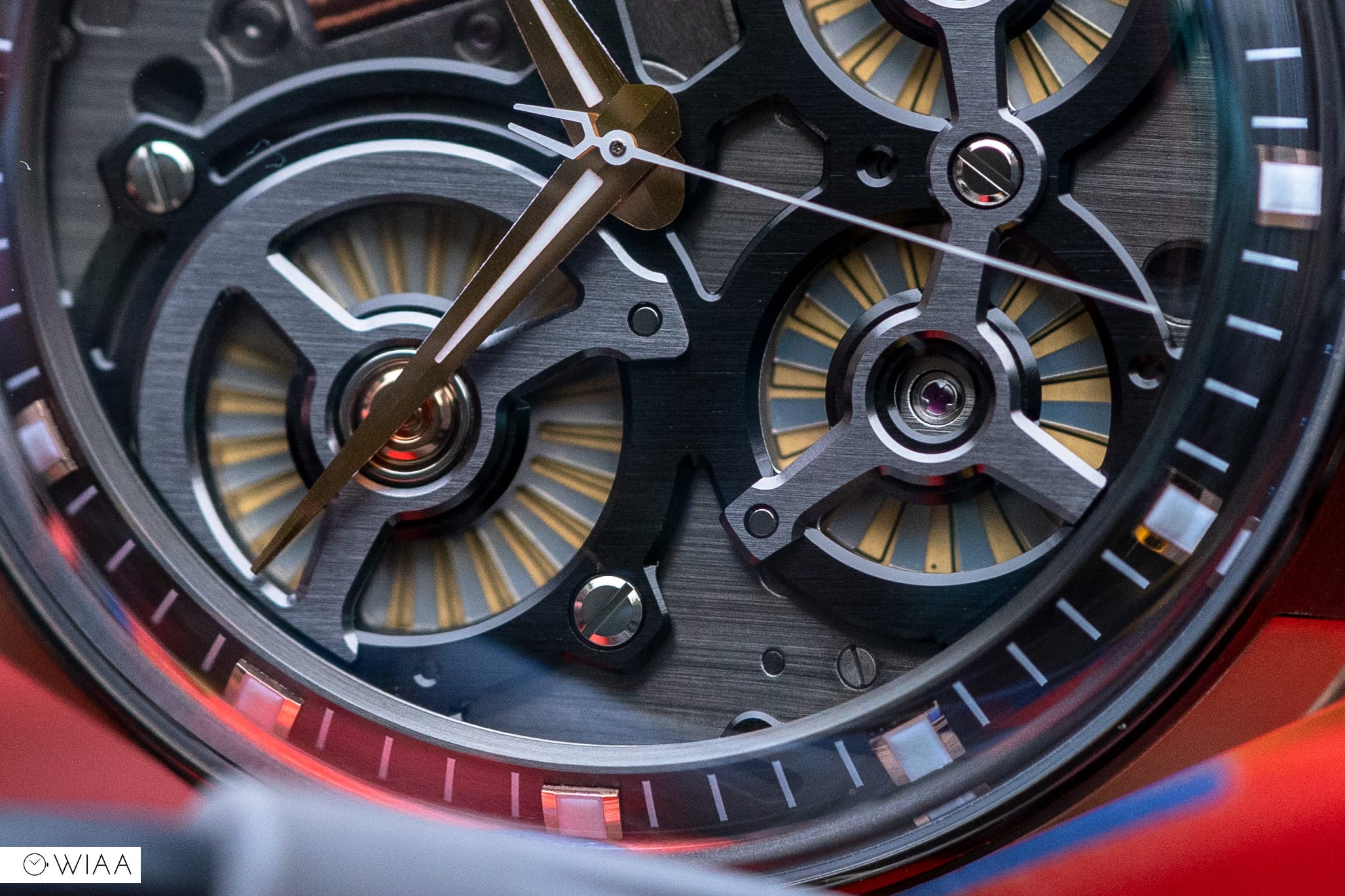 How much power reserve does this new movement have? The watch comes fully charged, providing 2 years of run time. If you wear it daily, it'll keep the amount of charge topped up, even increasing it to 10 years if you're very active. One interesting fact is that when the crown is pulled out, no power whatsoever is being used; unlike a quartz movement powered by a battery – where the battery will degrade over time and will die eventually.
There's also a "resting" mode, where after 5 minutes of inactivity the running seconds hand will stop at 12. It'll start running again when activity is detected.
There's a 5-year warranty on the movement, which is good considering no one in the world outside of Japan can work on these things. Servicing is only to be completed in Tokyo.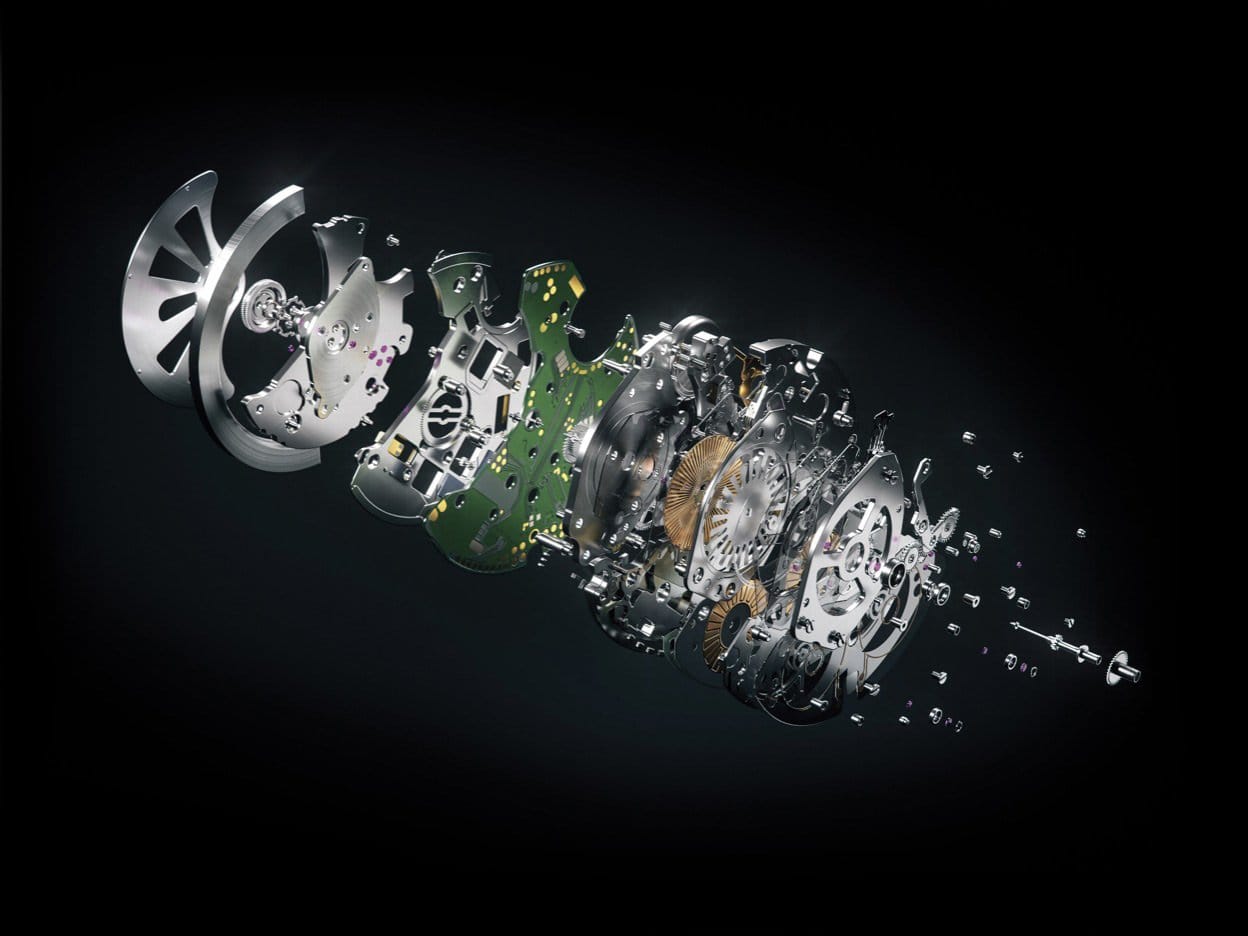 Unbelievably, this movement is as small as it physically can be (for now). So, unfortunately, there's no chance of this being within a slender 40mm dress watch.
The 45.1mm diameter and 15.6mm height make it a challenge for me to wear all day, with my fairly average 7" wrist. However, I doubt very much this would be a daily wearer for many purchasers; but rather a jewel in the collection for special occasions.
Visually, it's all about that movement. However, the casework is sublime.
Starting from the top, the dramatic curved edges of the sapphire crystal is a delight to view, exposing the inverted outwards-facing rehaut.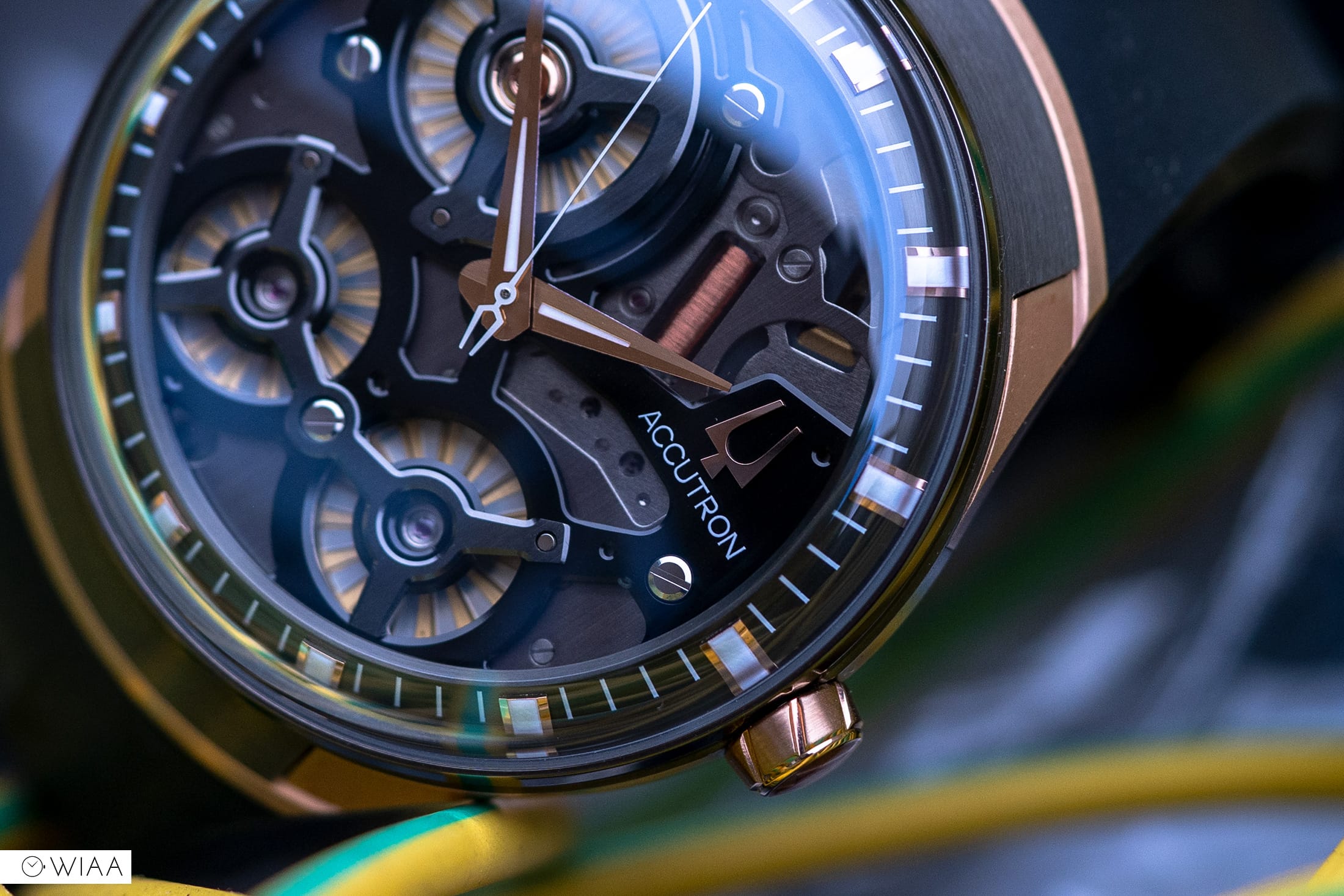 The PVD coated black alongside the rose gold is a killer combination; it's classy, sumptuously luxurious, whilst still being a measure of sporty and casual. There's an array of chamfered edges, finishes and elements throughout the case making it a joy to behold. The hooded lugs and integrated rubber strap may not necessarily be for everyone from a visual sense, but there's no denying the seamless incorporation is impressive.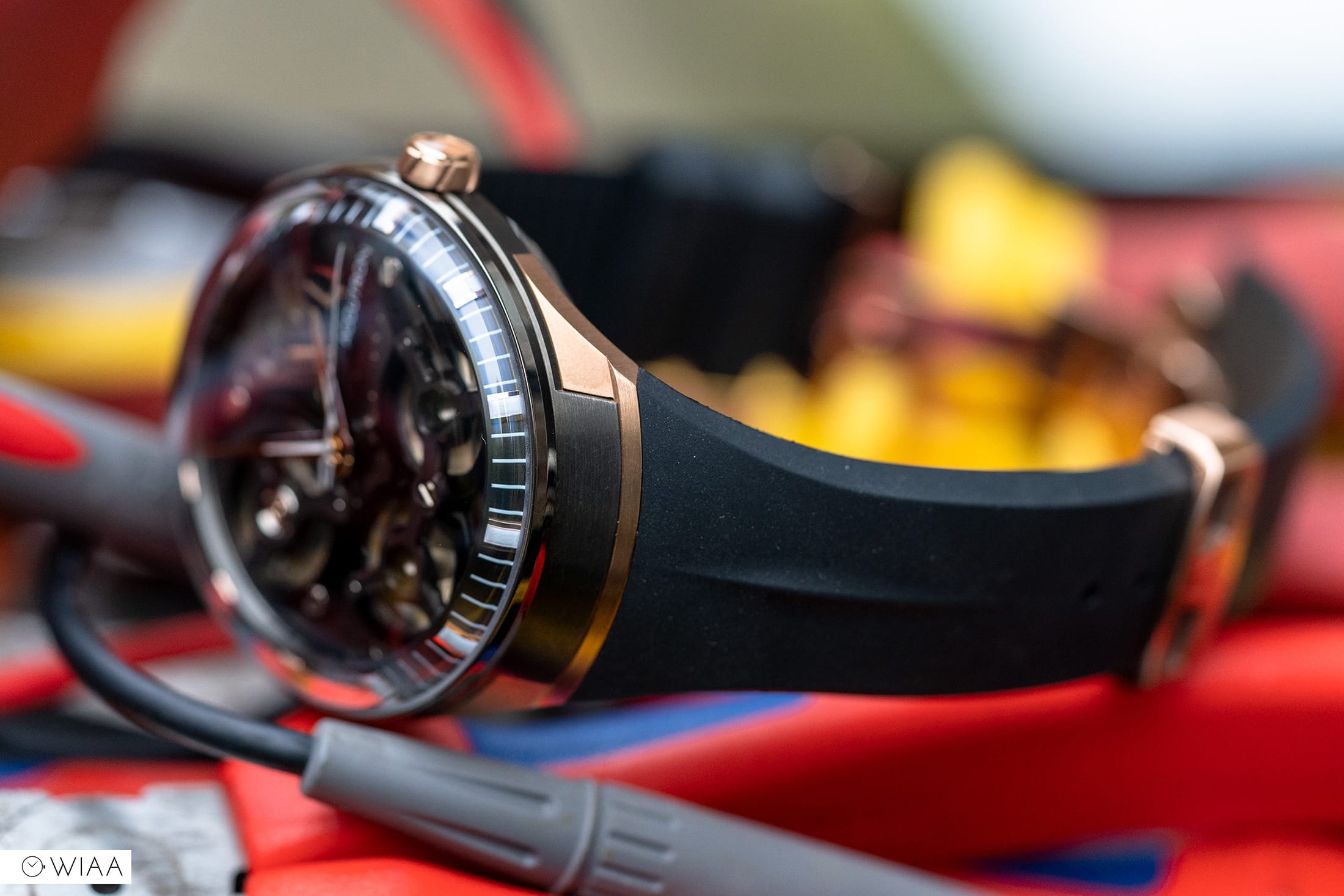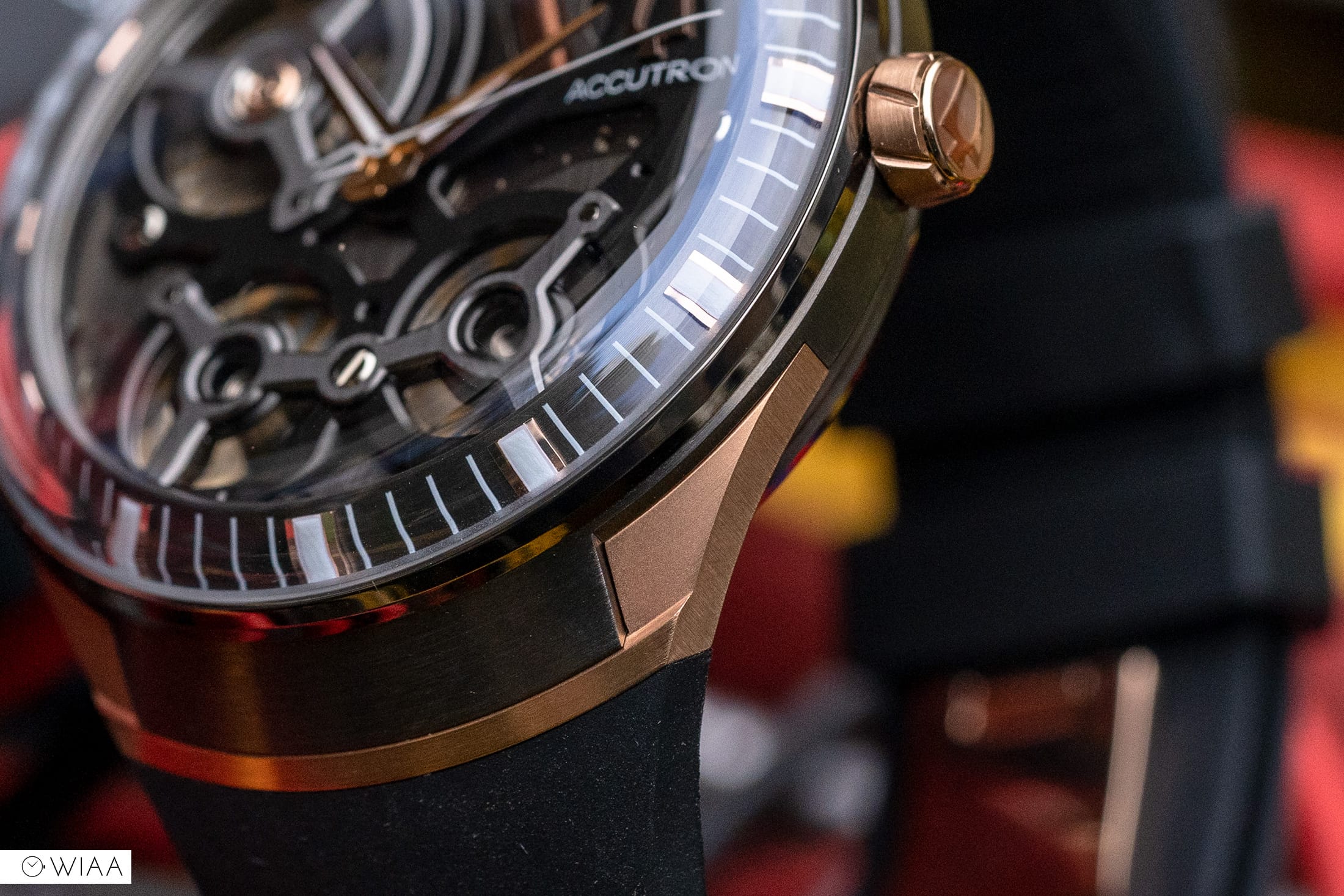 The pitched dauphine hour and minute hands are polished creating eye-catching reflections, however against such a detailed backdrop, legibility does suffer.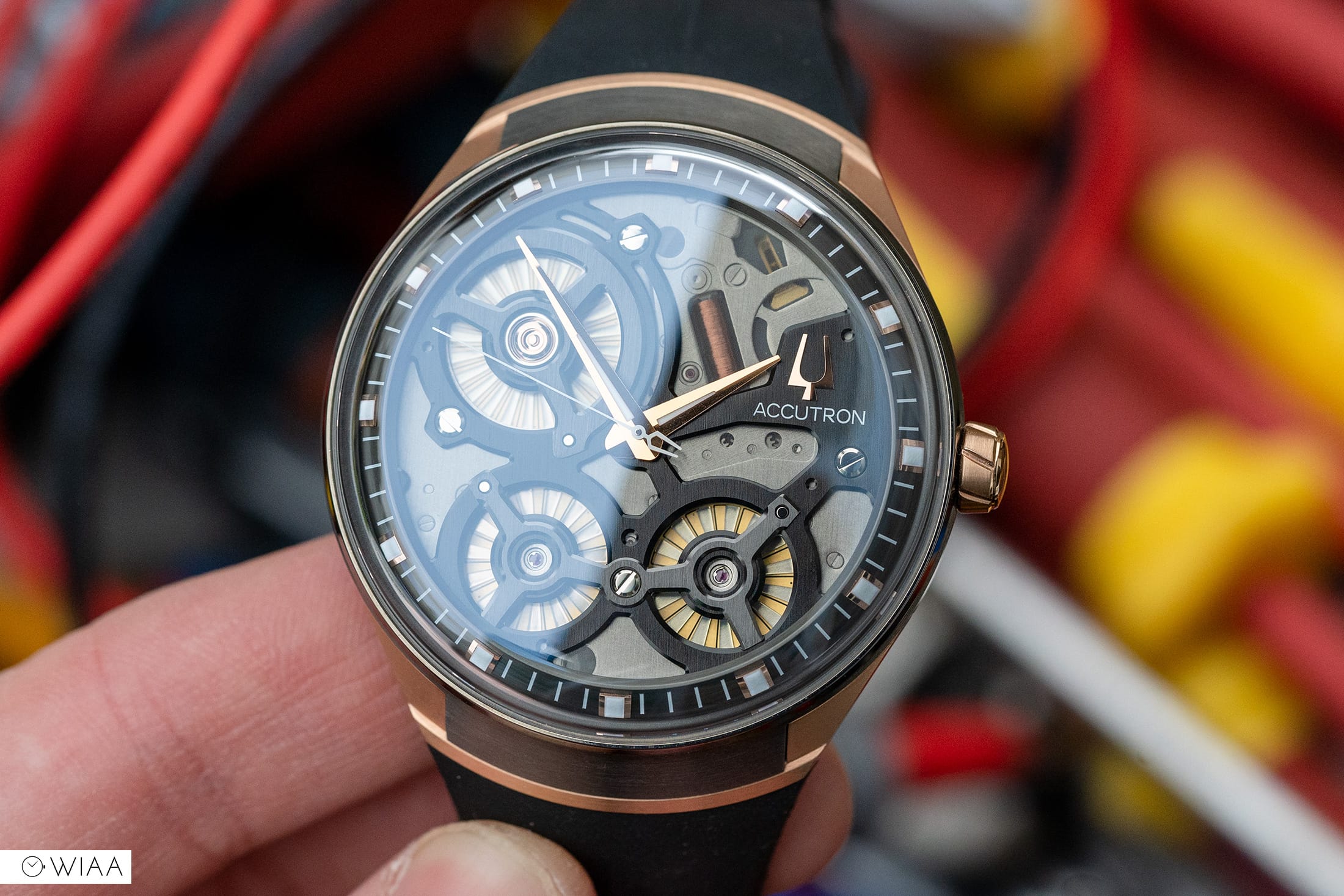 This is compounded in the dark due to the rather disappointing strength lume, which is a thin slither in the centre of each hand.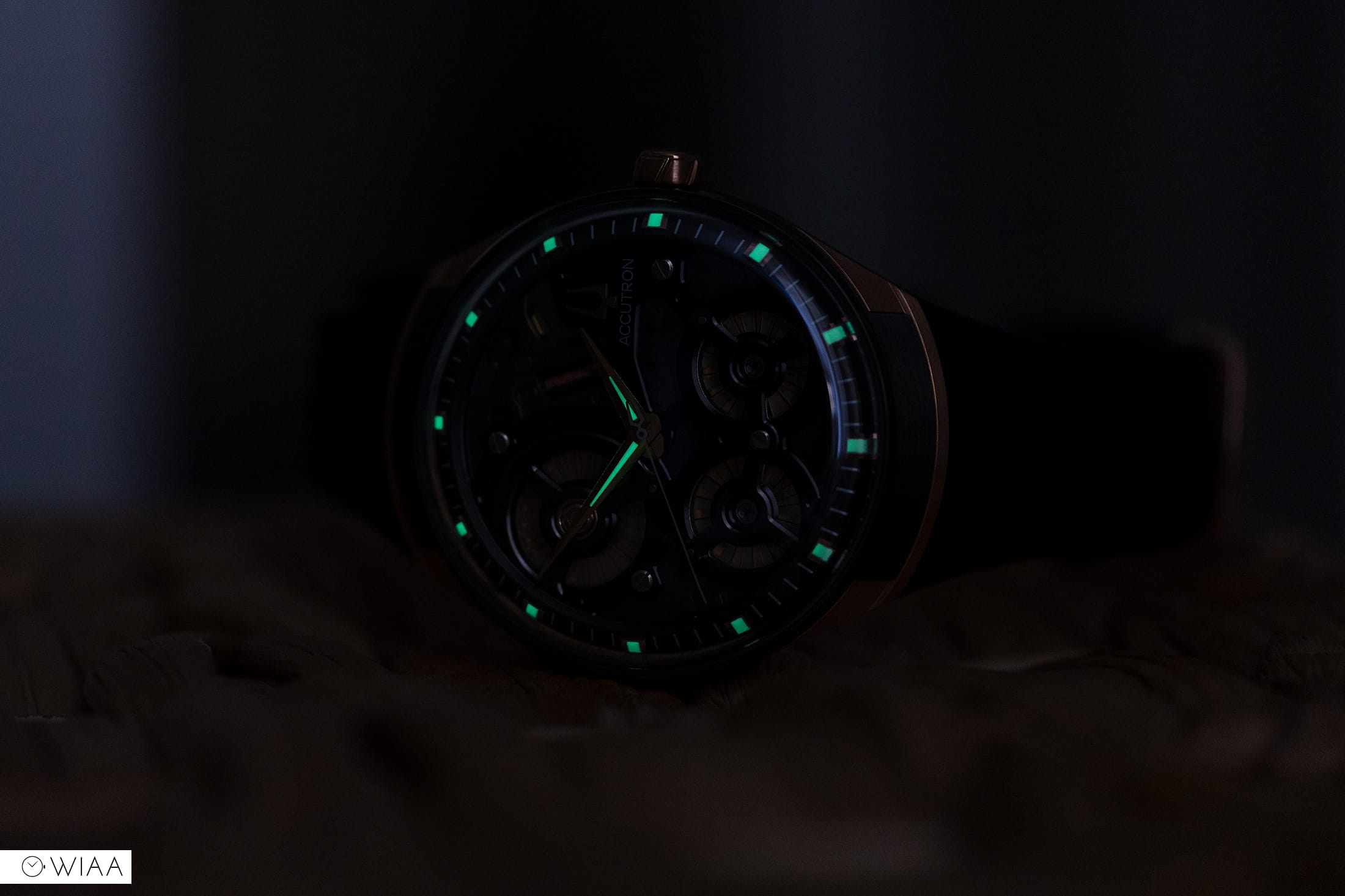 The white stick seconds hand has the stylish tuning fork logo as the counterweight, which is much more readable.
The dial itself features a multitude of brushed bridges, all at different levels secured by a gamut of screws. One particularly nice touch is the variety of angles of the brushed finish – they all go in a different direction. It's all topped off by a beautiful applied logo, which I'm a real sucker for.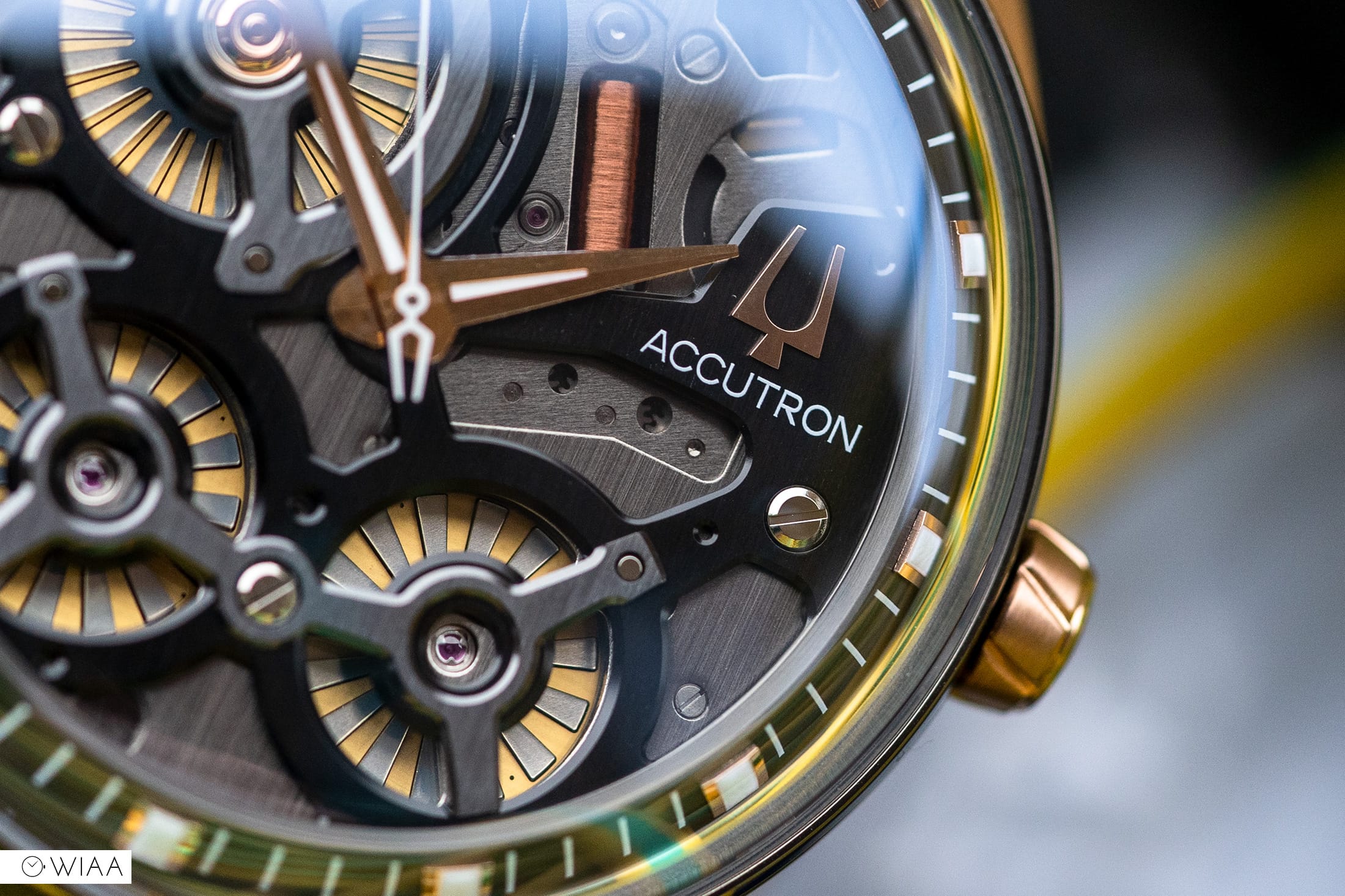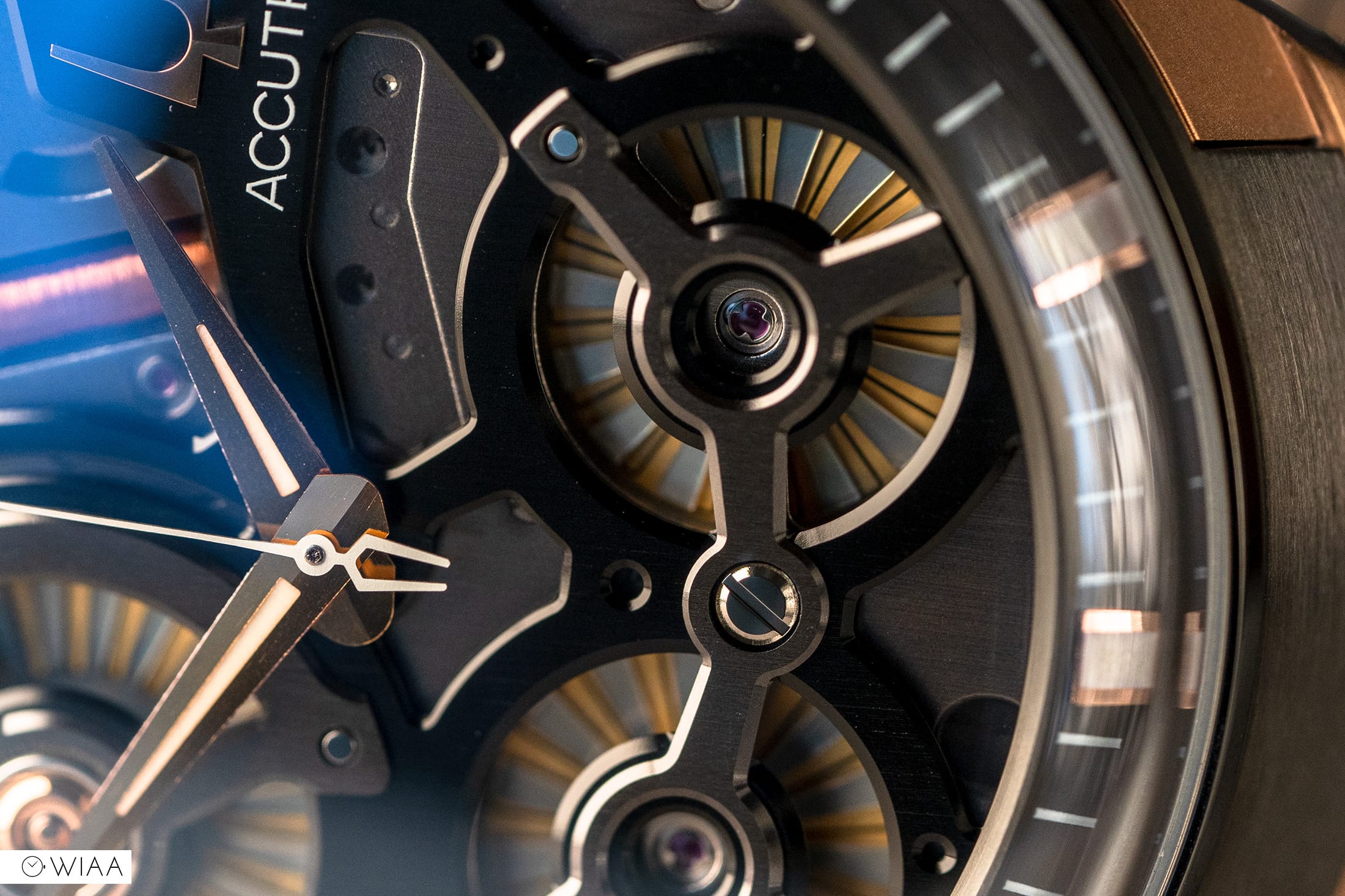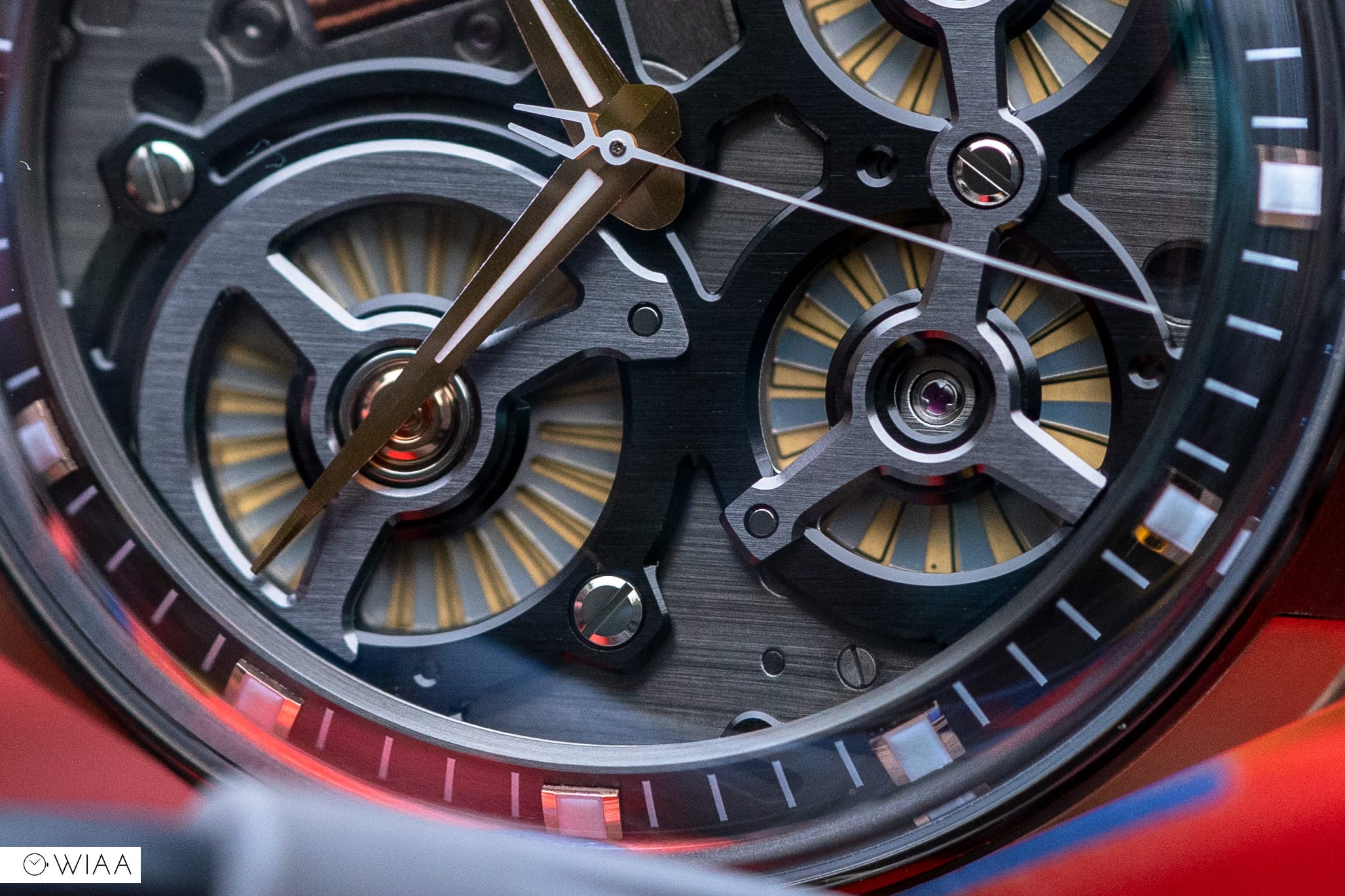 The caseback features a detailed, deep-stamped turbine in the centre which is impressive to behold and is inspired by the turbines of the movement itself.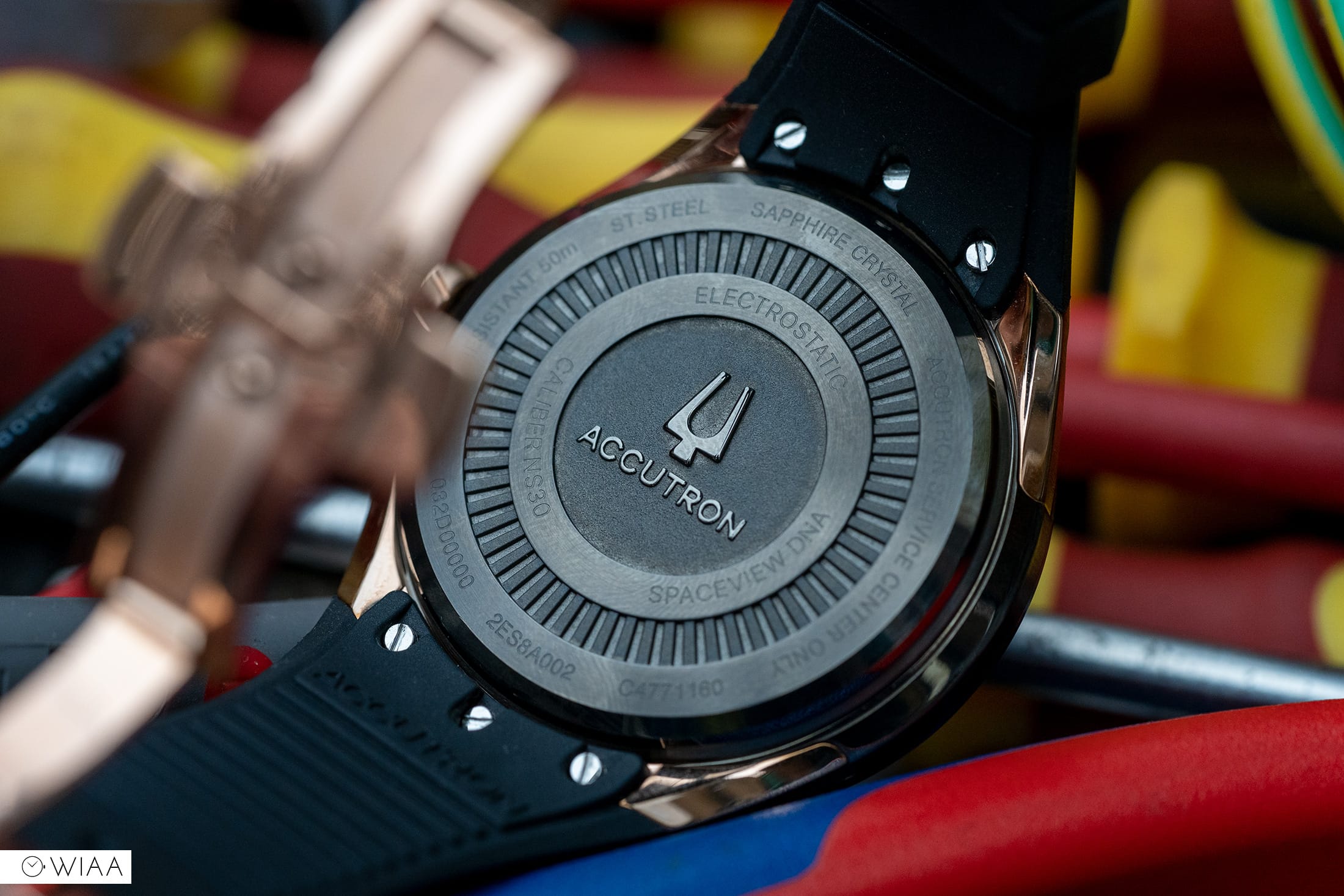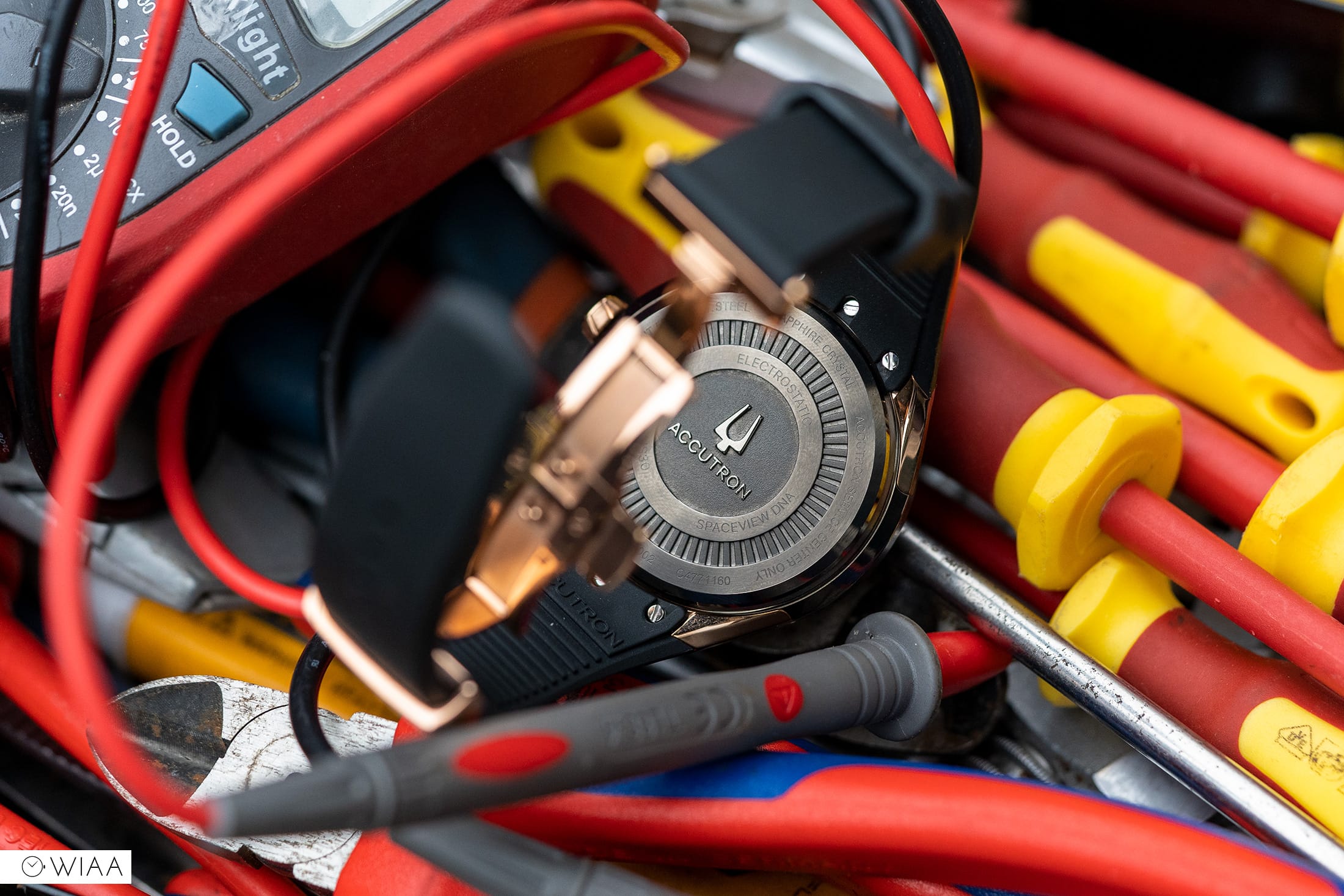 The push-pull crown is suitably sized and easy enough to use, with an angled linear knurl to aid grip. A polished rendition of the tuning fork logo appears on the end of it under what feels like a clear lacquer or plastic tip.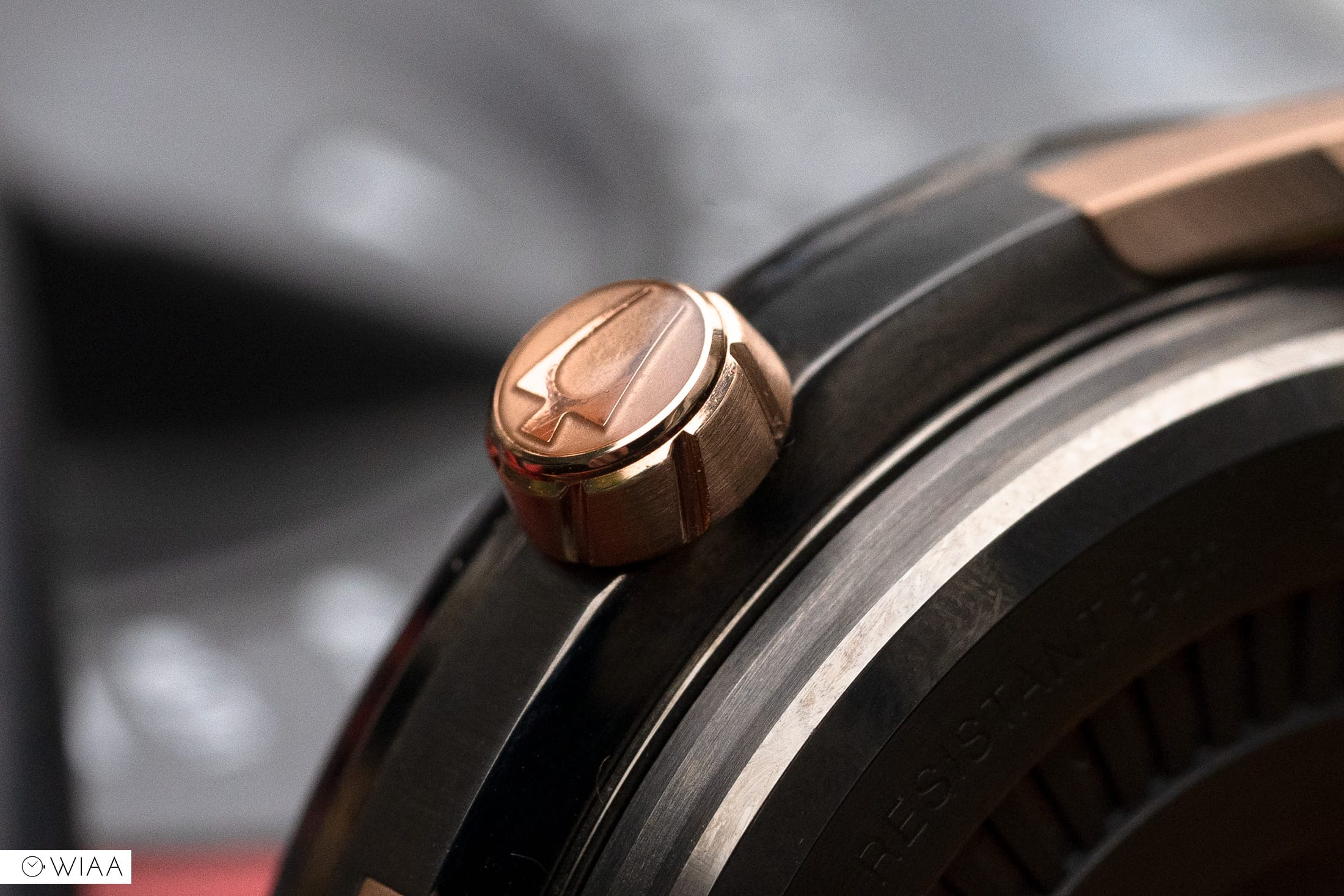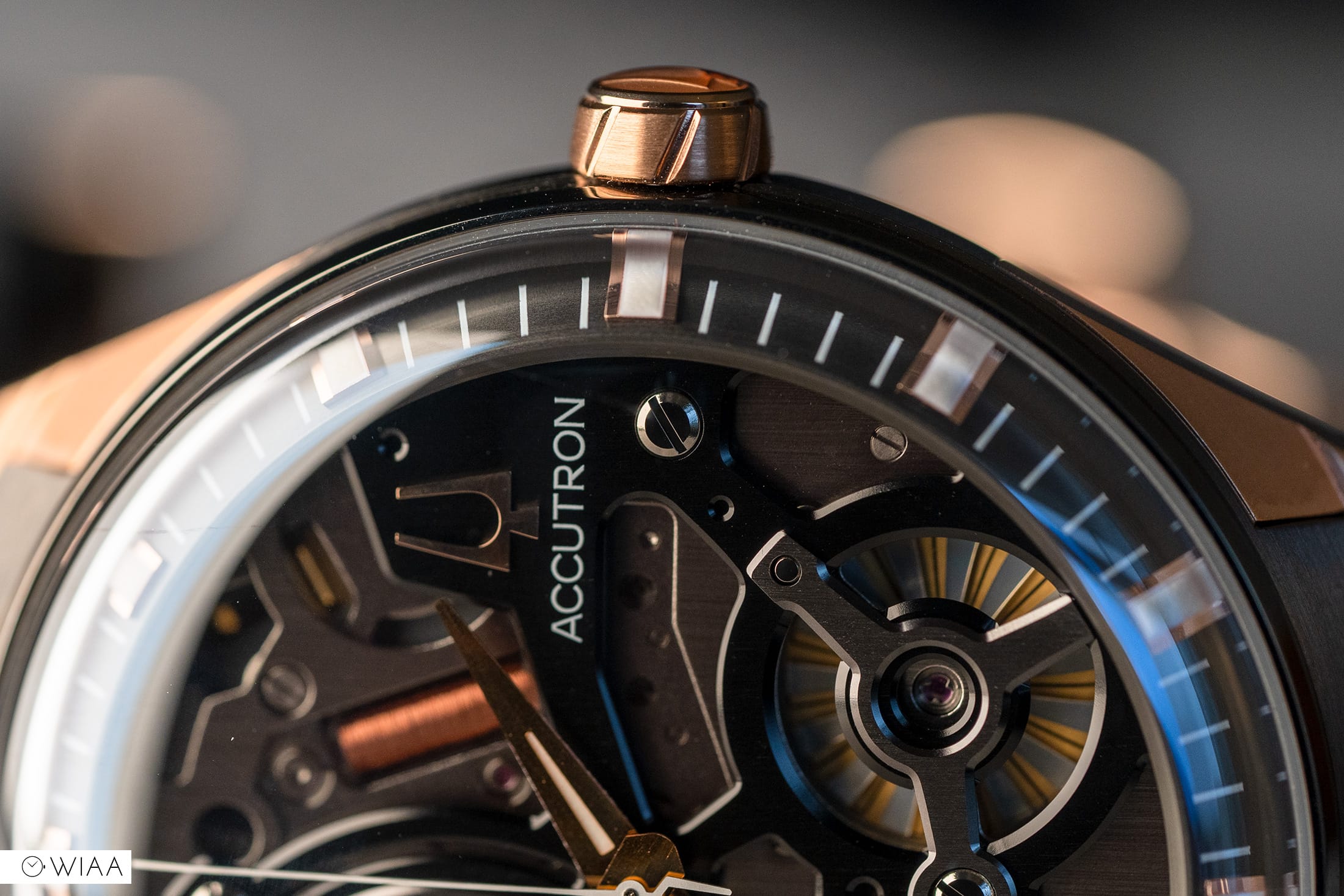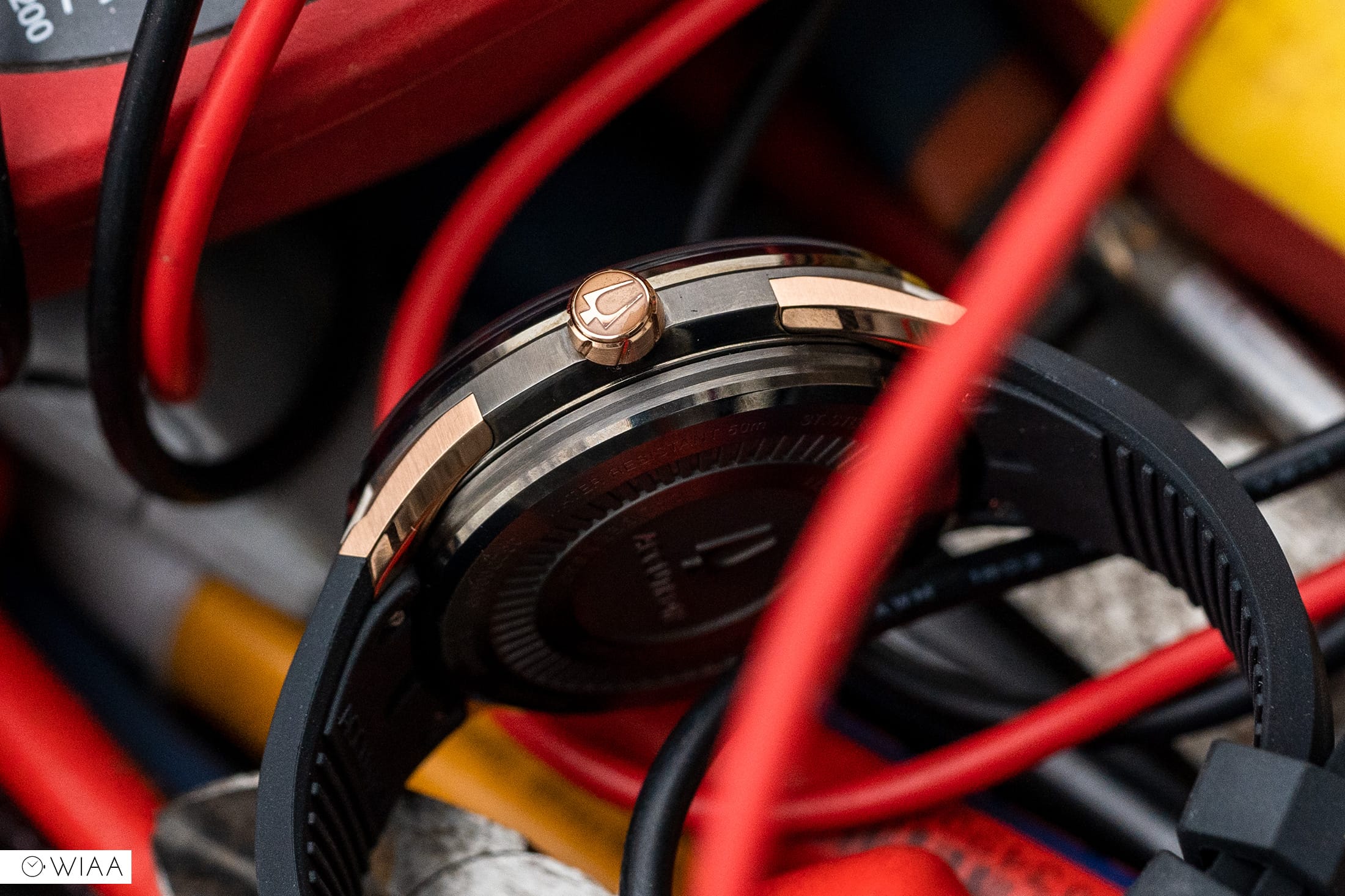 The rubber strap is delightfully soft and comfortable on. Interestingly, it's not an absolute dust and fluff magnet like so many rubber straps tend to be. Despite the size of the watch, the strap ensures it's easy to wear it for prolonged periods. The top has a gentle peak in the centre.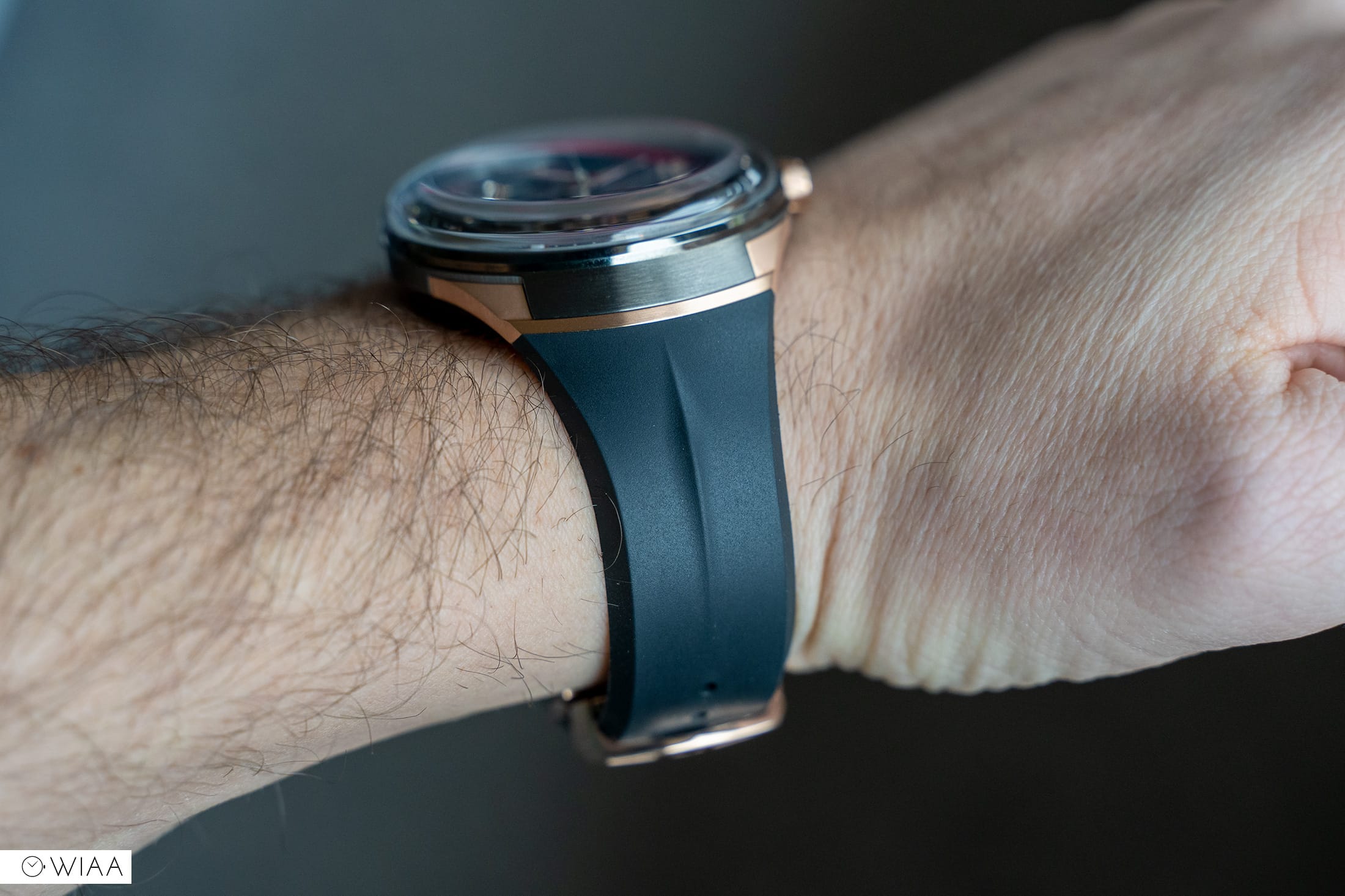 The butterfly clasp is different enough from all the others out there to make you feel like it's special. The top bar is slightly skeletonised with the text logo and logomark deeply engraved on top. The action of using it is as you'd expect, although it does feel a bit beefier than the regular butterfly clasps I come across.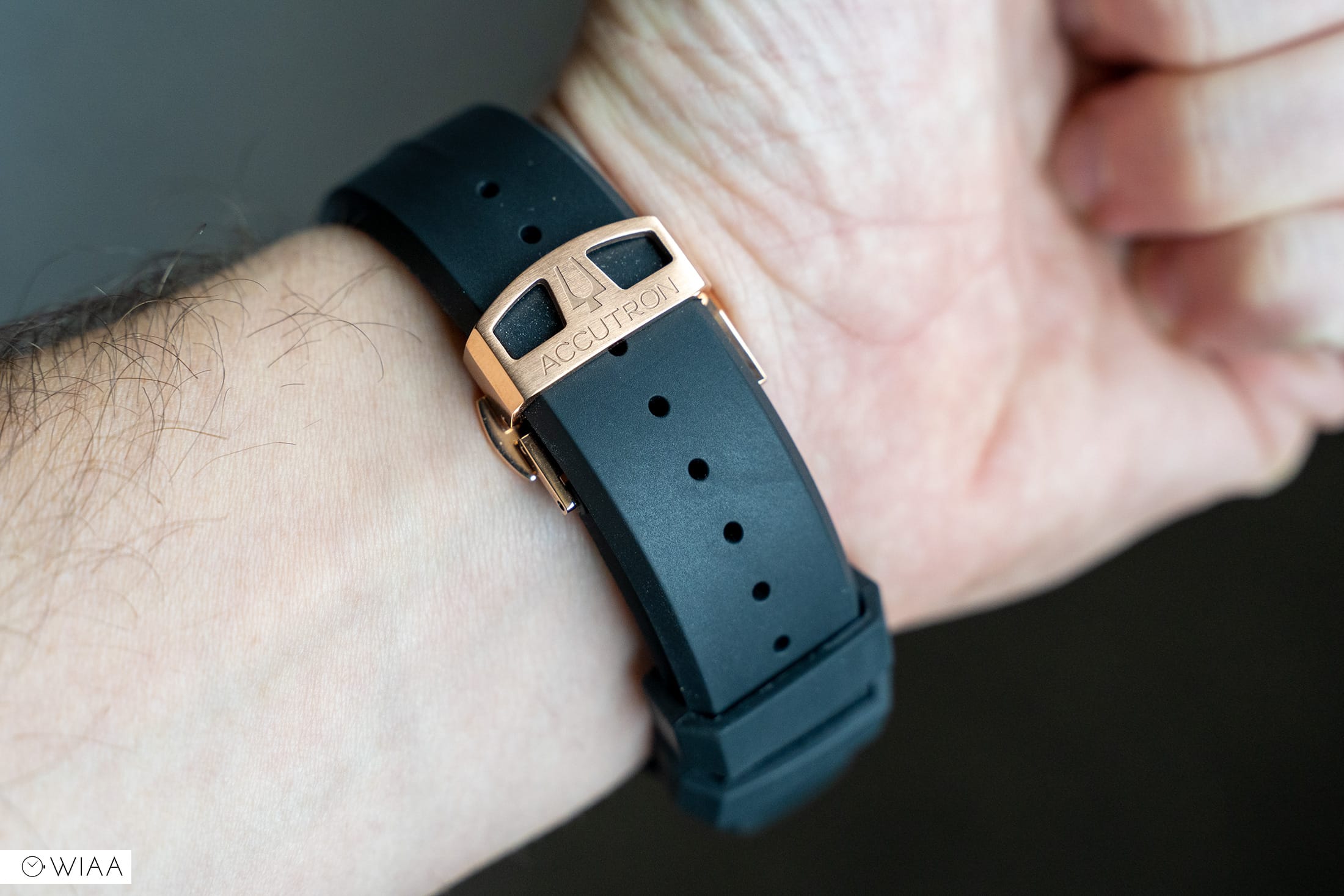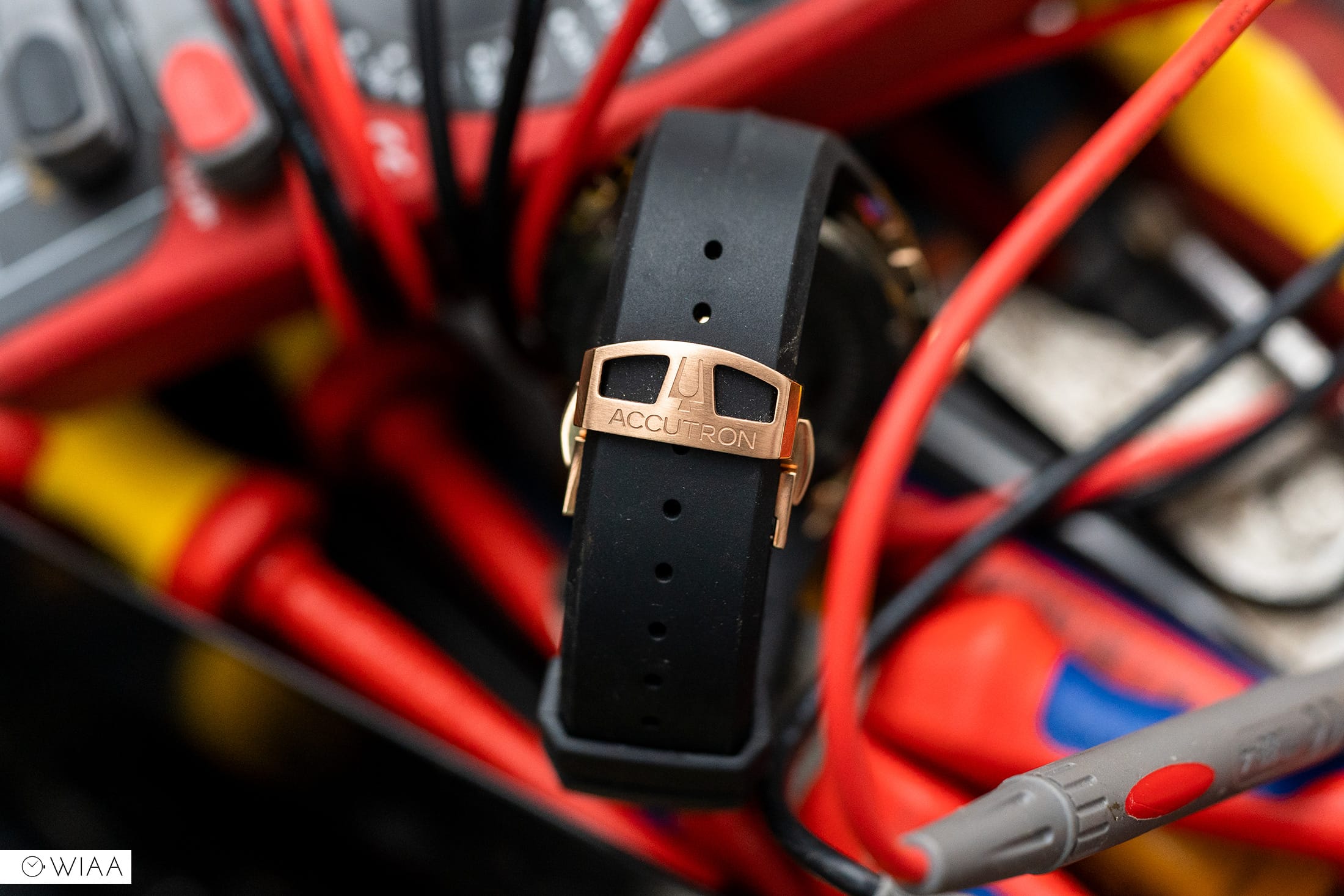 Final comments
At a glance, the $3300 / ~£2500 price could be baulked at. However, think of previous "firsts" in the industry of a similar ilk. The first quartz watch, the Seiko Astron, was priced at ¥450,000, equivalent then to the cost of a Toyota Corolla. The first digital watch, the Hamilton Pulsar P1, cost $2,100 – $13k in today's money. No doubt these watches are worth much more than that now.
"Firsts" come at a premium. But they also come with a ready-made legacy that will live on in the history books. So when you think of it, I don't think $3300 / ~£2500 isn't that bad for the "first" electrostatic watch. Who knows, in a couple of decades quartz might have died a death and this is the new direction. In which case, these "firsts" will be a hugely significant timepiece. Even if that's not true, I feel these would make good investment pieces.
The whole Accutron range is striking by design, but it's the technology within that's taken all the headlines. The price is knocking on the door of luxury watches, but they're all old hat now, right? Who wants boring ol' mechanical movements? I kid of course; but the fact of the matter is, these are outstanding, notable timepieces that are worth every penny.