As a British watch enthusiast, nothing inspires me more than a home-grown watch company creating timepieces alongside the world's elite. In this article, we uncovered more than 70 different watchmakers that call the UK home: thus we thought we would attempt to create one of, if not the biggest list of these British watchmakers.
There are probably more out there, and if you know of any, please feel free to contact us so that we can update our list.
This article was initially published in May 2020 and is regularly updated.
The List Of British Watchmakers
Here is our comprehensive list of watchmakers that were founded on our shores. Side-note: some of the companies mentioned on this list manufacture watches outside of the British Isles but were included here as the companies all started life in Britain.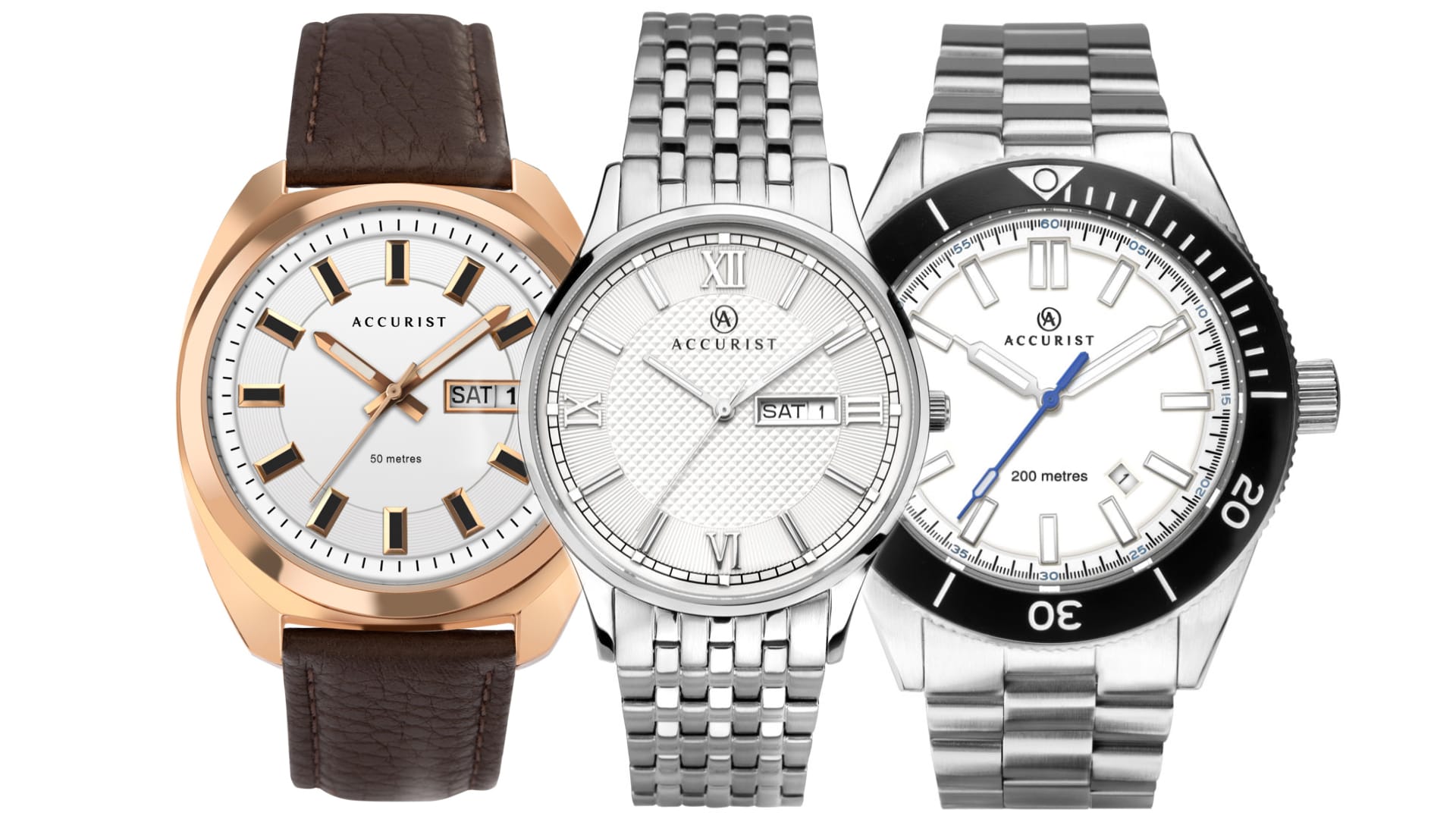 Accurist
Founded in London 1946 by Asher and Rebecca Loftus with the aim to create a brand name with lasting value and longevity. They set about this with a simple plan, which was to make watches in Switzerland with Swiss components all while having a competitive pricing structure. In 1983 they moved manufacturing from their base in Switzerland to a factory in Japan leading to a 500% increase over three years. In 1993 Accurist had become the UK's largest brand in terms of value and decided to break ground in the international market. At this time Accurist also made history by being the official supplier of the Atomic clock used in the Royal Observatory in Greenwich which is the home of Greenwich Mean Time.
Accurist are still making watches to this day under the Time Products Ltd umbrella though they are one of the few British watchmakers that survived the quartz crisis of the 1970s and 80s this was down to their ability to adopt the technology and evolve during this period in watch-making.
Price: £20-£250
Website: accurist.com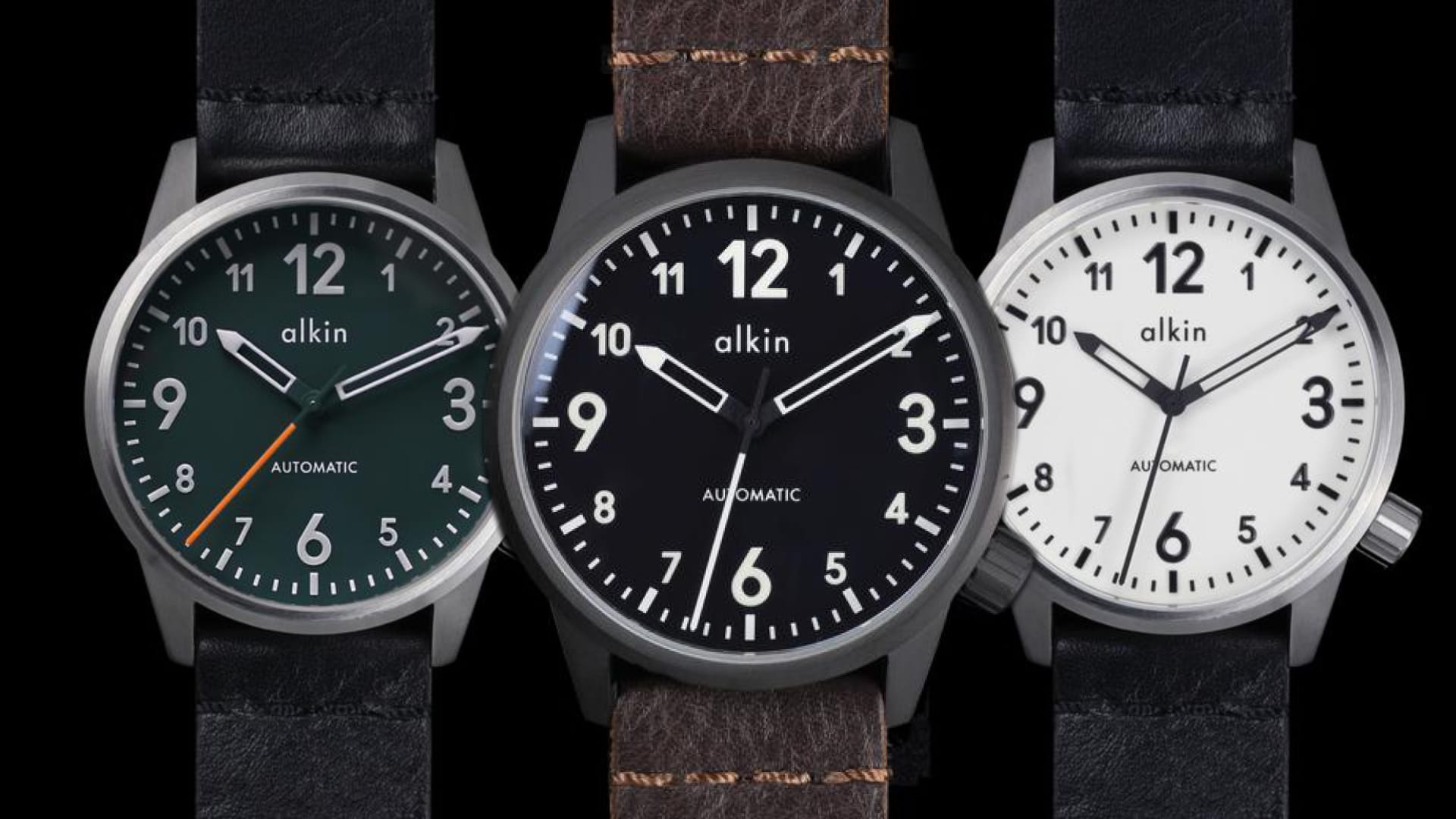 Alkin
Is an independent watchmaker that was created by Charlie Fowler in Bristol. By trade, Charlie was a furniture designer with a passion for watches and watch collecting. Charlie wanted Alikn to be different thus he designed his own case, dial and hands with the numerals being created by British typographer Gareth Hague. Charlie wanted his creation to be a reflection of his character and style as a designer which is evident through the pared-back clean aesthetic where form meets function in harmony.
His Model One is the result of numerous tinkering, prototypes and meetings with suppliers to create Charlie's perfect watch. The Model One comes in three different dial colours and two case finishes. Specs include the NH35A, BWG9 lume and a sapphire crystal all housed in a 316L stainless case and paired with a vegetable-tanned leather strap from Germany.
Price: £250 – £415
Website: alkinwatches.com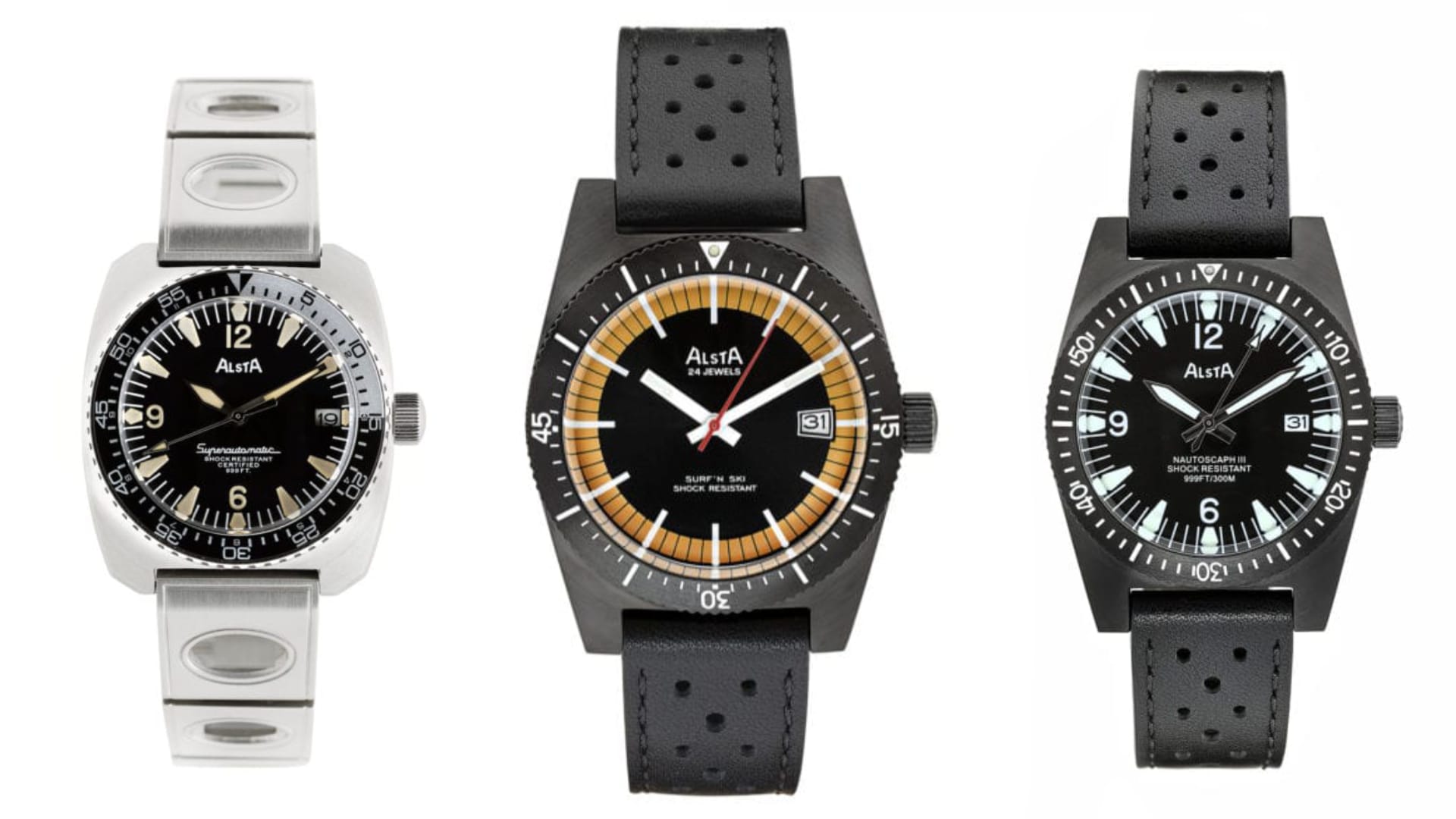 Alsta
Throughout the 1960s and 70s, Alsta made superbly engineered watches for customers that required precise toughness. Unfortunately, like many others at the time, Alsta fell to the quartz crisis and closed in the late 1970s. However, all was not lost and Alsta was rejuvenated in 2014, it may have taken 44 years, but they were back, and a mere three years later they had a new watch ready to release – this was their Nautoscaph II. The Nautoscaph was inspired by the watch worn by famous actor Matt Hooper in the cult classic film Jaws, this Alsta thought would be the ideal watch to relaunch their brand and it was met by great approval of both new and old fans of the watchmaker.
Price: £600 – £795
Website: alstawatch.com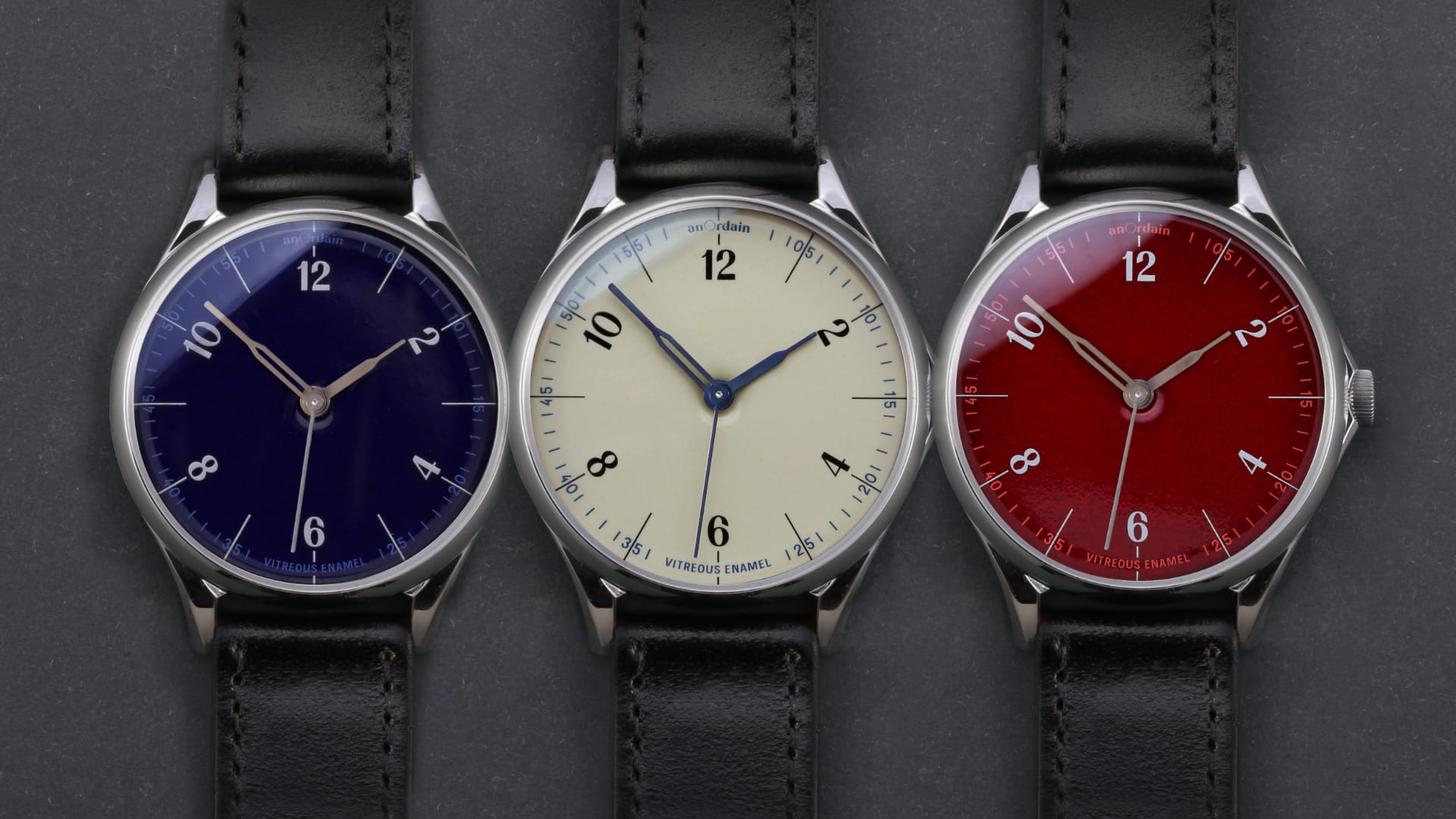 AnOrdain
AnOrdain was created in Glasgow by a team of designers from a variety of different backgrounds with a host of different skills. Their main concept is one of design combined with manufacturing to bring to life their vision. AnOrdian is known for their work with enamel and using that within the fabric of their watches. Their Model 1 is a prime example of this attention to detail as they use a Copper based dial covered with layers of enamel powder that is meticulously sifted on layer by layer and then fired at 800c. Each dial takes a minimum of 12 hours to make from start to finish. Their enamel expertise doesn't stop there as they are one of if not the only watchmaker to achieve a Fume dial with enamel – you'll find this on their Model 2 watch.
Price: £1140 – £1800
Website: anordain.com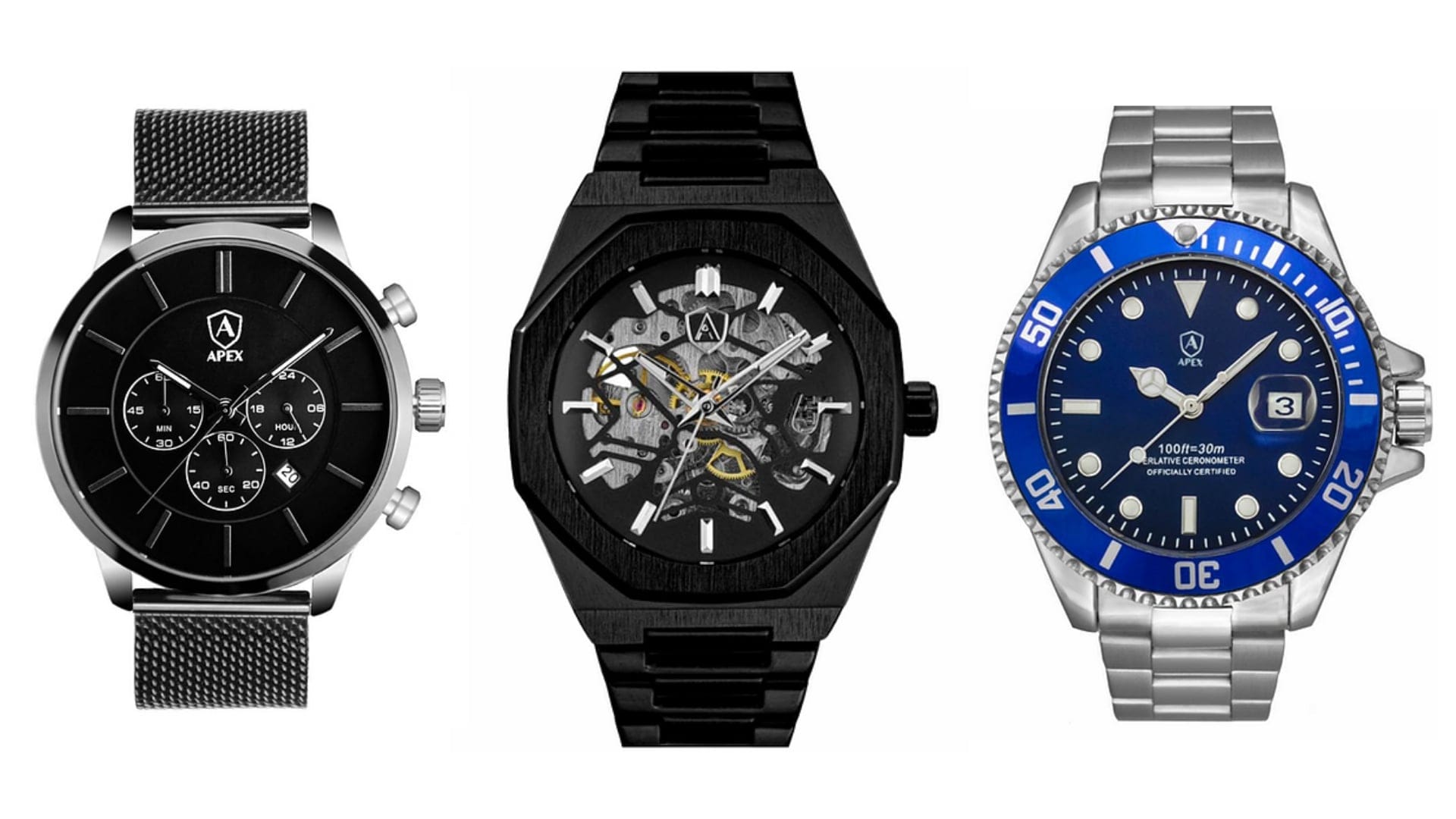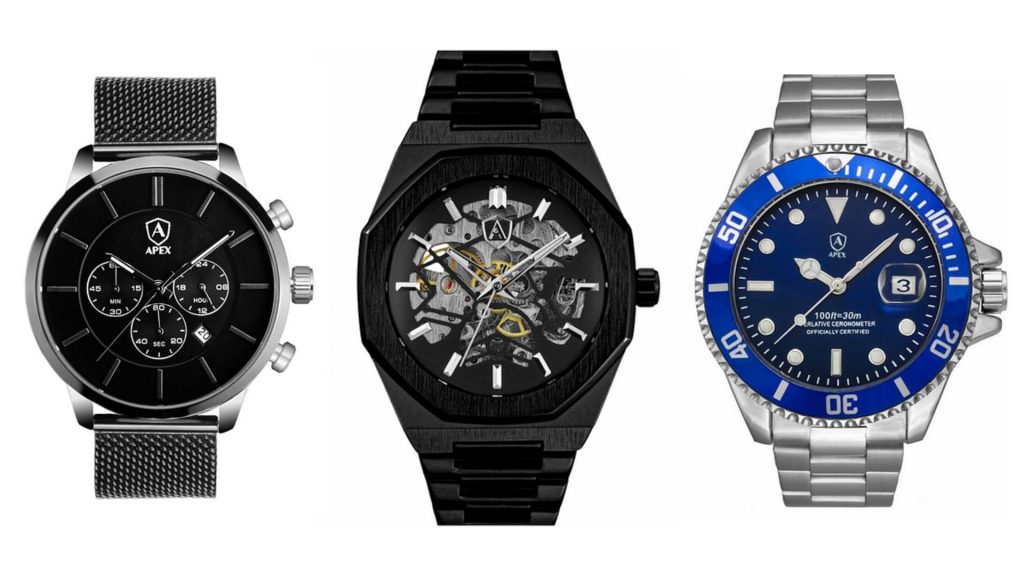 Aapex Watches
Founded in the UK, the watchmaker was born from a personal passion for watches. The founder sought to seek a watch for a special occasion but found it difficult to find the right balance of price to performance which in turn led to the creation of Aapex.
Price: £90 – £350
Website: aapexwatches.com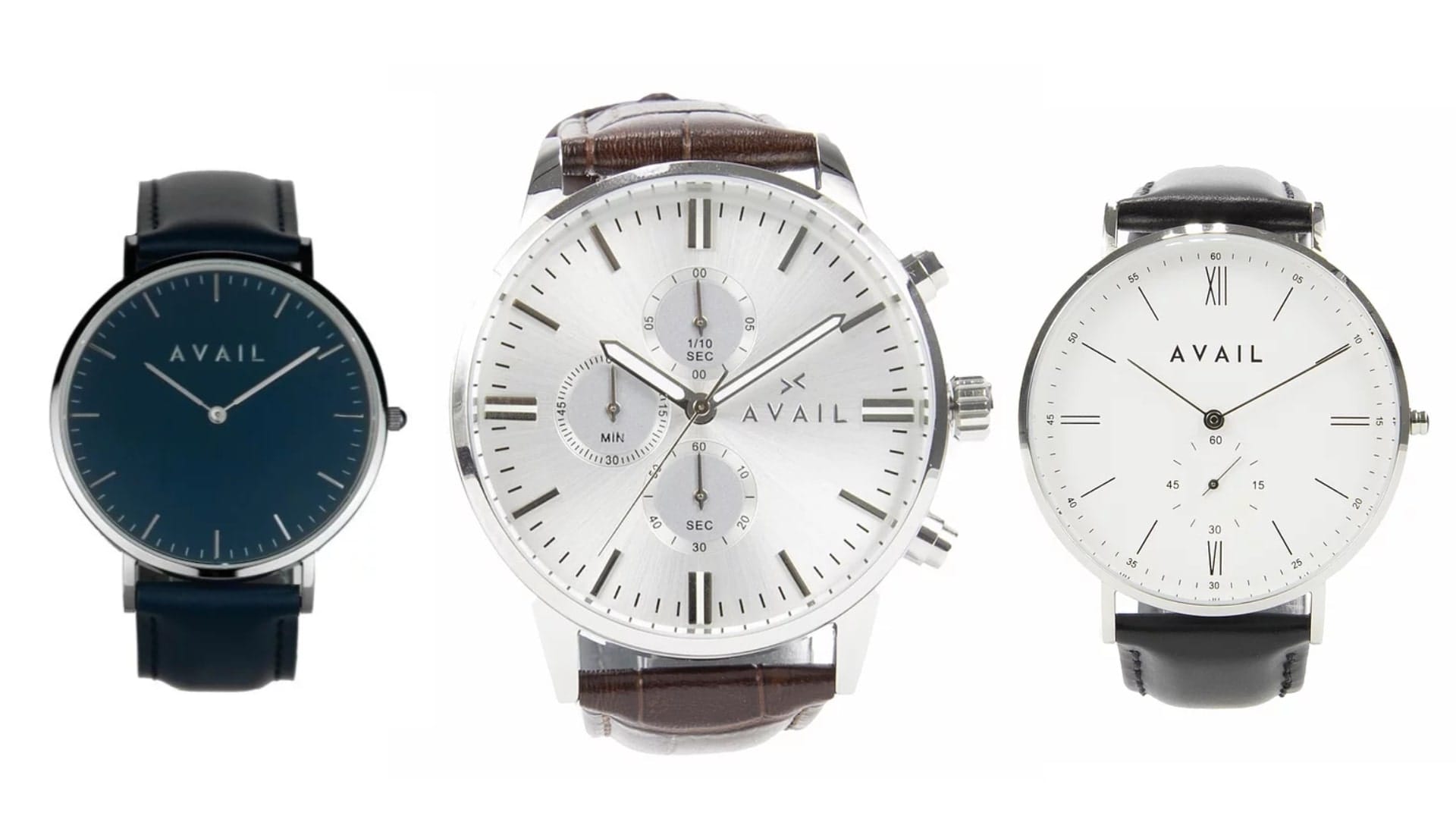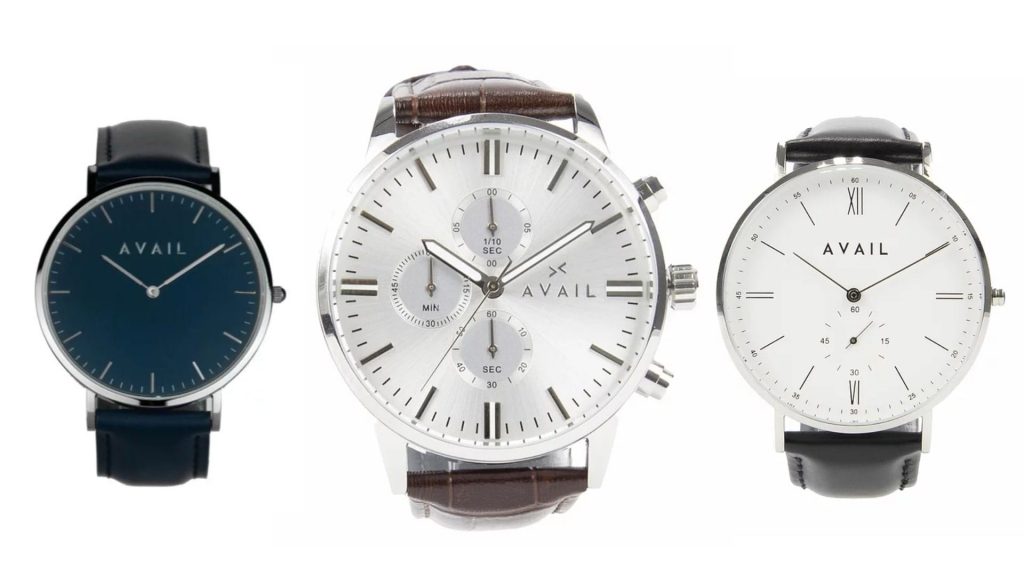 Avail Watches
"To us, watches are not just timekeepers, they accompany us as we make our way. Watches are a part of our day-to-day and a part of our out of the ordinary days. They keep us on course". This is part of the reason Avail was founded – to create a watch that was more than just a watch, a watch that would stay with you and become a part of your life.
Price: £75 – £89
Website: availwatches.co.uk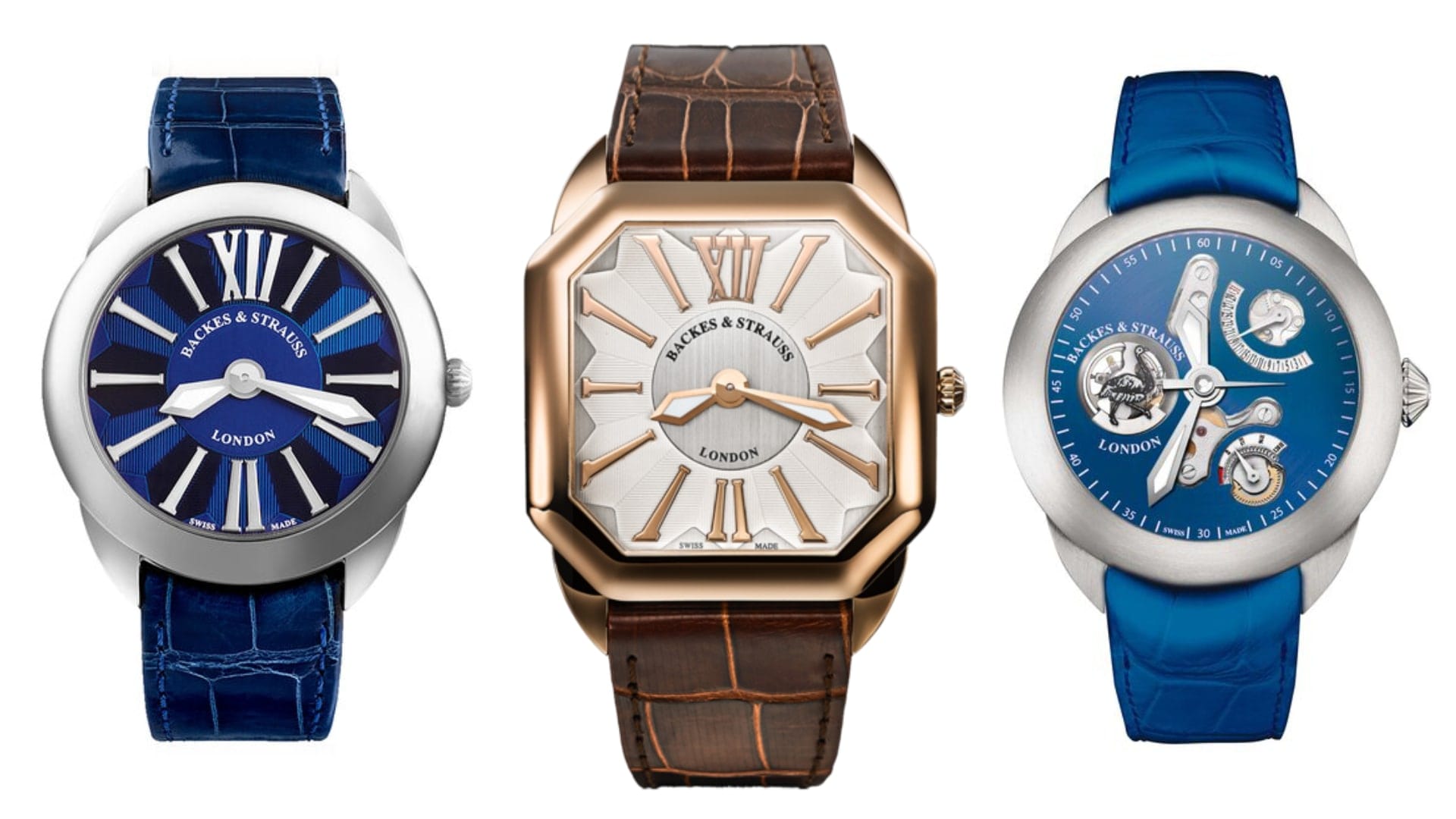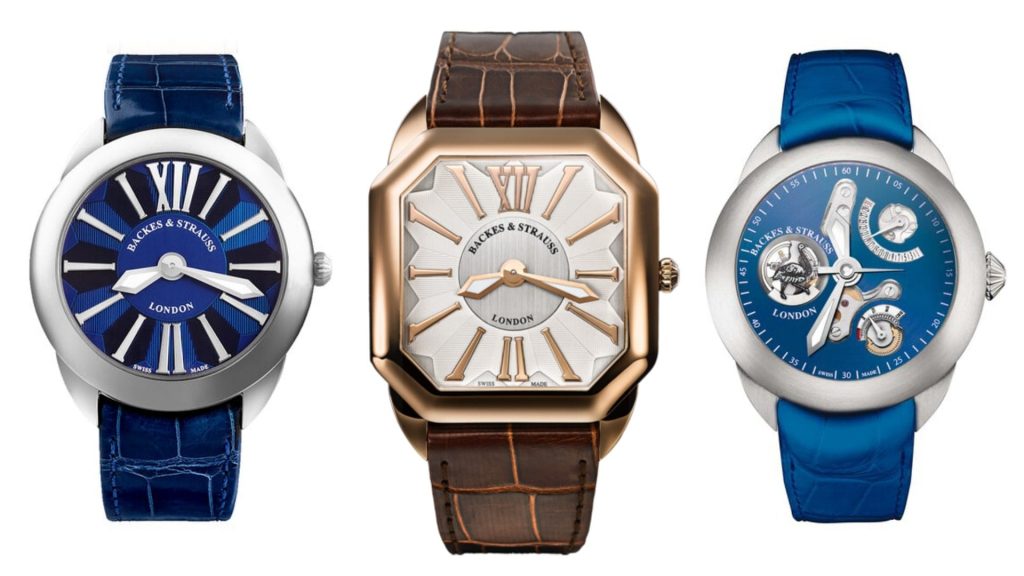 Backes and Strauss
Founded in 1798 by the founding father Georg Carl Backes, the company was first registered as a goldsmiths – then called Backes & Co, it was not until 1873 when the name Backes and Strauss came into being. Rewind to 1856, a young boy named Max Strauss was hired by the company to work in the office, he would later become the manager of the company taking over from Charles and William who were the sons of the founder. Backes and Strauss continued to trade in diamonds and fine jewellery up until 2003 when the company was bought out by new management which sought to take the company in a new direction. In 2019 the company is run by Chief Exec Vartkess Knadjian and under his management, he looks to keep the company's tradition alive and thriving.
Price: £3,750 – £54,500
Website: backesandstrauss.com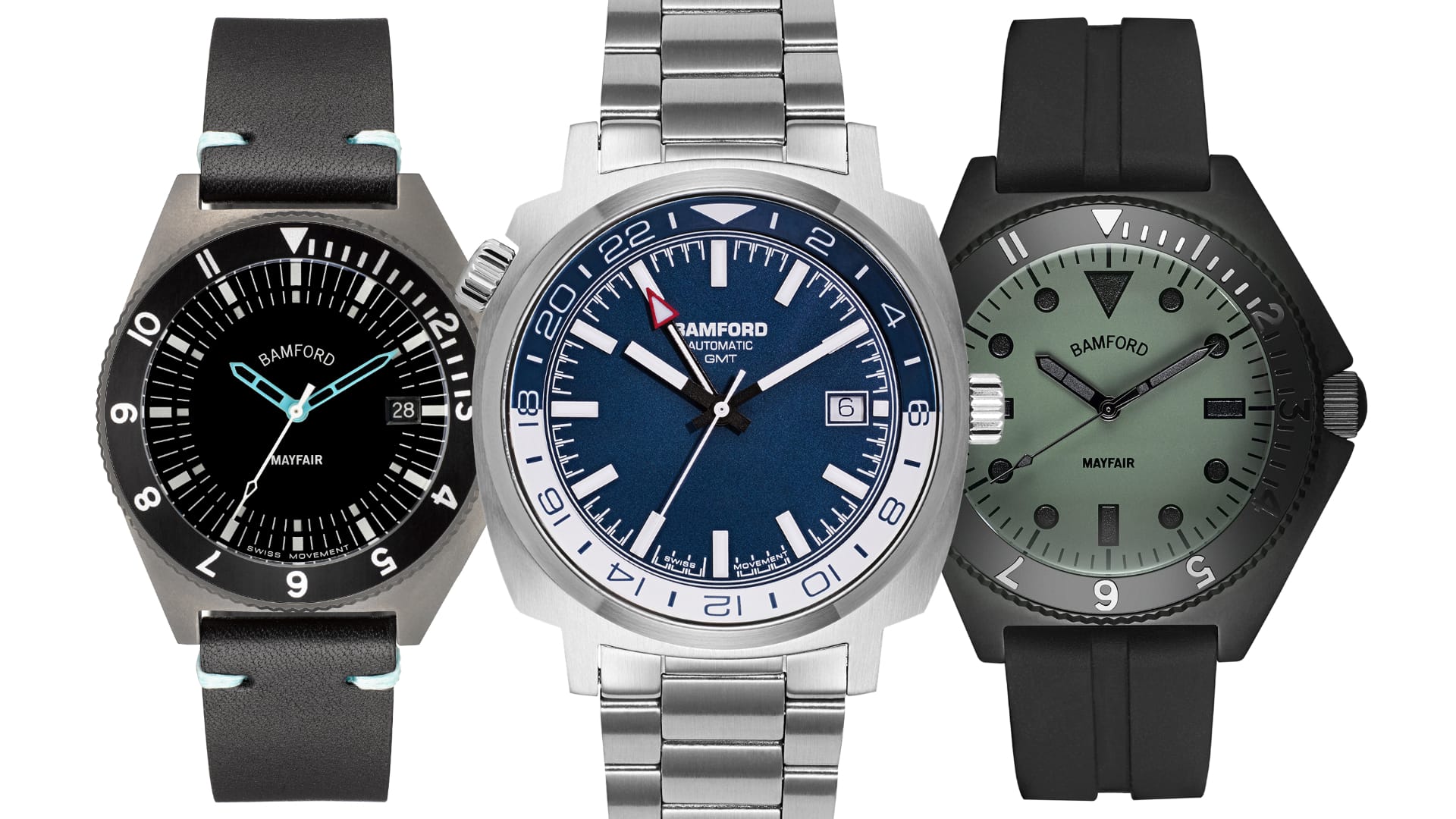 Bamford London
Bamford London Is a company founded by George Bamford. George is a very customer-focused man who likes to take care of his customers; we can't attest to this though we haven't heard any stories to say otherwise. This consumer-driven approach is a staple of Bamford London, and he often shares his gratitude to his customers as he stated: " I never forget that whilst our customers can get on without us, we couldn't get on without our customers; they are both the beginning and the end of the chain and the fuel to our fire." During the lifespan of the company, George has collaborated with some heavy-hitting names that include Peanuts, Shinola, Queen, Popeye and Elton John to name a few. At present, there are two lines available with the Bamford GMT being the flagship model.
Price £350 – £2,500
Website: bamfordlondon.com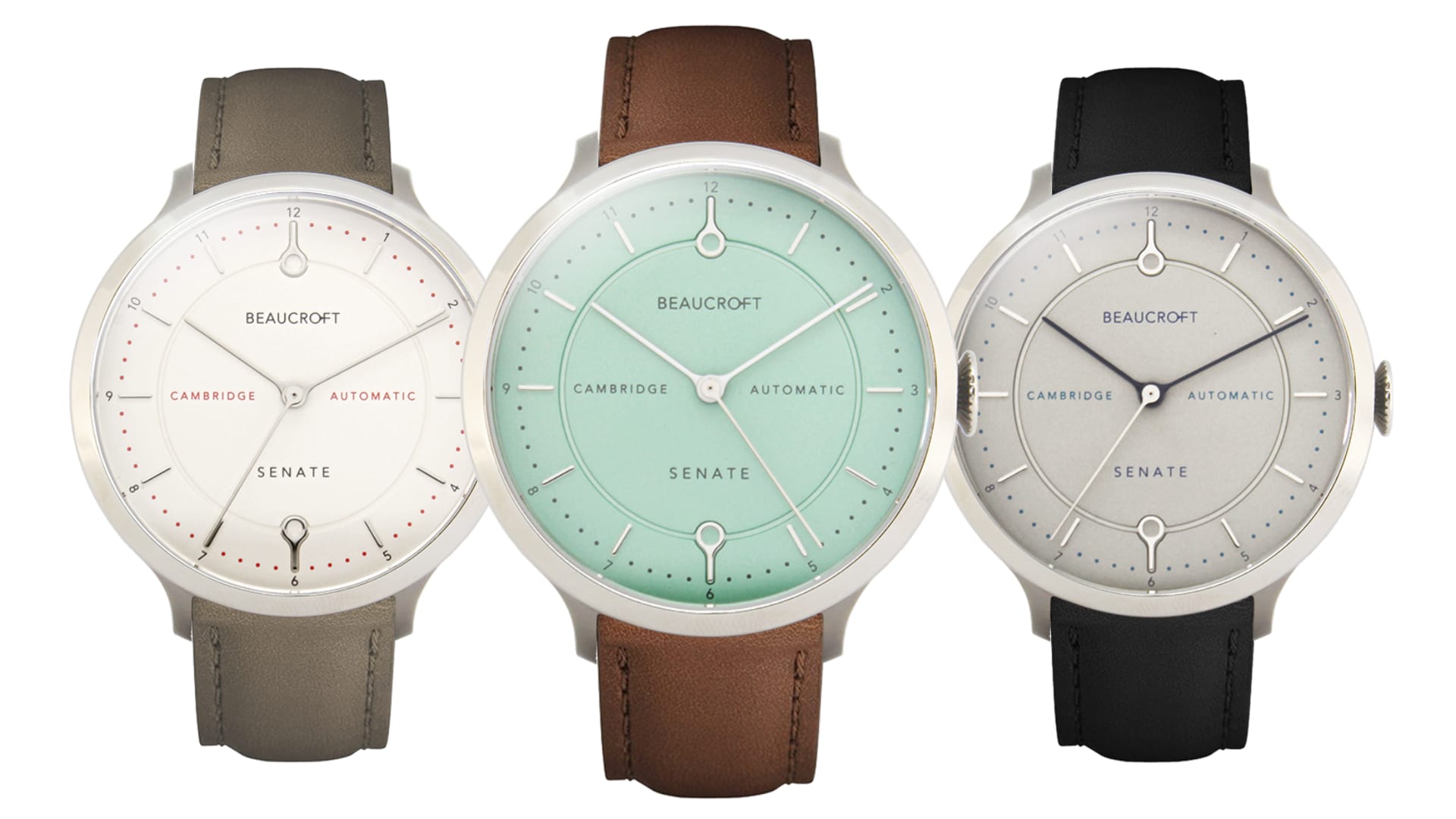 Beaucroft
Based in Cambridge which is famed for its engineering, architecture and artistic nature, you can see that Beaucroft takes a lot from its surroundings. Beaucroft was created by watch enthusiasts Matt and Karim who wanted to connect people through the shared love of watches. Their first and only model to date is the Senate – named after the Senate House in Cambridge and inspired by the fusion of old and new history you'll find throughout the beautiful lamp-lit cobbled street on which the Senate House is located. Their watch takes many cues from this with hints of contemporary symmetry and old elegance. Specs include a subtly textured dial, Miyota 9039 with a custom rotor, and sapphire crystal all housed in a 316L stainless steel case.
Price: £299
Website: beaucroftwatches.com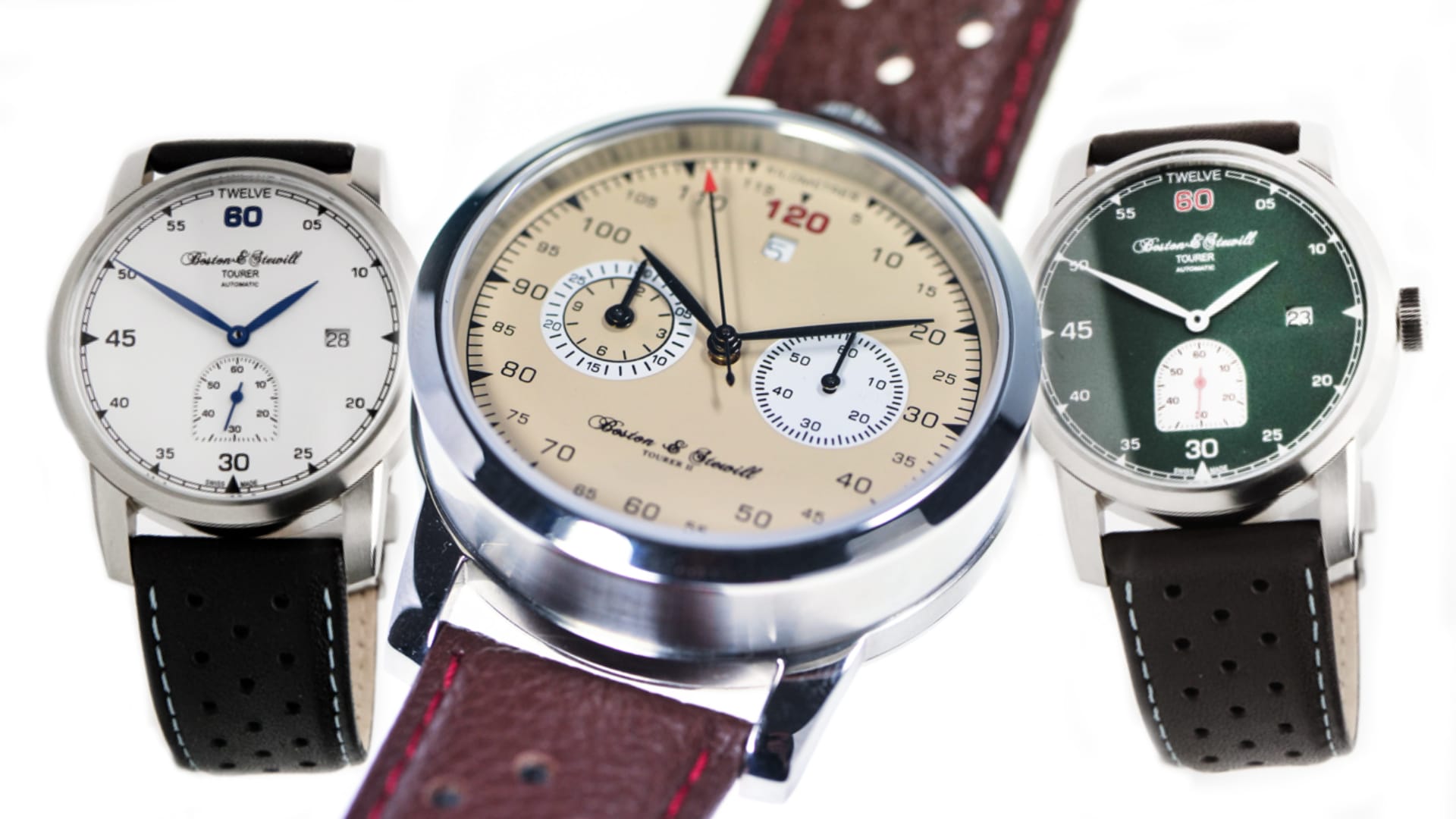 Boston & Stewill
The brand started as a vision to create the quintessential English chronograph and evolved from there. Their other main ambition is to make watches that are still desirable 50 years down the line as they are today. That is no easy task as there aren't many watchmakers that can claim their 50-year-old models are still desired today. Will they achieve this? I guess time will tell.
Price: £249 – £424
Website: bostonandstewill.com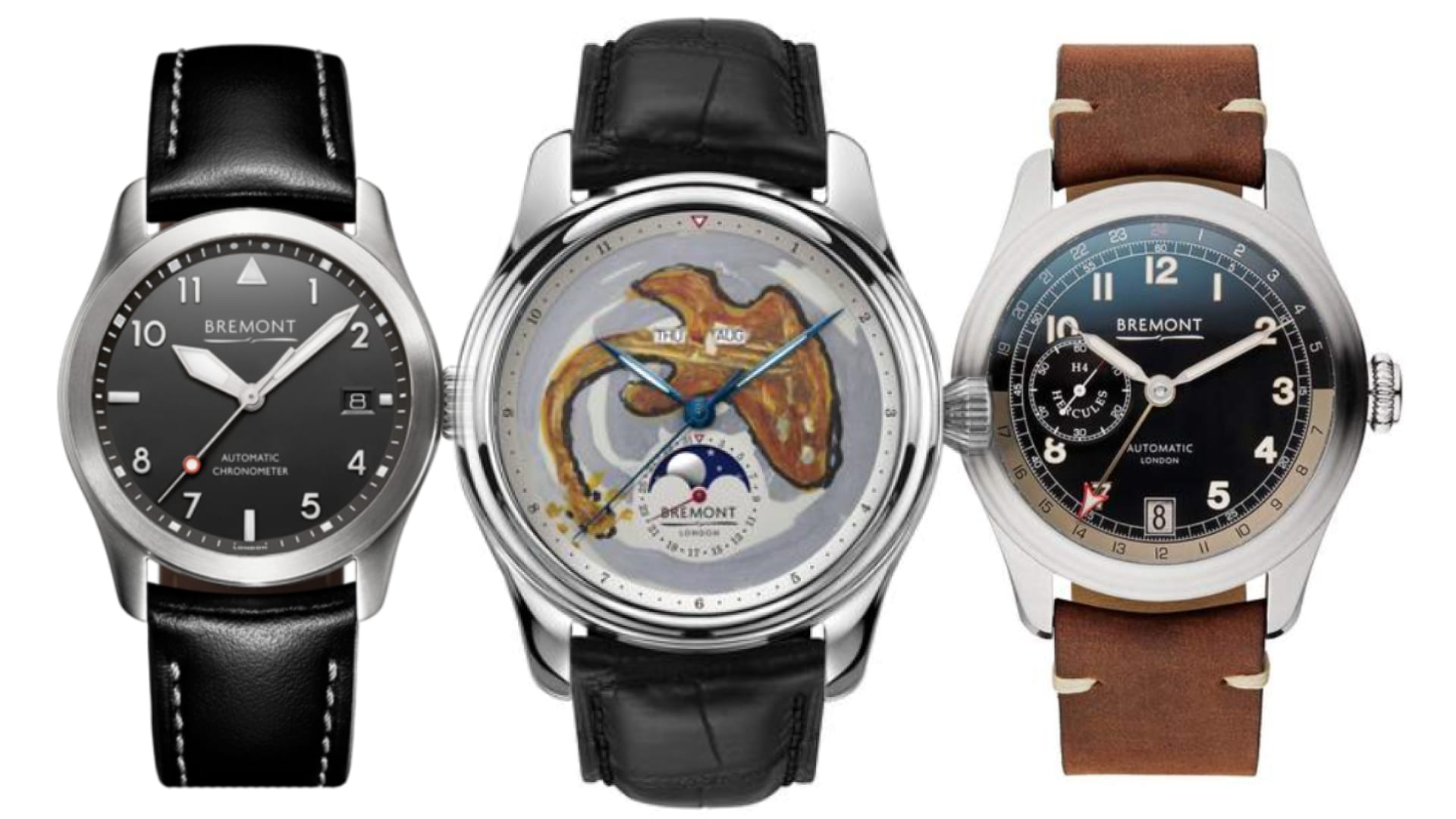 Bremont
Bremont is a name that is known amongst watch fans globally they started life in 2002 as a journey to make exceptional quality pilot watches, and it's safe to say that they have achieved that. So they may be makers of award-winning hand-built watches, but their story is more than just awards and high-tier craft-work, it's one born of life-altering occurrences and perseverance. In 1995 Nick and Giles English – the founders tragically lost their father in a terrible aircraft incident. Nick was also injured though pulled through and recovered. Later on, in the 90s Nick and Giles were flying across France in a 1930's era biplane when the weather took a turn, and they were forced to make an emergency landing – little did they know at the time, this venture would change the course of their lives again. Keen to avoid the authorities, the brothers accepted help from a local farmer who took them in and ensured they were okay. As thanks, the brothers promised that the man's hospitality would never be forgotten. That man's name is Antoine Bremont.
So their history may be short, but it is one full of meaning, and that shows in their watchmaking. From their entry-level to their flagship you can see the attention to detail they inject into every design as well as their pieces that have been inspired by other great British institutions.
Price: £2,895 – £38,950
Website: bremont.com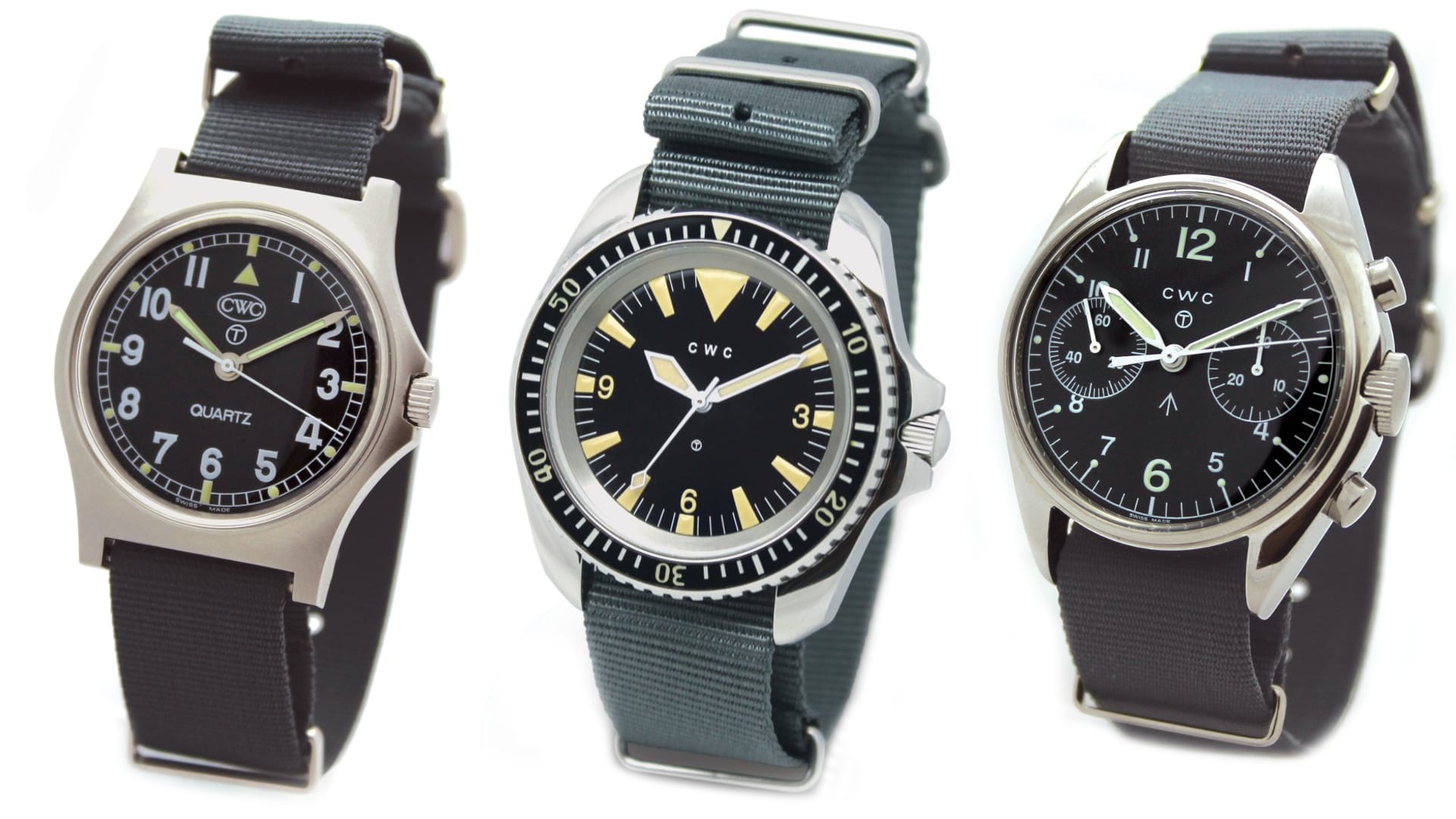 Cabot Watch Company (CWC)
One of the oldest names on the list, CWC was founded in 1972 to make watches for the military and since its inception has made hundreds of thousands of watches for the brave servicemen and women of our armed forces. Their first watch was their GS Navigator that was issued to troops, RAF pilots, Navy pilots and navigators. In 1980 they developed a quartz watch – the famous G10 nicknamed the "Fatboy" as well as winning a contract to supply the Royal Navy with their Royal Navy Diver, this was quite an accomplishment as the contract was previously held by none other than Rolex. Their line-up hasn't altered too drastically though new models have been introduced with features such as Sapphire crystals and an expanded range of dive watches.
Price: £199 – £2,250
Website: cwcwatch.com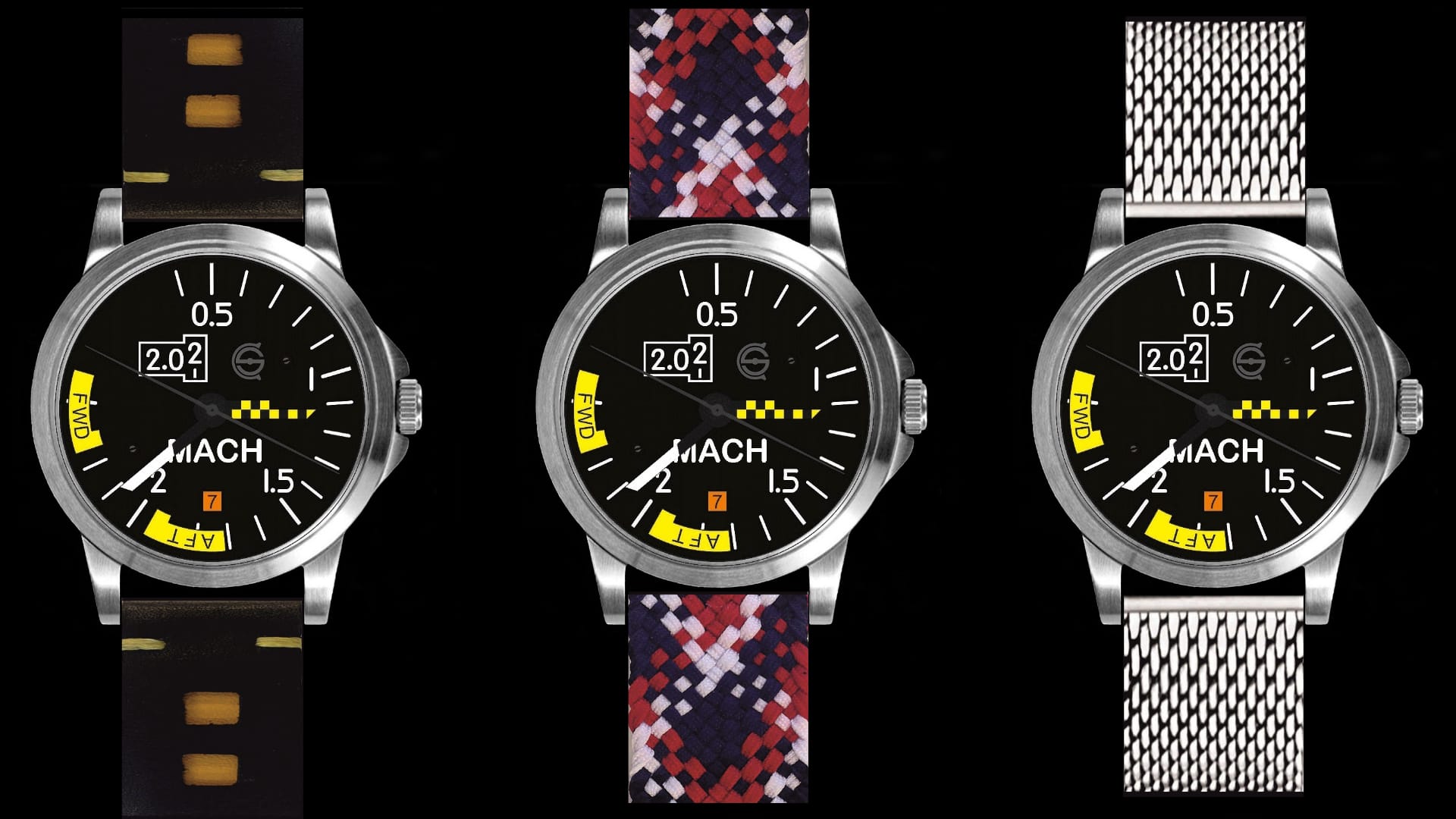 Carrington Smith
Created out of a love of all things speed, this South West based watchmaker has a real need for speed. Both the founders collected watches but quickly agreed that the watch they wanted wasn't out there, so they looked to make their own. Joining forces the duo, researched, argued, debated, agreed and believed that this was attainable. After further research, the duo found the best ingredients they could alongside some amazing craftspeople they brought their concept to life. This concept dubbed the Mach 2 is a period style flight watch that was inspired by the one and only Concorde.
Price: £2,916
Website: carringtonsmith.com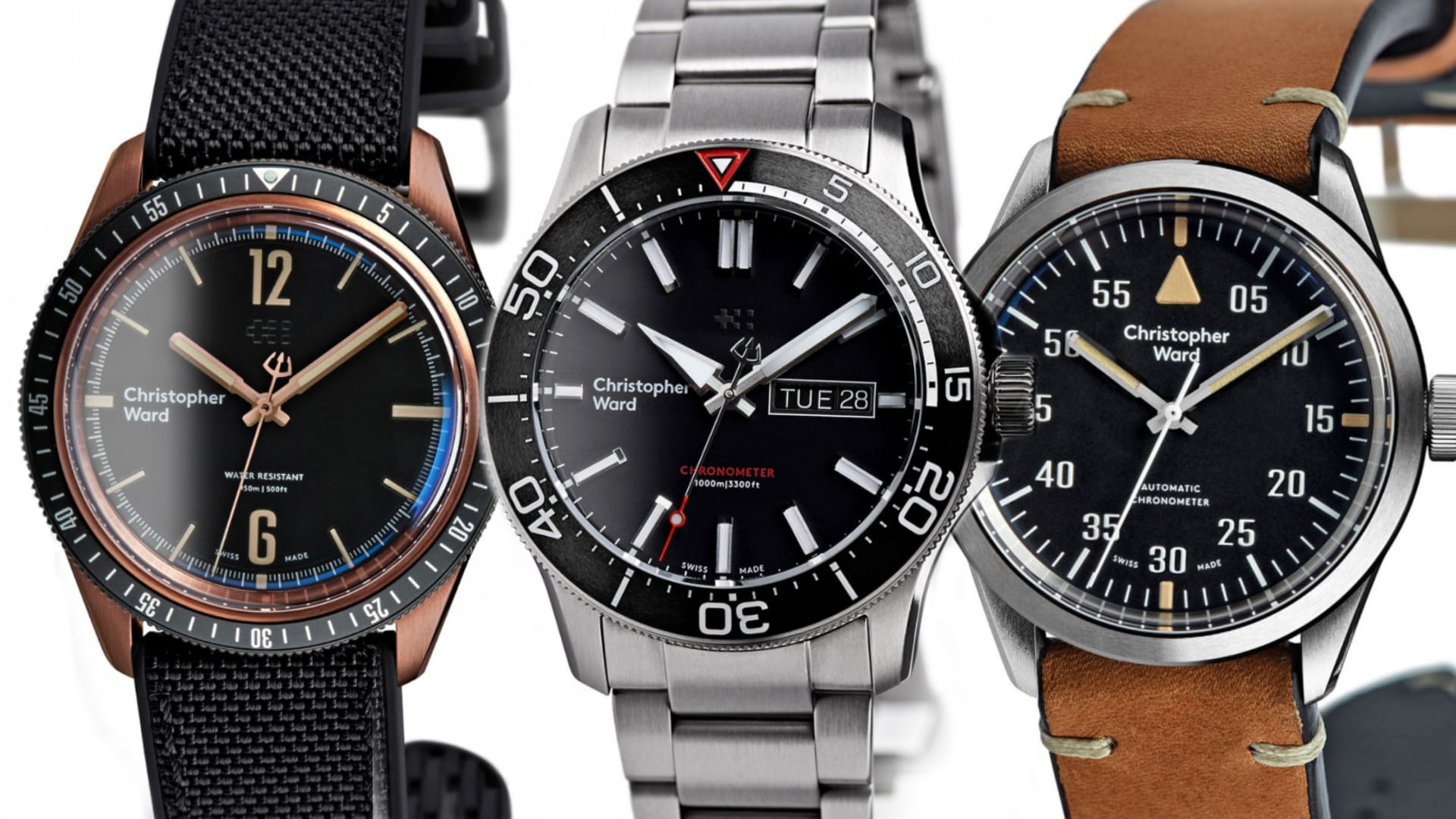 Christopher Ward
Another British brand that has made a huge splash within our community. Christopher Ward began when three friends (Chris, Peter and Mike) were discussing a potential venture during a stroll down by the river Thames in 2004. Mike and Peter sold their company (ELC – Early Learning Centre) one month prior and were searching for their next project. Chris was also keen to depart from his clothing import business in pursuit of something new. With a combined experience of 75 years' and a few beers, it wasn't long before they decided to found the company. Since their inception, Christopher Ward has gone on to make their own movement which is fairly unheard of outside of Japan and Switzerland.
Price: £395 – £3,595
Website: christopherward.com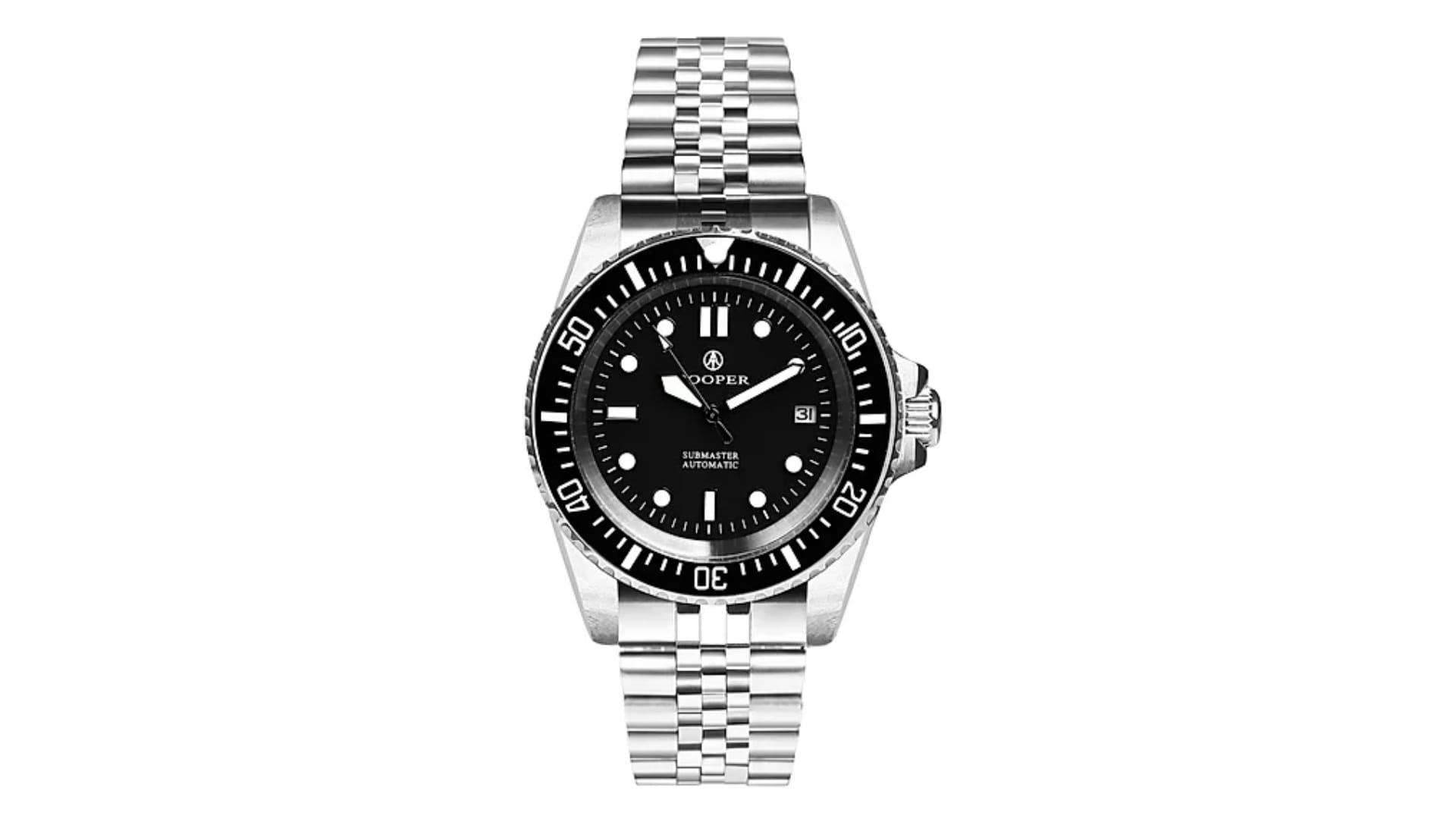 Cooper
Makers of military-style watches, Cooper is owned and run by Alexander Cooper at his base in Stamford. At present, there are two watches listed on his site, and these are his Submaster quartz and automatic. Both of these were designed in Great Britain and done in a style of watches used by the British Special Forces in the 1970s and 80s.
Price: £79 – £179
Website: cooperwatches.co.uk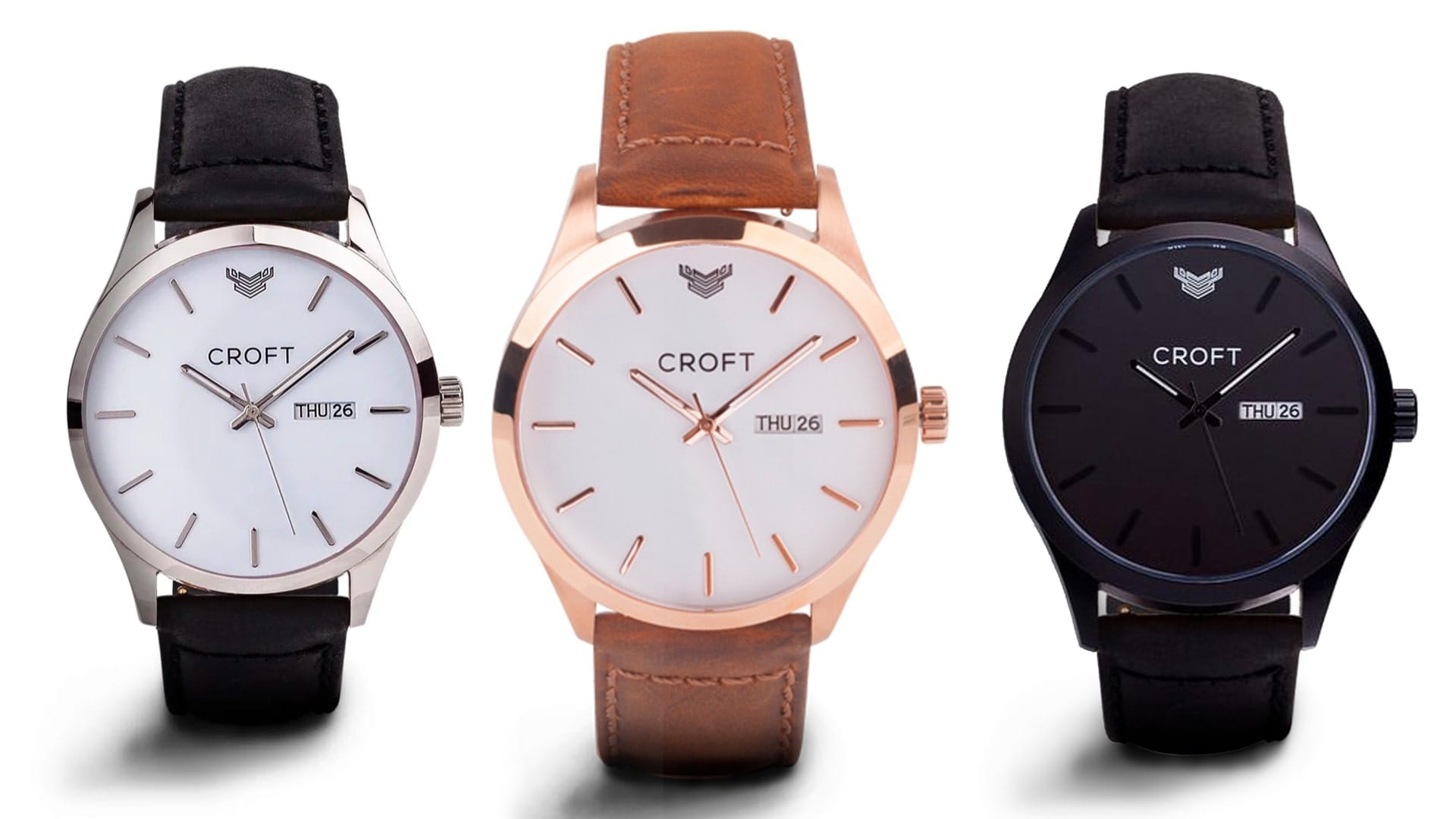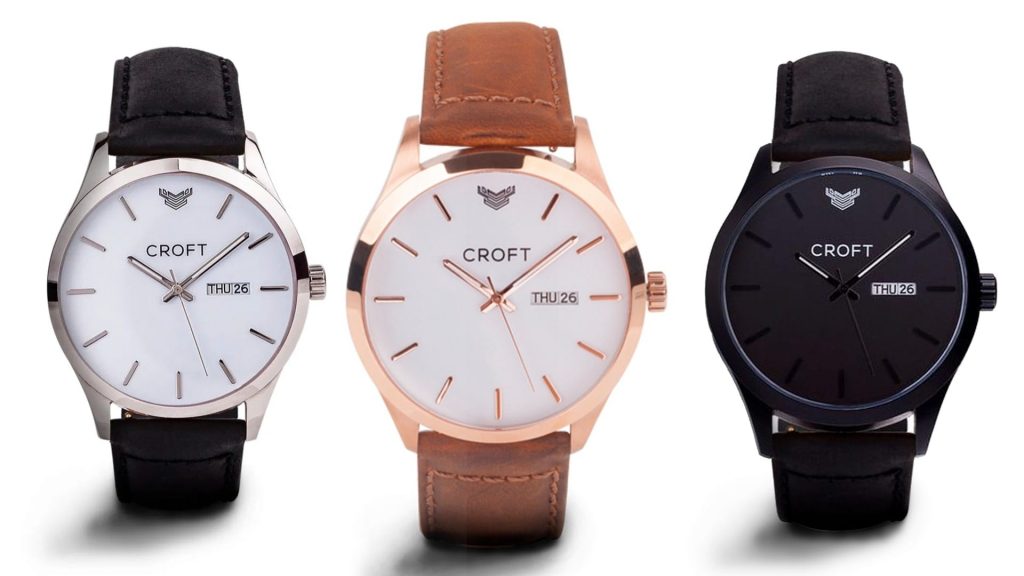 Croft Watches
Born from a desire of blending the Australian lifestyle and London style, Croft was founded to provide desirable watches that don't break the bank and helps the wearer create a statement. Crofts team have taken inspiration from both London and Melbourne cultures and blended them into a series of watches and other apparel.
Price: £129.99 – £134.99
Website: croftwatches.com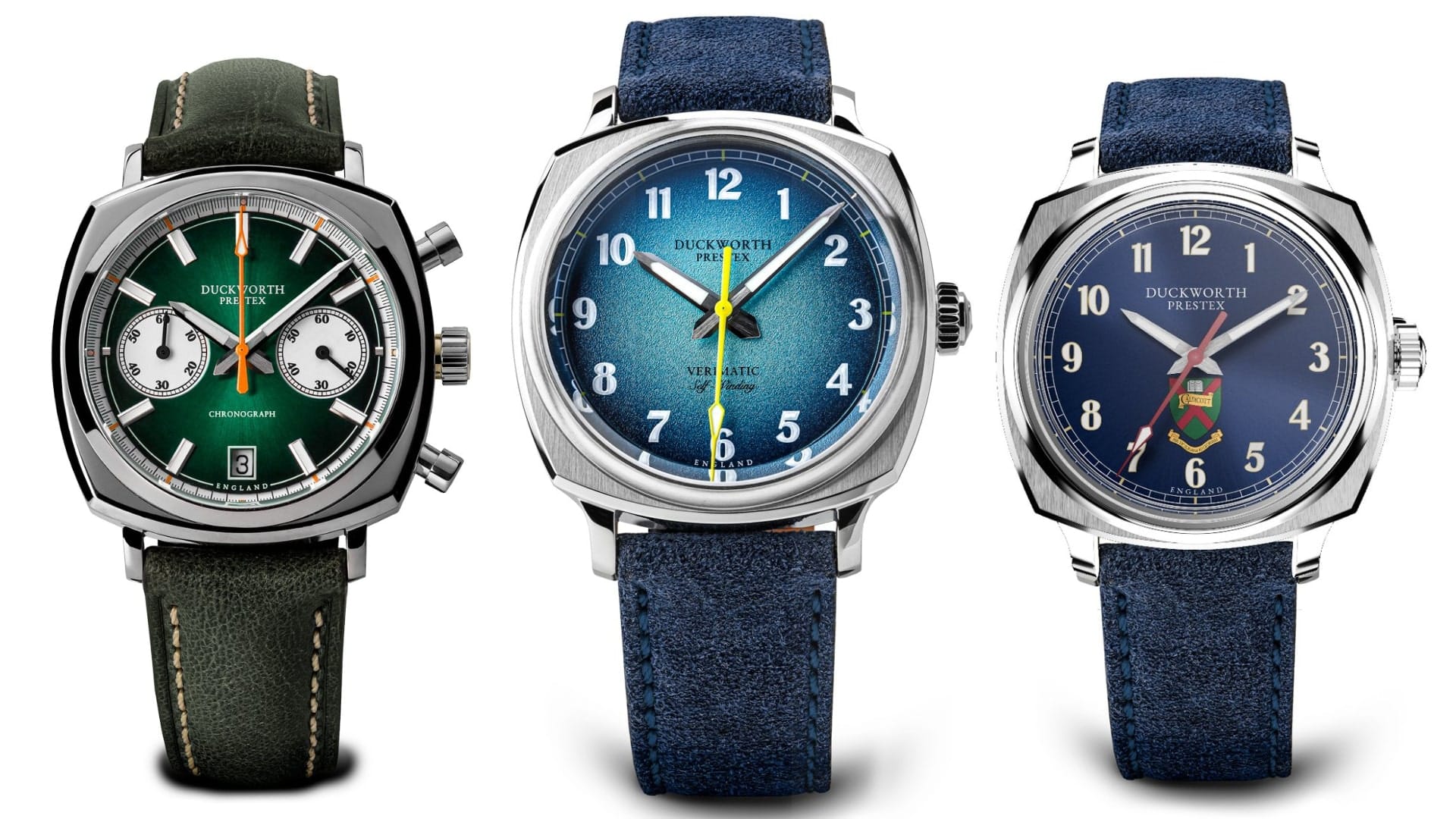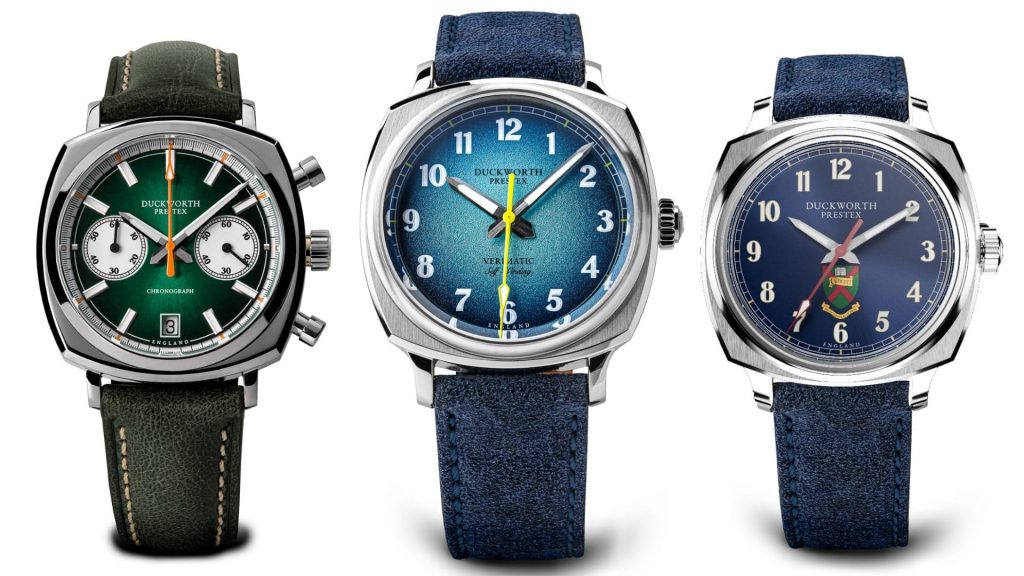 Duckworth Prestex
A name that spans a century, Duckworth may sound relatively new but they have quite the history. The current company we know now was founded in the 80's but the founders legacy goes back much further. The founder – Neil Duckworth family owned a watchmakers called Prestons back in 1869 and by the 1920's they were making pocket watches under the name Prestex. Prestex enjoyed huge global success during this time. In 1948 Neil's father Gordon took over the business and expanded, diversifying by selling Swiss-made watches such as Omega, Rolex and Heuer. The Prestex name was quietly discontinued. In 1982 Neil's older brother took the reigns and steered the company into a new world – watchmaking. Neil didn't work for his brother as he was actually responsible for introducing Tag Heuer to the UK in 1982 where he remained in charge for 20 years, but his ambition was always to launch his own brand while honouring his family legacy, now he's managed to do that with the introduction of Duckworth.
Price: £195 – £595
Website: duckworthprestex.co.uk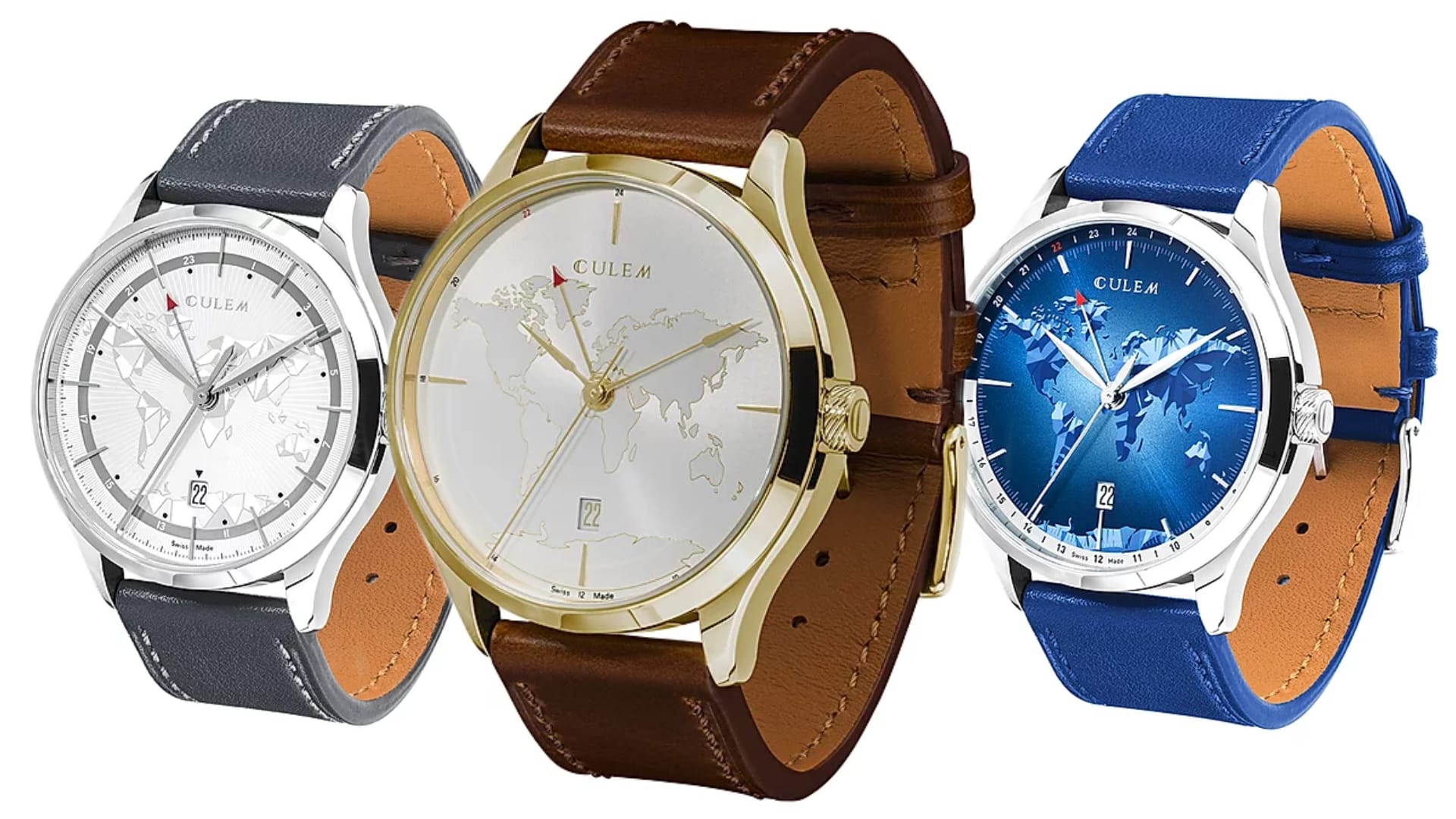 CuleM
"It's all about the journey" – that is the mantra of CuleM, a watchmaking company founded by Matthew Cule in 2018. Described as a luxury watchmaker that brings the magnificence of travelling the world to life. When Matthew's father was 18, he spent three months working on the restoration of a church in disrepair and out of a pure act of kindness, the church gifted him a gold watch which he has since treasured ever since. After seeing his father adore this watch he saw how meaningful a watch can be and how they can be more than just an accessory or a tool to tell the time. That's why he decided to turn drive and passion into a watch company of his own.
Price: £1,315 – £1,737
Website: culemwatches.com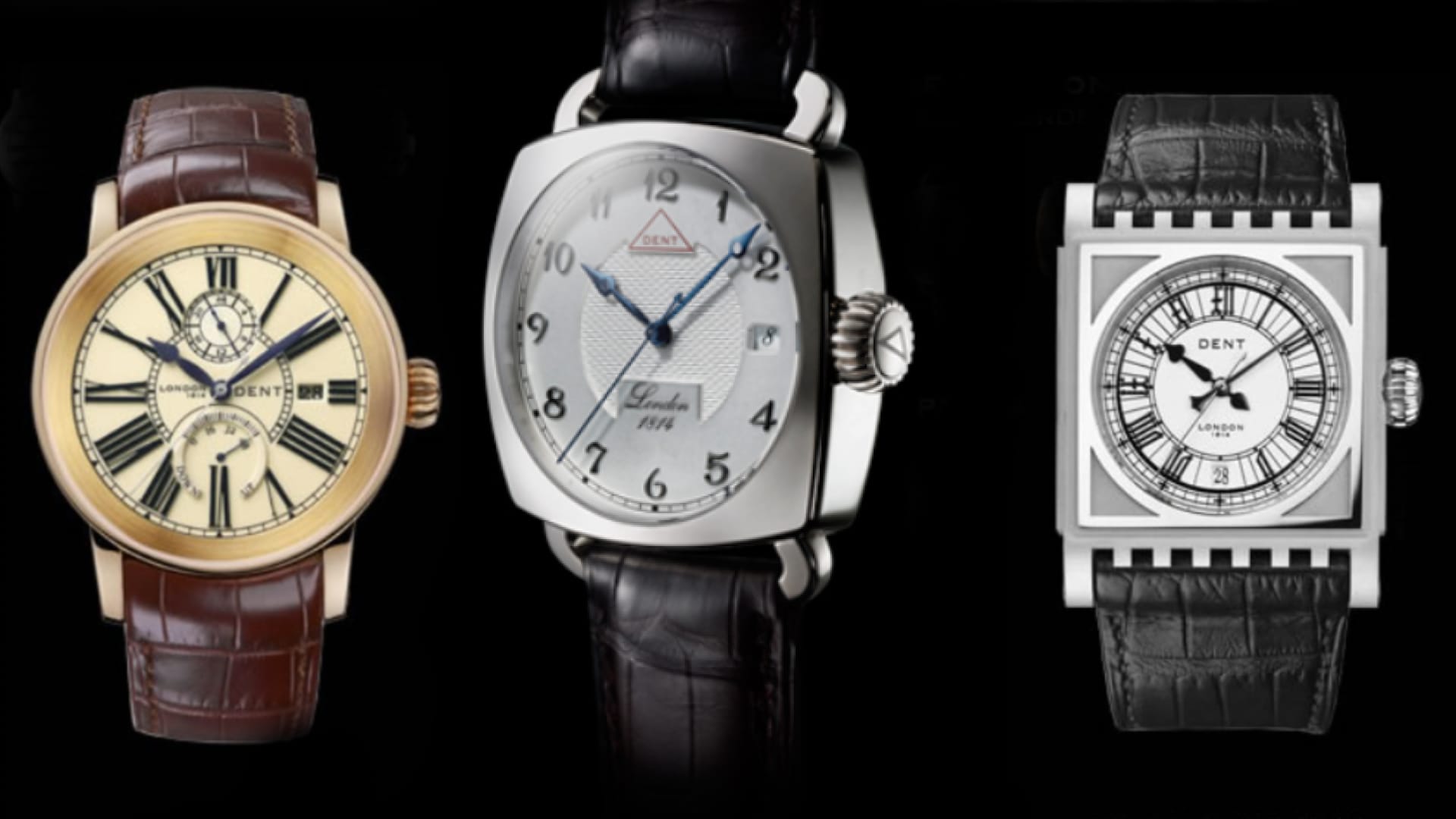 Dent London
The story of Dent London spans three centuries of watch and clock making. Established in 1814 by Edward John Dent, the company embraced all things Victorian and their love for technological advancements. Dent started by creating precision chronometers to help the Royal Navy navigate on their expeditions. However, their biggest accomplishment was yet to be uncovered, and didn't come until 1852 when they won the contract to construct perhaps one of the most famous clocks in existence, none other than Big Ben. Dent also has more than few other incredible achievements such as being Winston Churchill's first watch, creating the clock at St Pancreas Station as well as being a watch and clockmaker for the Queen just to name a few.
Fast forward to the 21st century and Dent has been invigorated by a team of British investors who wish to continue Dent's incredible legacy and still produce limited-run watches and clocks to this day.
Price: Made to order
Website: dentlondon.com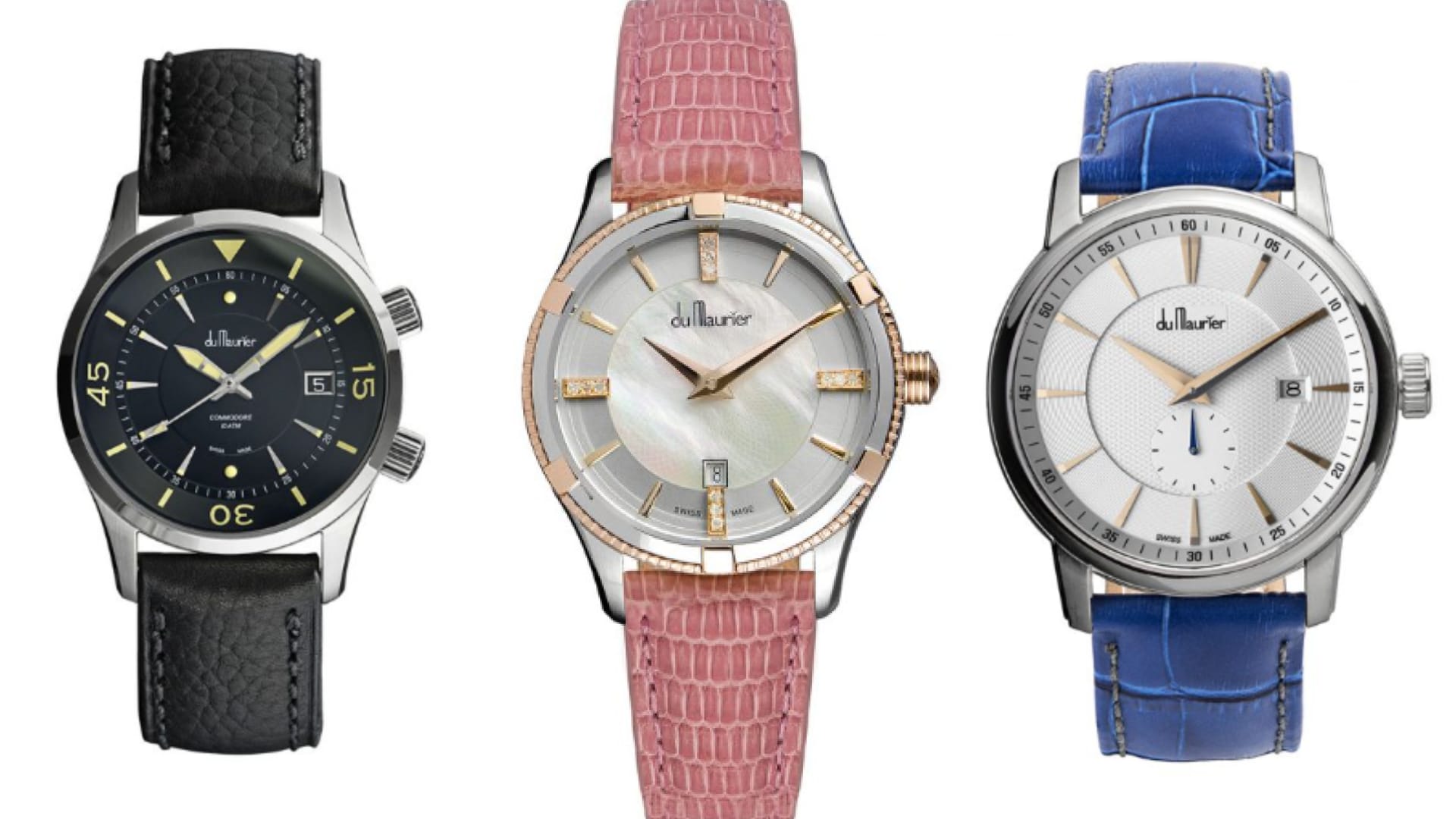 Du Maurier
Husband and wife team Ned and Marianna du Maurier Browning live in West Dorset where their company is based. A result of a shared passion for beautiful designs and watches, the team began a conversation about the lack of variety on the high street and continued to discuss potential ideas of stocking small watch brands which then lead to them working on a design for their own watch. 18 months after this chat they took delivery of their first two watches – the Maxim and Rebecca. Not content with cutting corners, the pair have their watches made in Switzerland with quality components and materials such as sapphire, surgical-grade Steel, mother of pearl and even diamond.
Price: £279 – £495
Website: dumaurierwatches.com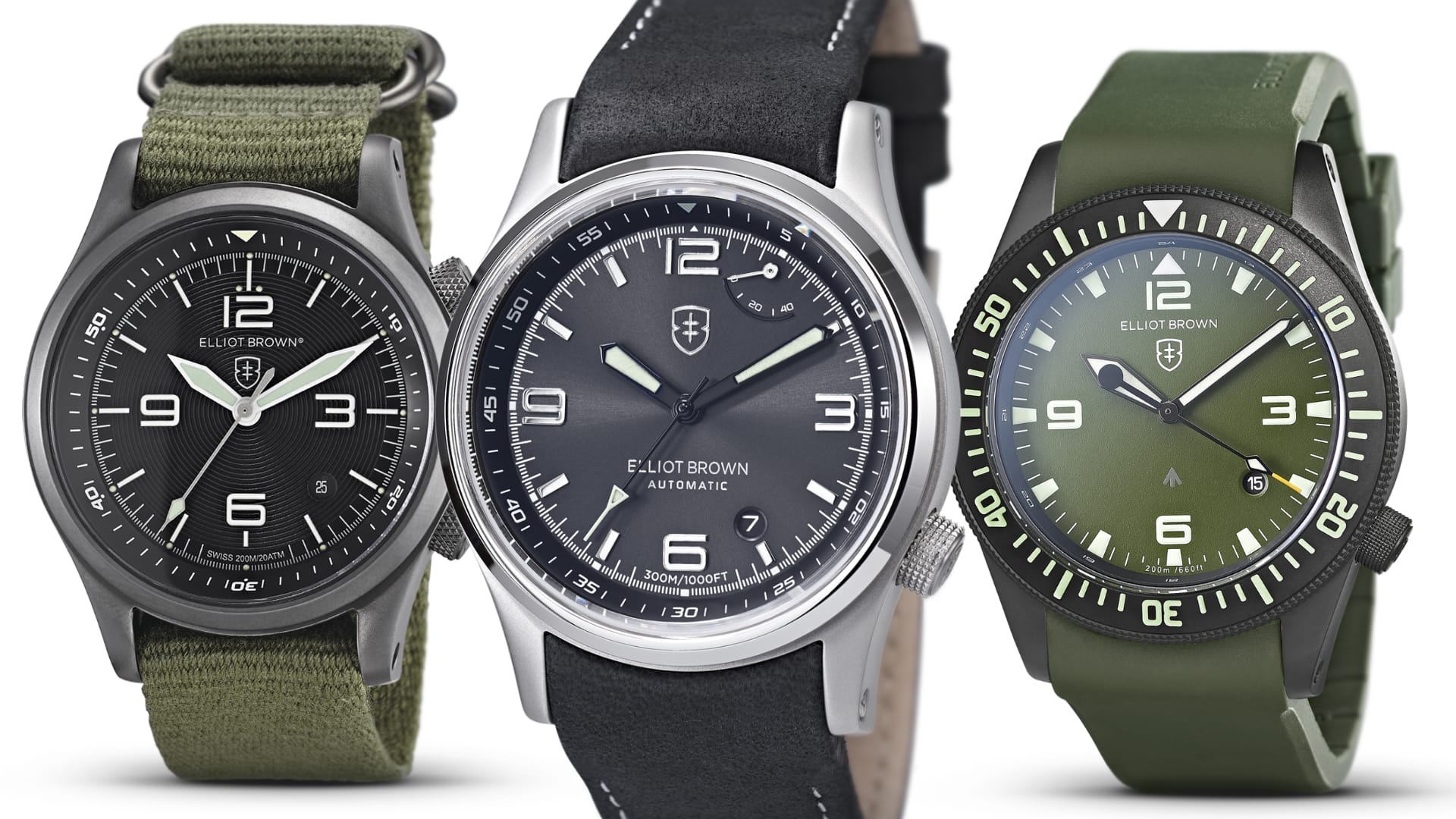 Elliot Brown
Had a goal when it was founded by friends Ian Elliot and Alex Brown, and that was to create durable, tough and comfortable watches. With experiences in extreme sports and the knowledge gained there, they set out to make their first tough watch. They started with a blank slate, and with no boardroom to please they could just create. This paid off, so much so that they have worked with the RNLI, Armed Forced, Mountain Rescue and various government agencies.
This is all reflected in their watches as their Canford has an ISO2281 certification as well as triple-sealed crowns and SuperLuminova. Their new watch – the Holton Professional was developed at the request of a military branch that was seeking a fit-for-purpose field watch that could take a beating. This isn't just marketing either, the watch needing approving and was field-tested in some extremely hostile conditions. Many of Elliot Browns watches are designed big and durable, but they have a dedicated line with slim-wristed fans in mind that keep to their ethos but offer more compact dimensions.
Price: £350 – £845
Website: elliotbrownwatches.com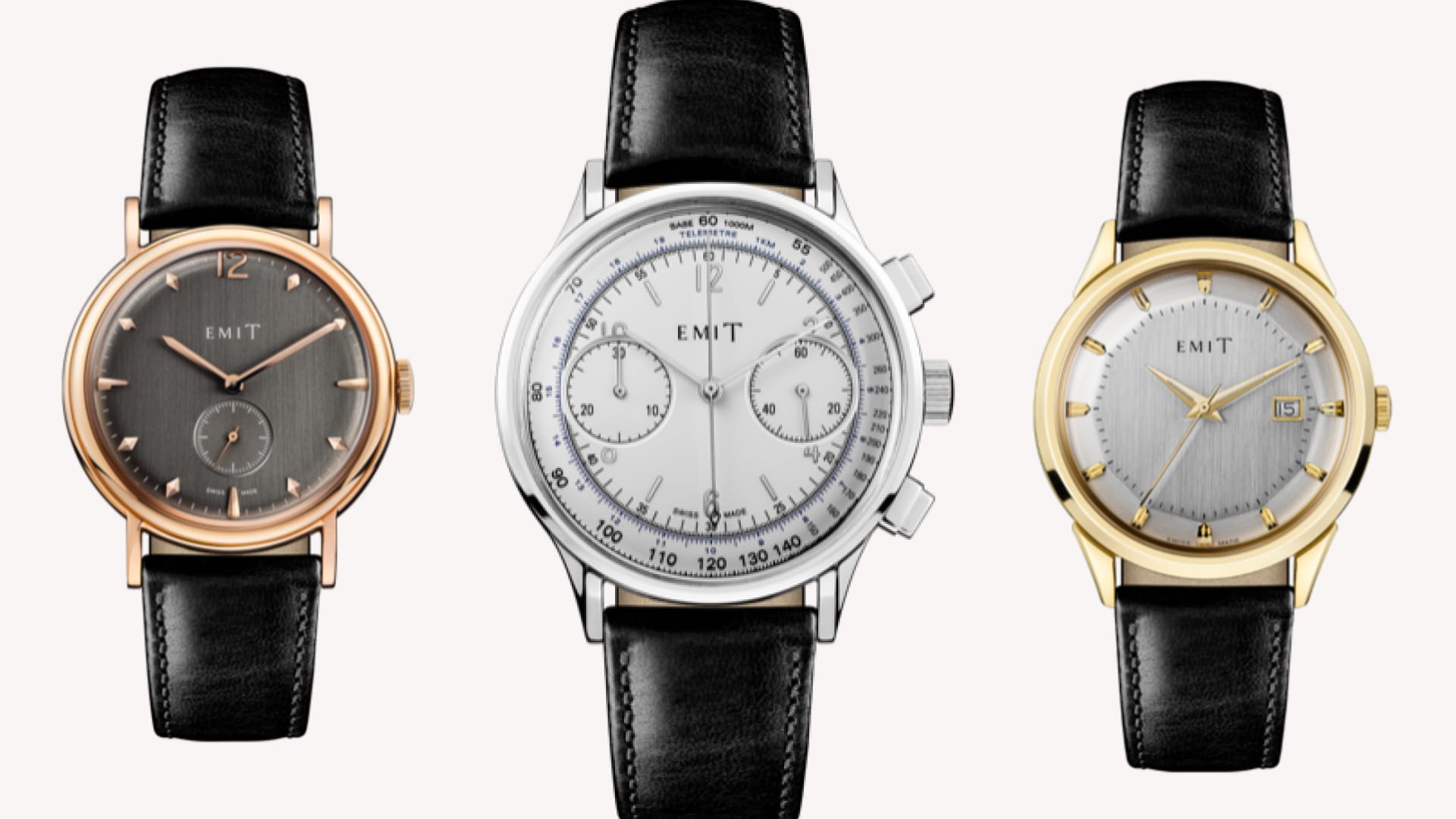 Emit
"Looking back in order to move forward" – Emit. Emit are a watchmaker with one eye on the past and one on the present. Their designs hark back to a time when sophistication was the name of the game. Made in Switzerland and designed in the UK, Emits collection has three lines of vintage-inspired watches that includes a small seconds, a simple date dress watch and a chronograph.
Price: £220 – £340
Website: emitcollection.com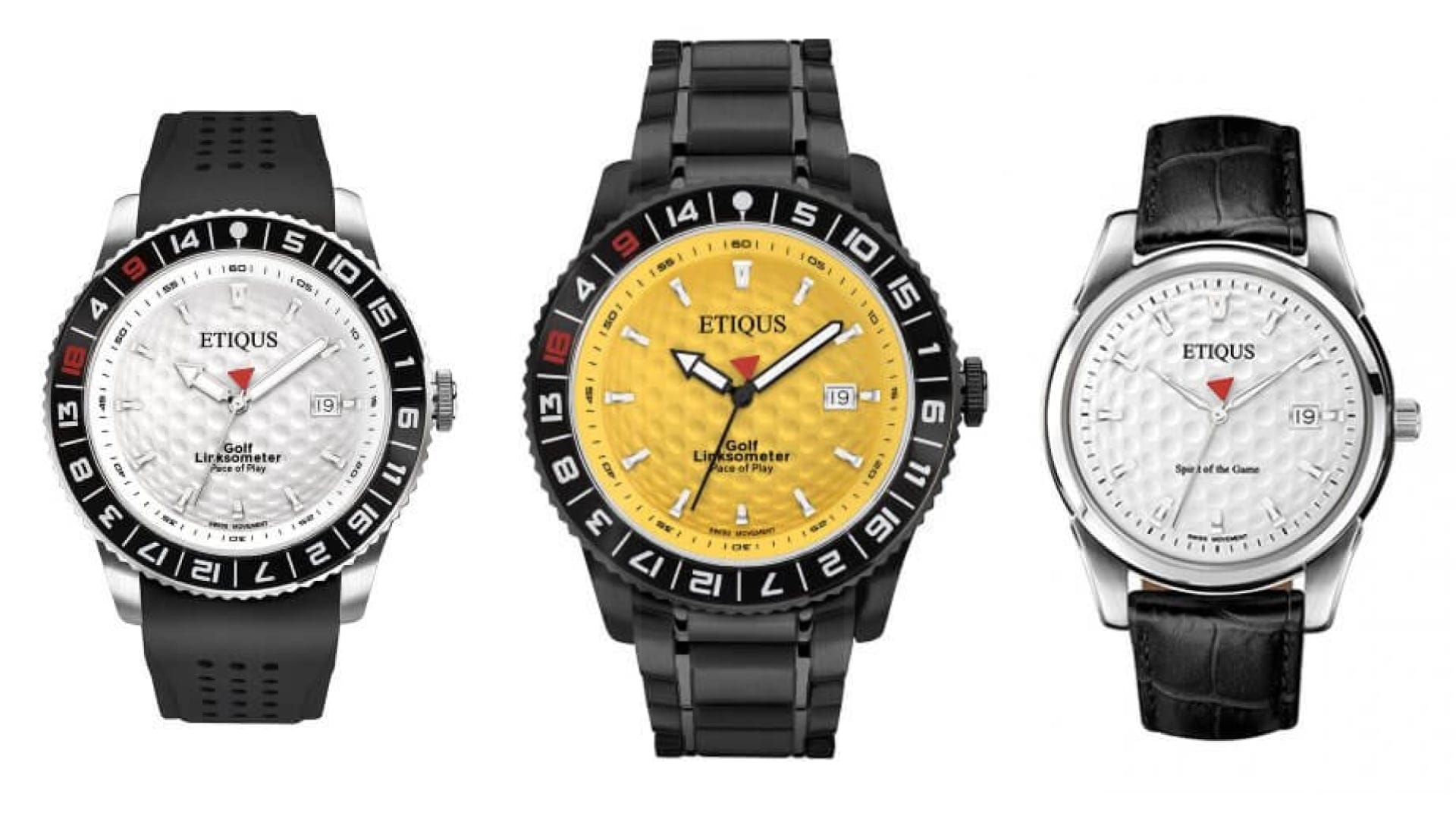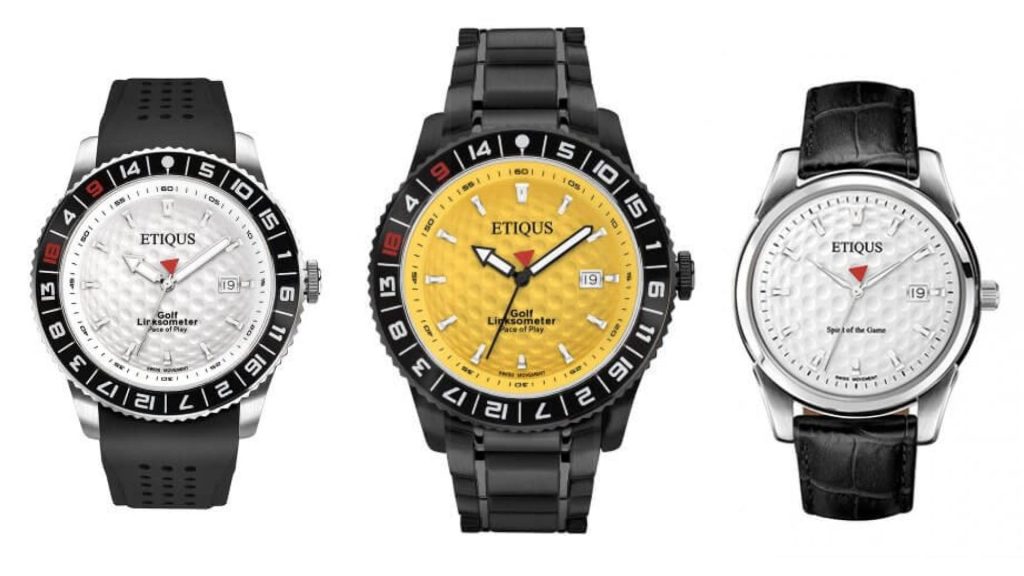 Etiqus
Created by Gary Butler, Etiqus was created from a passion for Golf and of course watches. Gary didn't want to be just another watch brand trying to make a watch for golfers. He wanted to make a series of watches that understand and embody the game. To create his watches, he works with a leading UK based watch manufacturer to deliver the quality pieces to his customers.
Price: £179 – £499
Website: etiqus.co.uk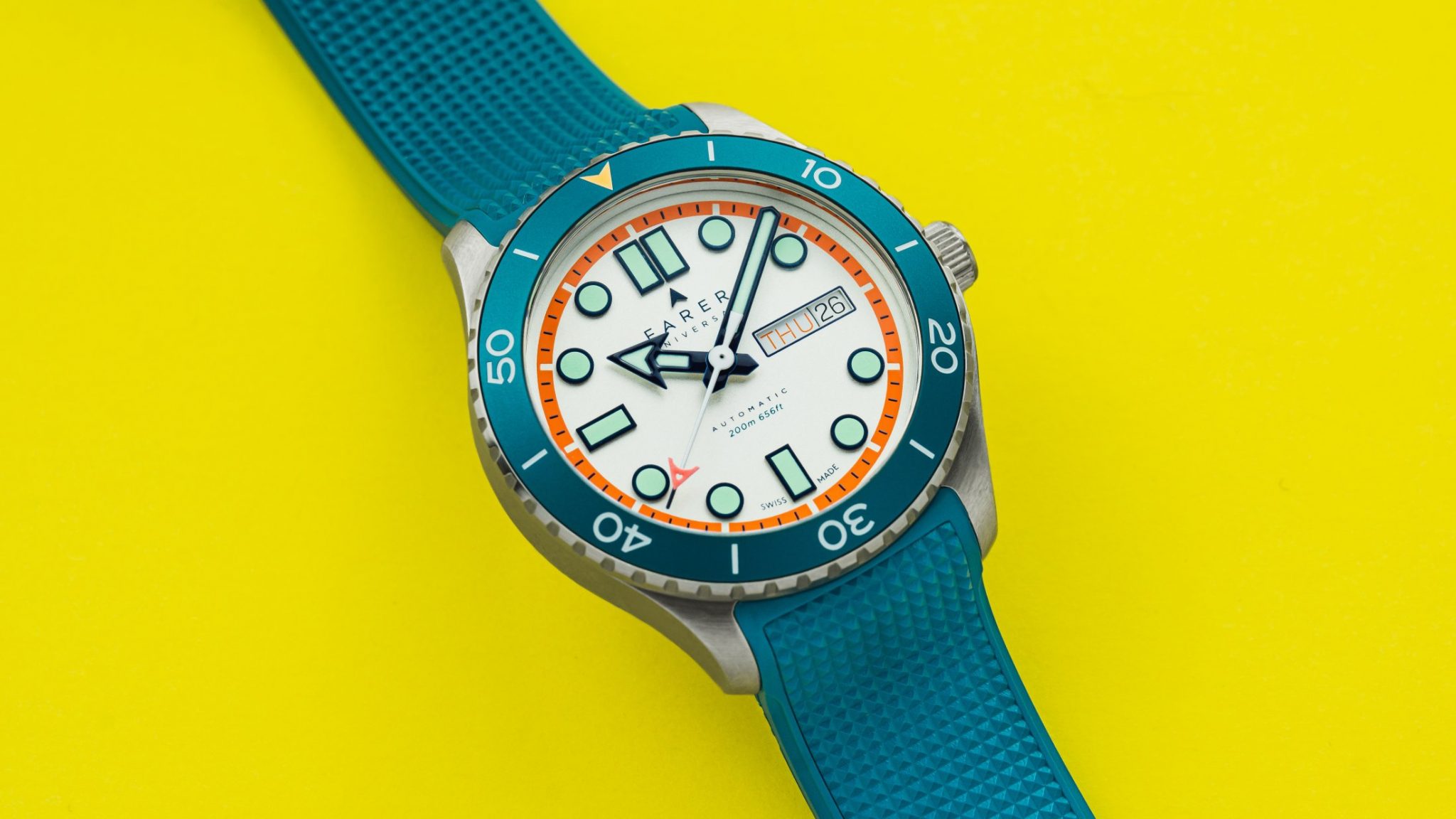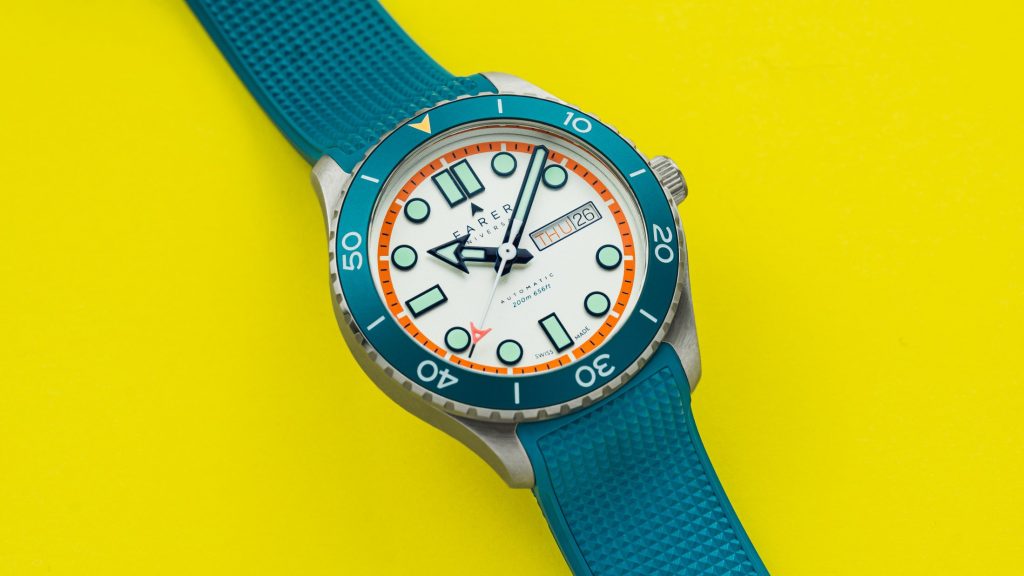 Farer
Born from a frustration of an overpriced market, the founders of Farer set out to do things differently and in 2015 that was realised. Their ambition is to make great watches at fair prices. Farer as a watchmaker look to the past for inspiration then bring those ideals right back into the 21st century. Farer's designs are inspired by the Halcyon era of watchmaking when bold colours and contrasting textures were abundant. Farer believes that the art of the dial is equally as important as the movement. We all know that craftsmen and women spent hours, days, weeks perfecting every millimetre of movement though the dials didn't see as much attention as often, but when they did, the results were staggering, that is what Farer wanted to recapture. Like many other makers on the list Farer design in the UK and outsource the manufacturing and in this case to none other than Roventa-Henex. If you aren't familiar, Roventa-Henex is a Swiss company that manufactures components found in Swiss-made watches and other higher-end watches from around the globe.
It's clear that Farer has set out to shake up their segment of the market and time will tell if they succeed beyond that which they have done already.
Price: £380 – £1,680
Website: farer.com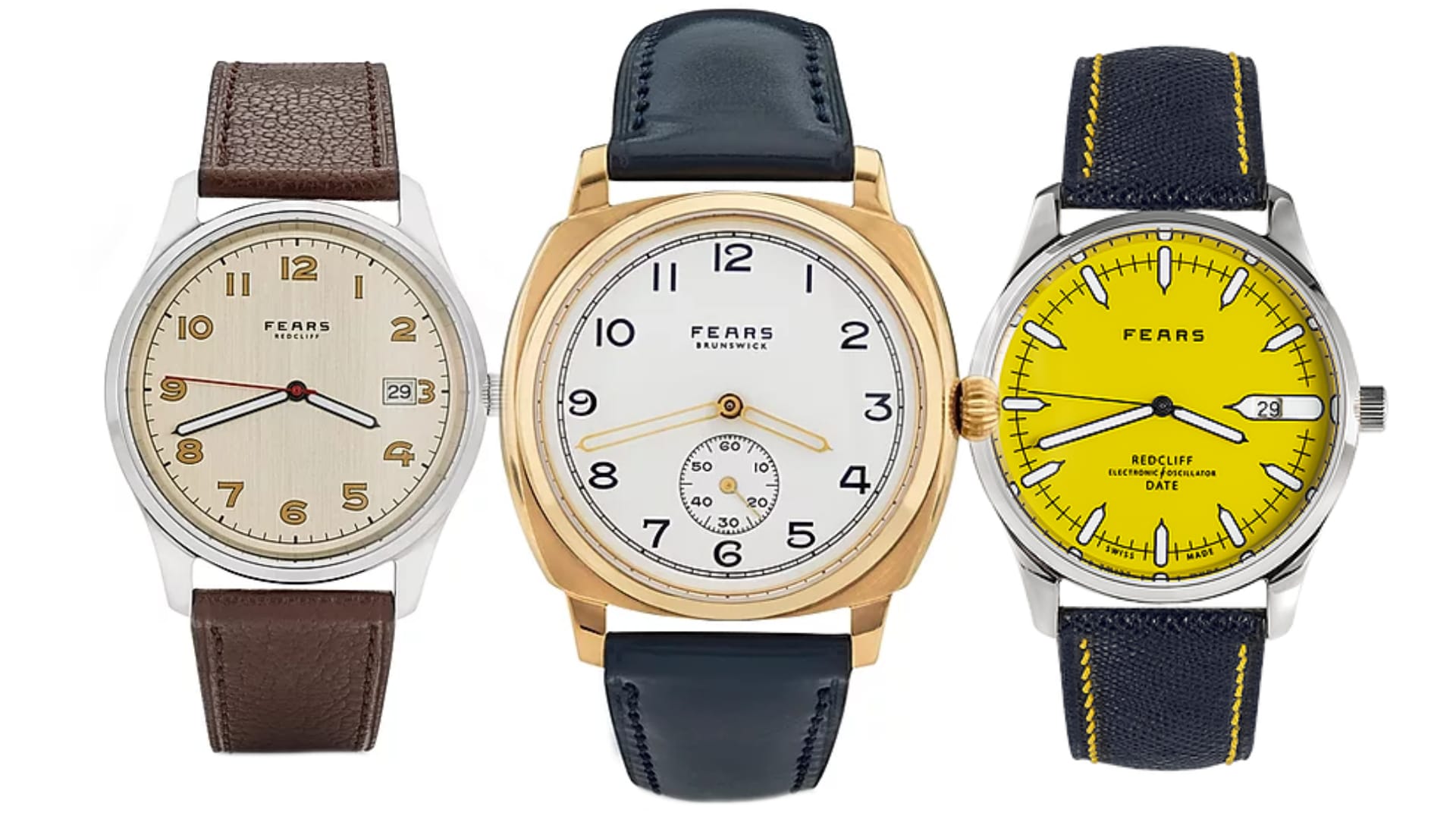 Fears
One of Britains oldest family-run watchmakers, Fears was originally founded in 1846 by a talented watchmaker called Edwin Fear. He set up a workshop and showroom in Bristol, and over the next 130 years, three generations of the Fears family grew the company into a world-renowned respected company. This wasn't to last, as in 1970 – the time of the quartz crisis, Fears closed. Forty years later Fear was revitalised by Edwin's great-great-great Grandson in the hope of restoring the Fears name within the world of Horology. Since it's revival Fears has begun to build ground and now produces a handful of quality watches that include the Brunswick Midas that features a cushion-shaped case, enamel dial and an ETA 7001. These are handmade in the UK and will set you back £3,950.
Price: £2,850 – £3,950
Website: fearswatches.com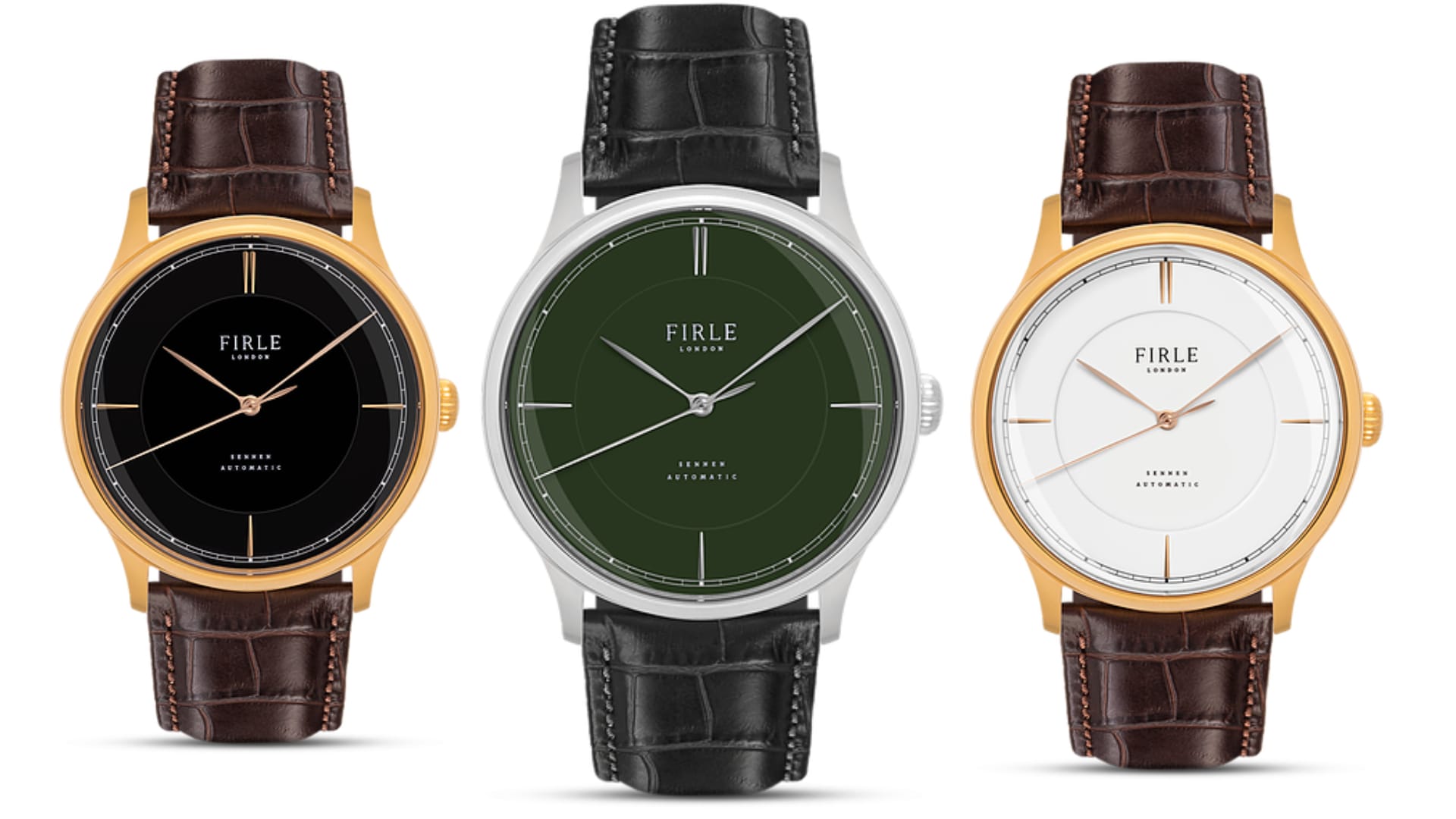 Firle
Launched by Will Martin after three years of design and development on his first watch the Sennen. Inspired by his passion for mechanical timekeeping and the ocean, Will sought out to create a beautifully crafted watch that was unique. He went out to achieve this using his background as an industrial designer and love for tradition. His model the Sennen Automatic is a respectful homage to classic watch design and boasts a modified version of the high-tier Swiss STP-11, IPRG (Ion plating) plating, a double-domed Sapphire crystal, hand-applied indices and a two-tiered enamel dial.
Price: £460
Website: firlewatches.com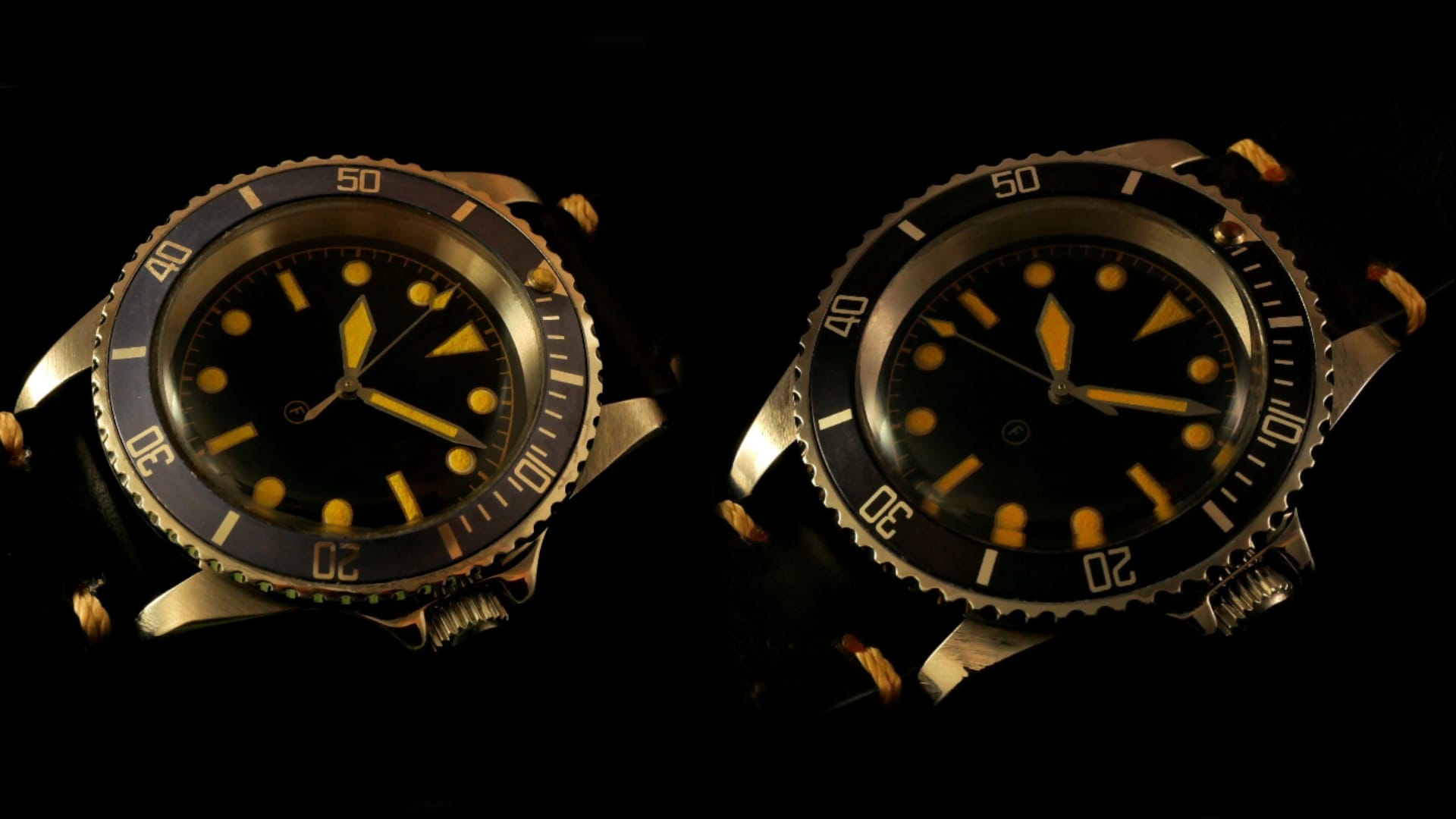 Freese Watches
A routine meeting between watchmaker Simon Freese and world-renowned collector William Roberts in 2016 lead to the creation of Freese Watches. Deep in the countryside of Surrey, William asked Simon if he could make a watch that would have a certain character, charm and warmth as he admired these traits you'd often find in a vintage watch. However, given the fragile nature of vintage watches, William wanted something he didn't have to worry about. Simon was inspired by this idea and returned to his workshop in Essex where he began work on the first prototype. Using his experience and skill-set, Simon set about modifying components to create a worn patina style. After five prototypes were rejected, William announced that watch number six was ready. In 2019, Simon placed an image of the watch on Instagram, and all the watches made in that time frame were sold within 48 hours. Since then, Simon and William have continued to make watches to order allowing customers to choose the level of patina they would like.
Price: £899
Website: freesewatches.uk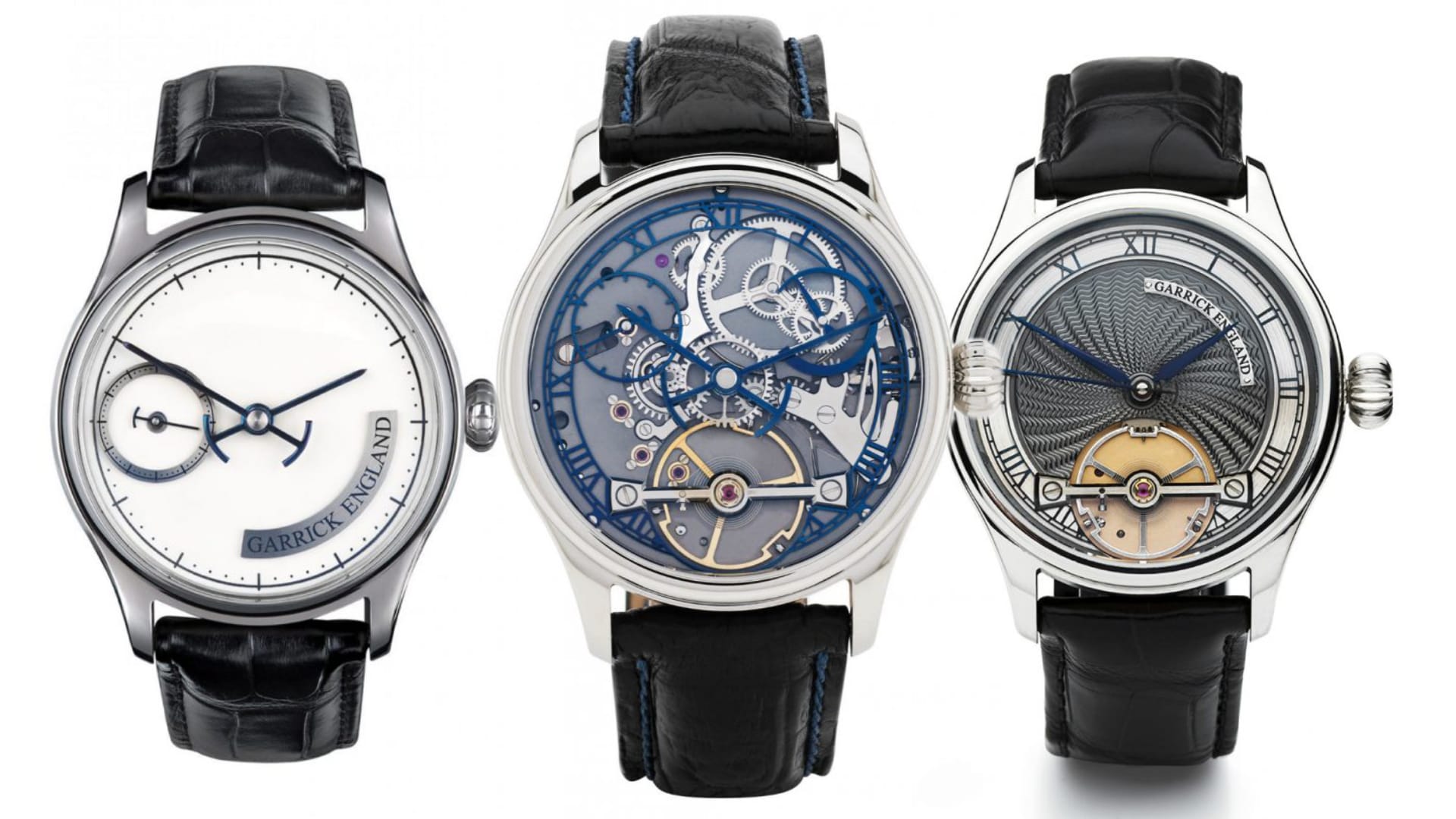 Garrick
Garrick are a watchmaker through and through as they seek to blend modern techniques with traditional watchmaking skills. Their desire is to make distinctly fine timepieces with heaps of British character and ingenuity. Founded by David Brailsford and Simon Michlmayr, Garrick makes all their watches in-house in their facility in Norfolk. Driven by not just a passion for watchmaking Garrick wants to keep British watch-making alive. How do they do this? Well, Garrick not only hand-build their watches in-house, but they also produce their own in-house movement – their crowning jewel UT-GO1, developed by legendary movement specialist and watchmaker Andreas Strehler. Not just satisfied with making exquisite watches, Garrick also offers a bespoke services where they work closely with their clients to build to a chosen specification and design.
Price: £2,520 – £29,995
Website: garrick.co.uk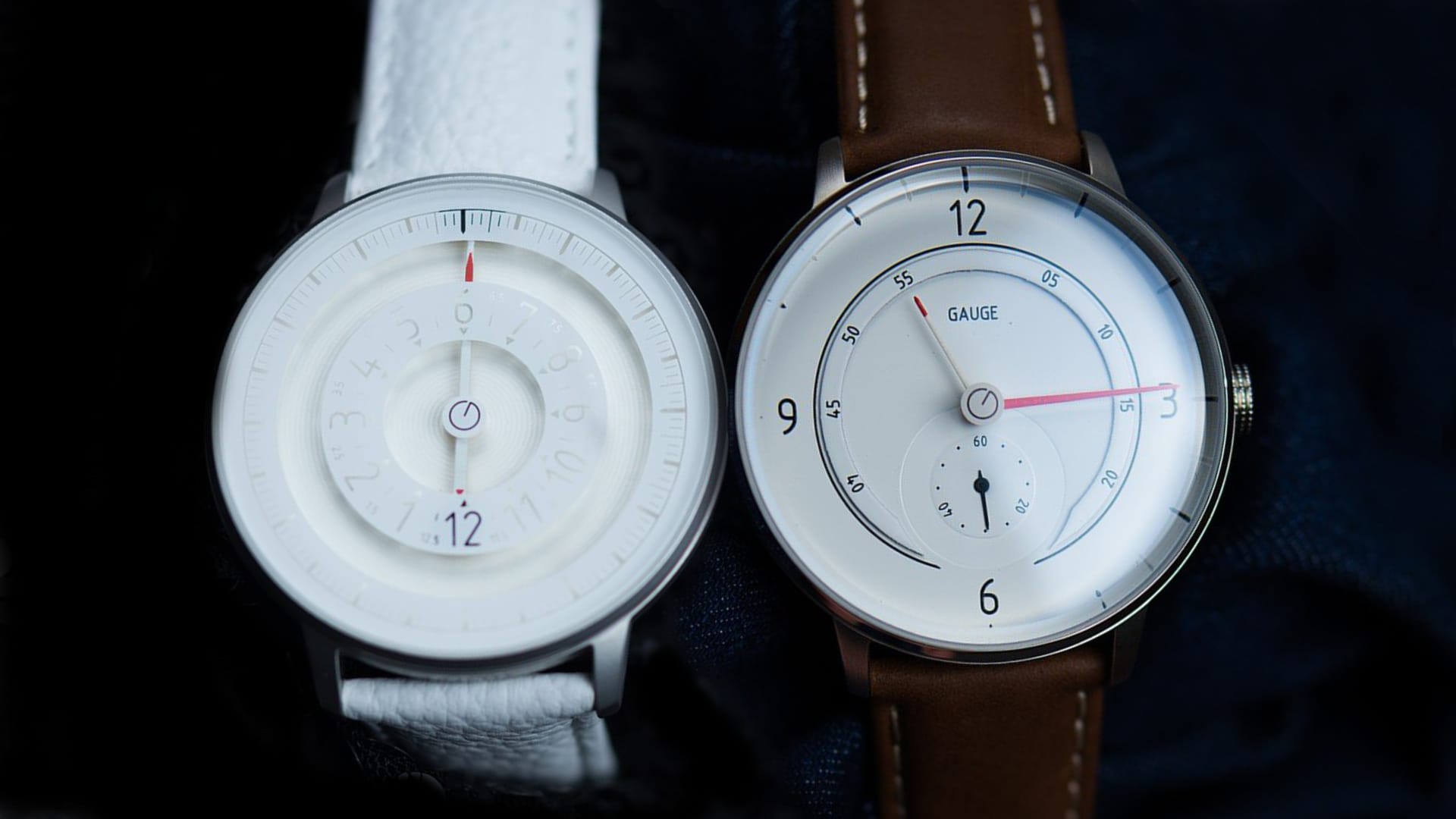 Gauge Instruments
Gauge Instruments are all about uniqueness in a field that is packed full of that very thing, but, we think that they've done a great job of creating watches that are different. Inspired by the automotive industry, Gauge commonly uses designs inspired by precision instrumentation using in the auto world. All Gauge watches are designed in London and are powered by Swiss movements.
Price: £399 – £439
Website: gauge.watch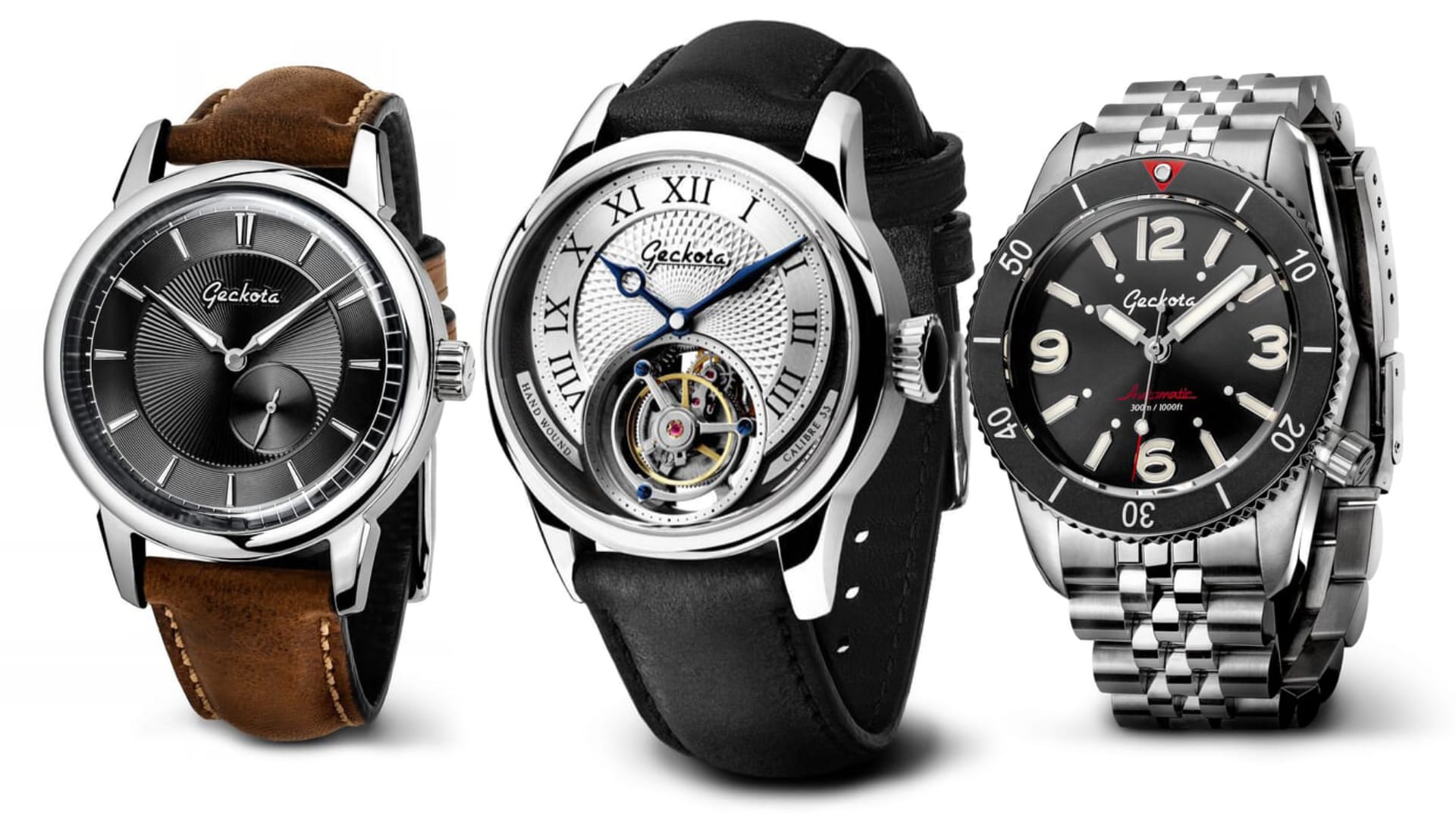 Geckota
Geckota was started by Jonathan Quinn who noticed that customers were finding it difficult to source high-quality and complex watches for an affordable price. Jonathan had an idea in mind, that was to make new timepieces that were not only affordable but were vibrant in style, meticulously made while being elegant – this is no easy task. Geckota started small, and now have over two dozen different watches to suit watch enthusiasts with differing tastes, styles and budgets. Even with the growth of Geckota, Jonathan wanted his company to remain accessible to first-time buyers and avid collectors alike, and with a diverse range, we can conclude that this goal has been achieved.
Price: £199- £1,199
Website: geckota.com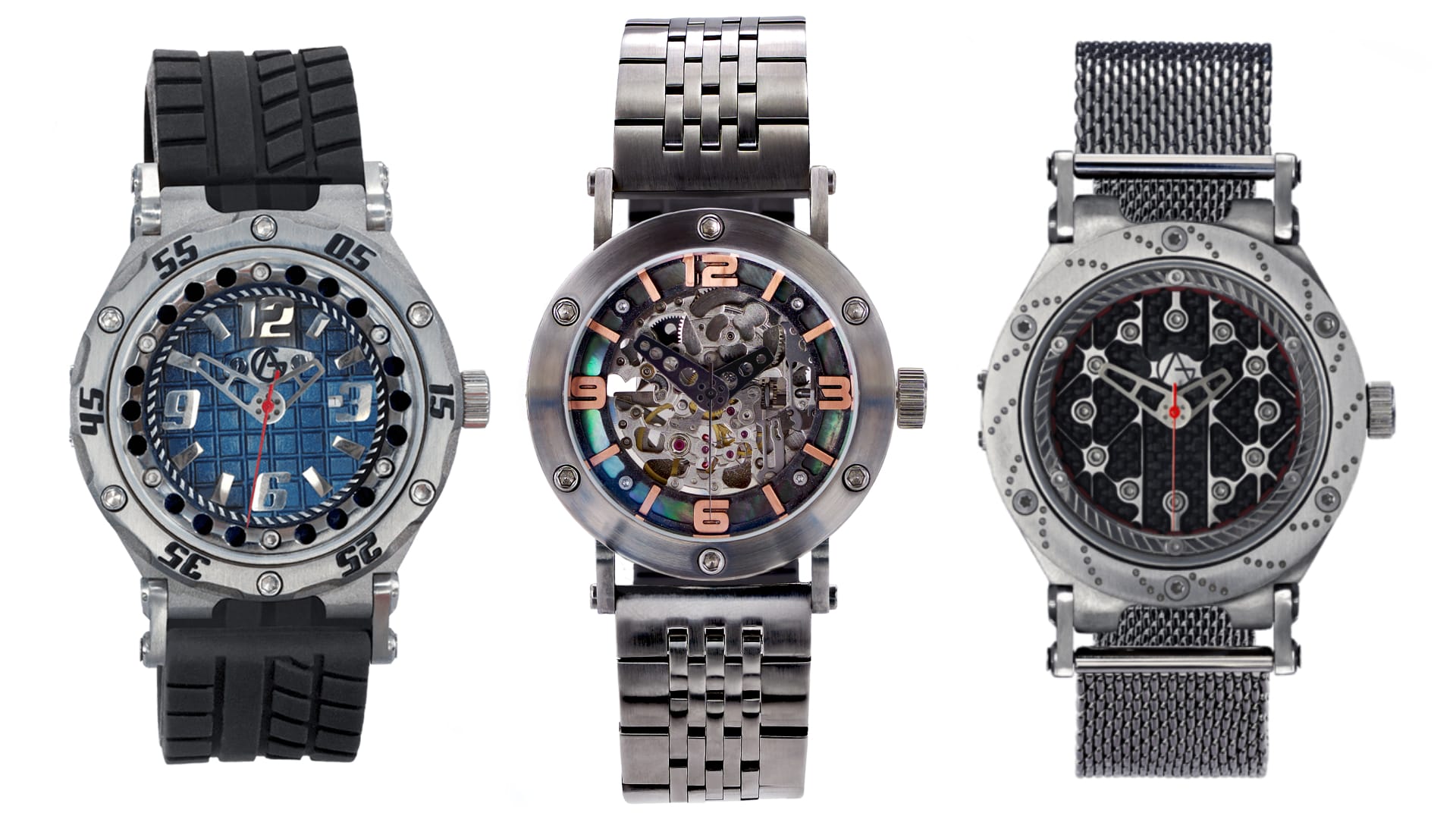 Glen Anthony
A watchmaker with a different approach, they seek to create watches with designs that are raw, industrial and tough. This is clear when you browse their site and discover watches with hints of automotive embellishments, exposed fixings, carbon fibre and raw Steel and Titanium. Their watches certainly aren't for those that seek tradition but are for those that appreciate a different kind of craftsmanship.
Price: £299 – £1699
Website: gawatches.co.uk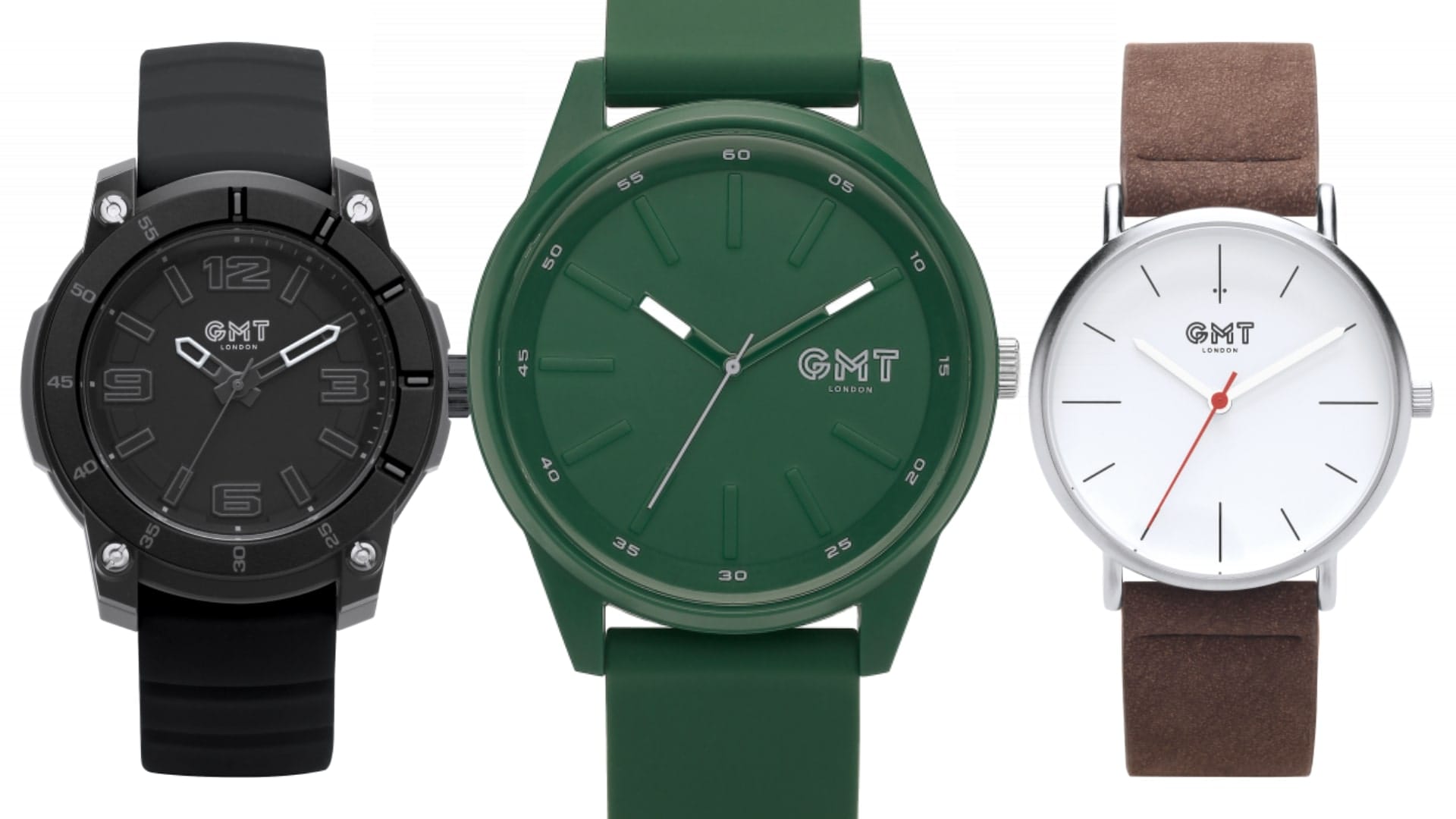 GMT London
A young and energetic watch brand that offers watches to all ages with a focus more on the younger side of the market. Their watches are bright, bold and designed to appeal to the younger watch fan, this in my opinion is great as it's always a great hobby to share and companies such as GMT London help with that.
Price: £20 – £79.99
Website: gmtlondon.com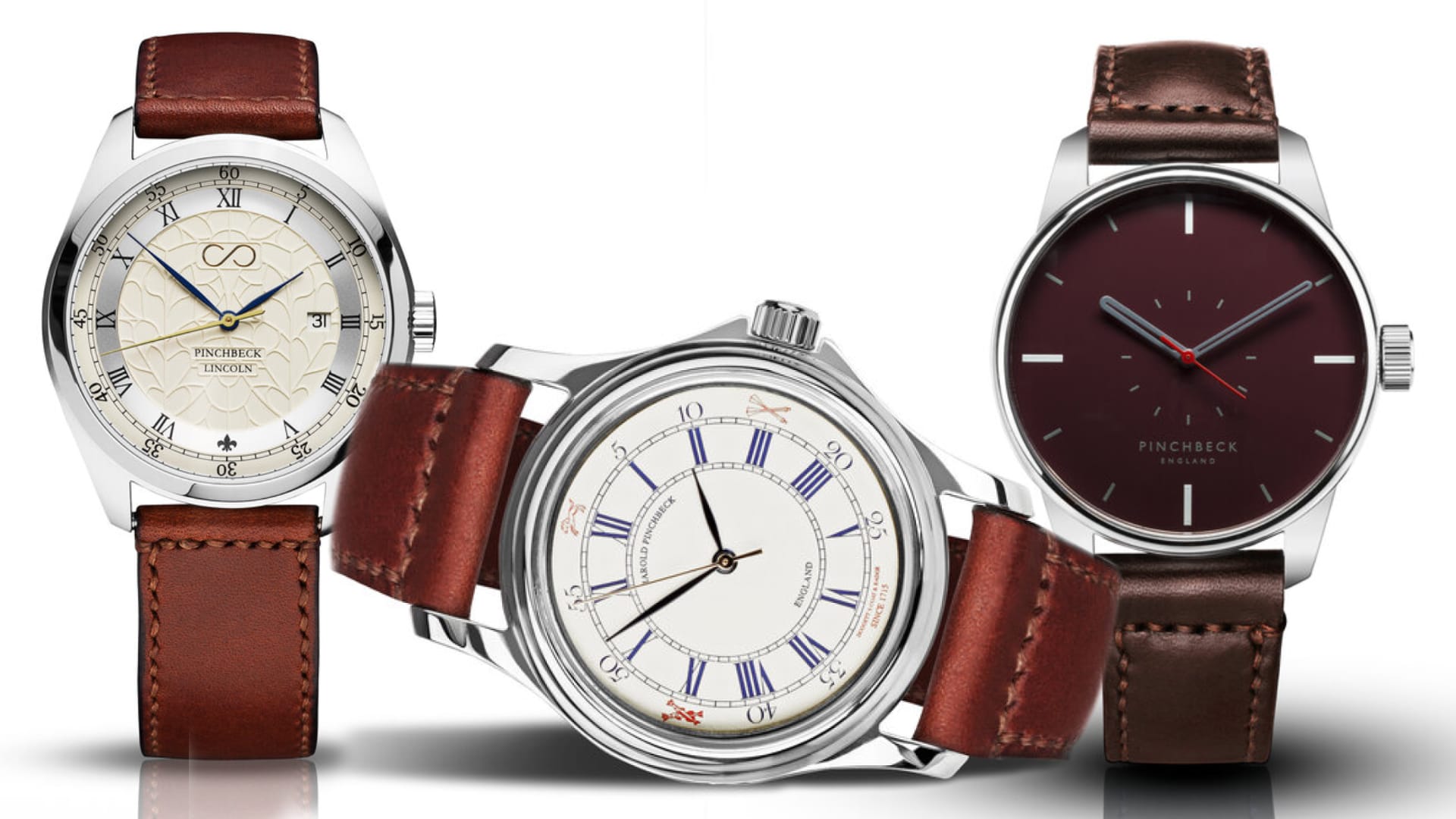 Harold Pinchbeck
When we want to describe Harold Pinchbeck one word comes to mind – exclusive. Harold Pinchbeck is an independent watchmaker that is known for crafting luxurious limited number pieces that radiate fine workmanship. The Pinchbeck name can trace its lineage back to 1710 and is now owned and run by a member of the Pinchbeck family. Harold Pinchbeck love to craft watches that satisfy all the senses from the first sight to the first touch and even first smell, yes smell. They describe their watches as "too personal to be mass-produced" as each of their watches are hand-made using fine Swiss components as well as an array of British-made parts reserved for their higher-end timepieces. Harold Pinchbeck also don't deal with any middle-men and deals direct to the customer thus keeping their watches fairly priced for the quality on offer.
Price: £799 – £5,995
Website: haroldpinchbeck.co.uk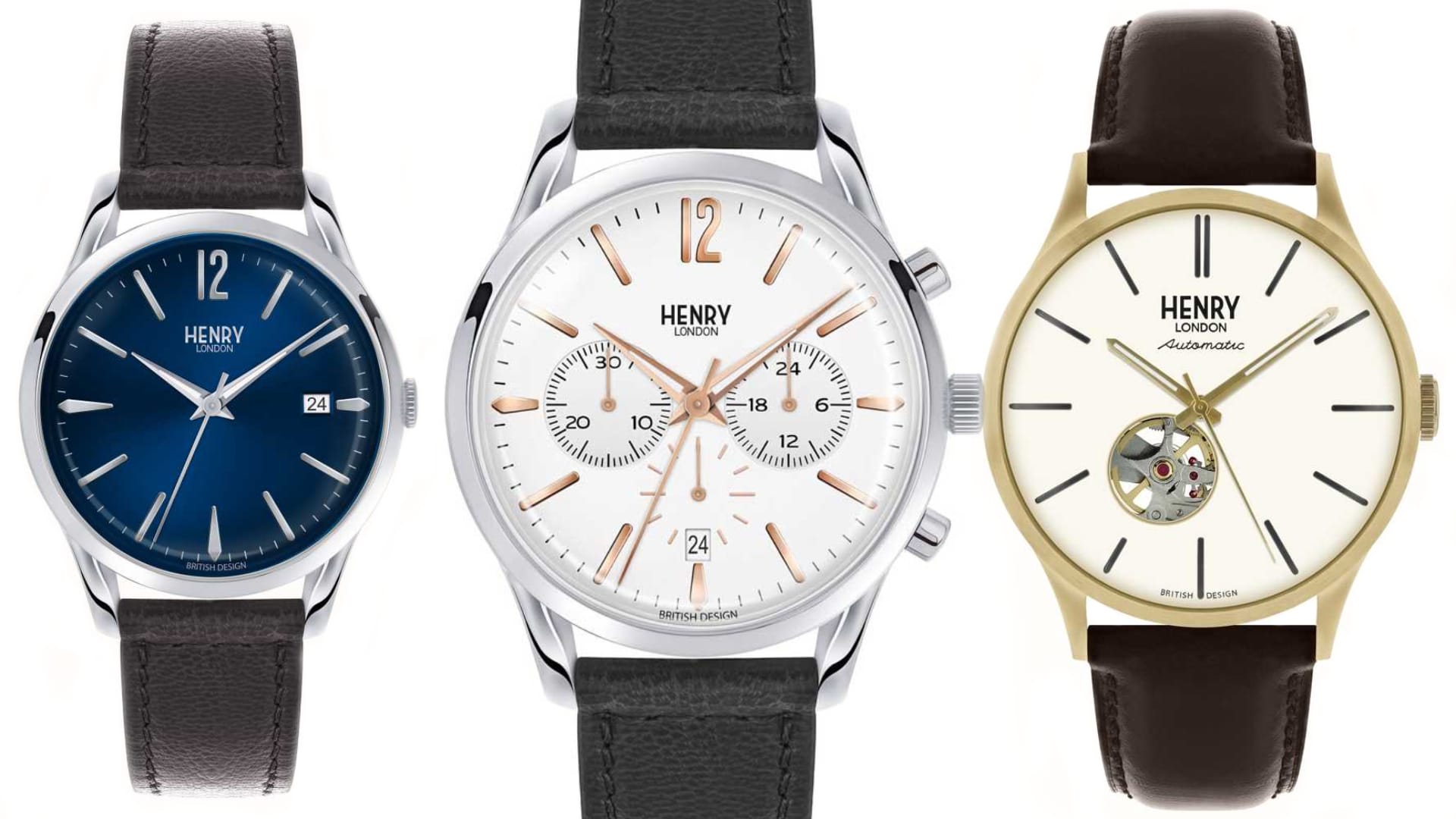 Henry London
The company's story began with two designers who were exploring one of London's vintage districts when they happened across a beautifully styled classic Swiss watch which had the name 'Henry, August 1965' engraved in the caseback. As a result of this, the duo did some meticulous research into the watch and thus began the long process of creating their interpretation of classic watch designs. Today Henry London offers a wide range of affordable watches aimed at both men and women, all of which are based on classic designs from the 1950s and 1960s.
Price: £39 – £215
Website: henry-london.com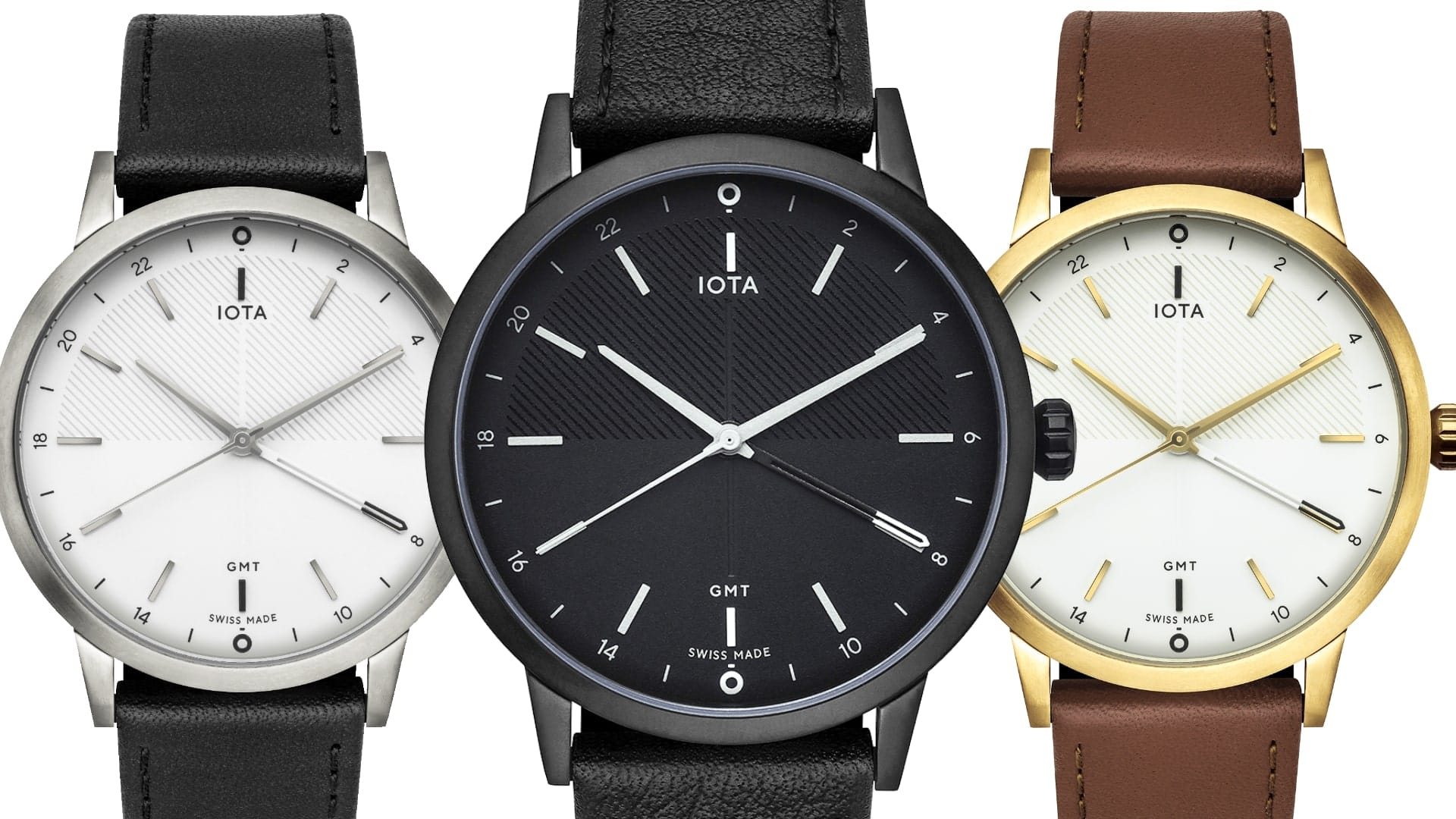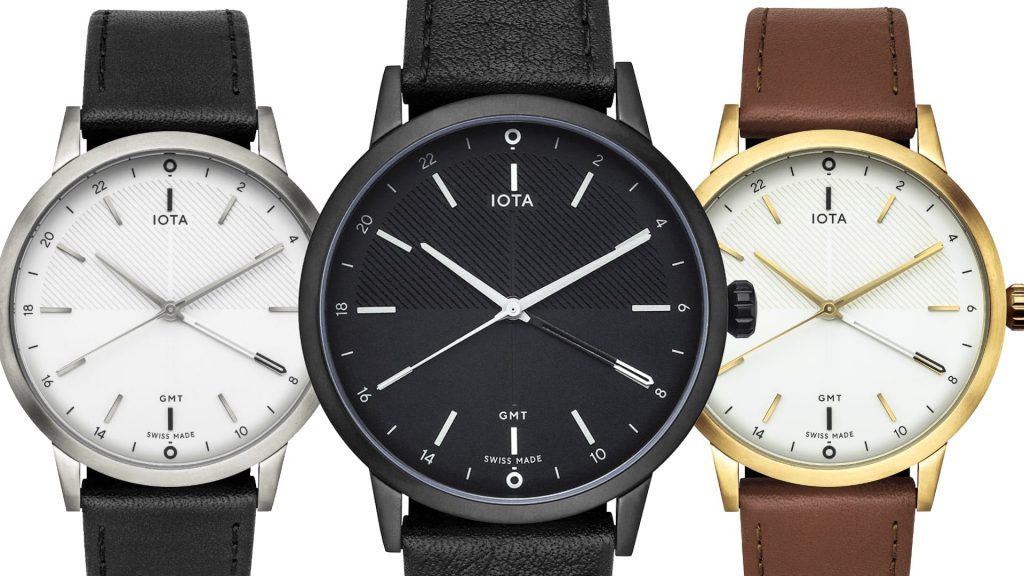 Iota
Created by two brothers, Ed and Will, who were former digital designers that decided to switch trades and create something physical rather than digital. As they travel a lot for work, the brothers found a common interest in GMT watches, but collectively couldn't find one that was both modern and elegant. As they were working in Shoreditch and residing in Greenwich the brothers took their surroundings and used it as inspiration to start Iota.
Price: £295
Website: iotawatches.com
Isotope
Established in 2016, Isotope is an independent British company that was founded by Jose and Joana Miranda. The name Isotope is derived from science as isotopes are different forms of a singular element, and that is what Isotope want to be known for. The company motto is 'Always determined to explore new paths and become first among equals.' This is a phrase that Isotope really lives up to as we've not seen another series of watches that look quite like the models Isotope offer.
Price: £720 – £1,960
Website: isotopewatches.com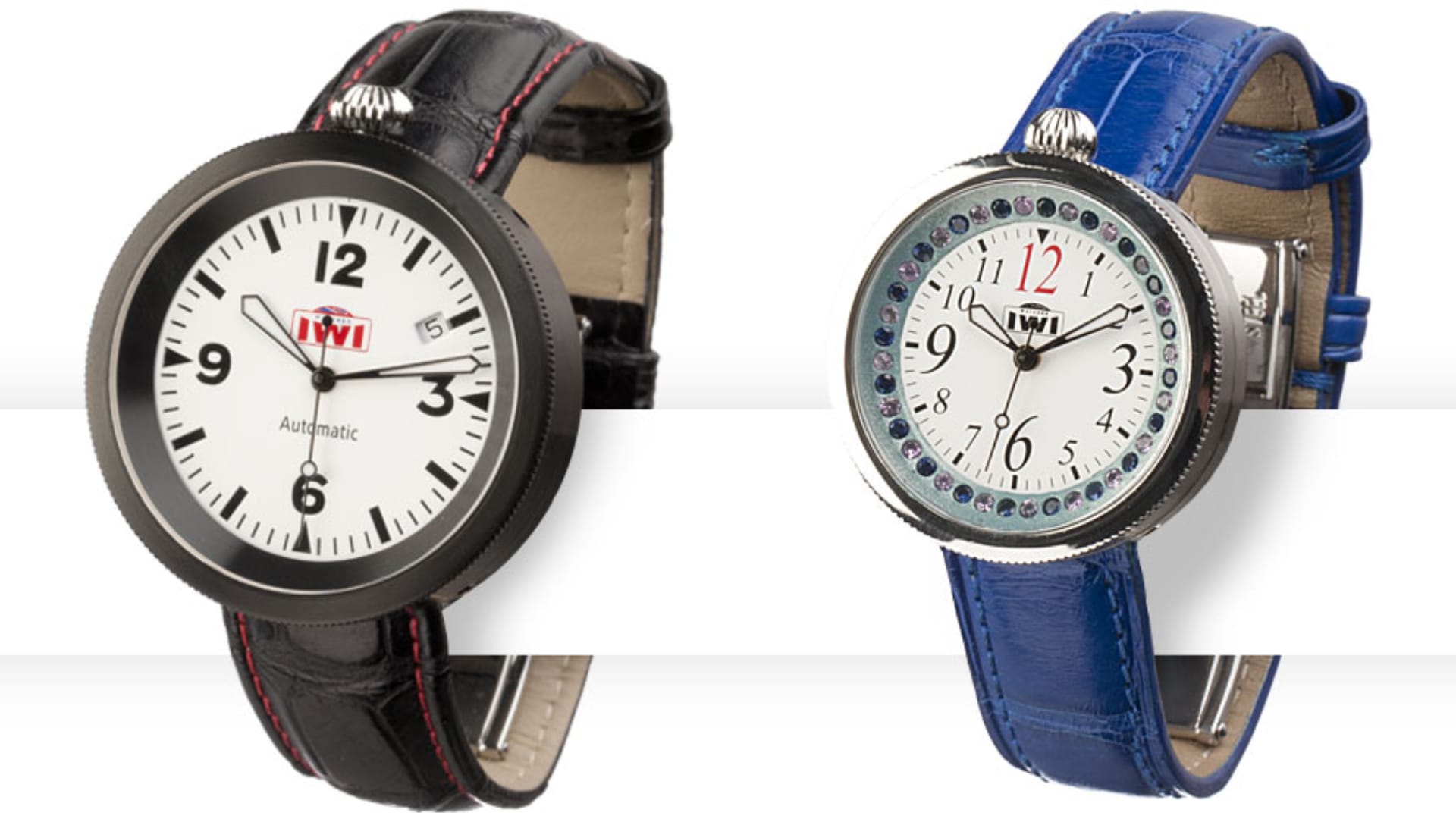 IWI
Is a new company to us and is one that stayed right at home in the British Isles making all their watches in-house. IWI love design inspired the watchmaking forefathers and seek to add their own uniqueness to that. Not only do IWI look to the past for inspiration but also the present-day phenomenon that is British motorsport, they can be found at circuits globally and even have an ambassador – Will Stevens, make a debut in Formula 1. At present IWI offer a range of men's and women's watches as well as some bespoke pieces reserved for those that seek them.
Price: Made to order
Website: iwiwatches.com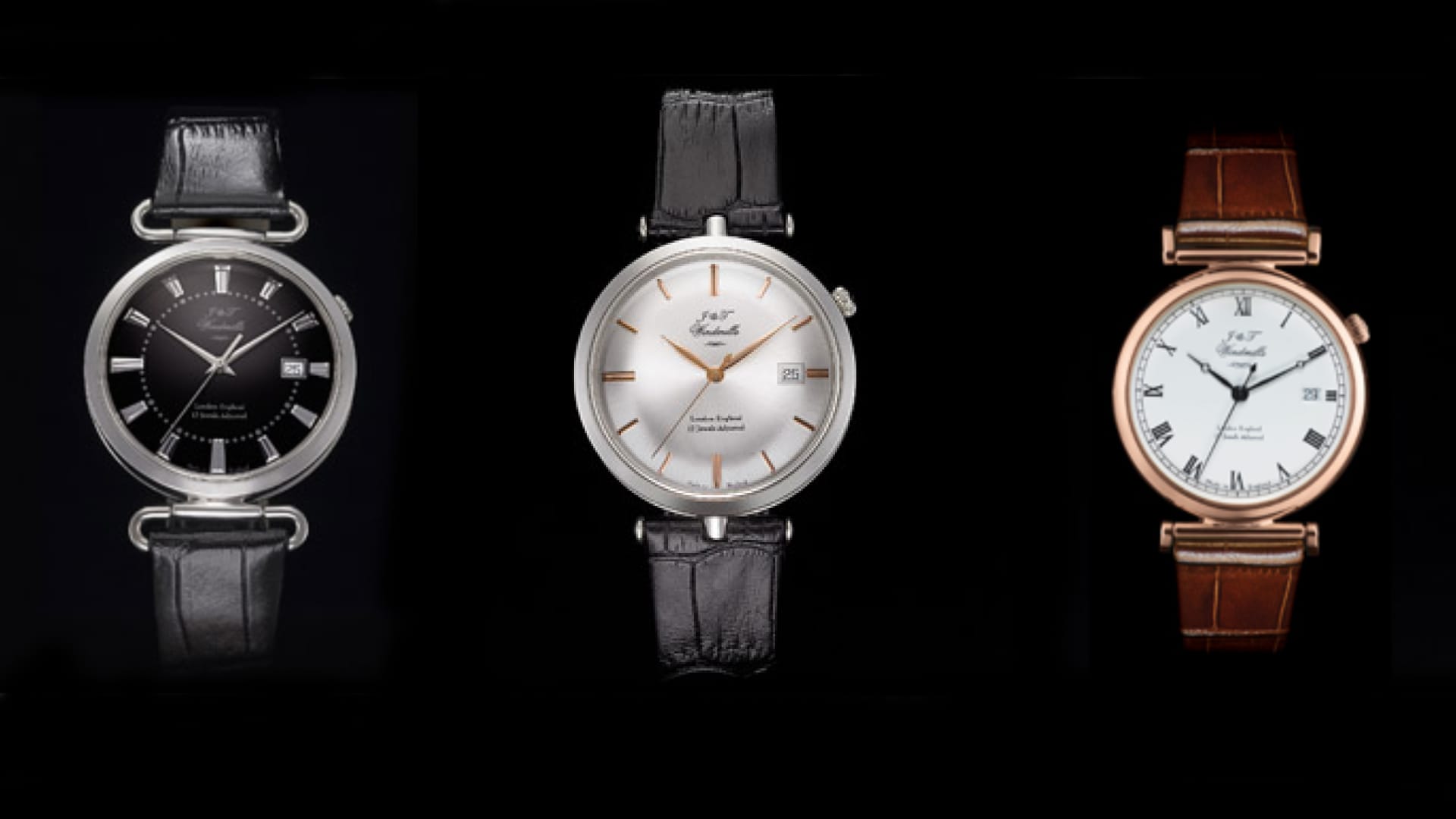 J & T Windmills
Founded in the 1600's Joseph was born around 1640 to 1650 though this remains unclear as to the exact date. During his early years of clockmaking, he was based in St Martin Le Grand. In 1699, Joseph was appointed to be the youngest warden of the company. Three years prior his son Thomas had just completed his apprenticeship and worked as a journeyman until his departure in 1695. Joseph was considered one of the finest clockmakers in the late seventeenth century and during his career produced a prolific number of lantern clocks of all sizes and qualities. His earliest known watch was created around 1680 and did not feature a balance spring; this was to be his rarest watch and now resides in the British Museum. After over 50 years in the trade, Joseph departed this world in 1724 leaving his son Thomas to take the helm. Thomas had this honour for 13 years until he passed leaving no children to pick up the mantel and was the last of the Windmills' male line. Jump to today and you can still purchase a J&T Windmills watch, though it is unclear as to who now owns the company.
Price: £625 – £795
Website: jandtwindmills.com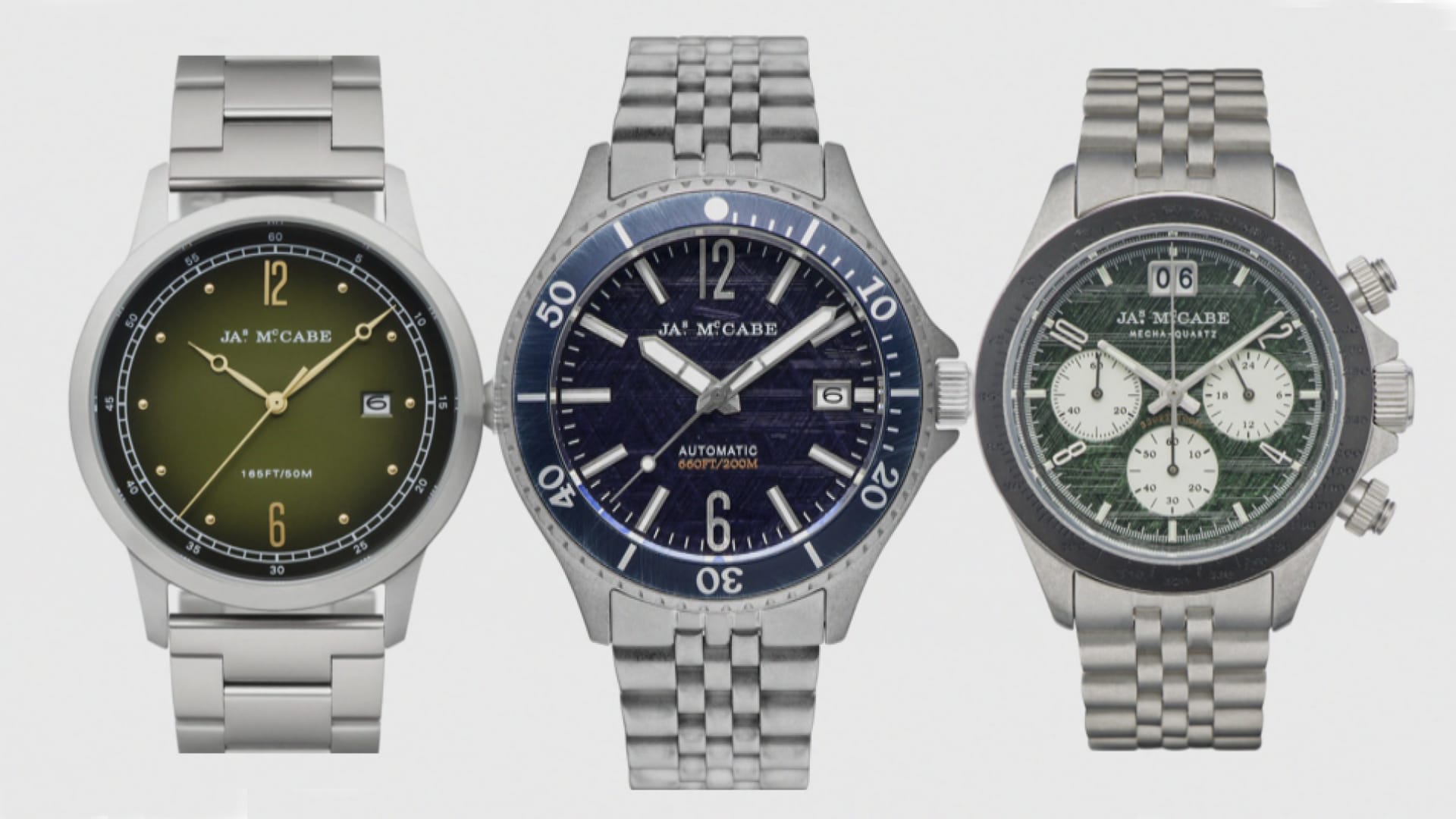 James McCabe
During our research, we didn't uncover much about James McCabe beyond the reason they were made, and that was to honour the late great watchmaker James McCabe. James McCabe was born in 1748 and was the son of Patrick McCabe, himself a notable watchmaker from Ireland. James McCabe moved from Ireland to London in 1775 where he established his own business. In 1781 James McCabe was made an honorary Freeman of the Clockmakers Company. Over the coming years, James progressed to the Livery and rose in the ranks from a Junior Warden to the rank of Senior Warden. Shortly after this honour James McCabe sadly passed leaving his company to his three sons. Over its 100-year history, James McCabe's company made 50,000 watches, 7,000 clocks and 500 marine chronometers which is an incredible feat. The modern-day James McCabe looks to keep the name alive and offer a range of watches of varying styles and prices.
Price: £170 – £650
Website: mccabewatches.com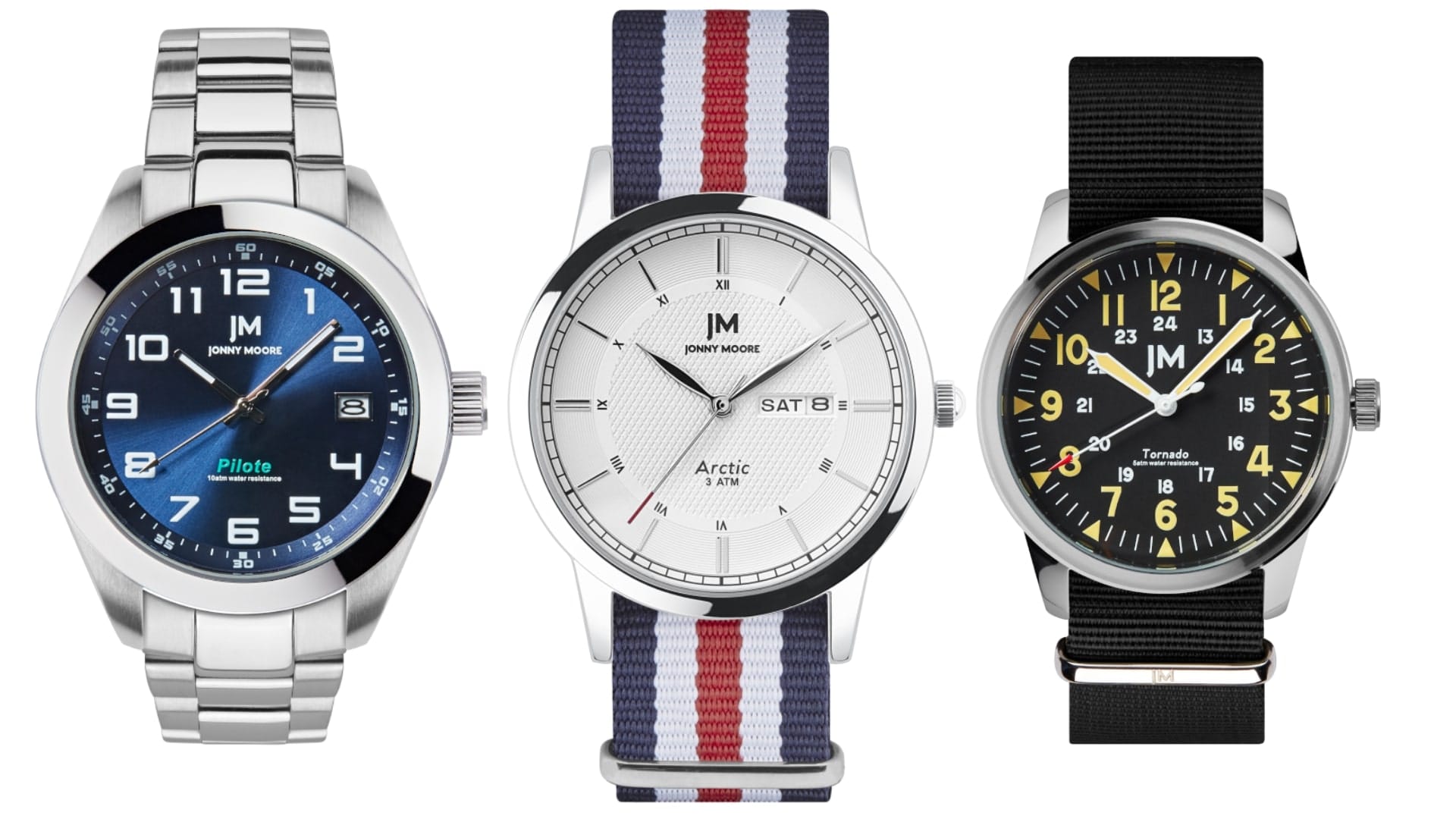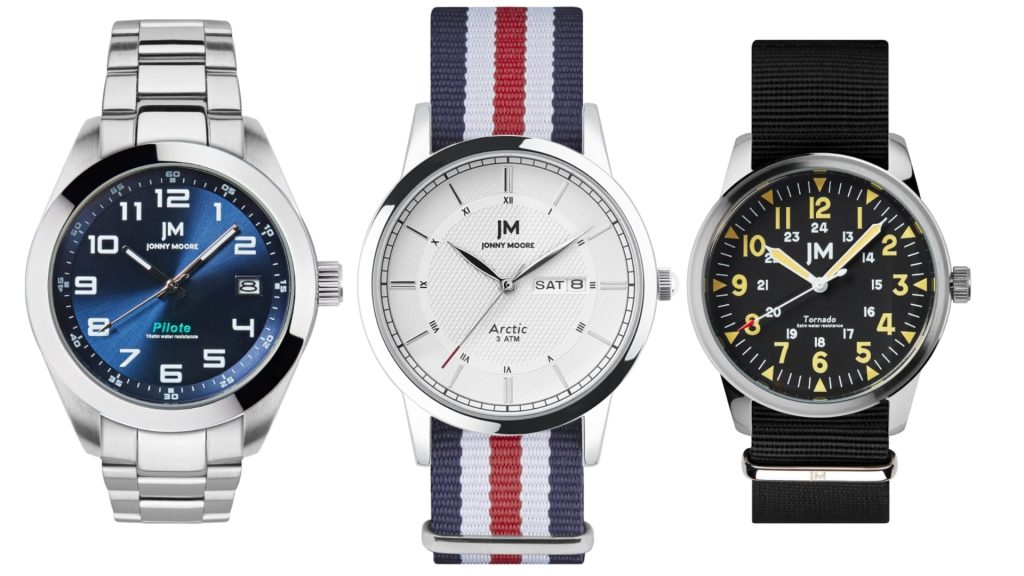 Jonny Moore
Created by Edward Moore and his wife Natasha, Jonny Moore was created from the inspiration of a British "gentleman farmer", noted for his dashing good looks, elegance and taste. He excelled at sports and his daredevil nature was exemplified by his penchant for cliff-diving. A talented artist, natural musician and storyteller he was always at the centre of attention and his popularity was ensured by his generous nature and willingness to help others. Even when he captured a German pilot, shot down during the Second World War, he had soon taken him in and cooked him a meal, before passing him on safely to the authorities; they became lifelong friends. Whether it was tending his animals, harvesting his crops, diving from rocks, or telling a good story, Jonny knew… timing is everything.
Price: £75 – £230
Website: jonnymoorewatches.com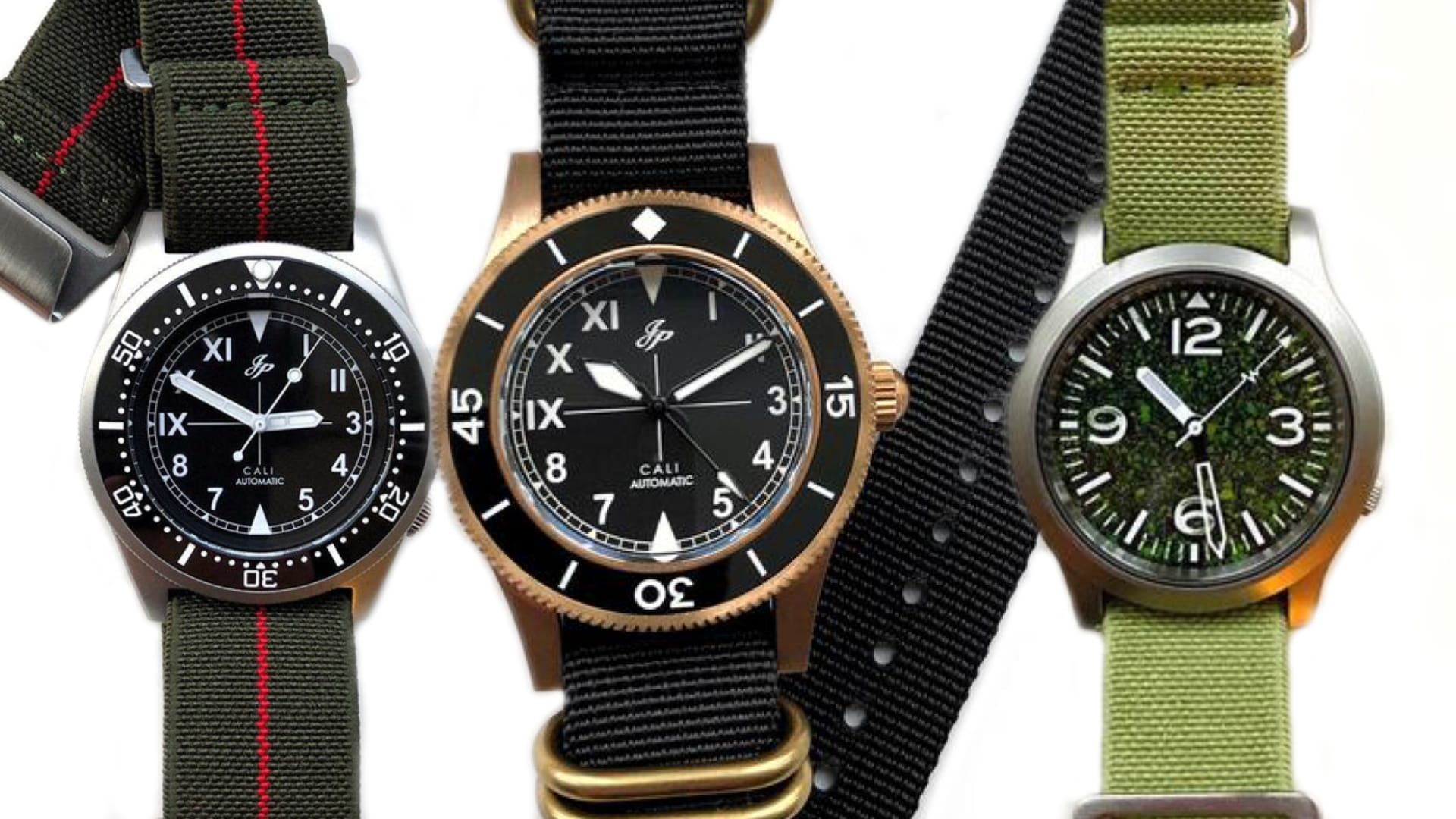 JP Custom Watches
Based in Rugby, JP was founded by Joe Pate in 2015 and sells online via Etsy. Joe makes watches that are of his own creation using quality parts sourced from overseas. All the watches are handmade by Joe in the UK and he produces them in small quantities so that there is a sense of exclusivity due to the limited numbers made. One of Joe's best creations are the dials he designs, he has some that are unique to JP and help establish him as a stand-out in the crowd. These designs – of which there are a few, feature a custom paint splatter effect and also a Sniper Cali Spec with a mix of traditional numerals and roman numerals. If you're after something that isn't mainstream, then JP could be a watchmaker to seek out.
Price: £170 – £345
Website: JP Custom Watches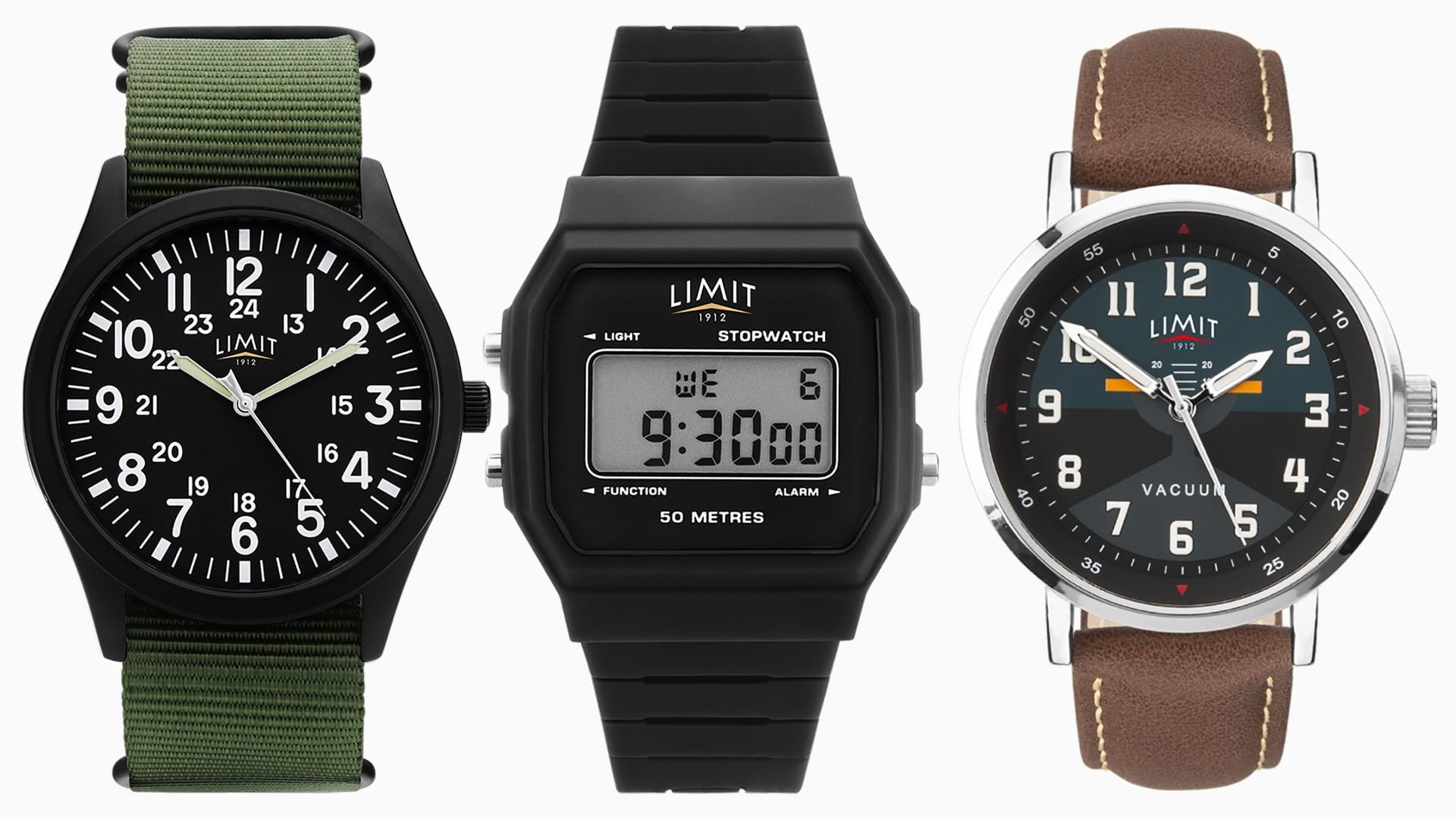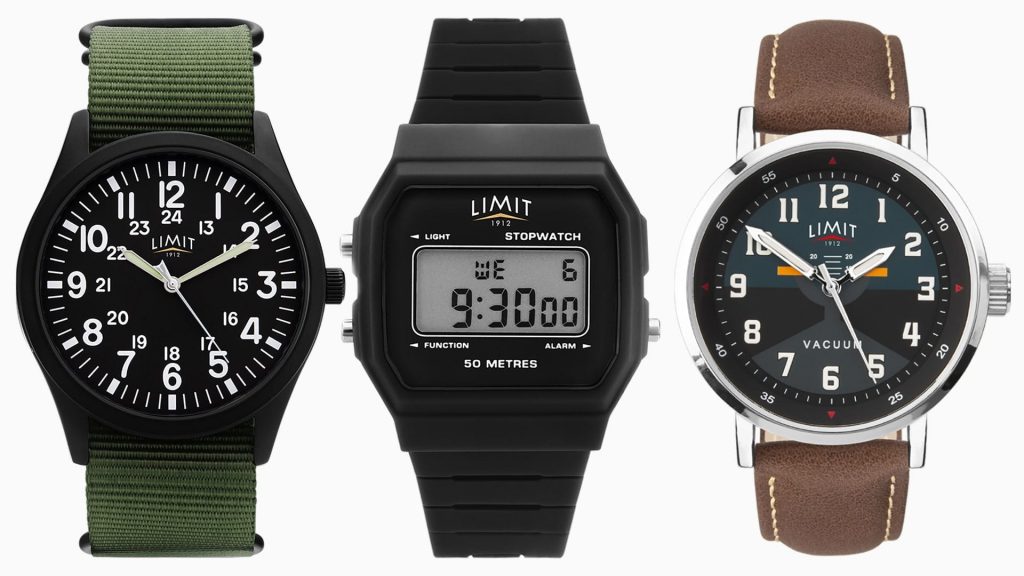 Limit Watches
In 1884, Hirst Brothers, founded by Alfred Hirst, was created in Union Street in Oldham with the objective of producing timepieces, jewellery and optical goods of all kinds. By 1894, the growth led to the company moving its premises to Curzon Street, Oldham. Just four years later, it registered as a limited company. Alfred Hirst witnessed one of his greatest ambitions come to life in 1912, as his range of watches saw the introduction of the Limit trademark, a move that forecasted the start of a new era in the watchmaking industry. Originally the early Limit watches carried a movement from the Waldenburg factory in Switzerland, which were shipped to the Oldham headquarters for assembly into British-made 'Dennison' cases. In 1963 Limit was acquired by Time Products (UK) Ltd, but only later moved to its headquarters in Leicestershire in 2003. Here, the brand encompassed in-house watch design and quality control procedures to ensure the original high standards were maintained. In 2016, as Limit enters a new era, a bold and modern new logo becomes its latest focal point. This branding represents a more cohesive, recognisable, and ultimately stronger aesthetic across all platforms, as Limit looks to build upon the success it has enjoyed for over a century.
Price: £12 – £40
Website: limitwatches.co.uk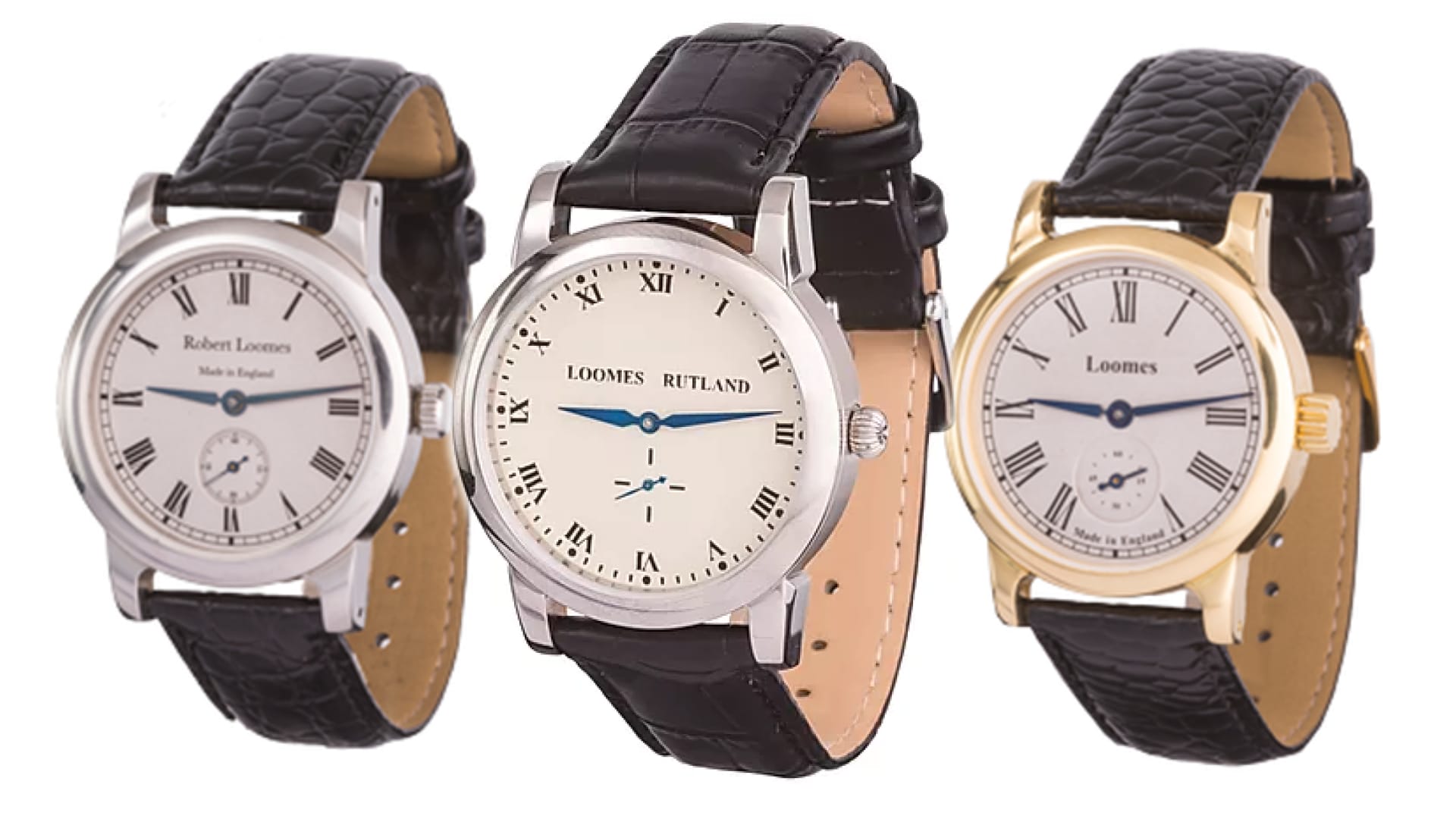 Loomes of Stamford
Loomes of Stamford is a family firm of watchmakers that reside in Stamford. Loomes can trace its name way back to 1650 when a man named Thomas Loomes ran London's largest clock and watchmakers. Thomas Loomes was born in 1628 and lived until 1665. During his lifetime, Thomas made a name for himself as a maker of lantern clocks, of which there were very few at the time. As for the Loomes of Stamford of today, they look to keep this tradition going by crafting watches in the UK. Before 2011, Loomes used imported components to make their watches. However, that year Robina Hill took the mantle of managing director and helped pave the way for Loomes to make their watches entirely from British parts. Not only did Robina decide to bring manufacturing to the UK, but also decided it would be more feasible for Loomes to make their own machinery rather than importing it. This proved successful and Loomes now makes their own parts in-house.
Price: Enquiry only
Website: robertloomes.co.uk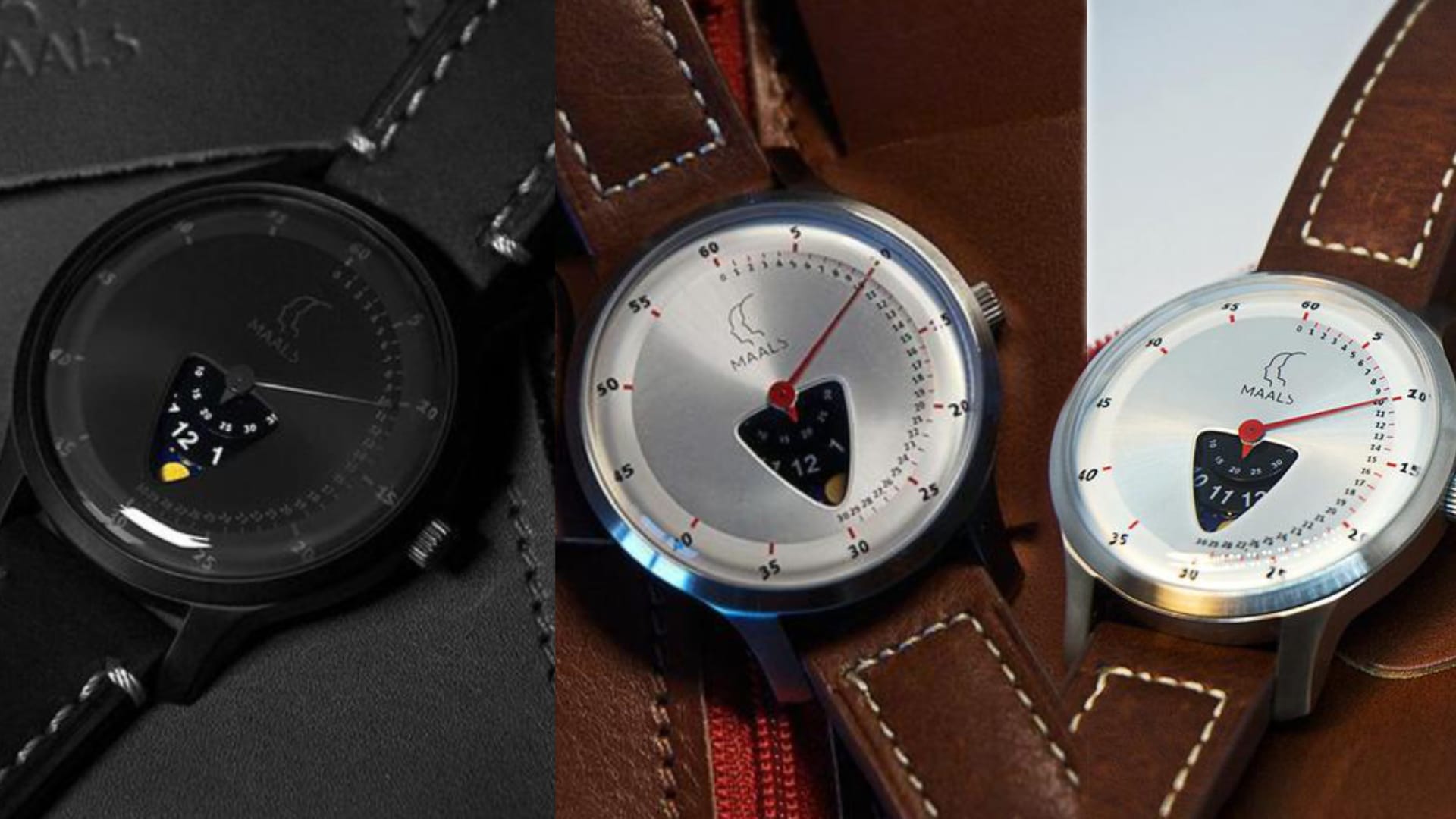 MAALS
MAALS is a family-owned watchmaker based out of Warwickshire. Created by the minds of two brothers that have been collecting watches for over two decades. During this time, they always had ambitions of owning their own watch company. This was an idea that came to fruition in 2017 with the launch of MAALS. They described this journey as scary and exciting, but without the leap, they would be left wondering what could have been, because after all, you can't succeed if you don't try. Their first model – the Jump Over The Moon features a unique design as well as some playful artwork on the case back. Specs include a Miyota 6P24 movement, central seconds hand, moon-phase complication and domed dial.
Price: £225 – £250
Website: maals.co.uk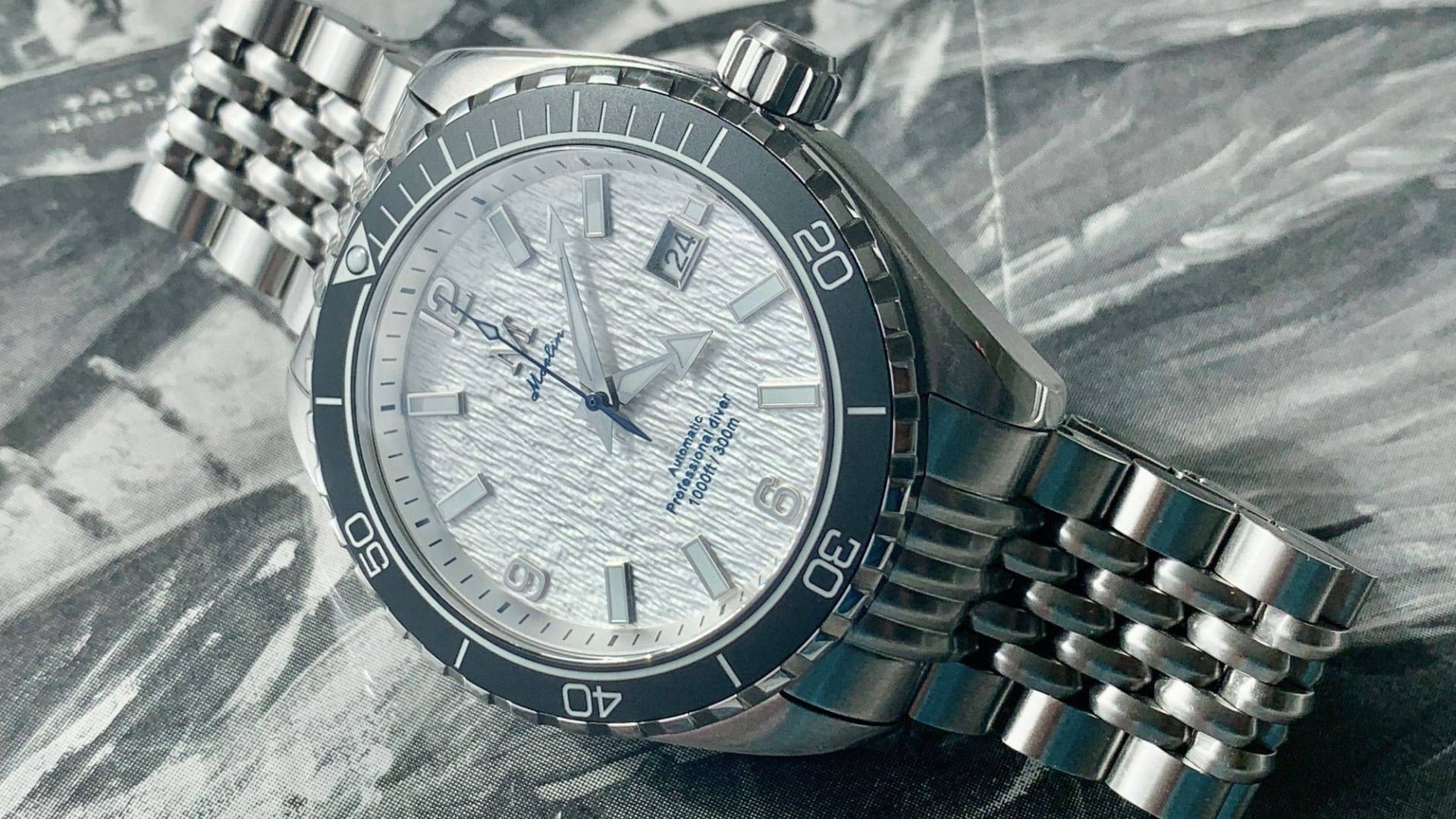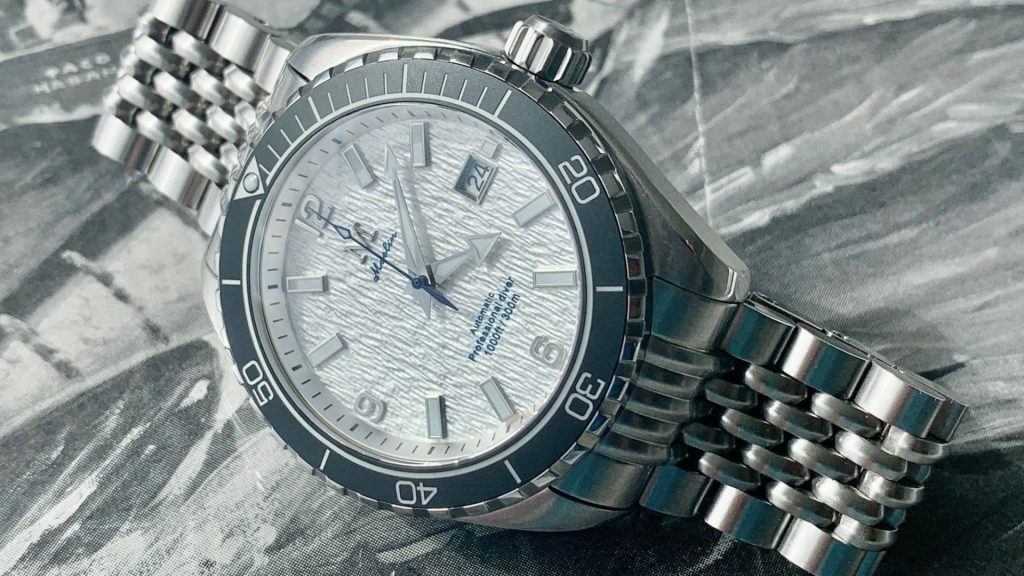 Marlin Watches
On a quest to build substantial dive watches that represent the strength of the Black Marlin. Their watch – the MK2 is a 300m divers watch that houses the reliable NH35 and is in-cased in a 316L shell with a domed sapphire crystal and a 120 click bezel with a ceramic insert.
Price: £200-300
Website: marlinwatch.co.uk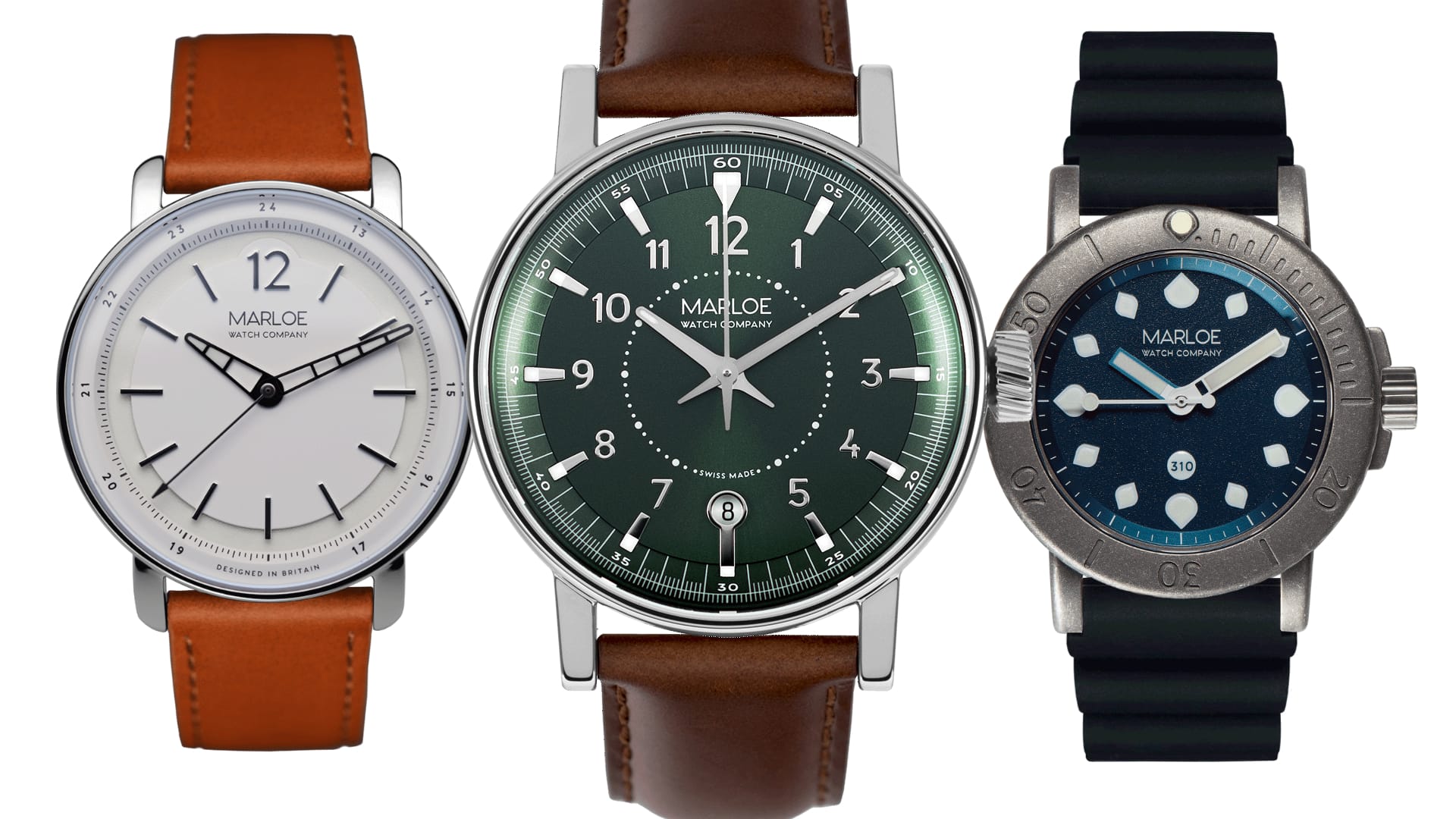 Marloe
Named after the small town of Marlow on the River Thames, Marloe aims to produce well-crafted, meticulously designed watches that are a step above the high street brands. Each watch is engraved with a unique serial number, and the designs are instantly recognizable as Marloe's.
Price: £299 – £975
Website: marloewatchcompany.com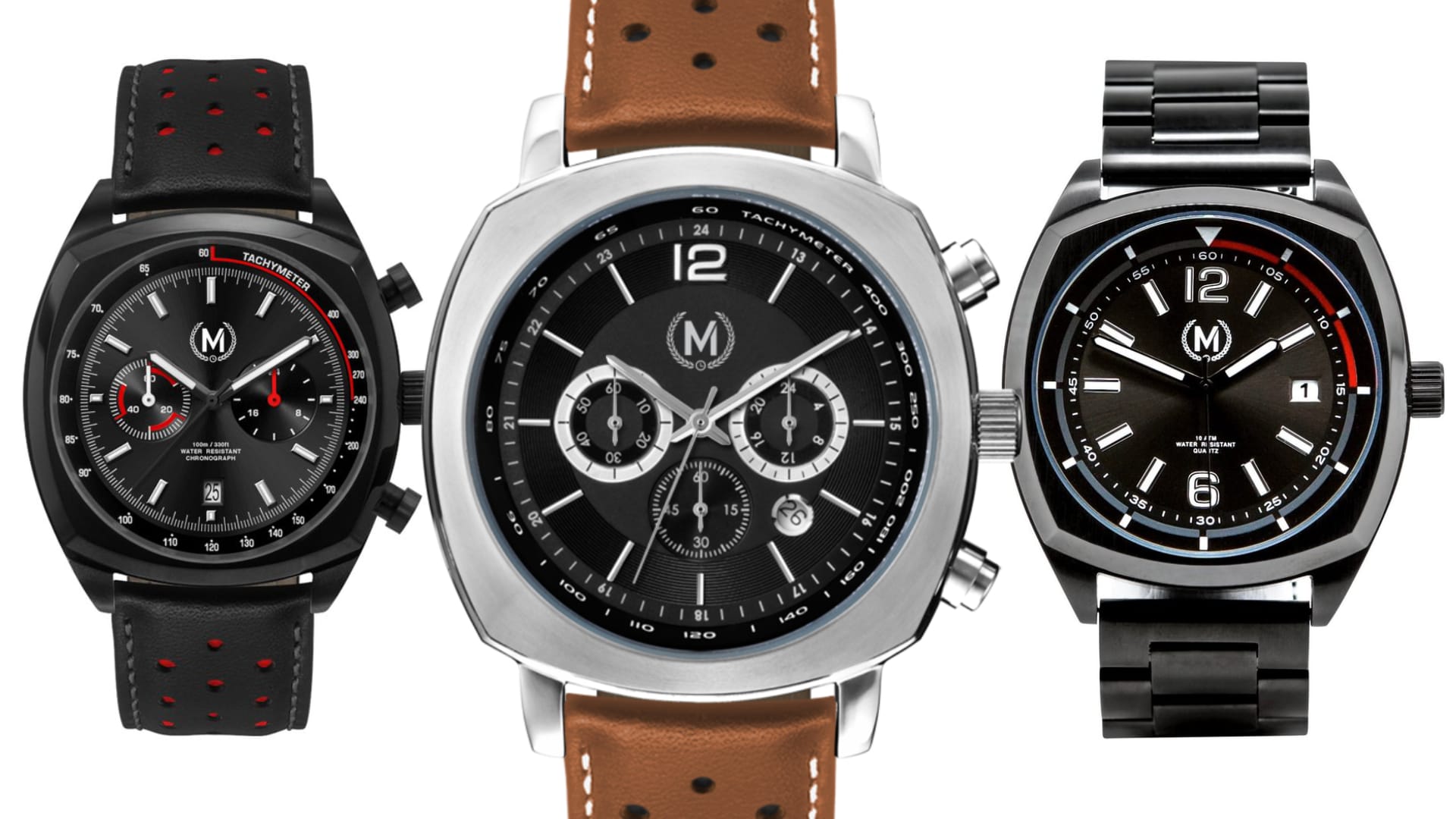 Marchand – Is all about legacy and the owner Daniel wanted to use his company to carry on that on that legacy left behind by his Grandfather Adamir Marchand. Adamir was a Swiss watch and clockmaker in the early 1900s for the watchmaker Benrus. Daniel founded Marchand to share his Swiss heritage and blend his passion for motorsports thus bringing the UK's newest motoring watch brand into the world. This seemed like a natural progression as Daniel worked in the motorsport industry in his teens and early twenties and was constantly surrounded by fine exotic cars and watches. When his racing days ended, Daniel promised to himself that he would continue to be involved with motorsport, just not in the same capacity.
Price: £169 – £367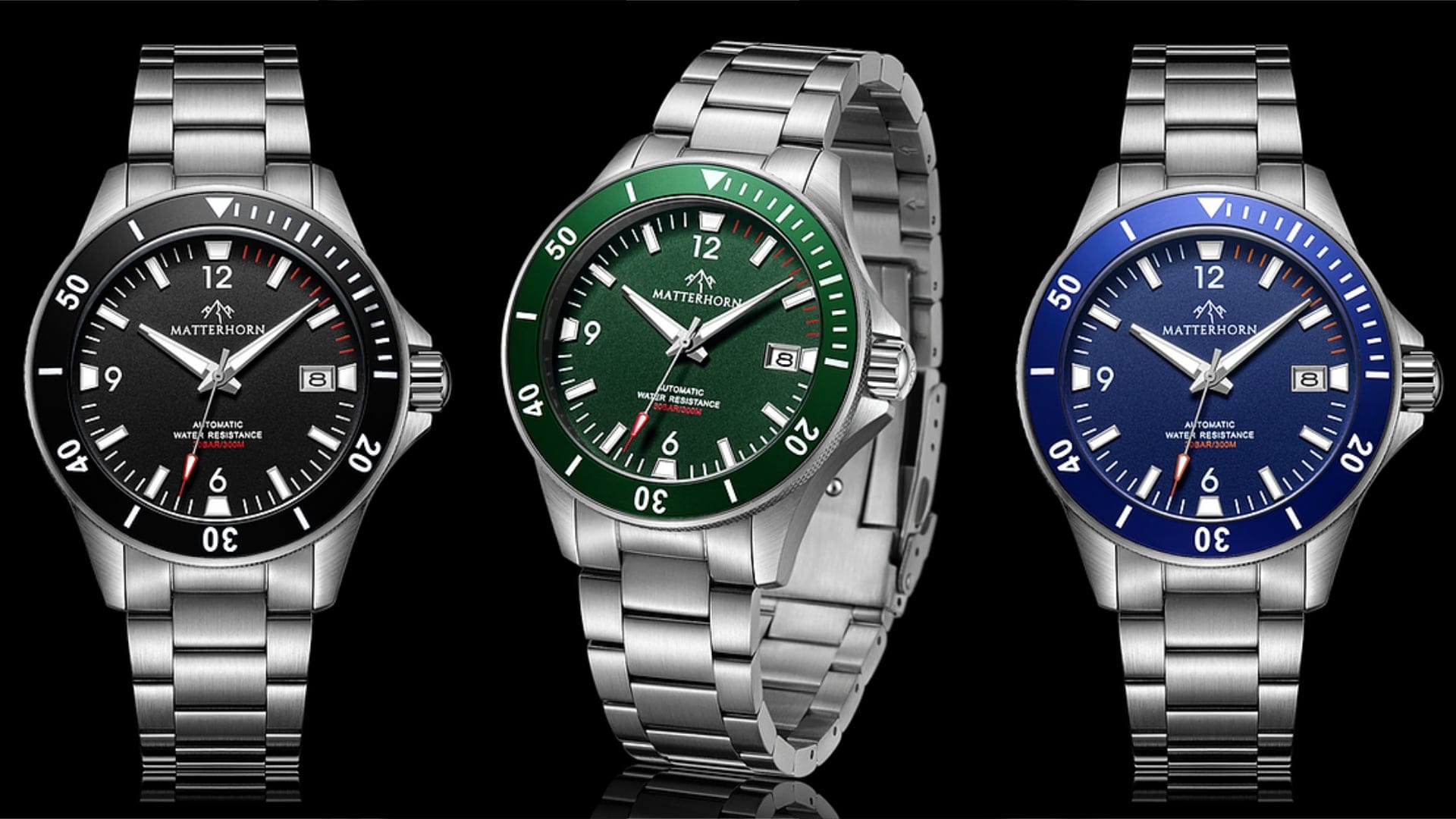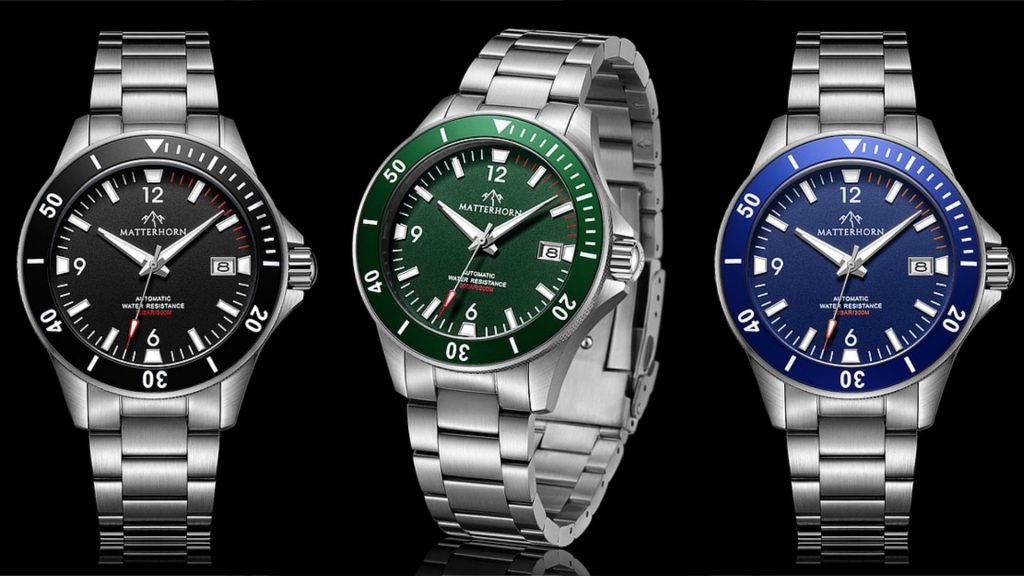 Matterhorn – A London based brand inspired by the British Adventurers that raced to Ascend the Matterhorn, a mountain that lies on the border between Italy and Switzerland, and is often considered the most beautiful in the world. The founder looked to these past adventurers to seek inspiration to start the brand in 2019. Matterhorn looks to bring quality tool watches that don't cost the earth and are accessible to most watch enthusiasts.
Price: £230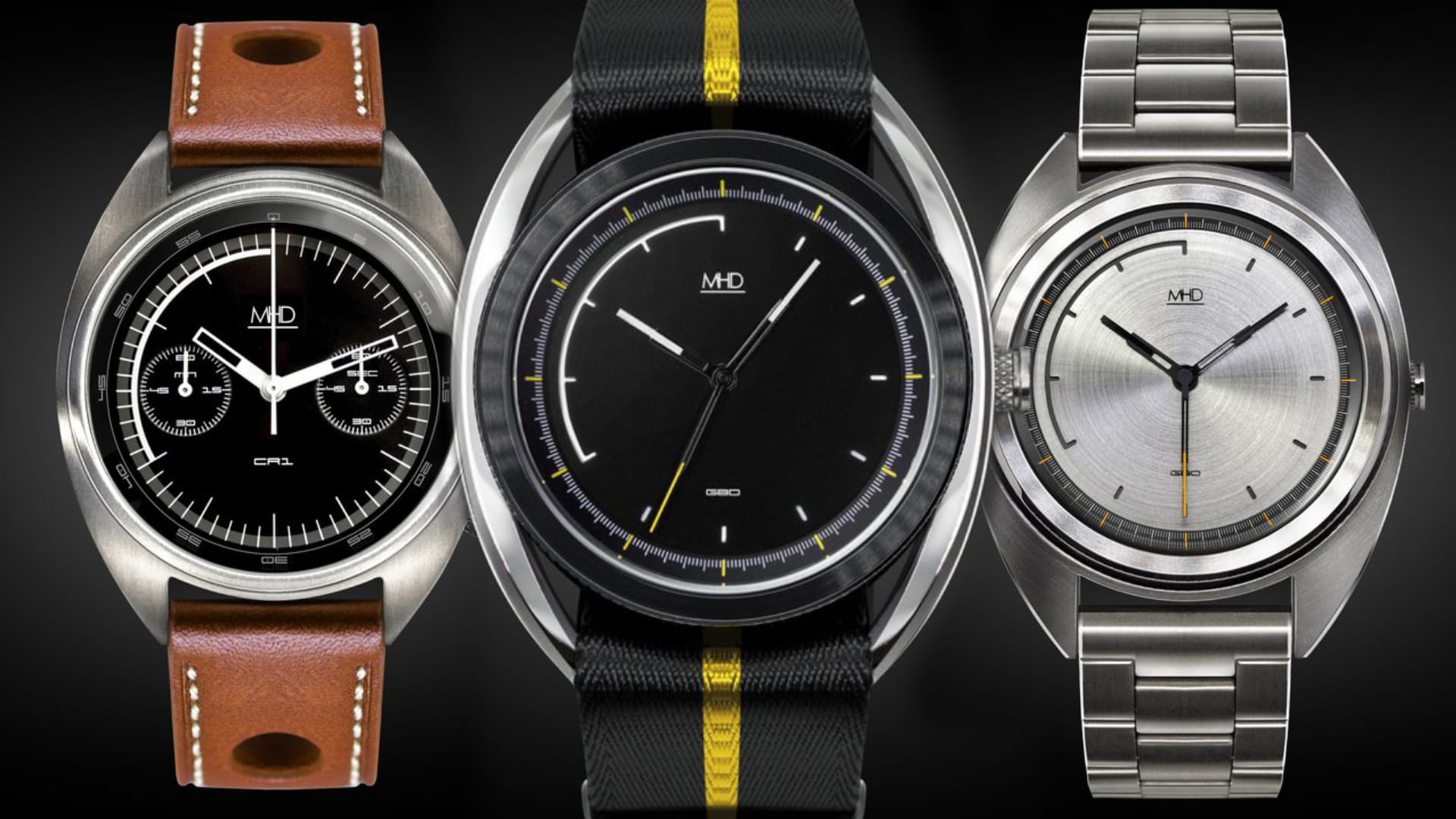 MHD – After leaving car maker Morgan, MHD founder Matthew Humphries set up his own Automotive consultancy and later in 2014 decided to establish MHD watches to combine his love of the automotive industry and his passion for watches. By the age of 21, Matthew was the head designer at the Morgan Motor Company and is credited with designing cars such as the Aeromax, Supersport and the famous 3 wheeler. Now he has turned his attention to the art of watch design and fusing traditional means with the modern of car design. Not many watchmakers of this genre can claim that their designs are conceived by an actual car designer which is why MHD is relatively unique in this aspect.
Price: £255 – £645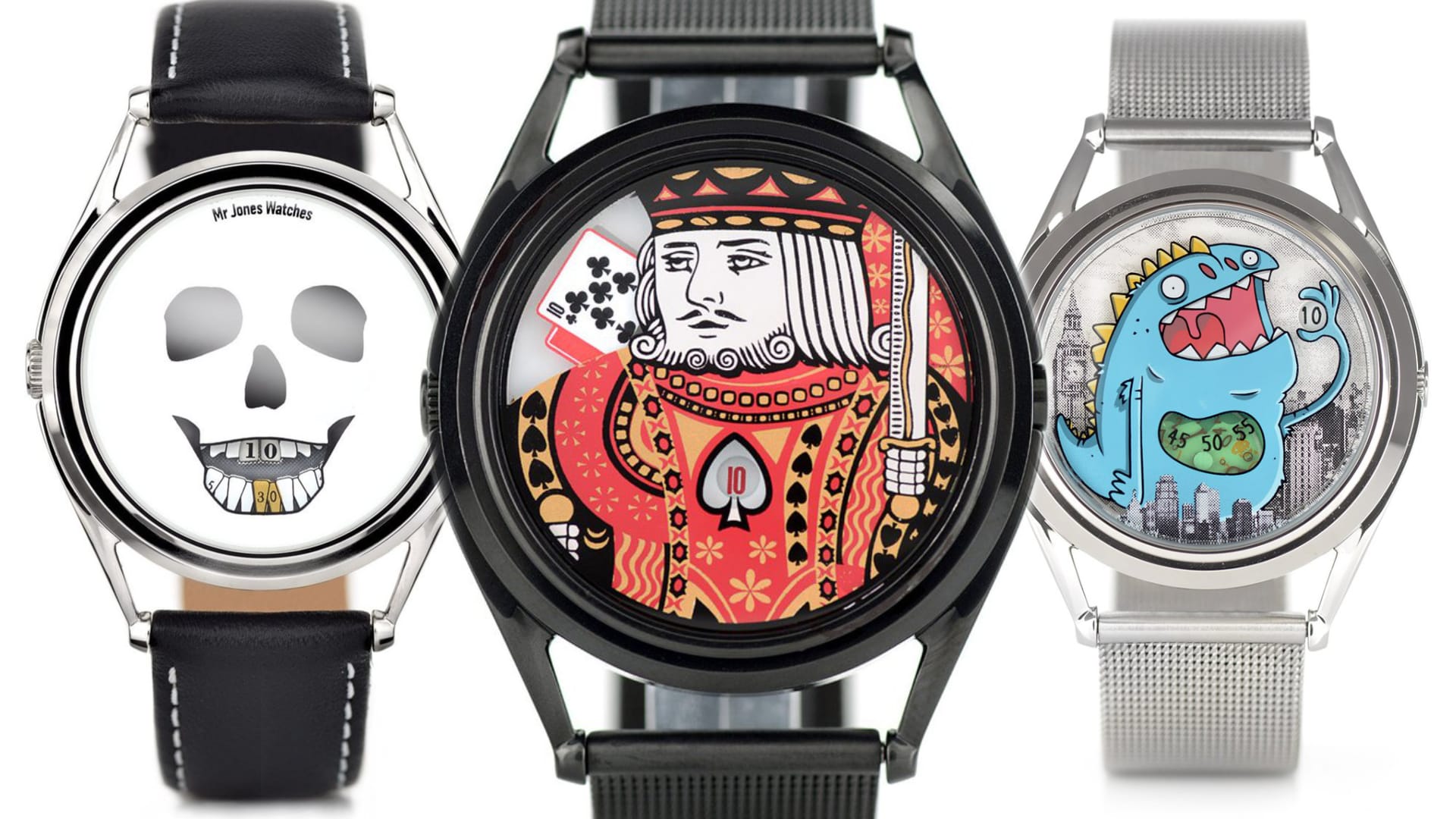 Mr Jones Watches – MJW is not what you call a traditional watchmaker as they don't follow trend nor tradition. MJW decided to go their own way and make unusual watches for the quirky among us. MJW is located in London and loves to make watches that are unique and off-the-cuff in terms of style, but that's what they want, they watches that tell a different story, one that makes for a great conversation all while putting a smile on your face. MJW watches to us are fresh, fun and worlds away from what you envision when you imagine a British watchmaker.
Price: £145 – £345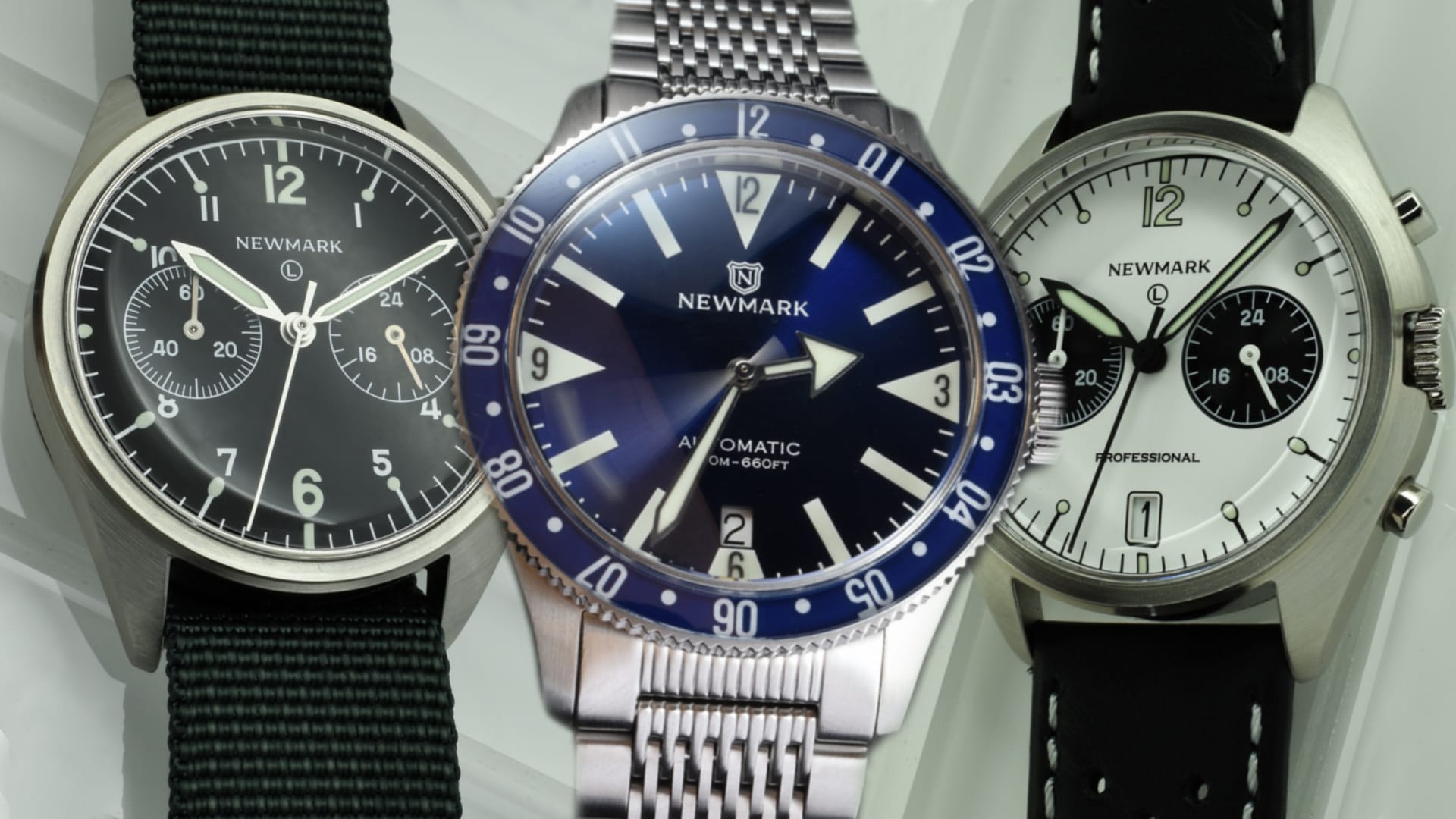 Newmark – Maybe a name that you've heard of, but this Newmark is not that Newmark. The original Newmark was founded in 1875 as a way of importing Swiss watches into the UK. This carried on right to 1940 when they got a government grant to manufacture watches in the UK. By 1950 production was underway, and over the next decade over 6 million watches were manufactured in their Croydon base. Newmark then reverted to the import of Swiss watches in the 60s and over the next 20 years, there would be a whole host of new watches ranging from dress to divers. In 1980 the old Newmark delivered a Chronograph named the 6BB to the Royal Air Force which was possibly the last ever watch to have the Newmark name on it. Fast-forward to 2018 and the new Newmark was born. The name came by accident when the founders were deciding what to call their new venture thus they decided to revive the famous 6BB with the same name as the old.
Price: £279 – £399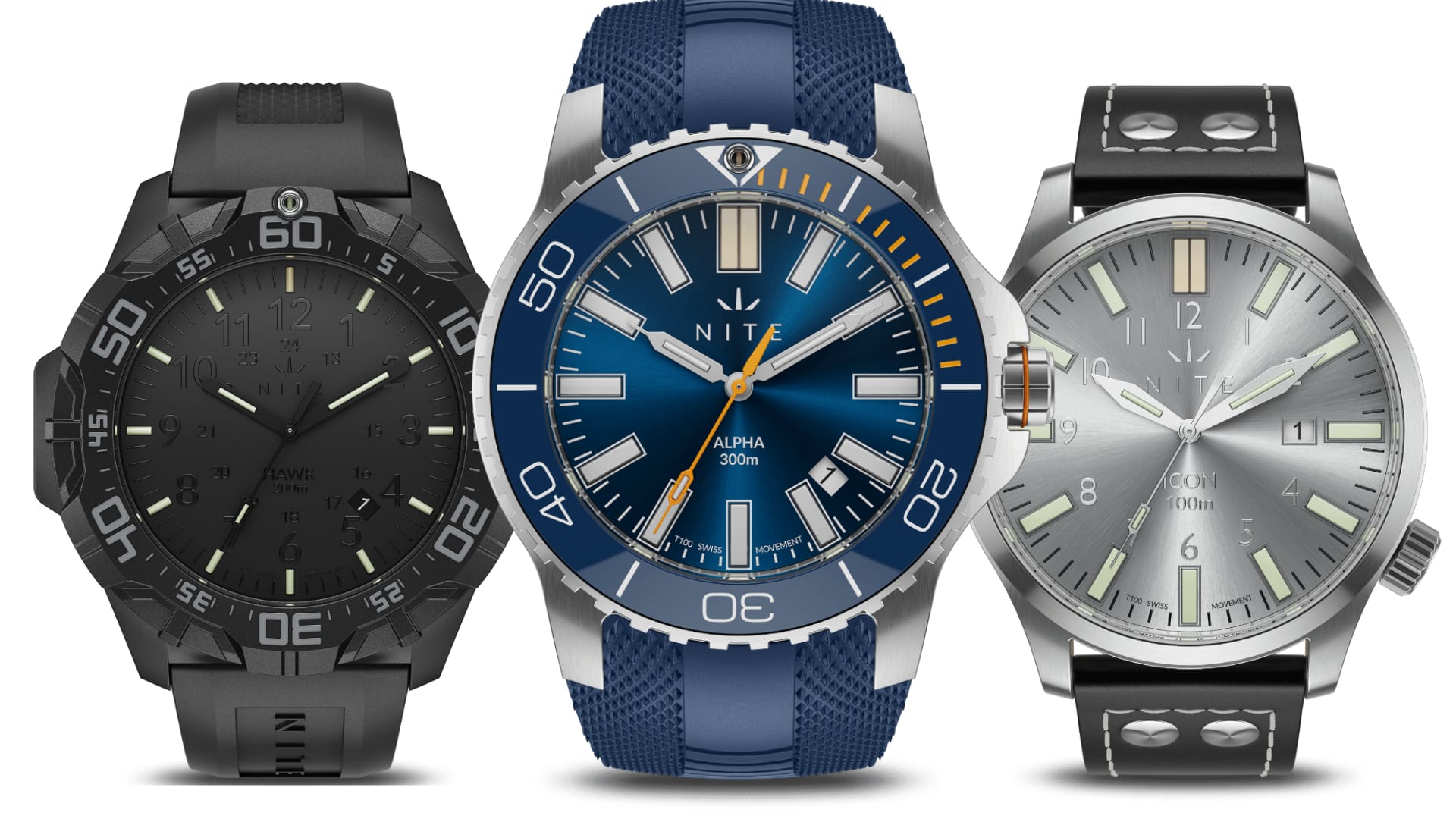 NITE – Originates from the South Coast of England in a small coastal town called Christchurch. 2003 is when Roger Green started the company as he was amazed and blown away by the performance of Tritium. Releasing that there are a lot of watch lovers like himself, Roger set out to make watches that use Tritium within their core. Nite is a small operation, but this personal touch is one many enthusiast can appreciate. Nite design their watches in the UK, have their own in-house service team and dispatch every order by hand.
Price: £280 – £400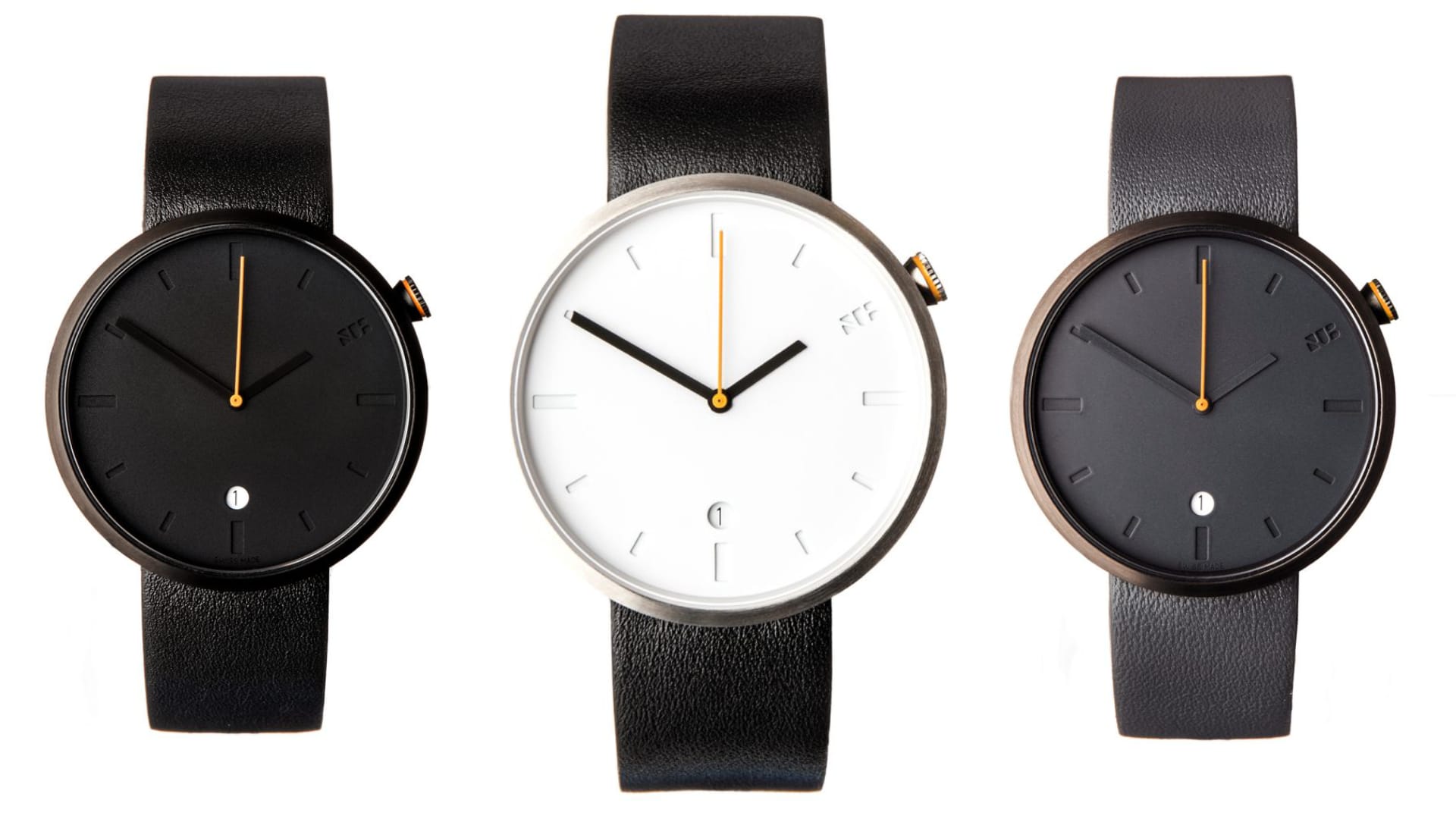 Nub – They are Nub, a small team that includes a British engineer and a Californian creative designer who have worked together to make Nub a reality. Wanting that authentic Swiss precision they looked for help from a world-class Swiss watchmaker and from there they set about creating their passion project which happened to be a Swiss-made watch with a minimalist and contemporary design. After tirelessly scanning for high-quality components they found a series of suppliers they thought could help bring their vision to life, thus their first model N1 was born.
Price: £250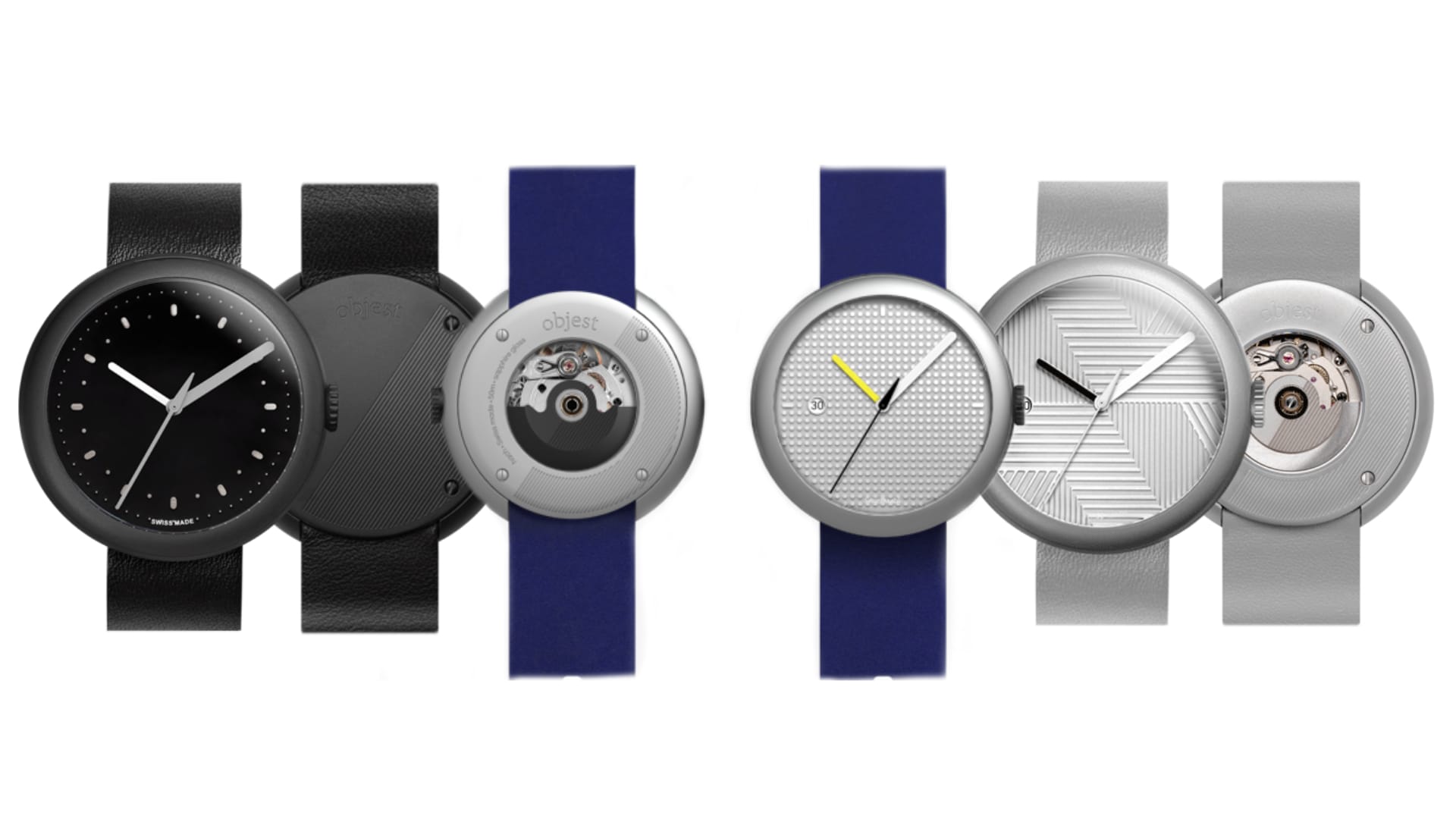 Objest – Founded by Jared Mankelow after thirteen years of collaborating with Conran, Tangerine and Ideo, he was inspired to create a new lifestyle brand. Immersed in London's unique design, art and architecture culture they had dreams of creating products for their fashion-conscious customers. Like many others, Objest and Jared went to seek the Swiss and utilise their expertise to craft the companies concept.
Price: £225 – £795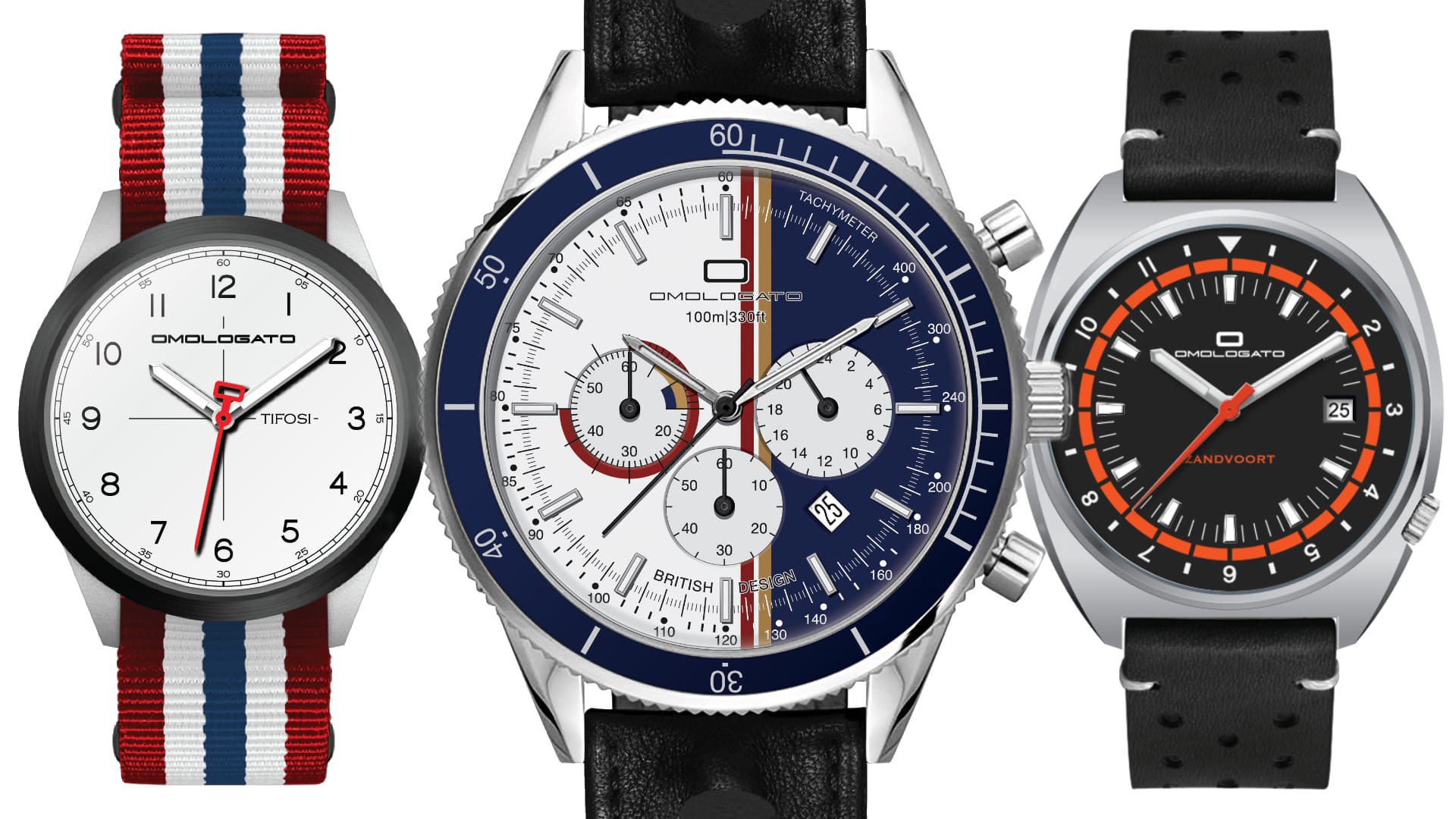 Omologato – Set up by Shami Kalra, a car and motorsport loving graduate of the London College of Fashion. Shami spent the first 25 years of his career working in corporate design and in 2015 Shami decided a change of pace was in order. After shutting himself in a room for a few hours he came up with a concept of a watch line that took styling cues from the world of motorsport. The following day he posted his designs on-line and within a few hours had a gem of a successful online business. Since it's inception, Omologato has gained quite a cult following in the automotive scene and now offers more than 25 different designs inspired by the world's greatest circuits, cars and drivers. Currently, Omologato sponsor teams that compete in the IndyCar series, Formula E, Porsche Motorsport, British GT, Each African Safari Rally and more.
Price: £99 – £550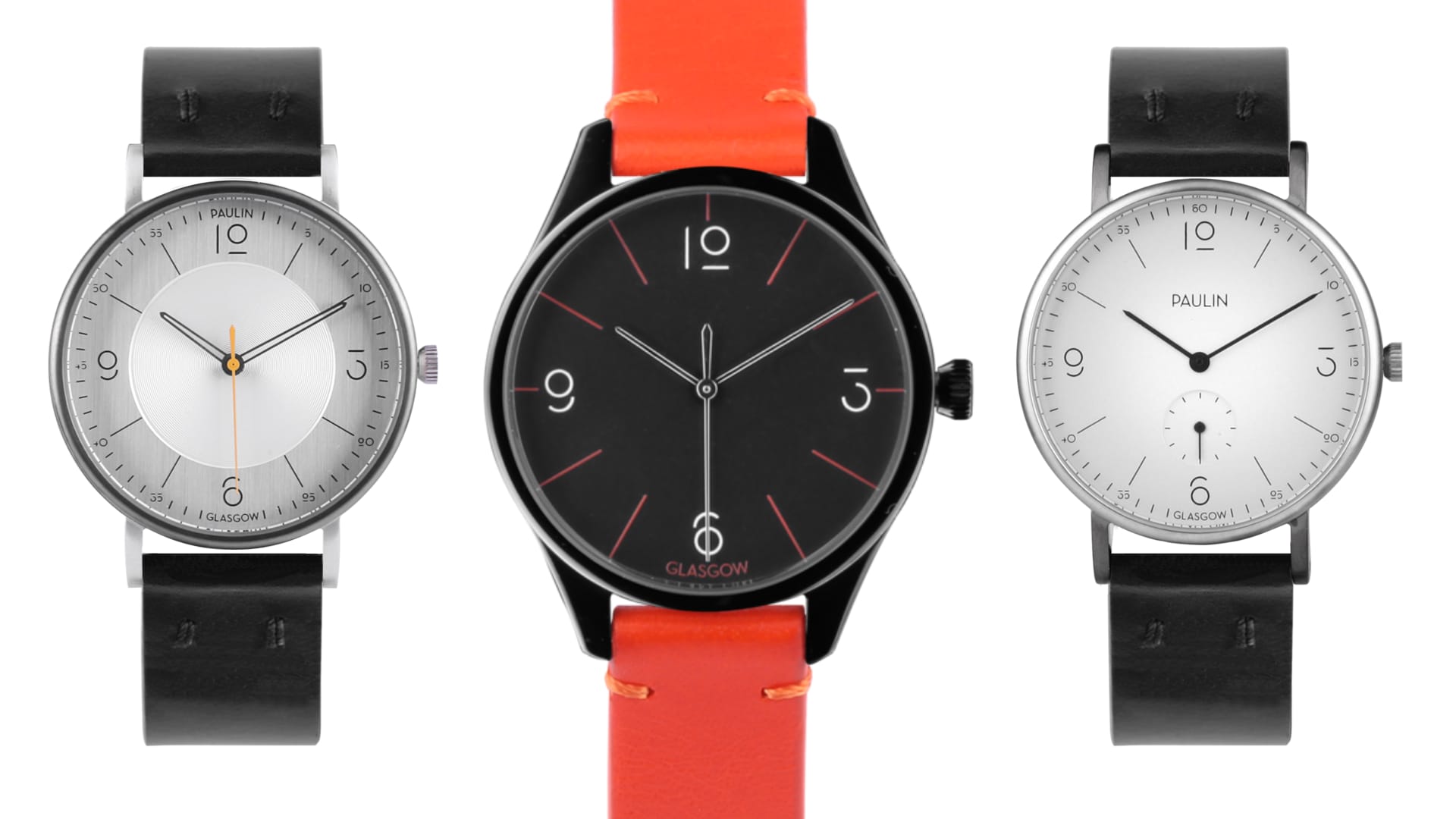 Paulin – Founded in Glasgow 2013, Paulin was created by the Paulin sisters with the outlook to design and assemble simple, high-quality and design-led watches. Inspiration was found as children growing up surrounded by their Great Grandfather George Paulin's sculptures and paintings. He worked throughout both World Wars across Glasgow and London. Paulin's roots are well sewn into Glasgow and its history, and that is where you'll find their flagship store. Since then the Paulin sisters have been busy launching new products and opening a second store in Edinburgh. The future looks quite bright for these siblings and we'll be sure to keep an eye on what comes next.
Price: £140 – £395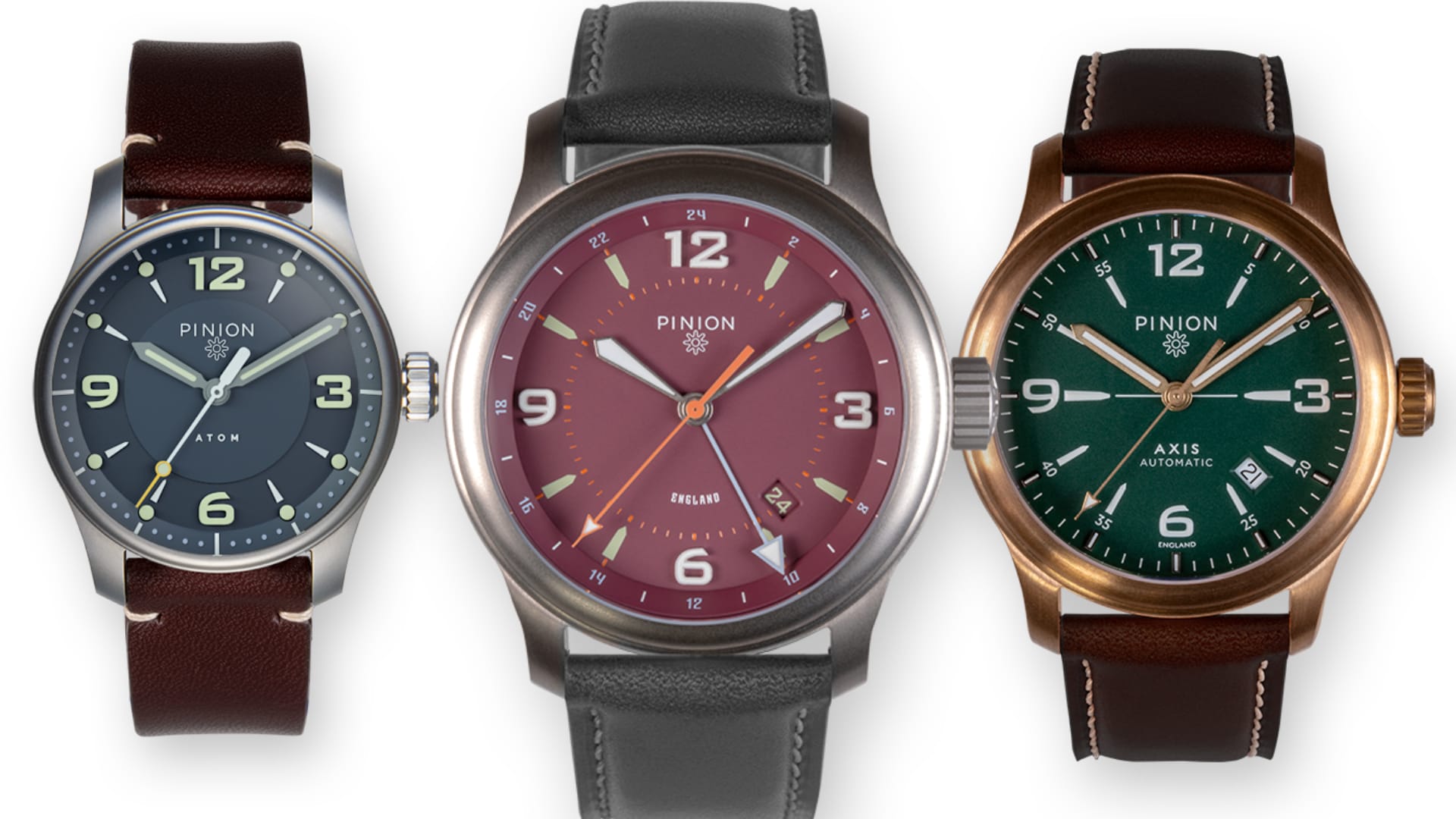 Pinion – Based in South Oxfordshire, they design, build and test their watches in-house. Pinion was established in 2013 by professional designer Piers Berry who had an early fascination with all things science fiction in the 1970s. In the 1990s, Piers trained as a graphic designer that specialised in typography and after graduating went on to work in early web and digital media agencies in London. In the 2000s, Piers co-founded a digital agency and as a result, was responsible for the digital design and production of over forty feature films. During this time Piers developed a very interest for mechanical watches as they were a far cry from the digital world he lived in. Piers began acquiring a small collection of traditional mechanical watches and over five years furthered his interest by producing digital artwork for a couple of major watch brands and the rest, as they say, is history.
Price: £990 – £4950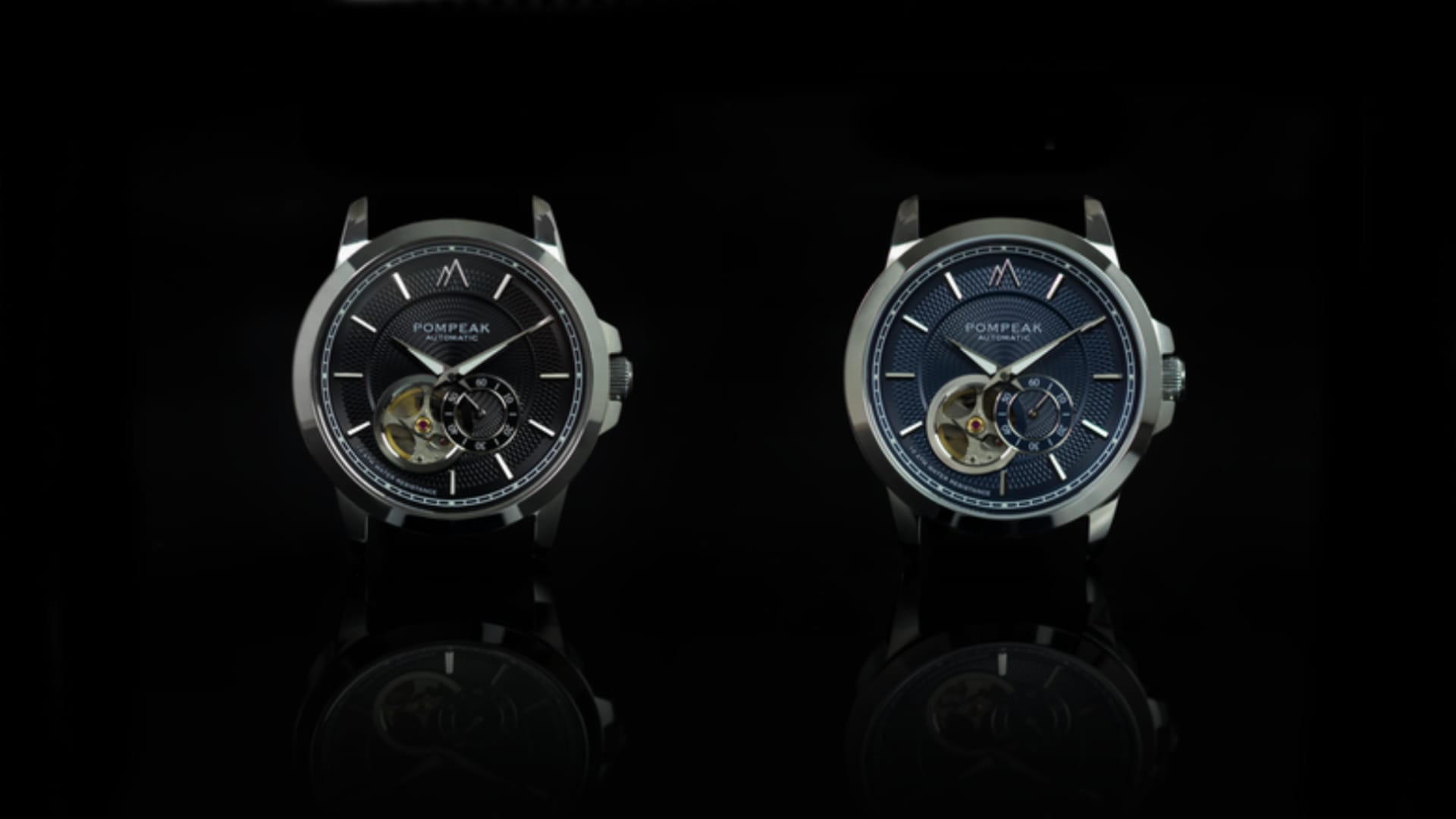 Pompeak – Are a watch brand that was born out of the frustration with the poor offerings in the affordable watch market – "we design the watches we want to wear and work to make them as affordable as possible". This, to be honest, sounds like a typical statement found on a fashion watch brand, we have nothing against fashion watches, though Pompeaks first design bears striking resemblance to others on the market. Their second watch, however, looks to change this and is on Kickstarter right now. This new design is an open-heart automatic featuring the Miyota 82S5 movement, BGW9 lume, Sapphire Crystal, a full-grain leather strap and a 316L case.
Price: £125 – £300 (Approx)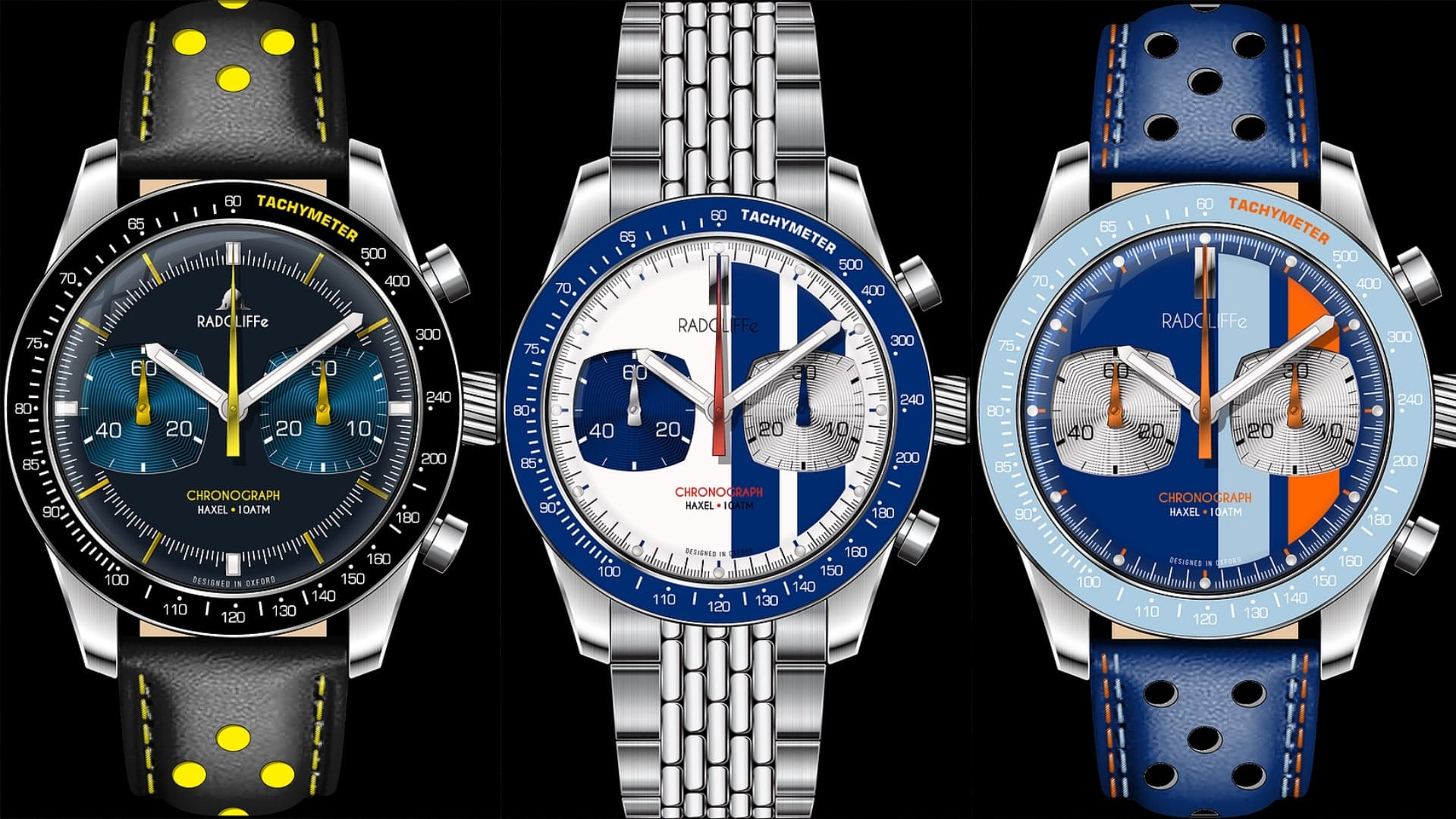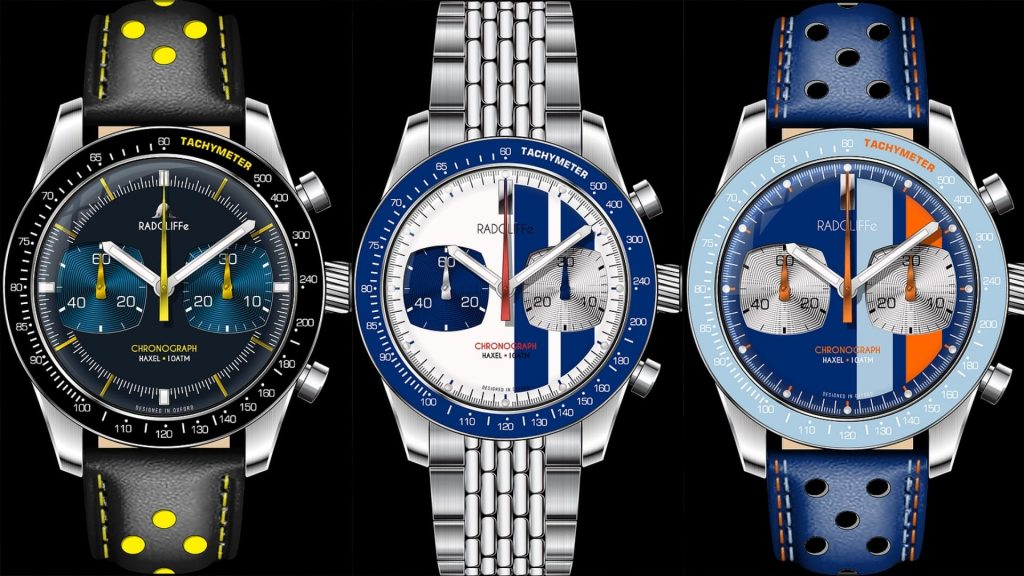 Radcliffe – A relative newcomer, Radcliffe have one watch that is available in a whole host of funky, fresh and fun colours with a bit of a vintage twist. Their watches are Chronographs and feature a mechanical movement made by Seagull. The also sport an enamel dial, BGW9 lume, sapphire bezel insert and a domed sapphire crystal.
Price: £275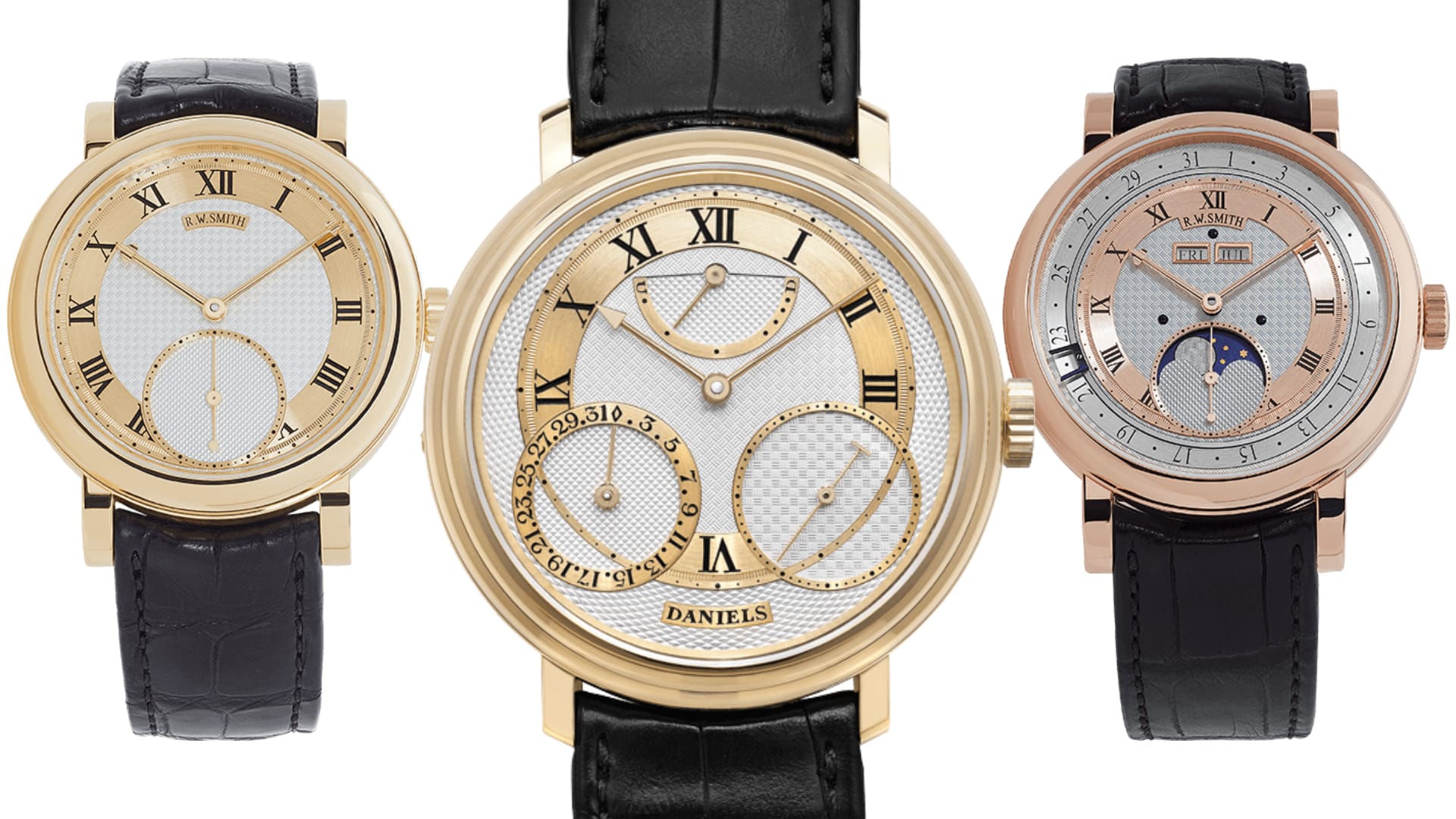 Roger W Smith – Founded by Roger W Smith OBE in 2001 his watchmaking career can be defined by a singular moment in time, this just so happened to take place in 1987 at the horological college Roger was studying. This ignition was sparked by a visit from Dr George Daniels to show his iconic Space Traveller pocket-watch, and at this moment Rogers life would change. His purpose was crystal clear, and thus Roger embarked on a journey to master 'The Daniels Method' learning all 32 trades of the British watchmaker in the dream to one day collaborate with the great master himself. This brings us nicely back round to 2001 where Roger established his own studio where he crafts all his watches by hand and to a standard of peerless horological excellence.
Price: £ On request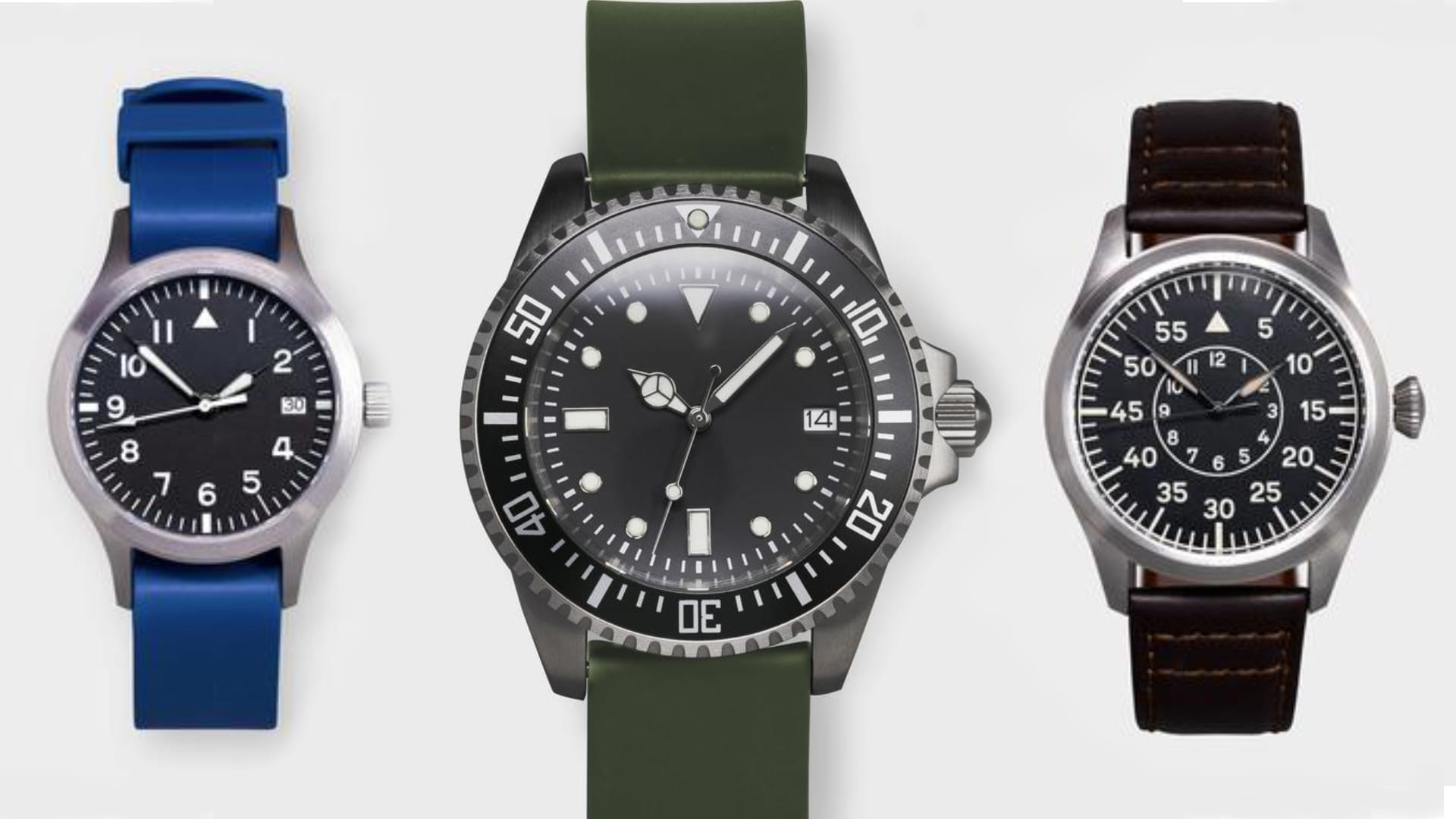 Rotate North – Set out on a mission to make something to last, something that had to be dependable and something that wouldn't have a massive impact on our planet. Before starting Rotate North, the founders had a lengthy discussion on which watch would kick-off the company, as it happened the 20th century had already given them the blueprint: the divers watch. Known for not being an accessory nor to be worn just on a special occasion, the diver is renowned for being a watch that can just about do it all. Once this was agreed upon the founders concluded that in order to fit their ethos the watch would need to be automatic and not rely on batteries or any kind of electronics to function. After releasing all this, the founders eventually partnered with a watchmaking team in Germany who would assemble the watch from Swiss components.
Price: £195 – £275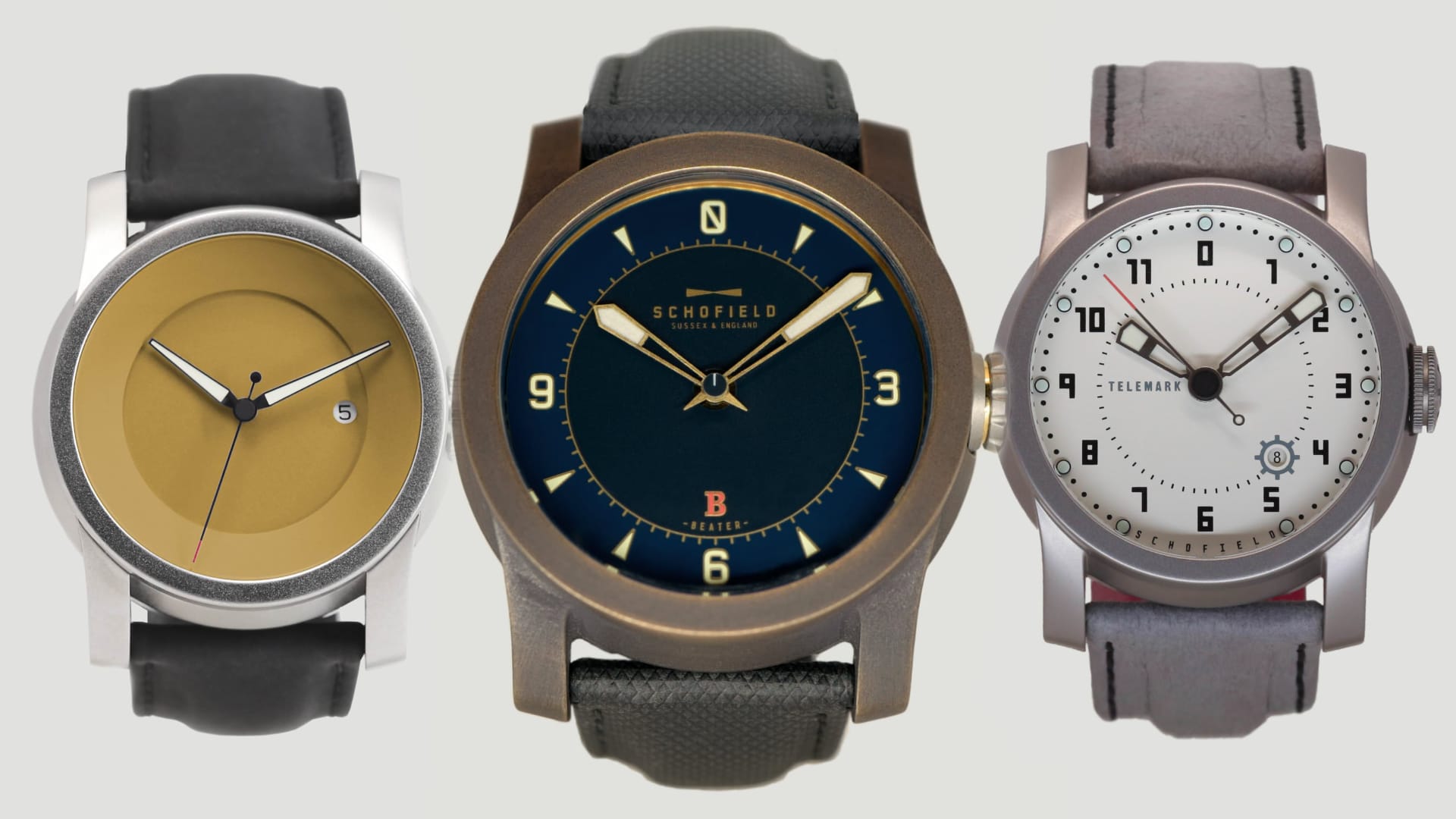 Schofield Watch Company – Is a brand well known for its luxury watches. Based in Sussex, SWC was founded by Giles Ellis in 2011. Giles, at this time, was looking for SWC's niche in the vast society that is the world of watchmaking and looked to seek this out via an uncompromising attitude that wouldn't settle for less than something his own. It's clear, he is certainly not content on following what came before. SWC and Giles wanted their watches to be impeccably made using materials not seen before, and thus they handcraft certain models in the UK and some in Germany.
Price: £3180 – £4260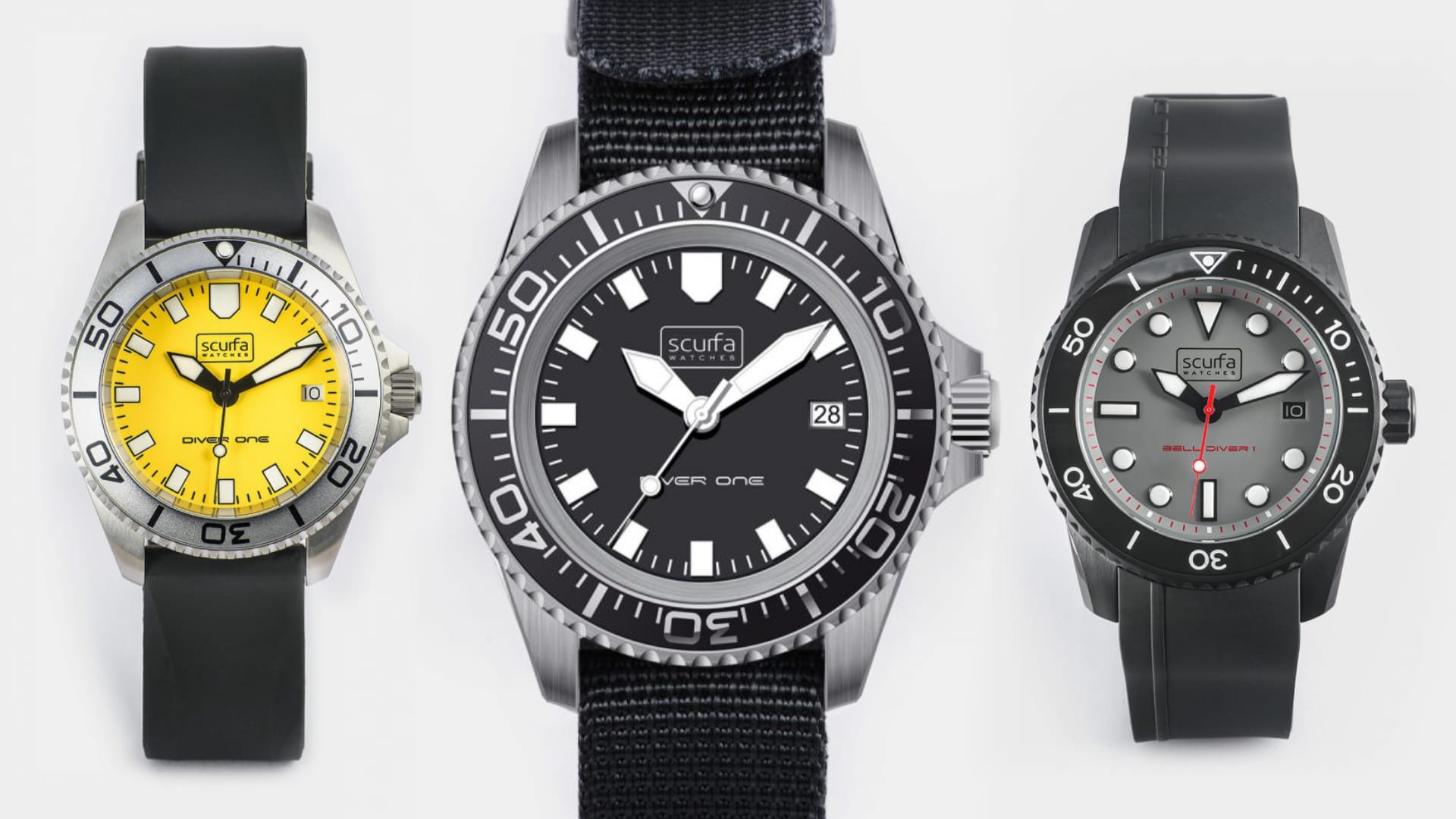 Scurfa – Started life in 2013 as a way to support diving staff who were left without a watch when their vintage Rolex divers exploded in value, this left them with a watch deemed too valuable to wear in the hostile conditions where they worked in the North Sea. Paul Scurfa – the founder, set out to make a saturation dive watch that was affordable and built to a high standard using quality materials. Thus the first model – the Diver One Silicon was created. Since the first model of the Diver One was made, Paul has set his mind on making the watches better and better, and in March 2013 he launched Scurfa. Since then Paul now has three different models available – one of which is a limited edition that was so popular it sold out remarkably quick.
Price: £220 – £364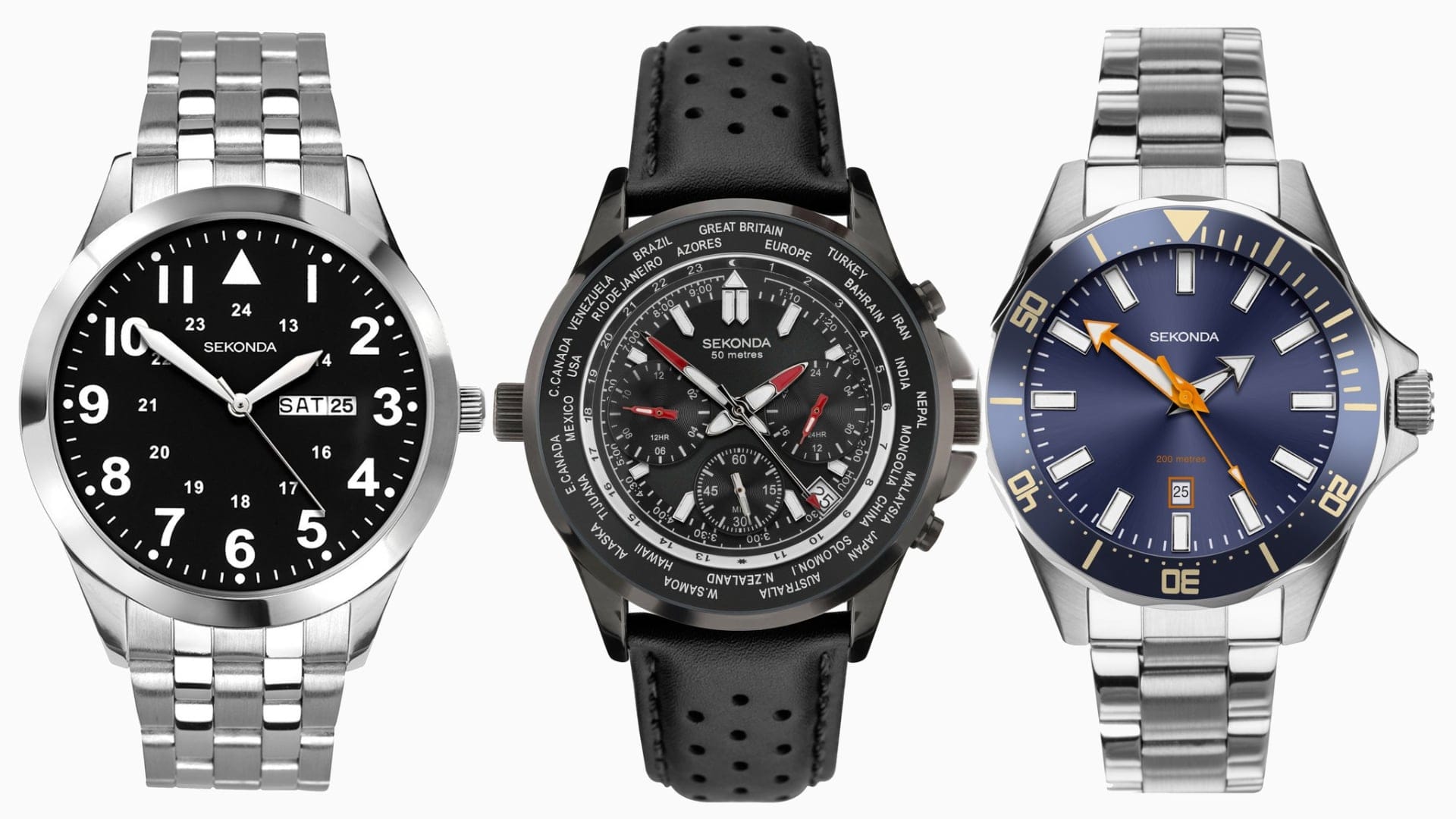 Sekonda – Established in 1966, Sekonda is a British designed brand, taking pride on its original and continued value of providing great quality watches at great prices. Starting out its venture into the world of watches, Sekonda began with a small collection of mechanical watches originally manufactured in Russia. The brand soon became a household name. The introduction of the quartz movement saw manufacture move to Hong Kong, allowing Sekonda to introduce more styles to align with the fashion market.
Price: £19.99 – £99.99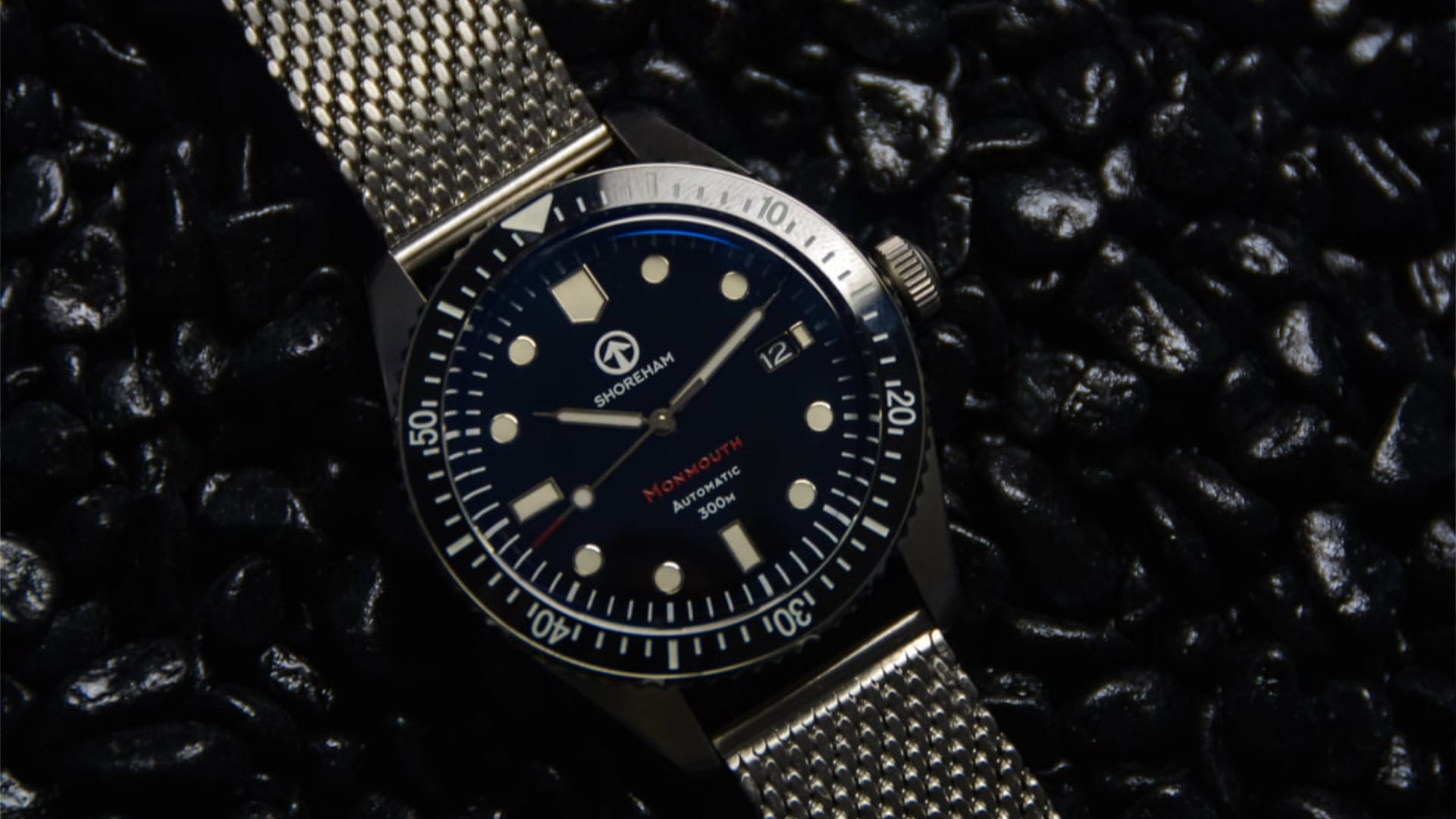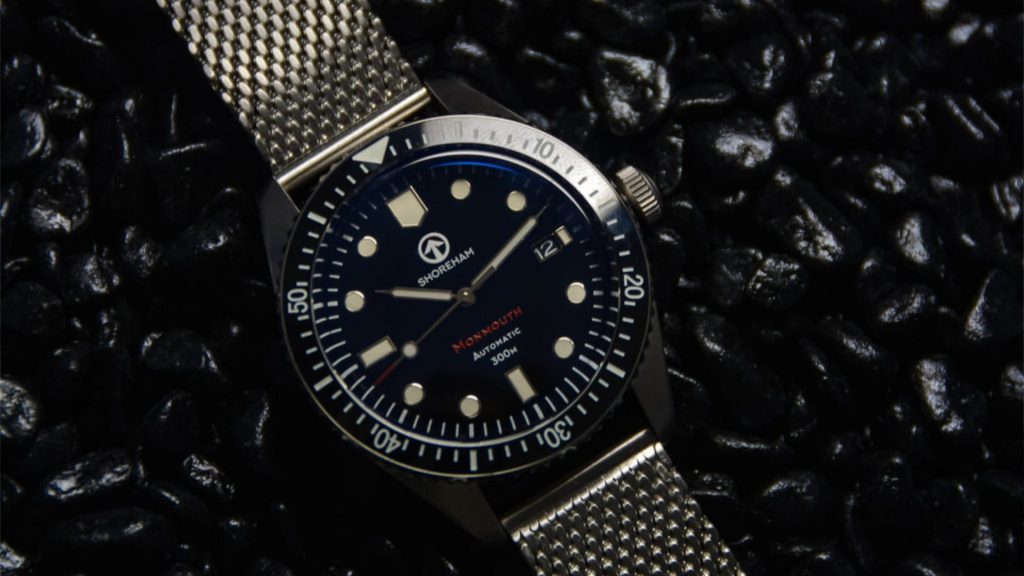 Shoreham – Shoreham was created in 2018 by two friends based in Wales who met while studying at university. With a shared passion for watches, it had been a long held dream of theirs to produce an innovative British timepiece that reflected their passion, and it was following a trip to Baselworld in 2018 that the idea for Shoreham was born. Inspired by a wide range of impressive timepieces they began to think. What if they could produce a watch that provides the same function, durability and elegant design but at a much lower price? Thus their first watch – the Monmouth which is due to ship in August this year.
Price: £299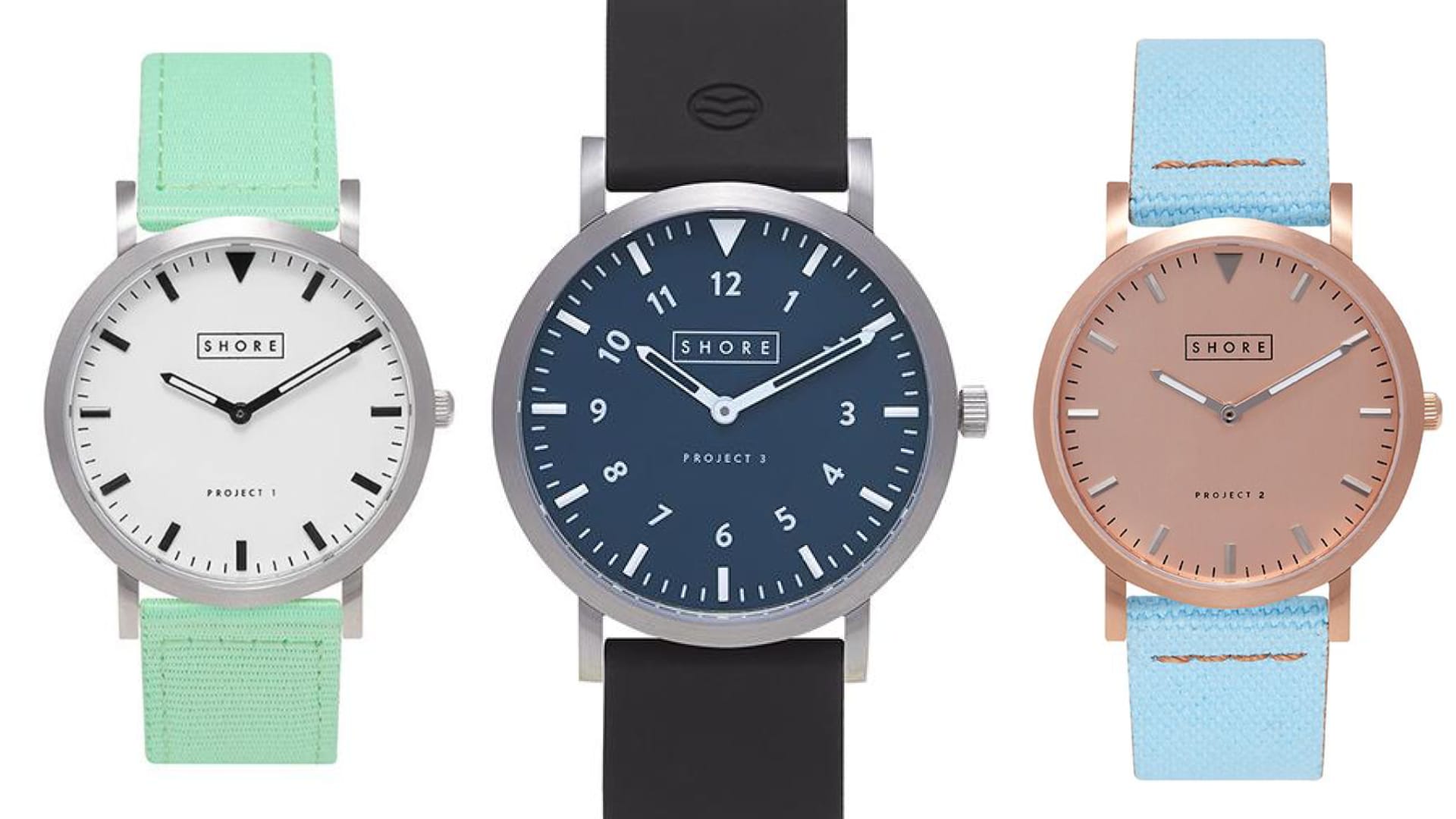 Shore Projects – In 2013 Shore Projects was founded by 3 friends who didn't really wear watches, so a meeting of minds lead to them creating a watch that they would wear themselves. They set out to make a design inspired by their love of the seaside, and it worked. Suddenly they had all this popularity, but they didn't really know how to run a watch business, and some bad planning nearly led them to lose it all. That was 5 years ago and since they have learnt a series of lessons that they have used to evolve as a company and team.
Price: £100 – £120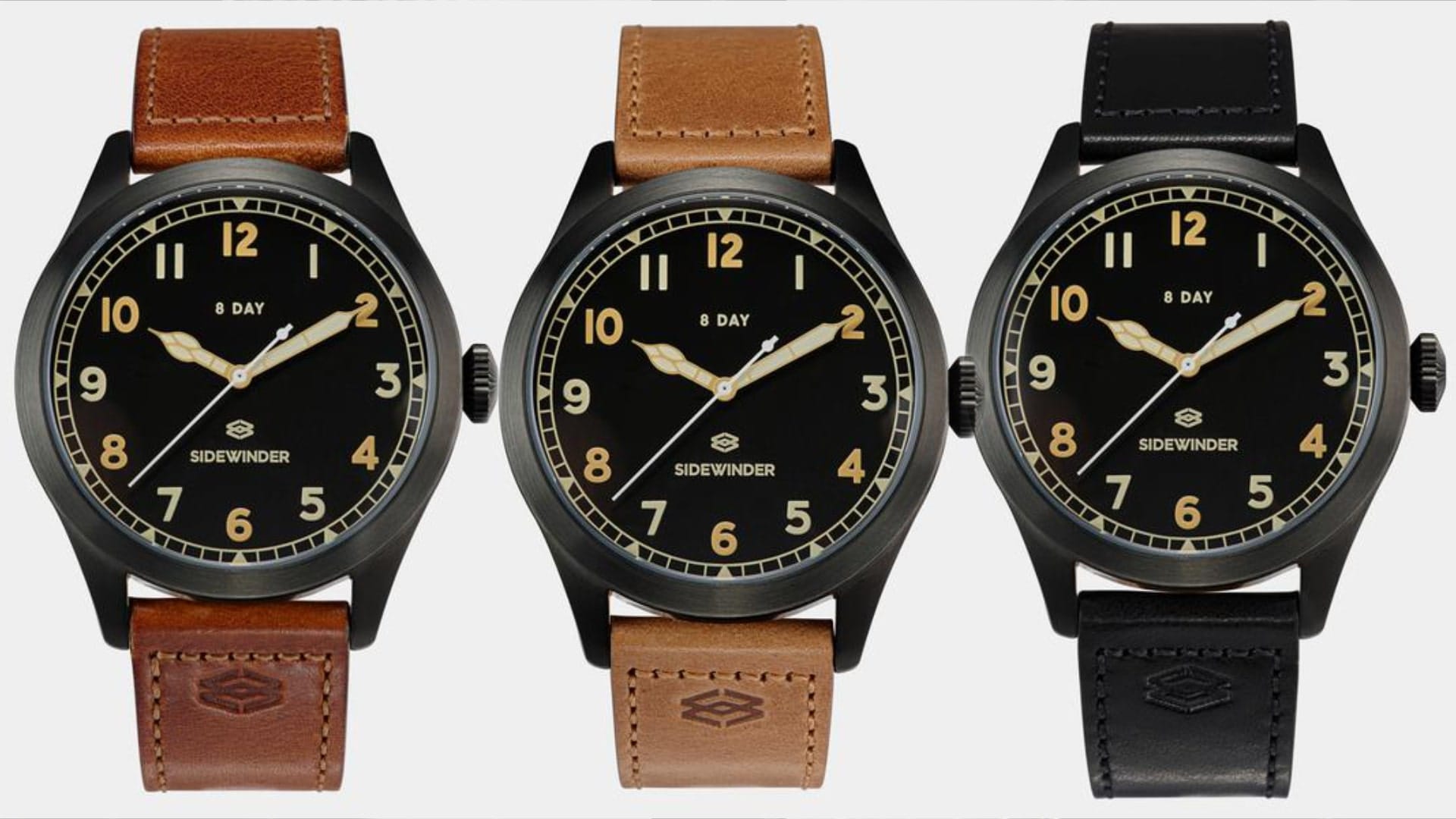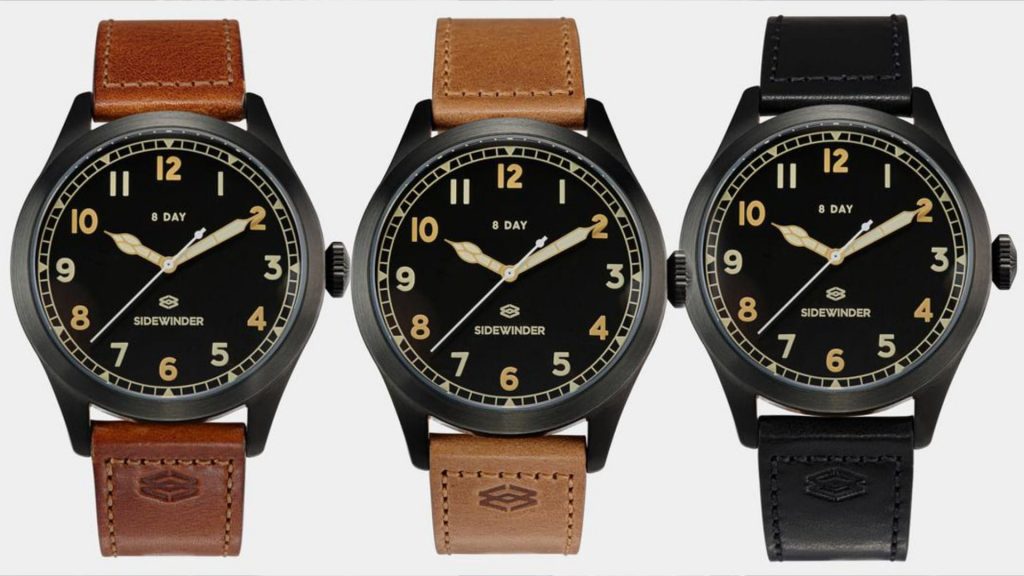 Sidewinder Watches – Sidewinder is a British watch company that specialises in cockpit clock timepieces. The Sidewinder name can trace its lineage back to the early days of the pocket watch, when models with the crown positioned at the 3-hour mark rather than the traditional 12 – were known as sidewinders. Their team of award-winning designers works from old blueprints, horological records and actual cockpit clocks to recreate the spirit of the original.
Price: £195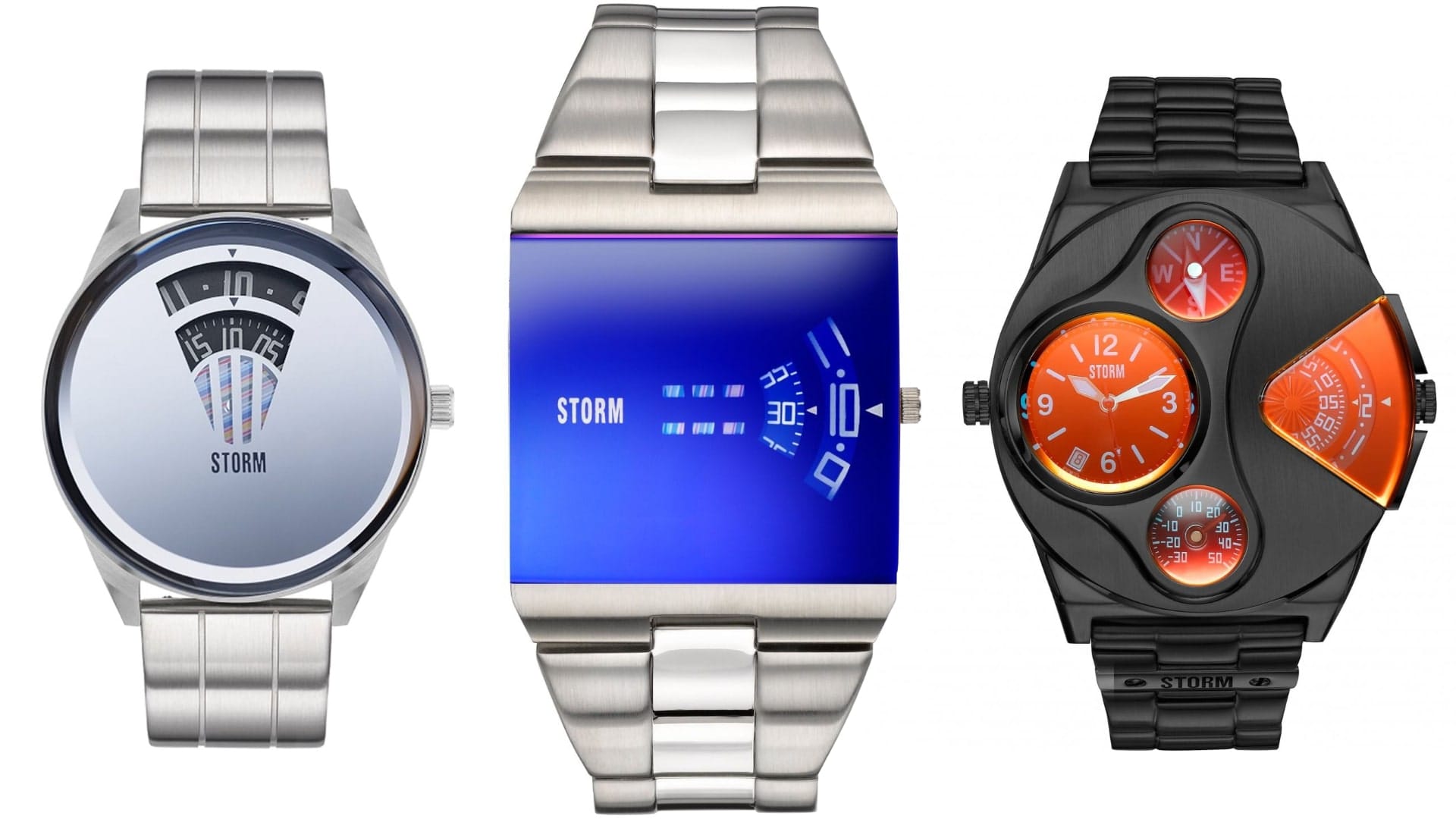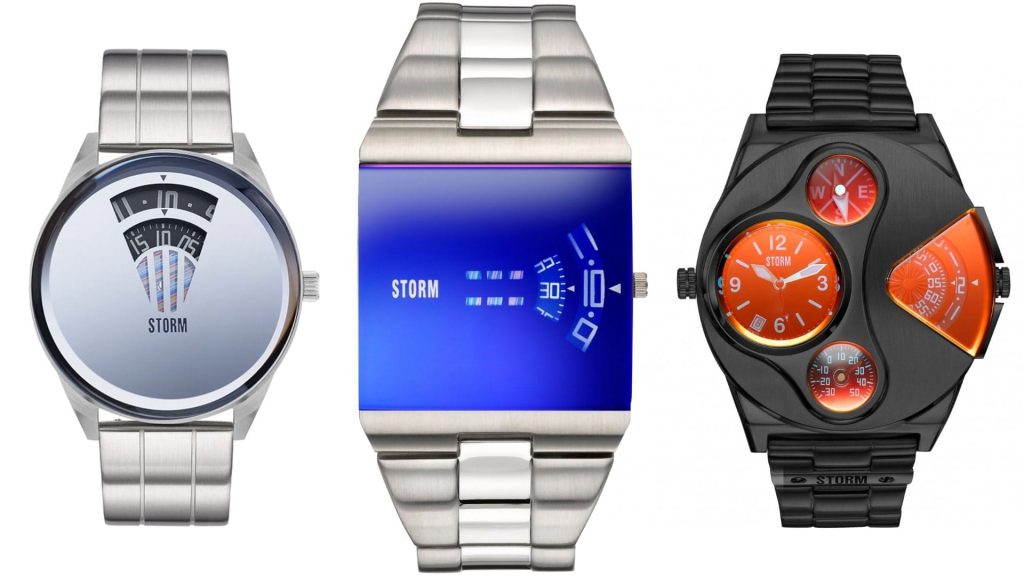 Storm London – Founded in 1989 – Storm is a leading British Fashion Watch brand that creates a whole host of unique and interesting watches. STORM leads the way with statement designs and trend led product. With a multitude of cutting edge designs across both casual and contemporary styles, STORM continues to push boundaries through its innovative approach to produce unique fashion watches and jewellery. STORM is renowned for its exclusive watches and distinctive stylish fashion accessories. In addition to an extensive range of watches and jewellery STORM also offers bags, wallets, fragrances, eyewear, clothing and footwear. STORM products are sold in department and chain stores, independent retail outlets, and STORM standalone stores in over 45 countries around the world.
Price: £57.99 – £5,500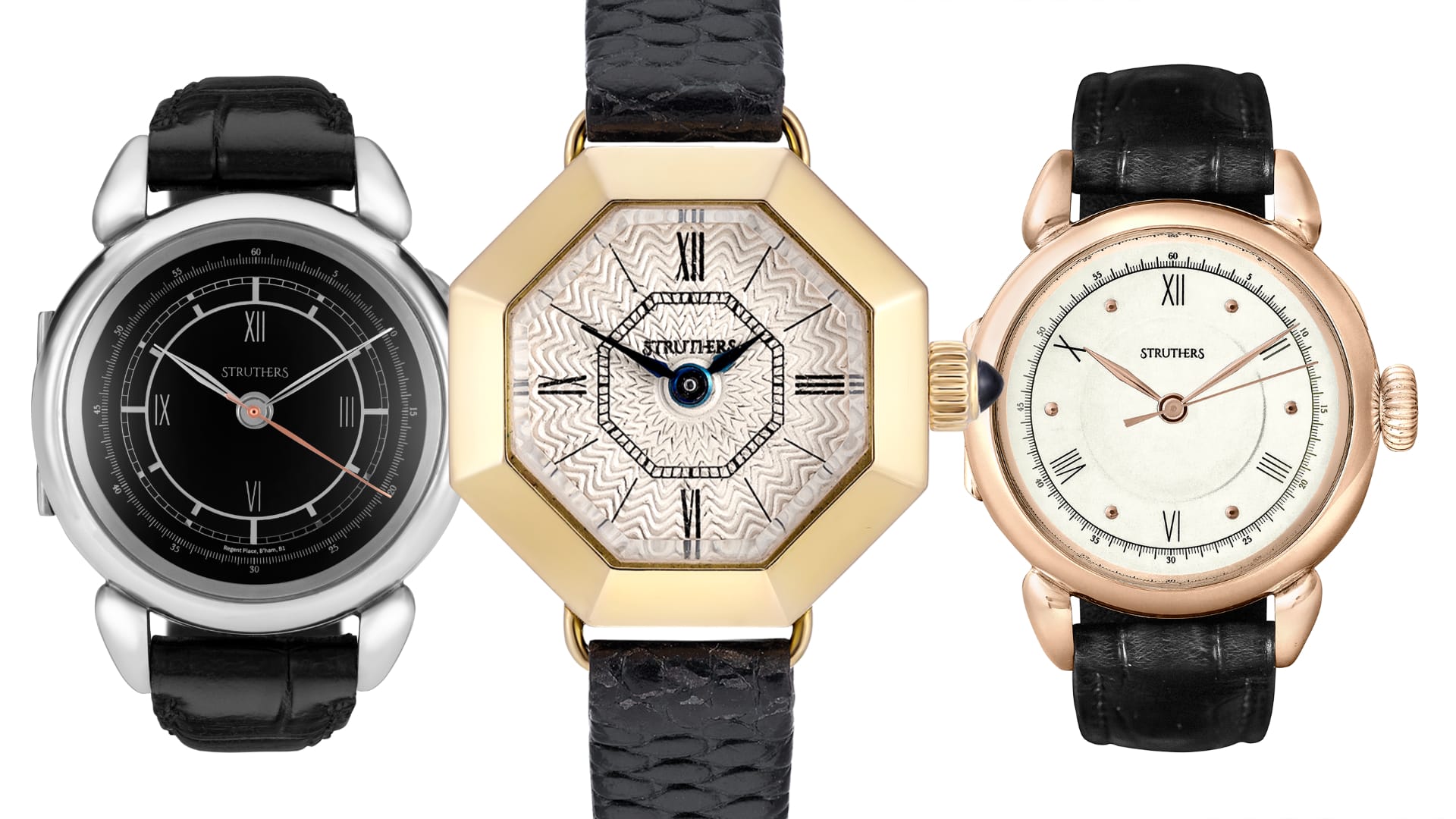 Struthers – Founded by husband-and-wife team Craig and Rebecca Struthers, their family-run workshop looks to continue the tradition of fine watchmaking using handmade parts, heritage tools and machinery all while practising the rare craft skills that time has almost forgotten. Their studio and workshop combine over 30 years of experience in the craft and in that time they have studied and qualified in the fine art of watchmaking, goldsmithing, silversmithing, gemmology and history of design. With their impressive skillset, they look to draw on the fine craftsmanship of old and bring it into the 21st century. In 2013 their first watch Stella was released winning multiple awards for design and innovation, and also the award for ground-breaking design in platinum. They also received a prestigious Commendation from the Goldsmith's Craft and Design Council. Since then the Struthers duo has won over a dozen more accolades in the art of the craft, and are even working on their own in-house movement called 'project 248'.
Price: £16,500 – £29,500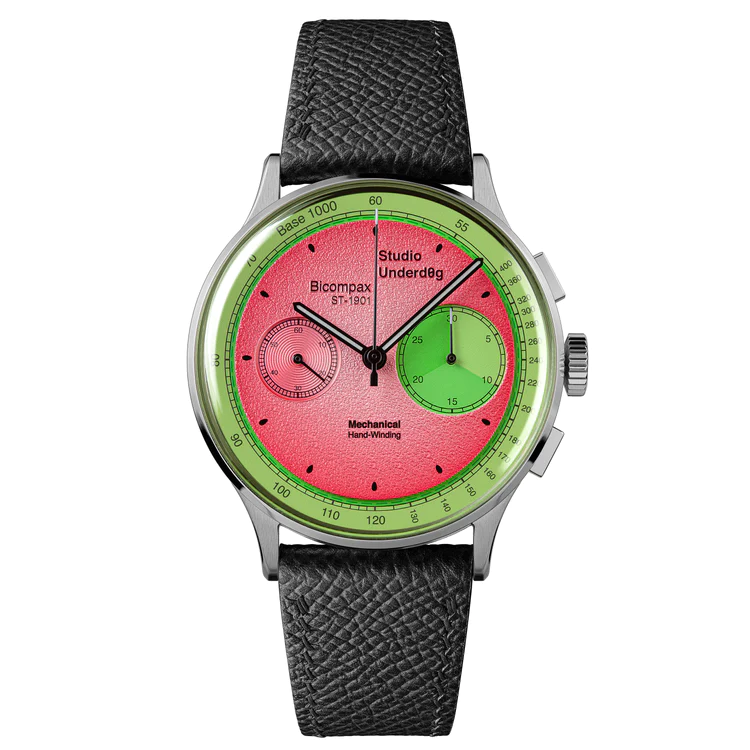 Studio Underd0g – This relatively young brand was started by designer Richard Benc. Before starting Studio Underd0g, Richard had built up 5 years of experience in the watch industry. Like many of us, he lives and breathes watches, and so wanted to create something for himself within the industry. The brand takes a playful approach to watchmaking and focuses on putting a colourful spin on classic watch designs. Studio Underd0g's initial range focuses on eye-popping chronographs, all of which take inspiration from seemingly unrelated items. The first design was based around a watermelon (pictured above). As you can see, the results are exceptionally striking.
Price: £500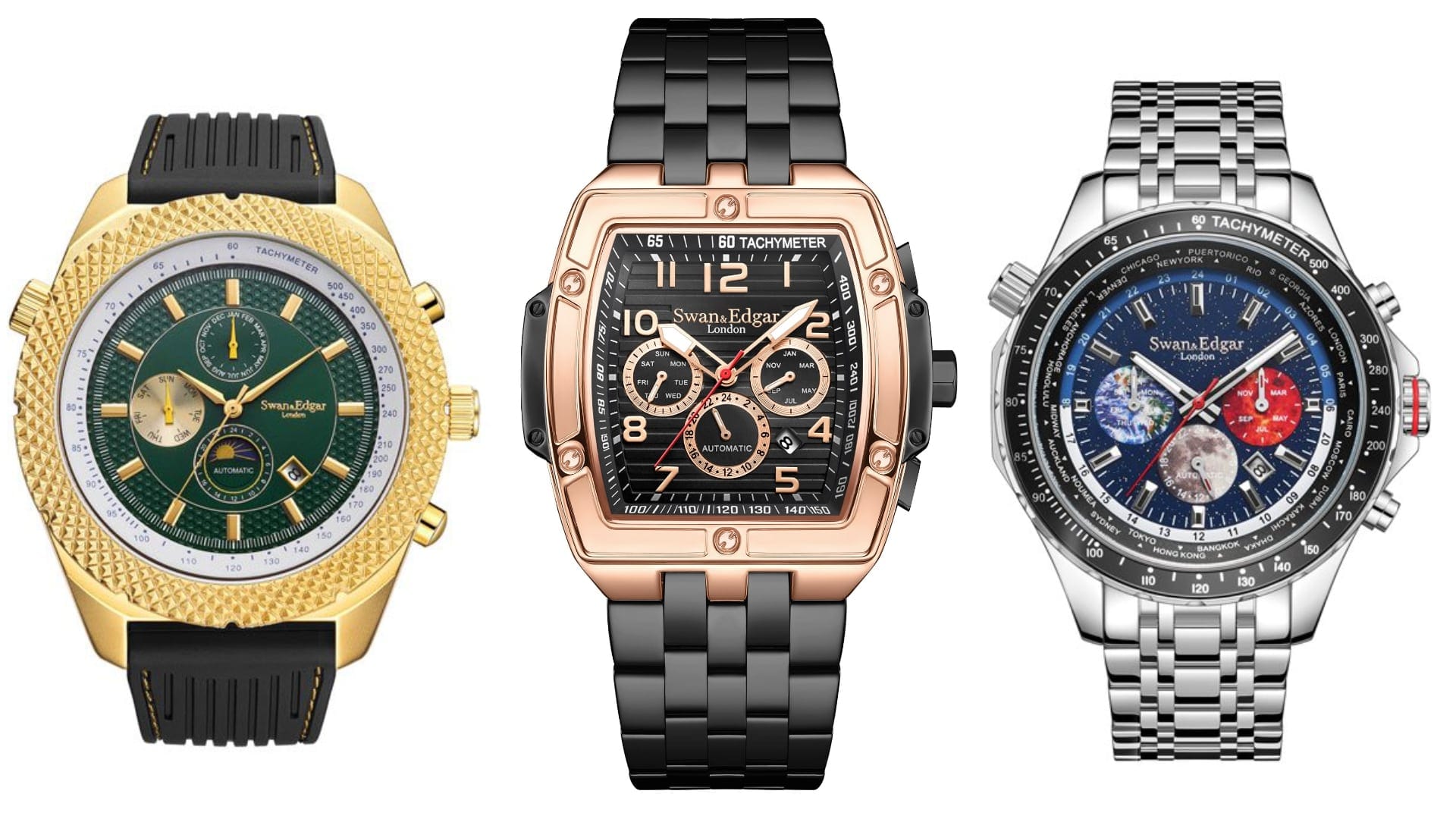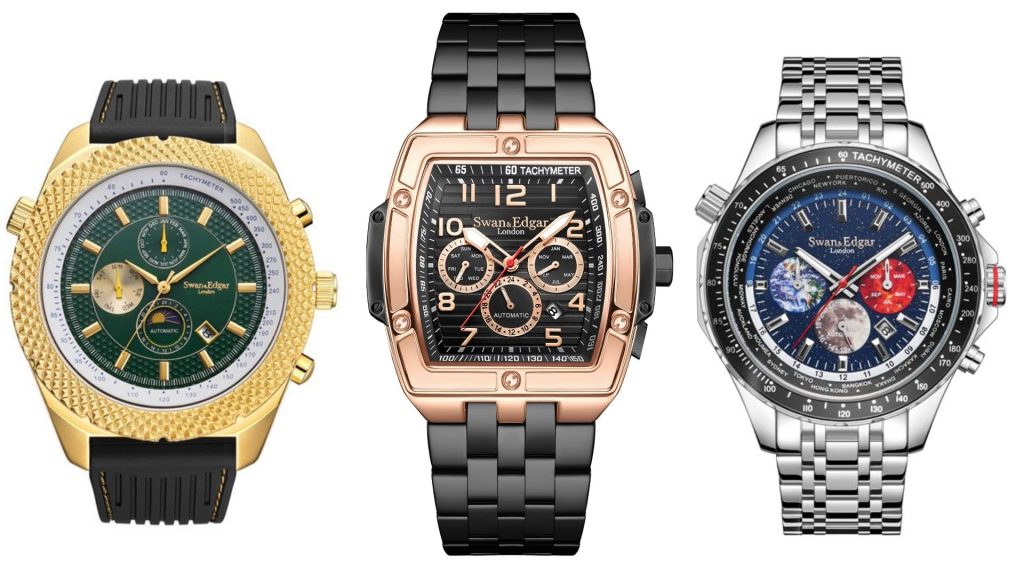 Swan and Edgar – The Swan & Edgar store was founded by George Swan & William Edgar in 1812 with the mission of celebrating British craftsmanship and delivering unique, unmatched products to uplift the public – a sentiment maintained by the Fields family today. This iconic store marked the cornerstone of the Piccadilly district and was re-modelled by the famous classical architect Sir Reginald Blomfield who went on to re-design the West End of London. Steeped in history, the Swan & Edgar store lived through two world wars and notably inspired the nation with its supportive messaging and provision of industry-leading goods. The store was revered amongst leading sportsmen, servicemen and royals throughout its lifetime. Today, each hand-assembled Swan & Edgar timepiece is built to preserve the unique heritage of this store, resulting in our collectors owning an iconic piece of British history.
Price: £135 – £173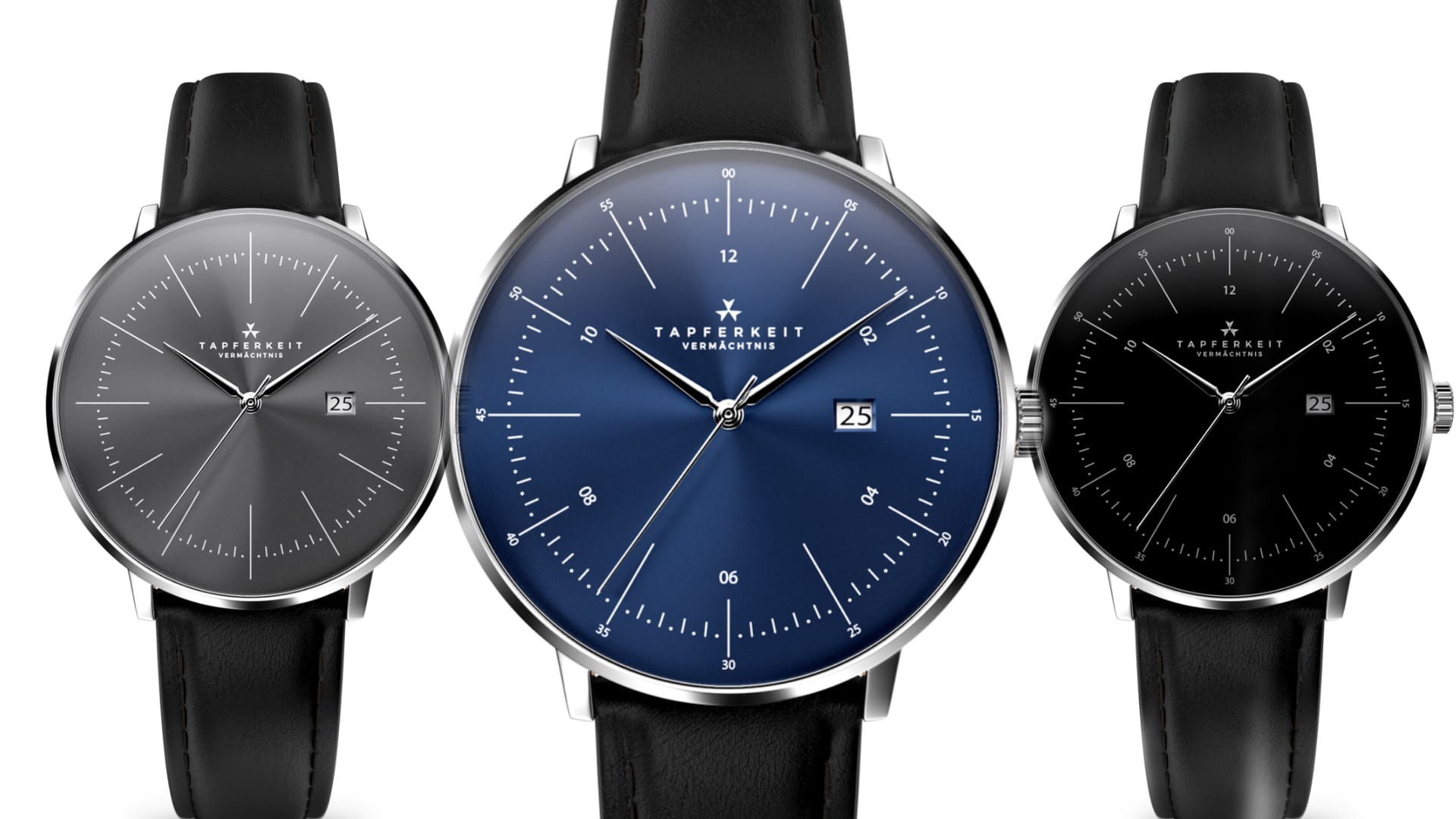 Tapferkeit – Based out of London, Tapferkeit is a young watch company with timepieces that are created in the style of legendary Bauhaus design principles. The Bauhaus movement can trace its lineage and inception to Germany – between in the 1900 – 1919 to be precise. The Staatliches Bauhaus was an art school famous for it's approach to design blending beauty with function. Founded by architect Walter Gropius the German school with a vision to create 'Gesamtkunstwerk' meaning total work of art in which Walter sought to bring all the arts together. In 1933 the school was unfortunately closed due to serious pressure from the Nazi regime as it was thought the school was a centre of communist intellectualism. Since it's closure the Bauhaus style has been a source of inspiration for many designers including several watch brands from Germany alone. Tapferkeit looks to help keep Bauhaus style alive with their Lowenherz and Furchtlos models that are heavily influenced by the iconic movement.
Price: £99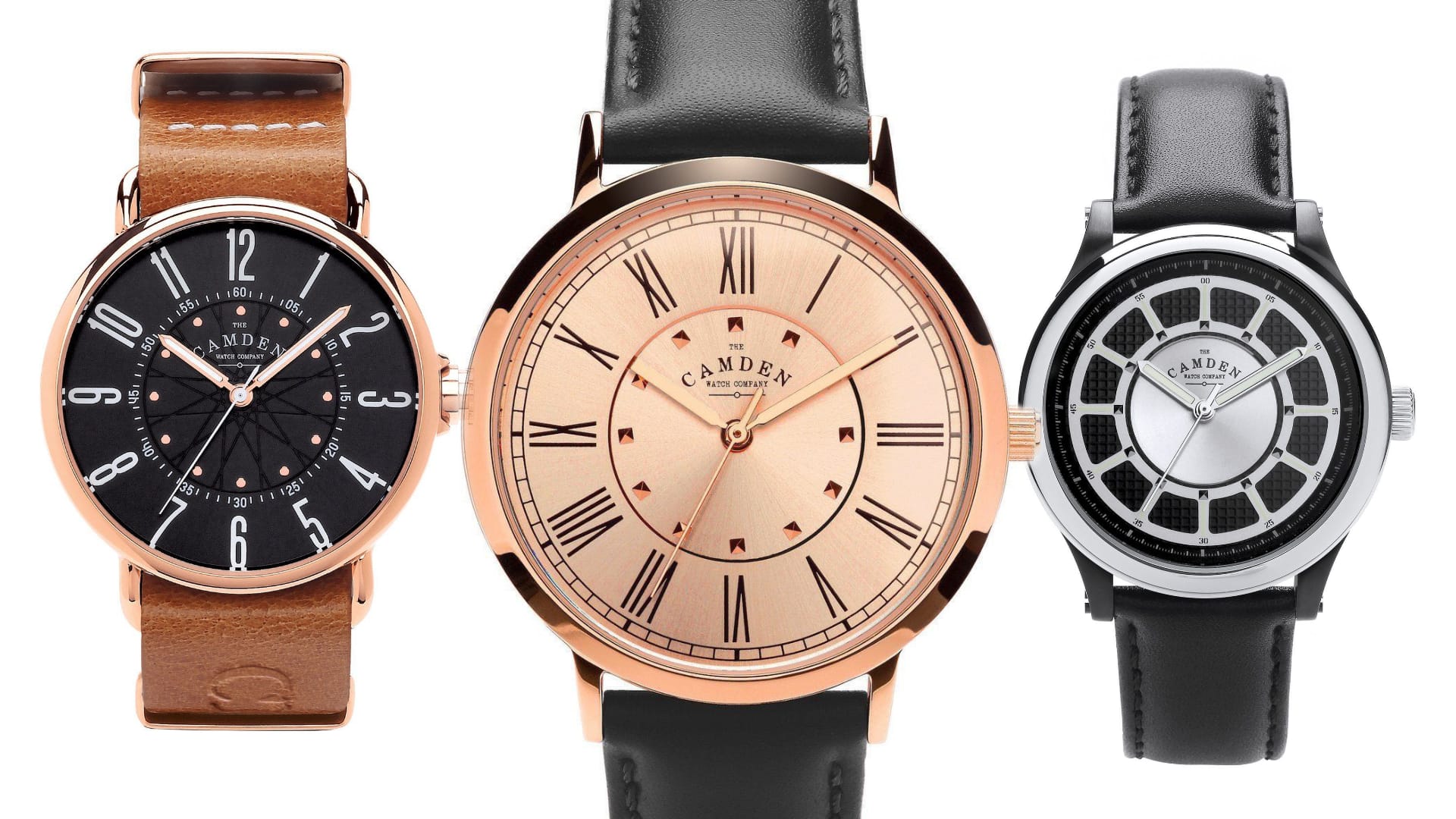 The Camden Watch Company – Is a small independent watch company based in the heart of Camden. Their story began as a showcase for their watch design studio, though not in Camden yet, ever since their first visit, they knew they wanted to call Camden home. At the time the founders Anneke and Jerome had no ties and no commitments to anyone. They showed off designs that were free from the constraints of a commercial mindset. To get started all they needed was some start-up capital and inspiration. Fast-forward a few years, and after four years of living in Camden and loving the town more and more, they decided to launch their company. Though they thought just living in Camden was not enough to name their company after it. After some research, they uncovered the amazing eclectic history that Camden had to offer and fell in love again. What began as their showcase, evolved into much more.
Price: £69 – £375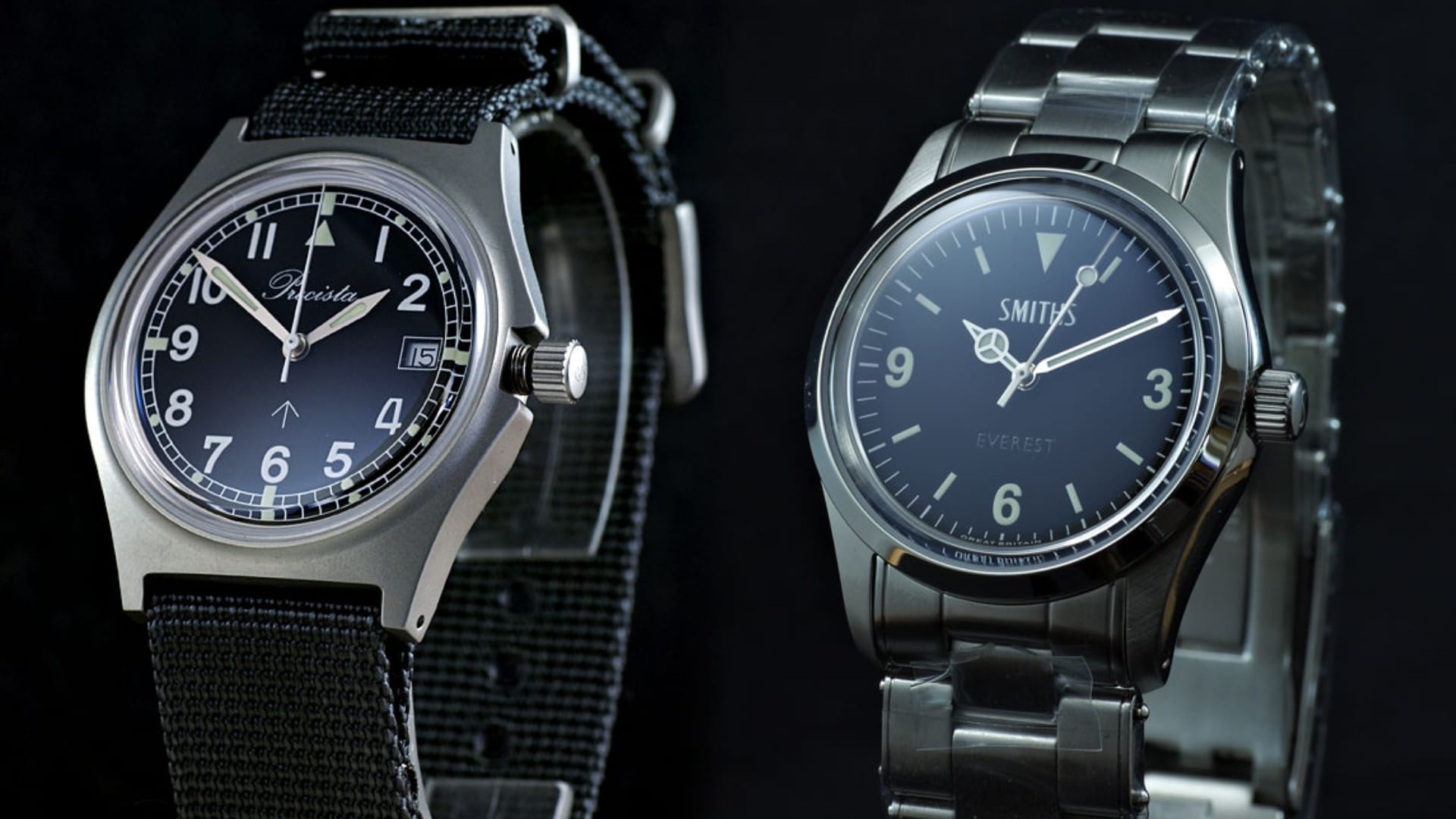 Timefactors (Precista & Smiths) – Owned by Eddie Platts and based in Sheffield, Timefactors is an on-line retailer and producer of watches. At present, they make Precista and Smiths watches which they sell on the store.
Under the Precista name you'll find vintage-style military, diver and Flieger watches with varying prices. A prime example is their £195 PRS-10 which is based on the original Precista G10 from the 1980s. They also have a rather stunning PRS-82 which is based upon one of if not the rarest British issued dive watches.
The Smiths range is a little different to the Precista as it has a slew of different designs. Some notable ones are the PRS-40 automatic which is a very unusual take on a classic field watch and also the Everest Expedition PRS-25W which is a nod to the Smiths A454 from the 1950s.
Precista price: £195 – £1185
Smiths price: £235 – £765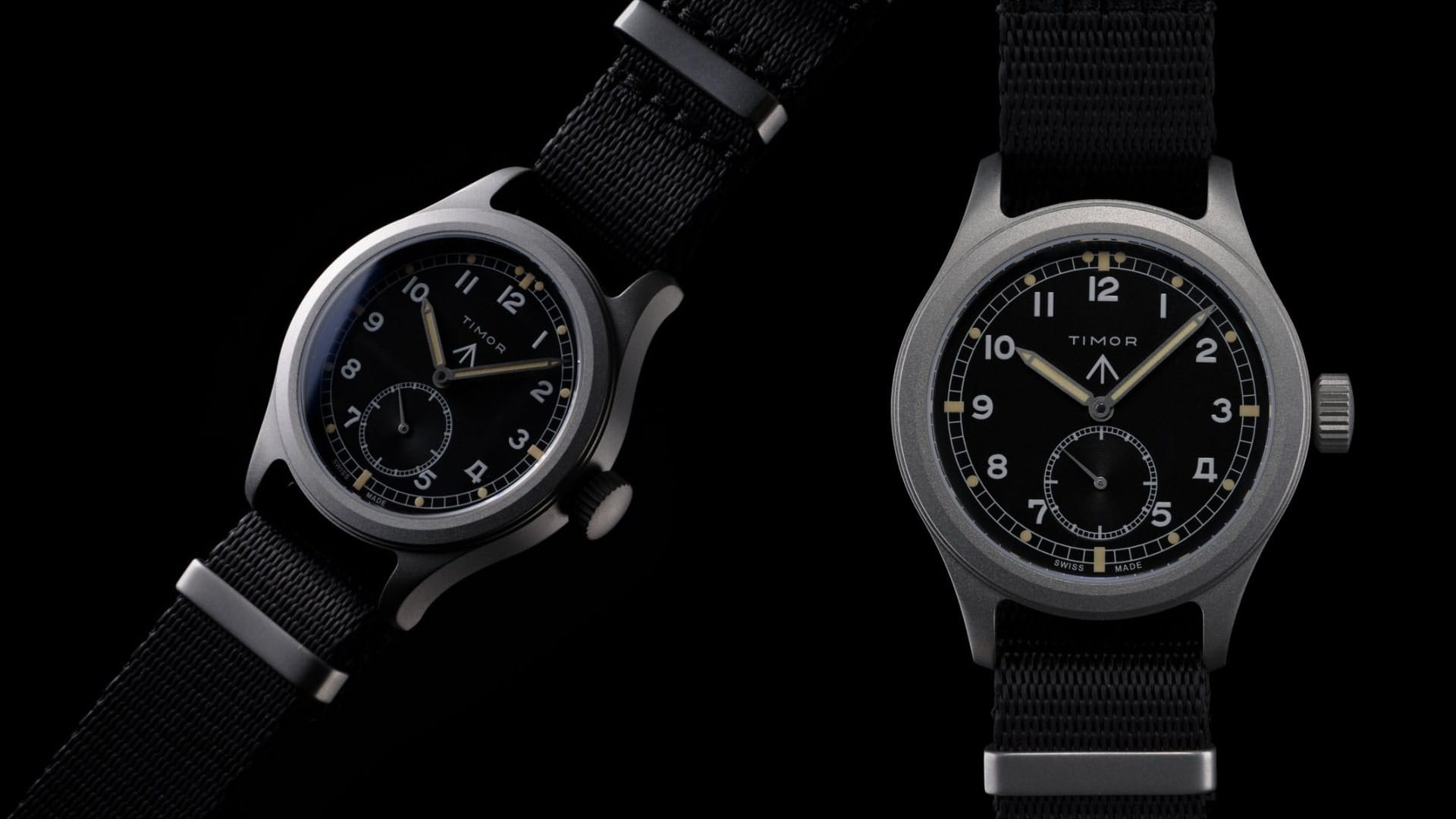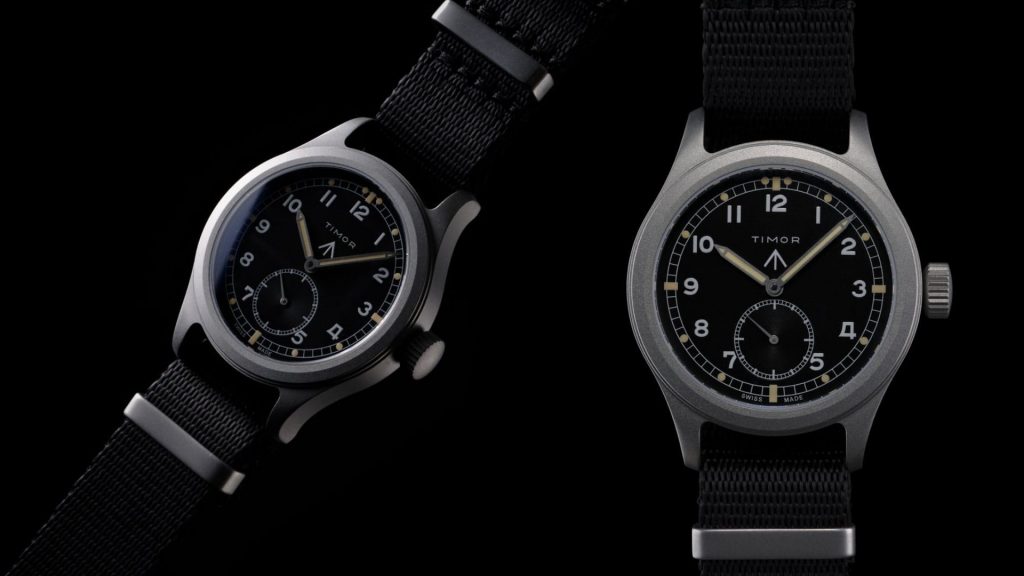 Timor Watch Co – The Timor Watch Company was founded in 1923 by Mr Bernheim and Mr Luthy. In the 40's Timor built watches for the British Military. Since then the Timor brand has passed through many hands and taken many forms. The Timor Watch Company was re-incorporated in the United Kingdom in 2019 with a new focus on Timor's military watches of the past.
Price: £910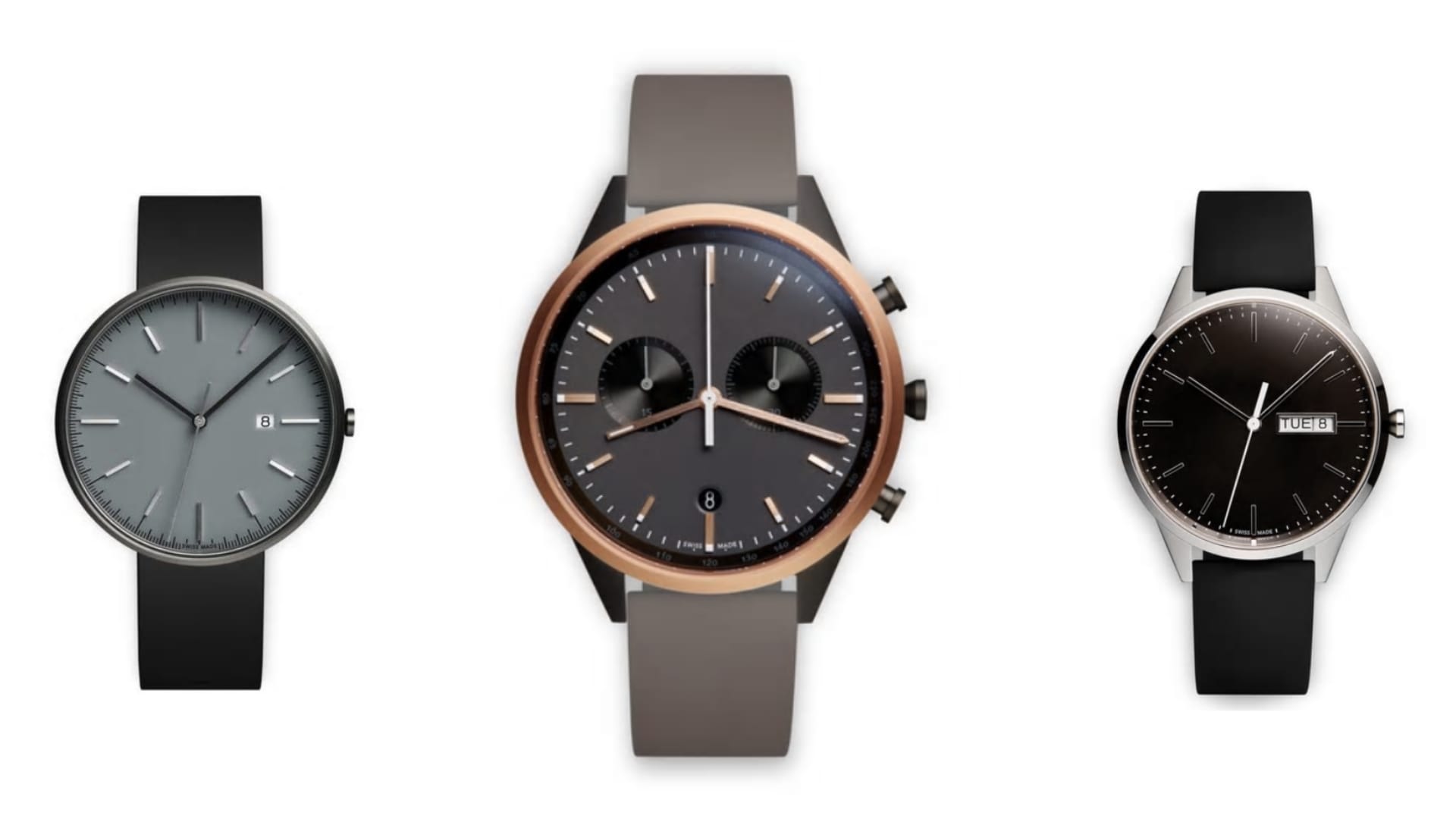 Uniform Wares – Designed and developed in their London studio, Uniform Wares creates watches that have character through design rather than branding. Founded in 2009 they set out to make contemporary timepieces with a devotion to detail. Uniform wares sources their components from various trusted partners with the final assembly taking place in Switzerland.
Price: £250 – £675
Van Brauge – All started with a gift from father to son. When founder Max was 10, he inherited his fathers watch – a classic 1950's Swiss Geneva automatic. This treasured gift illuminated Max's imagination and paved the way for what was to unfold. Max initially trained as a jewellery maker, though at the back of his mind he always had a desire to learn about the gift from his father. He began watchmaking by designing a case for his fathers watch, but his research and studies quickly led him deeper into the world of watchmaking. Max then began to advance his studies, and honed his skills as a watchmaker studying at the watchmaking school in Birmingham. After completing his studies Max began his professional career as a watchmaker in the historic town of Oxford which went on to inspire his own collection of Oxford watches.
Price: £2320 – £9900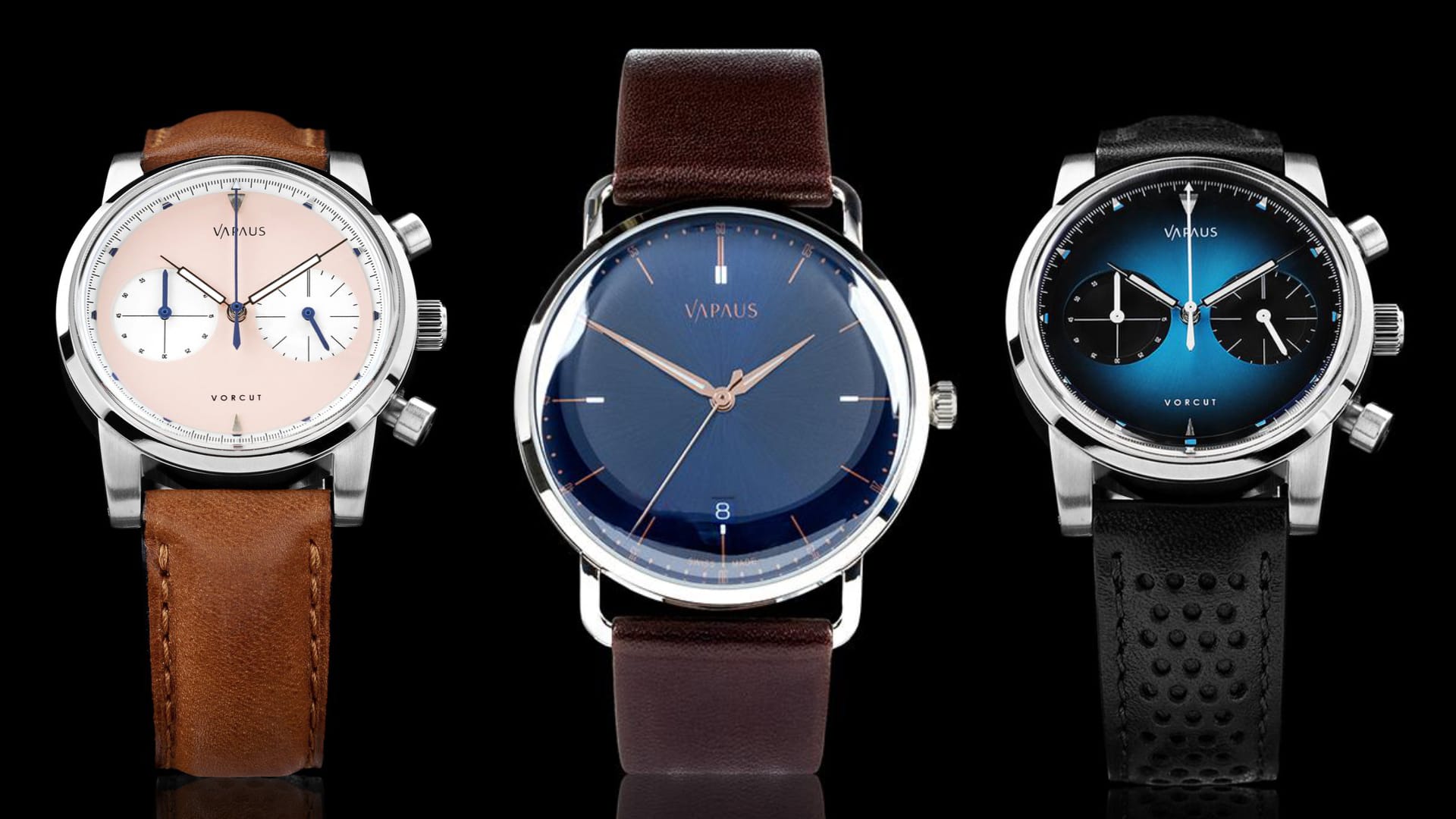 VAPAUS – Watches inspired by a time long gone, VAPAUS look to keep the stunning watches made in the 1950s and 60s alive with their modern interpretations of these classics. If you're familiar with designs from this era you'll know domed crystals, slim profiles, polished surfaces and stunning textured dials were all the rage. In the 60s things changed with the raise of Chronographs and very bold colours, VAPAUS looks to capture the essence of those eras and bring them into the modern age.
Price: £295 – £475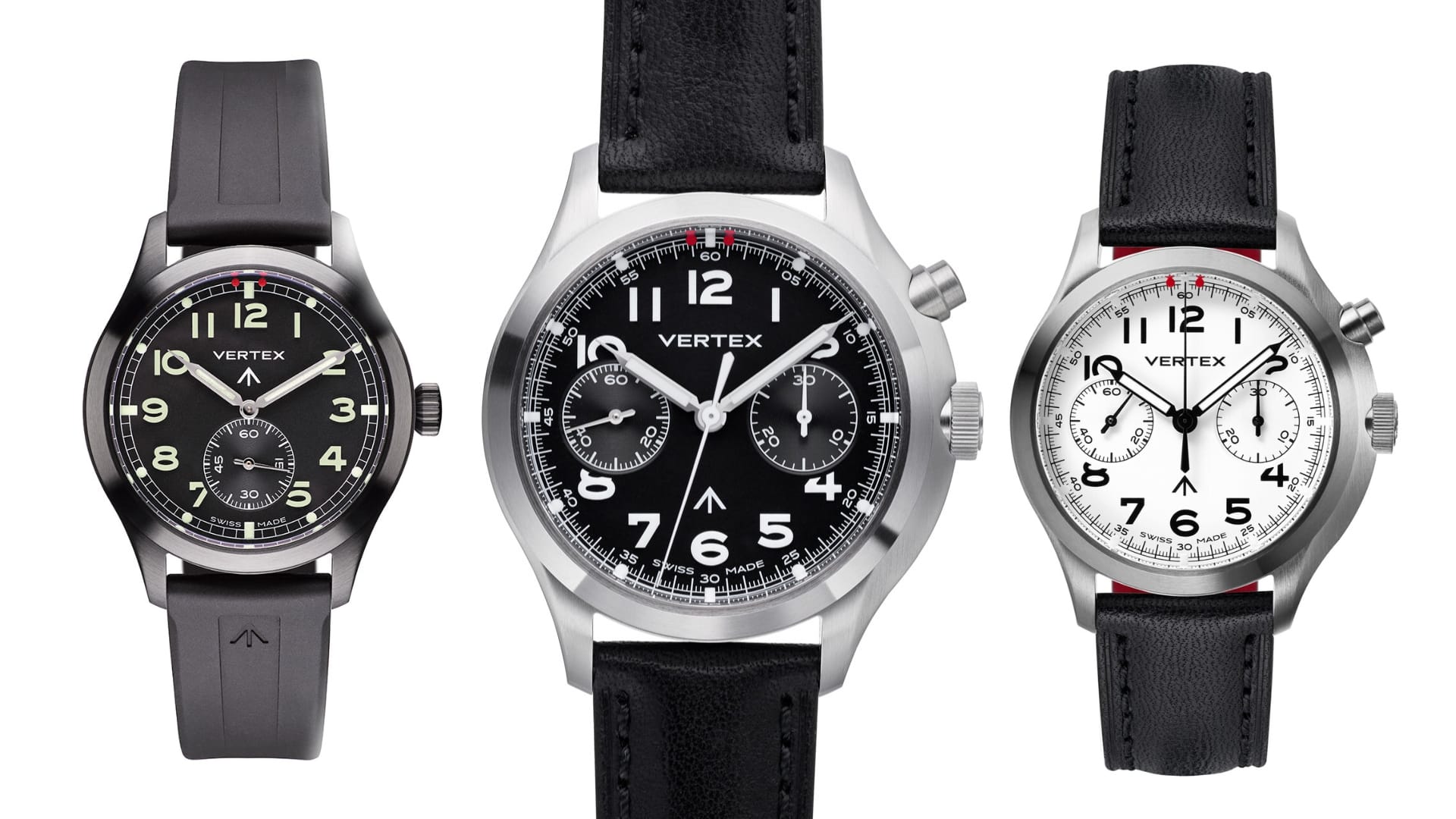 Vertex – Their story begins over a century ago where it was brought into existence by Claude Lyons in London's jewellery capital, Hatton Garden. Vertex quickly made a name for itself with Claude at the helm and fast became one of the most successful watchmakers in Great Britain. During the Second World War, Vertex was among a group of twelve leading watchmakers known as the 'Dirty Dozen' that was selected to supply the army with watches built to an exacting standard. These watches needed to be tough, waterproof, luminous and regulated to chronometer standards. Even with all that the watch needed to be highly legible with a deep black dial and contrasting numerals as to maximise the legibility during combat. Now owned by Claude's Grandson Don Cochrane Vertex continues this proud heritage through all the watches they still produce.
Price: £2624 – £3480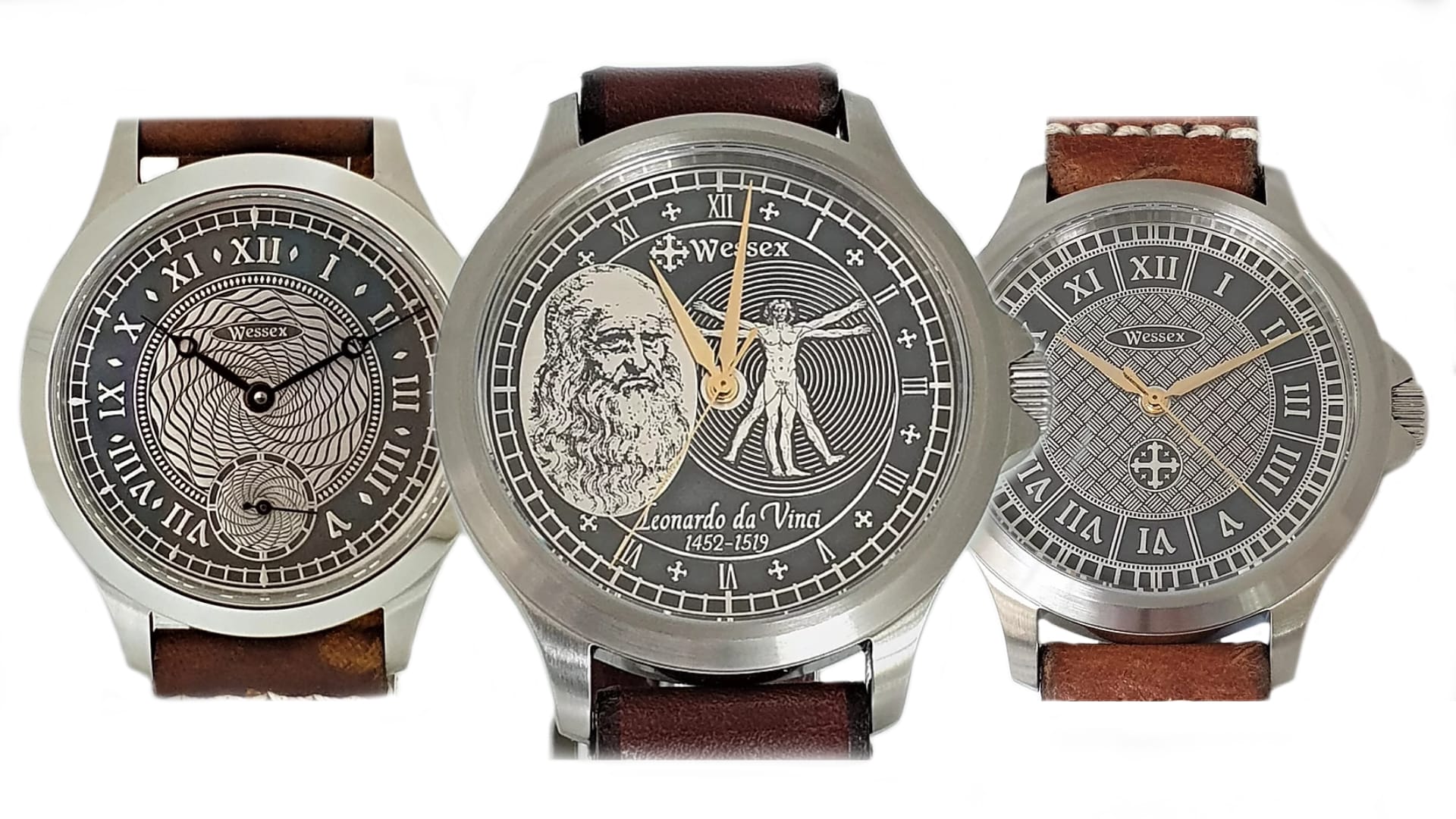 Wessex Watches – Founded in 2015 by the watchmaker Jamie Boyd, Wessex Watches was the perfect outlet for Jamie to create watches based on his vision. This idea was for a watch with a dial design like no other. This is why Jamie develops a unique engraved pattern on the dial of every watch made by Wessex Watches. Each dial is handmade by Wessex Watches which further adds to their individuality as crafting two or more identical designs is neigh-on impossible. Before the brand came to market in 2018, Jamie and Wessex spent three years of research, investment and design to develop a perfect technique of developing these dials and as a result, it's very clear that this dedication paid off.
Price: £1,379 to £8,640
William Wade – Created by Jackson Wade as a passion project, Jackson sought to create an affordable, quality watch that would be the perfect watch to gift or as an introduction into the world of watches. From a young age, Jackson was surrounded by watches belonging to his father, himself an avid collector. This early introduction kickstarted an interest and thus leading to a love of watches and of course the creation of William Wade.
Price: £109 – £119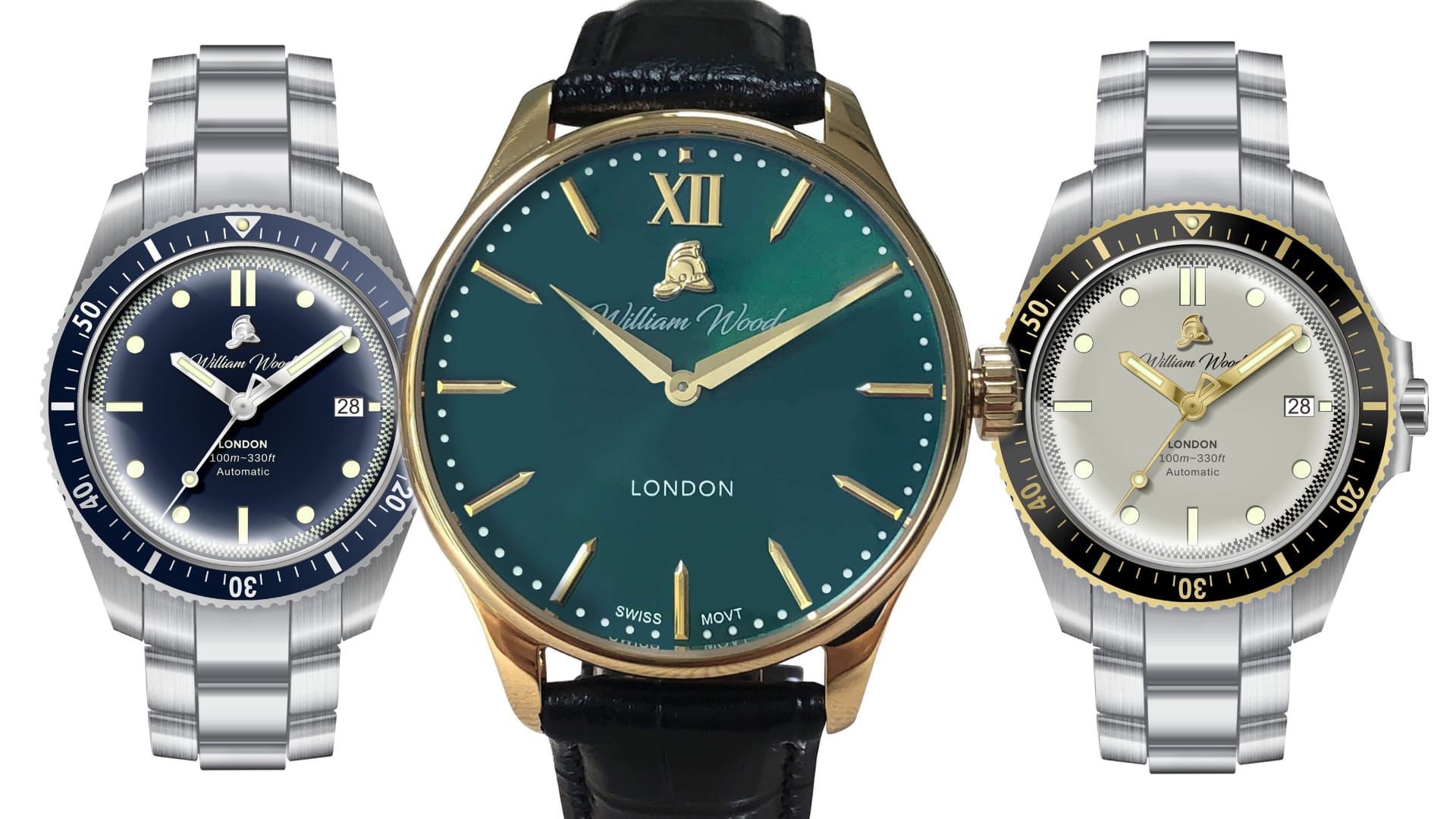 William Wood – Named after the founder's Grandfather William who was a British Fire Serviceman for over 25 years. Sadly William passed away in 2009 from lung disease. Jonny Garret – the founder, describes his Grandfather as a hero and an incredible man. One story he told was that in June of 1966 his Grandfather and three other firefighters saved five small children from a severe house fire. As a result, all the brave men were awarded a Certificate of Merit for their bravery. Not only a major achievement and honour, but this Certificate was also the first-ever to be awarded in the history of the Newcastle and Gateshead Fire Brigade. Jonny sought to honour his Grandfathers memory by adorning the iconic firefighters helmet on every watch and of course naming his company after his heroic Grandfather. Not only did Jonny do this, but his company donated funds to the Fire Fighters Charity UK that helps those injured, ill and also those in need of psychological support.
Price: £299 – £699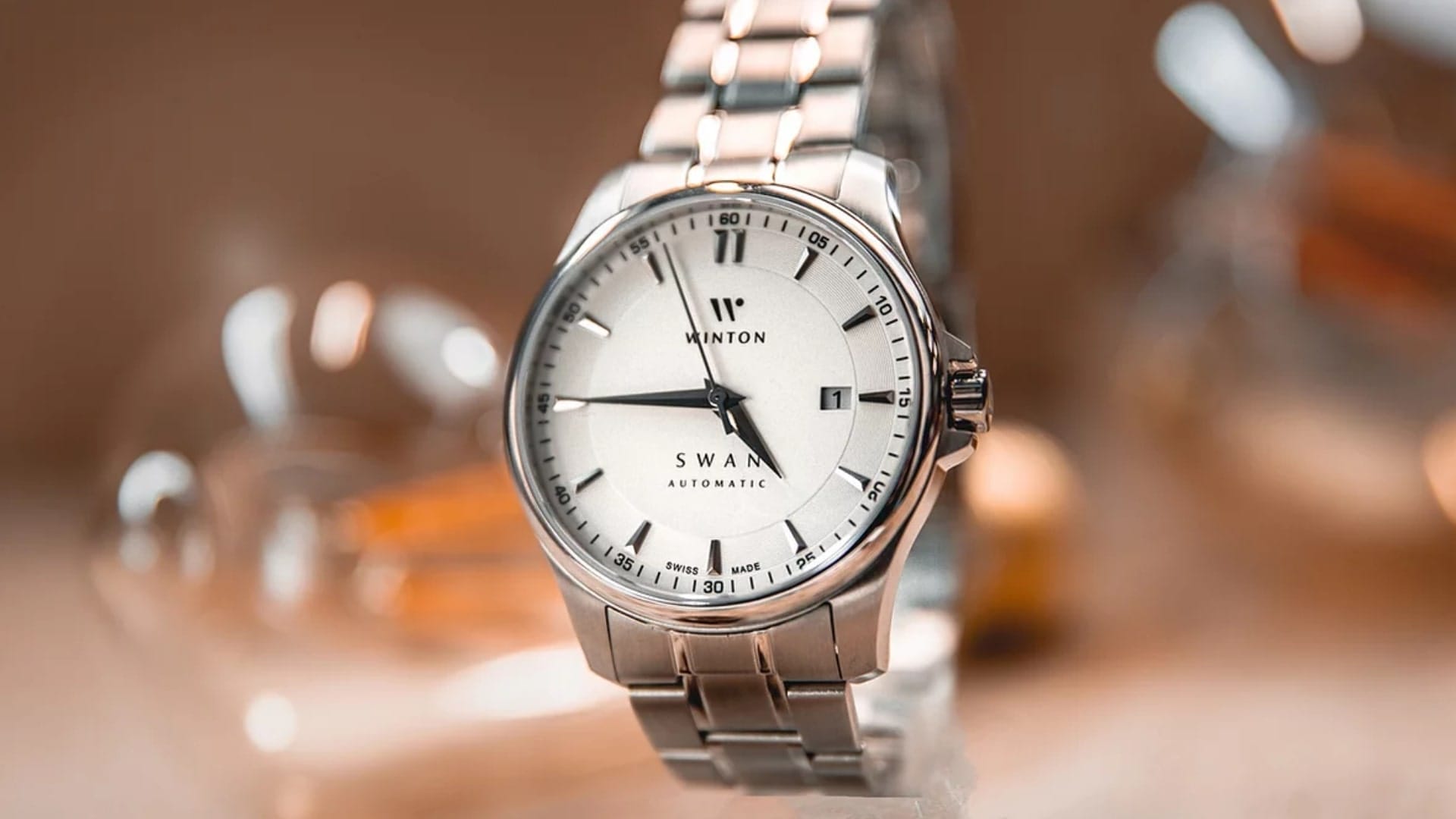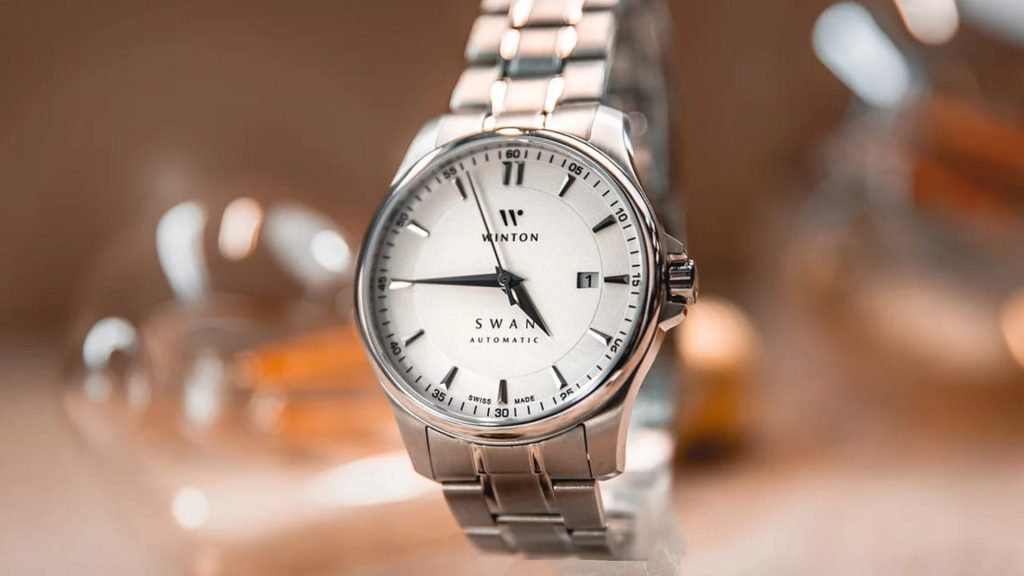 Winton Watch Co – The Winton Watch Company was born following a chance meeting on a train ten years ago, and created over many hours of a regular commute from North Yorkshire to London.​
Both watch fans, Simon Hebb and Chris Holder set out to build a British watch brand to offer hand assembled Swiss-made watches that are engineered for urban adventure, but discrete enough to wear everyday – whether that's in the boardroom or taking the kids to school.
The company takes its name from the village of Winton in North Yorkshire, along with some unsung British pioneers and adventurers who have quietly changed the world without getting the recognition they deserve, including Alexander Winton.
Price: £475 – £495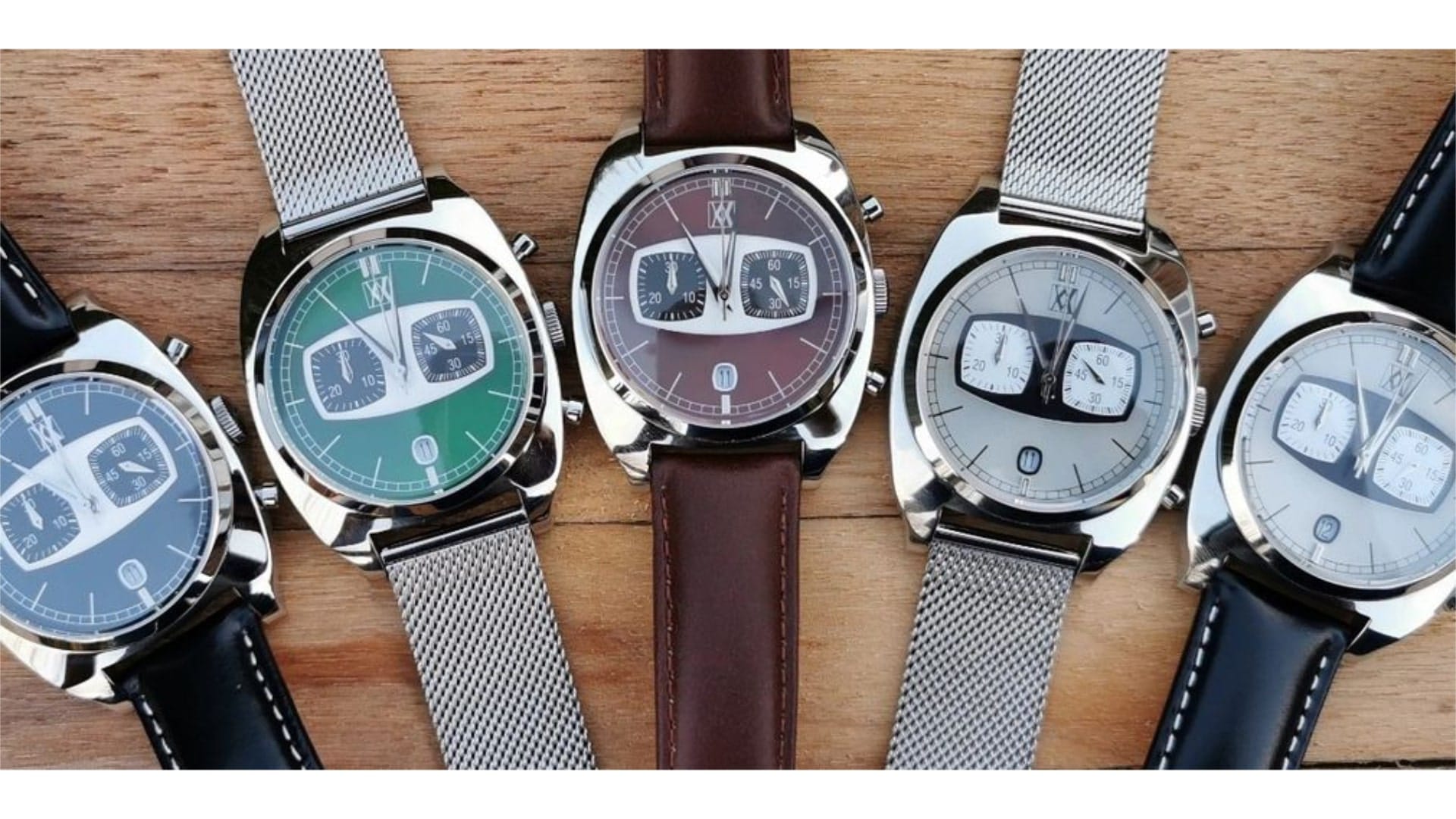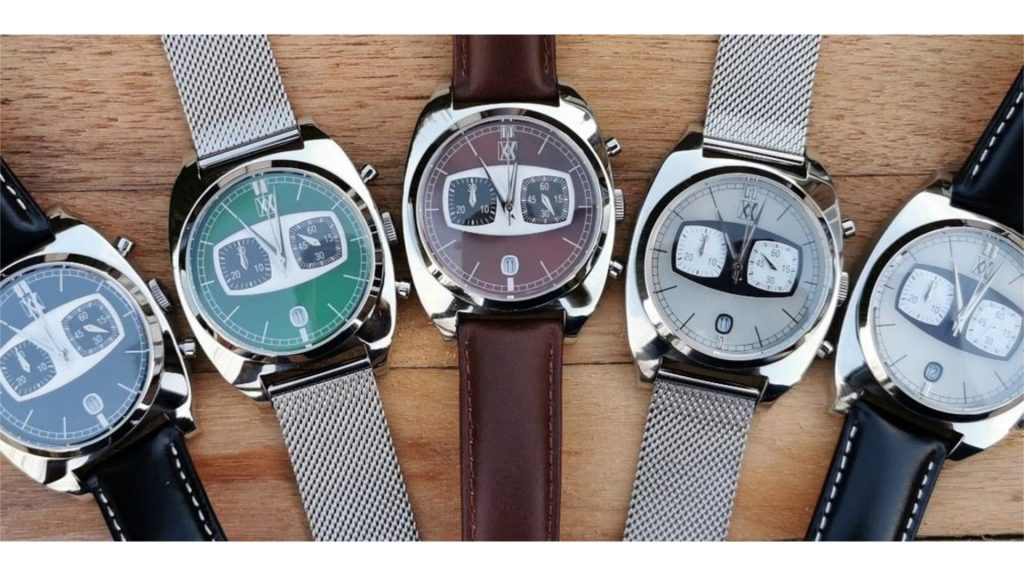 Wishmoor – Wishmoor Watches a new British watch company based in the South East of England with a desire to provide a high-quality watch for all occasions at a great price. "I'm not going to sit here and tell you that I will 'cut out the middle-man' or that I'm going to 'disrupt the watch industry' like some of the other watch brands out there. Anyway, I digress, it all started in early 2018 with a watch gifted to me by my partner and I caught the horology bug! From there, my collection grew, and grew! While working, day in, day out in the insurance industry, I thought about how I could turn my love of all things horological in to a full time and exciting career. Then came the idea of Wishmoor Watches, a new British watch company!"
Price: £210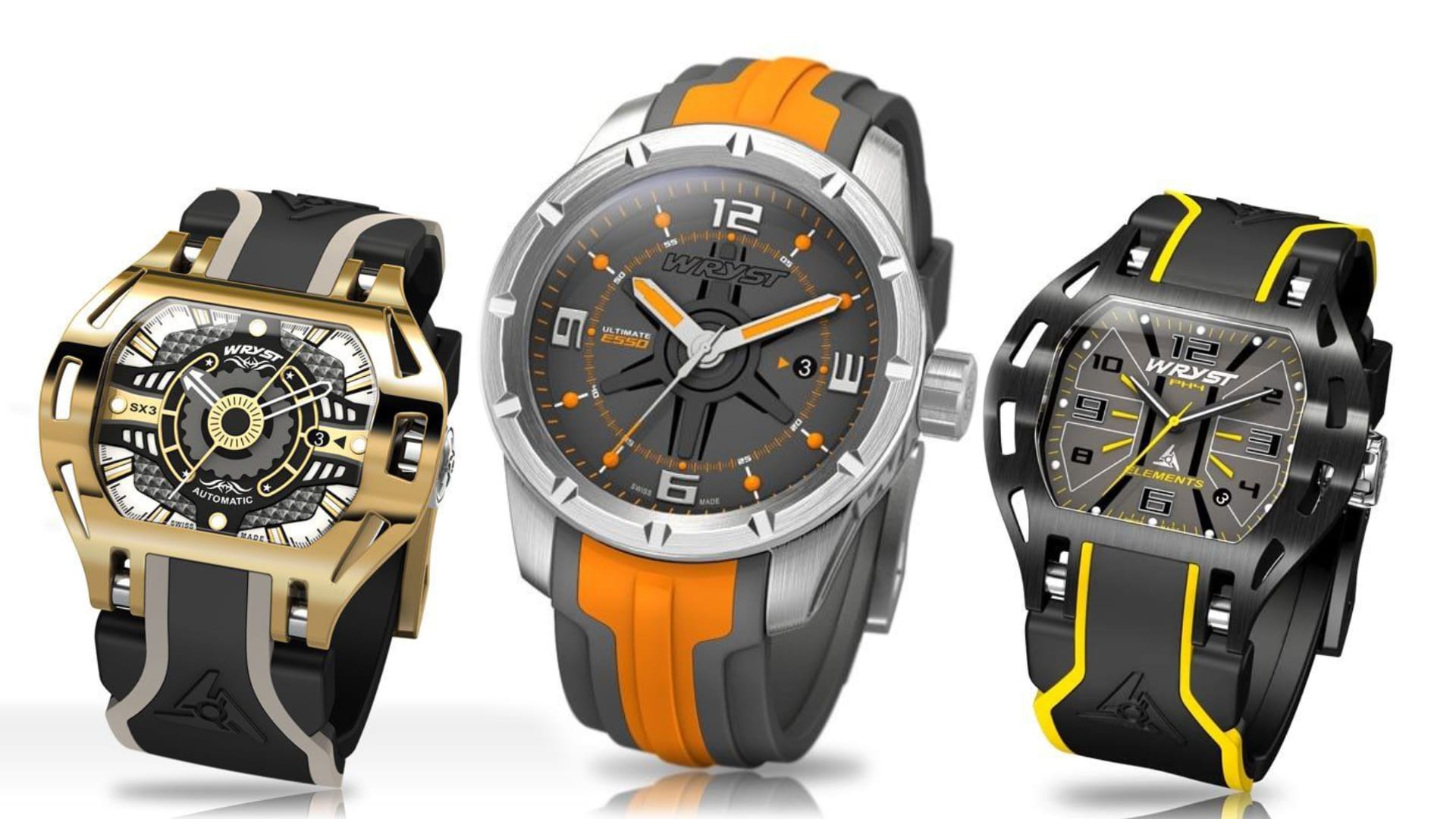 Wryst Timepieces – Created by Swiss Watch designer Jacques Fournier in 2012 he looked to shake up the industry with his trailblazing designs and unique strength abilities. Based in Devon, J.F began extensive research and development three years before founding Wryst. He wanted to create designs that struck the perfect balance between being aesthetically pleasing and timeless. Inspired by all things extreme and the motorsports industry, J.F wanted Wryst to stand out from the crowd of other expensive timepieces of this nature. In 2012, J.F launched his first collection, and the company has expanded ever since and continues to introduce new and refined pieces.
Price: £390 – £1395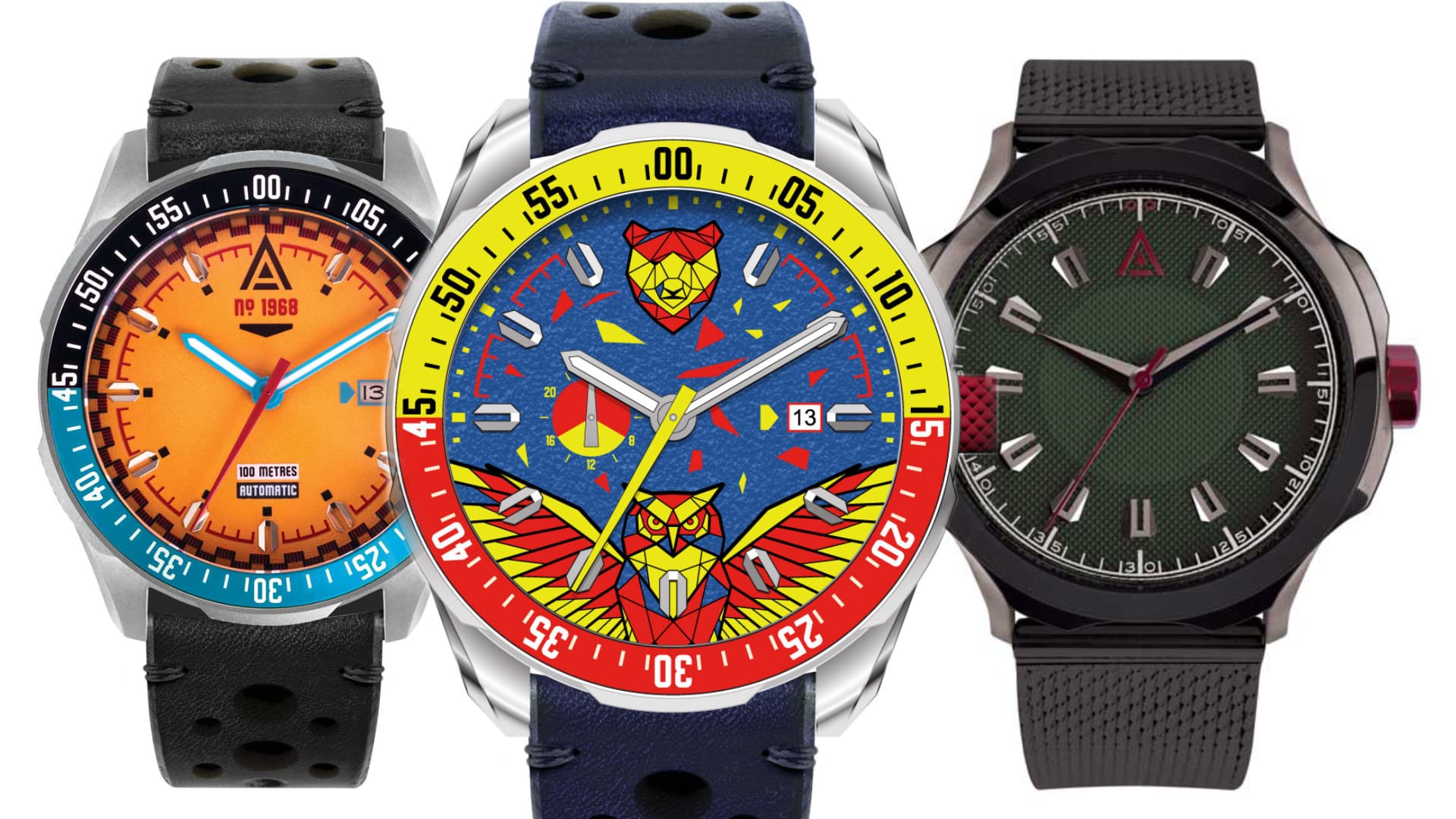 WT Author – From the very beginning, WT Author wanted a collection of watches to remain honest and have a personality. Based in Shropshire, WT Author launched the first part of their chapter on September 13th 2013, this would be dedicated to the memory of the patient teacher Wynn Phillips and the founder's Grandfather Thomas Hall – the initials of which represent the identity of the brand. For their debut release, they looked back to the origin of the gentleman's wristwatch at the turn of the 20th Century. Each year the company release another chapter moving onto another decade in watchmaking history. So far, 13 handmade watches to chart 13 decades in the evolution of the wristwatch as we know it today.
Price: £350 – £2080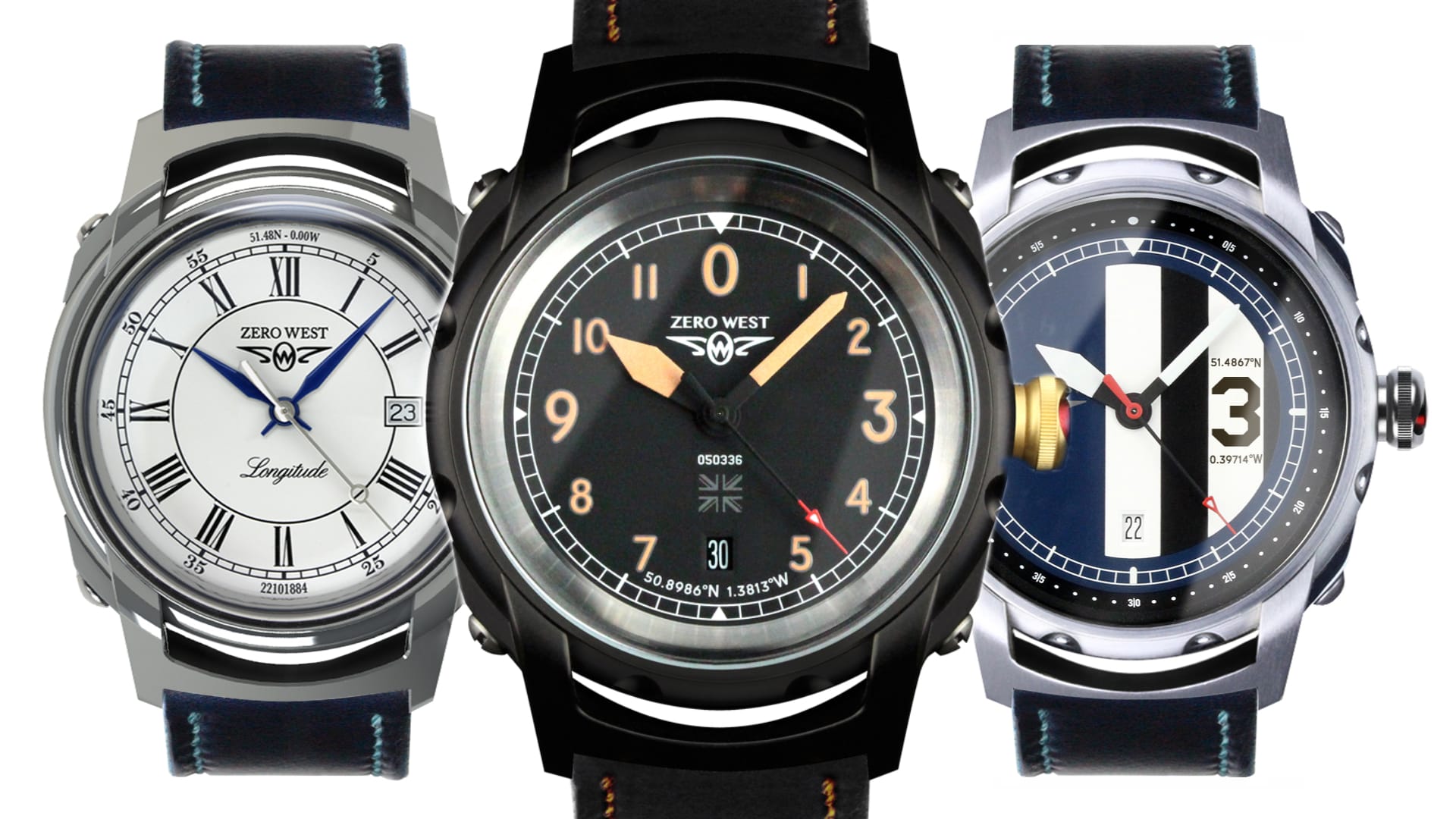 Zero West – Thrive in the past and the emotive moments and details that made it great. Named after the mainline of longitude; the prime meridian, the line where East meets West; where time starts, their mission is to scope a time since gone for inspiration and guidance. They seek to combine period styling with engineering to create an iconic British brand.
If you gander at their website you'll see a timeline of key dates throughout history, and it's these key moments where Zero West get their fuel from. Starting back in 1884 with their nautical-inspired L1 Longitude, stopping off in 1936 with their S1 Spitfire, travelling to 1940 with their RAF-C and ending up in the 1950s with a Cafe Racer styled piece. This journey through history is inspiring as it captures not just a point in time, but also a whole host of iconic moments that shaped our lives as we know it.
Price: £1995 – £2995
Honourable Mentions
Clemence – A newcomer to the scene, Clemence looks to release their first watch – the Photic Diver this coming summer. Inspired by dive watches of the 60's and 70's the Photic will feature a compact footprint, a hi-beat Miyota movement, double domed sapphire crystal and more. Clemence was founded by Tom Clemence after being inspired by stories his father told him about his late Grandfather. This history and love helped drive Tom to create Clemence and we'll hopefully be seeing more from them in the near future.
Price: £429 on Kickstarter
EMG – Though not a British watchmaker, one of EMG's founders in from Scotland. Founders Eric Goodlock and Derek Love met as members of the watch forum WatchUSeek, and after talking and exchanging ideas, one thing lead to another and EMG was created. To get started they recruited the help of Eddy Tse and began work on their DL63 Panda based off the 1963 Seagull chronograph.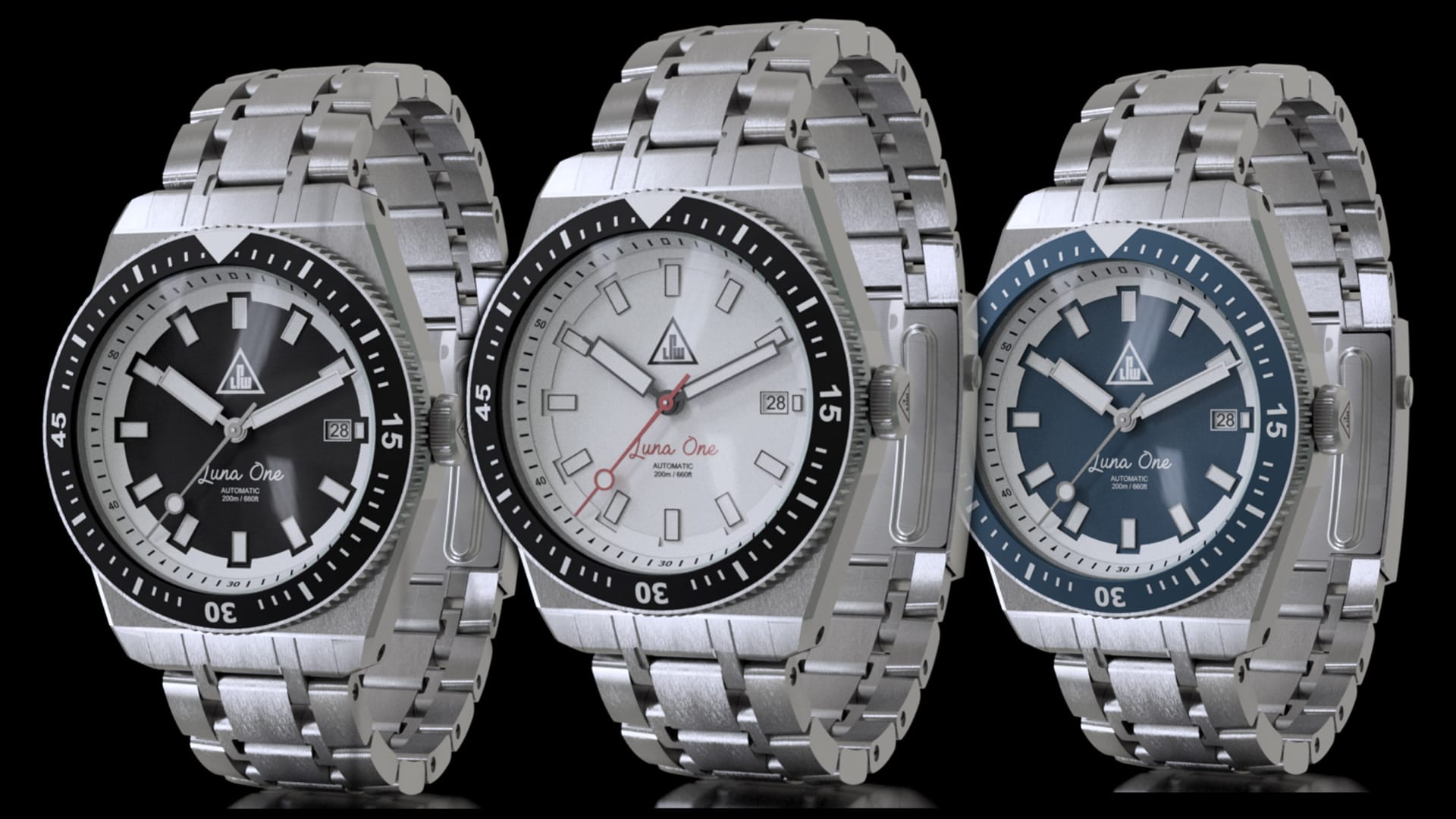 Farqhuar – This Scottish based microbrand has just had their first watch – the Fathom fully funded on Kickstarted and looks to launch in July this year. Their introductory watch is packing some decent specs with a Seiko NH35, Sapphire crystal, BGW9 Lume, 316L construction and a ceramic bezel insert. Pricing at the Kickstarted was £215 but that will raise once the watch is listed at retail.
Price: £295
Speake-Marin – A Geneva-based watchmaker with British roots, Speake-Marin is located in la Chaux-de-Fond and uses traditional techniques and methods to assemble their movements and watches. Speake-Marin is known for their use of unique complications, innovative limited edition pieces and their bespoke Enamel and engraving techniques.
The 220 Watch Company – Are a British watchmaker that have their own watches as well as stocking William Walker watches. Unfortunately, none of their watches listed are yet available. We'll be sure to move them to the main list once the models are readily available. Price: £295 – £350 (out of stock)
Trikona – Currently, on Kickstarter, this young watchmaker has yet to be funded though they are an independent brand based out of our capital. Their debut watch – the Signature, is designed in the UK and built in Switzerland and will have a price tag of around £200. Some of the features include a Sapphire crystal, ETA F06.105 quartz movement, Alcantara strap and a knurled triangular crown.
Summary
Based on our research here it's abundantly clear that watchmaking in Great Britain is still alive and well. With over 70 watchmakers found so far, we're confident that more watch companies will arise from this nation and go toe-to-toe with the greats from Switzerland, Japan, Germany and the rest of the world.
If you know of any British-owned watchmakers, please drop a comment, and we will include them in this list.